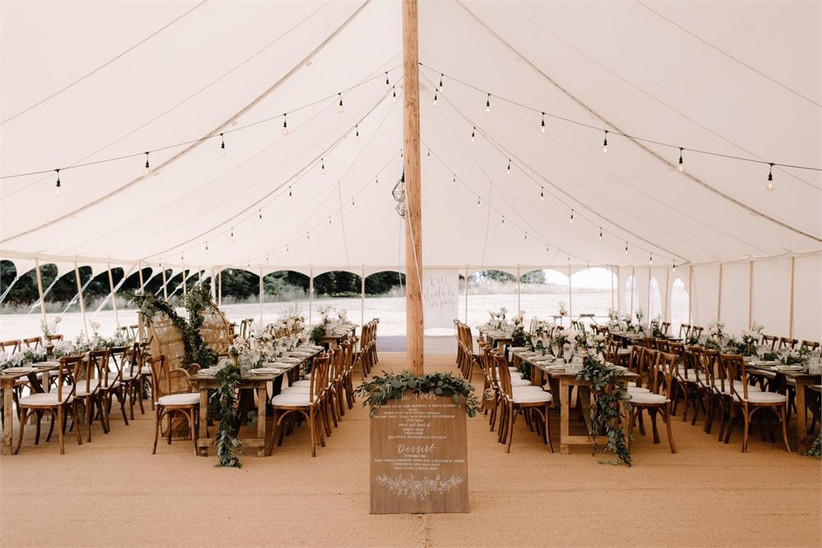 Finding the wedding venue of your dreams comes down to so many different factors, however, one important one is usually how many guests you've invited.
Choosing a marquee wedding venue can be a great way of extending the size of your guest list and it still allows you to have the venue you've been dreaming of.
Here we unveil the wedding locations all over the country that showcase the stunning possibilities of what can be done with a marquee.
1. The Walled Garden at Beeston Fields – Nottingham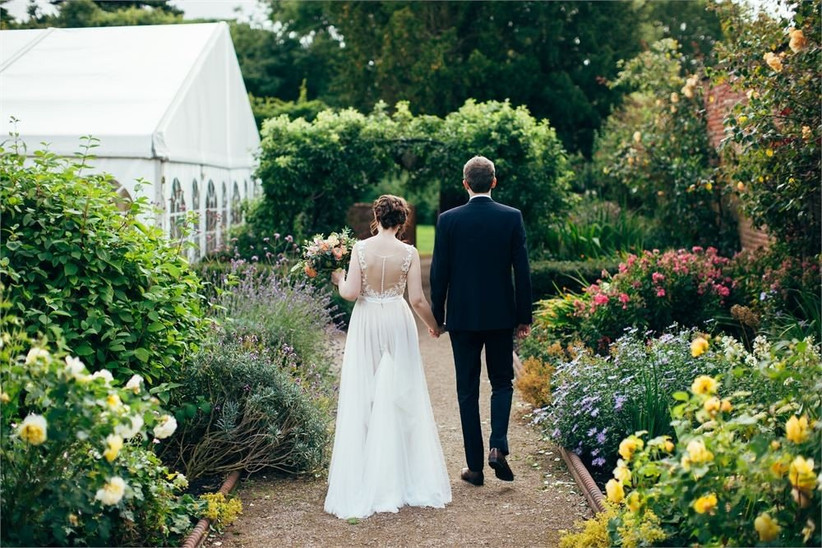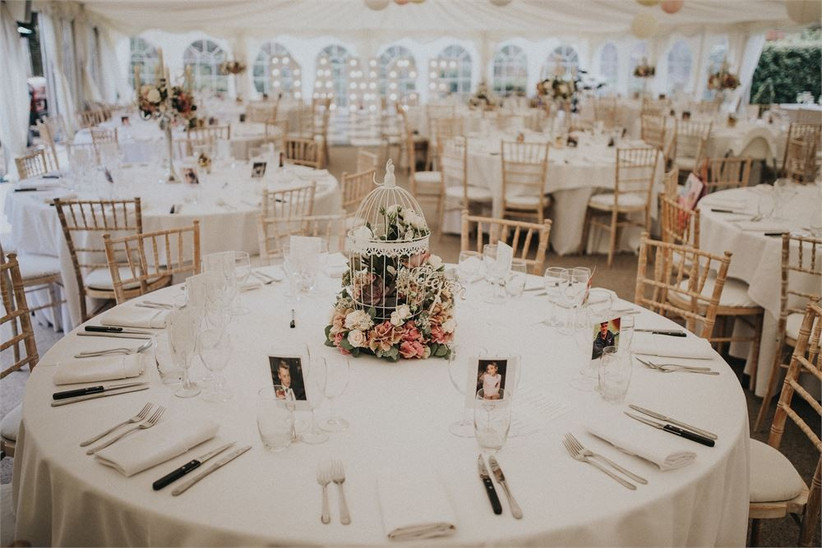 The Walled Garden at Beeston Fields is part of a 135 acre family-owned estate, which was established in 1837. Inside this enchanting secret garden is a grand marquee secluded among apple arches and blooming cottage flower beds, with the original red brick walls all around. The permanent marquee also boasts decorative chandeliers, floor-length drapes and large georgian bar windows showcasing landscaped views.
2. Courteenhall Estate – Northamptonshire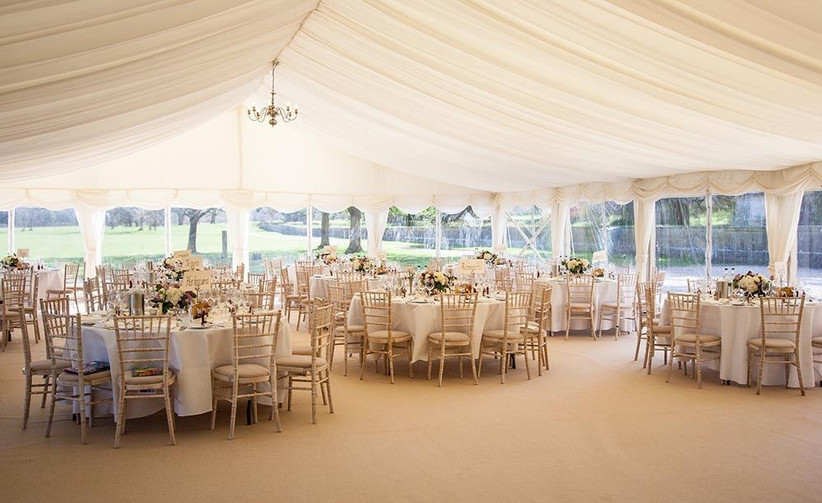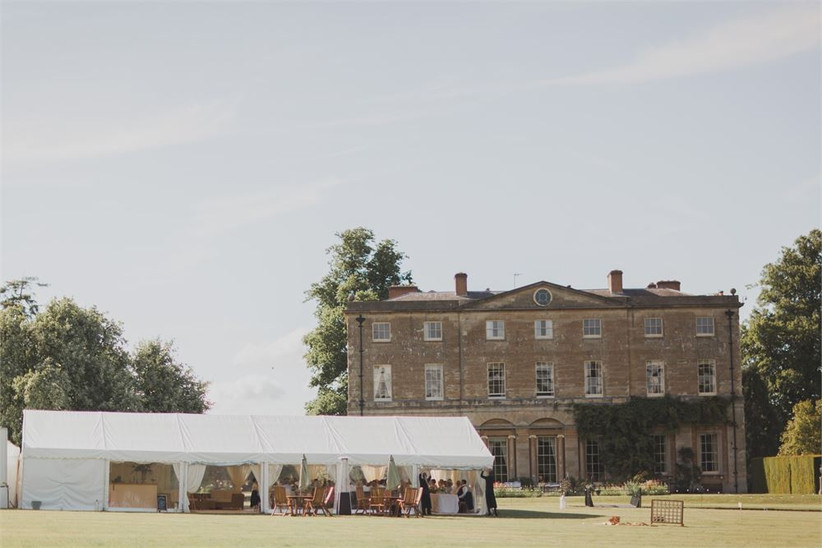 The Courteenhall Estate is a beautiful privately owned, fully-equipped, family home with pretty formal gardens and a stunning parkland setting. For wedding receptions over 100 guests, they provide a fully equipped marquee, where you'll have the dramatic backdrop of the historic hall on one side, and the acres of parkland and Courteenhall Church on the other.
3. Knightor Winery – Cornwall
This beautifully-presented, unique winery, set just above St Austell Bay, is perfect for a memorable Cornish wedding. Knightor Winery is set on three acres of grounds which includes a pretty courtyard, gardens, vines, a pond and an arbour. The venue's marquee is situated in the courtyard, next to a fire pit, where a BBQ or street food can be served if the weather holds out. beautifully-presented.
4. Hitchin Priory – Hertfordshire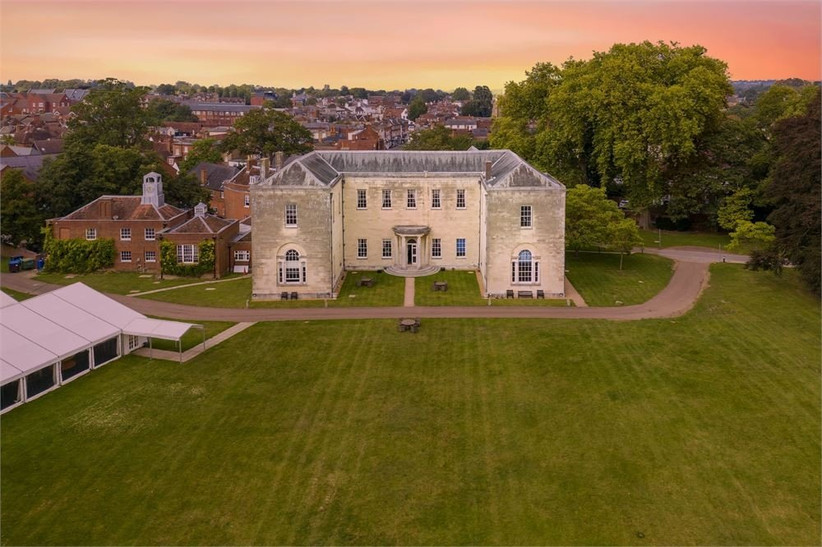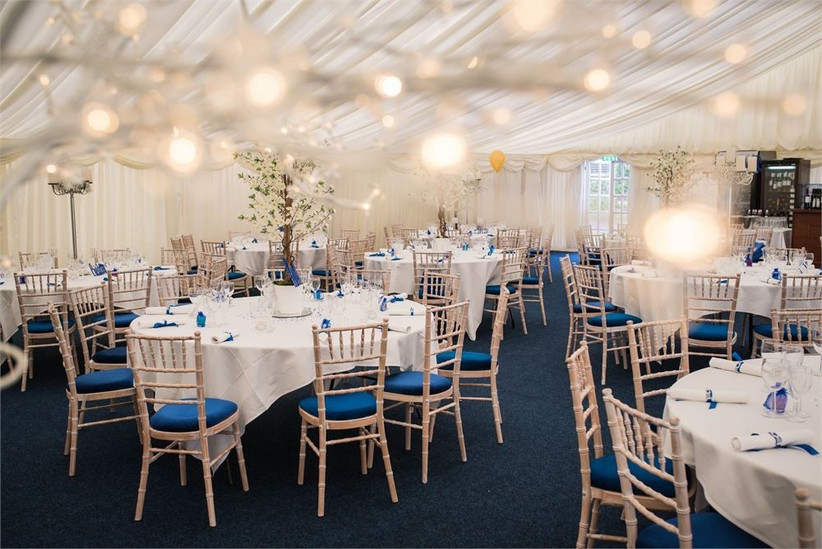 The Hitchin Priory is a former Carmelite Monastery. Dating back to 1317, it embraces a combination of the original 14th century and Georgian architecture. The striking building is set within 19 acres of beautiful grounds, situated on the River Hiz. Between May and September, a beautiful marquee sits within these grounds and plays host to larger wedding parties.
5. Thornton Manor – Cheshire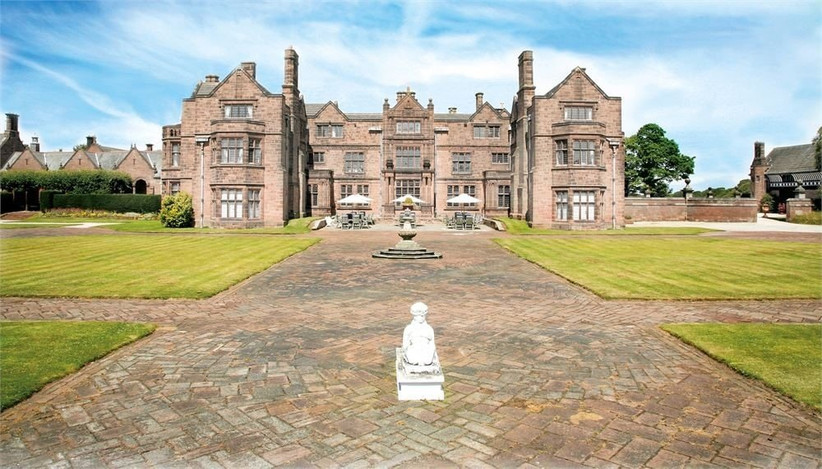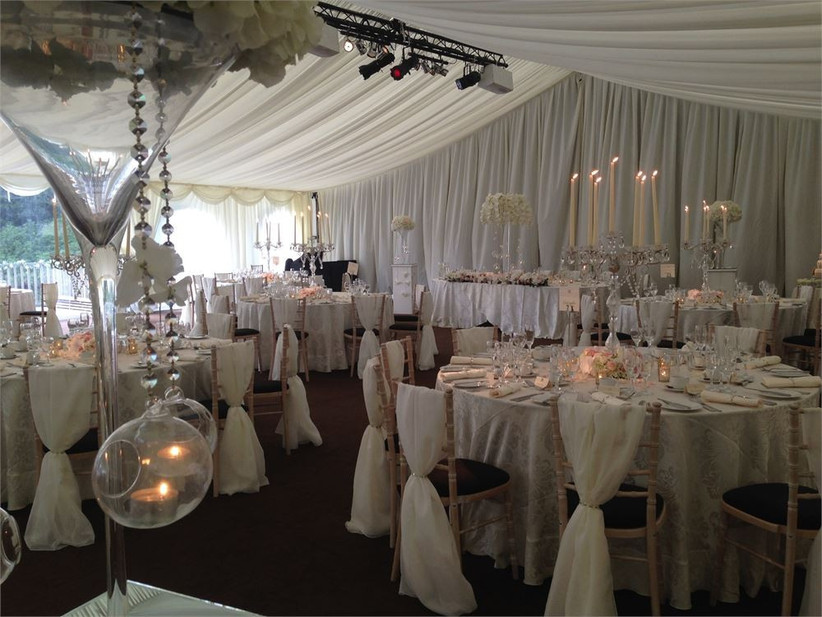 Thornton Manor is a 19th Century Grade II-listed Elizabethan house, based in the village of Thornton Hough. The manor's historic charm extends to its lakeside marquee, which is nestled beneath the treetops in its extensive grounds. The marquee, which can hold up to 70 diners, also overlooks the water and countryside for a perfect romantic setting.
6. The Goodwood Hotel – West Sussex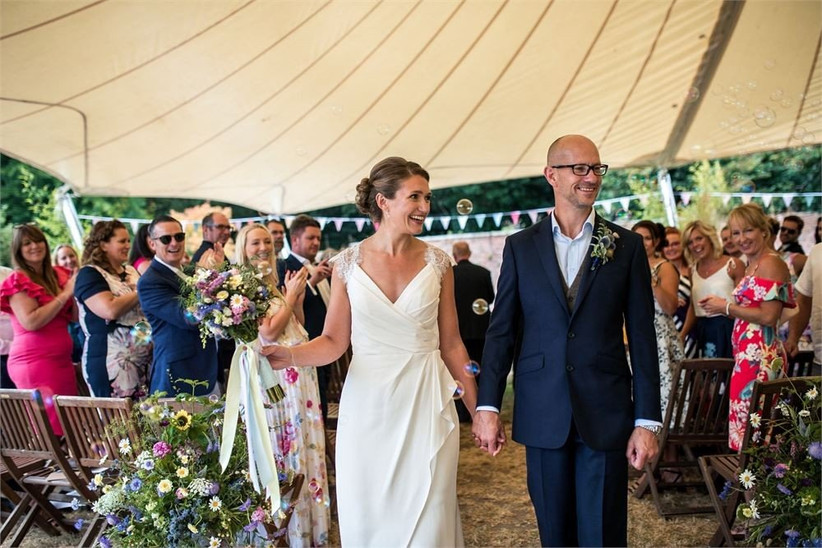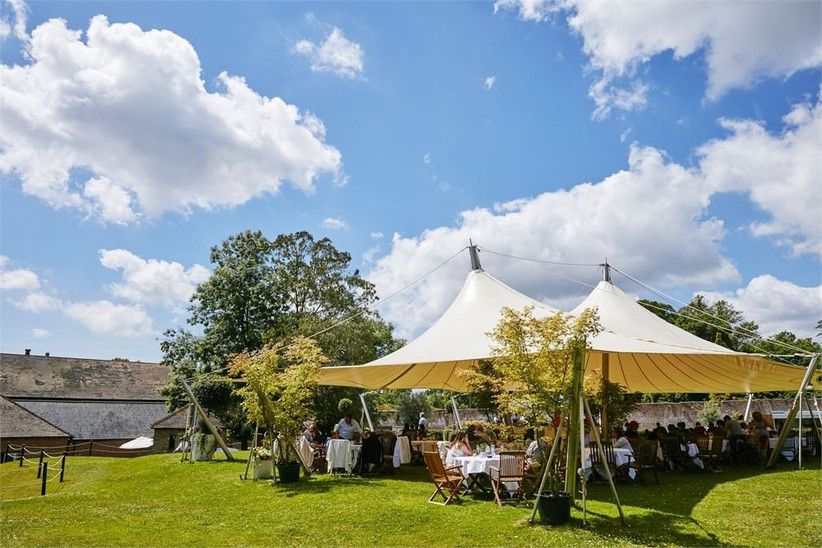 The Goodwood Hotel is perfect for a spring or summer wedding. The venue is set in the heart of the 12,000 acre Goodwood Estate on the glorious Sussex Downs. Marquee weddings are situated on the pretty Cedar Lawn, lined by the historic walls of the estate. The intimate space is perfect for different wedding themes –  including a champagne reception, an informal barbecue or a typically British afternoon tea party.
7. Poundon House – Buckinghamshire
This gorgeous private family home is situated between Bicester and Buckingham and overlooks a stunning array of unspoilt countryside. The stunning marquee at Poundon House is perfect for a wedding breakfast celebration and has amazing Indian hand block printed lining to add to the ambiance. With space for up to 350 guests, it's ideal for Asian weddings
8. Stanbrook Abbey – Worcestershire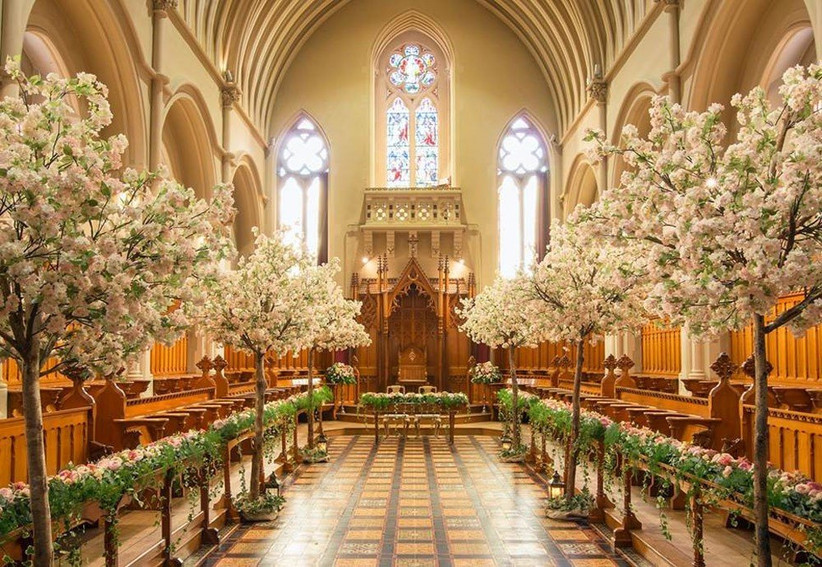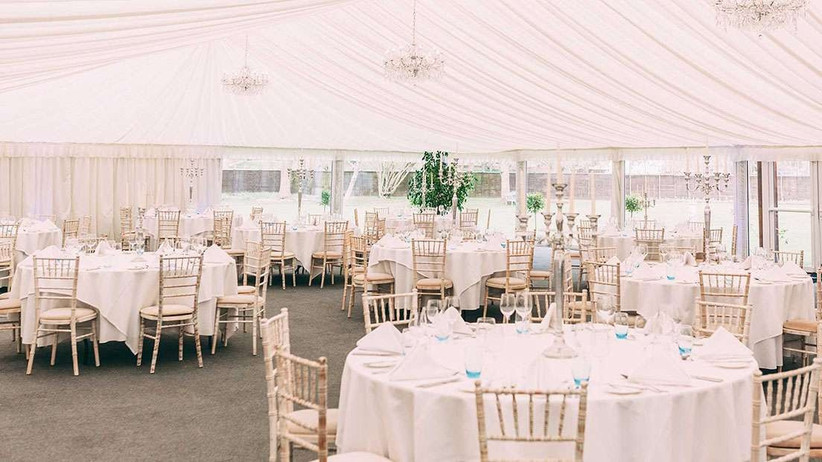 Stanbrook Abbey in Worcestershire is the perfect venue for any type of wedding, from an intimate ceremony to an extravagant event for up to 400 guests. The beautifully decorated marquee is a fabulous option to host your celebrations in and the venue also has 50 bedrooms to accommodate all of your friends and family.
9. Shilstone – Devon
Located in the heart of Devon, this scenic wedding venue is home to the most romantic surroundings. Set among rolling countryside in a 500 acre estate, it's the perfect place for you and your partner to enter married life. The marquee at Shilstone is a blank canvas that you can make completely your own, while the setting is something that will truly take your breath away.
10. Audleys Wood Hotel – Hampshire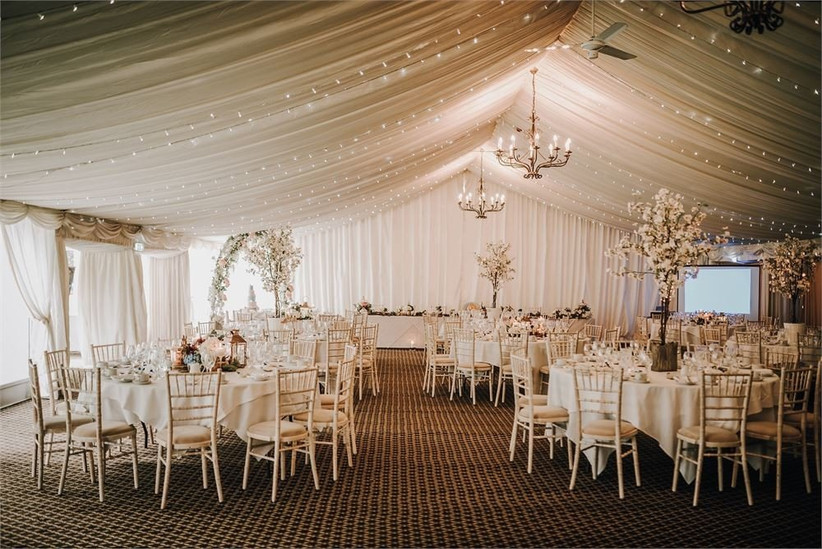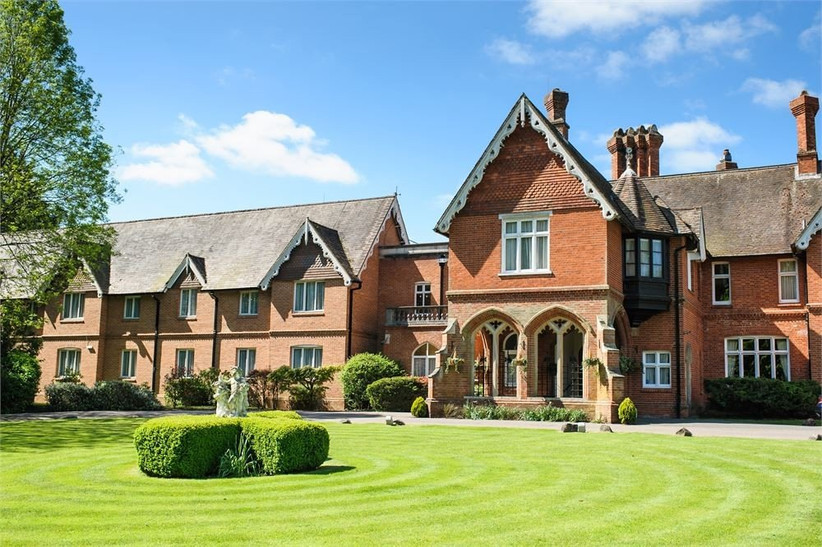 Audleys Wood Hotel in Hampshire has a beautiful marquee facility that transforms itself into a room of utter glamour. We love each and every detail from the fairy-lit ceiling to the grand centerpieces. The surroundings of the marquee include manicured gardens and countryside views, while the garden pavilion and surrounding woodland area are perfect for capturing pictures on your big day.
11. The Horn of Plenty – Devon
With a choice of four licensed rooms for ceremonies and, of course, the gorgeous marquee on the lawn, The Horn of Plenty, has so many gorgeous backdrops for the wedding of your dreams. This elegant four-star country house hotel is set among five acres of colourful gardens. With views of rolling hills and (hopefully) blue skies for your big day, it's a fantastic marquee wedding venue.
12. Port Lympne Hotel & Reserve – Kent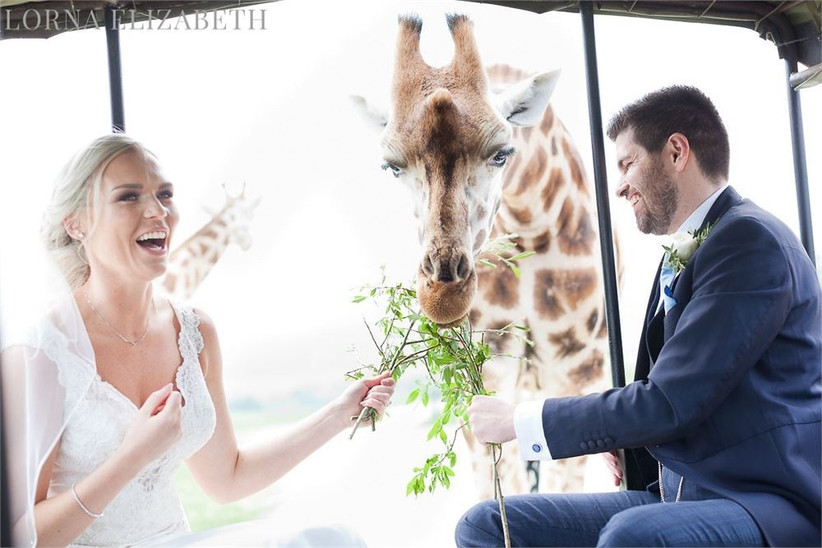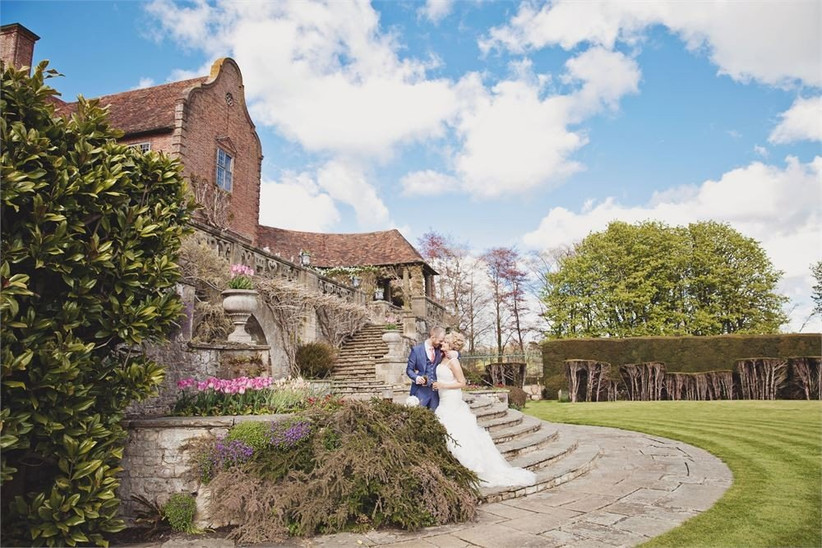 Port Lympne Hotel & Reserve is a unique setting for a wedding. If you're the type of person who wants animals at their wedding, you will adore the array of rare species they have on site. The real selling point of this venue for us is the sheer beauty of the marquee itself, it's decorated impeccably.
13. Upper House Hayfield – Cheshire
Upper House Hayfield in Cheshire believes that celebrations should never be cut short. That's why they offer their venue in full weekend slots so that the party doesn't have to stop when midnight comes. The stunning grounds and beautiful marquee are a dreamy combination for a summer wedding.
14. Trunkwell House – Berkshire
Trunkwell House hotel provides an incredible marquee, which offers a luxurious and glamorous décor scheme for weddings along with their years of experience. The marquee is set on 34 acres of beautiful Berkshire countryside and can cater for anything between 80-350 people guests. The grand marquee features an impressive bar area, dance floor, atmospheric lighting, PA system and luxury toilets
15. The BarnYard – Kent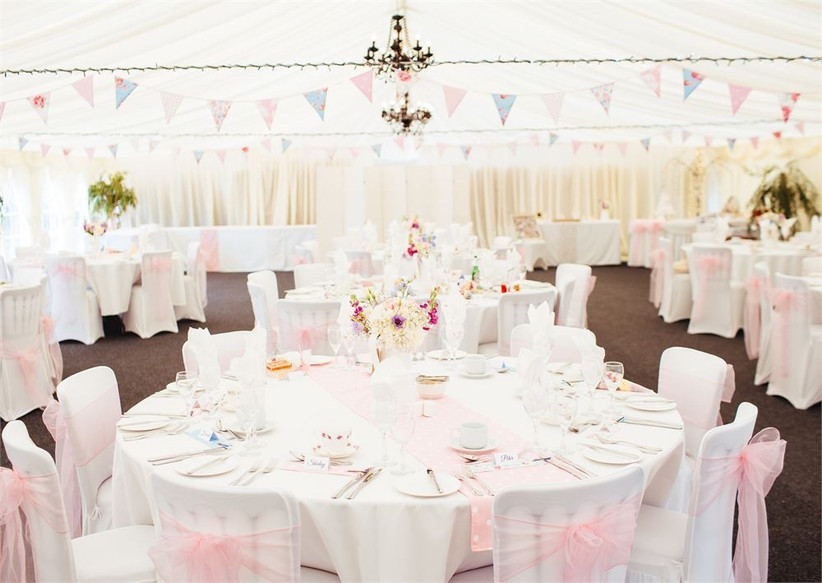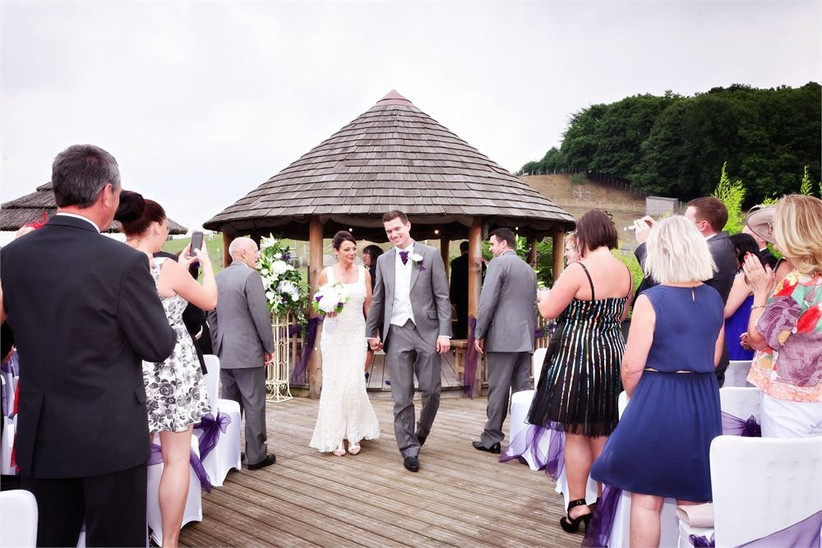 The BarnYard wedding venue is nestled in the heart of the Kentish Countryside and is the perfect place to host an exquisite marquee wedding. The marquee has all-season functionality which means you can celebrate your marriage here at any time of the year. While it also features an impressive bar area, dance floor, atmospheric lighting, PA system and luxury toilets.'
16. Fennes – Essex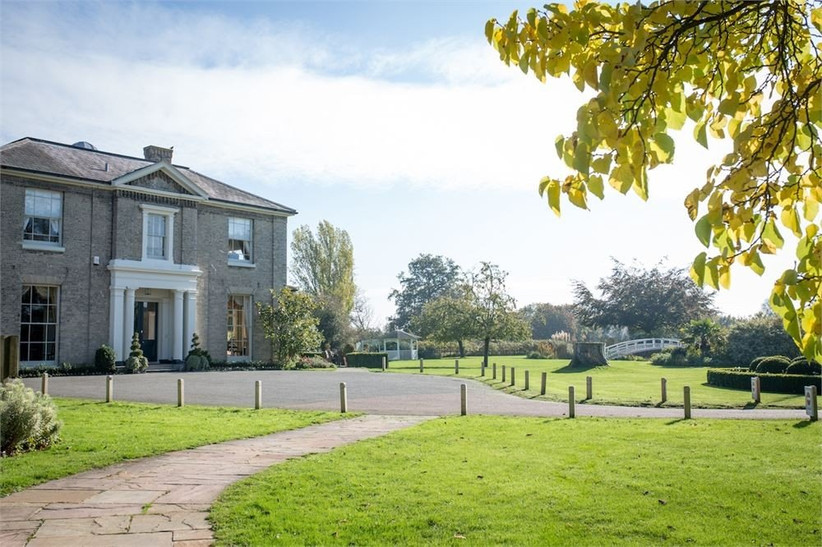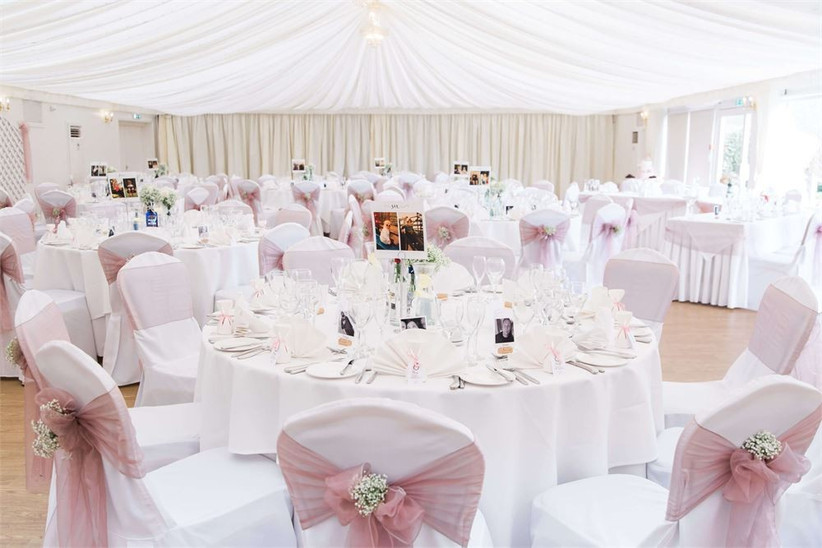 Located in Essex, Fennes is a beautiful Georgian wedding venue set amidst 100 acres of unspoilt grounds. It also has a luxury bridal cottage for you to retire to after the wonderful wedding celebrations are over. Their blank canvas marquee can be dressed just the way you want it.
17. The Granary at Fawsley – Northamptonshire
Set in a private, tucked- away location amongst the picturesque countryside in Northamptonshire,  The Granary at Fawsley has two beautiful reception spaces. As well as the elegant and rustic Grade II-listed Fawsley Suite, there's an impressively decorated marquee-lined barn. With enough space to fit up to 160 guests, the barn's white fabric lining can be customised with your choice of décor.
18. Black Horse Beamish – Durham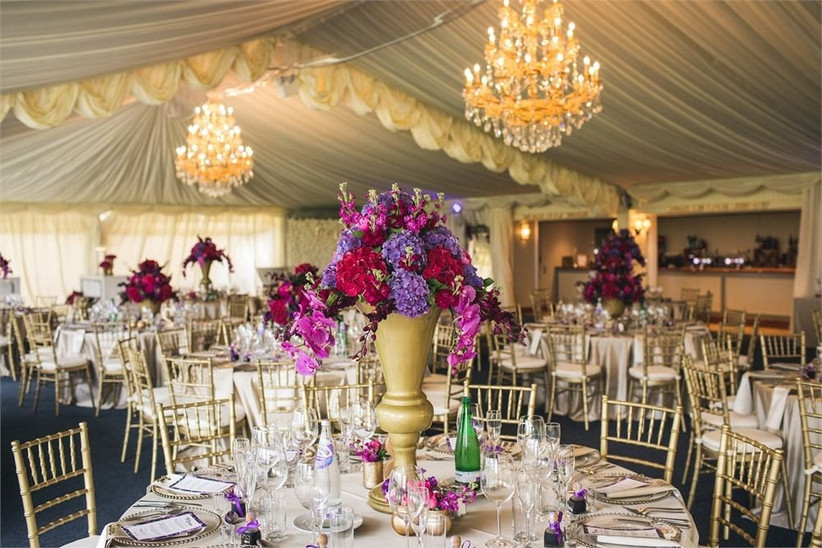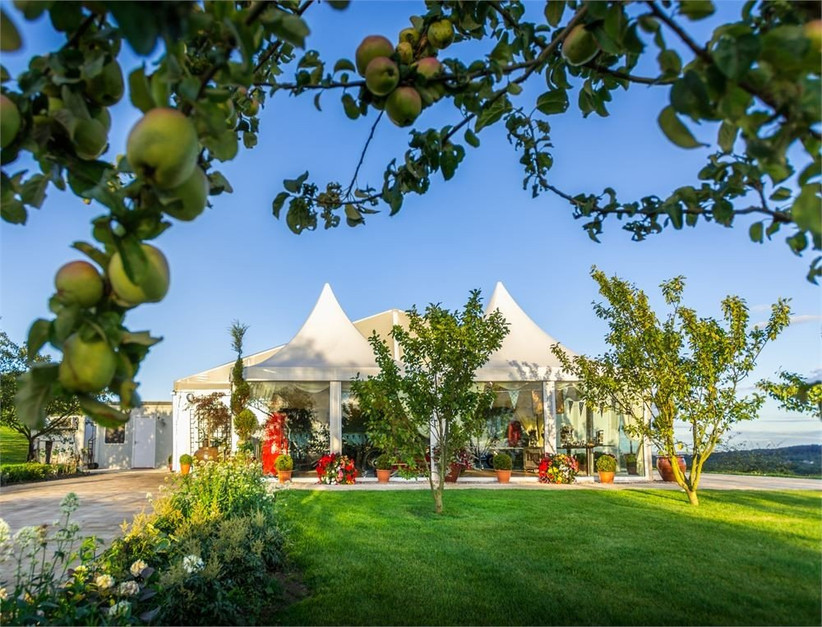 Arriving at the Black Horse Beamish, you're welcomed by flagstone floors, roaring open fires and an eclectic mix of furnishings. The venue's Orchard Marquee is one of the few permanent marquees in the Northeast and offers stunning panoramic views of the beamish conservation valley. Outside, you'll find glorious landscaped gardens and an apple orchard. Inside, it's furnished with a dance floor, stunning eight foot chandeliers, up-lighting and an integrated sound system.
19. Hallington Mill – Northumberland
Set in the heart of the beautiful Northumbrian countryside, Hallington Mill is a small rural estate with real personality and warmth. The venue and marquee is located in a secluded setting surrounded by 35 acres of private woodland, streams and open countryside. The venue is full of natural beauty, character, history and charm.
20. Brook House Farm – Shropshire
The Haybarn wedding venue at Brook House Farm is an outdoor tipi and marquee festival wedding venue nestled in the stunning Shropshire Hills. If you love the outdoors and want a rustic feel for your wedding this could be the perfect choice of venue.
21. Eggington House – Bedfordshire
Eggington House sits on the edge of the beautiful little village of Eggington. Surrounded by 35 acres of land the wedding venue was built in 1696 and is a much-loved family home. The large marquee, which is on the grounds of the estate can be fully customised to create your perfect wedding celebration.
If you love the idea of extra space and outdoor vibes at your wedding, have a look at our best selection of tent, tipi and yurt wedding venues for more of a festival vibe.