30 Award-Winning Wedding Caterers in the UK
Whatever your taste or size of guest list, these are the best wedding caterers in the UK that are cooking up award-winning food, drink and service!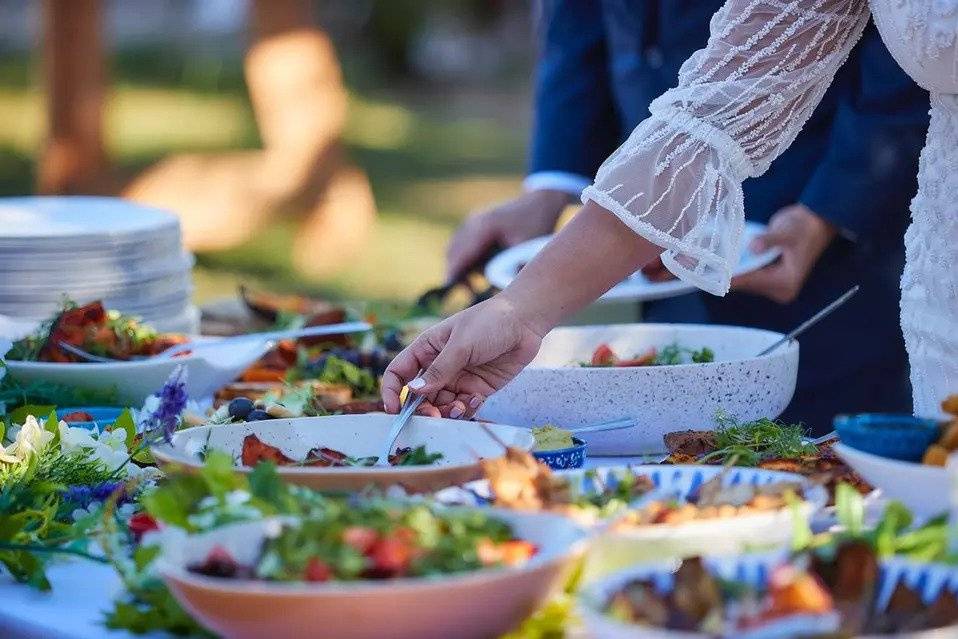 When planning a wedding you want remembered for all the right reasons, there is one element that should never be an afterthought - the wedding catering! Bad wedding food is one of the biggest wedding guest bugbears around, which is why we've decided to round up the best wedding caterers in the UK to help you ensure your guests are both full and satisfied.
Not only will the food and drink you serve on your big day help to set the feel and vibe of your reception, it'll ensure none of your guests are left wishing they'd scoffed a meal deal in the car on the way there.
Besides wanting to dish up your favourite foods, creating a good vibe and atmosphere at your wedding is also something that can be done with wedding catering. But first, you need to decide what you want... You may want a formal setting with a seated three-course wedding breakfast, or perhaps you want your guests to mingle by offering smaller plates in a street food style.
Whatever you taste, these Hitched Wedding Award winners have your cravings covered.
30 of the Best Award-Winning Wedding Caterers for Foodie Couples
Whether it's grazing tables or vegan wedding food you're after, these award-winning wedding caterers sure know how to deliver, their satisfied customers say so themselves. So, ensure you don't have any hangry guests on your hands with our round-up of the best wedding food and drink caterers in the UK.
1. The Pizza Post - West Sussex
The Pizza Post is a West Sussex-based mobile catering business with a team passionate about making delicious Neapolitan-style pizzas with fresh, local ingredients. The founders were born and raised in the pizza catering industry and aim to bring the authentic flavours of Naples to your wedding.
The chefs will make the pizza sauce fresh before your event using their state-of-the-art wood-fired pizza oven. Just Margherita, the Italian Stallion and the Tree Hugger (vegetarian) are just some of the yummy pizzas on offer here. With both meaty and veggie options, there's something here for everyone.
Hitched users love The Pizza Post, and have left eight five-star reviews on their listing. One happy customer commented, "We had The Pizza Post at our wedding in Surrey and they were a total hit with us and all of our guests.
"The pizzas are freshly made and use quality ingredients. The team were brilliant and worked hard to keep on top of the demand. They even had gluten free bases for two of our guests and we named our own pizzas. I cannot recommend them highly enough."
2. Citreus Catering - Nottinghamshire
Boasting over 35 years experience in the culinary industry, Citreus Catering is an outdoor wedding catering company based in Nottingham. All food here is prepared from scratch using high-quality products and presenting in a mouth-watering, modern way. The chefs at Citreus Catering blend classic techniques with modern cooking trends to create truly unforgettable wedding dishes.
Sustainability and the use of ethical ingredients are two of the pillars of this business, making it the ideal choice for an eco-friendly wedding. The menu here is extensive and varied. Couples can choose from cuisines including French, British, Japanese, Mediterranean, Indian, Thai and more!
Citreus Catering's delicious food and impeccable service has earned them 11 five-star reviews on their Hitched listing, one of which says, "From choosing the menu to communication throughout, we had absolutely first class service. The food was absolutely delicious and we couldn't recommend them more!"
The Citreus Catering team were delighted to receive a Hitched Wedding Award, saying, "It's always a massive honour to be recognised by our lovely couples and their guests, its makes all those long hours behind the scenes all worth while knowing you've provided a truly memorable experience with something as simple as good, honest, tasty food.
"The amazing feedback, spurs on and lets us know we are heading in the right direction."
3. Game & Flames - East Sussex
Game & Flames is a wedding catering company that don't just provide delicious cuisine, but also a theatrical experience for you and your guests to enjoy. This East Sussex-based company specialise in cooking wild game over open fire, which allows guests to watch their food being carefully created before their eyes.
There are many options available here, with customer favourites including chicken, beef, lamb, pork and the more experimental pigeon, venison and wild boar. Plant-based eaters needn't worry as there is also a range of vegan and vegetarians options, as well as the ability to cater for various dietary requirements.
This expert team of hunters and chefs have caught and cooked food from all over Europe and use an Asado approach to their catering, drawing inspiration from Argentina, India and Hungary to serve sharing-style dishes.
This is Game & Flames' second time receiving a Hitched Wedding Award, having received an impressive 53 five-star reviews from happy Hitched users. One satisfied newlywed commented, "In a word: superb. We had an outdoor wedding party and the service, spectacle and food was out of this world.
"Cai, Debs and the team were some of the best people we have worked with and I 100% recommend them to anyone who is planning something similar. Working with the Game and Flames team was one of the best decisions we made and we thank them for their spectacular food and service that made the day so unique."
4. Punk Tacos - East Sussex
Fresh and delicious Mexican food is the speciality of East Sussex-based wedding caterers Punk Tacos. Served from an ultra-cool vintage Renault Estafette van, Punk Tacos will bring a relaxed street-food vibe to any wedding reception. The company was founded in 2019 and uses traditional cooking methods to create authentic Mexican dishes.
Some of the most popular dishes here include tacos, nachos, quesadillas and burritos filled with chilli con carne, yucatán chicken, grilled spicy plantain and chipotle portobello mushrooms.
There are plenty of gluten-free and vegan options available here, and the van comes stocked with classic Mexican hot sauces and eco-friendly packaging.
After winning a Hitched Wedding Award in 2022, Punk Tacos have continued their winning streak, thanks to the 10 five-star reviews on their Hitched listing. One client said, "We hired Punk Tacos for our wedding recovery party and it was the perfect choice. The tacos and salads were delicious and everyone eating them spoke nothing but compliments.
"The team were also very responsive before and during the event and were also really friendly and helpful. Would definitely recommend them to others."
5. Mozzarella Fellas Pizza Trading - Hertfordshire
Mozzarella Fellas is a mobile pizzeria specialising in providing wedding guests with delicious, cheesy pizza - yum! The business is based in St Albans, but the team are willing to travel up to 100 miles to cater your event.
Up to 40 12-inch pizzas can be prepared in the hand made Italian clay oven per hour, which is kept in the team's signature converted van. And it's not just pizzas on offer here: you can also enjoy antipasti, pasta skillets and homemade desserts for large events. Gluten-free, vegan and halal guests can also be catered for.
This is the second year in a row that Mozzarella Fellas have received a Hitched Wedding Award. Happy Hitched users have awarded them with 26 five-star reviews, one of which said, "We had Mozzarella Fellas for our evening reception and they were a big hit.
"Adam was superb to deal with all the way from the initial enquiry, adapting to cater for guest allergies, too. All our guests (and other suppliers) loved the pizzas. It really is great value for money. We would highly recommend for any upcoming event."
6. The Dawdling Duck - Kent
The Dawdling Duck is a family-run mobile bar business based in the village of Boughton Monchelsea, Kent. The quirky bar is based in a renovated horsebox and is available to service events across London and the South East of England.
The Dawdling Duck can be hired for both indoor and outdoor wedding venues, including marquees and tipis. Whether you want to opt for a pay bar or an all-inclusive package, the team have got you covered. Flexibility is the name of the game here, and couples can even craft their own bespoke menus.
Satisfied customers have left 18 five-star reviews on The Dawdling Duck's listing. One happy newlywed said, "Alex and the team provided an incredible service for us from our initial enquiry all the way through to the big day. Alex was easy to communicate with over phone, text and email and always answered our questions as quickly as possible.
"Booking was straightforward and the price was very reasonable. On the day itself the team were fantastic - they assembled the bar in the hall very efficiently and it looked wonderful. They provided a fantastic service to our guests throughout the evening and were very friendly and professional. I Cannot fault them at all.
"Many of our guests have commented on how fantastic the bar was and how good it looked. Thank you so much."
7. Vegan Junkies Wedding Caterer - Shropshire
Shropshire-based Vegan Junkies Wedding Caterers are bringing deliciously addictive vegan wedding breakfasts to ceremonies across the UK. Owners Sophie and Dave are friendly professionals, passionate about providing high quality vegan dishes that even meat-eaters would swoon over.
They work closely with each client to design a bespoke menu, which can then be sampled in a free tasting session at their home. They also have a mobile drinks bar for hire, perfect for providing some your favourite drinks and wedding cocktails at a festival wedding venue.
Hitched users love Vegan Junkies Wedding Caterers, and have given them nine five star reviews. One satisfied client commented, "We couldn't recommend Dave and Sophie enough. From the very first contact to the final event we found the whole experience fantastic.
"The bride was the only vegan at our reception, however all our guests (even the hardy meat eaters!) gushed about the food. I promise you won't be disappointed if you book these guys."
Sophie and Dave were thrilled to receive a Hitched Wedding Award, saying, "Vegan Junkies are beyond delighted to have won a wedding catering award from Hitched. We love what we do, we love working with vegan couples, and to win this award feels fantastic after all the hard work during the last few years."
8. The Full Spoon Ltd. - Somerset
The Full Spoon Ltd is a Somerset-based catering company specialising in wedding catering. Founded in 2012, this team focuses on locally-sourced, fresh, organic ingredients, which they use to create a range of unique and delicious dishes. They can also offer guidance and expert advice on creating a truly memorable wedding food journey.
At The Full Spoon Ltd, listening to the customer's needs and wants are the priority, and the team will work with clients to create bespoke menus reflecting their personal style and tastes.
Whether you want wedding canapés and table service, or street food for an outdoor wedding celebration, this team will strive to make your wedding food dream a reality. They will also accommodate specific dietary requirements to ensure that every guest leaves feeling satisfied.
The Full Spoon Ltd's top-of-the-range food and service has earned them 25 glowing reviews on their Hitched listing, one of which reads, "We could not have been happier with Andy and all his staff at The Full Spoon. He worked with us to design our perfect menu, guiding us on what would work best for the wedding we wanted.
"On the day the food was fantastic. Locally sourced, perfectly cooked and the team were so helpful throughout. We had them back on Sunday for a BBQ. More stunning food and very happy, well fed guests who were incredibly complimentary. We were very pleased and grateful that Andy and The Full Spoon were part of our wedding. We'd love to do it all over again."
9. Luca's Events - Cardiff
Luca's Events is a South Wales-based wedding catering company serving weddings all across the UK. Professional service and high-quality handmade meals are a guarantee here, and customer satisfaction is of the utmost importance to the team, from the initial enquiry up until the wedding day itself.
There is a wide selection of cuisines on offer here, including British, Caribbean, Asian, French, Italian, Mediterranean, and more. Your food, plus an extensive drinks selection, can be purchased as part of an all-inclusive wedding catering package which offers carefully curated menus. Not only that, crockery, cutlery and glassware will also be provided.
Clients of Luca's Events can try before they buy thanks to a complimentary menu tasting, as well as having the experienced team on hand throughout the entire wedding planning process to help with any needs.
Clients of Luca's Events have left 20 five-star reviews on their Hitched listing, with one reading, "We were so so glad we went with Luca's Events. They were amazingly organised and incredible with dietary requirements. The food itself was some of the best I have ever eaten and so many guests agreed. No one was left hungry and the food itself was so beautifully presented.
"Thank you so much for being so kind and helpful. We honestly could eat your food every night of the week."
After receiving their Hitched Wedding Award, the Luca's Events team said, "We were incredibly proud to be recognised at the Hitched 2023 Wedding Awards by winning in the wedding catering category. We feel this has made an instant difference in the number of enquiries that we are receiving.
"Huge thanks to all our amazing wedding couples for trusting us with the most important day in their lives, also to our incredible team. It is massively rewarding to see our hard work recognised this way."
10. Centre Catering - West Sussex
Centre Catering are a West Sussex-based wedding catering company with several decades of experience. From laid-back buffets to plated wedding breakfasts, this team prides themselves in their unforgettable meals and exceptional customer service.
Centre Catering offer a variety of plates and cuisines, including BBQ pulled pork and beef brisket, and are happy to work with individual clients to create bespoke menus perfect for any ceremony. They even have a mobile food van and bar called 'The Pod', where you and your guests can enjoy some American street foods.
Centre Catering has received several five-star reviews from Hitched users, with one happy newlywed commenting saying, "Firstly the food was delicious. I received lots of great comments from the guests.
Georgia couldn't have been more helpful and flexible all the way through the organisation of this family wedding.
"Nothing was too much trouble and the team on the day were lovely too. I will certainly use Centre Catering again. Thank you to all the team."
11. Peninsula Catering Ltd. - Merseyside
Peninsula Catering Ltd. is a Merseyside-based catering business serving nearlyweds across Merseyside, Cheshire and North Wales. Head chef Dave White has a wealth of experience in the culinary industry, so you're guaranteed a fabulous feast. His team's contemporary take on well-loved dishes are sure to impress your guests and have them wishing for seconds!
Peninsula Catering Ltd. was founded in 2017 and use fresh local ingredients to create delicious and innovative dishes, including wood-fired oven pizza, street food classics, paella, pie and mash, and more. No matter what your dream wedding meal looks like, you can be sure that Dave and his team will strive to make it a reality.
Happy Hitched users have left Peninsula Catering 13 five-star reviews, including one from this satisfied newlywed who said, "Dave and the team were brilliant. Most importantly the food was great but beyond that they provided a great service, the whole process was really easy and we couldn't be happier.
"Catering to dietary requirements and extra bits and bobs wasn't a problem and it all went perfectly on the day."
Dave and the team were delighted to receive a Hitched Wedding Award for the second year in a row, saying "We are very proud to have won this award as a recognition of all the hard work and effort we put in, as every event is an opportunity to show our commitment to exceptional service.
"Our business is built on a foundation of strong relationships with our customers and positive reviews are the cherry on top. We truly appreciate customers taking the time to leave positive feedback, as it plays a crucial role in helping future clients make the decision to choose our catering services."
12. Hot Sausage Company - Suffolk
Everyone loves hot dogs, and wedding catering business Hot Sausage Company are well aware of this. This team boasts over 30 years' experience bringing classic street food to weddings across the UK with their mobile hot dog stand.
The Hot Sausage Company offers a wide range of 'dogs' including the traditional English sausage, Caribbean spice sausage, Lincolnshire sausage, and more. Guests with specific dietary requirements can be catered for, with vegan, vegetarian, gluten-free and lactose-free products available.
Your hot dogs will be served from a quirky and cute red mobile cart, bringing a relaxed vibe to your wedding as well as delicious flavours.
The Hot Sausage Company received their second Hitched Wedding Award this year, thanks to 12 glowing reviews from Hitched users. One said, "We hired these guys for our evening food at our wedding reception and people have not stopped raving about how amazing they were, the service and of course the top quality sausages. Everyone was catered for whether it was allergies or veggie.
"Self sufficient - we didn't even know they had arrived until we could smell the yummy sausages being cooked. Thank you so much, I highly recommend to anybody to use these guys for any private function - absolute professionals and outstanding value for money."
13. Southcott Events Catering - Cumbria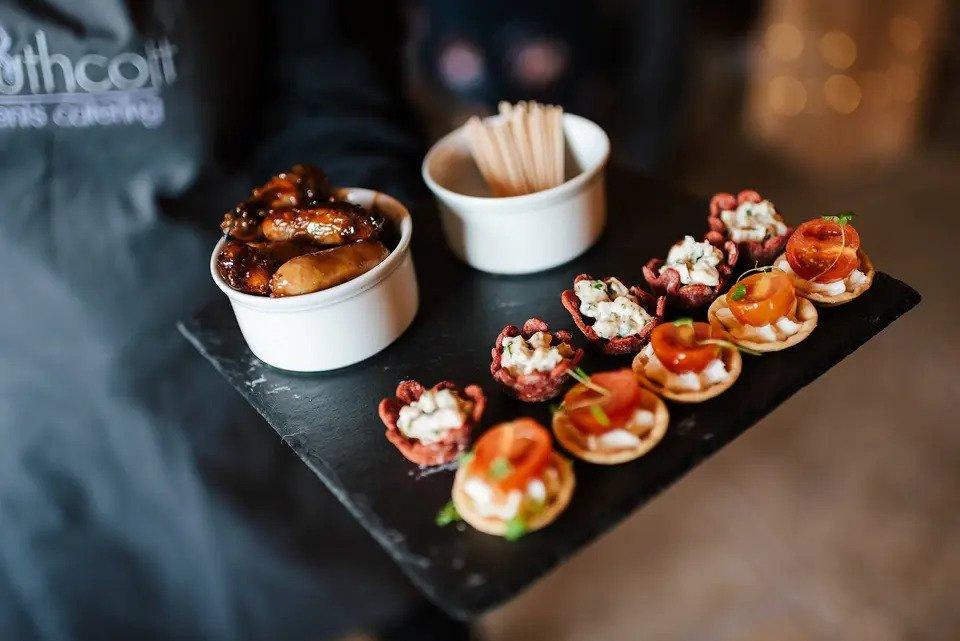 Working exclusively with Eden Wedding Barn, Southcott Events Catering is a wedding catering business passionate about providing a memorable dining experience. Fresh cuisine and friendly service are hallmarks of their business, and they aim to enhance your celebration with their flavourful dishes.
Southcott Events Catering offer a range of all-inclusive packages to make your wedding planning process even easier. These packages include features such as linens, catering equipment, staff, cutlery and crockery. When your wedding day comes, staff will even manage the setup of your tables, favours, place settings and table decorations, and there's even the option to have a professional event host.
Whether you want a canapés reception, three-course meal, buffet or BBQ, Southcott Events Catering has you covered. Customer favourites from their menu include Cumbrian beef stew and dumpling, and Lakeland rump of lamb. If you're feeling peckish later in the evening, you can also make use of a cheese station, pizza service and gourmet burgers.
Happy customers have left 12 glowing reviews on Southcott Events Catering's listing. One satisfied newlywed said, "This team are unbelievable. The quality of food and service is ridiculous. They're the kindest team and made our day run so smoothly and seamlessly. We have had countless comments on how amazing the food was and still get compliments months on."
After receiving their Hitched Wedding Award, the Southcott Events Catering team said, "It is so wonderful to have our hard work recognised by winning a Hitched award. We get to know all our couples personally so it means the world to us that we have received such great reviews from our clients!"
14. Finotaste - London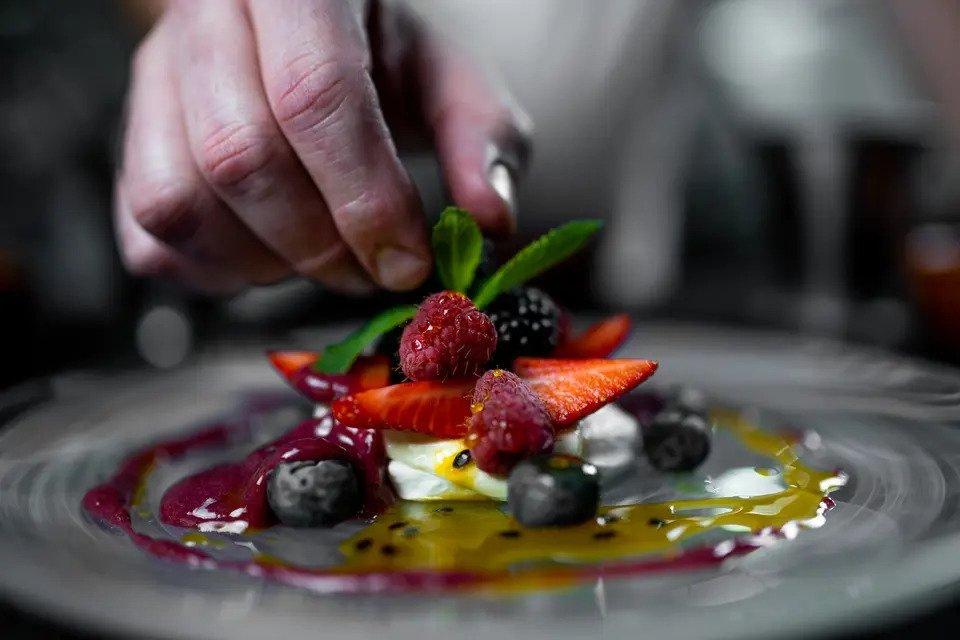 Founded in 2014, Finotaste is a London-based wedding and special events catering company combining passion, dedication and experience to provide bespoke catering solutions around the capital. Executive chef Junior Menezes has over 20 years' experience in the culinary industry after graduating from Le Cordon Bleu London, and strives to create delicious bespoke dishes for each couple.
The kitchen team utilise their extensive experience to cater to weddings of all sizes using top-of-the-range fresh ingredients. Their menu spans the globe, with dishes originating from the Mediterranean, Japan, Mexico and the Caribbean.
There are also plenty of options for guests or couples with dietary requirements, and all menus can feature gluten-free, nut-free, pork and vegan dishes.
Finotaste has received 15 praise-packed reviews from Hitched users, with one commenting, "Junior created and executed a delicious menu for my wedding dinner for 60 guests. The food was amazing and his staff were excellent. Junior is a master at what he does and I highly recommended."
Executive chef Junior was delighted to receive a Hitched Wedding Award, saying, "We are delighted and extremely happy for having received the Hitched Wedding Award! At Finotaste, we work with dedication and passion, and we put our heart in everything we do.
"Winning this award proves that we are hardworking and, above all, it makes us keep doing what drives our team: serving with love! Thank you Hitched for giving us the opportunity to work in a such powerful partnership. Finally, we thank all our customers for trusting our work and for all the amazing reviews."
15. Baba Ganoush Catering - North Yorkshire
Yorkshire-based Baba Ganoush Catering is a family-run wedding and special events catering company. This experienced team strive to elevate special events with interesting dishes that use seasonal, local produce. Here you'll find everything from rustic sharing menus to elevated cuisine.
Baba Ganoush Catering is headed up by Ashley and Matthew, a catering duo with over 20 years' experience in the food and hospitality industry. This dynamic duo will be on hand to collaborate with you and create a totally unique menu to complement your wedding vision, whether you're after Yorkshire roasts or BBQ delights.
The team also offers canapés during your drinks reception, as well as recommendations for beverage and bartending companies.
Happy Hitched users have left 39 five-star reviews for Baba Ganoush Catering, with one newlywed saying, "We're so happy we chose Baba Ganoush to cater our wedding, they were so professional and great to deal with from start to finish. Bay was a friendly, reassuring contact right through from the tasting to the day itself.
"The food was absolutely delicious, from the Whitby crab starter right down to the bread and butter. And the canapé board for the bride was a nice touch. I really appreciated the wide choice for vegetarians, and the various dietary requirements were dealt with seamlessly. Thank you Baba Ganoush."
16. Garni - Cheshire
Cheshire-based Garni is a bespoke wedding and special events catering company servicing events throughout Northwest England and North Wales. This expert team specialise in modern small plates and sharing dishes, and they pride themselves on creating delicious plates that perfectly suit each client's individual style.
Garni's dishes are made using fresh local ingredients. Their focus is on getting to know each client and their unique wedding vision so that they can tailor dishes to their tastes and requirements. There is a wide variety of global cuisines on offer here, as well as a selection of serving styles including bowl food, sharing platters and a retro food truck.
Delivery, setup, service, and clean up are all included to create a stress-free experience.
This is Garni's second year running winning a Hitched Wedding Award, thanks to the nine glowing reviews on their listing. One happy customer said, "The Garni team were amazing. They produced the most delicious menu for our wedding, including for those guests with specific dietary requirements, and everyone has commented on how much they enjoyed the food.
"The team did exactly what we asked, and the attention to detail was fabulous. I cannot recommend the Garni team highly enough."
The Garni team were delighted to receive a Hitched Wedding Award, saying, "We feel honoured to work with the amazing couples that found us on Hitched. We wouldn't be here without all the love, support and encouragement we receive - here's to making more amazing memories!"
17. Man With A Pan - Surrey
Man With A Pan is a Surrey-based mobile wedding catering service headed up by chef Mark Evans. These caterers offer a professional and interactive wedding buffet where you and your guests are served by the chef that cooked your meal, offering a more personal touch to each meal.
The team at Man With A Pain are happy to help set up your tables and serve meals and drinks - anything to ensure that your wedding runs as smoothly as possible. The team will also go out of their way to see that those with dietary requirements are catered to and fully satisfied.
Hitched users love Man With A Pan, and have left nine praise-filled reviews on their listing, one of which reads, "Mark and the team at Man with a Pan provide the complete catering service. He provided guidance to ensure we would have everything we would need and want, to make it a wedding to remember. The staff on the day were incredible.
"They were engaging with our guests and ensured that everything ran smoothly. Most importantly, the food was delicious and the variety offered meant that nobody left hungry. When speaking to our guests, the food and the team at Man with a Pan were definitely a stand out feature. I could not recommend them highly enough and we hope to book again in the future."
18. Ridgway Caterers Limited - Staffordshire
Ridgway Caterers Limited are an award-winning wedding and special occasion catering company based in Staffordshire. Established in 1979, this business has catered events for the British Royal Family, sporting personalities, various British leaders and other notable names. Whether your celebration is intimate or large, every event is treated with the same care and elite customer service.
Ridgway Caterers' bespoke menus are packed full of the finest and freshest ingredients. All needs and preferences can be accommodated for, from creative canapés to formal dinners. Step by step, the team will discover your vision and use their industry expertise to design the perfect menu for you. They can also provide beverage and bar services.
Satisfied customers have left 11 five-star reviews for Ridgway Caterers Limited. One glowing review says, "Many, many thanks to Ridgway for my fantastic BBQ and pizzas. The food and service was simply amazing and added massively to the success of my wedding day. Everyone commented on the food and the service which was second to none.
"Most of my guests asked for business cards and I am sure more business will follow."
After receiving their Hitched Wedding Award, the Ridgway Caterers Limited team said, "What a surprise it was to find out we had won a Hitched Wedding Award. The feedback we have received from posting on social media that we are award winners has been incredible.
"Being part of the Hitched family means we have been able to expand the areas we cover because of the leads we receive from Hitched. To have won the award through our lovely couples leaving us reviews makes it very special, as we feel the service we provide for them is second to none."
19. Rainbow Grazing Co - Dorset
Wedding grazing tables are all the range, and Rainbow Grazing Co. makes it easy to see why. This Dorset-based catering company offer banquet-style grazing tables that feature vibrant blooms and carefully curated selections of food. Not only do these arrangements taste delicious, they also act as an impressive centrepiece for your wedding celebration.
The wide variety of food featured in each grazing table means that there's something here to suit every guest. Food is grouped in bite-sized portions, allowing guests to sample a wide range of the products on offer. From rich meat and tangy cheese to sweet dessert tables, you and your guests are in for a real treat.
Local produce features heavily on the menu and the company is sure to employ eco-friendly practices in their service.
Rainbow Grazing Co.'s satisfied customer have left five five star reviews on their Hitched listing. One newlywed said "We are so happy that we chose Rainbow Grazing for our evening catering at our wedding. The presentation of the grazing boards were fantastic, they tasted incredible & were definitely a talking point amongst our guests.
"They were very well received and everyone loved it including us! Thank you for exceeding our expectations & for being so professional and prompt with all your emails. We definitely wouldn't hesitate to recommend you to our family & friends."
The Rainbow Grazing Co. team were thrilled to receive a Hitched Wedding Award, saying "We would like to say a huge thank you to all the amazing couples we were lucky enough to work with over 2022, and for their generous and kind words in their reviews.
"We love what we do, and knowing that we helped to make a day as important as someone's wedding just that little bit more special, really means the world to us. Thank you, and bring on 2023!"
Award-Winning Wedding Caterers in 2022
If you want to explore more top-quality wedding caterers and missed out on last year's Hitched Wedding Awards, check out last year's award winners below.
20. Avilah Foods - Berkshire
Specialising in African and Caribbean cuisine, Avilah Foods delivers authentic dishes made from original recipes. Choose from delicious canapés and platters, a beautiful buffet service, family dining in street food style or seated set meals.
21. Blame Frank - London
For wedding catering that your guests are sure to remember, consider Blame Frank - a one-of-a-kind dining experience served from a fun green food truck. The flavourful food has plenty of flare including burger sliders, BBQ boards and dessert sharing platters.
Truck not to your taste? They can also provide an elegant gazebo set up or use an in-house kitchen for luxury presentation.
22. The Grazing Guys - West Yorkshire
Wedding grazing tables are seriously on trend and with the Instagram-worthy feasts that West Yorkshire based food catering company The Grazing Guys are laying out we can see why. You and your guests can tuck into a menu of artisan bread, freshly baked pastries, locally sourced cheeses, mouth-watering meats, and much more.
More over, The Grazing Guys can even provide table scaping and foliage to decorate your table.
23. Perfect Day Caterers - Essex
Perfect Day Catering create bespoke wedding menus so your food can be just as unique as your special day will be. As well as providing everything from kitchen equipment to crockery, cutlery, glassware and staff, you'll also get a dedicated wedding co-ordinator to help with the planning of every detail on the run up to the big day, who will also be there on the day as your front of house manager.
24. Elizabeth Caton Food and Wine - East Sussex
If you're looking to tuck into luxury fine dining on your wedding day, Elizabeth Caton Food and Wine can accommodate. Led by innovative sisters Elizabeth and Charlotte, the culinary team specialises in garden-to-table meals that showcase the best of organic and locally-sourced ingredients.
Renowned for their expertly plated dishes, the duo also happily caters to vegan and vegetarian tastes with plenty of delicious meat-free creations.
25. Purple Chilli Events Catering - York
For gold standard food and service, look no further than Purple Chilli Catering in North Yorkshire. Their experienced team of chefs and waiting staff will be on hand to make your day special - serving classic British dishes with a gourmet twist.
26. Ross & Ross Events - Oxfordshire
Ross & Ross Events have your wedding food covered throughout the whole day - their evening food is simply scrumptious. We're talking cheese toasties or slow-cooked beef rolls and grazing dessert stations.
More over, they even have a stone pizza oven and Indian tuk-tuk van for informal and relaxed late-night snacks.
27. The Tipsy Pig - Surrey
Launched by three school friends that shared a passion for making people happy, The Tipsy Pig can create a bespoke wedding menu to meet your needs, whether that be luxury canapés or hog roast feasts.
As well as fantastic food, The Tipsy Pig can also supply a mobile bar service - you can choose from their VW bar, rustic pallet bar, or the classic black bar.
28. Vamos Paella - Surrey
You don't have to get hitched in a destination wedding to have authentic paella and tapas served as your wedding food - Vamos Paella in Surrey provides exquisite dishes inspired by Spanish cuisine. We love the idea of having a steaming pan of paella cooked fresh in front of your guests!
29. Anthony's Bistro and Catering - Warwickshire
Whether you're having an intimate dinner party with only a few of your loved ones, or a large scale buffet that can accommodate for hundreds of guests, Anthony's Bistro and Catering will keep everyone happy and fed. If you're stuck for inspiration they are more than happy to meet and recommend ideas.
30. Big Slice Ltd - West Midlands
At Big Slice Ltd each pizza is cooked using their own homegrown recipes with high-quality, locally, and ethically sourced ingredients. You won't have to worry about pleasing fussy guests or children, these pizza connoisseurs can use toppings to suit any palate, so you can sit back and enjoy your special day.
Avoid making a foodie faux-pas on your big day with our guide to the foods you shouldn't serve at a wedding.