36 Unique Wedding Table Plan Ideas (and Tips for Creating Your Own)
Wedding table plans can be tricky, but we've got plenty of beautiful table plans to inspire you and make the whole process a little less stressful
We have included third party products to help you navigate and enjoy life's biggest moments. Purchases made through links on this page may earn us a commission.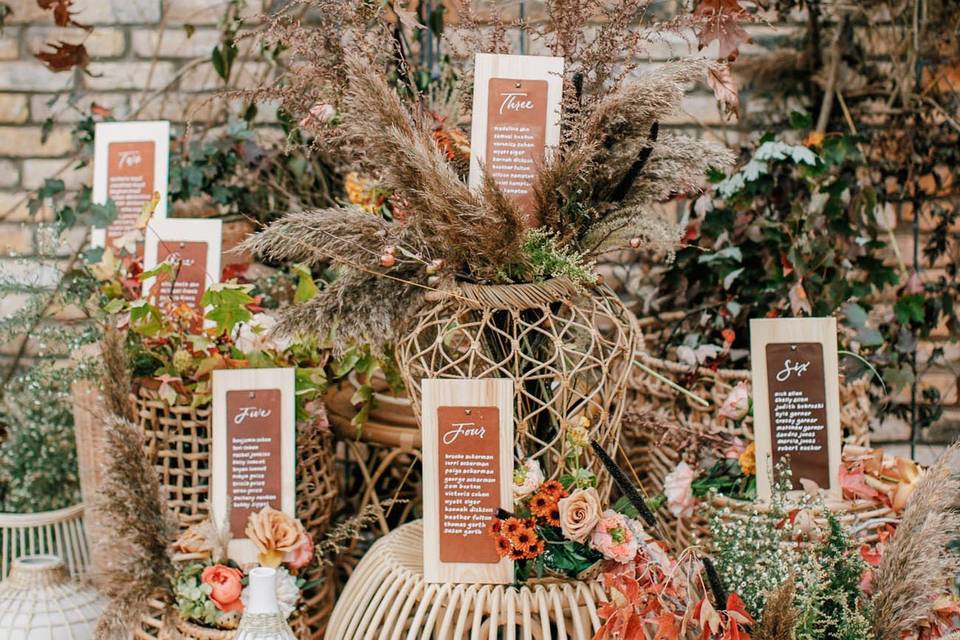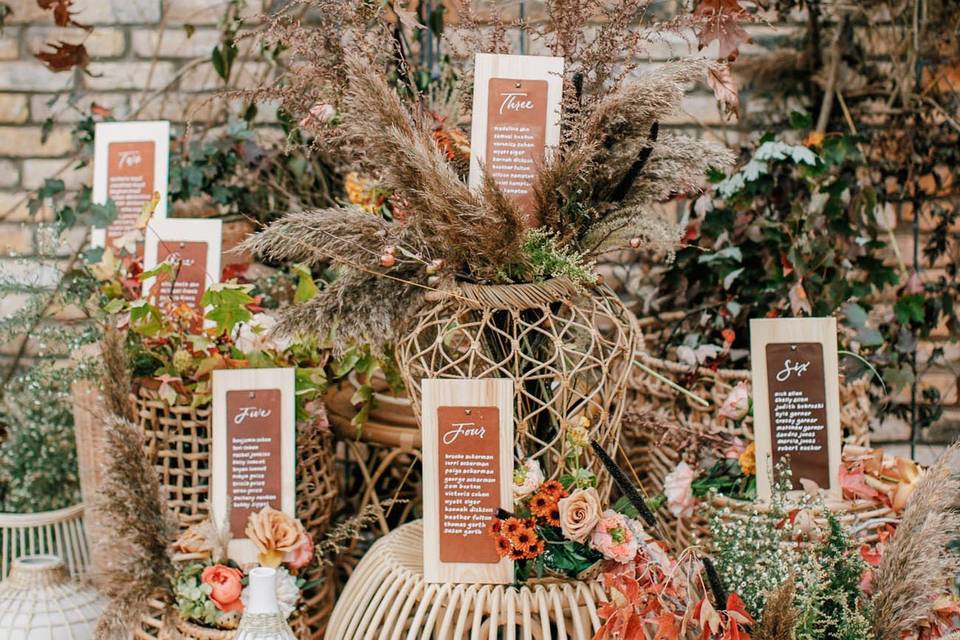 After your beautiful wedding ceremony and elegant reception drinks, the wedding table plan is probably the first thing your guests will see as they arrive at your wedding breakfast.
That said, most of your wedding guests will probably be unaware how much stress and hard work has gone into organising it… Deciding who to sit where is a time-consuming task!
With that in mind, we've got some golden rules and top tips to help make creating your wedding table plan a breeze. We've also got 36 wedding table plan ideas to inspire you, plus plenty of ready-made wedding table plans and seating charts for you to shop! What are you waiting for?
Rustic Wedding Table Plans
If you're hosting your celebrations in a barn wedding venue, this seating chart would be perfect.
The calligraphy font really stands out against the wooden backdrop – and the juxtaposition of roses and oranges is a beautiful touch!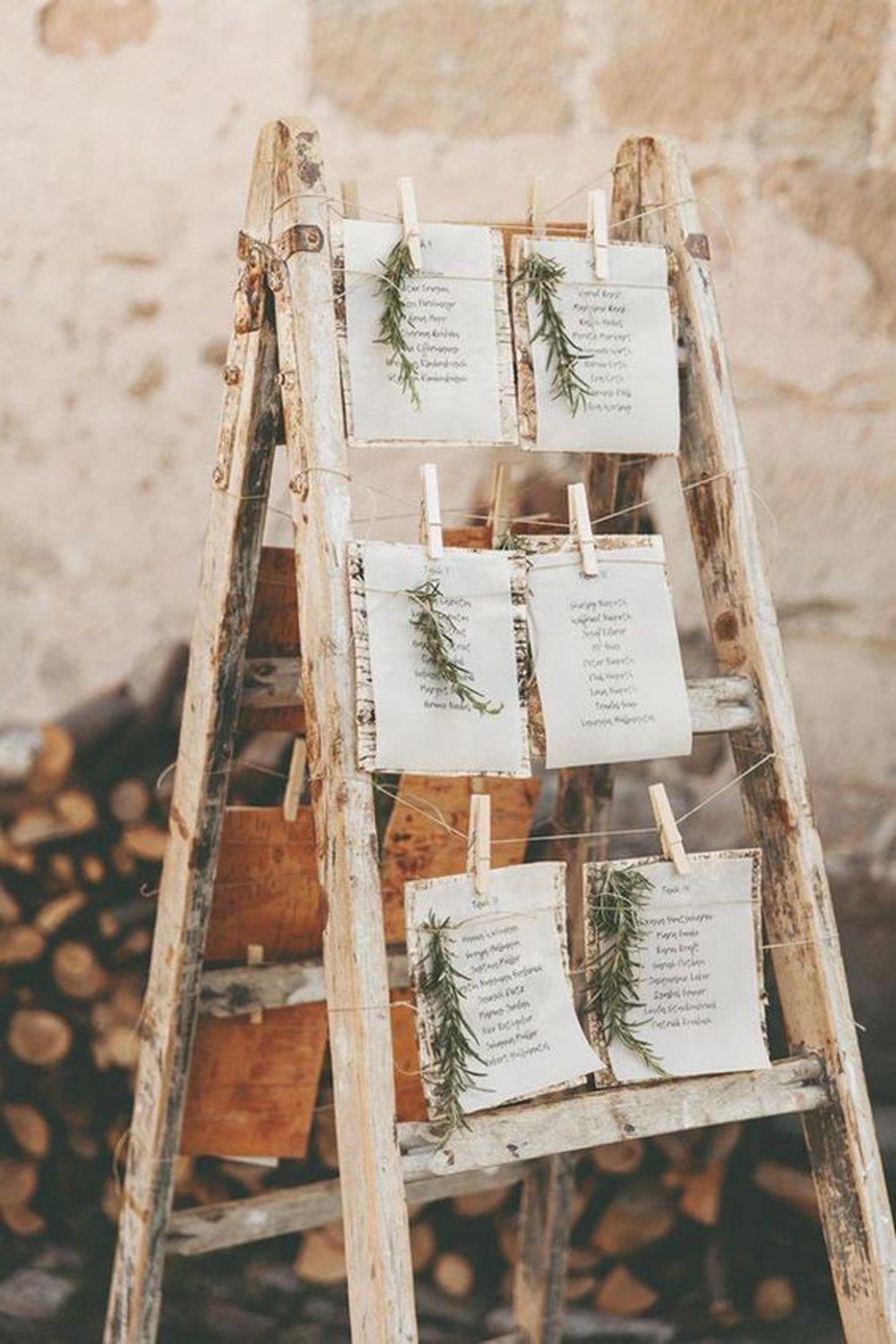 Image: Pinterest
A rustic wedding is timeless and elegant, just like this table plan.
Table groupings have been hung from an old step ladder and the structure has been decorated with foliage. What a lovely idea!
We love this old easel which has been transformed into a rustic table plan.
The wreath decoration is a lovely touch, and it's useful for guests to be able to see where on the table they'll be sitting before they get there!
If you're hosting a travel themed wedding and want to go for a more modern take on the rustic table plan, opt for something like this.
Guests will love to find their destination on tables which are named after destinations the couple have visited together.
READ MORE: 15 of the Most Inspirational Wedding Themes for 2020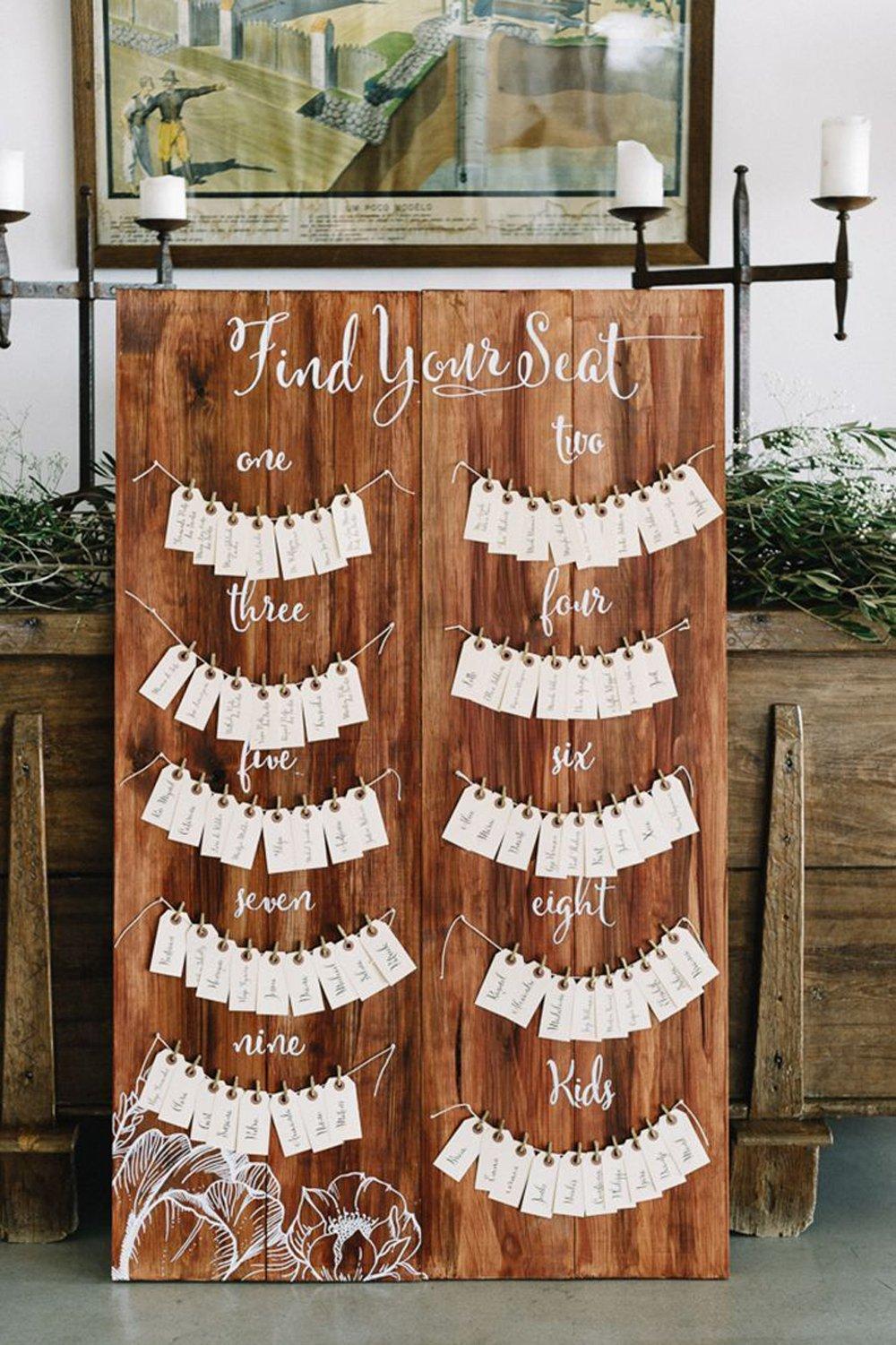 Image: Pinterest
This rustic table plan not only shows guests where they'll be sat, but it offers them their place cards too.
Guests can find their name before pulling the cute little cardboard labels off of the pegs and popping them wherever on the table they choose to sit.
Boho Wedding Table Plans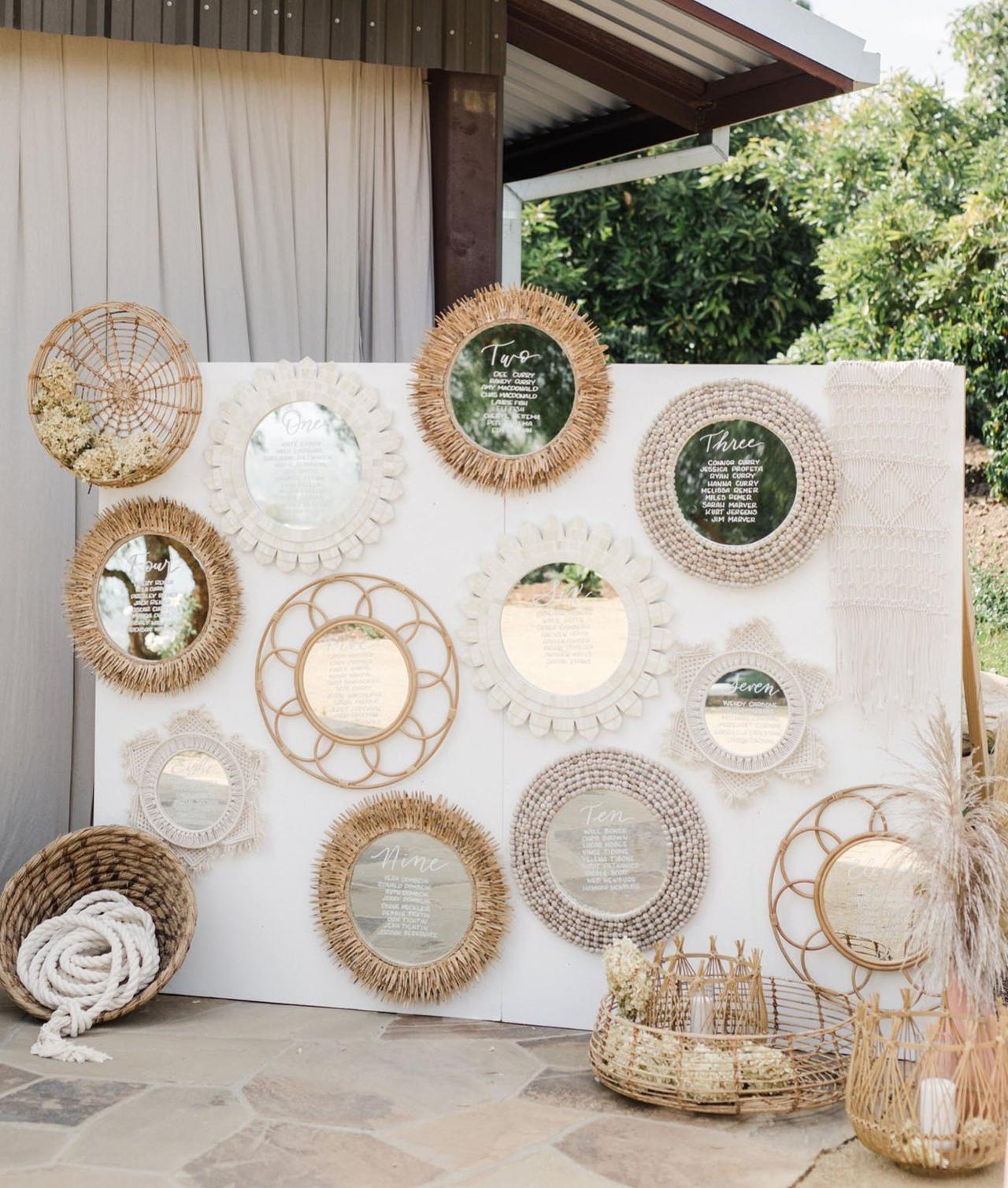 Image: Pinterest
We've never seen a table plan more perfect for the bohemian bride. It's made up of lots of boho-inspired mirrors attached to a clean, white backdrop.
A photo backdrop and a table plan all in one – talk about two birds with one stone!
READ MORE: 37 of the Dreamiest Boho Bridesmaid Dresses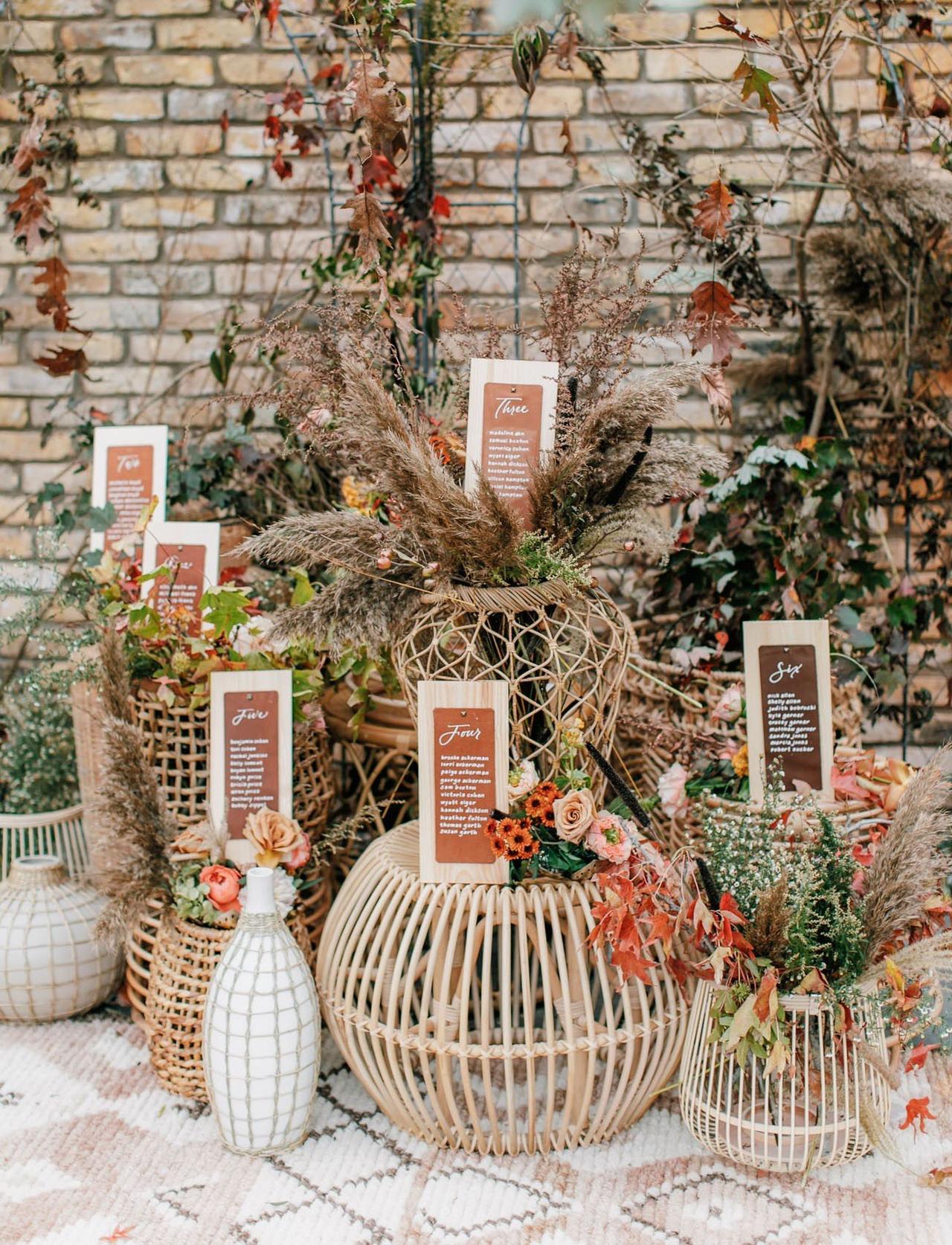 Image: Pinterest
We're obsessed with this set-up which throws everything you thought you knew about table plans out of the window.
Forget having just one display board and make an entire installation out of it!
READ MORE: 17 Ways of Using Pampas Grass in Your Wedding
If you're keen to get the wedding party started pronto, provide shot glasses for your guests as they're finding out which table they've been assigned to.
They'll love to fill their glass up with the flavoured spirit you've made yourself. What a great DIY wedding favour idea!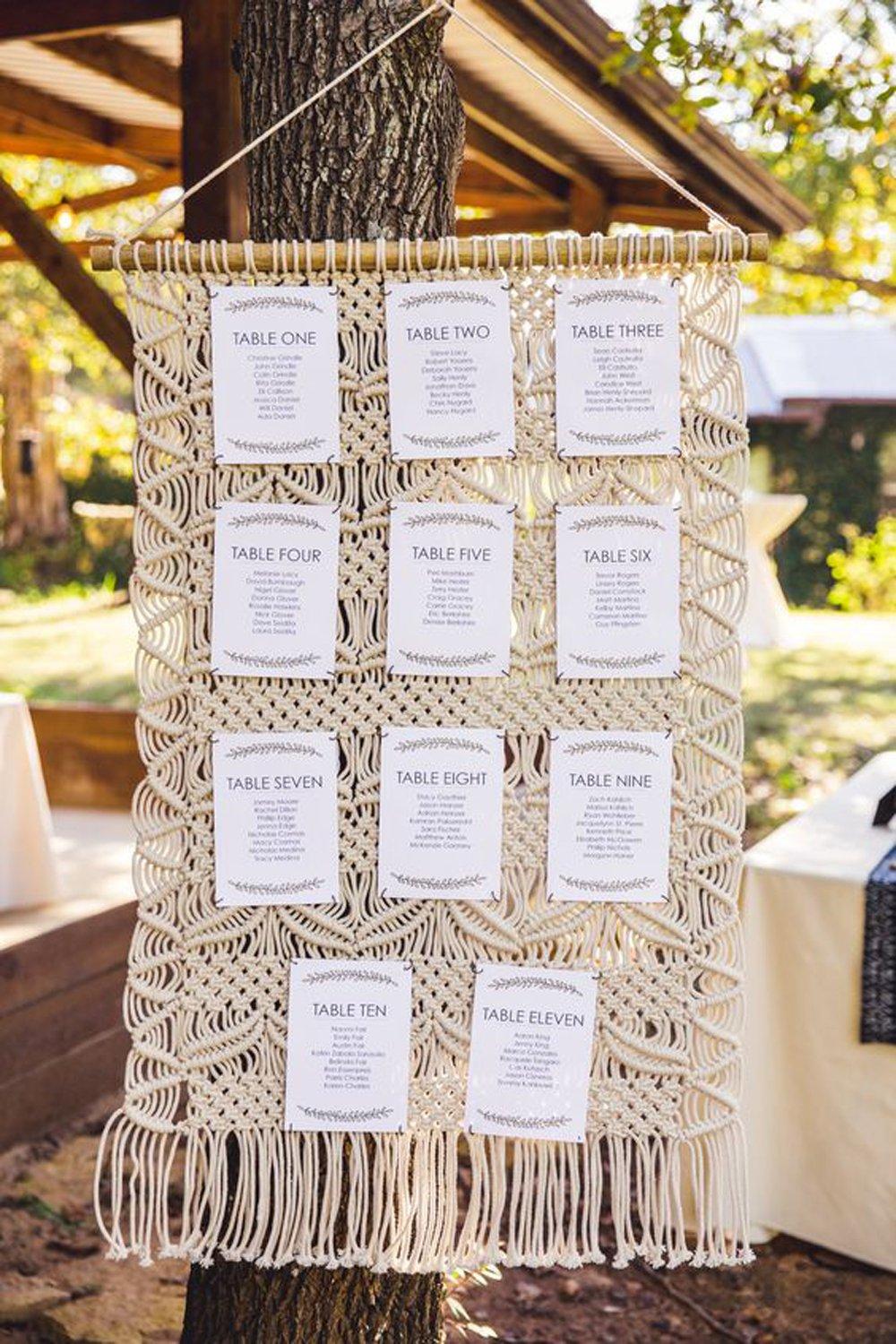 Image: Pinterest
Simple yet effective, this bohemian table plan features simple pieces of card hanging from a macrame wall hanging.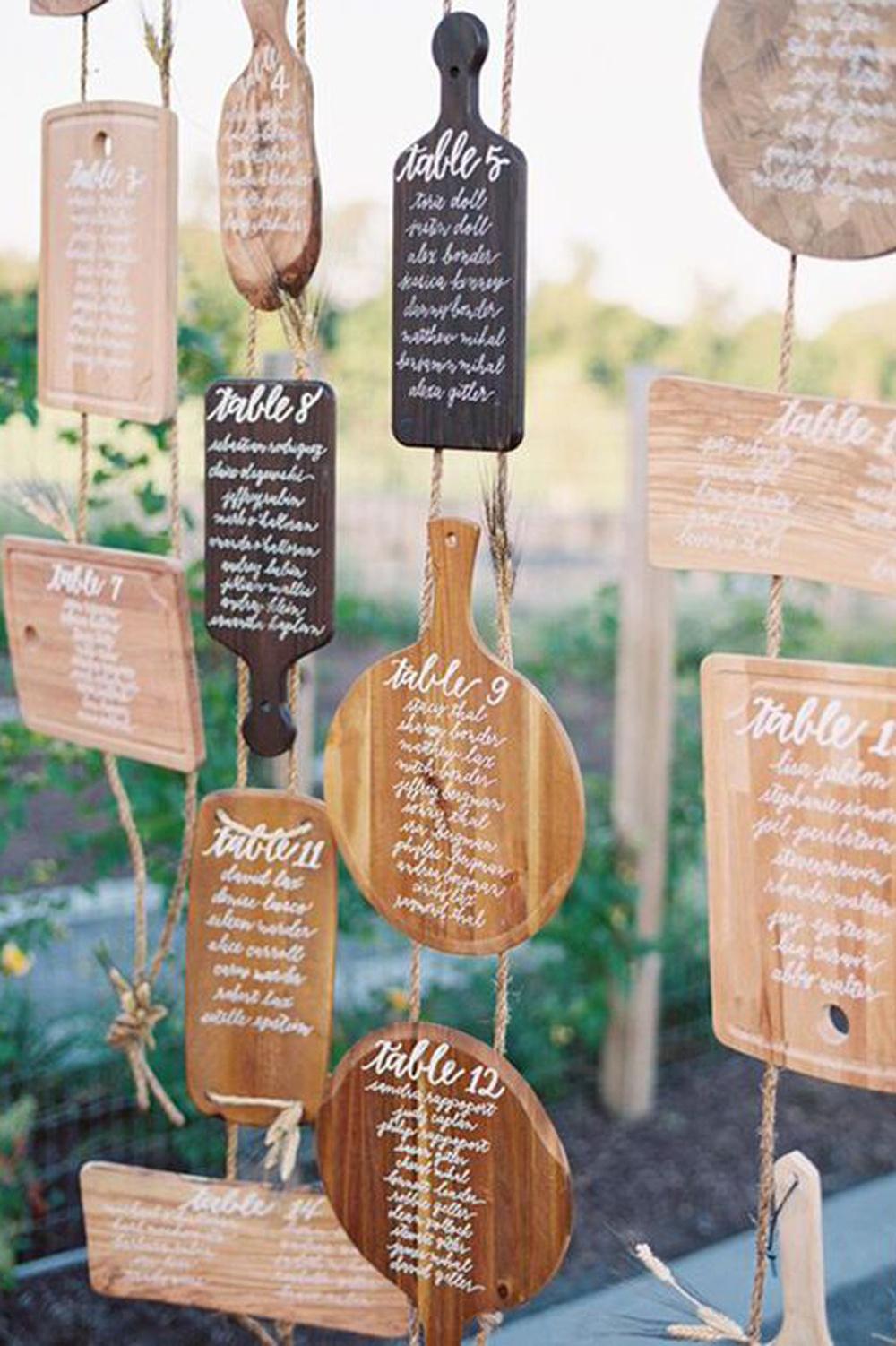 Image: Pinterest
Who knew old chopping boards could become one of the prettiest décor details at your wedding?
This couple have used old boards and a tree to display their seating chart… and we couldn't love it more if we tried.
Vintage Wedding Table Plans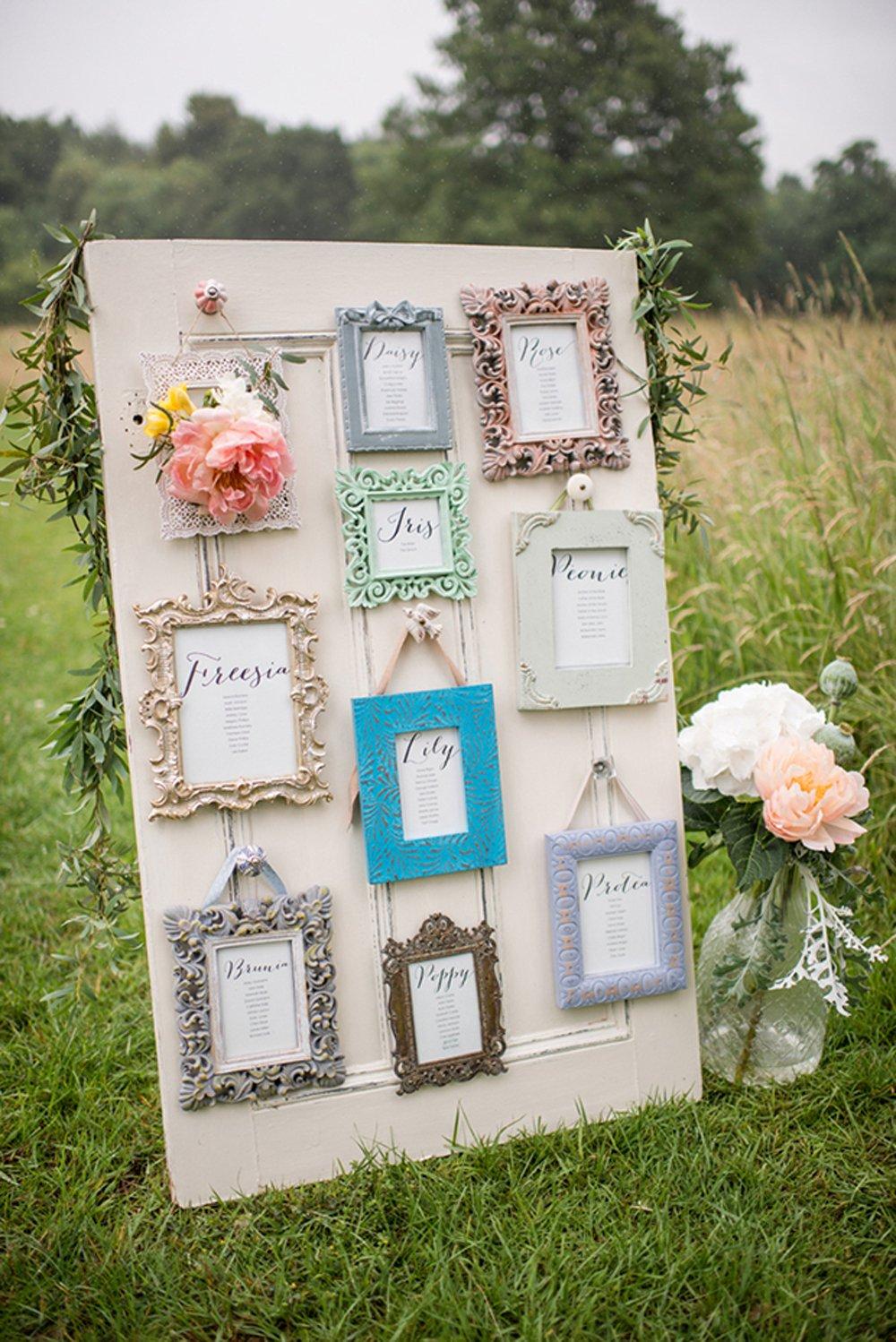 Image: Pinterest
We love this vintage wedding idea, where multi-coloured frames have been pinned to an old door to display who's sitting on which table.
You could easily make this yourself!
READ MORE: Does DIY Actually Save You Money?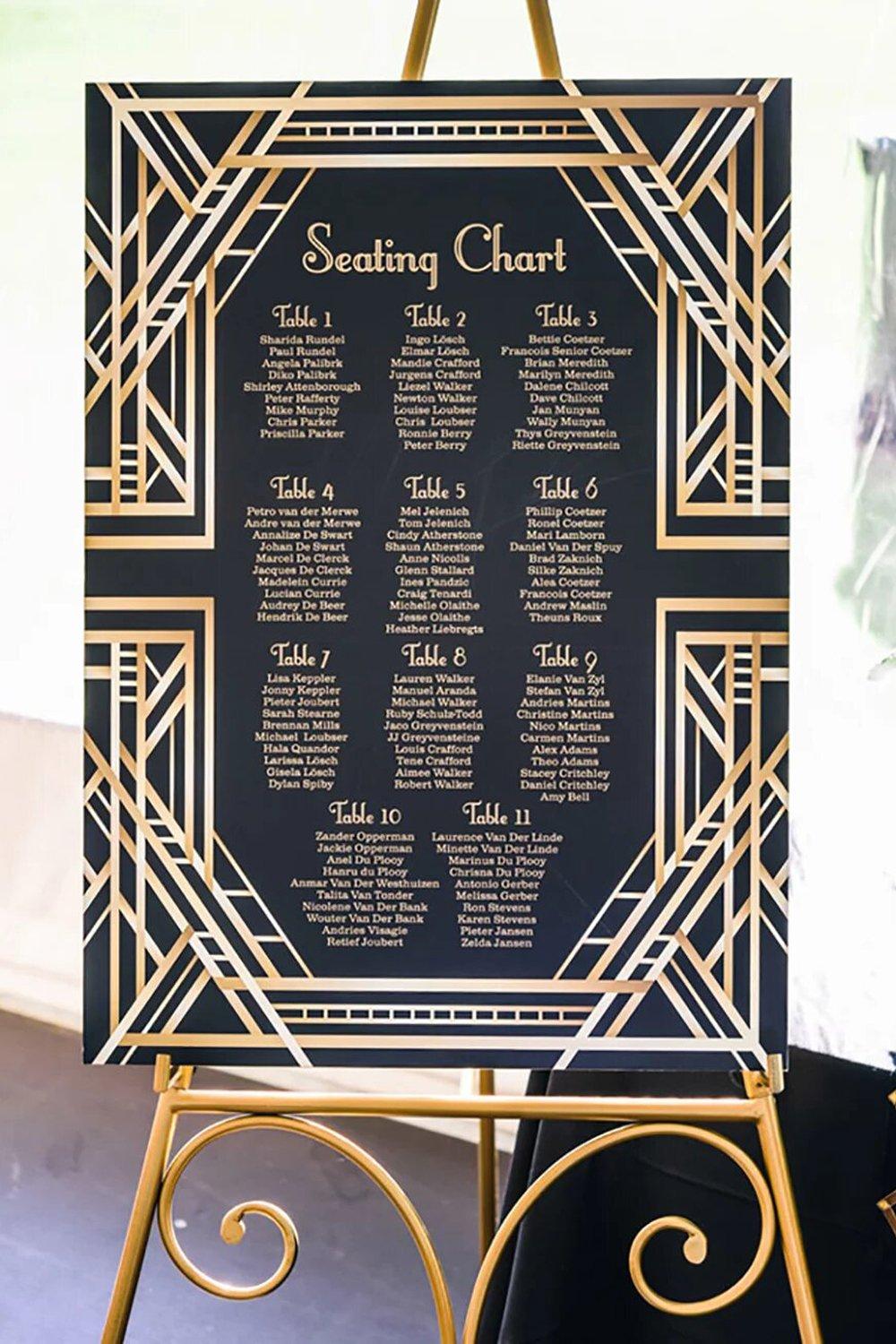 Image: Pinterest
Hosting a Great Gatsby-themed wedding? This striking table plan picks on the popular colours and geometric pattern of the era.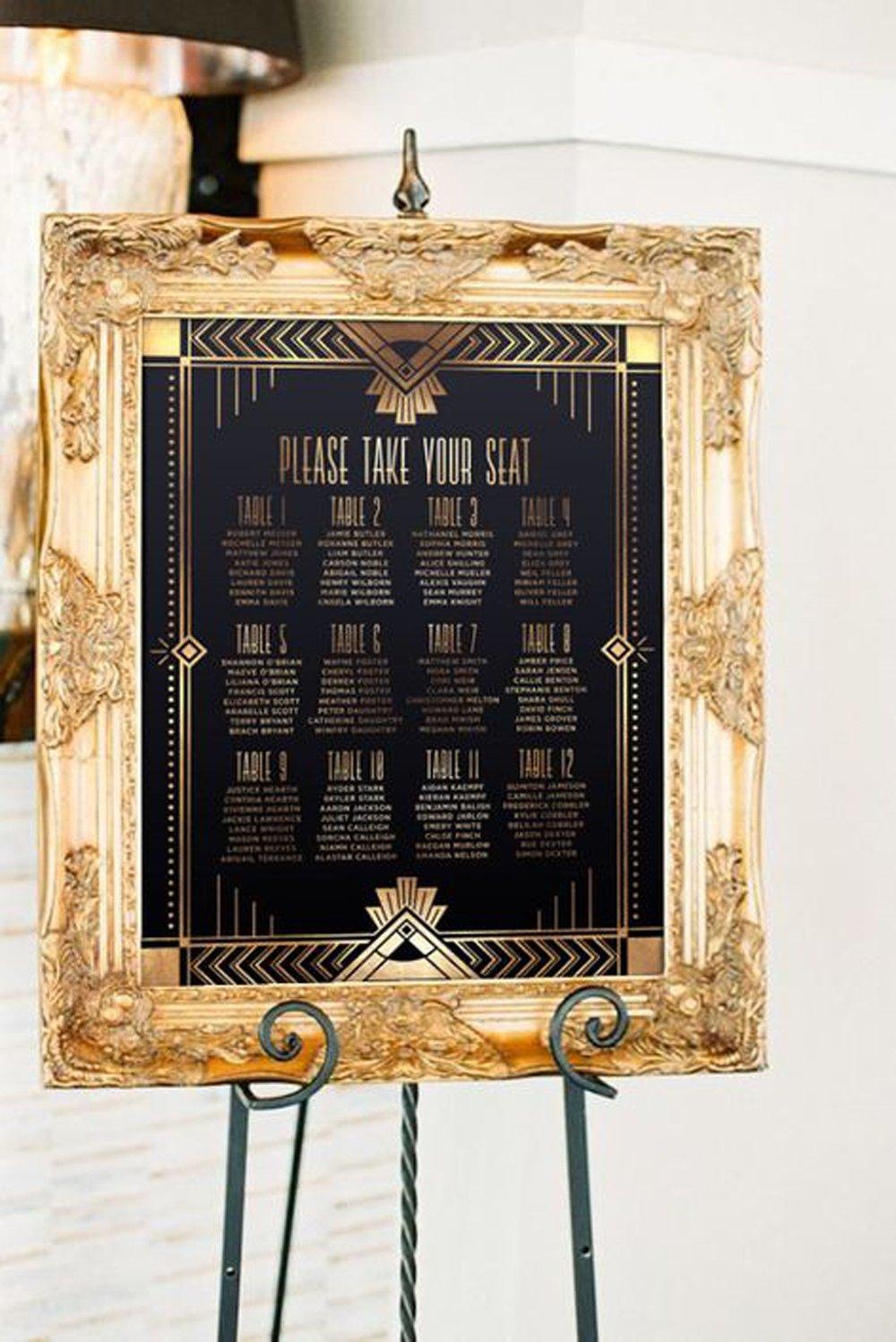 Image: Pinterest
Or how about this 1920s-inspired table chart? The gold frame really makes it pop.
One of the easiest (and cheapest) ways to display your wedding table plan is to hunt down a vintage mirror and write the names on it yourself.
This couple have done exactly that – and the result is something so photogenic!
Modern Wedding Table Plans
At a modern wedding, décor details are often kept simple, minimal and monochromatic.
This seating plan exudes elegance thanks to its paired-back formatting and understated design.
READ MORE: 50 Simple Wedding Dresses for Modern Brides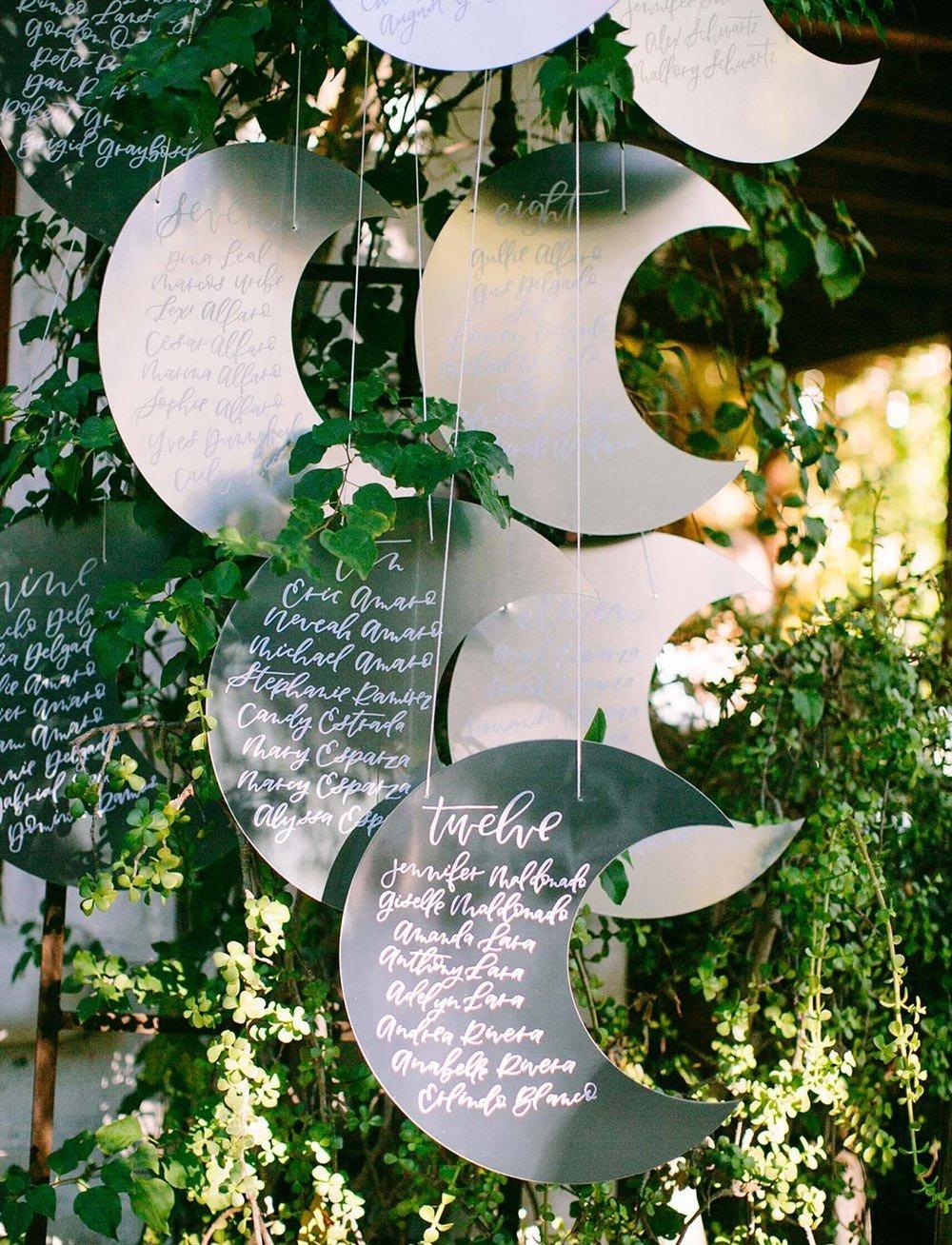 Image: Pinterest
If you're hosting a celestial-themed wedding day, displaying your seating plan on hanging metallic moons is a beautiful idea. Instagram-worthy or what?
READ MORE: The Best Wedding Instagram Accounts to Follow Now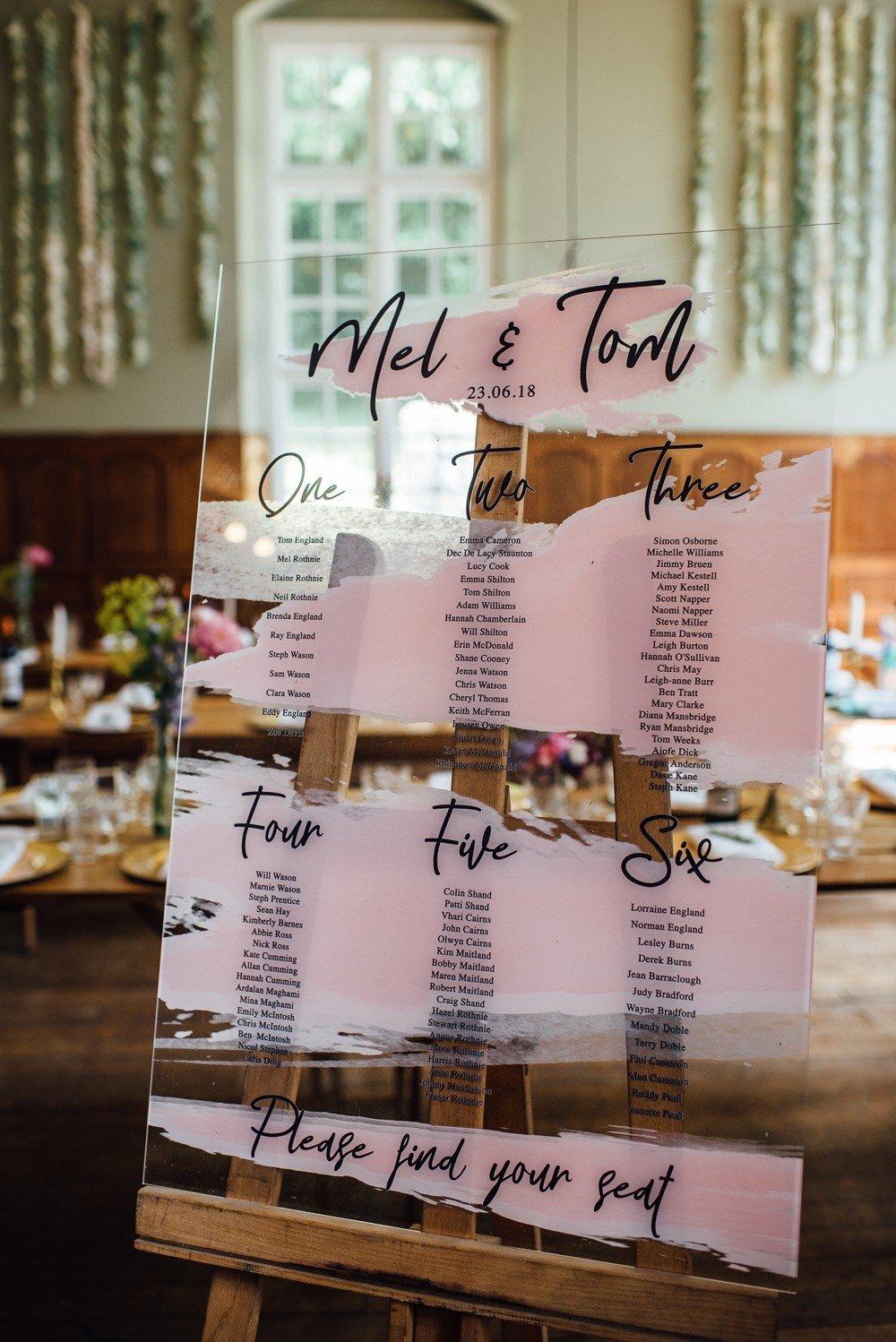 Acrylic wedding signs don't seem to be going anywhere for 2020.
We love the splash of colour on this acrylic table plan which clearly displays the couple's names and their wedding date.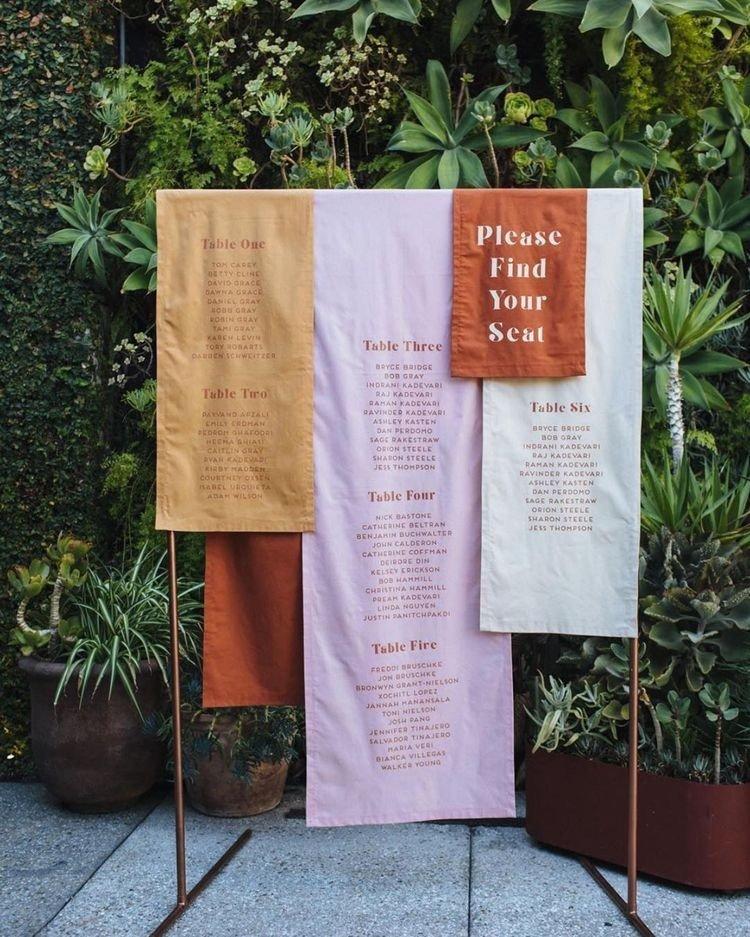 Image: Pinterest
Have you ever seen anything quite like this? We're feeling seriously inspired!
This couple have draped coloured pieces of fabric over a copper clothing rail to inject fun into their wedding reception. We're obsessed.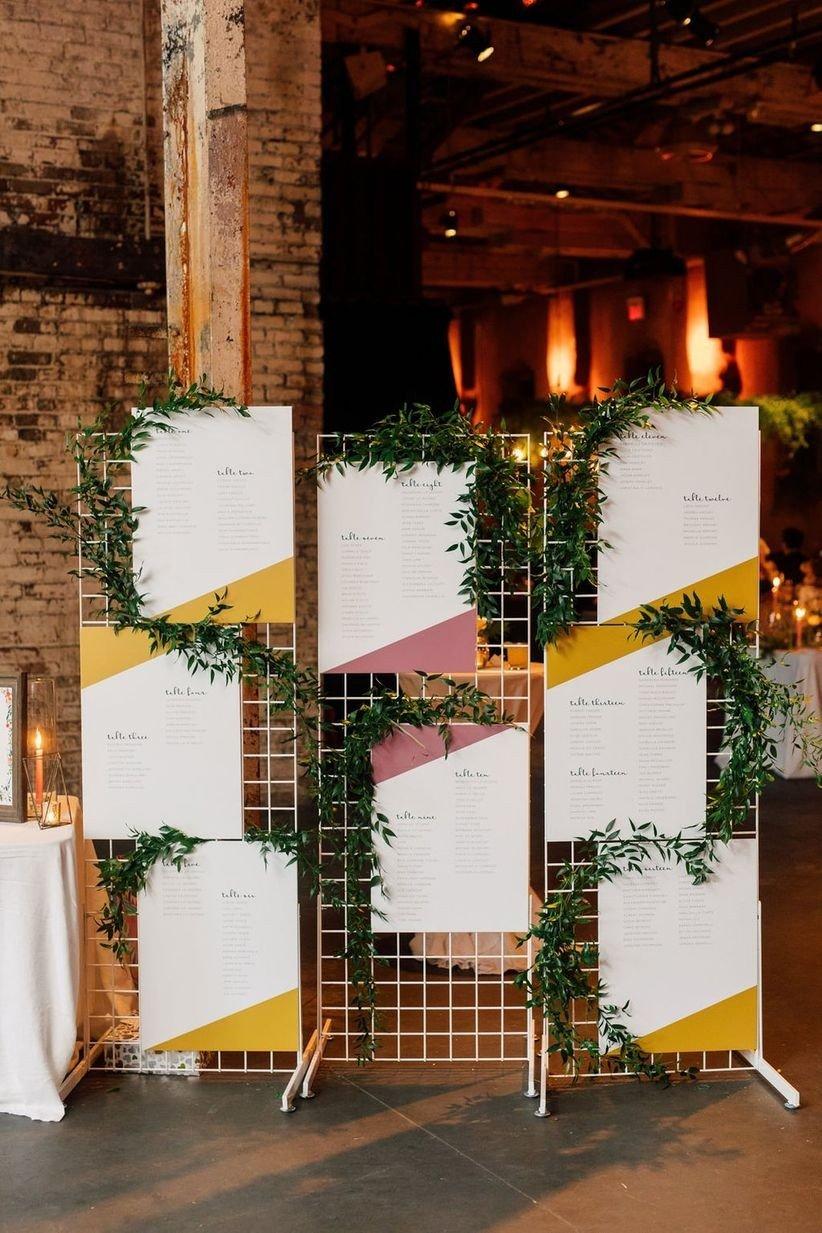 Image: Pinterest
Use a panel of wire mesh as the backdrop for your wedding seating chart and fill it with colourful table cards and greenery.
It'll create a totally unique wedding table plan for your modern and contemporary wedding!
How cool are these acrylic cubes?
Stand them at the entrance to your wedding reception to really make a statement and fill them with your chosen wedding flowers. Your guests will love to hunt for their table!
Glamorous Wedding Table Plans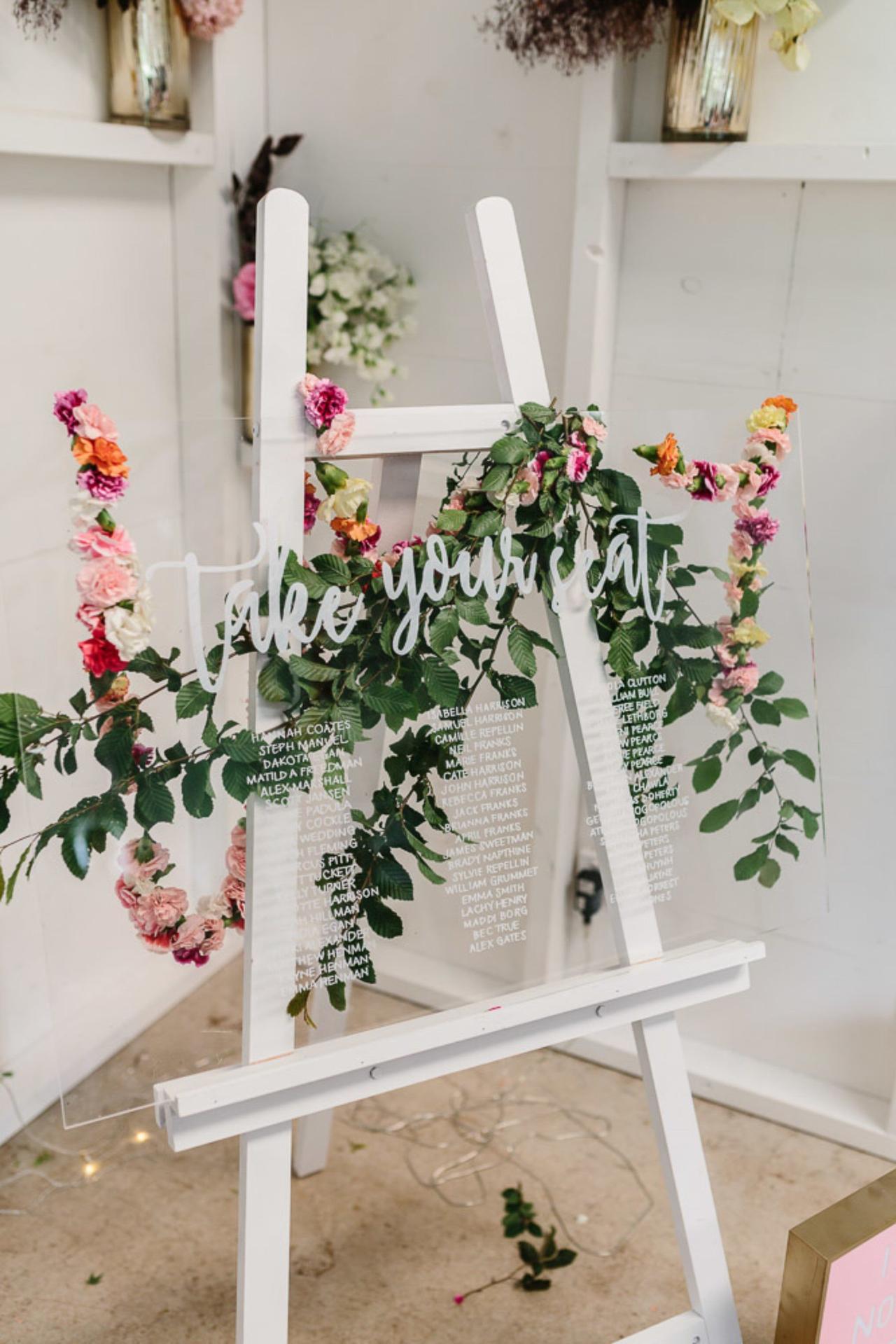 Image: Pinterest
We are so obsessed with this glamorous table plan.
We're not sure whether it's the acrylic backdrop, white easel or brightly coloured roses that make it so spectacular, but it might just be our favourite yet…
READ MORE: How Much do Wedding Flowers Cost?
This white and gold table plan works particularly well against the couple's light and airy wedding reception setting.
The surrounding candles are a beautiful finishing touch.
This pink and feminine installation is a totally glamorous way of displaying your table plan.
We love the addition of the wedding hashtag in the bottom right-hand corner.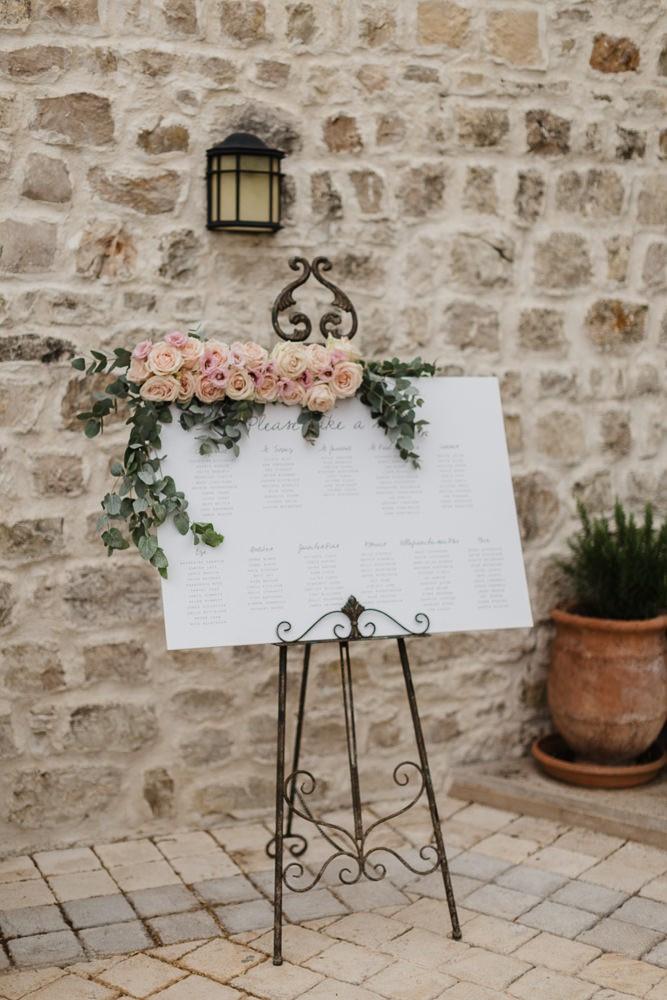 Image: Pinterest
This wedding seating plan screams fairy tale wedding! Now all you need is a horse-drawn carriage and a ballgown wedding dress.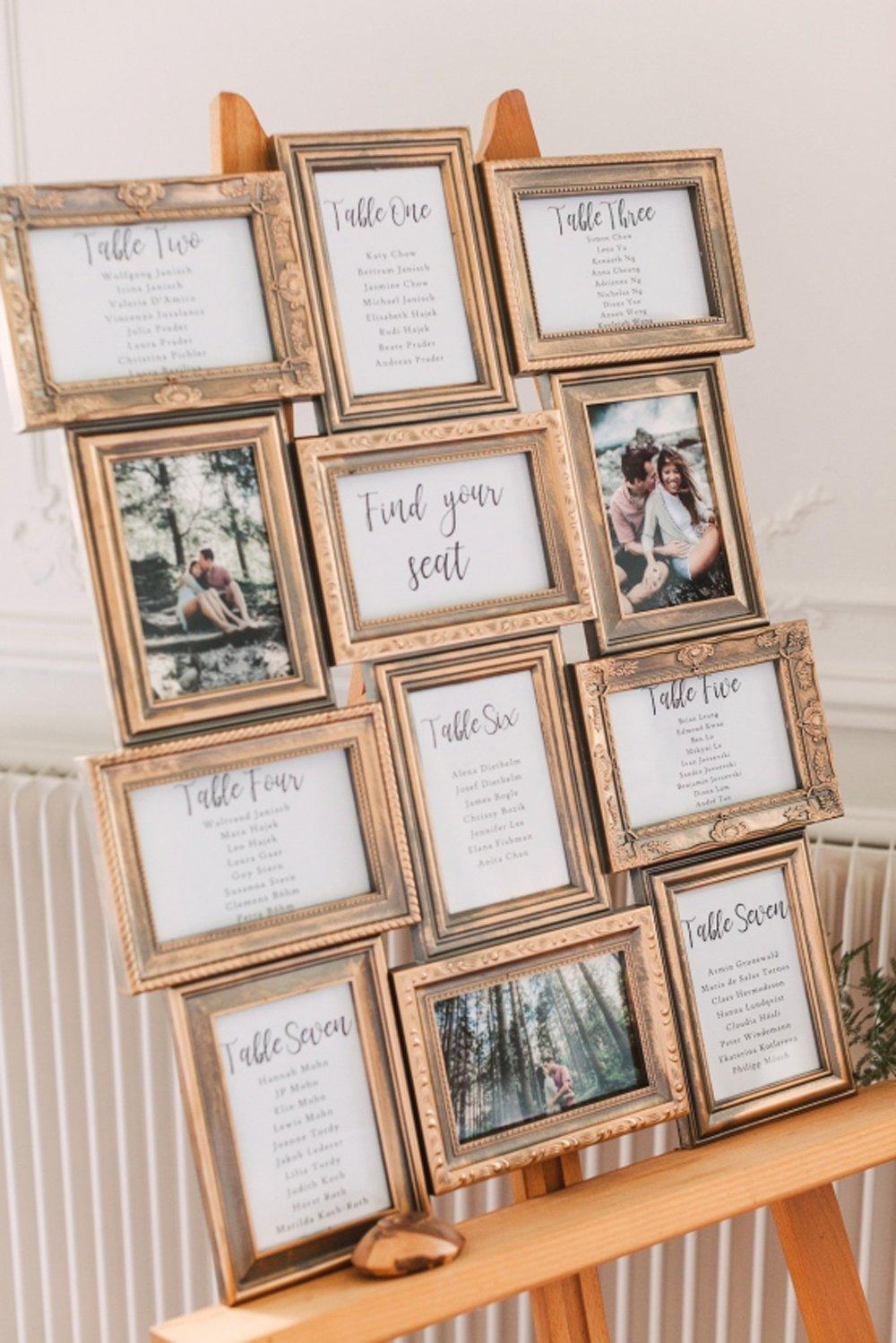 Image: Pinterest
Another table plan made from frames, but this time including cute pictures of the couple alongside the seating arrangements.
If you're having an engagement shoot, this is a lovely way to show off some of the photographs!
Pink-loving brides and grooms will adore this glamorous wedding seating chart.
A handwritten font has come together with pink roses and an on-trend copper rail to create something totally spectacular.
Simple Wedding Table Plans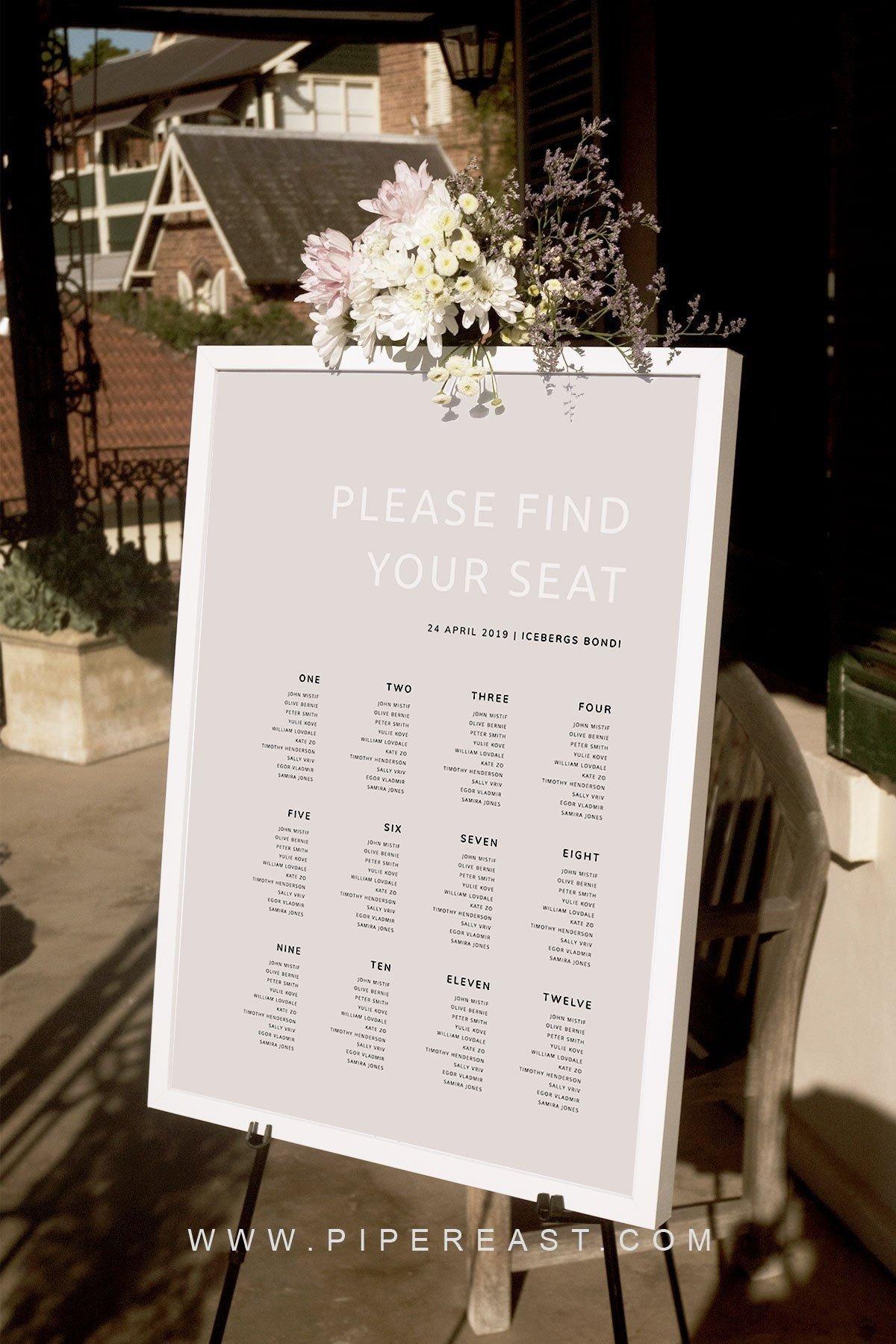 Image: Pinterest
Sometimes, simple is best, and that's exactly what this beige and monochrome table plan has led us to believe.
Thanks to its fuss-free design, your guests will find their seats in no time!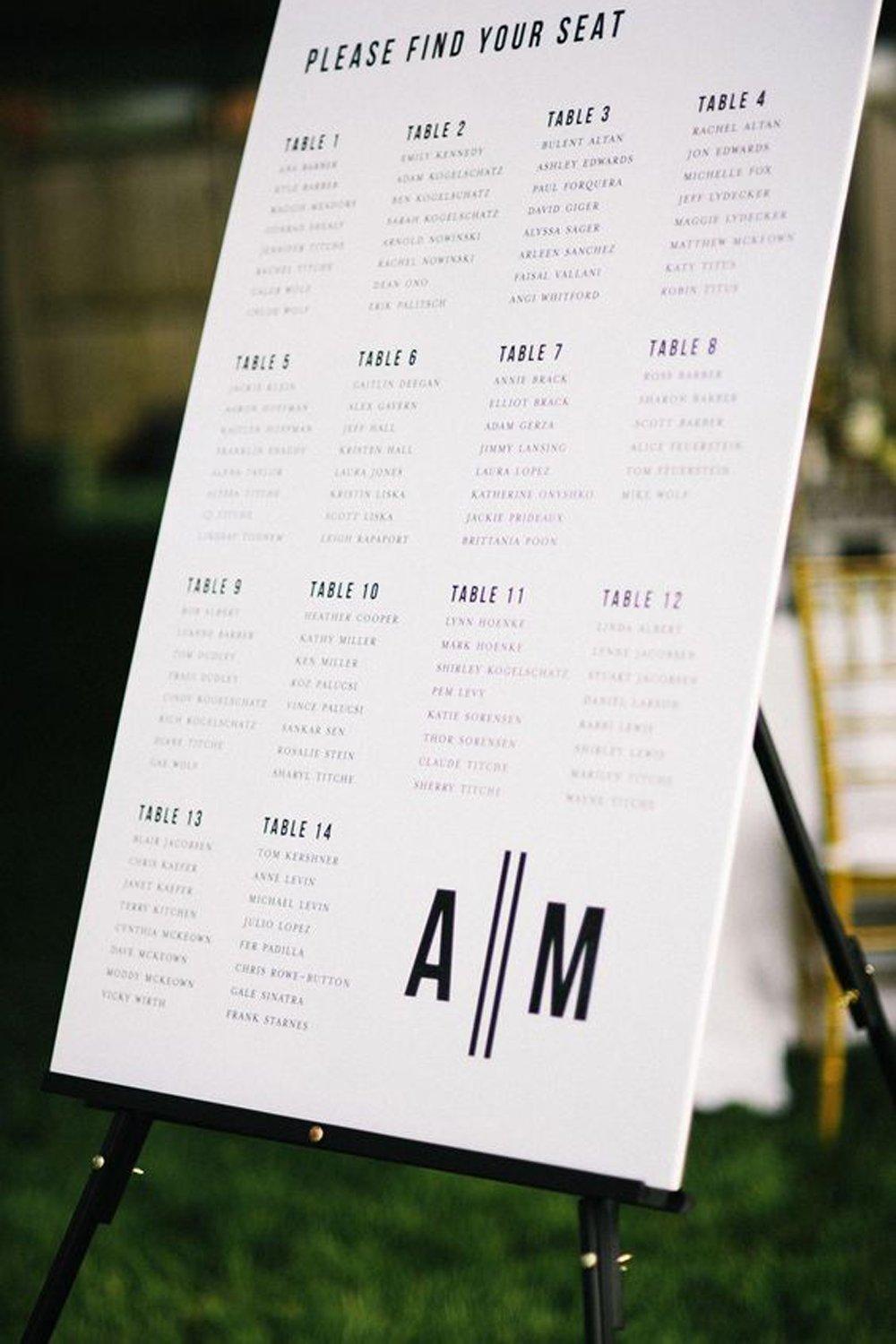 Image: Pinterest
You can't go wrong with a bit of black and white.
This couple have chosen to make their initials the focal point of their seating chart, balancing it on a revamped easel.
If you're hosting a rustic wedding, displaying your table plan on a large piece of board is a great idea.
Just make sure the font is in keeping with the rest of your wedding stationery and signs!
READ MORE: The Best Barn Wedding Venues in Essex
Are you and your partner wine lovers? Pin your table plans to a cork backdrop for a simple yet rustic wedding idea.
Festival Wedding Table Plans
Festival weddings are becoming increasingly popular, especially in the summer – and for good reason!
Name your tables after the artists in your dream festival line-up and display the information in the style of a festival poster.
READ MORE: How to Plan a Festival Wedding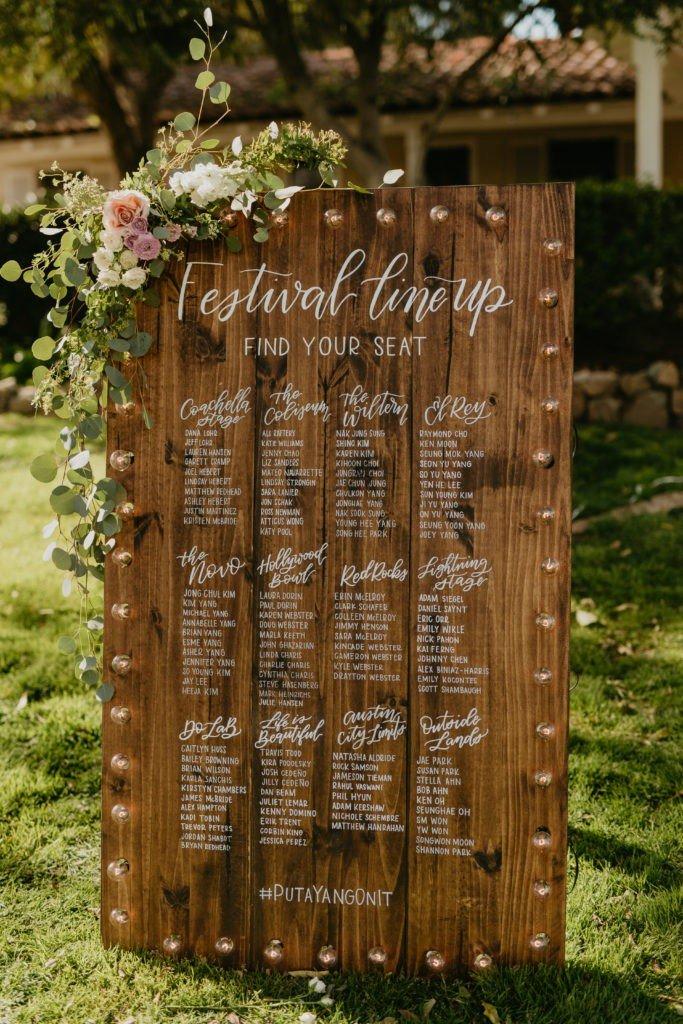 Image: Pinterest
We love this rustic take on a festival line-up poster.
The couple have decorated the wooden panel with light bulbs to ensure their work of art still looks great when the sun goes down.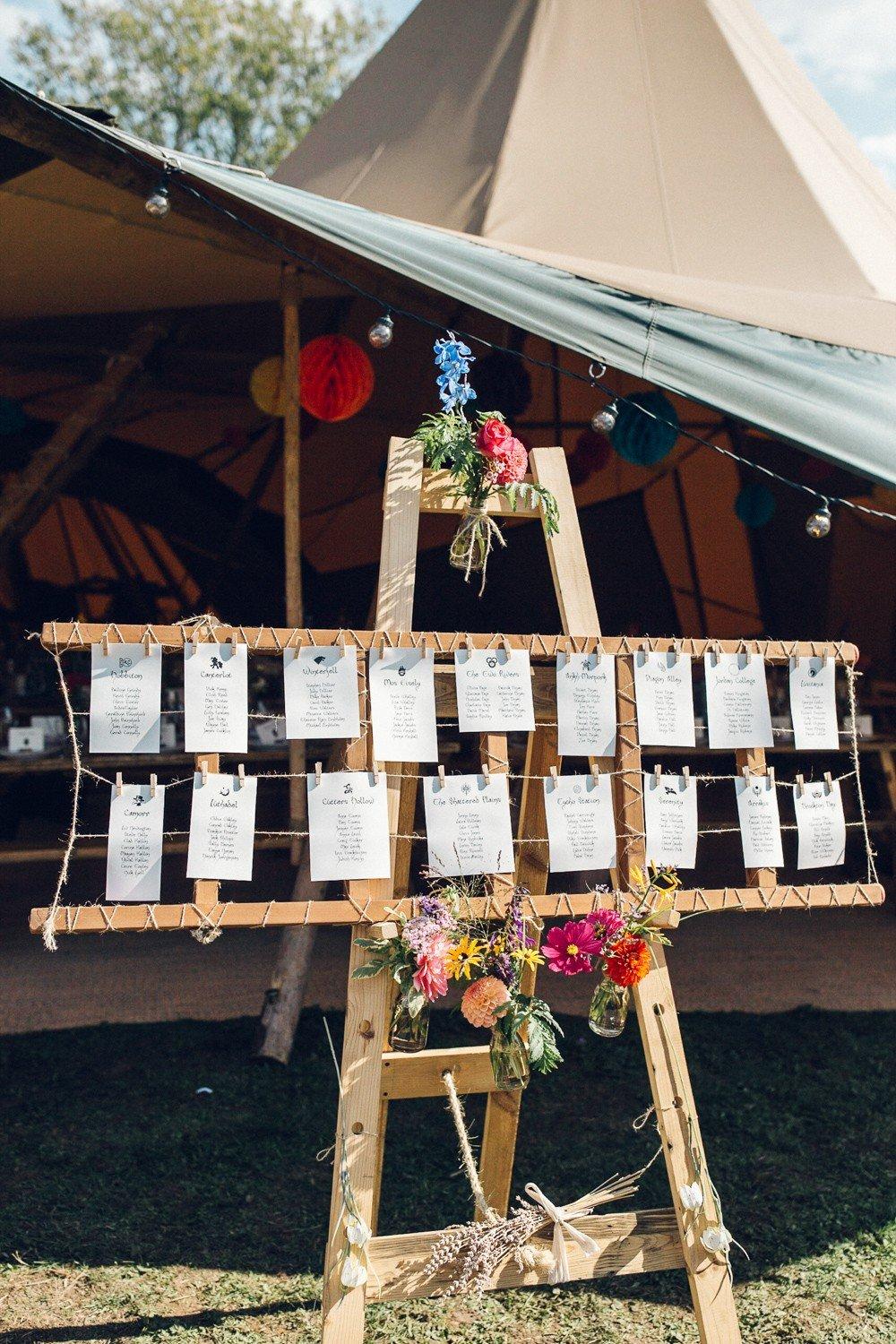 Image: Pinterest
This cool festival table plan sits pride of place outside this couple's tipi wedding venue.
The colourful flower arrangements are the finishing touch it needs.
This fun take on a seating chart would be perfect for your festival wedding! The brightly coloured glass makes for such a cool effect.
Do you have a friend who's good at art? This festival seating plan would be really simple to recreate.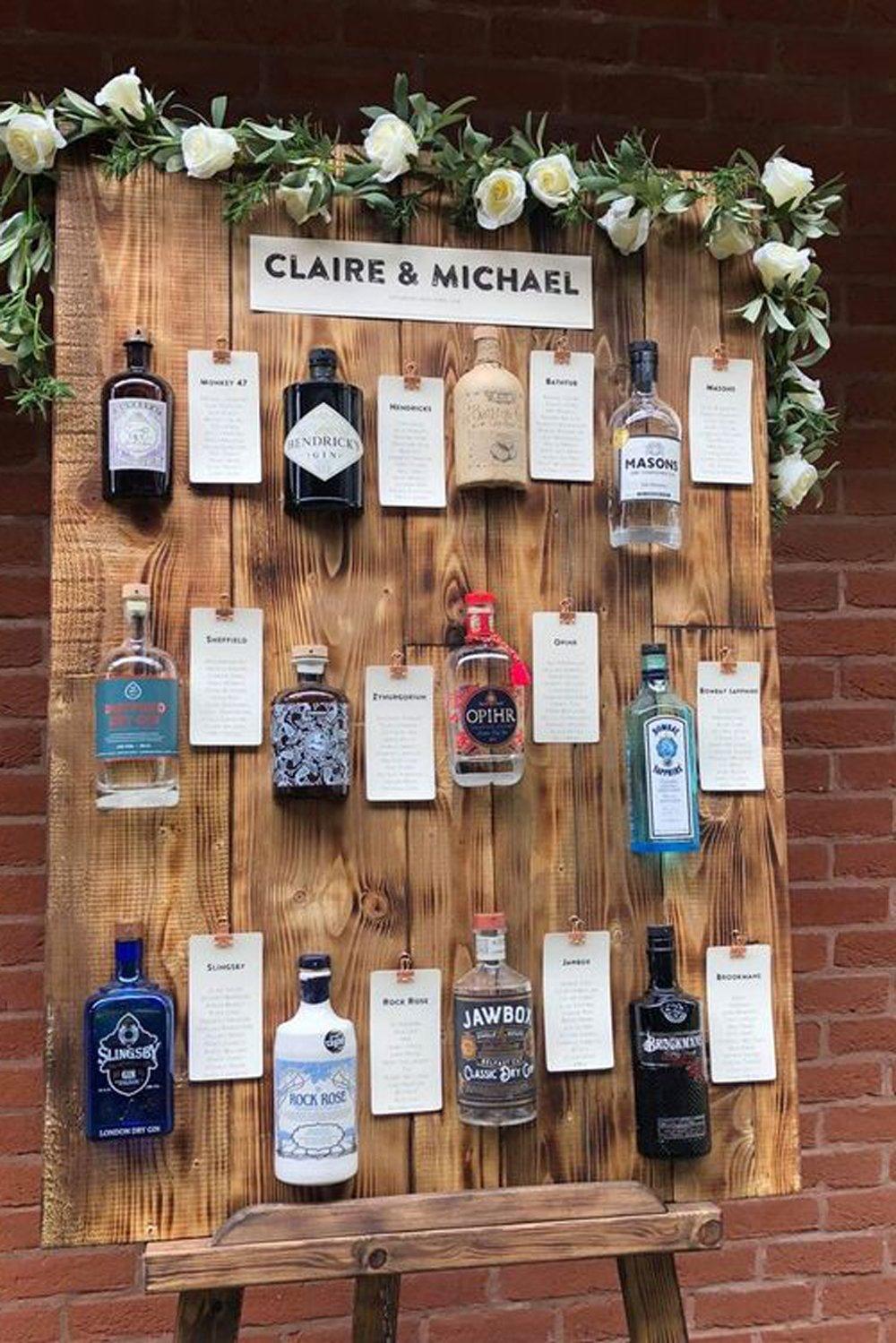 Image: Pinterest
Let's be honest: one of the best parts of a festival is the endless booze.
Pay homage to your love of a tipple by naming your tables after your favourite spirits. This idea is festival wedding perfection!
READ MORE: The Best Festival Wedding Venues in the UK
Wedding Table Plans to Buy
Now you've got all the inspiration you need, you're probably feeling ready to take the plunge.
Here are our favourite wedding table plans which can be personalised online and ordered direct to your door. Whoever said wedding planning was stressful?
READ MORE: The Best Wedding Planner Books to Help You Get Organized
1. Rose Garden Wedding Table Plan – £35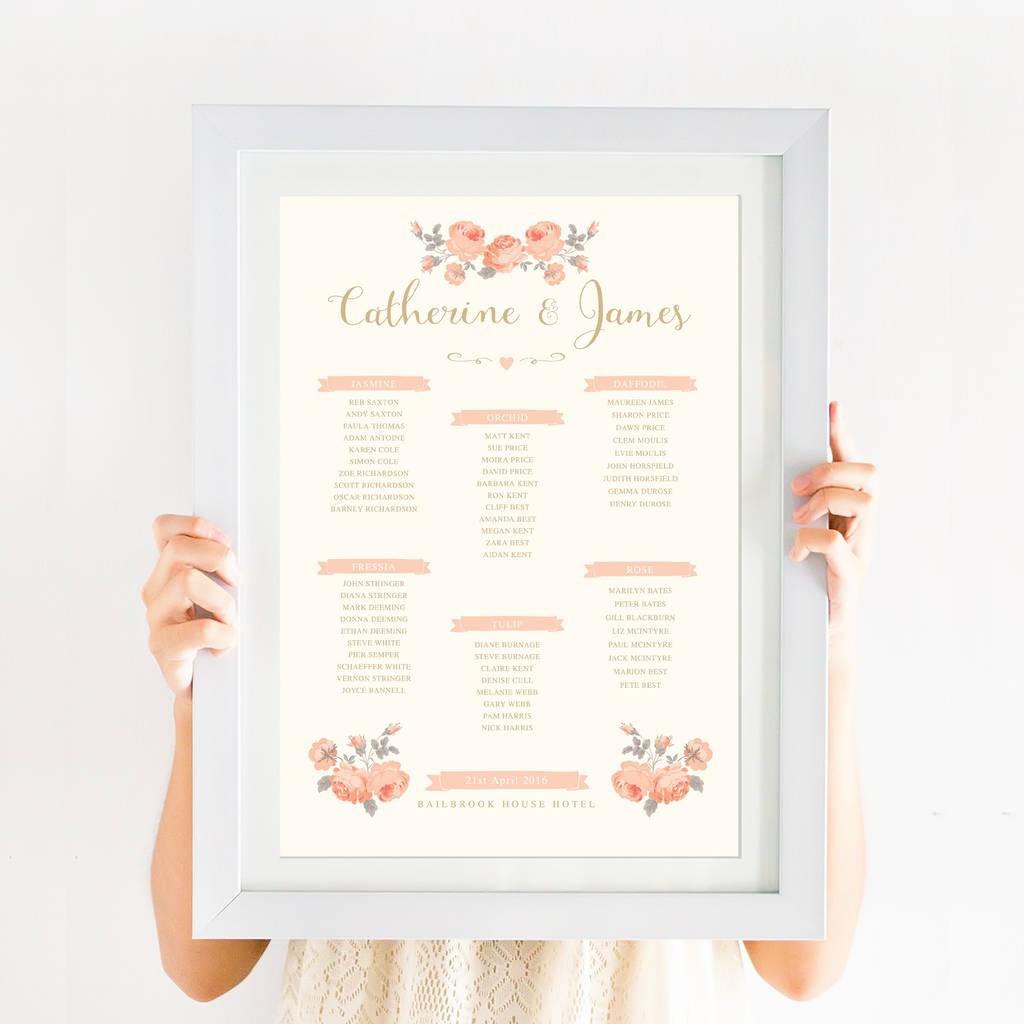 2. Kate Wedding Table Plan – £90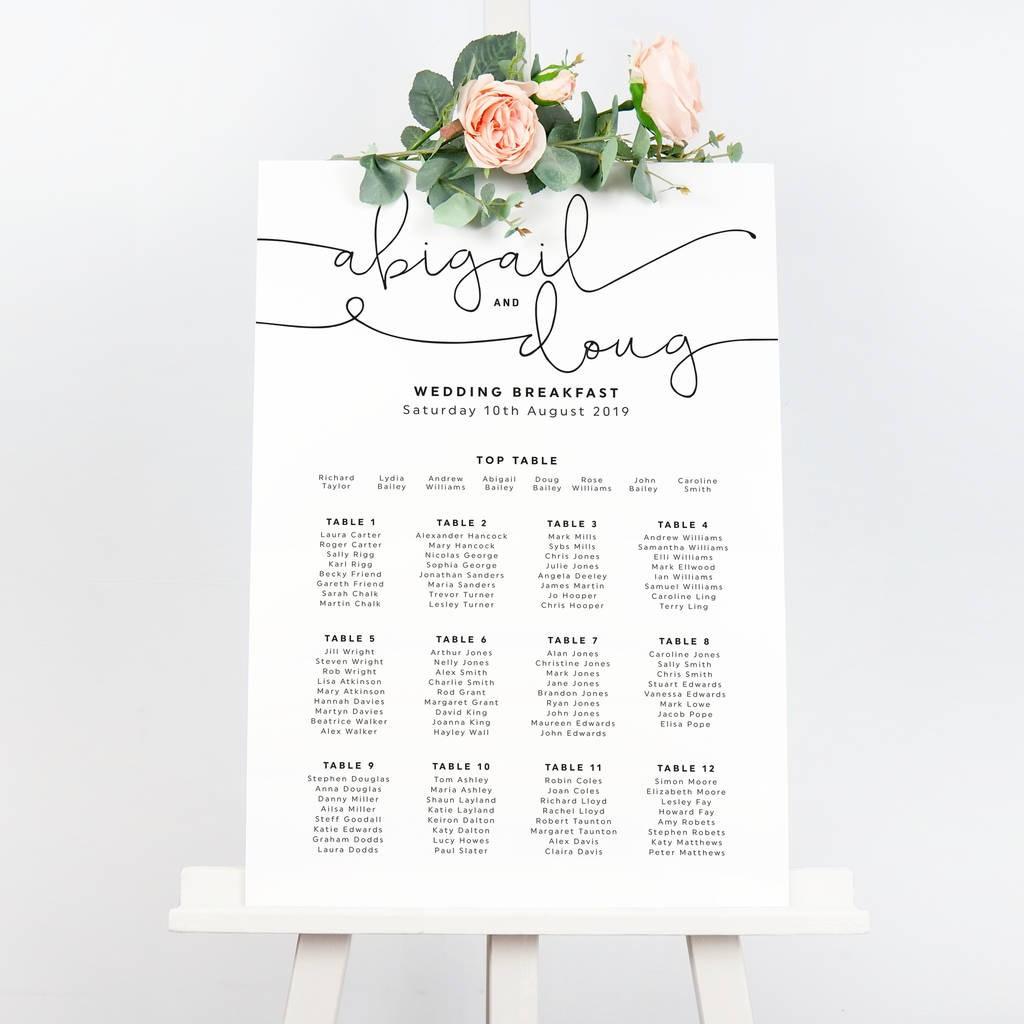 3. Where in the World Are You Sitting? Seating Chart – From £39.95
4. Baby Pink and Gold Wedding Seating Plan – £75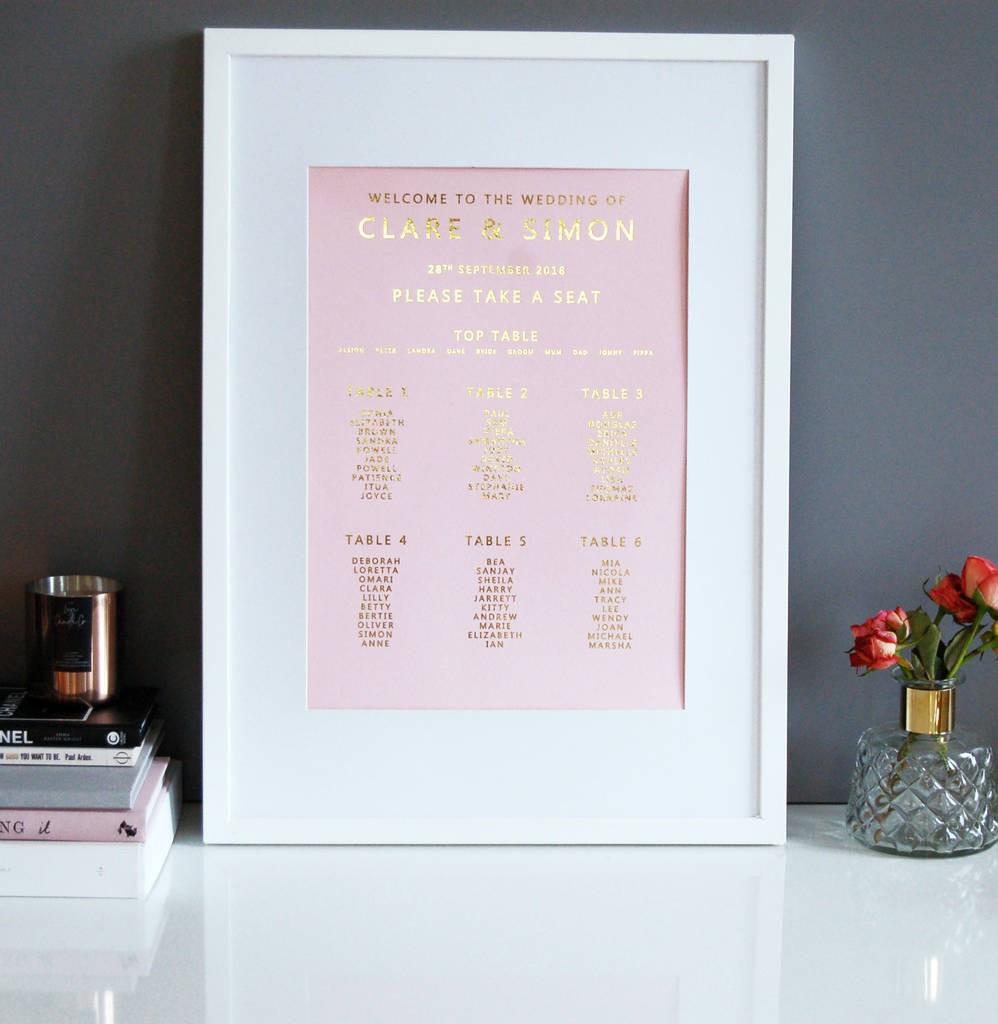 5. A2 Personalised Chalkboard Table Plan – £28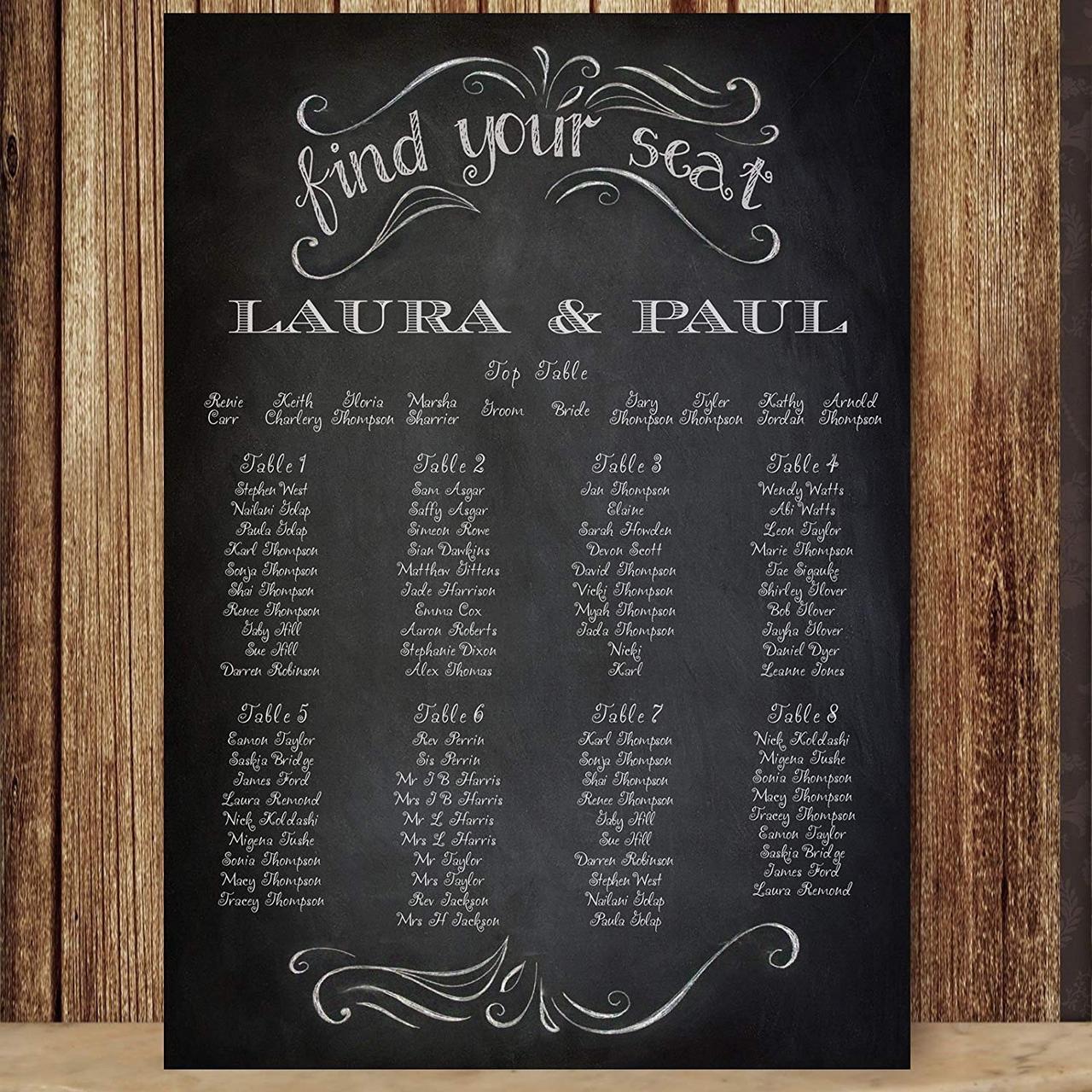 6. Instantly Downloadable Table Seating Chart – £10.72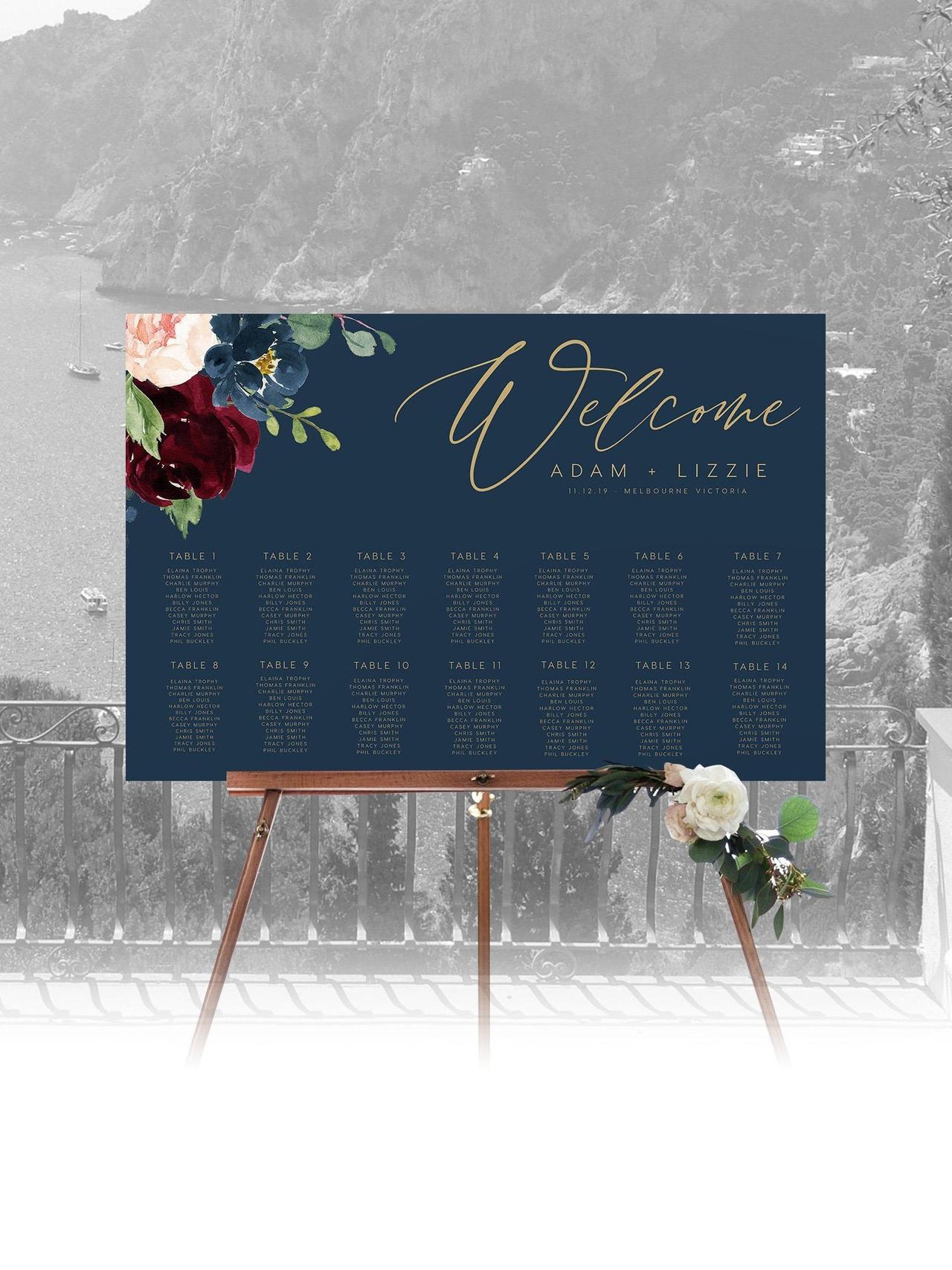 7. Personalised Modern Design Wedding Seating Plan Chart – £14.95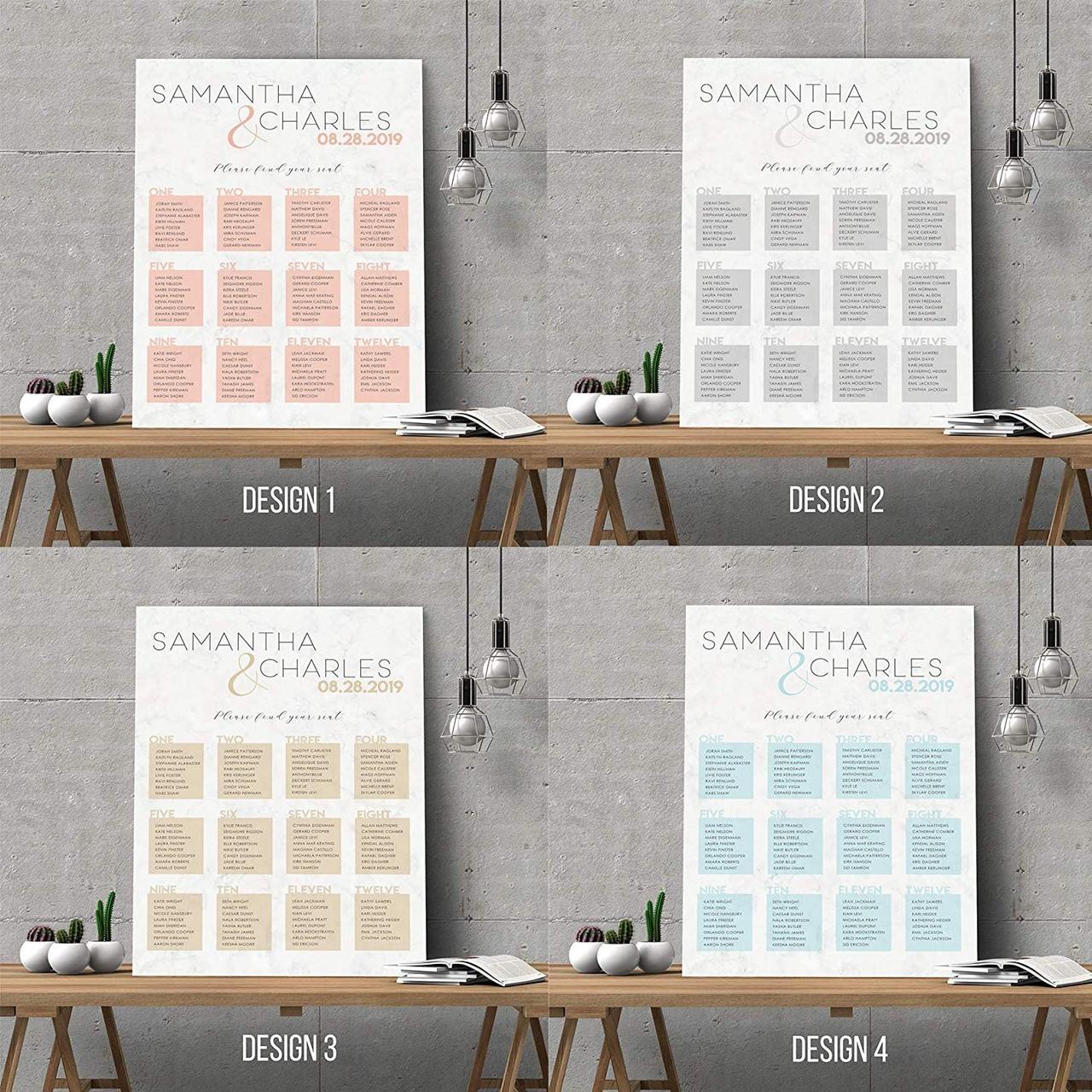 8. Purple and Gold Wedding Table Seating Plan – £75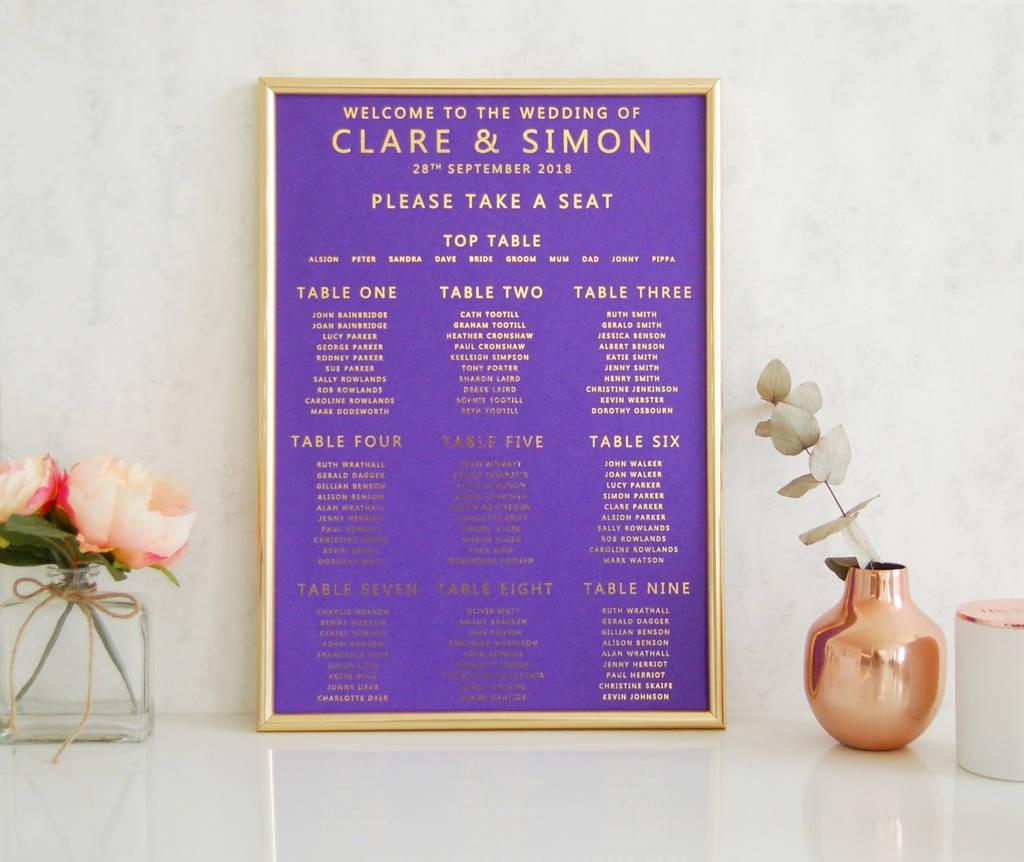 9. Personalised Table Seating Plan – From £39.95
10. DIY Hanging Seating Chart – £6.84
READ MORE: 23 of the Best Eco-Friendly Wedding Products
With your table plan sorted, you need to consider the finishing touches. Check out our round up of the best cheap wedding favours under £1.