How to Choose Your Wedding Flowers
Whether you're clueless about carnations or a pro on peonies, choosing your wedding flowers is a big task - so we got the experts to help
We have included third party products to help you navigate and enjoy life's biggest moments. Purchases made through links on this page may earn us a commission.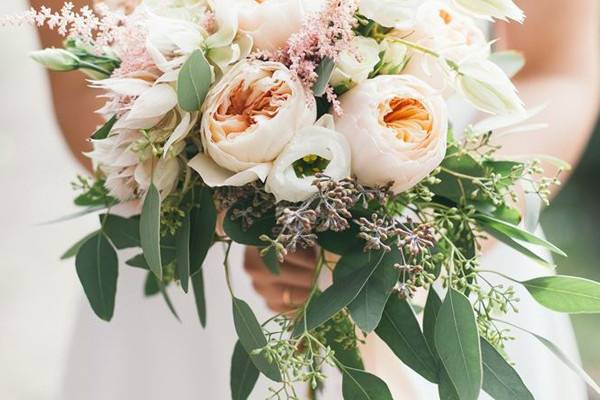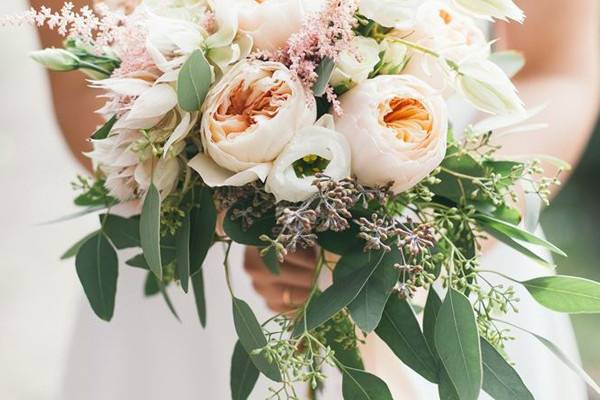 Your wedding flowers will play an important part in the look of your big day. Whether you choose to just have a bouquet and buttonholes or to decorate your entire venue, your wedding flowers will set the tone and theme for the day.
Image: Calderwood & Rose
But since most of us aren't secretly Alan Titchmarsh, where do you start with choosing your wedding flowers? Do you go fresh or silk? What's in season? What flower works together? What can you get for your budget?
READ MORE: Essential Questions To Ask Your Wedding Florist
We asked a range of professional florists for their best tips and advice on how to choose your wedding flowers.
Should I Use A Florist Or Do My Own Wedding Flowers?
Image: The Blossom Company
The first decision you'll need to make is whether you are going to use a florist to arrange your wedding flowers or do it yourself. On average, the cost of wedding flowers from a florist will be £1,200-£1,500, which might make some brides immediately want to go DIY.
It might not be more cost-effective to do them yourself, however. "Getting and arranging flowers is a lot of work and would leave the bride and bridal party exhausted and stressed out. Although it might initially seem to be cheaper, by the time the bride gets all the supplies needed and puts the work in, it really isn't cheaper," explains Izabella Fountain of The Blossom Company.
READ MORE: 23 Beautiful Ways To Include Flowers At Your Wedding
Image: Chirpee Flowers
Putting together your own flowers isn't an easy task. A florist will have the creativity to turn your ideas into a reality; they'll source, arrange and deliver your flowers for you; they'll know what last-minute changes to make if flowers aren't suddenly available; they'll know when to put together an arrangement to make sure it looks as fresh as possible. This isn't something that most brides want to be doing the night before the wedding. It really can be worth paying for the experience, creativity and skill of a florist.
Remember, your wedding photos will be with you for a lifetime; your flower choice can make all the difference to the look of your day.
What's The Most Important Thing To Consider When Choosing Wedding Flowers?
Image: Stock Florist
Your budget, undoubtedly. Work this out first and then meet with a couple of different florists to see what they can offer for what you can afford.
Sam Garner of Stock Florist says, "Your budget will impact the styles and sizes that can be created. It's better to be honest with your florist, and, by having a realistic budget to work with, the florist can guide you in the best way and show you possible designs that could become a reality."
Prioritise flowers that are 'must haves' and 'nice to haves', e.g. bouquets for your bridal party vs a centrepiece for every table. There's no point coming to a florist with a Pinterest board of flower arches, centrepieces and ceiling displays, plus flower crowns for all your bridesmaids, if you've got a tight budget. As we mentioned, you're looking at £1,000 as a minimum spend on flowers and that's likely for just bridal party flowers and some venue décor.
Be upfront from the start. Florist are very creative and skilled – they can design something beautiful within your budget, we promise.
Will My Venue Affect My Flowers?
Image: Pesh Flowers
The space in which you choose to have your ceremony and reception is a vital thing to consider when thinking about flower arrangements.
If you have a vast ceremony room, like a castle with high ceilings, then you'll need large arrangements that won't get lost in the space. In contrast, registry offices often let you bring in your own decorations but you will only have a short time to set up and take them down, so elaborate floral hangings aren't going to work. Some arrangements will simply not be possible in your venue, so speak to your venue's wedding team about what has worked before.
READ MORE: Perfect Spring Wedding Flower Ideas
As Sam points out, "Each florist is so unique and individual, the styles they create may not suit your venue." Find a florist who shares your vision and can make it work in your space.
Should I Choose Flowers In Season?
Image: Larkspur and Lavender
Seasonal flowers look better, are of better quality and are cheaper. That bride favourite, the peony, is in season in the UK from mid-May to early July: peonies are perfect for an English summer wedding but you'd have to ship them in from abroad at other times of year at high expense and at less than peak bloom. Speak to a florist about the best flowers available in the season of your wedding – they'll look more appropriate too.
The average bride spends 12 months planning her wedding so once you've set the date, visit a local flower market – New Covent Garden Flower Market in London is fab – and spend a couple of hours browsing all the flowers on offer. You'll see the same ones that'll be in season for that time next year and might even be introduced to blooms you've never seen before!
Always bear in mind the season for keeping your flowers as fresh as possible too. Siobhan of La Belle Floral Designs says, "At summer weddings it's always best to have a few vases at the venue for your bridal and bridesmaid bouquets to be placed in after the ceremony – this will stop them from wilting and also add to the reception décor."
How Important Is The Theme Of The Wedding?
Image: Temple of Minerva & Botantical Gardens
Very, says florist Sherri Hicks. "As an example, gerbera bouquets wouldn't work with a vintage or 'shabby chic' theme — they work for modern, contemporary weddings. Gypsophilia, peonies, David Austin roses and carnations are far more suited to vintage-style weddings."
Siobhan says its vitally important to discuss your theme with your florist. "Tight compact bunches of flowers, such as peonies and roses, fit a classic vibe. Lush arrangements of soft, big blooms will take on a romantic note. Sleek architectural minimalist arrangements are more modern and loose clusters of flowers mixed with greenery have a rustic feel. Your florist will advise you on styles that will suit your wedding style."
READ MORE: 7 Steps To Making Your Own Bouquet
Theme is often linked to the seasons too: a country garden theme will suit bright or pastel spring and summer flowers; warm autumnal flowers are great for a rustic barn wedding; while an opulent winter wedding needs lots of rich colours and fir or pine foliage.
Pinterest and Instagram are great places to see what works and what doesn't. Search for your wedding theme and see whether you like the flower choices other brides have made. You can also search Hitched's inspiration galleries by wedding theme.
Should I have The Same Shade Flowers As My Colour Scheme?
Image: Chirpee Flowers
Your colour palette will inform your flower choice. Play with tones and shades within your colour scheme rather than trying to match it. Consider complementary colours too. If you really want to create an impact, you can colour-block, especially with reds, oranges, purples and pinks. 
Does My Wedding Dress Affect My Choice Of Wedding Flowers?
Image: Moyses Stevens Flowers
Your bridal bouquet is your ultimate wedding accessory and should complement, not overpower, the dress. It will be front and centre of your wedding photos so you need to think about your flowers against your dress. For a white dress, any colour will complement but a matching white bouquet with lots of lush green foliage looks particularly beautiful. Peach, orange and pinks look great against an ivory dress. If you have a coloured wedding dress, try flowers in the varying shades of your dress or use a complementary colour.
READ MORE: Summer Wedding Flower Ideas and Inspiration
A rule of thumb is the bigger the dress, the bigger the bouquet; a simple and elegant column dress looks great with a single stem lily, whereas a full, detailed dress suits a bigger bouquet with mixed flowers.
What Other Things Are There To Consider?
Image: Herbert & Isles
Our experienced florists know a thing or two about choosing wedding bouquets that won't have crossed your mind.
Tracy-Anne White of Blend And Bloom says couples can forget allergies.
"If you or your partner have any allergies to particular flowers this can play a huge part in what ingredients you choose to put in your arrangements.
"It's no good wanting scented garden roses when you have a severe allergy to pollen. We have worked with couples who have had severe allergies to flowers so this took some serious planning and research to source and find anti-allergen flowers."
READ MORE: How To Make Your Own Flower Crown
Image: Wildfire Flowers
Sam of Stock Florists says that brides sometimes forget to think about the size and weight of the bouquet. You don't want anything that'll leave you with aching arms halfway down the aisle or a humungous bouquet that covers up the beautiful beading on your dress.
Sam also says that "the different meanings or conspiracies behind flowers" can bypass brides. Marigolds, for example, mean cruelty, grief and jealousy, but roses symbolise love and passion. Convallaria (Lily of the Valley) means purity and sweetness. Stephanotis means happiness in marriage.  Sweet pea symbolises departure — a bride is leaving one life behind to begin a new one with her husband.
A final warning is about fragrance. You don't want any scents that are so potent and heady your guests start to feel unwell. You also don't want that specially-chosen wedding perfume to get lost.
Are There Advantages To Silk Flowers Over Fresh Flowers?
Image: The Blossom Company
Fake flowers have got a lot of bad press, but gone are the days of the dusty plastic daffodils in your grandma's house. The Blossom Company specialises in incredible wedding flower displays using both high-quality silk and fresh flowers that you can rent for your big day – and as you can see from the picture above, these silk flowers are gorgeous and completely convincing.
Founder Izabella explains the benefits: "Hiring silk flowers from The Blossom Co works out at approximately a quarter or third of the price of fresh flowers. This means you can get really beautiful and impressive centrepieces for an affordable price.
"You don't need to worry about the seasons either. If you love peonies but you're getting married in September then you will struggle to get this beautiful flower fresh at that time of the year. With silk flowers you know exactly what you're getting."
READ MORE: What Wedding Flowers To Pick In Winter
Image: Stock Florist
In addition, there's no last-minute substitutions with silk flowers. "All my brides get to see a sample of their centrepiece and they know that this is exactly what they will be getting on the day," Izabella says.
Silk bouquets keep forever if they're treated well and eliminate the risk of allergies. If you want a bouquet to pass down the generations, a silk one would work.
How Do I Save Money On Wedding Flowers?
Image: Louise Avery Flowers
Tracy says to "use in season flowers and naturally coloured flowers". Your florist will be happy to work around your budget by suggesting a cheaper but similar-looking option or something more seasonal. Garden roses make a good replacement for peonies, for example, or you could pick carnations if you want to go even more budget.
Siobhan of La Belle Floral Designs says to "Make sure you recycle your ceremony arrangements. Pew, chair and pedestal flowers are gorgeous arrangements that won't be seen again so moving them to other areas for the reception is a great way to save money and get the most from your floral budget." This means you'll only need to buy half the number of wedding decorations, but speak to your florist about logistics if the ceremony and reception venue aren't close.
"If you are on a tight budget, a few larger designs will make much more of an impact than lots of small ones and never scrimp on your bridal bouquet – make your savings elsewhere!" adds Siobhan.
"Don't be scared of expensive flowers as well… Flowers like hydrangeas and peonies are more expensive but they cover more space and have a greater impact so the cost of your flowers doesn't have to increase."
Izabella recommends couples don't dismiss silk flowers. "The flowers look as good (if not better, in some cases) as fresh flowers and cost you a fraction of the price. Spend money on your dress or honeymoon, the stuff that really matters!" If you still want that texture and scent of real flowers, consider a mix of silk and fresh.
Can I Personalise My Bridal Bouquet?
Image: Blend and Bloom
A lovely way to personalise your bouquet is to add flowers that have a special meaning to you or your family.
Tracy recalls, "I had brides who used lavender in both of their bridal bouquets because one of the brides was from Portugal and it was their national flower. I also had a bride who requested a single Californian Poppy and Knapweed to represent her groom's American heritage and her father's Scottish roots."
READ MORE: How To Have The Perfect Rustic Wedding Bouquet
Sam suggests adorning the bouquet itself. "Florists can attach any personal items to the handle which creates a really personal look – for example, a photo of a loved one or a colour ribbon that represents the bride's family."
When Do I Need To Book My Wedding Flowers?
Image: Petal HQ
As far in advance as you possibly can, says Tracy. "Ideally 6-12 months, especially if you are getting married in peak season but I still take on brides who have as little as 4-6 weeks to turn everything around."
If you're looking for other ways to incorporate flowers into your big day, check out 17 bloomin' gorgeous hairstyles with flowers, our favourite floral wedding dress designs or beautiful botanical wedding stationery that'll delight your guests.