Wedding SOS: How to Keep Kids Entertained at a Wedding
Screaming toddlers and being tripped up by an errant child bring you out in chills? You need these fab kids' wedding entertainment ideas!
We have included third party products to help you navigate and enjoy life's biggest moments. Purchases made through links on this page may earn us a commission.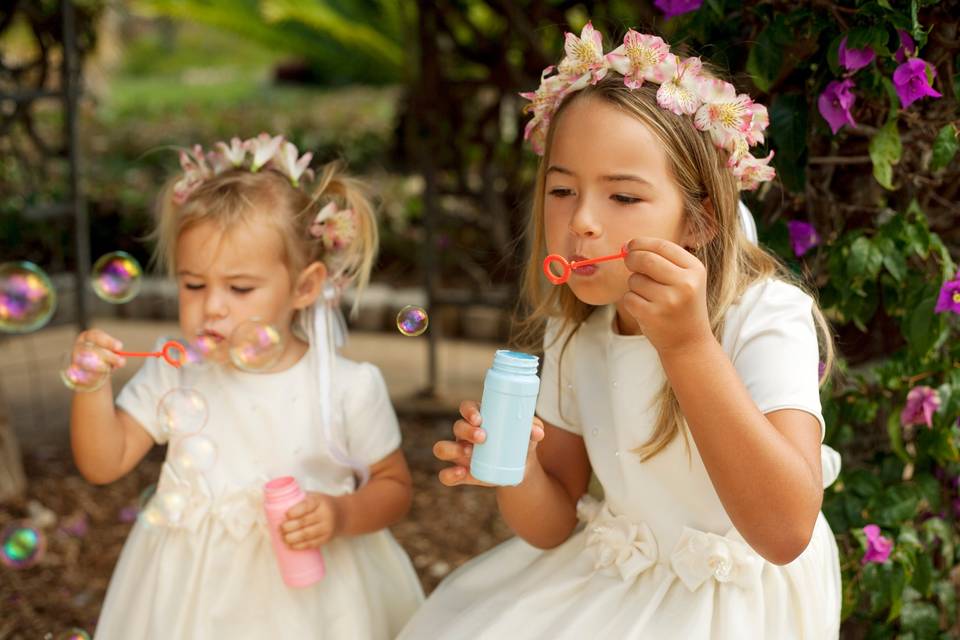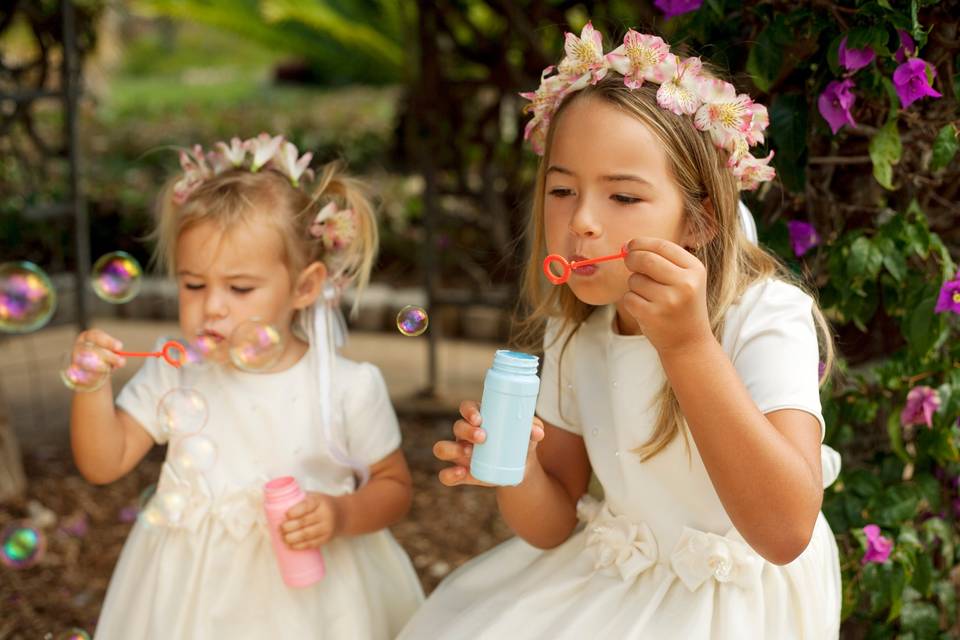 The reality of a wedding is that it can be a long and potentially dull experience for some kids. It's a common dilemma for couples who'd love to invite family and friends with little ones but fear screaming, tantrums, and kids running riot. We've come up with the best ways to keep kids entertained at a wedding.
Happy, well-behaved child guests are possible, whether it's keeping kids quiet during the ceremony or giving their parents a chance to let their hair down at the reception. And if the kids are happy, so are the parents! Kids' wedding activities don't need to cost a huge amount either. We've got some great ideas for cost-effective options or more elaborate choices if you want to go all out.
We've put together a list of fun and attention-grabbing items to help make kids feel occupied for longer while allowing your wedding to run without any interruptions.
See the best wedding favours for children here.
15 Kids' Wedding Entertainment Ideas
1. Giant Wooden Tumbling Tower Blocks — Smyths, £39.99
Giant Jenga is a heap of fun for kids and will keep several individuals entertained at one time. Like similar outdoor games such as Connect 4 and Twister, they offer a significant dose of nostalgia, especially for older guests. If you're on a strict budget that won't allow you to buy new, try asking some of your guests if they have any outside games hiding in their shed. We've got these 25 outdoor game ideas everyone will love to inspire you.
READ MORE: Should You Have Children at Your Wedding?
2. Sweet Cart Hire — PICKMIXGIFT, From £125
We know that you want to keep the kids in a zen-like state, but let's be honest, they crave sweets at a wedding. So we say, give the children what they enjoy (limiting each child to just one bag, of course) and let their party begin. This fun sweet cart rental service is destined to be a big hit and will also add some visual value to your wedding event aesthetic.
3. Video Game Station — Wagon Station, From £140
Nothing keeps the kids occupied for hours on end as video games do. This Game Station arrives in a large van with a range of consoles and seating where the young ones can play until their hearts' content. If your budget doesn't allow for something as extravagant, try setting up a TV and game station somewhere quiet, it's bound to do the trick.
READ MORE: 50 Favours for £1 or Less
4. Kids Wedding Activity Pack — Etsy, From £4.20
A colouring book can keep little ones quiet during the ceremony. Ushers can hand them all a goody bag like this fun wedding pack when they sit down with some crayons and a personalised activity book. You can always add more items at a little extra cost with ideas such as bubbles, Play-Doh or a couple of fancy dress items.
5. Disposable Camera Photo Treasure Hunt — Hitched Shop, £16.99
Buy disposable cameras and give kids a list of photos they need to 'collect', like a picture of the cake being cut or the bride and groom kissing. You can print out their pictures for them as a nice reminder of the day. Hey, you might even find a photo you want framed among them!
READ MORE: I Spy and Other Fun Table Games
6. Personalised Bunny Soft Toy — UK Wedding Favours, From £19.99
A wedding favour like a trivia or joke book is a fab way to keep older kids reading while adults tuck into their starters. We think this personalised plush toy is cute and will be a perfect keepsake for each child to remember your special day. If you have many young ones attending the wedding, you can opt for something a little less pricey too. Here are 19 additional children's wedding favour ideas to help you choose something perfect for your little attendees.
7. Personalised Peg Doll Kit — Not on the High Street, £4.95

A craft table is a tried-and-tested method to keep kids entertained for extended periods. This personalised peg doll kit can feature customised details of your wedding and gives the young ones something fun to do while the adults are busy. Alternatively, throw a large sheet of brown paper over the children's table and let them go at it with pens, crayons, and, pencils. Just make sure there are no paints – the last thing you want is a splodge on your white dress!
READ MORE: Primark Launches Cute Affordable Kids Wedding Range
8. Foosball Table Hire — ChampFoos Table Football, From £199
A guest is sure to have an old one of these lying around in a garage, but if not, you can rent them. They're great for a summer wedding if you set up a tournament outside.
9. NeoPix Easy Projector — Amazon, £98
If your venue has space, indoor or outdoor, leave a movie playing on this handy mini portable projector. We think it's quite the investment as all you need is a wall or white sheet, and you are good to go. Pick a recent Disney film, and you might even find a few older guests popping in for a few minutes respite and a sing-a-long.
READ MORE: 10 Child-Friendly Wedding Venues
10. Dance Floor Time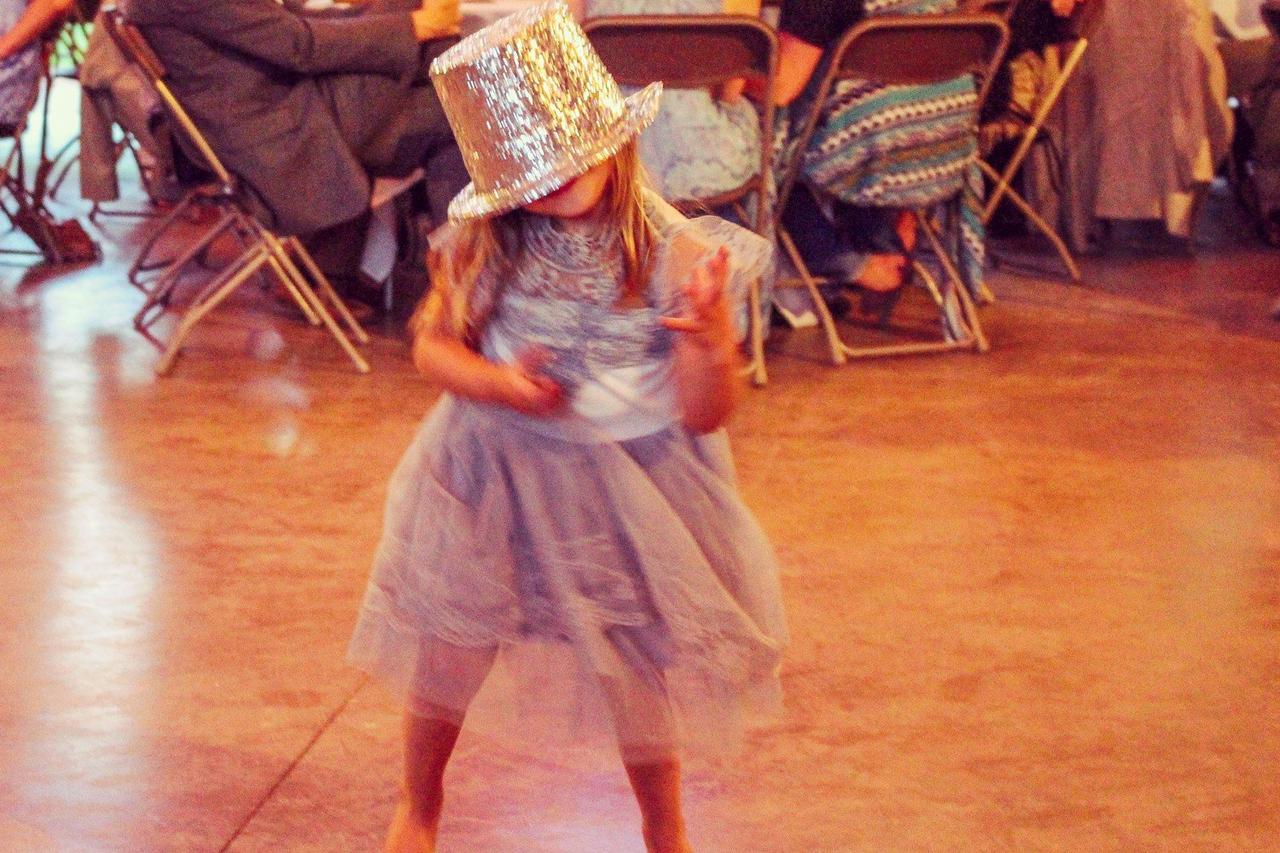 Set up a "kids only" time on the dance floor and play all the latest pop tracks. They can burn off a bit of energy for half an hour before the adults join in.
11. Bouncy Castle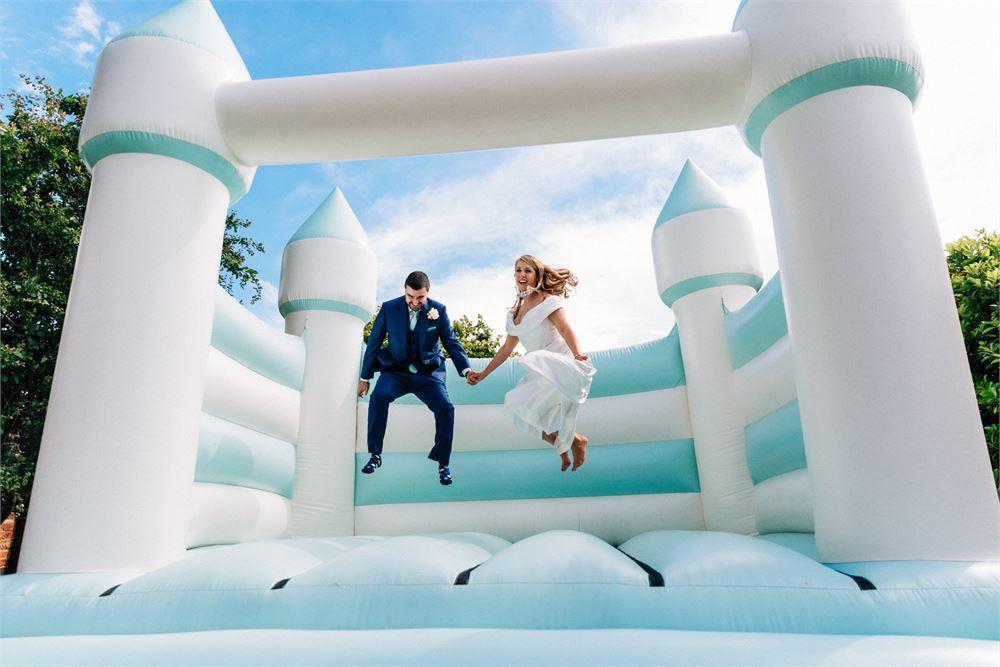 If your budget allows, a bouncy castle is a great addition to an outdoor wedding or a venue with lots of grounds. Keep drunken guests off it for as long as possible though, you don't want injuries!
READ MORE: 31 Disney Wedding Songs That Everyone Will Love
12. Hire an Entertainer
Some entertainers can throw a princess or pirate party with storytelling, games, face painting and more that'll give parents a chance to have a real break. Or an entertainer like a magician is fun for all the family; they're great to have milling around while wedding photos are going on.
13. Alpaca Hire - Charnwood Forest Alpacas
Alpacas are fast becoming one of the popular new trends to have at your wedding, and they're ideal for keeping kids entertained. Hiring a couple of alpacas makes for some ace wedding photos, and they're good-natured animals that won't mind some enthusiastic petting.
READ MORE: 33 Awesome Ways to Entertain Your Guests
14. Toy Box Rental — Toy Box Tots, From £19
Toy Box Tots allows you to rent toy boxes that young children will love for your wedding. Aimed at ages 1-5 (probably the most challenging group to keep quiet), these miracle boxes contain everything from books to toys to activity sheets and can be themed to your wedding or a wildlife, fairytale, dinosaur etc. theme.
15. Nanny Hire - Safe and Sound Events
If you'd like to give parents a break, then a wedding nanny service is a great shout. Safe and Sound Events is just one of many reliable sources for you to consider. They'll take care of your kids for a few hours (on-site so you can always check on them) and take away that pressure to keep them quiet during the ceremony, speeches and more.
5 Brilliant Kids' Wedding Activities
You can save yourself some stress by buying these great no-hassle kids wedding activities or DIY your own if you want.
1. Kids Activity Book and Pencil Set, Two Little Boys – £10
This activity book from Two Little Boys has word games, colouring, and activities to keep kids entertained while at the table. It even comes with a box of coloured pencils.
2. Colour In Giant Poster Tablecloth - Eggnogg Ltd, £10
If you're having a kids' only table, then you can cover it with this giant poster tablecloth! Pop some coloured pencils and markers on the table, and you've got instant entertainment for the little ones during dinner and speeches.
3. My Day At A Wedding Keepsake Book - Two Little Boys, £8.50
This fun interactive book for kids at weddings is a no-brainer. With pages that ask the kids to draw what they ate at the wedding, the book instantly becomes a keepsake as well!
4. Our Wedding Day Activity Mat - Etsy, £4.62
If you don't want an entire tablecloth for the kids, you could opt for single placemats instead. These ones from BrideandBows on Etsy have plenty of activities to keep the kids busy!
5. Personalised Children's Craft Kits - Etsy, From £5.50
If you like the idea of a craft or activity box, but don't want to put the effort into DIY, these personalised craft kits are a great option. They are all wedding themed, and include fun crafts that will keep kids busy and entertained during the wedding breakfast.
If you're still undecided, here's everything you need to consider if you're thinking about having children at your wedding.