Everything You Need to Know About a Disney Wedding
Get married at the place where dreams come true and fairy godmothers come in the form of expert planners, ready to grant all of your wedding wishes. Here's everything you need to know about planning and hosting a Disney wedding!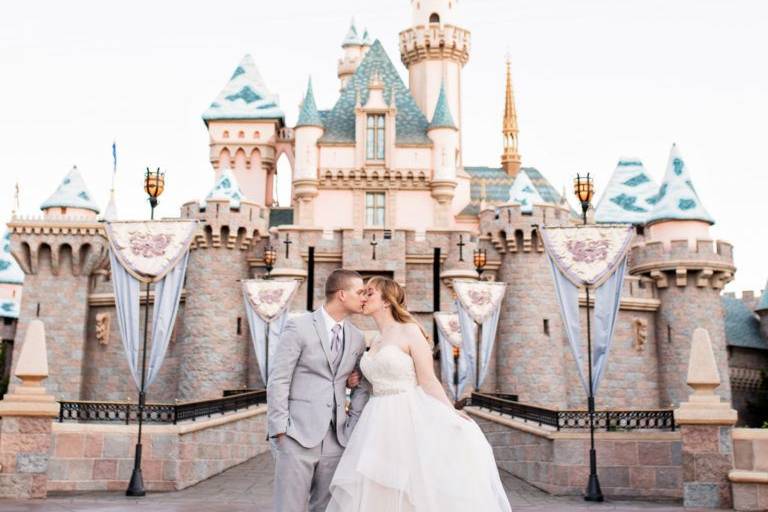 If you're dreaming of beginning your happily ever after with a fairy tale wedding, why not kick it up a notch and say 'I do' with a Disney wedding?
If you've both been binging the likes of Beauty and the Beast, Sleeping Beauty and Cinderella since you were tiny, a Disney wedding might just be your dream come true – and you don't need a fairy godmother to make it happen.
Organising a Disney wedding is way easier than you might think and with so many options (including a Hawaiian resort and magical cruise ship!), you can make a Disney wedding totally personal with the help of one of their expert wedding planners – and Mickey and co of course!
If you're feeling tempted to sprinkle a little fairy dust over your nuptials, read on for everything you need to know about hosting a Disney wedding.
READ MORE:
Where Can You Have a Disney Wedding?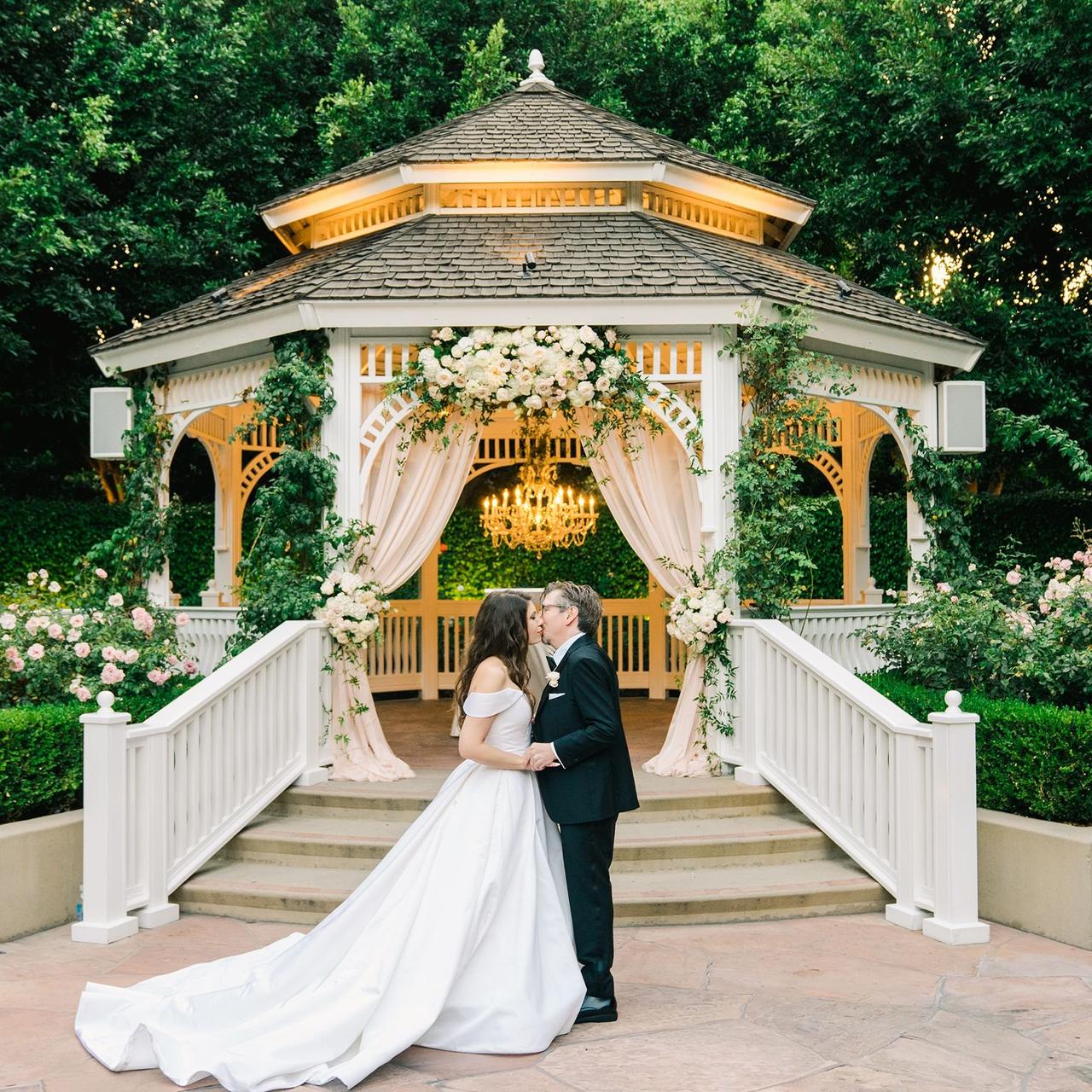 You can marry at the world-famous parks Disneyland Paris, Walt Disney World Florida, Disneyland California or aboard a Disney cruise ship or at their paradise resort Aulani in Hawaii.
For full-on fairy tale Disney magic complete with castle, the parks are the way to go but if you fancy just a touch of Disney for your nuptials, a cruise ship or Hawaiian resort wedding may just offer the perfect balance.
READ MORE: Disney Wedding Songs: 31 Tracks That Will Melt Your Heart
How Much Does a Disney Wedding Cost?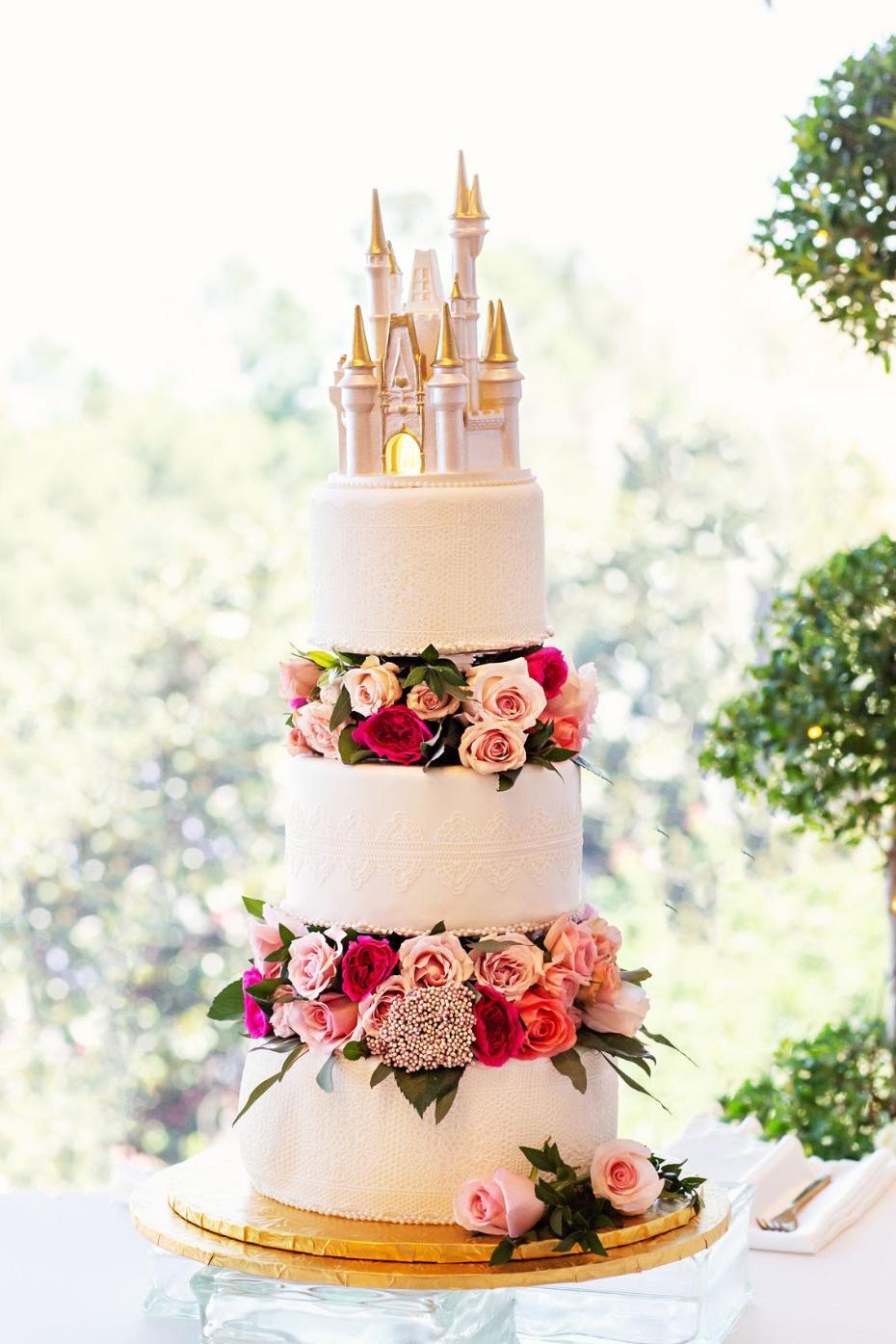 Each Disney park, resort or cruise ship has a range of event spaces each priced differently. To give you an idea, take a look at the breakdown for each location below.
Disneyland Paris
Weddings at Disneyland Paris start at €27,500 and the price will depend on the size and location of your celebration. You can marry here at the park, in Disney hotels and small receptions can be held at Disney Restaurants.
Walt Disney World Florida
Weddings in Florida are priced on a minimum spend basis and each venue at the Walt Disney World Florida Resort has a different minimum spend. Your ceremony fee and any Disney Wedding Service elements such as flowers or décor can be used towards your minimum spend.
Minimum spends start at $5,000 and go up to $50,000, depending on day of the week and the locations themselves. For example, an intimate four-person wedding at Conch Key Marina starts at $2,500 for a ceremony and you would need to spend an additional $2,500 to meet the minimum spend requirement. On the other end of the spectrum, you can book the Magic Kingdom park after hours with a $30,000 ceremony fee and will need to spend a further $20,000 on your celebration. If that sounds way out of budget, don't panic, there are plenty of other options at Walt Disney World Florida.
Disneyland California
Wedding events at Disneyland California are priced with a ceremony fee and a reception food and drink minimum spend. Per-person minimum spends are based on mealtimes: brunch $145pp, lunch $165pp, dinner $190pp.
Ceremony fees range from $2,600 to $10,000 and these depend on the day of the week and the locations themselves.
Aulani Disney Resort & Spa Hawaii
The Aulani weddings team offer two packages: the Lōkahi Package for a tailor-made ceremony and full reception, and the Pilialoha Package for an intimate destination ceremony for up to 20 people including the couple.
Lōkahi celebrations start at $10,600 and include a one-hour ceremony, an officiant, four-hour reception, two hours of professional photography, white garden chairs and a white wedding arch, citrus water for guests and an indoor ballroom reception space.
Pilialoha Packages start at $5,400 and include an officiant to perform the ceremony, one hour of professional photography, white garden chairs and bottled water for guests.
Disney Cruises
Disney Cruises offer two wedding options: Onboard Celebrations and Upgraded celebrations. Onboard Celebrations start at $3,500 and Upgraded Celebrations start at $4,500. Both packages include the services of an on-site ceremony coordinator, personal flowers for the couple, an officiant and pianist, cake and champagne celebration, dinner for the couple and commemorative Disney Cruise Line wedding certificate. Upgraded Celebrations offer couples the chance to say "I do" on Disney's private island in the Bahamas, Castaway Cay.
Packages are based on up to 16 guests and further guests can be added for $20 each.
What Are the Perks of a Disney Wedding?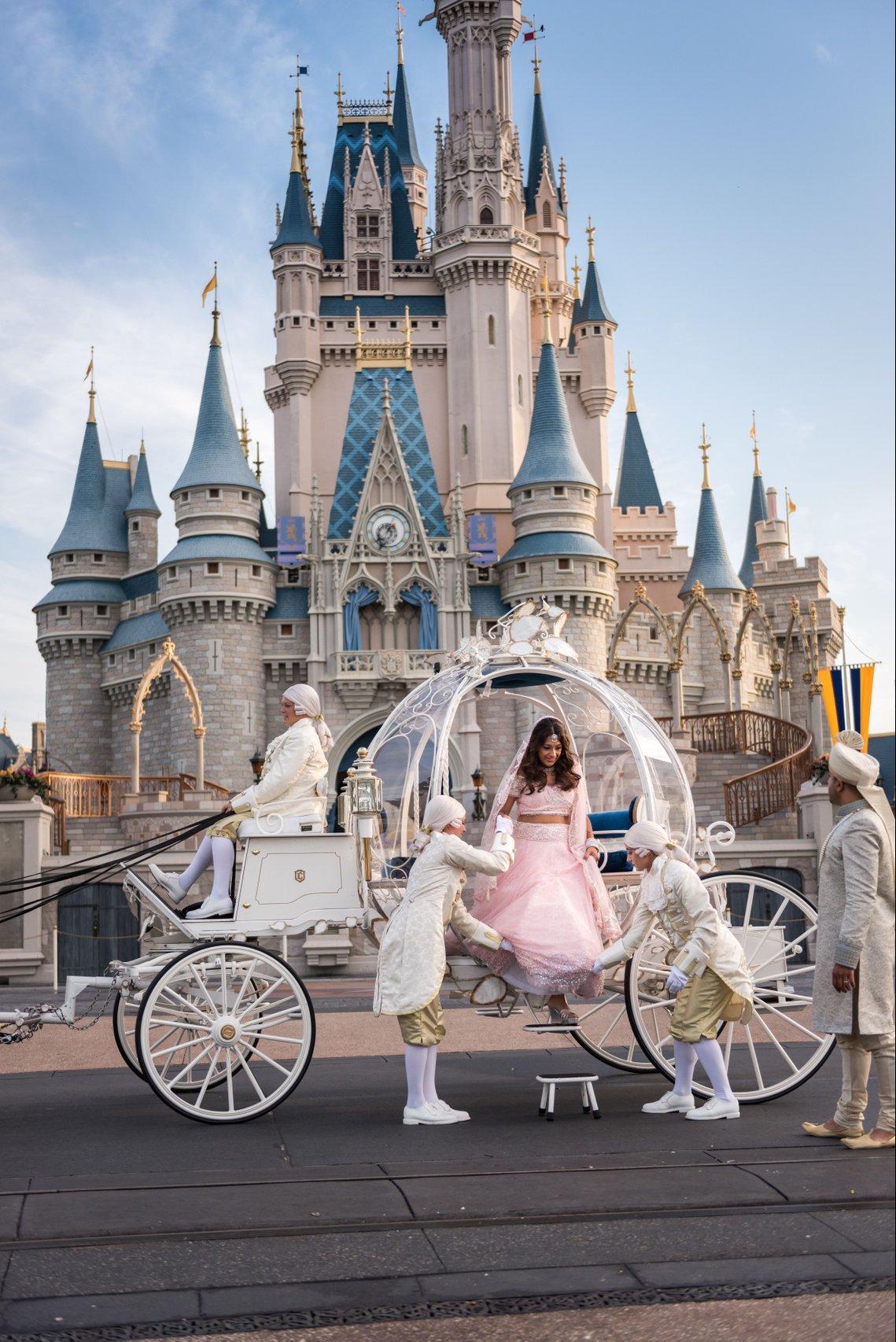 Planned to perfection – you will benefit from the services of Disney Wedding Specialists and a Day-Of Coordinator when you book your wedding. Disney also provide everything from catering to transport and flowers and décor, so they're really your one stop fairy tale wedding shop! Very useful indeed when planning from afar as is their next major perk…
Combined weddings and honeymoons – Disney also offer a honeymoon planning service, so you can extend your stay after your wedding, head to one of Disney's other locations or go on one of their adventure honeymoons or cruises.
All of the Disney details at your fingertips – while you can totally plan a pared back wedding at Disney, you can really go to town on the Disney details too if you fancy it. With a castle wedding cake, a ceremony at the Magic Kingdom in front of the castle, a Cinderella carriage ride and a special guest appearance from Mickey, you can create the dreamiest Disney filled day.
Unbeatable photo backdrops – fancy capturing your first moments as a married couple in front of the Magic Kingdom? Or perhaps the Animal Kingdom or even amongst the sights of bustling Epcot? You can snap the iconic backdrops plus so many more at Disney.
Hotel accommodation on-site – attending a Disney wedding is super convenient thanks to the host of accommodation available at all of their locations. Guests staying at Walt Disney World Florida will also be treated to a complimentary transfer from Orlando International Airport to their resort.
Preferential prices on theme park tickets – if you're marrying and staying at a Disney park, your guests can purchase specially priced theme park tickets – magic!
Can I Visit My Disney Venue Before the Wedding?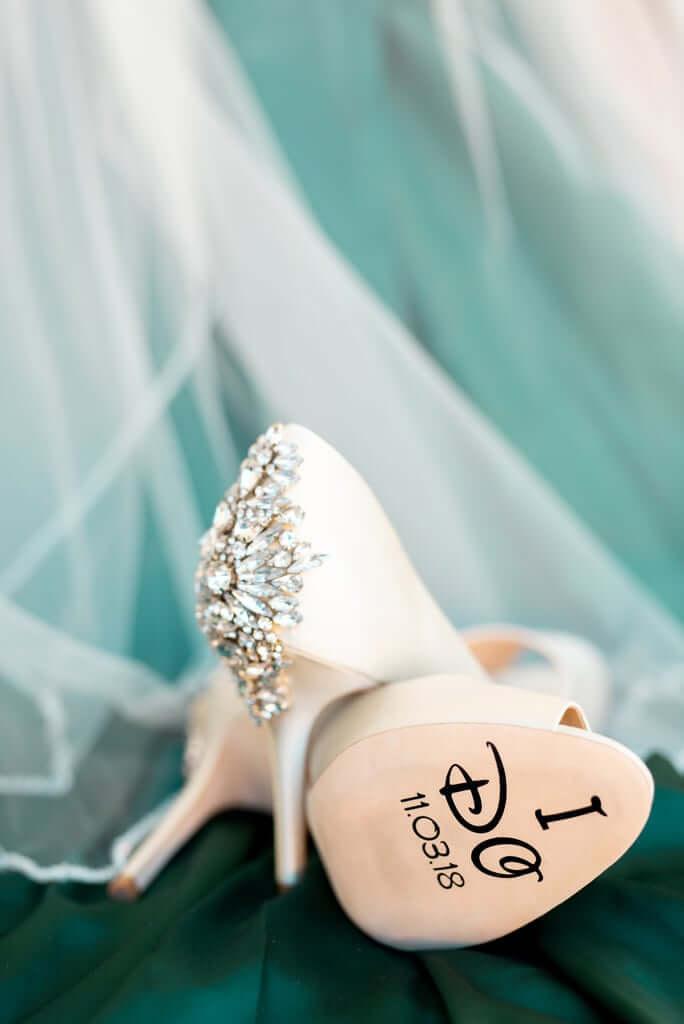 Disney invite you to schedule an in-person site visit with your Disney Wedding Consultant ahead of the day. The venues that are open to the public can also be visited at any time.
READ MORE: 44 Disney Couple Costumes for Halloween 2021
Can I Have a Cultural Wedding at Disney?
Yes, Disney invites couples from around the world to bring their heritage and cultural traditions to their Disney wedding. From a Chinese tea ceremony to a traditional Indian or Jewish wedding, Disney can do it all.
And Most Importantly… Can Mickey and Minnie Mouse Attend My Disney Wedding?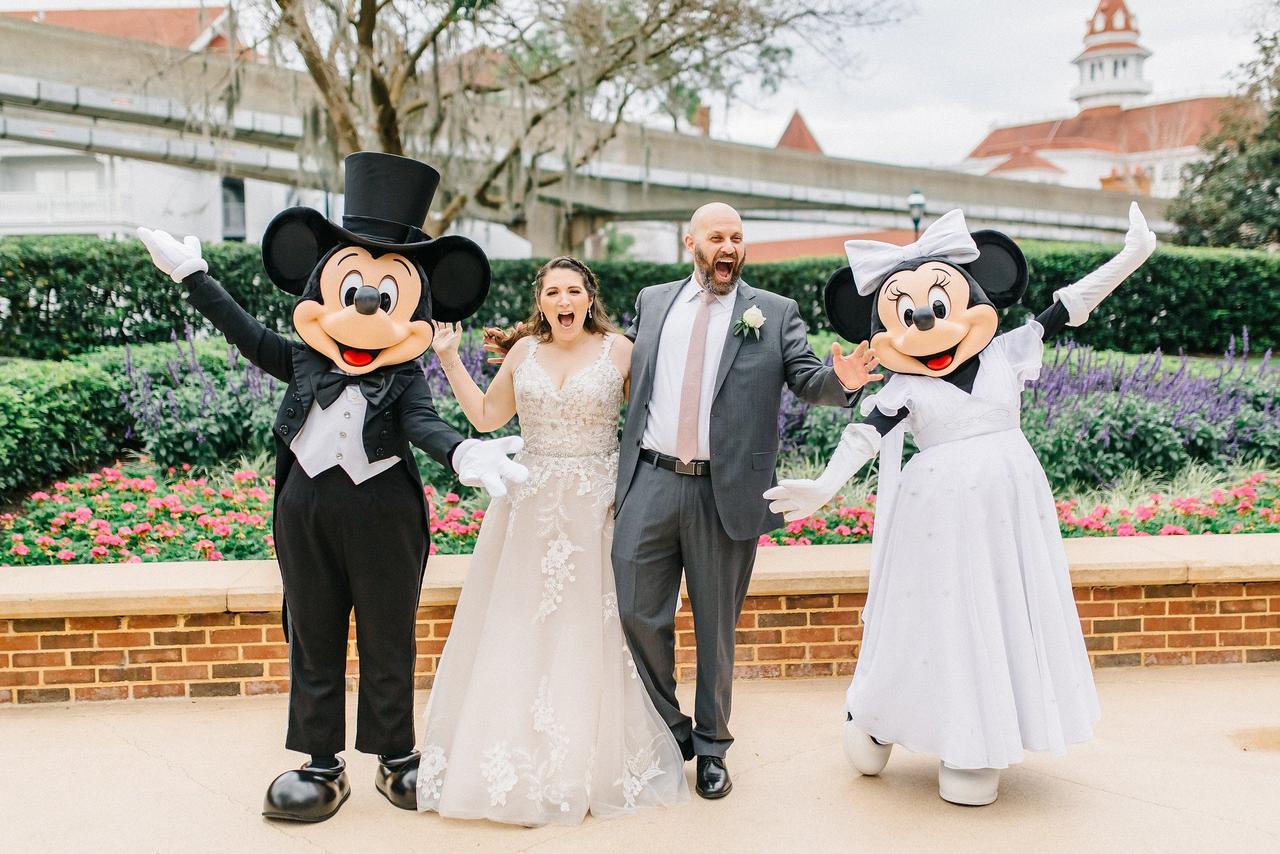 Yes! You can speak to your wedding coordinator about inviting Mickey, Minnie or another of your Disney favourites to your reception celebrations. All characters are subject to availability though, so we'd put in any special requests early on if we were you.
Get your princess on with these stunning wedding tiaras for a fairy tale wedding.