50 DIY Wedding Centrepieces You Can Easily Copy
These are our favourite wedding centrepieces that you can DIY. Gorgeous ideas include rustic centrepieces, stylish looks with and without flowers, and clever lighting involving lanterns, with set-ups to suit every budget
We have included third party products to help you navigate and enjoy life's biggest moments. Purchases made through links on this page may earn us a commission.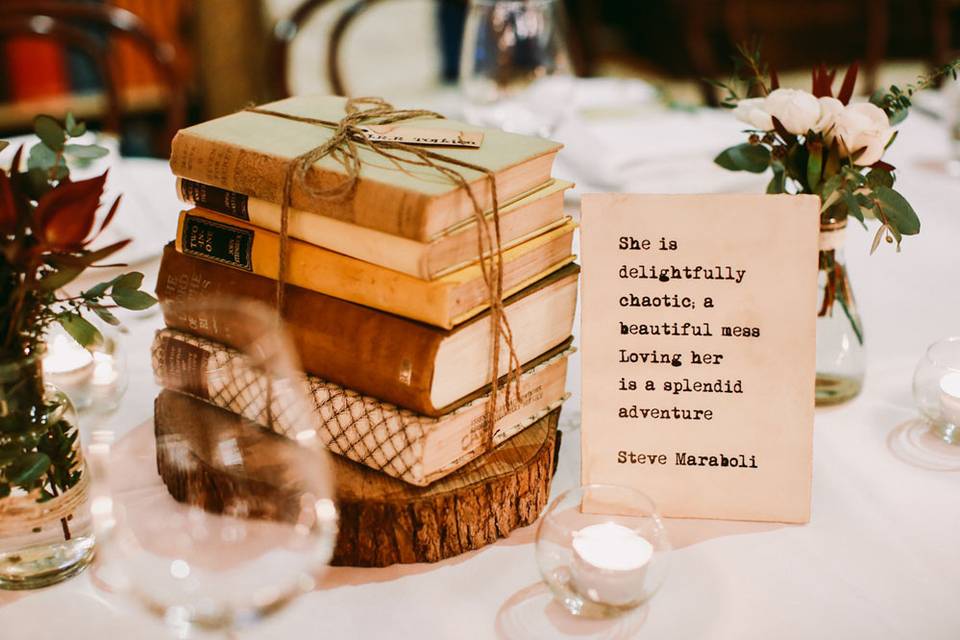 Wedding centrepieces play a key role in the look of your day and are one of the most important things to consider when you start thinking about wedding decor ideas. Your guests will probably spend a significant amount of time sitting at the tables at your reception while they eat and listen to the speeches - it's the table décor they'll notice most.
Placed, as you'd expect, at the middle of the tables, your centrepieces are what really draw the eye. The good news is, wedding centrepieces come in all shapes and sizes, so whatever your wedding style, you're bound to find the right one for you. What's more, you'll be surprised at what you can achieve if you decide to try some wedding DIY.
While centrepieces at weddings are often floral arrangements, they don't actually have to include flowers. You can get creative with everything from lanterns and candles to vintage books and rustic crates. You might even be able to save money on your budget by using objects you already have around the home.
To help inspire you, here are 50 amazing wedding centrepiece ideas for brilliant and unusual reception tables — and the best bit is, you can make or put together every single one of them yourself.
READ MORE
What Do You Put on Tables at Weddings?
It's entirely up to you how you style your tables - if you want to style them at all! - but décor elements to consider include:
Centrepieces - as the name suggests, these are the central displays on each table. Don't make them too high - you want guests to be able to talk over them!
Place settings - even the plates and cutlery can make an impact, and you can add extras, such as sprigs of herbs
Linens - napkins, table cloths and decorative table runners
Stationery - the place cards, menus and table names or numbers
Chairs - see if your venue will let you change these up for style and comfort
Favours - you may choose to put these on each place setting
Can You Make Your Own Wedding Centrepieces?
You can definitely make your own wedding centrepieces - in fact, if you're craft-inclined, this can even be a fun part of the wedding process! Once you've chosen your design, we'd suggest practising in advance, so putting them together becomes second nature; that's particularly true if you have a lot of tables to decorate. While there's nothing wrong with being ambitious, choose simple centrepieces if you're new to crafting - there's no need to add to your wedding stress, and there are some lovely, easy-to-assemble ideas.
Do Wedding Centrepieces Have to Match?
Absolutely not! Mismatched wedding centrepieces can look very chic, whether you're mixing up colours or heights. It's a good idea to include one small element in common in each centrepiece if you can, to give your mismatched look some polish and bring everything together. This can be as simple as having the same candles at each centrepiece base or using the same vessels but different flowers.
READ MORE: 36 Unique Table Plan Ideas (and Tips for Creating Your Own)
What Do You Put Under Wedding Centrepieces?
That depends on the look you want to achieve. For rustic wedding centrepieces, we like wood slices, moss and burlap. Want a glamorous effect? Metallic trays and mirrors work well, or you could incorporate a sequinned runner into your tablescape and put the centrepieces on that. Think about the types of fabric or material that you associate with your chosen table look and work out how those could go under the centrepieces.
DIY Wedding Centrepieces with Flowers & Plants
If you want to create your own DIY centrepieces using flowers and/or plants and foliage, think about when you'll be able to put them together - and how much help your family and friends can give you! Fresh flowers should be purchased as close as possible to the wedding and arranged either the night before or on the wedding morning. You can buy flowers at markets or farms - but we've also heard of couples (and their parents) growing their own blooms in their gardens or on balconies to save money and make everything feel even more personal. To avoid the dreaded droop, you could look into hiring or buying silk or dried wedding flowers - you'll also be able to put these together well in advance of the wedding, unlike with fresh flowers. To keep costs down, choose high-impact vessels, as that way, you'll need fewer blooms.
1. Wine Bottles Sprayed Gold and Filled with Flowers
This is such a simple yet effective DIY centrepiece win. Collect bottles in the run-up to the wedding, soak off the labels and spray-paint them gold - you may need a few coats for an even effect. You're left with beautiful vessels that you can fill with flowers and foliage, and group at the centre of each table.
2. Wicker Baskets with Fresh or Dried Flowers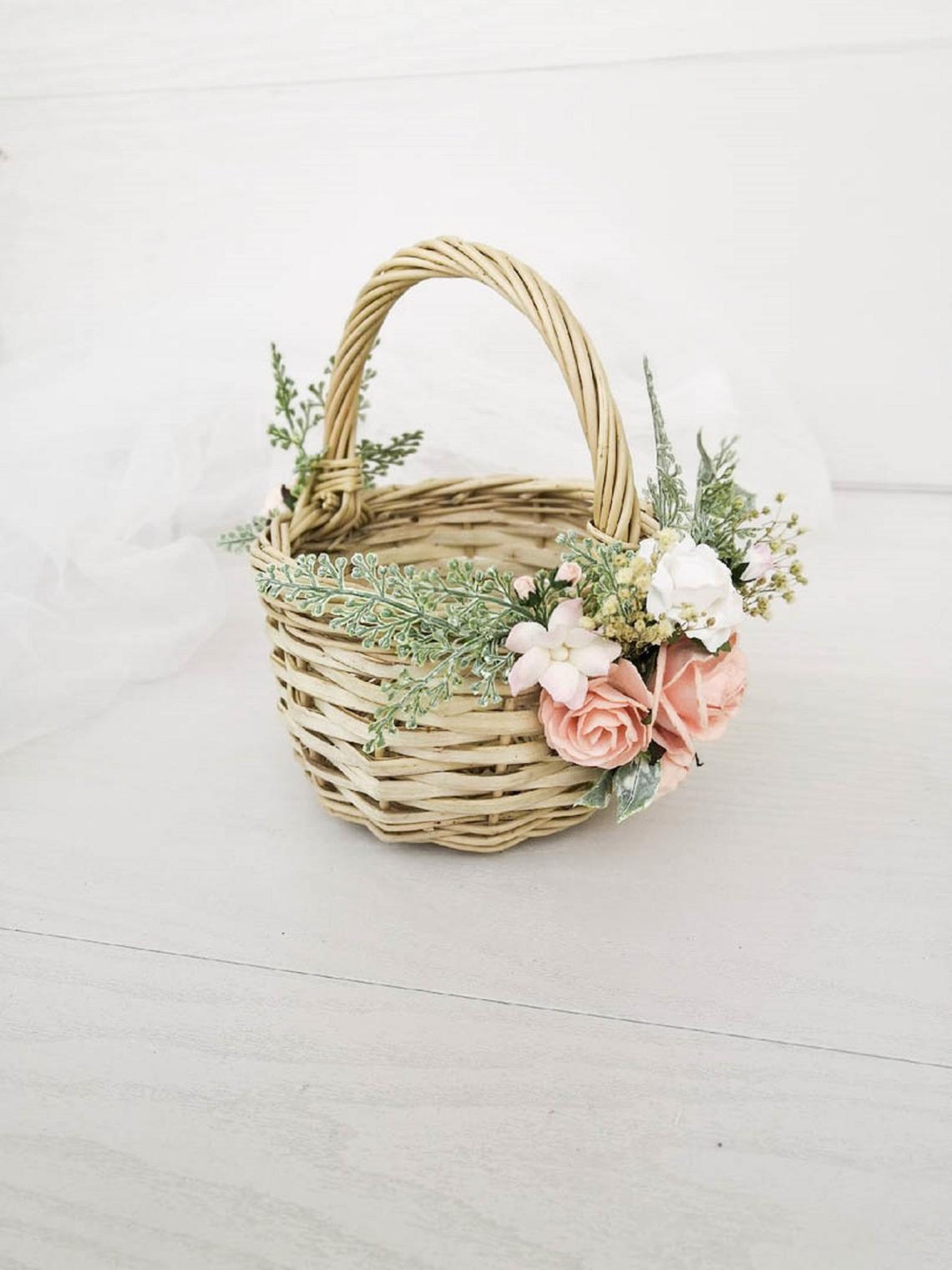 Fill wicker baskets with blooms or, if you're on a budget, attach some flowers and greenery to the edges with florists' wire - faux or dried blooms would work well here, as these flowers won't be in water so will be prone to drooping. As with all wedding décor, think carefully about whether you really want to buy all the baskets - could you hire or borrow them, to make your day more sustainable?
READ MORE: 23 Things You Can Rent Instead of Buying for Your Wedding
3. Wooden Crates Filled with Flowers
Crates are a rustic chic alternative to vases for your wedding centrepieces, and they can do double duty as table names or number holders.
4. Potted Orchid Centrepieces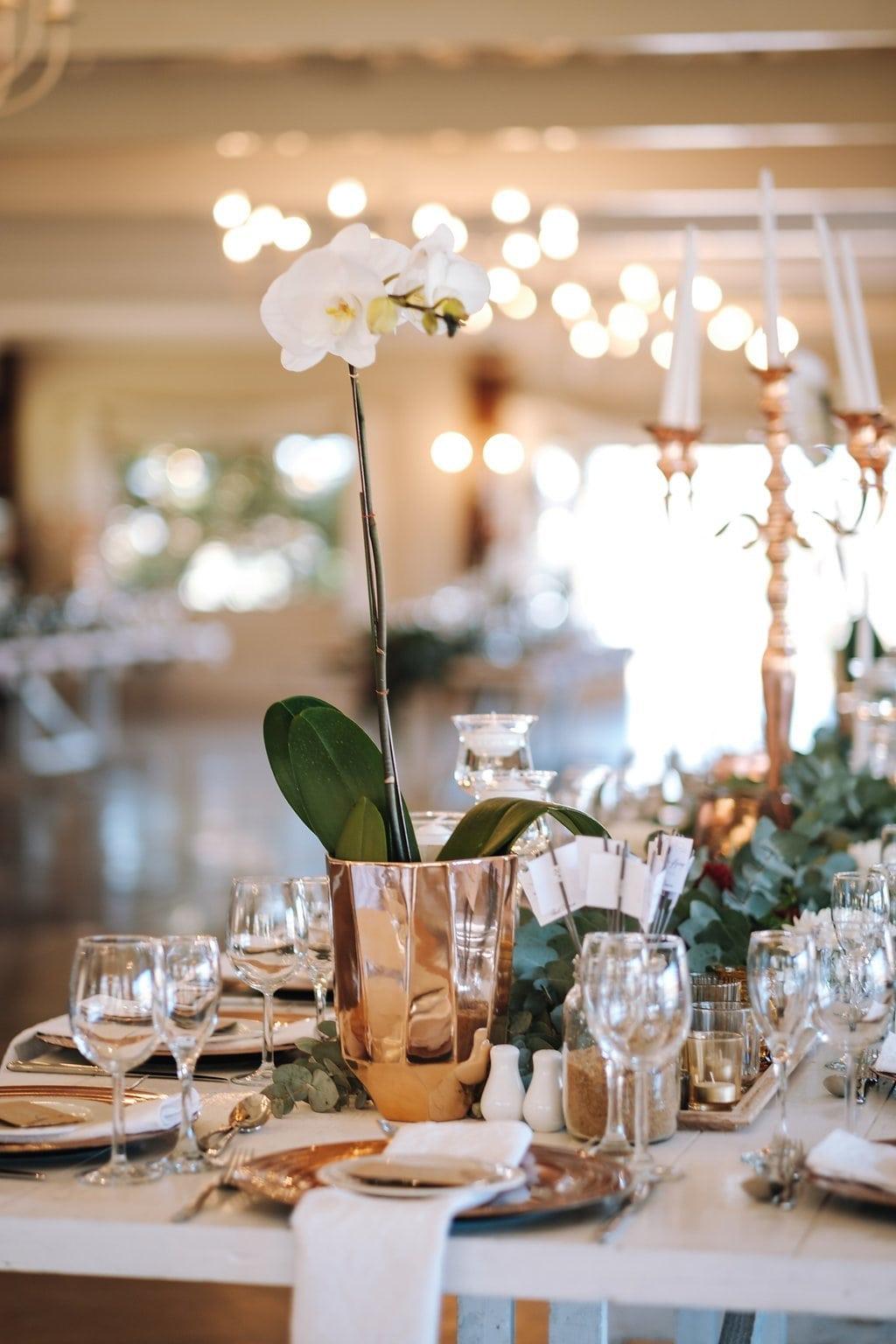 Orchids are used to create sumptuous floral arrangements. However, these quickly add up in price, and the truth is that orchids look just as good as part of a more minimalist aesthetic - for a less expensive but utterly elegant wedding centrepiece, used potted orchids, which the wedding party can take home at the end of the night, unless you want to keep them!
5. Painted Pumpkin Vases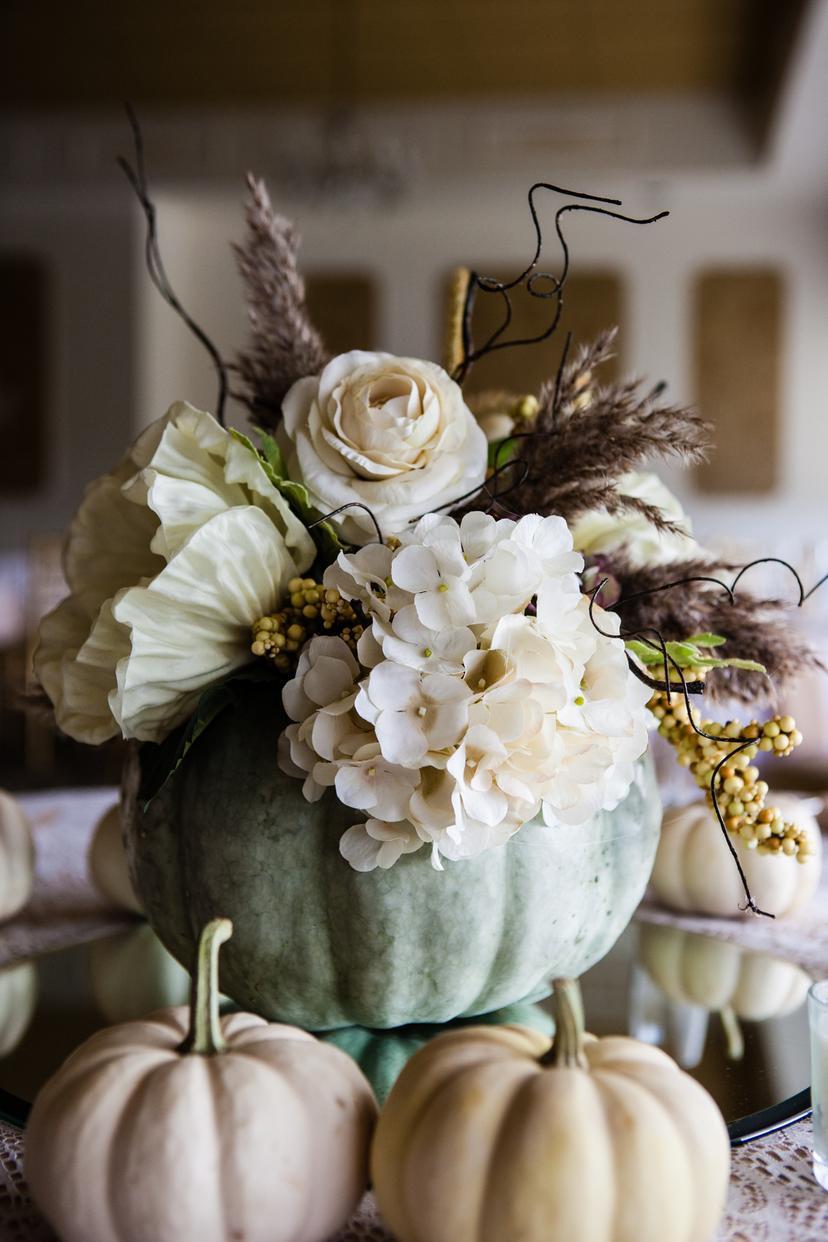 Hollowed out pumpkins painted in pastel shades and filled with flowers have a wonderfully fairytale feel.
READ MORE: 31 DIY Wedding Decorations You Can Easily Master
6. Bright Flowers in Coloured Glass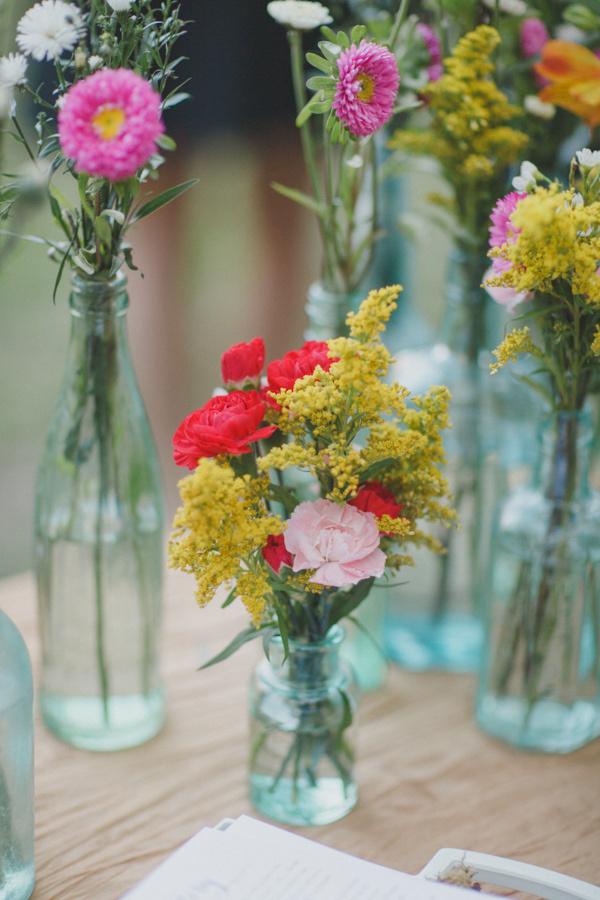 Go bright with your flowers and choose coloured glass - the bolder the hues, the fewer arrangements you'll need to make an impact.
7. Buckets Filled with Flowers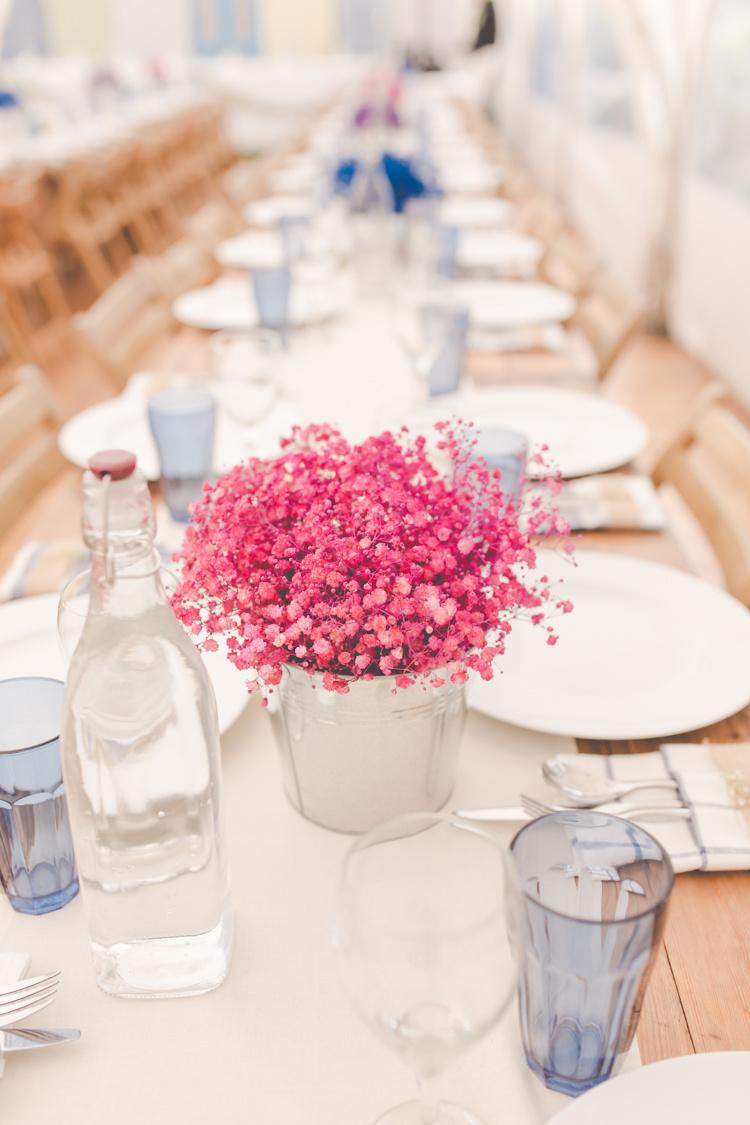 Fill metallic mini buckets with a high-volume, low-cost bloom, like baby's breath (it doesn't just come in white), chrysanthemum, daisies or waxflower.
8. Decorated Branches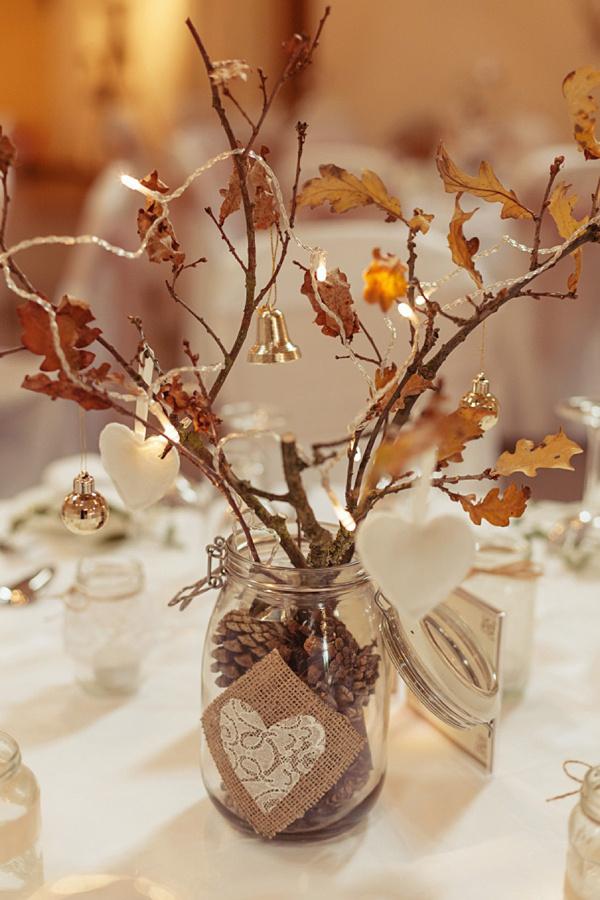 Small branches decorated with fairy lights and mini Christmas decorations make for beautiful festive centrepieces.
READ MORE: 21 Winter Wedding Tips: How to Plan the Ultimate Winter Wedding
9. Potted Plants
Pot plants make for a wonderfully fresh, natural look - and your guests can take the centrepieces home as favours.
10. Succulent Centrepieces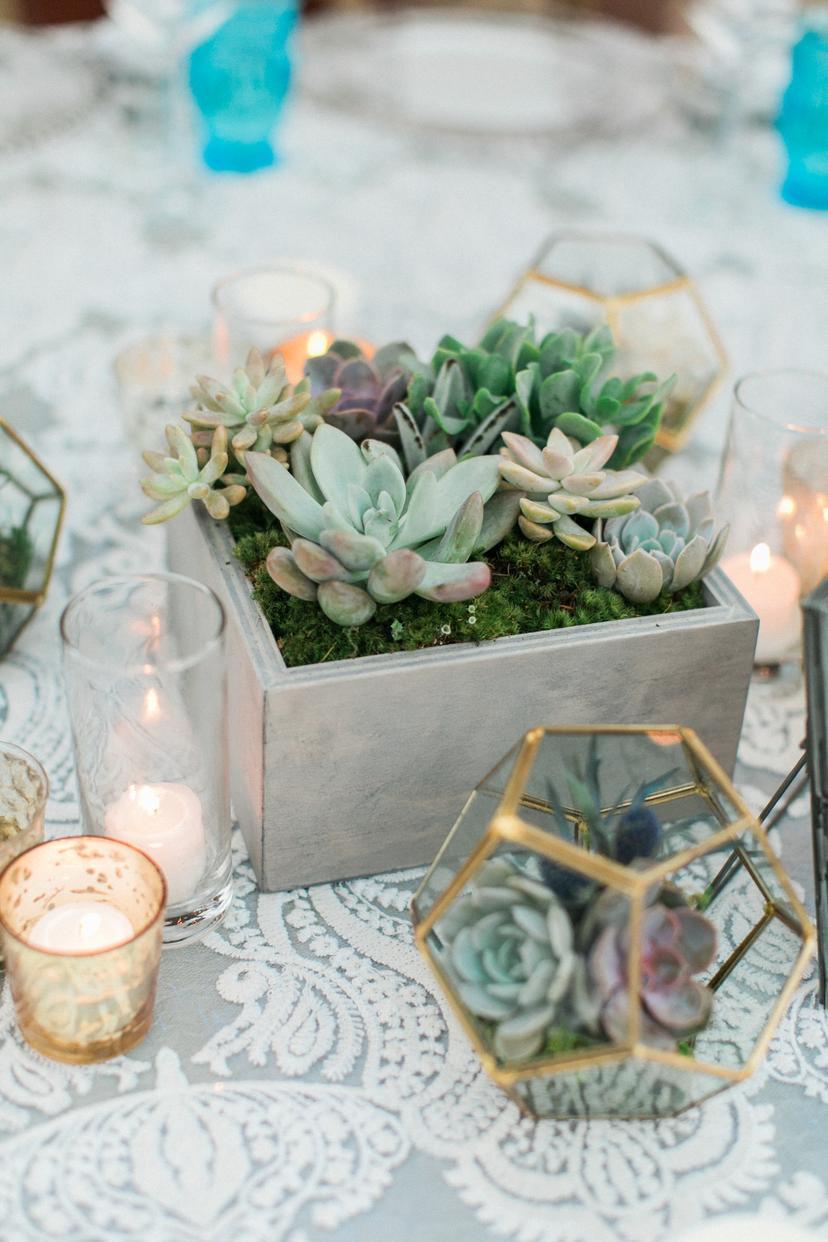 Succulents can also look great on your wedding tables. Try putting several varieties in a large or medium planter.
11. Mini Christmas Trees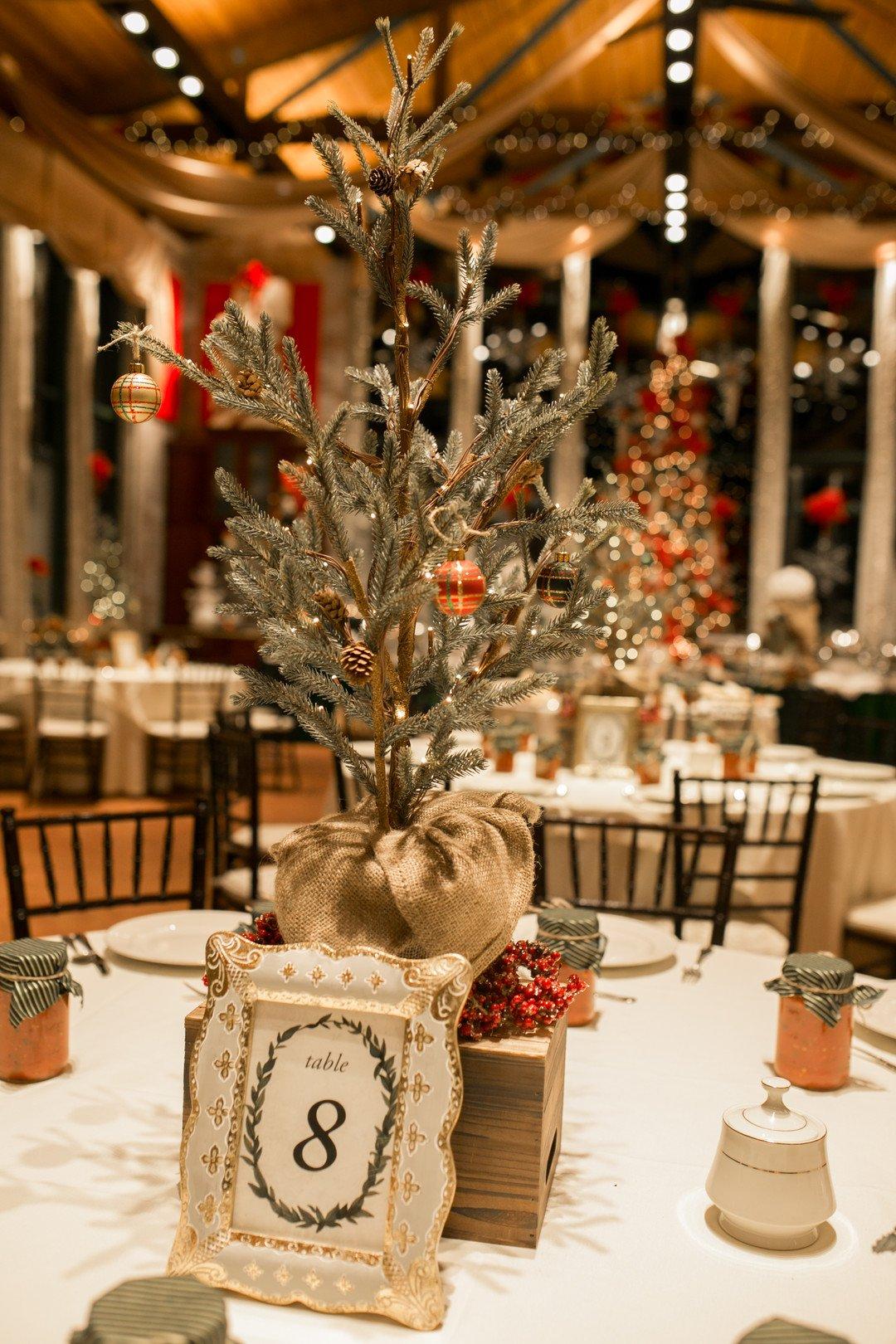 What could be more perfect as Christmas wedding centrepieces than mini Christmas trees? Either decorate them yourself, or leave decorations and instructions for guests on the tables, as a fun ice breaker game.
12. Gin Bottle Vases
Gin-lovers, this one's for you! Collect you favourite gin bottles and fill them with greenery and/or flowers.
READ MORE: Ginspiration: Nine Ways to Have a Gin-Themed Wedding
13. Green Leaves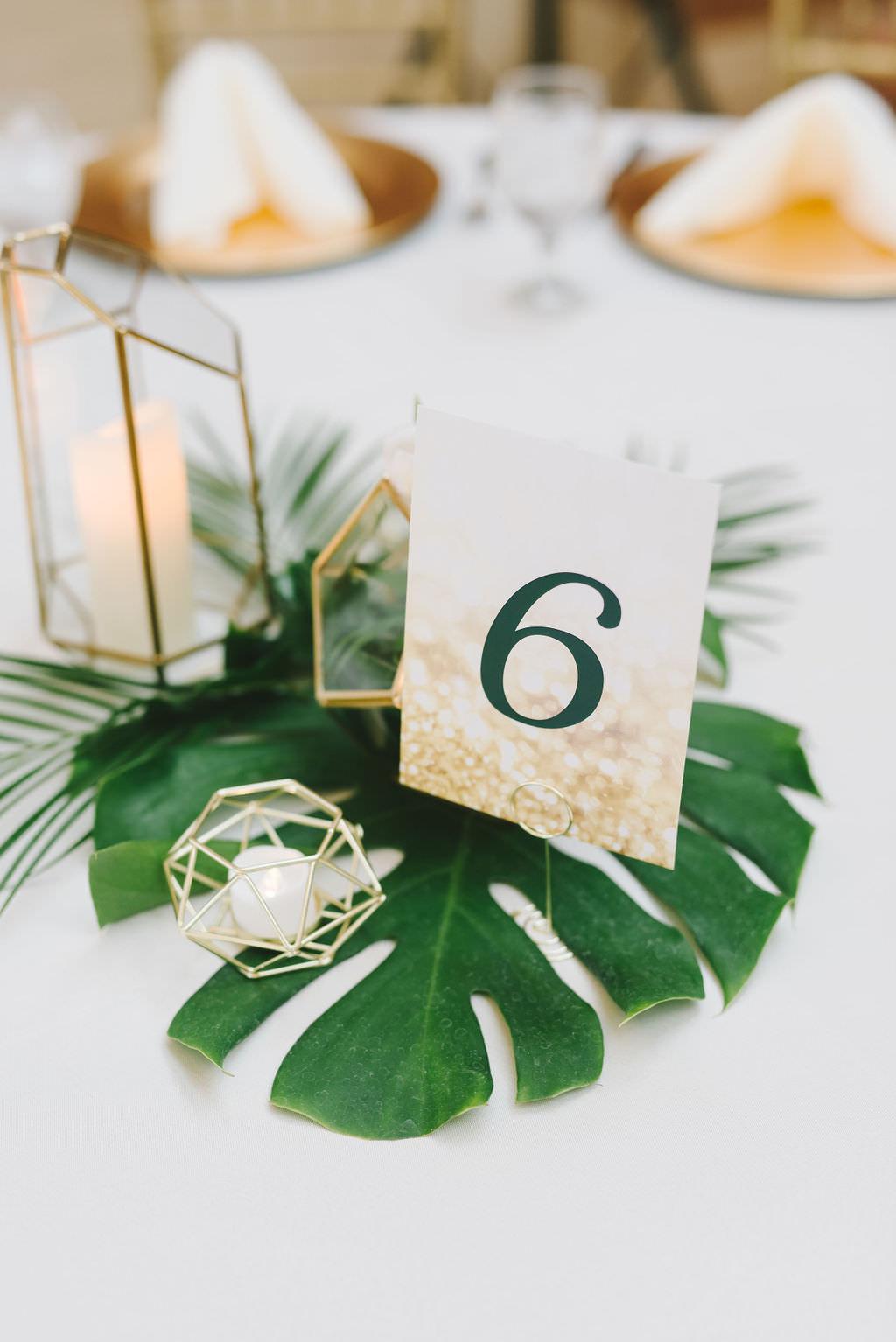 Do away with vases all together and create centrepiece displays directly onto your wedding tables with vibrant leaves, with candles for some sparkle.
14. Greenery Table Garland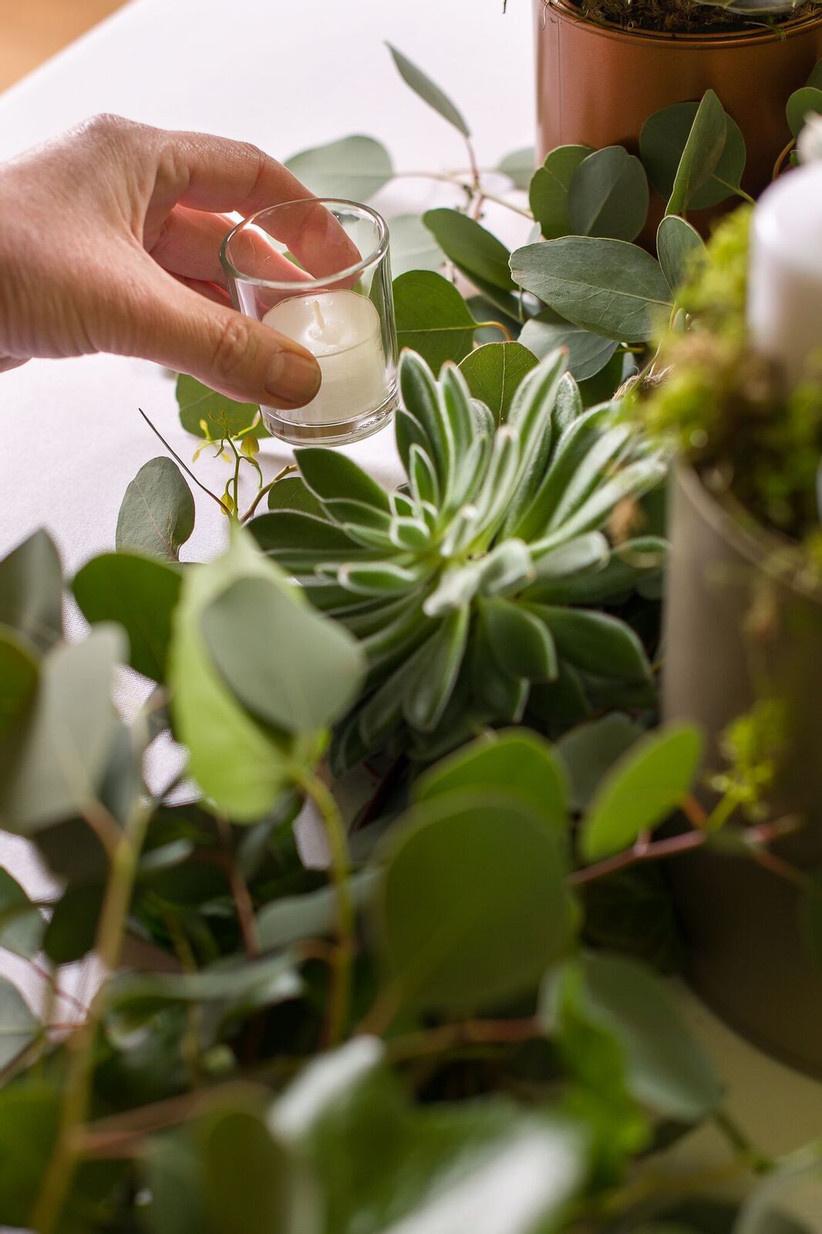 Follow our easy tutorial to make your own DIY greenery table garland that'll bring a gloriously outdoors-in feel to your wedding reception.
15. Spray-Painted Branch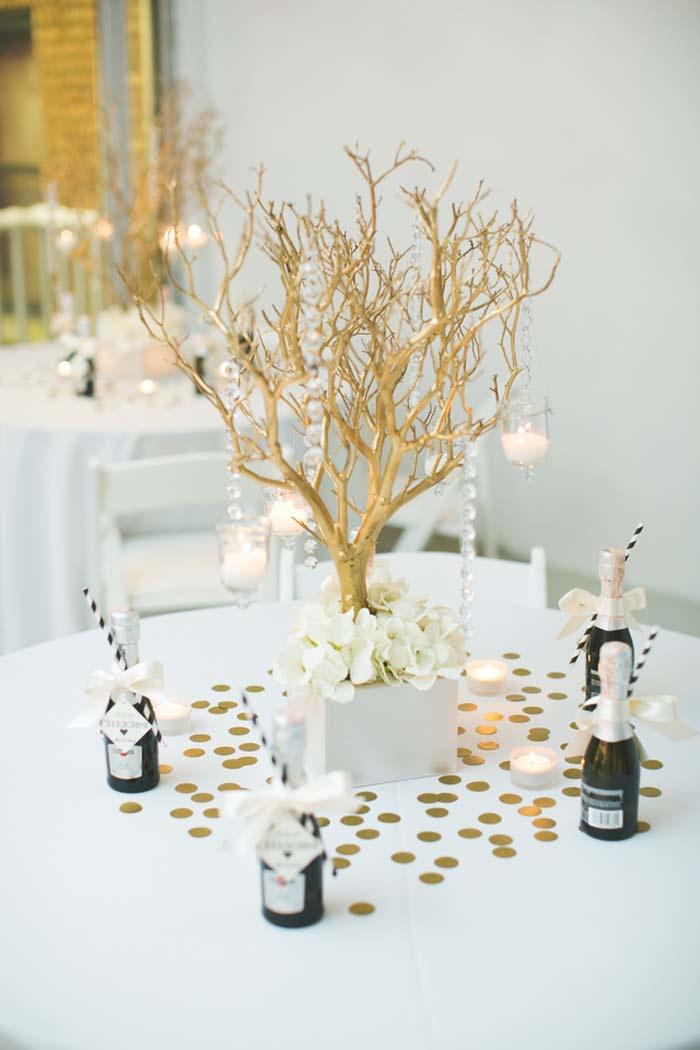 Metal-painted branches make for beautiful wedding centrepieces, particularly if you add some flowers at the base.
16. Lavender Wedding Centrepieces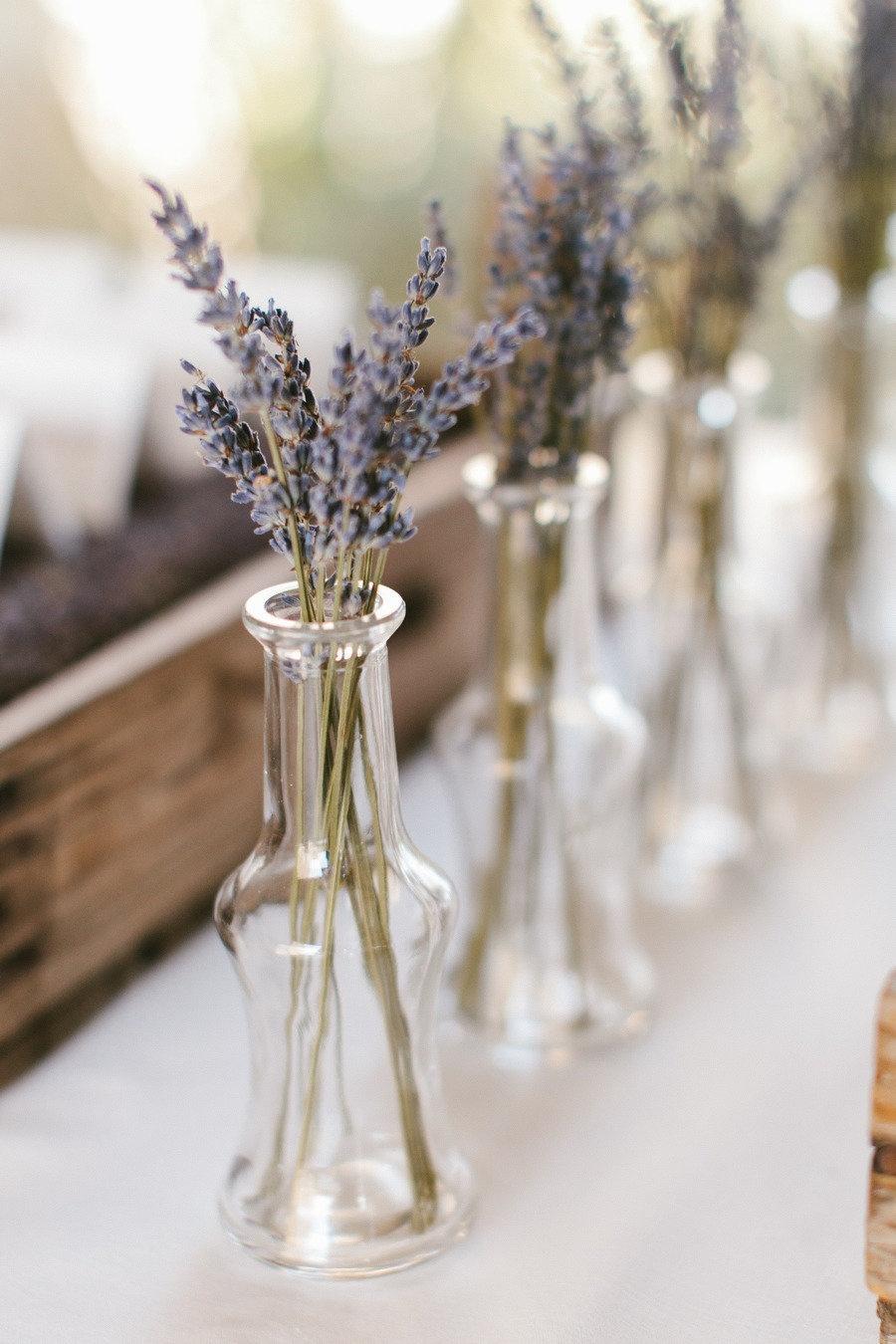 Lavender is relatively inexpensive and has a lovely scent. Put a line of vases down the middle of a rectangular table, or group in the centre of a round table.
Cheap DIY Wedding Centrepieces
Are you trying to stick to a serious budget? Then use some of our most cost effective wedding centrepiece ideas. The trick is using something you already have or will have for the wedding – such as drinks or used jam jars - or using less obvious items and materials.
READ MORE: 25 Super Smart Hacks to Help You Save for Your Wedding
17. Cut Fruit Table Runner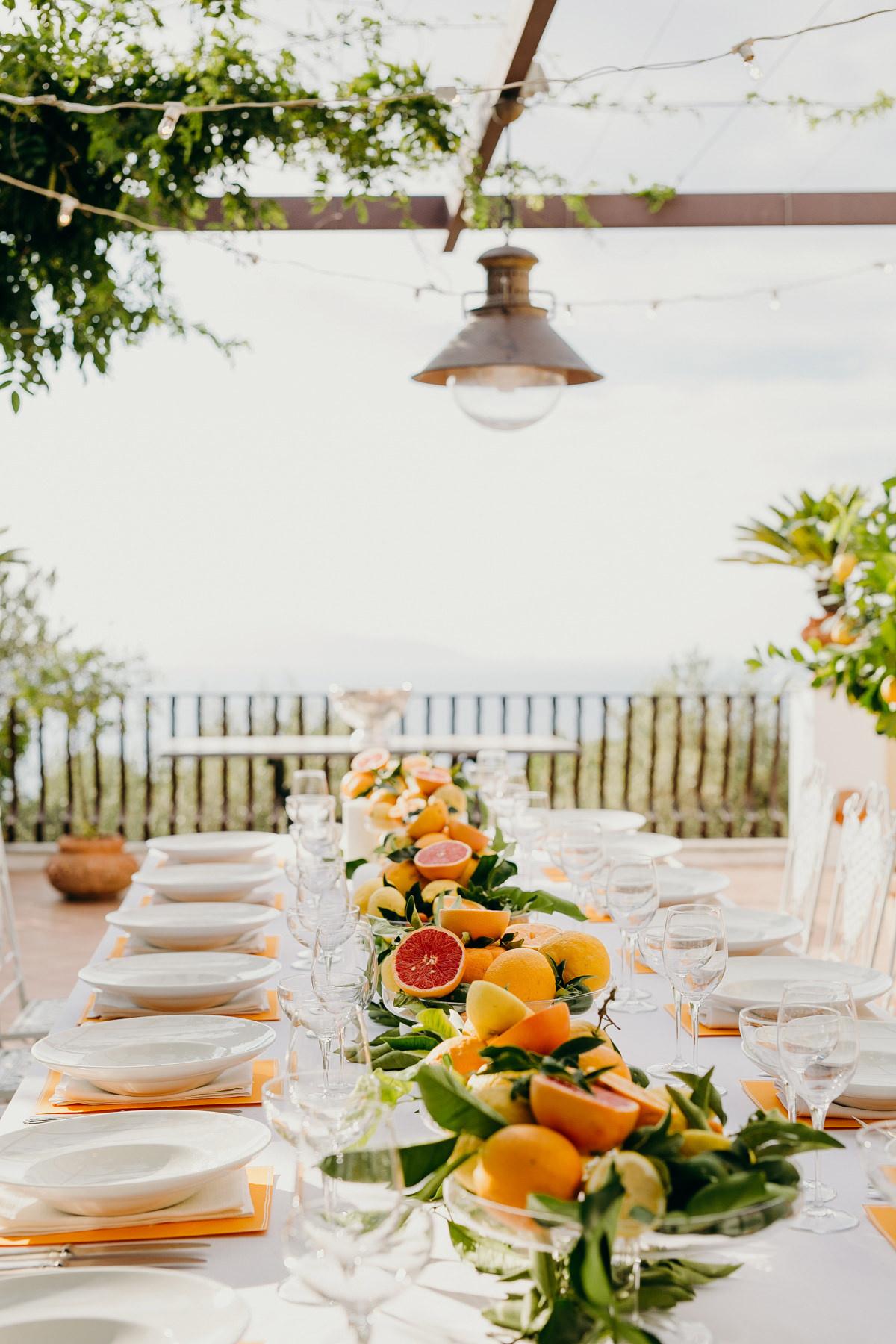 Add colour, texture and fragrance to your wedding centrepiece by using cut fruit, like these gloriously zesty grapefruit.
18. Ice Bucket Centrepiece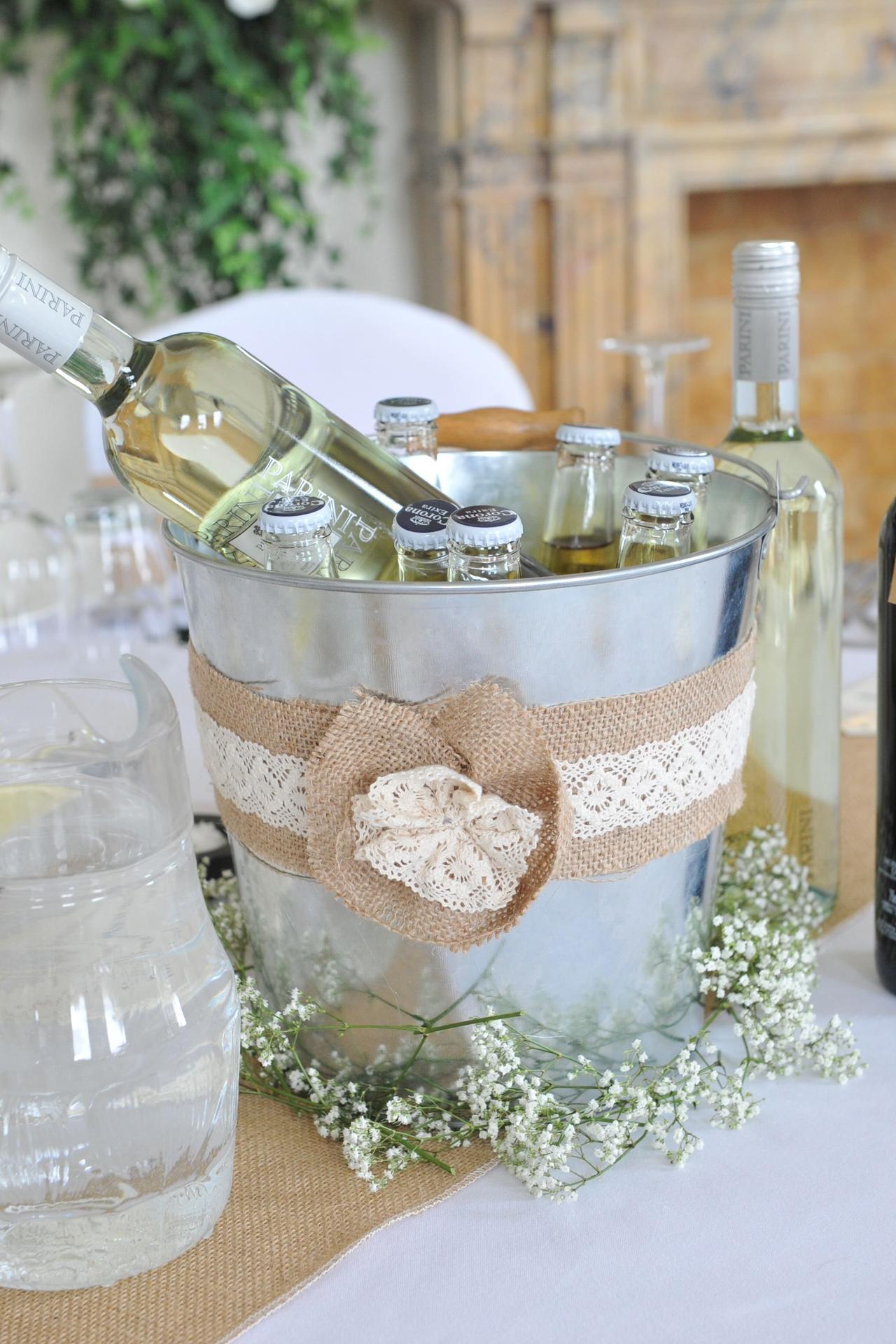 You'll be serving drinks at the wedding breakfast anyway, so let them do double-duty as your centrepieces. Ask your venue whether they'll provide ice buckets that you can personalise with ribbon or other fabric.
19. Fruit in Clear Vases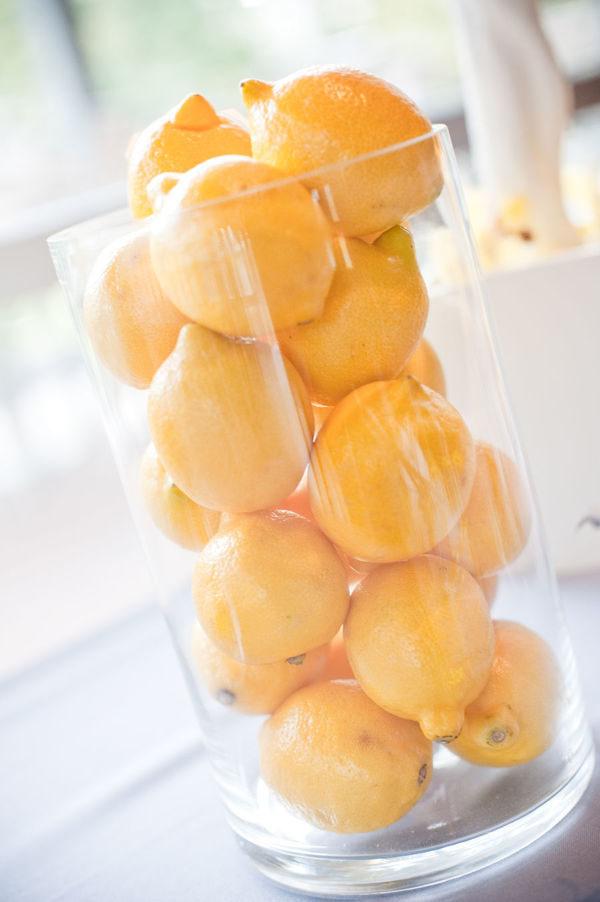 For a simple but stylish look, put brightly coloured fruit in glass vases - lemons, as here, work well, but you could also use limes or oranges. For extra style points, add fresh foliage at the bases.
20. Simple Candle Centrepiece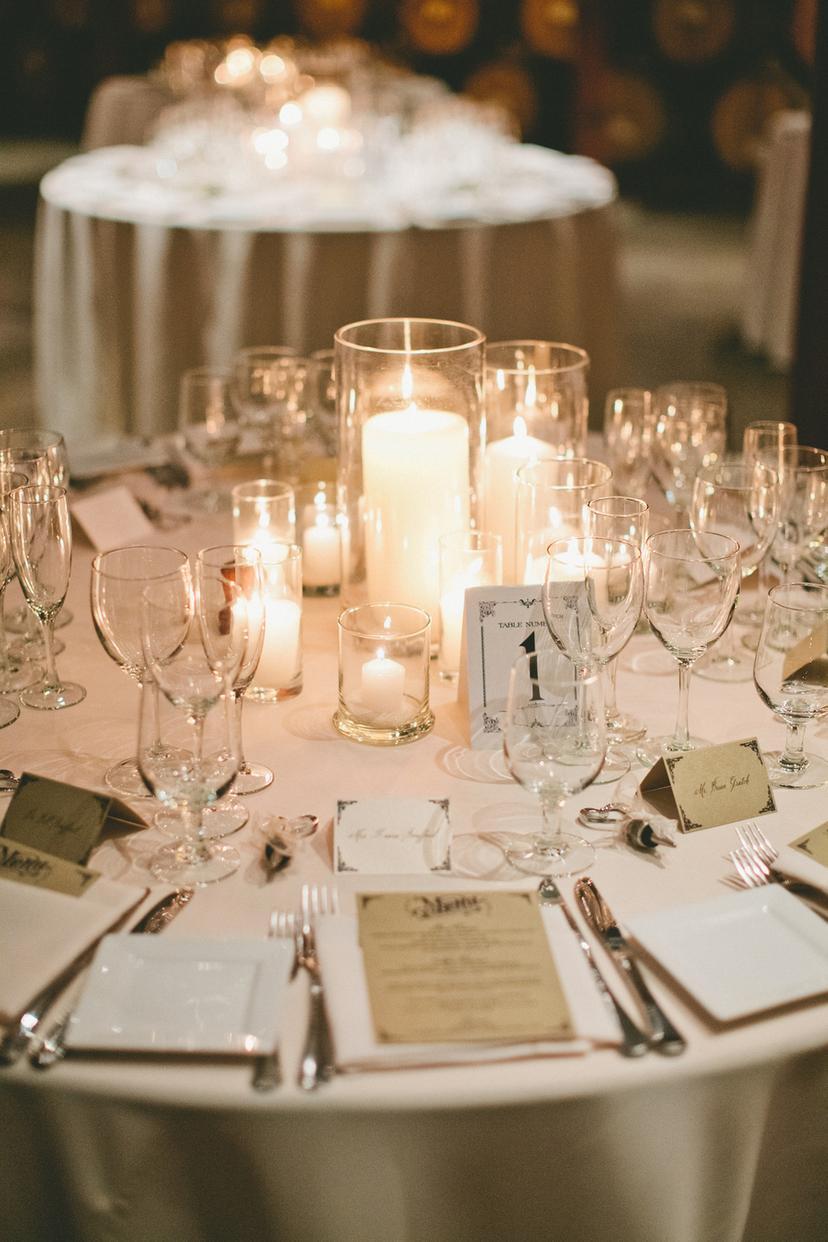 Group candles in the centre of your timeless, for a look that's affordable but utterly sophisticated.
READ MORE: Wedding Candles: Tea Lights, Pillar Candles & Wedding Favours
21. Christmas Baubles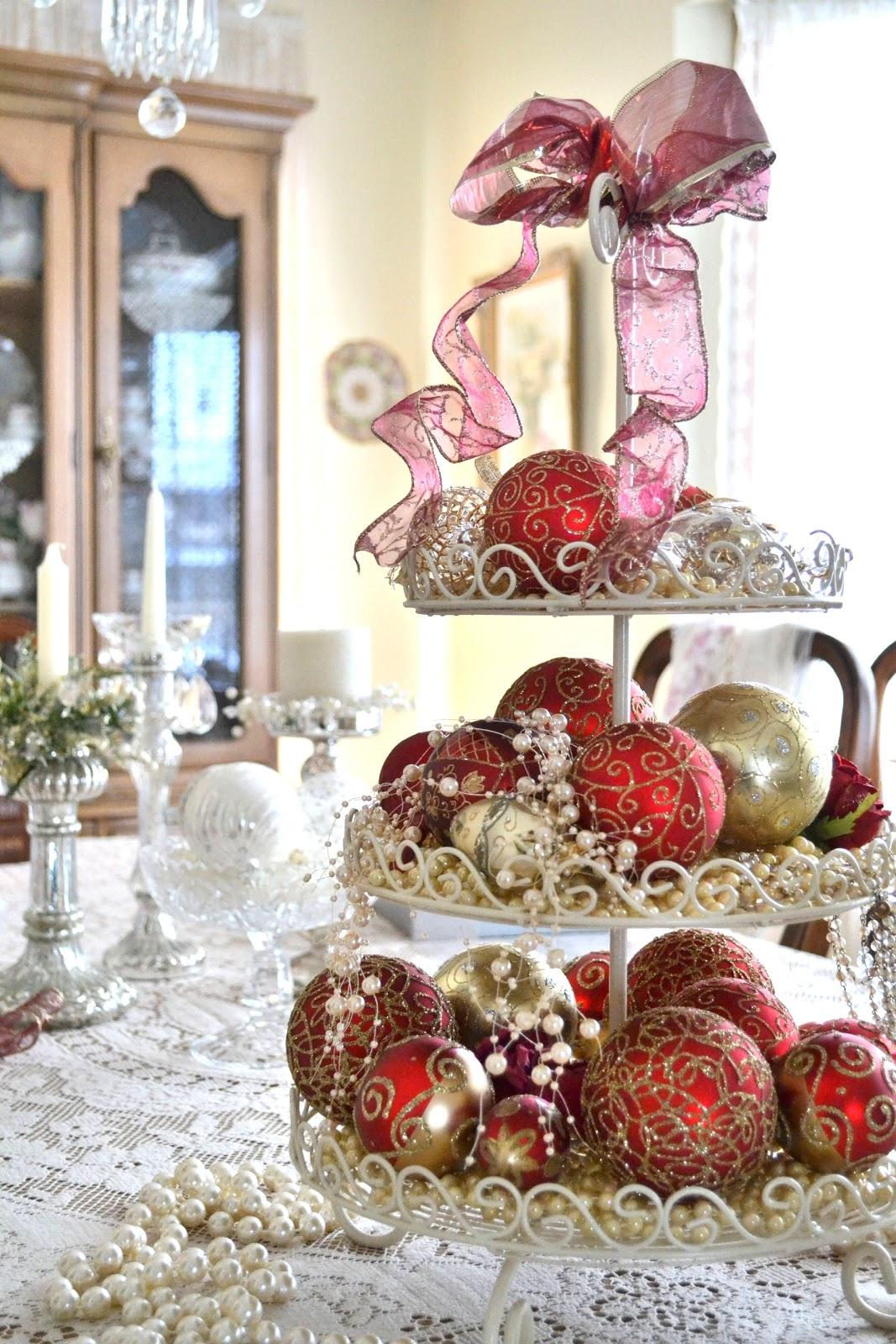 If you own lots of Christmas baubles, use them to create festive wedding centrepieces. Cake stands work well, or you can fill clear vases.
22. Lantern Centrepieces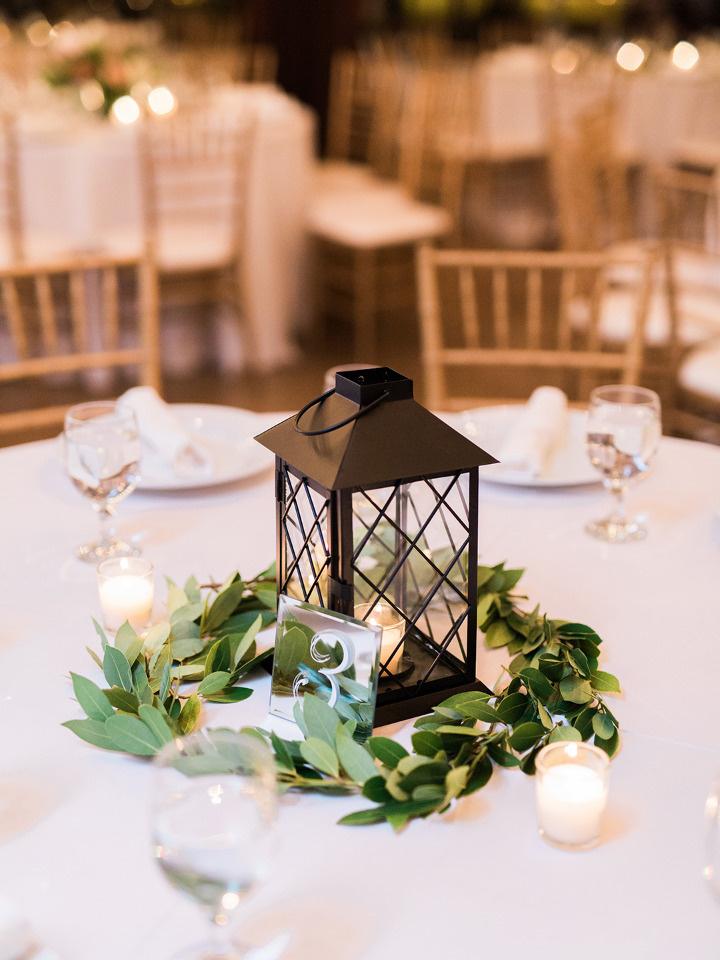 If you already have lanterns, or can easily borrow some, they look very refined with just a candle and a foliage base. Don't worry about whether they match - the mismatched look is carefree and boho.
23. Wildflowers in Jam Jars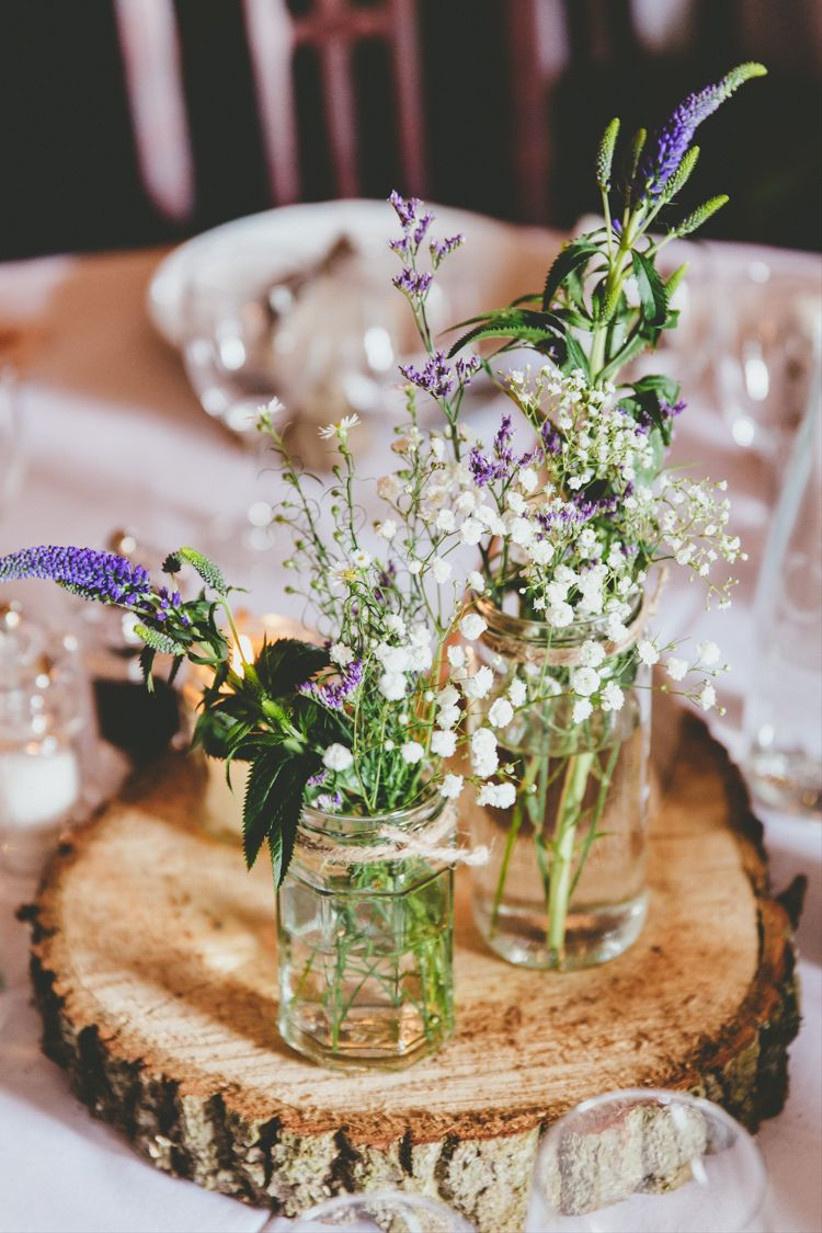 Group oh-so affordable wildflowers in jam jars for pretty wedding centrepieces. You can add extra personality by tying twine, lace or ribbons around the jars.
Easy DIY Wedding Centrepieces
Do you love the idea of DIY but don't want anything too time-consuming? You'll appreciate our favourite easy and simple DIY wedding centrepiece ideas.
24. Oversized Balloons
Balloons can look surprisingly elegant, and if you choose oversized versions, they're great as wedding centrepieces.
READ MORE: How to Create a Beautiful Balloon Wall in 5 Easy Steps
25. Fairy Lights in Vases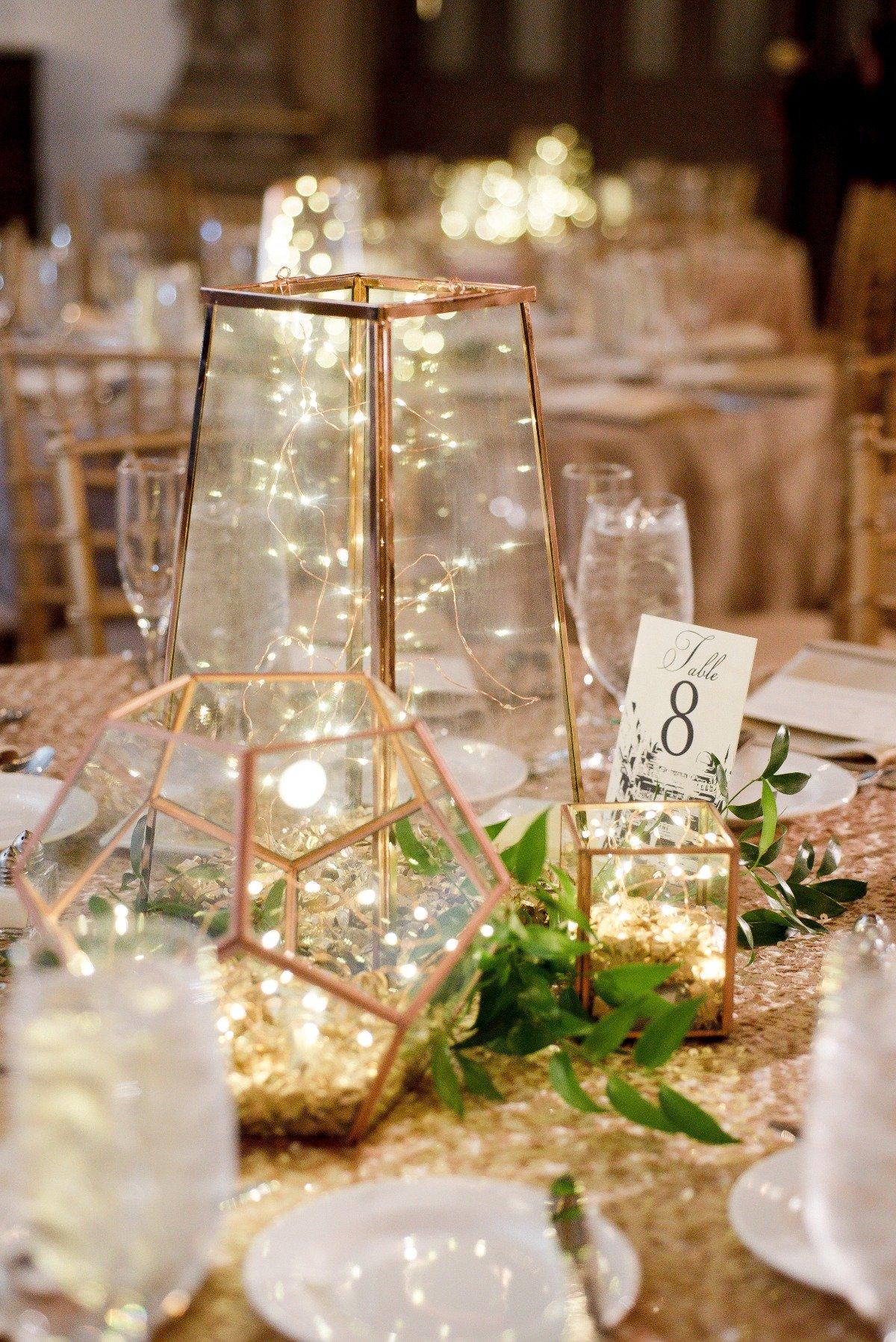 Fairy lights are so versatile at weddings. For a sparkling table centrepiece, add crystals or glitter to vases, then thread fairy lights on top.
26. Metallic Hoop Centrepiece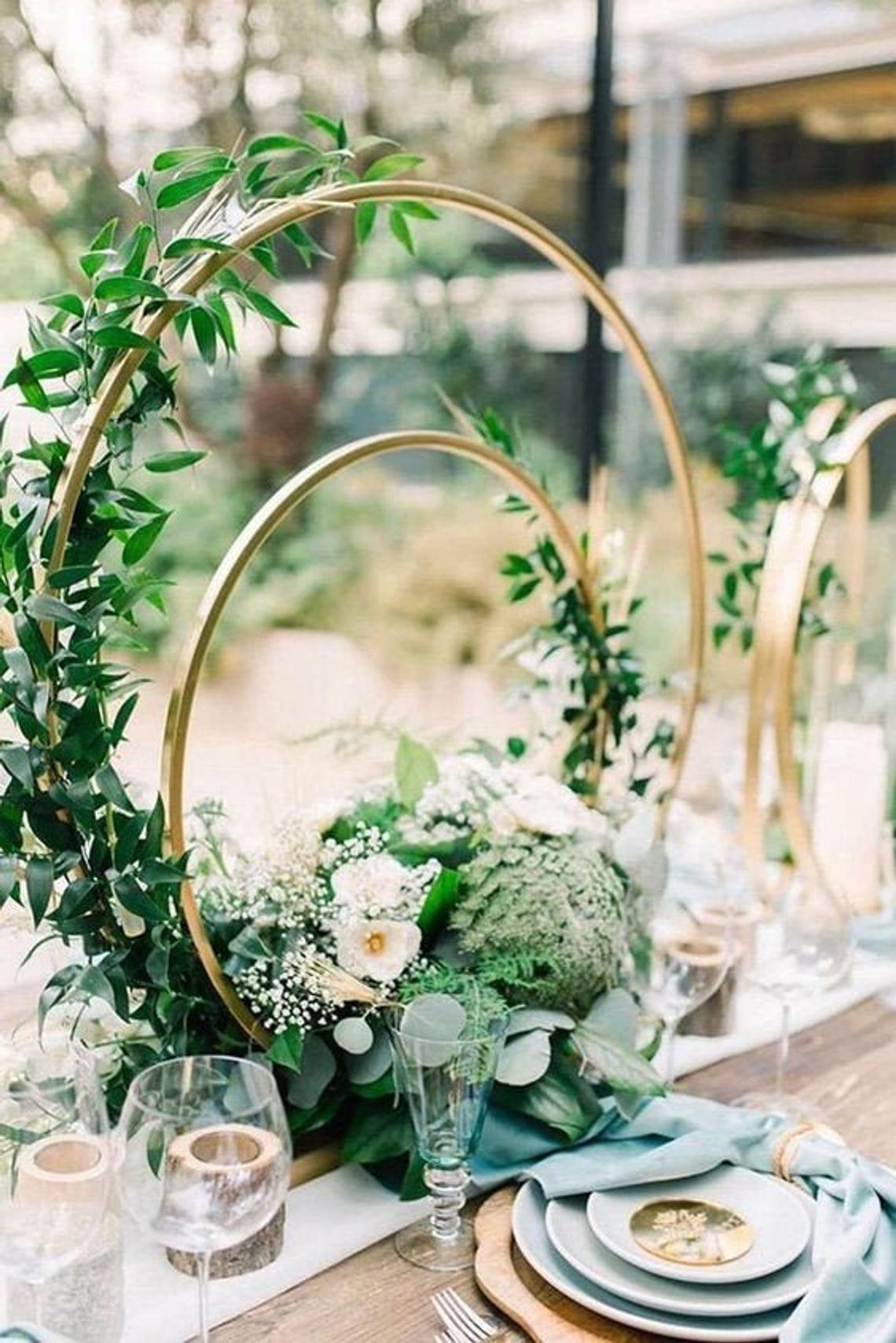 This centrepiece may look complicated, but in fact, freestanding hoops are very easy to decorate - look online for tutorials.
27. Photo Centrepieces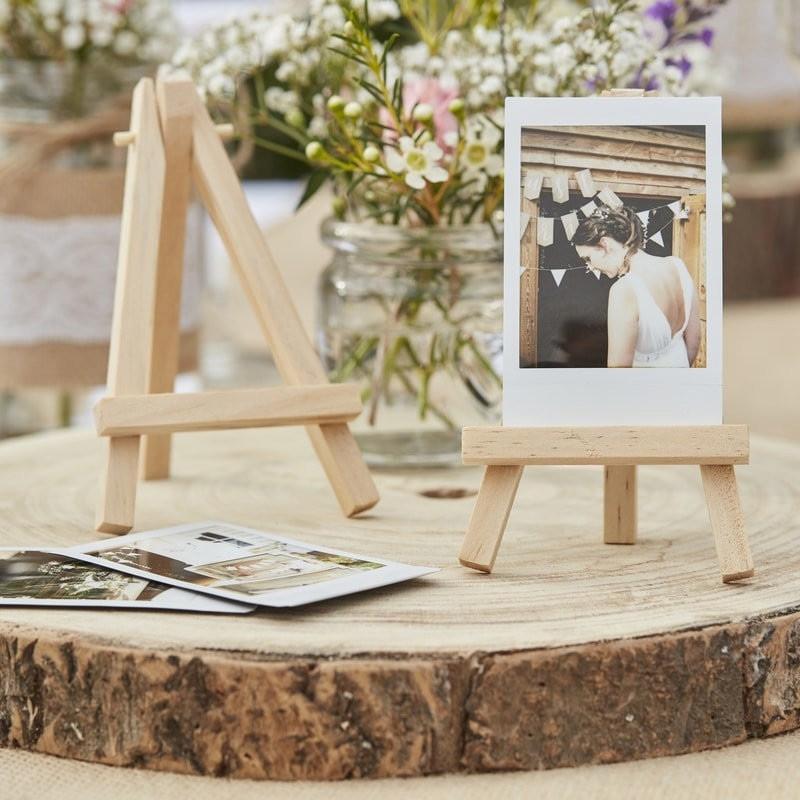 Ask your family if you can use their wedding photos as centrepieces, for a personal touch. You can easily display these on mini easels.
READ MORE: 37 Ways to Personalise Your Wedding
28. Mason Jars with Dried Grass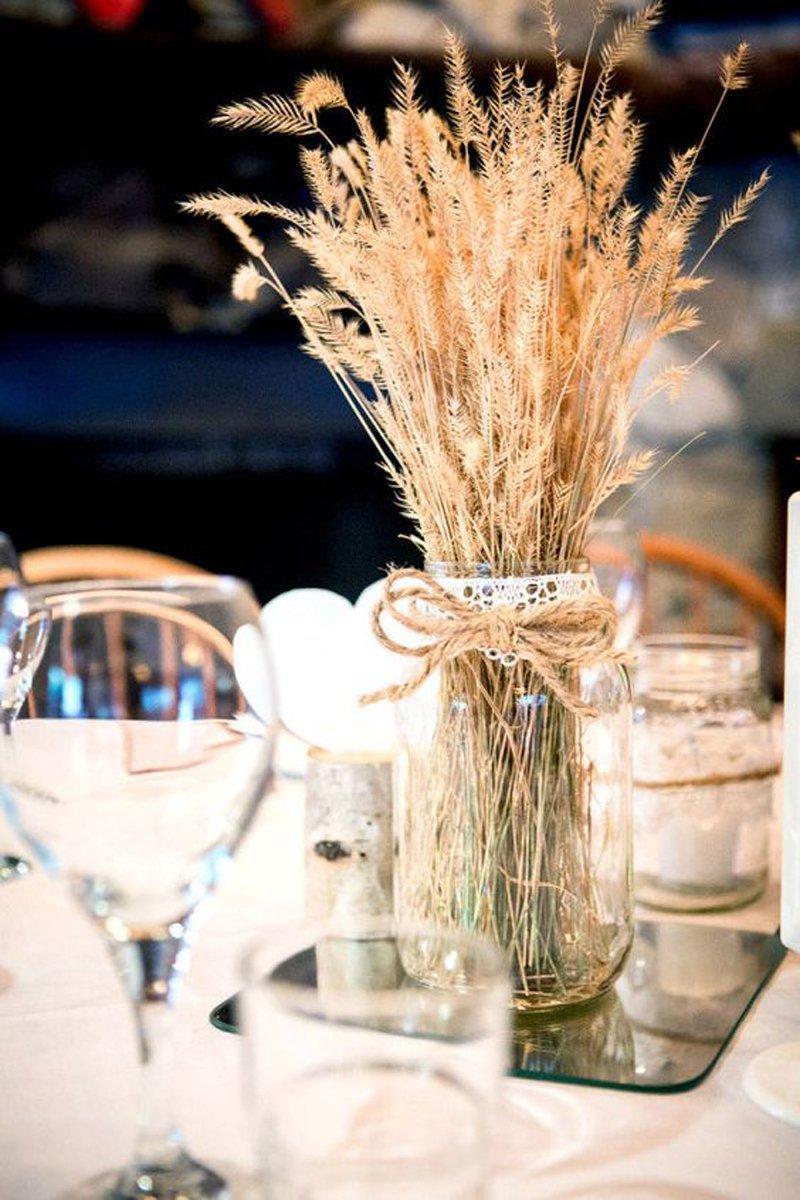 Fill Mason jars with on-trend dried grasses, like the ever-popular pampas grass, for a statement look that's quick to achieve.
29. Choose One Flower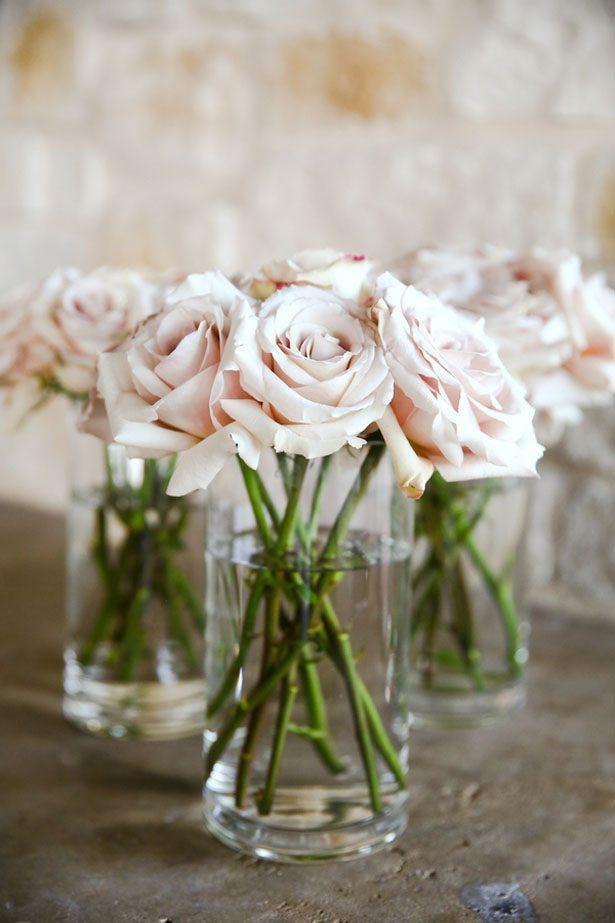 If flower arranging seems like too much of a faff, you can still have floral wedding centrepieces. Simply choose one type of flower - it's foolproof, and looks very refined.
30. Hurricane Lanterns
Hurricane lanterns are easy to find, and their warm metallic finish means they look great with tea lights - just make sure you have a candle lighter, as using normal lighters or matches will lead to burnt fingers!
Edible Wedding Centrepieces
There are some really fun ways to use food in your wedding centrepieces, whether grouping together edible wedding favours in the centre of the tables or making your wedding breakfast part of the display.
31. Sweetie Jars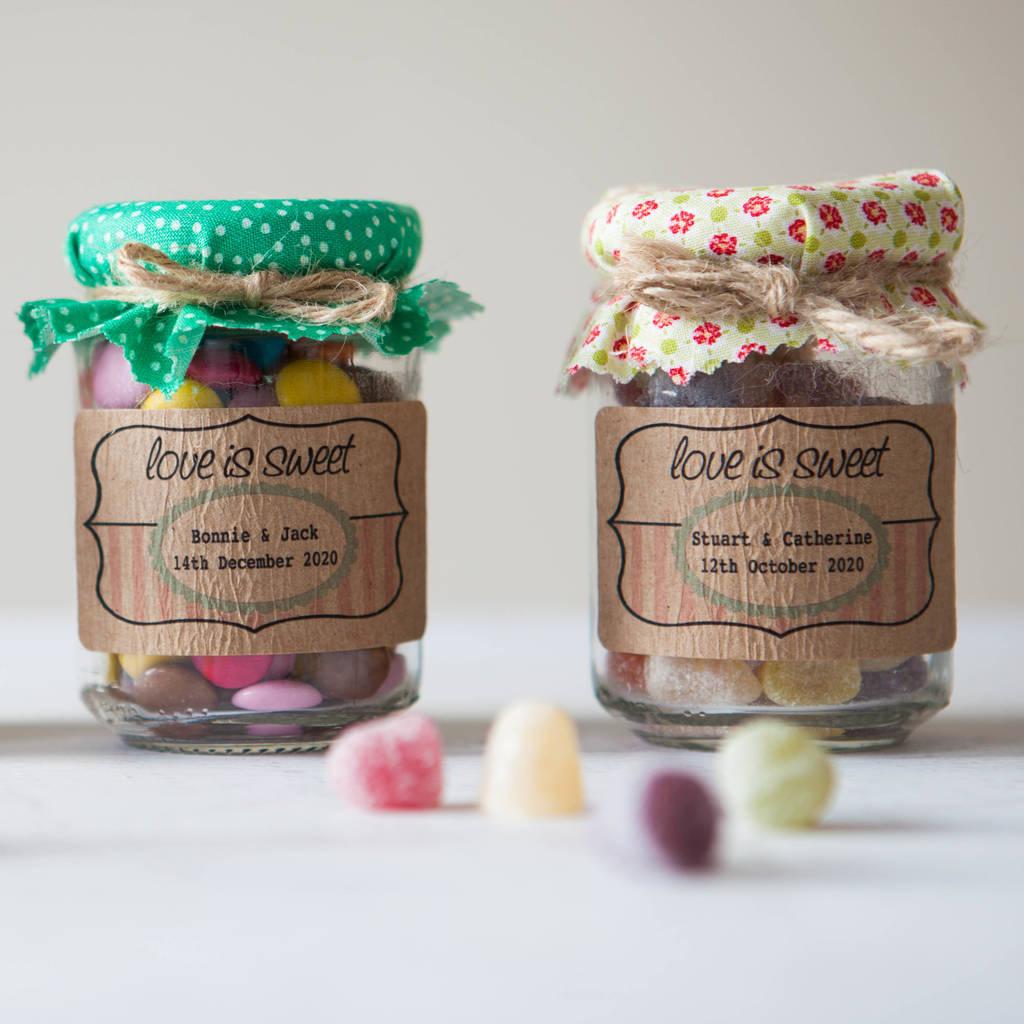 Sweetie jars make for lovely takeaway wedding favours, and can be arranged together on each table as an alternative to traditional centrepieces. Personalised labels are a nice extra detail.
READ MORE: 22 Cute Wedding Sweet Table Ideas (& How to Create Your Own)
32. Cake Stand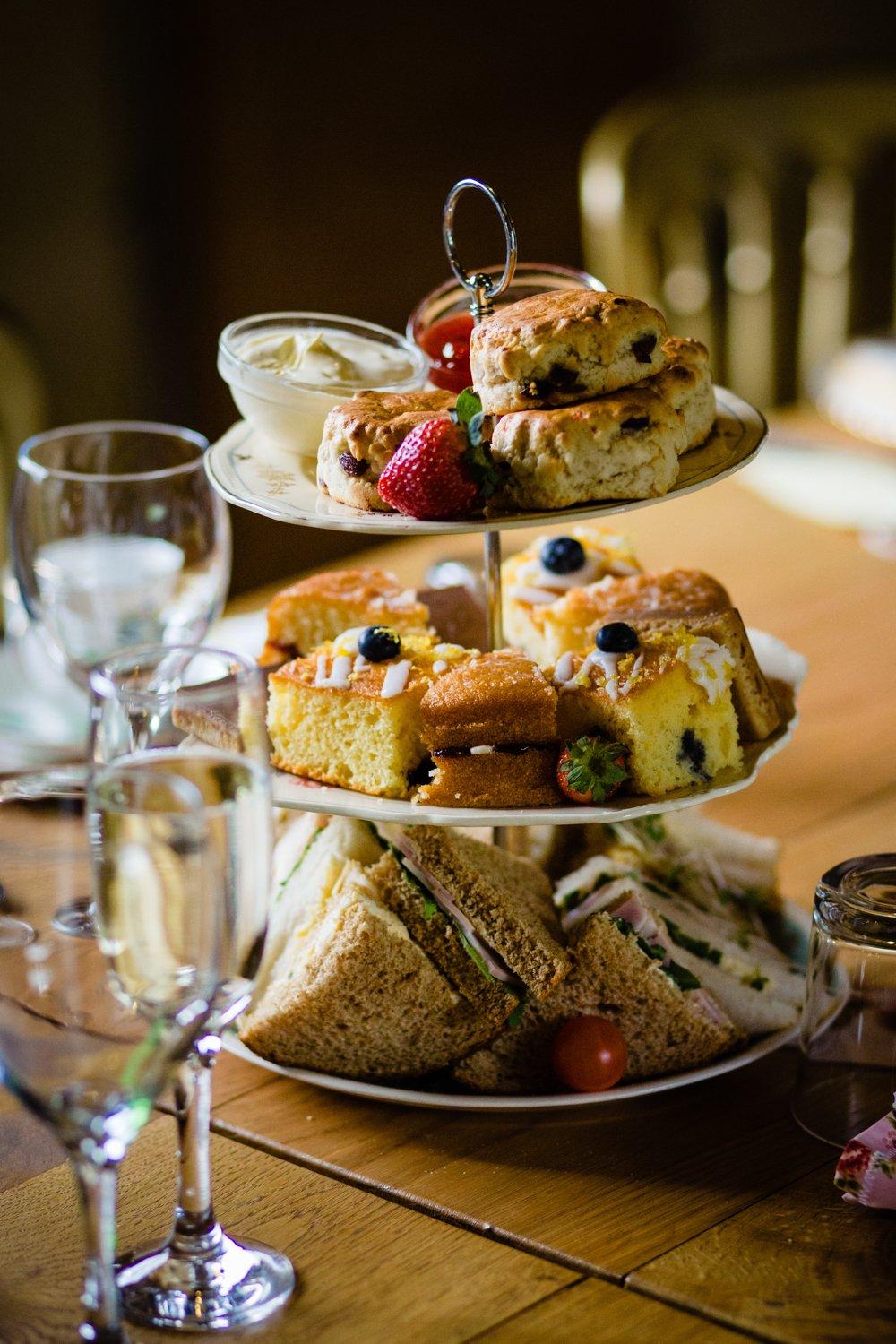 Put cake stands at the centre of the tables and use them to display either pretty cupcake favours or, if you're serving an afternoon tea wedding breakfast, plenty of delicious sandwiches and cakes so guests can help themselves.
33. Cheese Boards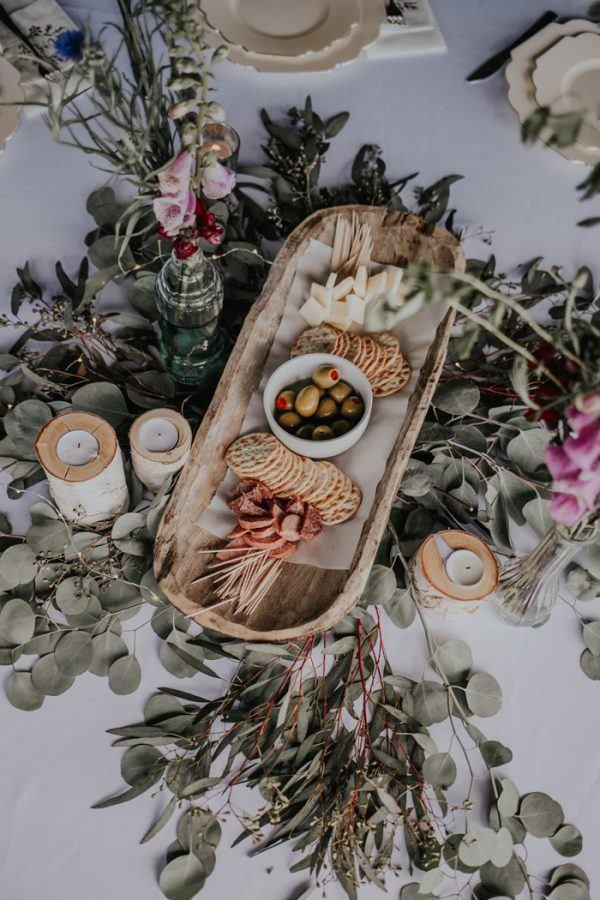 Instead of starters, place a platter of your favourite cheeses and/or charcuterie at the centre of each table
34. Crudités with Dips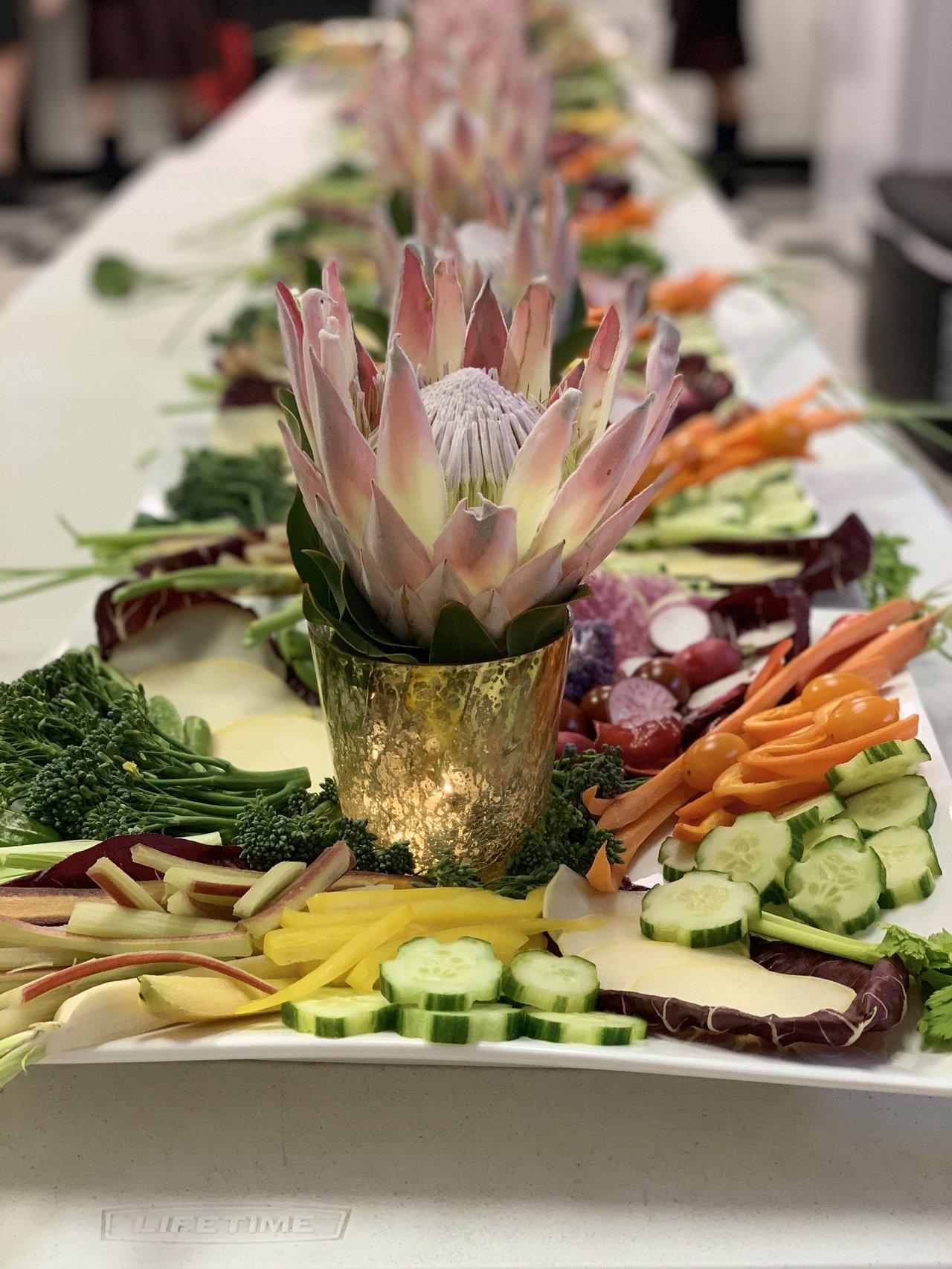 As another alternative to a starter, put out fresh vegetables and homemade dips - the vibrant colours means they'll make for eye-catching centrepieces as guests take their seats.
35. Grazing Tables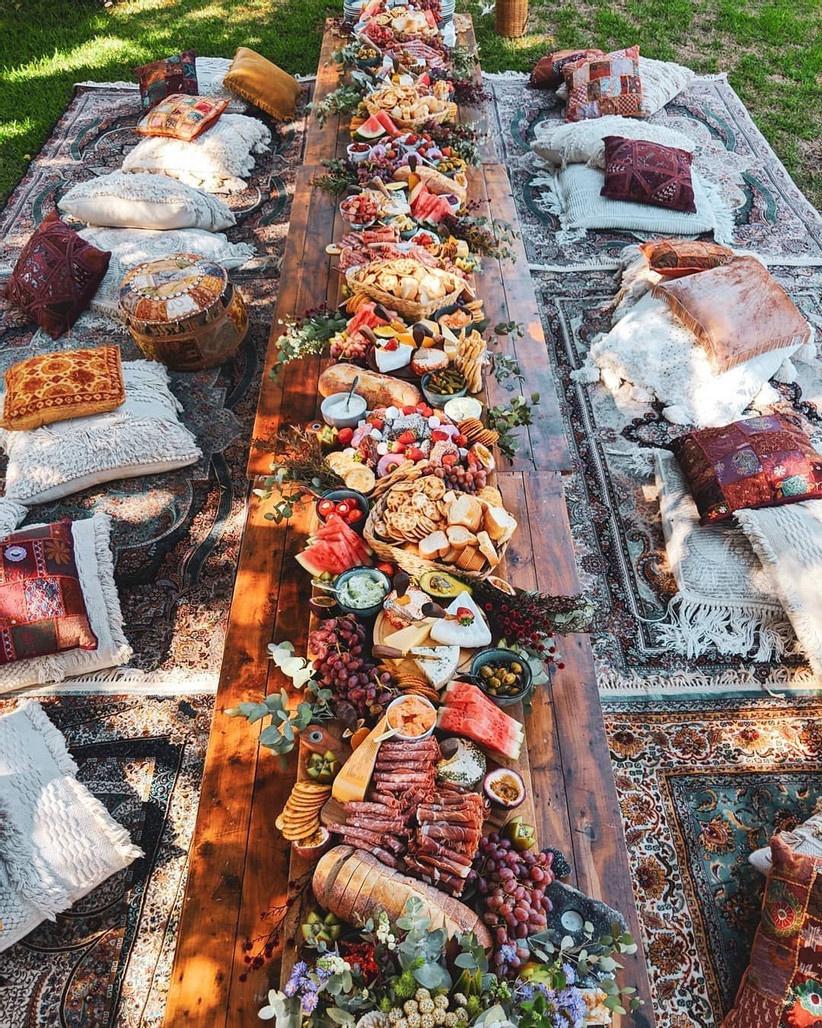 To really make the food the star of the show, have grazing tables. Considerably more substantial than platters, these involve a huge variety of fruits, cheeses, breads and meats, and could easily be a help-yourself full wedding breakfast, rather than just the starter.
READ MORE: Grazing Tables: 18 Ideas and How to Make Your Own
Vintage DIY Wedding Centrepieces
It's easy to create your own vintage-style centrepieces: think teacups and teapots filled with fresh flowers or vintage fabrics tied around vases.
36. Floral Teacups with Pearls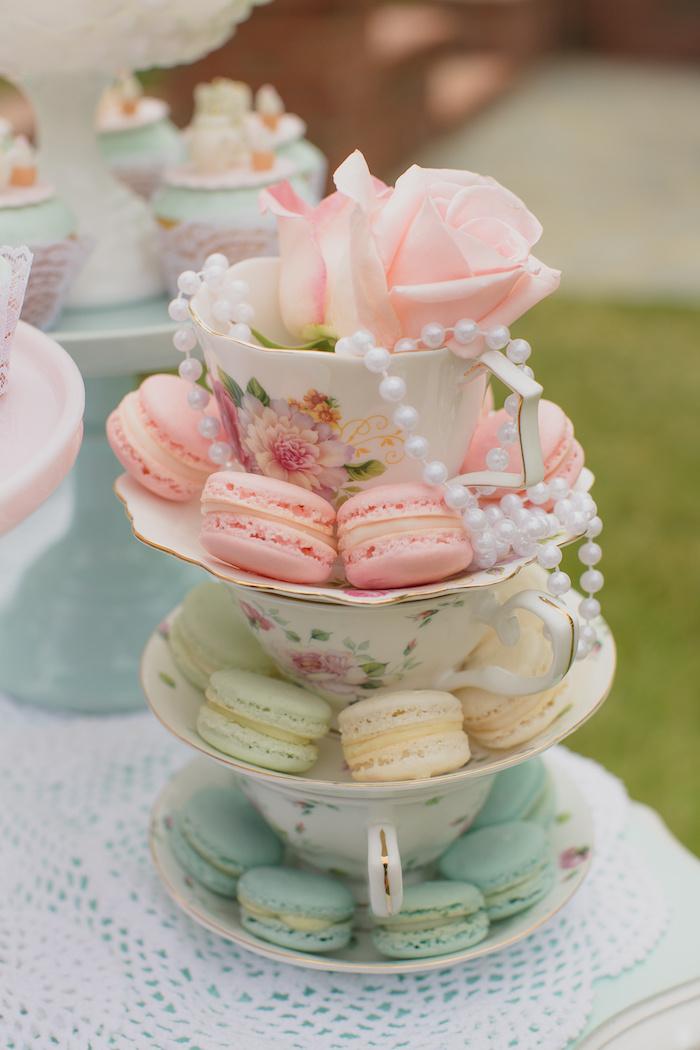 Floral tea cups are a key part of the vintage look, so stack them to create pretty centrepieces. You could also add macarons for an after-dinner treat.
37. Vintage-Effect Books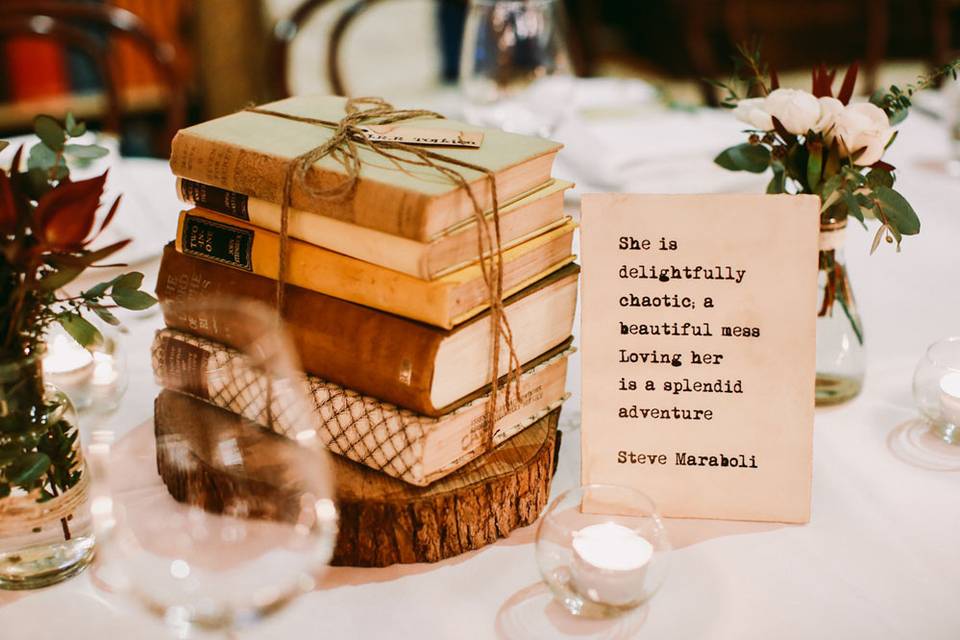 Books are another key design element of a vintage-style wedding - we're talking about the kinds of august tomes you'd expect to find in the library of a grand country house. Add a different literary quote for each table.
38. Vintage Cameras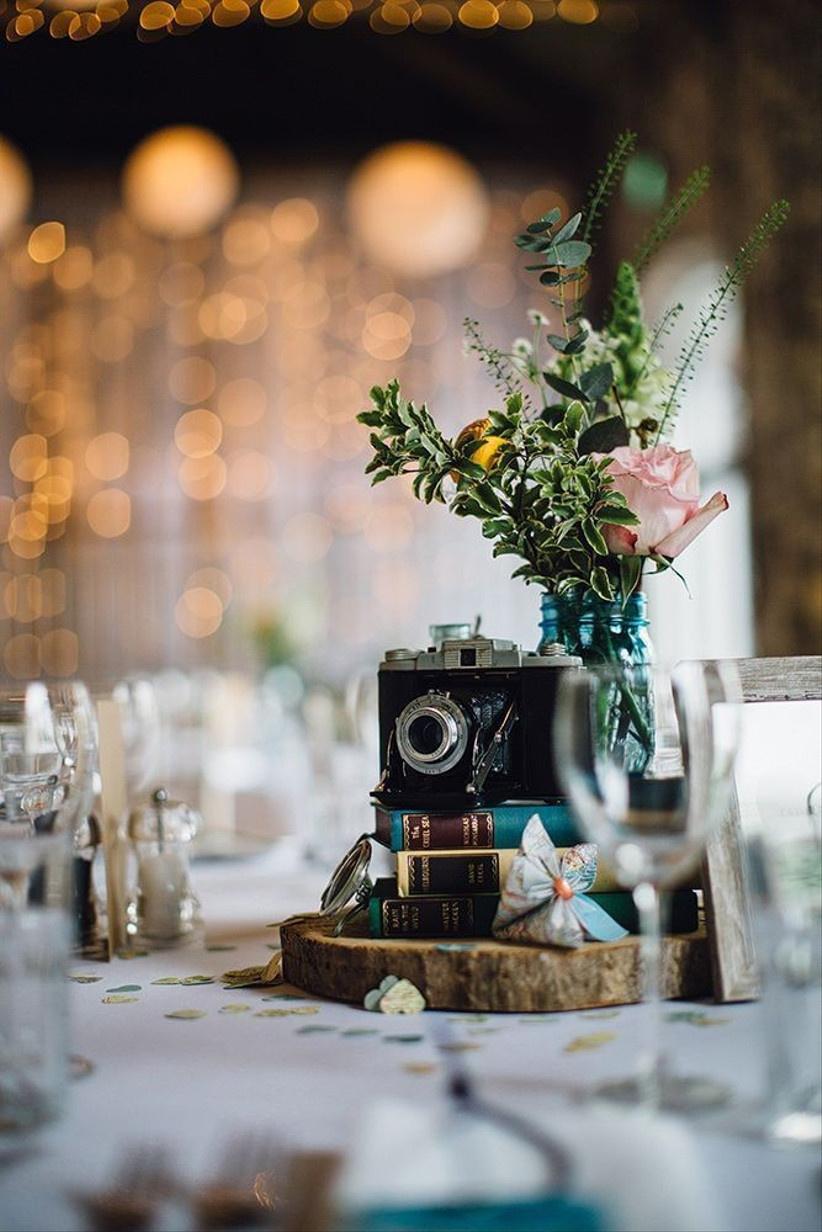 Love photography? Vintage cameras are a chic way to add some personality to a wedding centrepiece - see if you can borrow or hire these.
39. Typewritten Notes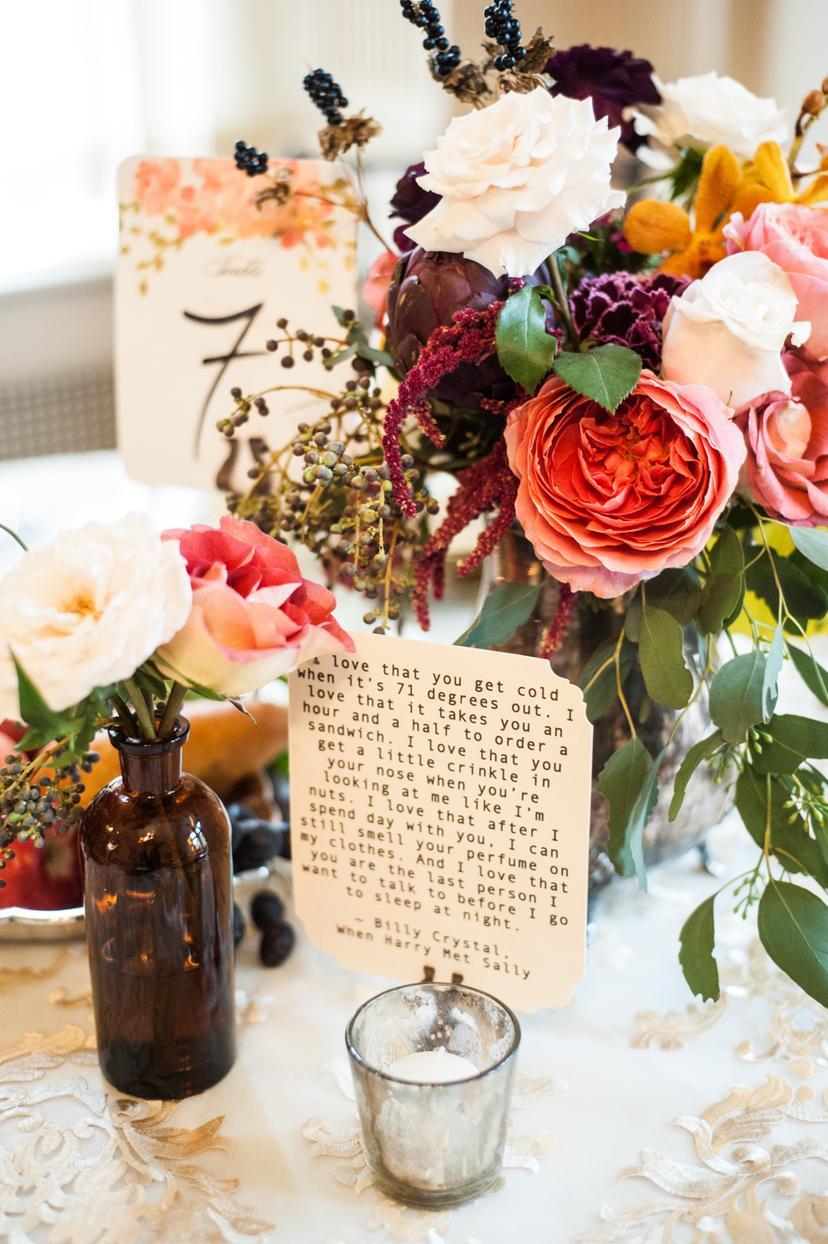 Typewriters are often used as part of a vintage wedding look, but as it won't be easy to source enough for every table, we suggest just buying or hiring one, and using it for the guest book. For the centrepieces, a typewritten quote will be easier to achieve.
READ MORE: 55 of the Most Romantic Quotes to Express Your Love
40. Candelabra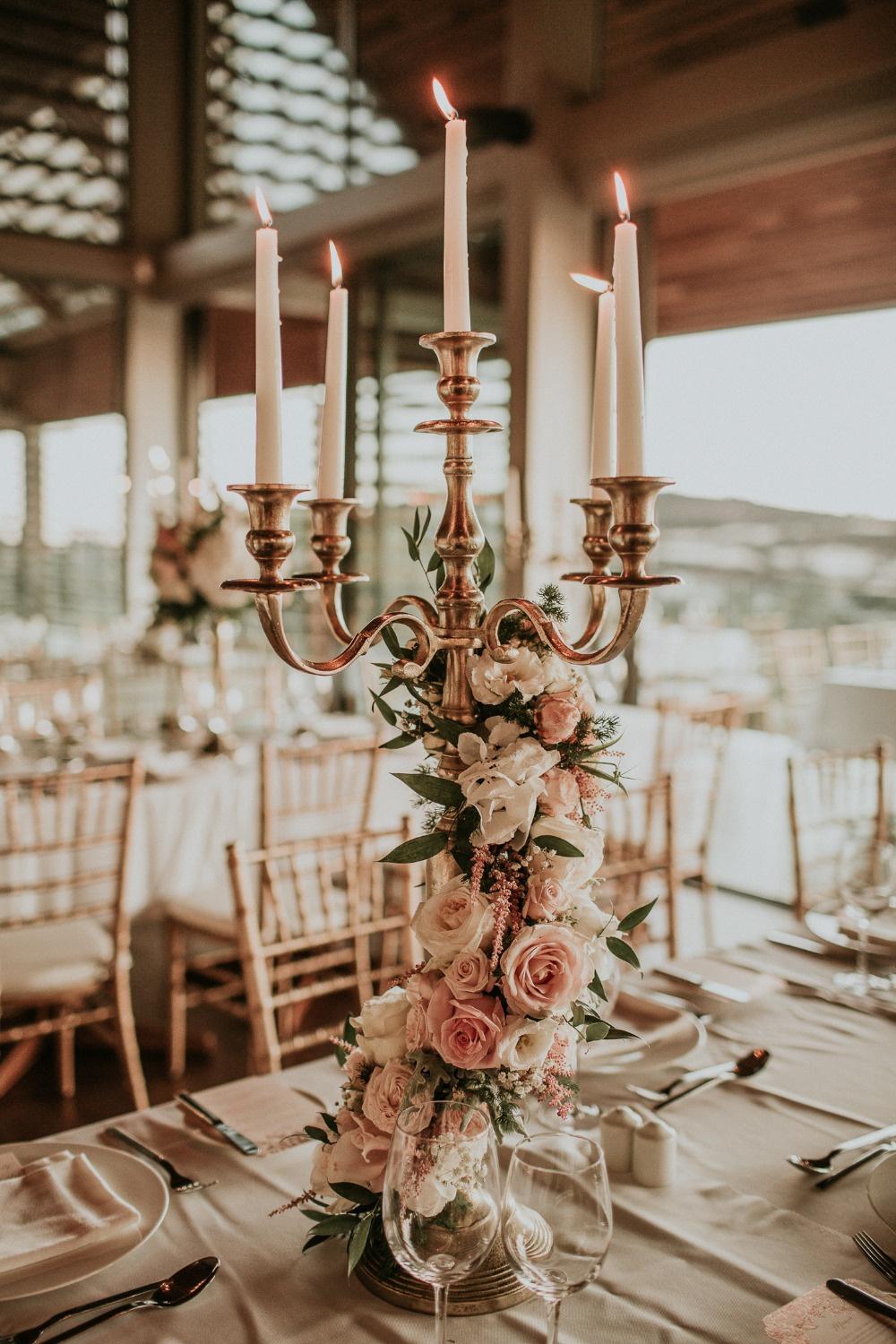 Candelabra are ideal for glamorous vintage centrepieces - simply leave uncovered, or for extra romance, wind some flowers around the base.
41. Birdcages Filled with Flowers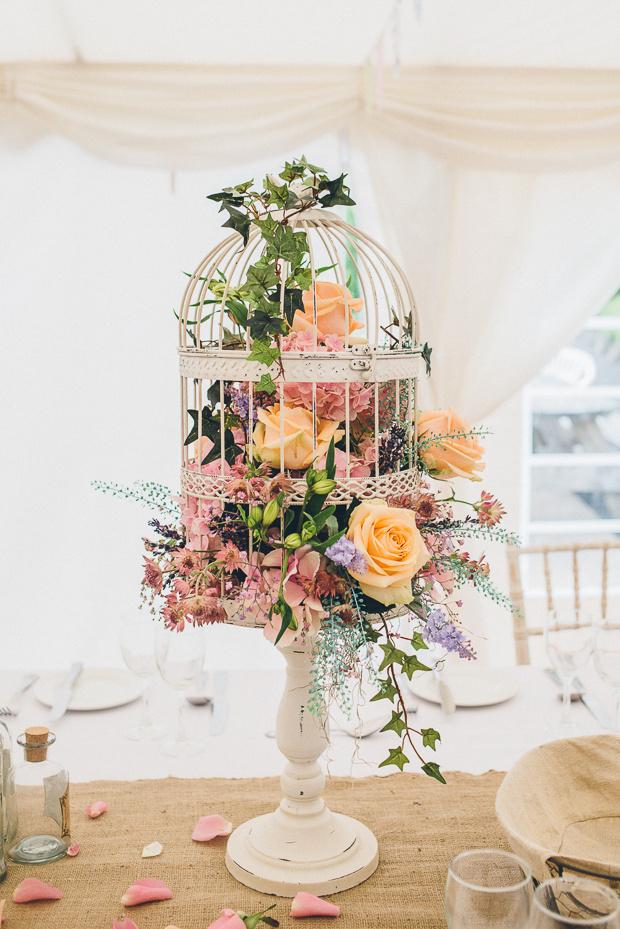 Birdcages are a vintage wedding classic. Fill with the blooms of your choice - if you need some elevation, put them on one-tier cake stands.
42. Collect Vintage Finds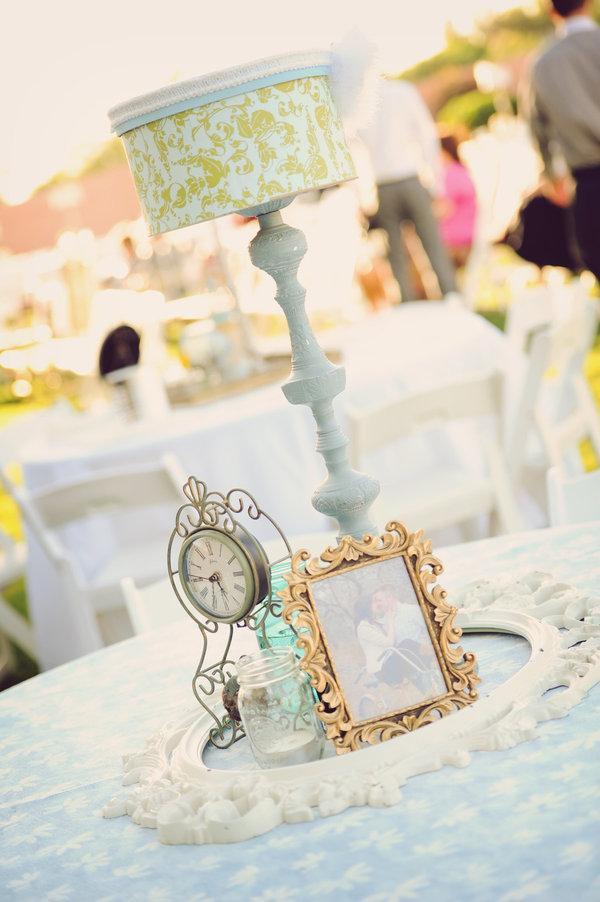 Arrange a collection of vintage-effect objects on each table - clocks, photo frames and lamps, as here, work very well. To save money, see what you can use from your own home, or hit the charity shops.
43. Bell Jars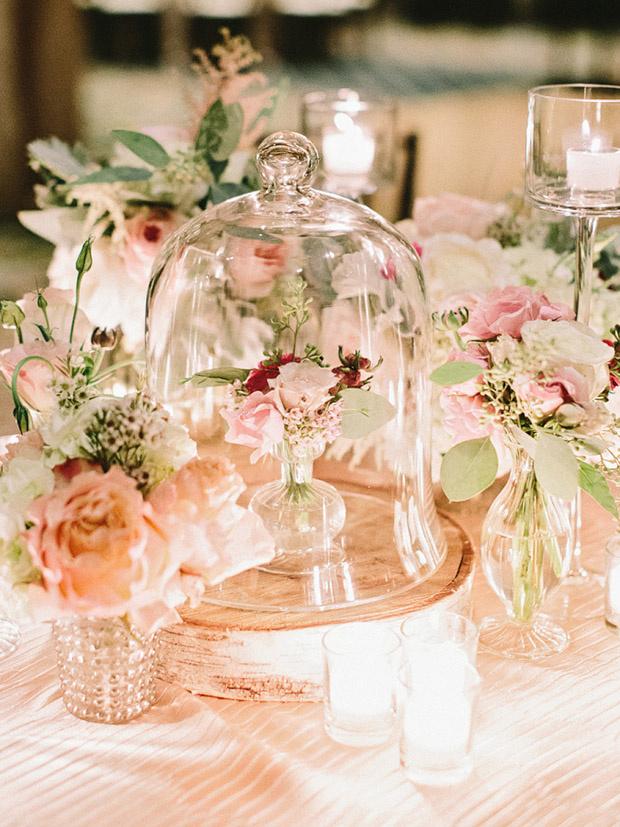 Bell jars are a great way of adding some vintage drama to small flower arrangements. Pop some blooms in a bud vase, put the bell jar on top, and you have a delightful centrepiece.
READ MORE: Vintage Wedding Décor: 36 Beautiful Ideas for Your Reception
Rustic DIY Wedding Centrepieces
If you're making your own centrepieces, rustic is a perfect theme - if you make a mistake or have an inconsistency you can say it's part of the rustic vibe! These centrepiece ideas would look fantastic at a barn or woodland wedding.
44. Dried Petals in Jars
Confetti isn't just for throwing! Put dried petals in clear glass jars for centrepieces that are easy to DIY yet look very effective.
45. Jam Jars on Log Slices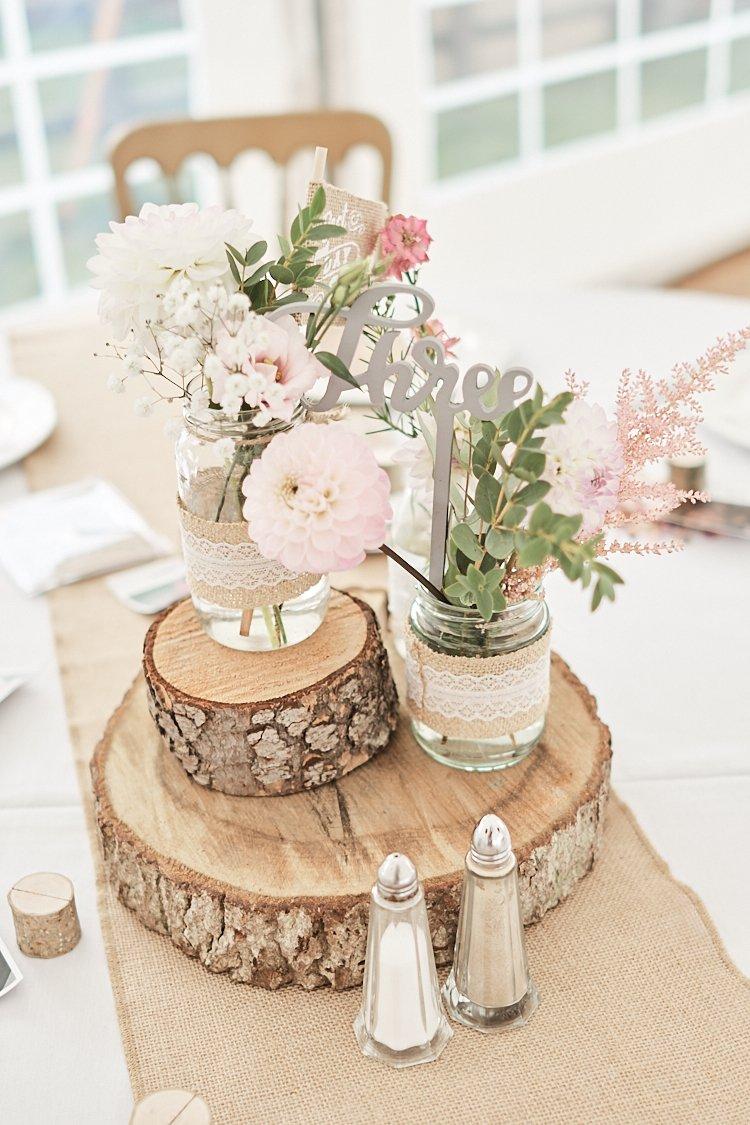 Nothing says rustic wedding centrepiece quite like log slices. Use wood of different sizes to add some depth to the look. There's no need to expensive vases for the flowers - simple jam jars work best.
46. Milk Churns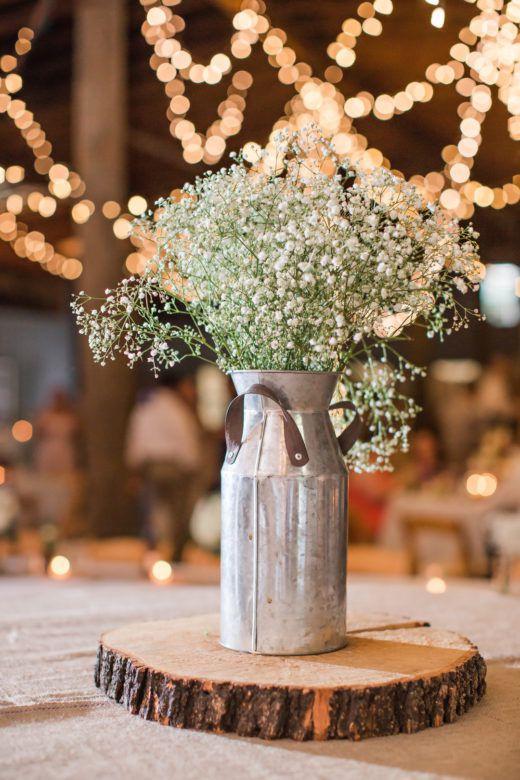 Getting married on a farm? We'd definitely recommend rustic-chic milk churns to display simple centrepiece flowers.
47. Use Hessian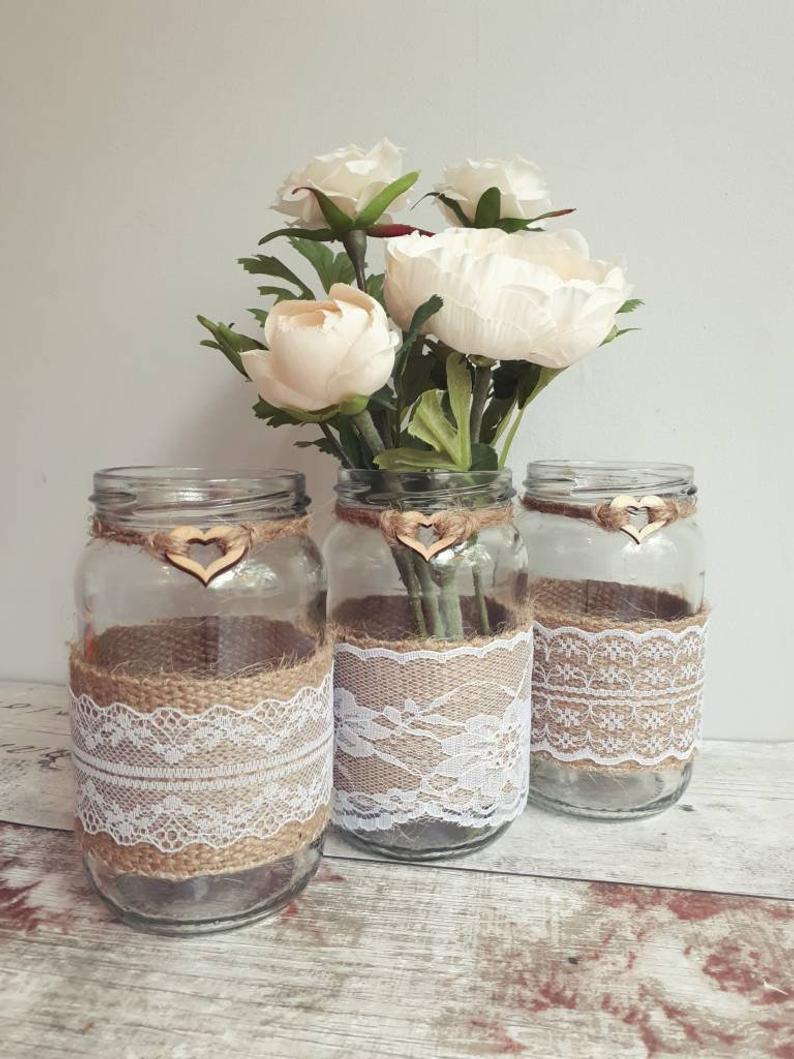 Hessian is a classic rustic material. Try wrapping it around vases or jam jars for a country-cool effect.
READ MORE: Rustic Wedding Ideas: 45 Breathtaking Ideas for Your Big Day
48. Hessian-Wrapped Plants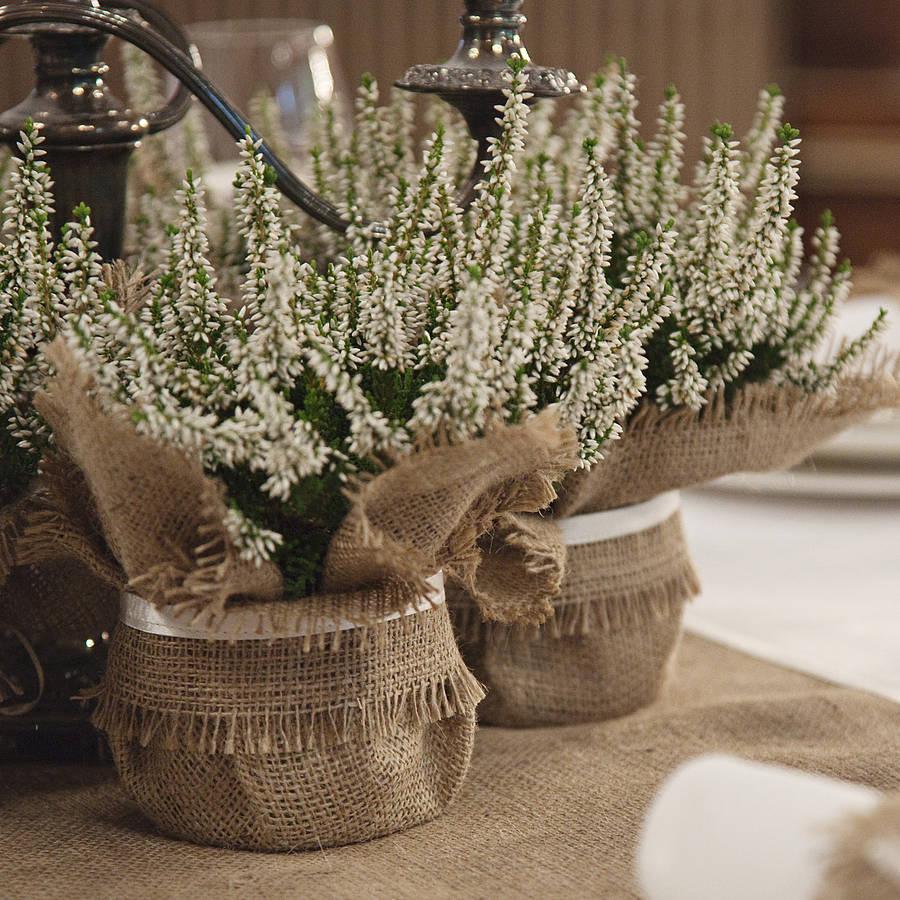 For easy rustic centrepieces, use hessian wrap on potted plants and arrange them in the middle of the tables. Choose delicate yet robust plants, such as heather or lavender, and these will work best with the look.
49. Mini Hay Bales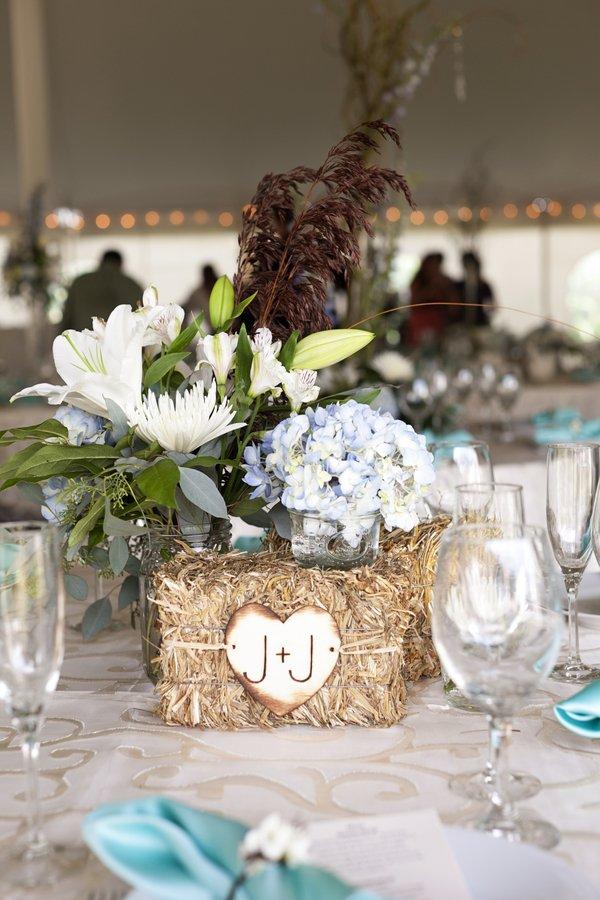 You can buy mini hay bales on Etsy - use them to create unique rustic centrepieces for your wedding.
50. Wellington Boots
Add a note of fun to your rustic wedding centrepieces by using wellies for your DIY flower arrangements.
Find out which other décor elements you can make yourself with our guide to the wedding decorations you can easily DIY.