9 Ways to Avoid Drama With Your Wedding Guest List
From bridesmaids asking for plus ones, to cousins who want to bring the *whole* family - here's nine ways to completely avoid wedding guest list drama before you send out your invites!
We have included third party products to help you navigate and enjoy life's biggest moments. Purchases made through links on this page may earn us a commission.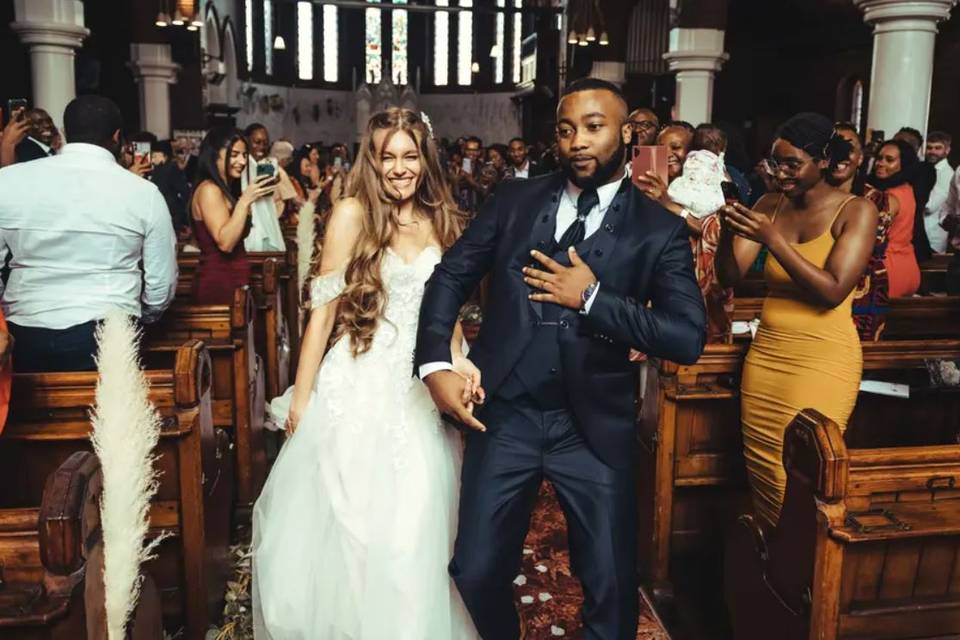 When it comes to planning a wedding, there's already so much to tick off the wedding planning checklist without the addition of guest list politics. No one needs that kind of aggro distracting them from the real wedding planning tasks!
Deciding who's making the cut and getting an invite to your wedding can be quite the task and, unfortunately, it's almost impossible to avoid at least some wedding guest list drama. But before you get all down-in-the-dumps over the guest list, we're here to help. We've come up with several ways you can avoid guest list politics and eliminate much of the wedding planning stress that comes with it.
More often than not, guest list politics and hassle are completely avoidable, and with a few tips and tricks from our end, we can ensure that planning your guest list and dealing with tricky invitees will be much easier than you initially thought.
Guest list drama comes in many forms; from bridesmaids insisting on plus ones and cousins begging to bring their children, to parents who want to invite old friends and evening-only guests trying to get in on the daytime action - wedding guests can stir up a bit of trouble.
But our guide to avoiding all the nonsense will have you fully equipped to deal with any and every wedding guest bugbear, and even avoid some of the drama altogether!
9 Ways to Avoid Wedding Guest List Drama
Planning a wedding, though fun and undoubtedly enjoyable, is no simple task. So the last thing you need people giving you grief about the guest list.
Avoid all unnecessary guest list drama with our simple guide and remember, it's your wedding, so you make the rules - you've totally got this!
1. Pick Your Priorities
Knowing your guest priorities is key to dealing with guest list drama. Having a clear idea of who you really want at your wedding, and who you're not so fussed about, will help you to navigate requests and push back from your guests.
To start, we recommend sitting down with your partner and making a list of everyone you want to invite to your wedding and grouping them by priority. Start with the people you absolutely couldn't have the wedding without, these are your main priority guests and will usually include immediate family members, your closest friends and anyone with a wedding role on both sides.
Then, move on to the next group of people who are most important to you. Guests who, if they couldn't make the wedding, you'd be really gutted about. These are likely to be close friends, family friends and family members that aren't immediate such as cousins, aunties and uncles.
Finally, move onto the people who you'd like to have at your wedding, but wouldn't be devastated if they couldn't. These tend to be less close friends, more distant family members and perhaps colleagues.
Doing this will help prepare you for any wedding guest list drama and will properly equip you with how to deal with it. If a guest who is a top priority comes to you with a plus one request or issue, you will know to give it more consideration than if a not-so-close colleague asks to bring the family.
2. Know Your Numbers
Once you've booked your wedding venue, you need to make sure you have a clear understanding of their maximum capacity and what the cost-per-additional-guest is. Most wedding venues will have a maximum day capacity and a maximum evening capacity is larger, giving you the flexibility to invite more people to the evening reception. According to our average cost of a wedding data, most couples pay around £70pp for catering for their guests.
Venues will also have guidelines for what they charge per additional day or evening guest. Some will allow extra evening guests free of charge, but if you're arranging evening food, more guests may incur an additional charge with your venue or caterer.
Knowing all of this is super important as, knowing how much additional guests will cost you will have a big impact on how flexible you are with the numbers. The last thing you want is to say yes to a dozen extra evening guests, only to find out you have to pay £X amount per head for each of them!
3. Use Clear Wording
When you are writing your wedding invitations, try to make your wording as clear as possible to avoid assumptions being made. Here are a few things you'll want to word carefully.
Be clear about exactly who is invited, for example, are you inviting someone and their family, a couple, someone single but with a plus one or just the individual alone?
It's also important to be clear about what aspect of the wedding celebrations a person, couple or family are invited to. Your all day/evening guests will need to know that they are invited to the whole day, whereas evening-only guests need to have an invitation with wording that specifies that they are only invited to the evening. We have plenty of wedding invitation wording examples here to help you!
Being ambiguous on your invites only leads to hassle later down the line so be as clear as you can. You'll never be able to eliminate all assumptions (people are who they are!), but straightforward wording does really help.
4. Nail the Timing
Sending your save the dates and wedding invitations out all at the same time as opposed to doing them in groups or stages is guaranteed to minimise wedding guest drama and reduce the amount of requests and questions you and your partner get.
The last thing anyone needs is half of their guests getting invitations to their wedding, while the other half are still waiting to receive them. This will only cause upset with some people assuming they've been missed off the list. To ensure everything goes out at the same time, you'll need to ensure you have all the postage stamps you need, as well as all of the names and addresses.
Even if there's a few missing, wait until you have everything before you go posting them.
5. Think About Logistics
Understanding the logistics of your day with relation to who you're inviting is essential to helping you make decisions about your wedding guest list.
Think about your wedding guests' situations - are you getting married in a location that requires them to travel hours or even fly? Does your wedding location mean they will need to spend multiple nights away from home? Are they a single parent or someone who struggles a lot with childcare? Do they rely on someone for mobility or have a carer?
Considering the logistics your guests will be faced with when attending your wedding will help you to make decisions about plus ones, inviting people's children and who you offer on-site accommodation rooms to. Here's everything you need to consider about children at weddings.
Whilst your decision to invite someone's child or partner shouldn't be solely based on 'making their life easier', considering their situation will help you to make fair and reasonable decisions that work for you and your budget, but also for the guests who you really want there.
6. Plan Your Responses
Wedding guests can be unpredictable and who knows what kind of request cousin Karen or uncle Bill will come to you with, but there are certain wedding guest complaints and questions almost every engaged couple can prepare for.
When it comes to these common topics, we'd recommend practising your responses or at the very least, having them ready for when, (not if!) they're brought up.
It's crazy this still happens, but people requesting plus ones and additional guests at weddings is not uncommon - not that that makes it any less annoying, mind you. As well as that, guests will often ask to bring their children, request that an evening guest be made an all-dayer and we've even heard of guests asking to stay at the wedding venue.
Having set responses planned will really help ease any concerns you have about answering questions from your guests. We've detailed a few polite ways to say you're not invited to a wedding that can work for a number of scenarios - if you're really stuck for what to say, refer back to budget - no one can argue with that.
"If we had the budget, of course we'd want [enter plus one or child] there, but we just couldn't make it work."
"With such a big family on both sides, it was really tough to get numbers down. If we had the capacity we absolutely would have [insert name] there but the venue's restrictions were just too tight."
"Figuring out the guest list was one of the trickiest parts of planning, I'm sure you remember from when you planned yours."
"We really wanted to make the guest list work for everyone but ultimately we have to do what feels right for us."
"We're really sorry we couldn't include everyone we'd like, but we'll be having a big post-wedding party which we'd love everyone to attend afterwards."
7. Decide on Your Kids Rule
The decision about whether or not to invite children to a wedding remains a topical one that always sparks conversations and debates amongst wedding guests. Ultimately, this decision is completely up to you.
Contrary to many opinions, you can absolutely have some people's children (or even your own!) at your wedding and not invite others - it's your day and you make the rules. All we'd advise is that you make these decisions before people start questioning you about it. This will help you to articulate your stance to people properly when they ask you.
Not inviting children to your wedding will always upset someone, but it'll upset them much more if you're unclear about the situation or tell them last minute. If there's one thing all parents appreciate, it's advance warning and a good amount of time to properly plan.
8. Be Consistent
When you're responding to wedding guest requests or bugbears, be consistent with your responses. If you tell one guest you didn't have the capacity to invite their partner, but you tell another you haven't hit your maximum numbers, you're guaranteed to get some backlash.
Whilst we're big believers in not having to justify yourself to your wedding guests, (it's your day after all!), keeping your responses consistent can help appease your guests and result in minimal gossip.
9. Stick to Your Guns
Reading through all of these tips may have you feeling like there's a lot to do to keep your wedding guests happy, but the reality is that planning your wedding guest list and your day as a whole is everything to do with you and your partner, and nothing to do with anyone else.
Of course, guest satisfaction and keeping your friends and family happy is important, but anyone who's more concerned with bringing their new boyfriend or pressuring you to invite their children really isn't worth worrying over.
Sticking to your guns and not wavering (as hard as that can sometimes be...) is so important. Stay strong, use the tips we've given and remember that you have the final say, not anyone else. Make sure you and your partner are on the same page, keeping things consistent and sticking to your guns.
What's more, if you start wavering for one guest, others may start to think you'll change the rules for them, too.
Though this seems like a tough part of wedding planning, putting your guest list together with your partner is actually a pretty fun task and once that bit is over, you can start to think about even more enjoyable things like planning the hen party or stag do, going wedding dress shopping and choosing a unique wedding cake flavour!