Starry Wedding Ideas For a Celestial Themed Day
Add an extra dose of magic to your celestial themed wedding with these gorgeous star themed wedding ideas. We have rounded up the best star wedding ideas to cover everything you could need!
We have included third party products to help you navigate and enjoy life's biggest moments. Purchases made through links on this page may earn us a commission.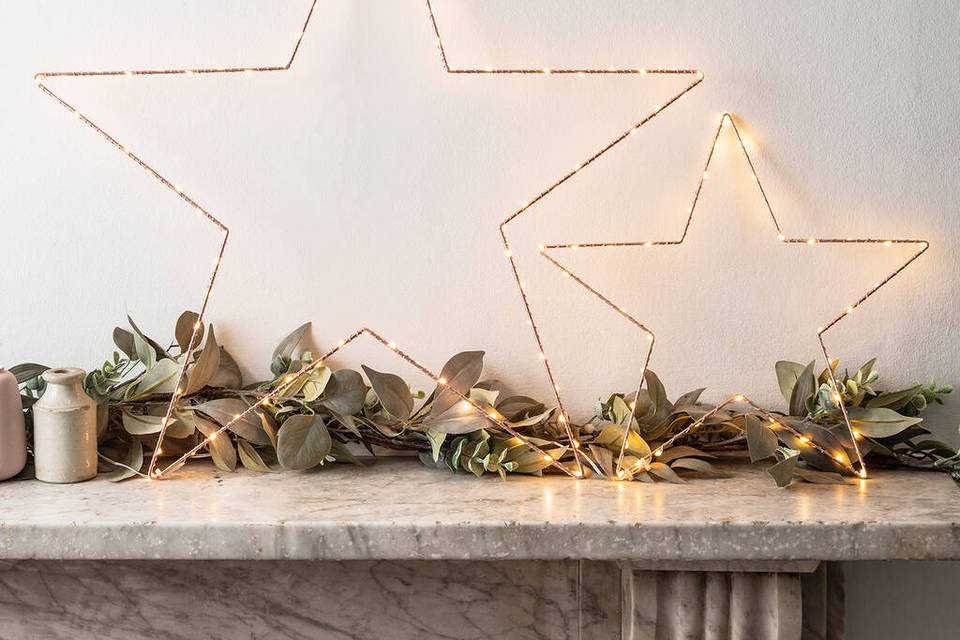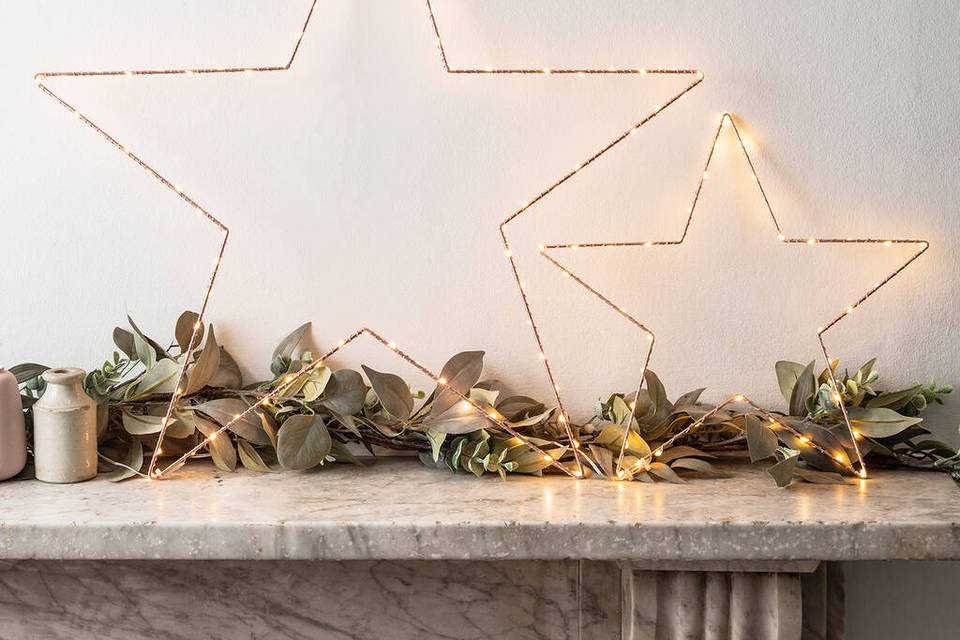 After bringing you unicorn wedding ideas and celestial wedding dresses, it sparked more magic in our minds and we couldn't help but do an edit on celestial wedding ideas.
Having a celestial themed wedding adds an element of magic to your wedding day and the theme can be explored in a number of ways. From star themed wedding stationery and budget wedding favours, to gorgeous starry wedding guest books and on-the-day wedding accessories - we have all the star inspo you'll ever need.
Discover our top picks for your celestial themed wedding here and you and all your guests will be starry-eyed!
Celestial Wedding Décor and Ideas
1. Wooden Star Themed Wedding Guest Book - £30, No Ordinary Gift
Add a rustic celestial look to your wedding day with this engraved wooden guest book. Finished with vegan leather and brass screws, this guest book offers three lines of personalised text and a 'Come and Sign Our Guest Book' sign!
READ MORE: Personalised Wedding Guest Books You'll Love
2. Gold Foiled Star Confetti Cannon - £2.49, Ginger Ray
Allow your wedding guests to get involved with the W-day fun with these star confetti cannon shooters. You could use them as a wedding favour like a Christmas cracker on each place setting, or have a trusted member of the wedding party hand them out for that all-important wedding confetti picture - just check your venue is okay with it first!
3. Star Shaped Fairy Light Decorations - £39, Lights 4 Fun
Keep the star theme simple and chic with this set of two star light hangings. They would make the perfect backdrop for a simplistic DIY photo booth, or look gorgeous hanging above your dessert table.
READ MORE: How to Make Your Own Photo Booth
4. Moon and Stars Matching Personalised Vow Books - £42, Paige & Co
How stunning are these matching, personalised vow books? Available in his and his, her and her or his and her, these handmade wedding vow books are made from textured cotton paper and are personalised with your names and wedding dates.
5. Gold Wire Star Hanging Decoration - £12, Postbox Party
Couples planning to make DIY wedding décor will love these gold wire hanging decorations. You can leave them bare to stand out on their own, or adorn them with fairy lights, greenery or ribbons to complement the rest of your celestial wedding décor.
6. Moon and Stars Acrylic Table Numbers 1-10 - £90, No Ordinary Gift
Featuring a crescent moon and starry design, these acrylic table numbers are the ultimate star wedding décor idea. Prices start at £90 for numbers 1-10, but are also available in numbers up to table 25 for those who are having the ultimate wedding extravaganza and need more wedding table numbers!
7. Star Foiled Vellum Wedding Table Plan Cards - From £9, No Ordinary Gift
The perfect partner to the above table number signs, these wedding table plan cards really complete the look. Featuring a crescent moon and dainty stars, these vellum table plan cards can be personalised with your guest list and fit the celestial theme perfectly!
READ MORE: The Most Unique Table Plan Ideas
8. Star Shaped Biscuits and Tea Light Holders - £25, Velveteen Rabbit Confections
Give your wedding guests a sweet treat to take home with these vanilla flavoured, star shaped biscuits. They come in a sealed bag inside tea light holders that guests can keep as a reminder of your special day. If you're on a budget, these could be the wedding favours for you, coming in at just over £2 per unit.
9. Gold Star Wedding Hair Clip - £10, Lovely Littles and Co
This simple gold star hair clip is the perfect nod to a starry theme. It's totally fitting for your wedding hairstyle, but could also be worn by members of your wedding party as a wedding hair accessory that connects you all to the celestial theme.
10. Gold and White Starry Wedding Guest Book - £69.00, Pearl & Mason
Another star themed guest book, and isn't it a beauty? The gold star border design is gorgeous and you can choose from gold, silver or rose gold to perfectly suit your wedding colour scheme. It comes with 80 pages of thick, textured paper. Pearl & Mason also sell guest book prompt cards and photo corners which can be purchased separately.
11. Gold Star Confetti Clear Balloons - £3.49, Ginger Ray
Wedding balloons are such an affordable, yet effective way of adding to a wedding theme. These clear confetti balloons are stylish, elegant and are the perfect way to add a glimmer of sparkle to your special day. They come in packs of five and each balloon measures around 12" when inflated. The balloons look amazing as a bunch, but would also make the most incredible DIY balloon arch!
READ MORE: How to DIY A Beautiful Balloon Wall
12. Gold Star Cupcake Toppers - £3.99, Ginger Ray
These gold star cupcake toppers transform the ordinary cupcake into one worthy of a place on a glamorous wedding dessert table. Sold in packs of 10, these budget-friendly wedding accessories come in at less than 40p per topper - what a bargain!
13. Silver Star Earrings with Message - £8.95, Wish Upon a String
Perfect for the wedding couple to wear, but also serving as the perfect gift for members of the wedding party, these adorable silver star earrings are the perfect star-themed stud. At less than £10, these chic wedding earrings allow you to incorporate the starry theme into your W-day look without blowing the budget.
READ MORE: Bridesmaid Gifts to Suit Every Budget
14. Gold Plated Pendant Bracelet - £65, Auree Jewellery
Another gorgeous wedding day accessory, this gold plated star bracelet is beautiful and simple, so it won't distract from your celestial wedding dress. Sometimes less is more, and a minimalist accessory like this is the perfect example of that. You and your partner could give matching bracelets as gifts to each other on the morning of the wedding.
15. Gold Star Paper Plates - £10, Postbox Party
If you're planning an outdoor wedding with a picnic or 'help yourself' style wedding buffet, why not channel the celestial wedding theme through your dinnerware with these cool party plates. Delivered in packs of eight, they are the perfect way to glam-up a more casual affair or could even be stuck to the wall behind a photo booth!
READ MORE: 63 Outdoor Wedding Ideas You Need to Know About
16. Wedding Card With Ceramic Star Keepsake - £9.95, Hendog Designs
Attending a celestial themed wedding and looking for the perfect wedding card? Look no further as this wedding card with ceramic star keepsake is the perfect choice for you! The couple can keep the star shaped trinket as a hanging decoration or even a Christmas tree ornament.
17. Star Shaped LED Fairy Lights - £14.50, Lime Tree London
Jazz up your
wedding reception décor
with
these mini LED starlights
. They will create the most magical atmosphere as the evening arrives and will truly turn your wedding into a starlit paradise for both you and your guests.
18. Gold Foil Star Bunting - £5.99, Ginger Ray
If light-up stars aren't what you're looking for, these glamorous gold star garlands could be better suited. The foiled finish is ideal for glamorous weddings and would perfectly complement your starry theme. Have them hanging up by the photo booth to make a gorgeous background - your guests will love it.
19. Gold Foil Star Bunting - £5.99, Ginger Ray
If a rose gold themed wedding is more your vibe, why not adorn your wedding venue with this stylish rose gold star themed bunting? The metallic finish super glamorous and will look amazing hung above your rose gold wedding cake.
20. Copper Star Shaped Tea Light Holders - £14, Dibor
Decorate your wedding reception with these adorable set of three copper tea light holders. Whilst they are designed to hold tea lights, if secured safely, the hole in the centre is large enough to hold a votive or church candle if you prefer a more grand look.
21. Porcelain Cup Shaped Candle Holder With Embossed Star - £11.95, Nest
We love the uniqueness of these porcelain tea cup candle holders. The versatile cup-shaped candle holders can be used in a number of ways at a star themed wedding. You could have them scattered around the venue as décor or even offer them as wedding favours - with one for every guest.
22. Personalised Wooden Star Napkin Holders - £18, Lisa Angel
Give your wedding that added personal touch with these trendy star shaped napkin holders. With each guest's name embossed in a gorgeous, cursive font, it not only makes your friends and family feel special, but gives them a wedding token to take away with them and keep as a memory of your day.
23. Starry Leather Cufflinks With Personalised Message - £38, Gracie Collins
These starry leather cufflinks have personalisation options that make them all the more sentimental. Yu can choose how many stars you want on each cufflink, with a maximum of 15 per cufflink, along with a personalised gift message. The number of stars you choose could represent the number of years you have been together, how many children you have or another number that is special to you as a couple.
24. Star Themed Cotton Tie in Brown and Beige - £19.99, Etsy
If you like an alternative suit look and usually opt for something a bit more preppy, why not steer away from tradition and wear star patterned tie. It's trendy, cool and totally fits the starry theme.
25. 9ct Gold Star Tie or Lapel Pin - £240, Louy Magroos
If you're looking for the perfect wedding day gift, or want to splash out on nailing the star wedding theme, this star tie or lapel pin is a great choice. The handmade wedding day accessory has been beautifully constructed and is something that can be forever kept as a memory of the special day. It'd also make the perfect father's gift!
26. Glass Cup With Wooden Lid and Metal Straw - From £15.53, Etsy
You can kill two birds with one stone at your wedding by having this adorable star themed mason jar. Guests can use it to drink out of at the table and you can choose from a whopping 39 different colours for the stars to ensure it matches perfectly with your wedding colour scheme.
27. A 'Star' Gift For Your Partner - From £28.75, Etsy
If you're looking for ways to surprise your other half on your wedding day, why not name a star after them? You can choose from a variety of packages where a star is named for your other half and included in this amazing package is an online registry, confirmation letter, customised deed and a Sky Atlas are all included in the gift.
To keep within this glamorous theme, make sure you check out our glitter wedding ideas to make your starry wedding even more enchanting and beautiful.