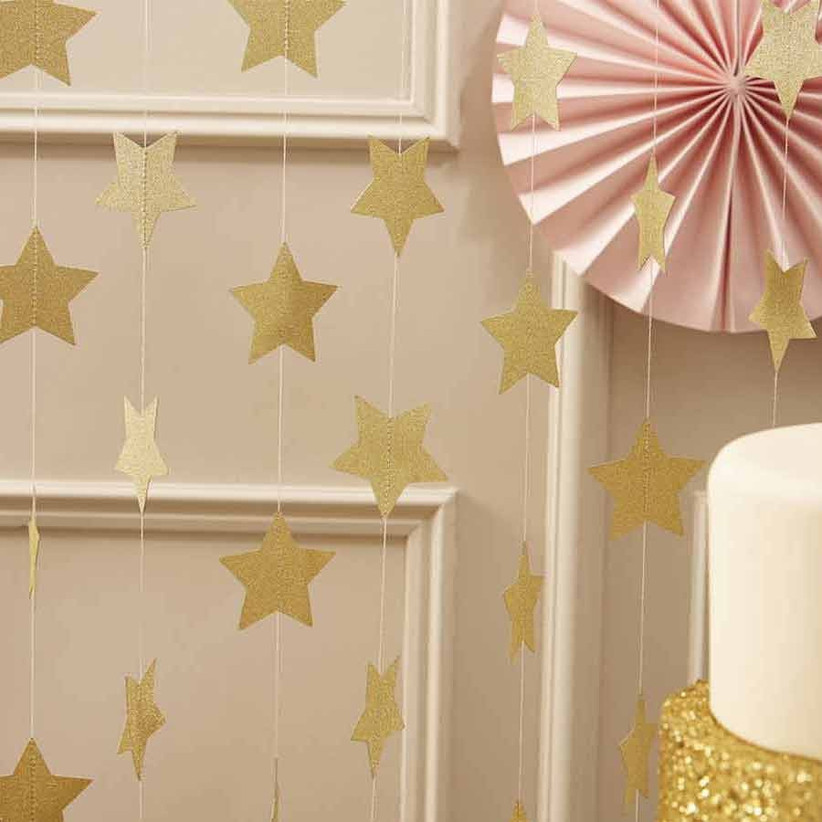 After bringing you unicorn wedding ideas and a guide to a Beauty and the Beast theme, it sparked more magic in our minds and we couldn't help but do an edit on star wedding ideas. 
Having stars as your wedding theme is the perfect way to add something special to your big day and they look beautiful when incorporated into the decor. 
Here are our favourite starry products to inspire you…
Star Themed Wedding Décor
Jazz up your wedding reception decor with these mini LED starlights. They will create the most magical atmosphere as the evening arrives and will truly turn your wedding into a starlit paradise for both you and your guests.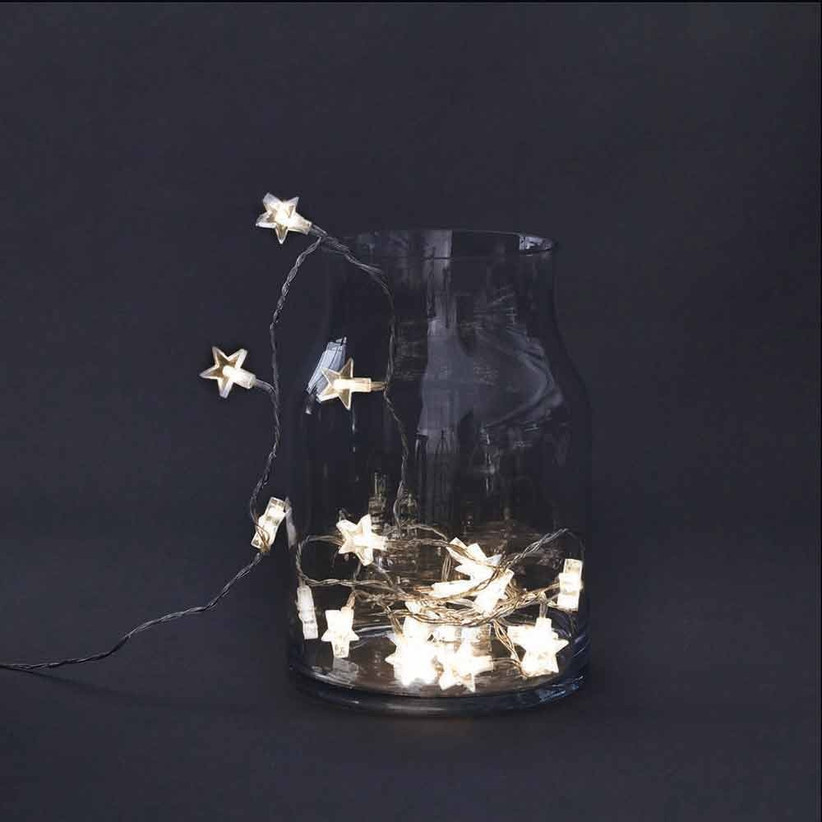 If lit-up stars aren't what you're looking for, these glamorous gold star garlands could be better suited. The sparkling finish is ideal for glamorous weddings and would really enhance the starry theme. Have them hanging up by the photo booth to make a gorgeous background, your guests will love it.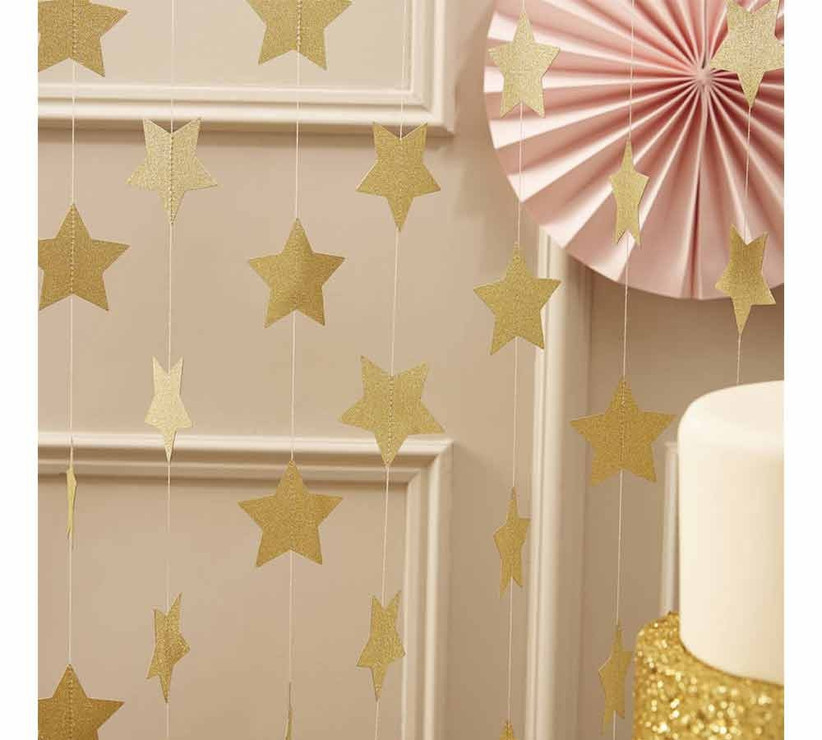 Decorate your wedding reception with these adorable white wicker tea light holders. They're a frosty washed willow colour which gives it a real shabby-chic feel and the hole in the centre is large enough to hold a votive or church candle if you prefer a more grand look.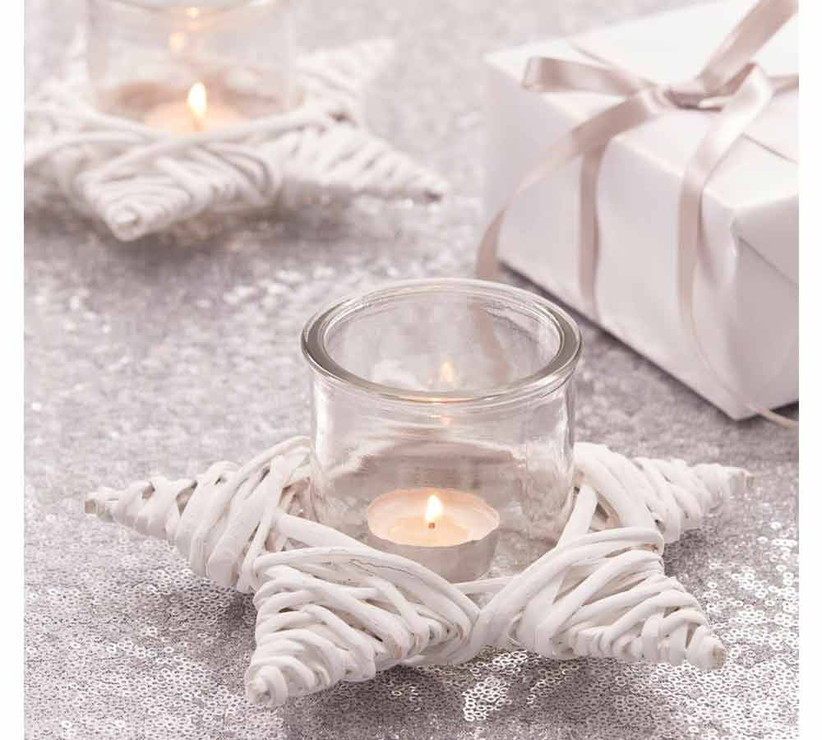 Star Themed Wedding Centrepieces
This glass bell jar with star fairy lights makes for the perfect centrepiece at your star themed wedding. Having one of these in the middle of every table will add such a beautiful ambiance to your wedding breakfast. If you didn't want them as centrepieces you could even use them as an aisle runner and line them up – now that would be a beautiful sight at a winter wedding!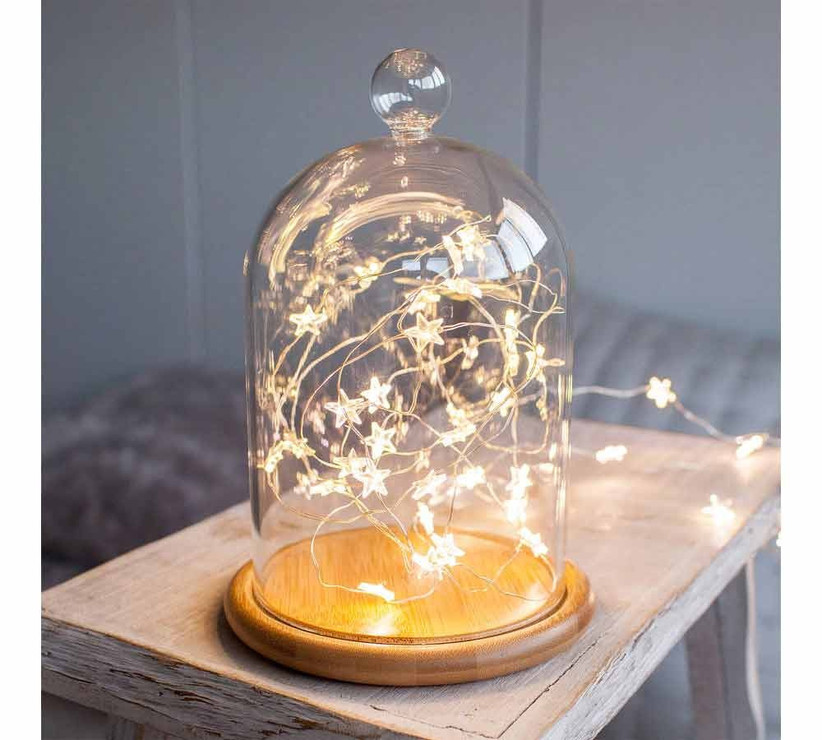 Having candles as centrepieces is a popular choice amongst a lot of couples, and this star fish bowl candle is something really special. This particular scent is called White Sandalwood and is made from a warming blend of sandalwood, amber and a creamy vanilla fragrance. It's also available in redcurrant and cranberry for couples with more of a fruity wedding scent.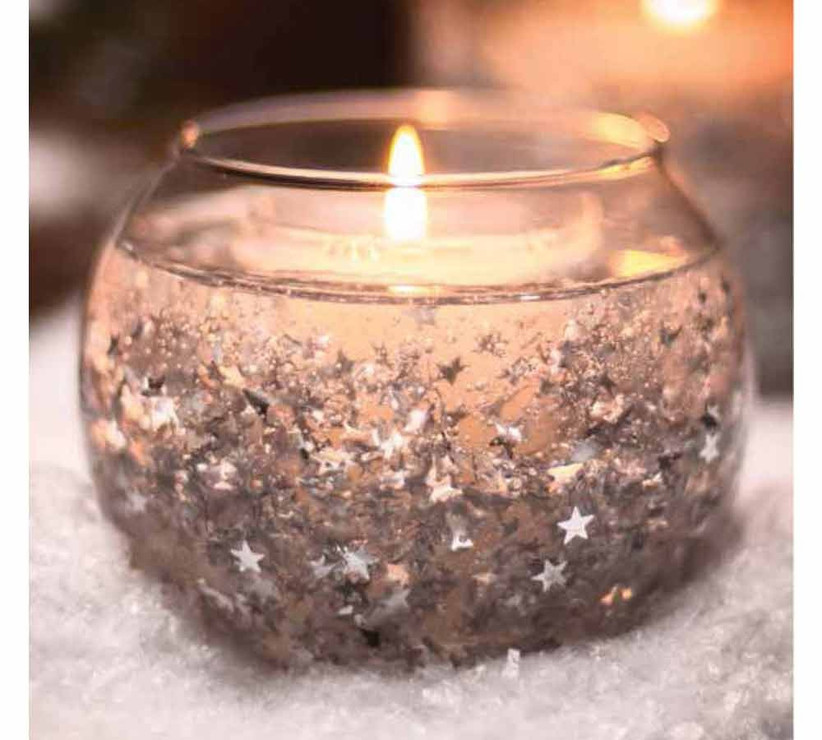 Star Themed 'Little Touches'
These brass star boxes are such a cute way to present your rings. They are handmade and if you have an ethical engagement ring and care about the world you live in, you'll be happy to know that they're also fair trade and eco-friendly. We love this idea for a wedding ring box and star lovers will too.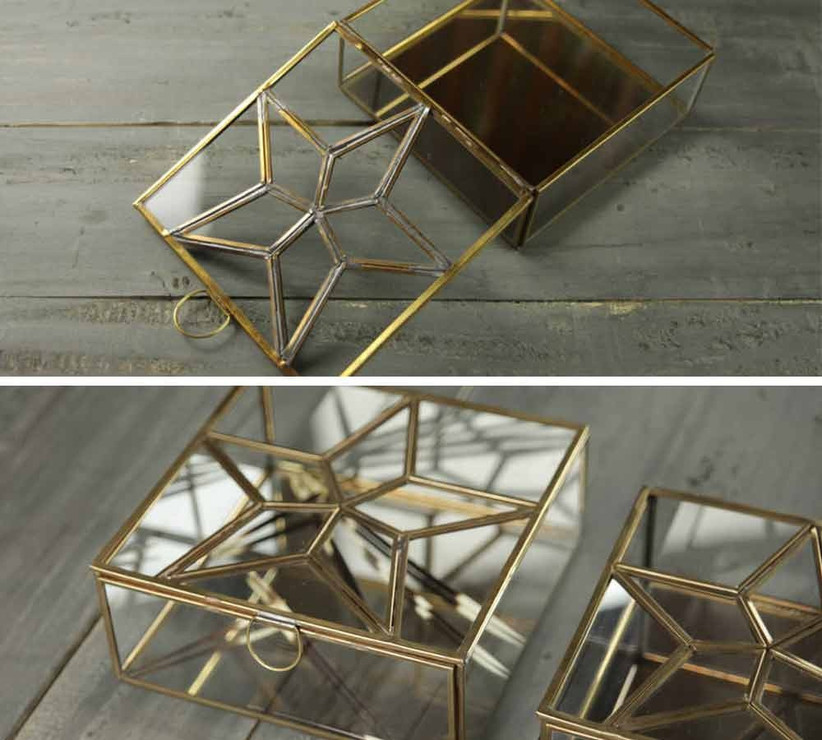 Instead of the conventional place holders where you just use the printed name, go all out and embrace your wedding theme with these gold star bauble place card holders. Weddings around the Christmas period are the perfect home for these unique decorations and they are so stylish your guests may even choose to take theirs home with them.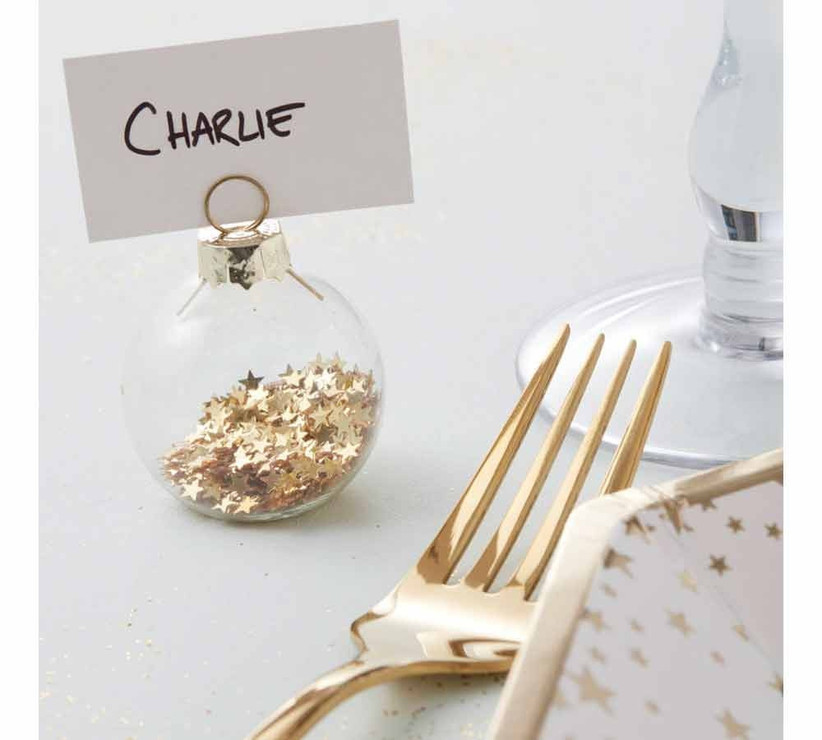 After all the stress of choosing your wedding scent, it's only right you should show it off on the big day and this star shaped fragrance diffuser is how we recommend you do so. You can add any perfume you like into the diffuser but if you don't have your own wedding scent, panic not. This gorgeous product comes with its own scent that you can opt to use.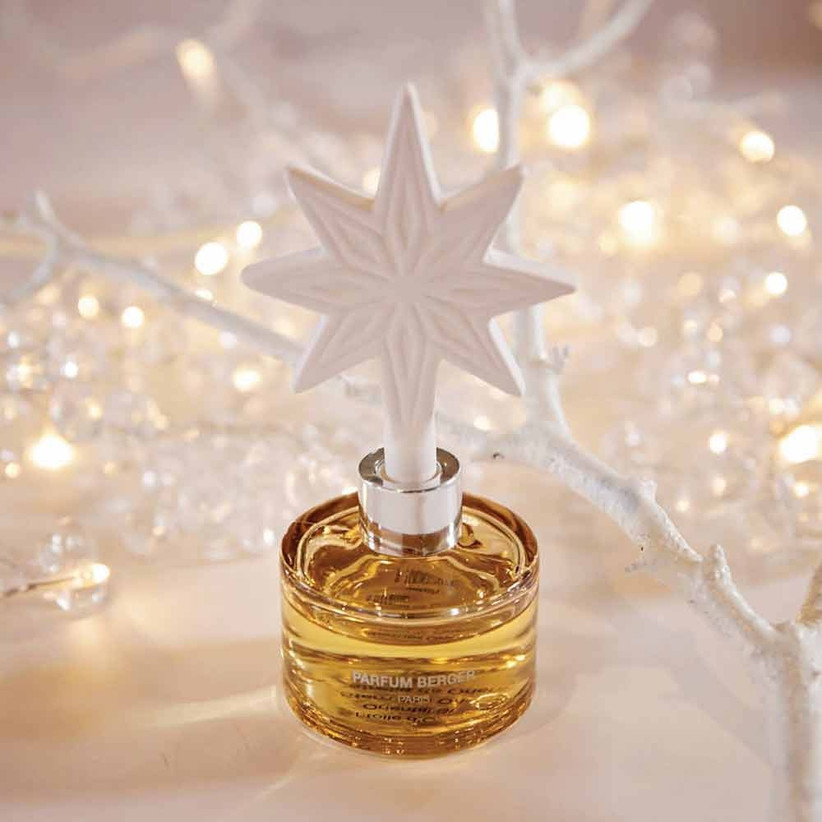 Star Themed Bridalwear
You can't have a star wedding theme and not incorporate it into your wedding dress and Jenny Packham's stunning design is the one and only choice that does this theme justice. The detail is absolutely perfect. It's such a magical wedding dress that is unique in every aspect.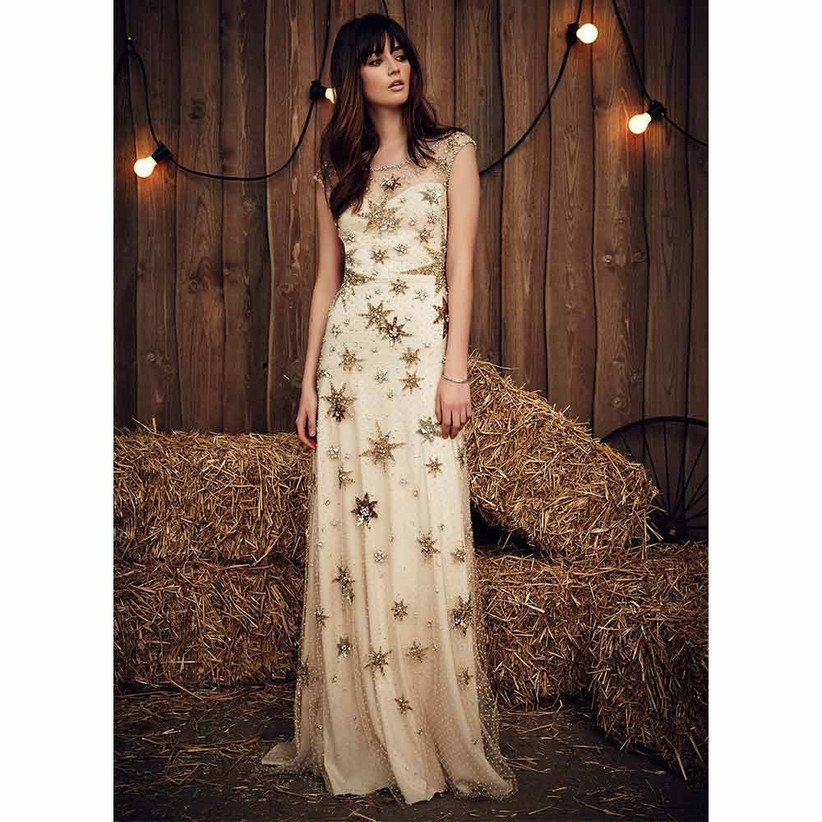 To go with this gorgeous star wedding dress, you need the perfect accessories and Pandora are always on call to help with that. After featuring their stacking rings in our wedding accessories under £50, we couldn't resist putting these two gorgeous Pandora styles in. We love the matching stud earrings which  are subtle and pretty enough not to take too much attention away from the dress.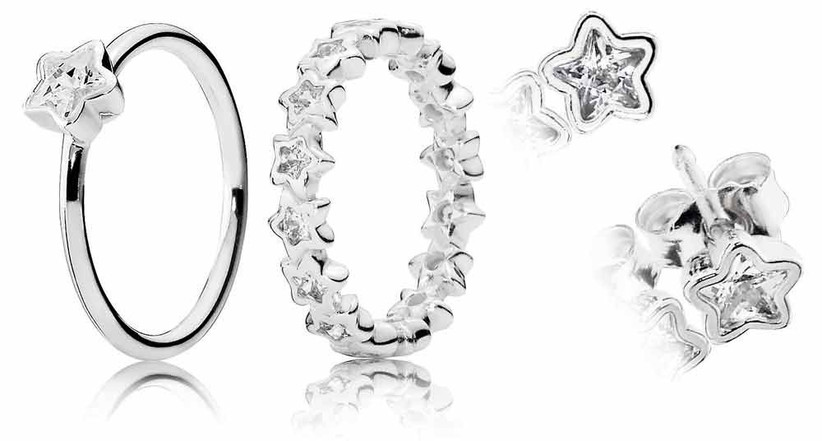 If you want a more distinct look with your star themed jewellery, these gorgeous star pendant necklaces from Butterfly Jewellery definitely fit the bill. The plum and green poison ivy pendant holds so much colour and really makes a statement for brides who want to be a little different. The silver mountain grey pendant necklace is more glitzy and sparkly, perfect for the glamorous brides amongst you.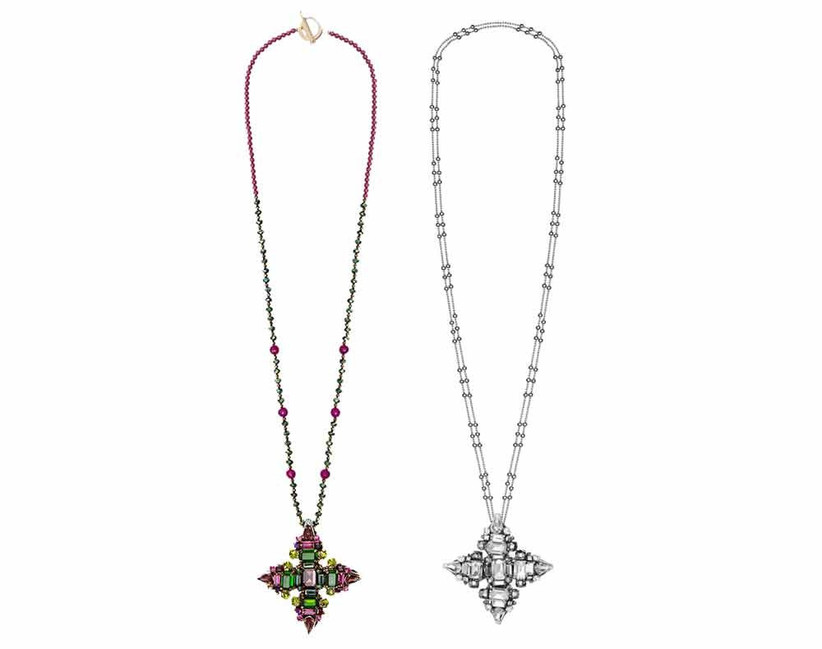 Star Themed Groom Accessories
Your groom may not think he can get involved with the star theme, but he's wrong. Star cufflinks are widely available, and these Oscar Wilde ones are that little bit more sentimental. They will add a quirky look to your groom's suit and we love the romantic quote they come with.
"We are all in the gutter, but some of us are looking at the stars" – Oscar Wilde.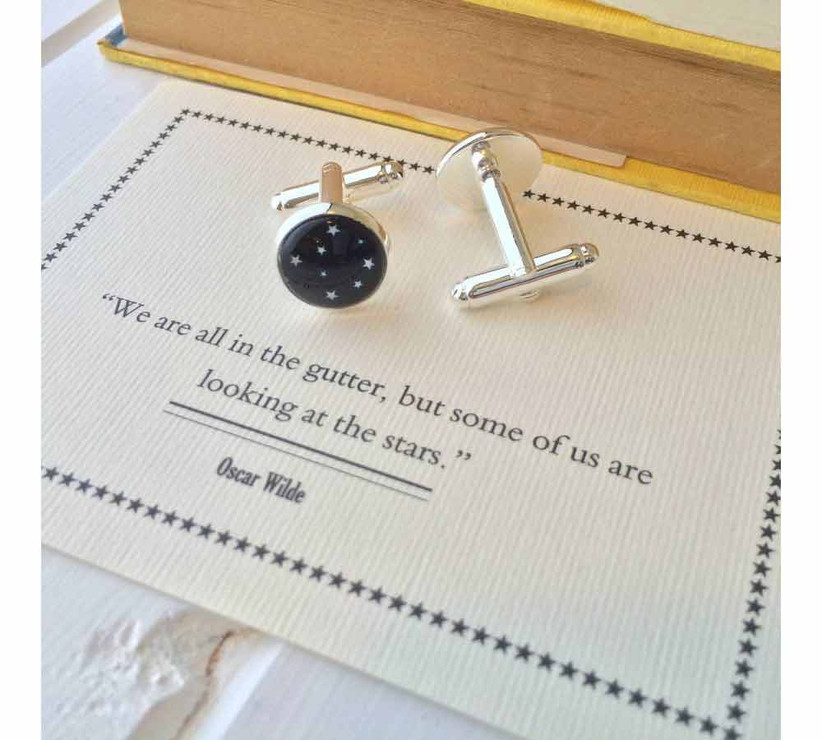 If your groom likes an alternative suit look and usually opts for something a bit more preppy, why not have him wear a star patterned bow tie. It's trendy, cool and totally fits the theme.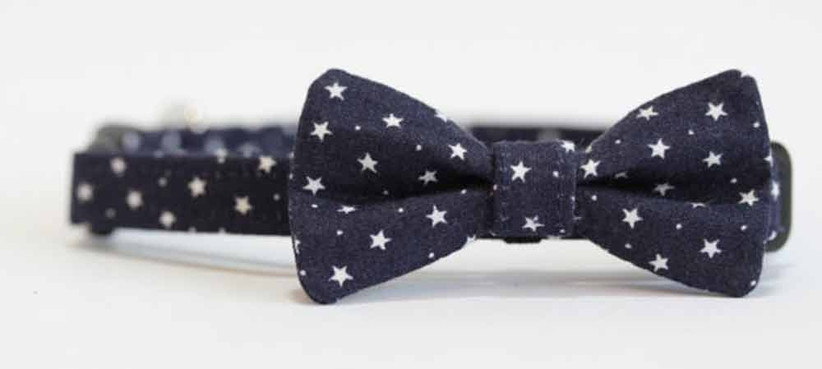 For the more conventional grooms who would prefer a more subtle hint of the star theme in their attire, this star tie pin is a great choice. The rich gold colour is beautifully and naturally aged and is a simple accessory that acts as a perfect representation of your star themed wedding day.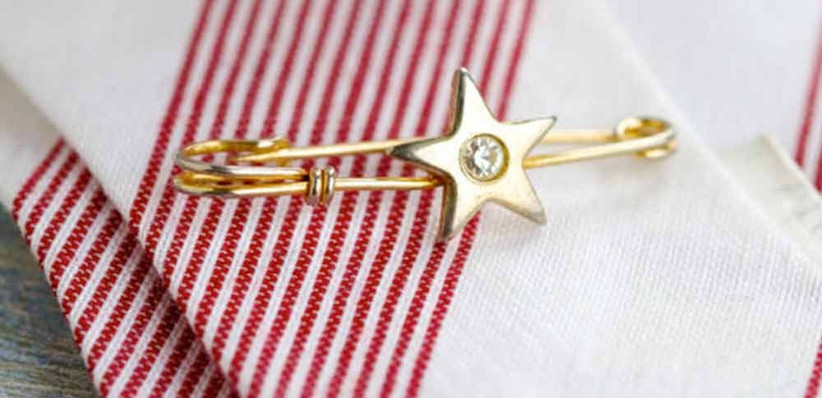 Star Themed Wedding Favours
Candles are useful for more than just centrepieces… Candle wedding favours are a great gift to give to your guests and we really love this 'You're A Star' scented candle with beautiful red ribbon wrapped around it. The candle will burn for over 50 hours and lets off a warming woodland berry and ylang ylang aroma that your guests can burn at home and be reminded of your gorgeous wedding over and over again.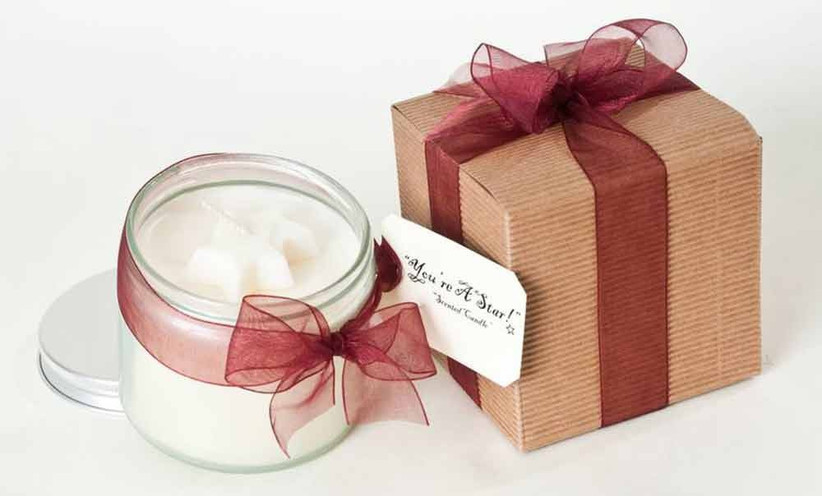 You can kill two birds with one stone at your wedding by having these adorable personalised mason jars. Guests can use them to drink out of at the table and having their name engraved into it means it can act as a personalised wedding favour as well that they can keep and cherish after the wedding.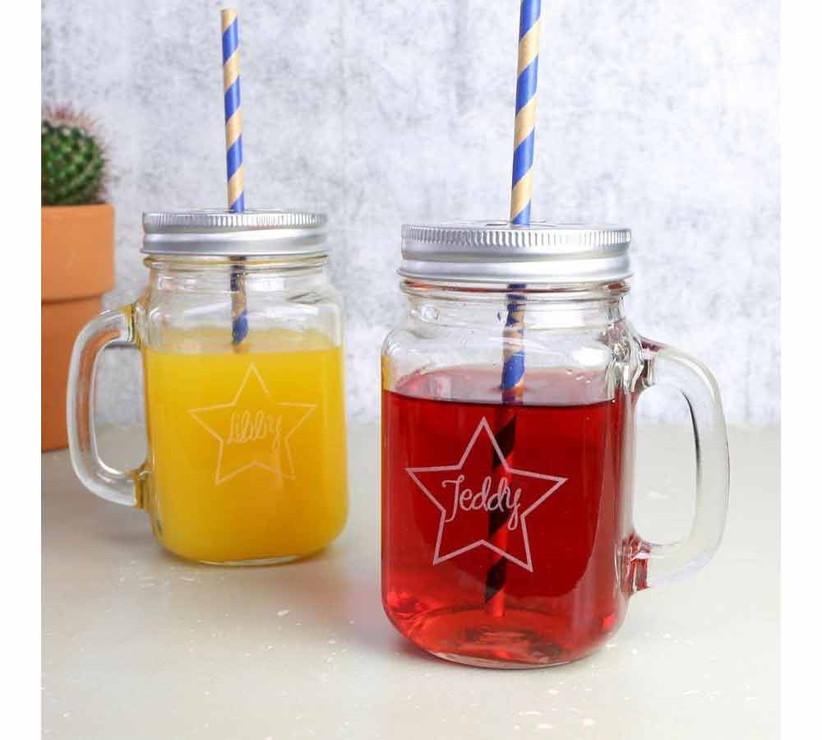 A 'Star' Gift For Your Partner
If you're looking for ways to surprise your other half on your wedding day, why not name a star after them? At The Star Registry, you can purchase a variety of packages where a star is named for your other half and included is The Sky Atlas star maps showing where your star is, a silver certificate with a framed deed and other benefits. 
Star Themed Wedding Stationery
Your wedding stationery says a lot about you as a couple and it's important your guests know your theme by your save the dates. For a star themed wedding, we are such a huge fan of these save the date cards. This stationery is also totally eco-friendly as it's made from elephant and rhino dung from rescued and retired animals living in Sri Lanka and Africa, and the remainder of the card is made from paper collected from schools and offices in the UK.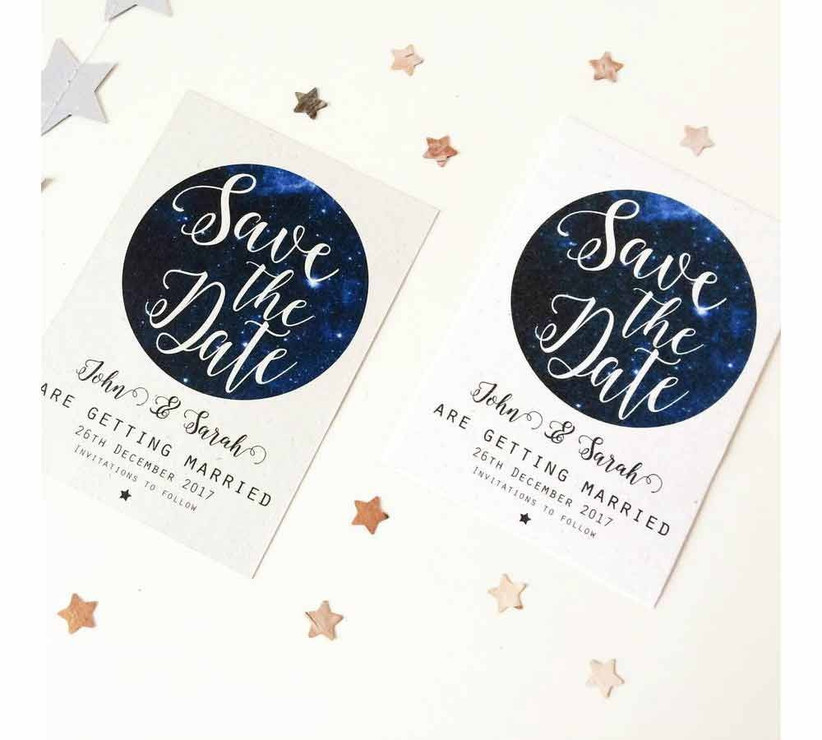 To keep within this glamorous theme, make sure you check out our glitter wedding ideas to make your starry wedding even more enchanting and beautiful.