How to Plan a Woodland Themed Wedding: 34 Wonderful Ideas
Wondering how to plan a woodland themed wedding? Our guide will show you how with a few rustic details you can bring this enchanting setting to life!
We have included third party products to help you navigate and enjoy life's biggest moments. Purchases made through links on this page may earn us a commission.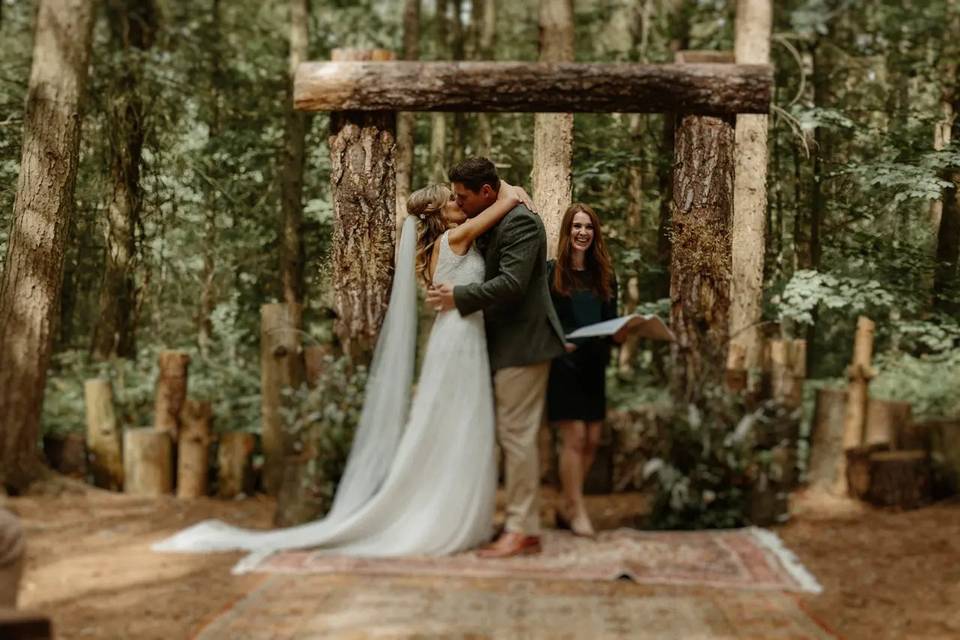 Once you've found the perfect woodland wedding venue for your big day, you need to dress it up to really set the scene for your woodland themed wedding. A beautiful backdrop of trees provides the ideal base in which to do so - simply by adding a few charming touches you can easily bring your theme to life.
When planning a woodland themed wedding, be mindful to embrace the beauty of your natural surroundings and incorporate outdoor elements into your styling. From miniature toadstools to adorable furry friends and lots of wooden details, working in harmony with your venue is key.
We've come up with some of the most magical woodland wedding ideas that will make for an enchanting and romantic day. Covering woodland themed stationery, décor, cakes and favours, our handy woodland themed wedding planning guide has left no stone unturned!
Woodland Themed Wedding Planning Guide
Woodland Themed Wedding Stationery
Give your guests a hint about your theme by sending out woodland style wedding stationery. Think invitations adorned with branches, acorns, fallen leaves and maybe even a woodland creature or two.
1. Natural Laurel Wedding Invitation - £2.50, Hitched Shop
Incorporating silver birch into your wedding styling is a really great way to keep your theme light and fresh, while still nodding to the wooden element. The natural green wreath looks wonderful against the grey background on these wedding invitations.
2. Leafy Ampersand Wedding Invitation - £2.61, Hitched Shop
We love how the gorgeous green leaves are peeking out from the belly band on this wedding invitation. It has so much attention to detail, including that beautiful ivy-covered font.
3. Woodgrain Lace Wedding Invitation - £2.50, Hitched Shop
A woodland themed wedding calls for wood effect wedding invitations! These have been given a stylish upgrade with beautiful floral lace edging and sophisticated lettering.
4. Natural Laurel Wedding Invitation - from 40p, Tavern Creative at Etsy
If these wedding invitations don't scream autumnal woodland wedding, we don't know what will. The textured paper gives them a seriously luxe feel and the illustrations are enchanting.
5. Pine Tree Wedding Invitation - £3.95, Alicias Infinity at Etsy
If your woodland wedding venue consists of canopies of pine trees, this gorgeous wedding invitation is perfect. We adore how the front says, 'And so, our adventure begins...'.
READ MORE: 22 of the Best Rustic Wedding Venues in the UK
6. Whimsical Woodland Wedding Invitation - £1.50, The Stationer by Jeeves & Co. at Not On The High Street
Featuring squirrels, rabbits, deer and foxes, nature lovers will adore this cute wedding invitation. It's such an amazing design and one we bet your guests will be impressed by.
7. Real Wood Wedding Invitation - £5.11, Cricket Printing at Etsy
Take your woodland themed wedding stationery to the next level by opting for actual wooden invitations. Yes, these invites are printed on real cherry wood so make for a beautiful keepsake.
Woodland Themed Wedding Centrepieces & Décor
Although a woodland setting is undeniably dreamy as it is, adding a few rustic details such as a statement centrepiece, can totally transform your venue. This is your opportunity to add a personal touch to your celebration and get inspired by the natural world.
8. Whimsical Woodland Wedding Invitation - £1.50, The Stationer by Jeeves & Co. at Etsy
This woodland wedding seating plan allows you to take your pick of adorable animals to organise and name your tables with. From rabbits and robins to badges and barn owls, you'll be spoilt for choice.
9. Birch Bark Napkin Rings - from £21.48, MiLi Crafts at Etsy
The devil is in the detail and these birch bark napkin holders will instantly elevate your wedding table decorations. They are made from real wood giving a luxurious look.
10. Personalised Woodland Wedding Sign - £26, Maya Tree Wood Burning at Etsy
Hanging up a rustic wedding welcome sign for your guests to follow is a charming idea that we love. This design features fairy tale mushrooms, flowers and leaves and is individually cut, drawn and burnt by hand.
READ MORE: 49 of the Best Wedding Hashtags
11. Woodland Assorted Animal Set - £14 for 6, Hitched Shop

Nestle these forest friends into your woodland themed wedding tables - you'll receive a set of six different animals that will look very cute snuggled in-between moss and branches.
12. Personalised Wooden Wedding Guest List - £50, Hitched Shop
Not only will this woodland themed wedding guest book look lovely in your venue, it serves as a sentimental keepsake you and your partner can look at for years to come.
13. Wooden Tree Stump Place Card Holders - £4.50, The Wedding of my Dreams at Not On The High Street
Looking for wedding place card ideas? These wooden tree stump holders are so simple yet effective! Using textured card with distressed edging creates a rustic finish.
14. Natural Jute Woodland Trees Table Runner - £14.95, Dibor at Not On The High Street
For a quick and easy way to upgrade your wedding tables, consider laying out this hessian table runner. It is designed with woodland trees so fits the theme perfectly.
15. Wooden Tree Slab Stump Wedding Centrepiece - £19.50, The Wedding of my Dreams at Not On The High Street
For a subtle nod to the woodland theme, place a wooden tree slab as your wedding centrepiece and adorn with candles and floral vases. It will make a beautiful statement and look amazing when photographed.
READ MORE: 50 DIY Wedding Centrepieces
16. Woodland Leaf Place Card - £1.20, Zoe Gibbons Studio at Not On The High Street
These beautiful wooden leaf place cards can be customised to suit your vision. Choose from an oak, fruit or holly leaf in a variation of different colours.
17. Personalised Wooden Heart Table Decoration Confetti - £6, Design by Eleven at Not On The High Street
The perfect personalised addition to your wedding tables, scatter these wooden heart confetti pieces for a rustic touch. They are a small detail that will make a big difference!
18. Hazel Berry Tea Light Holder Table Centrepiece - £25, Dibor at Not On The High Street
If you are planning an evening reception, this tea light holder table centrepiece will look stunning when lit. It looks as if it has just been gathered from the forest floor in the most beautiful way.
19. Birch Candle - from £10.74, MiLi Crafts at Etsy
You could also place these birch candles around the setting - providing your venue allows! They are made from 100% natural soy wax and each design is completely unique in colour and pattern.
Woodland Themed Wedding Cake
A rustic wedding cake is a statement centrepiece that everyone will want a slice of. Whether you adorn yours with fruits, foliage or flowers, we guarantee a woodland themed wedding cake will look Instagram-worthy. You can even finish your bake off with a spectacular wedding cake topper - complete with woodland animals and toadstools of course.
20. Fox Wedding Cake Toppers - £25, Wonderfully Whimsical at Etsy
We can't get enough of Wonderfully Whimsical's animal inspired wedding cake toppers! You can choose from a whole host of woodland friends, including foxes, deer, racoons and otters, all dressed up in their finest wedding gear.
READ MORE: The Best Wedding Cake Makers in the UK
21. Wedding Couple Leafy Branches Cake Topper - £14, No Ordinary Gift at Not On The High Street
Minimalistic couples on the hunt for a woodland-ready wedding cake topper will love this design. Beneath the kissing pair, choose your own personalised text.
22. Personalised Toadstool Woodland Wedding Cake Topper - £22, Rocket and Fox at Not On The High Street
How magical is this wedding cake topper by Rocket and Fox? If you are opting for a simple wedding cake, it is all you will need to wow your guests!
23. Sticky Sponge Cake Studio - Northumberland
A popular wedding cake trend with couples is this birch illusion bake. The icing has been so cleverly designed by Sticky Sponge Cake Studio that it looks almost too realistic to eat.
24. Iced Delights Cakes - Bedfordshire
Chocoholics, this one's for you. A chocolate wedding cake is a match made in heaven for a woodland themed wedding thanks to the brown hue - this example by Iced Delights Cakes is spectacular.
25. Beez Cakes - South East London
Dark berries such as figs, blueberries and blackberries contrast beautifully against white buttercream - this design by Beez Cakes looks amazing on a log slice wedding cake stand.
READ MORE: How Much Does a Wedding Cake Cost?
Woodland Themed Wedding Favours
Giving your guests a gift is a lovely way to thank them for being part of your special day and there are lots of ideas that fit with a woodland themed wedding. Many of them also double up as entertainment for your loved ones as well and they don't have to be expensive - you'll find cheap wedding favour ideas that cost as little as £1!
26. Botanical Wedding Cozies - from £3.58, Love Mia Co at Etsy
As well as looking totally chic, these botanical wedding cozies can be taken away by your loved ones at the end of the day as a keepsake. Choose from a whole range of woodland inspired colour palettes.
27. Woodland Magnet Wedding Favours - £48 for 30, Love Mia Co at Etsy
We're obsessed with the design on these wood inspired bottle top openers. They remind us of old school tree carvings so if you and your partner have been together since your teenage years they're a sweet idea.
28. Personalised Wedding Favour Bag - £2.25, So Close at Not On The High Street
Fancy making DIY wedding favours? You'll need a bag to pop them in and these personalised woodland wedding favour bags are ideal. They'll fit everything from homemade treats to dried petals for confetti.
29. Custom Engraved Wooden Bottle Stopper - from £1.70, Hitched Shop
Keep to the wood theme with these engraved bottle stoppers from the Hitched Shop. They're a really affordable option if you are planning a large guest list.
30. Rustic Wood Pencil Favour - from £1.36, Hitched Shop
Pop a pile of these unique branch pencils next to your wedding guest book so your friends and family can leave you a special message. They are simply made for woodland setting.
READ MORE: 12 Charity Wedding Favour Ideas
31. Woodland Personalised Wedding Confetti Pops - £37.70, Shropshire Petals at Not On The High Street
You can even give your wedding confetti a woodland themed makeover! These confetti pops are filled with biodegradable petals and leaves - ideal if you are looking for eco-friendly wedding alternatives.
32. Personalised Woodland Animal Wedding Colour In Placemat - £1, Chi Chi Moi at Not On The High Street
Keep kids entertained at your woodland celebration with these colouring in place mats. They won't take away from your wedding table design as they are simple and not too in your face.
33. Personalised Stag Name Place Setting - £4.50, Bespoke & Oak Co. at Not On The High Street
As well as serving as table place names, these cute wooden log slices make a gorgeous decoration for your guests to take home. Each piece is produced in house in the edge of the Forest of Bowland.
34. Woodland Tree Stump Mirror Wedding Favours - from £48 for 30, Love Me Do Design at Etsy
Your guests will thank you for these mirror woodland wedding favours should they need a little touch up throughout the day. You are in the woods after all, so a mirror is likely to be few and far between!
Other Factors to Consider When Planning a Woodland Wedding
1. Season
When booking and styling your woodland wedding venue, be mindful of the season you are getting wed in. May through to September is typically the most popular time of the year to host an outdoor wedding as you are more likely to have warmer weather, however if you love the idea of a winter woodland wonderland there are a few factors to keep in mind. Although the trees will offer a certain level of protection from potential wind and rain, consider providing umbrellas for your guests and having some undercover spaces such as tents and canopies.
READ MORE: 14 Ways to Make Rain on Your Wedding Day Work
2. Dress Code
A woodland wedding venue doesn't particularly lend itself to killer heels so you might want to think about wearing flat wedding shoes and informing your guests of this too. A boho wedding dress will suit this theme perfectly, as will a relaxed boho wedding hairstyle.
3. Flooring & Seating
Vintage rugs are brilliant for woodland weddings as they will look gorgeous lining the aisle, as well as providing sturdier ground than the forest floor. Pick these up at your local charity shop or ask if your wedding venue has any to use.
If you and your guests are sitting down for a meal, you may want to feast among the trees. A long wooden table will do the trick, decorated with fairy lights and greenery. In need of more shelter? A marquee is a brilliant option for your reception - choose one with a clear roof so you can still enjoy all the natural elements.
For more beautiful inspiration, make sure you check out our edit of the best rustic wedding venues.