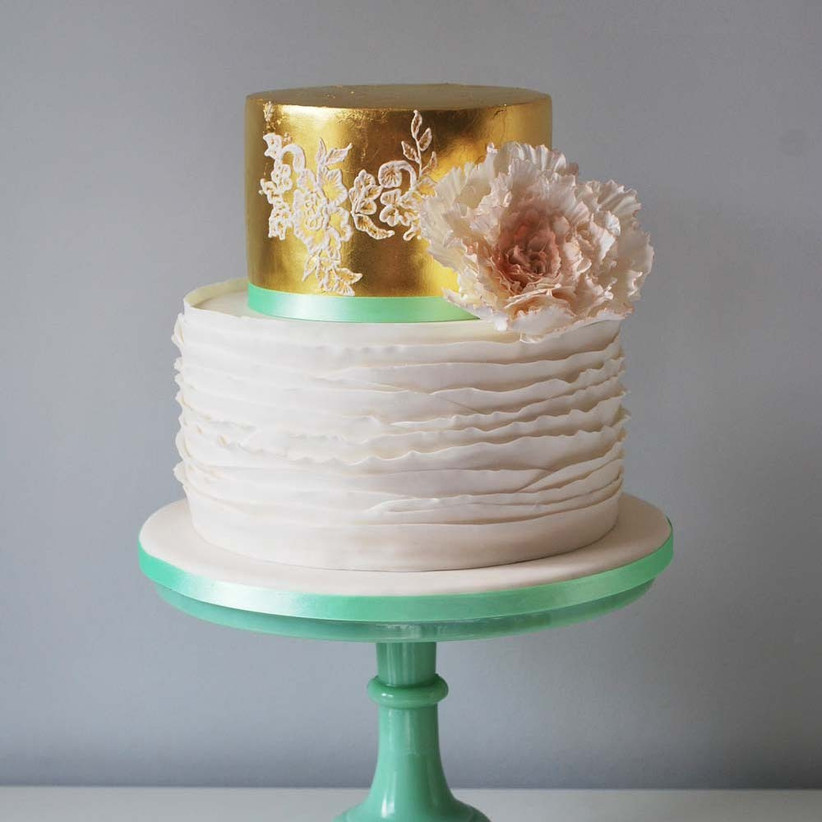 It's safe to say that metallic wedding cakes are all the rage right now. From stunning silver designs to gorgeous gold tiers, we've rounded up 17 of our favourite metallic wedding cakes which would add a touch of luxe to your wedding.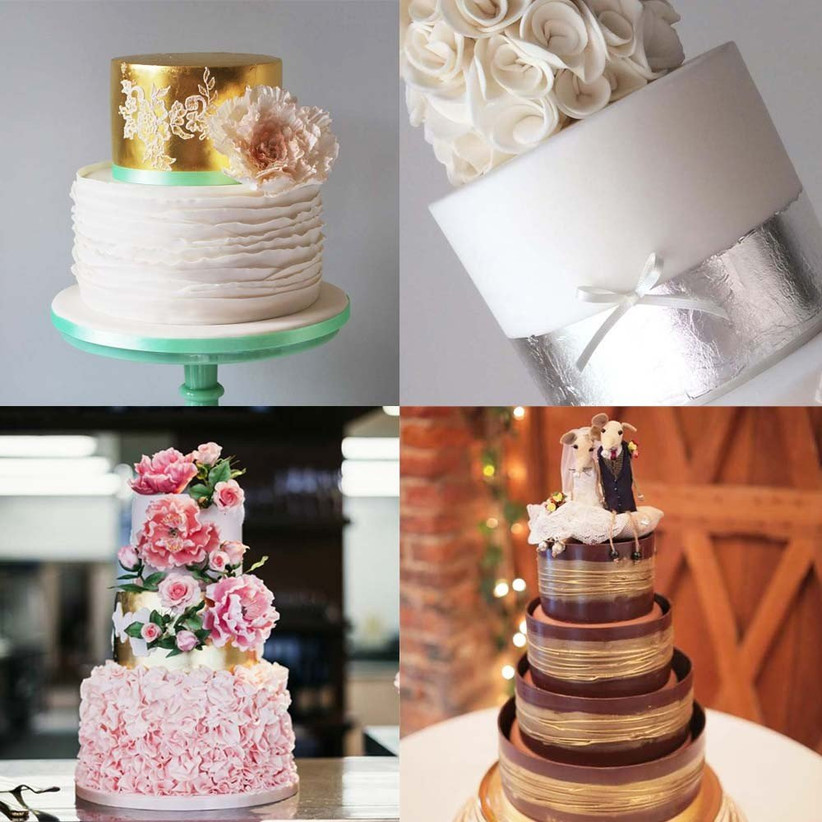 This lovely cake from the Little Bear Cakery is small yet luxurious looking. The fondant frill bottom tier is super modern and lets the eye catching gold top tier do all the talking. We love how the white icing is made to look like lace detailing, plus the large flower adds a romantic touch.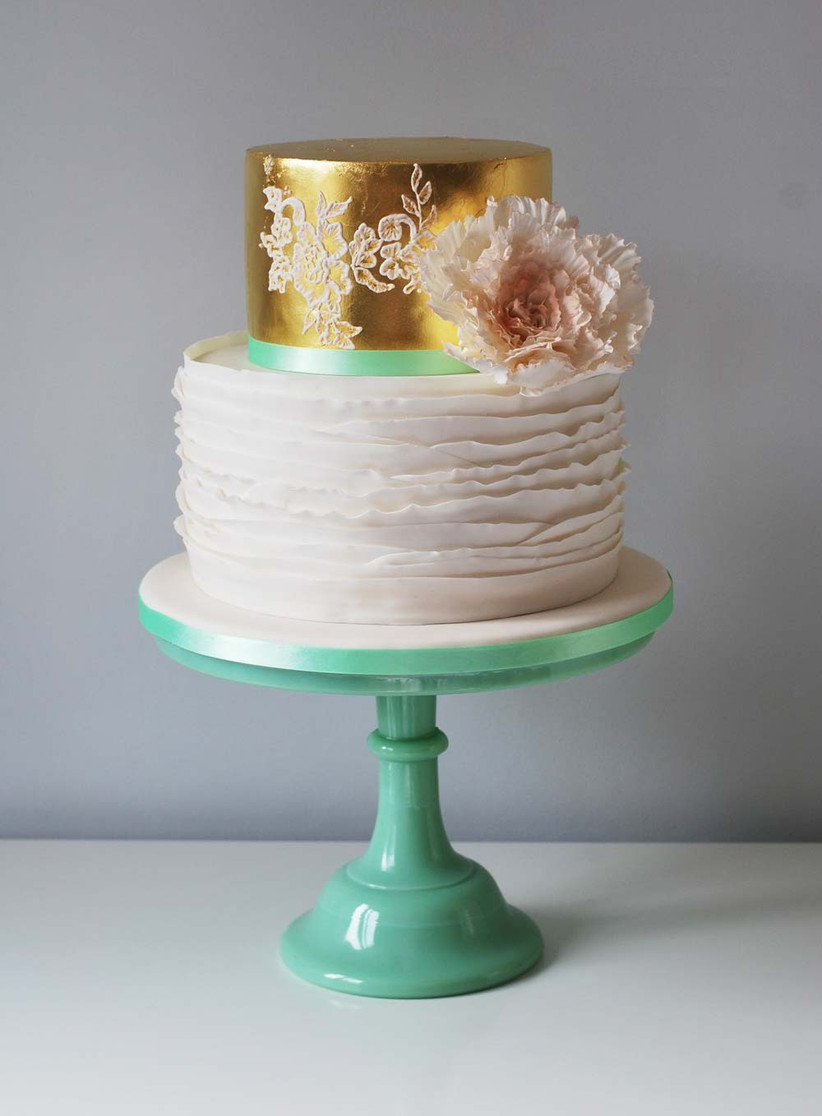 To carry off this trend, only accents of metallic colours are needed on your wedding cake. We love this metallic wedding cake from the Pink Frosting Cake Company which has an elegant silver band. The crinkled foil effect looks interesting and is a contrast to the cake's more traditional white tiers.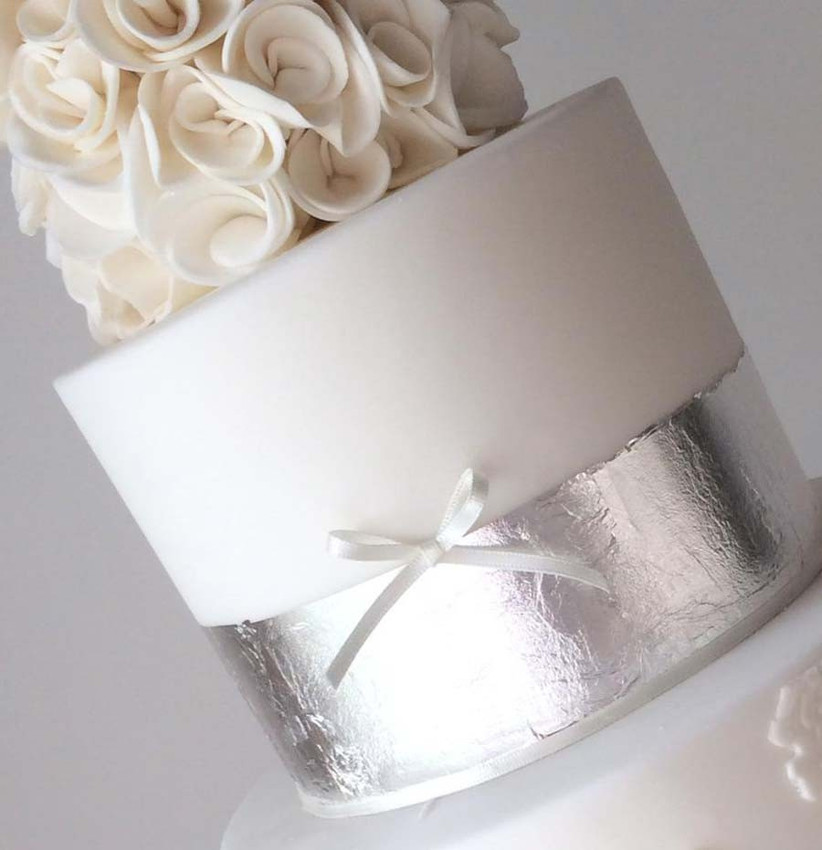 We love everything about this beautiful cake from Pretty Amazing Cakes. Soft pink and gold are a combination that were made for each other, as proven by the pretty floral design and the gold foil tier on this cake. The soft pastel pink hues and the gold frame design on the top tier would fit right in if you're planning to have vintage wedding décor.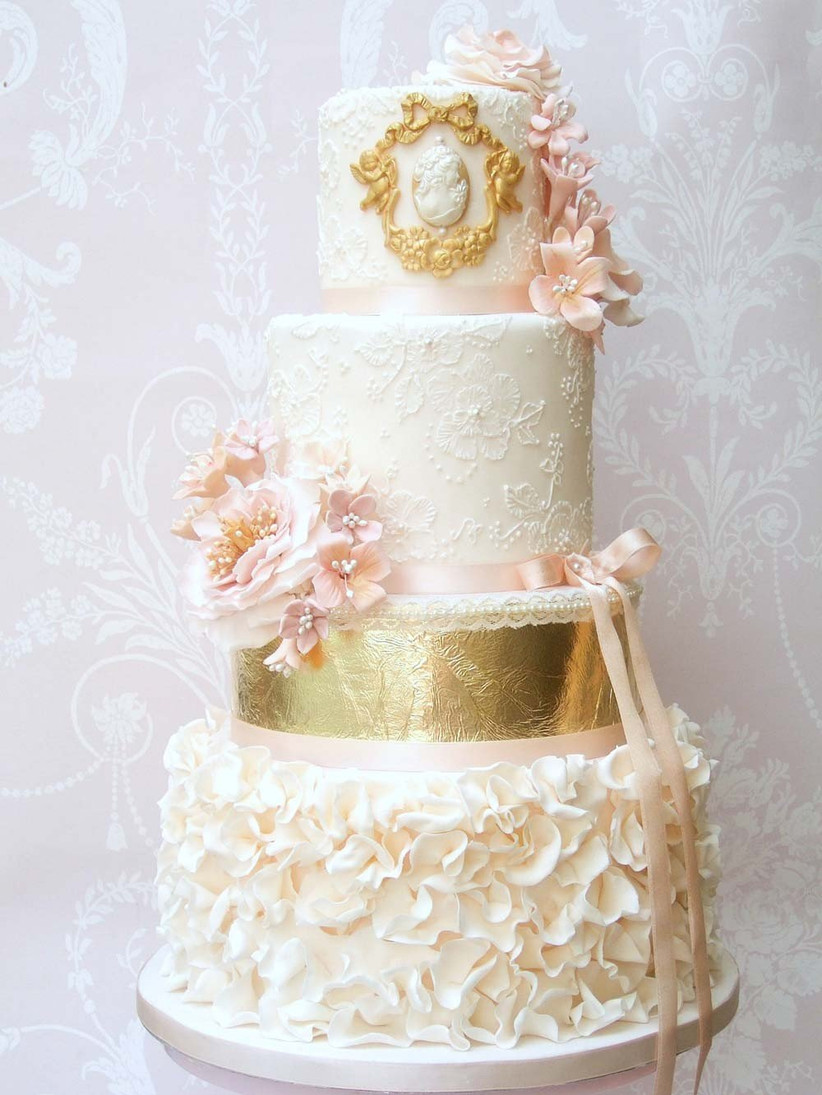 Proving again that metallic wedding cakes are their forte, Pretty Amazing Cakes have also created this elegant four tier treat. As before, the cake has a vintage look about it with its lace style icing and silver brooch detail. The gold tiers and the lilac ribbons work so well together.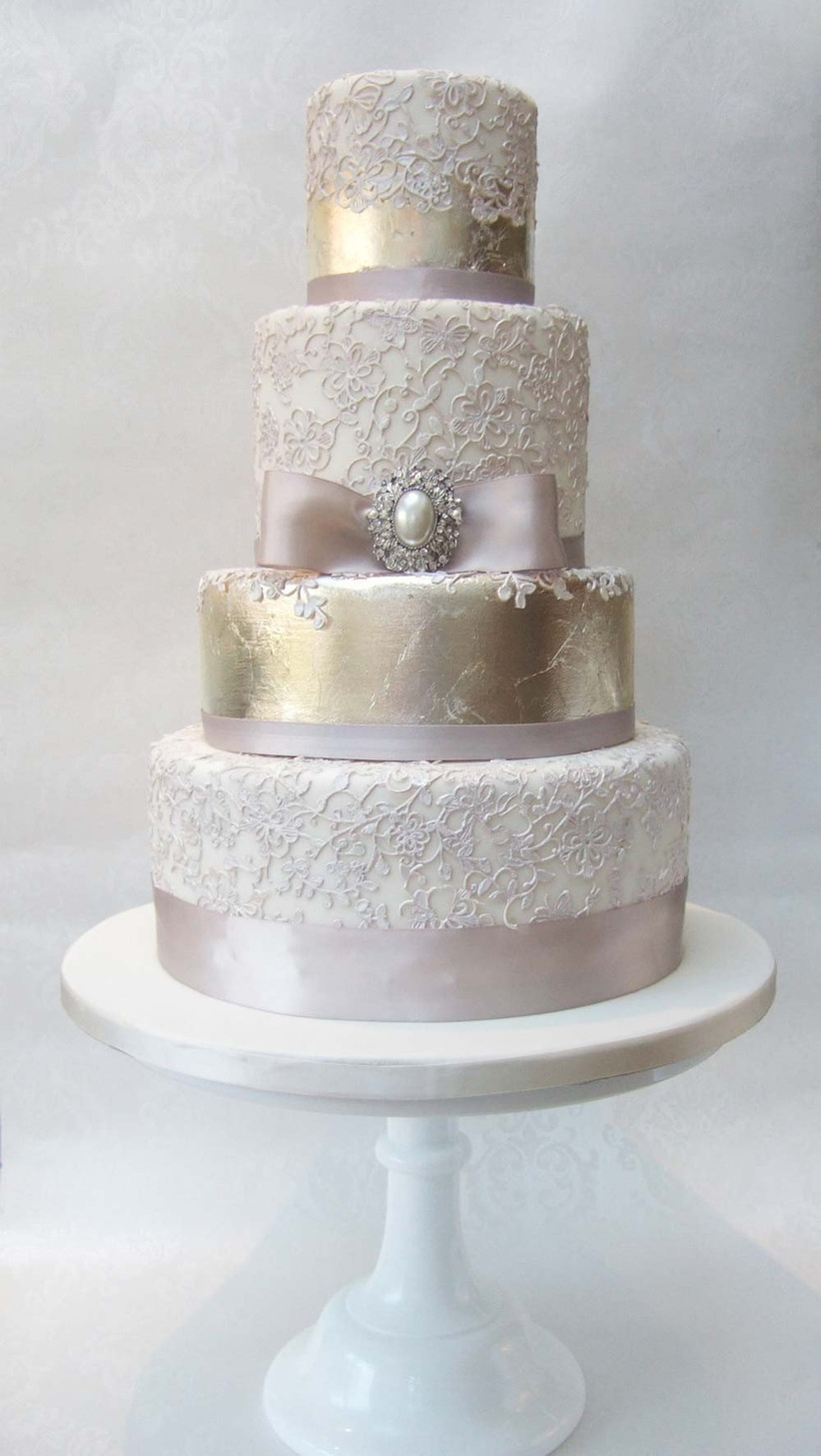 The metallic detail doesn't need to be part of the cake itself. This traditional white cake has been given an opulent twist with gold ribbon.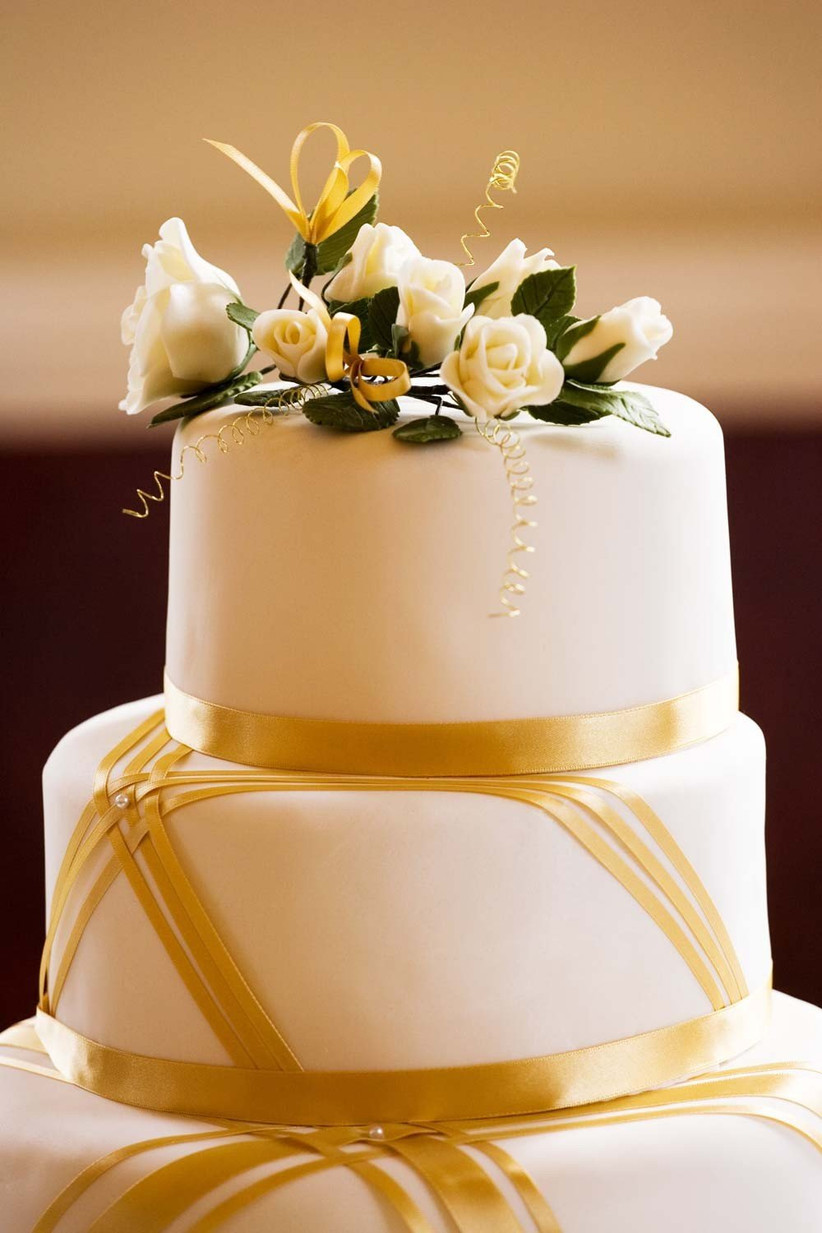 Perhaps you may only want subtle metallic hints on your wedding cake, in which case this simple yet sweet cake from the Pink Frosting Cake Company would do the trick with its delicate rows of gold icing. The finish of the icing is so luxe looking, it's hard to believe you can actually eat it! Personalise your wedding even more by having both your initials iced on the cake in a frame of metallic icing.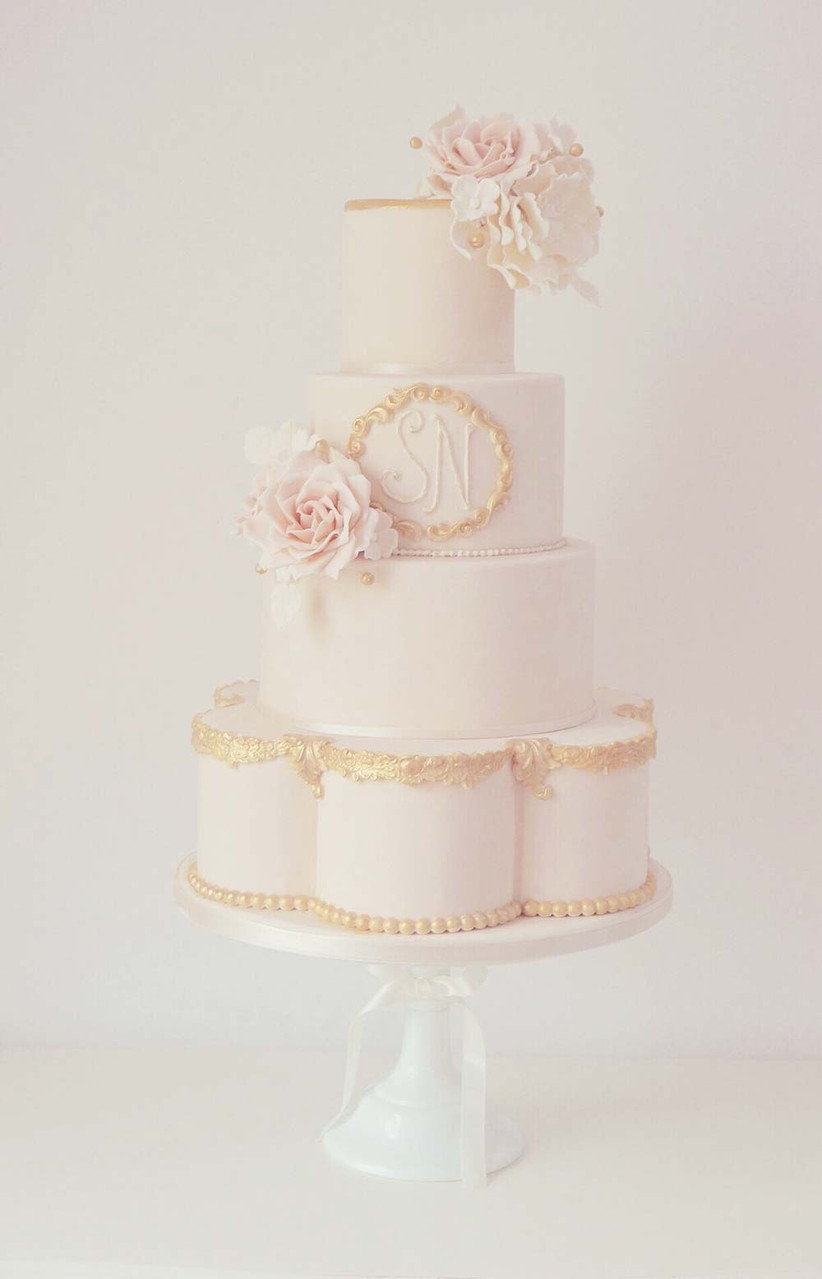 This amazing wedding cake from the Little Bear Cakery is simply breath taking. Not only does the gold middle tier tick off one trend, but the pink ombre effect of the ruffled bottom tier is also very popular for weddings right now. The addition of edible sugar flowers completes the cake nicely – it's sure to satisfy any sweet tooth.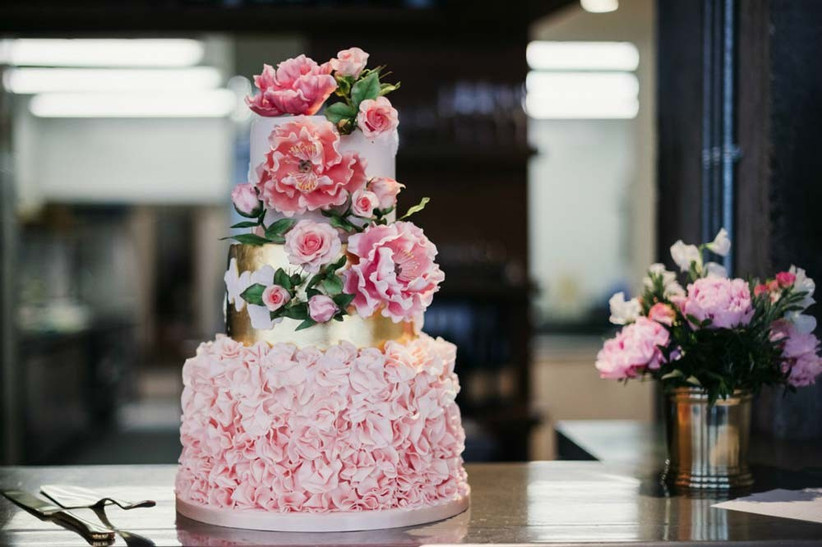 Image credit: Babb Photo
We're obsessed with rose gold anything here at Hitched, so this stylish metallic wedding cake from Willow and Bloom Cakes is a dream come true! This rose gold and ivory cake is perfect for a rustic themed celebration – we love that the bottom tier has been made to look like a log wedding cake stand!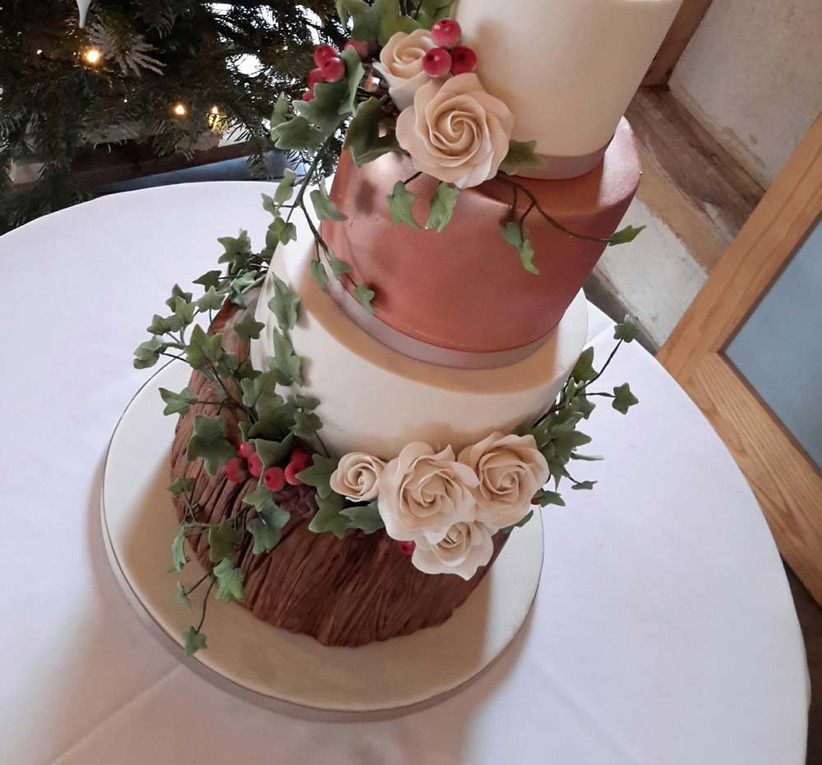 The gold leaf detailing on this wedding cake is just divine and would highlight a gold colour scheme beautifully. Metallic details are an easy and pretty way to add some wow factor to a traditional cake.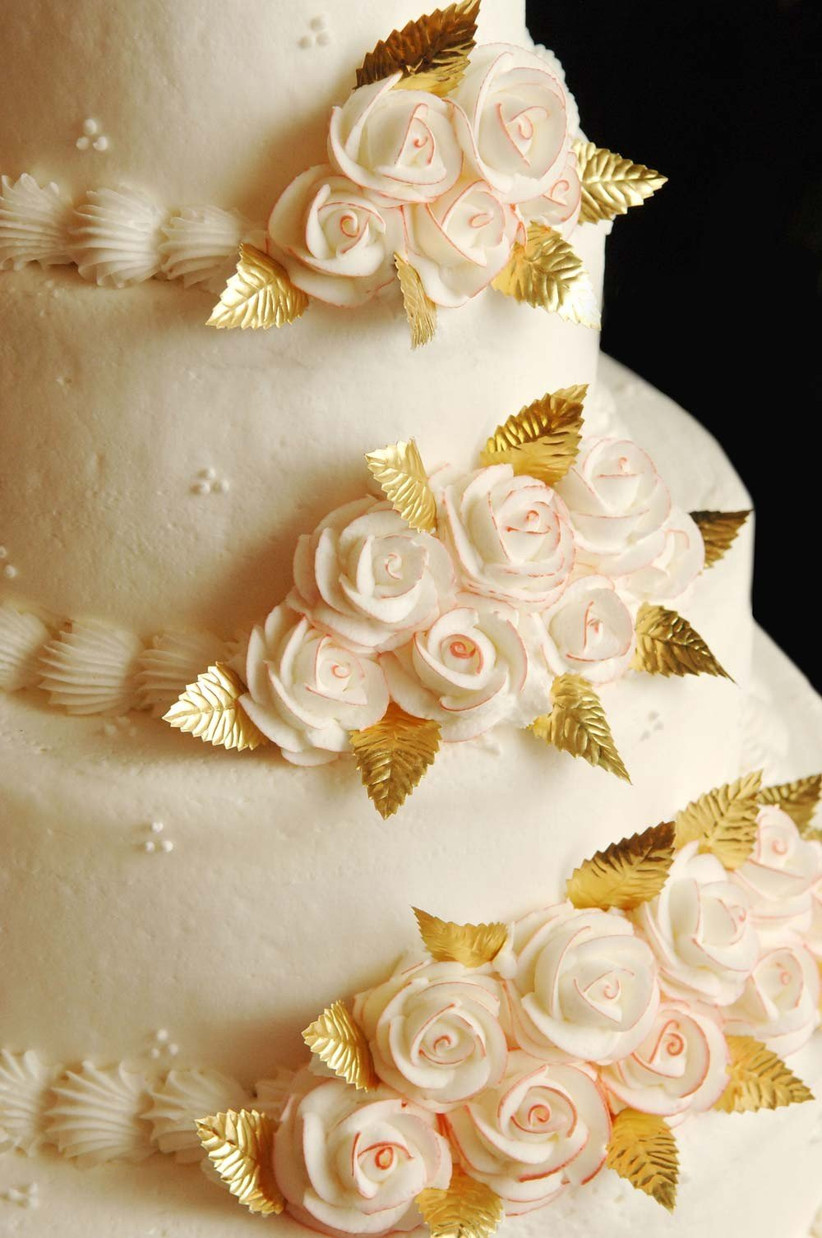 Two things we absolutely love are gold and chocolate – put them together and you've got a delicious combination for a wedding cake! This dreamy chocolate wedding cake is topped with adorable mouse cake toppers from Pearlina Cupid Mouse for a super cute touch.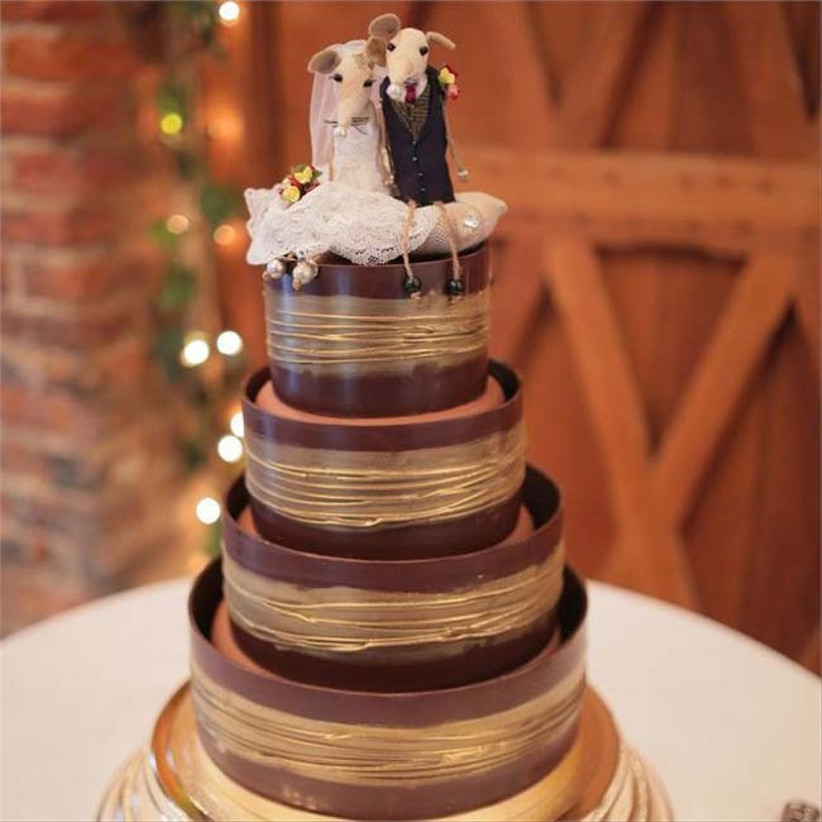 Image credit: Wowtastic Weddings
This show stopper of a cake would make an impressive centrepiece at your reception – it almost looks too good to eat! Displayed proudly on a magnificent bed of flowers, this gold tiered cake from Willow and Bloom Cakes certainly makes a bold statement.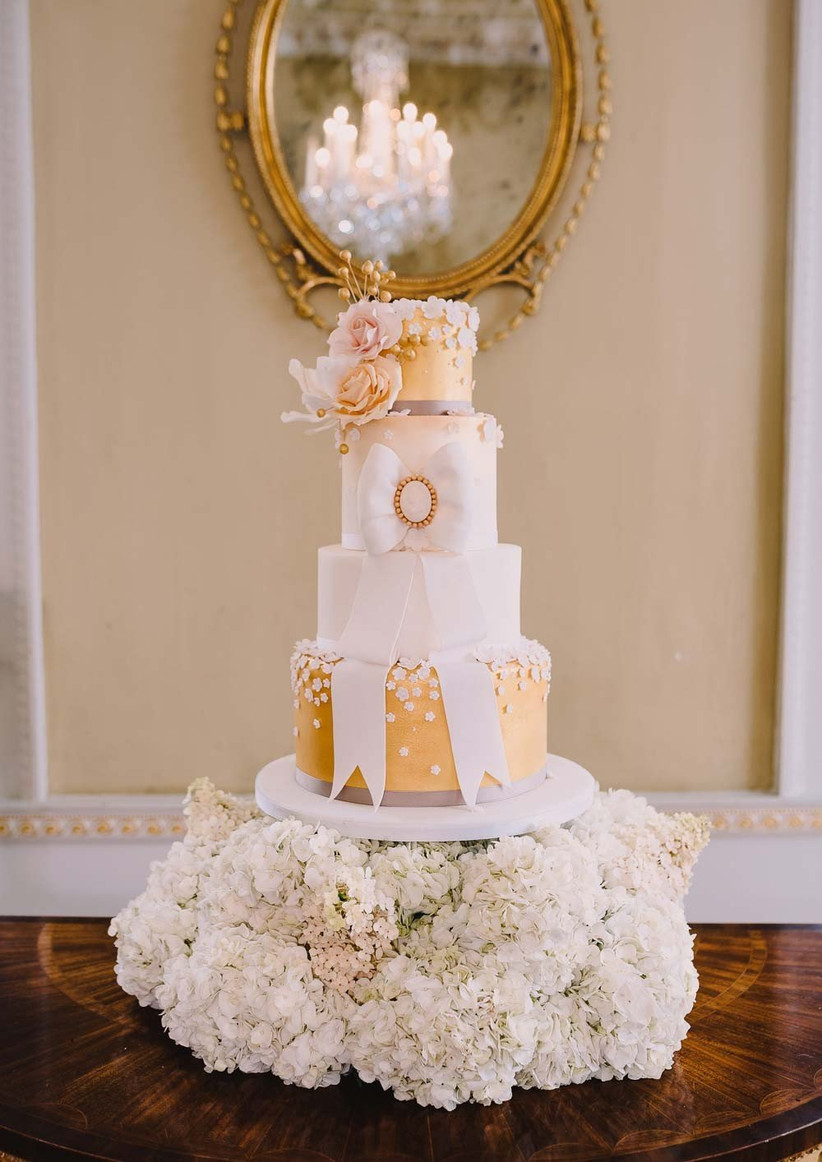 Image credit: Modern Vintage Weddings 
The different sized tiers of this unusual wedding cake makes for a unique look. We like the way the gold detailing is varied on each layer and that it complements the alternating lilac tiers. Floral decorations are the perfect way to break up the layers.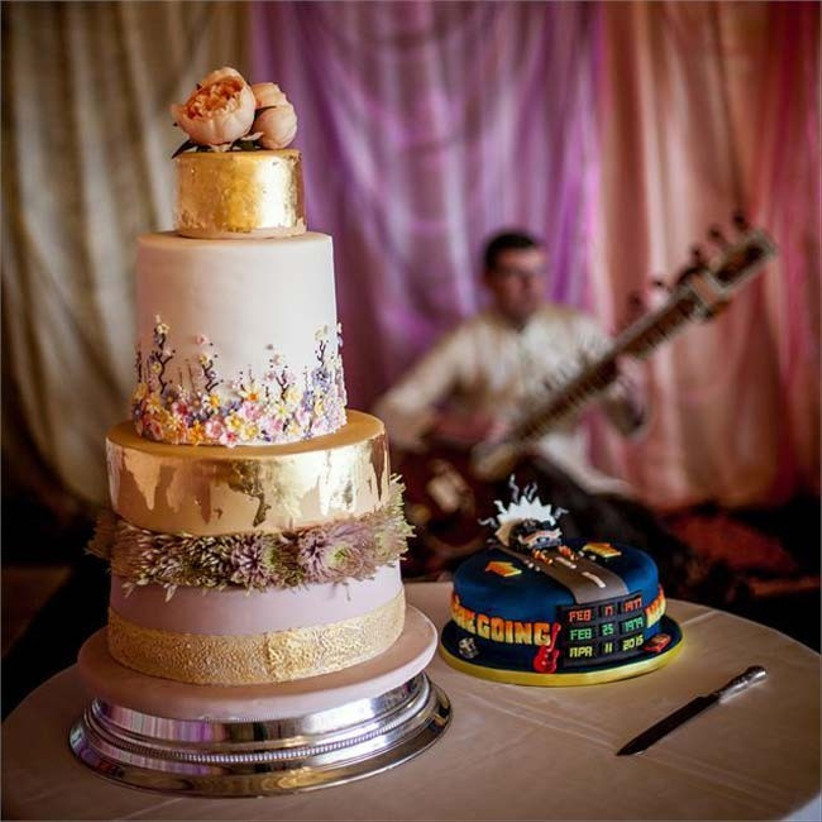 Image credit: Ten Foot Tall Photography
If you're choosing a metallic wedding cake in gold or silver, match it to your cake stand for extra shine. This three tiered design from The Designer Cake Company does exactly that with its silver top tier and sophisticated cake stand, with a romantic ruffled layer in between.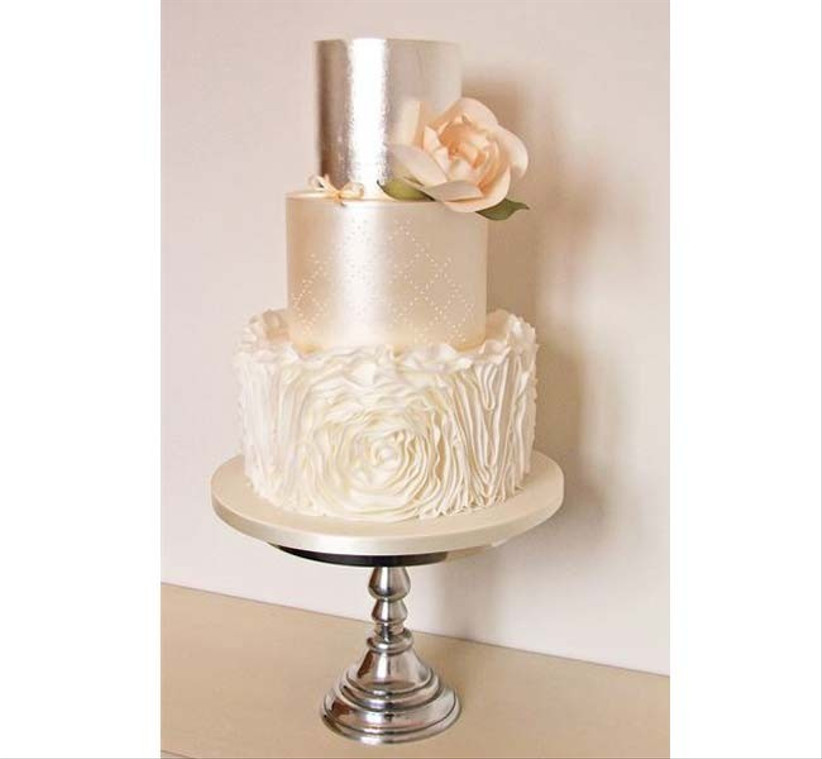 Pretty Amazing Cakes have done it again with this four tiered wedding cake that is vintage perfection. The silver middle tier will catch the light beautifully, drawing the attention of all your guests. This cake would be the ideal match if you've opted for a lace wedding dress.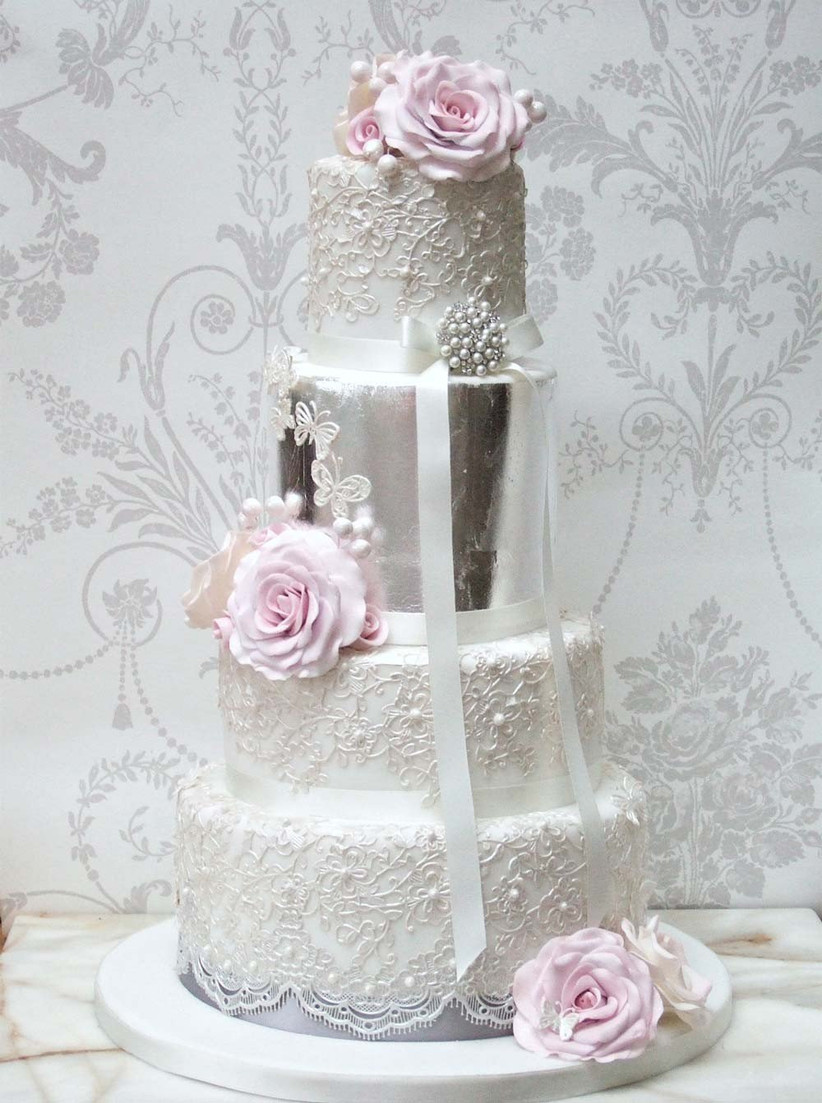 Red and gold go together like bread and butter, as proven by this gorgeously sleek and simple cake. Seasonal wedding flowers like this red cake topper are a nice way to finish a metallic wedding cake – this particular one adds to the opulence of the jewel like colour. The rich colours of this cake would be a wonderful accompaniment to a winter wedding.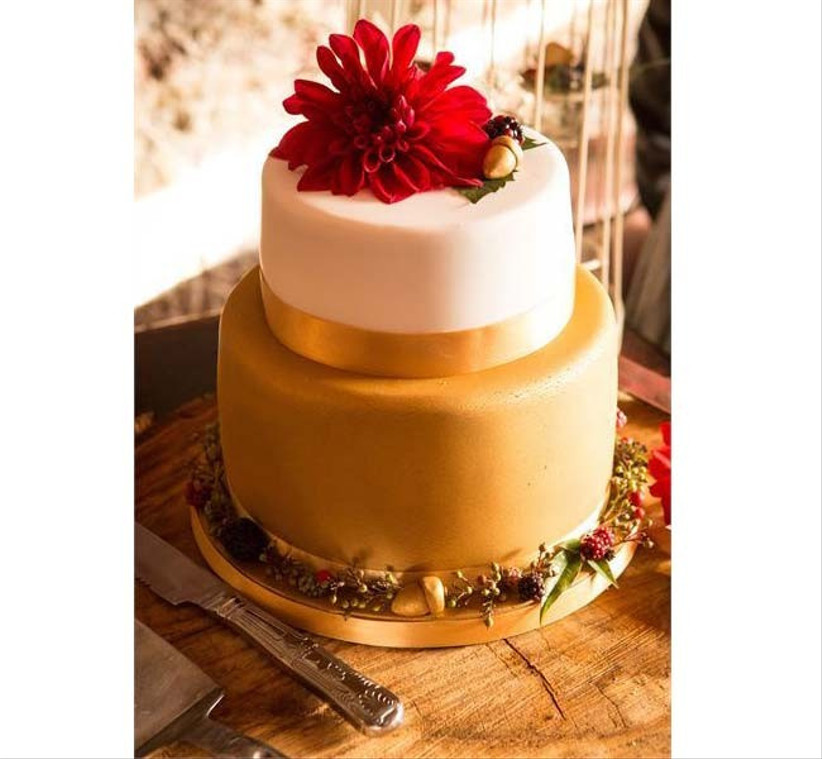 1920s glamour oozes from this silver and white wedding cake and there's nothing we don't love about it. The sparkly silver detail would fit in with a glam glitter wedding and the feather topping has Great Gatsby chic written all over it.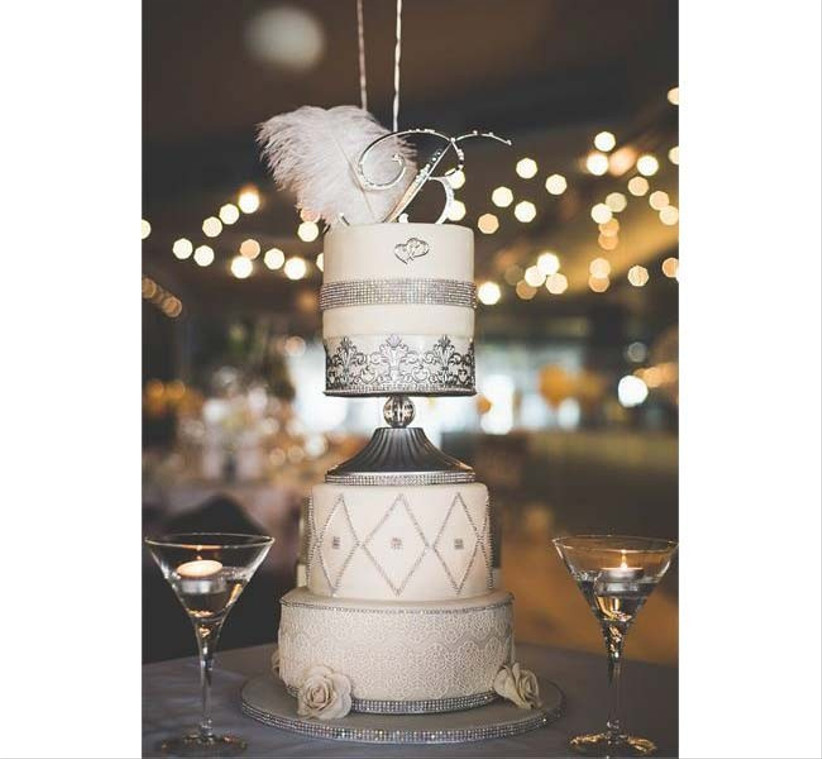 Image credit: Dhw Photography
If you want a metallic wedding cake with a fun twist, then take a look at this seaside themed concoction from the Fancie Buns Cakery. If you're planning to wed by the sea or just fancy filling your day with beach themed wedding ideas, then this tempting cake is the one for you.
To accompany your metallic wedding cake, why not surround it with loads of other sweet treats at your reception? Check out our sweet buffet ideas for inspiration.