30 Ways to Decorate a Plain Wedding Cake
There's loads of easy and inspiring ways to turn a naked cake or plain iced wedding cake into a masterpiece!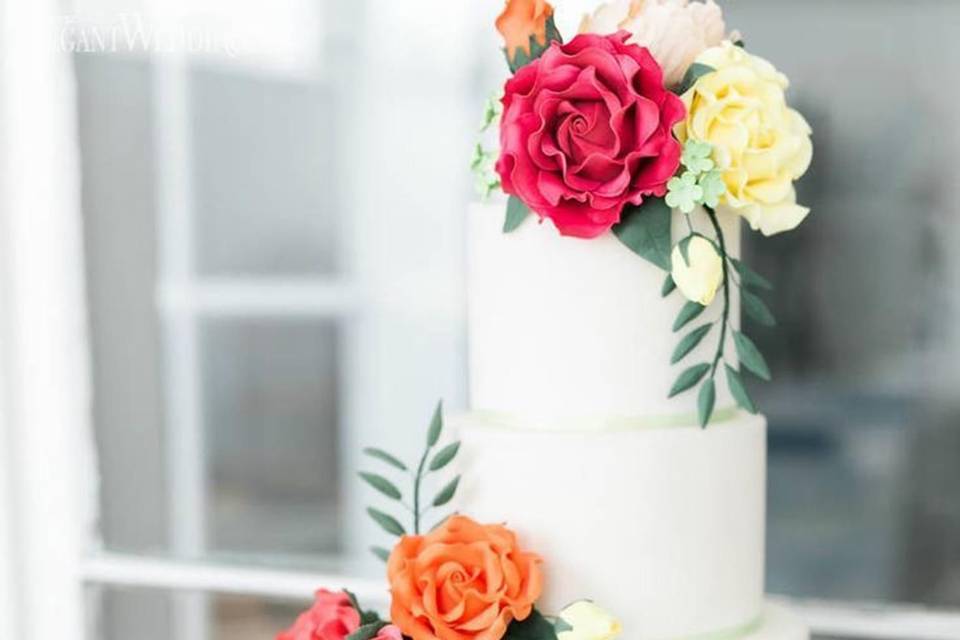 Whether you love the idea of a traditional fruit cake but want to give it a modern spin or are on a budget and need ideas to spruce up a sponge, a plain wedding cake provides the perfect blank canvas to express your vibe as a couple.
You can keep your cake minimalist and seriously affordable with simple styling; commission bespoke artwork on white icing; or dress it to complement your florals, colour palette or venue. There are no Bake Off style rules to adhere to – dress your wedding cake up or down exactly as you see fit!
A few expert hacks make decorating a naked cake, semi-naked cake or plain iced sponge a doddle too. Fen Bolodeoku, owner and creative designer of luxury cake and dessert company MonAnnie, has some words of wisdom before you get your apron on:
"Decorating a cake for the first time can be daunting. My top tip would be to try to visualise your design before you start. As with all creative processes, it is important to take a step back to think about the overall look you would like to achieve. This will save you time and help you select the best elements to achieve that look."
You don't need a cheffy arsenal of implements or niche ingredients either, as Fen affirms. "Some of the most visually effective elements of decorating a wedding cake are actually the simplest and don't necessarily require any special tools.
"To make sure that decorations such as fruit and flowers are secure, it is useful to have some buttercream or ready mixed royal icing to hand. Add a little bit to the bottom of each element to fix it to the cake."
Don't underestimate the impact of some nifty crockery either: "A classic cake stand is a fantastic decorative tool – it adds height and elegance to even the most basic cake design."
Good to go? We've got all of the DIY wedding cake decoration inspo you could need along with some mouthwatering ideas that'll make you seriously excited to cut into it. On your marks, get set, decorate…
READ MORE
Metallic Detail Wedding Cakes
1. Gold Leaf Wedding Cake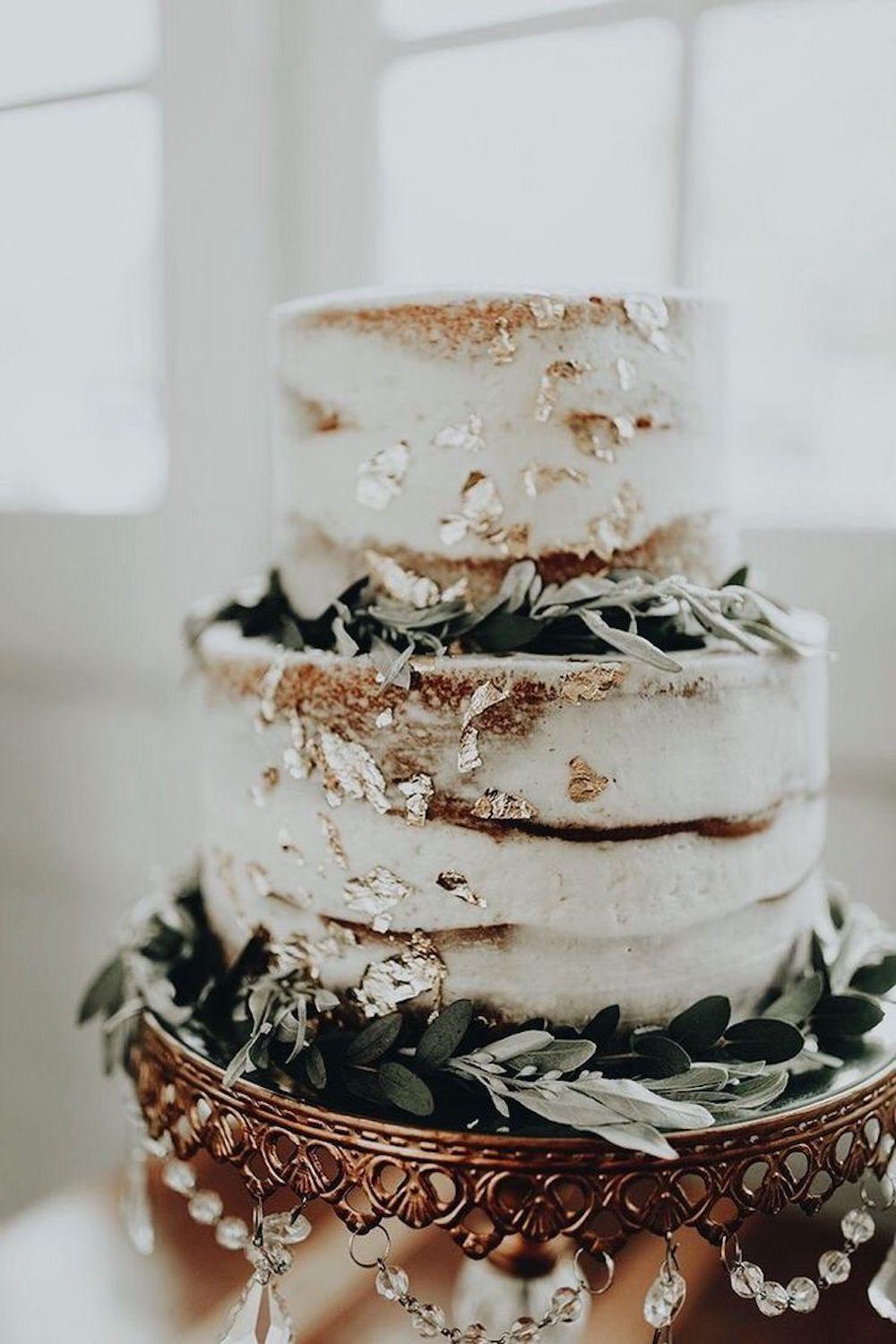 Gold tones tie in with foliage beautifully on this semi-naked sponge cake. Scatter the cake's tiers with edible gold leaf to add haphazard luxury - it's an incredibly easy decoration idea that'll look magical when it catches the light at your wedding breakfast. Team it with an antique gold cake stand for even more romance.
2. Brushed Metallic Wedding Cake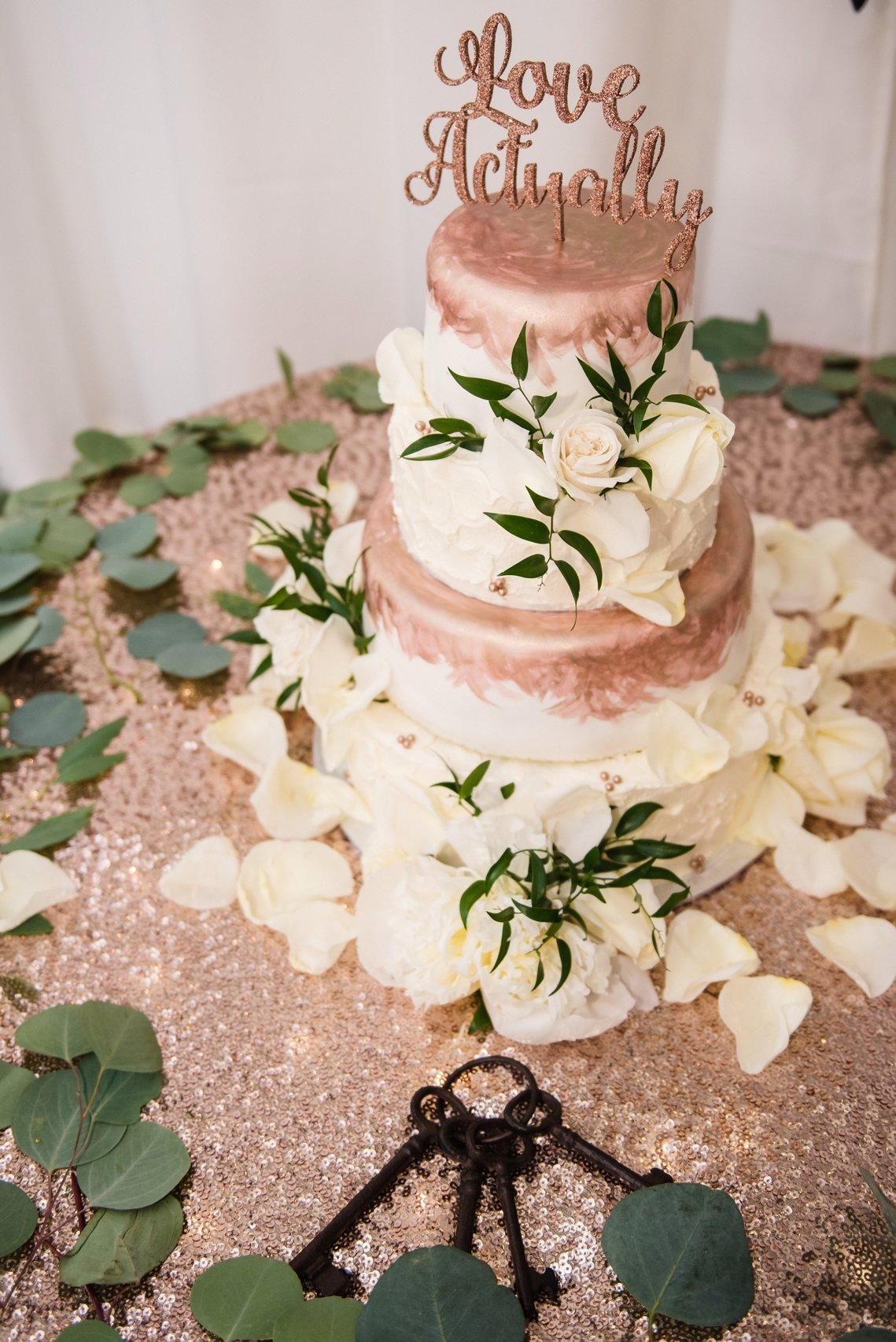 Brushing on sheer layers of metallic icing instantly elevates a plain white cake or semi-naked sponge. Add a few flowers to the top of the cake and its tiers (if you've opted for them) or leave your cake bare to let the shiny icing do the talking. You can buy edible food paint from places like Amazon, Hobbycraft and cake decorating stores.
3. Metallic Drip Icing Wedding Cake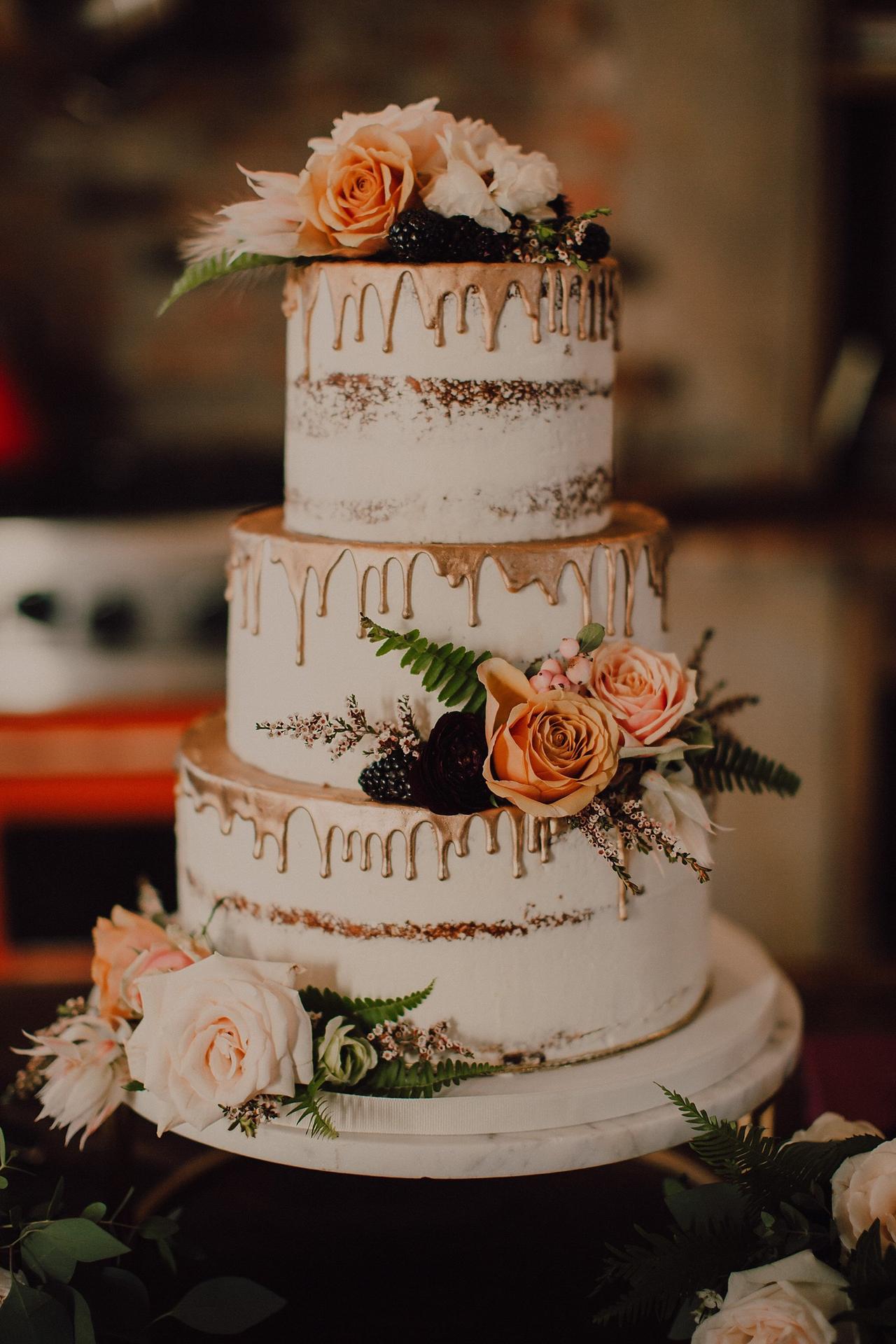 A layer of metallic icing dripping down each tier looks both arty and incredibly tempting to tuck into. Choose your shade of metallic according to your wedding colour palette or even the jewellery you're wearing on the day.
4. Beaded Wedding Cake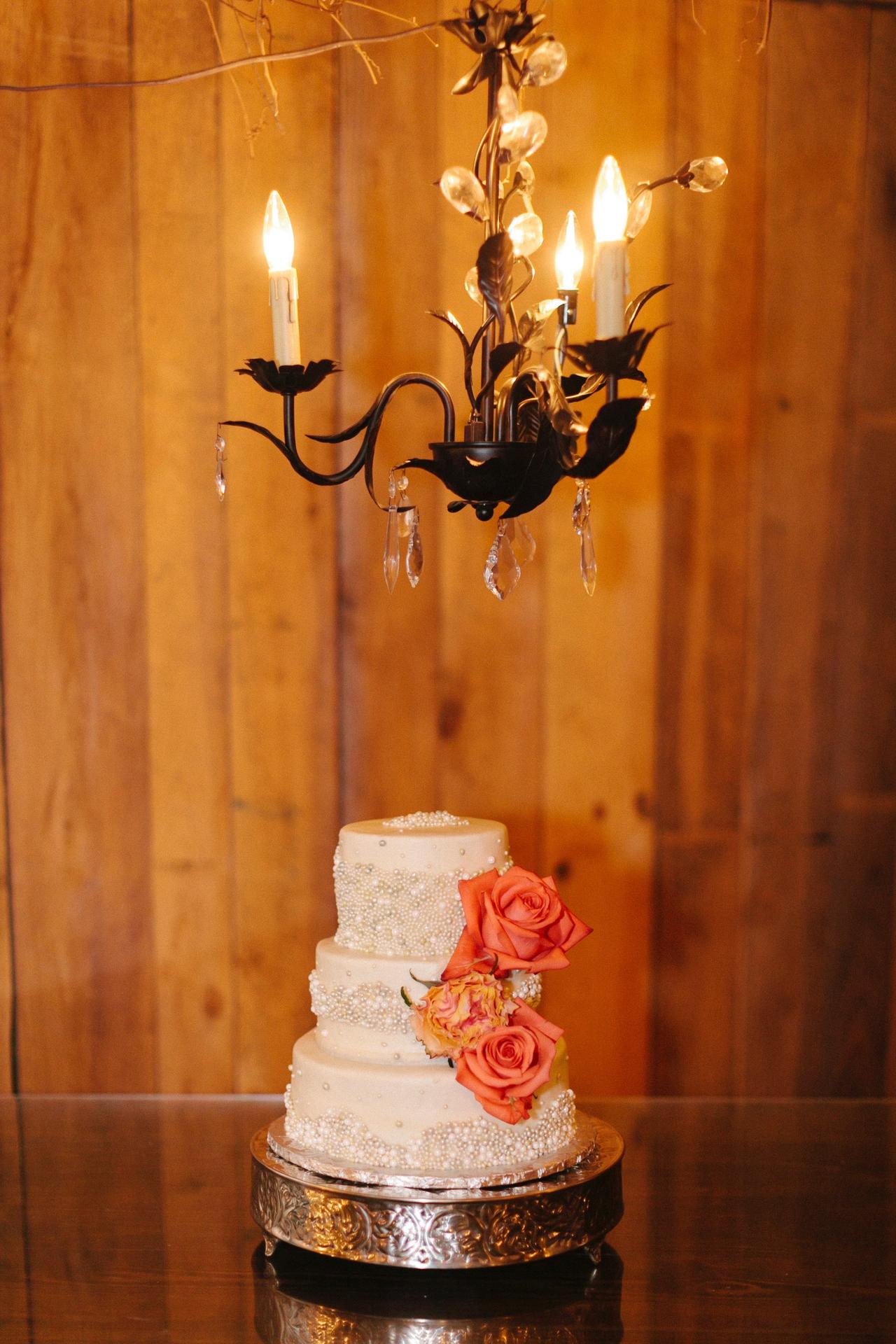 Silver baking beads aren't limited to childhood biscuit making as this pearly three-tiered white wedding cake proves. Mix up white and silver beads for multidimensional shimmer and arrange them imperfectly for a vintage feel. If you're planning a minimalist or monochrome theme wedding then beads are all you need – otherwise a few strategically placed flowers add celebratory colour.
Textured and Appliqué Wedding Cakes
5. Appliqué Detail Wedding Cake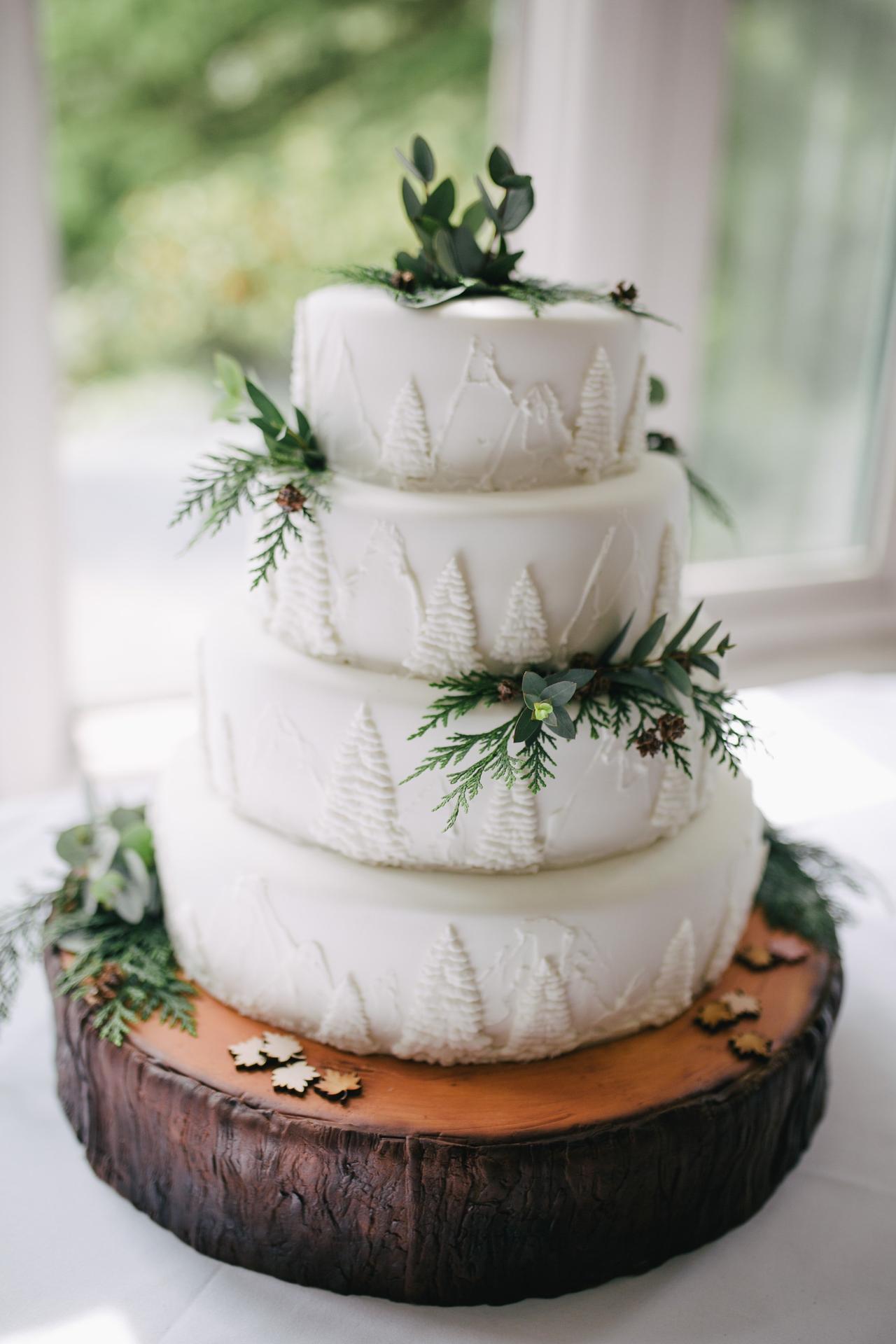 Chosen an appliqué wedding dress? Picking out the design in appliquéd icing over a plain white cake is a gorgeous way to thread a design theme through your wedding day. Anything goes with this idea – keep it seasonal with pine trees for a winter wedding, choose a key flower from your bridal bouquet, or even ask your cake maker to recreate a pet.
6. Textured White Icing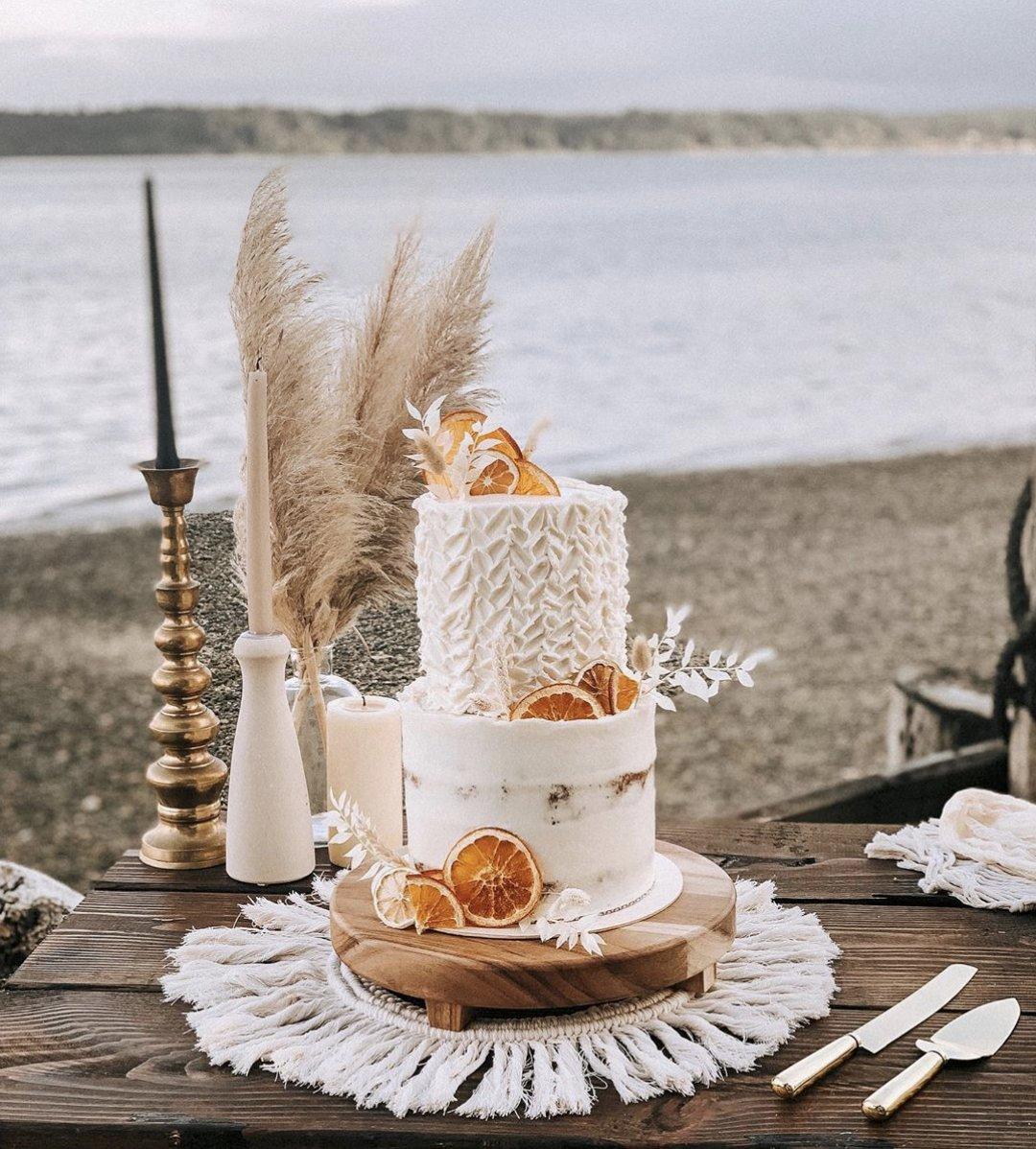 Plain white iced wedding cakes don't have to be smooth, as these artistically overlapping icing 'petals' prove. It's gloriously simple yet also eye catching - mix up textures even more with a semi-naked bottom tier for contrast. Citrus slices and pampas grass dress it up but this one speaks for itself.
READ MORE: 17 Dreamy Ways to Use Pampas Grass in Your Wedding
7. Mixed Shape Textured Wedding Cake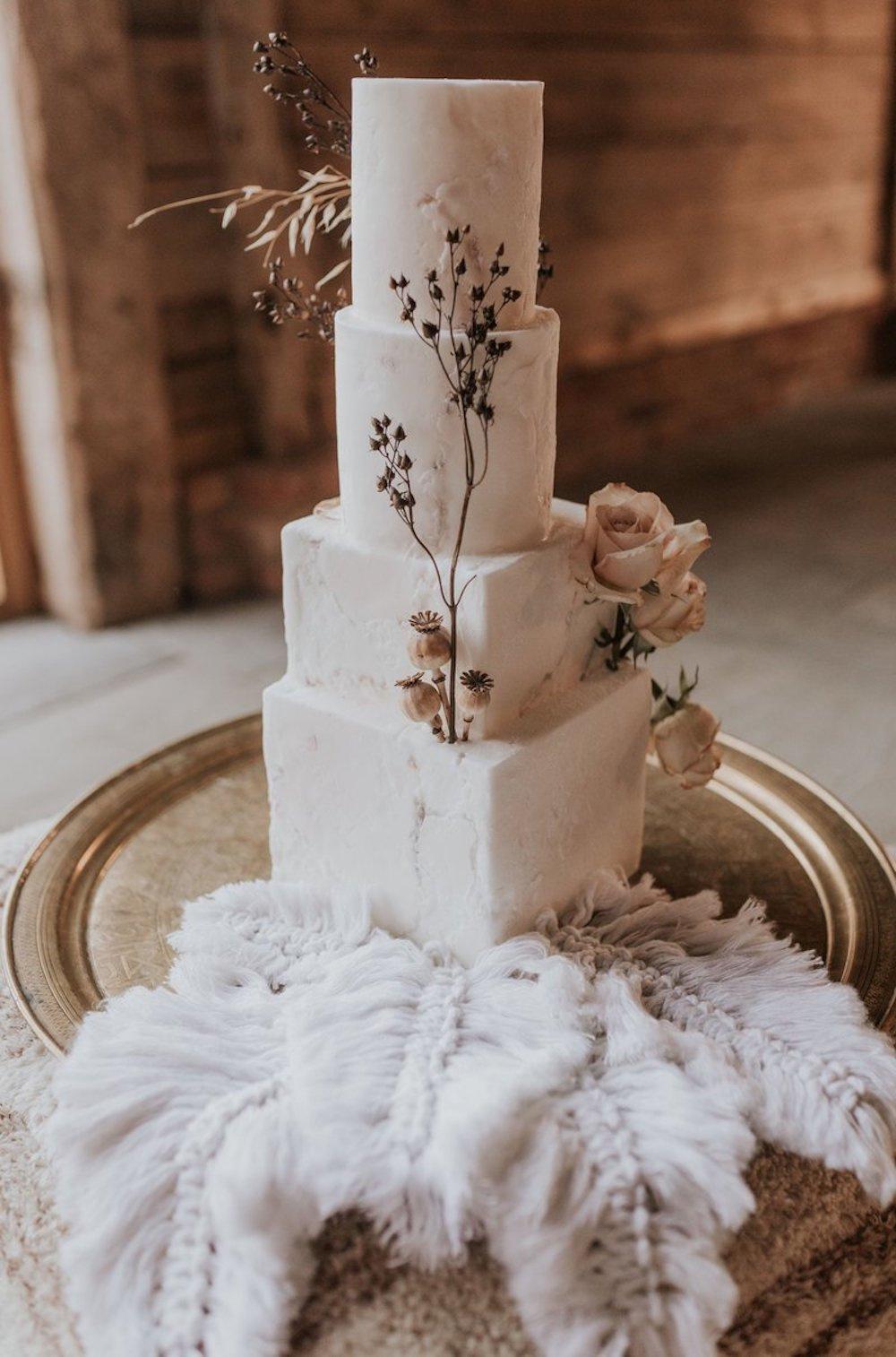 When your cake is an architectural balancing act the aesthetics don't need to be intricate. Play with shapes to give tiers a modern edge and opt for textured white icing for a raw finish. From there it needs minimal decoration: muted or dried florals, wheat and feathers will draw your guest's attention while keeping styling au naturel.
8. Quilted White Icing Wedding Cake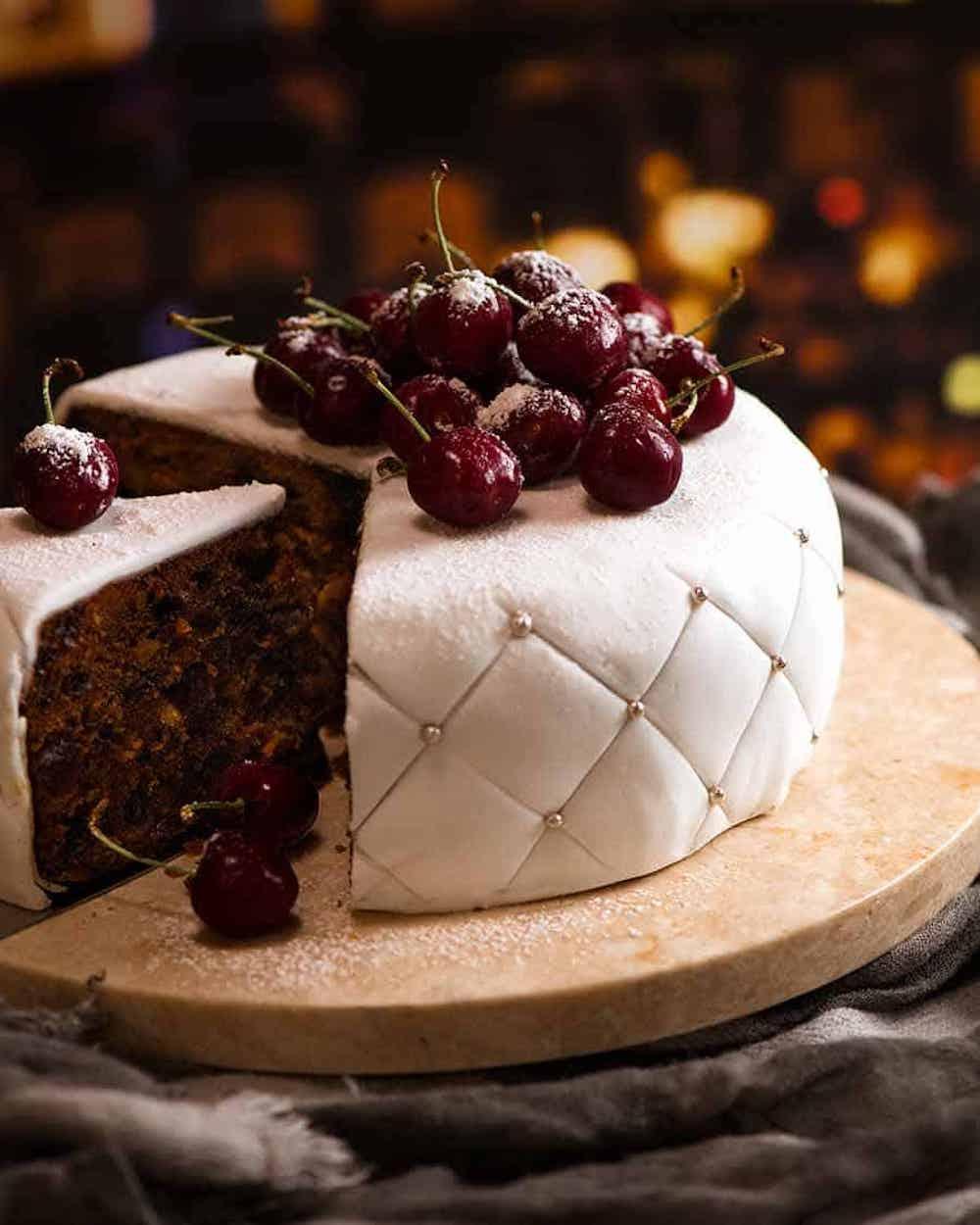 Update a timeless fruit cake with a quilted white icing icing design - it's easy to trace straight into icing yourself with a knife. Those silver baking balls will come in handy for the 'seams' too. Top with cherries or deep red blooms for a festive feel.
Hand Painted Wedding Cake
9. 'Favourite Place' Wedding Cake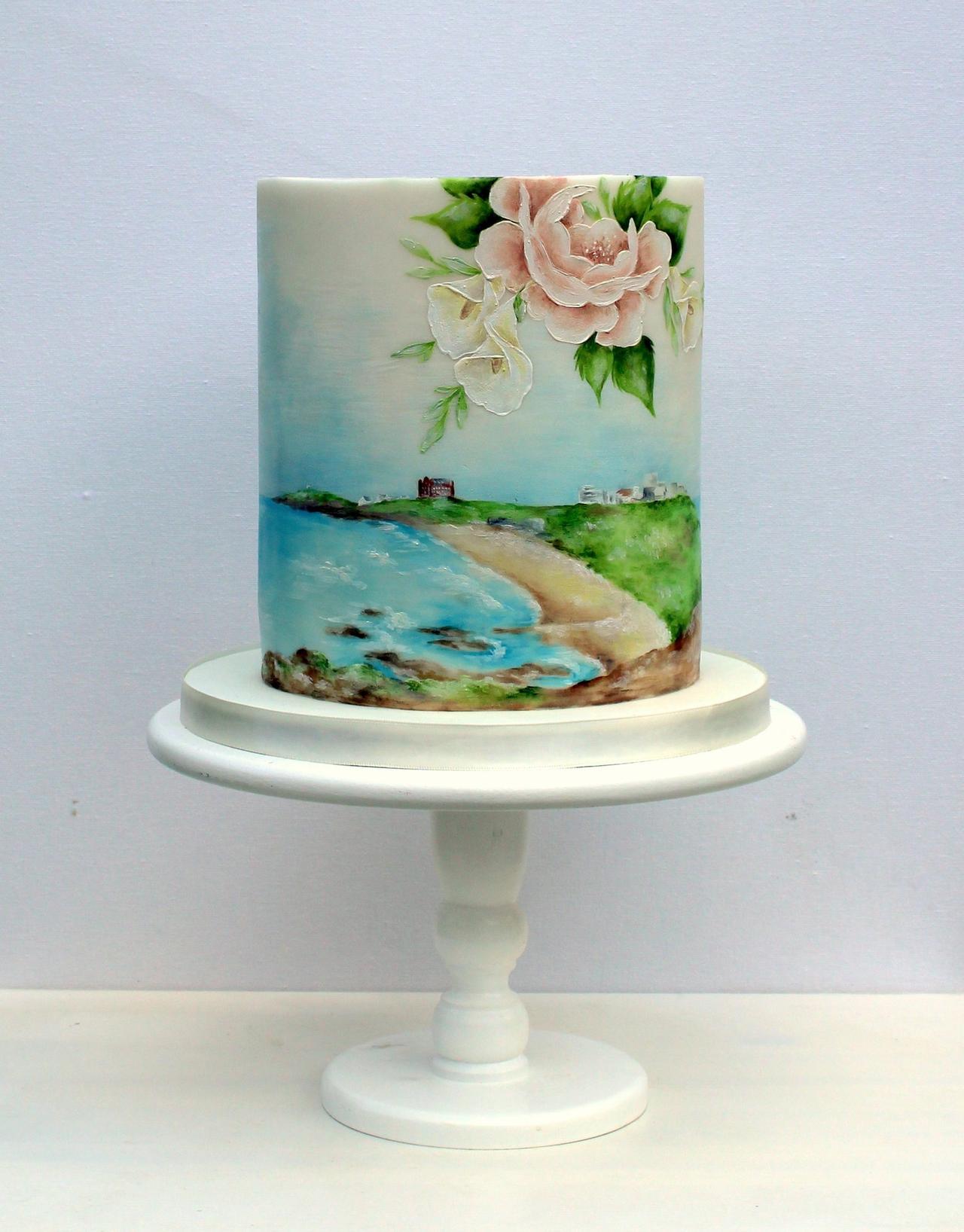 Push the boat out by commissioning a cake designer to paint a meaningful scene onto plain white icing. Whether it's the place that one of you proposed or the spot where you met, it'll make your wedding cake incredibly personal and definitely counts as décor all by itself. The artwork is likely to mean you only need to order a single tier wedding cake too. Just be warned: you probably won't actually want to cut into it when the time comes.
10. Watercolour Flowers Wedding Cake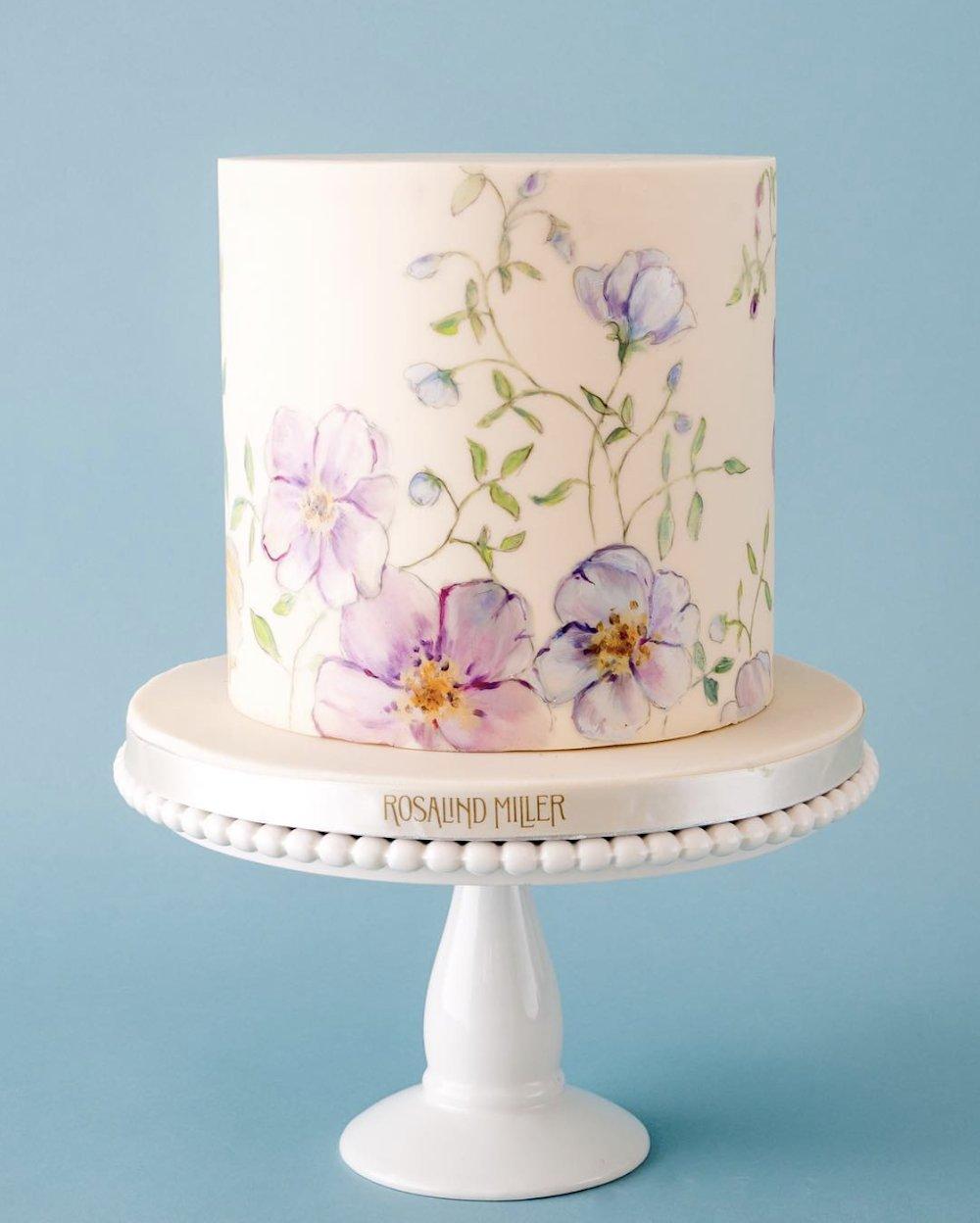 Instead of dressing a plain white cake with flowers, draw them on instead. Dilute coloured icing and get stuck in yourself if you're the creative type, or alternatively ask a cake designer to interpret your floral moodboard.
11. Pottery Style Wedding Cake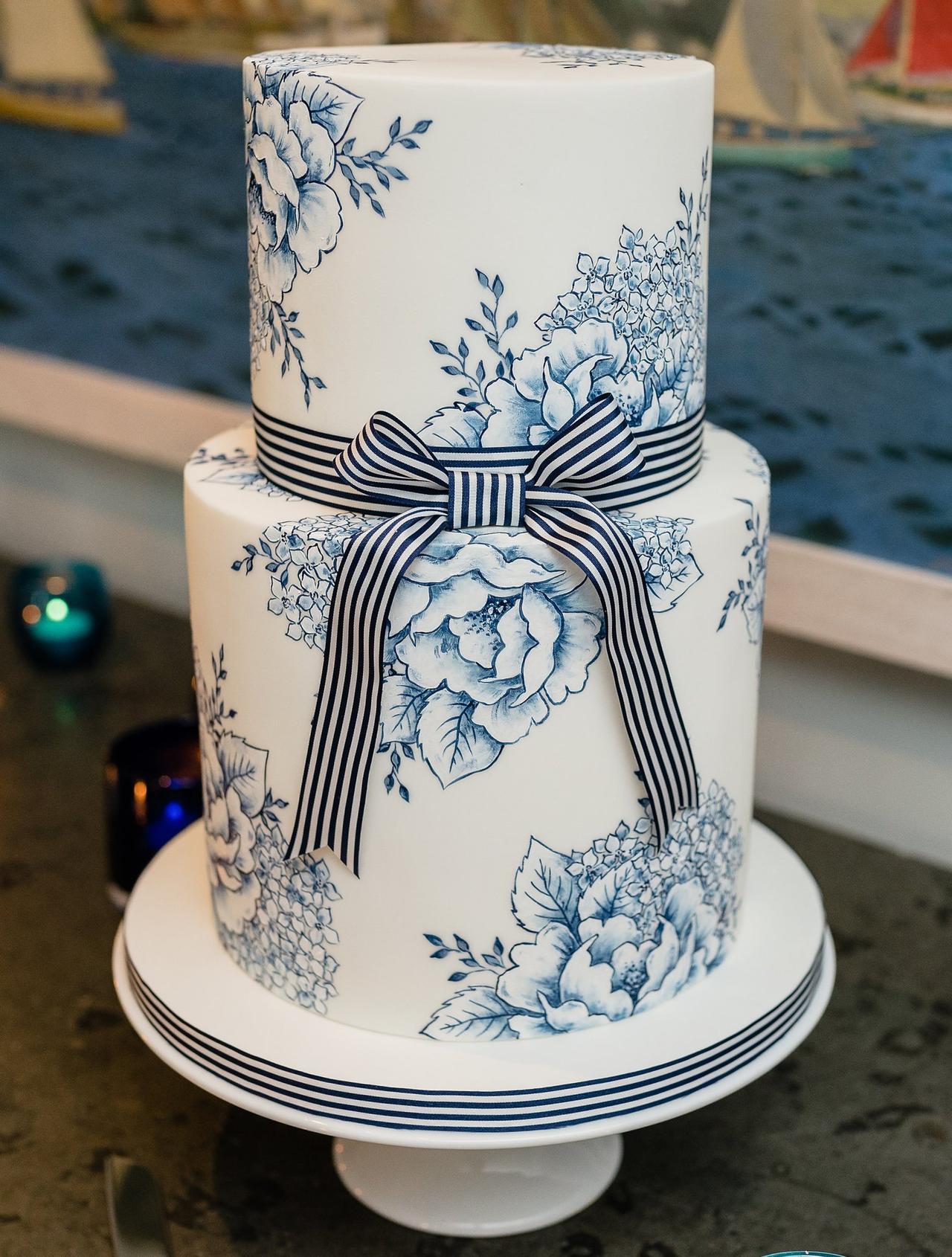 Reminiscent of patterned blue and white Delft china, you might want to keep a note of this elaborate design for wallpaper inspo after the wedding…
Statement Floral Wedding Cakes
12. Semi-Naked Cake with Pink Flowerheads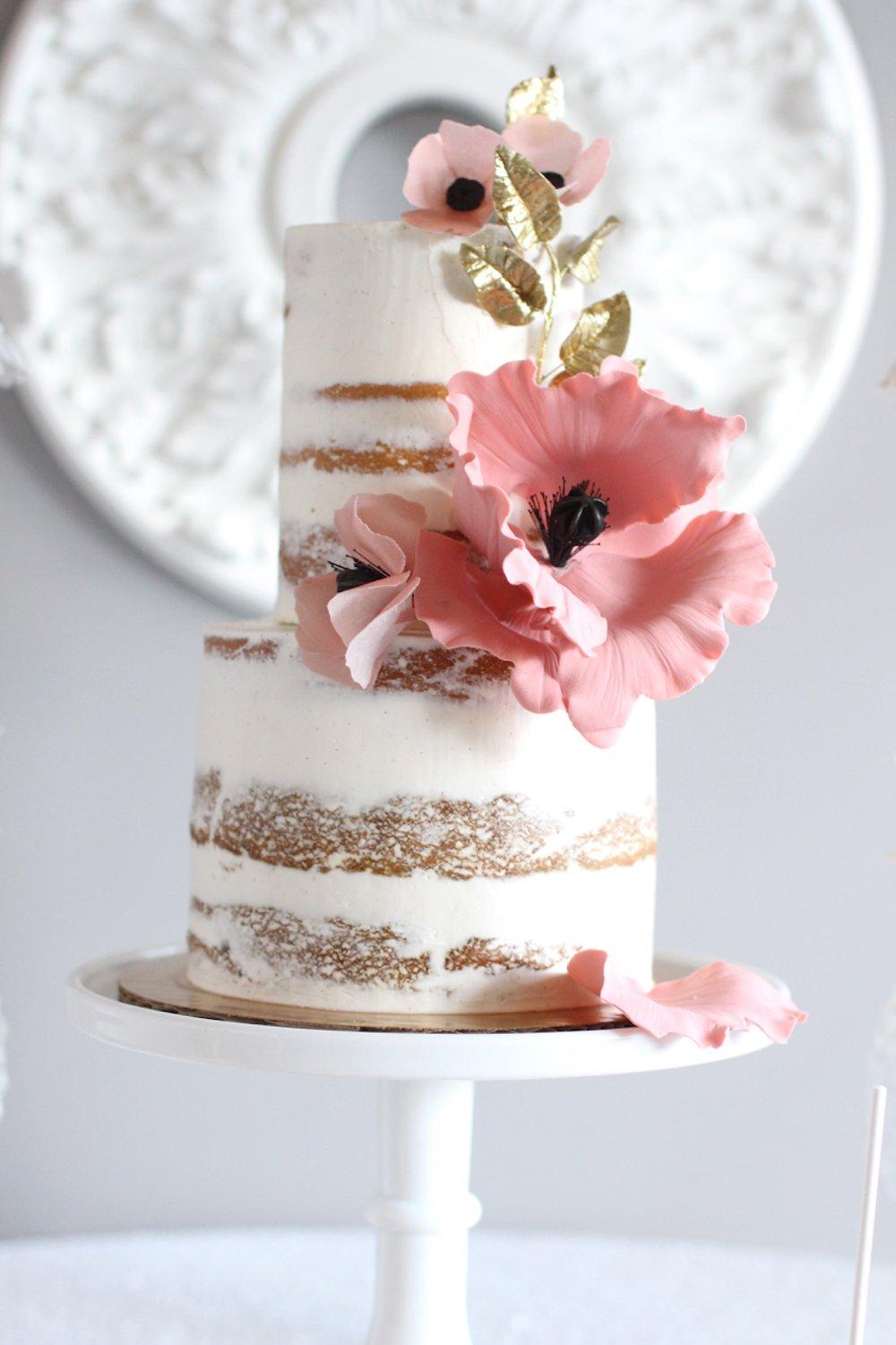 Fen favours throwing a few oversized single colour flowerheads at a plain wedding cake to watch it come to life.
"A single captivating colour, whether bold or pastel, looks stunning against a plain white cake background. Placing a large bloom on top of the cake and leaving it at that is also especially modern," she explains.
Arrange different sizes on different tiers and add spray painted metallic leaves for extra interest. Just heed Fen's advice on sourcing your statement flower:
"When using flowers it is very important to make sure they are non-toxic and that they haven't been sprayed with lots of pesticides. There are some fantastic British farms to consider that grow flowers specifically for cakes and desserts."
13. Embellished Semi-Naked Cake with Lavender Sprigs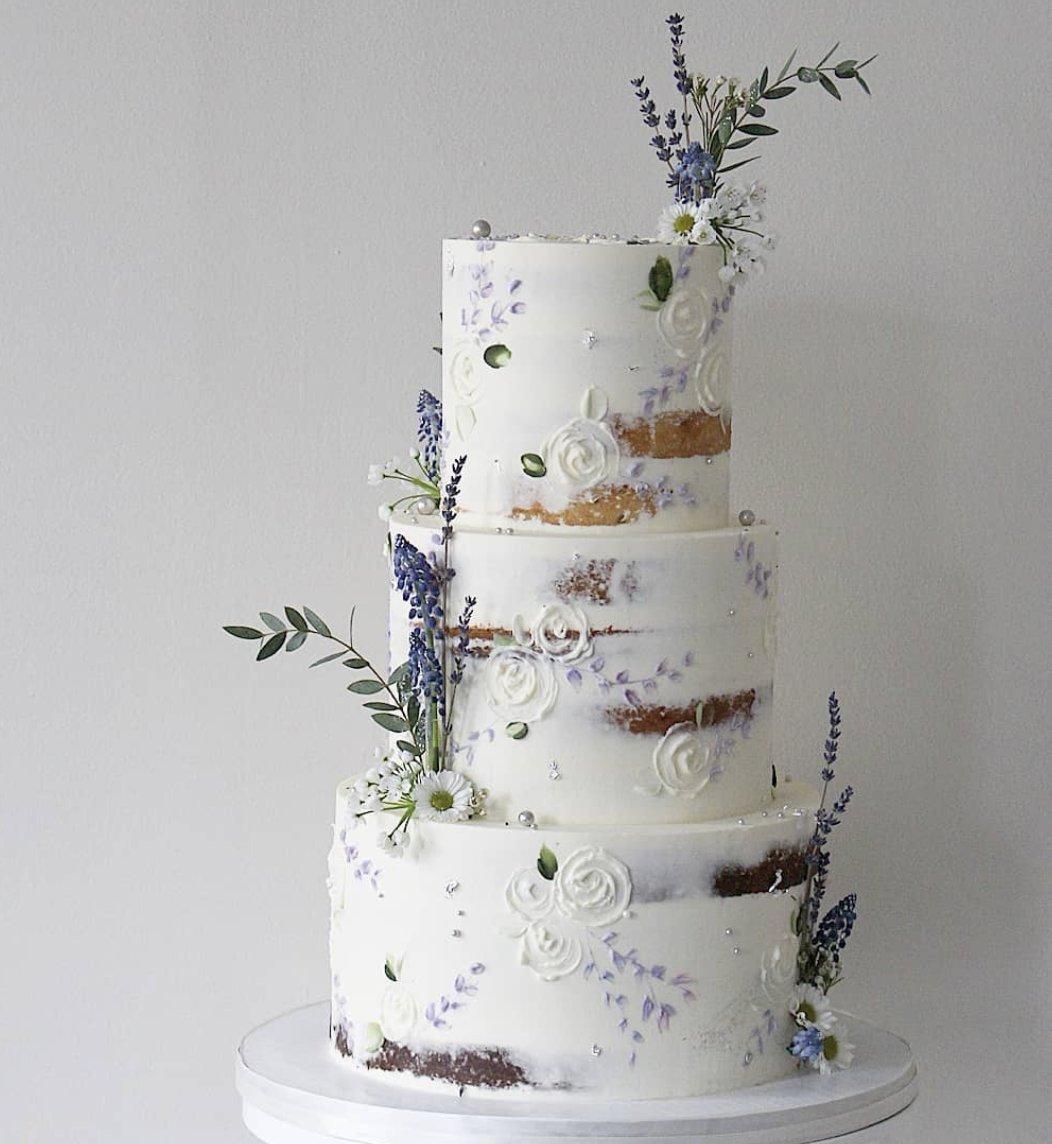 This semi-naked cake with lavender detail and cuttings will complement a purple colour scheme and could inspire your cake flavour. It could even give you ideas for a honeymoon - rolling fields of French lavender sounds heavenly!
14. Succulent Semi-Naked Cake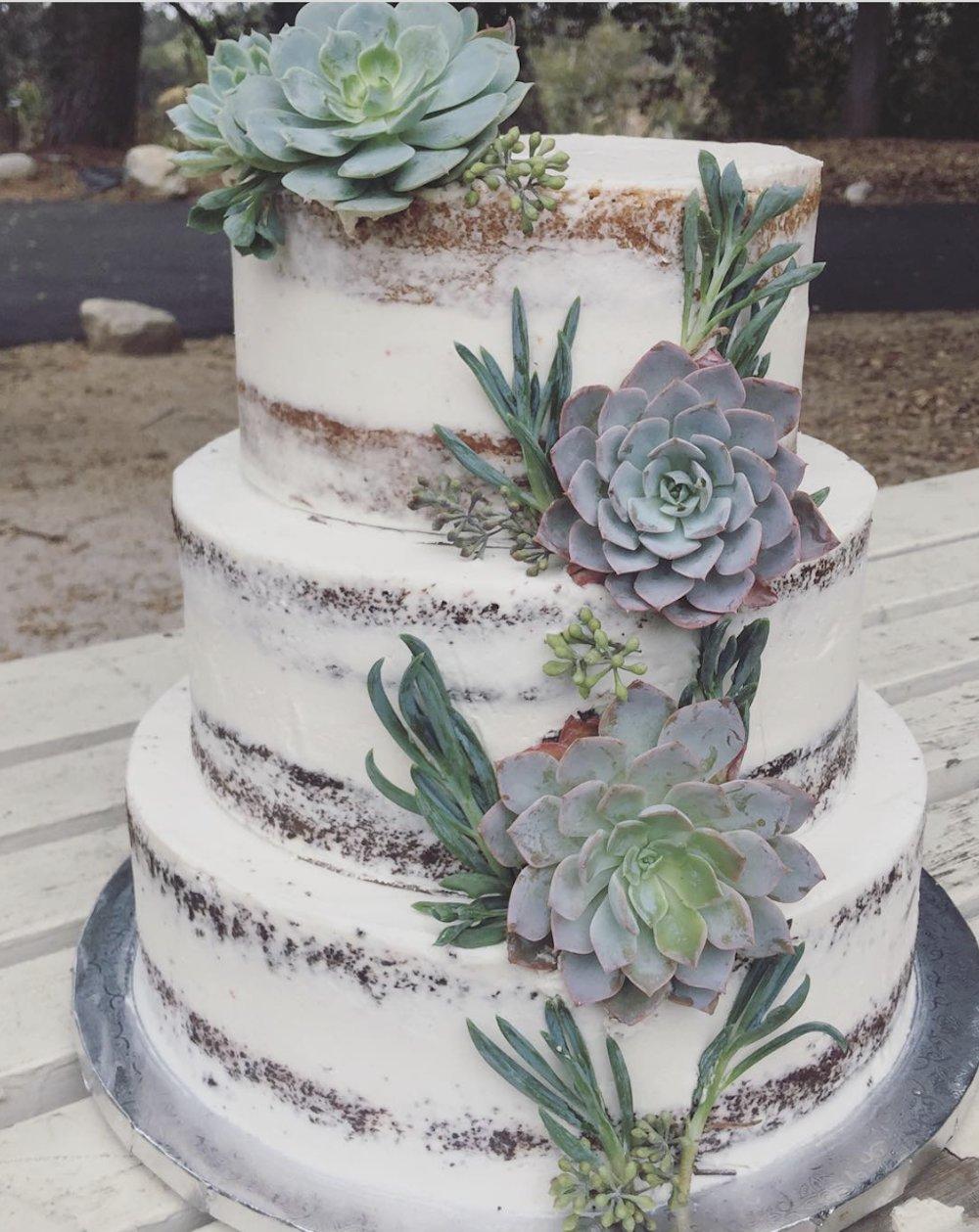 Arranging different sized succulents on a plain or semi-naked sponge couldn't be simpler. Less is more in terms of distribution, according to Fen:
"Simplicity is key. Be strategic about placing flowers, fruits or other large elements. Single flowers, plant cuttings or a small collection of nuts make for a clean, modern look."
Seasonal Wedding Cakes
15. Pine Cone Wedding Cake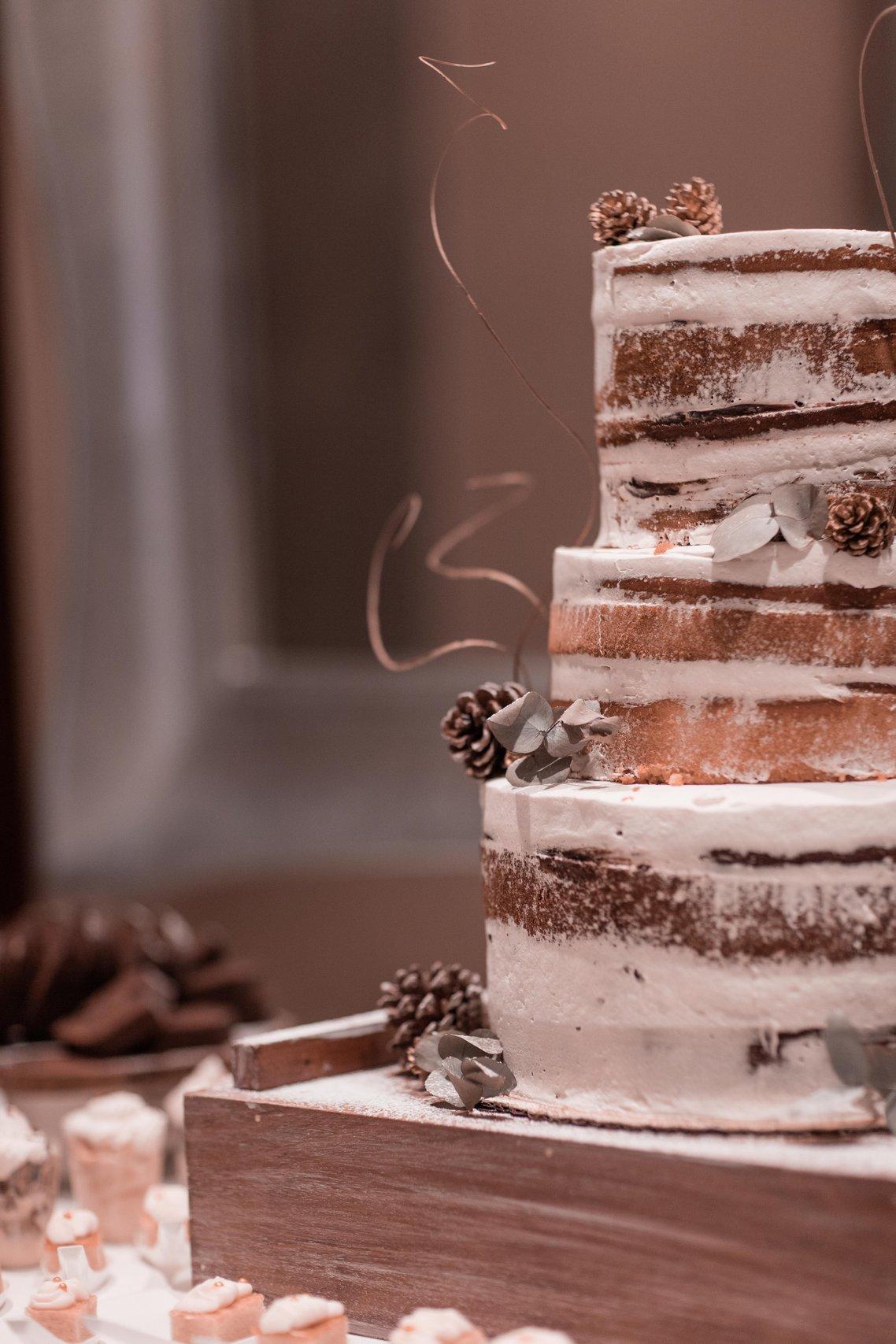 A simple idea for a winter wedding cake that takes its cue from nature rather than seasonal glitz or tinsel. Dotting pine cones over a solid or semi-naked white base also creates the impression of a snowy winter scene, whether you end up with a white wedding or not.
READ MORE: Winter Wedding Flowers: 23 Beautiful Winter Wedding Bouquets
16. Gypsophila Wedding Cake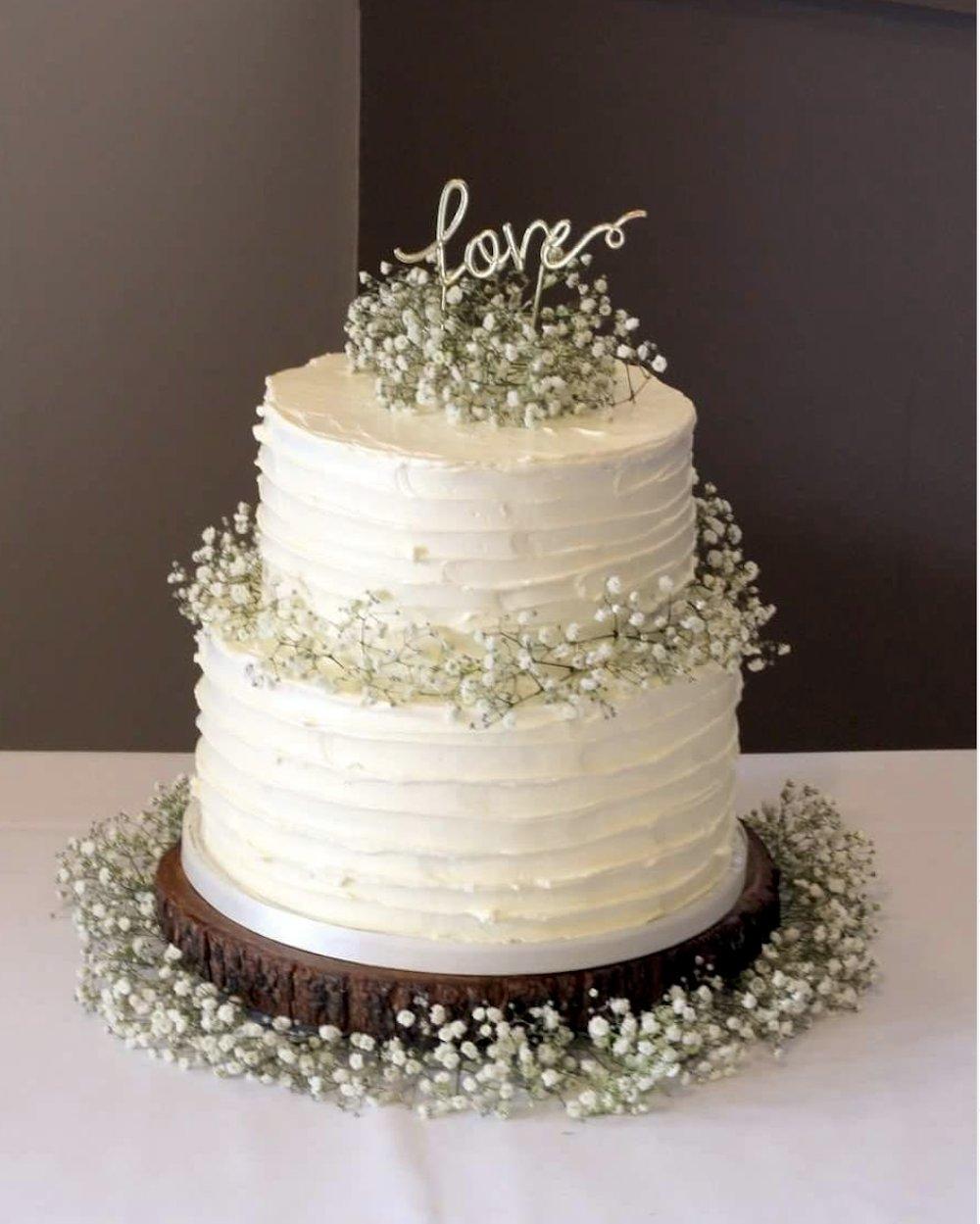 Delicate baby's breath wound around the tiers of a textured white wedding cake adds volume and looks ethereal (it's also blissfully inexpensive). This wedding cake would work especially well if gypsophila features in your bouquet, venue dressing or in your hair. It's the perfect delicate spring wedding cake look.
17. Blush Pink Semi-Naked Cake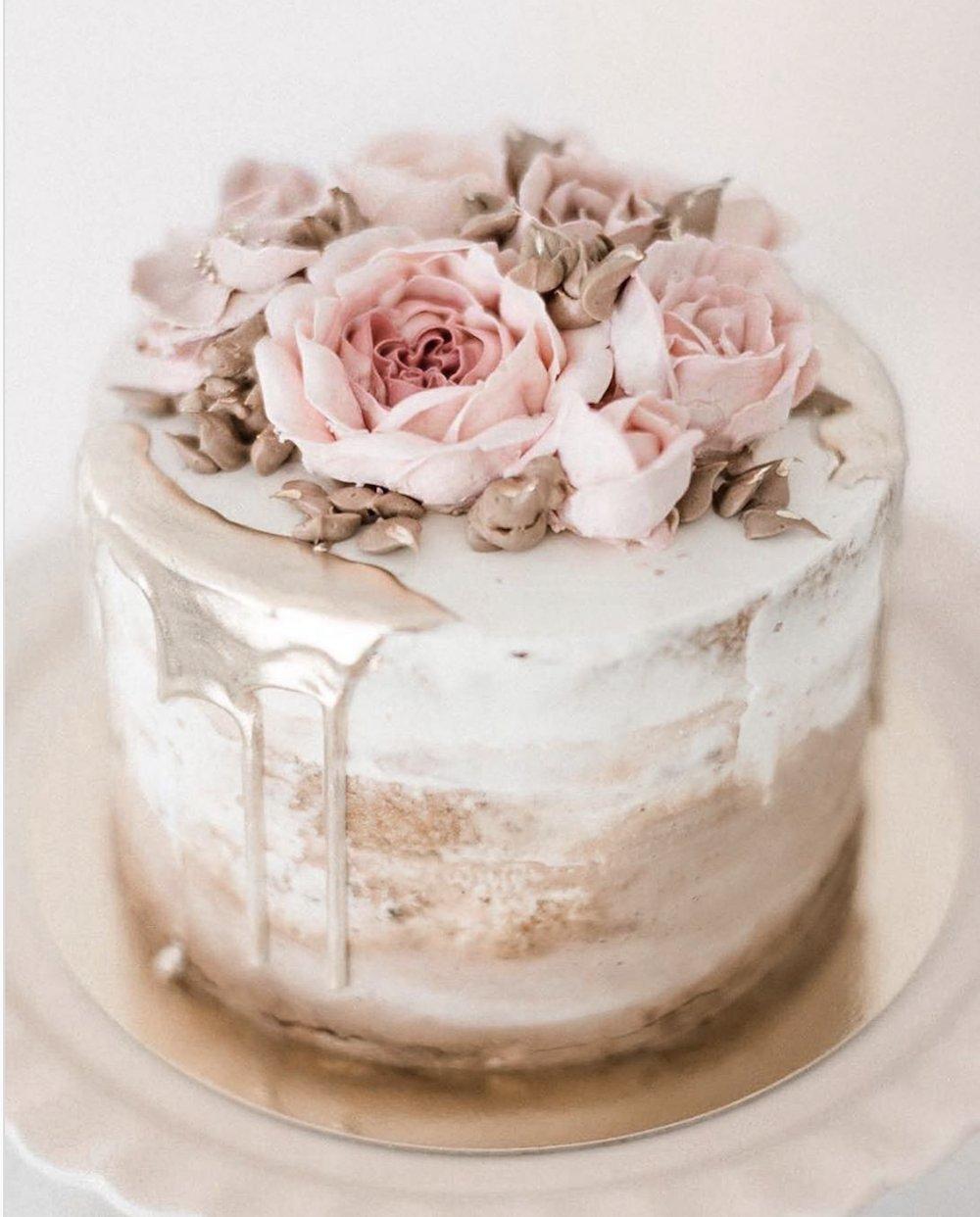 Top a dusty pink palette with metallic drip icing and a plain sponge cake becomes a thing of beauty. The contemporary ombre effect and blush roses make this a great idea for an elegant summer wedding.
18. Autumn Leaf Wedding Cake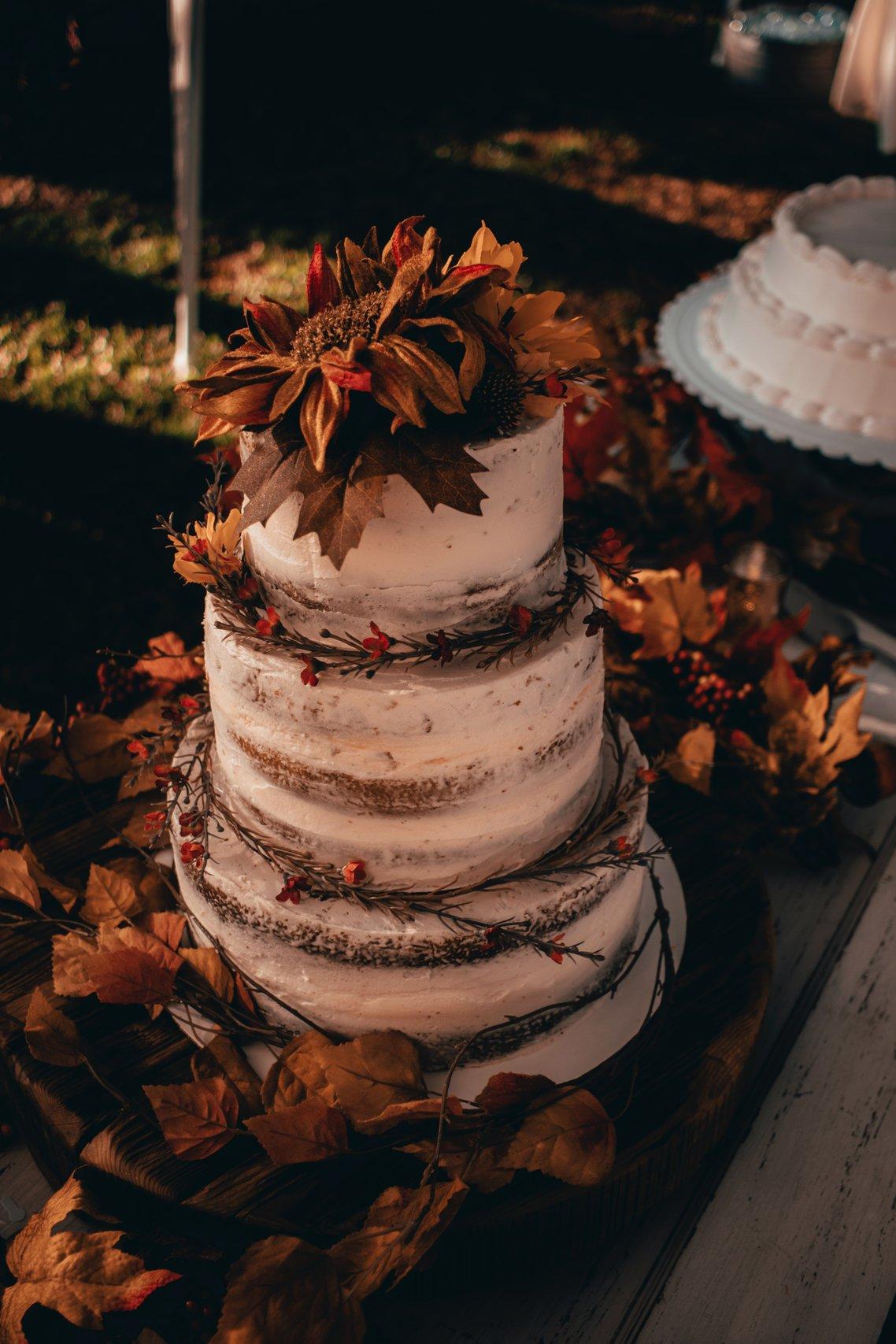 A warm combination of russet and ochre foliage and flowers lends a rustic feel to a semi-naked sponge. Wind maple leaves around the base for an even more organic, autumnal feel.
READ MORE: 55 Gorgeous Autumn Wedding Ideas
Fruit Topped Wedding Cakes
19. Lemon and Lavender Semi-Naked Cake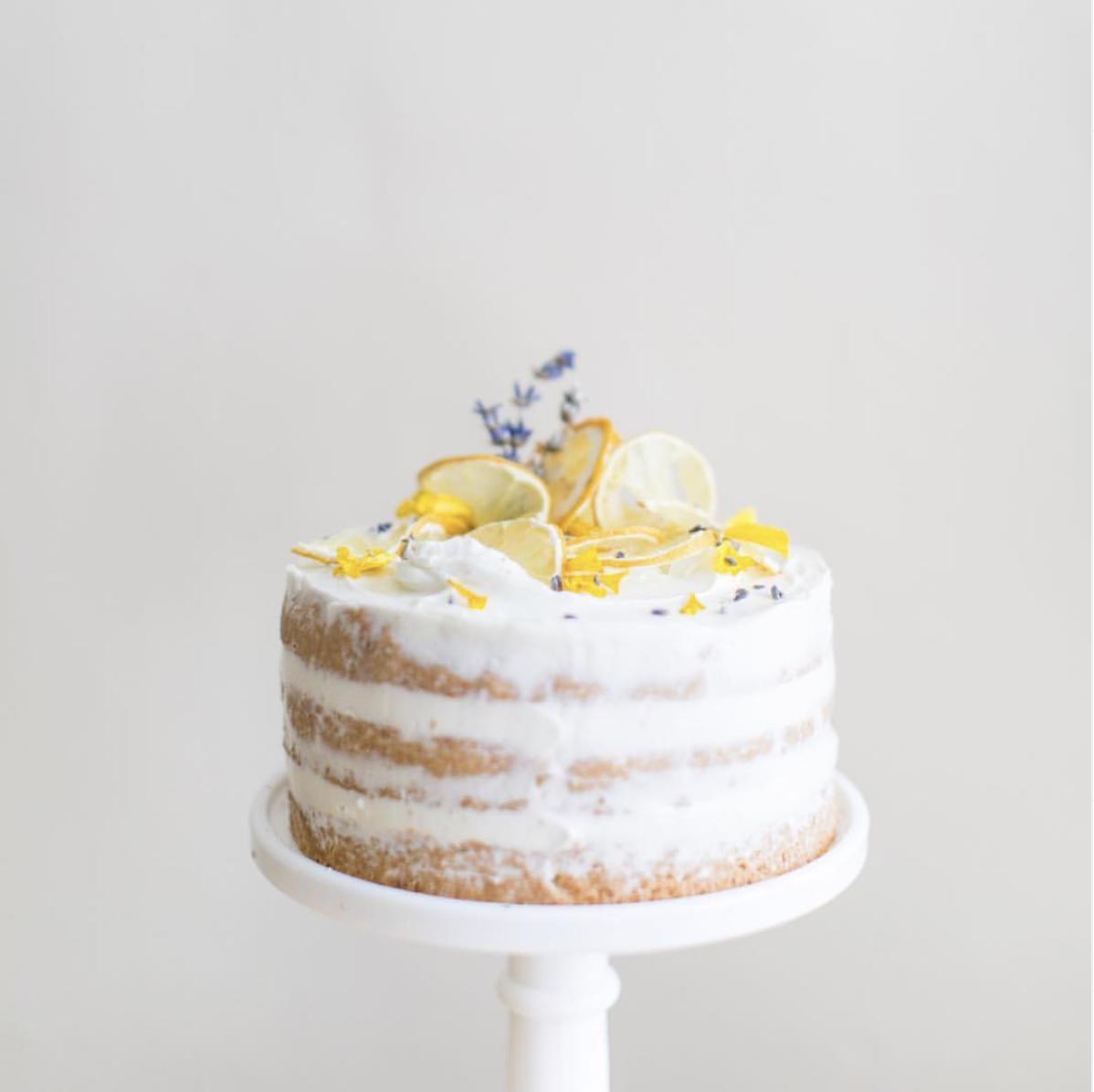 Cake decoration doesn't get fresher (or easier) than some artfully curved lemon slices atop a plain or white sponge. Add yellow petals and a few sprigs of lavender or local cornflower for the perfect summer wedding cake finish.
20. Dried Citrus Semi-Naked Cake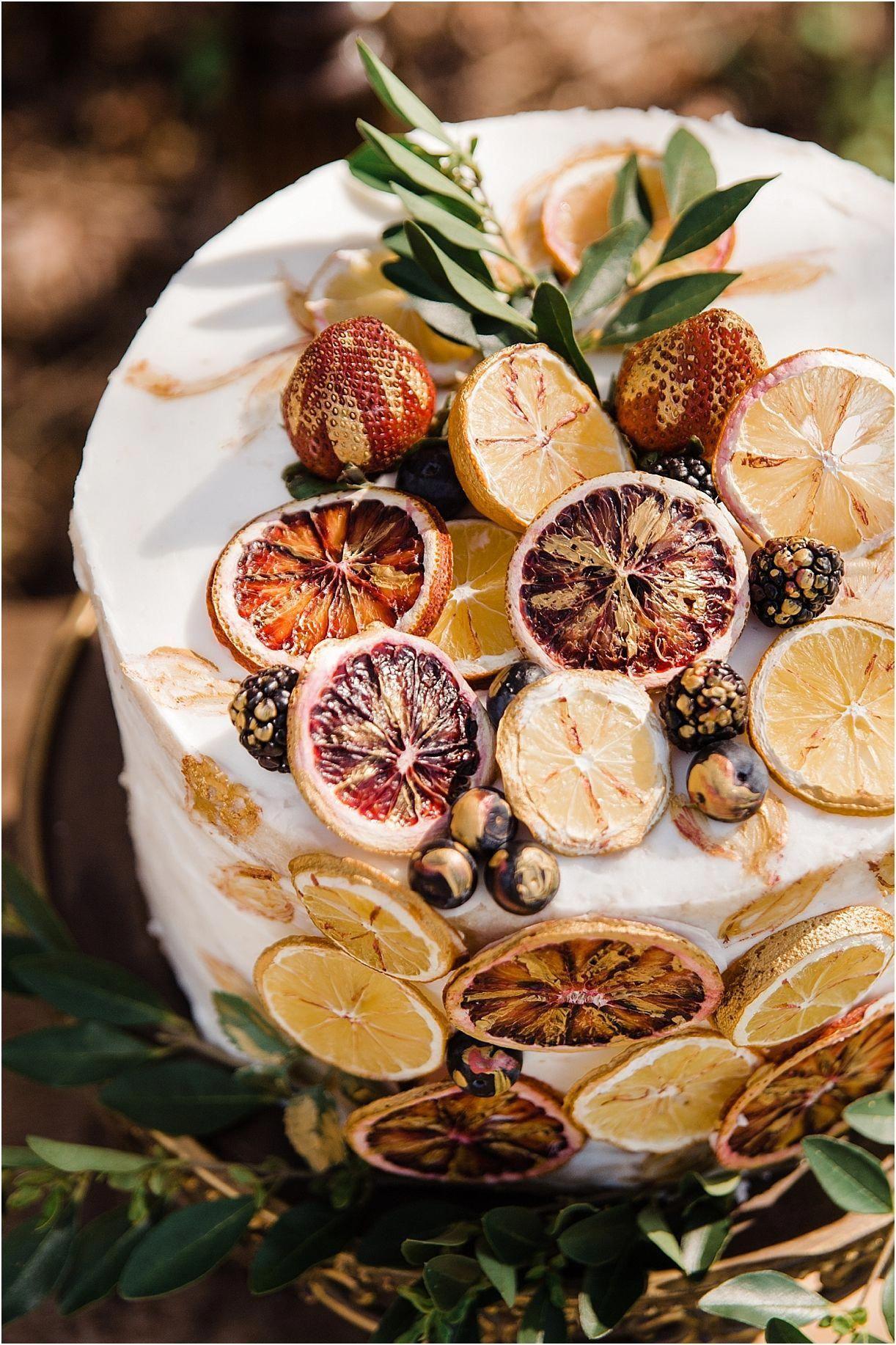 Any kind of citrus looks good juxtaposed with fresh green herbs or foliage. Try blood orange, grapefruit, lime or the classic orange for a twist - these dried citrus slices are topped with a little edible gold paint for a dramatic look.
21. Blackberry Semi-Naked Cake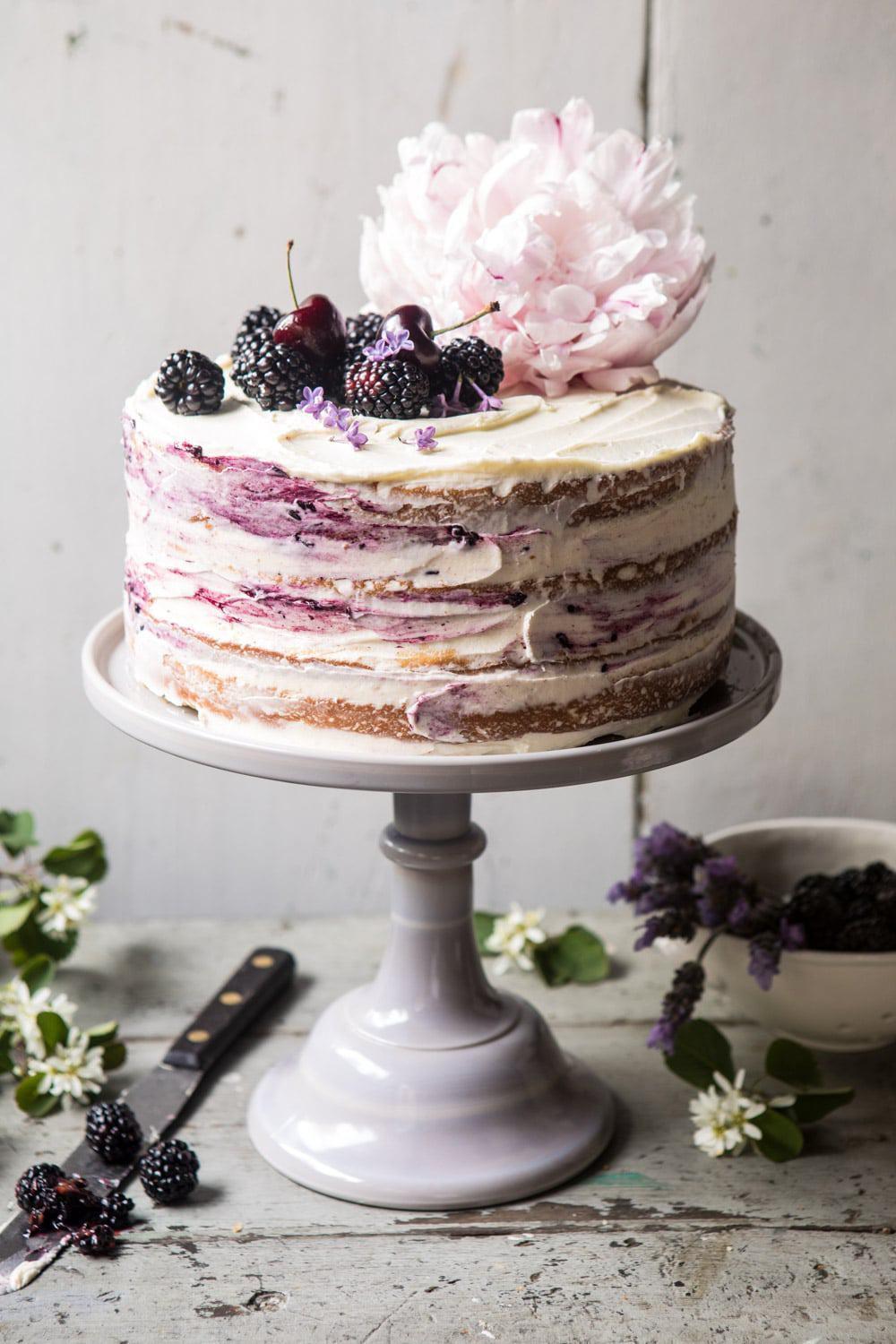 Ideal if you've got a wedding taking place in the late summer blackberry season, this cake topper could provide inspiration for your wedding breakfast dessert too. Incorporating blackberry tones in roughly applied white icing also has an artistic effect but requires very little skill or time on your part.
22. Coconut Sponge Cake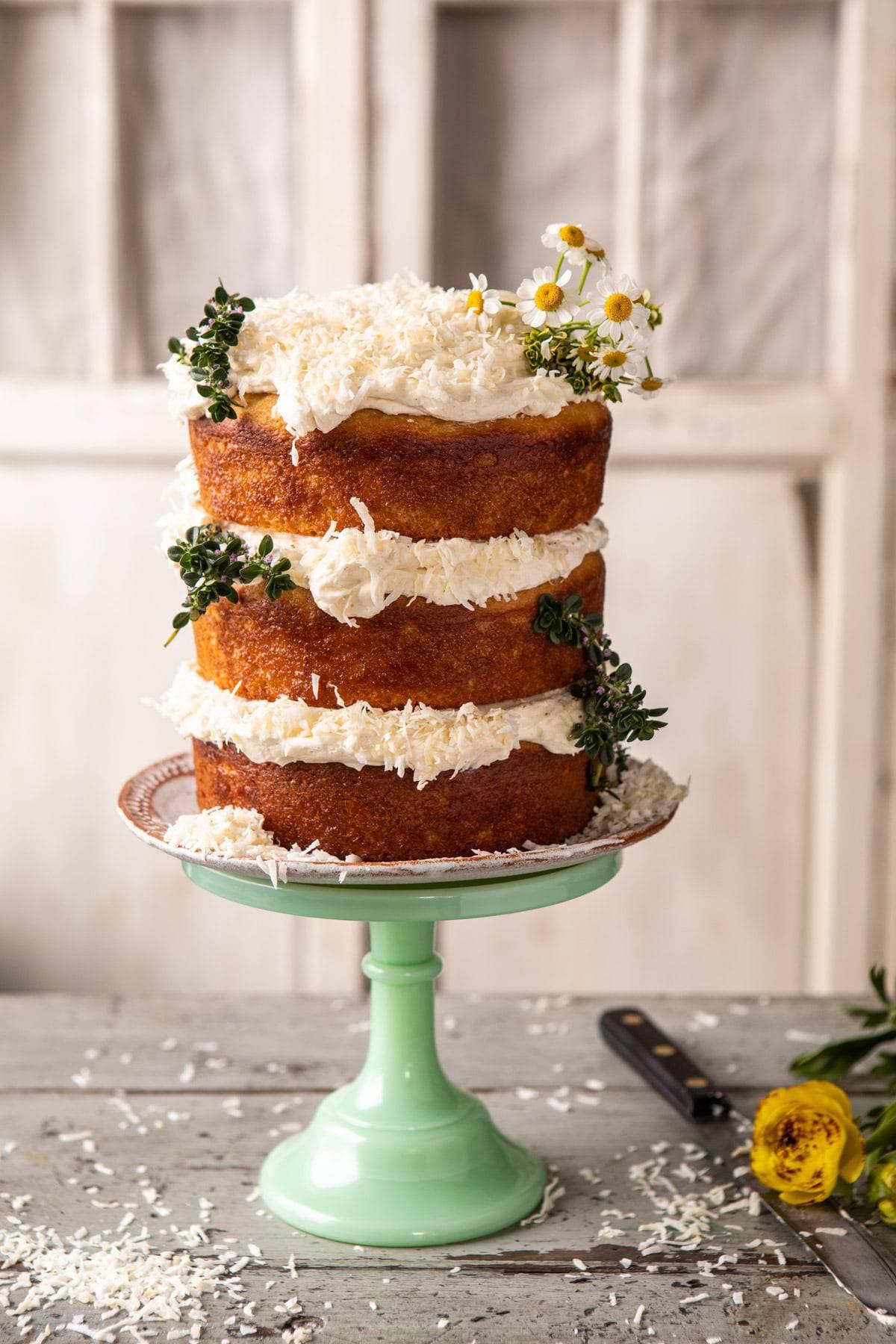 This cute three layered plain cake has an edge on your average Victoria sponge thanks to acres of white icing dotted with dried coconut curls for texture and crunch. A scattering of leaves and daisies makes it all the more bucolic. If you've got a field or festival wedding on the cards, this low-key cake would fit right in.
23. Festive Frosted Cherry Cake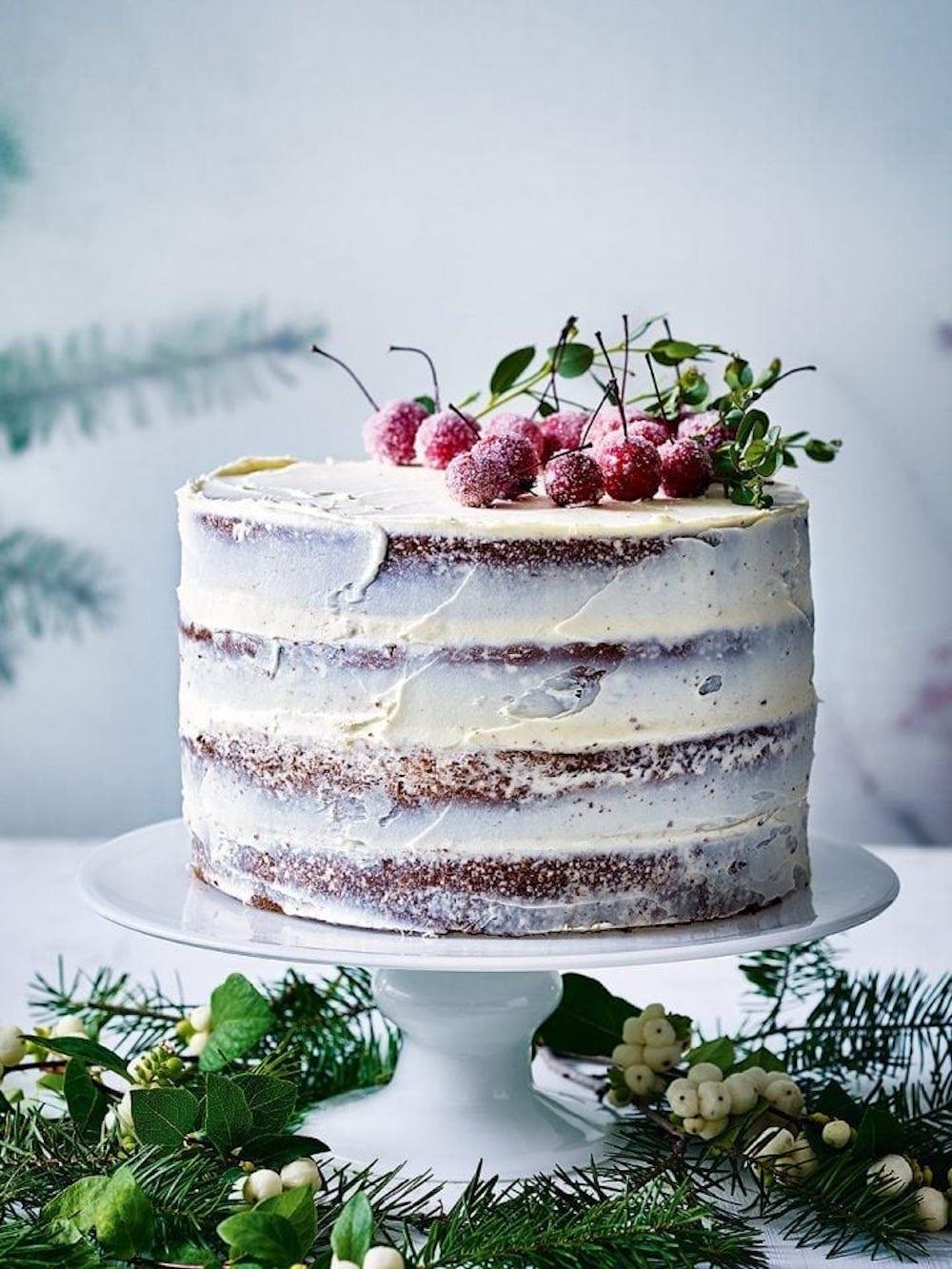 Same idea, different season. Candied cherries look as though they're covered in frost gathered on a snowy hued semi-naked cake. Add extra tiers, gold leaf or mistletoe to make it fancy.
24. Physalis Wedding Cake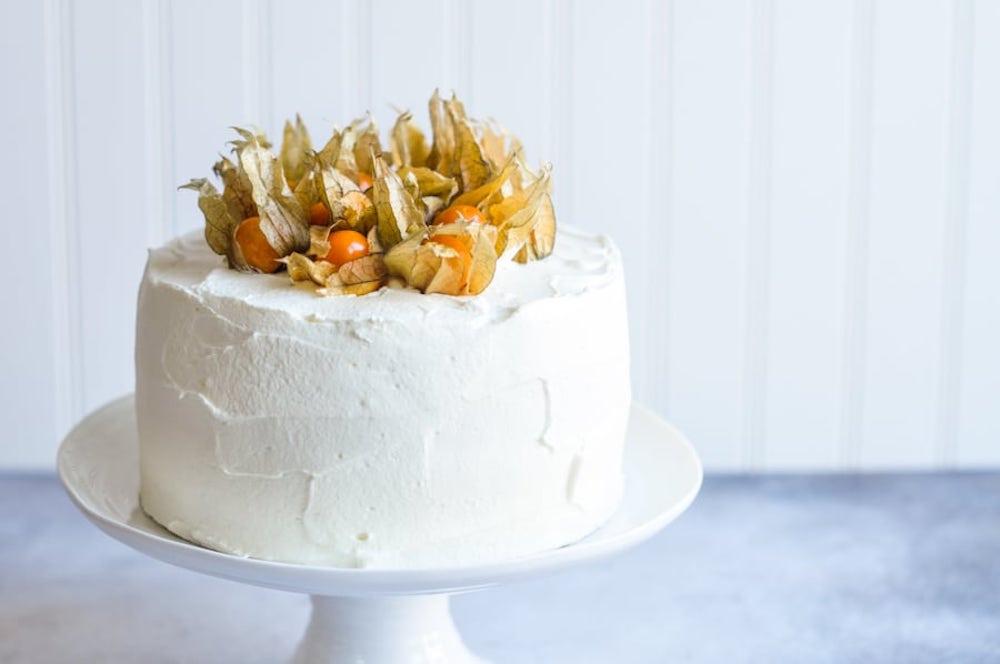 Where decorating a cake with fruit is concerned, the brighter the better. A bundle of physalis against white icing looks instantly stylish, especially if you're tapping into the spring 2021 wedding palette trend of yellow and ochre.
25. Fig and Pistachio Semi-Naked Cake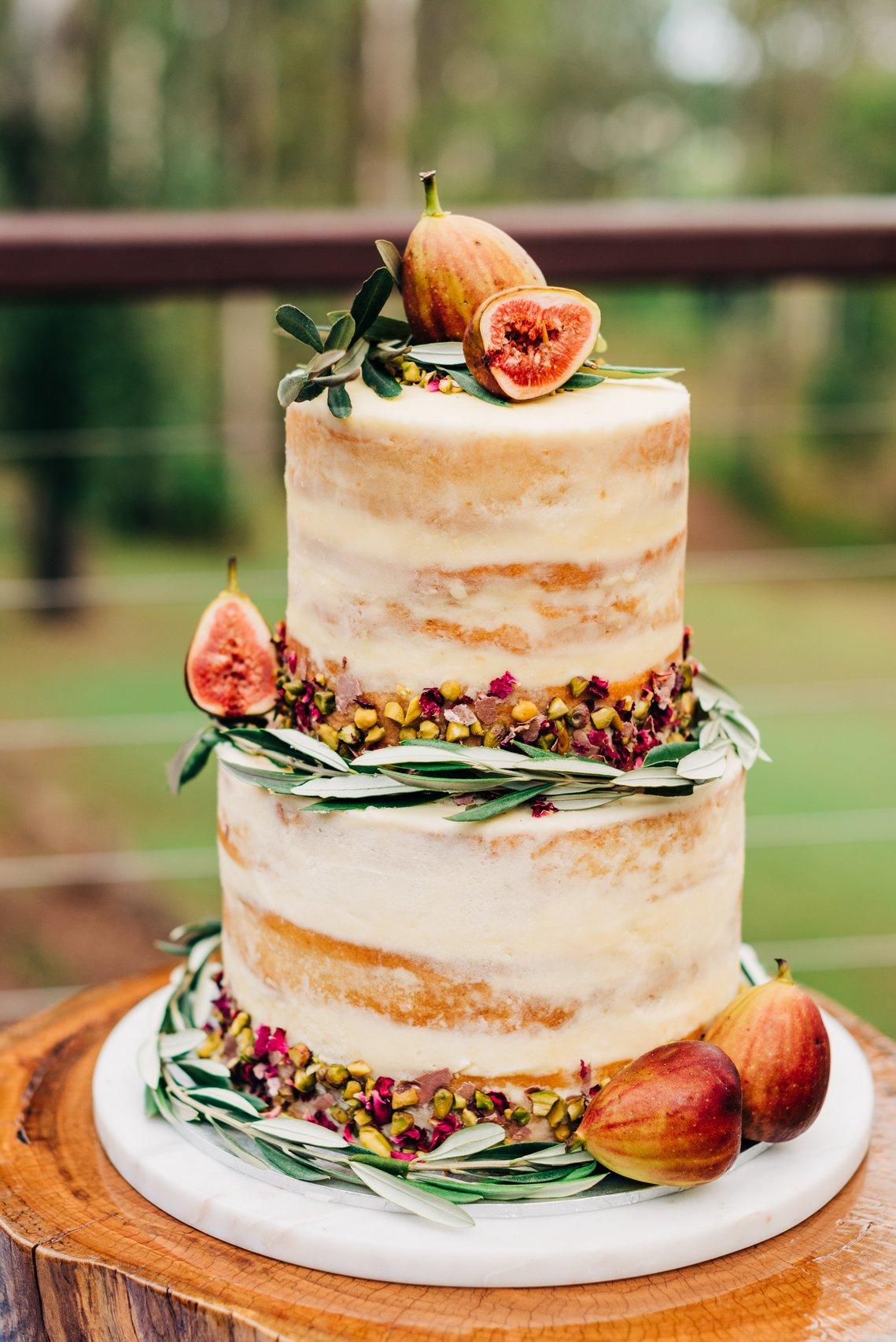 Figs convey a sense of grandeur in themselves. Pile them high, cut them in half or add them as a natural sculptural cake topper. A layer of pistachios and rose petals at the base of each sponge adds vibrancy.
26. Berry Wedding Cake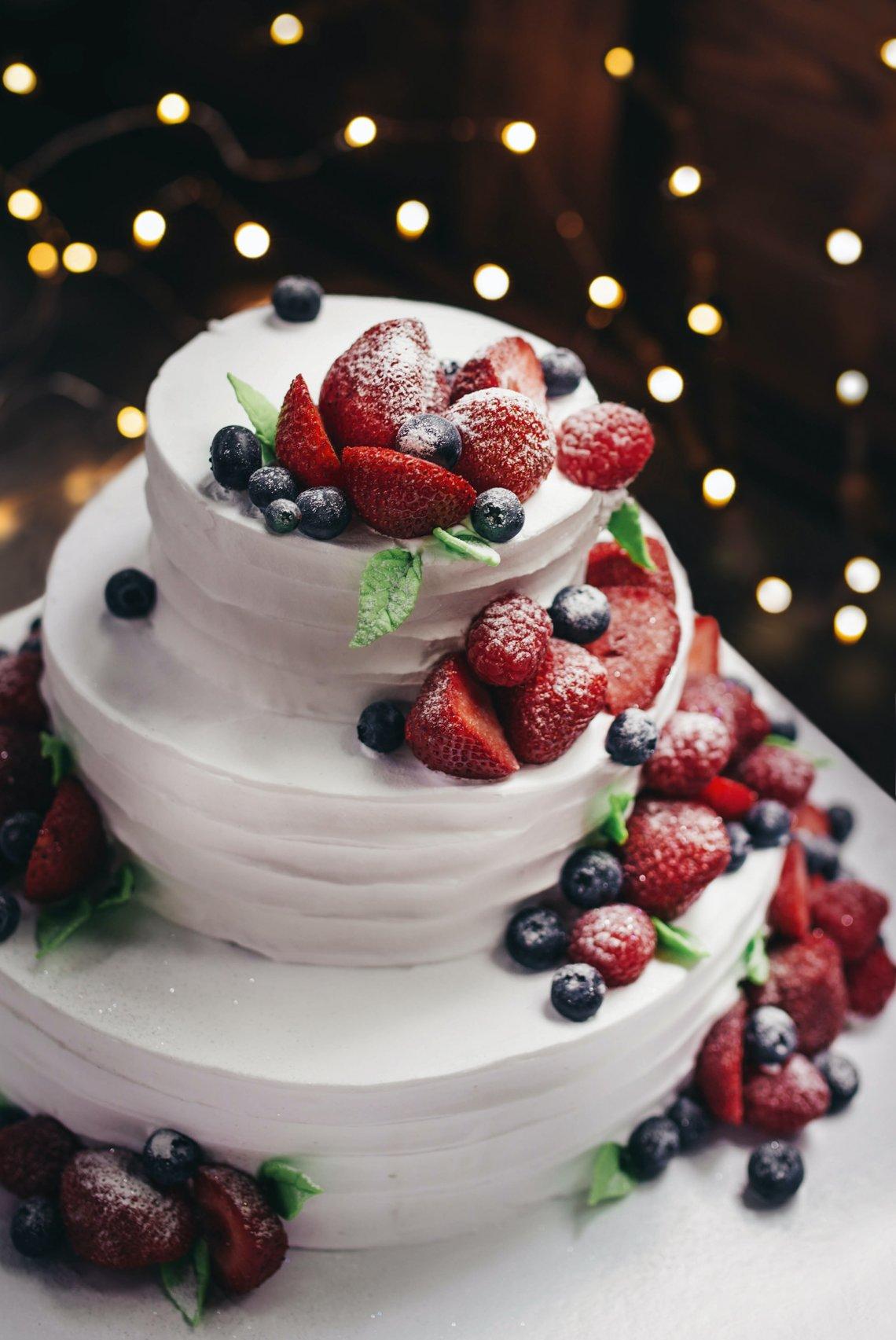 A berry medley on a classic white wedding cake will never date. Grab a few punnets of berries, some mint leaves and a shaker of icing sugar and you're good to go.
Colourful Wedding Cakes
27. Confetti Wedding Cake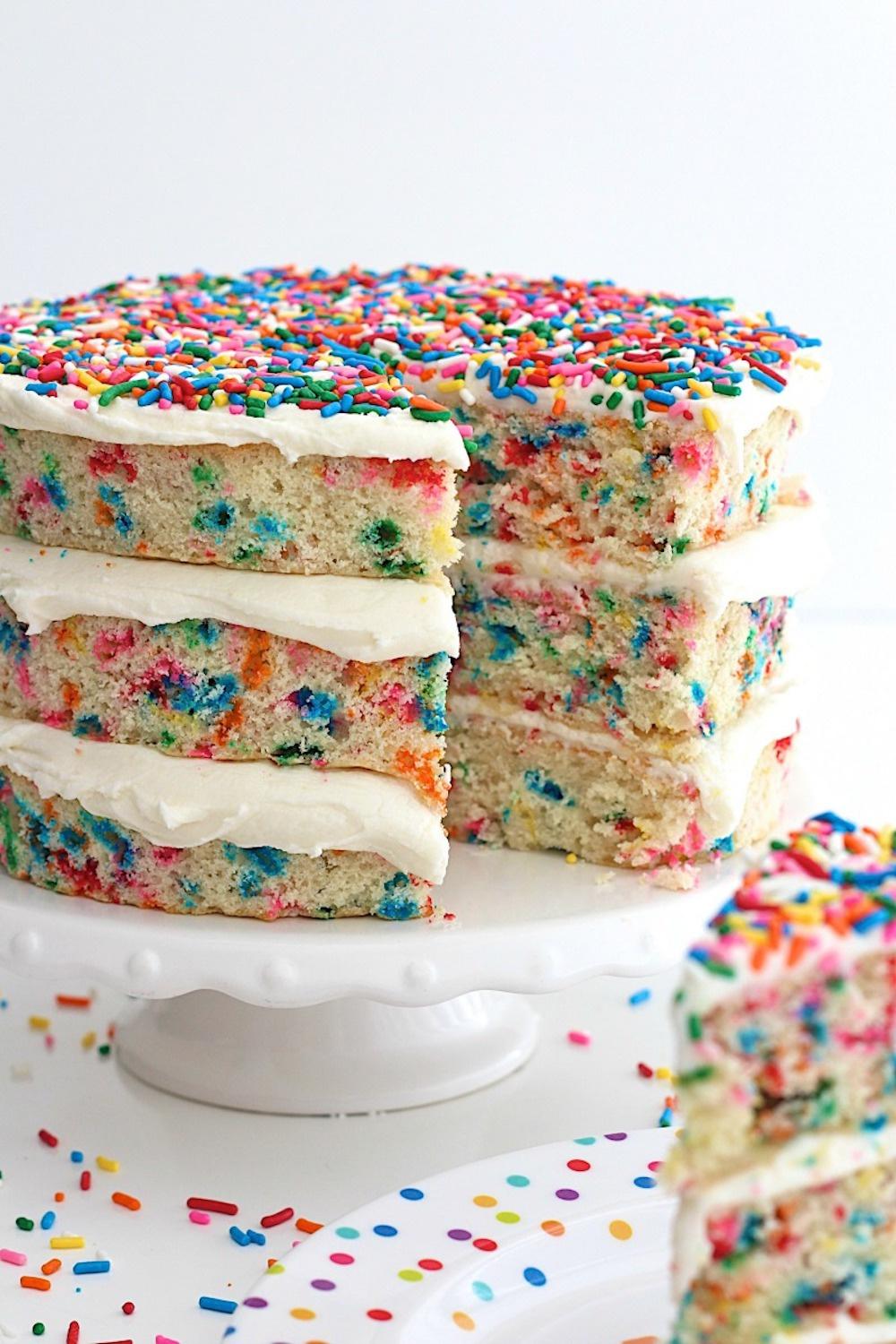 Got a rainbow theme going on? A confetti cake is just for you. Bake multicoloured sprinkles into a plain sponge then shower white icing with yet more hundreds and thousands. It'll get the party started all by itself.
28. Paint Palette Cake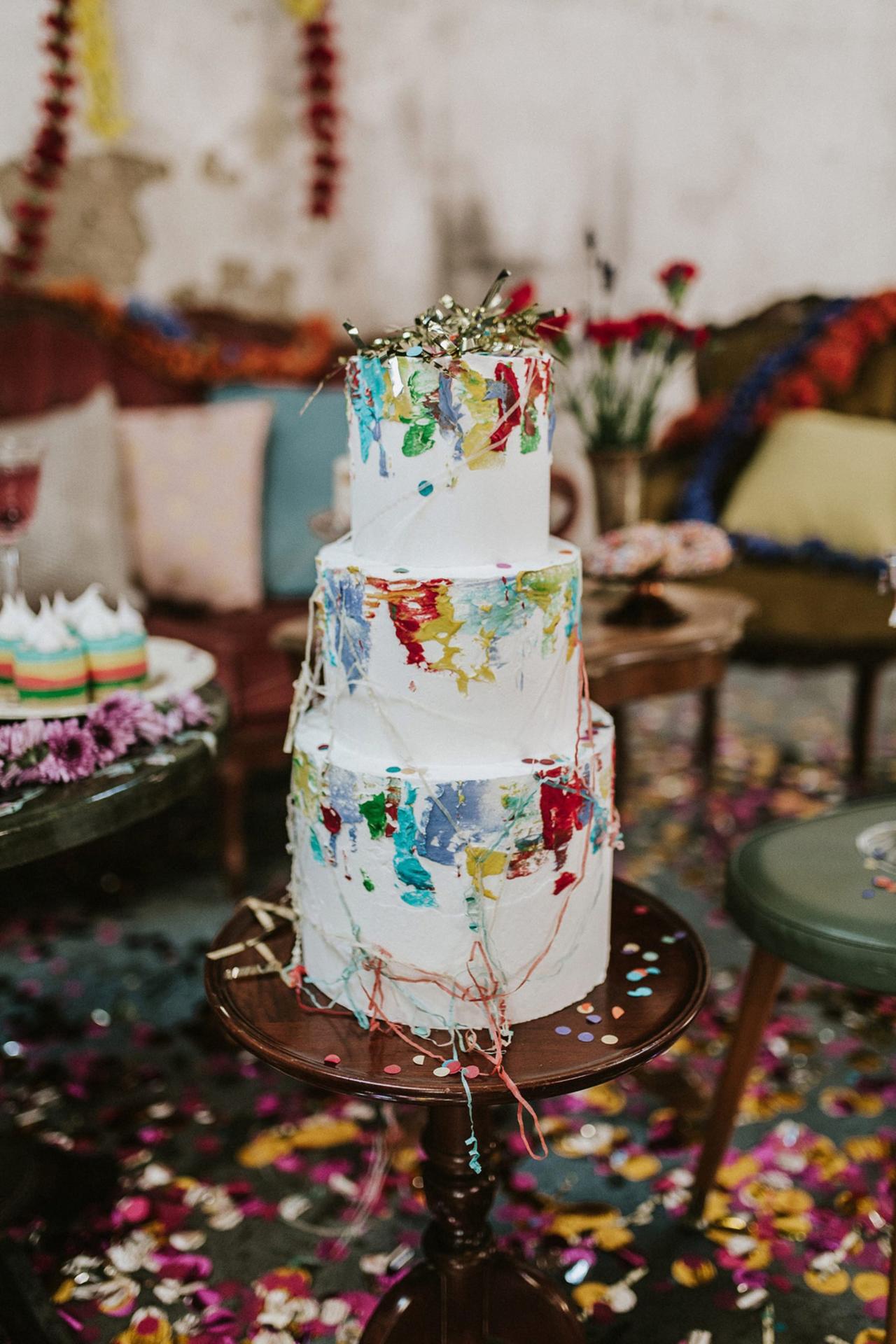 A colourful pattern daubed on white icing makes a low effort, high impact finish. It's a creative colour explosion that screams party.
29. Icing Swirl Sponge Cake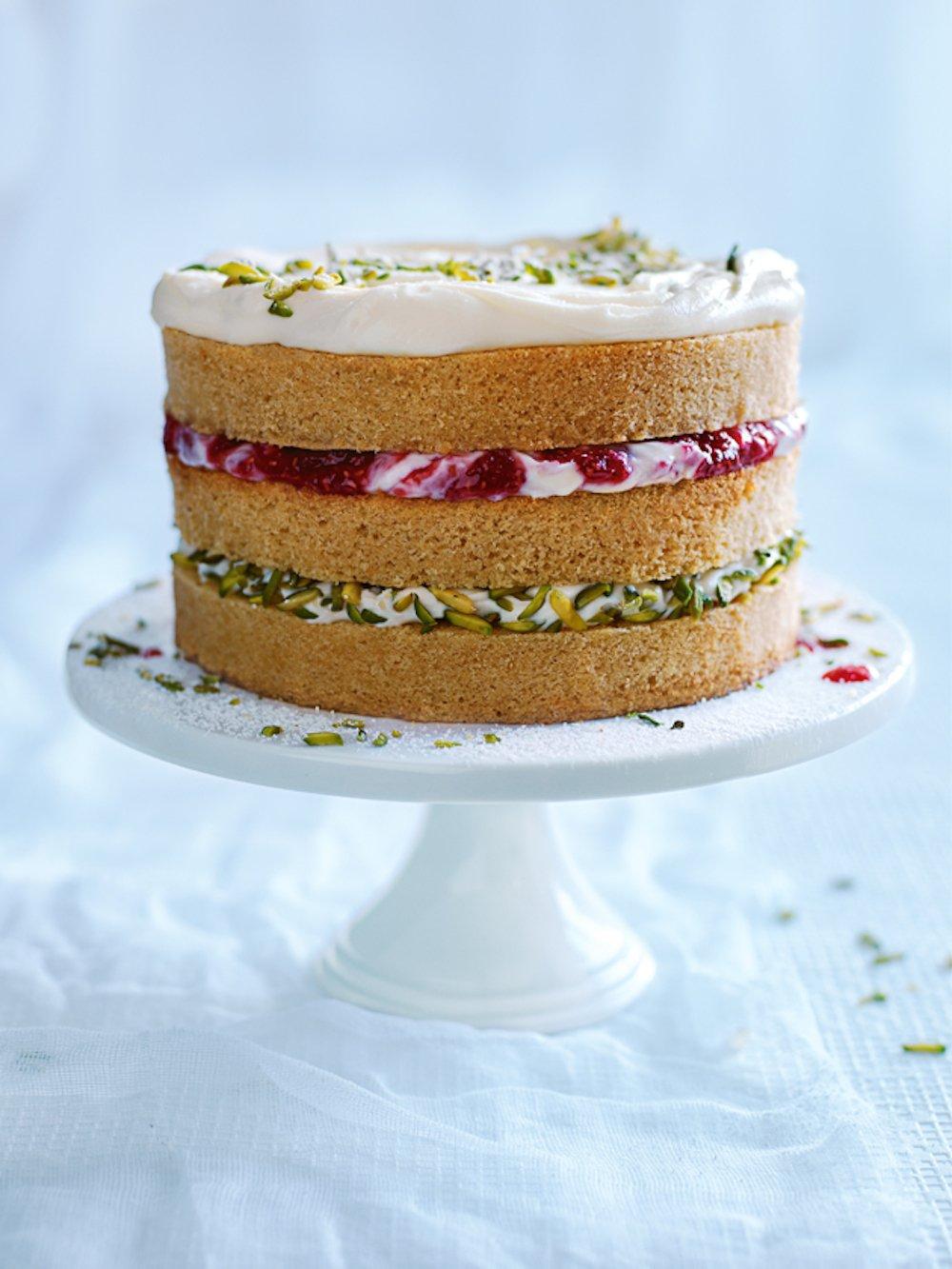 Vibrant, avant-garde icing needn't rely on food colouring - chopped pistachios and swirls of jam can do the job nicely. Contrast different effects layer by layer and add a cake topper as a final touch
30. Ribbon Wedding Cake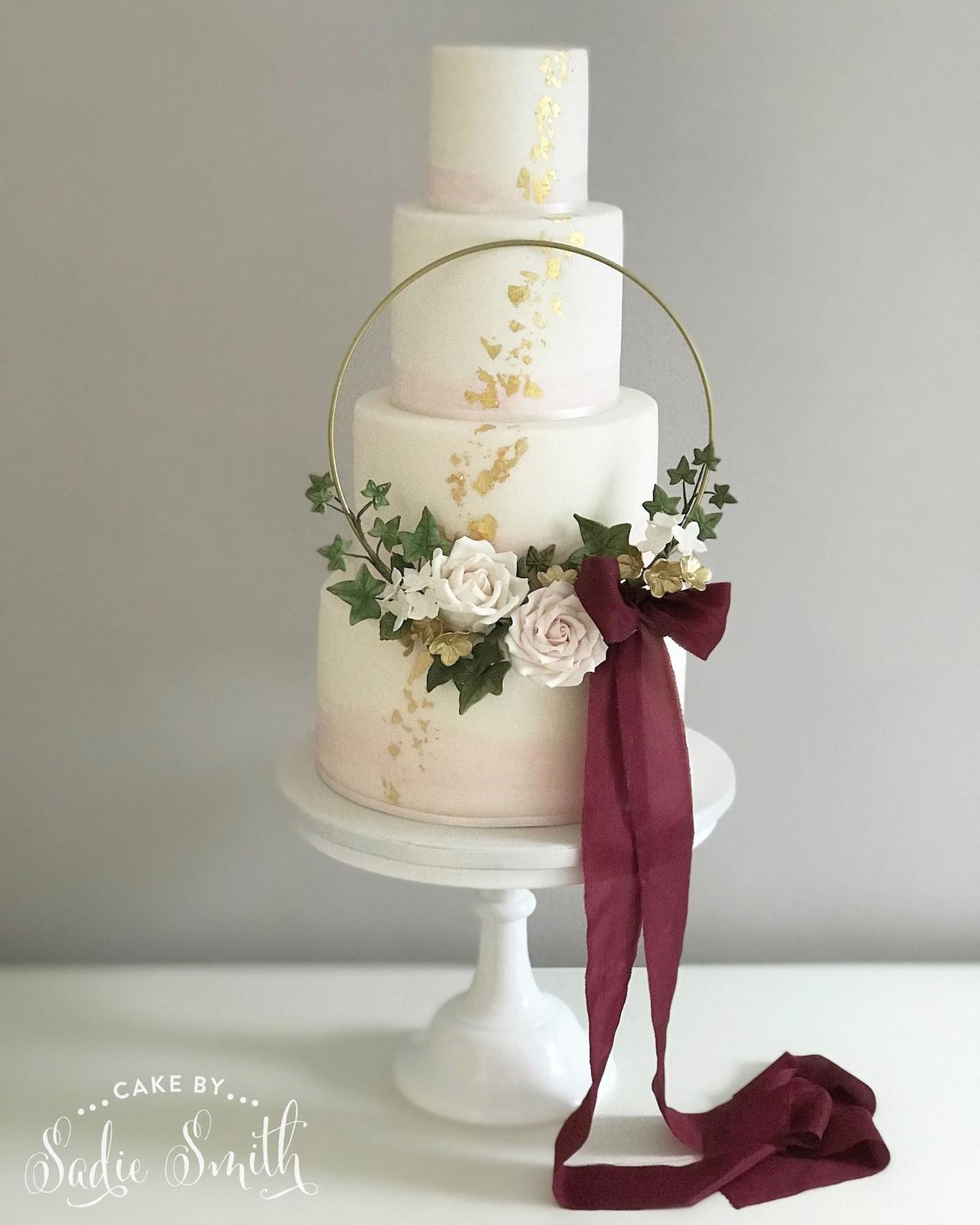 This is one of Fen's favourite plain cake decoration solutions:
"I absolutely love to use silk ribbon. Naturally dyed habotai or bamboo silk ribbons in particular add incredible elegance to a plain white cake.
"Tie the ribbon into a beautiful bow around the bottom of the cake for a romantic look, adding a fresh garden rose to the top of the cake to add even more softness and delicacy."
Depending on the hue you go for, delicate needn't be the default either. A forest green ribbon secured with a blingy brooch or a deep navy bow makes for an aesthetically powerful bake. Mix up fabrics or add symbolic trinkets to make it even more personal. Then cut, clap and tuck in.
Want your wedding cake to taste as awesome as it looks? Discover 55 unique wedding cake flavours your guests will never forget.