A guilty pleasure that most brides will have is pretty much everything that glitters and sparkles, including sparkly wedding cakes.
Having a wedding cake that is super glamorous is a perfect way to include even more glitter wedding ideas into your special day.
These beautiful creations look just as good as they taste and will definitely attract the magpie-brides!
Sparkly Wedding Cake with Blue Detail
Gold is a perfect (and popular) colour when it comes to glamorous wedding cakes but we love the way this cake maker has brought the beautiful dessert to life with a vibrant border of blue on the second tier.
The blue and gold work perfectly together and look even more gorgeous when adorned with the pretty flowers that are placed on the cake.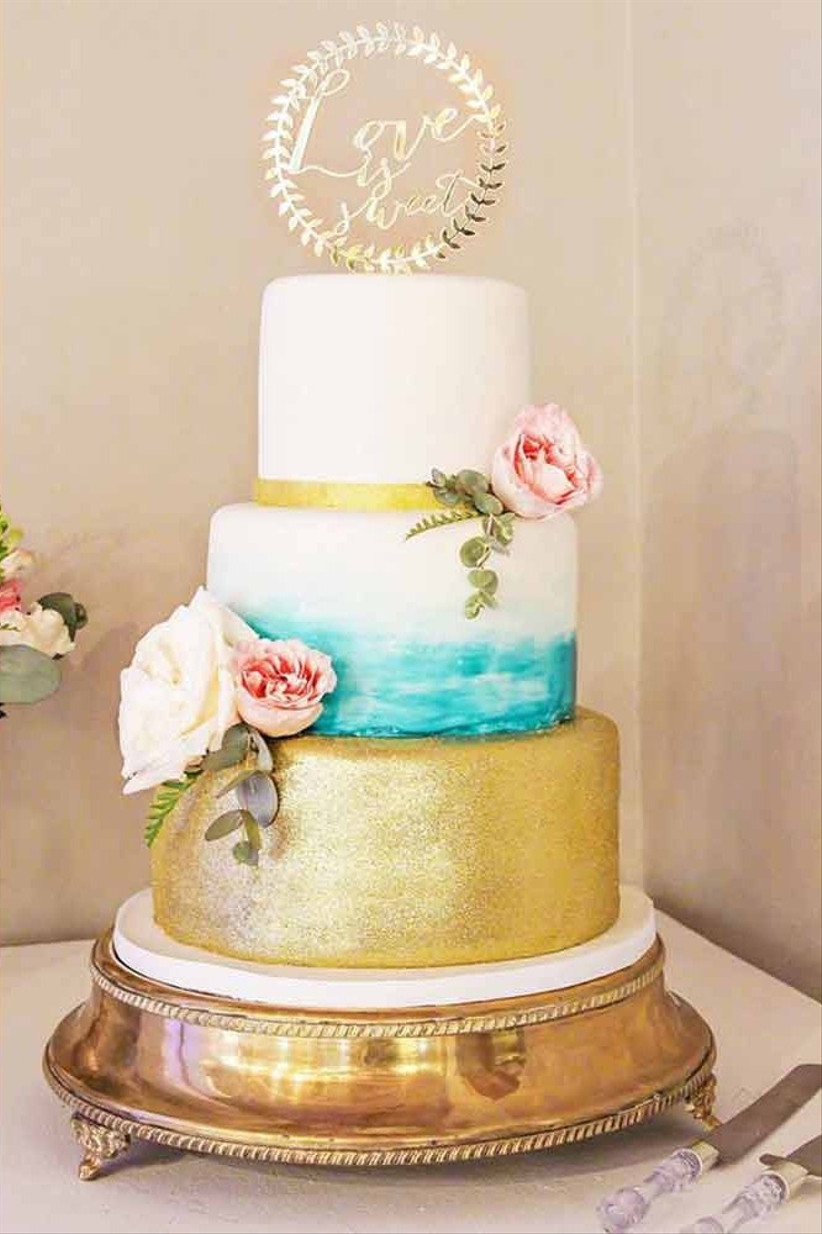 Wedding Cake: Edible Art Cakes
Sparkly Wedding Cake With gold Sequins
Edible sequins are a cake decoration which suits this style of cake so much.
The sparkle they add gives a gorgeous amount of glitz to the design that makes it ideal for a glamorous wedding. The pink shiny tier keeps the high standard going and who doesn't love a metallic wedding cake?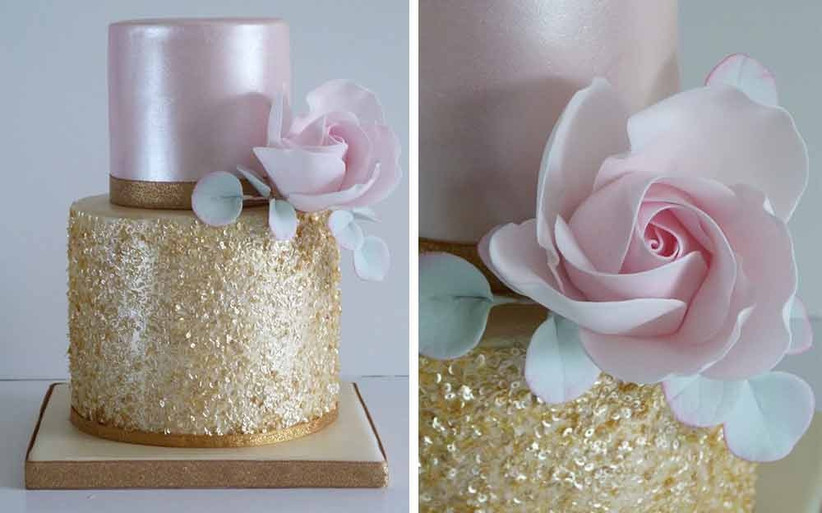 Wedding Cake: Fabulously Floral Cakes
Winter Themed Sparkly Wedding Cake
The frosty metallic colours in this beautiful wedding cake are perfect for a winter wedding.
The swirly white design shows real skill and we love the way the champagne, ivory and silver work together. The glitzy band in the middle really stands out and works incredibly well on this winter wedding cake.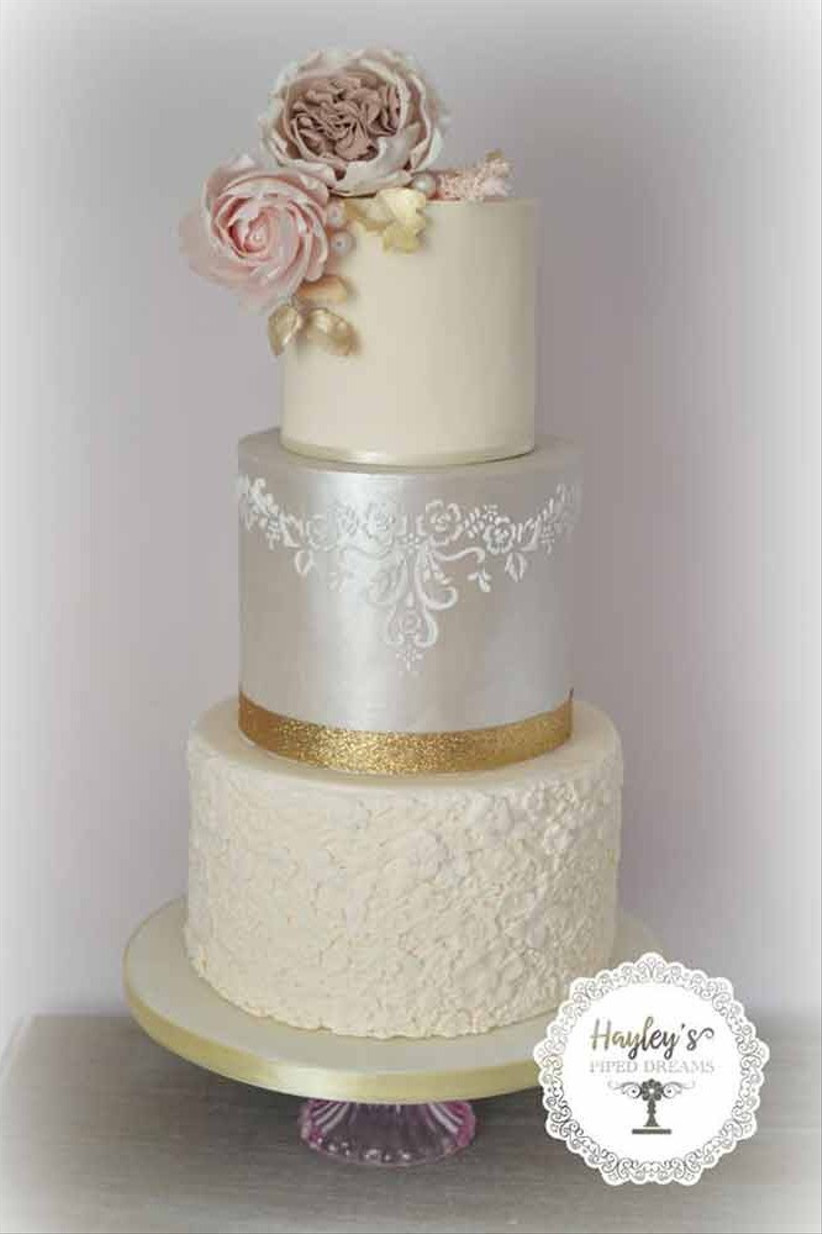 Wedding Cake: Hayley's Piped Dreams
Glamorous Sparkly Wedding Cake
We became totally obsessed with this exquisite wedding cake when we first set eyes on it.
The intricate gold sparkly artwork looks just stunning and the edible vintage necklaces and spoons help to create a unique wedding cake that's almost too perfect to eat.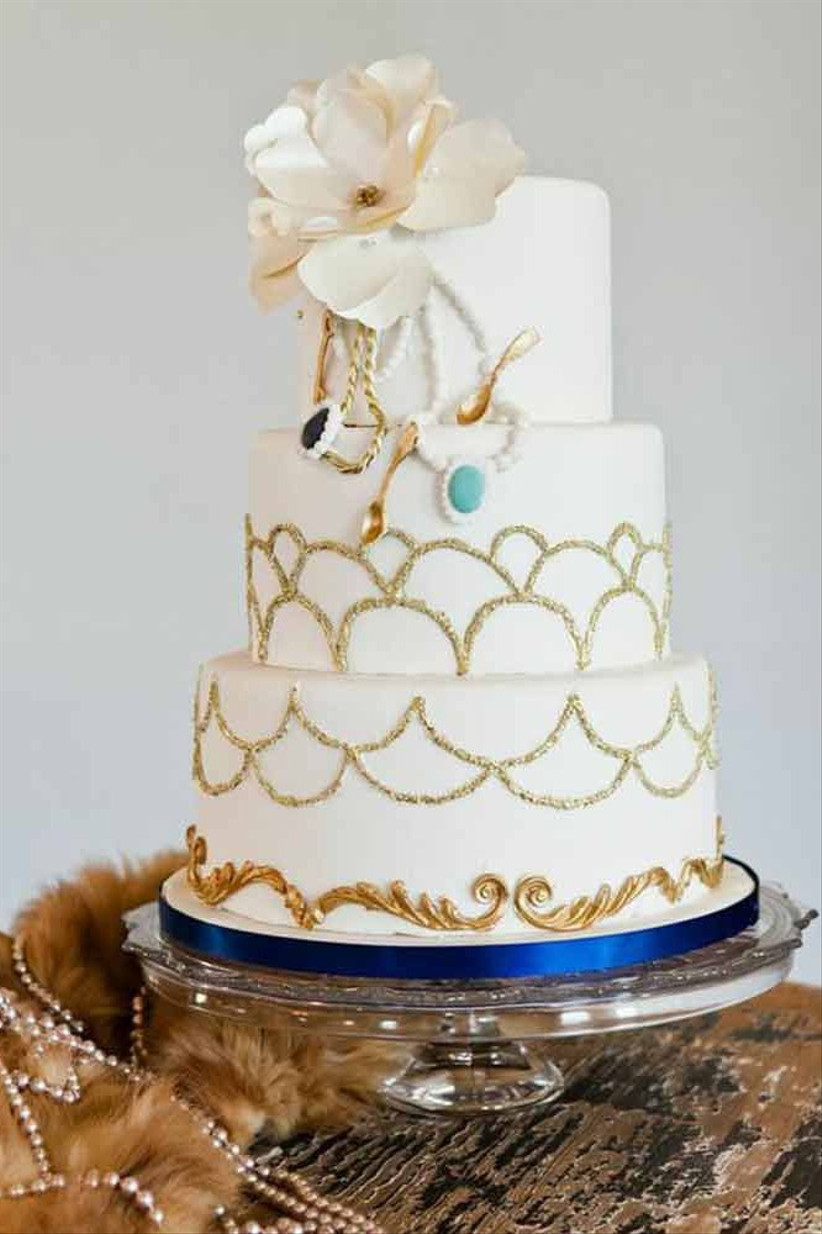 Wedding Cake: Edible Art Cakes
Sparkly Wedding Cake with Glittery Stripes
This wedding cake is a sleek and smart design. Its clean cut edges are modern and the stripes of different coloured glitter make it totally stand out.
The warm rose gold and copper tones are kept light with a stripe of silver sparkle in the middle. We love this classy cake, it's definitely one for trendy couples tying the knot.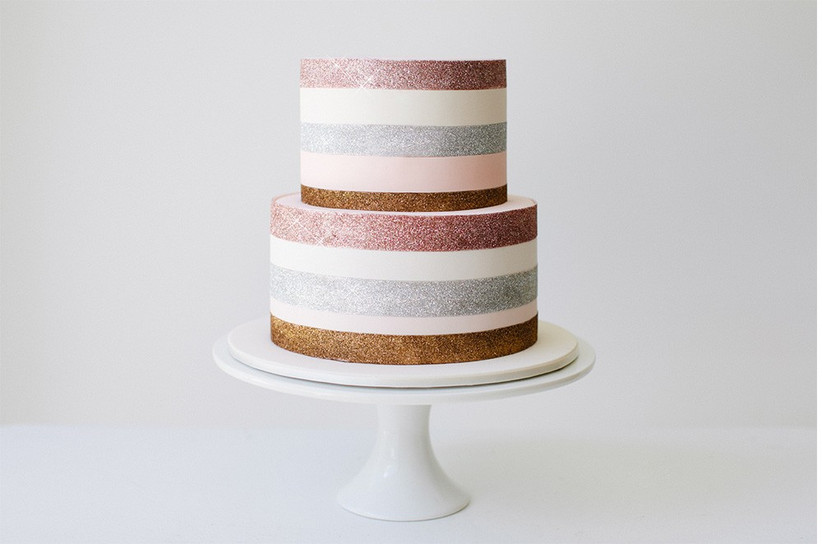 Wedding Cake: The Cake That Ate Paris
Love Heart Sparkly Wedding Cake
Sometimes a single tier wedding cake can hold just as much beauty as a much bigger cake and that's definitely the case with this quirky pink design. The polka dot pink and red background is a fun pattern which is perfect for couples who want a more informal style of wedding cake as opposed to a huge multiple-tier design. We love the sparkly love heart, it sums up a wedding perfectly – sparkly and full of love!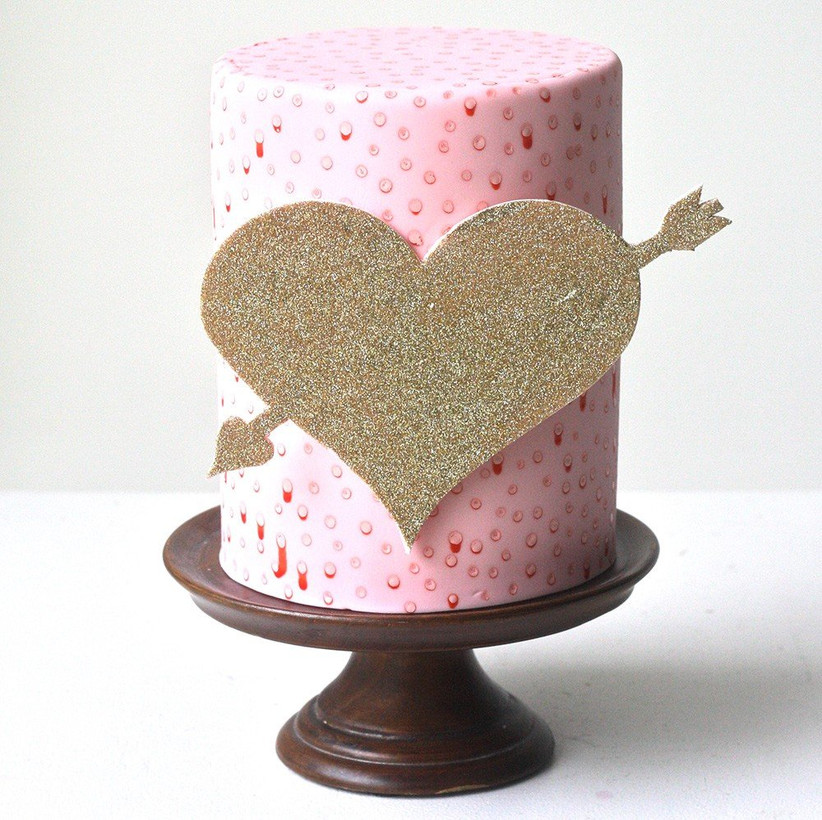 Wedding Cake: The Cake That Ate Paris
Sparkly Wedding Cake with Beautiful Beads
There is so much going on with this wedding cake, and we love every single inch of it. The ruffle bottom tier has a slight ombre which leads beautifully into three tiers of exquisitely embellished cake. The pearl beads and glittery crystals are laid it in a unique way and lead the eye upwards towards an array of deep red flowers which complete the cake.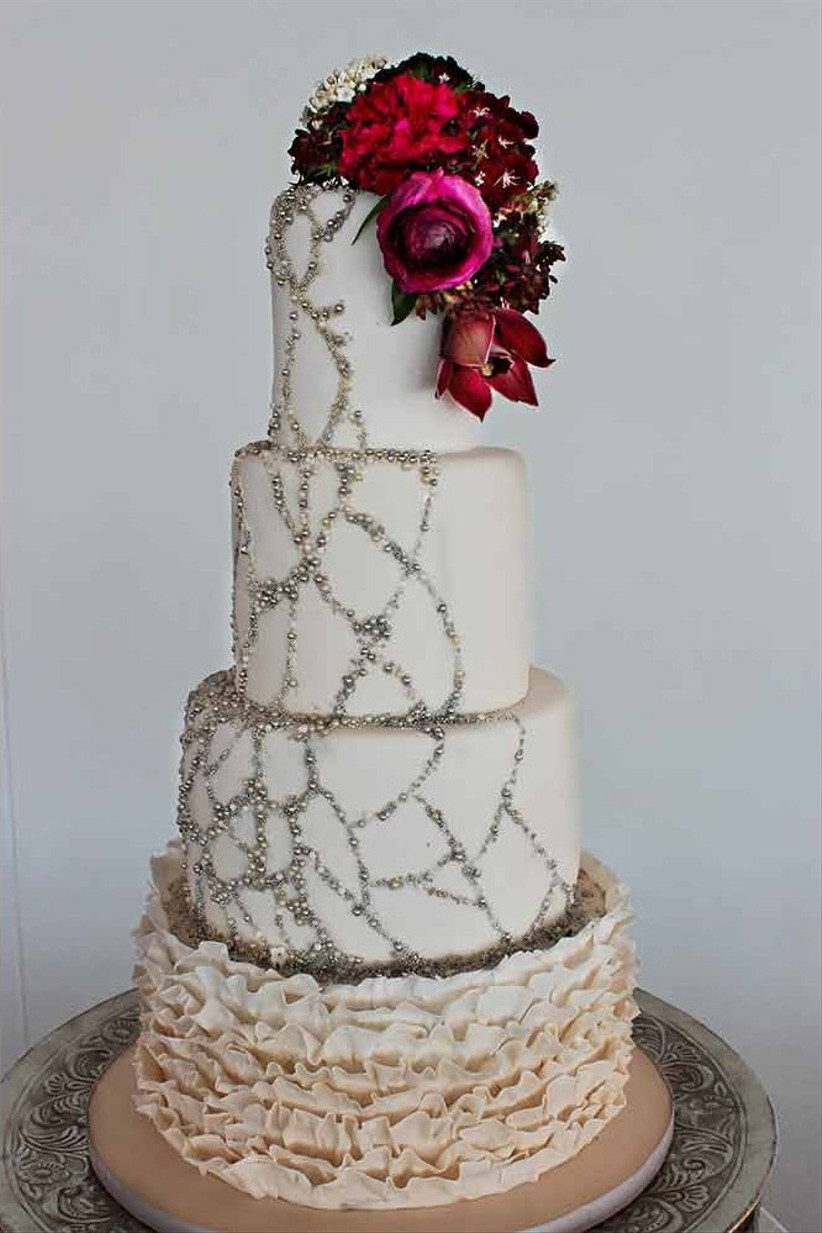 Wedding Cake: Edible Art Cakes
Elegant Sparkly Wedding Cake
Pearlescent beads are growing ever popular in wedding cakes and the middle tier of this cake shows just how amazing they can look. The unique texture of the bottom tier will catch your guest's eye and so will the super-glamorous brooch that adds the ever-needed sparkle.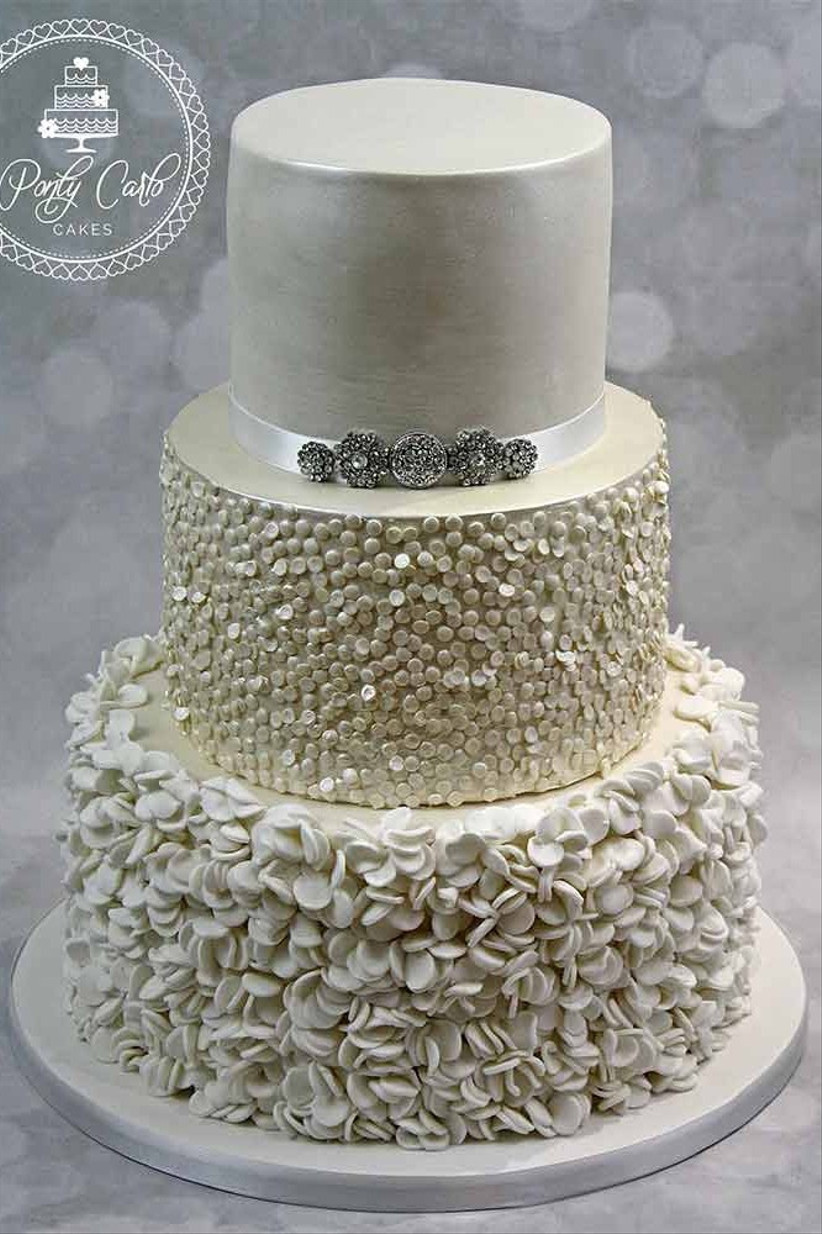 Wedding Cake: Ponte Carlo Cakes
Pink and Gold Sparkly Wedding Cake
We would struggle to imagine how any bride could look at this sparkly gold wedding cake and not fall in love instantly. The pale pink roses look too good to be true and the sparkly gold tier is what every woman (and man) needs in their life!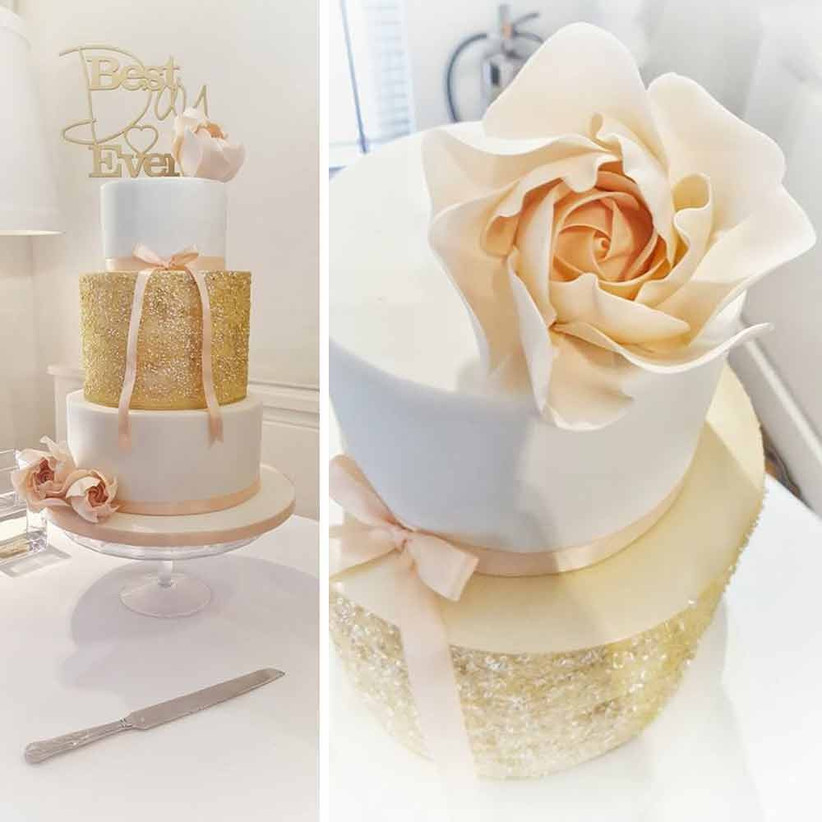 Wedding Cake: Bake Rattle N Roll
Sparkly Wedding Cake with Red Roses
Red and gold are a match made in heaven if you want to create something that looks expensive and high-end. This gold wedding cake is fully covered in sparkles which immediately makes it a winner in our minds, but the red and dark purple flowers which wrap themselves around the cake take it to a whole new and higher level.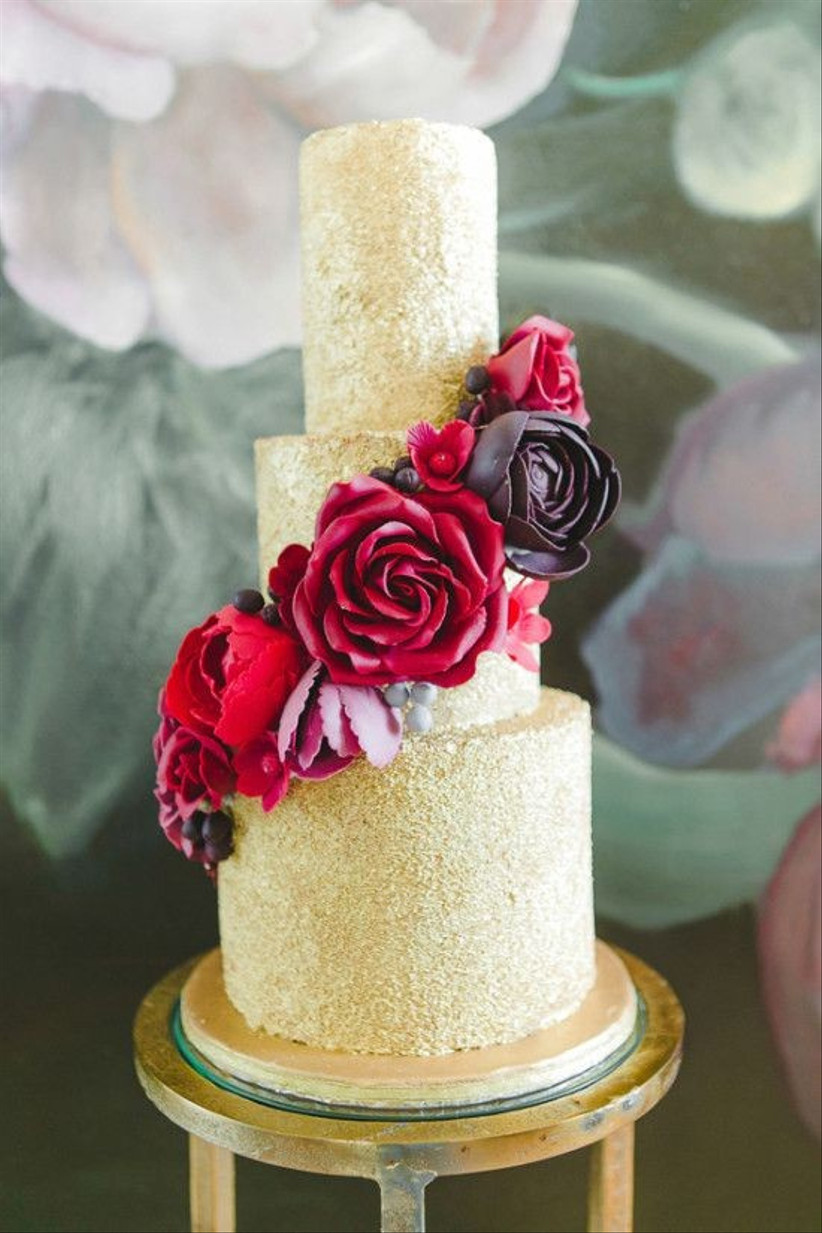 Wedding Cake: Edible Art Cakes
Summery Sparkly Wedding Cake
This sparkly wedding cake has a lovely summer vibe to it with the pastel green bow, stripy bottom tier and bunting which keeps the design fun. The glittery level of the cake totally stands out from the crowd, but doesn't take too much attention away from the rest of the cake which is what we love most about it – everything complements each other.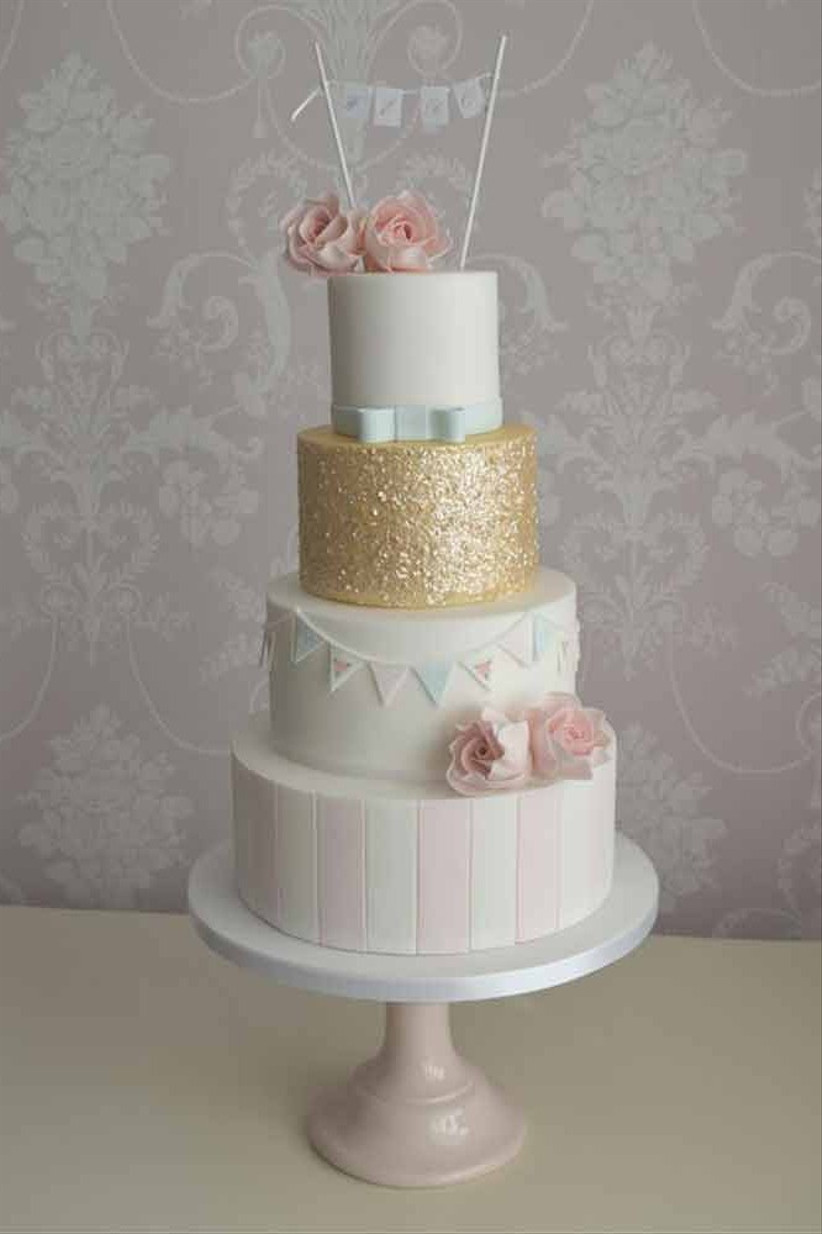 Wedding Cake: Boucakez
Gold Foil Sparkly Wedding Cake
The foil-look tier of this wedding cake is the thinnest, but by no means the least noticeable. It has a lovely sparkle to it and it makes the crisp white flowers stand out even more against it.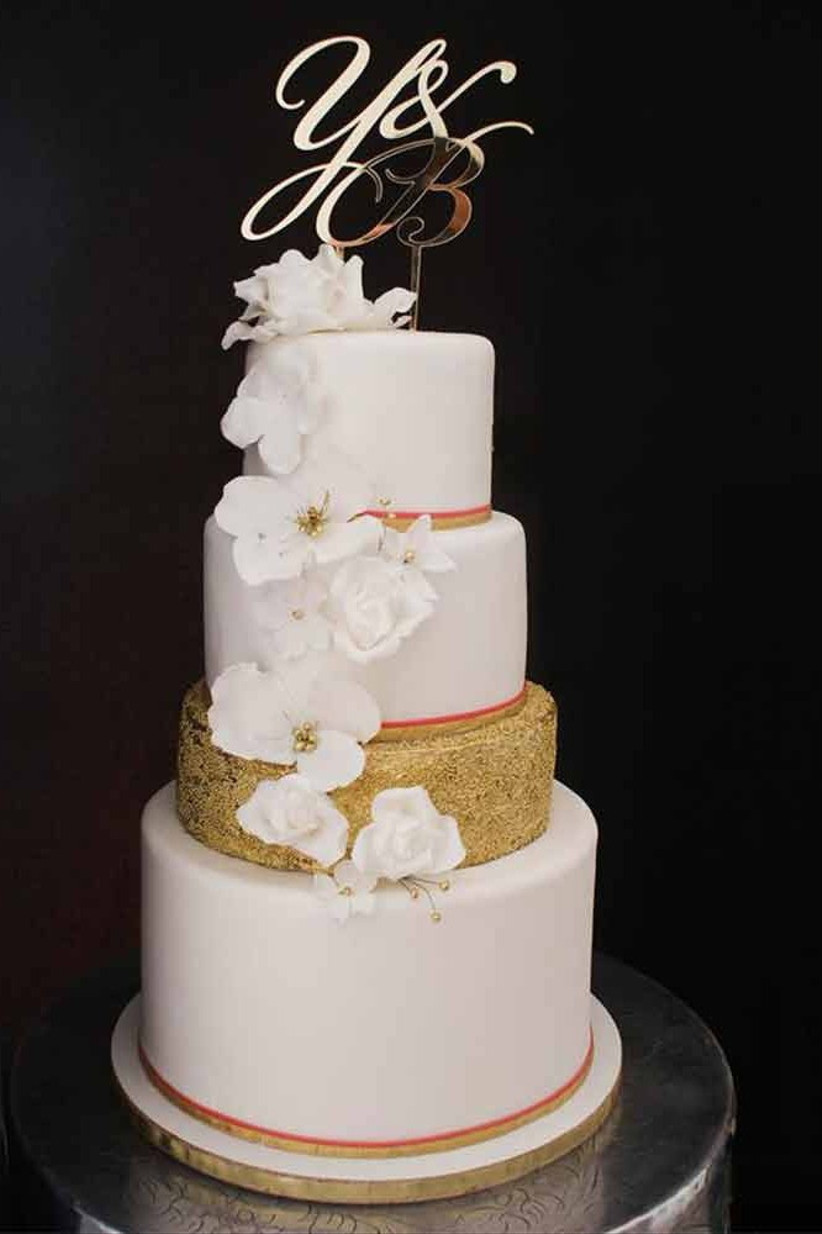 Wedding Cake: Edible Art Cakes
Stunning Sparkly Wedding Cake Table
Ever wondered what a sparkly wedding cake dessert table should look like? Well, this is it. The layout of this gorgeous selection of edible treats is so beautiful, there is glitter and sparkles everywhere which is a dream in itself!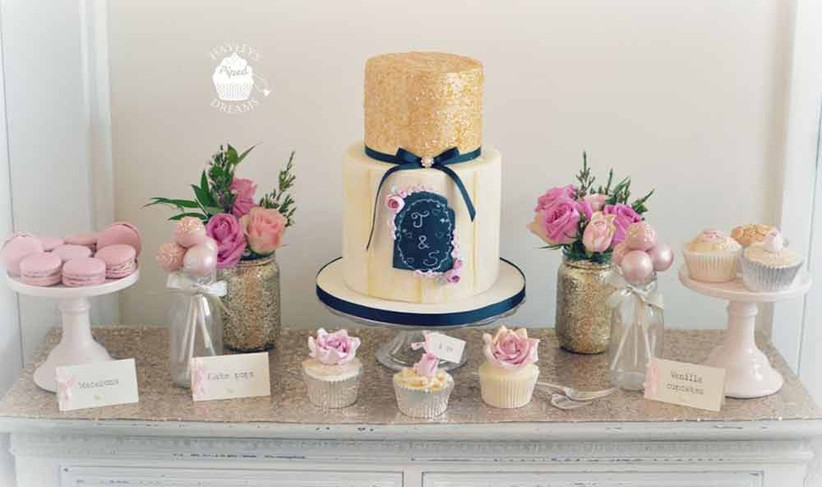 Wedding Cake: Hayley's Piped Dreams
If you want to carry on your search for the most glamorous and beautiful wedding cake, be sure to check out our edit on marble wedding cakes – these designs are seriously stylish!