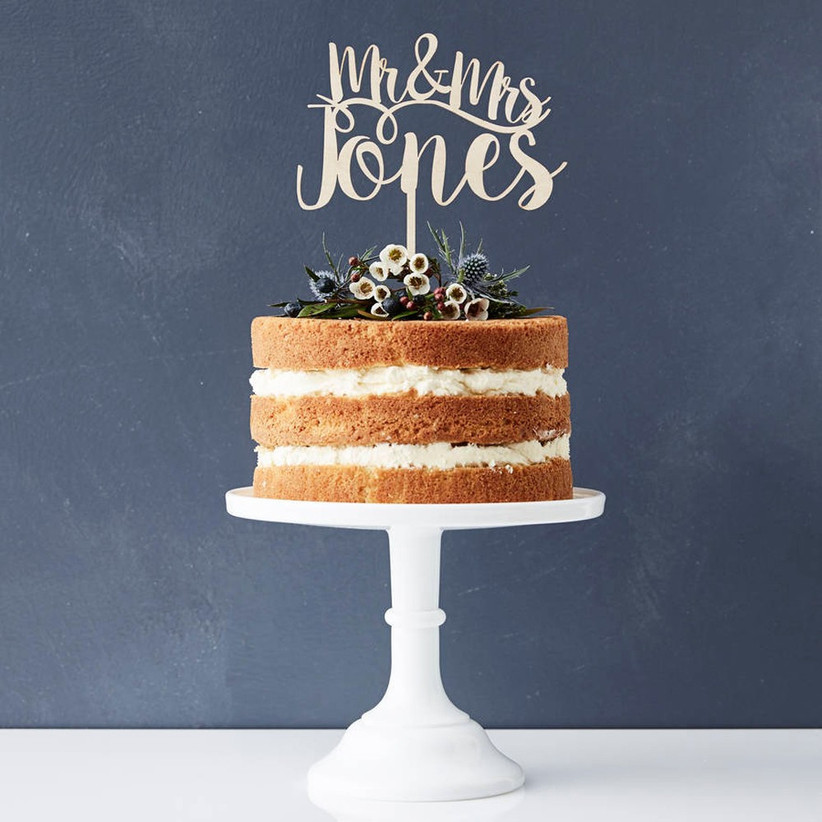 Whatever wedding cake you choose, it will be unique to you as a couple. From the number of tiers, to the style, design and even the fillings, it's rare to see two wedding cakes that look exactly the same.
However, when it comes to the finishing touches, wedding cake toppers can completely transform the look of a wedding cake, making it a fabulous focal point at your wedding reception.
Here's our pick of the the most fun, unusual and unique wedding cake toppers around.
Personalised Wedding Cake Toppers
A personalised wedding cake topper will be the perfect keepsake from your wedding. Including your names or the date will make it extra special and you can use it to top celebration cakes throughout your marriage.
Love You to the Moon Wedding Cake Topper – Pelemele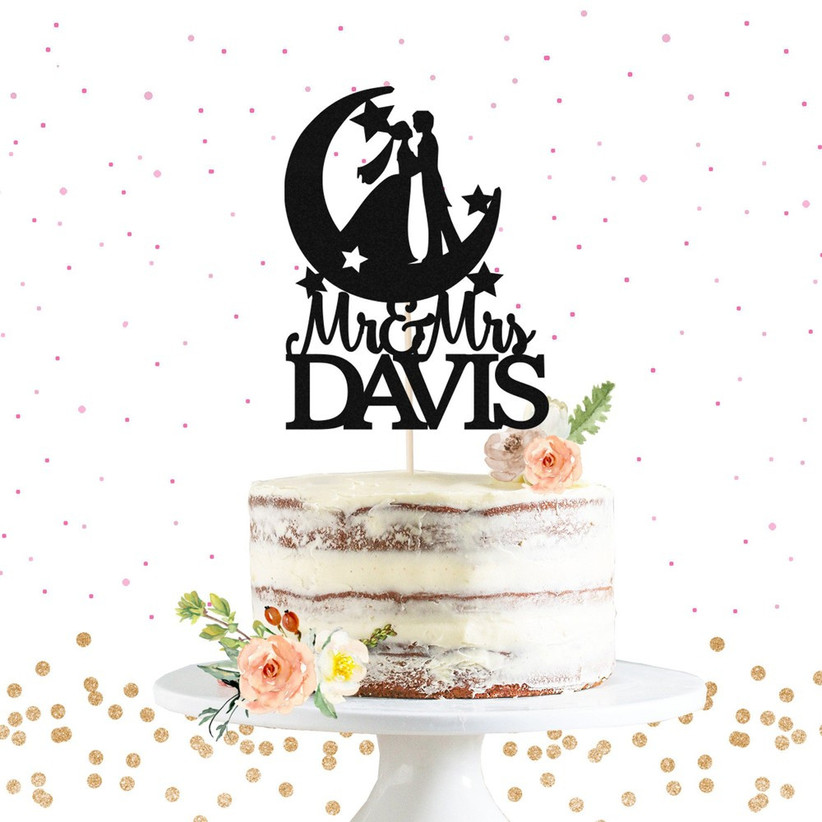 If your partner leaves you with stars in your eyes, this romantic moon cake topper from Pelemele is for you. Handmade in the UK, this topper is available in 26 different colours and works with every theme from glamorous to rustic. You'll be over the moon with this one.
READ MORE: 33 Questions to Ask Your Cake Maker
Bunting Wedding Cake Topper – Baloolah Bunting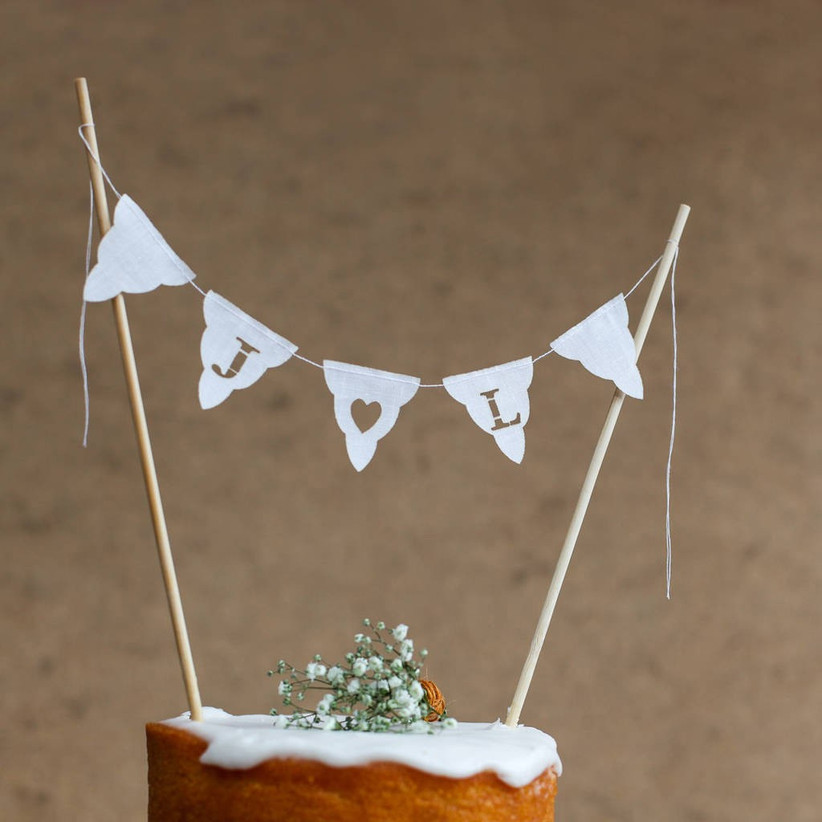 Add all the fun of a village fete to your wedding with this cute bunting cake topper from Baloolah Bunting – perfect on a naked wedding cake or semi-naked wedding cake for rustic or garden wedding. It's made out of real fabric to delicately flutter above your cake: make sure you get someone videoing as you cut into your tiers! The initials are a really sweet way of adding a bit of personalisation to your cake without going over the top.
Mr and Mrs Wooden Wedding Cake Topper – Sophia Victoria Joy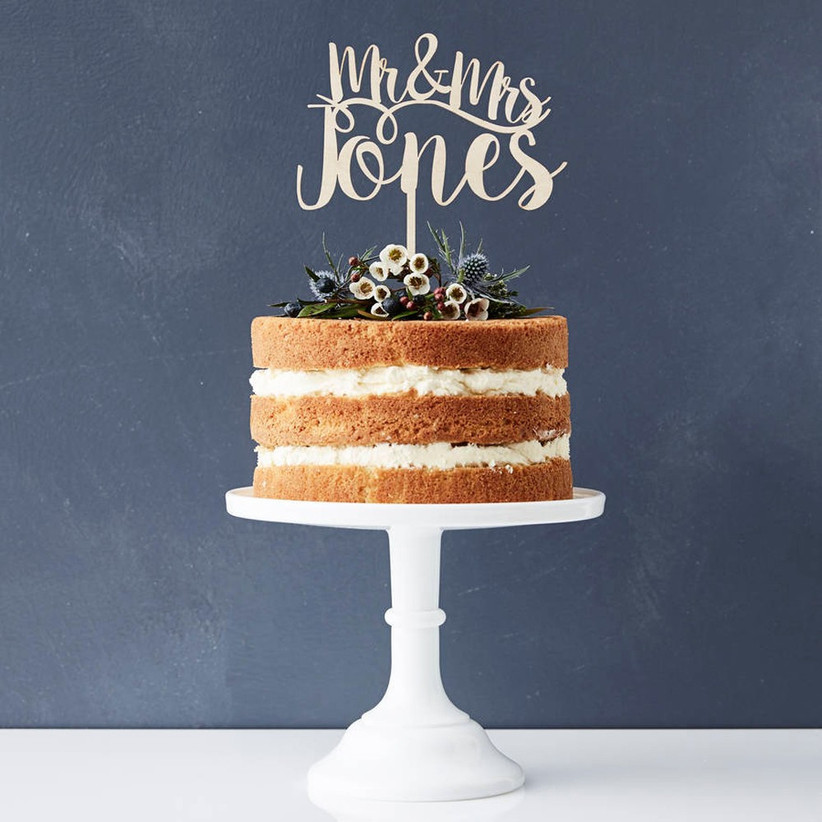 What a finishing touch to your wedding cake! This whimsical topper from Sophia Victoria Joy comes complete with the happy couple's surname for a unique look. The stem is long enough that it can sit flush to your cake or above any other decoration, such as fruit, flowers or foliage. It's a simple but incredibly romantic touch to your cake and will look fantastic in photos.
READ MORE: Amazing Wedding Cake Makers in London
Rose Gold Wedding Cake Topper – All Her Glory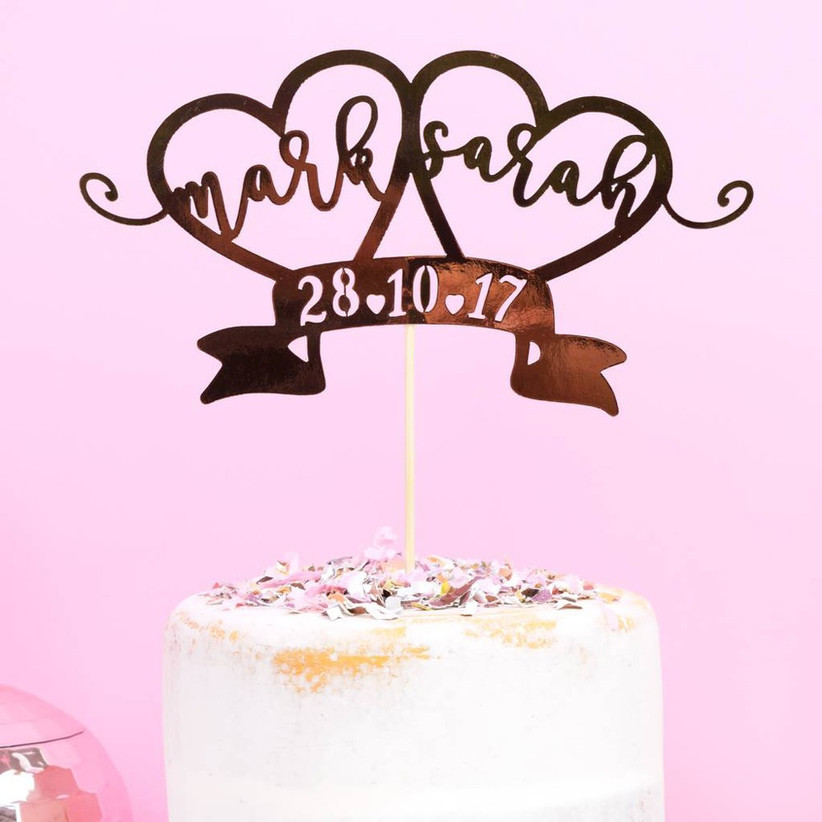 This banner style topper from All Her Glory is pretty, ornate and features both your names in a beautiful calligraphy-style font and your wedding date. It's a great statement topper and the rose gold colour is totally on trend.
Destination Wedding Cake Topper – Amazing Woodcraft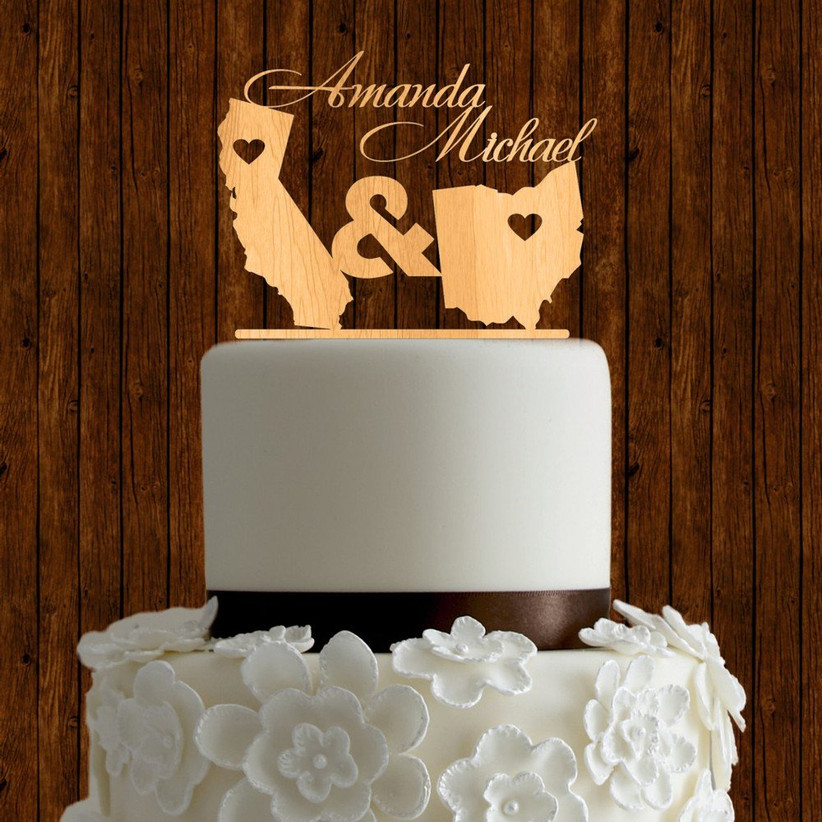 This wooden travel topper from Amazing Woodcraft shows two US states, but if you're both from different countries you can have those crafted to show off your international love. Other sentimental ideas include the country you met and where you now live, where you're having a destination wedding, or where the proposal was if it was abroad. This is unique and meaningful, especially to couples who've had a long journey to find each other.
READ MORE: 15 Breathtaking Rose Gold Wedding Cakes
Arrow Wedding Cake Topper – Sophia Victoria Joy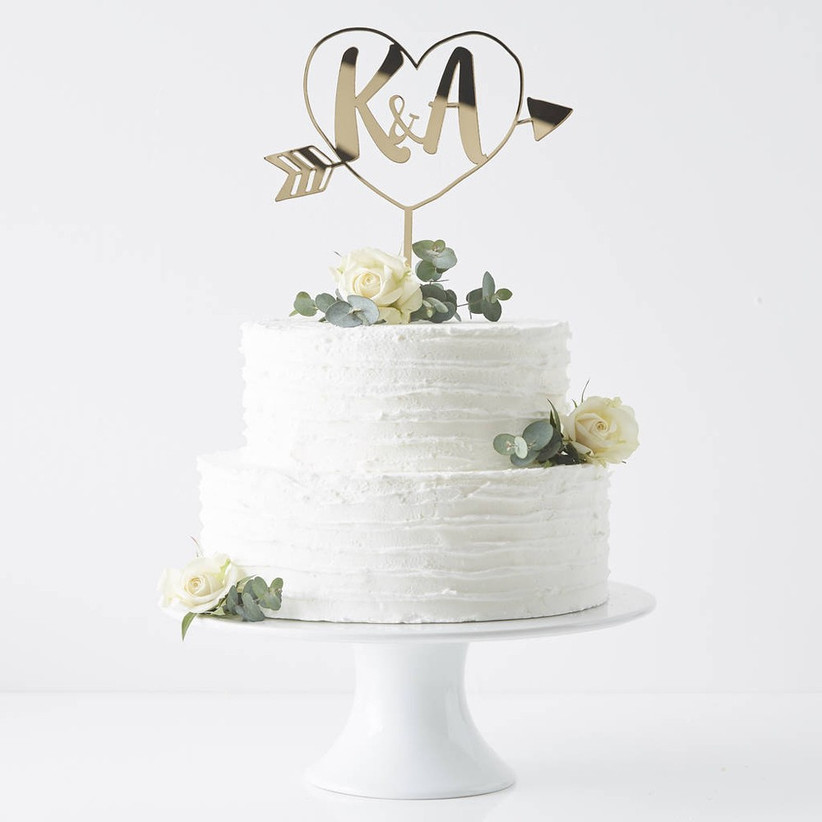 If you're looking for something a bit funky and different, this love heart design from Sophia Victoria Joy is it. Personalised with your initials and in lots of different colours (like this mirror gold, which we love), this is an eye-catching and original wedding cake topper. For glamorous, sophisticated weddings, this is the one.
Geometric Heart Wedding Cake Topper – Sophia Victoria Joy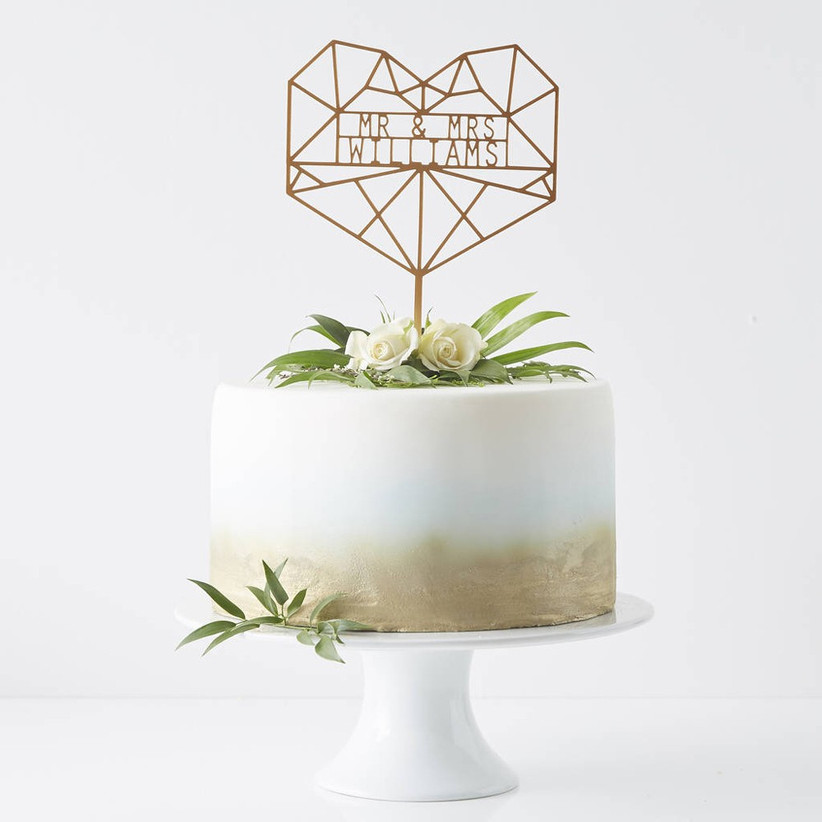 This stand-out cake topper from Sophia Victoria Joy is seriously cool. It'll add a stylish touch to any cake, but would work particularly well with a simple, stark cake design. You can add your names and surname into the heart to make it even more unique, but the design alone is eye-catching enough. It comes in a large selection of colours and three sizes to fit every theme and cake.
Couple Wedding Cake Toppers
Perhaps you want your wedding cake topper to represent you both as a couple? We have picked out some of our favourite couple wedding cake toppers that can be tailored to perfectly represent you.
Paper Doll Bride and Groom Wedding Cake Toppers – Ready Go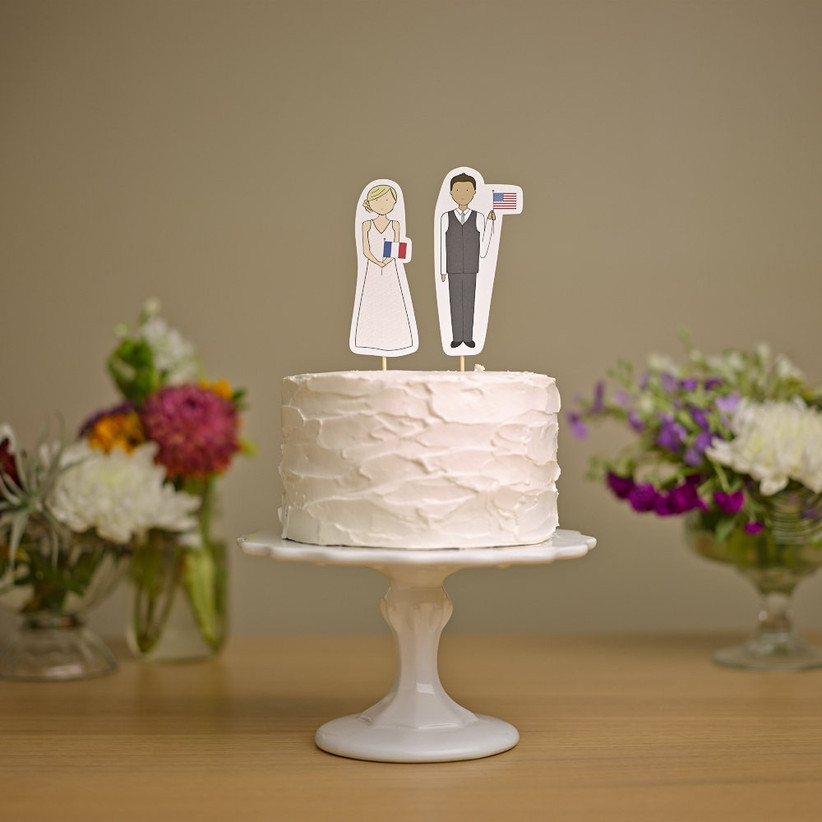 This seller Ready Go has loads of brilliant paper doll designs, but we particularly love this flag one! If you and your partner are from different countries, this is a fantastic nod that will get your guests laughing but also look brilliant in photos. They're totally customisable and you can get options with added children, pets and bunting.
READ MORE: The Best Supermarket Wedding Cakes
Tandem Bike Wedding Cake Topper – Wire Bicycles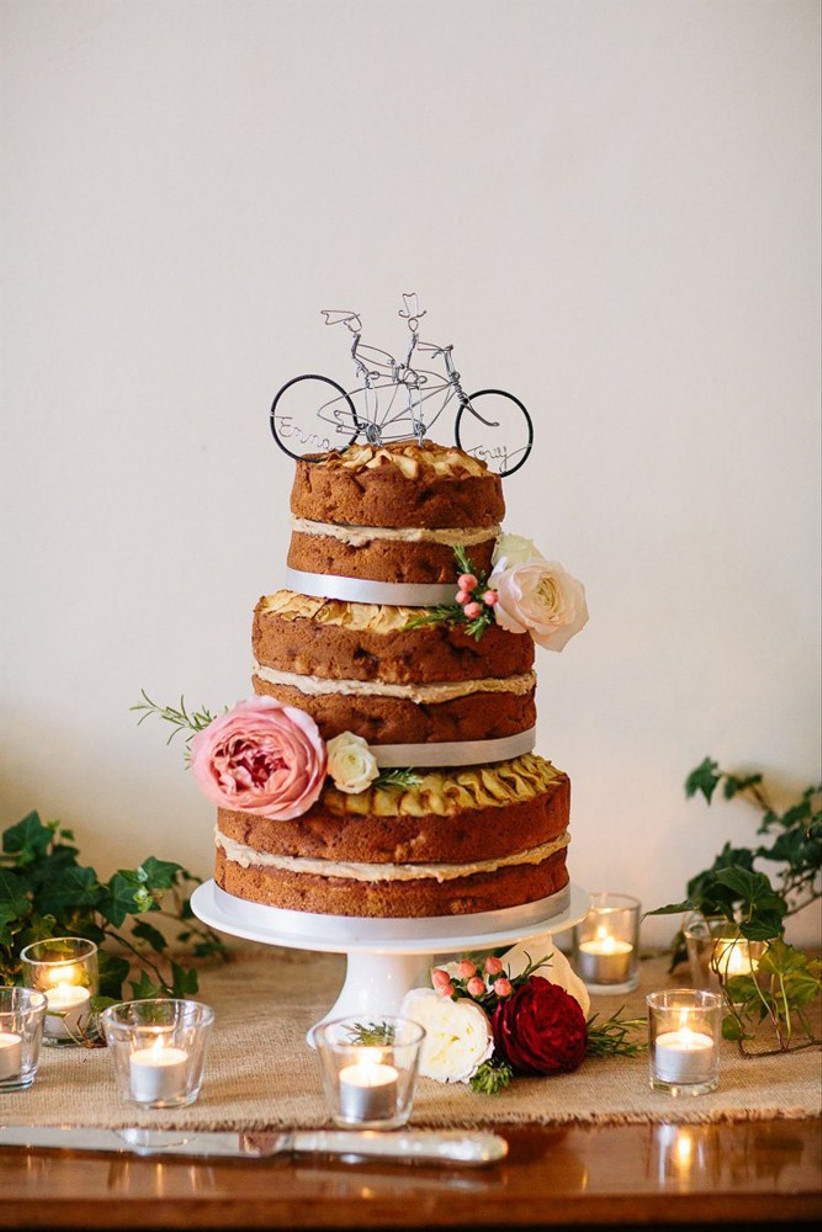 Whether you're cycling mad or just love this tandem bike riding duo, this bicycle cake topper from Wire Bicycles is certainly unique. Surprise your other half who loves their bicycle with it and then have it as a keepsake after the wedding on the mantelpiece or shelf as a lovely talking point. Your names can be written in wire and attached for free to the bike.
READ MORE: 43 of the World's Most Amazing Wedding Cakes
Mr and Mr Cake Topper – P2 Topper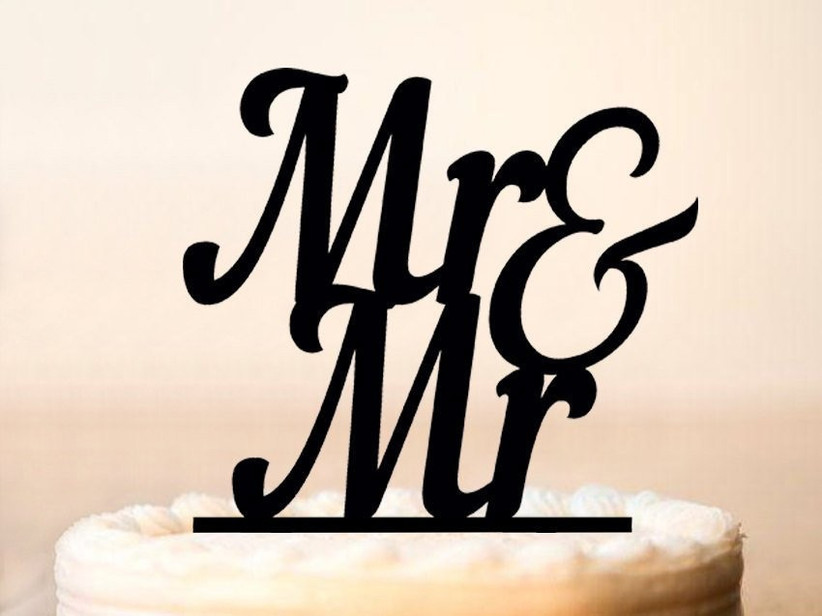 We love the simple style of this Mr & Mr cake topper from P2 Topper, it would be perfect sitting at the top of an elegant buttercream wedding cake.
Doll Wedding Cake Toppers – Whisper of the Pipet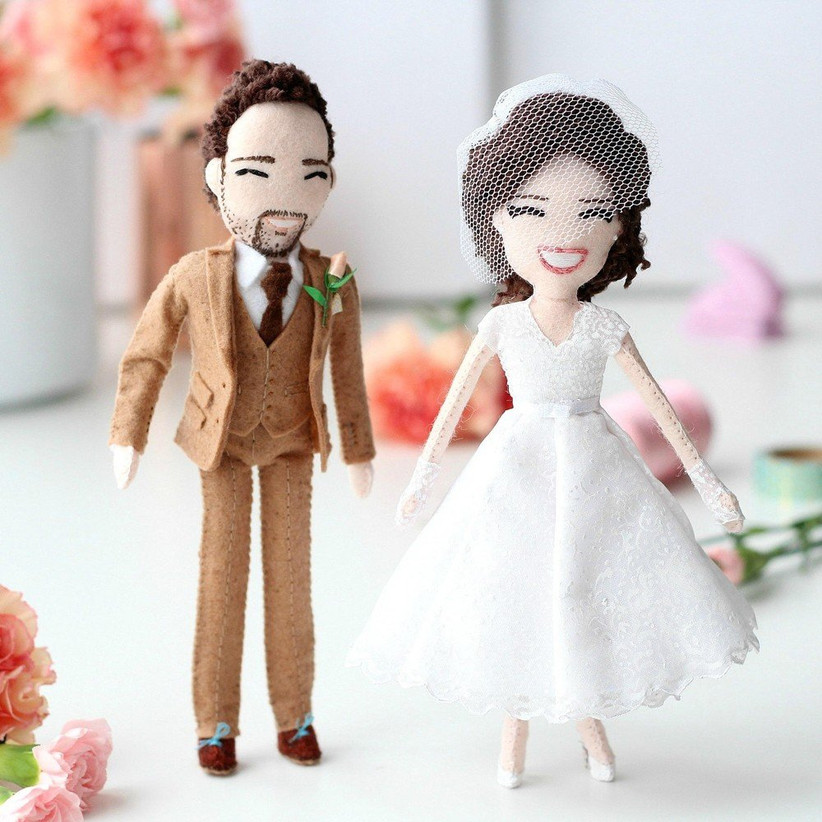 These custom-designed dolls from Whisper of the Pippet mirror each of you perfectly for the most amazingly personalised bride and groom cake toppers. Every tiny details such as the watch you're wearing on your big day can be matched and bendy arms mean your bride doll can even hold a bouquet. These'll be so cute to keep after the wedding.
Lego Wedding Cake Topper – Heart of Bricks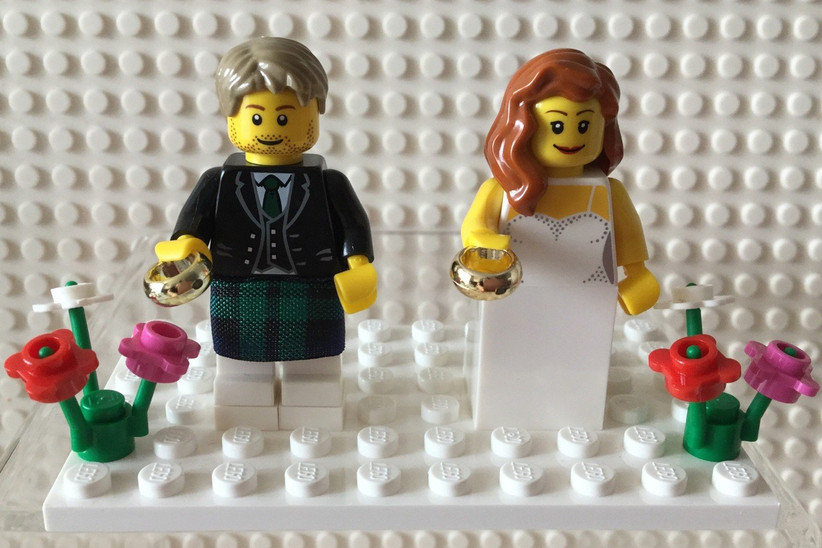 For Lego fans, what cuter way to celebrate your wedding day than a topper made out of it? Each Lego figurine from Heart of Bricks is customisable with different outfits and hairstyles so it can look just like you and is a fun take on a bride and groom cake topper. Mix up the couple so it's groom and groom or bride and bride too for same sex weddings. As you can see, this groom even has a kilt; ideal for a Scottish wedding.
READ MORE: 15 Amazing Ideas for the Groom's Cake
Family Wedding Cake Toppers
Whether you are becoming a step family or you have children together that you want to really feel part of your big day, a family wedding cake topper is a lovely way to honour this.
Family Wedding Cake Topper – Topper Designer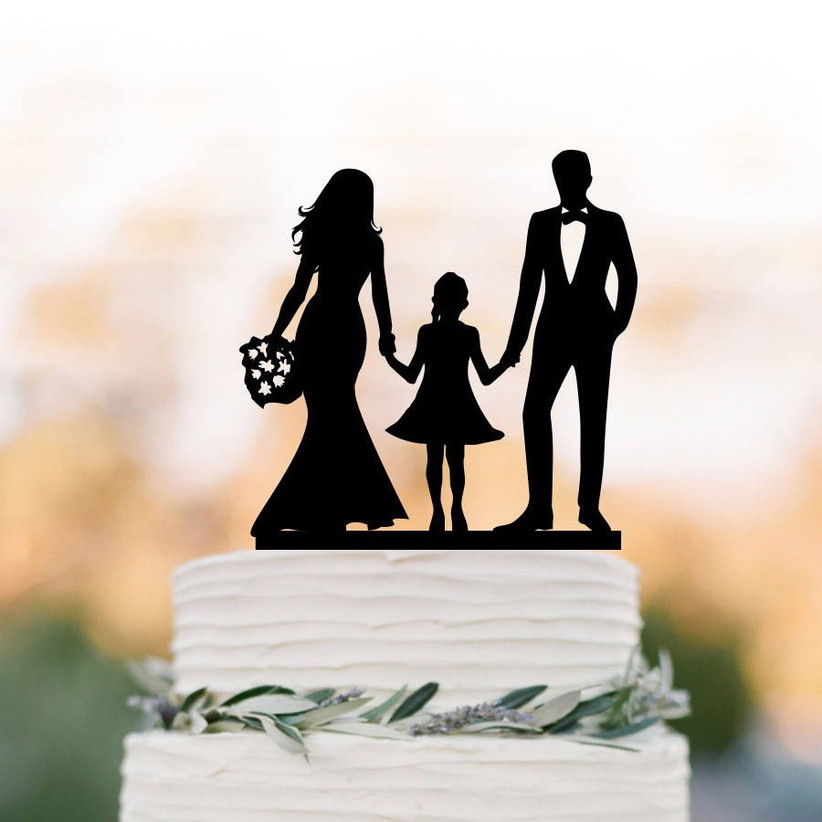 The elegant silhouette style of this cake topper by Topper Design is stunning and even more perfect if you are a bride who has chosen a fishtail wedding dress!
Peg Cake Toppers – Lovebirds Goods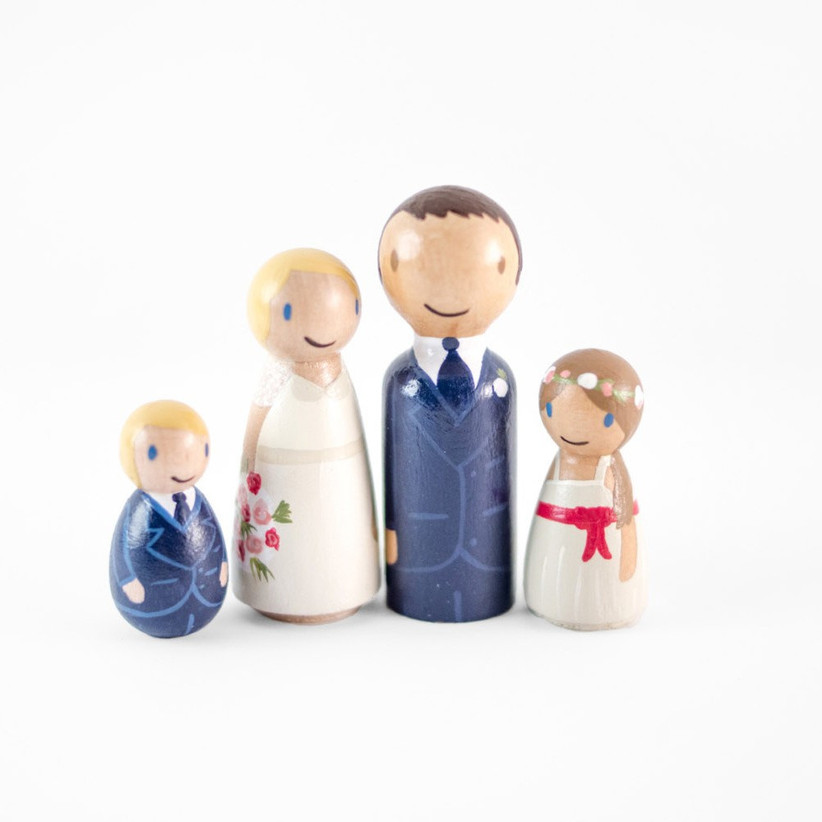 Pick out adorable peg cake toppers that will represent all your family – like these ones from Lovebirds Goods, they will also be a lovely keepsake for all of you after the wedding day.
Name Cake Topper – Wedding Table Number Co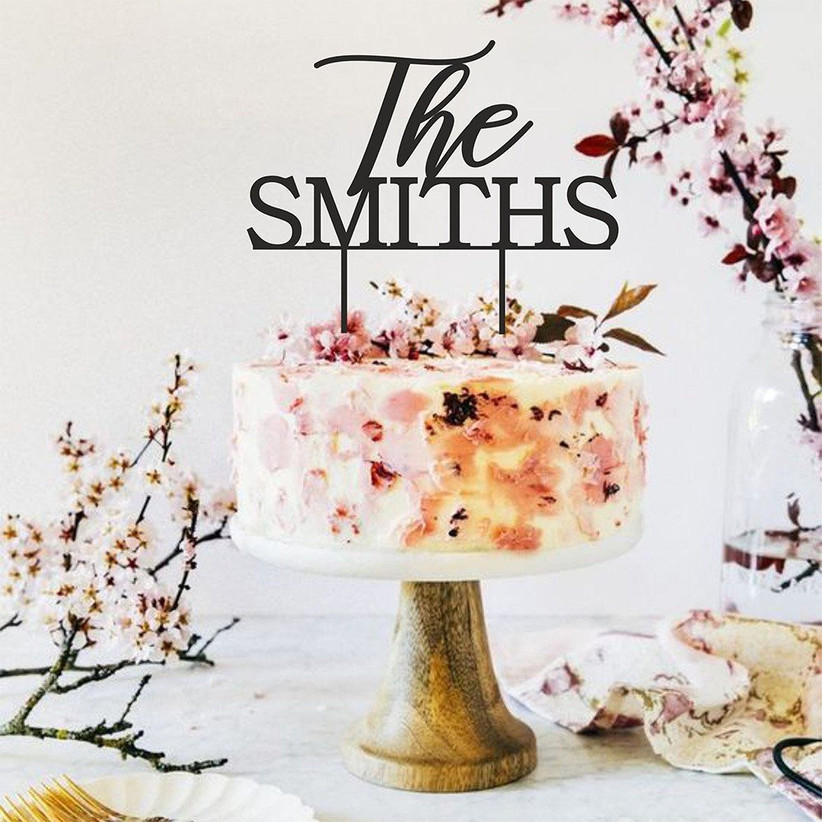 We love how this personalised wedding cake topper from Wedding Table Number Co, it's perfect if you want to celebrate your new family name.
Animal Wedding Cake Toppers
If you want a wedding topper that features your pet or your favourite animal then browse our selection of our favourite animal wedding cake toppers.
Wooden Rabbit Wedding Cake Topper – Norma Dorothy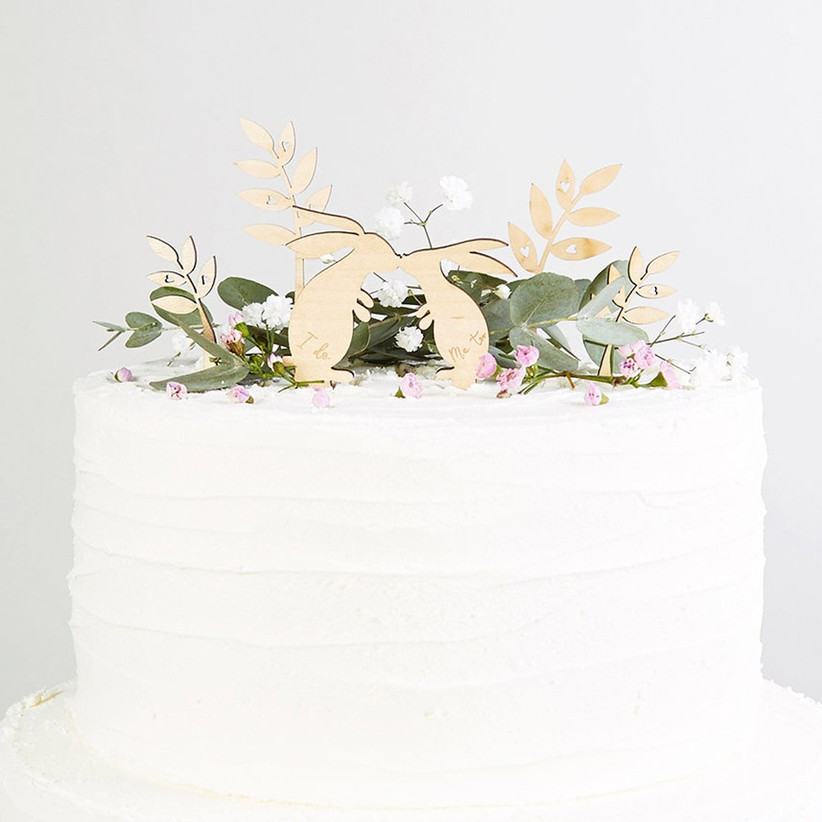 This delicate cake topper from Norma Dorothy shows two rabbits kissing alongside cute laser-cut leaf decorations. It's subtle enough to not draw attention away from your cake, but makes a touching addition. Carved into the rabbits are 'I do' and 'Me too' – you'll love keeping these after the big day.
READ MORE: Dreamy Drip Wedding Cakes
Couple and Pet Cake Topper – P2 Topper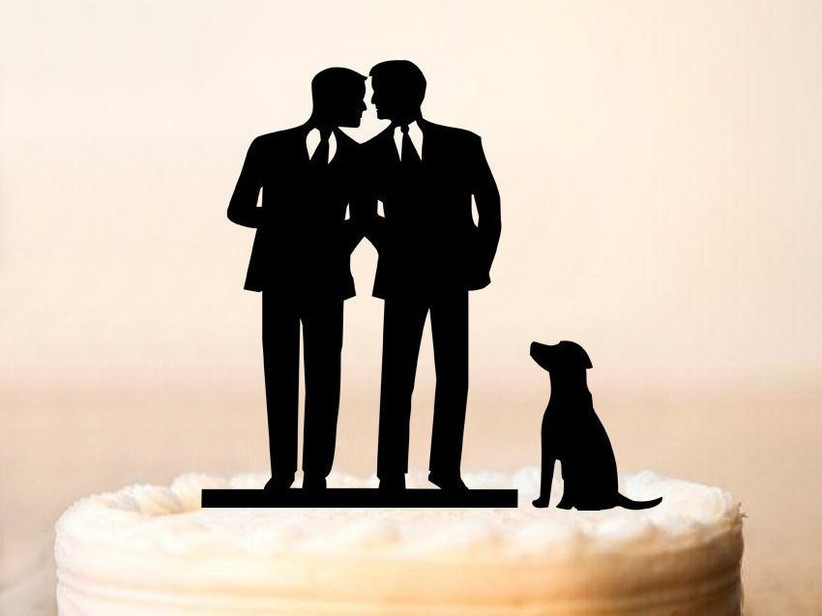 Are you having your pet at your wedding? If you are then why not also include them in your cake topper! We adore this style from P2 Topper and you can choose from a range of designs and pets!
Penguin Wedding Cake Topper – Suzy Q Designs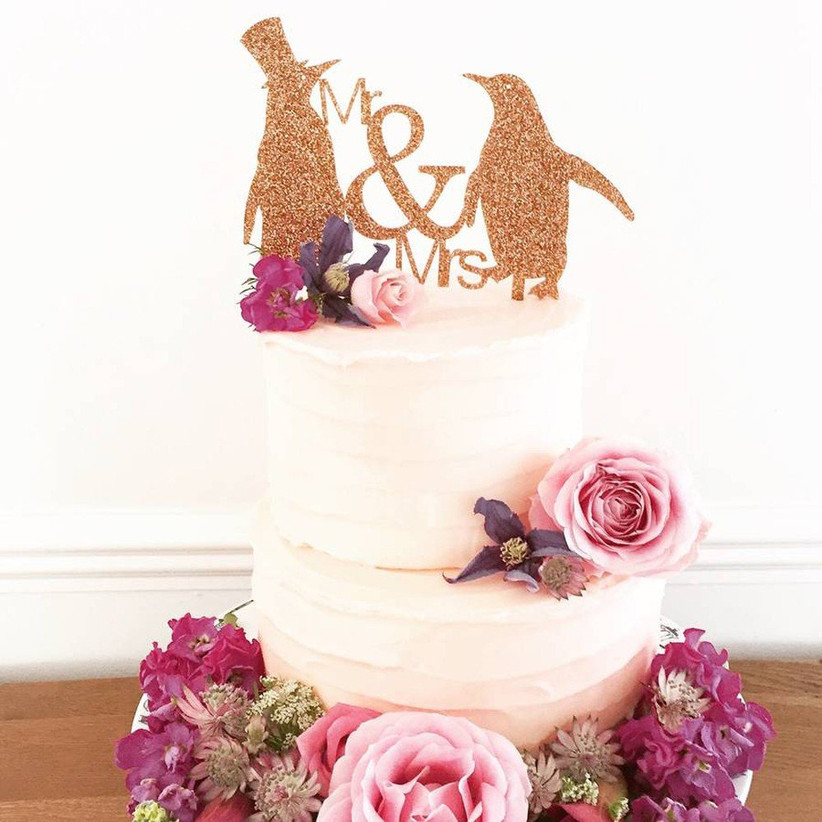 Give your cake a quirky wow factor with this cute penguin cake topper from Suzy Q Designs. Penguins are known for having just one mate for life so there's some lovely symbolism in this choice of topper. You can get it in lots of colours plain, but we love the glitzy glitter options.
Cute Wedding Cake Toppers
If you are looking for a wedidng cake topper that is cute, pretty and full of romance then take a look at some of our favourites.
"Love is" Bible Quote Wedding Cake Topper – Figs and Ginger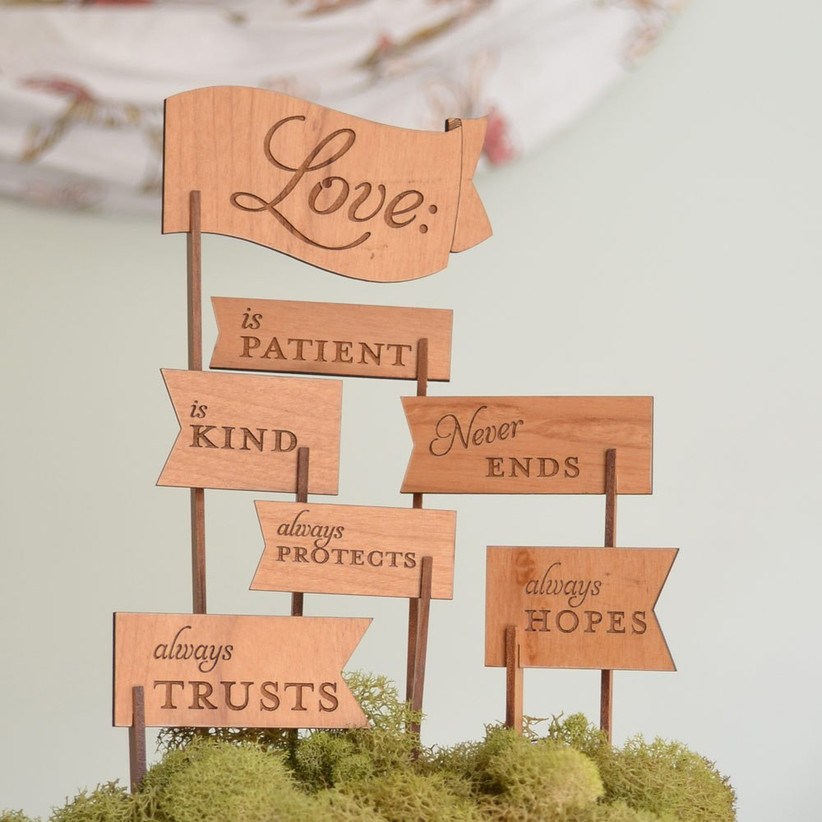 Inspired by the traditional wedding reading of 1 Corinthians 13:4, this beautiful bible quote wedding cake topper from Figs and Ginger is a lovely keepsake for the day. If you're having it read during your ceremony, this will bring your day full circle and look perfect in a rustic style wedding cake.
Two Peas in a Pod Wedding Cake Topper – Hello Blondie UK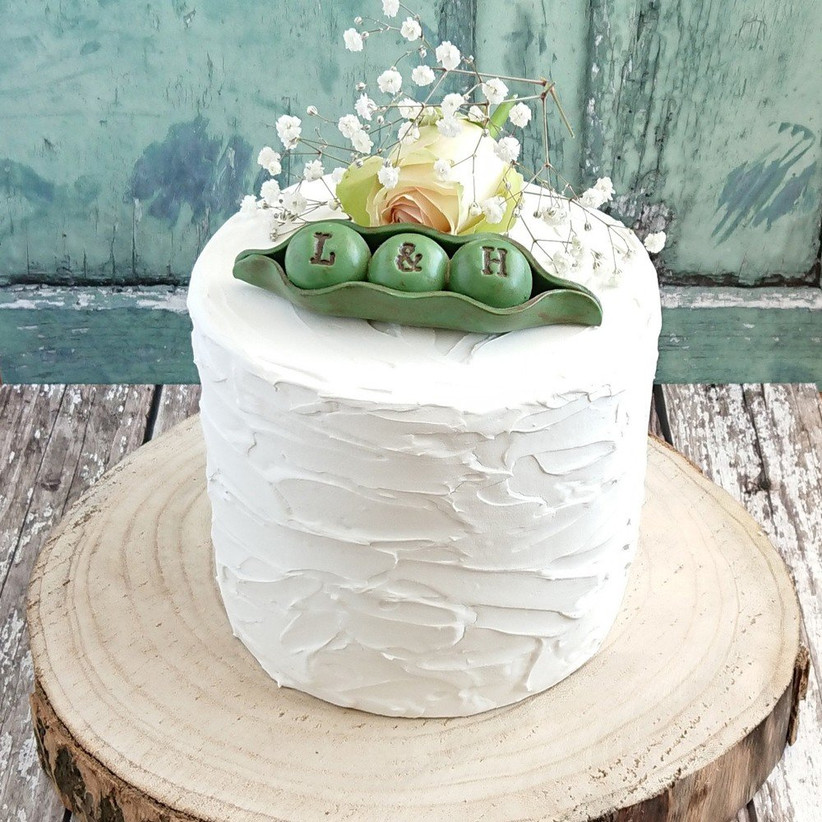 As well as making a great wedding gift or anniversary present, this 'peas in a pod' cake topper from Hello Blondie UK is a fun, quirky touch to your cake. Handmade in Yorkshire and stamped with your initials, these peas have a slightly rustic look that's perfect for a vintage wedding theme.
READ MORE: 18 Irrestible Single Tier Wedding Cake Designs
White Feather Wedding Cake Topper – Vintage Belle Wedding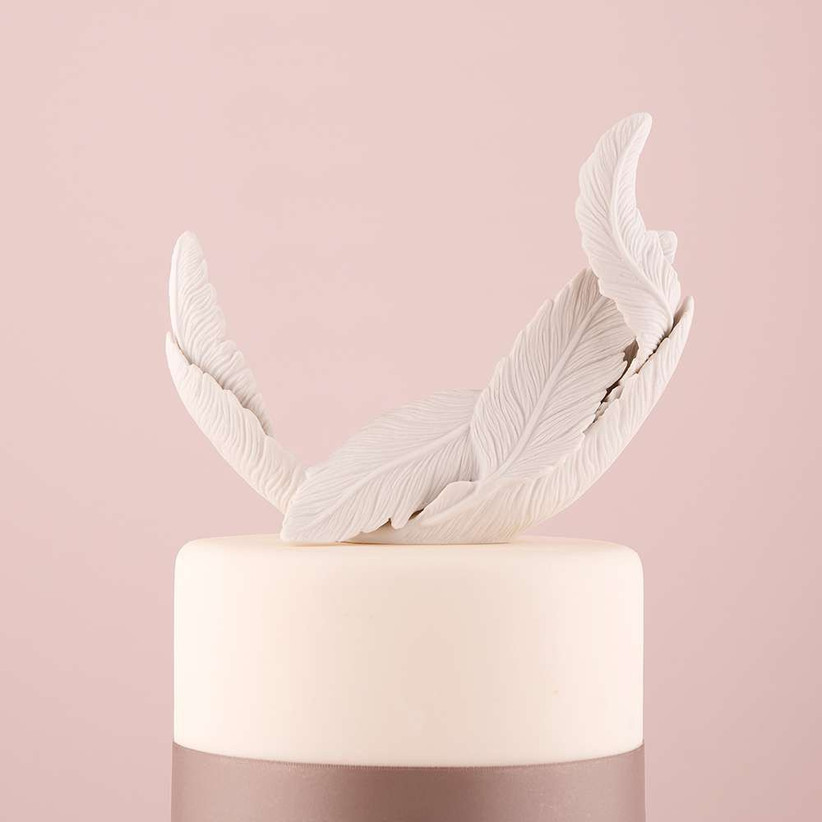 If you're rocking a modern and minimalist theme, these simple but beautiful porcelain feathers from Vintage Belle Wedding are a statement cake topper. Don't dismiss them if you're after a more relaxed vibe too – there's a real free spirit feel to them. If you're toying with the idea of an owl or other birds at your wedding, this will either complement your theme or could be a great replacement that doesn't threaten to leave a stain on anyone's wedding dress.
Funny Wedding Cake Toppers
Are you a couple that loves to inject a bit of humour? Then a funny cake topper is the perfect way to add some subtle hilarity into your big day (without disrupting your theme!).
Finally – Twenty Seven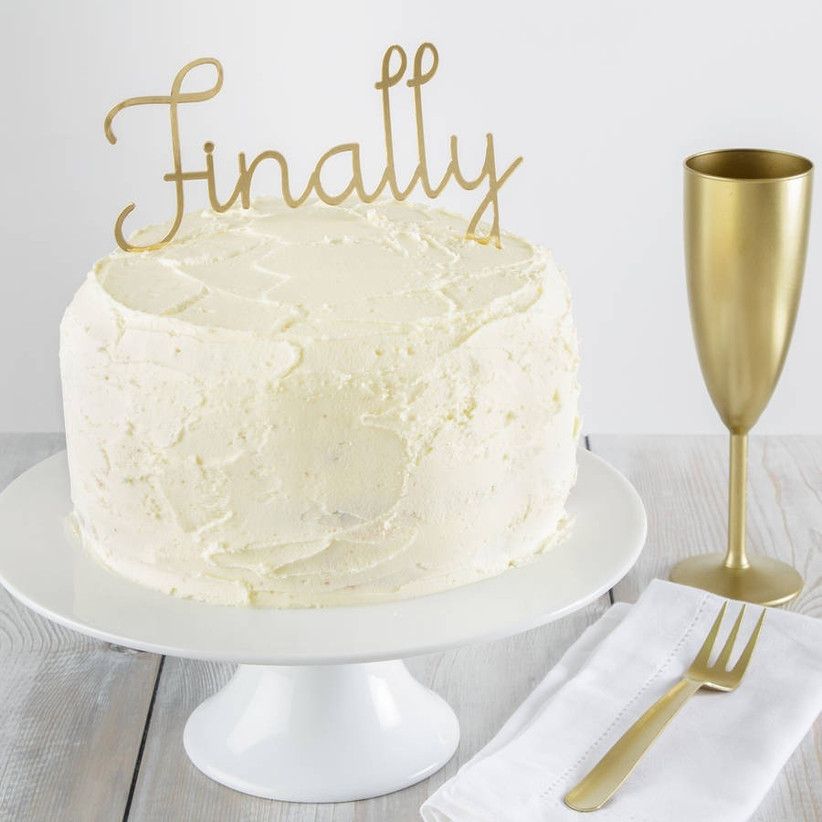 Are you guys that couple that have been together forever and everyone would ask when you were getting married? Then this fun finally wedding cake topper from Twenty Seven could be perfect for you.
Cheese Wedding Cake Topper – The Letter Loft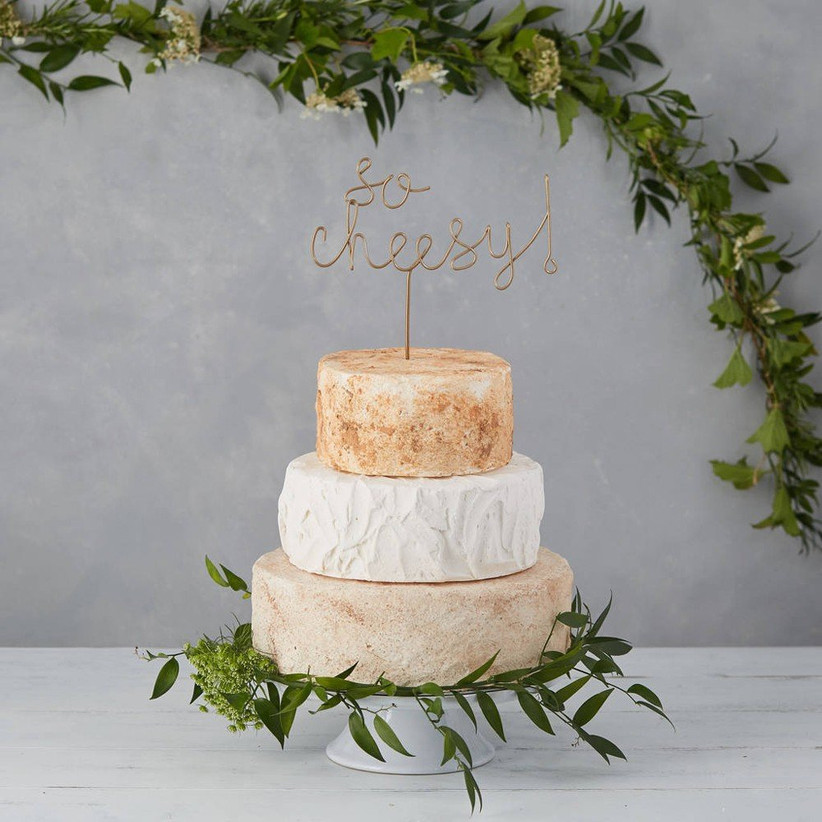 Not everyone wants a sweet wedding cake. For those opting for a big stack of cheese instead, this 'so cheesy' wire cake topper from The Letter Loft is fun and a bit different. Coming in lots of wire colours, you can match it to your cheese of choice. It's a sturdy design that'll slip as easily into your brie as cheddar and won't bend. P.S. It also comes in a matching 'cake!' option that works brilliantly if you're having both a normal and cheese cake.
Film and Television Wedding Cake Toppers
If you are both complete movie-buffs or you love nothing more that a night in with Netflix then why not choose wedding cake topper inspired by your favourite show.
Up Wedding Cake Topper – Cake Topper Studio

Is there any love story sweeter than Carl and Ellie in Disney Pixar's film Up? If you're both fans then choose this cake topper. We adore those balloons! You can also get lots of Marvel and superhero character toppers from this seller so don't miss out on your favourites. Your guests will have a good giggle at this unexpected, funny wedding cake topper.
READ MORE: Here's How Much You Should Be Paying For Your Wedding Cake
Doctor Who Wedding Cake Topper – All For Wedding Studio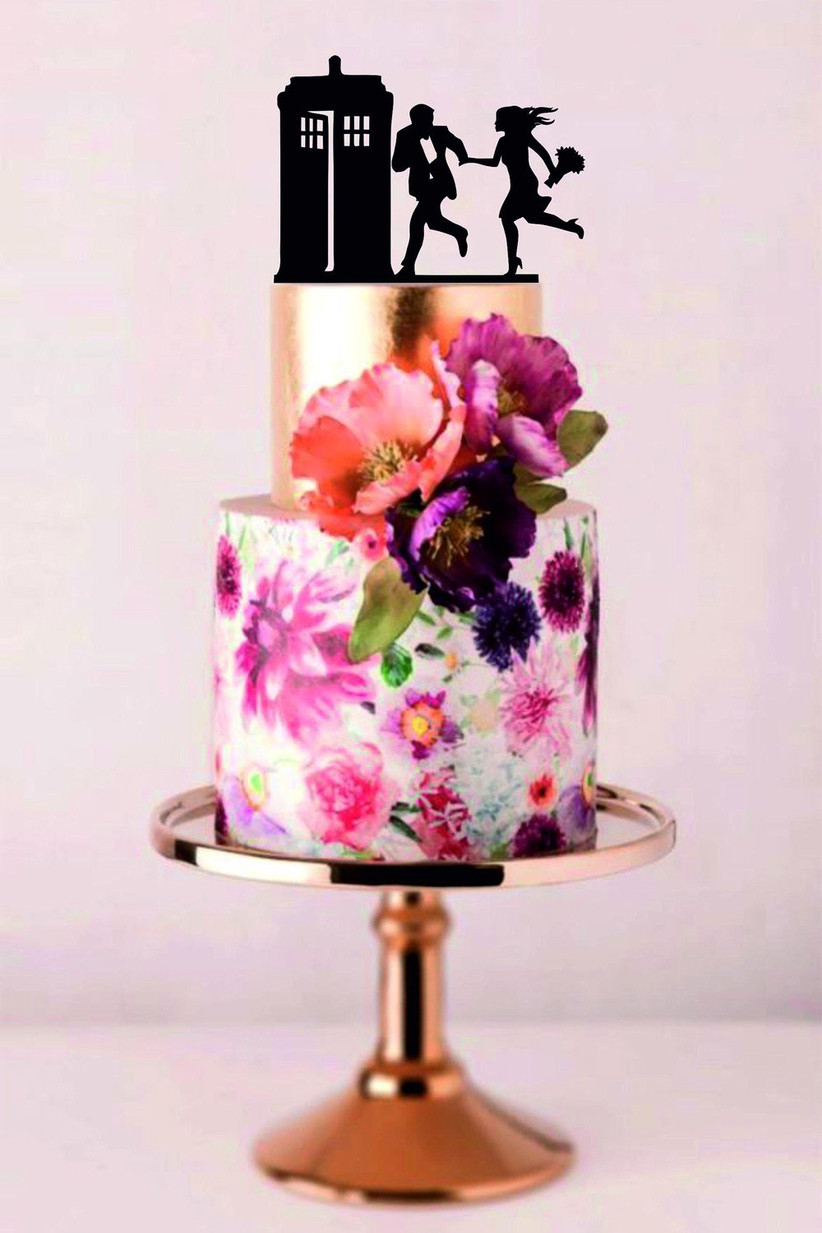 Found the Doctor to your Rose (or vice versa)? Get your geek on with this Doctor Who cake topper. Your guests will be legging it to the cake table to get a glimpse as fast as this pair are to the Tardis. This seller makes lots of fan favourite designs including Woody and Bo Peep from Toy Story and Wall-e and Eva so whatever you two love as a couple, you can find it.
READ MORE: Epic Superhero Wedding Cakes
Star Wars Wedding Cake Topper – Simply Acrylic Design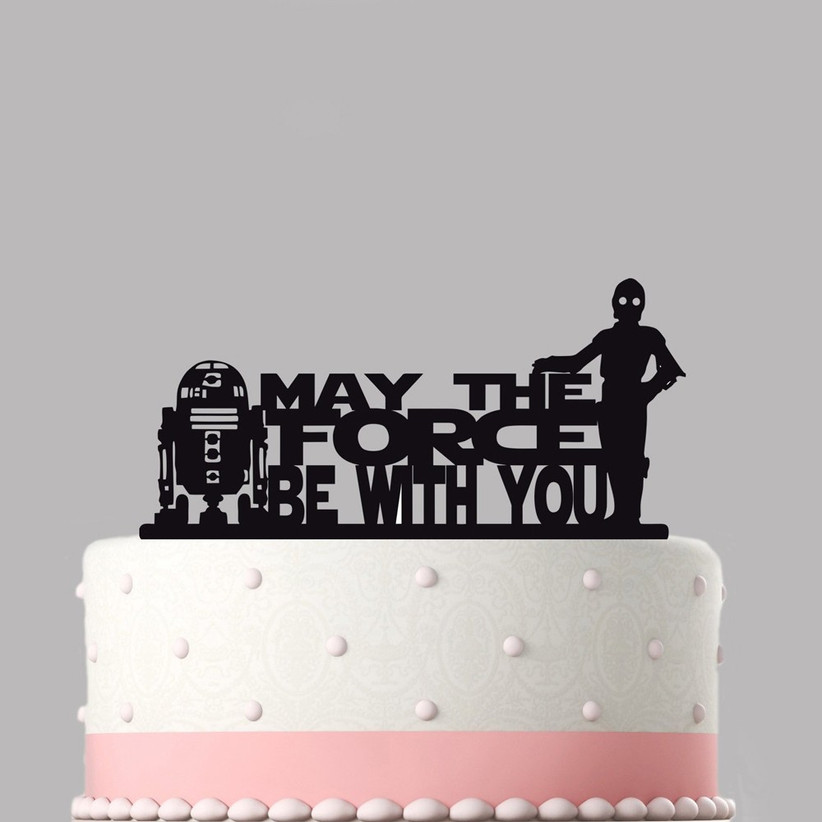 "I love you." "I know." Every Star Wars fan knows that famous scene. If you're looking for something that might cause slightly less arguments on your big day, but still shows off your love of the force, then this topper from Simply Acrylic Design is for you. It comes in lots of colours to match your big day, so really there's no excuse not to have it, right?
Great Gatsby Wedding Cake Topper – Funky Laser
Throwing a 1920s-themed wedding? Top your cake with this famous line from The Great Gatsby. It's a fantastic literary touch and will set the mood up for one hell of a party. If you're going all out with your decorations, this statement design will really top off your shindig.
READ MORE: 23 Unusual Cakes You'll Love
If none of these wedding cake toppers tickled your fancy, why not browse our list of wedding cake toppers for TV and film buffs? If you've picked out one of these unique cake toppers, use it as the finishing touch to an unusual wedding cake to make a quirky statement.