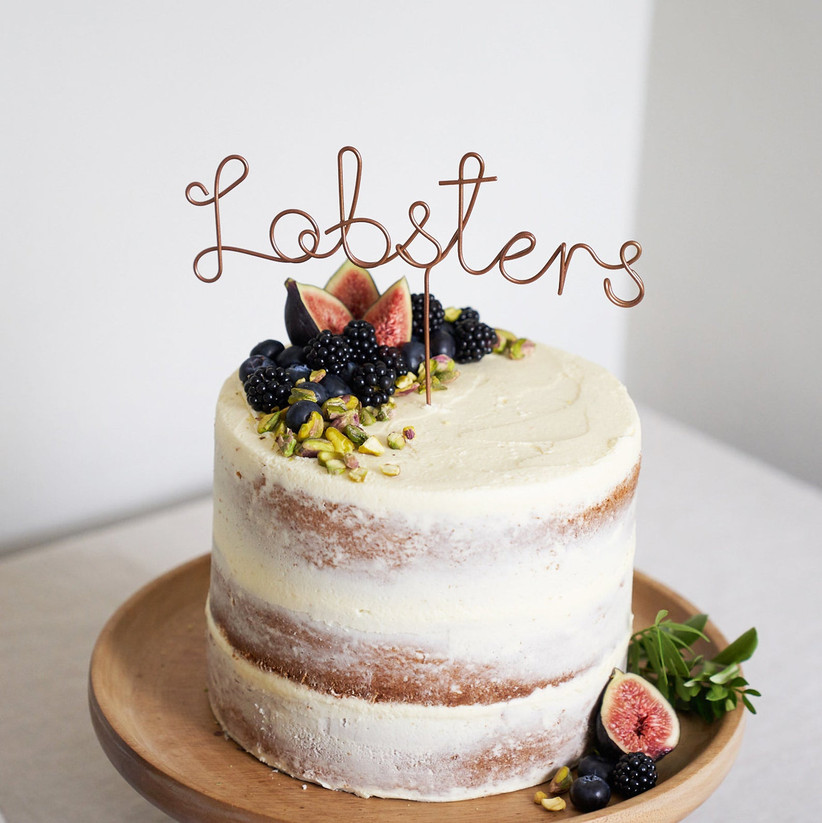 Whatever wedding cake you choose, it will be unique to you as a couple. From the number of tiers, to the style, design and even the fillings, it's rare to see two wedding cakes that look exactly the same.
However, when it comes to the finishing touches, wedding cake toppers can completely transform the look of a wedding cake, making it a fabulous focal point at your wedding reception.
Whether you're after a chic, barely-there wedding cake topper, or a hilarious The Office themed one, here's our pick of the most fun, unusual and unique wedding cake toppers around.
NB: We have included third party products to help you navigate and enjoy life's biggest moments. Purchases made through links on this page may earn us a commission.
Personalised Wedding Cake Toppers
A personalised wedding cake topper will be the perfect keepsake from your wedding. Including your names or the date will make it extra special and you can use it to top celebration cakes throughout your marriage.
1. Love You to the Moon Wedding Cake Topper – Pelemele
If your partner leaves you with stars in your eyes, this romantic moon cake topper from Pelemele is for you. Handmade in the UK, it's available in 26 different colours and works with every theme from glamorous to rustic. You'll be over the moon with this one.
2. Bunting Wedding Cake Topper – Baloolah Bunting
Add all the fun of a village fete to your wedding with this cute bunting cake topper from Baloolah Bunting – perfect on a naked wedding cake or semi-naked wedding cake. It's made out of real fabric to delicately flutter above your cake: make sure you get someone videoing as you cut into your tiers! The initials are a really sweet way of adding a bit of personalisation to your cake without going over the top.
3. Mr and Mrs Wooden Wedding Cake Topper – Sophia Victoria Joy
What a finishing touch to your wedding cake! This whimsical topper from Sophia Victoria Joy comes complete with the happy couple's surname for a unique look. The stem is long enough that it can sit flush to your cake or above any other decoration, such as fruit, flowers or foliage. It's a simple but incredibly romantic touch to your cake and will look fantastic in photos.
READ MORE: Amazing Wedding Cake Makers in London
4. Rose Gold Wedding Cake Topper – All Her Glory
This banner style topper from All Her Glory is pretty, ornate and features both your names in a beautiful calligraphy-style font and your wedding date. It's a great statement topper and the rose gold colour is totally on trend.
5. Slatted Wood Wedding Cake Topper - Manta Makes LTD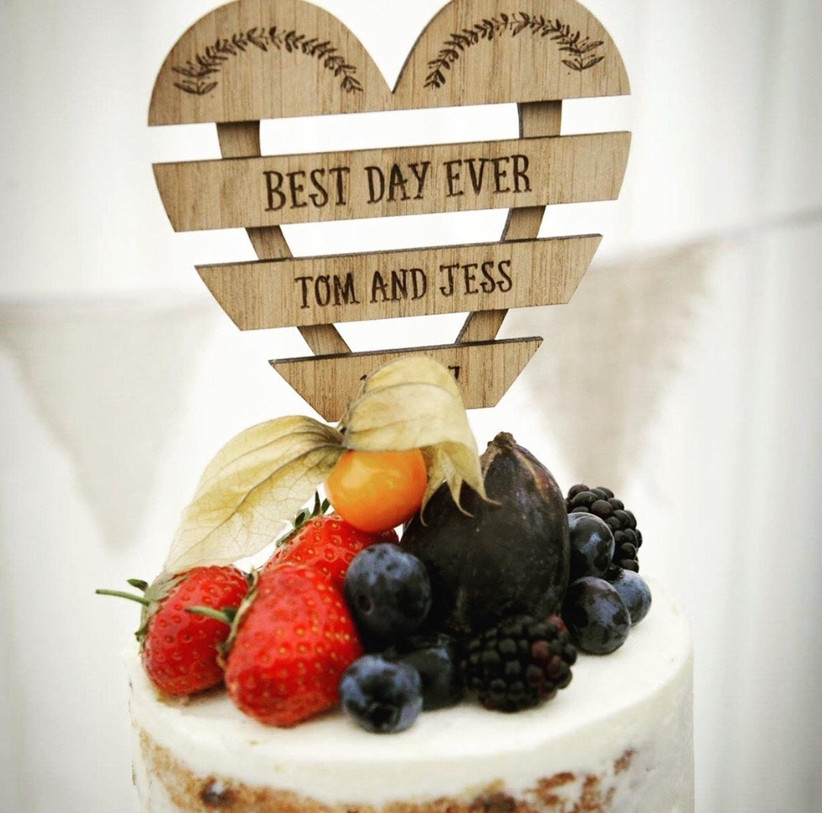 If you're having a country farm or barn wedding, tie your cake into the day with this slatted wood personalised wedding cake topper. This decoration really will add to the best day ever!
6. Destination Wedding Cake Topper – Amazing Woodcraft
This wooden travel topper from Amazing Woodcraft shows two US states, but if you're both from different countries you can have those crafted to show off your international love. Other sentimental ideas include the country you met and where you now live, where you're having a destination wedding, or where the proposal was if it was abroad. This is unique and meaningful, especially to couples who've had a long journey to find each other.
READ MORE: 15 Breathtaking Rose Gold Wedding Cakes
7. Arrow Wedding Cake Topper – Sophia Victoria Joy
If you're looking for something a bit funky and different, this love heart design from Sophia Victoria Joy is it. Personalised with your initials and in lots of different colours (like this mirror gold, which we love), this is an eye-catching and original wedding cake topper.
8. Geometric Heart Wedding Cake Topper – Sophia Victoria Joy
This stand-out cake topper from Sophia Victoria Joy is seriously cool. It'll add a stylish touch to any cake, but would work particularly well with a simple, stark cake design. You can add your names and surname into the heart to make it even more unique, but the design alone is eye-catching enough. It comes in a large selection of colours and three sizes to fit every theme and cake.
Couple Wedding Cake Toppers
Perhaps you want your wedding cake topper to represent you both as a couple? We have picked out some of our favourite couple wedding cake toppers that can be tailored to perfectly represent you.
9. Tandem Bike Wedding Cake Topper – Wire Bicycles
Whether you're cycling mad or just love this tandem bike riding duo, this bicycle cake topper from Wire Bicycles is certainly unique. Surprise your other half who loves their bicycle with it and then have it as a keepsake after the wedding on the mantelpiece or shelf as a lovely talking point. Your names can be written in wire and attached for free to the bike.
READ MORE: 43 of the World's Most Amazing Wedding Cakes
10. Wooden Peg Doll Cake Topper - Sunshine Shenanigan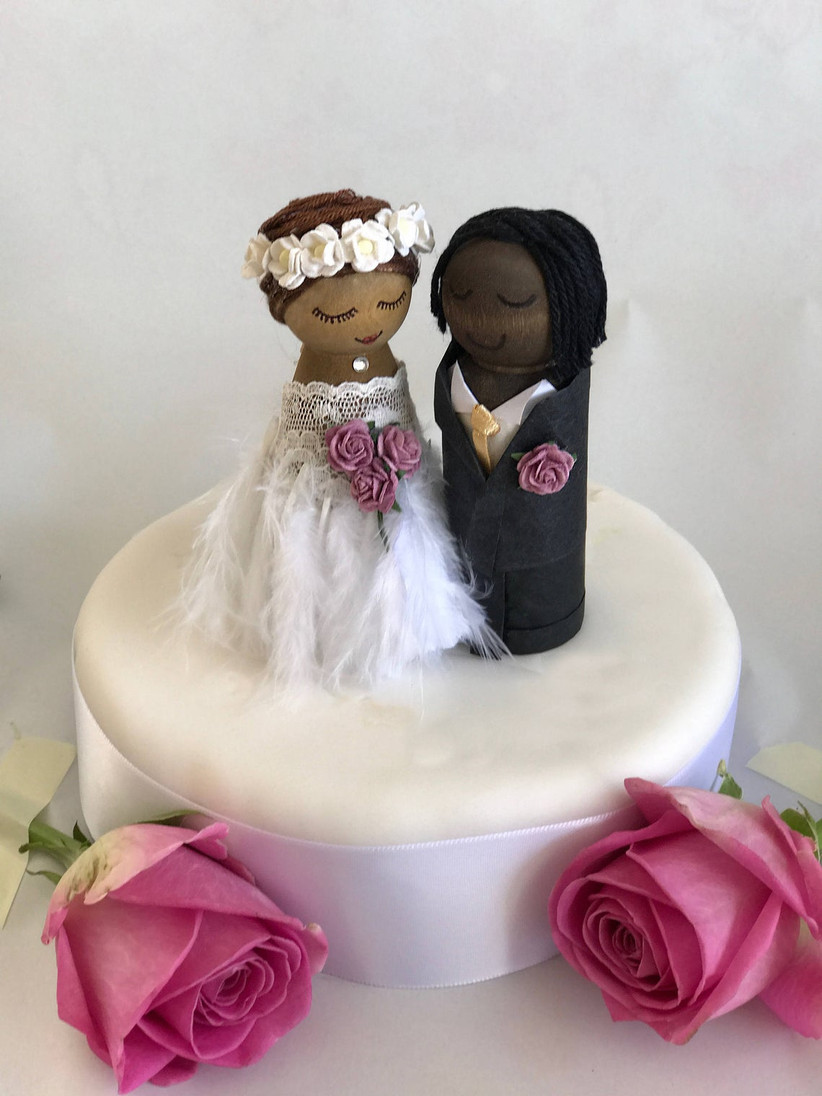 These handmade wooden peg doll wedding cake toppers are seriously special and made to order specifically catered to each couple. So much detail goes into them, from the feathered dresses to the ribbon ties, plus you can even request swatches of your real wedding outfits be included!
11. Crotchet Wedding Cake Topper - Ivory Tree House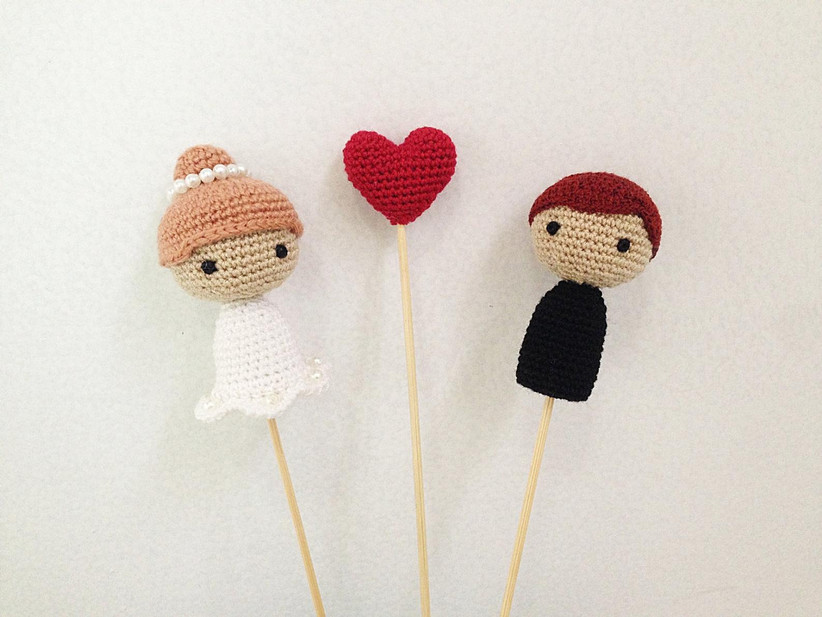 You'll fall in love with these sweet crotchet wedding cake toppers. You can personalise them to look just like you and your partner, plus you'll receive an adorable red heart with every order.
12. Mr and Mr Cake Topper – P2 Topper
We love the simple style of this Mr & Mr cake topper from P2 Topper, it would be perfect sitting at the top of an elegant buttercream wedding cake.
13. Lego Wedding Cake Topper – Bare Sock Crafts
For Lego fans, what cuter way to celebrate your wedding day than a topper made out of it? Each Lego figurine and set up is customisable with different outfits and hairstyles so it can look just like you - such a fun take on a wedding cake topper!
READ MORE: 15 Amazing Ideas for the Groom's Cake
14. Jigsaw Pieces Wedding Cake Topper - Spoonful Of Sparkles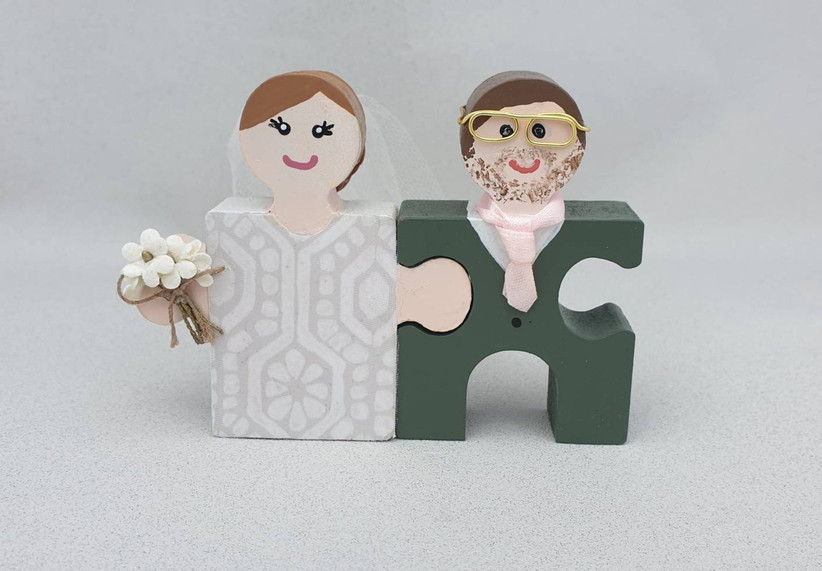 You and your partner were made for each other and a fabulous way to represent this is with these personalised jigsaw piece wedding cake toppers. Not only will they look amazing on the day, you can pop a bit of string on them afterwards and use them as individual keyrings!
Family Wedding Cake Toppers
Whether you are becoming a step family or you have children together that you want to really feel part of your big day, a family wedding cake topper is a lovely way to honour this.
15. Family Wedding Cake Topper – Topper Designer
The elegant silhouette style of this cake topper by Topper Design is stunning and even more ideal if you are a bride who has chosen a fishtail wedding dress!
16. Name Cake Topper – Wedding Table Number Co
We love this personalised wedding cake topper from Wedding Table Number Co, it's perfect if you want to celebrate your new family name.
17. Family Model Wedding Cake Topper - Hitched Shop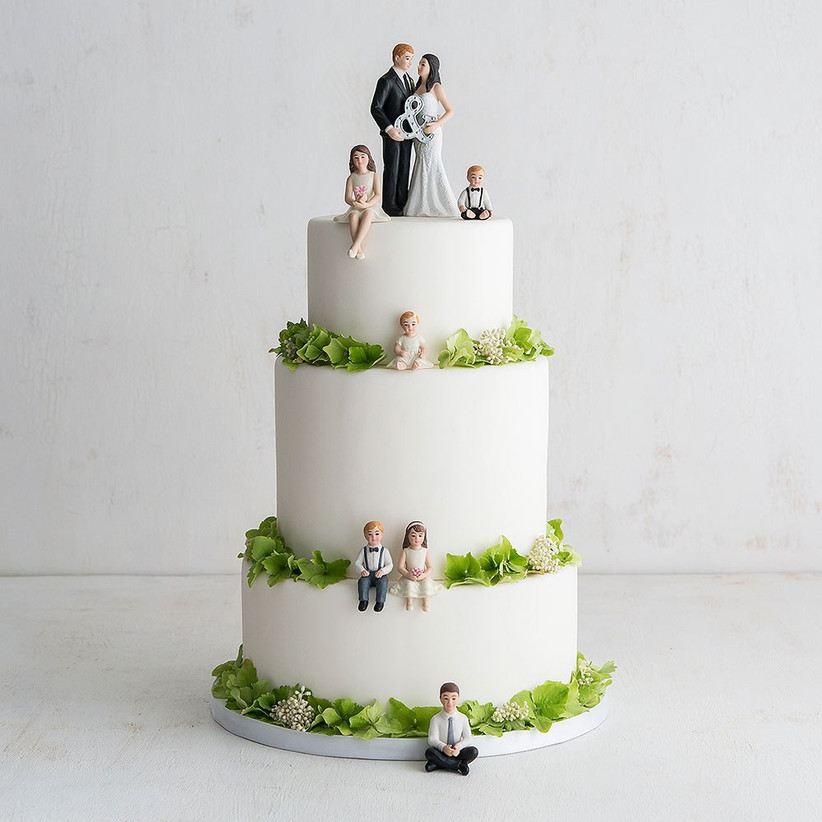 So you've found the perfect wedding cake topper to represent you and your other half, but what about the kids? Over at the Hitched Shop personalised baby, toddler and children wedding cake toppers are available to complete the whole family. We love the idea of placing them on different tiers just like this cake.
Animal Wedding Cake Toppers
If you want a wedding topper that features your pet or your favourite animal then browse our selection of these animal wedding cake toppers.
18. Wooden Rabbit Wedding Cake Topper – Norma Dorothy
This delicate cake topper from Norma Dorothy shows two rabbits kissing alongside cute laser-cut leaf decorations. It's subtle enough to not draw attention away from your cake, but makes a touching addition. Carved into the rabbits are 'I do' and 'Me too' – you'll love keeping these after the big day.
READ MORE: Dreamy Drip Wedding Cakes
19. Couple and Pet Cake Topper – P2 Topper
Are you having your pet at your wedding? If you are then why not also include them in your cake topper! We adore this style from P2 Topper and you can choose from a range of designs and pets!
20. Dog Wedding Cake Topper - Hitched Shop
You can also include your pooch on your big day with this miniature furry friend wedding cake topper. Choose from a Dachshund, Labrador, Shih Tzu or a Bichon Frise.
21. Penguin Wedding Cake Topper – Great British Craft UK
Give your cake the wow factor with this cute penguin cake topper. Penguins are known for having just one mate for life so there's some lovely symbolism in this choice of topper. You can get it in lots of colours, but we love the simplistic shadow design.
22. Love Birds in a Nest Wedding Cake Topper - Hitched Shop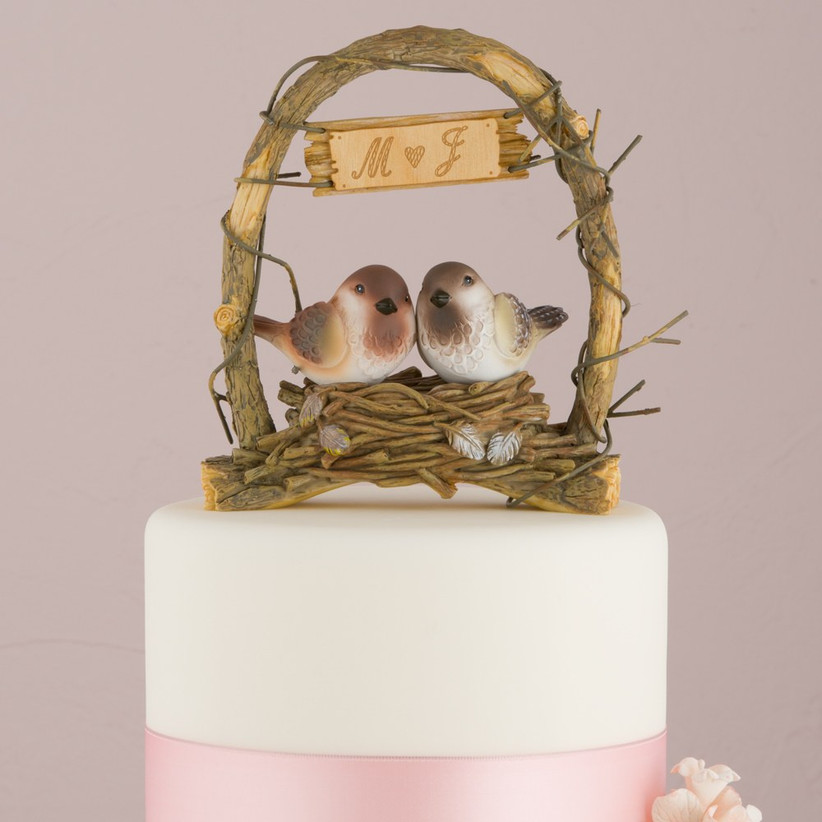 This adorable pair of lovebirds snuggled in a little nest are the perfect addition to a rustic wedding cake and would work wonderfully at a woodland wedding venue. You could even pop a few chocolate mini eggs around the cake topper to really set it off.
23. Giraffe Wedding Cake Topper - Tickety Boo Toppers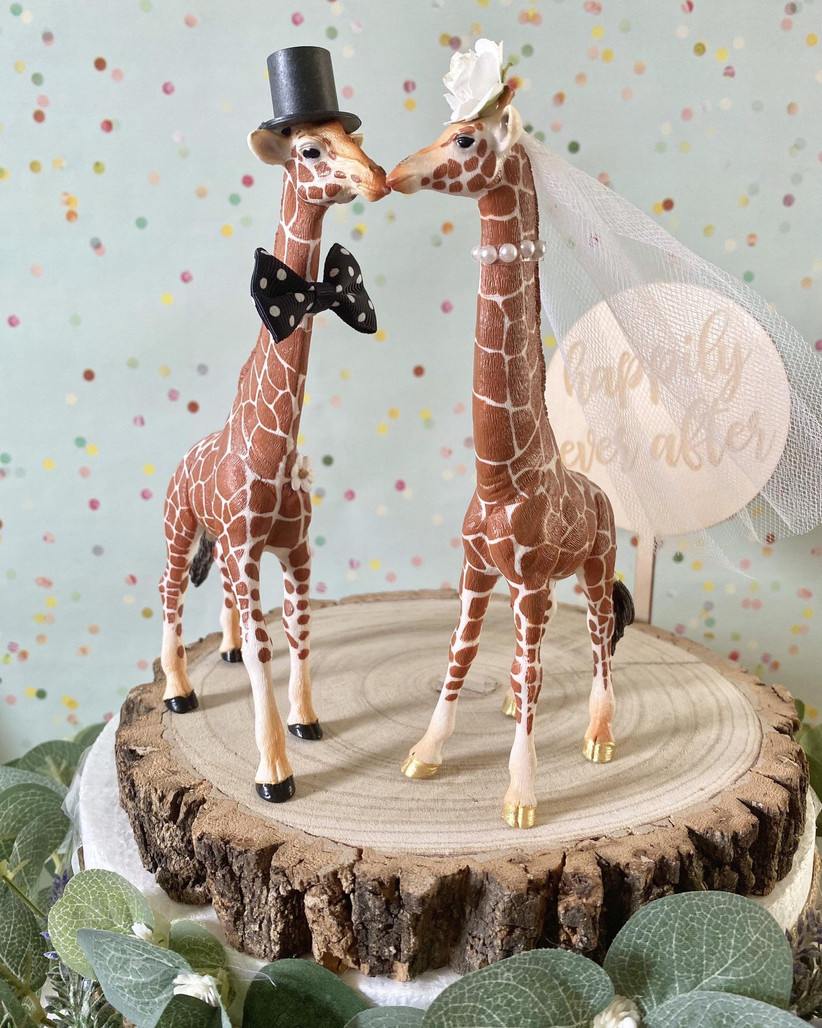 Animal lovers look no further, we think we've found the perfect wedding cake topper for you with these spectacular giraffes. You can dress the giraffes up however you like, from colourful bowties to metallic crowns.
24. Sea Otter Wedding Cake Topper - Heartmade Cottage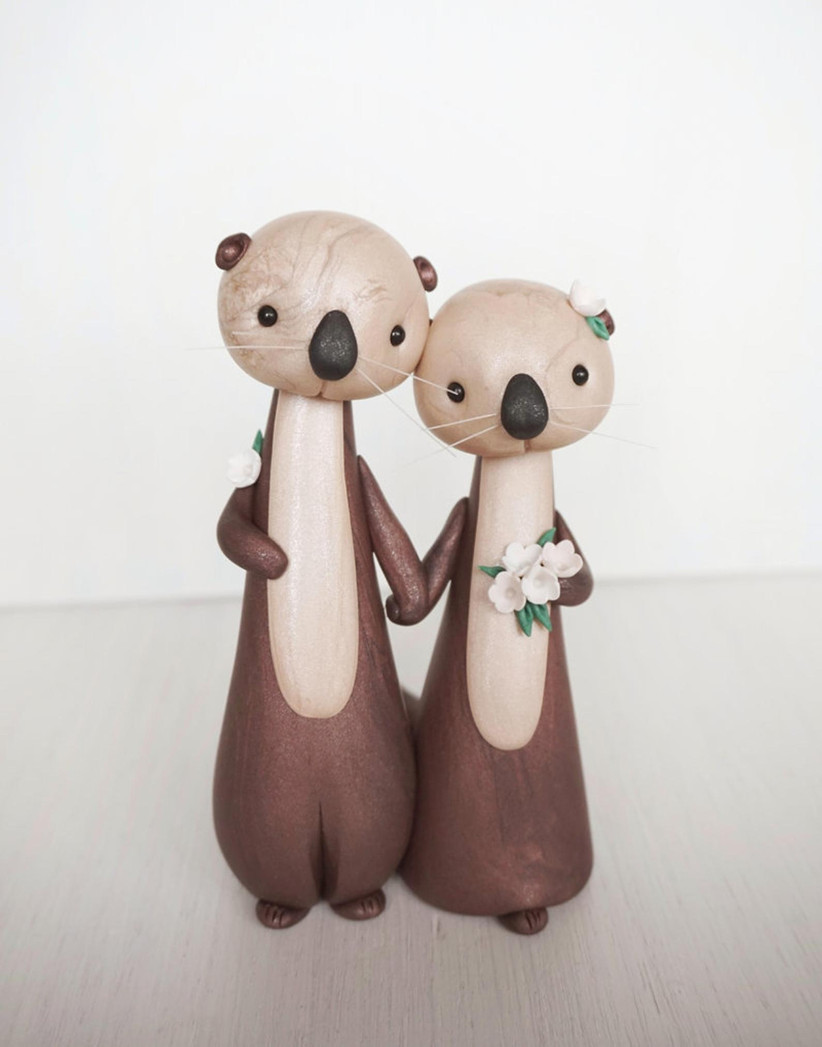 If you a have a little more budget to spend on your decorations these adorable otter wedding cake toppers from Heartmade Cottage will look gorgeous. You can also pick from a range of different animals, from red pandas and reindeers to bears and beavers.
READ MORE: Wedding Cake Prices Guide
25. Flamingo Wedding Cake Topper - Love Nesting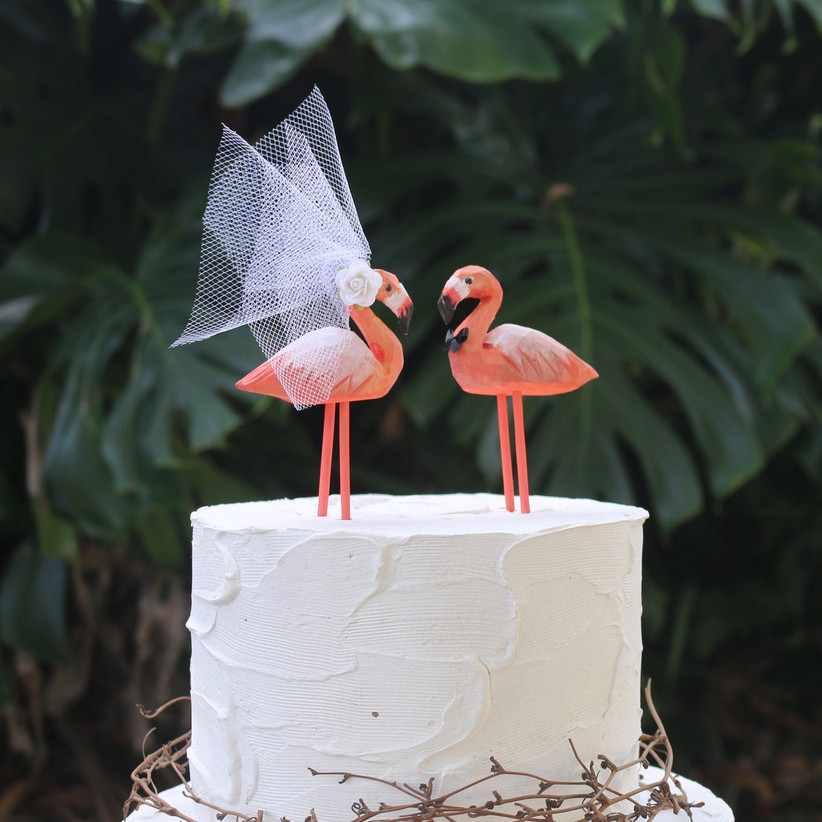 Planning a destination wedding? These flamboyant flamingo wedding cake toppers will add so much personality to your cake! The undersides of the flamingos can even be personalised with your initials and your wedding date.
Cute Wedding Cake Toppers
If you're looking for a cute wedding cake topper that's pretty and full of romance then take a look at some of our favourites.
26. Glitter Wedding Cake Topper - Rosy Dot Design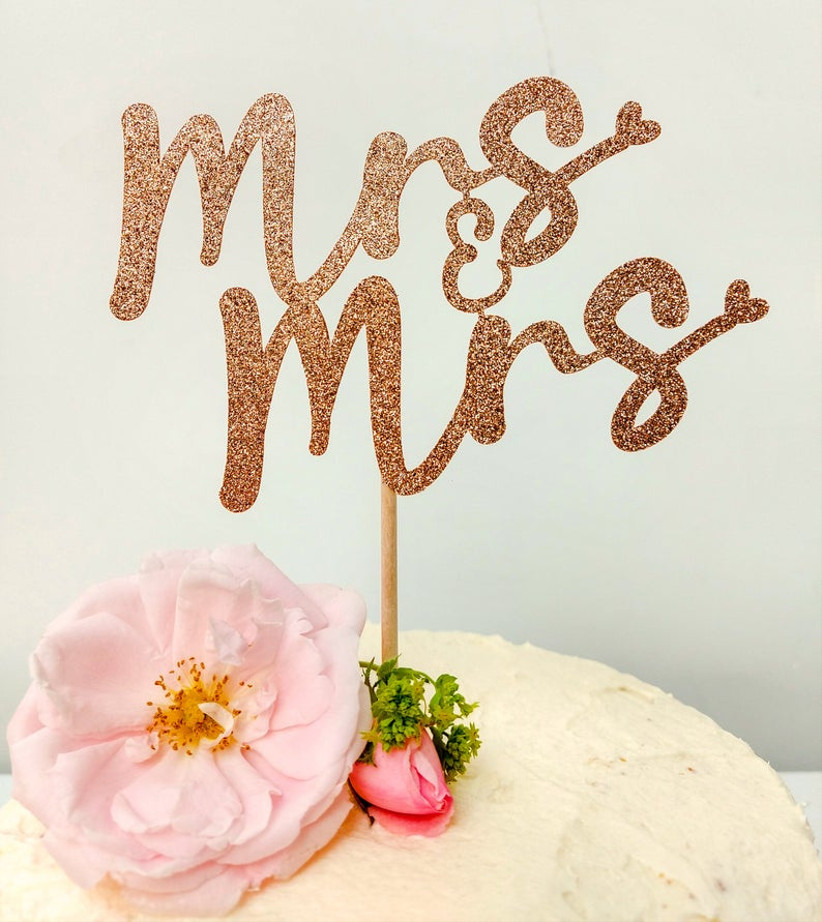 You can still opt for a glitter wedding cake topper without taking the attention away from the cake itself. This rose gold Mrs & Mrs wedding cake topper is simple yet glamorous and would suit all types of icing finishes from naked to full frosting.
27. Doughnut Wedding Cake Topper - Estes Design Studio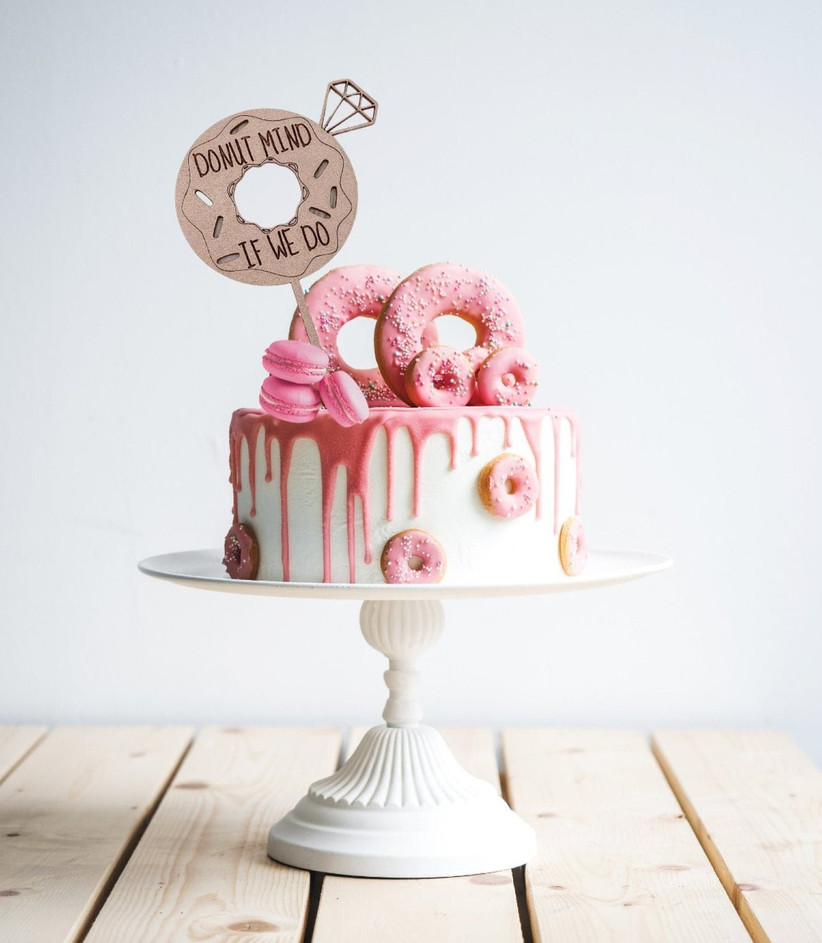 If you're planning a donut tower creation instead of a traditional wedding cake we've found the perfect wedding cake topper for you. Shaped like a doughnut and with the slogan 'donut mind if we do', you won't have seen this unique wedding cake topper at many occasions.
READ MORE: 11 Amazing Ways to Include Doughnuts in Your Wedding
28. Happily Ever After Wooden Wedding Cake Topper - Hitched Shop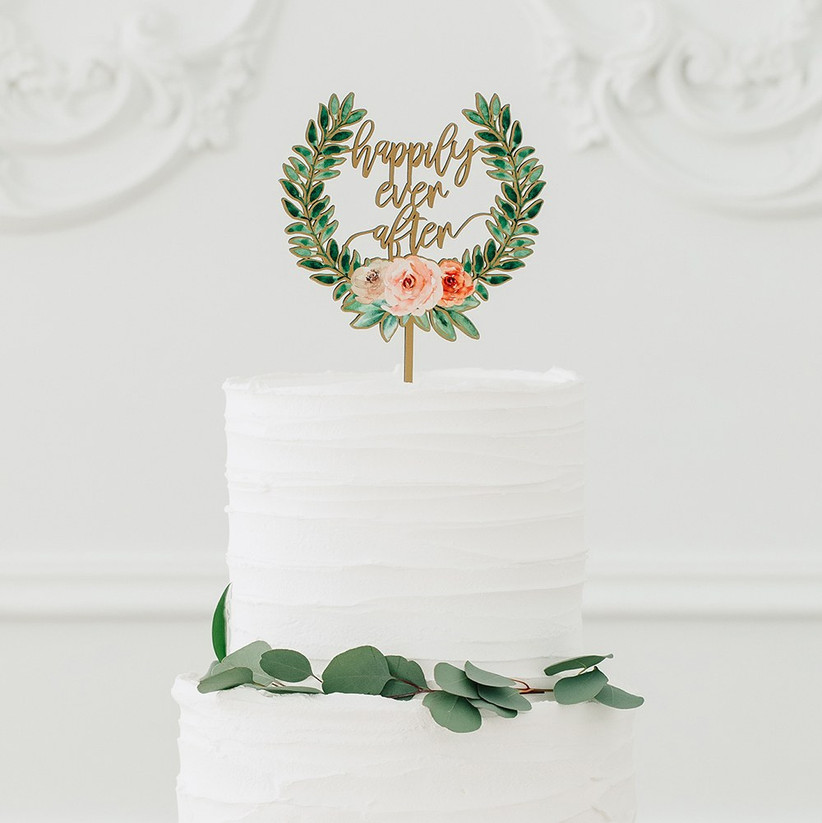 This happily ever after wooden topper looks spectacular on a simple white cake with green foliage. It elevates the cake to the next level, without being too much.
29. Two Peas in a Pod Wedding Cake Topper – Hello Blondie UK
As well as making a great wedding gift or anniversary present, this 'peas in a pod' cake topper from Hello Blondie UK is a fun, quirky touch to your cake. Handmade in Yorkshire and stamped with your initials, these peas have a slightly rustic look that's perfect for a vintage wedding theme.
30. And So The Adventure Begins Wedding Cake Topper - Ginger Ray
How cute is this 'And so the adventure begins' wedding cake topper?! We love the way it looks as it comes but you could even paint the wood different colours to suit your wedding theme and style.
31. Script Brushed Silver Double Happiness Wedding Cake Topper - Hitched Shop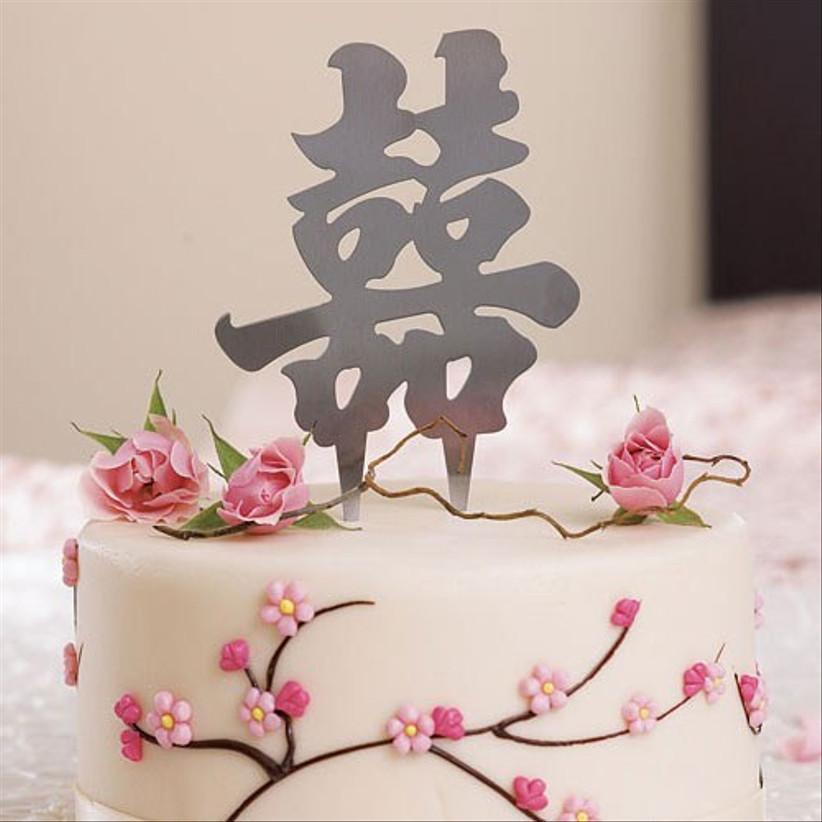 The Chinese double happiness symbol wedding cake topper is commonly used as a Chinese wedding symbol to represent double the joy and happiness for newlyweds as they begin their marriage. It looks stunning paired with the cherry blossom icing detailing on this white cake.
32. White Feather Wedding Cake Topper – Hitched Shop
If you're rocking a modern and minimalist theme, these simple but beautiful porcelain feathers are a statement cake topper. Don't dismiss them if you're after a more relaxed vibe too – there's a real free spirit feel to them. If you're toying with the idea of an owl or other birds at your wedding, this will totally complement your theme.
READ MORE: 18 Irrestible Single Tier Wedding Cake Designs
33. Stylish Embrace Wedding Cake Topper - Hitched Shop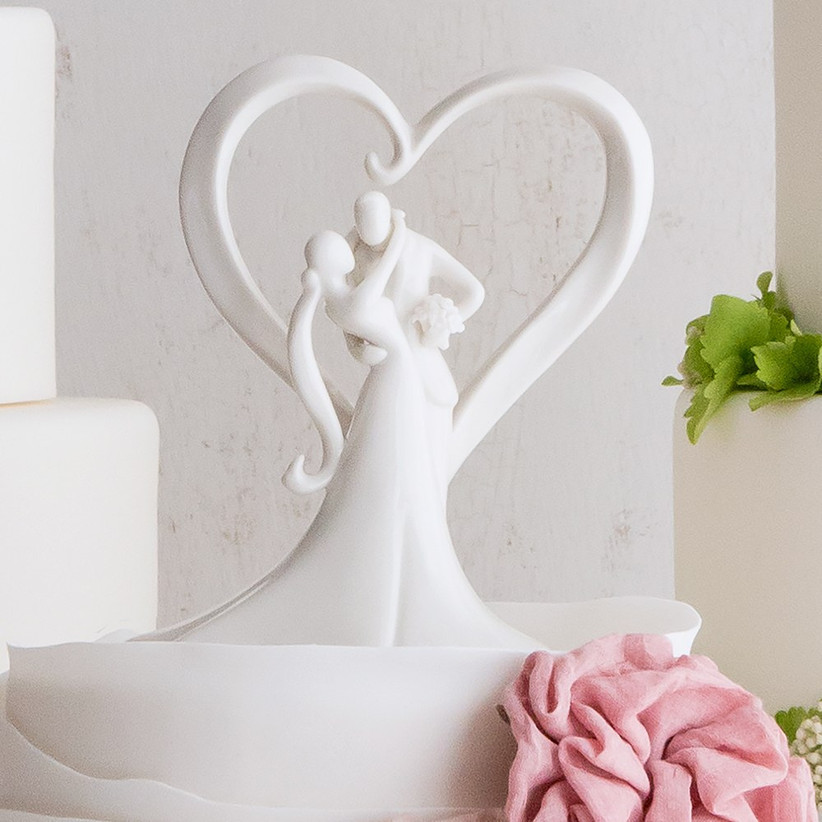 Glamorous couples will adore this chic, minimalistic wedding cake topper from the Hitched Shop. It seamlessly blends into a white cake, almost as if it's been made of icing!
Funny Wedding Cake Toppers
Are you a couple that loves to inject a bit of humour? Then a funny wedding cake topper is a great way to add some subtle hilarity into your big day (without disrupting your theme!).
34. Finally – Twenty Seven
Are you that couple that have been together forever and everyone would ask when you were getting married? Then this fun finally wedding cake topper from Twenty Seven could be perfect for you.
35. Cheese Wedding Cake Topper – The Letter Loft
Not everyone wants a sweet wedding cake. For those opting for a big stack of cheese instead, this 'so cheesy' wire cake topper from The Letter Loft is fun and a bit different. Coming in lots of wire colours, you can match it to your cheese of choice. It's a sturdy design that'll slip as easily into your brie as cheddar and won't bend. P.S. It also comes in a matching 'cake!' option that works brilliantly if you're having both a normal and cheese cake.
36. Still Shopping Wedding Cake Topper - Hitched Shop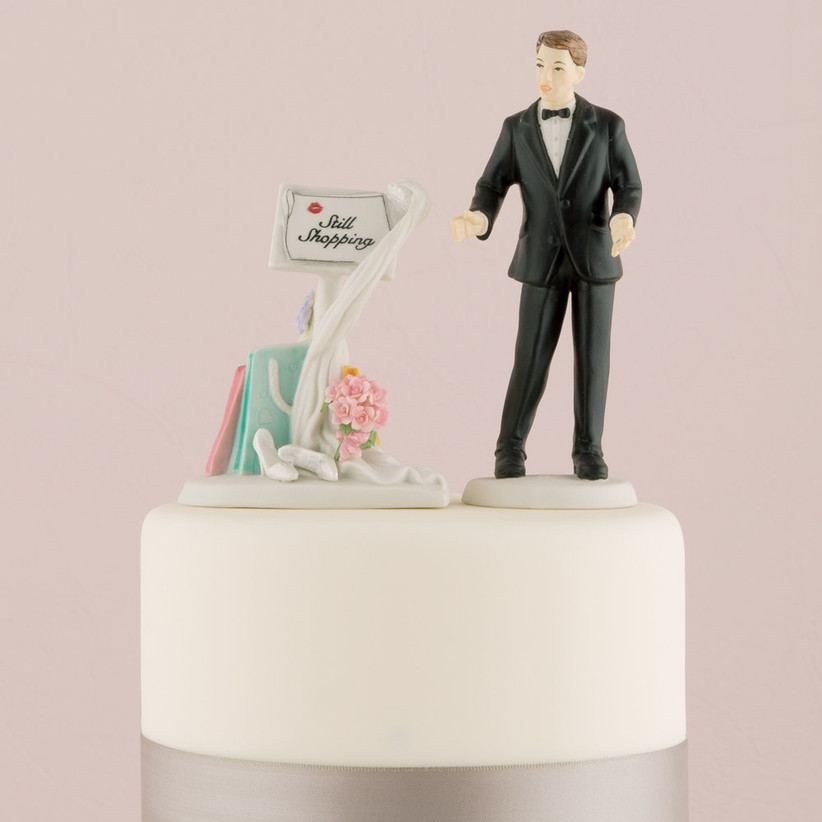 We think a lot of people will be able to relate to the little posted message on the board of this wedding cake topper stating the bride is still shopping!
Film & Television Wedding Cake Toppers
If you're both complete movie-buffs or you love nothing more that a night in with Netflix then why not choose a wedding cake topper inspired by your favourite show?
37. Up Wedding Cake Topper – Cake Topper Studio
Is there any love story sweeter than Carl and Ellie in Disney Pixar's film Up? If you're both fans then choose this cake topper. We adore those balloons! You can also get lots of Marvel and superhero character toppers from this seller so don't miss out on your favourites.
READ MORE: 26 Incredible Black Wedding Cake Makers You Need to Follow
38. Doctor Who Wedding Cake Topper – All For Wedding Studio
Get your geek on with this Doctor Who cake topper. This seller makes lots of fan favourite designs including Woody and Bo Peep from Toy Story and Wall-e and Eva so whatever you two love as a couple, you can find it.
READ MORE: Epic Superhero Wedding Cakes
39. Star Wars Wedding Cake Topper – Simply Acrylic Design
'I love you.' 'I know.' Every Star Wars fan knows that famous scene. If you're looking for something that might cause slightly less arguments on your big day, but still shows off your love of the force, then this topper from Simply Acrylic Design is for you.
40. The Great Gatsby Wedding Cake Topper – Funky Laser
Throwing a 1920s-themed wedding? Top your cake with this famous line from The Great Gatsby. It's a fantastic literary touch and will set the mood up for one hell of a party. If you're going all out with your decorations, this statement design will really top off your shindig.
READ MORE: 30 Winter Wedding Cakes Perfect for Your Festive Day
41. Mickey & Minnie Mouse Wedding Cake Topper - Simply Acrylic Design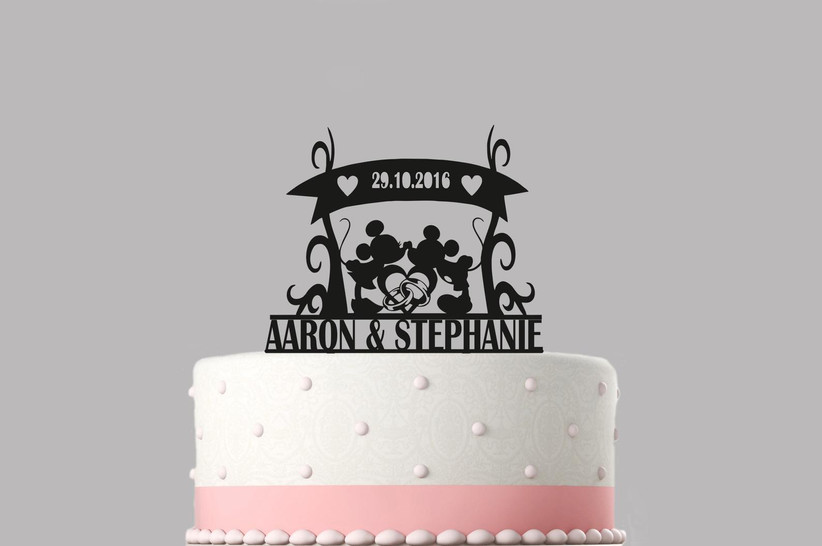 Disney loving couples will adore this personalised Mickey and Minnie wedding cake topper. It's elegant, intricate and comes in 14 different colours including mirrored options.
42. Lobsters Wire Wedding Cake Topper - The Letter Loft UK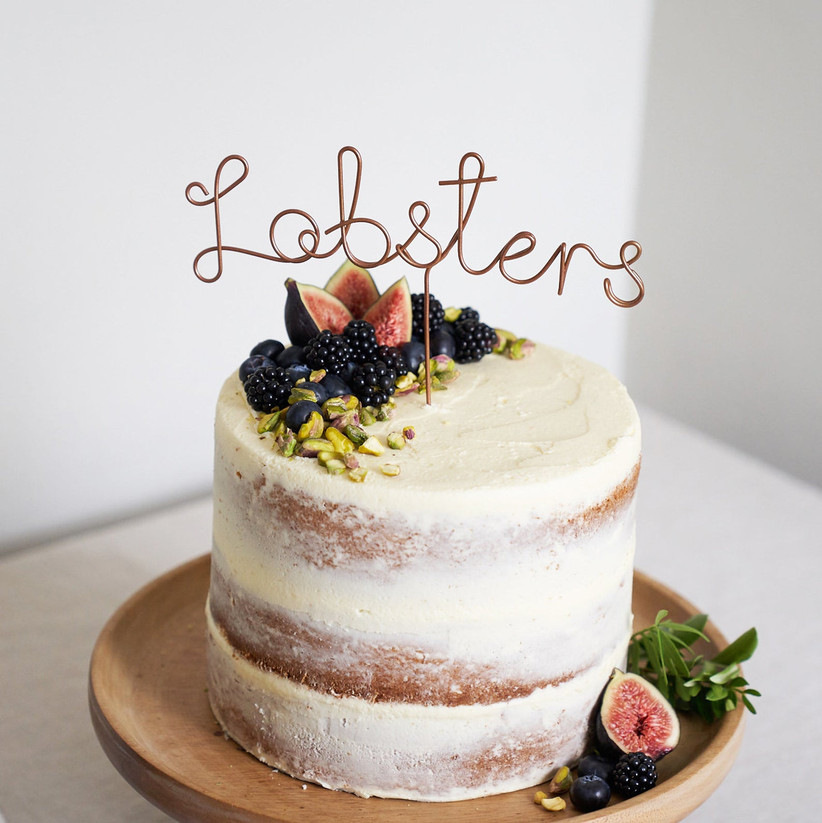 Give a subtle nod to Phoebe from Friends with this lobsters wedding cake topper. Not only is the cake topper itself gorgeous, it comes in a beautifully packaged box tied with brown string and dried flowers. We think it would make a lovely present to gift the happy couple before their big day.
43. The Office Wedding Cake Topper - Shop Brand New Colony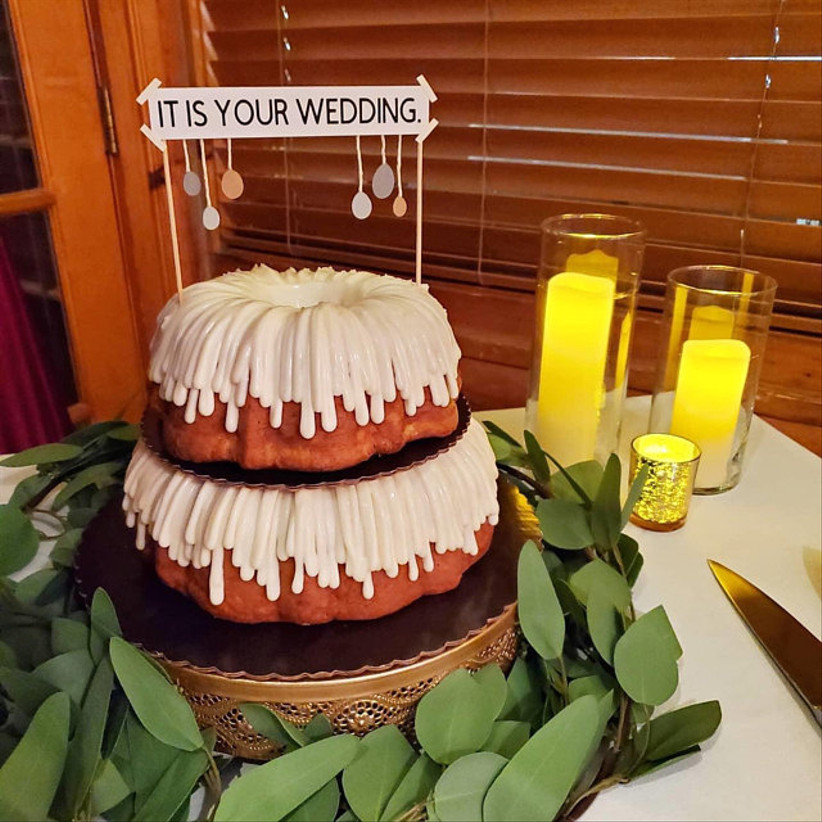 For those who want to bring Dwight Schrute's party aesthetic to their wedding day no look further than this 'it is your wedding' cake topper. It'll have all your guests who are fans of The Office laughing and make a great conversation starter for those who aren't!
If none of these wedding cake toppers tickled your fancy, why not browse our list of wedding cake toppers for TV and film buffs? If you've picked out one of these unique cake toppers, use it as the finishing touch to an unusual wedding cake to make a quirky statement.