Best Wedding Cake Makers in the UK: 18 Award-Winning Bakers
Undecided on who should make your special day sponge? These are the award winning wedding cake makers in the UK that you need to check out!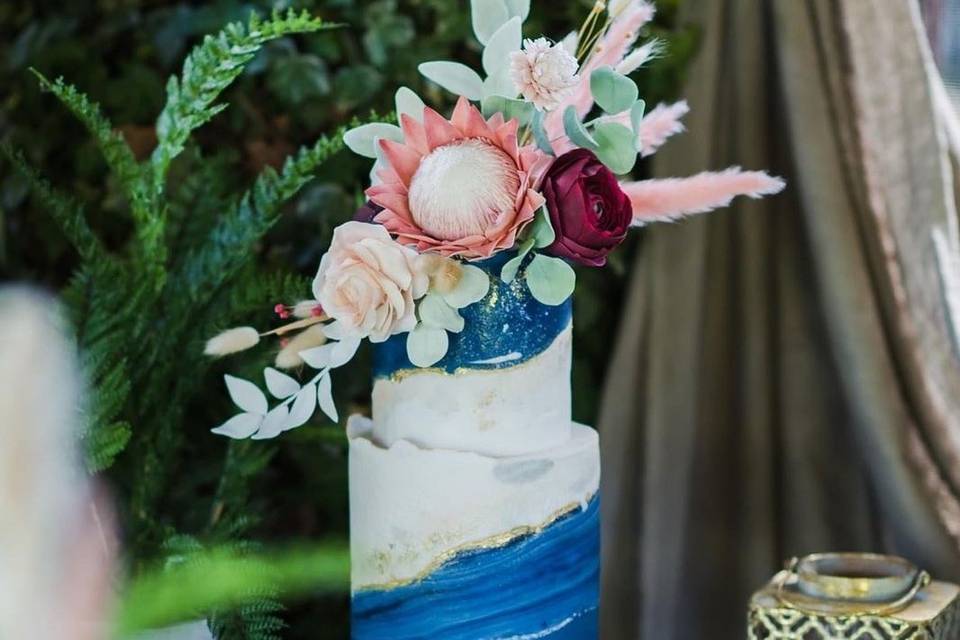 Wedding cakes remain a staple feature at nuptials and it's a tradition we ain't complaining about! From decadent designs adorned with flowers, to contemporary cakes glistening with gold foil, couples can choose from all kinds of stylish sponges that truly are a work of art.
But with lots of talented wedding cake makers based all over the UK it can be hard to know exactly who to head to when it comes to making your dream wedding cake a reality - let alone what shape, size and style to go for!
Wedding cake creator All Shapes and Slices Cake Co noted "semi-naked and buttercream wedding cakes are continuing to be very popular, as well as donut towers replacing cupcake towers", whilst Sugar and Spiced Cakes added that "this year many couples are heading back to traditional and elaborate versions with sugar flowers making a major return. Metallic and quirky designs are proving that couples are also open to innovative designs."
Here at Hitched we have tonnes of wedding cake inspiration, plus we've sifted (sorry) through hundreds of brilliant bakers to bring you the 18 best wedding cake makers in the UK. Oh, and if you're still undecided, we spoke to industry experts we gave us their top tips on choosing a wedding cake and the mouth-watering wedding cake flavours everyone is after. Biscoff, anyone?
1. Euthymia Cakes by Eva Cockrell - Hanslop, Buckinghamshire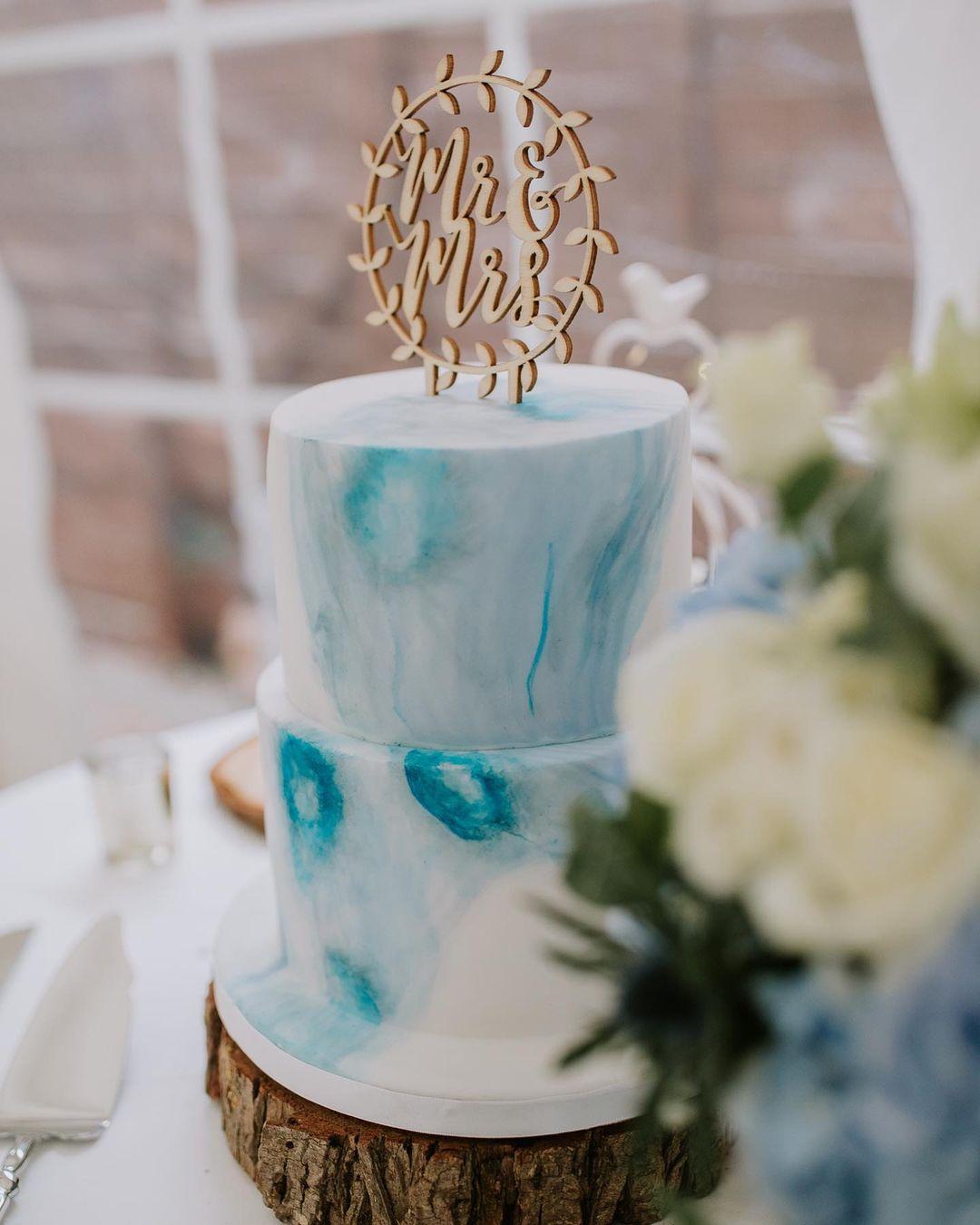 Owner of Euthymia Cakes Eva Cockrell is a pastry chef and dietician who boasts more than eight years of experience in cake designing and decorating. Her bespoke bakes taste as good as they look with fabulous flavour offerings such as apple crumble, raspberry ripple and coconut delight.
She can also make macaroons, brownies, fondant fancies and other treats should you wish to create a whole wedding dessert table.
2. Cocoa & Whey Cakes - Blandford Forum, Dorset
Whether you have a sweet tooth or are after something savoury, Cocoa & Whey Cakes can accommodate. Delivering to couples across Dorset, Hampshire, Wiltshire and the South of England, choose from flavours including zesty lemon and red velvet, or red pepper, rocket and roquefort!
Owner Penelope Hurst can also make delicious individual cupcake wedding favours that can be made to tie into the design of your main cake as a treat for your guests to take away.
3. All Shapes & Slices Co - Orpington, Kent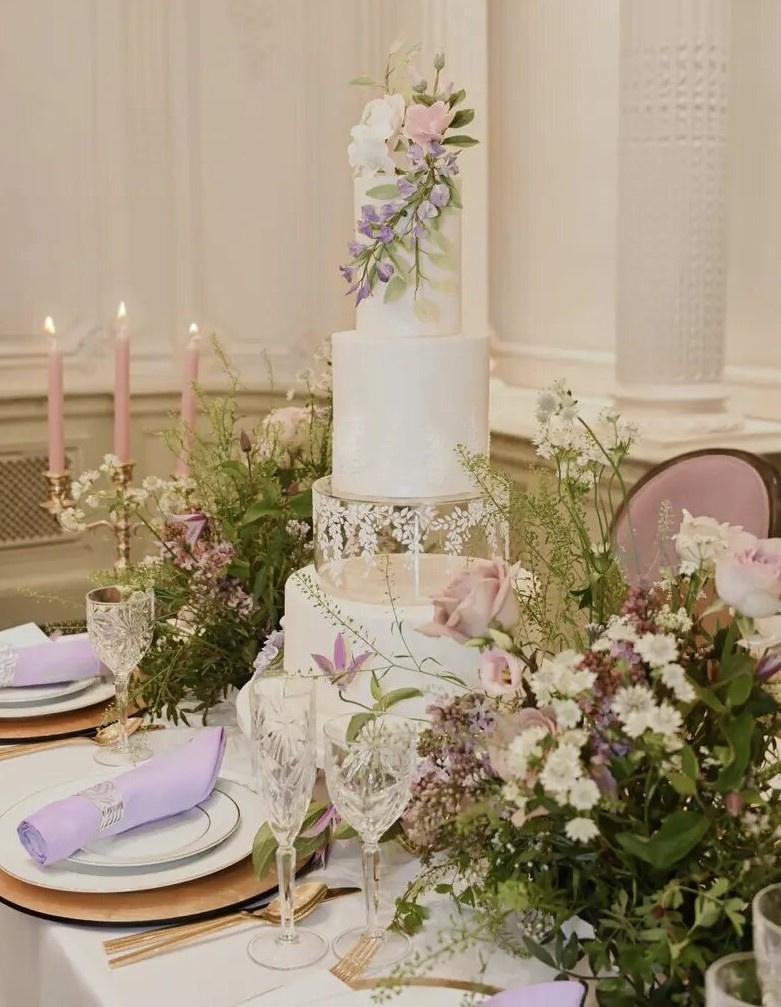 From naked bakes to fondant iced cakes, All Shapes and Slices are serving up bespoke wedding cake designs to suit all tastes. If you can't decide on your wedding cake flavour, consider one of their wedding cake sample boxes - you'll receive two slices of each six flavours plus two tea bags all in a gorgeous eco-friendly package.
The team can also cater to a range of dietary requirements, offering vegan, gluten-free, and eggless options.
4. Cake Innovations - Gravesend, Kent
If you're dreaming of a wedding cake decorated in delicate sugar flowers, Cake Innovations based in Kent have you covered - owner Samantha Hamer is a pro! From trendy succulents to pretty primroses, she can craft them all. More over, her sugar wedding cake toppers are spectacular!
We love the idea of keeping these sugar creations forever as a special keepsake from your big day.
5. Cobi & Coco - Sittingbourne, Kent
Cobi & Coco Cakes are top innovators when it comes to wedding cake design, having made cakes for notable venues such as Kew Gardens and Grosvenor House. Expect each tier of your cake to be crafted using four layers of delicious sponge sandwiched with your choice of buttercream, conserves, and curds.
Each cake is then finished with a sumptuous layer of white chocolate ganache and sugar paste before being decorated to a high standard.
Want to know more? We spoke to owner Serena Chi who shared her secrets to success.
READ MORE: 45 Spectacular Buttercream Wedding Cakes
6. Let Them Eat Cakes - Swanley, Kent
Let Them Eat Cakes pride themselves on working closely with couples to take care of every little detail - from the initial sketch to the final big day display.
We love the sound of their pink champagne wedding cake which is filled with decadent alcohol-infused buttercream and strawberry coulis.
7. Marian Cake Studio - Orpington, Kent
Serving London and Essex, Marian Cake Studio create luxury and modern wedding cakes that are ideal for chic couples. We're talking elegant marbling, gilded gold foil features and pretty pops of colour.
The level of detail that goes into each wedding cake is seriously impressive - so much so that they're almost too pretty to eat!
8. Sugar and Spiced Cakes - Tunbridge Wells, Kent
Sugar and Spiced Cakes offer a luxury wedding cake consolation at an amazingly affordable price. Their Luxury Consultation involves meeting owner Pippa for an indulgent vintage afternoon tea to discuss your bespoke order while tasting up to four delicious flavours.
Simply take along some wedding cake inspiration and let her bring your show stopping sponge to life!
9. The Little House of Baking - Harrow, North West London
Delivering bespoke and affordable wedding cakes all over London, The Little House of Baking is a small home-based business that pride themselves in detailed designs and delicious flavours.
Want something a little bit different? Owner Rakhee also offers unique bakes such as doughnut towers or biscuits!
10. Southwell Cakery - Harrow, North West London
Southwell Cakery in Nottinghamshire are all about serving up stylish and sophisticated wedding cakes that are packed full of flavour. From banoffee and black forest, to cookies and cream, there is something to suit all couples.
They limit themselves to two wedding cakes per week so you can be sure all focus will be on creating the cake of you dreams.
READ MORE: 23 Unique Wedding Cheesecakes
11. The Mouse & The Cake - Henley On Thames, Oxfordshire
If an elegant and luxe wedding cake is what you're after, look no further than The Mouse & The Cake. Baker and wedding cake artist Vikki will collaborate with you during consultations to bring your vision to life!
Expect sponges adorned with metallic foiling, decorated with intricate sugar florals and even bursting with real blooms.
12. Gails Cake Pantry - Builth Wells, Powys
Owner of Gail's Cake Pantry Gail Jackson grew up around the baking industry so it's no surprise that she is delivering delicious sweet treats to couples for their wedding day.
Using the finest local ingredients, each cake is handmade and has been tried and tested for guaranteed satisfaction. Whether you're after a wonderful cake platter for an summer garden soiree or a traditional tiered wedding cake, she can accommodate.
13. Beez Cakes - South East London
Located in South East London, Beez Cakes offers naked/semi-naked cakes, buttercream bakes and fondant wedding cakes, as well as mini desserts such as cookies, cupcakes and cake popsicles.
Each wedding cake is made up of three delicious layers of sponge with two tasty layers of filling. Fondant cakes are iced with a layer of white chocolate ganache before being covered with soft icing for a smooth finish.
14. From the Hart Cake Creations - Sheffield, South Yorkshire
You won't believe your eyes when you see the wedding cakes From the Hart Cake Creations are serving up - and neither will your guests!
The intricate designs are contemporary and right on trend, with features such as marbling, dried flowers and colour blocking. See more marble wedding cake ideas here.
15. Cakes from the Cottage - Birmingham, West Midlands
Home baker Yvonne whips up wedding cakes at Cakes from the Cottage in Birmingham. From modern gourmet masterpieces to traditional bakes, she tailors her talents to meet all couple's tastes.
Cupcake displays and macaron towers are also available and cake stands and knives are provided on request.
READ MORE: 21 Small Wedding Cakes for Intimate Receptions
16. Chocolatician - Shoreham-by-Sea, West Sussex
Getting married at a heavenly French Château? Croquembouche is the traditional French wedding cake, made from profiteroles filled with pastry cream and constructed using golden caramel to stick all the balls of pastry together, resulting in a glorious tower of sweet treats.
Chocolatician is a patisserie that specialises in this show stopping alternative to a wedding cake - your guests will be seriously impressed if you opt for this!
17. Claire Owen Cakes - Billingshurst, West Sussex
Owner of Claire Owen Cakes Claire holds a First Class Degree in Fine Art Sculpture and has taken this skill to the kitchen, creating wedding cakes that are truly breath-taking - see for yourself from the picture above!
She invites every couple to a free tasting consultation where you can try up to four flavours. If there is a flavour that you love that is missing from their list they can trial it for you to taste.
18. Tipple's Kitchen - Pontefract, West Yorkshire
Serving couples all over West Yorkshire, Tipple's Kitchen make stunning buttercream wedding cakes in fun flavours including strawberry shortcake and salted caramel.
If you have a serious sweet tooth and want to indulge on your wedding day, this one's for you.
What is The Best Flavour For a Wedding Cake?
A traditional wedding cake flavour is fruit cake but now couples are opting to branch out and be a little more daring with their pick. All Shapes and Slices Cake Co revealed that their "most chosen flavours are raspberry and white chocolate, lemon and elderflower and Biscoff."
For Sugar and Spiced Cakes their most popular has been strawberry and rose. "This has been a major surprise as rose can be a bit like marmite - you either love it or hate it. Raspberry and white chocolate is a close second with vanilla and lemon and elderflower quietly taking up third place!! We have also just created a wonderful peaches and cream version which is proving popular with the fruit lovers. Every year we re-vamp our flavours and with the trend heavily now into vegan our vegan coconut and lime is hugely successful," they say.
Still can't decide? We have tons of unique wedding cake flavour ideas for inspiration but ultimately keep in mind that "this is your day and while you want to make sure everyone will enjoy the cake choose flavours that you love above what others might like," suggests Sugar and Spiced Cakes.
How Do You Choose a Wedding Cake?
When deciding on your wedding cake there are a few factors to consider that'll make the task a lot easier. In terms of budget, "rather than feeling you have to provide a cake for everyone, catering for around 70% of guests will be a good guide," recommends All Shapes and Slices Cake Co.
When it comes to design think of the style of your venue, your wedding colour palette and flowers. "If you advise your cake designer of these details they will be able to work with you to create your perfect cake," shares All Shapes and Slices Cake Co.
Once you have decided on a wedding cake maker, it's important to get them booked in as soon as possible. "No-one thinks they need to worry about their cake until the end of the planning process. Sadly this is not the case and the sooner suppliers have your date in the diary the better," points out Sugar and Spiced Cakes.
Finish your wedding cake off with one of these fabulous wedding cake toppers.