Best Wedding Cake Makers in the UK: 25 Award-Winning Bakers
Undecided on who should make your special day sponge? These are the award winning wedding cake makers in the UK that you need to check out!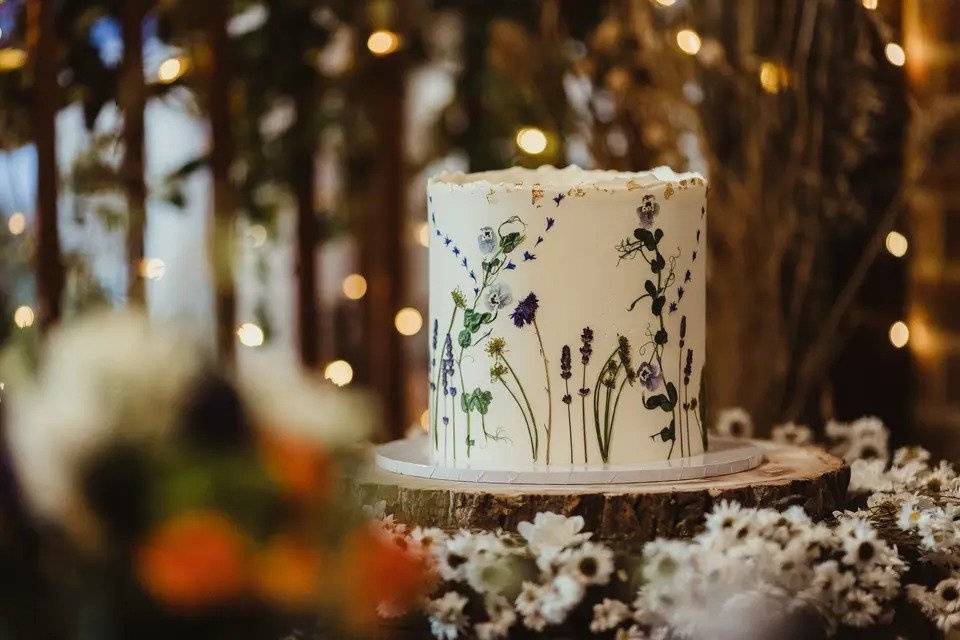 Wedding cakes remain a staple feature at nuptials and it's a tradition we're not complaining about! From decadent designs adorned with flowers, to contemporary cakes glistening with gold foil, couples can choose from all kinds of stylish sponges that truly are a work of art.
But with lots of talented wedding cake makers based all over the UK it can be hard to know exactly who to head to when it comes to making your dream wedding cake a reality - let alone what shape, size and style to go for.
Here at Hitched we have tonnes of wedding cake inspiration, plus we've sifted (sorry) through hundreds of brilliant bakers to bring you the 25 best wedding cake makers in the UK. Each of these experts is a recipient of a Hitched Wedding Award 2023 (based on real customer reviews!) and can create mouth-watering wedding cake flavours everyone is after. Biscoff, anyone?
25 Best Wedding Cake Makers in the UK
1. Beez Cakes - London
South East London-based Beez Cakes is a wedding cake and mini-dessert bakery passionate about creating completely bespoke and personalised cakes to reflect their clients' wedding theme and personal taste. Each creation is made with top-of-the-range fresh ingredients and crafted in a striking bake.
Beez Cakes' creations are known for their intricate sugar work and impressive attention to detail. Each client will receive a thorough consultation where cake makers will get to know them, their preferences and design ideas. The Beez Cakes team understand that planning a wedding can sometimes be stressful, and work to ensure your experience is as seamless as possible.
Hitched users have left Beez Cakes 14 glowing reviews on their Hitched users. One satisfied client said "Bianca is a very talented baker and we're so happy we came across her when looking for our wedding cake! Our cake and cakesicles were beautiful and delicious and everybody loved them! Everything was simply perfect!
"Bianca was very responsive with her emails and I knew I was in safe hands with her. I'd totally recommend her."
2. Cake-tastic Worcestershire - Worcestershire
Cake-tastic Worcestershire is owned by Nicola, a multi-award winning wedding cake designer. Nicola's interest in cakes and confectionary began at an early age under the guidance of her mother and grandmother. Her designs are rustic and elegant and always informed by the unique vision of her client.
Every cake is made from scratch by Nicola using locally sourced ingredients and sustainable packaging, where possible. Her signature wedding package includes a bespoke wedding cake which will be delivered and set up at your venue. Nicola will also work closely with your florist and venue team to make sure your wedding looks as seamlessly beautiful as you've imagined it.
There's also the chance to enjoy a complimentary cake tasting where you can choose your favourite flavour over tea at the studio. All allergies can be catered for, allowing all guests to enjoy the mouth-watering creation.
Nicola's delicious creations have earned her nine five star reviews on her Hitched listing, one of which says: "Nicola has been making cakes for us for over 2 years now. Nothing is ever too much trouble on any occasion.
"We initially came across Cake-tactic when looking for our wedding cake and we are so glad that we did. Not only did Nicola provide a gorgeous and very tasty wedding cake, she also provided some very tasty traybakes to go with our afternoon coffee. Her flexibility and organisation leading up to and on our wedding day was fantastic and we did not have to worry about a thing.
"We cannot wait for another occasion to order a delicious cake!"
On receiving her Hitched Award 2023, Nicola said, "I am absolutely delighted to win the Hitched 2023 Wedding Award! Huge thanks go to Hitched and all of my wonderful wedding clients for their amazing reviews. It's such an honour to be a part of your wedding days - I love sharing your excitement, and making your wedding cake dreams a reality."
3. Olivia Bakes - Hampshire
Olivia Bakes is a bespoke wedding cake creator who operates throughout Hampshire, Berkshire, Surrey and West London. Owner and baker Olivia Roper is passionate about creating ethically made cakes perfect for an eco-friendly wedding, and specialises in artistic buttercream and ganache creations.
During your consultation with Olivia, you can discuss your dream wedding cake - flavours, colour, design etc. - to help give Olivia a clear picture of your vision. She will then create your cake using the highest quality ingredients from scratch, which can be catered to any dietary needs.
Olivia also offers personalised shortbread, cake pops and macarons for those who opt for a treat table.
Olivia's happy clients have left nine five star reviews on her Hitched listing. One newlywed commented "Olivia is the best cake maker in town. Her cakes are so delicious and she is such an amazing person as well. We first had the pleasure of meeting Olivia at our wedding in September 2021. Since then, we have been a fan of her cakes and fan of hers.
"My husband, Chris and I are regular customers of hers now! We highly recommend Olivia Bakes to everyone, you're in for a treat!"
4. Aurora's Kitchen - Surrey
Aurora's Kitchen is a bespoke wedding cake designer based in Staines-upon-Thames, Surrey. Every cake is hand-made to order and created with the aim of bringing your wedding cake vision to life. No matter your style or wedding budget, these expert designers will work to create the perfect centrepiece for your big day.
Clients can experience some delicious cake tasting boxes which include four dessert-size cake portions. Flavours here include chocolate and salted caramel, white chocolate and raspberry, red velvet, lemon, mango and passion fruit, classic Victoria sponge, and many more. There's even the option to go for cupcakes, cake pops, cookies and other sweet treats.
Happy Hitched users have left Aurora's Kitchen five glowing reviews, one of which says: "We were so pleased with the cake Emma made. It tasted delicious! We had three different flavours which all tasted brilliant, and lots of our guests commented on the excellent taste and decoration of the cake. Emma was helpful and answered all questions we had. I would fully recommend her to other couples."
5. Sugar and Spiced Cakes - Kent
Sugar and Spiced Cakes is the home of luxury wedding cakes in East Sussex. The team here design unique wedding cakes known for their beautiful sugar flowers, attention to detail and delicious flavours, which can be delivered to any wedding venue in the South East.
From your initial enquiry to cake consultation to your wedding day itself, the Sugar and Spiced Cakes team will be on-hand to provide expert advice, listen to your wedding cake vision and bring your dreams to life. Best of all, you'll be left with a show-stopping cake that you and your guests will remember forever!
These delicious creation have earned Sugar and Spiced Cakes nine glowing reviews on their Hitched listing. One Hitched user commented: "We received excellent service from Pippa, from the initial enquiry to the planning, quoting and delivery on the day. She provided us with clear information on the pricing structure and made sample cakes available to us despite all of the difficulties of lockdown.
"We wanted something a bit different and more personal and she certainly delivered by creating a really beautiful design. When we tasted the samples we had some difficulty in choosing one flavour as they were all so delicious! Would highly recommended to any couple."
6. Gorgeous Cakes by Sonata - London
Gorgeous Cakes by Sonata is a wedding cake service catering to weddings throughout London and the surrounding areas. Founder Sonata has over two decades' experience baking, as well as several industry-level qualifications. Sonata's cakes are crafted to reflect the unique vision of each couple, and wedding biscuits, cupcakes and canelés are also available.
The Gorgeous Cakes by Sonata team strive to provide a sweet touch to wedding celebrations by taking into account each client's tastes and providing customised sweet treats. The company also offers cake stands, cake toppers, gluten-free options, and more.
Satisfied Hitched users have give Gorgeous Cakes by Sonata 10 five star reviews. One happy newlywed said "Sonata made me and my partner a beautiful 3 tiered multi flavour wedding cake. From beginning to end she was professional, responsive and so helpful. The cake was absolutely delicious and all 140 of my guests thoroughly enjoyed."
Sonata was delighted to receive a Hitched Wedding Award, saying, "I am grateful to all the couples leaving so many amazing reviews that led winning the Award. This has inspired us to continue deliver outstanding service and create amazing cakes for the beautiful weddings to come."
7. Euthymia Cakes by Eva Cockrell - Buckinghamshire
Buckinghamshire-based Euthymia Cakes provides beautifully personalised cakes for weddings and other special occasions. Owner Eva Cockrell is a pastry chef and dietician with over 10 years' experience designing and decorating cakes, and is passionate about supplying nearlywed couples with breath-taking sweet treats.
Each cake at Euthymia Cakes is designed according to each client's styles, needs and event themes. Eva uses top-of-the-range vegan ingredients to create bespoke cakes, as well as cake pops, pastries and cupcakes. Your treats can be delivered straight to your event and will be set up in an eye-catching manner.
Euthymia Cakes has received 37 glowing reviews, packed full of praise such as "The whole process was easy and without a doubt the best we could have expected! The cake looked beautiful and it tasted fantastic. Absolutely the best cake we've ever had and would 1000% recommend!"
After receiving a Hitched Wedding Award, owner Eva said: "Hearing how much my couples and their guests loved and enjoyed their cakes means the absolute world to me. I would love to thank them all for the incredible feedback I received."
8. Gifted Heart Cakes - Hampshire
Gifted Heart Cakes is a bespoke wedding cake service that has graced the tables of some of the most romantic wedding venues in the UK. Based in Hampshire, this company can provide cakes throughout Hampshire, Surrey and London. Luxury services and design are the cornerstone of Gifted Heart Cakes, and they create unforgettably beautiful and tasty centrepieces.
If you're a modern couple dreaming of a cake with design and flair, this could be the service for you. Each creation is customised and uses the highest quality ingredients available. Known for their intricate sugar flowers, fine ruffles and edible decorations, these artists can provide a truly delicious and visually memorable experience.
Gifted Heart Cakes's fine work has earned them eight praise-filled reviews. One newlywed commented "Emma was wonderful. She was very responsive to everything we asked, and the cake was just stunning! We had a Galaxy themed cake with 2 spray-painted Galaxy layers and one silver layer, and a few planet-like spheres and everyone was blown away! And the flavours... wow!
"Honestly could not have asked for better. Thank you so much Emma!"
Owner Emma was delighted to receive a Hitched Wedding Award, saying "Thank you to Hitched for your recognition and to our lovely couples for leaving such amazing reviews of our work. We put our heart and soul into each creation and work closely to identify how we can tailor our cakes in a beautiful and personal way and it really means a lot to us to get such wonderful feedback from our clients.
"Being part of Hitched has been fantastic for us, it is the only advertising /directory platform that we use and recommend!"
9. All Shapes & Slices Cake Co - Kent
All Shapes & Slices Cake Co is a Kent-based bakery specialising in wedding cakes. This company was originally founded in 2007 by owner Susan Pridle. Susan offers her services for events throughout Kent, Surrey, East Sussex, Essex and South London regions.
No matter your age or budget, All Shapes & Slices Cake Co will work personally with you to design the perfect wedding cake for you. From naked cakes to wedding cupcake towers, they can make your dream wedding cake a reality. Flavours here include red velvet, vanilla, chocolate, lemon and elderflower, and more.
Be sure to arrange a consultation and tasting ahead of your event so that you can sample the delicious range of sweet treats and flavours on offer. Vegan, gluten-free and eggless wedding guests can also be catered for.
All Shapes & Slices Cake Co's expert skills have earned them an impressive 42 five star reviews on their Hitched listing, one of which says "Beautiful wedding cake and super delicious! We used previous photos from the gallery combined with our own ideas which was executed perfectly. Sue also worked with our florist to add the finishing touches at the venue. Would definitely recommend."
10. Hartt Cakes - Hampshire
Looking for a non-traditional contemporary wedding cake? Then you're in luck; Hartt Cakes offers wedding cakes that don't conform to the status quo. Whether you want something colourful or neutral, detailed or minimalistic, bold or modest, your cake will be tailored to suit your particular style.
All Hartt Cakes's creations are made with the highest quality ingredients and you can rest assured that you won't find any artificial flavourings, as all flavours come from either raw ingredients or natural flavourings. You can also order a tasting box to sample all these delicious flavours before owner Becky gets to work designing your cake.
Hitched users have left Hartt Cakes five glowing reviews, with one saying "I want to say a huge thank you Becky at Hartt Cakes for creating the most beautiful wedding cake and the most stunning favours, sausage dog cookies! The sausage dogs were just stunning, they were PERFECT! The cake looked incredible and tasted delicious.
"We cannot thank you enough, thank you so much for being so supportive in the lead up to the day and answering my many questions!"
After receiving a Hitched Wedding Award, owner Becky said "I wanted to say thank you to all my couples who took time to leave me such personal reviews and accounts of their weddings. I am so thankful as this is my first ever award and may it be the first of many in my professional baking life."
11. Gail's Cake Pantry - Powys
Located on the banks of the River Wye, Gail's Cake Pantry are a wedding cake specialist. Owner and cake maker Gail Jackson grew up surrounded by bakers, which inspired her to begin creating mouth-watering creations of her own for weddings and other special occasions. All her cakes use top quality local ingredients and are designed to reflect her clients' tastes and interests.
Gail is a specialist in decorating wedding cakes with flowers, including sugar flowers, dried flowers and fresh flowers. Each cake is made by hand with a range of cake flavours available. Clients can also purchase wedding favours, traditional Welsh cakes, shortbread and cookies to go with your cake.
Gail's satisfied customers have left an impressive 68 five star reviews on her Hitched listing, with one newlywed commenting "I reached out to Gail via email describing the kind of cake we would like and within hours she had sent us ideas, availability and prices. We booked quickly with a small deposit and just like magic Gail took care of everything and on the day our beautiful cake arrived!
"It tasted as good as it looked and provided much needed food to a drunk bride and her friends at 3am too!"
Gail was thrilled to receive a Hitched Wedding Award, saying "We have the most amazing couples (who I can only describe as fabulous!) to leave heartfelt 5* reviews and comment on the service. Almost all mentioned the taste, which is what we would rank the highest quality when it comes to making wedding cakes - after all you want your guests wanting more!"
12. Let Them Eat Cakes - Kent
Let Them Eat Cakes is an award-winning cake company based on the borders of Kent and South London. Owner and cake maker Floriana Maggio has been designing beautiful wedding cakes since 2010 and draws inspiration from art, fashion and nature to design classical and elegant cakes.
Floriana uses a variety of techniques, such as wafer paper and florist paste, to craft decorative details and edible flowers, the perfect finishing touches to your bespoke cake. She works closely with each couple to make their wedding cake dreams a reality, be it a semi-naked cake, buttercream or sugar paste. .
Their extensive cake menu has a wide range of flavours, from classic vanilla to the more unusual Bakewall and Pink Lemonade.
Let Them Eat Cakes's impressive skills have earned them 34 five star reviews from satisfied Hitched users, including this high praise: "We loved our wedding cake - it was beautiful, tasted amazing and Flo was fantastic to deal with! They were very responsive and incredibly helpful during the consultation, ensuring we got the cake that we wanted."
After receiving a Hitched Wedding Award, Floriana said "Chuffed to bits to have received the 2023 Hitched Award for best UK wedding professionals again this year. This award is awesome as it is voted for by actual customers - the lovely newlyweds! Huge thanks to everyone who took the time to recommend and vote for me - your support really means so much!
"Congrats to all the other well-deserving winners - here's to a fabulous 2023! "
13. Wedding Cakes by Lisa Broughton - Surrey
Wedding Cakes by Lisa Broughton is a wedding cake supplier owned and operated by Lisa, who boasts over 20 years' experience in the cake designing business. She specialises in bespoke luxury sugar paste finish wedding cakes decorated with handmade sugar flowers, and the combination of her eye for detail and creative talent result in gorgeous unforgettable cakes.
Lisa's cakes are made with the highest quality ingredients, meaning they don't only look impressive, but they also taste fantastic. She also offers cupcakes, mini cakes, decorated biscuits, macaroons and cake pops. Lisa provides a hassle-free experience, from initial consultation to day-of delivery.
Wedding Cakes by Lisa Broughton is popular with our Hitched users, who have left 30 five star reviews on her listing. One happy customer said "Lisa was brilliant from start to finish - highly responsive on the brief and just a complete professional. Really safe (and brilliant) pair of hands, not to mention the creativity, beauty and flair of the final product."
Lisa was delighted to receive a Hitched Wedding Award, saying, "A big thank you to my couples of 2022 for taking the time to leave me such wonderful reviews, winning the Hitched Wedding Award based on client feedback makes all the hard work worthwhile and means a lot to me and my business."
14. Angela Keil Cakes - Kent
Angela Keil Cakes is a creative and accomplished cake decorator based in Kent. Owner Angela is a trained pastry chef who is passionate about using top-of-the-range ingredients to create impressive and delicious cakes and sweet treats that align perfectly with your wedding theme and taste preferences.
Flavours here range from the classic fruit, chocolate and vanilla, to the more unique wedding cake flavours such as lemon and elderflower, and salted caramel. Nut-free, gluten-free and vegan customers can be accommodated and you can even opt for cupcakes and iced biscuits. Whatever you need, Angela can provide it for you with her bespoke service.
Angela Keil Cakes has received 12 five star reviews on their Hitched listing, with one happy newlywed commenting "Angela came recommended to us by a family member and she didn't disappoint! She did a such a great job on our wedding cake. It looked amazing, was delivered and set up with no stress at all (at least for us!), and most importantly tasted lovely.
"We would highly recommend booking Angela to create a cake for any occasion."
15. Cocoa & Whey Cakes - Dorset
Dorset-based Cocoa & Whey Cakes provide luxurious wedding cakes across Dorset, Hampshire, and Wiltshire. These cakes come as classic, sweet creations or one-of-a-kind savoury experiences - no matter your preferences, the team are prepared to go above and beyond to make your dream wedding cake come to life!
Owner and cake designer Penelope Hurst is passionate about creating delicious and eye-catching cakes that are tailored to suit individual clients' needs and desires. Savoury cake options include flavours such as a feta, tomato and basil cake, and a walnut, apple and cheddar cake.
As well as cakes, Cocoa & Whey also offer savoury shortbreads, cakepops and muffins, as well as sweet cookies, macarons, cupcakes, truffles and more!
Hitched users have left Cocoa & Whey 32 glowing reviews. One client said "Penelope created the most perfect cake for our wedding day. She took the time to listen to our needs to make sure the cake was everything we wanted. What really made the cake special to us was that Penelope kindly created a sugared figurine of our dog to go on the cake as well - I was amazed at how realistic it looked!
"Every tier of the cake was a different flavour and each one was absolutely delicious - safe to say there wasn't very much left by the end of the night! I can't recommend Cocoa & Whey cakes enough! Thank you Penelope."
After receiving a Hitched Wedding Award, Penelope said "A big thank you to my couples of 2022 for taking the time to leave me such wonderful reviews. Winning the Hitched Wedding Award, which is based on client feedback, makes all the hard work worthwhile and means a lot to me and my business."
16. Cobi & Coco - Kent
Cobi & Coco is a multi-award winning cake business based in Kent that specialises in creating bespoke creations best described as edible works of art. Tailored to each couple's specifications, these cakes are decorated with sugar flowers and filled with delicious flavours guaranteed to wow you and your guests.
Founder and cake maker Serena Chin began a career as a fashion designer before opening her cakery, and her creative flair and design skills are obvious in the cakes she creates. Cobi & Coco have designed cakes for events in venues including Kew Gardens and Hedsor House, and have also won Best Wedding Cake Company of 2020 at the UK Wedding Awards.
Each tier of your wedding cake will be made using four layers of sponge sandwiched with your choice of buttercream, conserves and curds, finished with white chocolate ganache and sugar paste. Your end result is a delicious cake that will also serve as a stunning centrepiece on your wedding day.
Serena's expert cake making skills have earning her glowing reviews from Hitched users, with one satisfied newlywed saying "We used Serena at Cobi & Coco for our wedding cake and were absolutely blown away - our cake was stunning!
"Serena is not your bog standard cake maker, there is real creativity and passion that goes into all of her designs. I would highly recommend Cobi & Coco for their fantastic service, they really are the best."
On receiving her Hitched Wedding Award 2023, Serena said "Thank you to all my couples for your incredible reviews and helping me win this amazing award. Reading the kind words of praise and gratitude in a five star review makes everything I do worthwhile.
"Winning a Hitched award gives new couples reassurance and confidence when contacting Cobi & Coco to design them their dream wedding cake."
Award-Winning Cake Makers in 2022
If you're still looking for your dream cake maker and you missed our Hitched Wedding Awards last year, here are our delicious winners from 2022:
17. Cake Innovations - Kent
If you're dreaming of a wedding cake decorated in delicate sugar flowers, Cake Innovations based in Kent have you covered - owner Samantha Hamer is a pro! From trendy succulents to pretty primroses, she can craft them all. More over, her sugar wedding cake toppers are spectacular!
We love the idea of keeping these sugar creations forever as a special keepsake from your big day.
18. Marian Cake Studio - Kent
Serving London and Essex, Marian Cake Studio create luxury and modern wedding cakes that are ideal for chic couples. We're talking elegant marbling, gilded gold foil features and pretty pops of colour.
The level of detail that goes into each wedding cake is seriously impressive - so much so that they're almost too pretty to eat!
19. The Little House of Baking - London
Delivering bespoke and affordable wedding cakes all over London, The Little House of Baking is a small home-based business that pride themselves in detailed designs and delicious flavours.
Want something a little bit different? Owner Rakhee also offers unique bakes such as doughnut towers or biscuits!
20. Southwell Cakery - London
Southwell Cakery in Nottinghamshire are all about serving up stylish and sophisticated wedding cakes that are packed full of flavour. From banoffee and black forest, to cookies and cream, there is something to suit all couples.
They limit themselves to two wedding cakes per week so you can be sure all focus will be on creating the cake of you dreams.
21. The Mouse & The Cake - Oxfordshire
If an elegant and luxe wedding cake is what you're after, look no further than The Mouse & The Cake. Baker and wedding cake artist Vikki will collaborate with you during consultations to bring your vision to life!
Expect sponges adorned with metallic foiling, decorated with intricate sugar florals and even bursting with real blooms.
22. From The Hart Cake Creations - South Yorkshire
You won't believe your eyes when you see the wedding cakes From the Hart Cake Creations are serving up - and neither will your guests!
The intricate designs are contemporary and right on trend, with features such as marble wedding cakes, dried flowers and colour blocking.
23. Cakes From The Cottage - West Midlands
Home baker Yvonne whips up wedding cakes at Cakes from the Cottage in Birmingham. From modern gourmet masterpieces to traditional bakes, she tailors her talents to meet all couple's tastes.
Cupcake displays and macaron towers are also available and cake stands and knives are provided on request.
24. Chocolatician - West Sussex
Getting married at a heavenly French Château? Croquembouche is the traditional French wedding cake, made from profiteroles filled with pastry cream and constructed using golden caramel to stick all the balls of pastry together, resulting in a glorious tower of sweet treats.
Chocolatician is a patisserie that specialises in this show stopping alternative to a wedding cake - your guests will be seriously impressed if you opt for this!
25. Claire Owen Cakes - West Sussex
Owner of Claire Owen Cakes Claire holds a First Class Degree in Fine Art Sculpture and has taken this skill to the kitchen, creating wedding cakes that are truly breath-taking - see for yourself from the picture above!
She invites every couple to a free tasting consultation where you can try up to four flavours. If there is a flavour that you love that is missing from their list they can trial it for you to taste.
Now it's time to finish off your wedding cake with some fabulous wedding cake toppers.