17 Instagram-Worthy Kitsch Wedding Cakes for Retro Couples
Allow us to introduce you to one of our favourite new wedding trends - kitsch wedding cakes! Bold, bright and seriously fun, your guests won't be able to resist Instagramming each and every one of these retro-inspired creations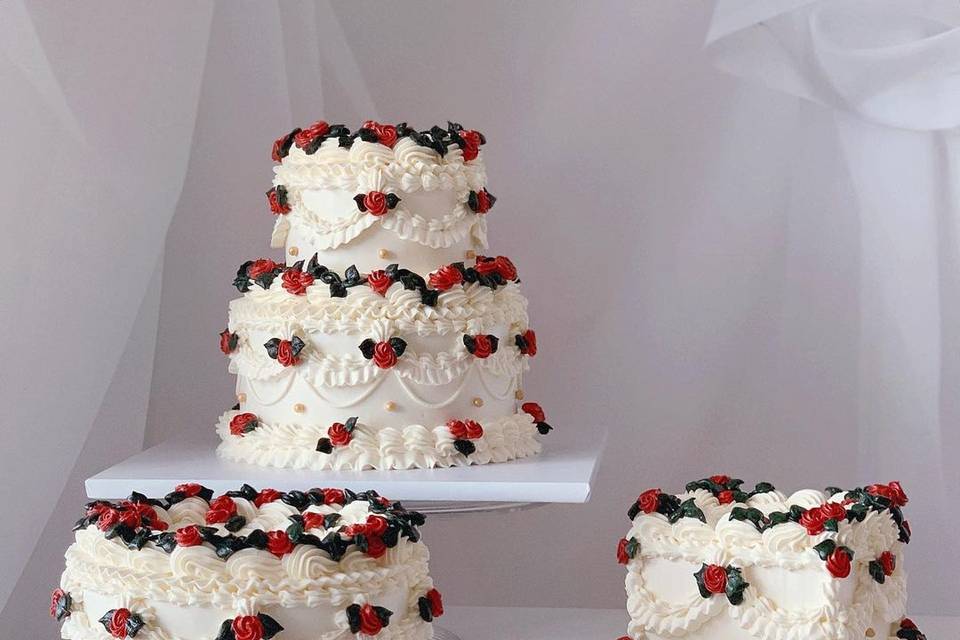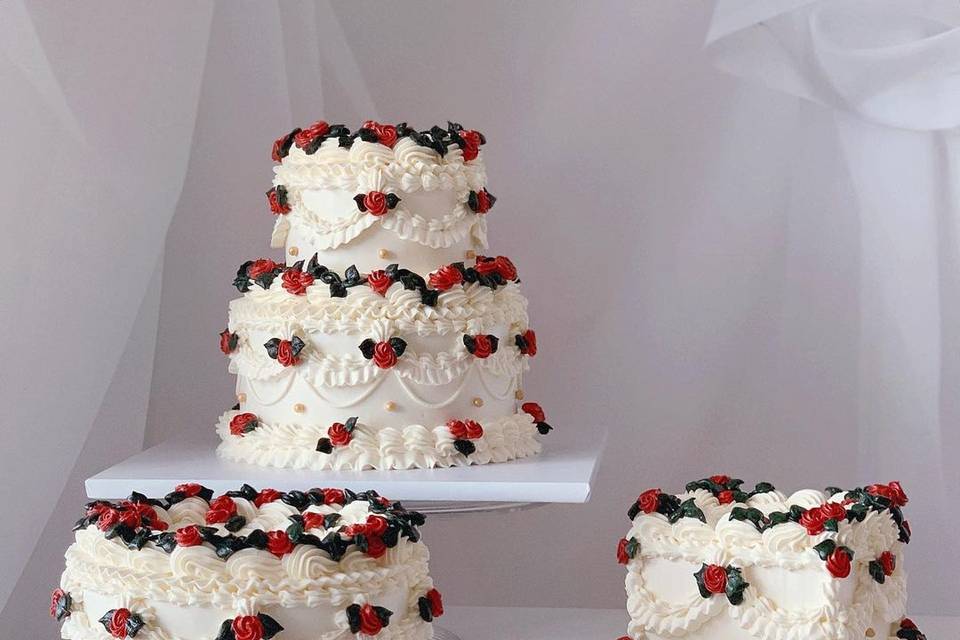 If you haven't had your breakfast/lunch/dinner* (*delete as appropriate) yet today, then you might want to look away now. Because the latest 2021 wedding trend is the sweetest we've seen for a while, and it's guaranteed to leave you feeling hungry!
Enter the kitsch wedding cake. Almost (but only almost) too pretty to eat, these slightly retro, slightly Victorian and extremely OTT creations have been popping up all over Instagram feeds, and we're hooked!
From towers of pastel perfection complete with pristine buttercream swirls to ruffled delicacies topped with sparkling cherries, keep scrolling for our pick of the best kitsch wedding cakes that Marie Antoinette herself would be proud of...
READ MORE
1. Pastel Green Cake with Ruffles and Sparkling Cherries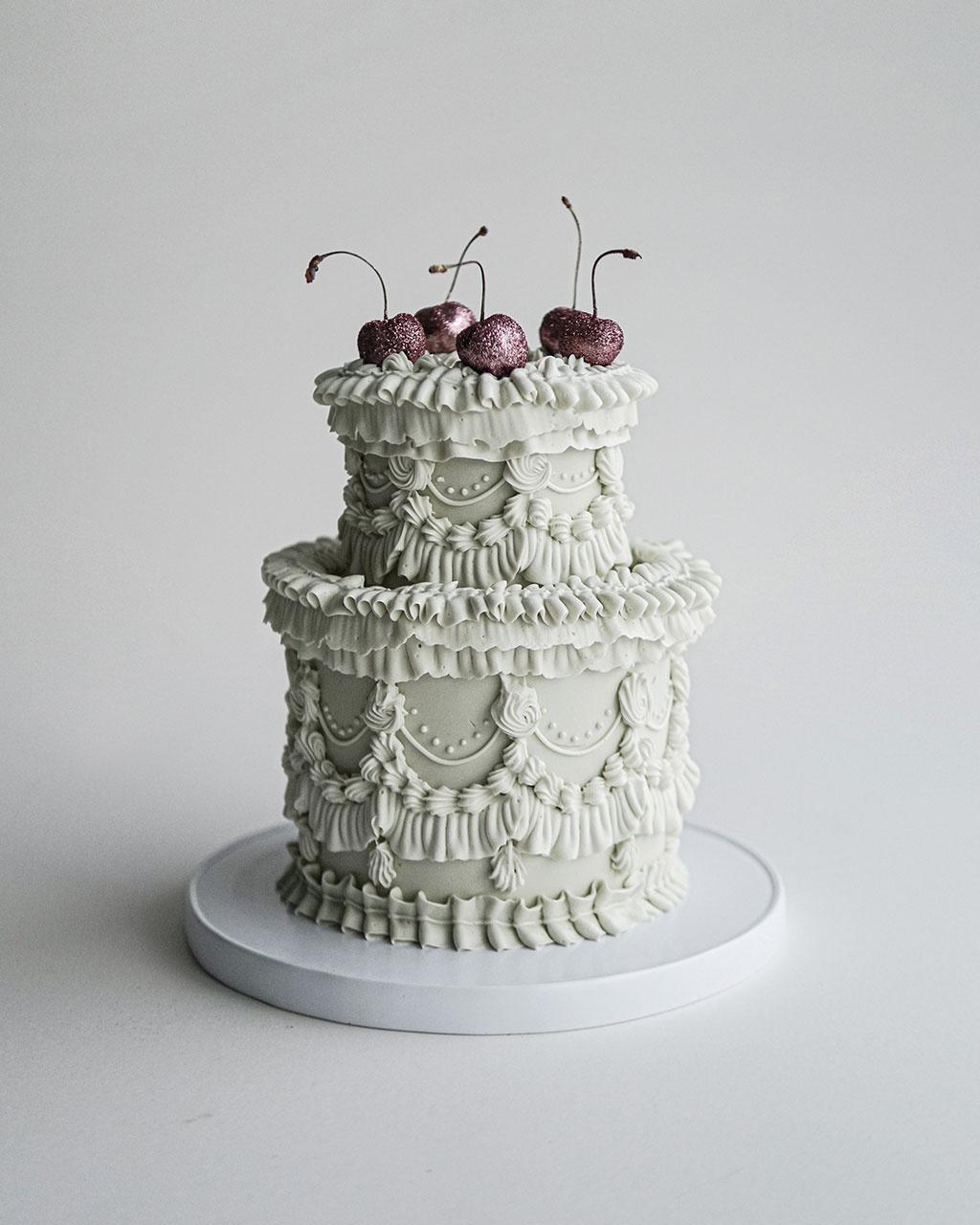 When we mentioned ruffles, we weren't lying. Super cool South African bakery Sweet Lion Heart call this their 'Frilly Antoinette'. We can't imagine why...
2. Bright Coral Cake with Bows and Pearls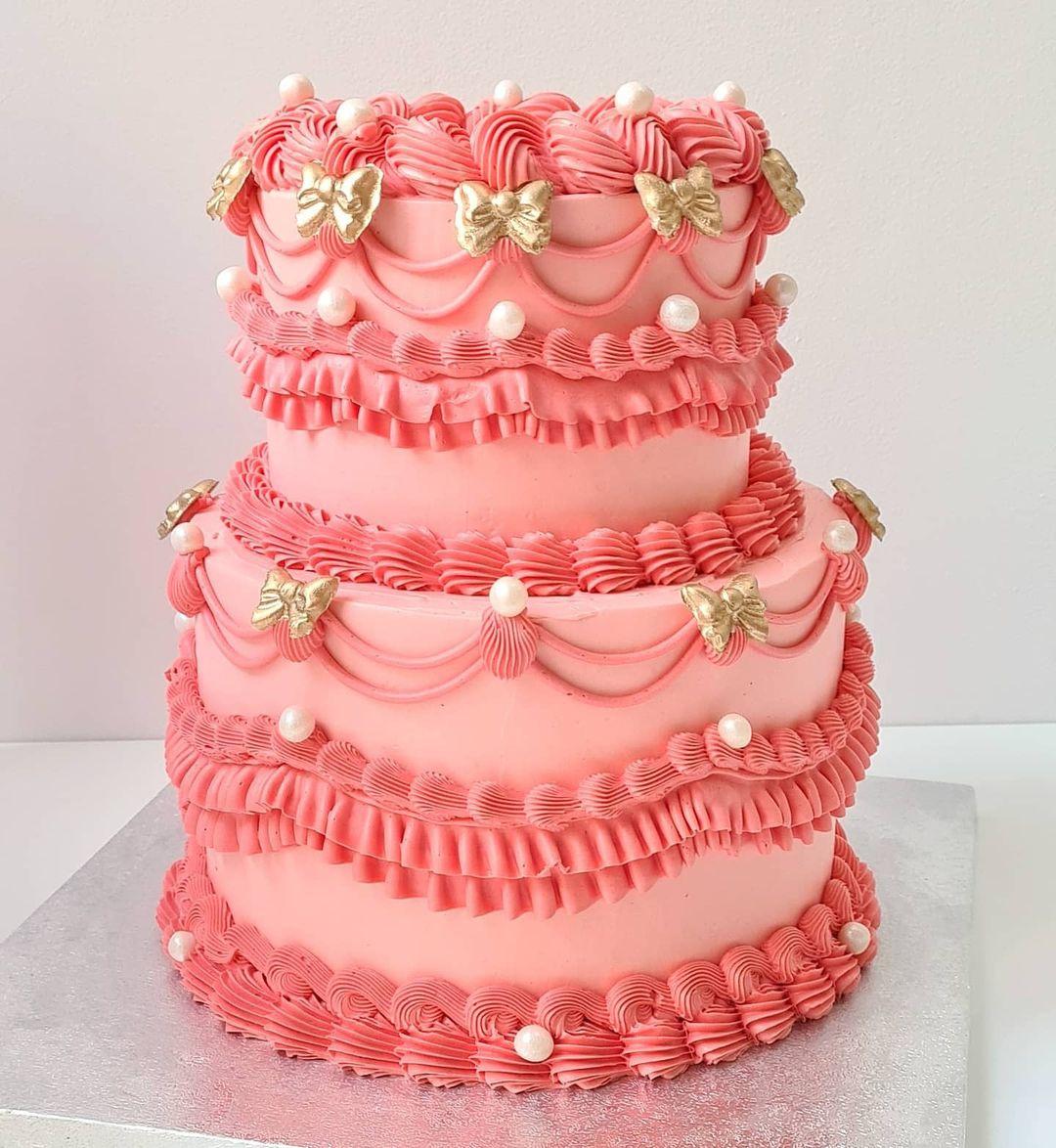 Self-taught, London-based baker Lily Vanilli has been serving up dreamy cakes smothered in flowers, ruffles, shells and pearls since 2008, so it's fair to say she knows a thing or two about retro bakes. Feel free to ditch the rest of your wedding decor and let this coral cake do all the talking.
3. Purple, Pink and Green Cake with Fresh Raspberries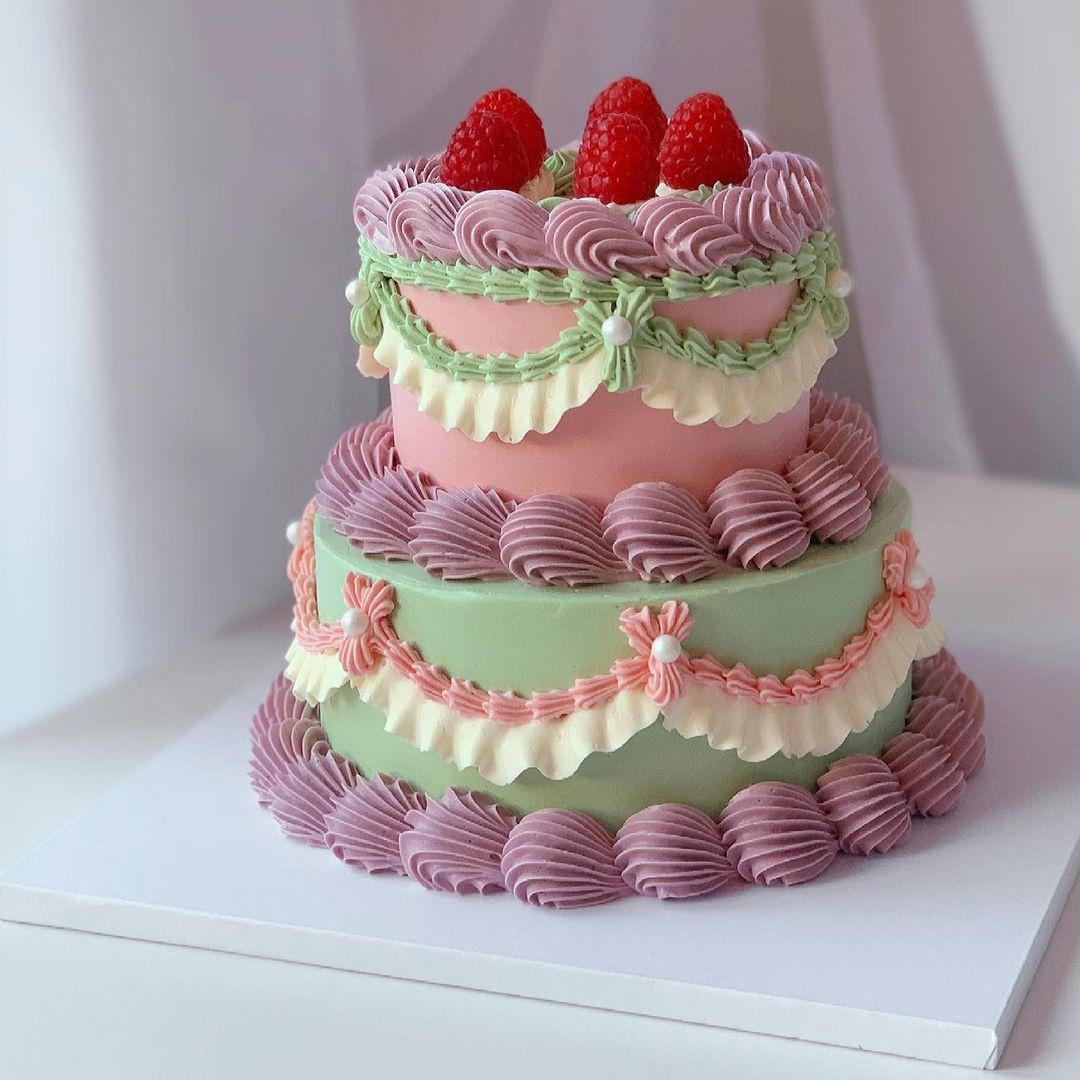 Pink and green should never been seen, unless it's on this incredible two-tiered cake from London-based April's Baker. This treat wouldn't look out of place at the Mad Hatter's Tea Party, and we love it.
4. Italian Meringue Buttercream and Pearls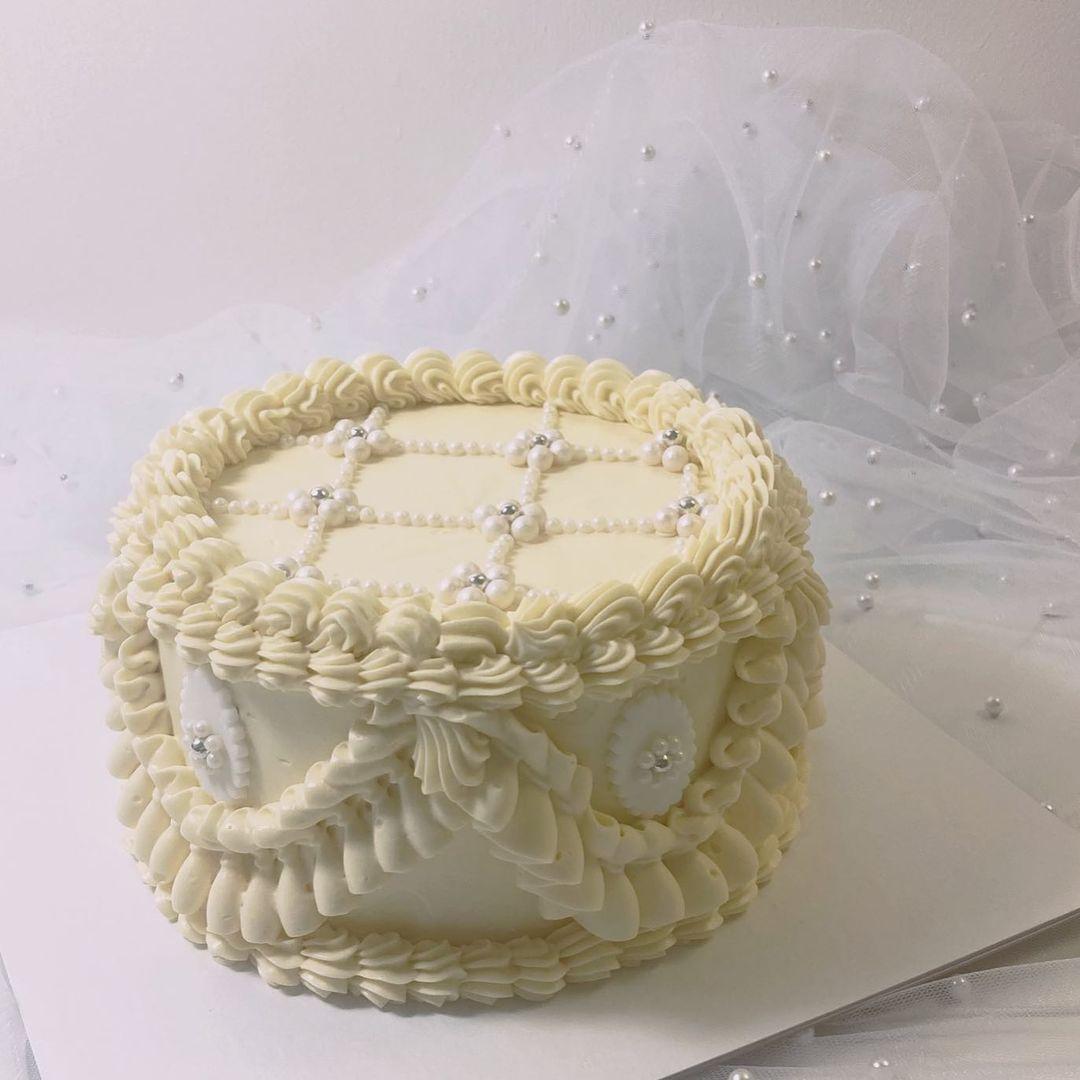 If you want to nod to the kitsch wedding cake trend but lurid colours aren't your thing, London cake pro Sarah Hardy of Hebe Konditori is the answer to your prayers. Sarah's creations offer a chic, grown up take, particularly this hazelnut sponge, which has been filled with hazelnut praline buttercream and covered in vanilla Italian meringue buttercream (yes, we're drooling too).
5. Yellow and Pink Heart-Shaped Cake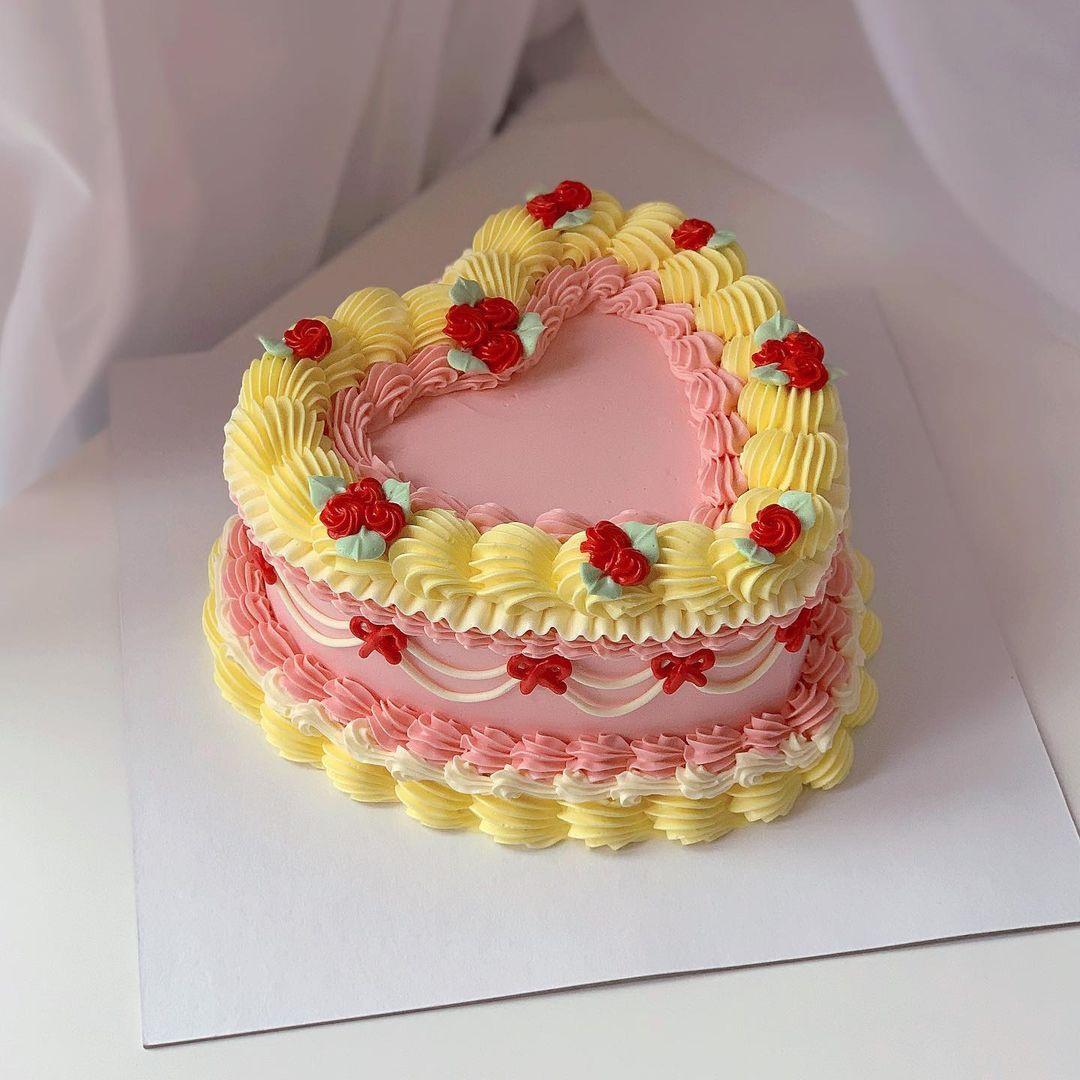 The kitsch wedding cake trend is all about colour clashing, and we love the way April's Baker have combined yellow, pink and red in this super-romantic cake with sweet little rosebuds. If you're opting for a garden wedding venue, this would be the perfect addition to your day.
6. Two-Tier Retro Pink Cake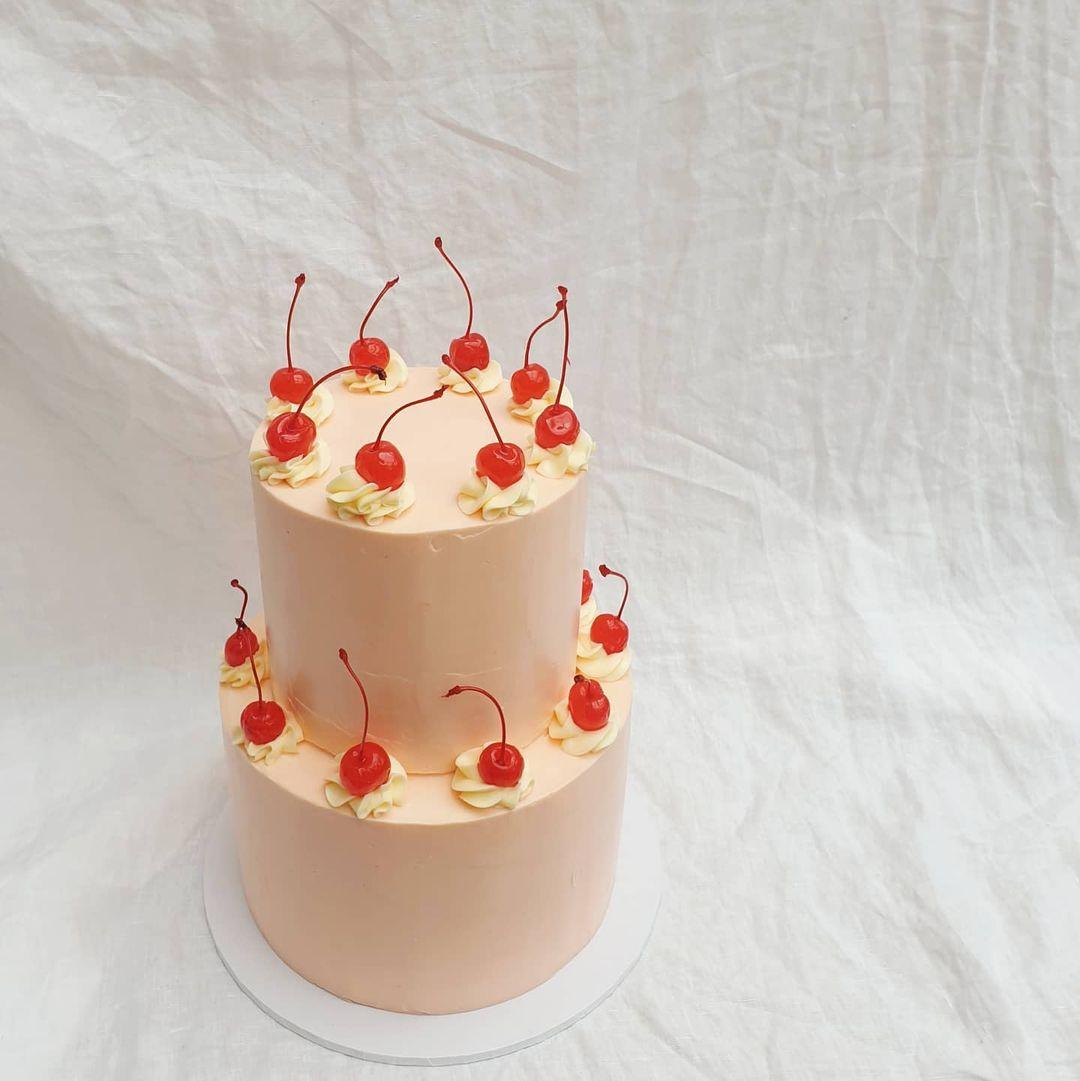 Dee of Dee's Basement trained with the likes of Konditor and Lola's Cupcakes before opening up her own bakery in London, and she's been whipping up the prettiest bakes ever since. We love the retro vibes of this pastel pink wedding cake, complete with cream swirls and cherries.
7. Celestial Cake with Purple Piping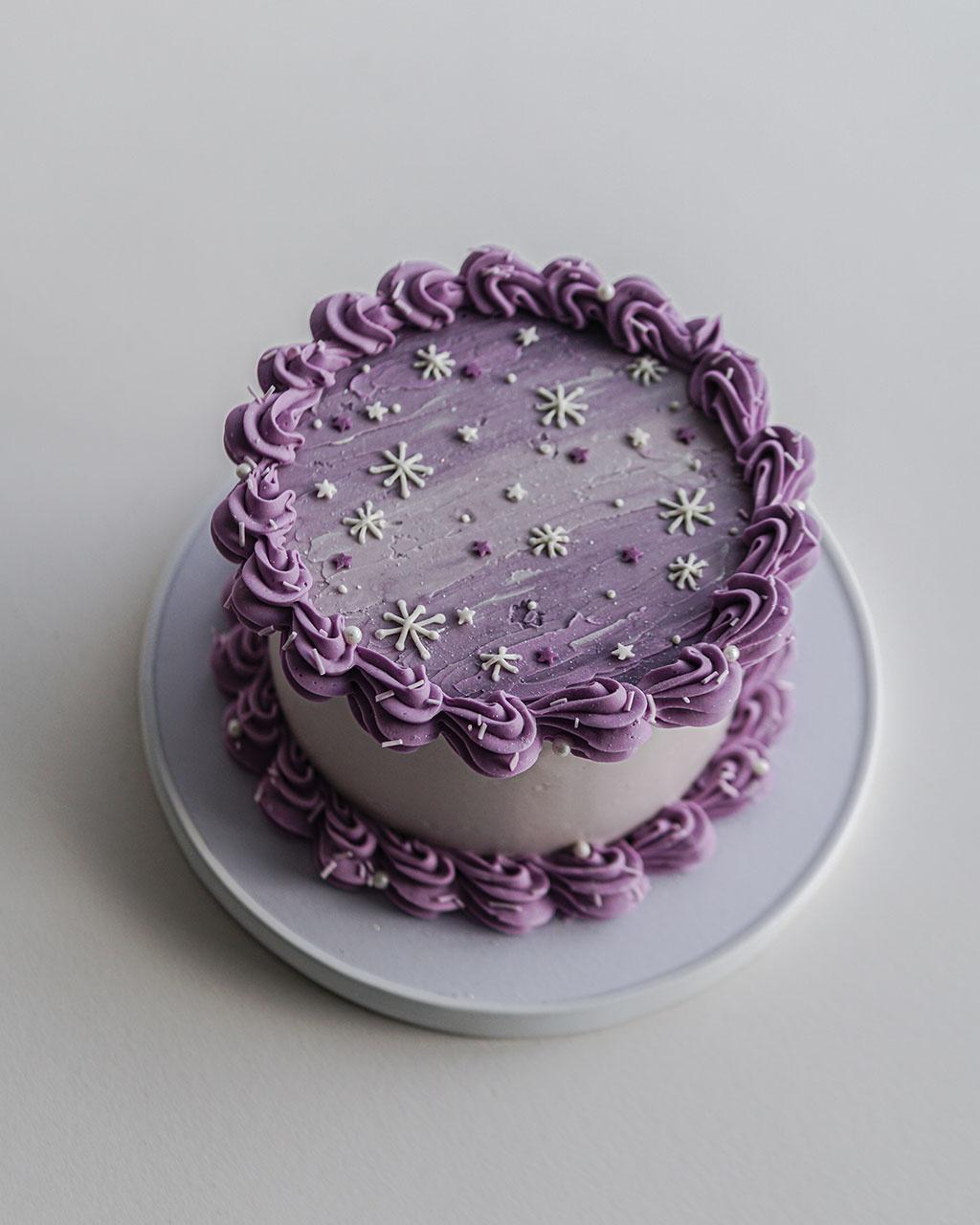 Another delightful design from Sweet Lion Heart, we love the purple piping on this single-tier cake (and not just because it happens to be in the Hitched colours!). Aptly named 'Stardust', this would be perfect for couples planning a celestial-themed celebration.
8. Baby Blue and White Cake with Shells and Frills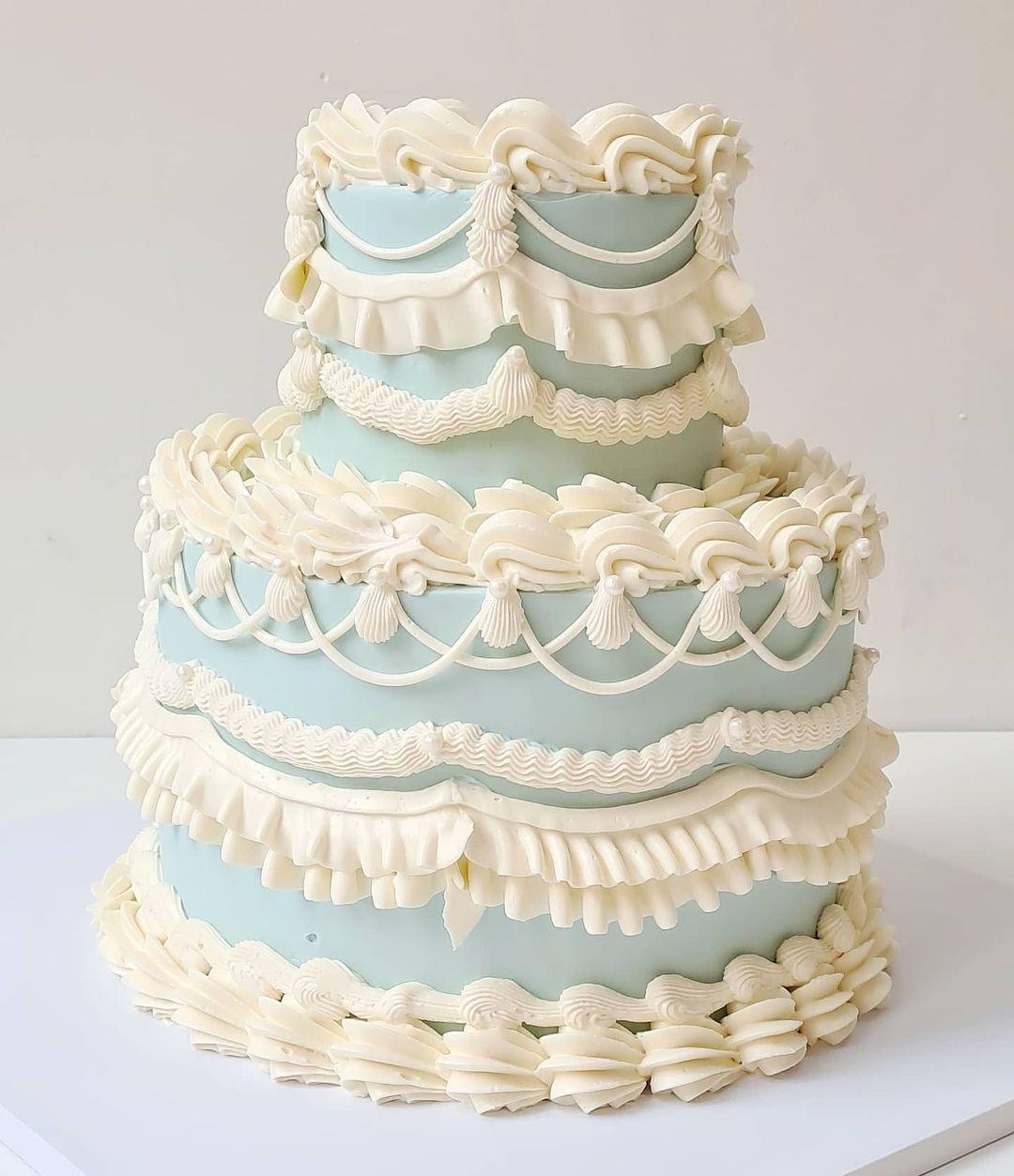 Clear some space on your camera roll because you will not want to stop snapping this incredible baby blue and white number from Lily Vanilli. If you want to nod to the trend but in a slightly less, shall we say, garish way, then this subtle take is a winner.
9. Blue and Pink Cake with Swirls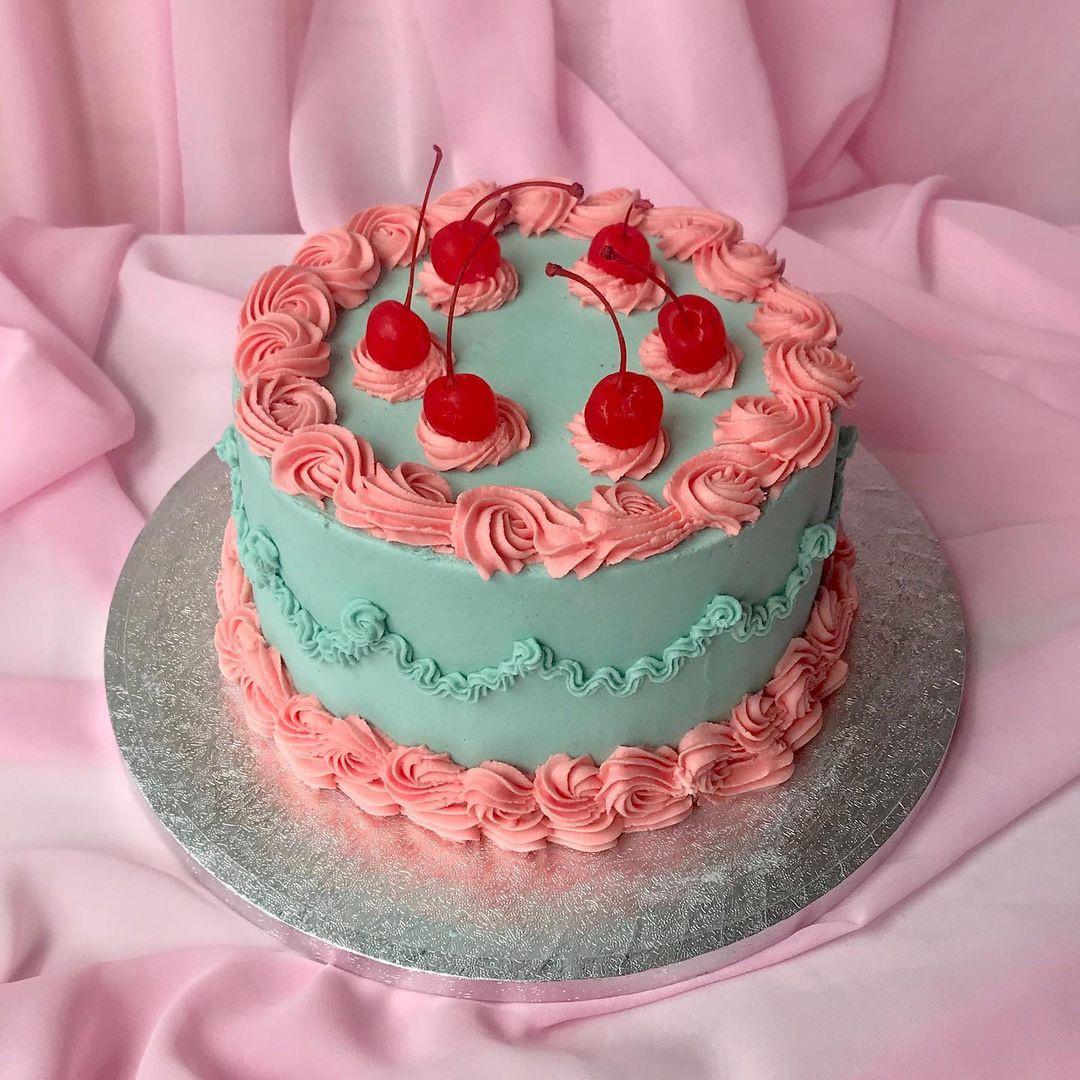 If you live by the rule of 'more is more', then you're going to want to know about Coven Bakery. Masters of Instagrammable bakes, this female-owned London bakery isn't afraid to push the limits when it comes to unusual colour combinations. The bluey-green shade combined with the pink shouldn't work, but really, really does...
10. Mint Green Cake with Maraschino Cherries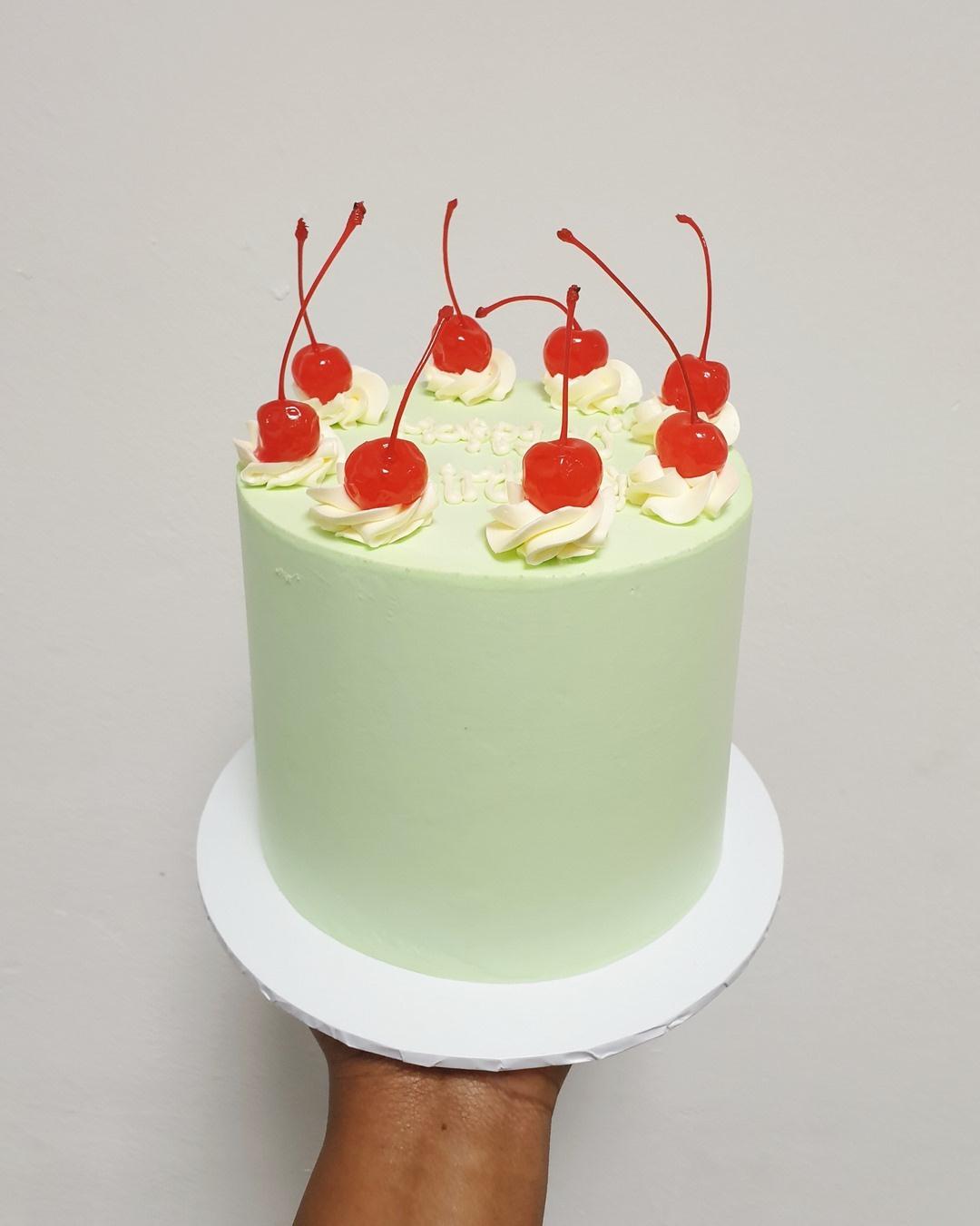 Add a guaranteed pop of fun to your cake table with this mint green cake from Dee's Basement. This gave Dee 'retro ice cream vibes' when she created it, and we couldn't agree more. In fact, do we definitely have to share this?
11. Pink and White Frilly Cake with Gold Bows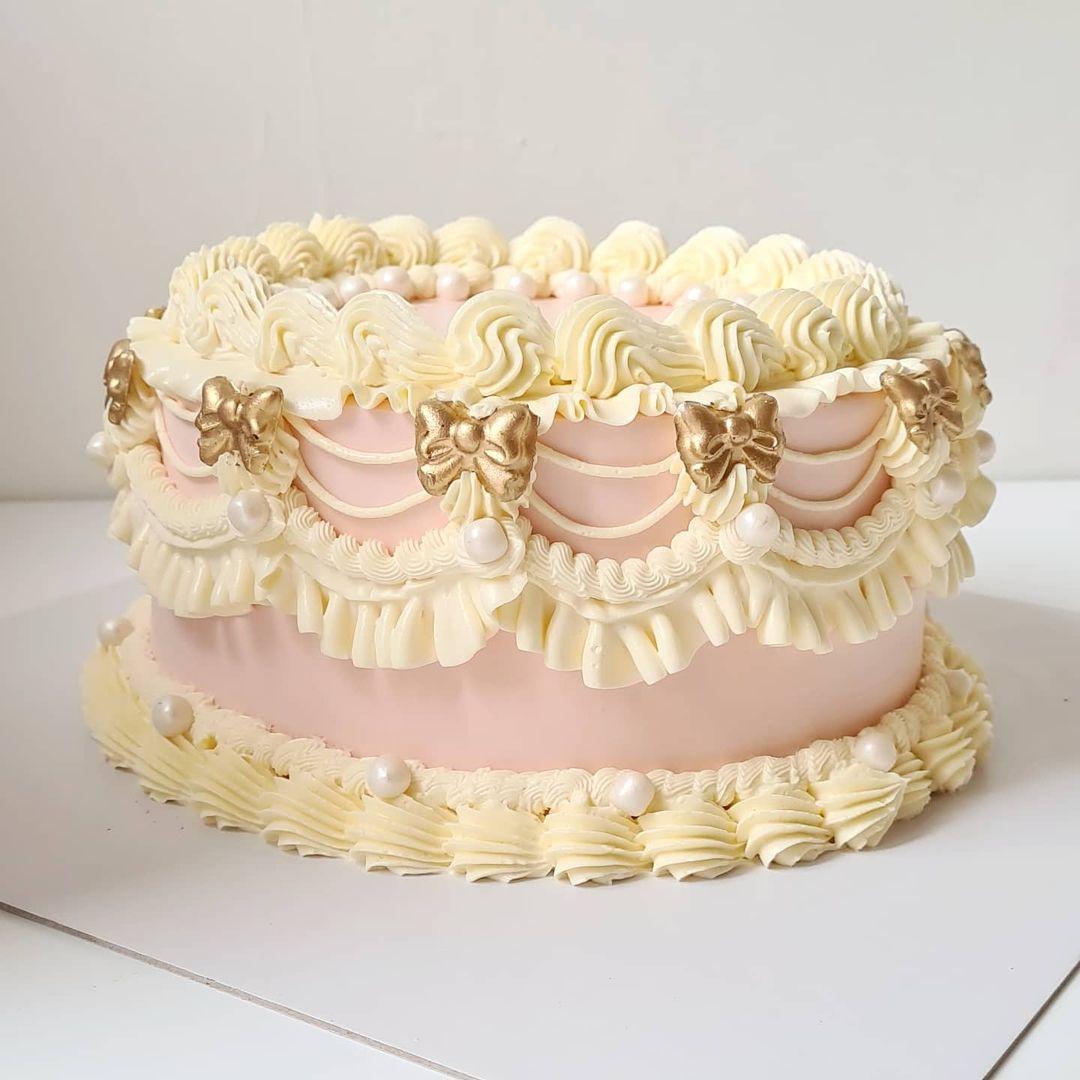 If you'd told us that a pastel pink cake with white frills, gold bows and pearls could look sophisticated, we're not sure we would have believed you. But here we are, eating our words after spying this incredible bake from Lily Vanilli. If only we were eating this cake...
12. Mini Blue Cake with White Piping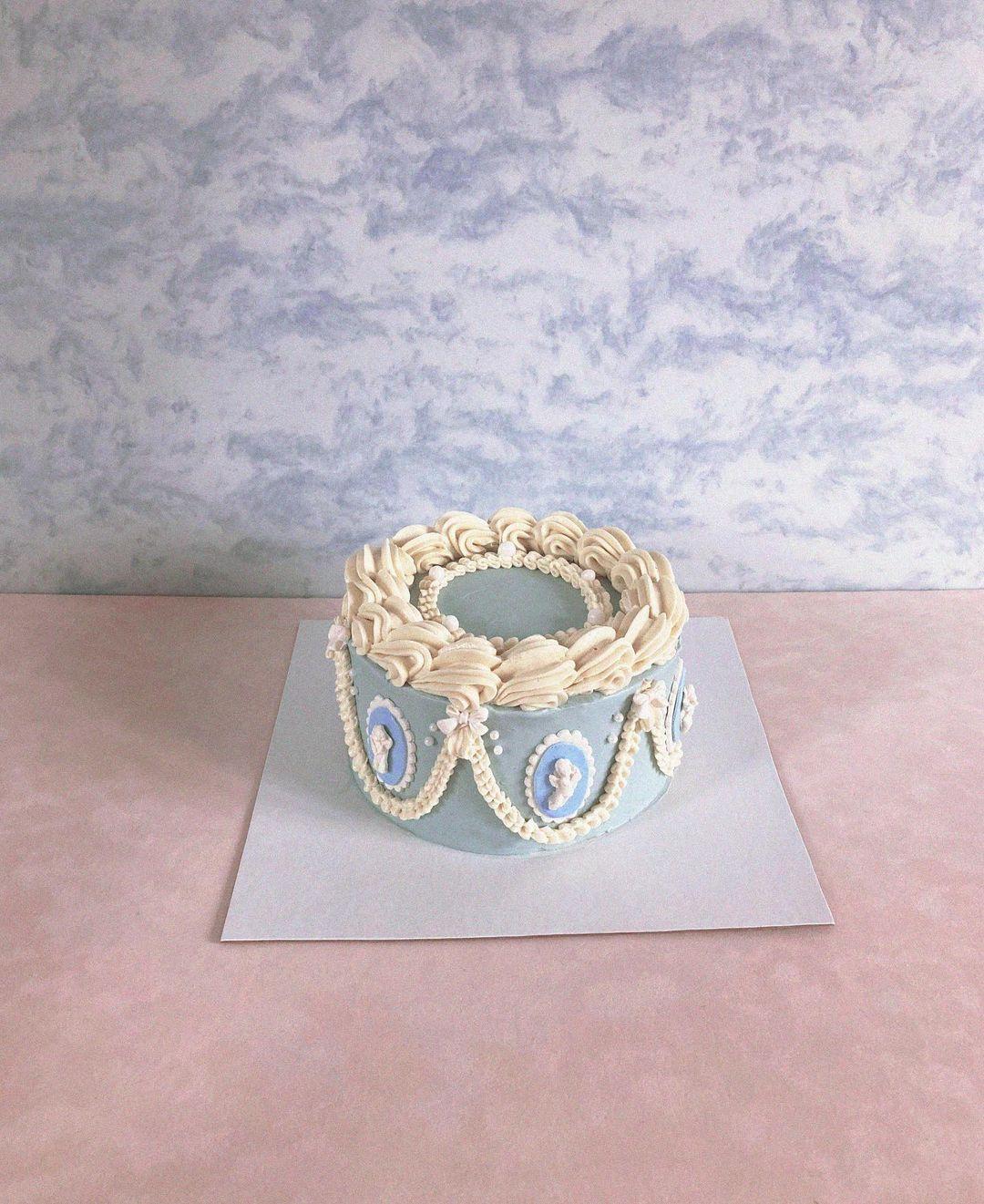 This mini blue cake from Hebe Konditori was inspired by Wedgwood Jasperware - a neoclassical style pottery invented by Josiah Wedgwood. This would make the perfect 'something blue' addition to your day (although good luck finding the nerve to cut into something so pretty).
13. Light Pink Cake with Fresh Raspberries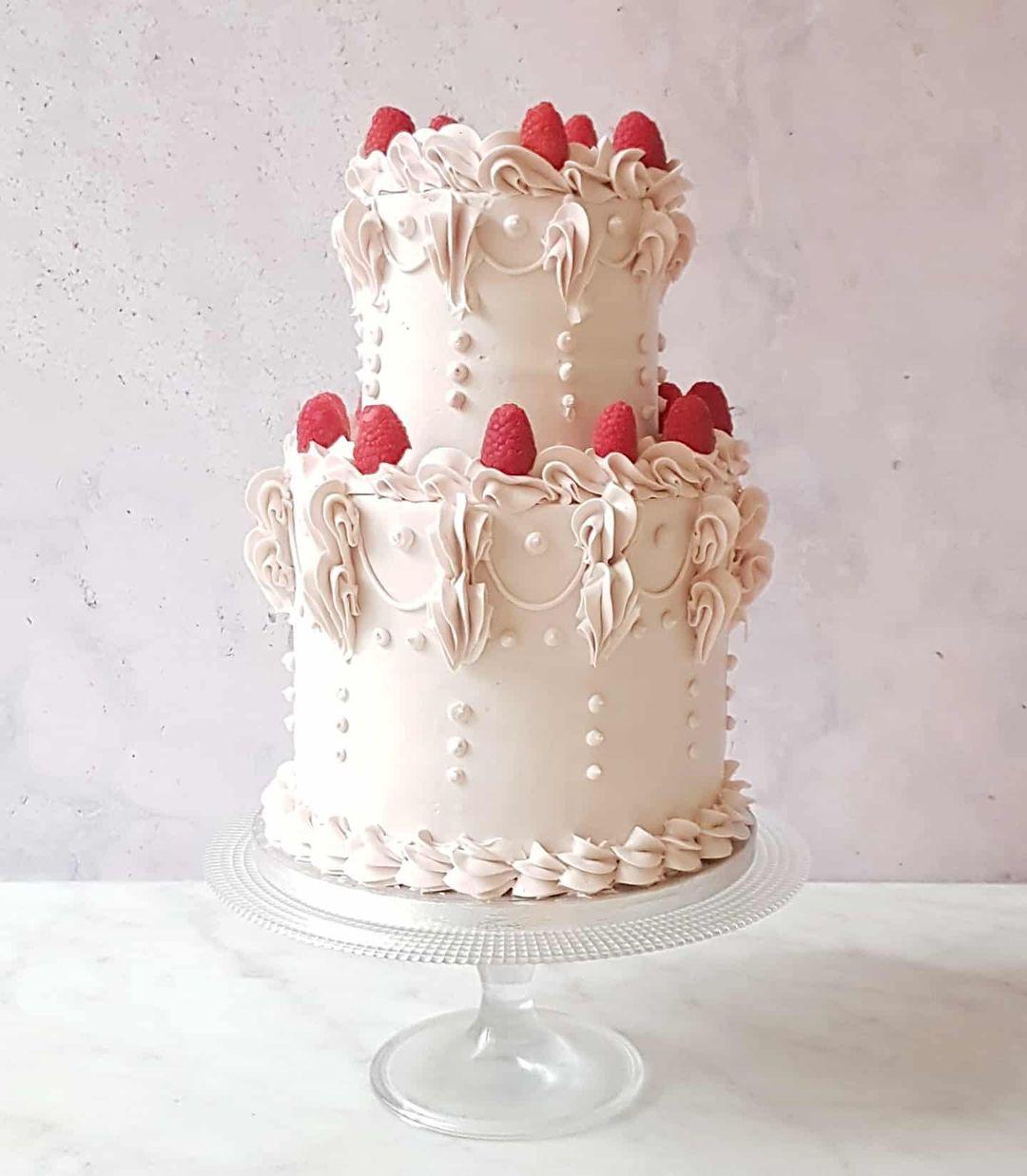 We love the simplicity of this light pink Lily Vanilli bake. Simply pop on your choice of wedding cake topper and prepare for some seriously impressed guests.
14. Square Frilly Cake with Delicate Blue Flowers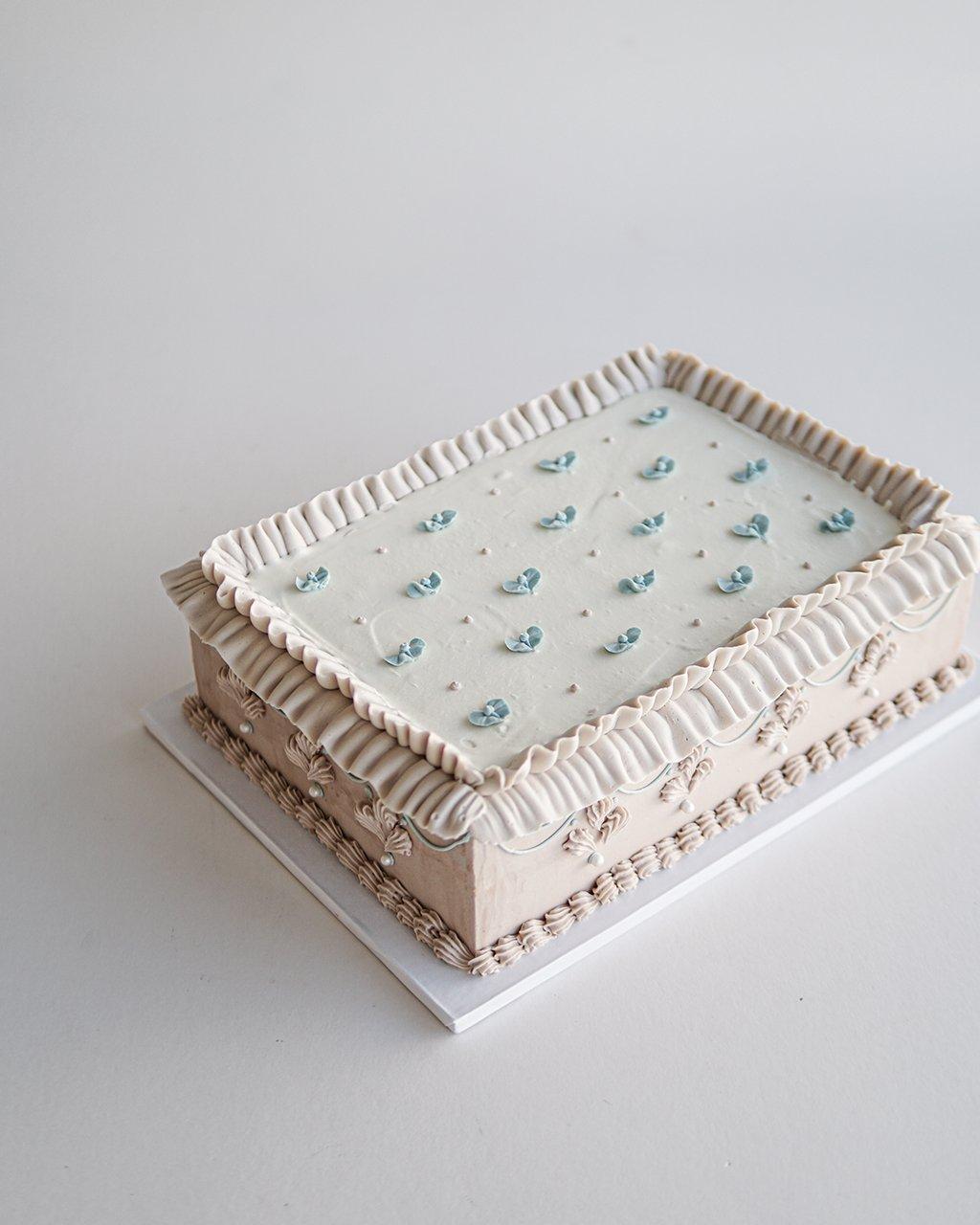 Square cakes more your thing? You'll love Sweet Lion Heart's frilly creation. If you're as obsessed with this cake as we are then why not have your bridesmaids and wedding flowers match, with blue dresses and tiny blue flowers!
15. Green Heart-Shaped Cake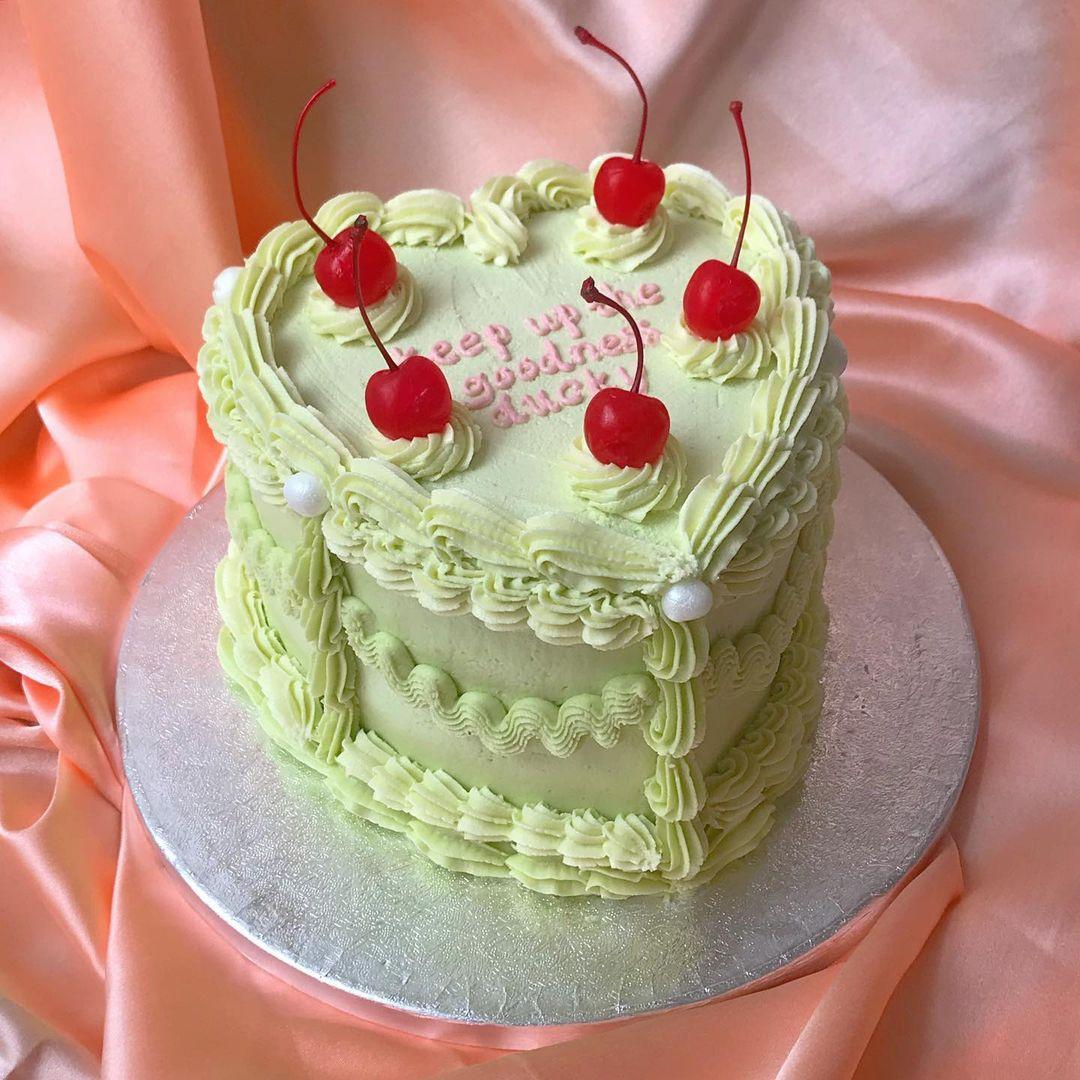 Keep it romantic with this heart-shaped cake from Coven Bakery. Extra points if you manage to go the whole day without swiping your finger through that soft buttercream...
16. White Cakes with Red Rosebuds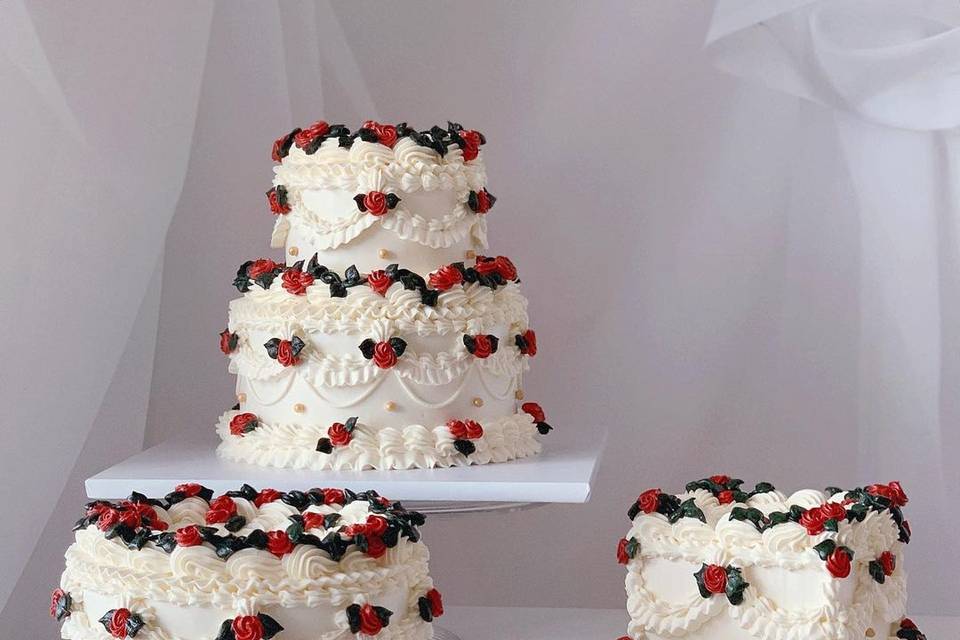 Can you imagine a more impressive wedding dessert table than having these three bakes take centre stage? They're giving us serious Beauty & The Beast vibes, making them perfect for any Disney fans out there.
17. Yellow and Purple Cake with Shell Piping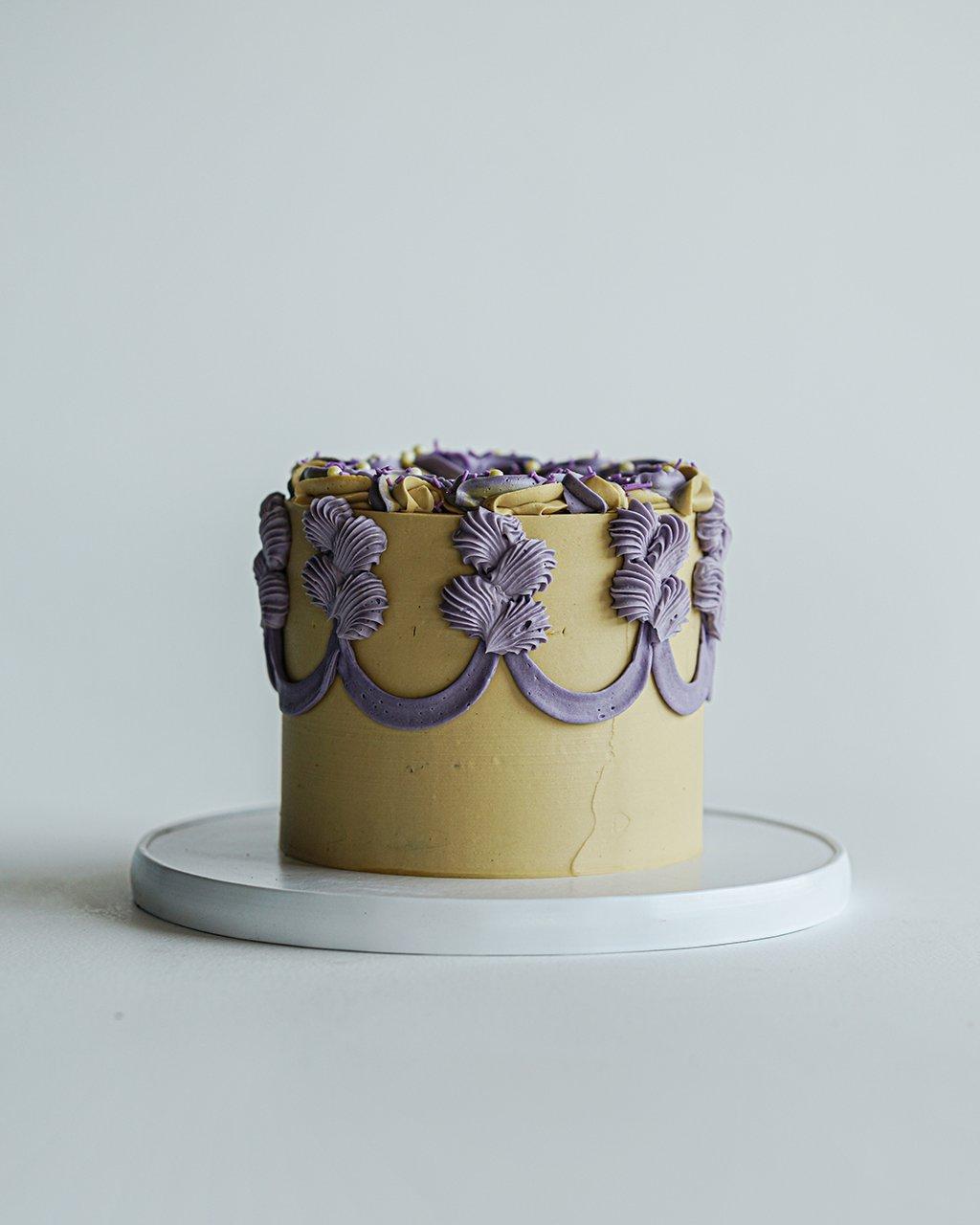 If you're having a beach wedding, we can't think of a cuter cake to add a slice of fun than this yellow and purple bake from Sweet Lion Heart. How clever is that shell-inspired piping?
Don't miss our guide to wedding cake costs, where we explain everything you need to know about different cake styles and exactly what you can expect to get for your budget!