37 Wedding Cake Alternatives for Couples Who Are Over Tradition
Fed up of fruitcake? Sick of sponge? We've got some amazing wedding cake alternatives to inspire you and get your mouth watering
We have included third party products to help you navigate and enjoy life's biggest moments. Purchases made through links on this page may earn us a commission.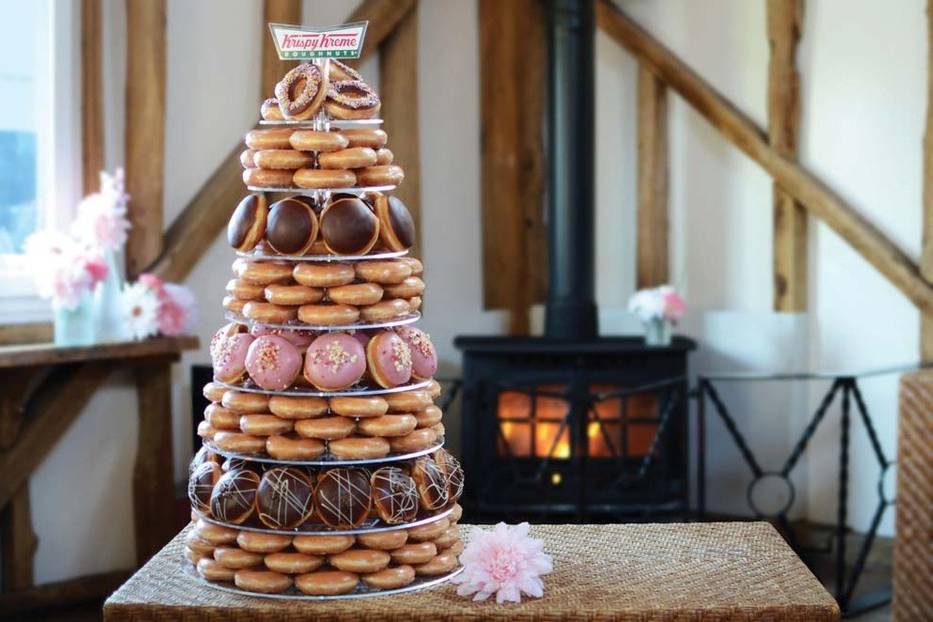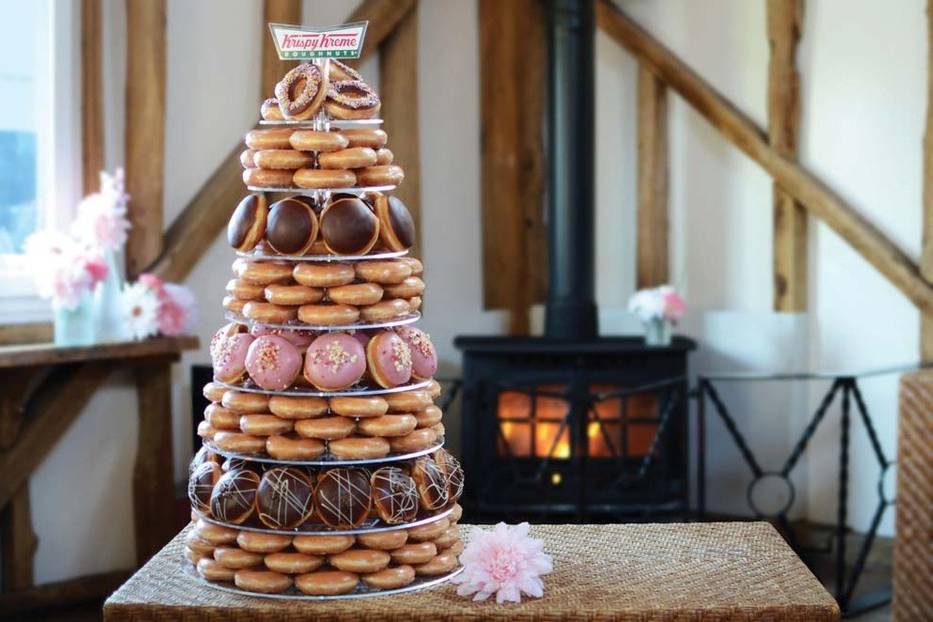 If you don't want a traditional tiered wedding cake, don't worry. There are plenty of wedding cake alternatives out there – you're bound to find something to suit your style.
Once you've found an amazing wedding cake alternative, browse our wedding cake knives to find the perfect personalised knife to cut it up with.
Savoury Wedding Cake Alternatives
No sweet tooth? No problem. There are plenty of savoury wedding cake options out there.
If you've been dreaming about a cheese wedding cake, then this cheese celebration cake from Marks & Spencer could be the one. It costs £155 and works out as 100 portions of cheese.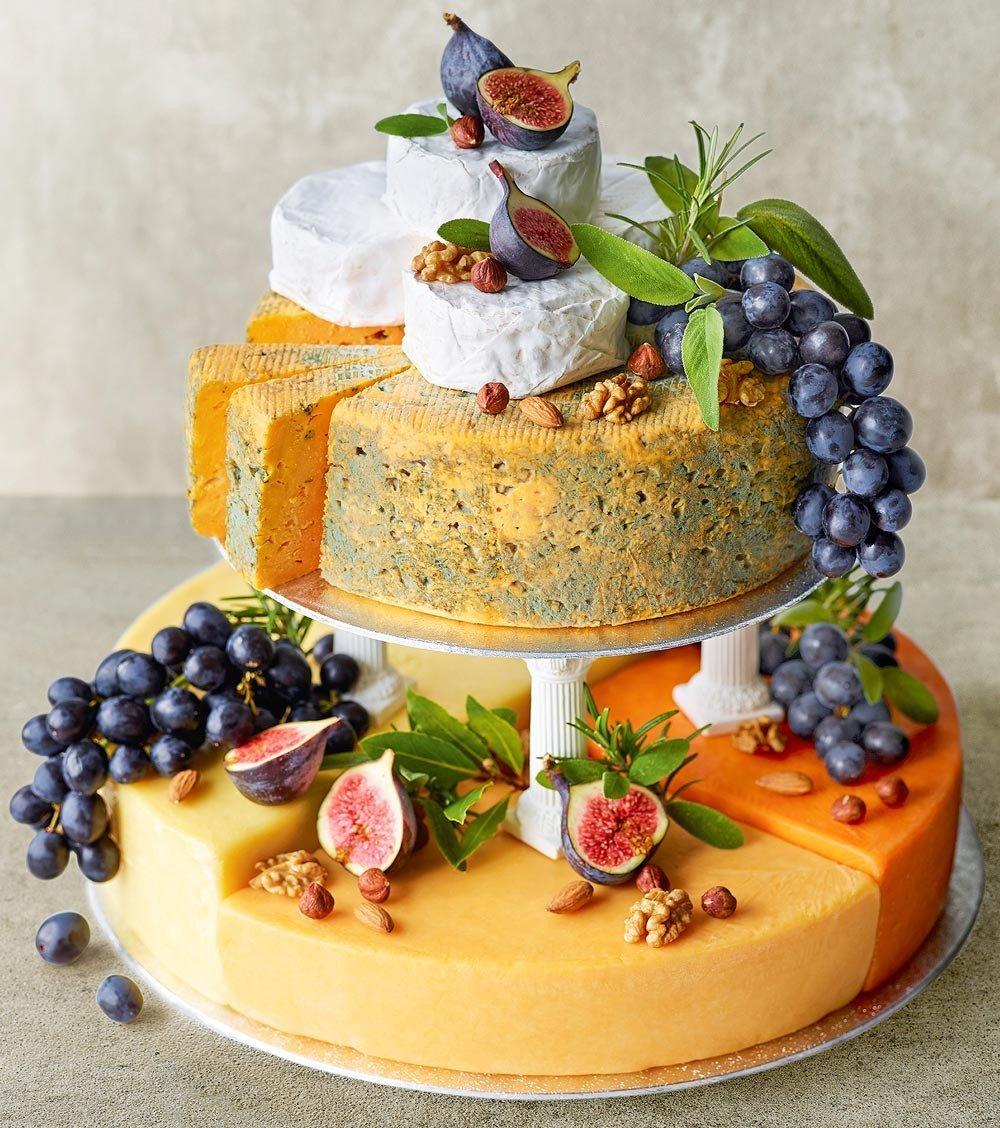 Cocoa & Whey tapped into the rustic trend for naked wedding cakes when they created this savoury naked cake.
It consists of an olive, sundried tomato and Roquefort tier, a cheddar, apple and walnut layer and a tier made from apricot, hazelnut and gruyere.
Cream cheese is sandwiched between the layers and the delicious cake is decorated with roses, fresh figs, grapes and a dusting of parmesan. It'll amaze your guests.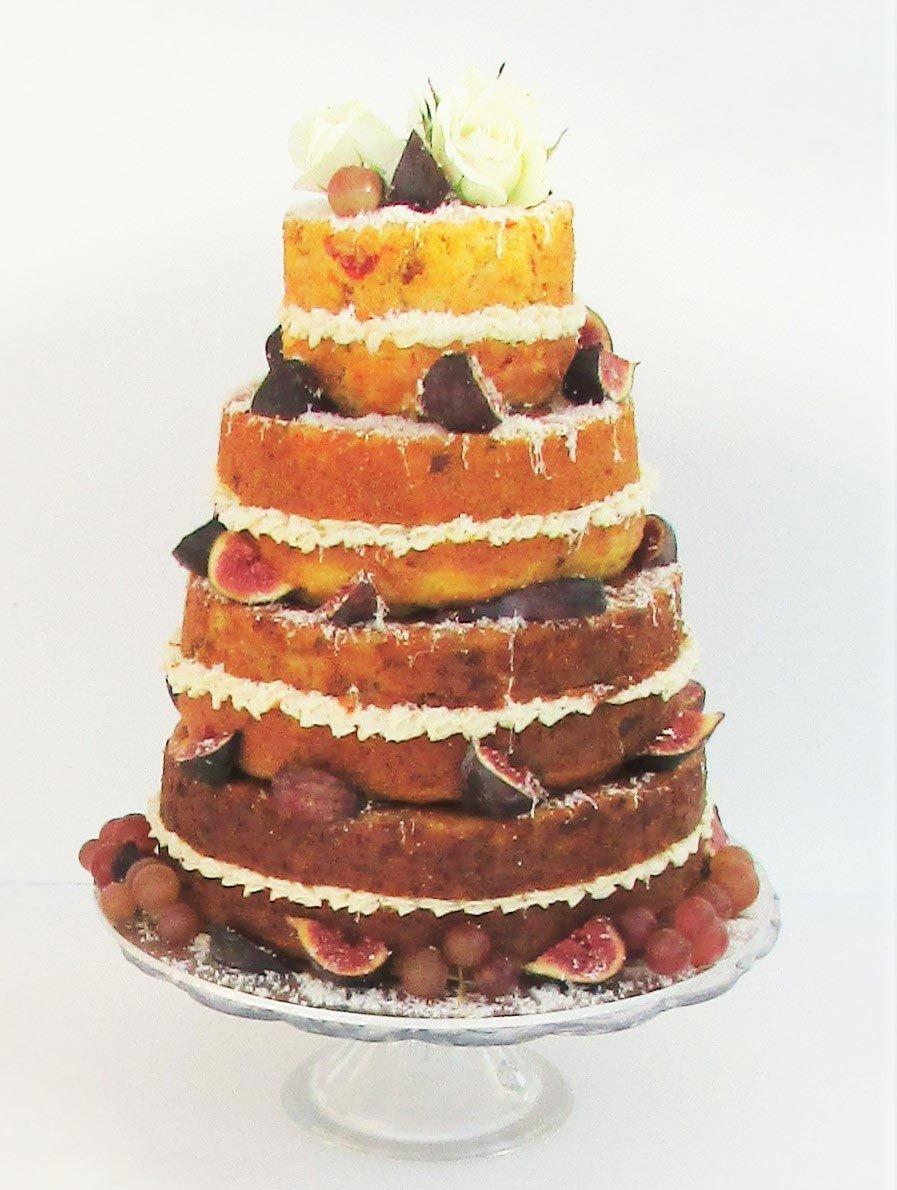 Do you love a pork pie? This tiered celebration pork pie wedding cake from Marks & Spencer is the perfect cake alternative.
t is made from uncured pork and a rich hot water crust pastry. The pork pie stack has approximately 30 portions and costs just £99.
The Ginger Pig can make you a wedding pork pie if you are after a savoury wedding cake alternative, but if you prefer your pies to be sweet check out this amazing fruit pie wedding cake!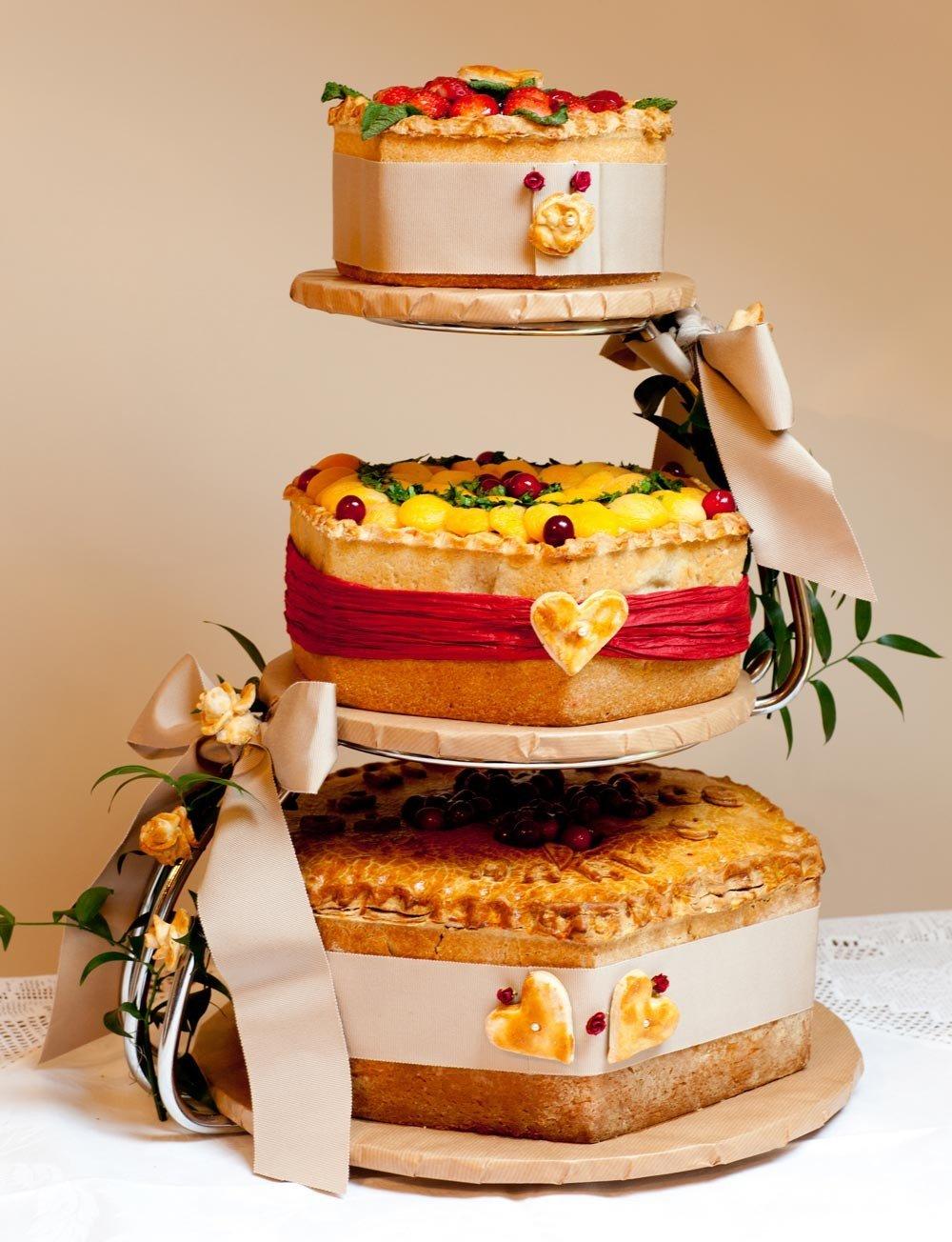 Macaron Towers
Having a French themed wedding? Or perhaps you just want to give your celebration a sophisticated twist.
Consider a macaron tower. This one from Ginger & Cacao has a stunning neutral colour palette and would look amazing on a dessert table.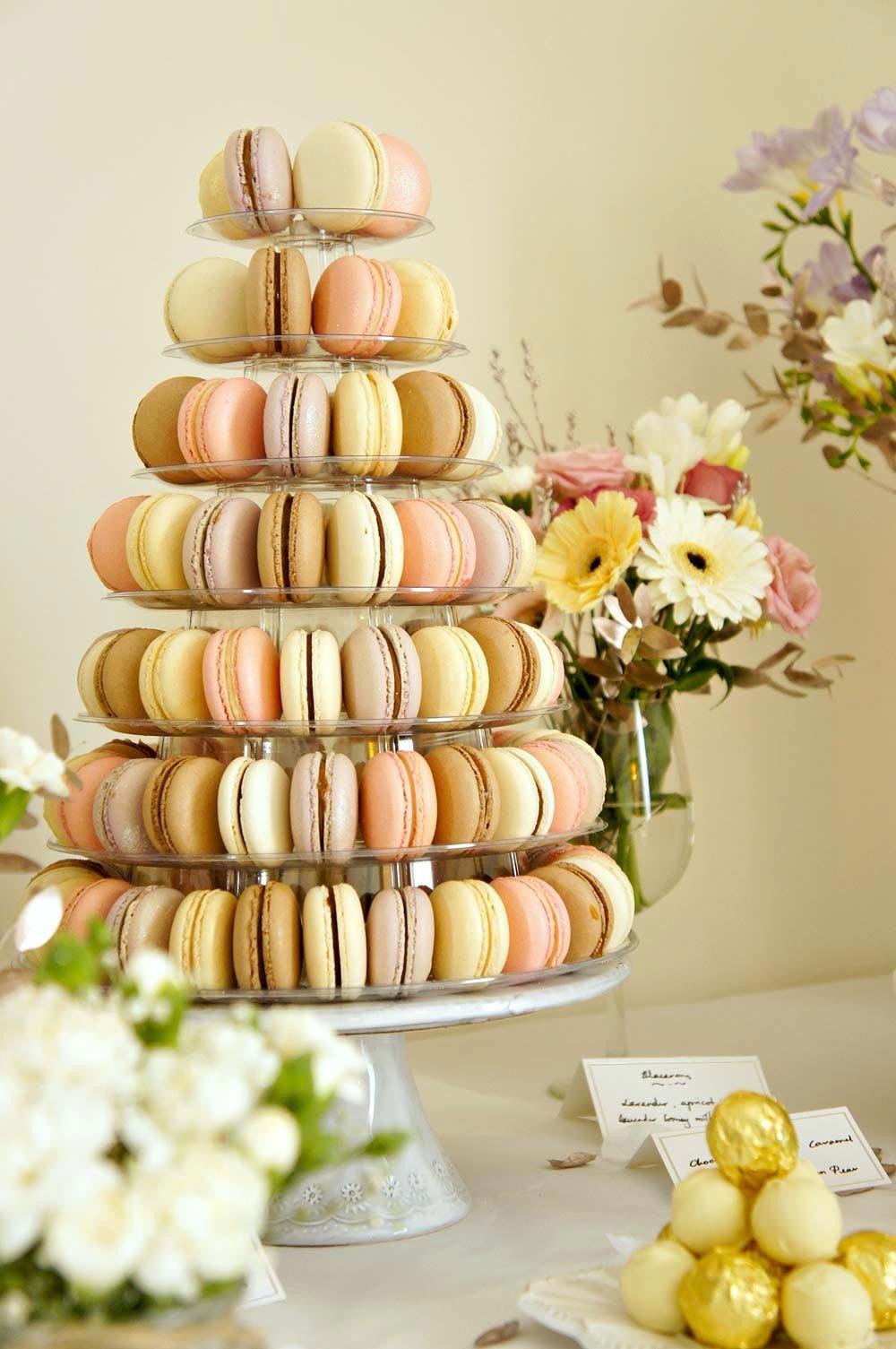 If you want something with bolder colours, this pink, purple and peach tower of macarons from Hayley's Piped Dreams could be ideal.
It'd even work as a sweet centrepiece – put these on your reception tables and you won't need favours!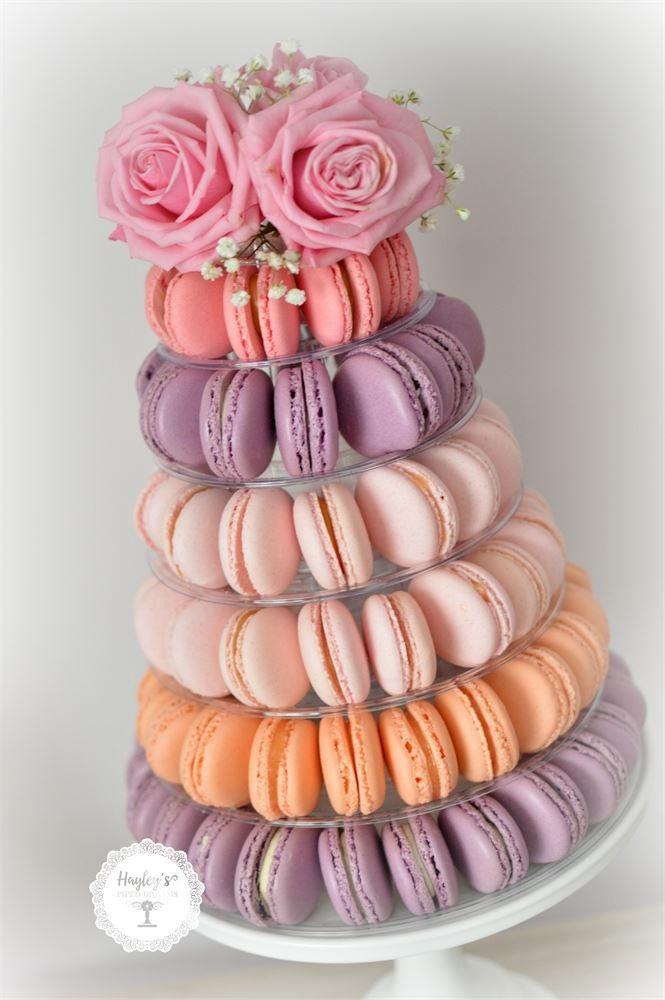 How striking is this purple hued macaron tower from Belinda's Kitchen? You'll have all your guests loitering by the cake table, eager to tuck in.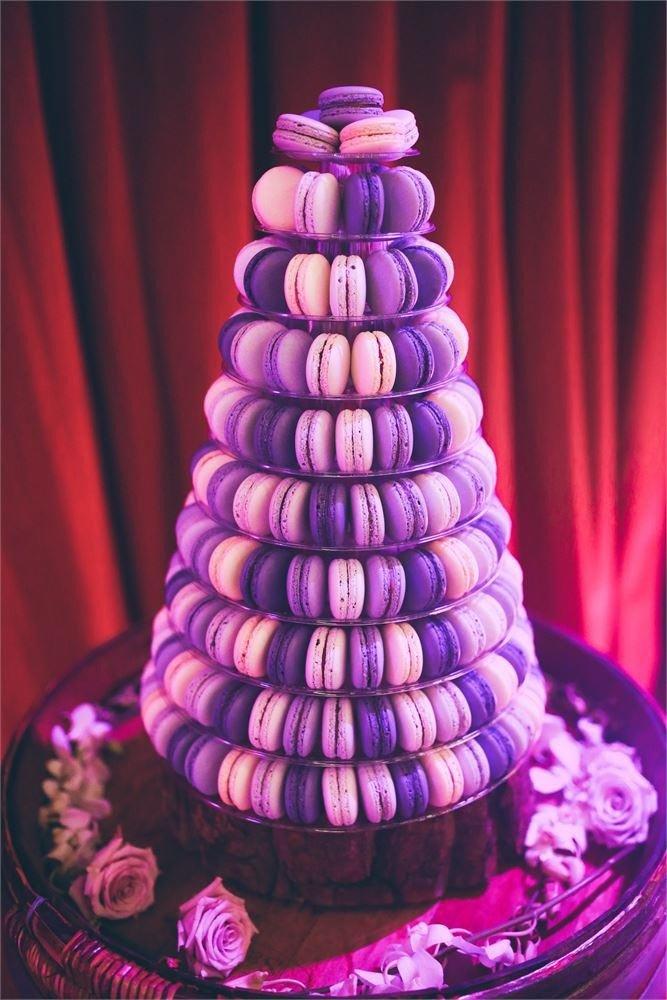 Brownie Stack
How incredible would a stack of brownies be at your wedding reception? Seriously incredible.
The chocolaty treats make the perfect wedding cake alternative and they're already cut up for your guests. Serving brownies as your wedding cake is actually a great wedding budget hack – you can give them out for dessert with ice cream.
Crumbs & Doilies have an amazing selection of brownies to choose from. We especially love their Oreo brownies, but the peanut butter and jelly ones look amazing too.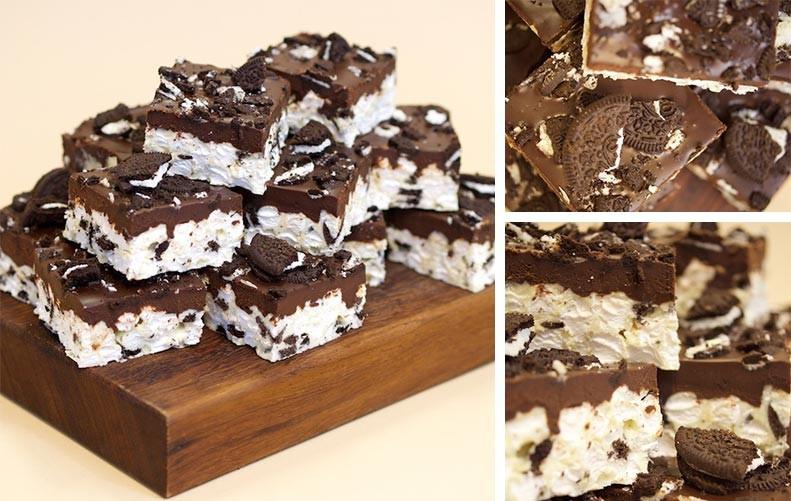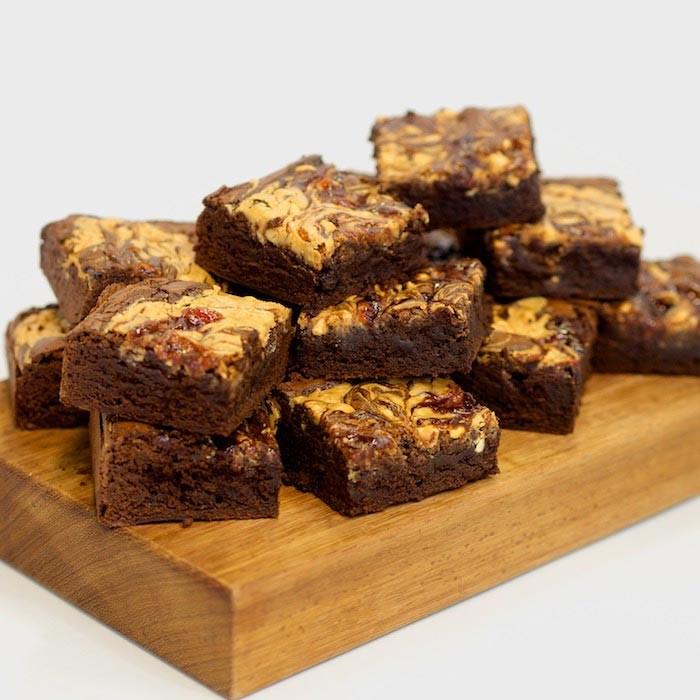 If you want something even more unusual, consider a tiffin tower from Crumbs & Doilies.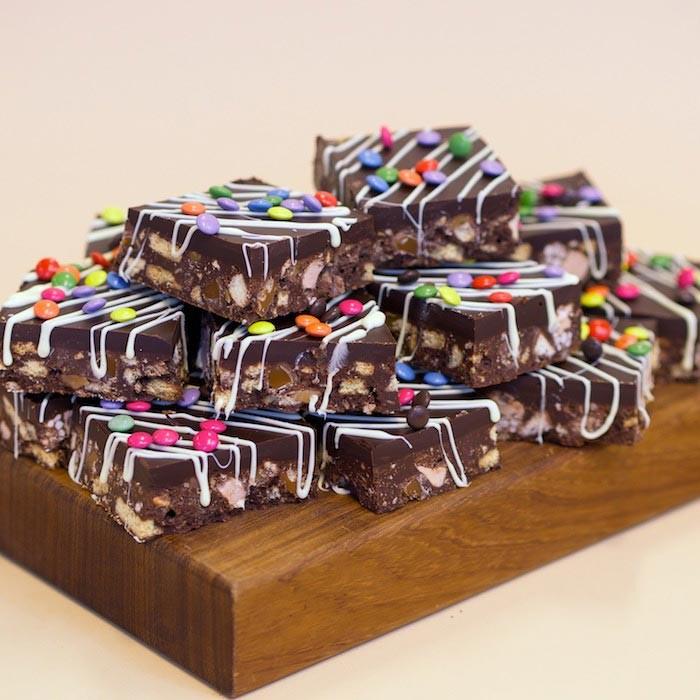 A brownie pyramid will delight your guests and look amazing in your wedding photos.
We love how these brownies are displayed on scales – it's a great idea if you not only want a wedding cake alternative, but an alternative way to display it too.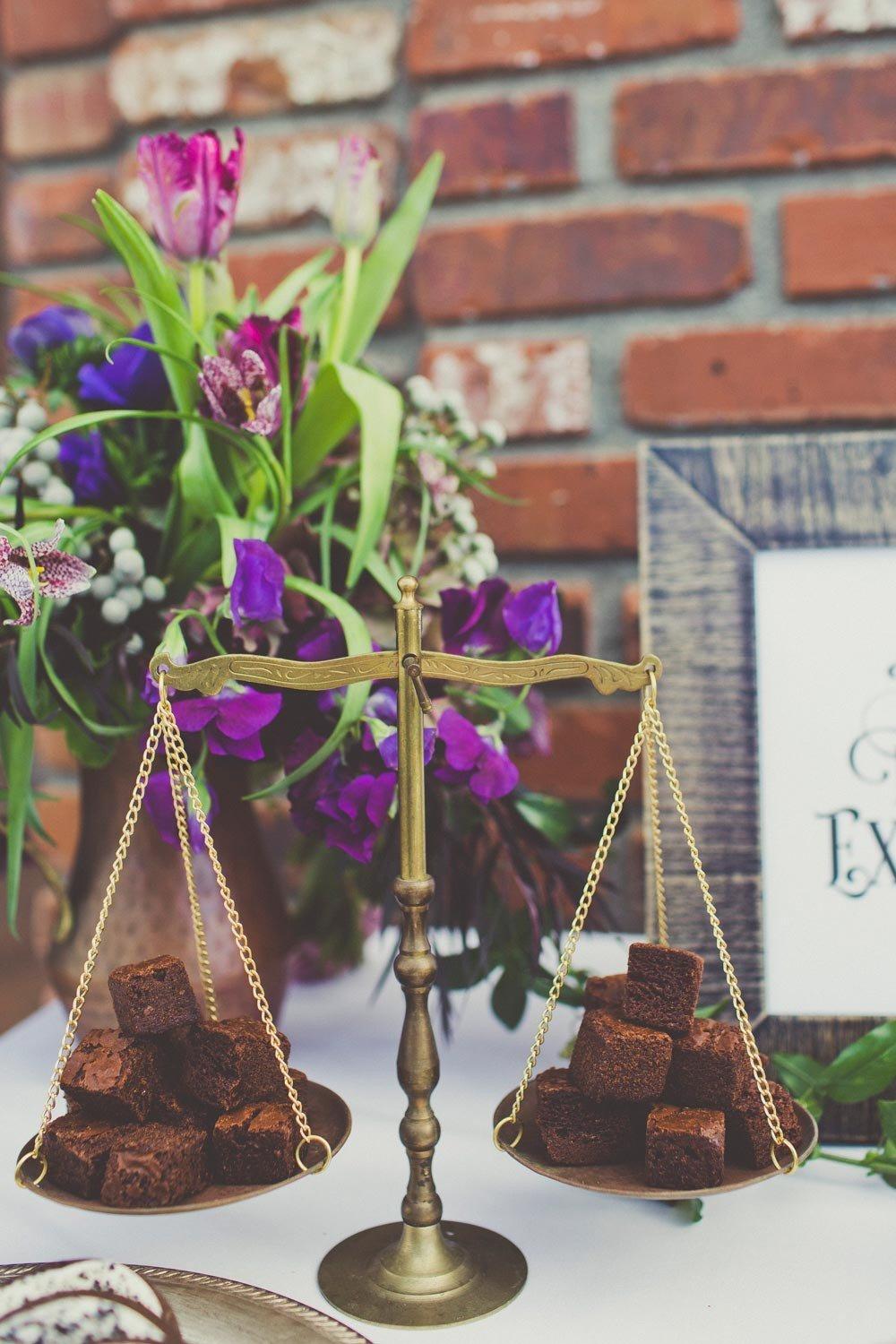 Image credit: Sarah Kathleen Photography
Cheesecake Wedding Cake
Do you love cheesecake? Why not have a cheesecake wedding cake? The English Cheesecake Company makes amazing tiered cheesecakes (with up to five tiers). Mix and match the flavours and enjoy the solid chocolate base.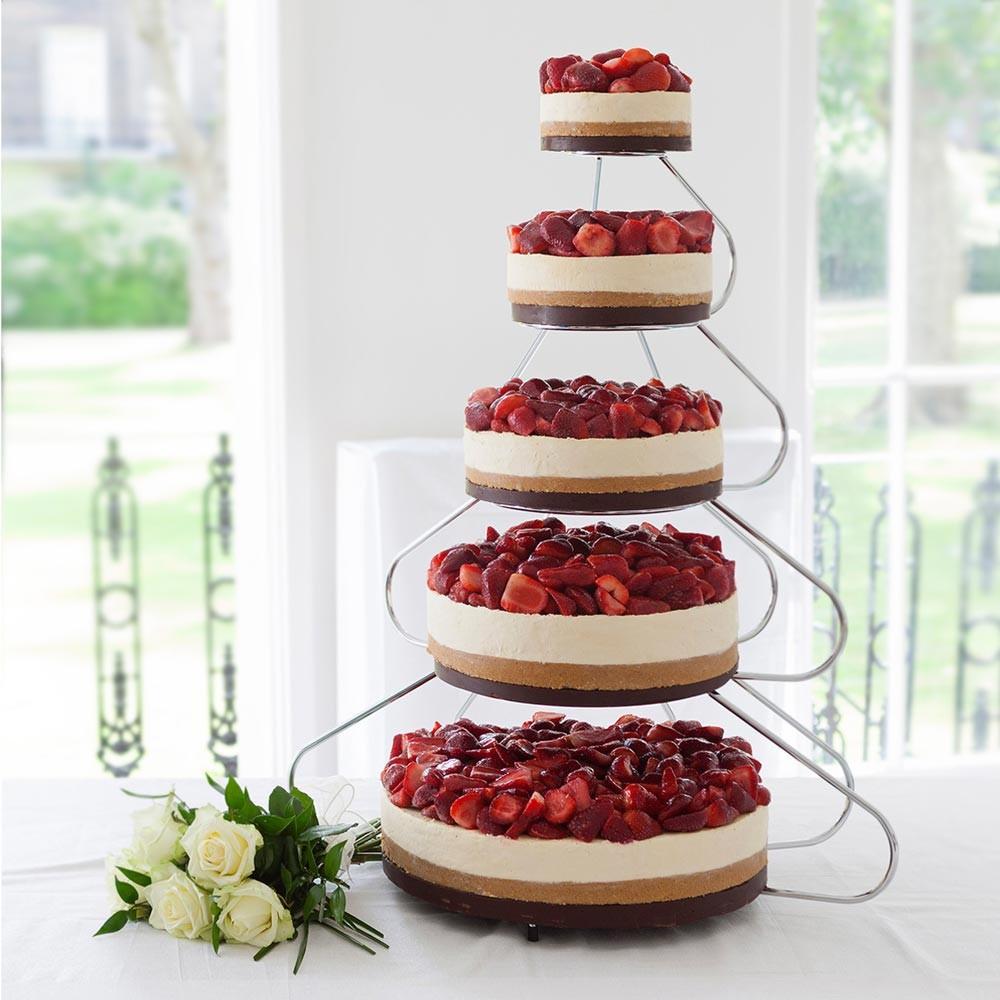 Alternatively, these cookie cheesecake bakes from Crumbs & Doilies will go down a storm with your guests.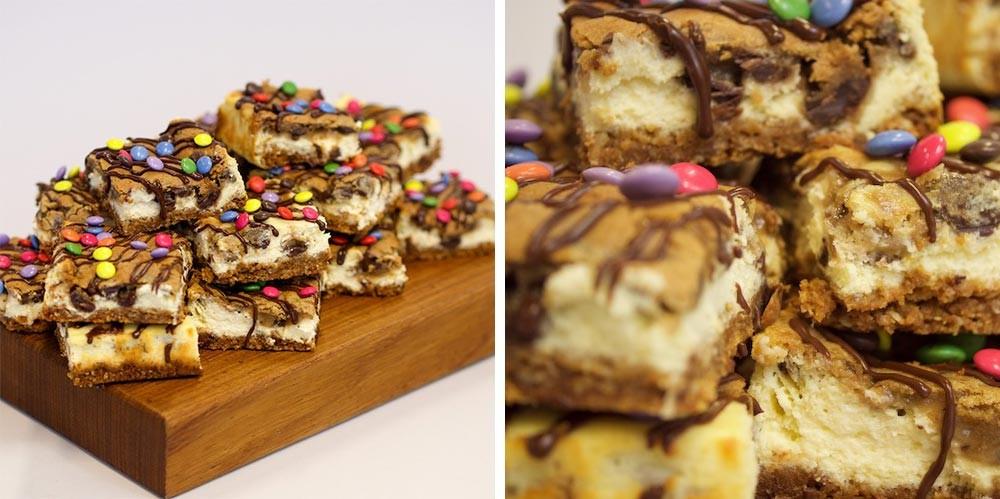 Mini Cakes and Cupcakes
Those that don't want to stray too far from tradition should consider a selection of mini cakes or cupcakes. Konditor & Cook's signature Magic Cakes are made from lemon sponge covered in marzipan and a fondant glaze, complete with personalised decoration.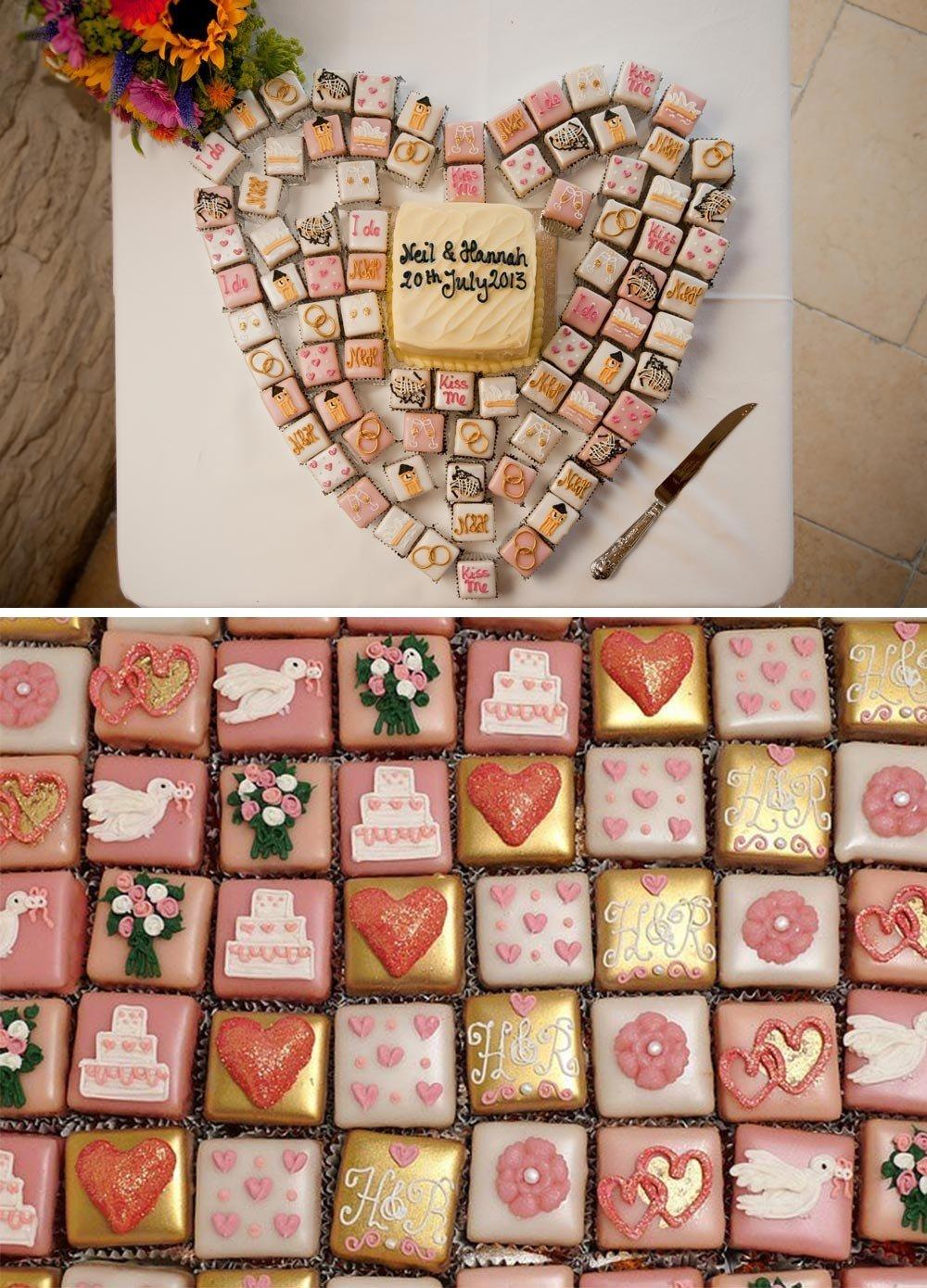 Cupcakes are a great option too – you can have a variety of flavours to suit a range of tastes and they can double up as a wedding favour too.
Marks and Spencer do 48 rose cupcakes for £75, or you could order their adorable Percy Piglet cupcakes!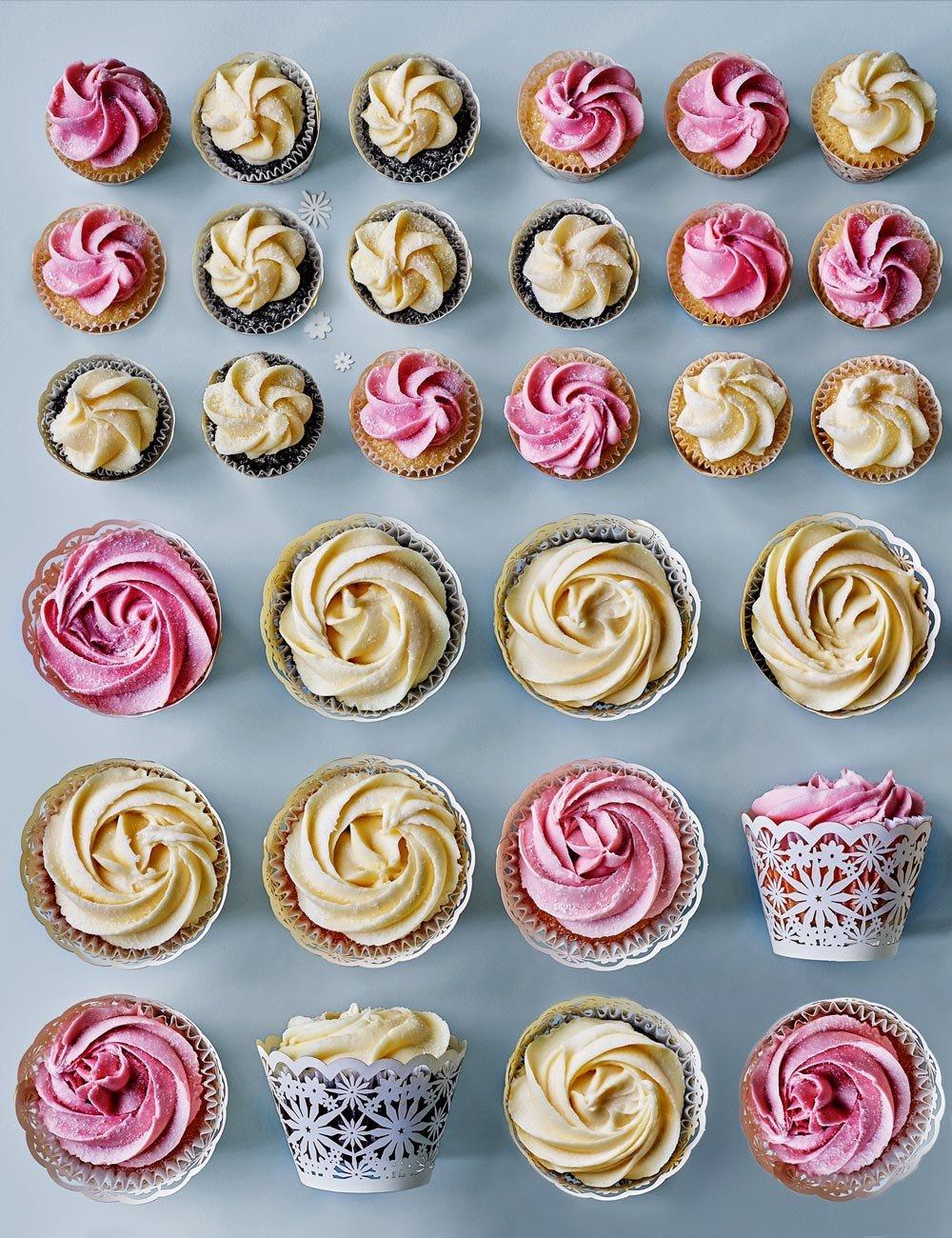 These mini vanilla shortcakes from Elizabeth's Cake Emporium are so adorable and would be perfect at an afternoon tea style wedding reception.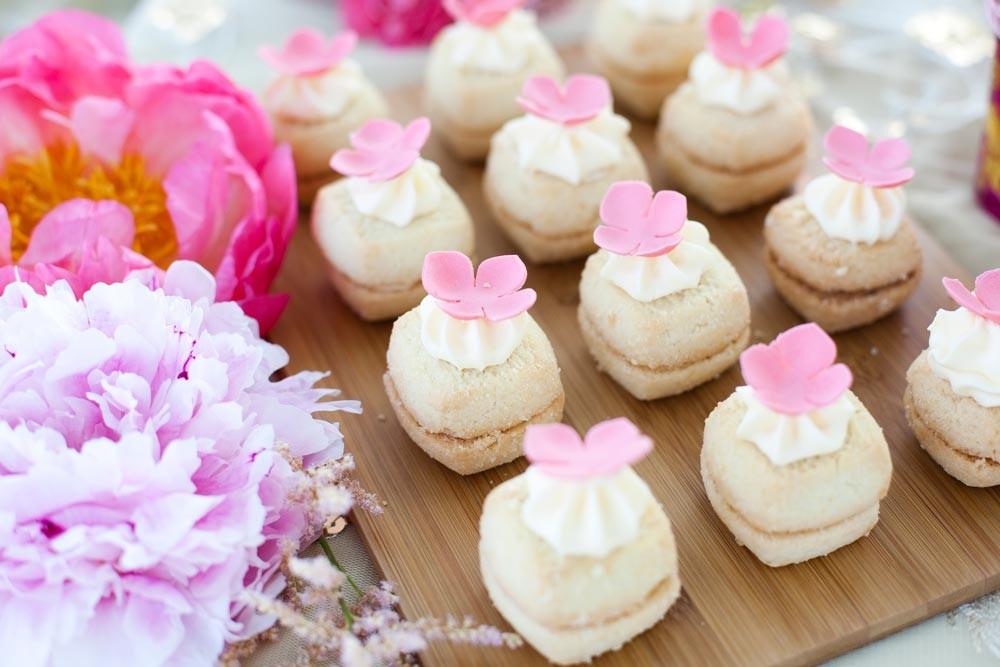 Sweet Tables
If you don't like cake at all, why not have a sweet or dessert table? This purple themed sweet table from Sweets for my Sweet is a great example.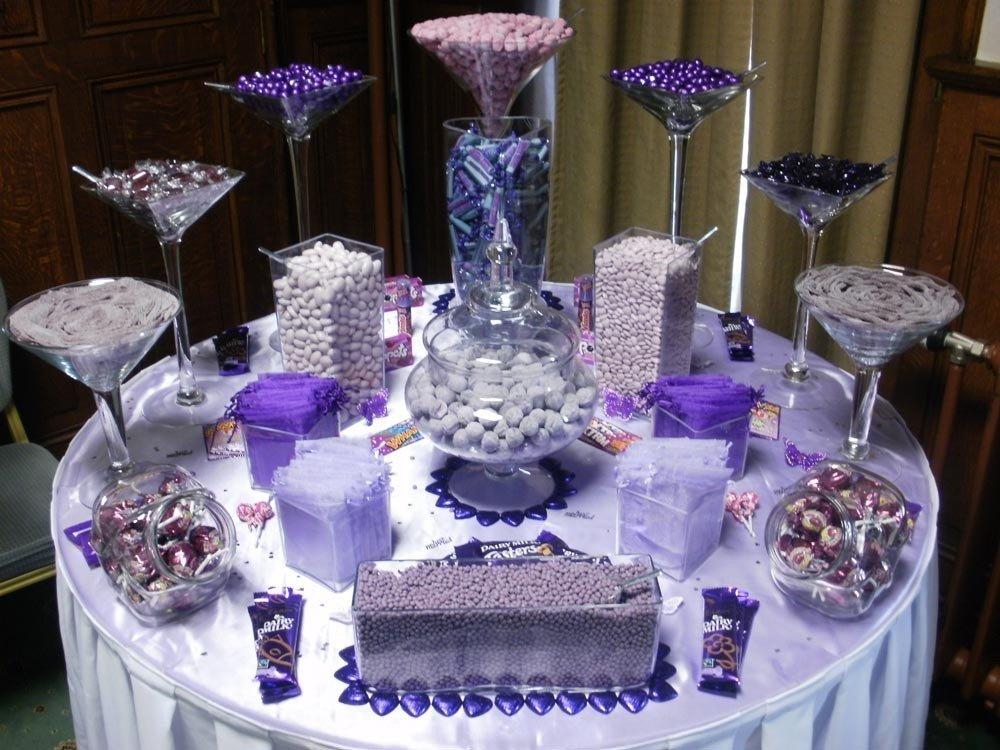 These dessert tables, styled and set up for photographer Sarah Kathleen's Disney inspired Ever After shoots, are perfect inspiration.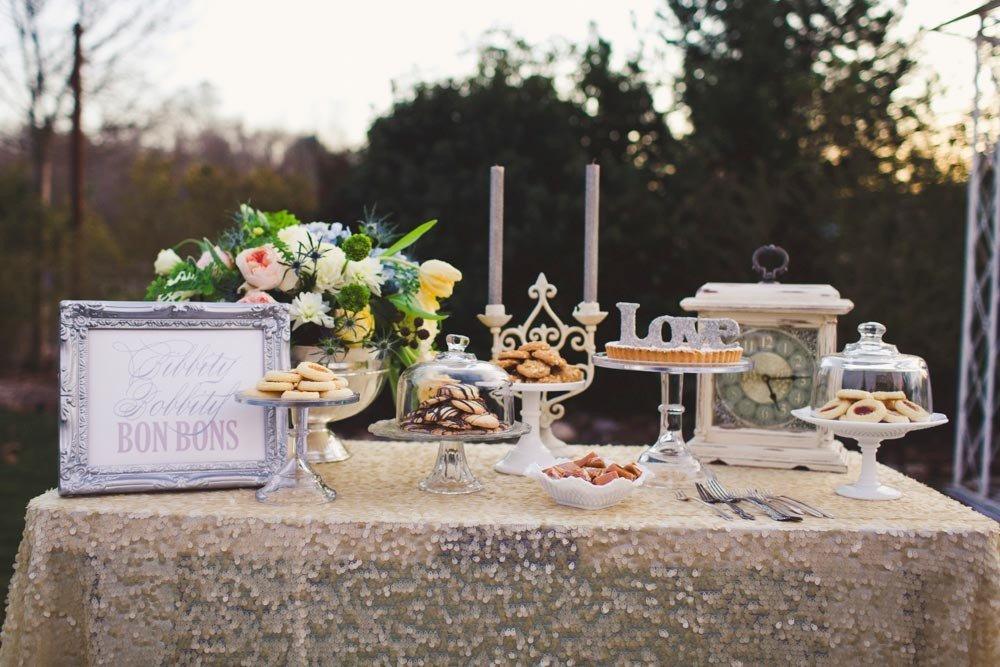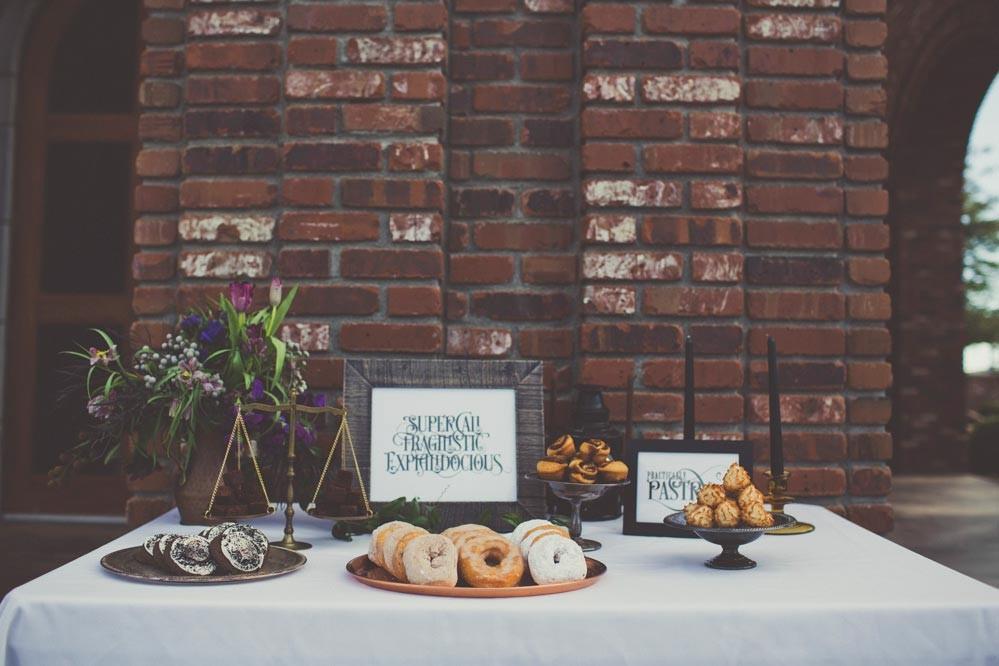 Rice Krispie Treats
Everyone loves Rice Krispie treats, right? They're a childhood favourite, and there's no reason why you can't keep enjoying them right through adulthood, especially on your wedding day. These Rice Krispie party bars from Crumbs & Doilies are amazing.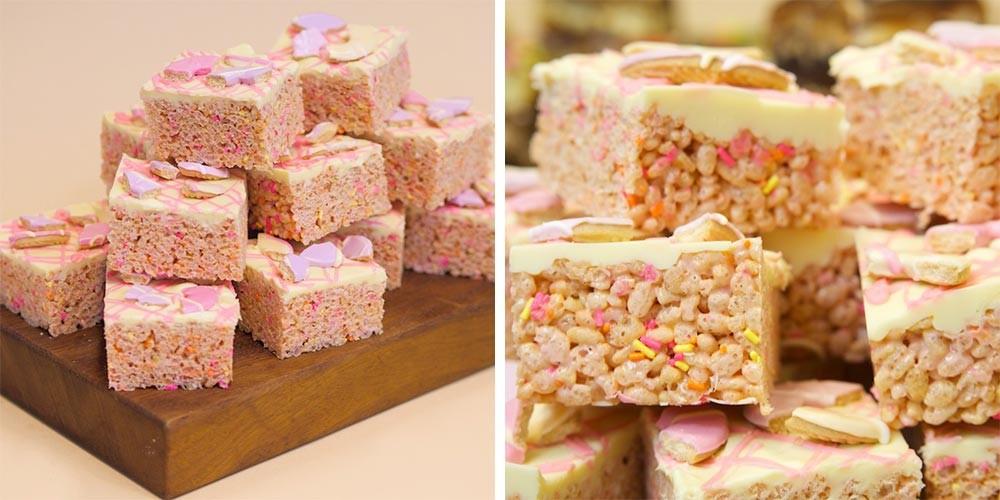 Doughnut Tower
A Krispy Kreme doughnut tower will have all your guests salivating from the moment they walk into the reception. It looks just as good as it tastes too!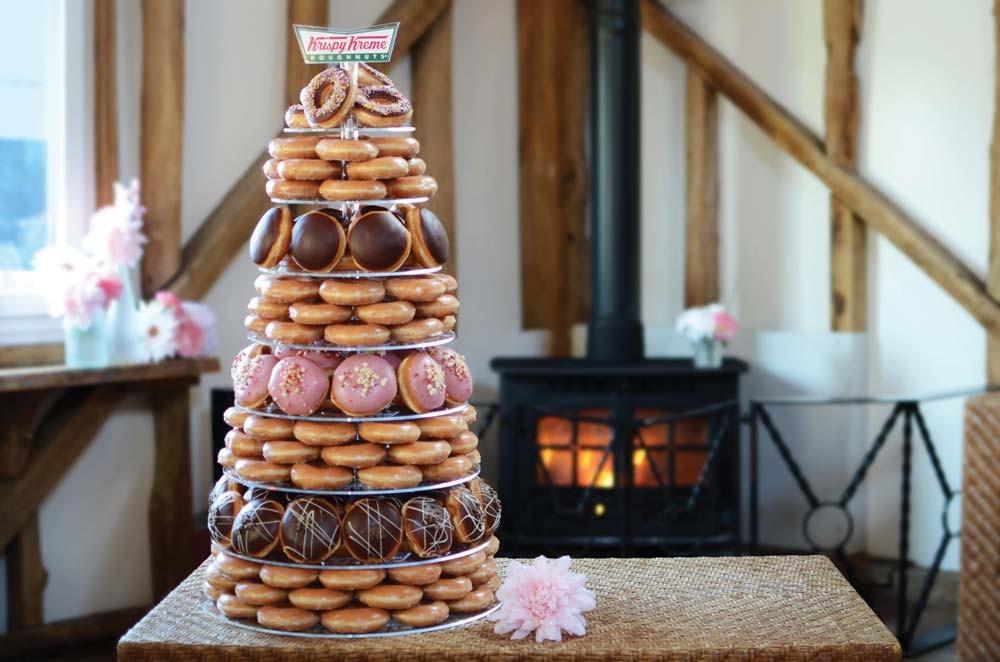 You could also have smaller stacks of doughnuts on a dessert table – this will look striking and taste delicious.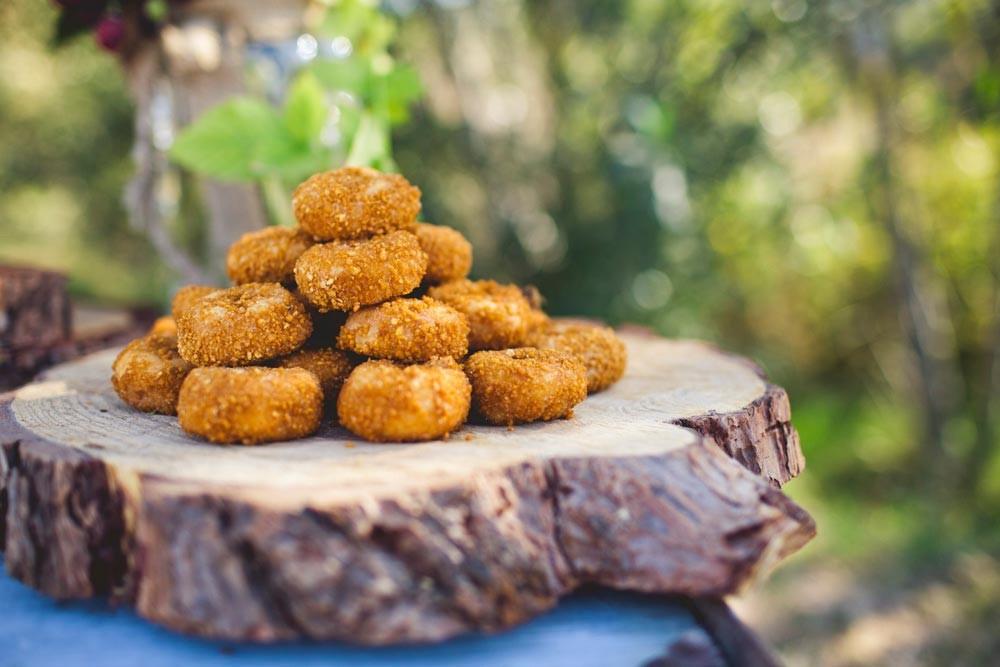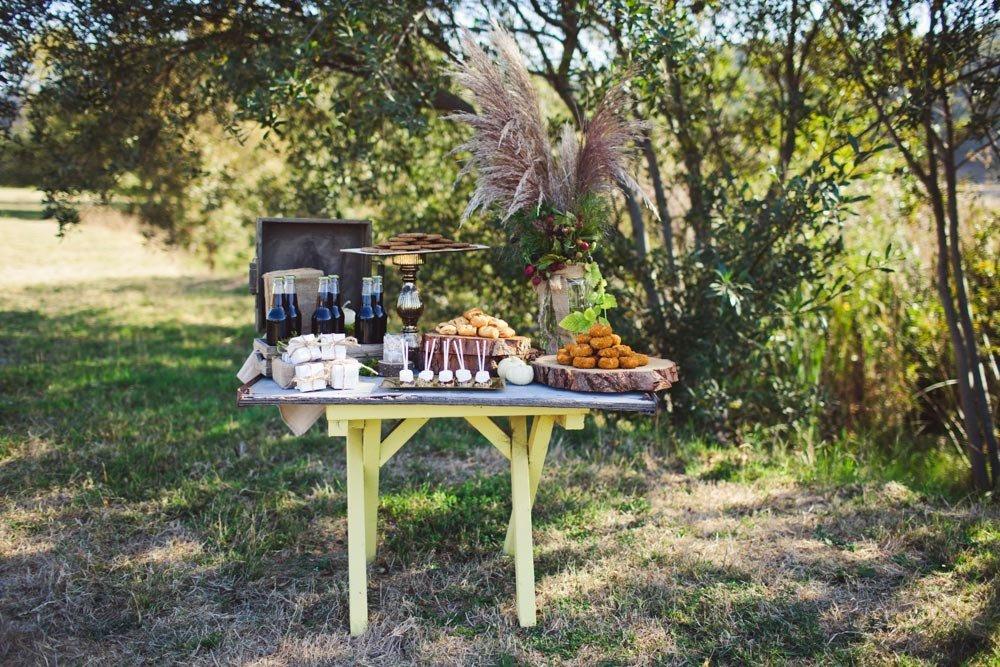 Image credit: Sarah Kathleen Photography
Croquembouche
Not heard of croquembouche before? This French dessert will become your new obsession. It's a tower of choux pastry balls, like profiteroles, bound with threads of caramel or chocolate. It's a striking wedding cake alternative.
If you want to go all our with your French theme then Ladurée will be the perfect destination for you.
If you are having a spring wedding day that is full of pretty pastel shades then their pastel choux patry tower will be perfect for you – we particularly love the pastel pink tower.
For a more classic look then their traditional croquembouche is just as spectacular!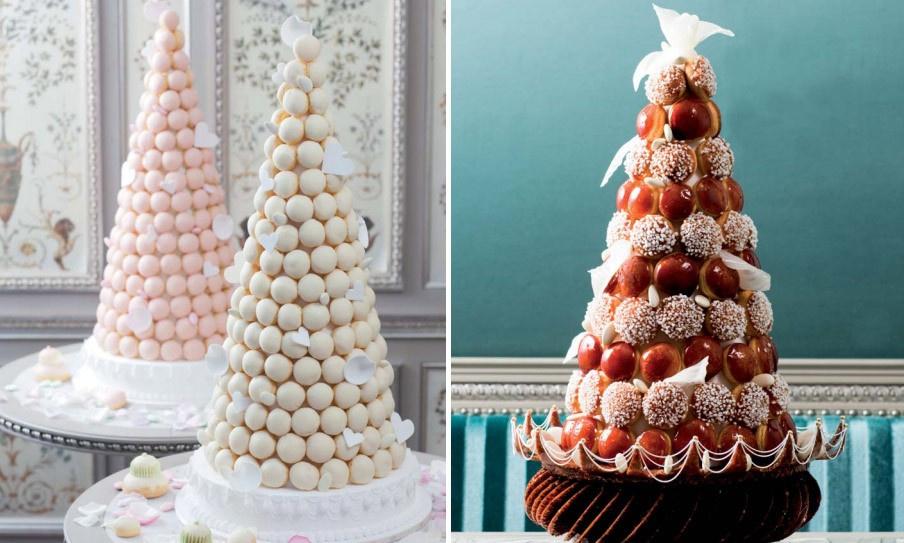 We also love this croquembouche below, which is part of a sumptuous dessert table. If your guests are a little unsure they can always tuck into the other treats then!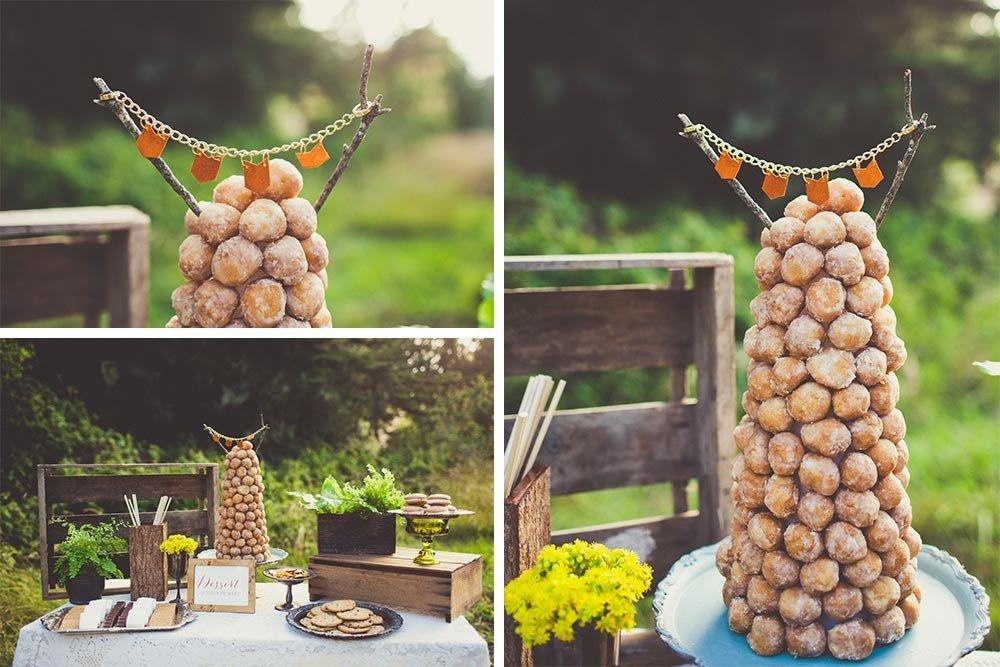 Image credit: Sarah Kathleen Photography
Couture Cake Designs also do some incredible looking croquembouche towers. We'd love to tuck into this one!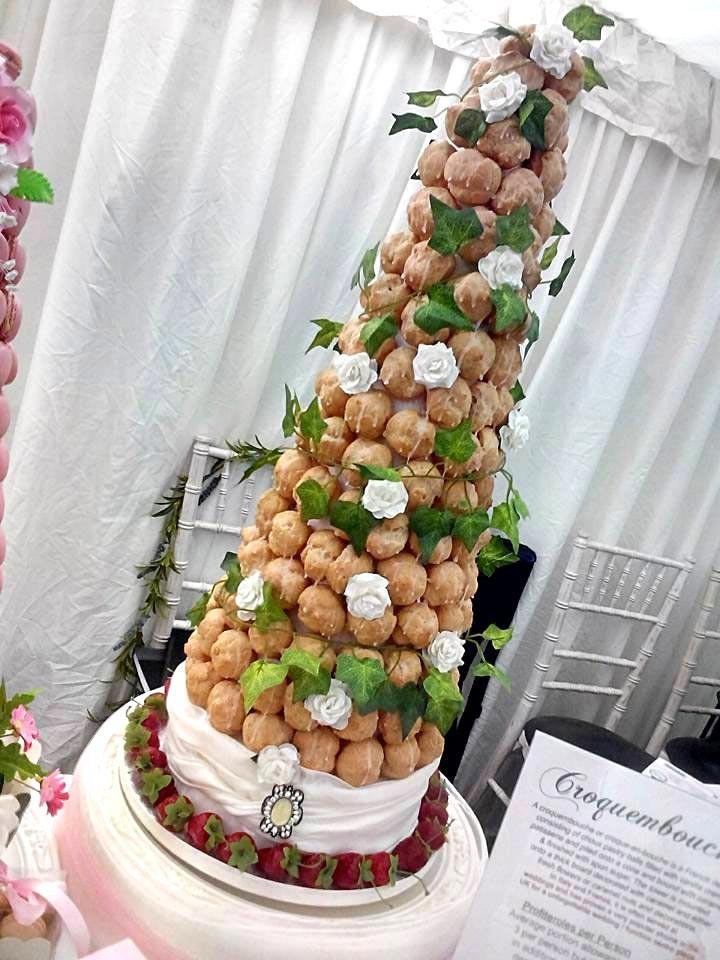 Biscuits and Cookies
Quite often the wedding breakfast is followed with tea and coffee, and perhaps a slice of wedding cake – but you know what goes even better with tea and coffee? Biscuits. A stack of iced biscuits is an innovative wedding cake alternative and also doubles up as wedding favours.
We love these cute, girly biscuits from Lindy's Cakes – the bouquet one is almost too pretty to eat (almost).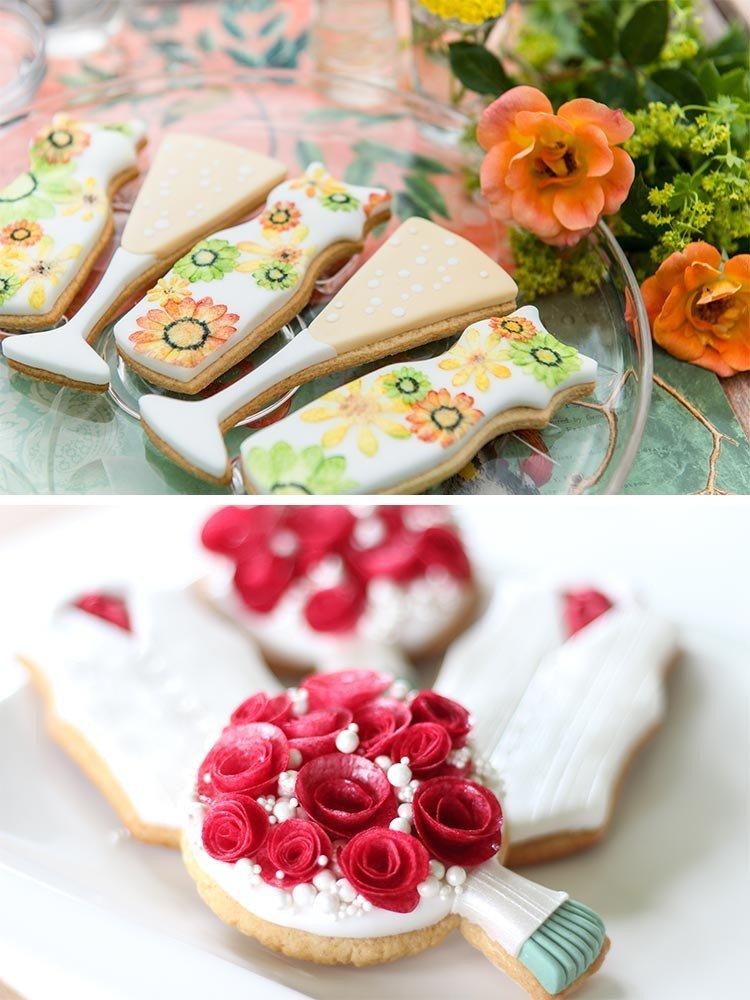 Fabulously Floral Cakes don't just do cakes – they do amazing biscuits too. These intricately decorated treats will go down a storm with your guests.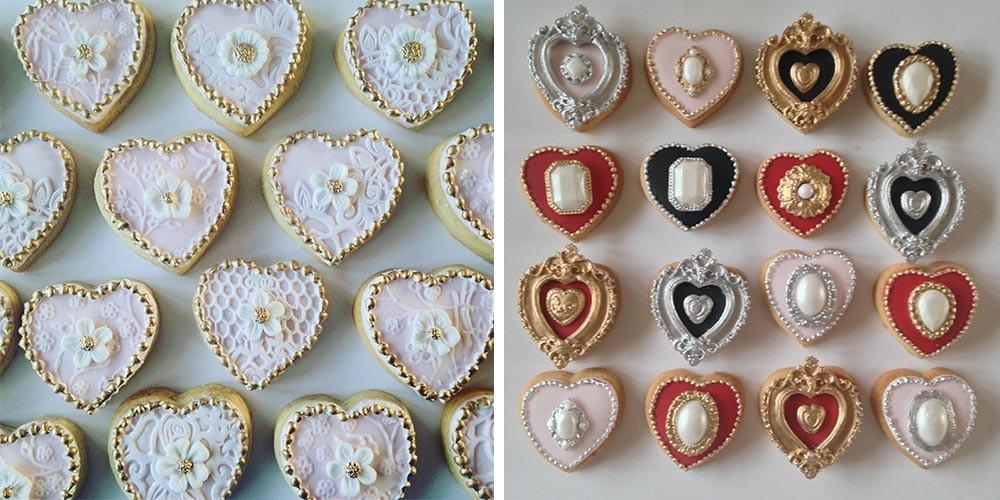 Sweet Tower
We love a Ferrero Roche (or several). Why not spoil your guests with this tower of them from Sweets for My Sweet?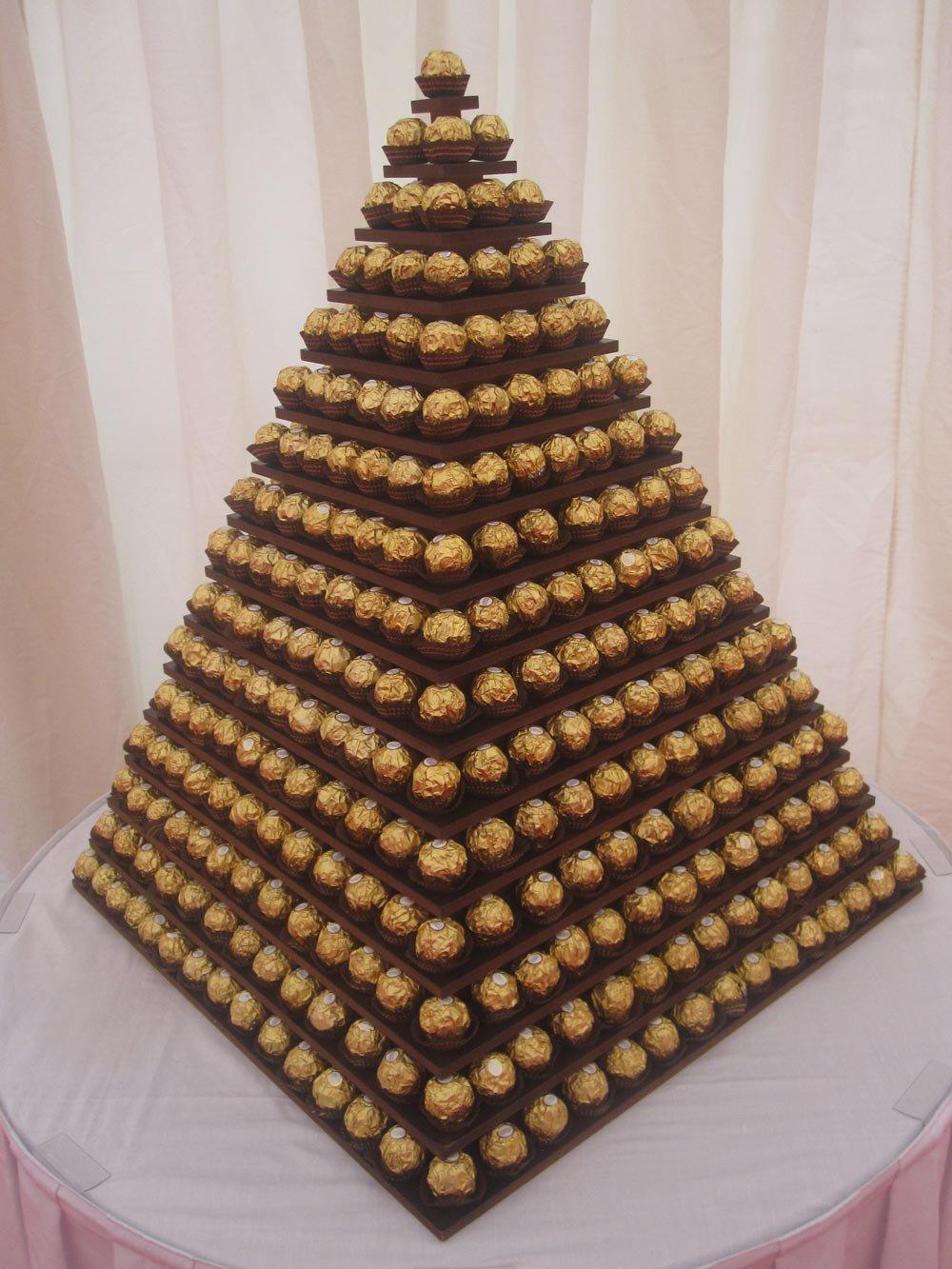 Wedding Jelly
If want really want to amaze your guests, why not order a wedding jelly instead of a wedding cake? This tiered display of brightly coloured jellies from Bompas & Parr is amazing!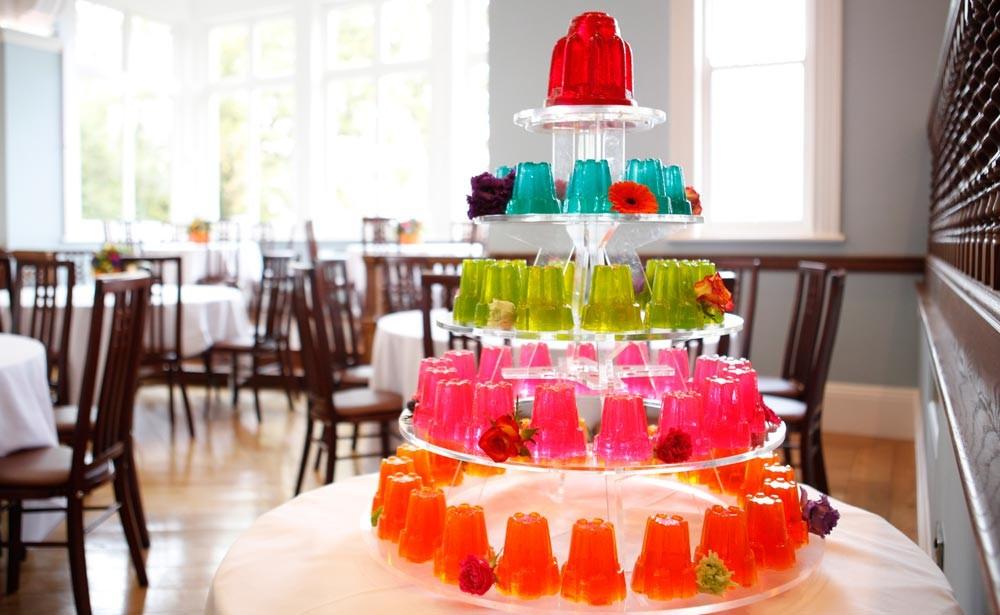 Meringue Wedding Cake Alternative
Everyone loves a meringue and they look so striking when they're on display.
Pile them high for maximum impact and serve with cream and fruit so your guests can make their own Eton mess.
We also adore this cute bowl of meringue kisses from the Baking Chick – the sugar will keep your guests going through the evening party!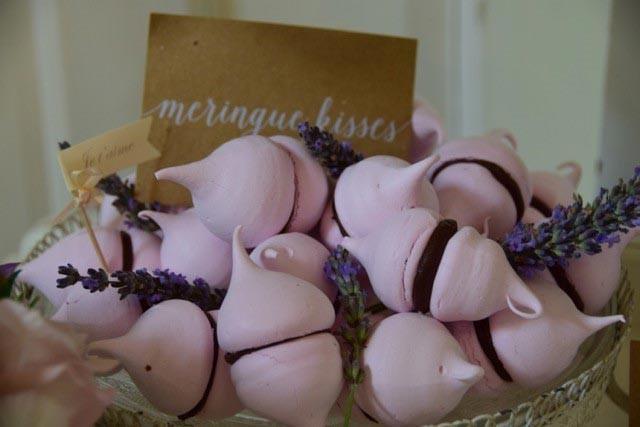 Why not browse our favourite unusual wedding cakes for even more out-there inspiration?