25 of the Best Wedding Cakes in London
Getting married in London and want the perfect wedding cake? Our round up of the best wedding cakes in London will leave you spoiled for choice!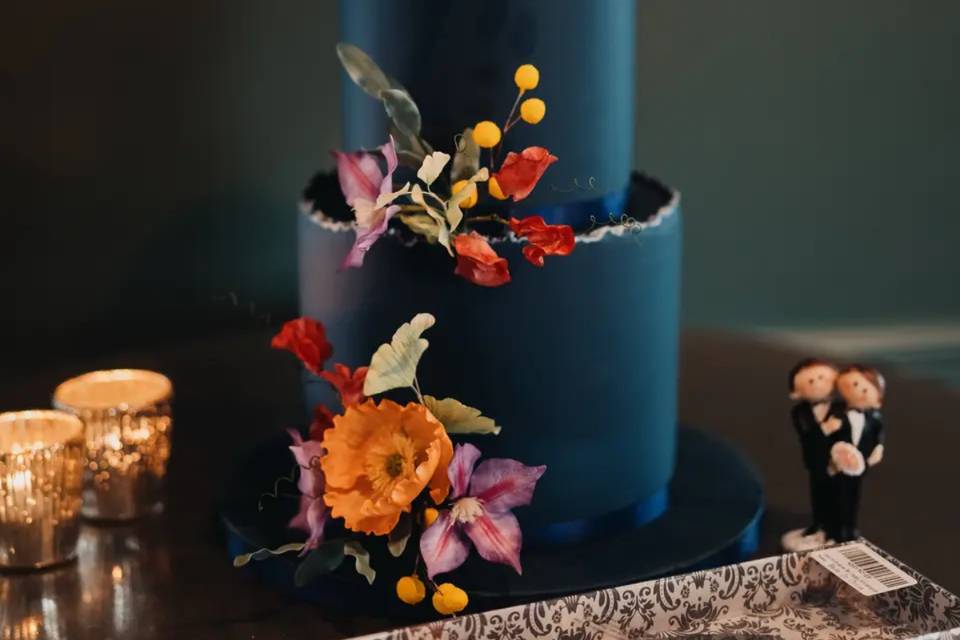 Once you've secured your London wedding venue, we can only imagine that wedding cakes in London will soon be next on your wedding planning checklist.
Wedding cakes are the centrepiece of any wedding dessert table, and you'll want to ensure yours fits the bill of a chic London wedding - but where on Earth do you start with it all?
Luckily for you, you've come to the right place, as we've rounded up a list of the best wedding cake shops in London for you to browse through. Whether you're after affordable wedding cakes in London, or an up-market wedding bakery in the city, our edit is bound to have something to suit your needs.
Wedding Cakes in London: 25 of the Best London Wedding Cake Makers
With a selection of luxury London wedding cake makers, mixed with some incredible high street wedding cake retailers, there's something for everyone here in this city-centric wedding cake edit.
Warning - this article will make you hungry... Sorry, not sorry!
1. Deluce Cakes
If you're after wedding cakes in London that have the wow-factor - look to Deluce Cakes in South West London. This award-winning London wedding bakery specialises in crafting luxury, bespoke wedding cakes designed specifically for you.
Adding to the exclusivity of the service here, as a small artisan brand, Deluce take just a select few number of wedding cakes a year to ensure all of their customers receive the time, consideration and expertise they deserve - and you only have to look at their Hitched listing to see just how incredibly impressive their designs are.
Price: From £750
2. Lemon Tree Cakes
Located in East London, Lemon Tree Cakes is a bespoke cake design studio who love crafting designs that are truly personal and authentic to each couple they work with. The London wedding cake businesses is headed up by artist and baker Pam, who has been designing and making wedding cakes in London for more than seven years now.
The designs at Lemon Tree Cakes are so unique, and range from hand-painted abstract art desserts, to wedding cakes that look like historical statues - we're not joking!
And Pam's customers can't get enough, with one saying, "I'm so grateful to have been able to work with Pam on our dream wedding cake. What she created was so amazing, really understanding that in a location like a tropical glass house you want your cake to stand out and be a real 'WOW' addition to the day."
Price: From £500
3. Amilia Elizabeth Cake Design
Wedding cakes in London leave you pretty spoilt for choice - we get that - but one cake maker who really stands out to us is Amilia Elizabeth Cake Design - a great choice for couples who want their wedding cake to be a perfect mix of elegance, luxury and simplicity.
Located in South West London, Amilia has been creating bespoke wedding cakes and bakes since 2016, and offers couples sweet tables, macarons, rose petal lollipops and more!
Price: £650
4. Bluebell Kitchen
Though based in Kent, Bluebell Kitchen create wedding cakes in London and the surrounding home counties. The team is made up of mother and daughter duo Erica and Charlie, who pride themselves on their exquisite creations. The pair are passionate about what they do and love coming up with new ideas to surprise their couples.
They also love making statements with their cakes, whether that be through unique wedding cake flavours, or elaborate and intricate designs. As well as cakes, the pair also offer macaron towers for couples wanting to embrace a Parisian theme on their wedding day.
Speaking to us about their London customers, the team at Bluebell Kitchen said, "We've found that our London couples definitely want us to design truly unique wedding cakes. They come to our in person consultations full of ideas, colours and pictures, which we then use to create something completely unique to them as a couple.
"The one thing that we've definitely noticed is that all of them want handmade sugar flowers as part of their design. This is as true for a macaron wedding cake as it is for a traditional tiered cake. Our style of sugar flowers tends to be more bold and colourful, although we do offer more neutral designs too.
"Many couples choose to complement the florals from their bouquet or the colour scheme from their wedding, but the real joy of sugar flowers is that you aren't constrained by them being in season. Our couples also love the idea that you can keep the flowers forever!"
Price: From £675
5. Wedding Cakes by Lisa Broughton
Elegant is the name of the game at Wedding Cakes By Lisa Broughton. This London wedding cake bakery offers spectacular sugar paste centrepieces inspired by baker Lisa's love of vintage sophistication. These cakes will dazzle your guests' eyes and their taste buds, of course.
Wedding Cakes By Lisa Broughton is located along the South London - Surrey border and delivers gorgeous wedding cakes to London venues and couples, and has been doing so for more than two decades.
Detailing their amazing experience with Lisa, one couple said, "We chose Lisa to do our wedding cakes for about 120 guests, we had a specific design in mind and she did an amazing job in making it come to life, it was even better than what we had imagined.
"The top tier was effectively a giant cupcake, along with many smaller-sized cupcakes. The colour of the cupcakes even matched our wedding theme! Our guests loved it and thankfully we were able to bring some back home - after a few days we're still eating them and we love them."
Price: From £500
6. Gorgeous Cakes by Sonata
Gorgeous Cakes by Sonata really lives up to its name. The bakery's elegant, gourmet London wedding cakes are show-stopping to look at and are made with the freshest and finest ingredients.
This London wedding cake bakery is located in Middlesex and delivers to venues in and around the city. As well as wedding cakes, the team here can create wedding biscuits, cupcakes and canelés, perfect for couples who really want to treat their guests.
Detaining their amazing experience with Sonata, one customer said, "I had an excellent experience with Sonata and I can't recommend her enough. The service was amazing, the cake was exactly as I wanted and it tasted incredible on the day."
Price: From £150
7. My Vintage Cakes Ltd
My Vintage Cakes Ltd provide London wedding cakes to couples across East London and further afield, and their creations are just beautiful to look at. The gorgeous cakes are inspired by vintage wedding themes, whilst still remaining modern and stylish
They are available to deliver and set up your wedding cake on the day in any location across London, and also offer engagement cakes for those planning an engagement party celebration.
"Zainab created a masterpiece for our wedding," explains one satisfied customer, "The cake exceeded our expectations and received endless compliments all evening. The customer service was first class from the beginning to the delivery and set up of our cake."
Price: From £125
8. Nicky Tesler Cakes
Nicky Tesler Cakes started as a bespoke, design-focused cupcakery before expanding to include London wedding cakes in their repertoire. Lucky for us, because these cakes are just delightful to behold (and taste). Nicky creates both sugar paste and buttercream cakes, depending on your preferences, both of which will wow your guests.
Nicky operates out of Kensington and Chelsea in West London, providing a super central location for those tying the knot in the city.
"We were thrilled with our wedding cake from Nicky," says one happy couple, "The simple but elegant design was exactly what we were after. We were able to taste four samples and have three flavours in our cake, all of which were great - the rose in particular was a standout and we would recommend her to friends and family."
Price: From £450
9. Bella & Bean Cake Design
Located in South West London are Bella and Bean Cake Design - a London wedding bakery who create some of the most decadent and unique wedding cakes we've ever seen!
Their wedding cakes are adorned with buttercream ganache, but it's the decoration which really sets them apart. Whether it's sugared flowers or bespoke hand painting as seen on the botanical wedding cake above, the way they finish their desserts takes their cakes to the next level and beyond.
Couples love them too, with one of their happy customers raving in a review with reads, "The cake was absolutely magnificent - I teared up and we were both so pleased with how it looked. It also tasted beautiful, it was so light and just what we wanted at that time of the night.
"We also purposefully ordered more cupcakes that we needed because we wanted to have some spare the next day, but no! They were all gone, completely gobbled up. We each snagged one and called ourselves lucky! Thank you so much for your brilliant design and for your help in the lead up."
Price: From £450
10. Let Them Eat Cakes
When it comes to buttercream wedding cakes in London, Let Them Eat Cakes are your go-to guys. All you have to do is look through their portfolio and see what they can do with their ingredients and you'll be totally sold on them.
The team here is headed up by Floriana, who has been designing wedding cakes in London and across Kent since 2010.
Speaking about her most popular requests for London wedding cakes, she told us, "There are three key trends I see with my couples. the first is minimalist and elegant designs. Many couples opt for clean, minimalist designs with simple yet sophisticated aesthetics. This style often features smooth, fondant-covered cakes with minimal decorations such as delicate floral arrangements or metallic accents.
"The second is floral decorations. Flowers are a firm favourite when it comes to wedding cakes. Couples often request silk flowers, sugar flowers, or fresh flowers that match their wedding theme or bouquet.
"And the final one is personalisation and customisation. Couples often seek unique and personalised touches for their wedding cakes. This can include a monogram incorporated into their design, hand-painted designs, or including elements that reflect the couple's interests, hobbies, or cultural backgrounds."
Price: From £450
11. Gifted Heart Cakes
Gifted Heart Cakes are based in Hampshire, but serve wedding cakes in London and beyond. Their wedding cakes have been featured in iconic wedding venues such as The Ritz and Claridge's, and are loved by couples across London.
The wedding cakes here are real centrepieces and are designed to be a focal point for guests to swoon over.
Couples love their creations, with one review reading, "Perhaps the best testament to Emma's incredible creation for our wedding was the fact that a cake ordered for twice the number of attendees disappeared on the night with barely anything left for us to enjoy at home, and the numerous compliments from our guests on the beautiful artistry which went into the design.
"From the start, Emma was patient and collaborative. She took the time to understand not just what we were looking for, but the things we were passionate about and why, and the end result felt so much more personal as a result. We cannot sing her praises highly enough."
Price: From £500
12. Dadya Cake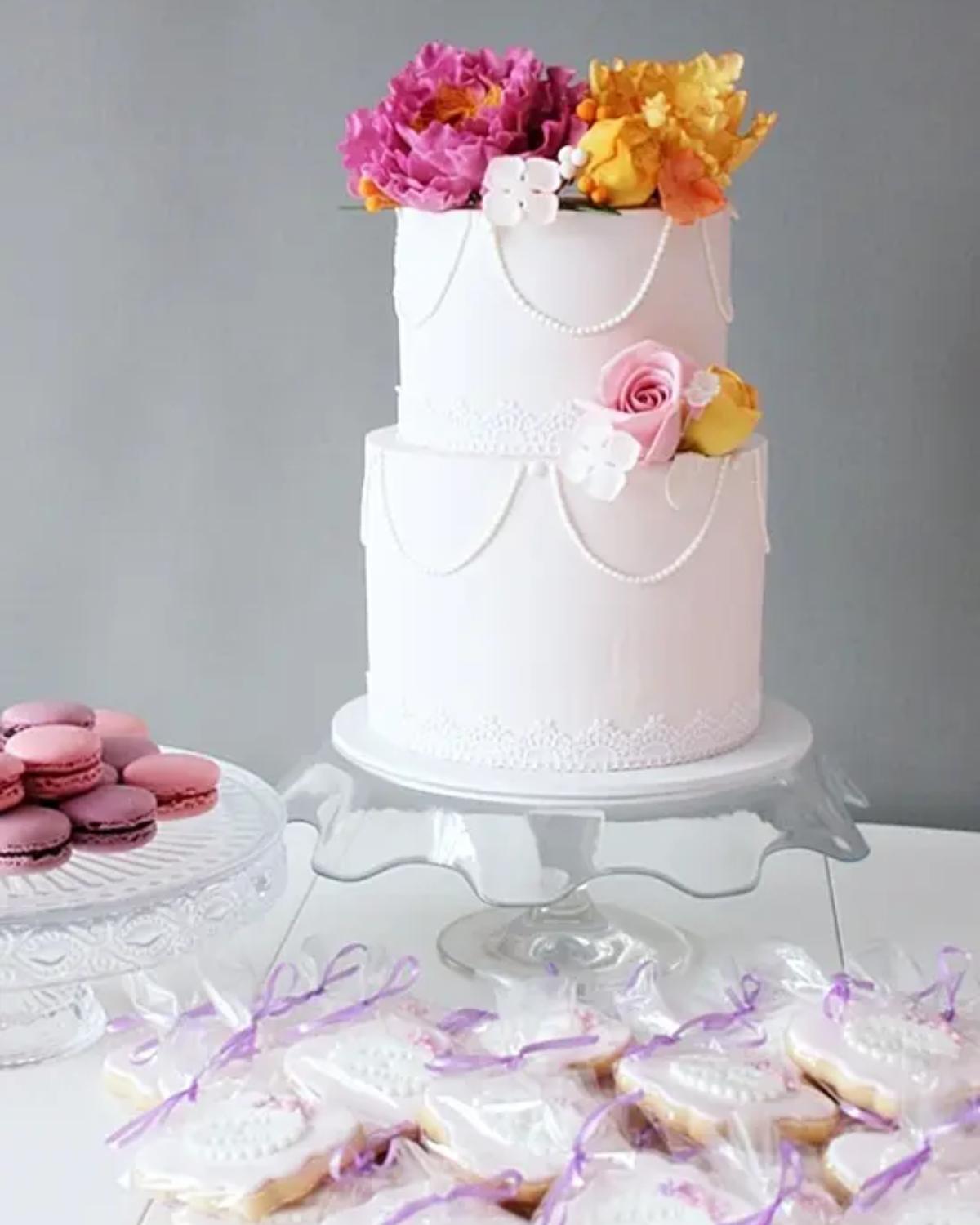 Award-winning pastry chef Gamze Ateş has been baking elegant and one-of-a-kind London wedding cakes for couples since 2009. Each of these cakes is made at Dadya Cake from scratch using the freshest ingredients. If you want to make your own cake, Gamze even offers cake-making master classes!
Get in touch With Gamze to discuss your vision for the big day and to taste her scrumptious samples.
Detailing their delicious cake made by Gamze, one couple said, "Gamze made such an awesome cake for our wedding earlier this month. It was beautiful and so, so delicious. We went for one tier in vanilla and blueberry and the second tier in carrot cake."
Price: From £250
13. Greenfox Bakery
The cakes from Greenfox Bakery are undeniably gourmet. They are made exclusively from buttercream (sorry, fondant fans!) and are true works of art. Owner and cake artist Claudia is also known for her Brookie - a combination of cookies and brownies - which she ships nationwide.
Greenfox Bakery has its home in South West London and offers a 10% discount for Hitched couples!
Price: From £350
14. Bad Ass Cakes
For the DIY couples, Bad Ass Cakes might just be the London wedding cake service you've been searching for. This bakery provides cake-making classes that will teach you all the tricks of the trade. You can then take what you learn home and make your own delicious centrepiece - and you can even do this as a hen party activity, too!
Situated in South West London, this baking school isn't just convenient, it's cost-effective, with prices starting from just £30.
But for couples who don't want to make their own cake, you're in luck, too as Barbara also creates bespoke wedding cakes herself.
Speaking about their experience with Barbara, one happy customer wrote, "Bad Ass Cakes dealt with my enquiry, quickly, professionally and were a pleasure to work with I had a bit of an unusual request as I asked for a old fashioned cake flavour with the external looks of a modern cake with multiple flavours within, not easy and at quite short notice really.
"I was overwhelmed with her attitude and willingness to assist and I would highly recommend this company."
Price: From £30
15. DiVine Zensations
DiVine Zensations are a London wedding cake maker who won't just accommodate your dietary restrictions - as eggless, vegan cakes are their thing regardless - and trust us when we say they taste as good as they look.
Their speciality is in crafting bespoke edible art for couples getting married in London and their creations are sure to impress your guests.
One couple who had a great experience with DiVine Zensations said, "Not only was our wedding cake absolutely gorgeous but our guests could not get enough of the lemon drizzle cupcakes that were also given as part of our wedding favours. DiVine Zensation were so easy and professional to deal with. They designed our wedding cake perfectly to fit with our wedding theme and it tasted incredible!"
The bakery is based in Hounslow, West London.
Price: From £30
16. The Little House Of Baking
Based in North West London, chief bakers at The Little House of Baking Rakhee and Sonal craft bespoke handmade wedding cakes and dessert tables that are bound to impress your guests.
Catering to all, the team here provide vegan and gluten-free options, and can create displays that include wedding cakes, cupcakes and cake pops, candy carts, full dessert tables and even afternoon tea-themed spreads. To get started, you can book a personal consultation and tasting session with the guys here to help you bring your wedding cake vision to life.
Couples love the service here, with one saying, "Cake was really important to us as we wanted it to actually get eaten as a dessert. We were not disappointed with the quality of cakes from The Little House of Baking - it went down an absolute treat."
Price: From £400
17. Beez Cakes
Located in South East London, Bianca and her team at London wedding cake company Beez Cakes, create wedding cakes of all kinds. From deliciously fruity bakes to chic, metallic fondant-covered creations, they can accommodate whatever your taste or style.
Only using fresh, high-quality ingredients, the team here focus on creating completely bespoke and customised wedding cakes that suit your theme to a tee - you can go wild with your wedding cake flavours, and if you can't decide, why not order a cake tasting box and try for yourself?
Hitched couples love the service here, with one writing, "Bianca is a very talented baker and we're so happy we came across her when looking for our wedding cake. Our cake and 'cakesicles' were beautiful and delicious and everybody loved them. Everything was simply perfect."
Price: From £525
18. Kake Bakery
Kake Bakery are a London wedding cake company who specialise in creating custom wedding cakes which are created, boxed, and shipped from the owner's micro-bakery in Hackney's E17. However, with delivery nationwide, you can order these spectacular centrepieces from anywhere in the country!
Before you book, you can visit the team here for a tasting and consultation discuss your dream design with the experts here.
Speaking about their experience with Kake Bakery, one couple said, "We had super service, they delivered on everything we asked for and more. Everybody was super complimentary on the cake - both how it looked and the way it tasted - we can't recommend enough."
Price: From £250
19. Pearls & Crumbs
Pearls and Crumbs is a London wedding cake shop based West Drayton, owned by cake designer Ushba Adil. Here, every bespoke wedding cake is carefully and intricately hand-crafted with incredible attention to detail.
The team here love hosting cake tasting sessions for their couples, as well as one-to-one consultations to help you bring your wedding cake visions to life. They work with both buttercream and fondant icing and offer a range of toppings and decoration styles for you to choose from.
Speaking about their experience with this London wedding bakery, one happy customer said, "Such fantastic service! I used Pearls and Crumbs for my birthday cake in December 2022 and was so impressed, that I used them again for my wedding cake in May 2023. On both occasions I gave them artistic freedom because Pearls and Crumbs cake designs are always so gorgeous.
"The customer service is fantastic and respectful, and the cakes are sooo beautiful and taste delicious!"
Price: From £400
20. Lola's Cupcakes
Did you know Lola's Cupcakes don't just serve mini cakes; they do wedding cakes too! Perfect for anyone who is after affordable wedding cakes in London, the high street dessert retailer now offers wedding cakes.
With the choice of double chocolate, lemon sponge, red velvet or vanilla sponge, and buttercream icing to top it off, you can get yourself a two-tier wedding cake for as little as £155.
We had the pleasure of tasting the vanilla sponge wedding cake with vanilla buttercream and pearl toppings, and it's safe to say we were not disappointed! The sponge was moist, and don't even get us started on the buttercream - we could have eaten that on it's own, just pass us a spoon!
As well as wedding cakes, you can also purchase a towering pile of cupcakes for the big day if you'd prefer individual desserts.
Price: From £155
21. The Maplewood Bakery
While The Maplewood Bakery is technically situated outside of London in Old Windsor, it serves London wedding cakes throughout the city and further afield. Baker Eleanor is passionate about baked goods and started her business when she was just 20 years old. She custom creates each cake to be beautiful and tasty.
You can take a look at the bakery's wedding cake options online, or go in for a consultation and free tasting. We know which we'd choose! The team here can create wedding cakes for small, intimate weddings of 25, up to large parties of 150.
With prices starting from just £125, these guys are a perfect match for couples who are looking for affordable wedding cakes in London.
Speaking about their experience with The Maplewood Bakery, one mother of the groom said, "I choose this bakery to provide a wedding cake for my son. I had guests with food intolerances and requested a gluten free cake. The cake was decorated with fresh flowers and had cream cheese frosting - everyone loved the flavour of the cake."
Price: From £125
22. Fantasy Frosting Cakes
Couples looking for London wedding cakes right in the city will love Fantasy Frosting Cakes - a London cake company based in one of the city's most bustling neighbourhoods - London Bridge! These dreamy creations are sturdy and statuesque, making them the perfect showpiece for impressive city weddings.
The cakes are beautiful to look at and delicious to eat, not to mention being conveniently situated in the heart of London. It doesn't get more fantastical than that! Baker Mushfika would be delighted to hear all about your love story and create a cake to match.
Customers rave about the service here - one couple wrote, "Mushfika is amazing. She just understood all ours needs and made a stunning and very delicious wedding cake. She is very creative, kind and lovely person - I would definitely recommend having your wedding cake made by her."
Price: From £300
23. Temptations by Nikki
Let yourself be tempted by the eye-catching London wedding cakes at Temptations by Nikki, which are made in East London and can be served at celebrations all over the city. Nikki is talented at creating masterpieces that dazzle with such toppers as cake lace and gold fondant icing.
All cakes are custom-made and can accommodate dietary restrictions such as vegan and gluten-free. If you require one yourself, you can check out more vegan wedding cakes here.
And the cakes here can satisfy even the pickiest of clients, with one writing, "As someone who is very picky with the cakes I eat - I was more than impressed with Temptations By Nikki. Nikki was able to bring my vision to life for my cake but it also tasted fantastic. The cake was fresh and rich in flavour."
Price: From £750
24. Razzmatazz
Located in East London, you'll find London wedding bakery Razzmatazz Cakes. Razz, the baking brains behind the company has been designing and creating stylish wedding cakes for more than two decades now, and in that time, has developed an artistic flair for all things unique and beautiful.
The team here pride themselves on their versatility, so whether your wedding theme is bohemian, vintage, modern, luxurious or something totally different, they will be able to create a bespoke wedding cake design that suits your style.
They also offer a free first wedding anniversary cake for all customers - how cute is that?
Detailing their experience with Razz and her team, one happy couple said, "Razz is amazing, she took the time to understand our needs and came up with the most brilliant and delicious cake creation. We've used her for many of our cake needs, and she always delivers brilliant results, I would highly recommend Razzmatazz cakes for any celebration."
Price: From £230
25. The Hummingbird Bakery
You've no doubt heard of the Hummingbird Bakery, but did you know they offer fabulous wedding cakes too? Another great option if you're after affordable wedding cakes in London, they have a great selection of budget-friendly options for you to choose from.
From rainbow-coloured layers with sprinkles, to rustic wedding cakes, the choice is vast, but our personal favourite is their red velvet wedding cake, which Hitched Editor Zoe Burke adores: "I love a wedding cake that has something a little unexpected, and Hummingbird Bakery's famous red velvet cake will surprise your guests when you cut into it. It looks cool, and it's so delicious."
What's more - you can collect these London wedding cakes from their Spitalfields branch, a great location for city weddings, that's for sure!
Price: From £142.95
How Much Should I Budget for a Wedding Cake in London?
Explaining how the prices of wedding cakes are impacted in London, Floriana from Let Them Eat Cakes explains, "A number of factors will affect the final cost of your wedding cake including size, design, how elaborate your design is, and the bakery you choose (Central London bakeries with their overhead costs, tend to cost more than smaller bespoke cake companies, for instance).
"On average, wedding cakes in London can range from £450 to £1,500 or more. It's a good idea to reach out to local bakeries or cake designers to get specific quotes based on your preferences and requirements. They can provide you with more accurate pricing information based on your desired cake design and size."
Adding to this, the team at Bluebell Kitchen explain, "How much should you budget for a wedding cake is really that cliché of "How long is a piece of string?", as the cost of your wedding cake depends on so many factors. There's not a one-size-fits-all cost for your wedding cake. We believe your wedding cake should be the best cake that you ever taste, you want it to look exceptional, but also have the most amazing flavour.
"We explain to our clients that when they're budgeting for their wedding cake, it will depend on the size, number of guests that you'd like to feed and style of cake you're going for. Budgeting for a two tier wedding cake for an intimate wedding in London is likely to be less than for a show-stopping five tier design."
And it also depends on the amount of detail you have on your design, explain the team who add, "A significant proportion of the price of your wedding cake is for to cover your design which includes your sugar flowers, hand painting, texture and much more to ensure that it's designed uniquely for you."
What to do With Leftover Wedding Cake in London?
Advising couples on what to do with leftover wedding cake in London, Floriana says:
Enjoy it: Keep the remaining cake as a sweet treat in the days following the wedding. Give away a tier to a family member or enjoy it at an intimate afternoon tea with family the next day.
Freeze it: If the cake is still fresh and you have enough space in your freezer, you can wrap individual slices or the remaining cake in plastic wrap and freeze it. Just make sure to thaw it properly before consuming.
Repurpose it: You can transform the leftover cake into other desserts. Crumble the cake and use it as a base for cake pops or truffles. You could also create a trifle by layering the cake with fresh fruit, custard, and whipped cream.
Donate it: If you have a surplus of cake that you won't be able to consume, consider donating it to a local charity, shelter, or community centre. They may appreciate the sweet treat.
Make sure there's none leftover: Serve it as the dessert element of your wedding meal you can compliment and enhance the slices of cake by serving them with fruit coulis, fresh fruit or berries, caramel, ice cream or whipped Chantilly cream.
Remember, the shelf life of cake depends on its ingredients and storage conditions, so use your discretion to determine if it's still safe to consume.
Where to Buy Wedding Cake Toppers in London?
Floriana gives her recommendations on where to buy your wedding cake toppers in London.
"There are a few places couples can source their cake toppers. The first would be cake decorating supply stores who specialise in cake decorating accessories. Another would be wedding and party supply stores who offer a range of different cake toppers to suit different styles and themes. Couples can also consider browsing online retailers who offer a wide selection of unique and personalised options.
"Finally, look t local cake suppliers and reach out to local cake designers or bakeries in your area. Some offer custom cake toppers or may be able to recommend specialty shops where you can find unique toppers."
For more inspiration when it comes to getting married in the city, be sure to check out our list of London wedding cake suppliers, as well as our guide to wedding cake prices if you're not sure how much you should be paying.