The 18 Best Wedding Cakes in London
Getting married in London and want the perfect wedding cake? Our round up of the best wedding cakes in London will leave you spoiled for choice!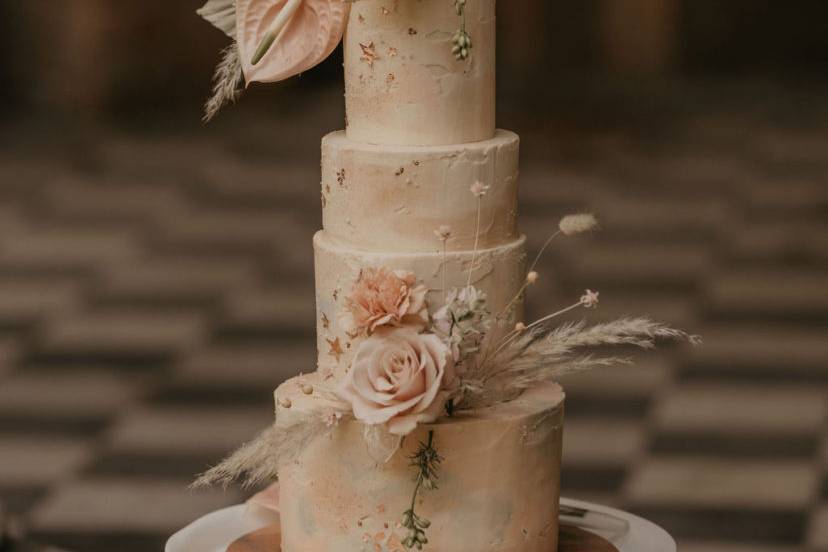 Your wedding cake is the centrepiece of your reception, so you'll want something impressive and unique!
Couples planning a wedding in London will know how tricky it can be to choose from the hundreds of amazing, experienced wedding cake suppliers available to work with, so to make things a little easier for anyone tying the knot in the UK's capital, we've rounded up the best wedding cakes in London.
From quirky gingerbread creations to the most elegant semi-naked wedding cakes, and trendy contemporary bakes, these amazing London wedding cakes are bound to impress you (and your guests!). Many of these bakeries have gluten-free, halal and vegan options too so everyone can indulge in a slice.
Trust us, this handy round-up will make choosing your dream London based dessert, well - a piece of cake!
1. The Little House Of Baking
Based in North West London, chief bakers at The Little House of Baking Rakhee and Sonal craft bespoke hand-made wedding cakes and dessert tables that won't blow your budget.
You can book a free tasting session and try up to 5 different sponges, (alongside as much tea and coffee as necessary), before deciding on the final flavour.
2. Beez Cakes
Situated in South East London, Bianca and her team at Beez Cakes create wedding cakes of all kinds. From deliciously fruity bakes, to chic, metallic fondant covered creations, whatever your taste or style they can accommodate.
Why not order a cake tasting box and try for yourself?
3. Bee's Bakery
Another London cake maker who isn't afraid to think outside of the box is the team at Bee's Bakery. Their colourful wedding cakes are exquisitely made and really are centrepiece-style wedding cakes.
The attention to detail on Bee's Bakery wedding cakes is mind-blowing – they're almost too pretty to eat…
4. Maid of Gingerbread
Looking for a wedding cake alternative? Maid of Gingerbread offers London wedding cakes that are totally unique – made completely of gingerbread.
They don't stop at wedding cakes either. Their imaginative piñata design is filled with personalised biscuits and would make the perfect addition to a summer wedding celebration.
5. La Fromagerie
If you're more savoury than sweet, consider getting your London wedding cake from La Fromagerie – a company who specialise in spectacular cheese wedding cakes.
Their cakes are made with a range of incredible cheeses including Coeur Neufchatel from Normandy and Fourme d'Ambert from Auvergne and can feed up to 600 people!
READ MORE: Our Favourite Cheese Wedding Cakes
6. Malarkey Cakes
Have you ever seen designs as beautiful as these by Malarkey Cakes? Their modern and sleek finish is perfect for couples planning a trendy London wedding.
Baking since 2014, their geometric shapes and playful prints push all baking boundaries, making their wedding cakes a piece of art!
7. Cake of Dreams
Planning a wedding in East London? If so, you just have to check out the works by Cake of Dreams. Their dreamy drip wedding cakes and fabulous floral designs are whimsical and wonderful.
With a motto like this, there's no doubt these guys know how to make an amazing wedding cake: "Cakes should be those towering, cherry topped, creamy, dreamy creations that exist in your childhood imaginations". We couldn't agree more!
8. Rosalind Miller Cakes
If a wedding cake with the wow-factor is what you're after, let us introduce you to the amazing Rosalind Miller. Her cakes are showcased in the windows of Harrods and have appeared at royal weddings across the world making her one of the best in the business.
Her style perfectly combines traditional wedding cake structure with modern and fresh designs which include everything from hand painted decoration to hundreds and hundreds of handmade fondant flowers. Well, if they're good enough for the Royals...
9. Lily Vanilli
The fabulous Lily Vanilli creates beautiful wedding cakes with plenty of character. The kitsch cake style is so popular at the moment and this bakery nails the trend and some!
With shells, ruffles, pearls and icing swirls we reckon your cake from Lily Vanilli will be all over Instagram on the big day.
10. Cutter & Squidge
If the name of this London cake maker wasn't enough to convince you to dive in, Cutter & Squidge's gorgeous collection of buttercream wedding cakes sure will!
Fuss-free and elegant, their designs are simple yet will make a big statement set on your dessert table. Choose from one to four tiers of cake, topped with an array of florals and fruit.
READ MORE: 71 Incredible Wedding Cakes You Need at Your Wedding
12. Elizabeth's Cake Emporium
Elizabeth's Cake Emporium is the place to head to in London for luxury wedding cakes. Founded by renowned sugarcraft teacher Elizabeth Solaru, they specialise in intricate detail, realistic sugar flowers, sugar pearls and edible jewellery, creating cakes that are as aesthetic as they are delicious.
They're also the preferred supplier to some of the best venues in the world, including The Dorchester, The Savoy and Blenheim Palace.
13. Luminary Bakery
Luminary Bakery is a charity that supports local communities through their work with vulnerable women and those from disadvantaged backgrounds. Their shop in Stoke Newington is a great choice if you want something sophisticated, relaxed and stylish.
Their flavours include classic favourites such as lemon, blueberry, red velvet and sticky toffee, so a wedding cake from here is sure to be a real crowd pleaser.
14. Sugar Plum Bakes
Owner and founder of Sugar Plum Bakes Vaani creates wedding cakes for modern and style-conscious couples.
Based in Kingston and able to deliver to areas in Surrey and London, their designs are inspired by nature, often featuring seasonal foliage and natural elements. If you're after a trendy yet timeless wedding cake, this could be the bakery for you.
15. The Hummingbird Bakery
You've no doubt heard of the Hummingbird Bakery, but did you know they offer fabulous wedding cakes too?
We adore this fun and colourful, rainbow sprinkle cake, but you can also choose from red velvet and plain buttercream tiers too. If you're having children at your wedding, (or big kids...), they'll adore this option.
READ MORE: 19 Brilliant Wedding Cake Stands
16. Lola's Cupcakes
Lola's Cupcakes don't just serve mini cakes they do wedding cakes too. This pink ombre, pearl adorned sponge is gluten-free and looks as good as it tastes!
Having said that, you can also purchase a towering pile of cupcakes for the big day if you'd prefer individual desserts.
17. Pearl & Groove Bakery
As much as you want your wedding cake to look good (and boy, do wedding cakes from Pearl & Groove Bakery look good!), you want them to taste delicious too.
You'll be spoilt for choice with flavour combinations here, with ingredients like passionfruit and lemon, banoffee pie and matcha and white chocolate to name a few. The bakery is 100% gluten free, using mainly ground almonds as a substitute.
18. Peggy Porschen
With its perfect pink décor and luxury Chelsea postcode, Peggy Porschen could be the prettiest and swankiest bakery in London.
The A-lister hang-out, (yep, you might just run into Kate Moss here), serves up popular layer cakes decorated with fabulous fruits such as raspberry and flavoured with delicate notes of rose.
For more inspiration when it comes to getting married in the city, be sure to check out our list of London wedding cake suppliers!