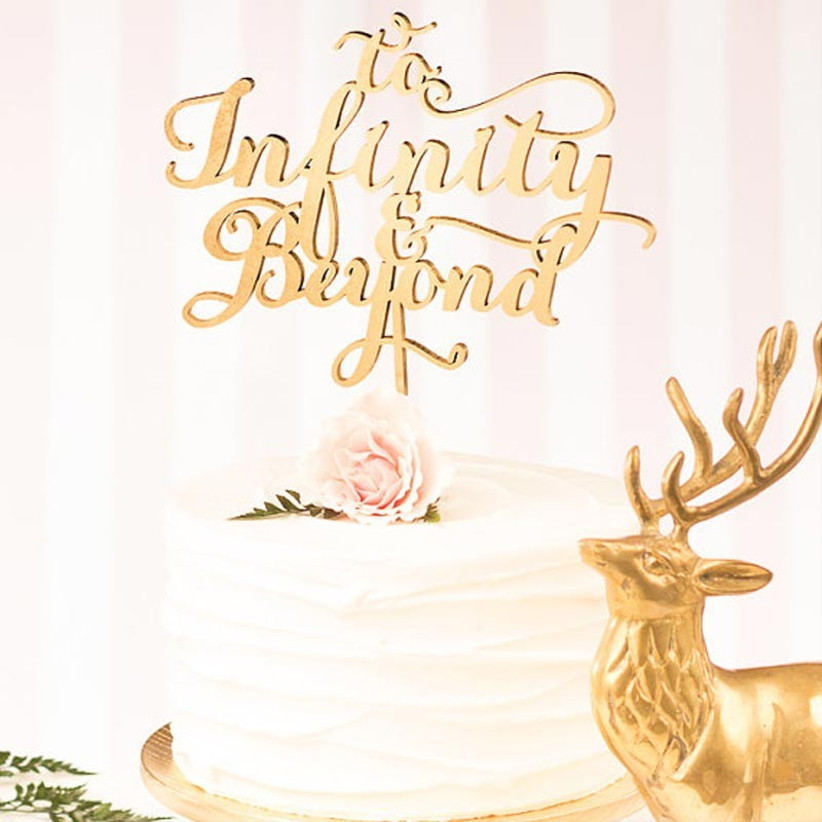 If a huge part of your relationship with your partner involves trips to the cinema and comfy evenings on the sofa watching a TV series or a film, why not reference that in your wedding?
For those who are constantly on Netflix or even have a remote control each, we've picked out some of the best wedding cake toppers to be found on Etsy inspired by iconic films and TV shows. Why not pick one to add a fun twist and some personality to your wedding cake?
Friends Inspired Cake Topper
You can't have lived through the 90s without being aware of Phoebe's ground-breaking definition of love. If you've found your lobster, make sure everyone knows about it with this super cute cake topper from MissSarahCake on Etsy.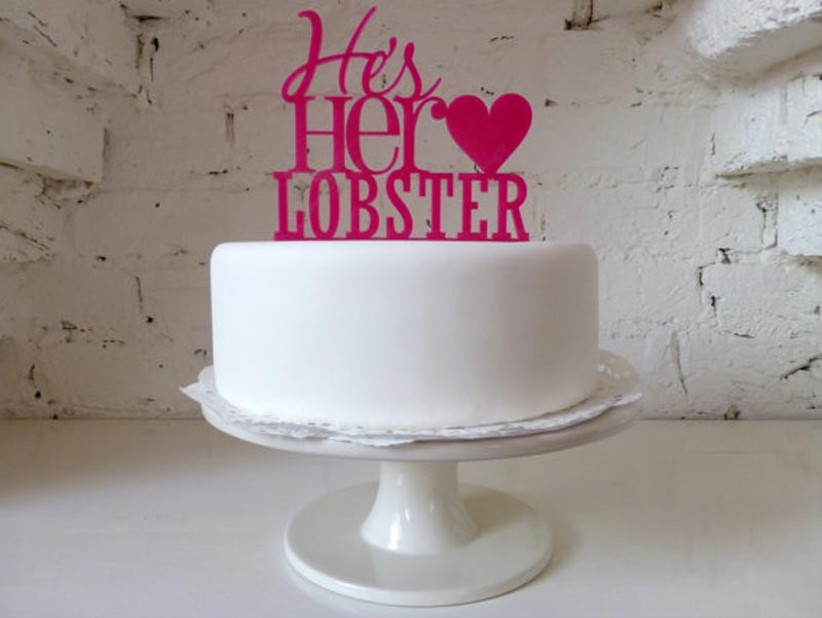 Disney Themed Cake Topper
If you've been dreaming of your Disney fairytale wedding since you were little, and you've now found your Prince Charming, you can reflect your love of all things fairytale with this gorgeous 'Once Upon a Time' cake topper from CakeTopDesign.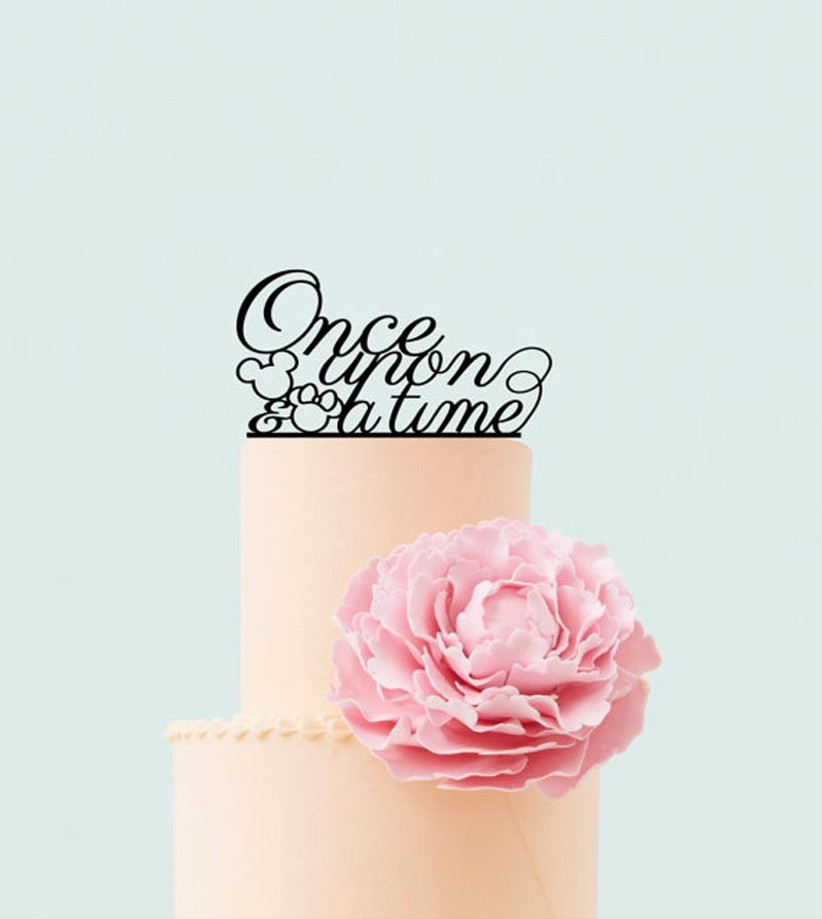 Beauty and the Beast Cake Topper
It's a tale as old as time…That iconic song from Disney Classic 'Beauty and the Beast' is the soundtrack to one of the most romantic films ever! Have everyone humming it by putting the words on top of your wedding cake with this topper from ThePinkOwlDesigns.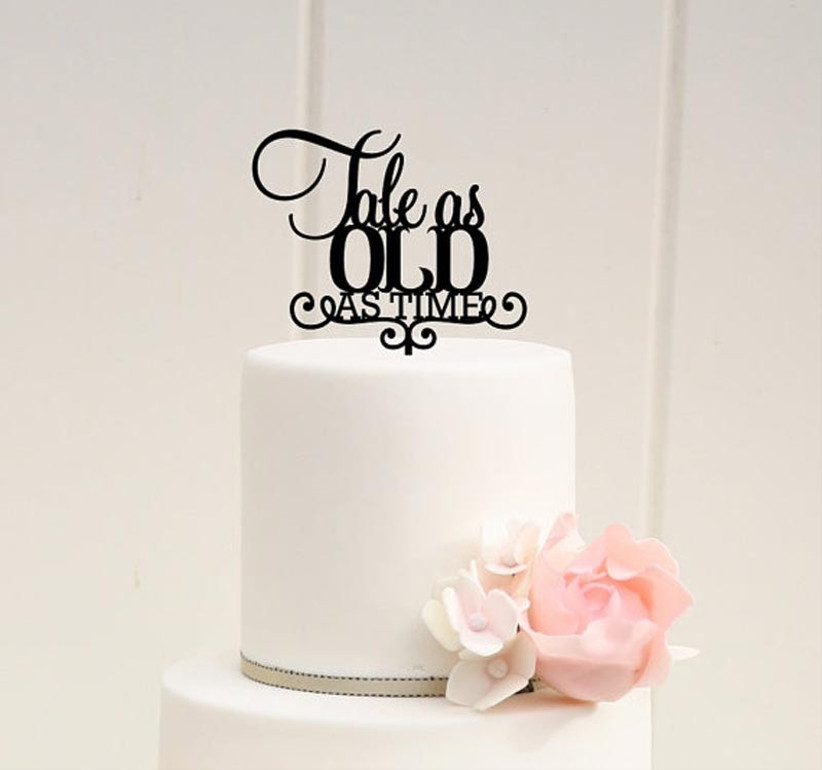 Nightmare Before Christmas Cake Topper
If the classic fairytale isn't your thing, maybe you'll find this Nightmare Before Christmas cake topper more appealing! The Tim Burton classic can top your wedding cake, complete with the words 'Love Never Dies'. From Plasticsmith.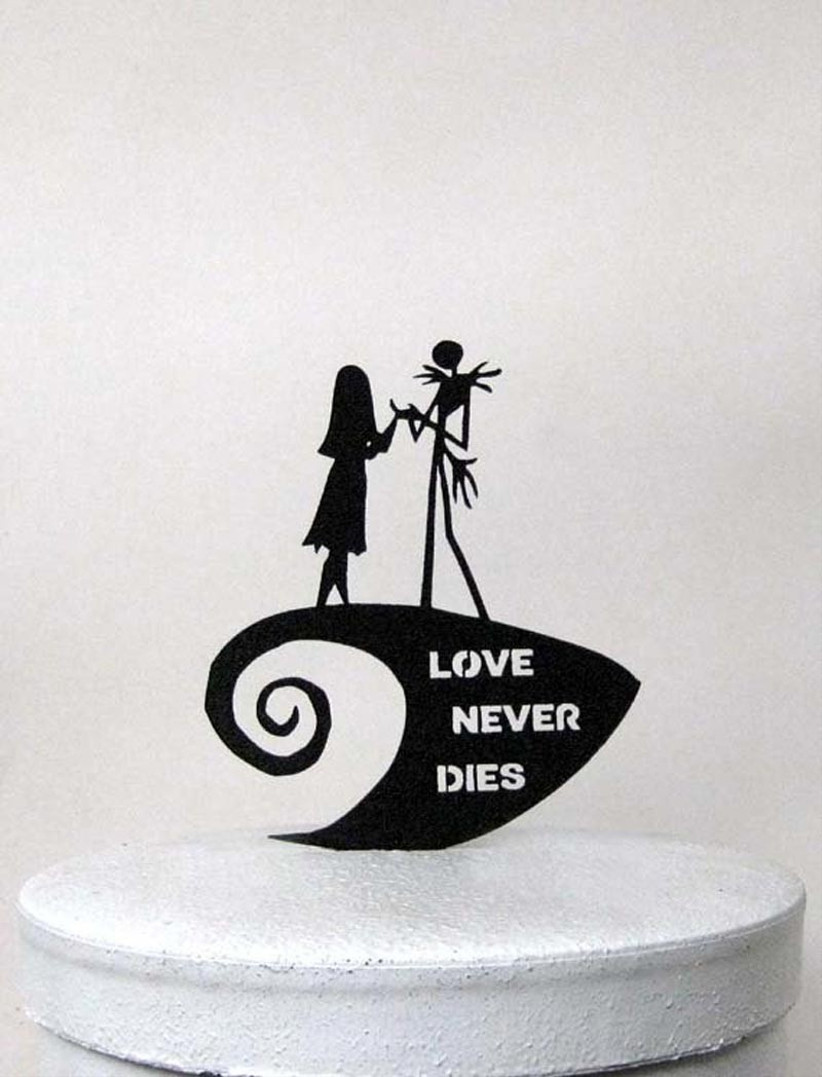 Up Cake Toppers
Oh, Up. Possibly the most emotional film ever. Is there a moment in the film that doesn't make you cry? Sadly, we couldn't find a cake topper that read 'I was hiding under your porch because I love you', however we did find a few others, all in varying degrees of emotional-ness.
You're My Greatest Adventure by ThePinkOwlDesigns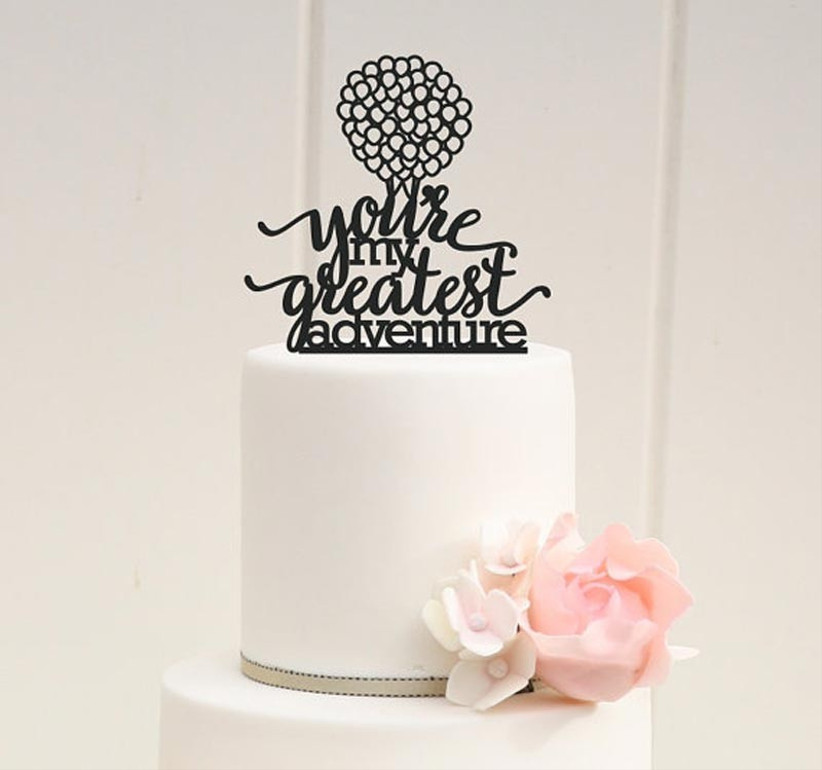 Carl and Ellie Letterbox by AnnaCrafts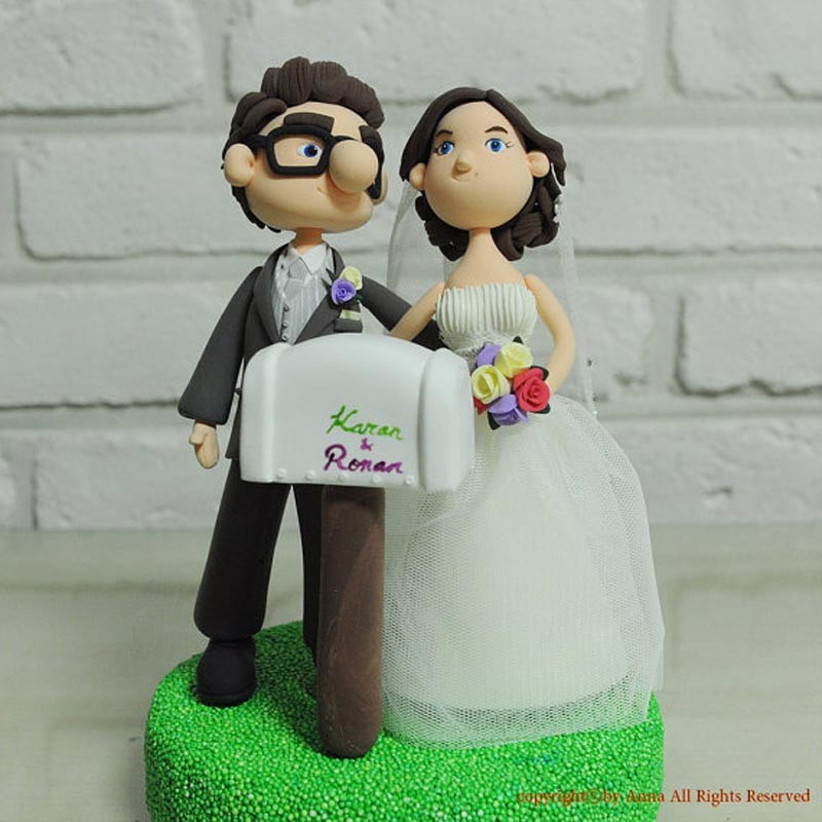 Carl and Ellie's Armchairs by AsiaWorld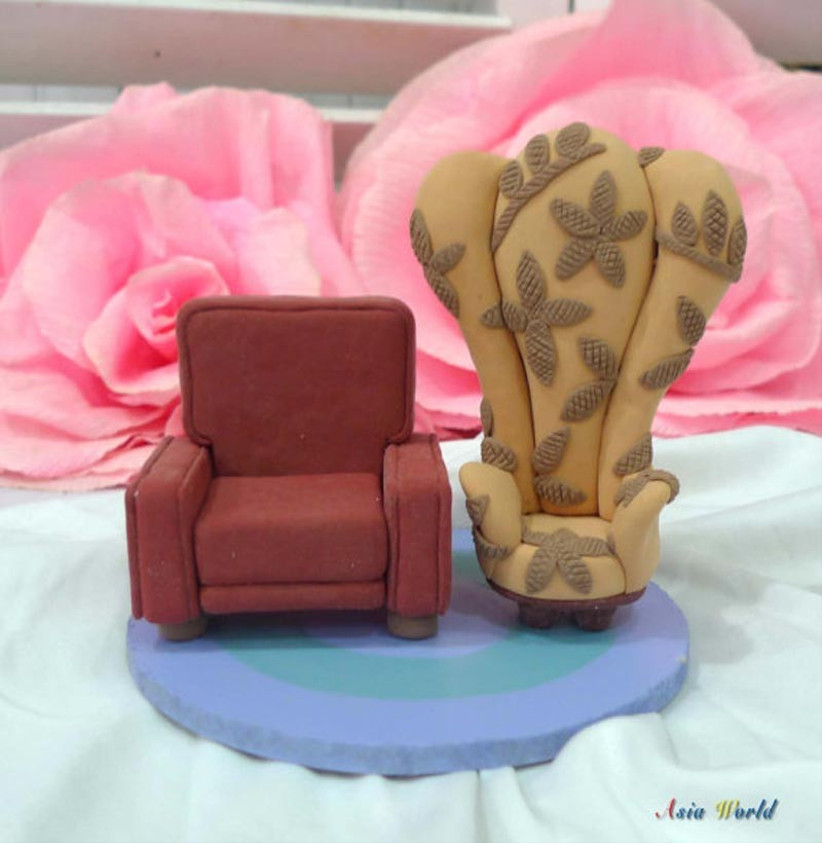 Lady and the Tramp Cake Topper
Who hasn't eaten spaghetti and tried (or thought about trying) to eat it the Lady and the Tramp way?! Whilst we don't recommend attempting it in all your wedding finery, you can reference it with this super cute cake topper from Eleganza.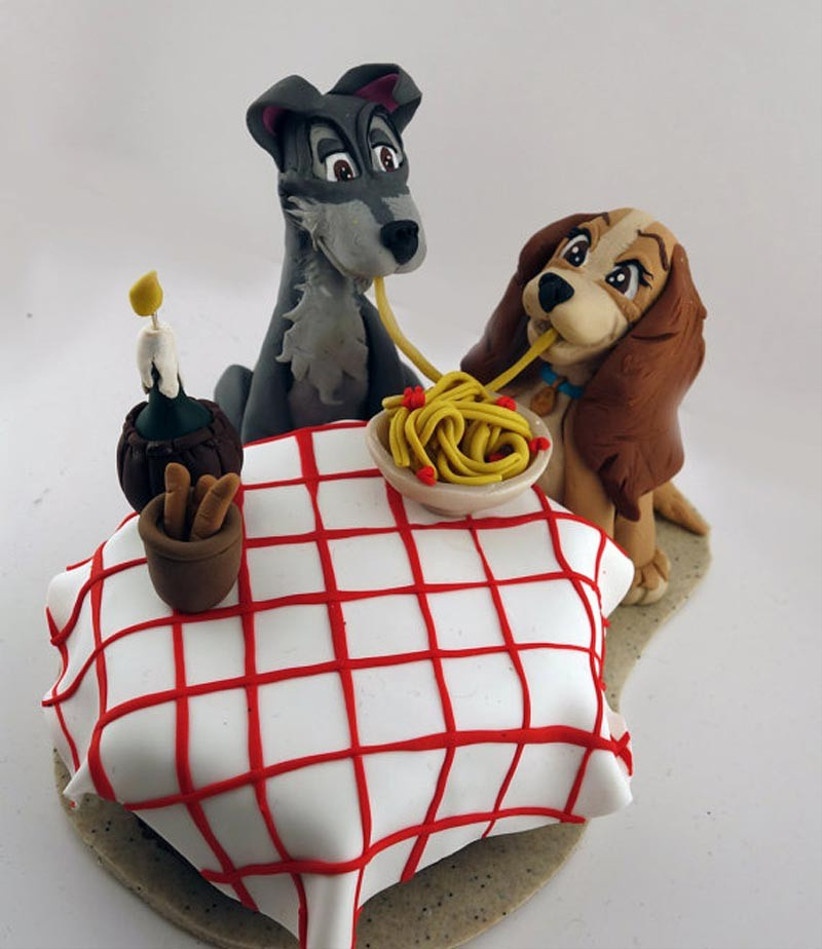 Lego Cake Topper
Now Lego has a movie, it's a totally acceptable cake topper for any self-respecting film buff. There are plenty of Lego cake toppers to choose from on Etsy, but we love this Lego bride and groom from MyCustomCakeTopper.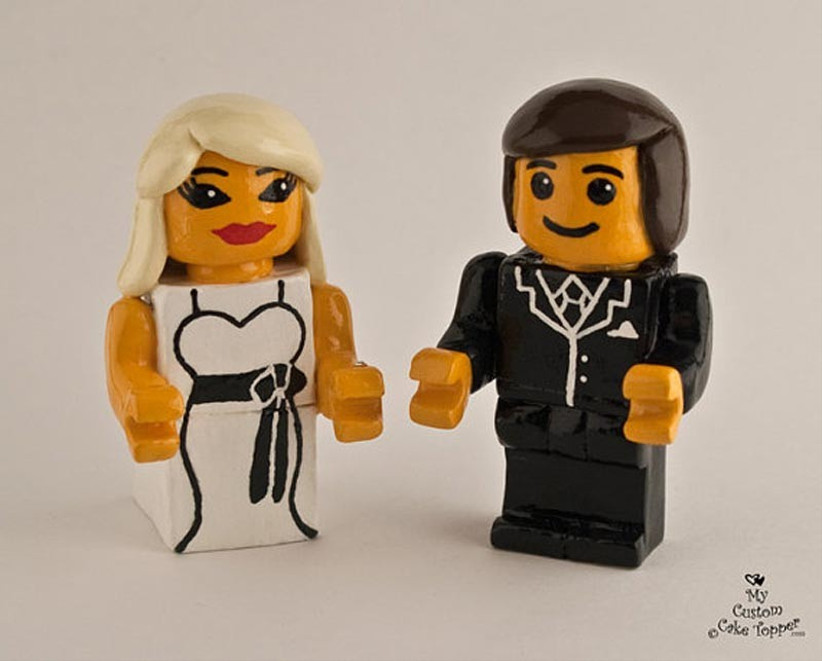 Frankenstein's Bride Cake Topper
Old-school horror fans will love this Frankenstein's Bride cake topper. Whether you both love old horror films or you're planning to marry on Halloween, this cake topper from Silhouetteweddings is the perfect finishing touch!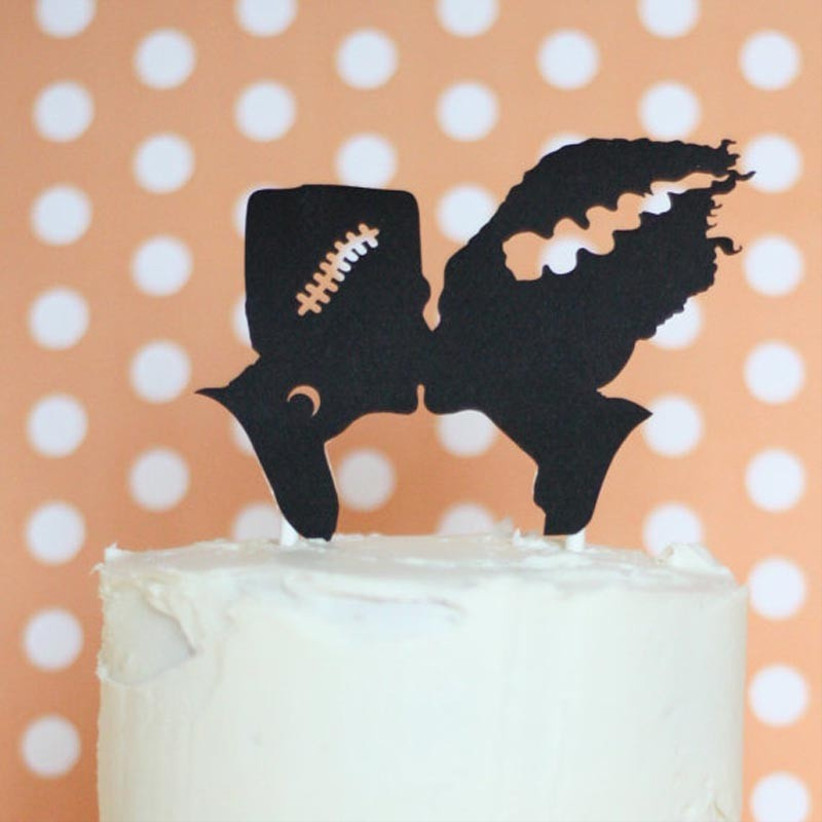 Superman Cake Topper
These wooden peg cake toppers are adorable – and if you're both fans of superhero movies then who better to represent yourselves on your cake than Superman and Wonder Woman? You can order this super cake topper from KrisTeenyTinys on Etsy.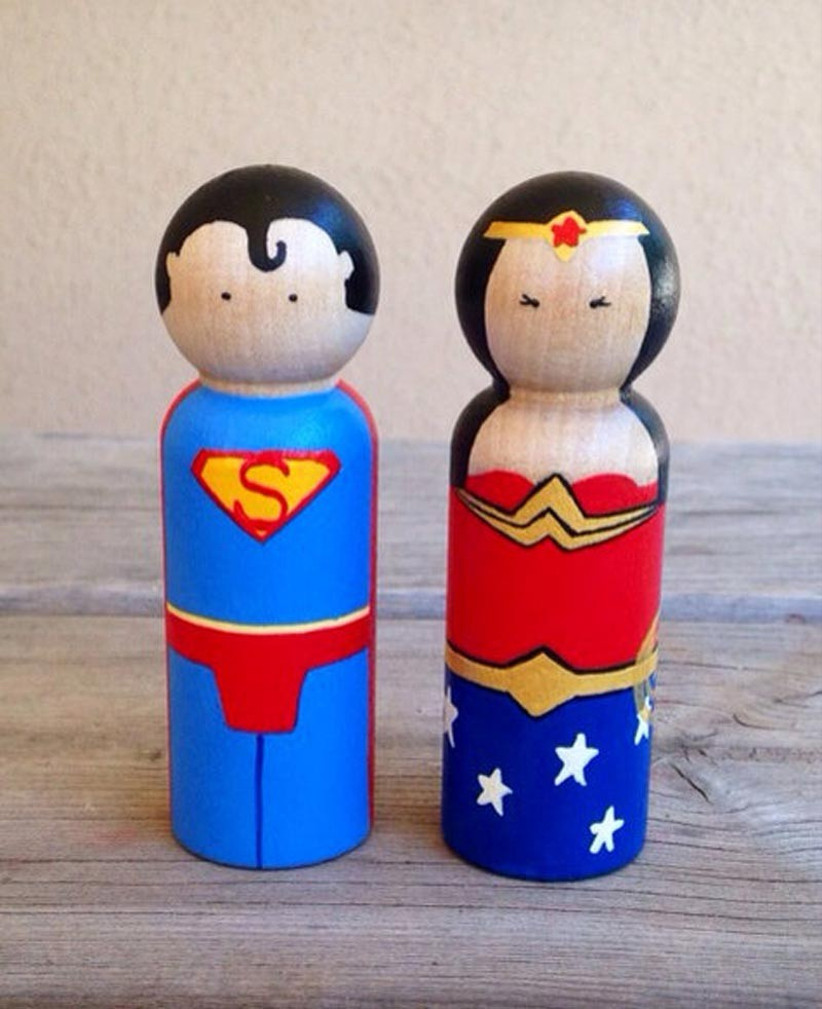 Despicable Me Cake Topper
You can't seem to escape Minions at the moment, they're everywhere. Why not embrace the trend and have a Minion inspired cake topper? As you can imagine, there are a few to choose from on Etsy! This Minion Just Married Couple by BlissfullyMini gets our vote.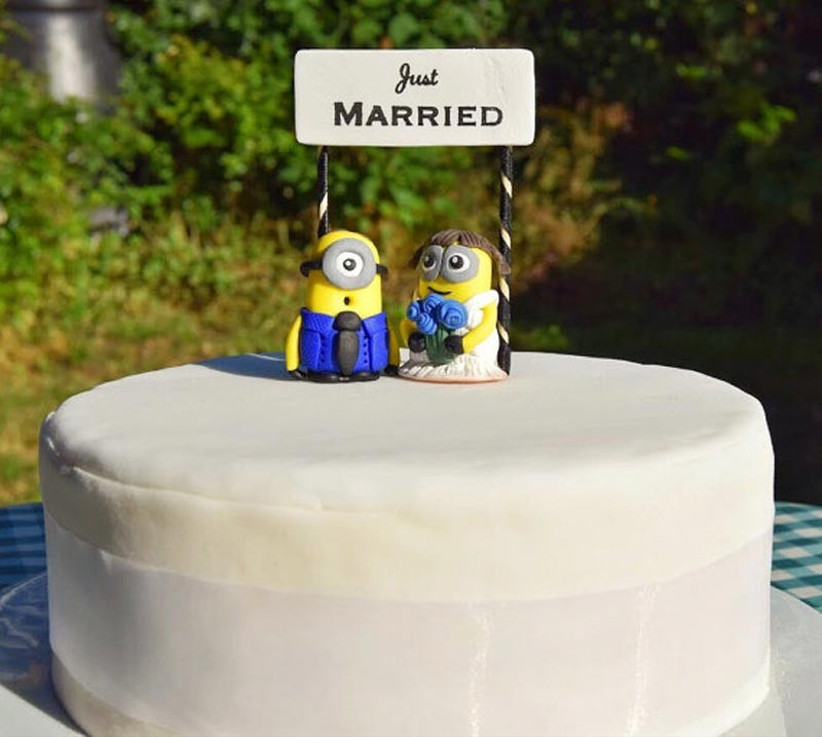 Star Wars Cake Toppers
The Star Wars series is truly iconic and appeals to people of all ages! Whether you and your other half grew up watching the films or one of you introduced the other to the space adventures and interesting cast, everyone will understand a Star Wars cake topper.
Hans Solo and Princess Leia Peg Cake Toppers by KrisTeenyTinys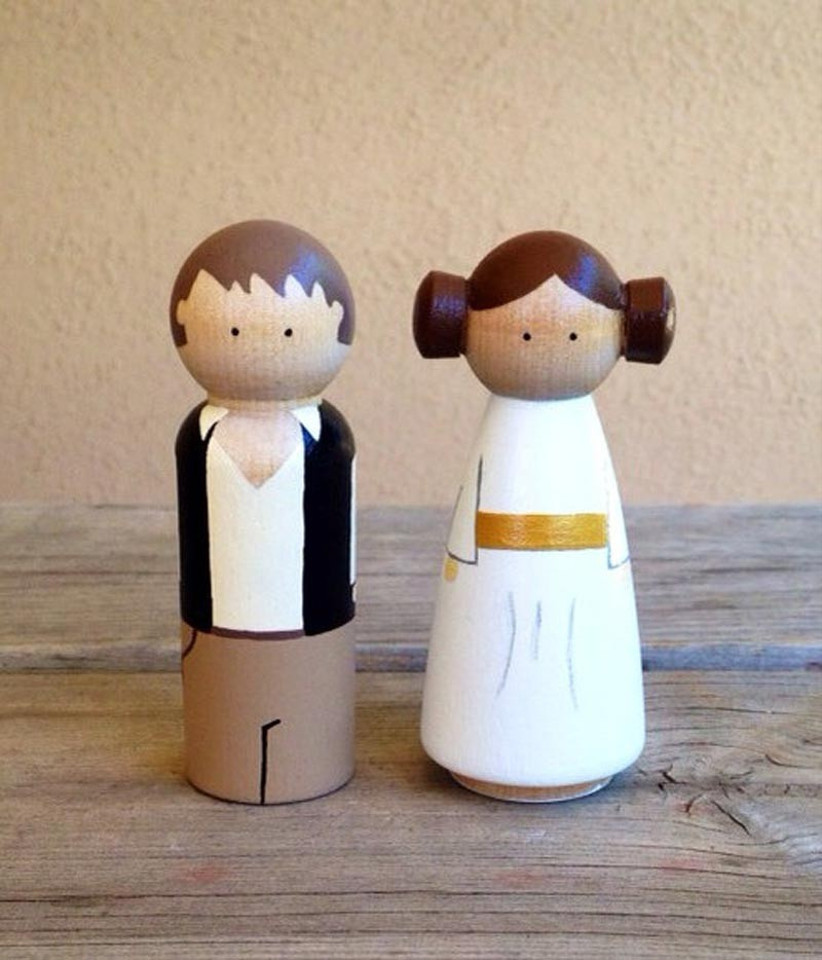 Hans Solo and Princess Leia Silhouettes by Walldecal76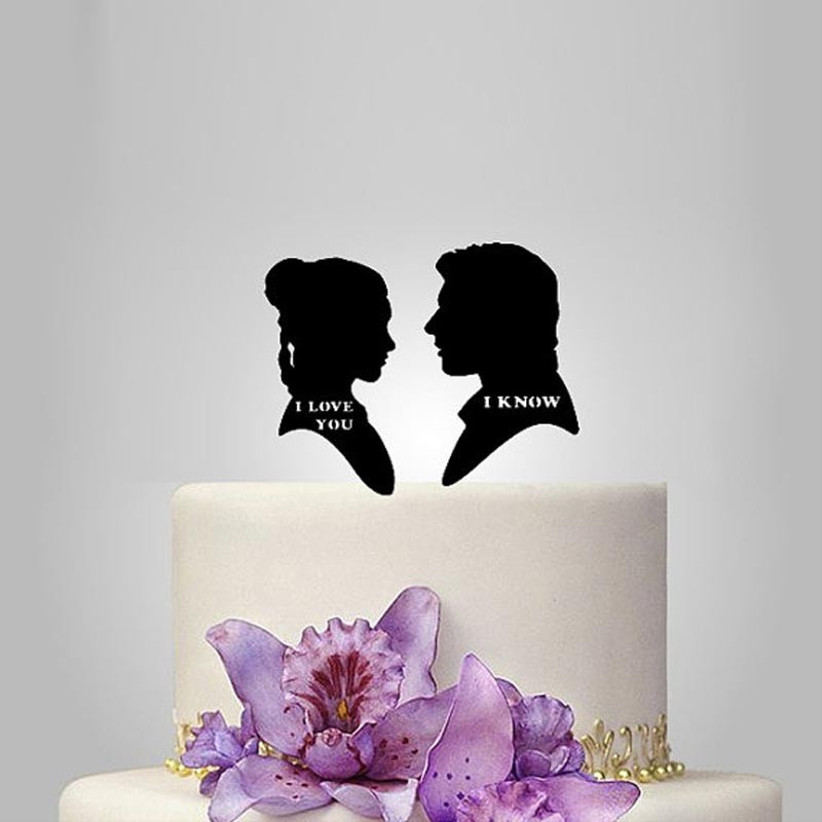 Alice in Wonderland Cake Topper
Alice in Wonderland is one of the most fun wedding themes ever, and the Tim Burton reboot has made it cooler than ever to have a Mad Hatter's tea party to celebrate your wedding! This 'Eat Me' cake topper from ChicagoFactoryDesign is a subtle nod towards an Alice in Wonderland theme!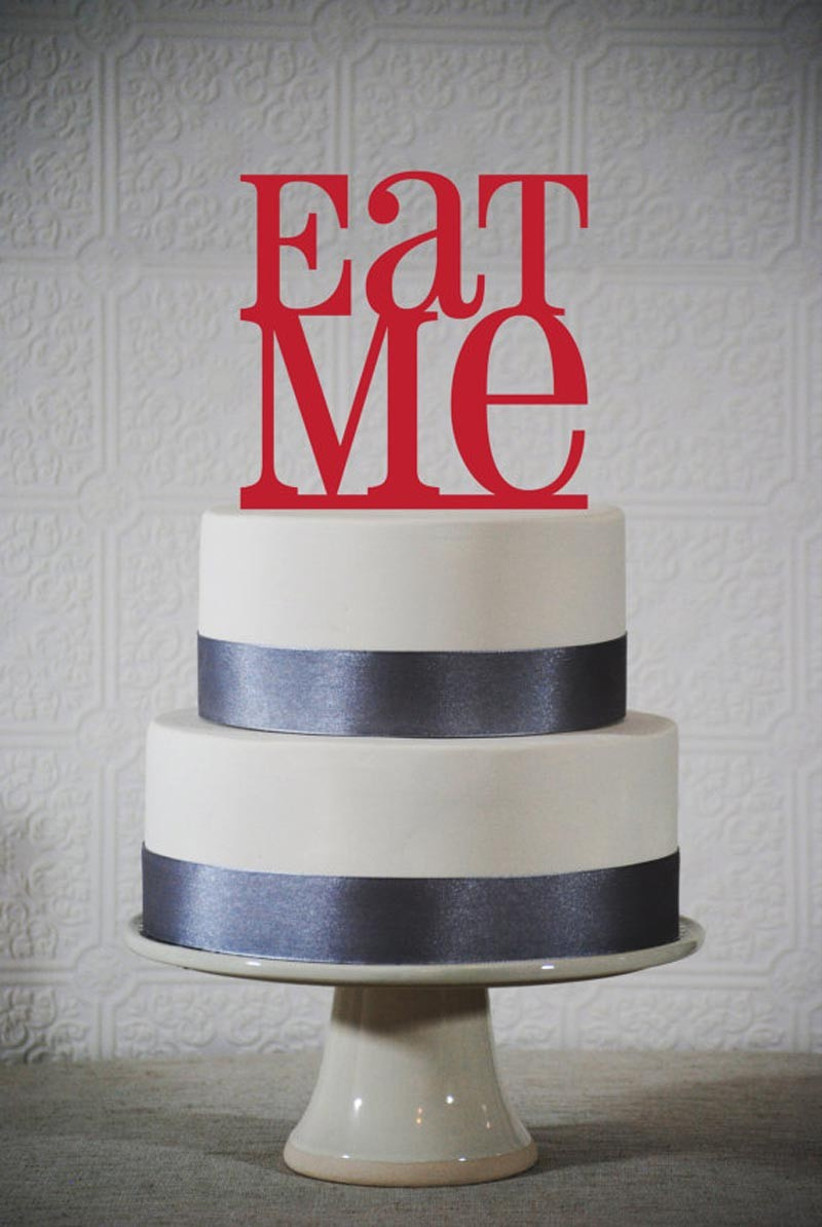 Batman Cake Toppers
Batman fans looking for a simple but effective cake topper will love this bat shaped topper complete with 'Mr and Mrs', from Wall Decal76. If you want something a little more dramatic, there are definitely a few more Batman themed cake toppers on Etsy to choose from, including an excellent selection from Plasticsmith!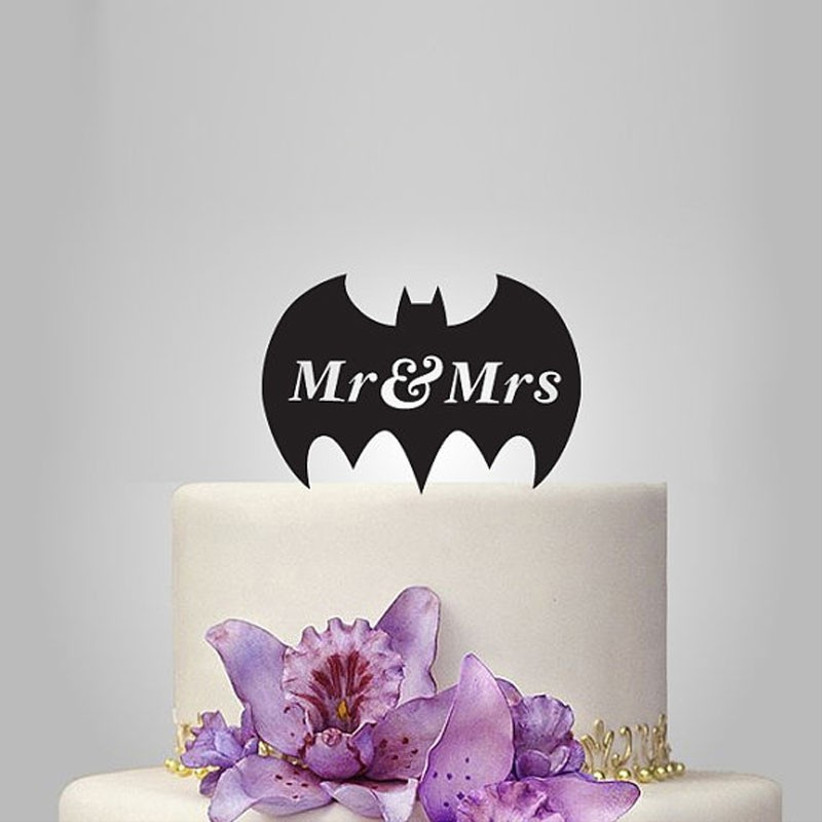 Joker and Harley Quinn by Plasticsmith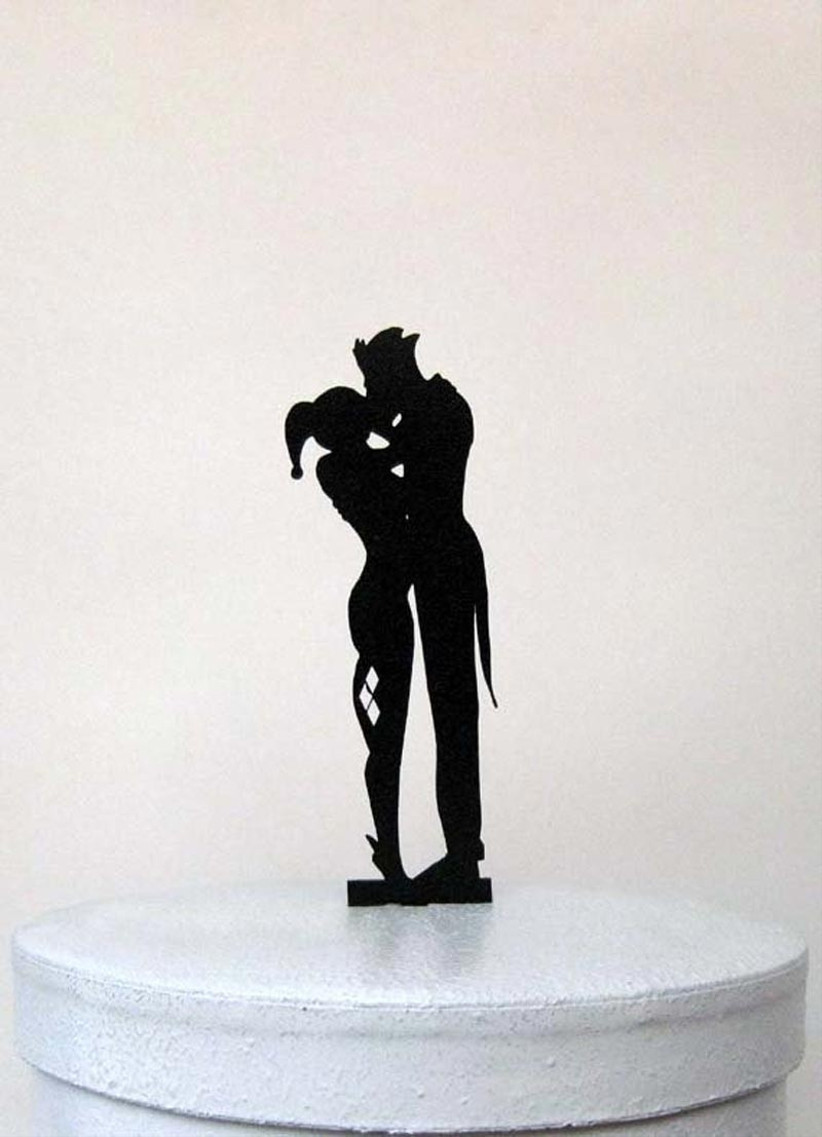 Batman and Catwoman by Plasticsmith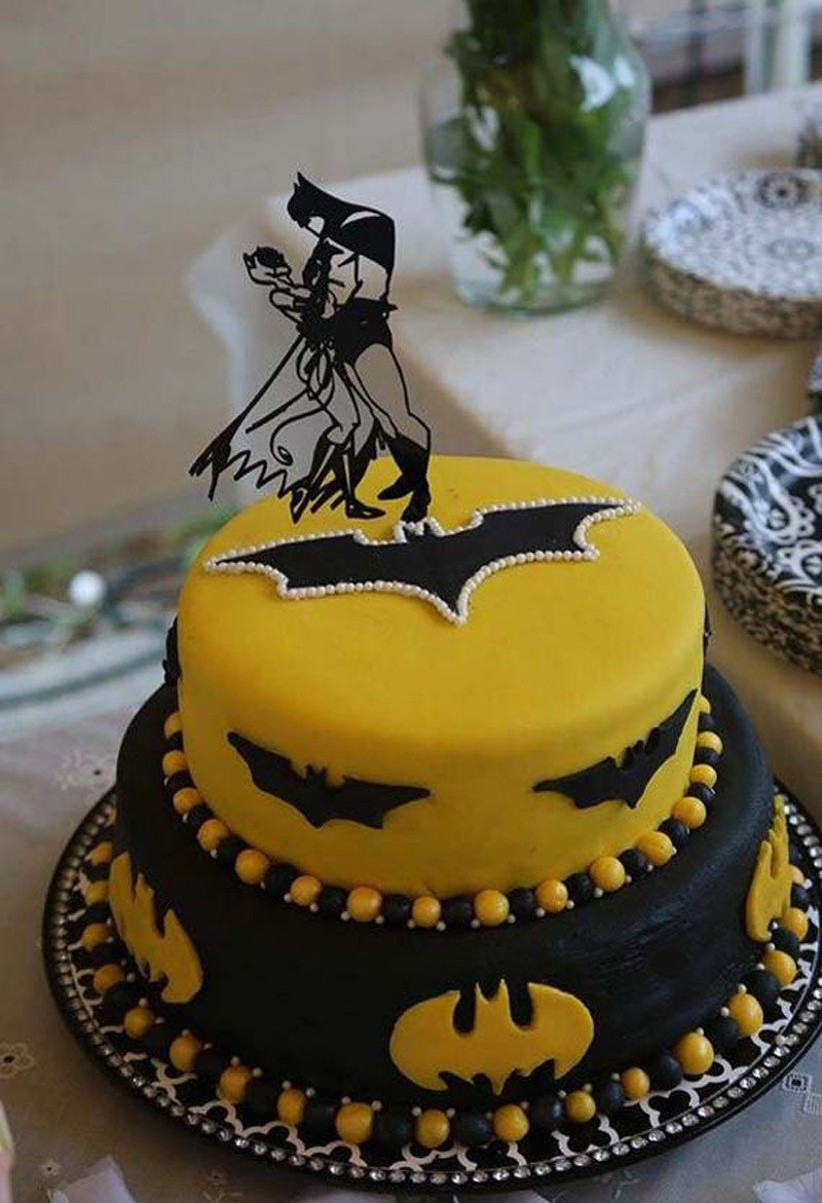 Batmobile by Plasticsmith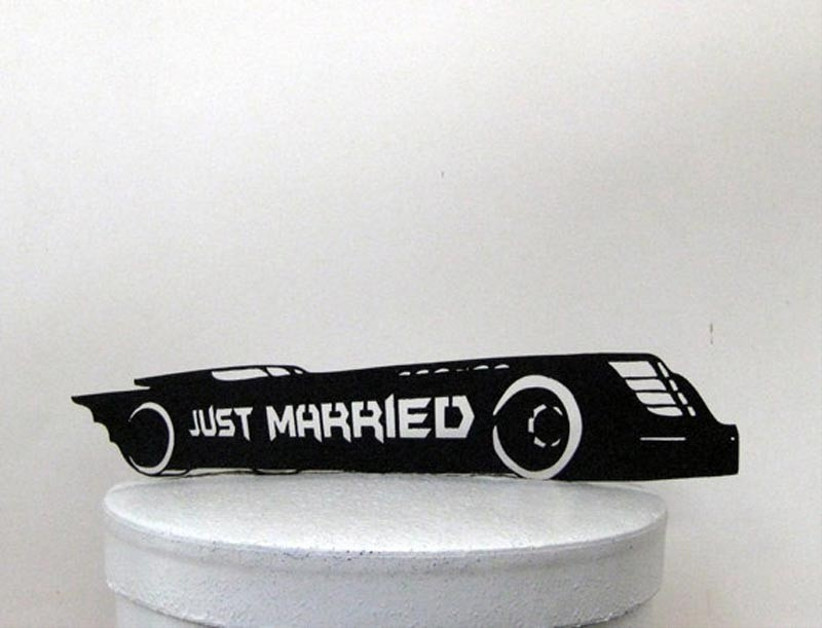 The Notebook Cake Topper
If you're more into romantic films than superhero flicks, this Notebook inspired cake topper by GivingInk could be for you – what is more perfect than the 'If you're a bird, I'm a bird' scene?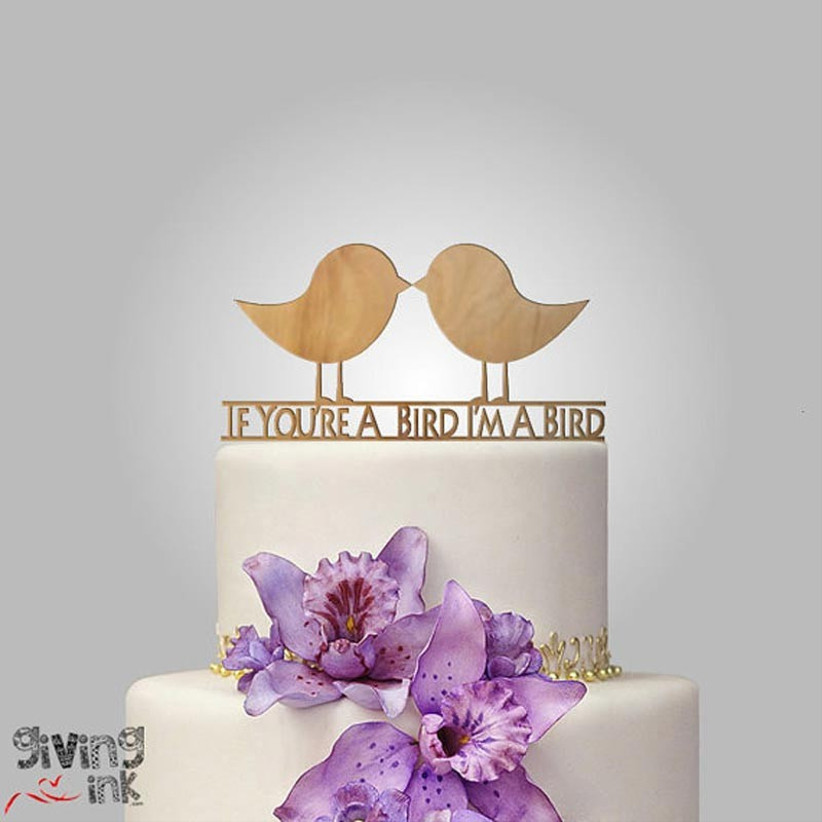 The Avengers Cake Toppers
Fans of the Incredible Hulk will adore this cute cake topper from TinyLittleGeeks! Never has an angry green giant looked so cute.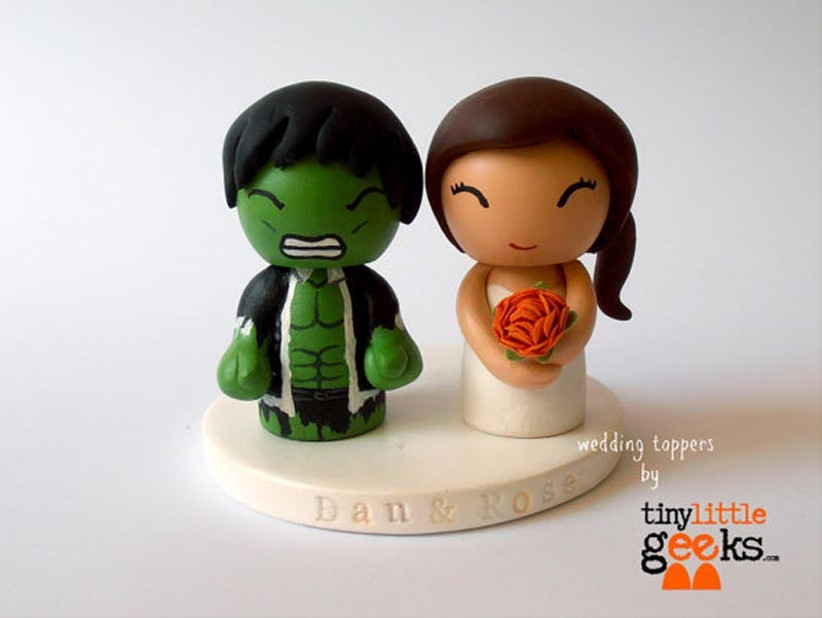 Who can resist Thor? If you can see his qualities in your partner, then this cake topper from OhMyHero is the one for you!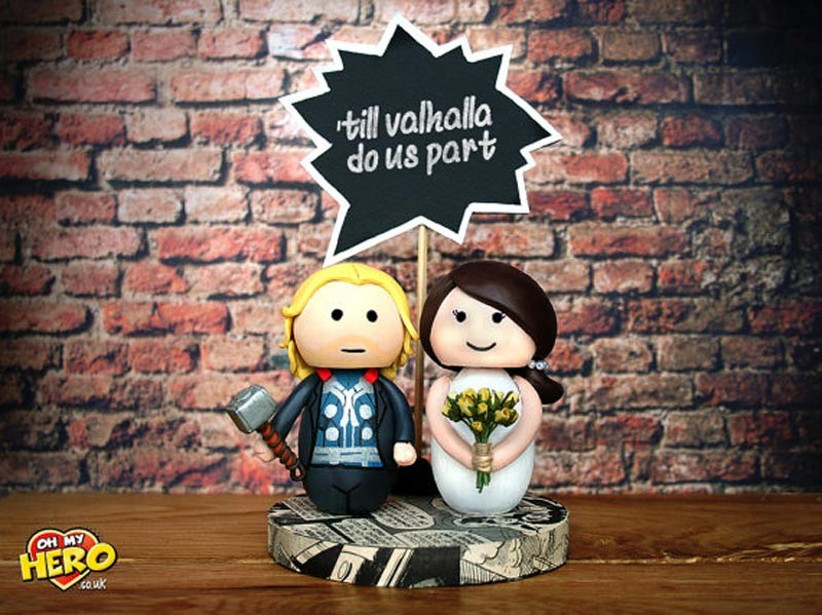 Perhaps it's Iron Man's style and wit that has you watching the Avengers (You're not alone if that's your reason…)? So top your cake with Tony Stark and his smooth lines by using this OhMyHero cake topper.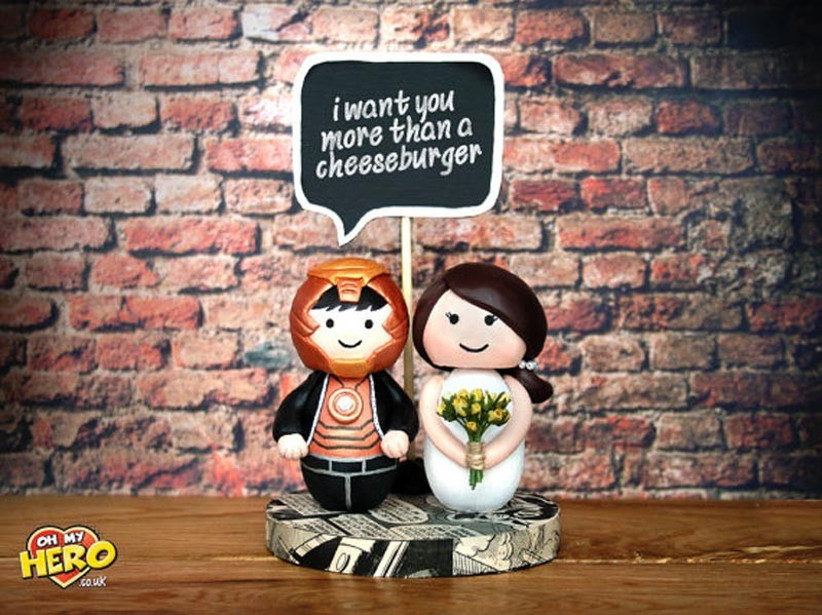 The Incredibles Cake Topper
It might be a while since the Incredibles first graced our screens, but that doesn't make it any less awesome. If you and your partner consider yourself to be pretty incredible, check out this cake topper from TinyLittleGeeks.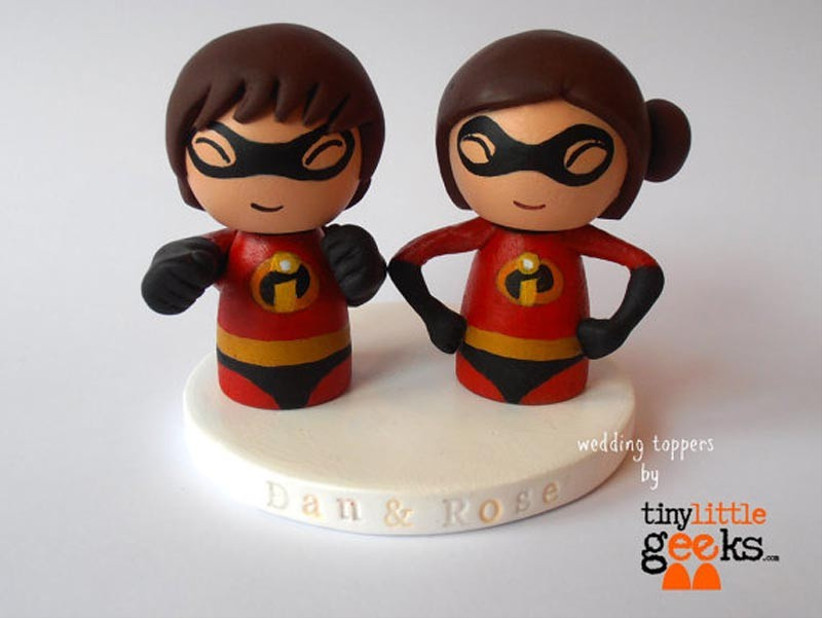 Dr Who Cake Toppers
Consider you and your partner to be serious Whovians? Well, we've got some seriously cool Dr Who wedding cake toppers so you can make your passion clear to see for all those who attend your wedding.
Tardis Silhouette cake topper by KVcaketopper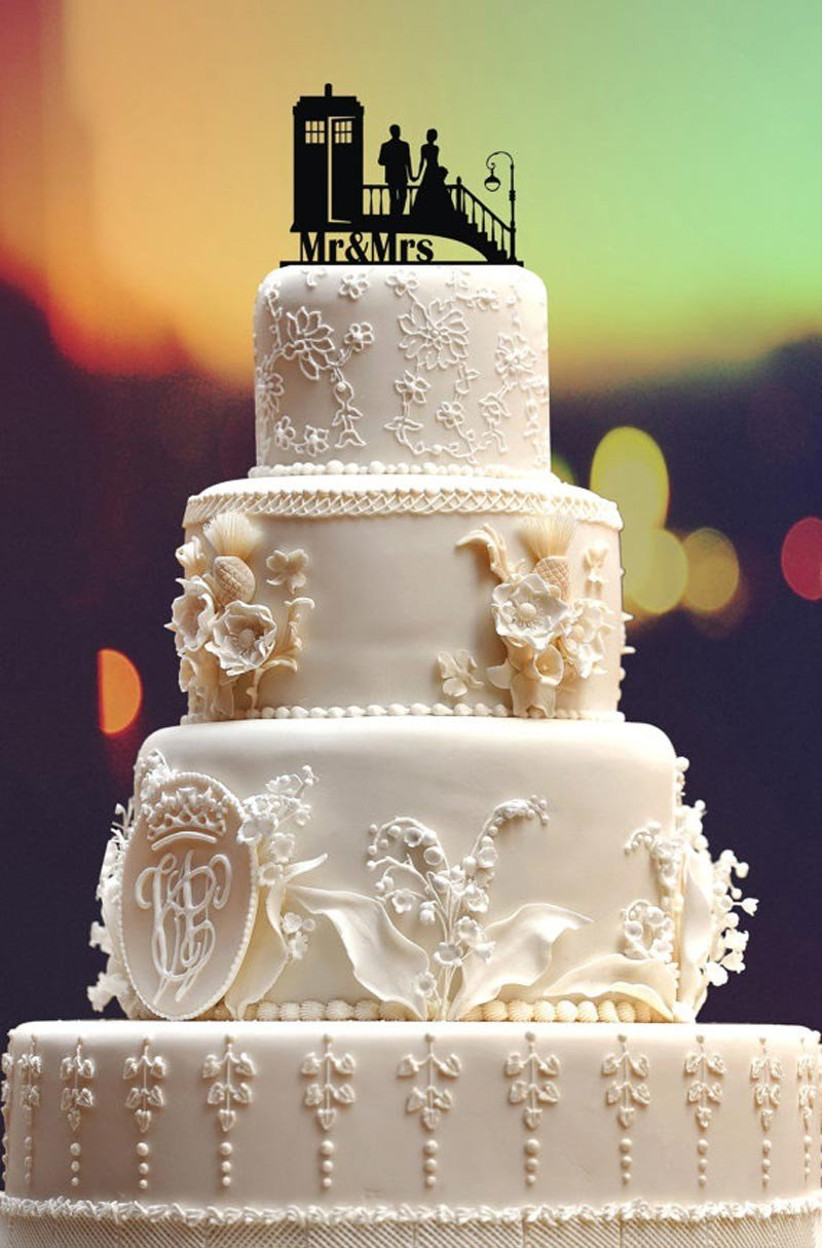 The 11th Doctor by TinyLittleGeeks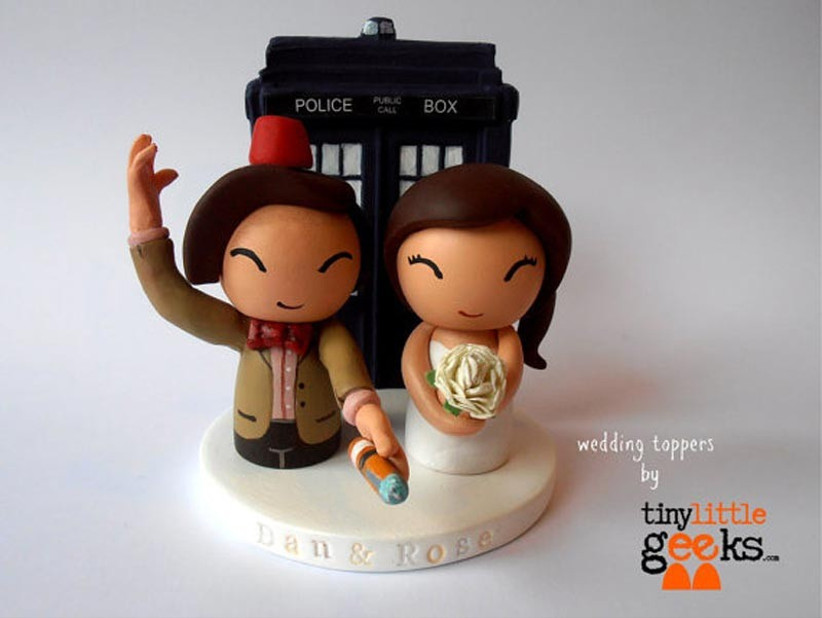 Daleks by MyCustomCakeTopper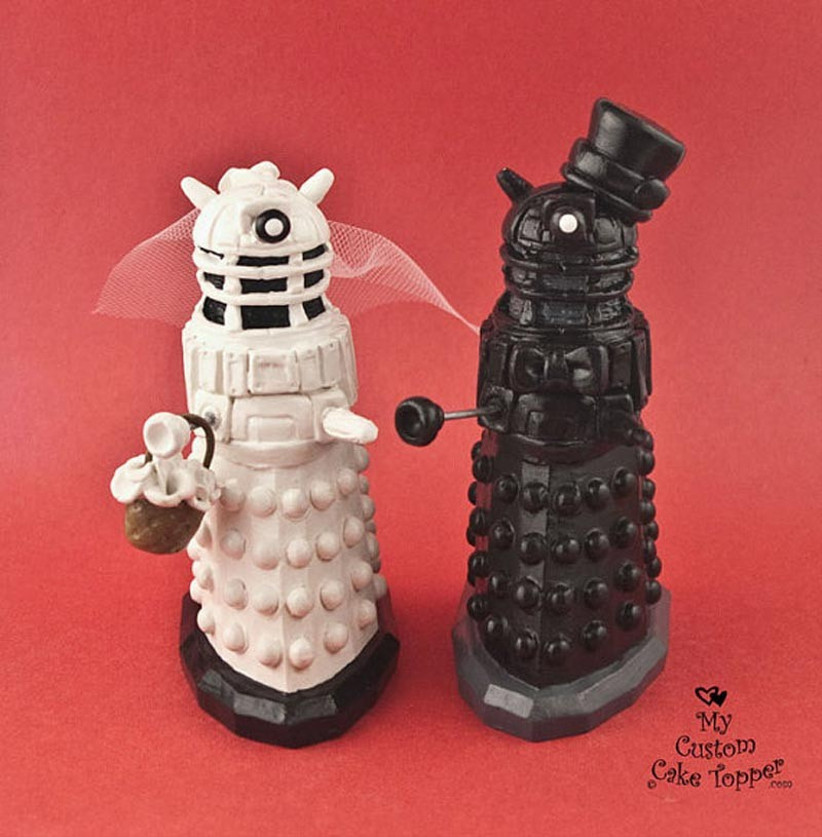 Star Trek Cake Topper
Who doesn't have a soft spot for Spock? Even if it's just your other half who is a Trekkie, show them how much you want to live long and prosper with them by surprising them with this adorable Star Trek cake topper from OhMyHero.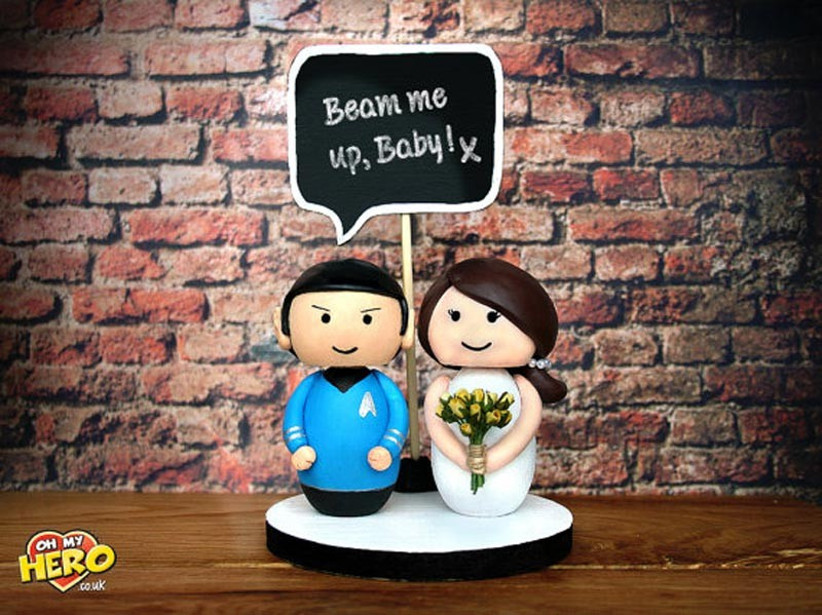 Addams Family Cake Topper
Another super cute find from British-based Etsy store, OhMyHero! Whether you love the Addams Family or your new shared surname will be Mr and Mrs Adams – why not honour it with this quirky cake topper!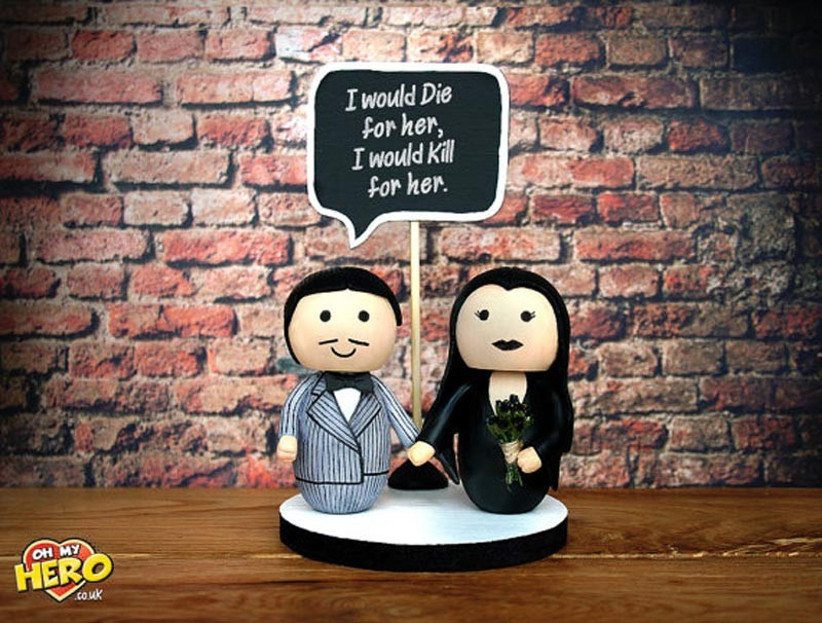 Chitty Chitty Bang Bang Cake Topper
What's better than a classic film like Chitty Chitty Bang Bang on a rainy Sunday? If that sounds like bliss to you and your other half, then you need this Truly Scrumptious cake topper from FunkyLaser! Even those that don't get the film reference will definitely agree your cake is truly scrumptious…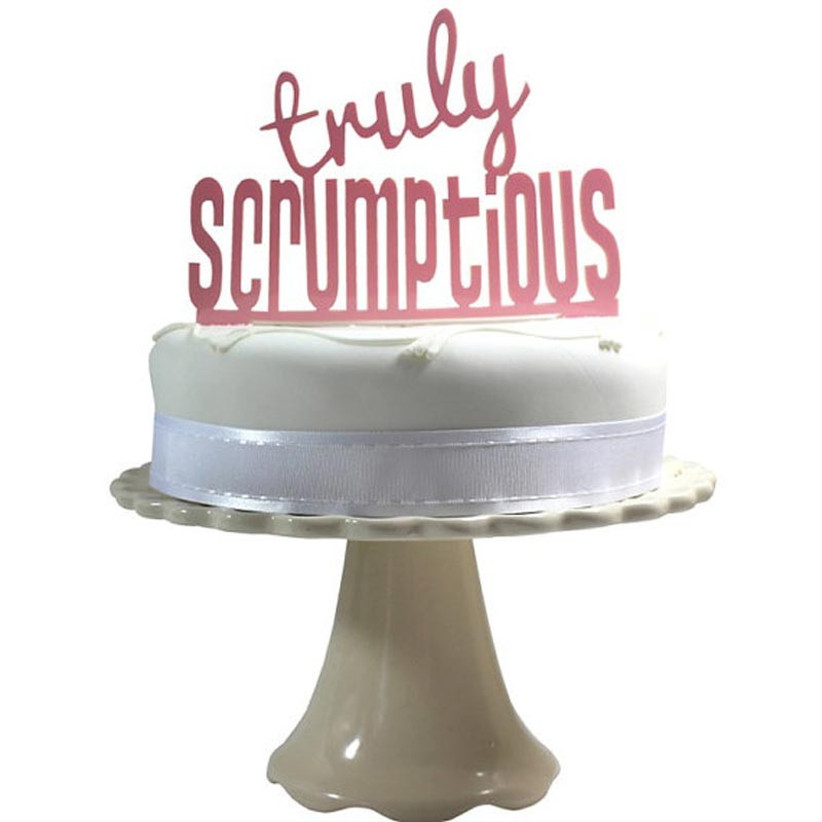 Corpse Bride Cake Topper
Tim Burton fans – this one is for you! The Corpse Bride cake topper from LottyLollipop is decidedly bridal but with a bit of a gruesome twist, ideal for fans of the quirky horror film.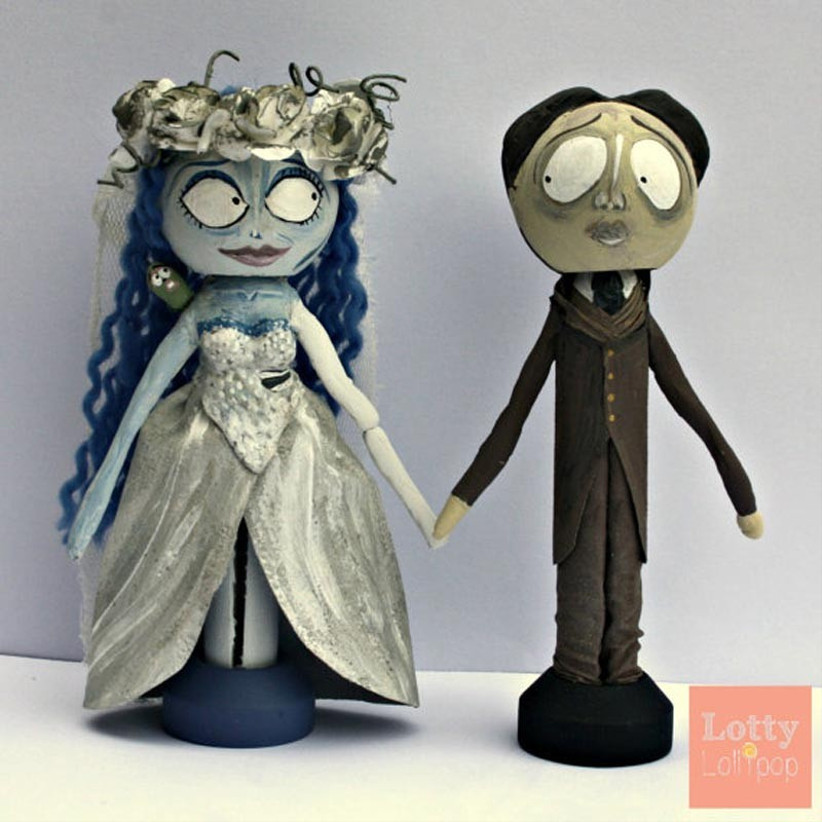 Truly Madly Deeply Cake Topper
British film Truly, Madly, Deeply is a classic, and an award winning one at that too!  If you and your partner are fans and are truly, madly, deeply in love with each other, why not opt for this beautiful cake topper from the excellently named BetterOffWed?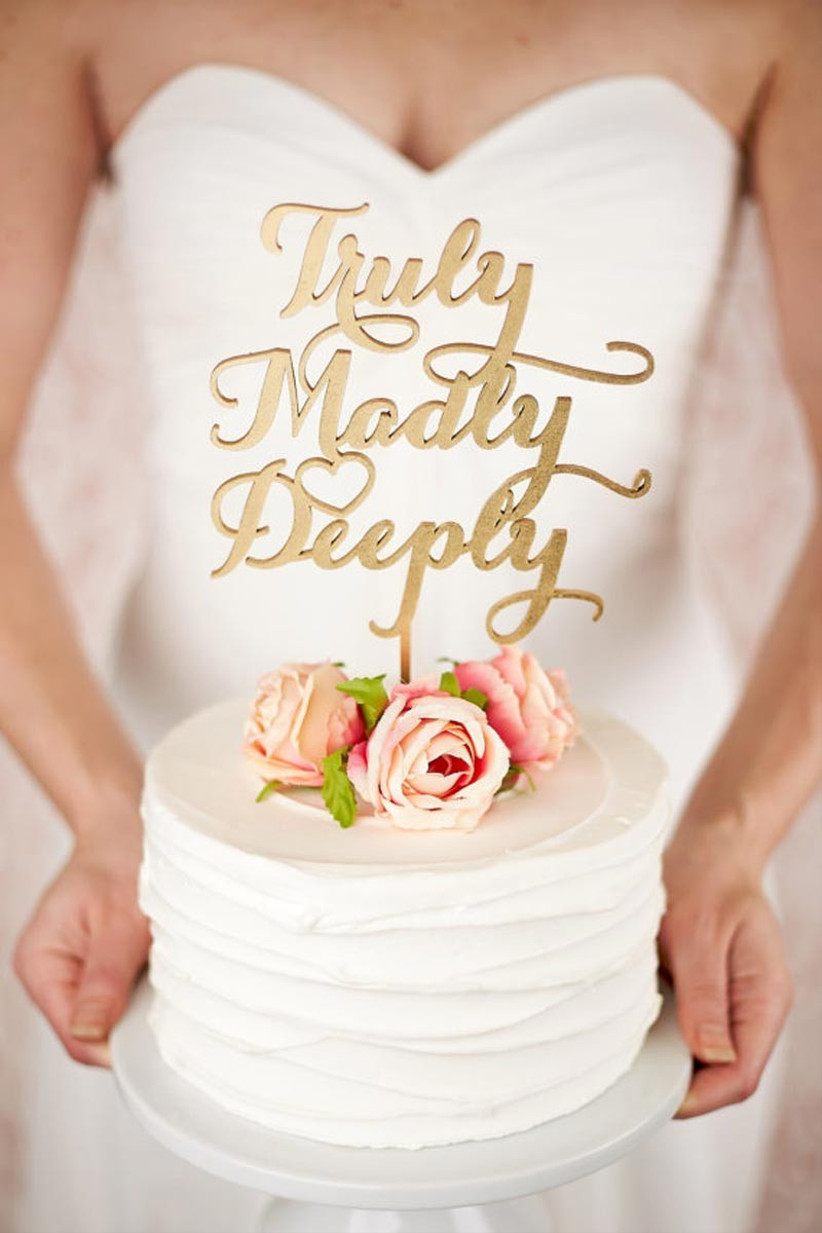 Toy Story Cake Toppers
Toy Story is the ultimate movie for kids and big kids alike! If you want your inner child to have a presence at your wedding, consider a fun Toy Story inspired cake topper to set the tone. The stylish 'To Infinity and Beyond' cake topper from BetterOffWed is ideal for a more mature take, or why not consider the (slightly disconcerting pairing, or is it just us? Does Woody know about this?) Buzz and Jessie figures from MyCustomCakeTopper?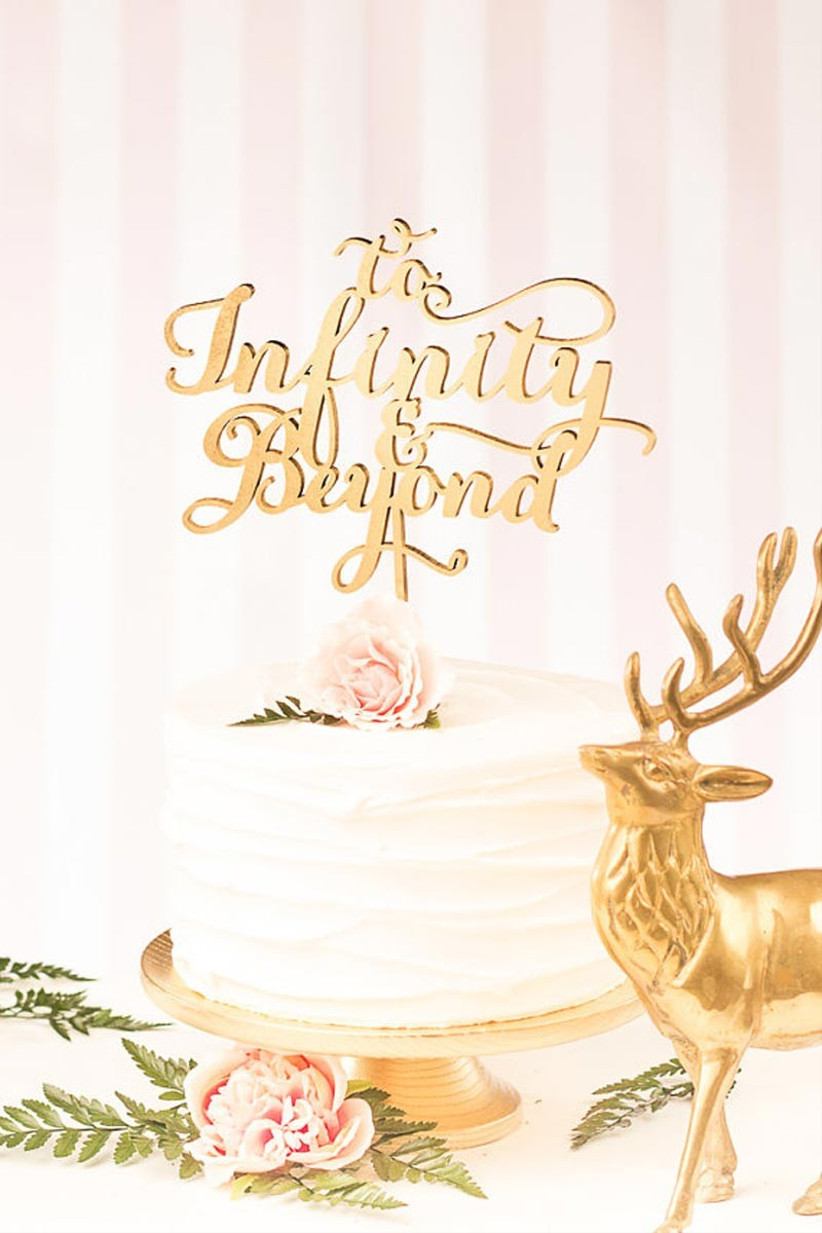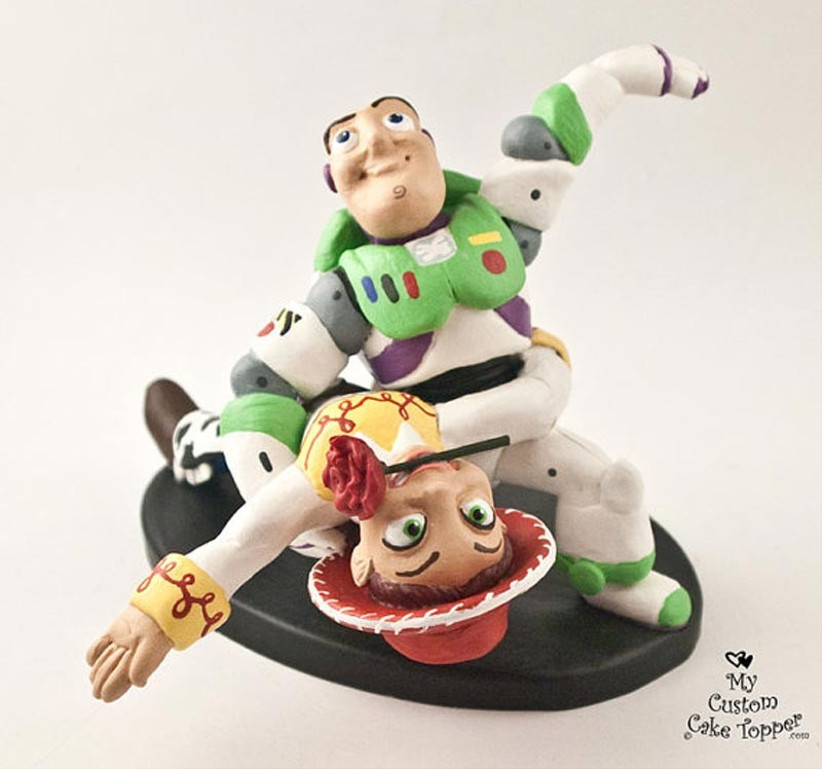 Spiderman Cake Topper
Let's be honest – who hasn't attempted that iconic Spiderman kiss with their other half? We don't recommend trying it in a wedding dress, but if you want to include some Spidey-style passion at your wedding, you can't go wrong with this cake topper from Plasticsmith.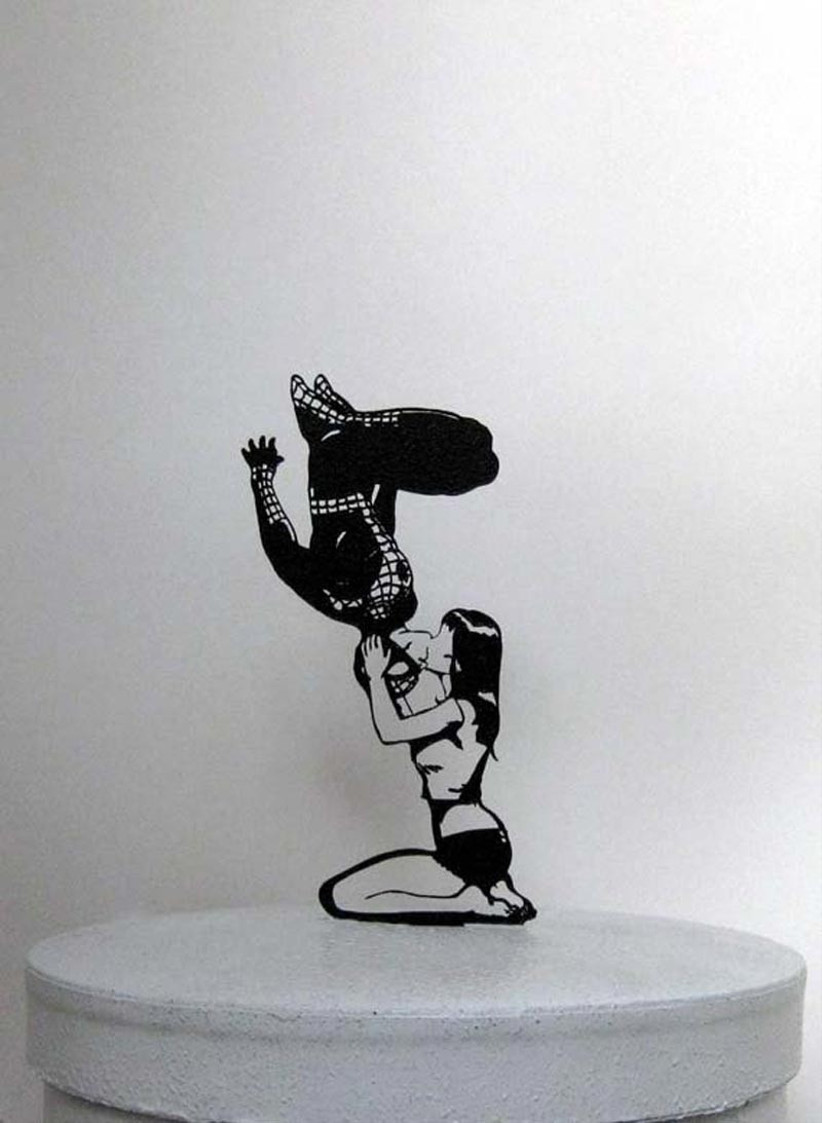 Sex and the City Cake Topper
Is there a finer moment in Cinema history than when Mr Big whispers those immortal words into Carrie's ear, 'Ever mine, ever thine, ever ours'? If they still send shivers down your spine, have them on top of your cake thanks to Dollycraftycrafts.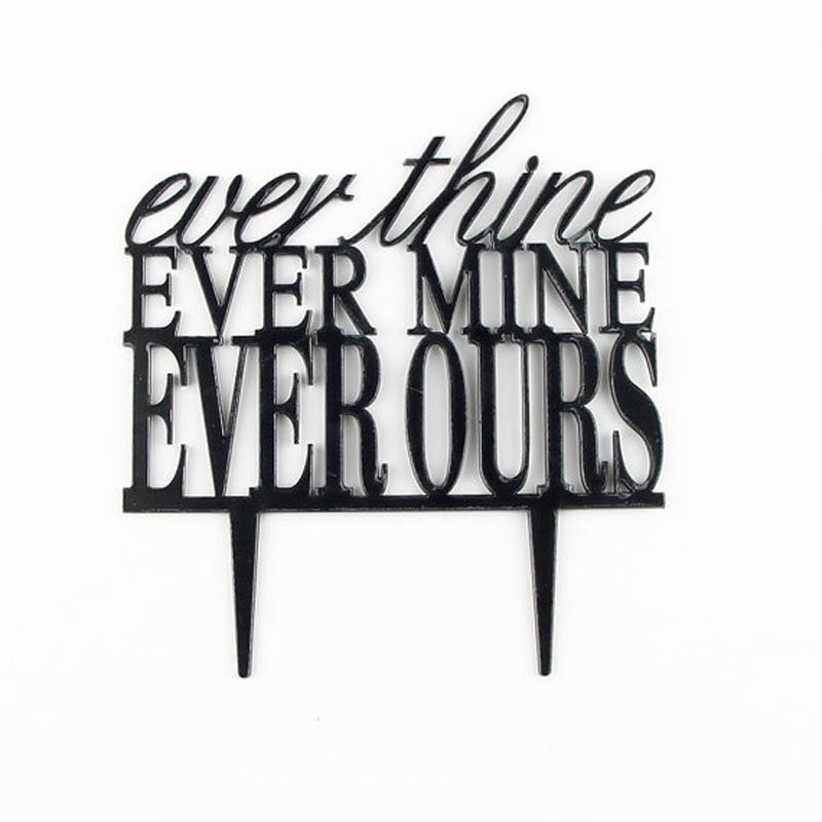 Pretty Woman Cake Topper
Whilst it's not the traditional love story, Pretty Woman is a classic in its own way and is loved by many. If you're a big fan of the film, why not proudly display Edward and Vivian by OhMyHero on top of your wedding cake? You know it would be a big mistake not to. Big. Huge.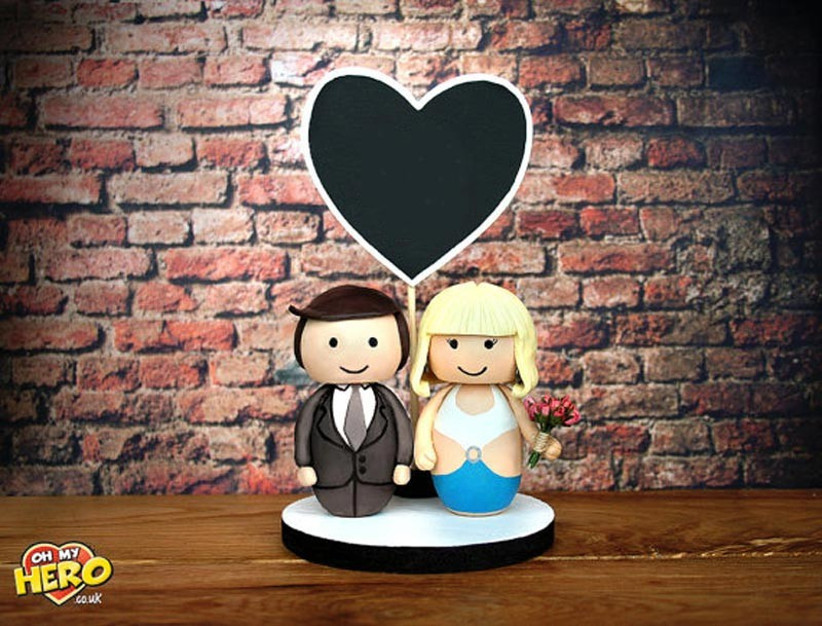 The Simpsons Cake Topper
There's a reason the Simpsons has been on our screens for so long! It's loved by many and Marge and Homer's love for each other endures anything – making them classic role models for marriage. This cake topper from AsiaWorld will make it clear to your guests who your role models are!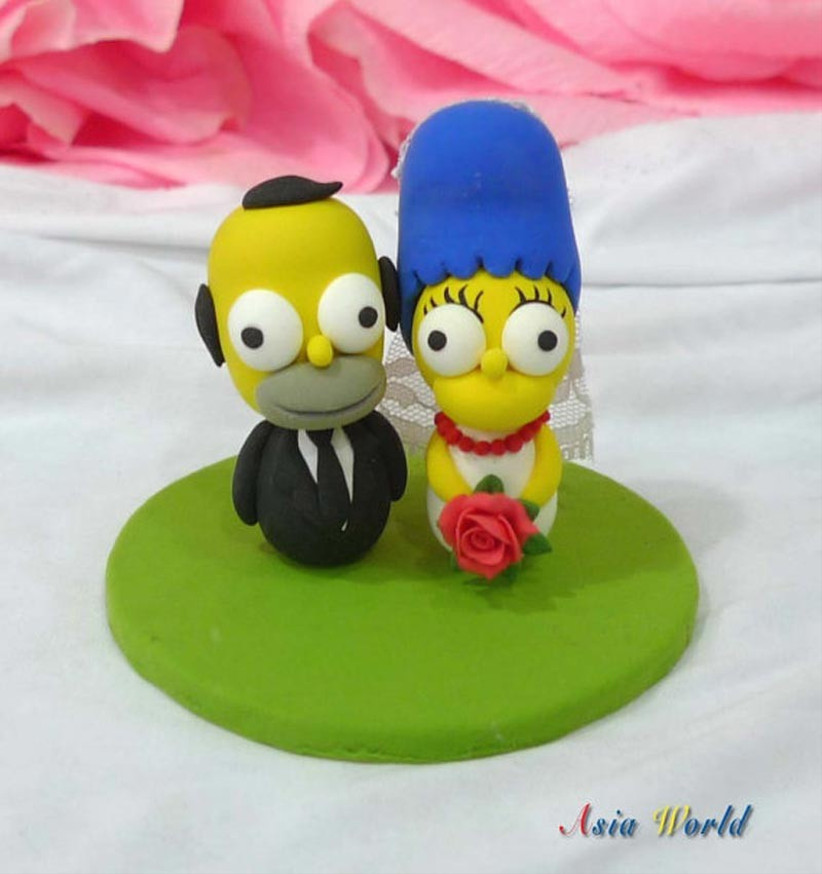 Sesame Street Cake Topper
I know what you're thinking, but hear us out! Bert and Ernie are more than just Sesame Street cake toppers – they're a team and represent lifelong friendship and companionship. This cute silhouette cake topper from Plasticsmith would be perfect for a wedding cake.