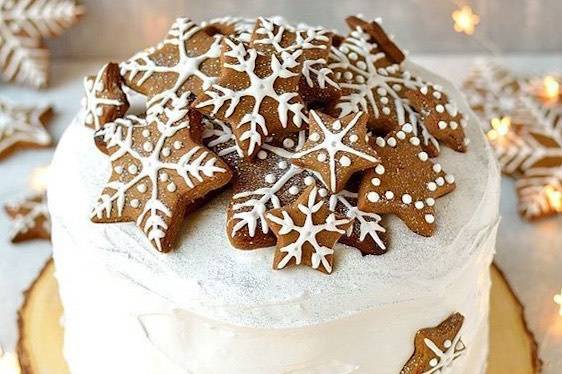 We love a winter wedding here at Hitched. From drinks by cosy log fires to magical frosty outdoor photographs and dreamy winter wedding fashion, every detail is an Instagram post waiting to happen.
While the venue and décor will do most of the work for you when it comes to creating that magical atmosphere, a winter wedding cake will act as the centrepiece that ties it all together. You can incorporate key blooms, colours and themes into your cake design, giving guests a treat for the eyes as well as the tastebuds.
To get you feeling inspired - and let's face it, a little hungry - we've rounded up a selection of the most beautiful winter wedding cake ideas. From small bakes to enormous, multi-tiered creations, there's a winter wedding cake in here for every couple.
READ MORE:
1. Tiered Cake with Dried Flowers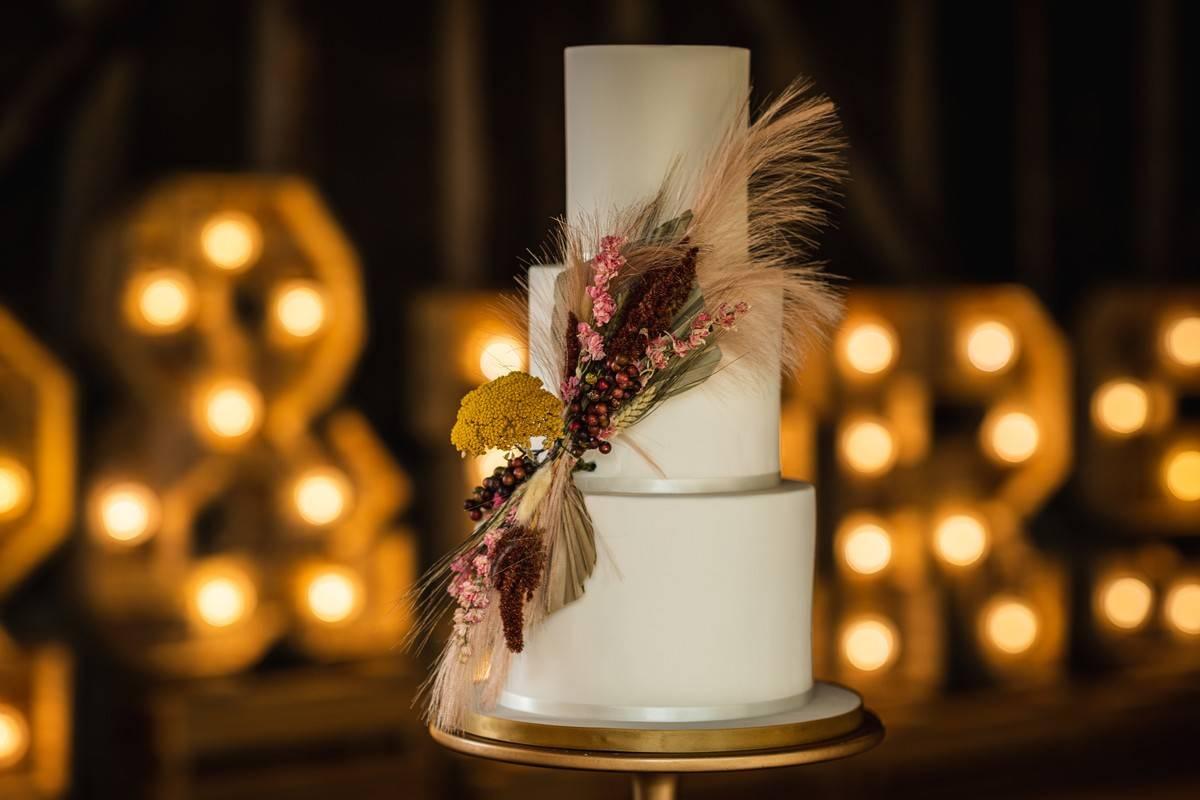 Dried flowers and berries take this plain white three-tier cake from a simple bake to a show-stopping creation. We love the gold leaf detail and the warm pinks, reds and burgundies incorporated into the bunch, it gives the cake an instant rustic winter feel.
2. White Cake with Frosted Foliage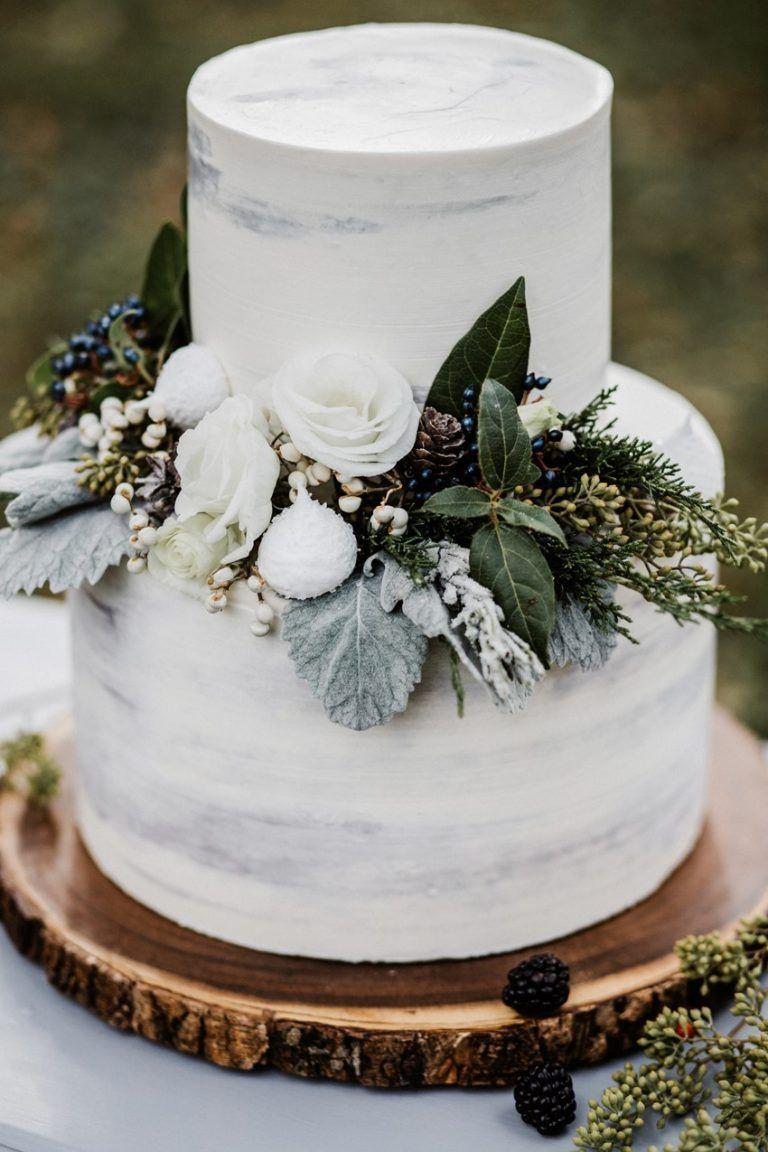 If you prefer a cool-toned palette, why not opt for a winter wedding cake in frosted hues? We love the way icing mimics the look of frost on the leaves of this cake as well as the romance of the crisp, white roses.
READ MORE: Winter Wedding Flowers: 23 Beautiful Winter Wedding Bouquets
3. Mountainscape Cake with Pinecones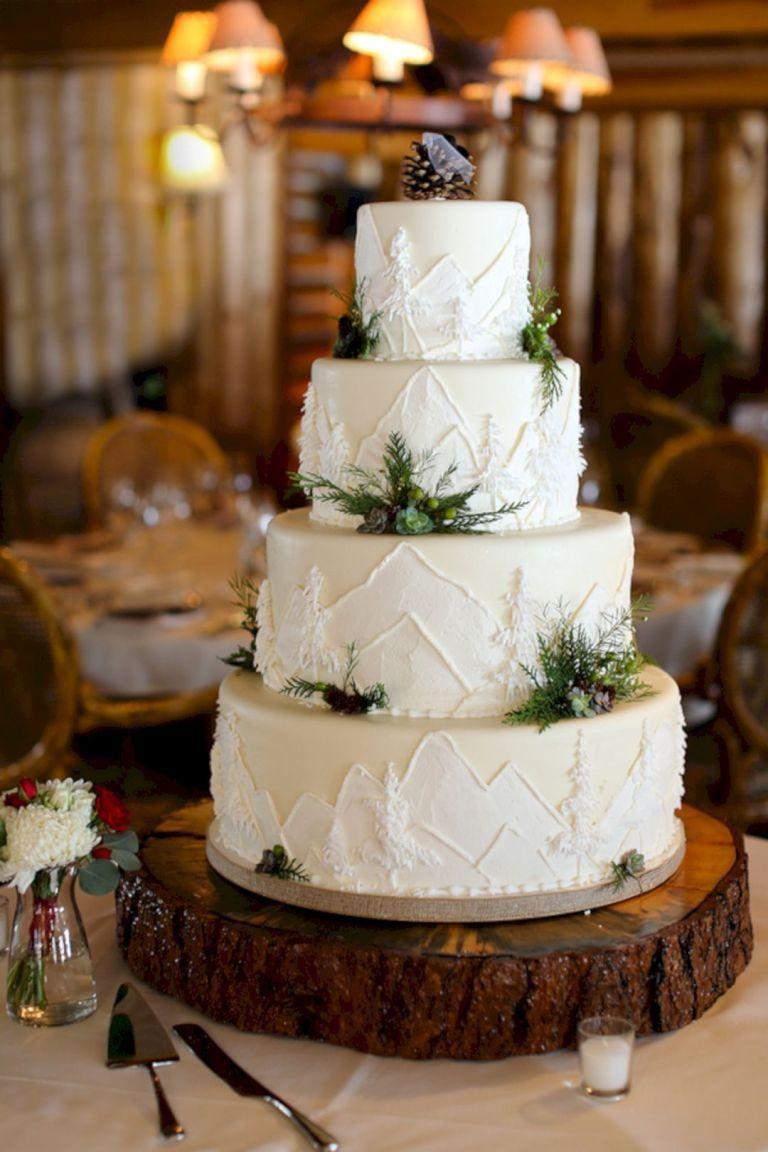 There's something very Christmassy about this pinecone-topped cake. The subtle mountain scenes have been carefully iced onto every tier, giving it a storybook feel that pops when real foliage and berries are added.
4. Berry and Pinecone Semi-Naked Cake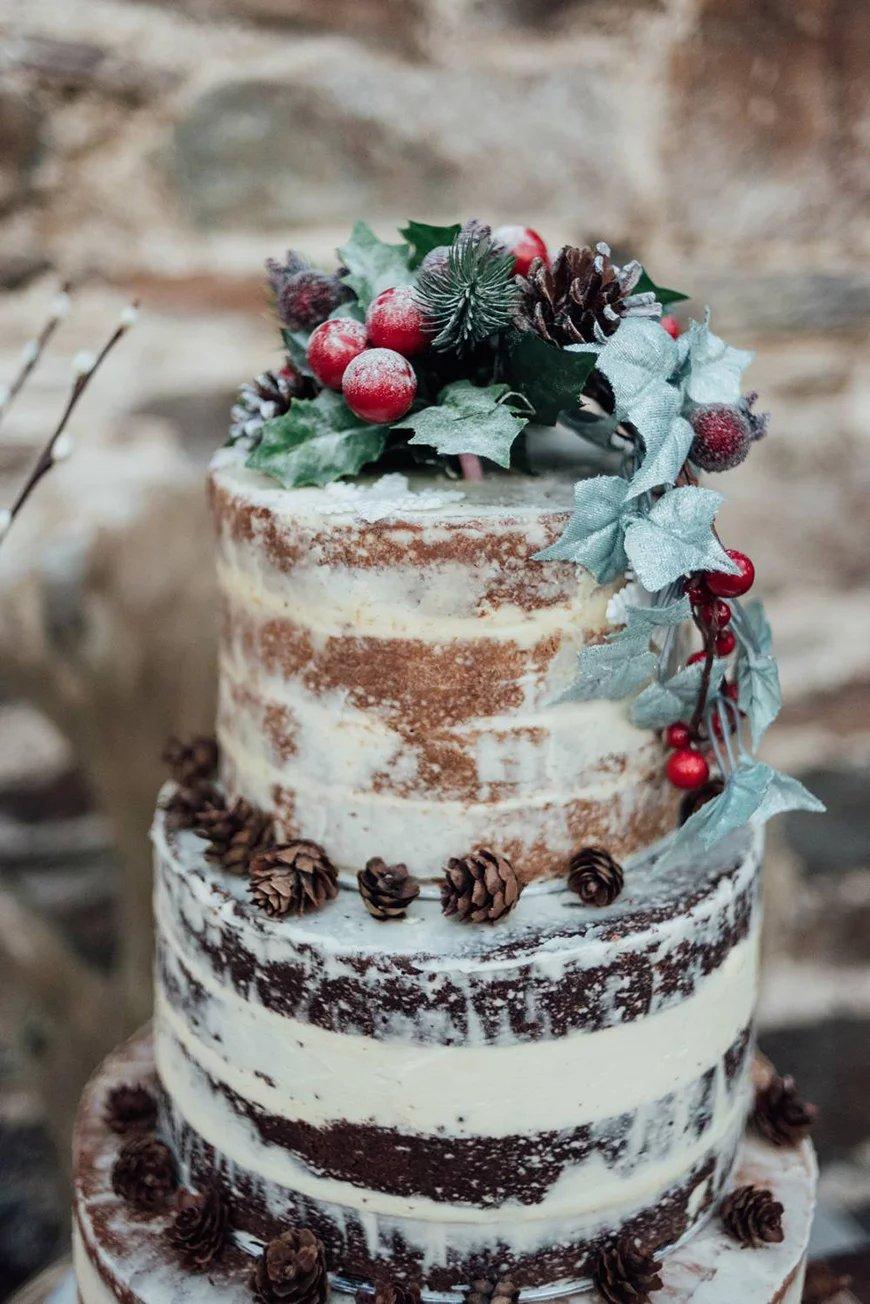 Another Christmas-inspired bake, but this time with traditional red berries dotted amongst the greenery. The miniature pinecones and trailing ivory make this a bake destined for a barn or rustic country wedding venue.
5. Grey Watercolour and Gold Leaf Embellished Cake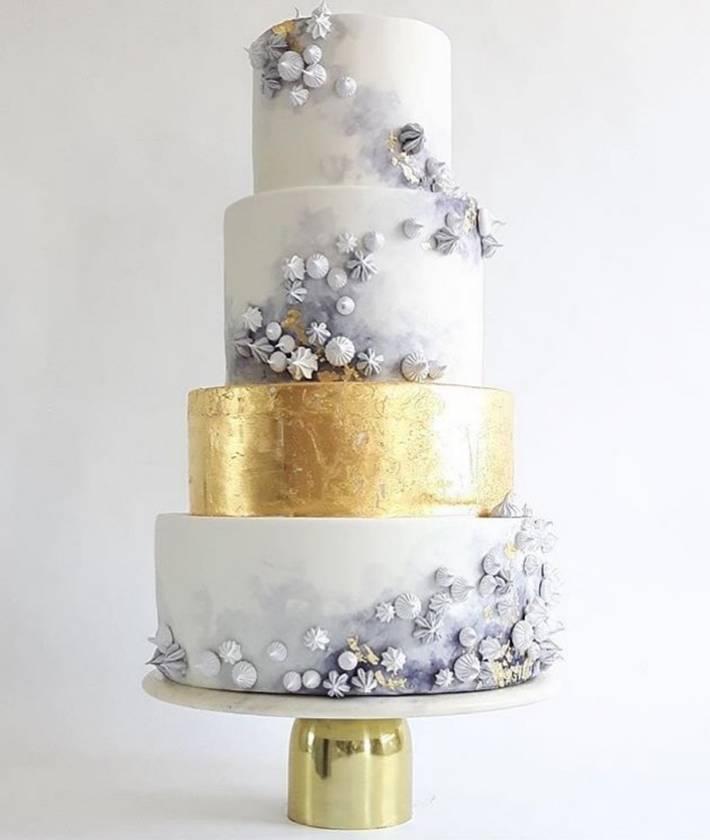 This sophisticated grey watercolour cake is given a fun twist thanks to the mini meringues that totally remind us of childhood treats! The flecks of gold leaf and slim gold tier give this icy bake a touch of warmth and luxury.
6. Iced Gingerbread Cake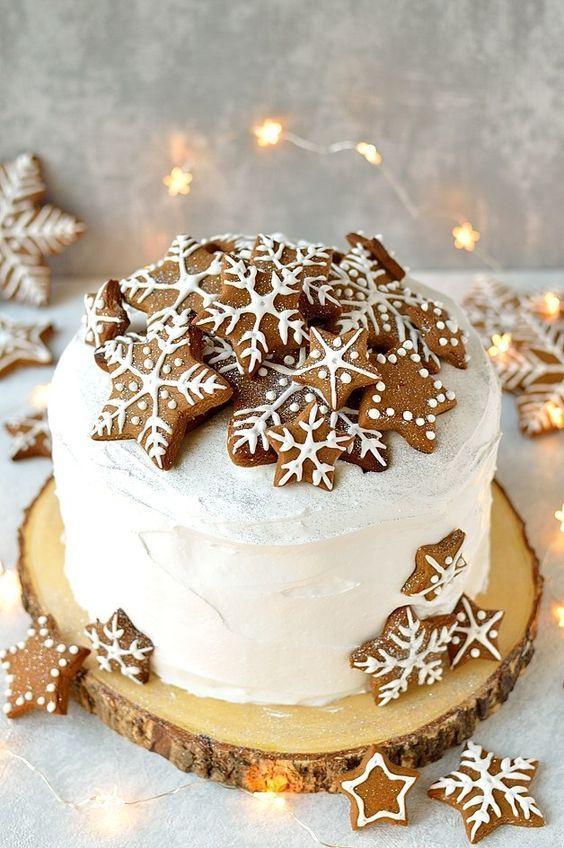 Fun and festive, this simple bake is a great choice for anyone wanting to try their hand at baking their own wedding cake. The taste of ginger and cinnamon are synonymous with the season and a bite of this beauty will instantly get guests in the Christmas spirit.
READ MORE: 21 Winter Wedding Tips: How to Plan the Ultimate Winter Wedding
7. Sugar Flower Single Tier Cake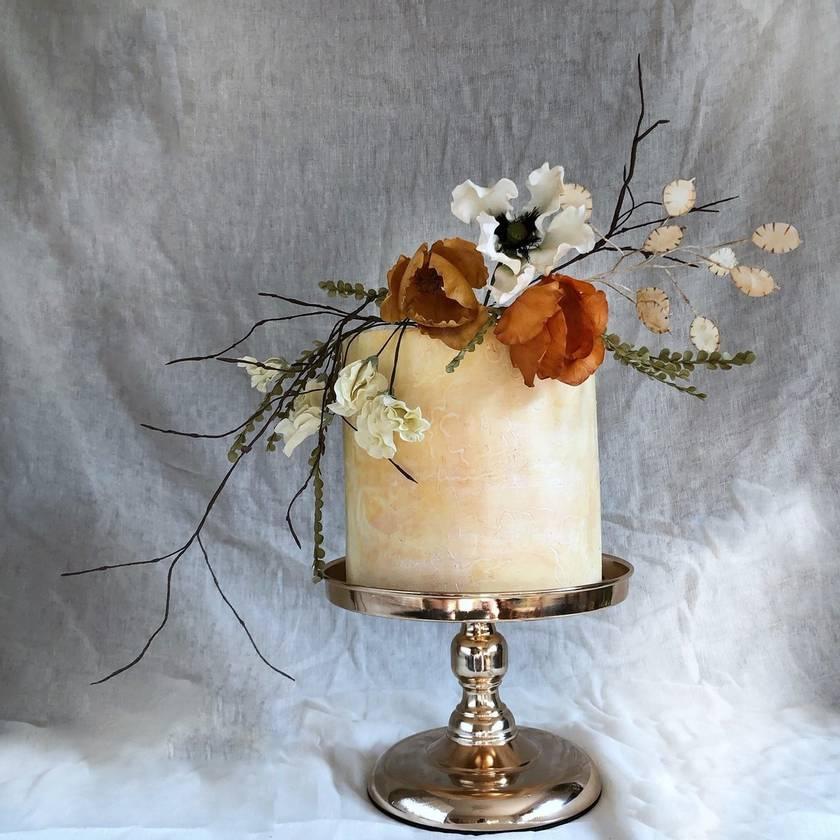 We adore the stunning sugar twig and flower detail on this single tier cake. The mottled icing give it a rustic feel while the warm hues of the florals give this cake a thoroughly wintery vibe.
8. Forest Green Cake with Fir Branches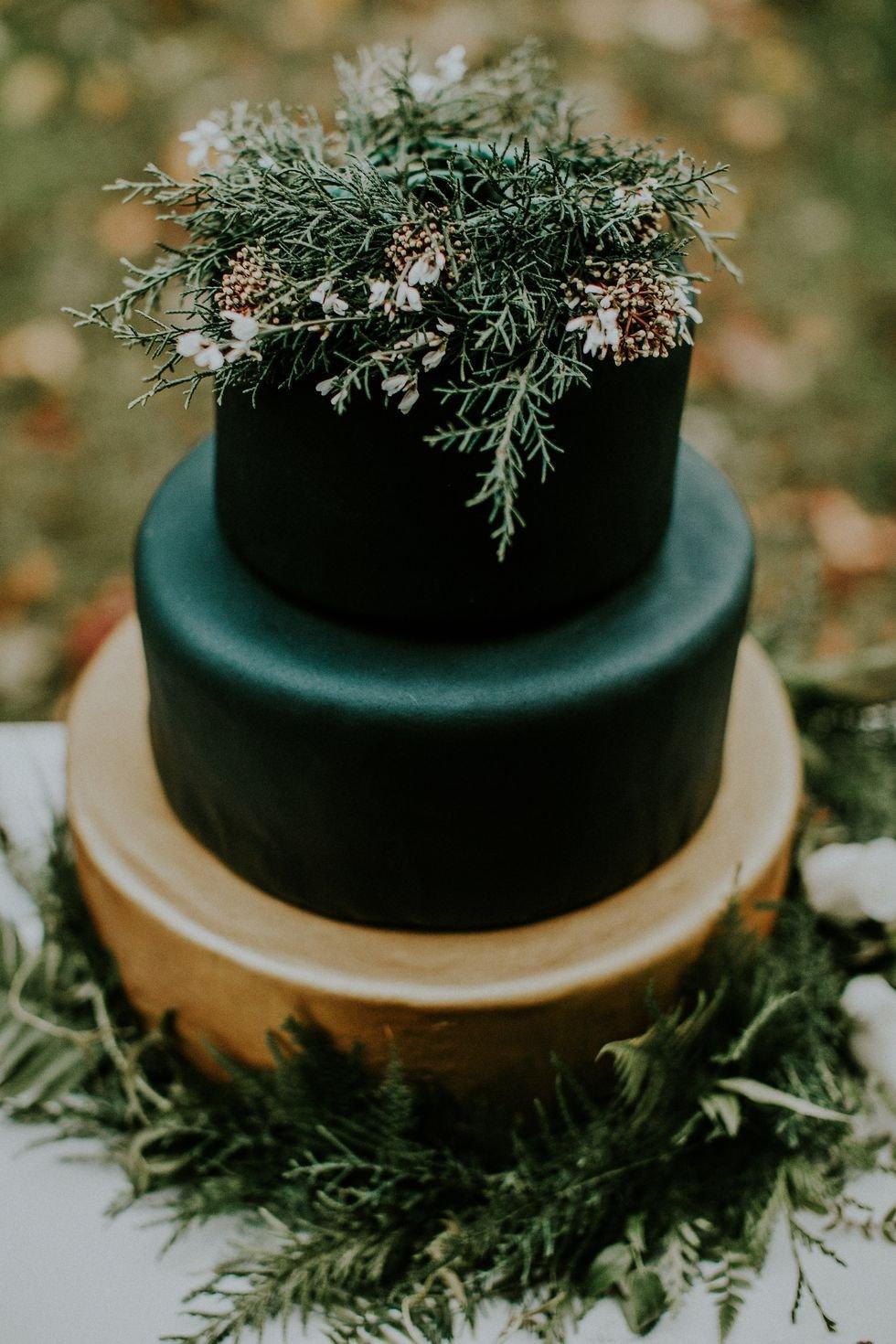 Deep, dark green is an amazing winter wedding colour choice. It can look naturally rustic alone or seriously luxe when paired with gold. We love how the bottom tier of this bake is sat on a bed of fir tree branches and leaves and the top tier features a sprinkling of delicate white blooms.
9. White and Gold Constellation Cake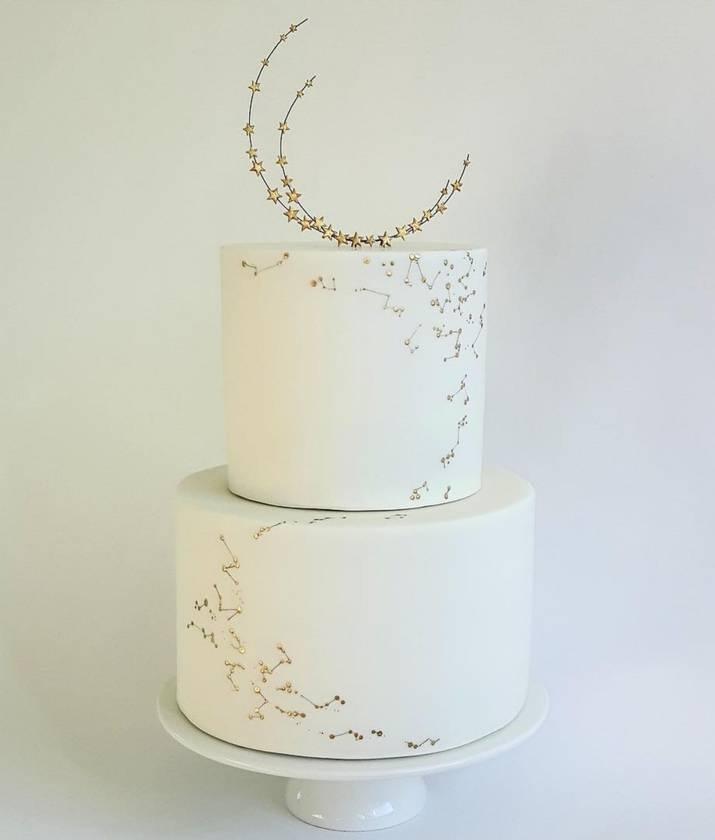 Celestial details are a popular décor choice for winter weddings. We love the simplicity of this starry white and gold cake - it's a great choice for contemporary couples looking for a touch of fuss-free sparkle!
10. Semi-Naked Fig and Thistle Cake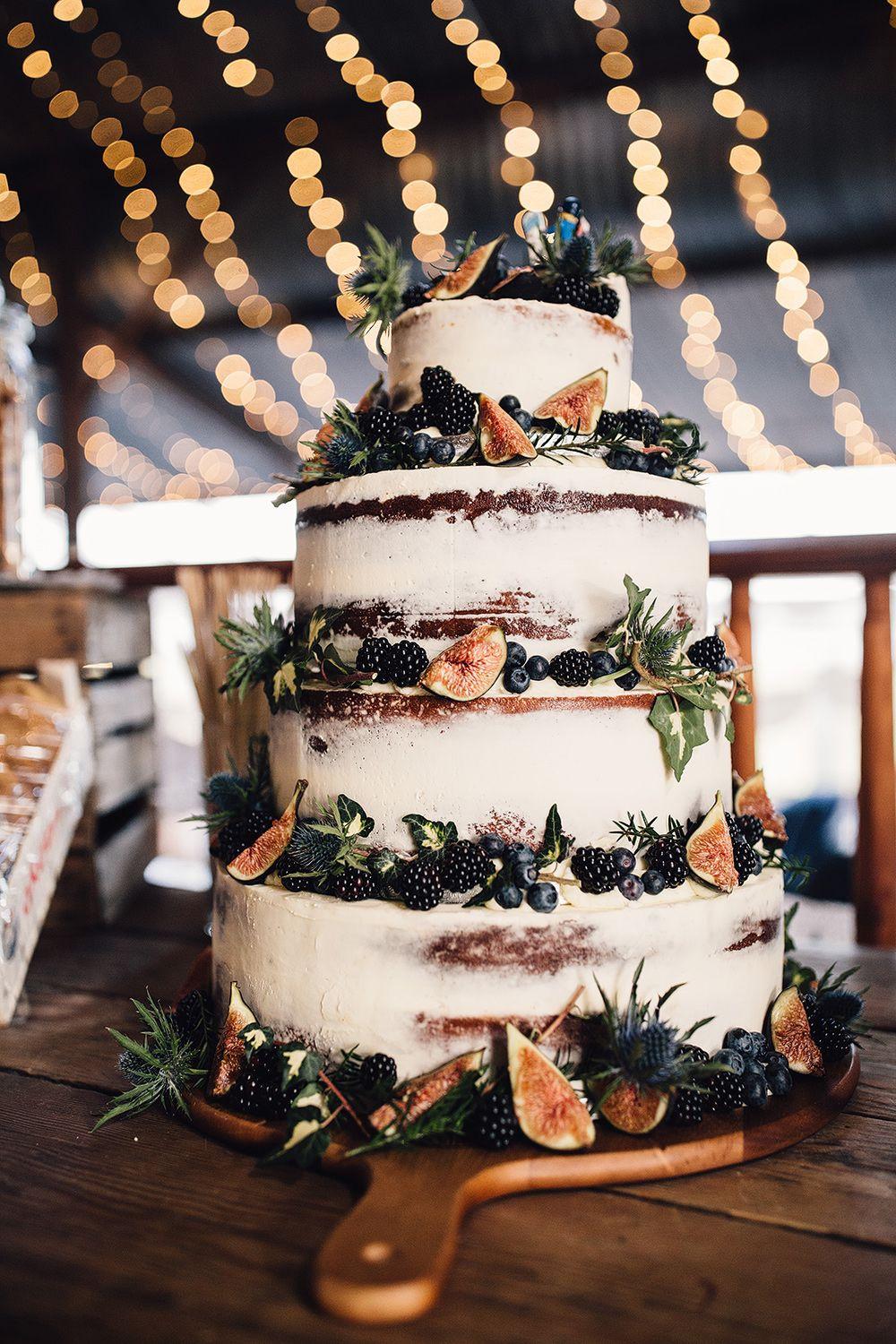 Figs are often seen in Christmas and winter recipes and so they're a natural choice for winter bakes. Teamed with thistles and blackberries, this semi-naked cake has an unmistakable seasonal aesthetic.
11. Blue and White Painted Cake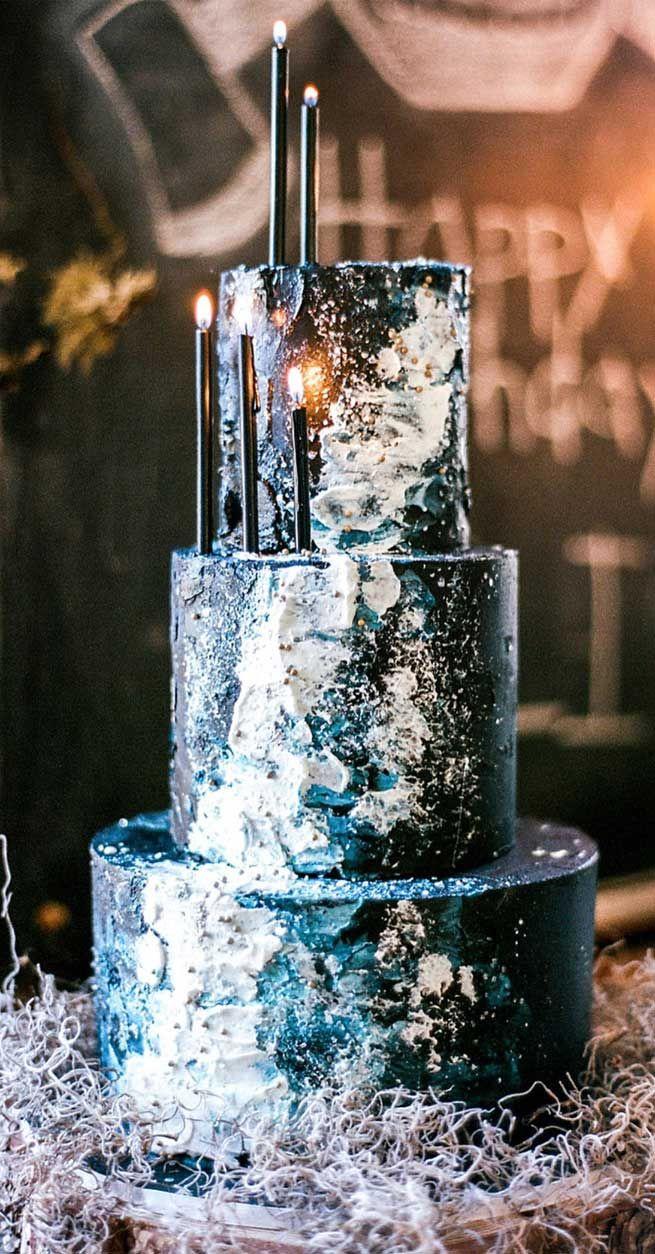 A dark blue or black wedding cake can make a real statement and we think this white-flecked bake will certainly grab the attention of guests. Reminiscent of crashing waves as well as icy landscapes, this beauty would look majestic at a seafront winter wedding.
12. White Berry Wreath Cake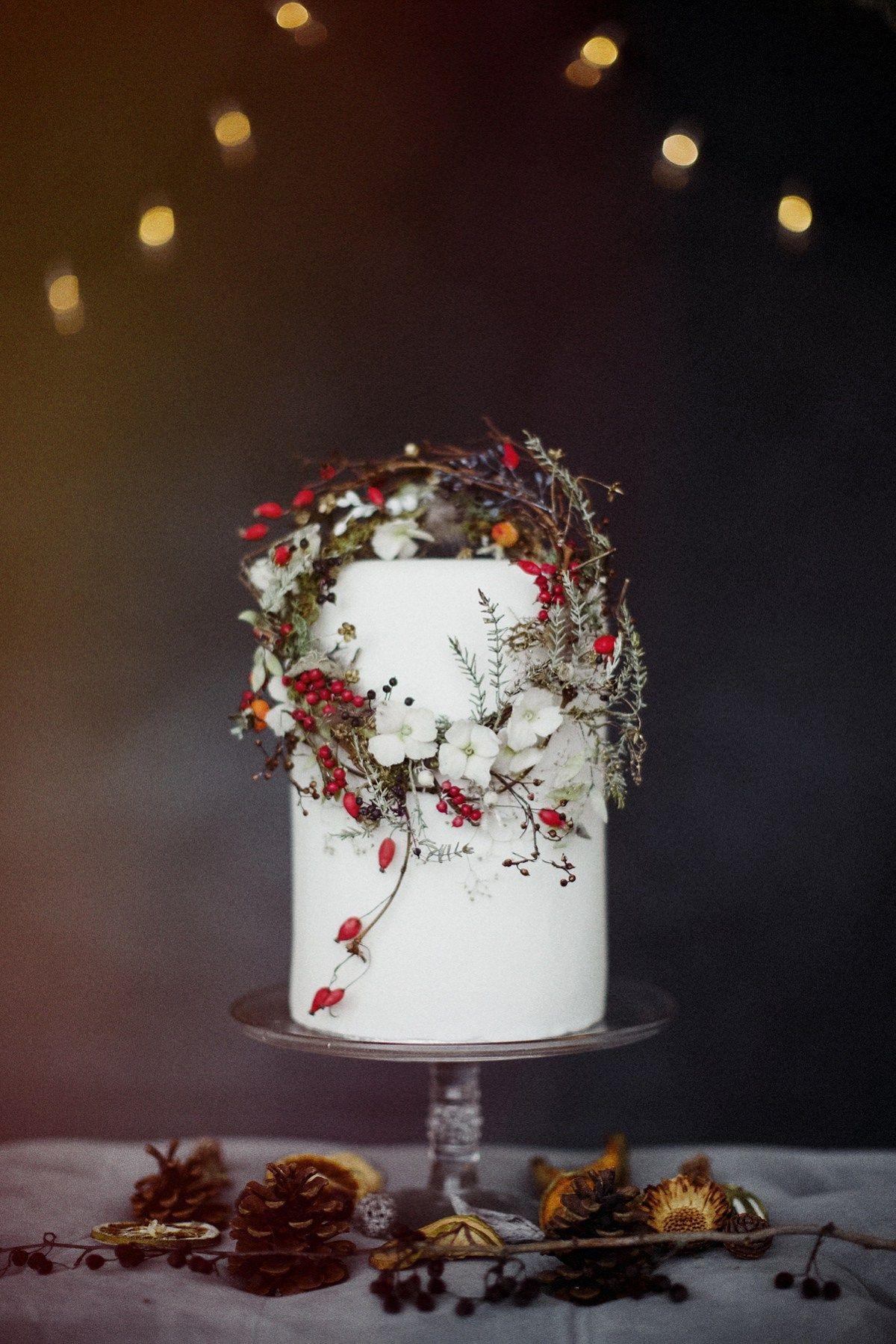 We love how this simple two-tier white cake has been dressed with a wreath made from berries, twigs and foliage - it gives us instant cosy winter vibes! We're also fans of the scattered pine cones and dried orange slices sitting at the base of the cake stand.
13. Blue Marble Crystallised Cake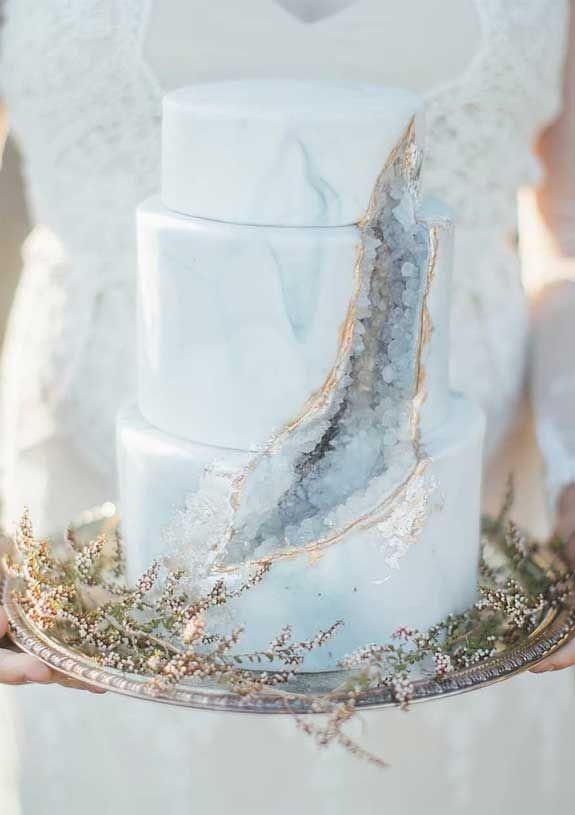 If Elsa from Frozen were to have a wedding cake, we reckon this would be it! Giving us major icy feels, this stunning cake is almost too beautiful to eat - almost!
14. Pressed Foliage Semi-Naked Cake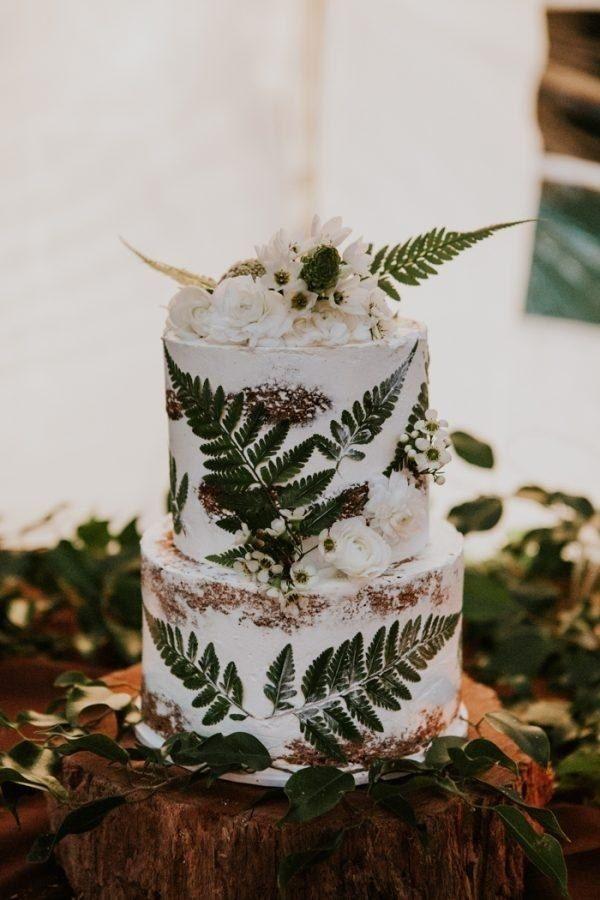 We love the way the leaves are pressed into the icing, giving the cake a unique and unusual feel. We can totally see ourselves tucking into this next to a fire pit at a woodland or tipi wedding!
15. Blue Tiered Cake with Sugar Flower Topper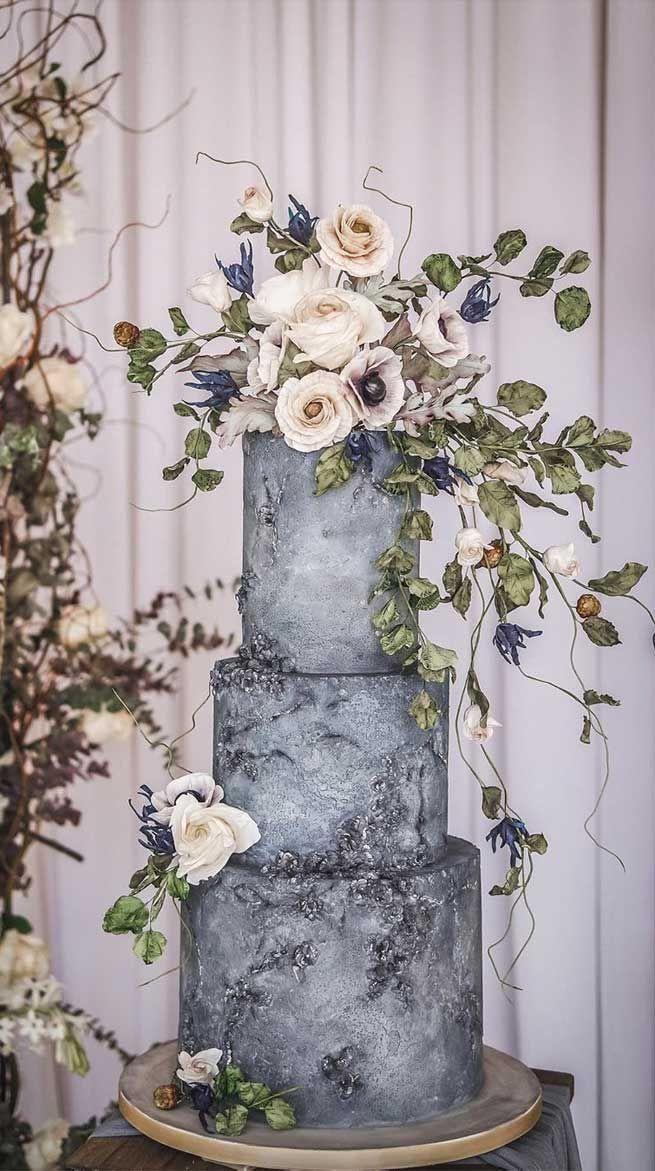 We're in love with this incredibly detailed cake. How stunning are the hand-crafted sugar flowers and textured icing? This is a bake worthy of a stately home or country house venue!
16. White and Green Cake with Climbing Gold Florals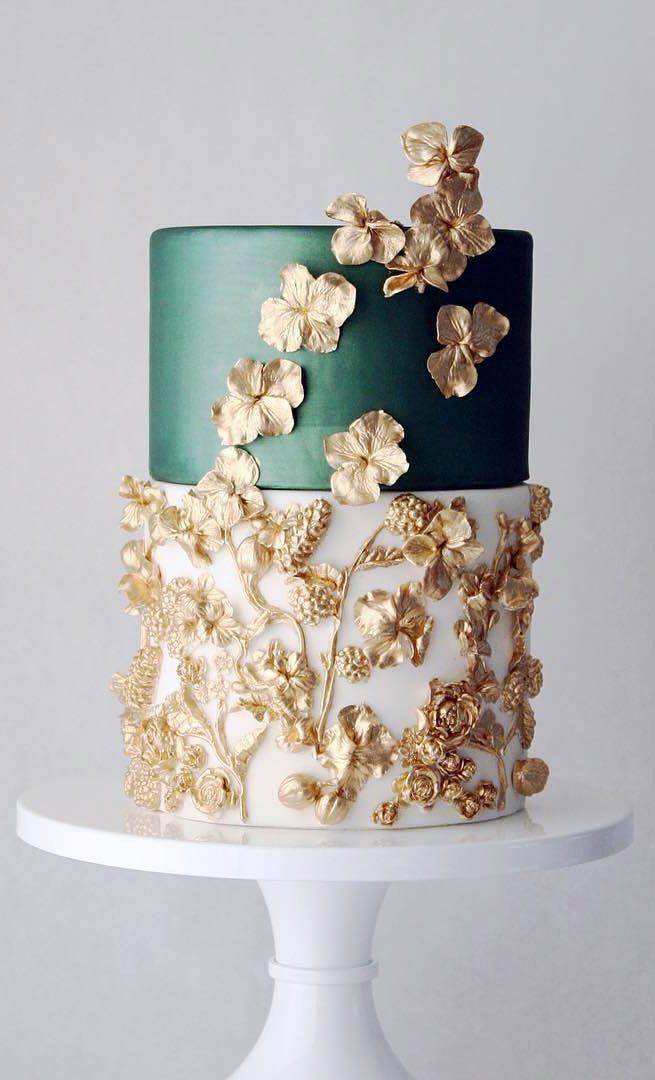 The floral details on this white and green two-tier bake look as though they're made from solid gold! We'd definitely choose this creation for a luxe winter wedding.
17. Gold Leaf Grey and White Cake with Eucalyptus Sprigs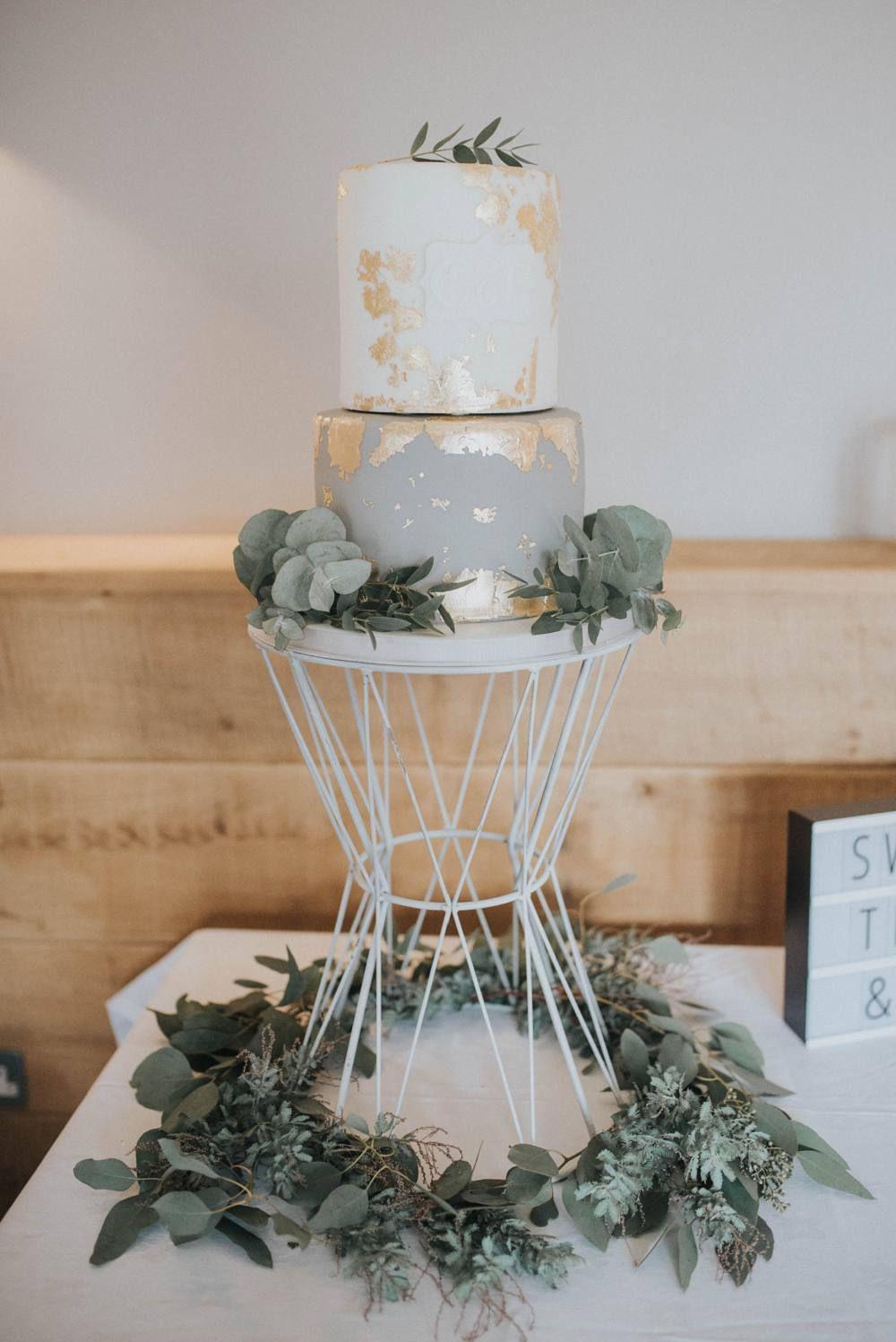 If you love the idea of incorporating gold into your wedding cake design but would like something a little more contemporary, how about adding flecks of gold leaf to a pared-back bake? A few sprigs of eucalyptus give a muted touch of green, ideal for those who prefer cool-toned winter schemes.
18. Twig Wreath White Cake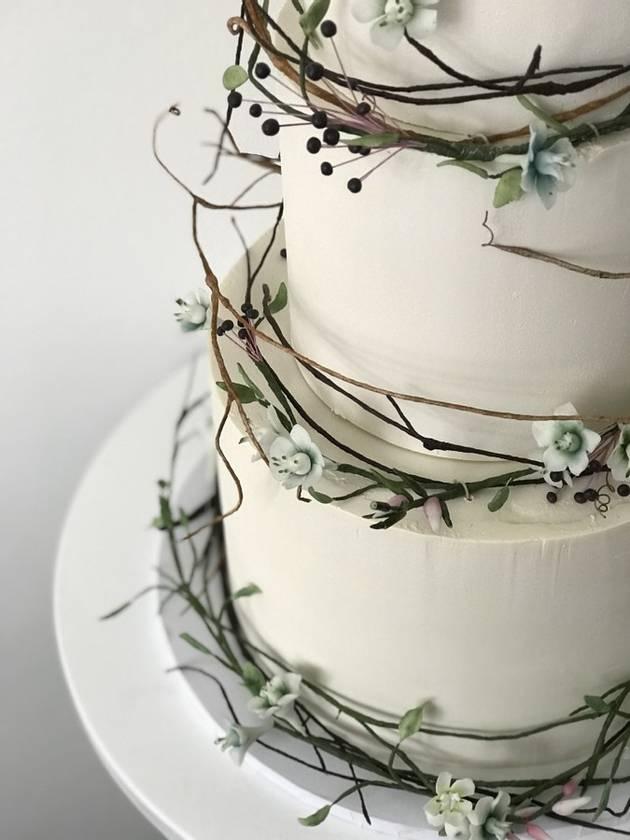 We love the delicate simplicity of this cake, the twigs and bare branches perfectly complement a rustic winter theme.
19. Three-Tier Beaded Cake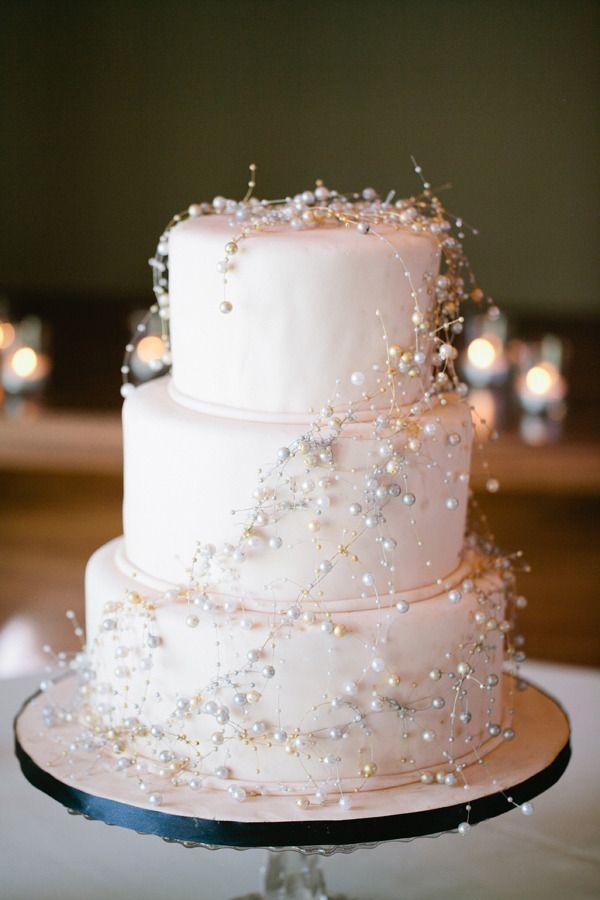 This beaded cake would seriously up the glamour at your wedding reception. The grey, silver, white and champagne beads look stunning scattered across the entire bake.
20. White Cake with Textured Icing, Red Florals and Foliage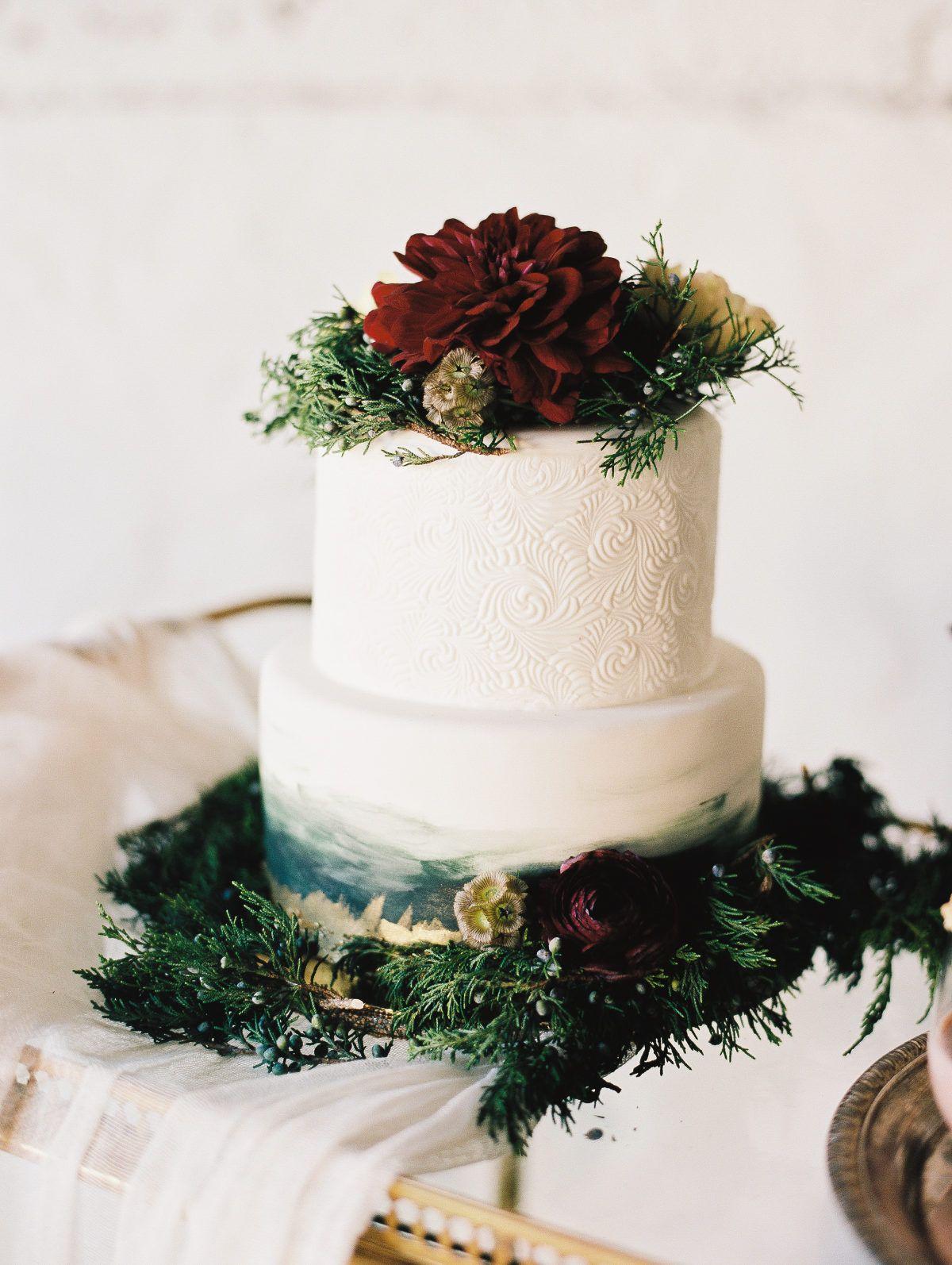 The textured white icing on the top tier give this a traditional wedding cake feel while the watercolour bottom gives it a modern touch. The florals and foliage are our favourite elements though, how stunning is that rich red bloom on top?
21. Copper, Navy and Burgundy Cake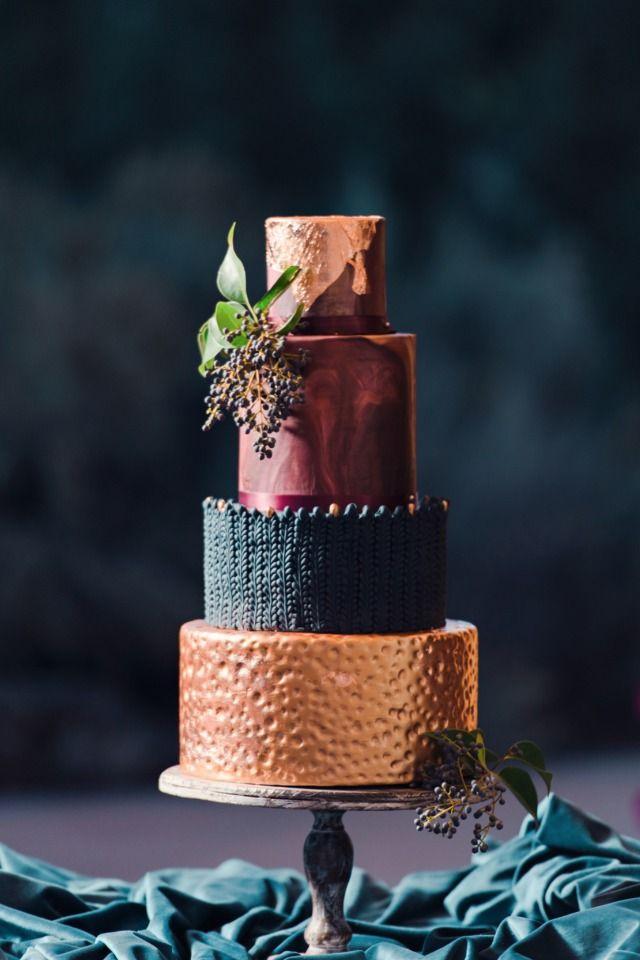 We love that the navy tier reminds us of cosy winter knits! We're also loving the copper, it offers a fantastic alternative to traditional gold or silver and will give a touch of warmth to your wedding reception décor.
22. Navy and Gold Drip Cake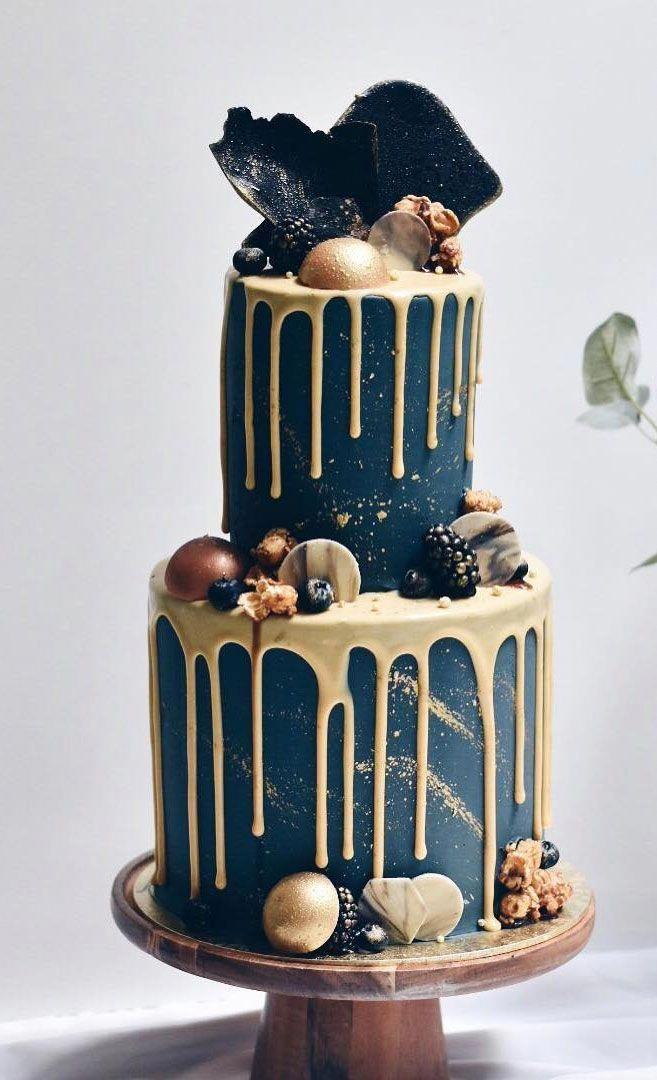 Drip icing not only looks cool and contemporary, it also makes a cake look even more tempting. The metallic and marble discs have got us lusting after this bake too!
23. Painted Mountain Range Cake with Sugar and Macaron Topper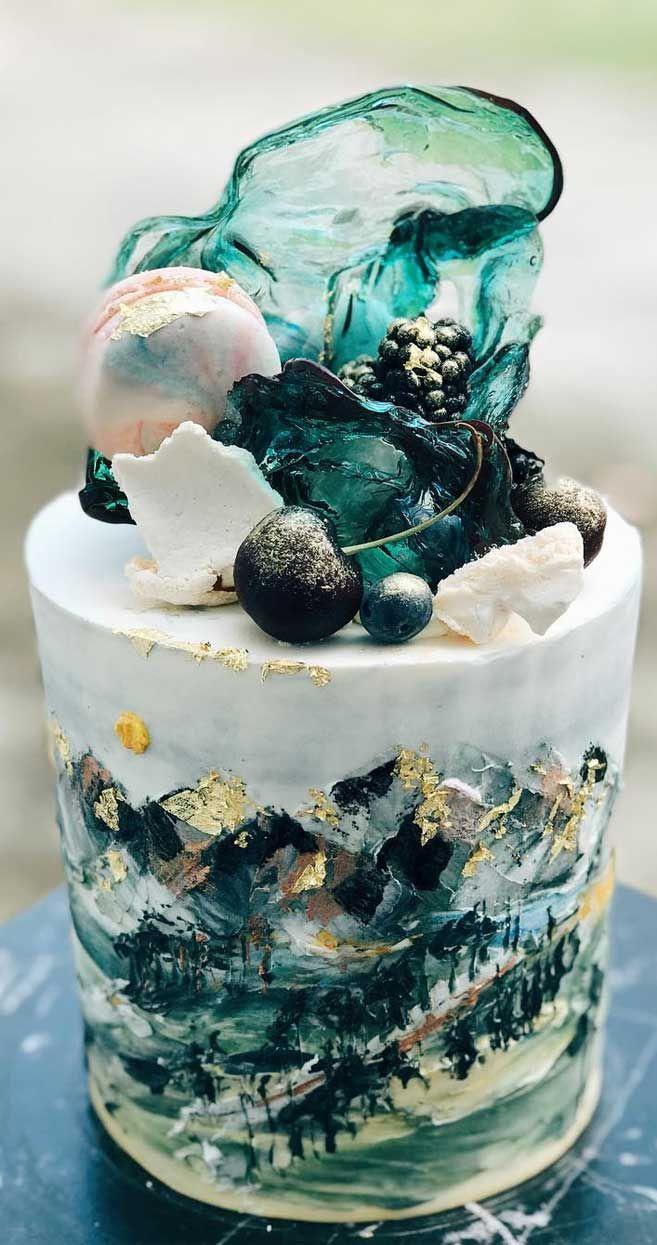 This cake is like a piece of abstract art! We love the impression of glistening mountain tops and tree-lined passages through the hills - we're pretty keen on the macaron and meringue toppings too!
24. Semi-Naked Cake with Rosemary Christmas Trees and Berries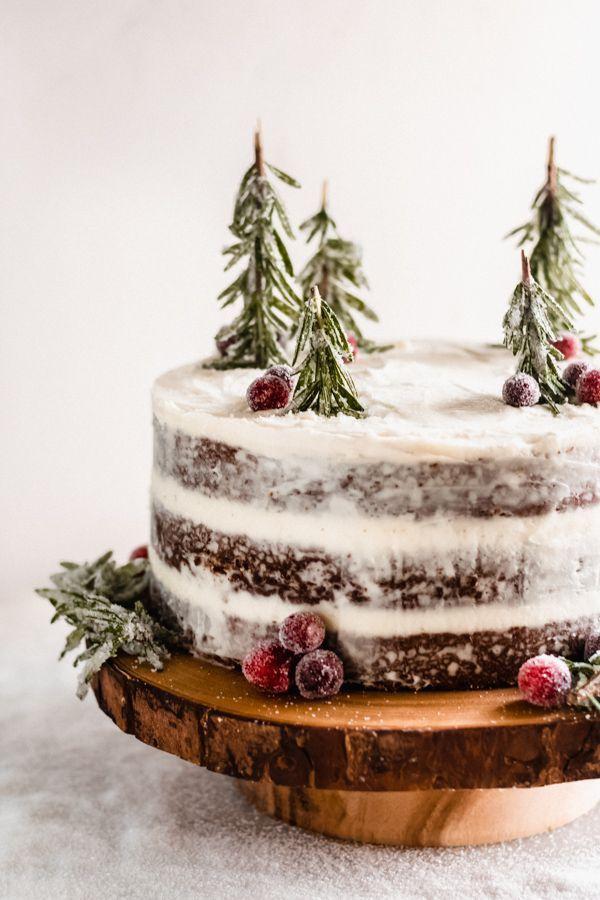 Who knew iced sprigs of rosemary made such convincing Christmas trees? Certainly not us! Turns out pairing the popular garnish with red berries and icing sugar, can give a simple bake instant festive feels.
25. Semi-Naked Cake with Succulents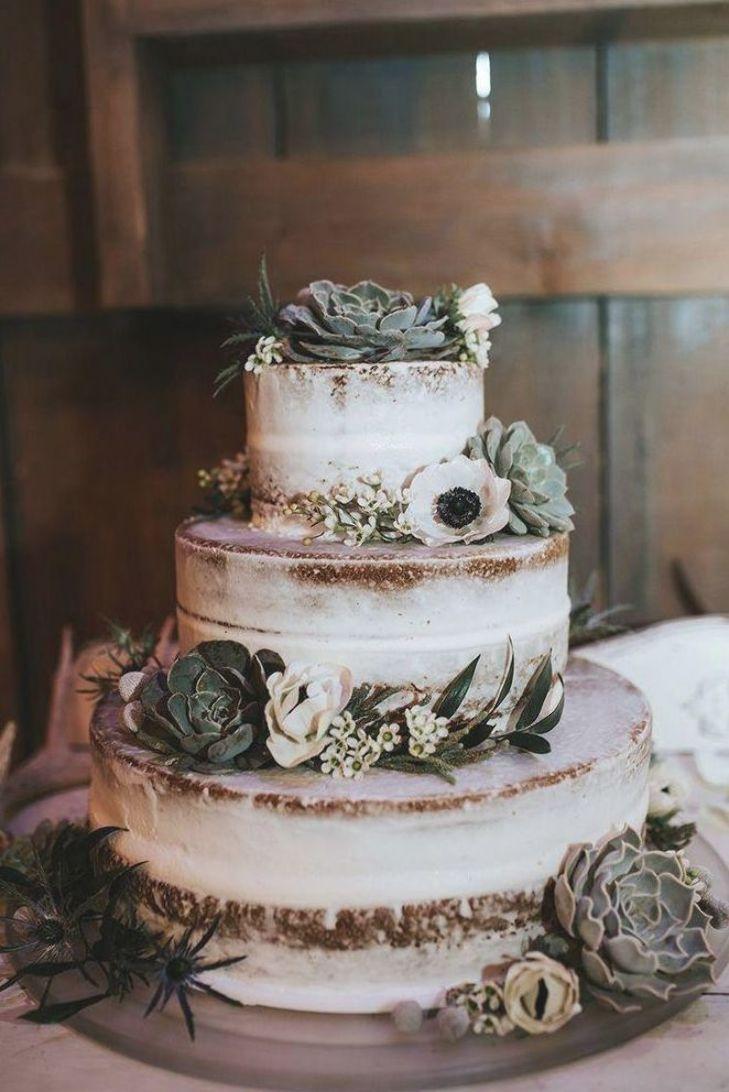 The muted greens of velvety succulents lend themselves perfectly to winter themed celebrations and offer something a little different to those in search of an alternative to traditional flowers.
26. White Cake with Foliage and Orange Roses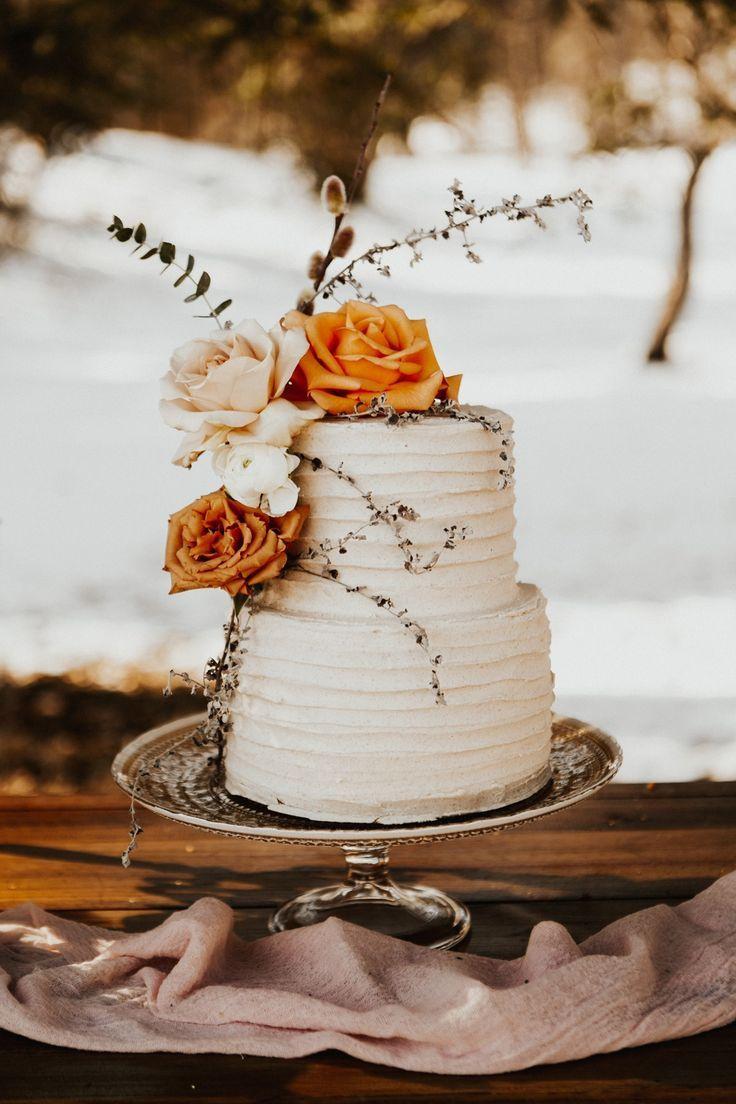 Orange is most commonly associated with autumn weddings but there's totally a place for the hue at winter nuptials too. Just look at how beautifully the warm tone contrasts with the white icing and snowy backdrop.
READ MORE: Wedding Colour Schemes: 15 Beautiful Palettes for Every Season
27. Grey and Orange Mottled Cake with Berries and Foliage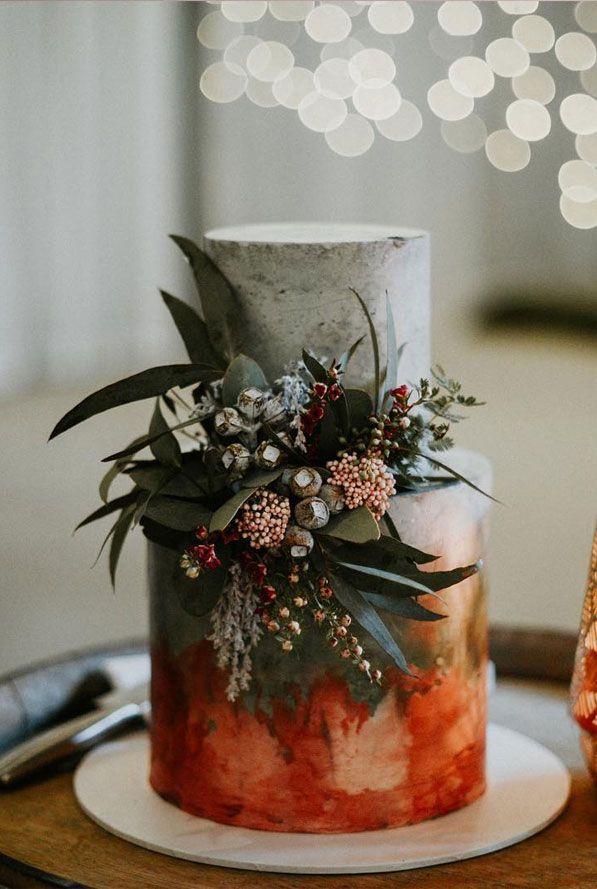 We love the contrast of the cool, concrete grey with the warm orange base on this two-tier creation. A tightly packed arrangement of berries and leaves give it a rustic appeal that's simply perfect for winter weddings.
28. Semi-Naked Drip Cake with Mini Donuts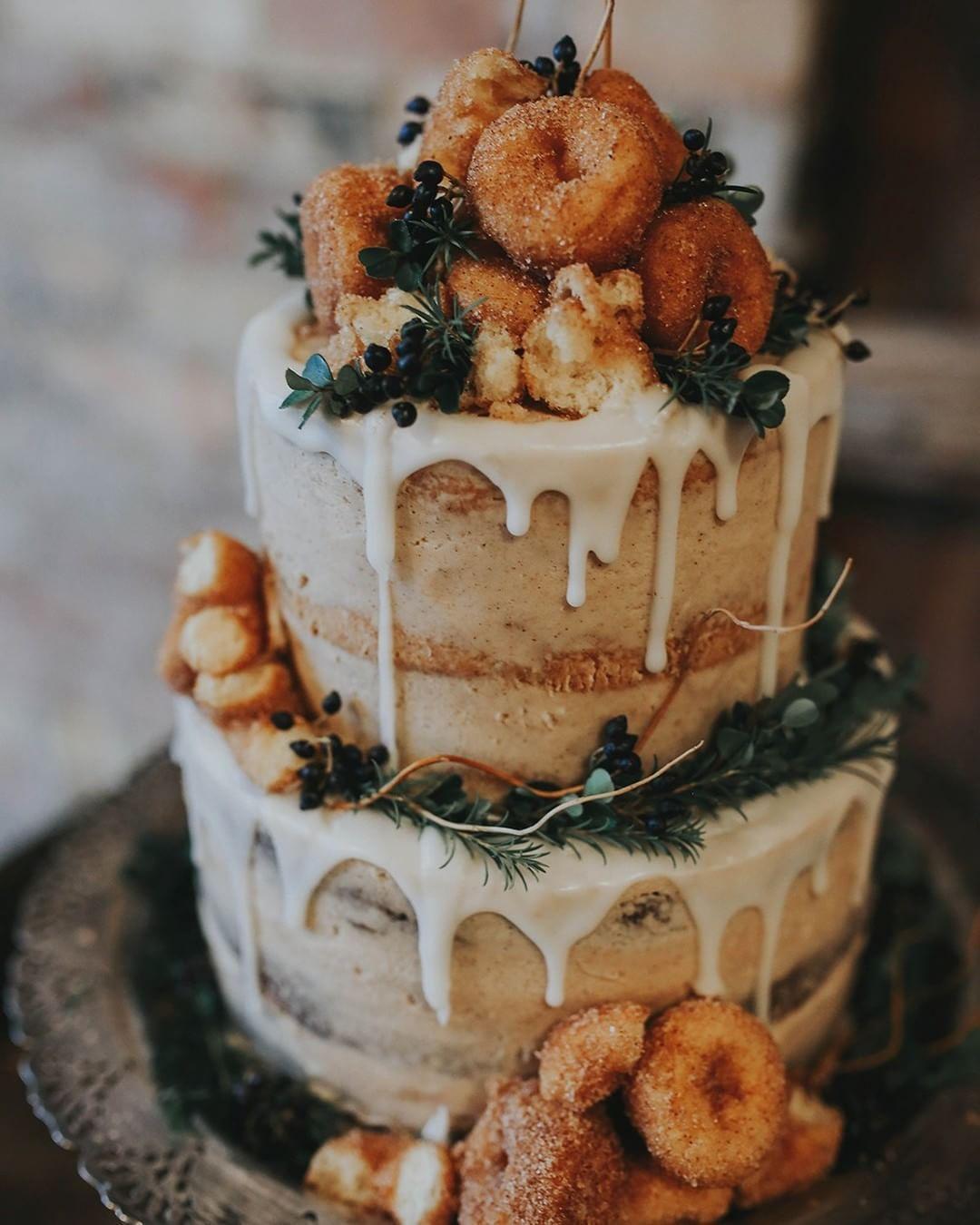 We don't know about you, but we're licking our lips just looking at this beauty! Adding small treats to a large bake is a great idea, as it makes it easy for guests to grab a sweet snack and head back to the dance floor. We'd coat our donuts in cinnamon for an authentic festive taste and keep plenty of cocktail sticks on-hand so guests can easily pick up a piece!
29. Black Painted Floral Cake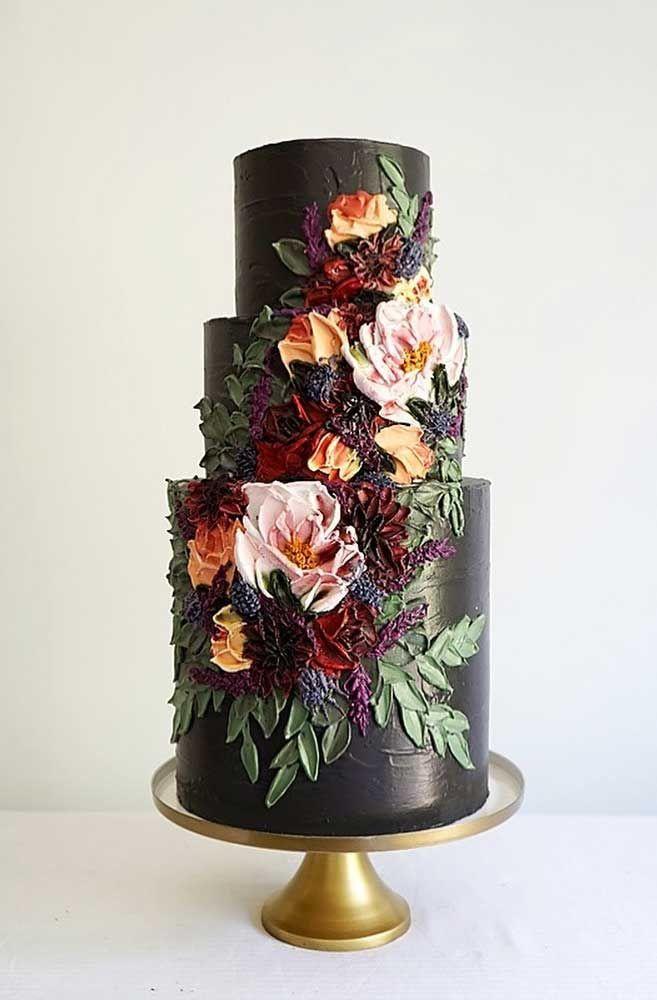 Black icing can make bright and rich toned patterns pop, just like on this painted bake. You won't need to add any foliage or decorations to a bake like this, the floral textured design does all the talking.
30. Red and Gold Cake with Metallic Macarons and Figs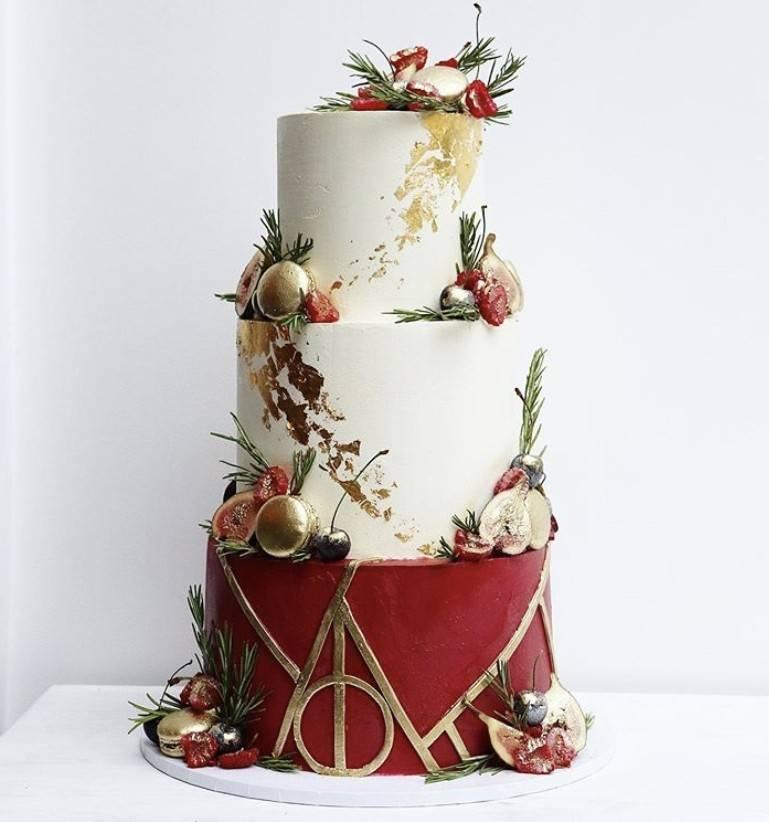 Sprigs of rosemary, figs and golden macarons join forces to create the ultimate festive wedding cake. While the embellishments are pretty traditional, we love the modern gold leaf and geometric touches - it's a perfect combination of old and new!
Still haven't found the perfect dress for your nuptials? Check out our pick of the best winter wedding dresses for 2021.