The Prettiest Pastel Wedding Cakes
Browse our Hitched edit of beautiful pastel wedding cakes, perfect for a pretty vintage wedding day or a romantic spring celebration
We have included third party products to help you navigate and enjoy life's biggest moments. Purchases made through links on this page may earn us a commission.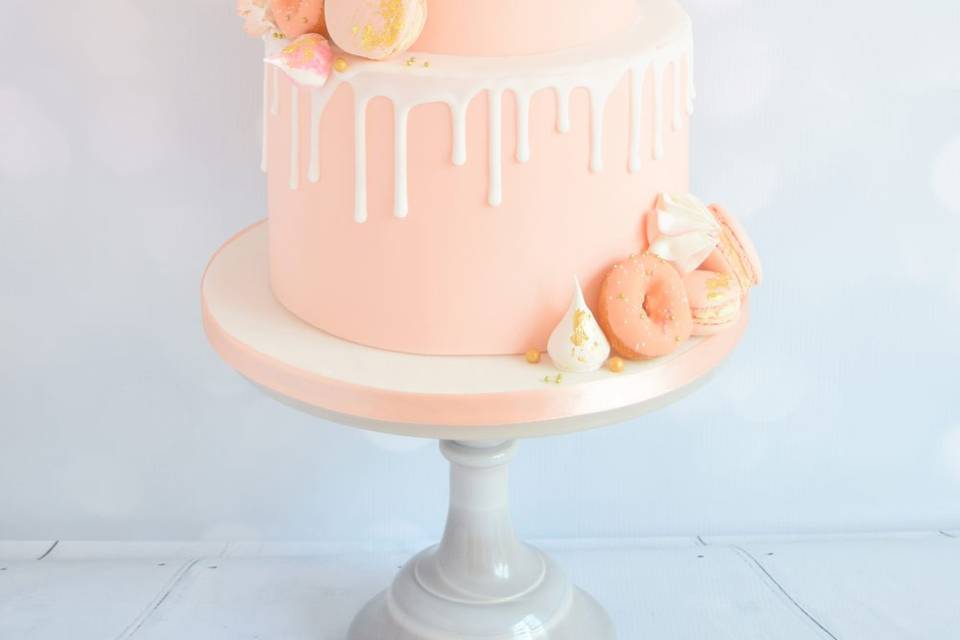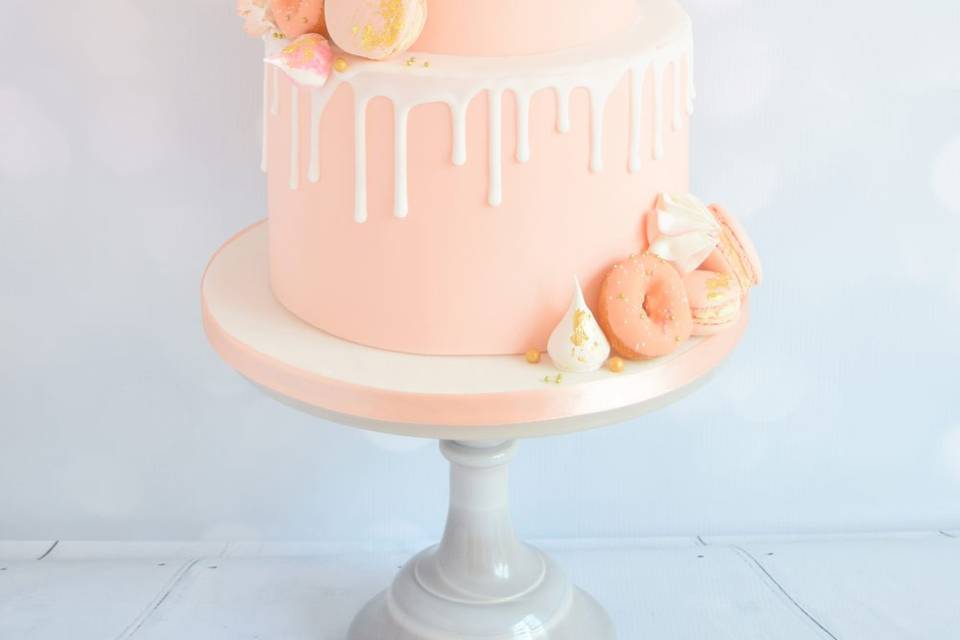 If you are planning a spring or summer wedding day then a pastel colour scheme could work beautifully for you. A more muted colour palette can also work perfectly for a vintage wedding day. To help you create the perfect pastel wedding style we have found the most stunning pastel wedding cakes created by talented cake makers from across the UK.
Something Blue by Fancie Buns Cakery
Vintage brides will love this pastel blue birdcage style wedding cake by Fancie Buns Cakery. Carefully skilled icing gives the illusion of a lace overlay and strings of pearls then the cake is finished beautifully with vibrant pink flowers.
See more from Fancie Buns Cakery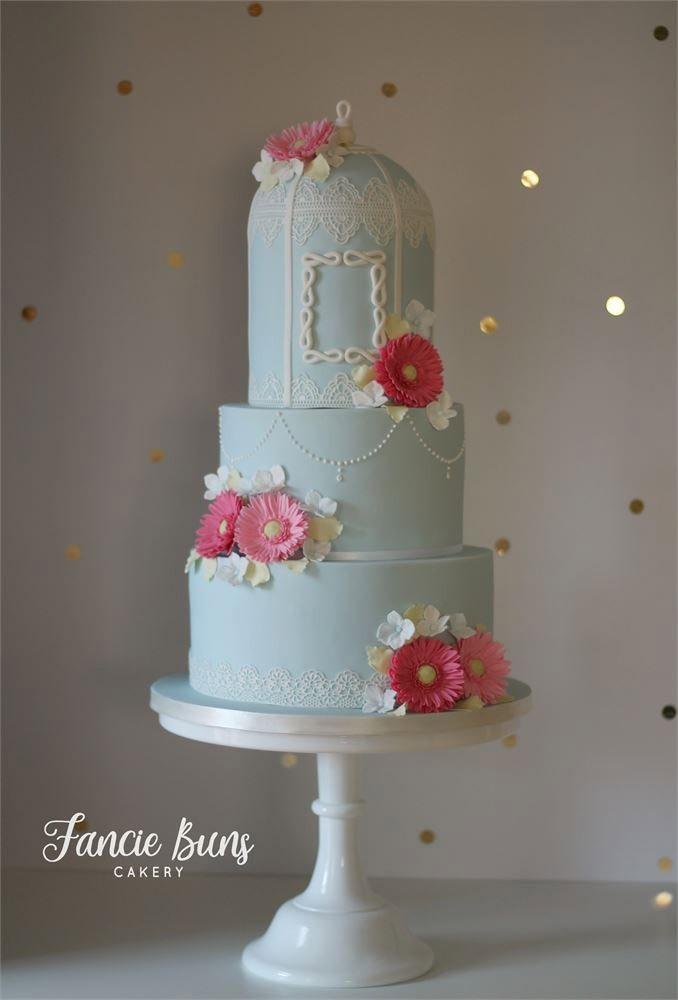 A Chalkboard Wedding Cake by Fancie Buns Cakery
Rustic brides will love this cake! Chalkboard wedding cakes are so stylish and we love how this pretty pastel cake showcases chalkboard style perfectly. We also adore the mismatched tiers and delicate floral detail that are a delicate finishing touch.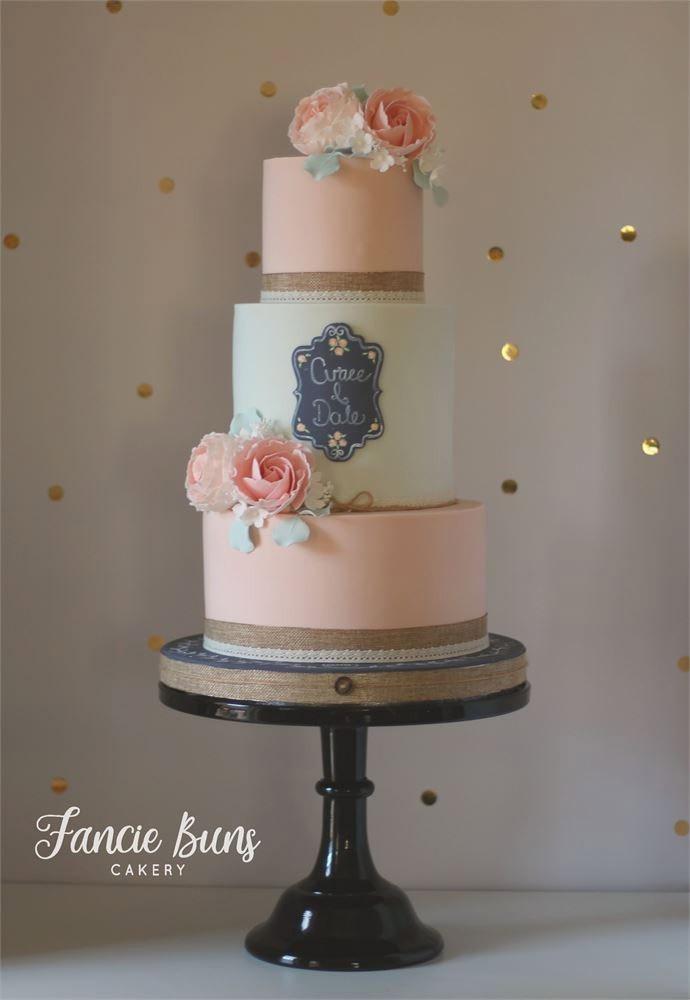 Mismatched Tiers at Quantock Lakes
How stunning is this four tier pastel wedding cake pictured at Quantock Lakes? This cake has bunting, macaroons and oversized flowers. We are in love!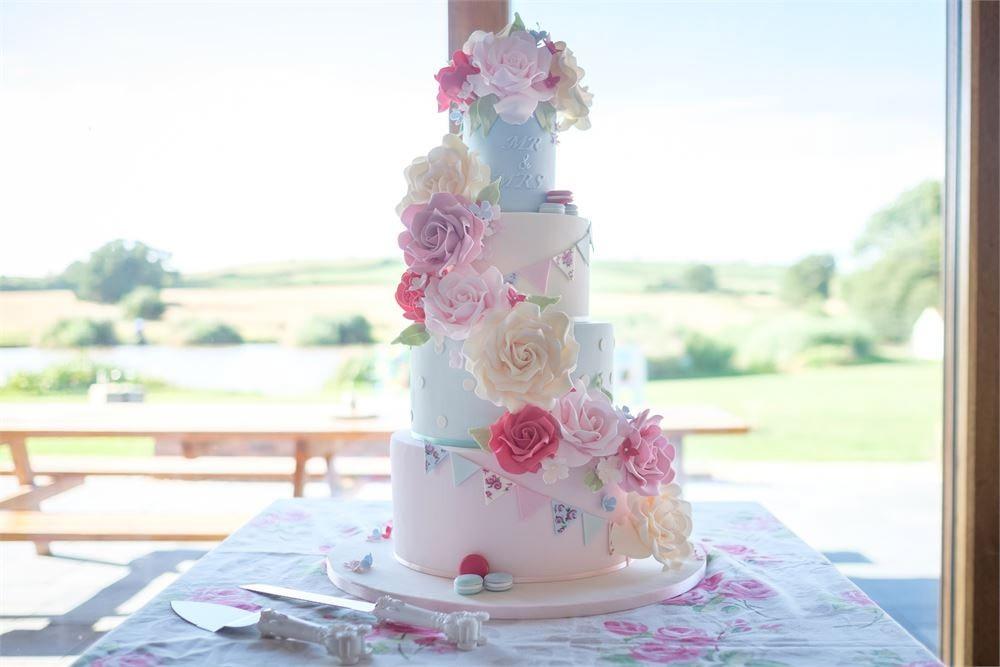 A Pastel Dessert Table by Charlotte Emily Cake Design
We love this pink pastel dessert table, complete with a stunning three tier wedding cake, marshmallows, meringue and cupcakes. If you want your wedding cake to be a focal point of your wedding reception then creating a stylish dessert table will help you to achieve the look.
See more from Charlotte Emily Cake Design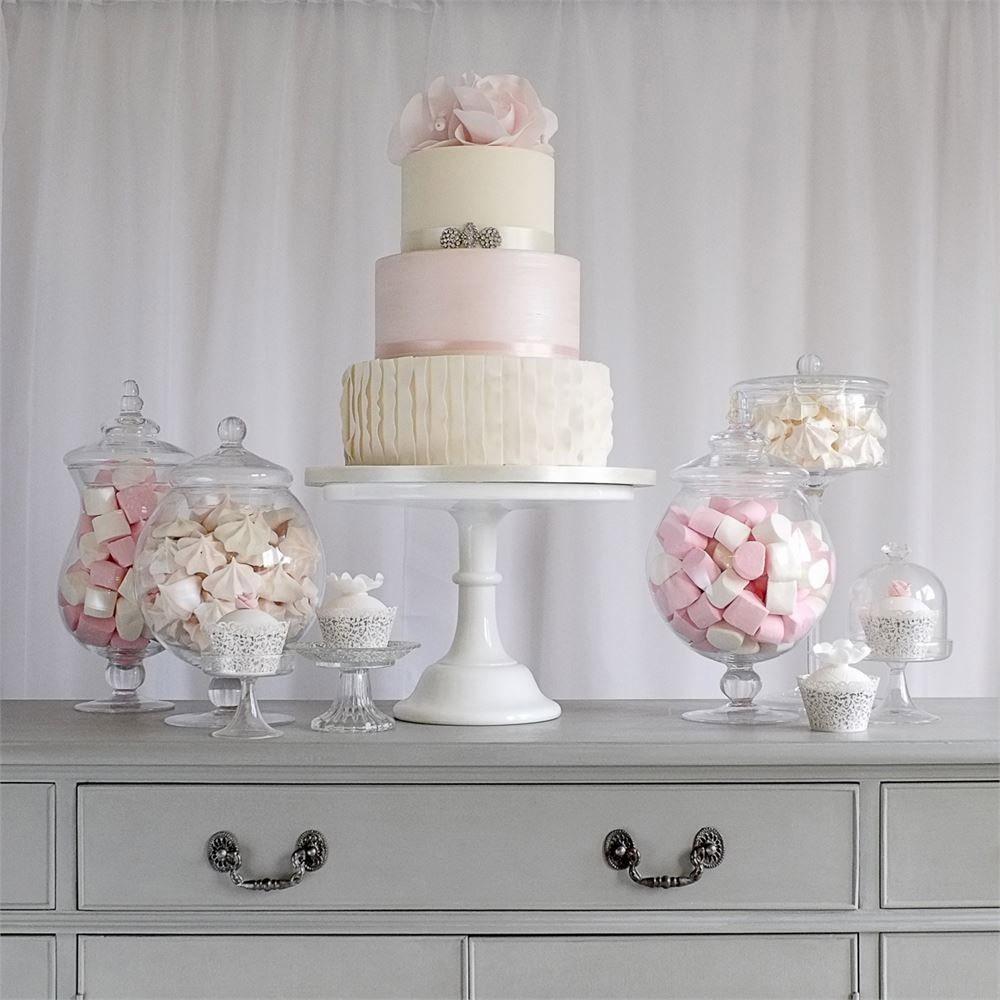 Dollybird Bakes Drip Wedding Cake
Drip wedding cakes are a huge wedding trend and it's easy to see why when you take a look at this delicious pastel pink wedding cake from Dollybird Bakes! We adore the pretty colour, gold cake topper and any cake that features doughnuts is fine by us!
See more from Dollybird Bakes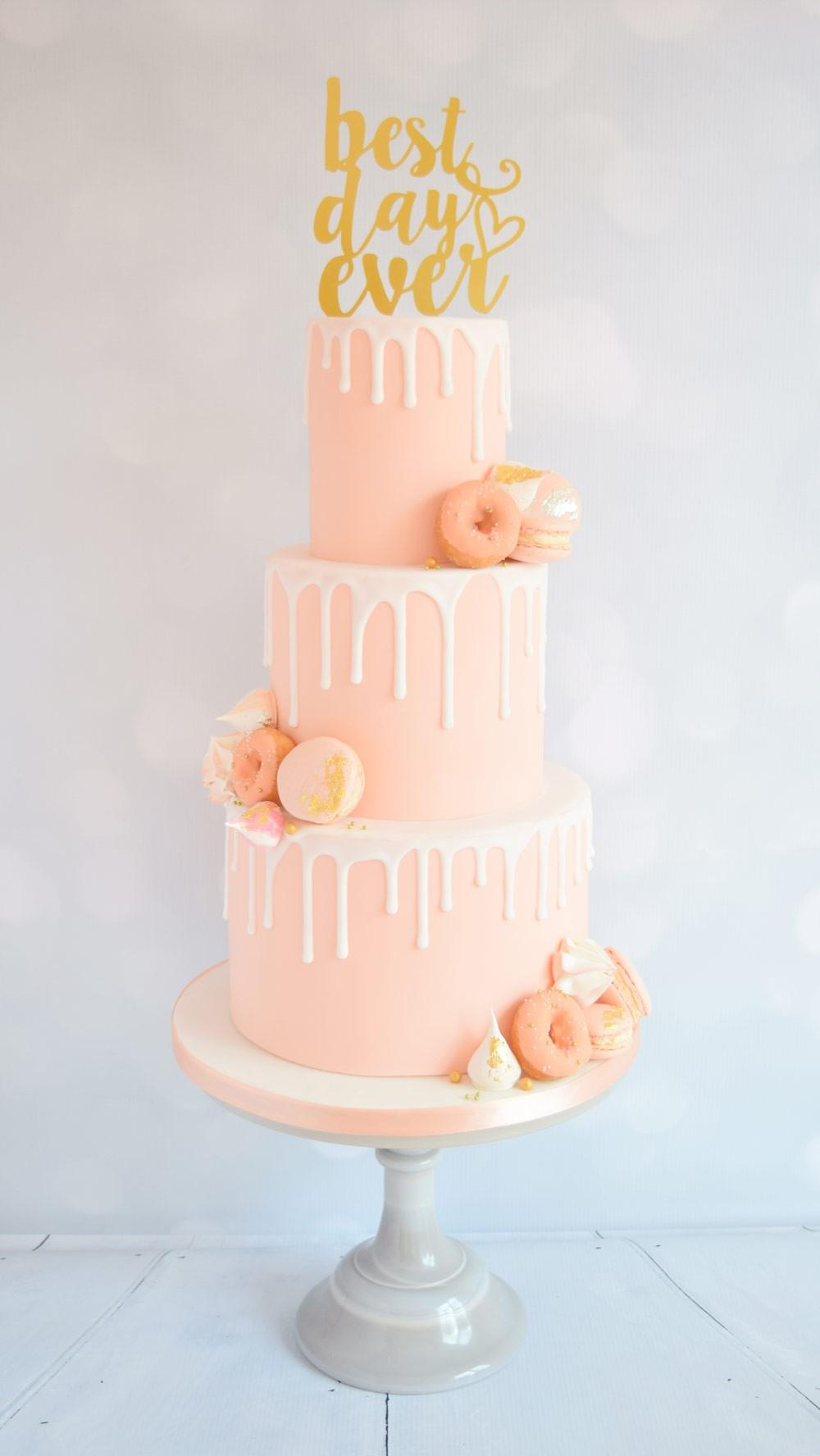 A Vintage Wedding Cake by Dollybird Bakes
Good things come in small packages! Especially when they are as pretty as this – if you are looking doe a smaller wedding cake that still makes an impact then this cute two tier birdcage wedding cake from Dollybird Bakes will be perfect for your intimate wedding day.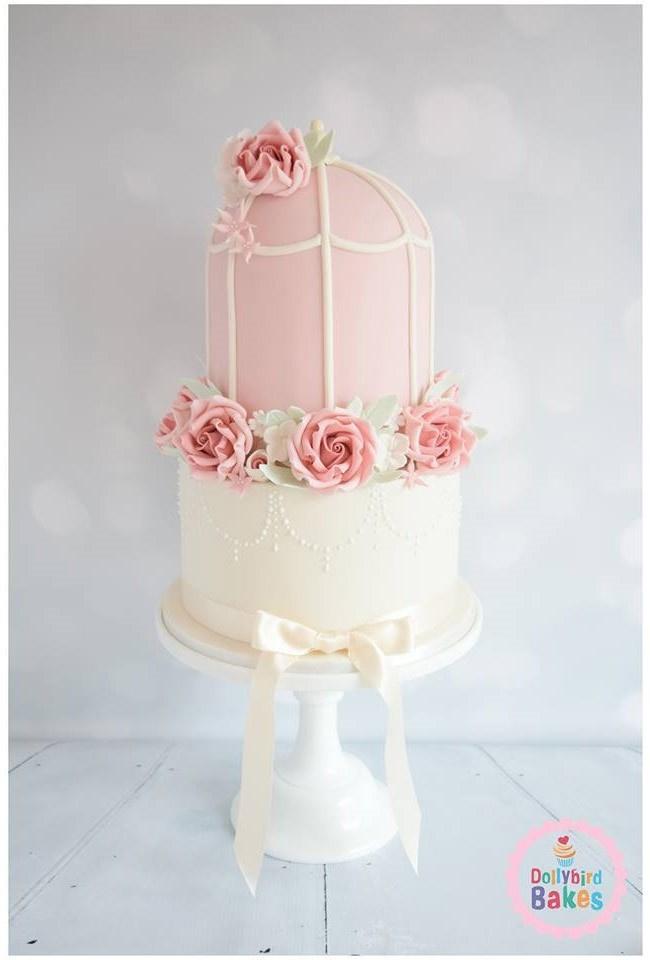 Mismatched Tiers by Willow Bloom Cakes
We love mismatched wedding style and this four tier cake from Willow Bloom Cakes is just stunning. Ruffles, stripes and floral detail help to create a spectacular wedding cake that your guests will love.
See more from Willow Bloom Cakes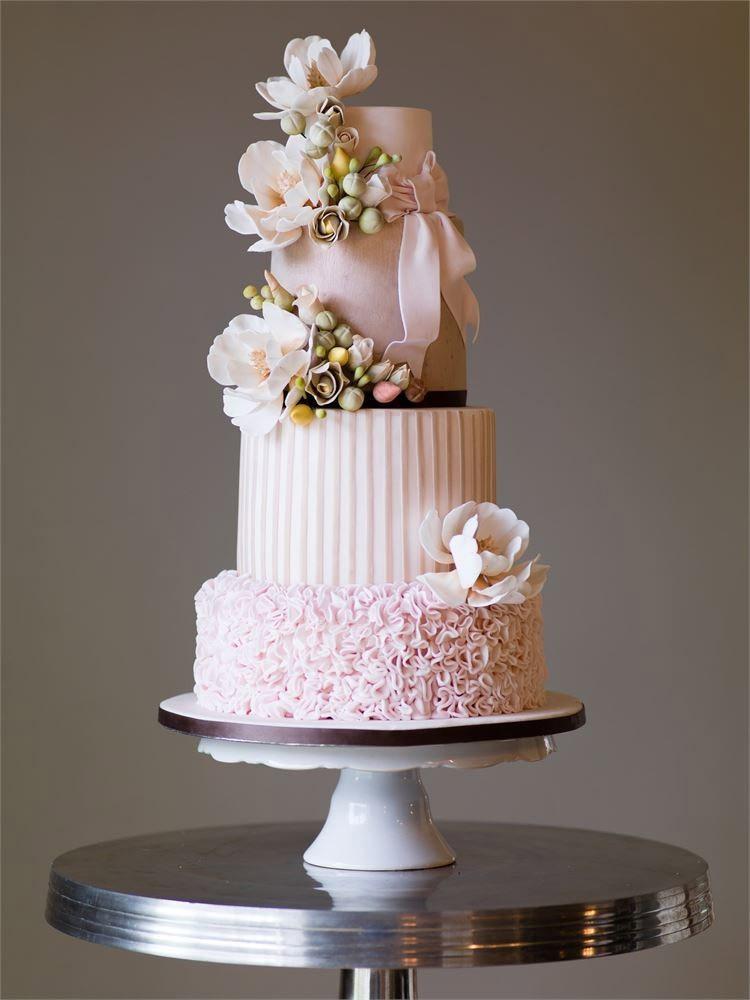 Botanical Style from Kasserina Cakes
Another key trend for 2017 is botanical wedding style and this lush pastel green cake from Kasserina Cakes will channel this perfectly. We love the trailing greenery that is scattered with roses as it climbs the cake.
See more from Kasserina Cakes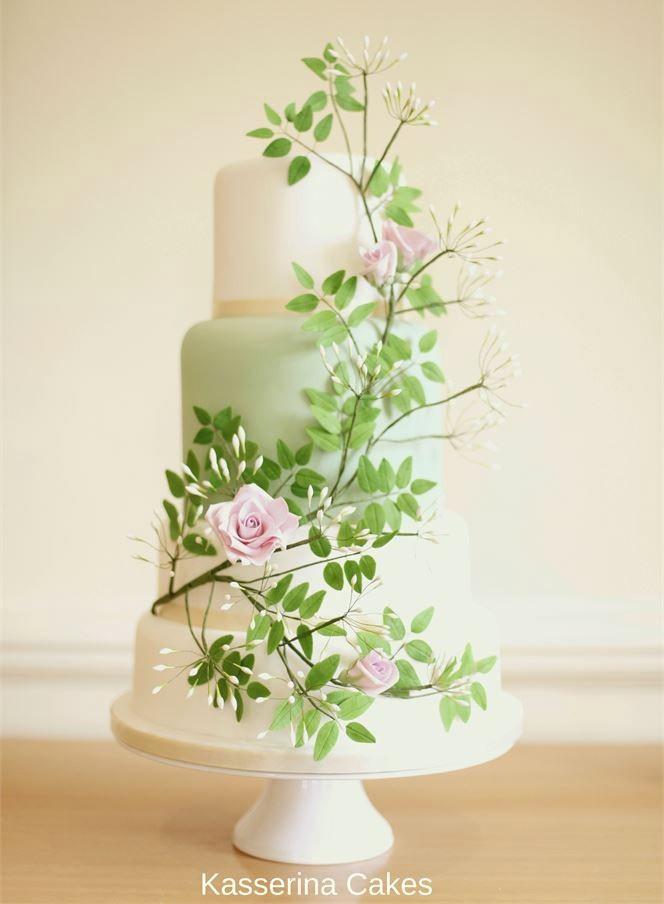 Floral Detail from Kasserina Cakes
We love how this cute two tier wedding cake is covered with pretty pastel flowers – it's a perfect style for a spring wedding day or a vintage day that is filled with beautiful blooms.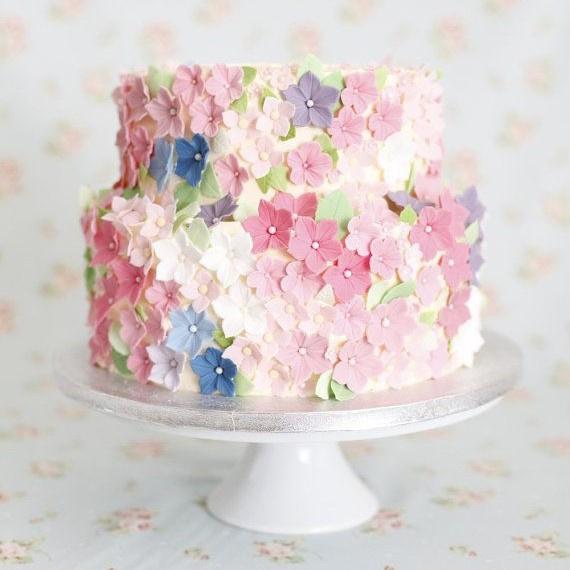 Stripes and Flowers by Bake, Rattle n Roll
Just because you are choosing muted pastel tones for your wedding, it doesn't mean you can't have fun with your chosen colours. Baby blue sits beautifully alongside pale pink detail on this Bake, Rattle N Roll wedding cake.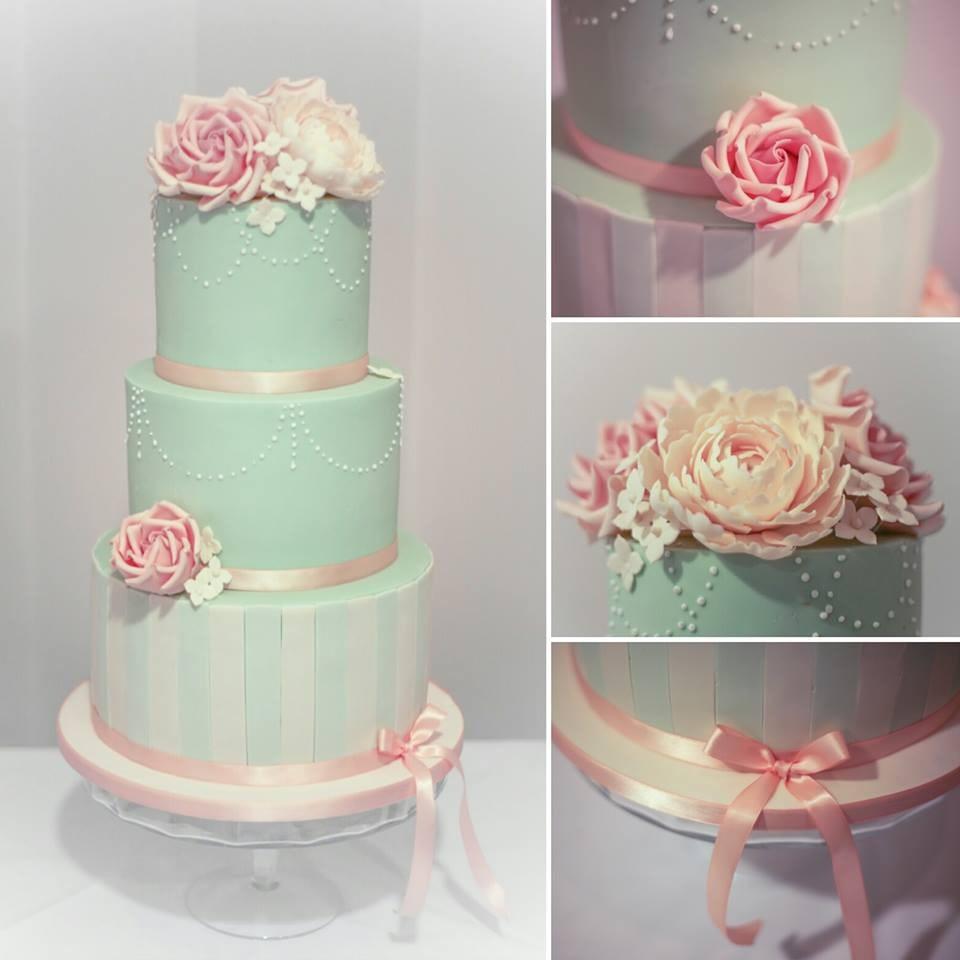 Glitzy Detail from Boucakez
We love pastel wedding cakes and we just can't resist a bit of sparkle, which is why this glitzy gold and pastel pink cake is just perfect for us! Vintage brides will also love the pretty bunting on the second tier.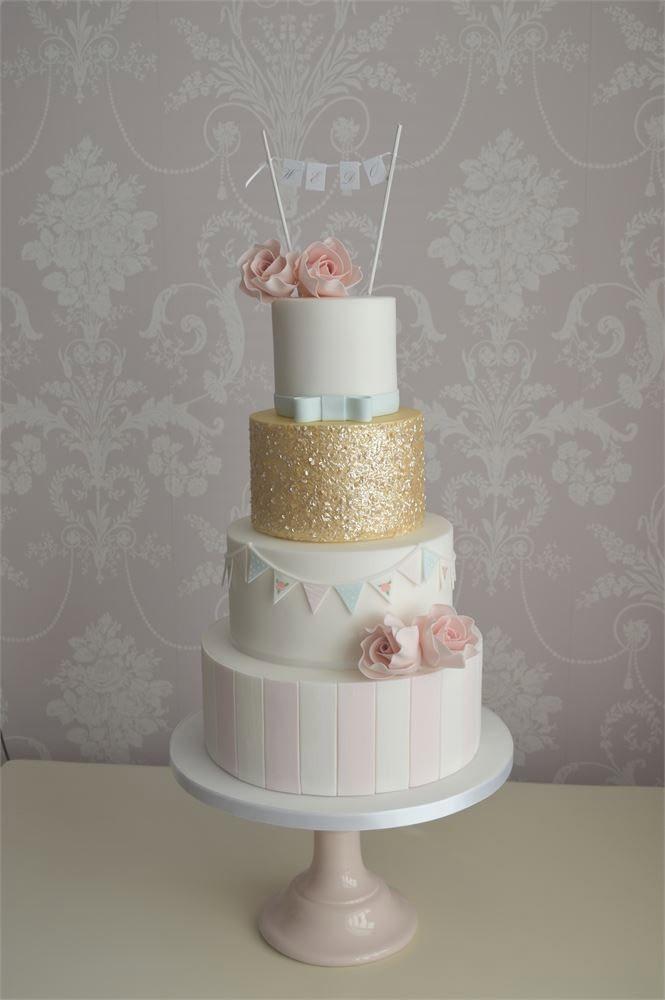 Subtle Pastel Style from Dollybid Bakes
This three tier cake from Dollybird Bakes has some subtle pastel detail. We love the pale yellow and pink flowers completed with the cutest blue and purple owl cake toppers.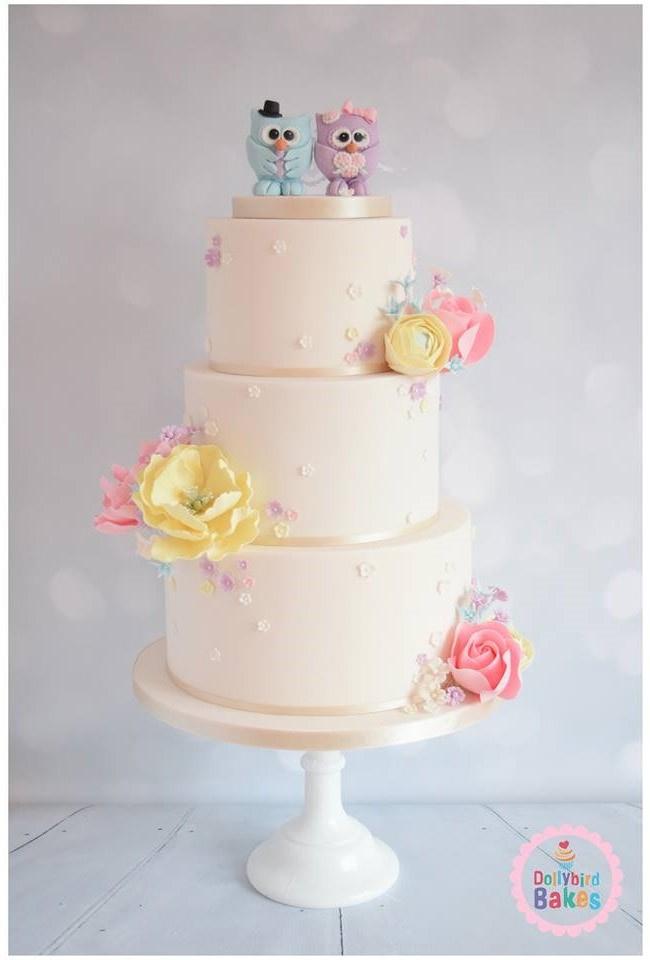 Pretty Pearls from Oh So Delicious
If you are planning an elegant wedding day then this pearl and gold wedding cake from Oh So Delicious will be a pretty addition to your day.
See more from Oh So Delicious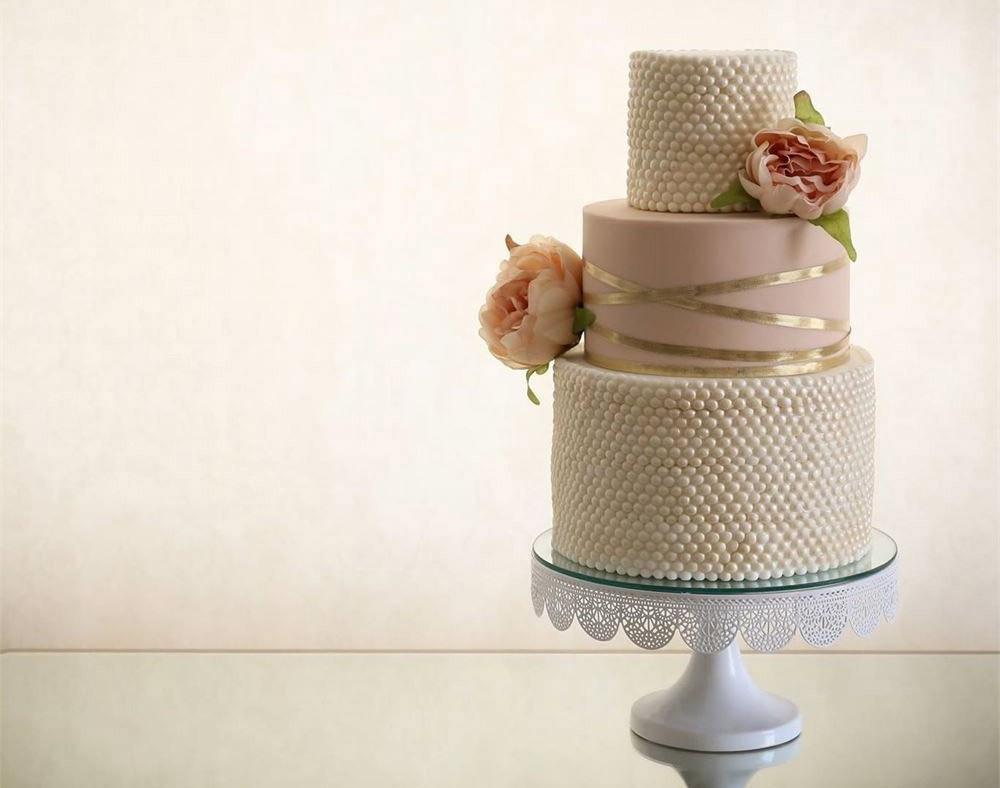 Elegant Style Captured by Nicholas Lau Photography
We are in love with this elegant pale blue wedding cake. The white iced detail gives a stunning lace effect and we love the pop of colour with an oversized pink flower.
See more from Nicholas Lau Photography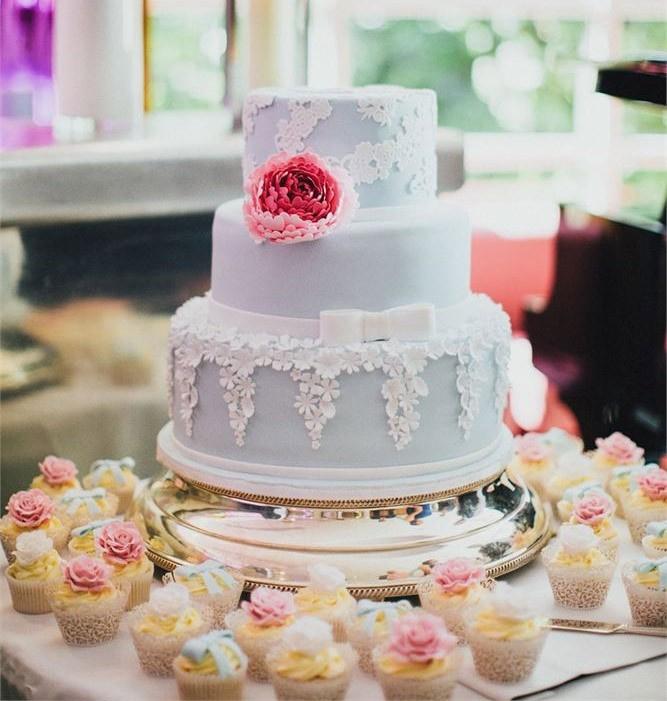 Top Tips for Choosing a Pastel Wedding Cake
Match Flavours to Colours
Consider matching your flavours to your colours – a pale yellow cake with lemon flavouring would work perfectly.
Don't Be Afraid to Mix and Match
Consider mixing and matching different pastel tones to create a pretty mismatched look.
Create a Dessert Table
If you are using your wedding cake to really show off your colour scheme then creating a cake table using other pastel toned sweets will be the perfect way to do this.
Are you looking for more wedding cake ideas? Browse the prettiest buttercream wedding cakes or take a look at 19 unusual wedding cakes we think you'll love.