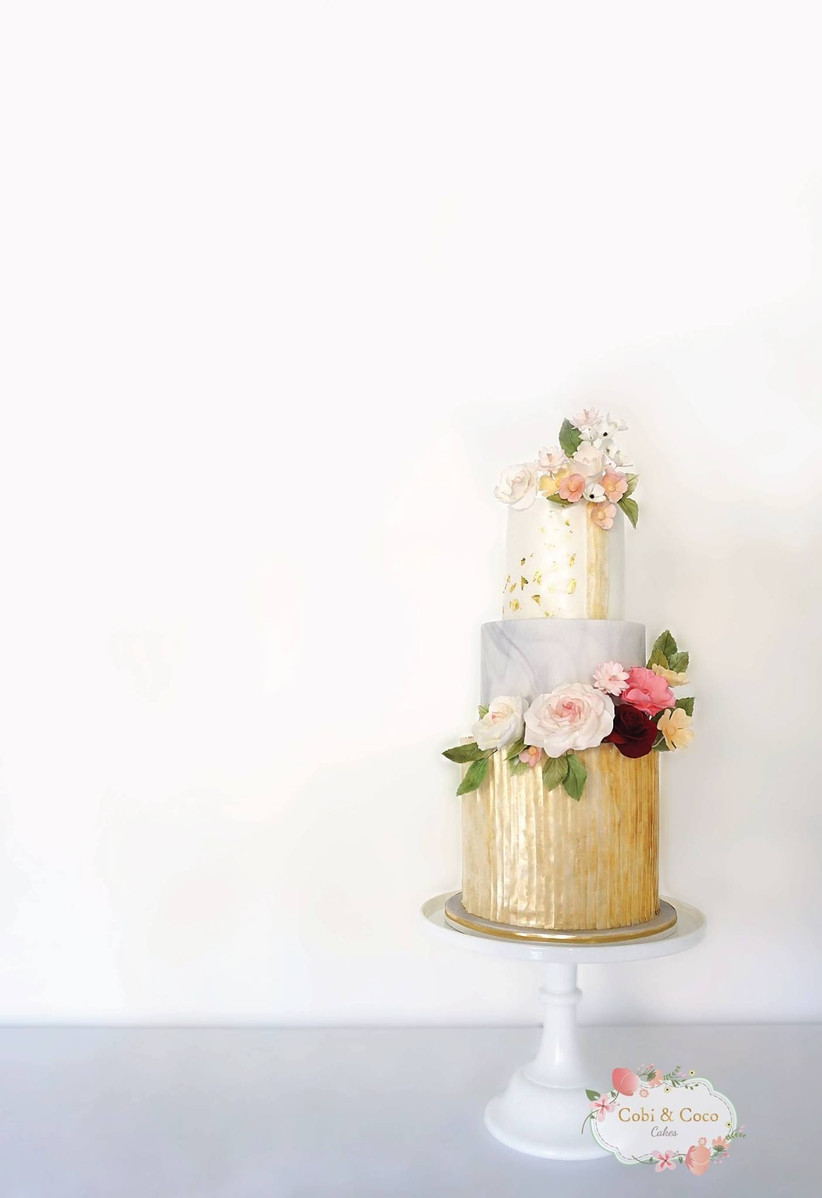 In recent times rustic wedding cakes have been really popular but we are seeing a shift in trends, with cakes taking on a more glam and luxurious feel. We have seen this with sparkly geode wedding cakes and the chic marble wedding cakes.
Brides are making a style statement with their cake and making it a real focal point at their wedding reception. If you are looking for something different to the traditional all white or something a little more modern than the naked designs, consider adding some gold. From the subtle hints of gold decorations to the full out gold finish, there is something for everyone and we have found the very best on offer.
Faye Cahill Cakes
We are obsessed with Sydney based cake designer Faye Cahill and her stylish designs.
These gold drip wedding cakes are real showstoppers and will definitely impress your guests. The white finish is a nod to the traditional, whilst the fabulous pink is a total show-stopper. You could mix up the colour of the 'drip' to match your colour scheme.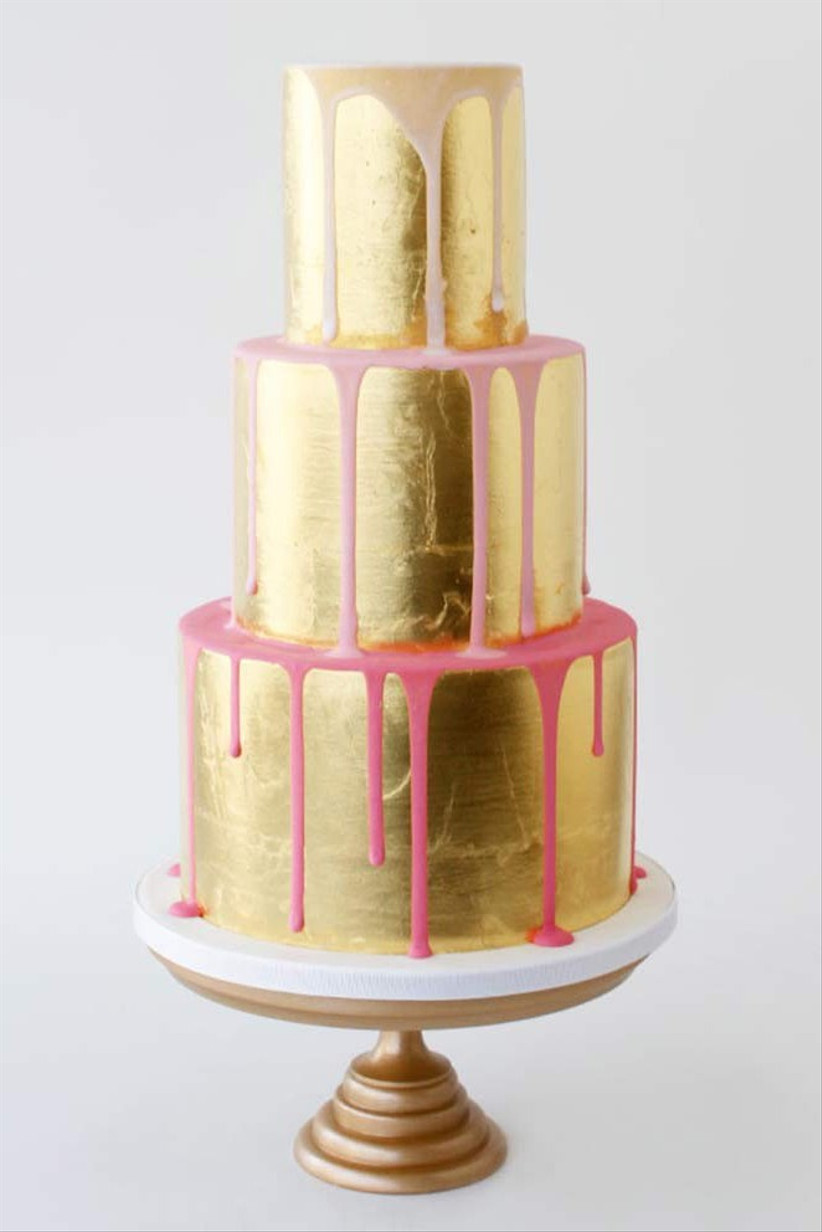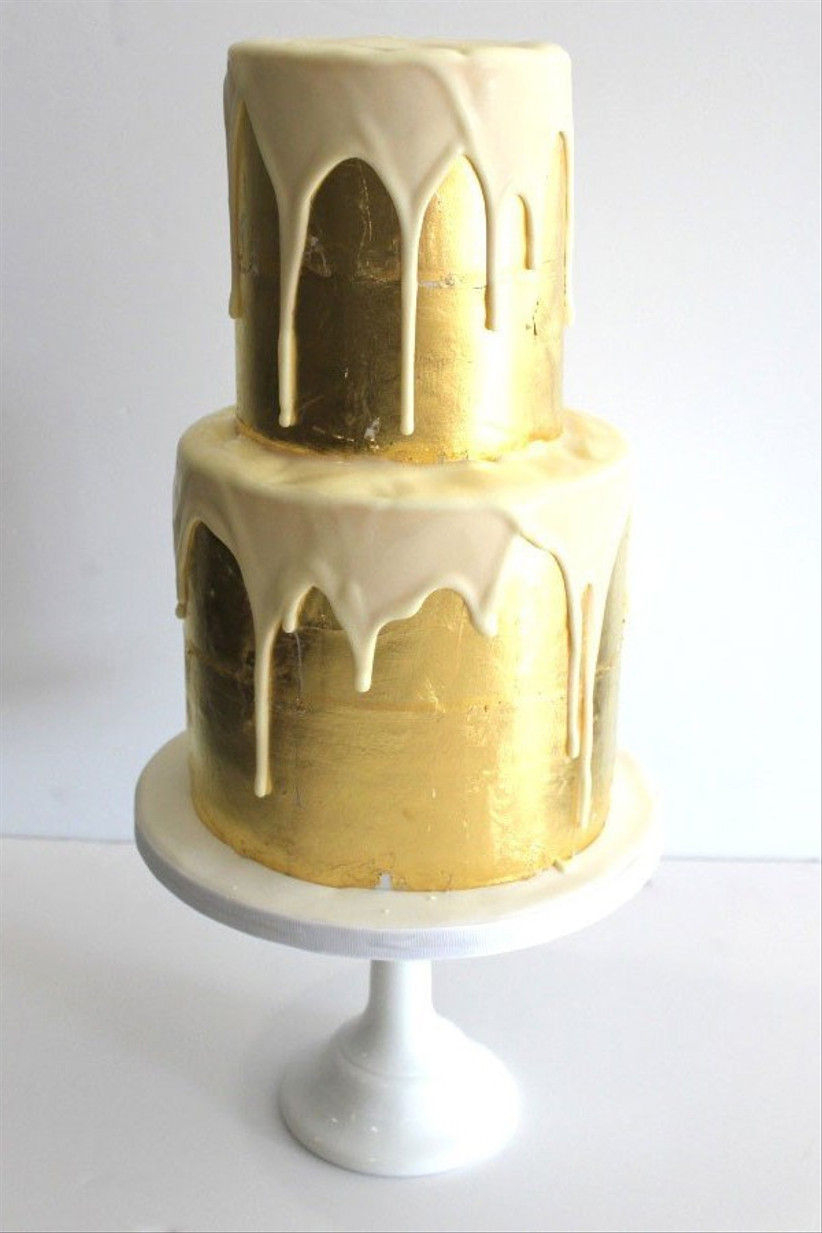 Vamp up the romance with this super-pretty white and gold-leaf design, the perfect combination of modern and traditional and will look oh so pretty in your wedding pictures.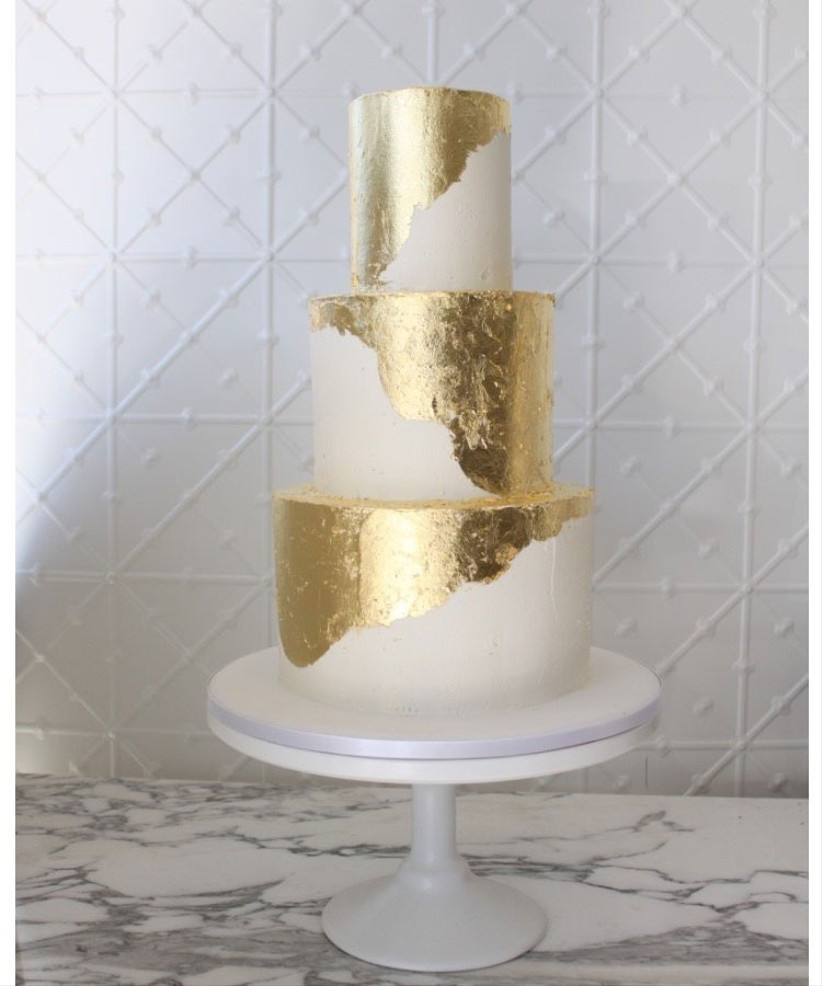 Combine three trends in one with this stunning wedding cake. This semi-naked cake has touches of gold and a drip design. This cake is ideal if you want a hint of gold whilst keeping a rustic feel.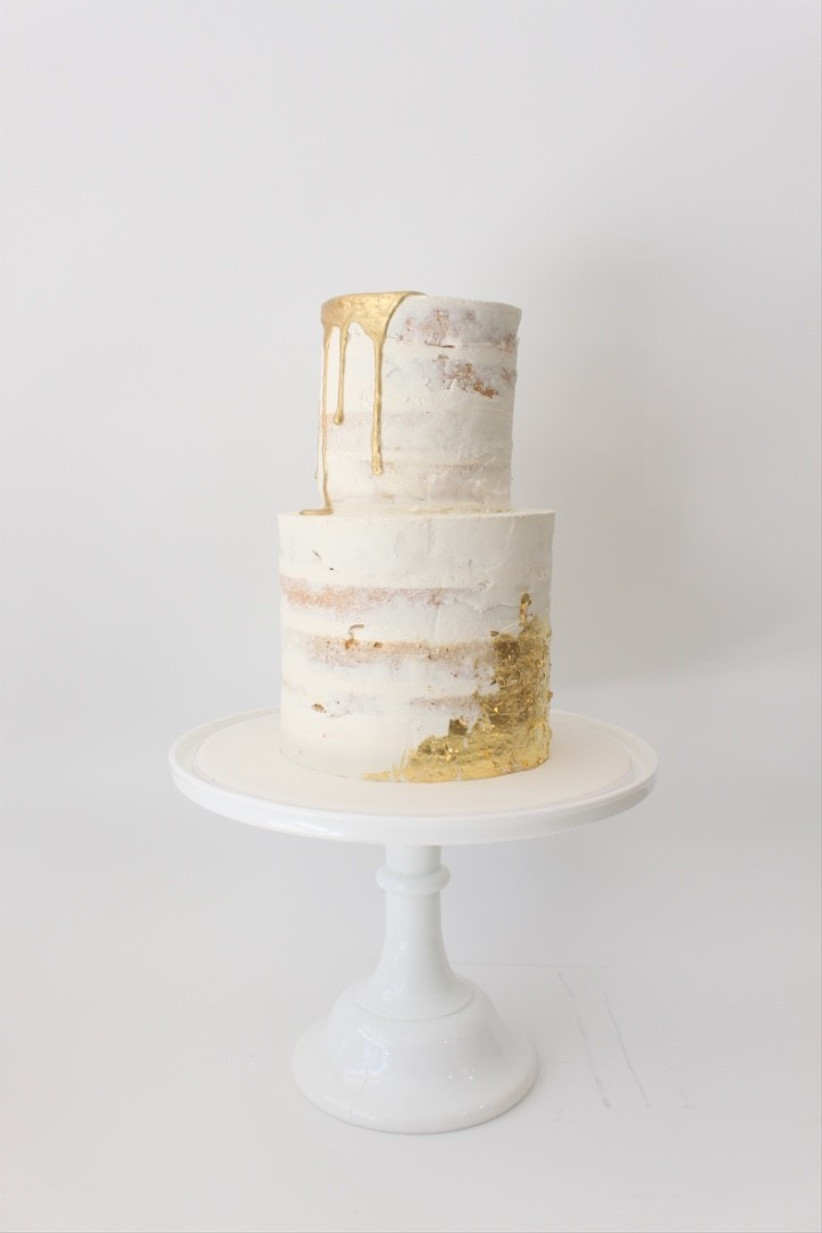 Gold and Marble
This pretty design from Cobi and Coco, perfectly balances a hint of gold, whilst fresh flowers keep it super feminine. It also incorporates marble, another huge trend for wedding cakes this year.

Hummingbird Bakery
You may know the Hummingbird Bakery for their delicious cupcakes, but did you know they also do a small selection of wedding cakes? This simple cake, has a hint of hand-painted gold on each tier and you can customize the number and size of the tiers. Cakes come in a range of flavours including carrot cake, red velvet and rainbow!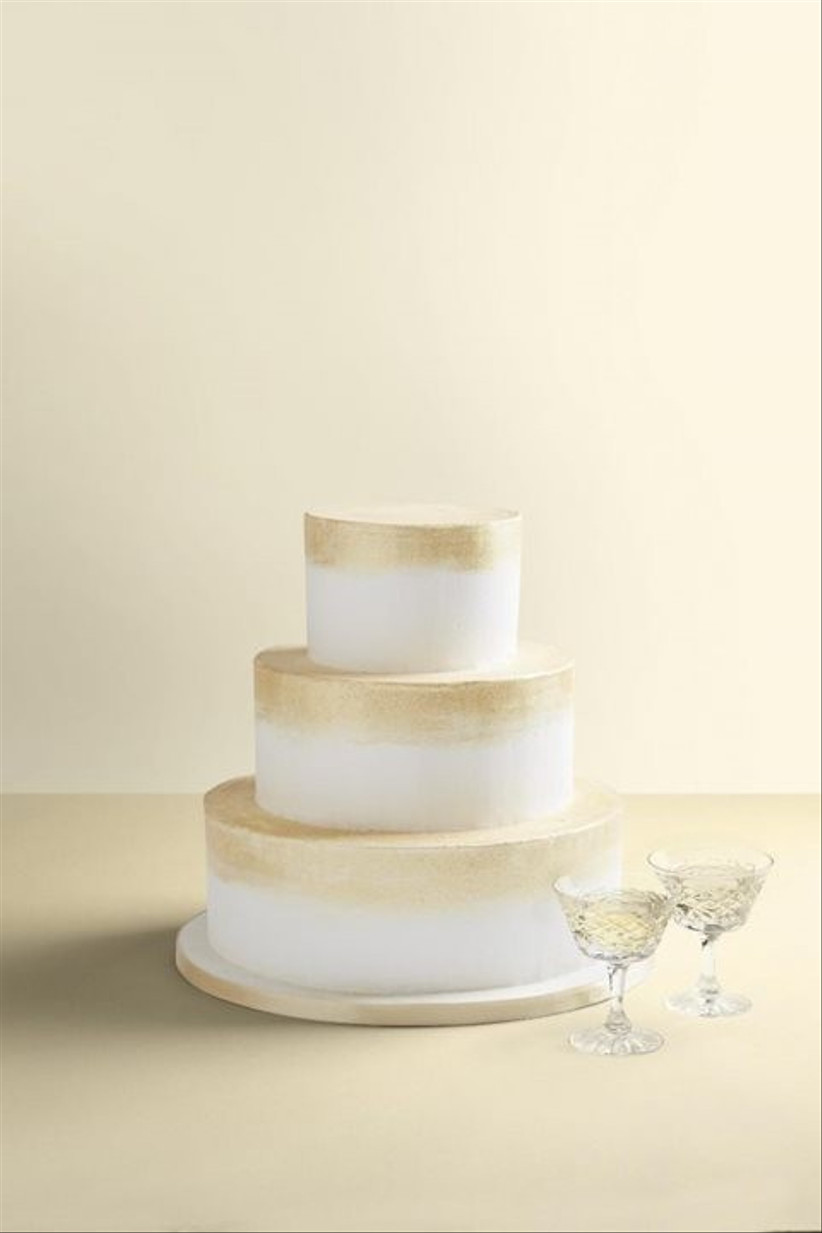 Unicorn Cake
As If we didn't love this metallic drip beauty from Melissa Woodland enough – she's gone and topped it with an actual unicorn! (Well not an actual unicorn obviously) This cake is the perfect combination of fun and stylish. Check out our article for more fun unicorn wedding ideas.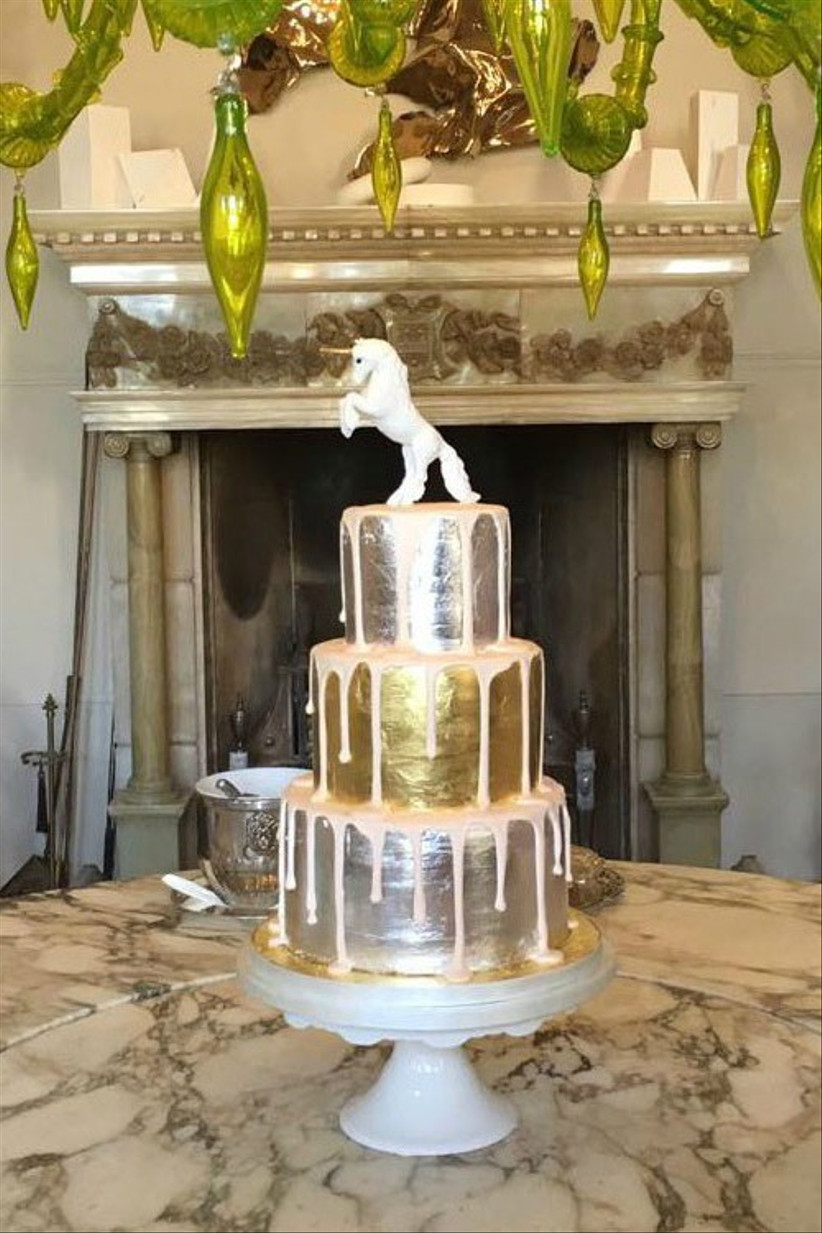 The Great Gatsby
This super sawnky art-deco cake is from renowned London bakers Rosalind Miller. We love the combination of black, white and gold and think it would be perfect for a Gatsby-themed wedding!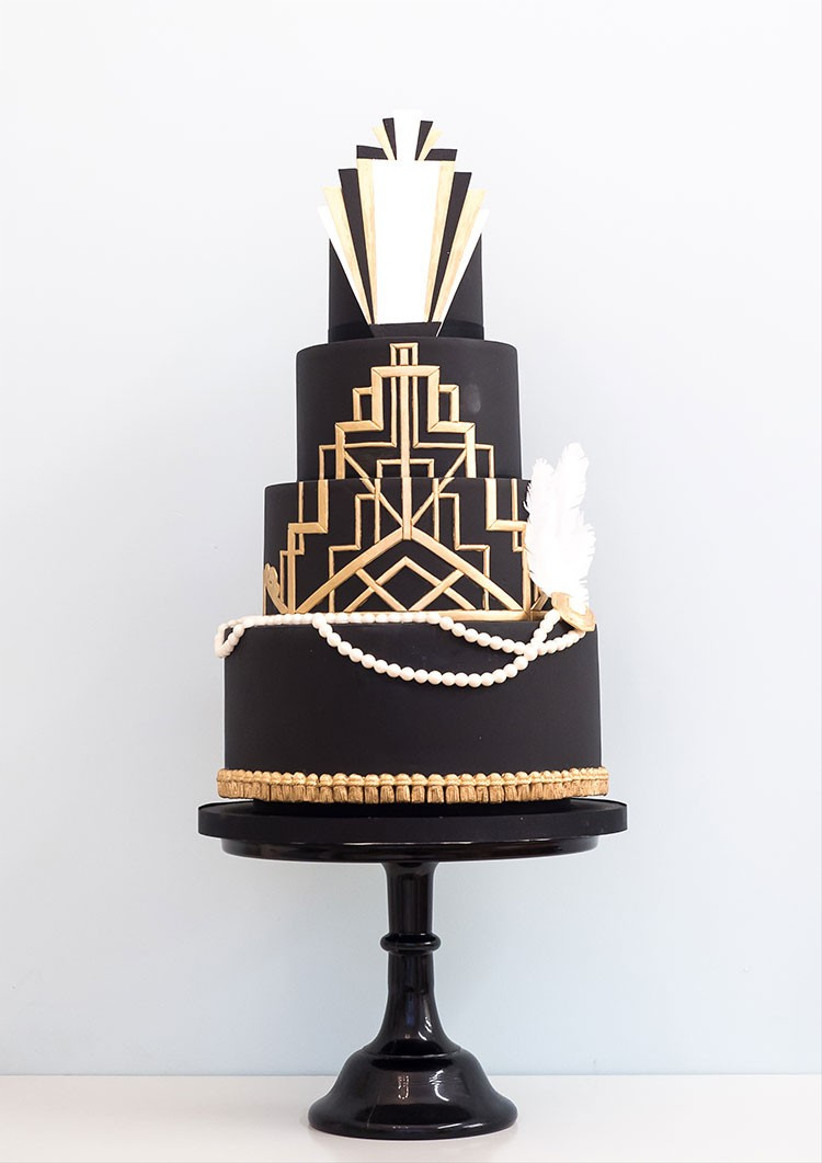 Gold and Flowers
This cake from Elizabeth's Cake Emporiums screams luxury. Standing 4-tiers tall, the gold finish and cascading roses are perfect for wanting to add some glamour to an autumnal or winter wedding. You could always swap the flowers to give it a more summery feel.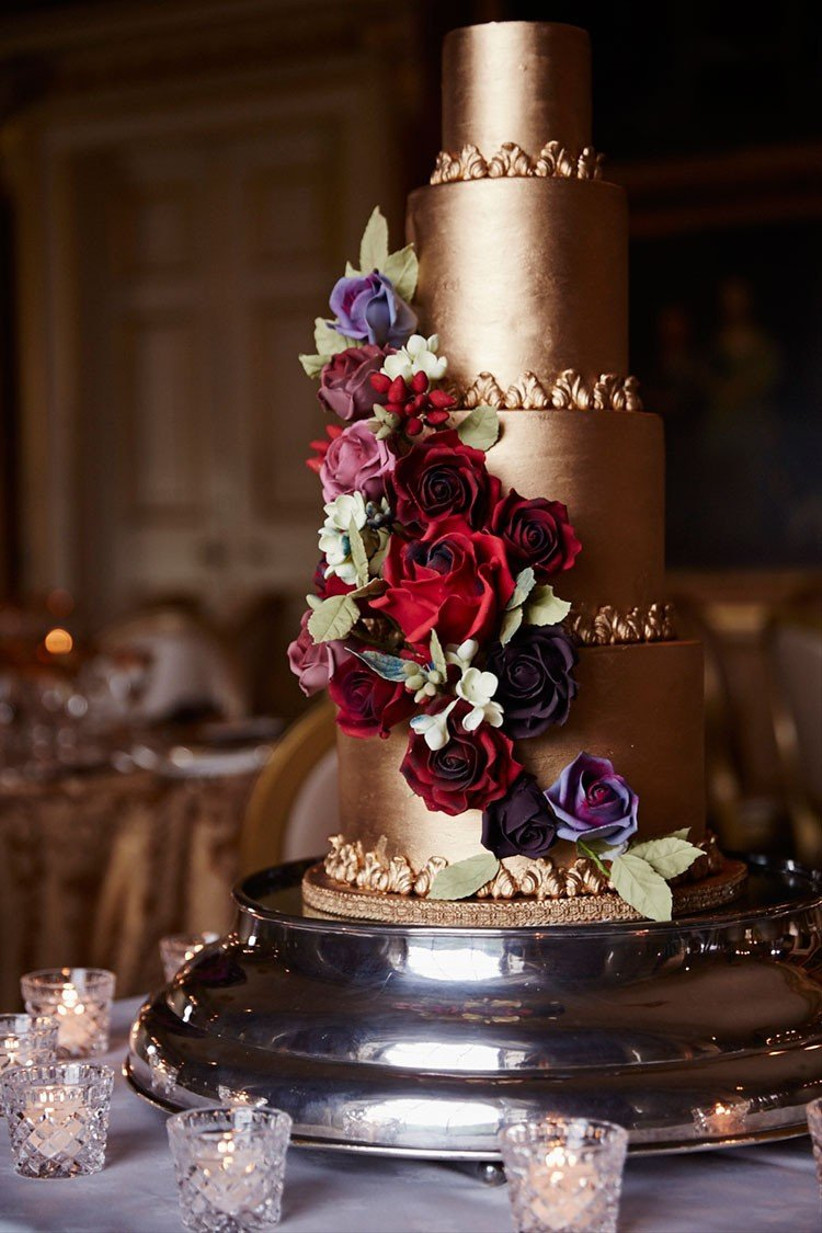 Gold Sequins
If you want to add some sparkle to your wedding but don't want to go for the full gold effect this beautiful 4-tier cake from Zoe Clarke Cakes is perfect. The sequins stand out perfectly against the white icing and will make a perfect focal point at the reception.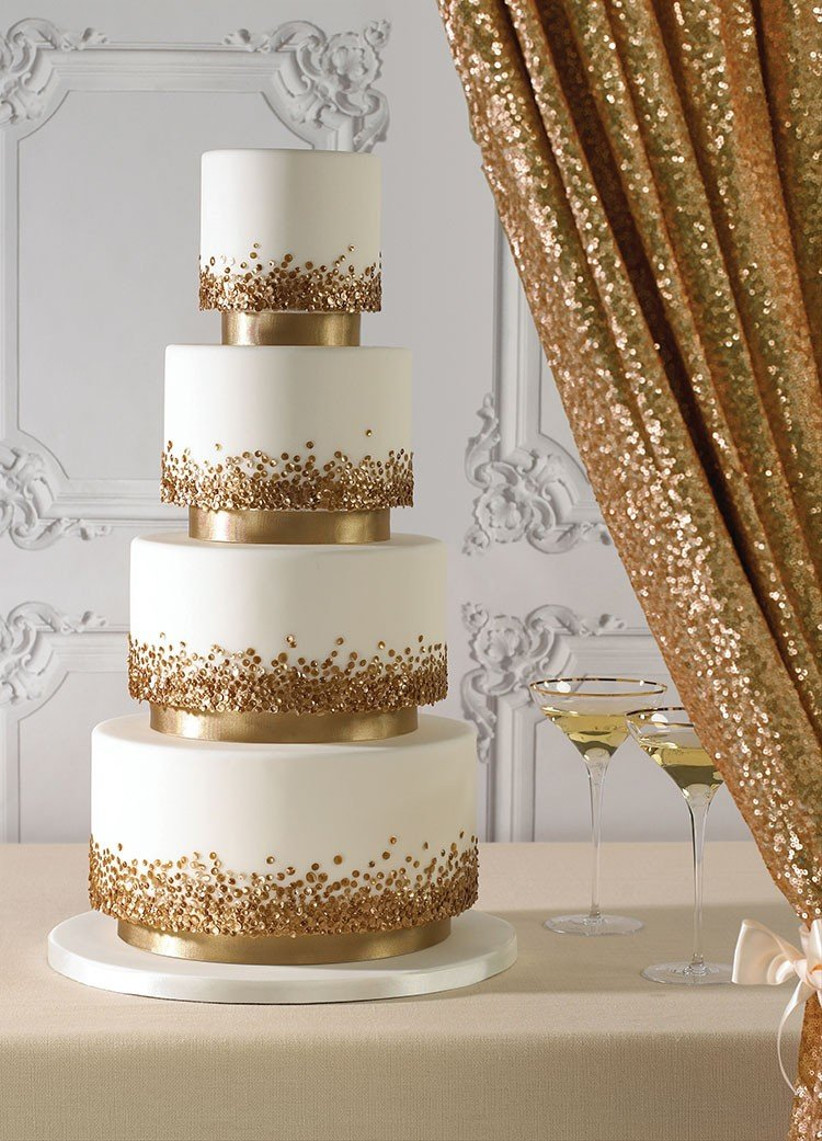 Jeannette's Great Cakes
Jeanneatte's Great Cakes have combined a patterned base and top tier with a plain middle, completed with two simple icing roses.
All cakes are bespoke, meaning you can create a cake to perfectly fit your day.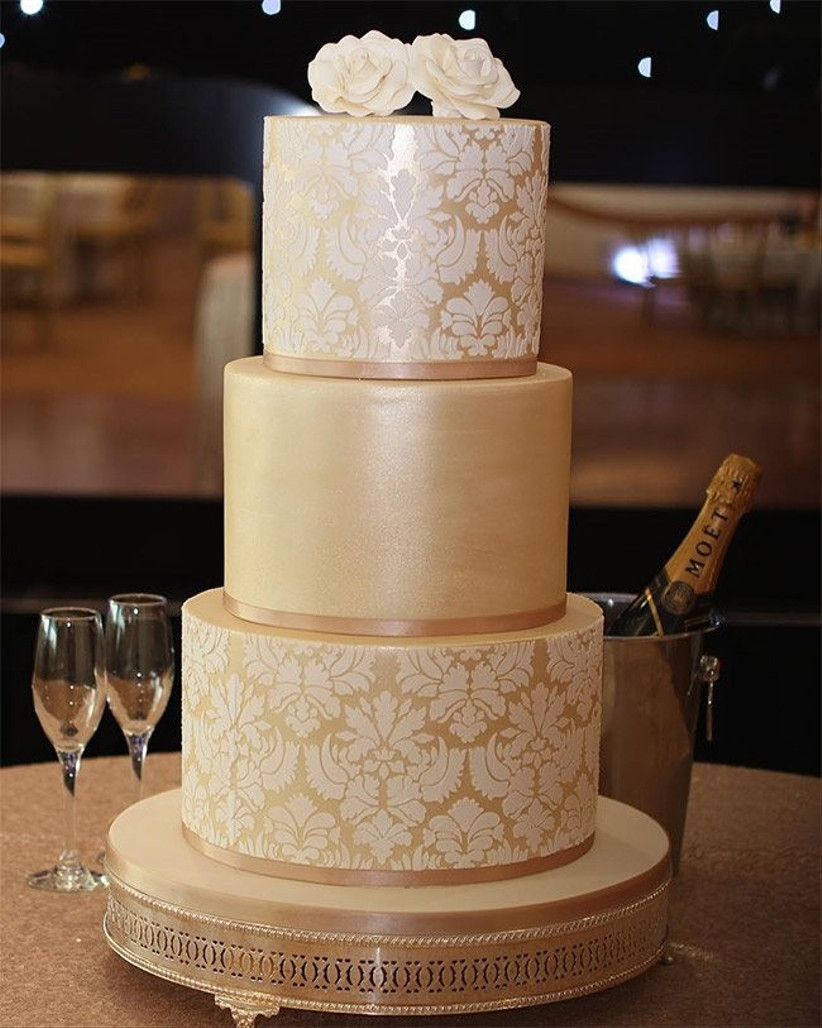 Metallics and White
Pret-a-Cake have paired gold, rose gold and super fluffy white icing for a romantic feel for a perfect combination of traditional and contemporary.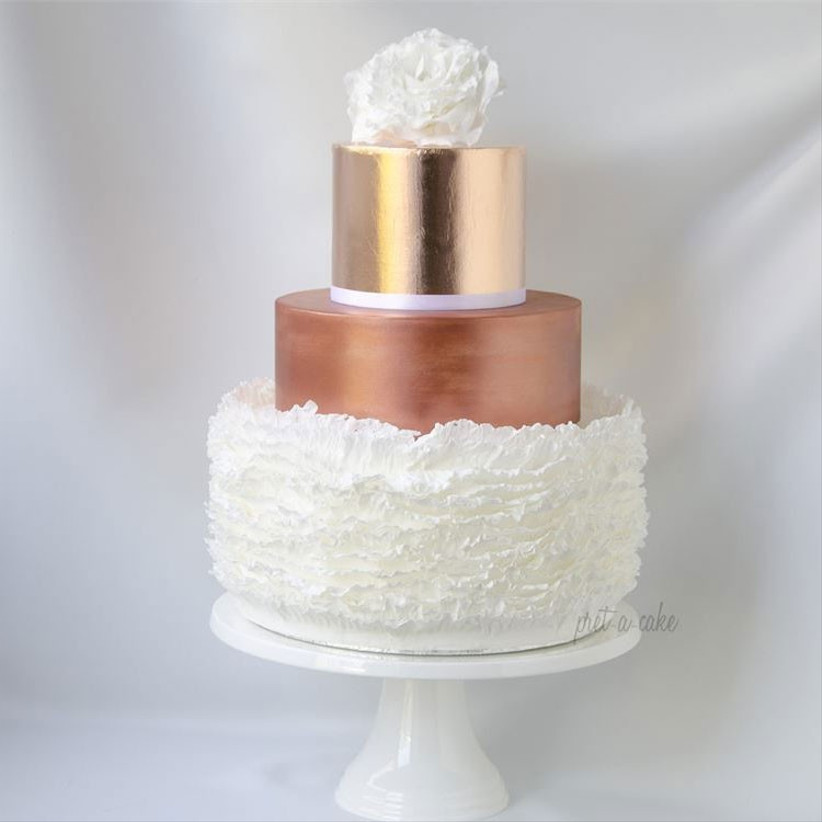 A Pop of Gold
If you want an alternative to one large cake, consider serving cake pops to your guests, like these from the Cake Pop Company. Not only are they a fun option but they double up as party favours for your guests.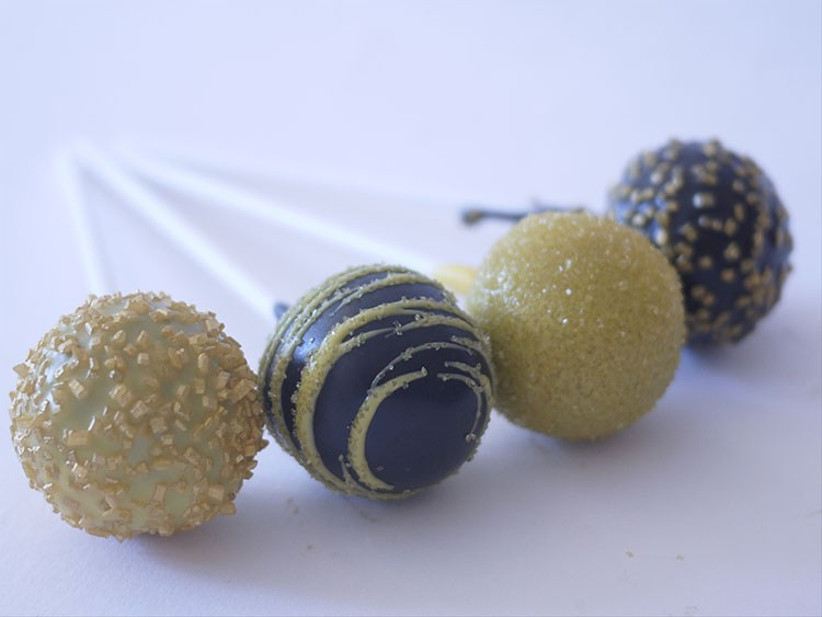 Meadow Sweet Cakes
The five tiers of this cake from Meadow Sweet Cakes are each a different size and height and each with their unique gold finish or pattern.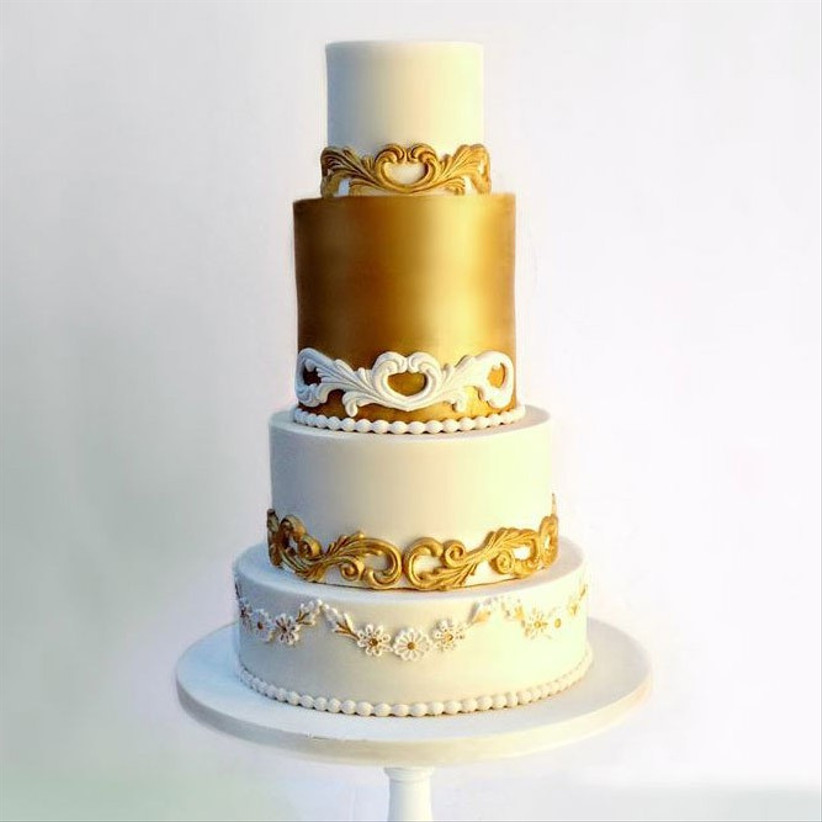 Parrot Tulips
This fabulous gold and white cake from Tortebella is decorated with these vibrant Parrot Tulips, perfect for a tropical wedding!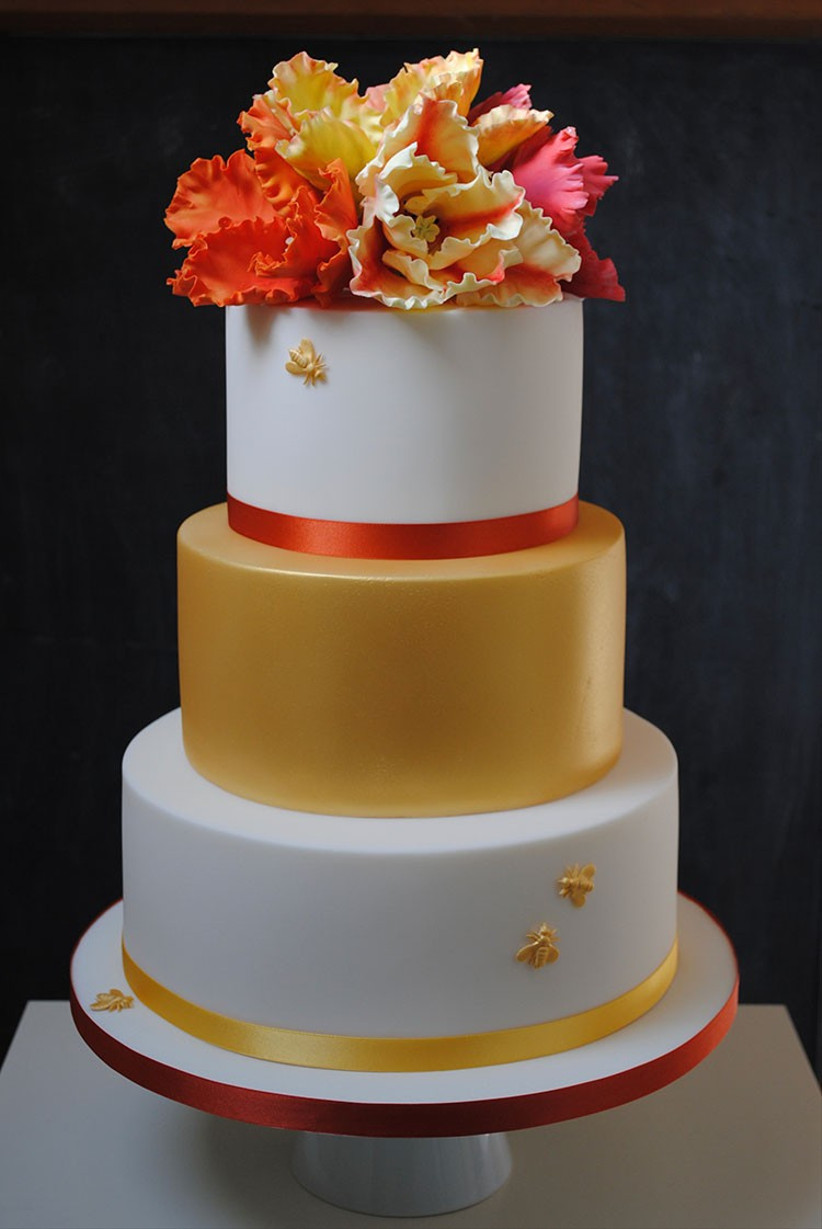 If you would love one of these cakes but feel that gold won't work with your colour scheme, see our metallic wedding cakes article for more shimmery, inspiration!