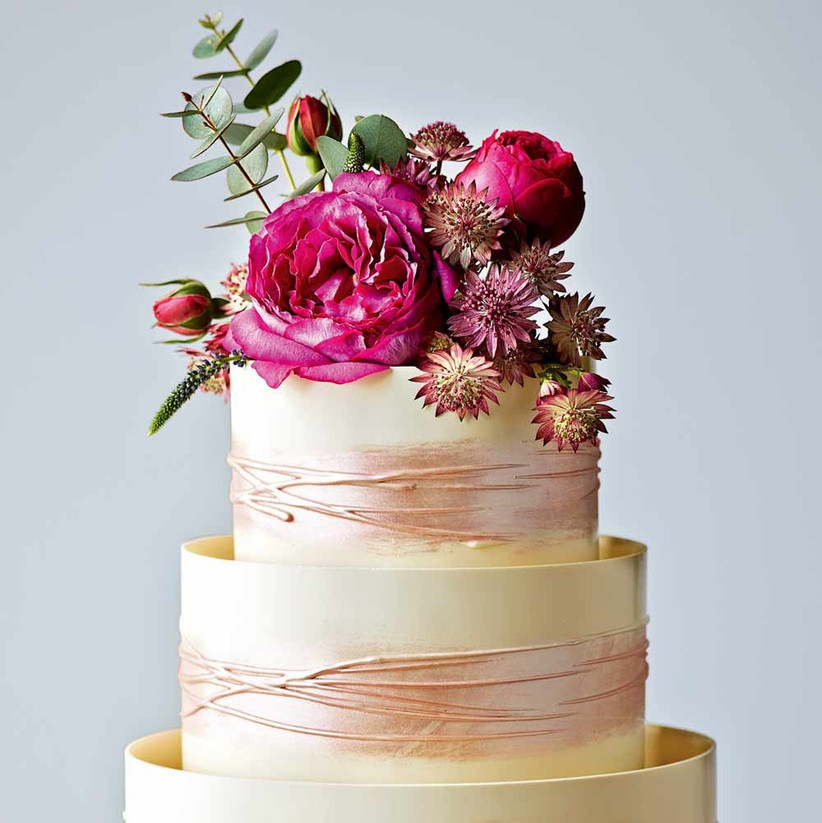 Sainsbury's, Waitrose and Marks & Spencer may not be the first places you think of when it comes to your wedding cake, but with the cost of weddings higher than ever the popularity of supermarket cakes is on the rise – and it's easy to see why!
With a variety of wedding cakes available – from understated single tier wedding cakes to semi-naked wedding cakes and even a range of edible flowers for extra décor – supermarkets are becoming known for their beautifully made designs at a fraction of the usual price.
Looking for a way to cut costs on your wedding? Consider one of these fantastic value-for-money supermarket wedding cakes.
NB: We have included third party products to help you navigate and enjoy life's biggest moments. Purchases made through links on this page may earn us a commission.
Marks & Spencer Wedding Cakes
Marks & Spencer are renowned for their luxury food produce and their range of wedding cakes definitely doesn't disappoint. Trust us when we say these aren't just wedding cakes, these are M&S wedding cakes!
READ MORE: How to Plan a Wedding For £3,000
Marks & Spencer Christmas Colin the Caterpillar – £10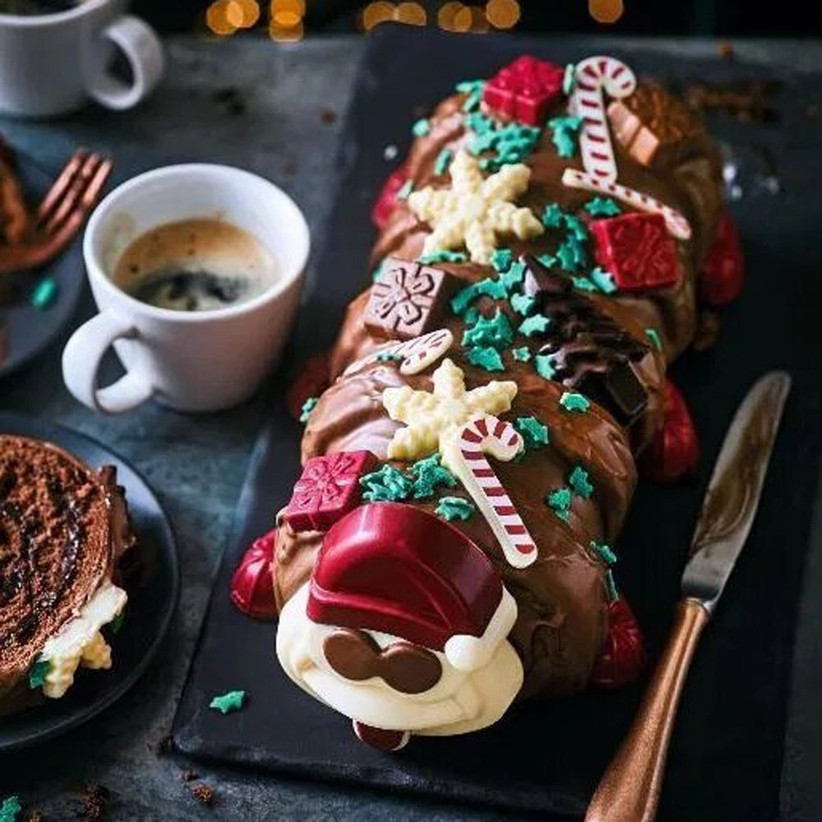 Image: M&S
All our prayers have been answered. This year, Marks & Spencer are releasing a Christmas Colin the Caterpillar and we couldn't be more excited.
Perfect for your festive w-day, it tastes exactly the same as the original, but is topped with candy canes, miniature presents and holly leaves. Keep your eyes peeled for his arrival in store and online at the end of October/early November.
Marks & Spencer Naked Wedding Cake – £125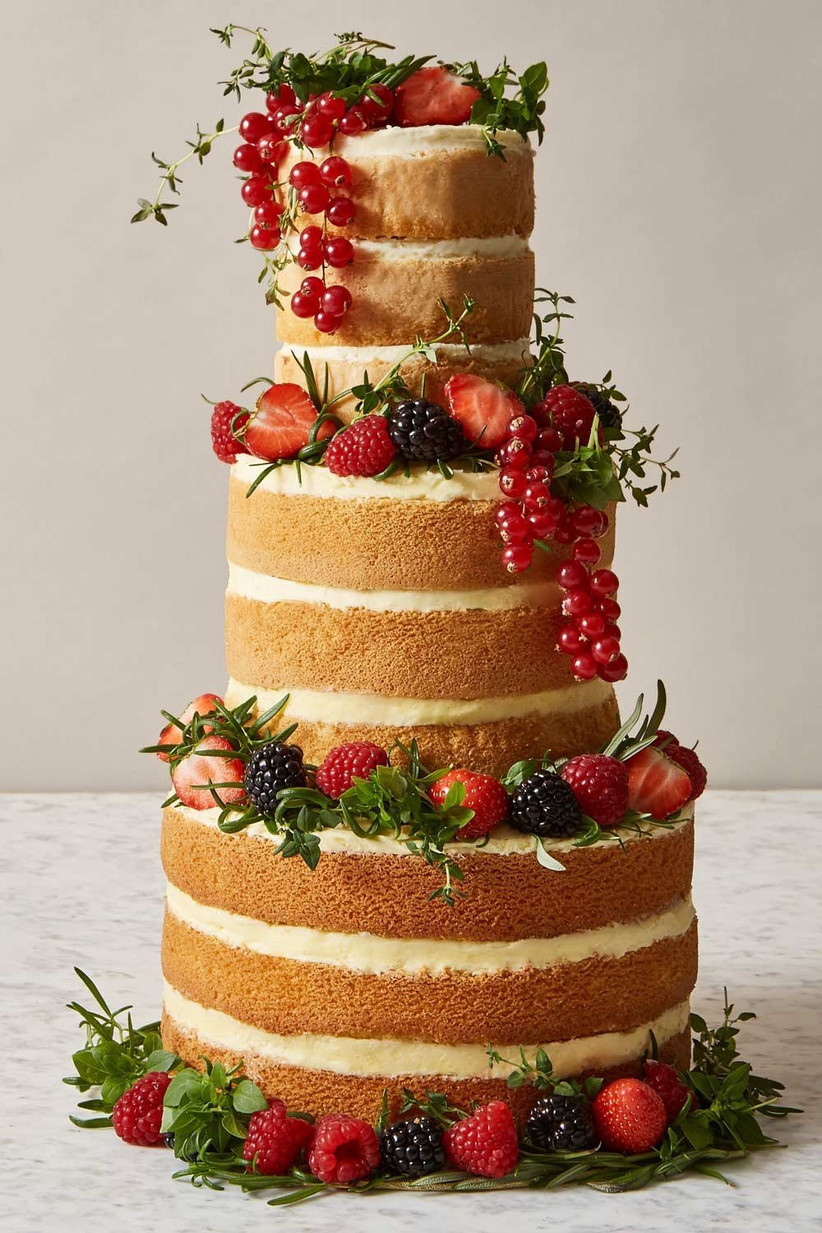 Couples on the hunt for a fresh and fruity Marks & Spencer cake to suit a summer wedding will love this gorgeous naked wedding cake. The vanilla sponge is layered with just the right amount of vanilla flavoured buttercream and serves 42 people.
READ MORE: The Best Naked Wedding Cakes
Marks & Spencer Vogue Wedding Cake – £199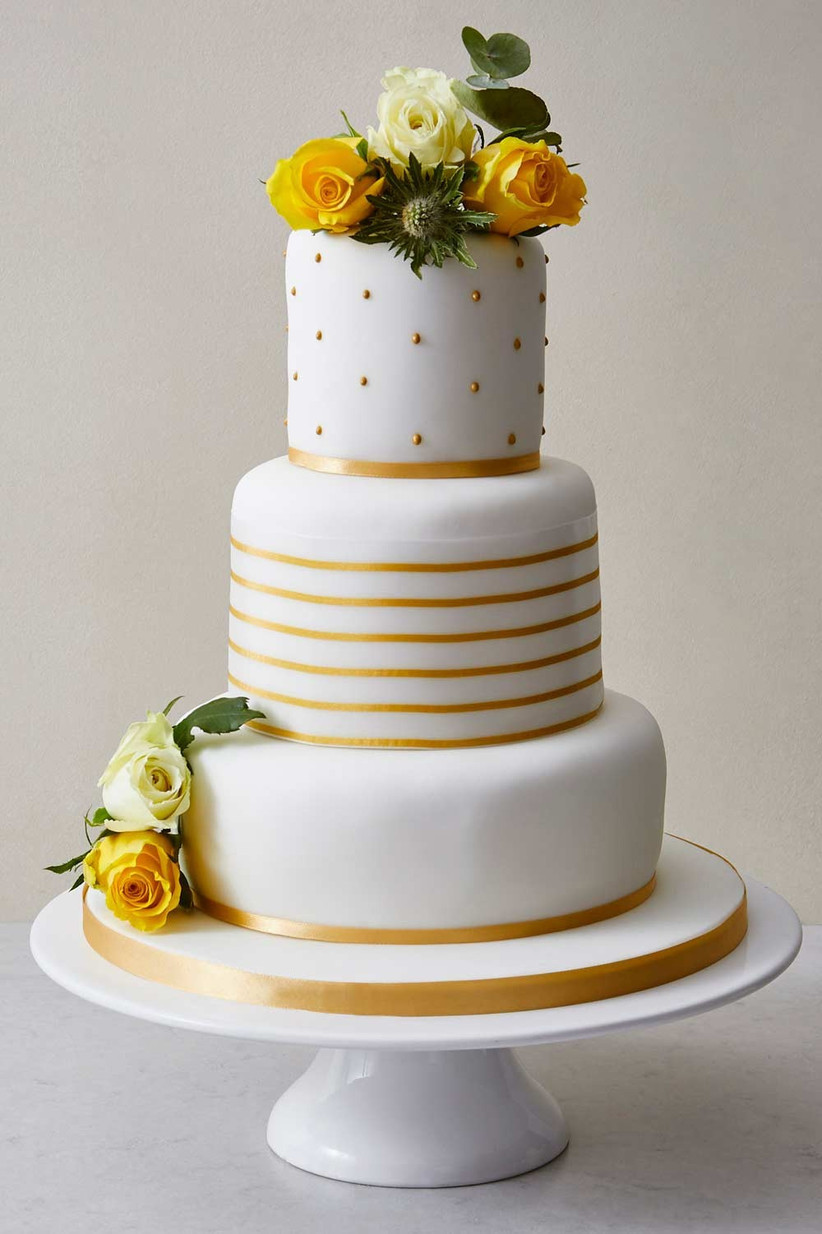 If a glamorous look is what you're after, the M&S vogue wedding cake could be the one for you. At £199 and serving 100 people, this supermarket wedding cake works out at just £1.99 a slice – a small price to pay for such a stylish creation. This three tier wedding cake uses three different sponges, classic fruit cake, all-butter sponge and a chocolate sponge and ganache tier – something for everyone to enjoy!
READ MORE: Wedding Cakes in London
Marks & Spencer Shimmering Hoop Wedding Cake – £249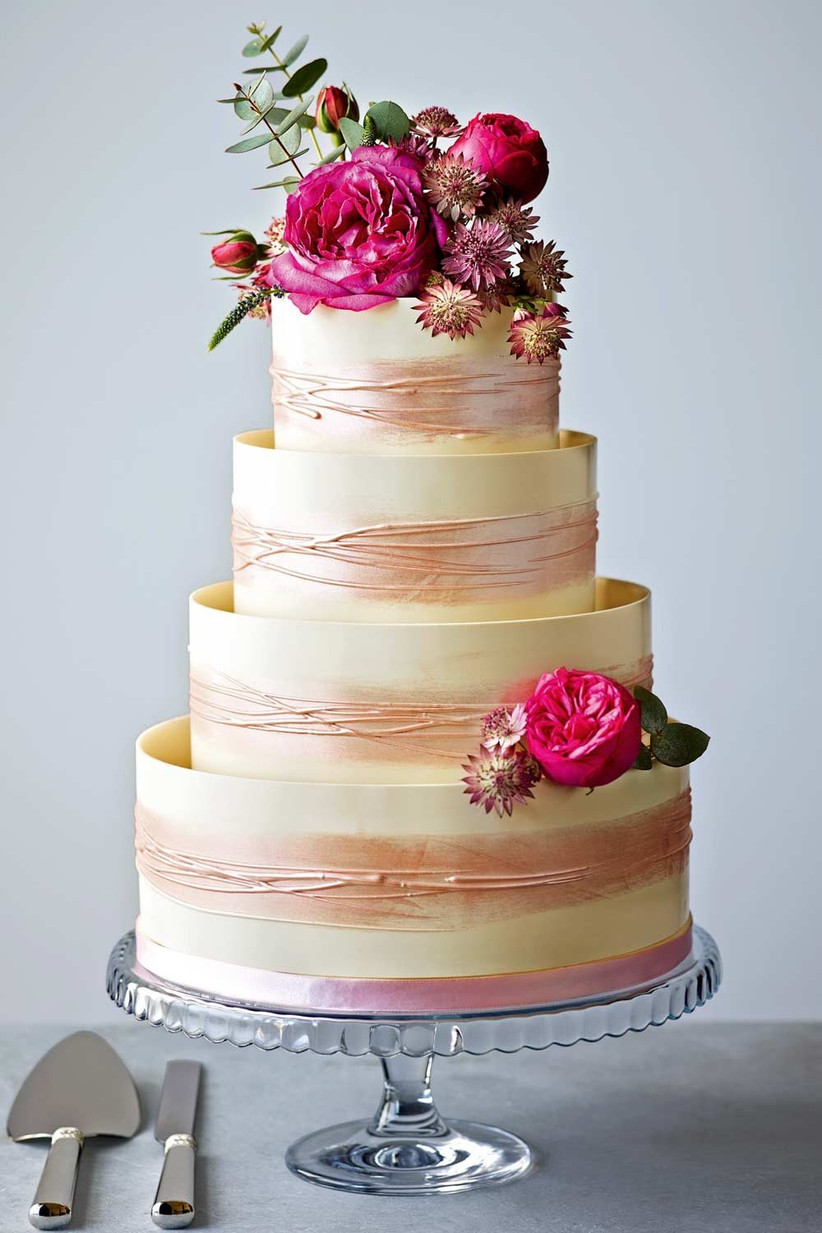 Continuing with our glamorous theme, this four tier chocolate wedding cake is oozing with style. Topped with chocolate ganache and finished with white and pink shimmering hoops, this chic supermarket wedding cake serves 110 people and would make the perfect centrepiece to any wedding dessert table.
READ MORE: Rose Gold Wedding Cakes
Marks & Spencer Chocolate Shimmering Hoop Wedding Cake – £249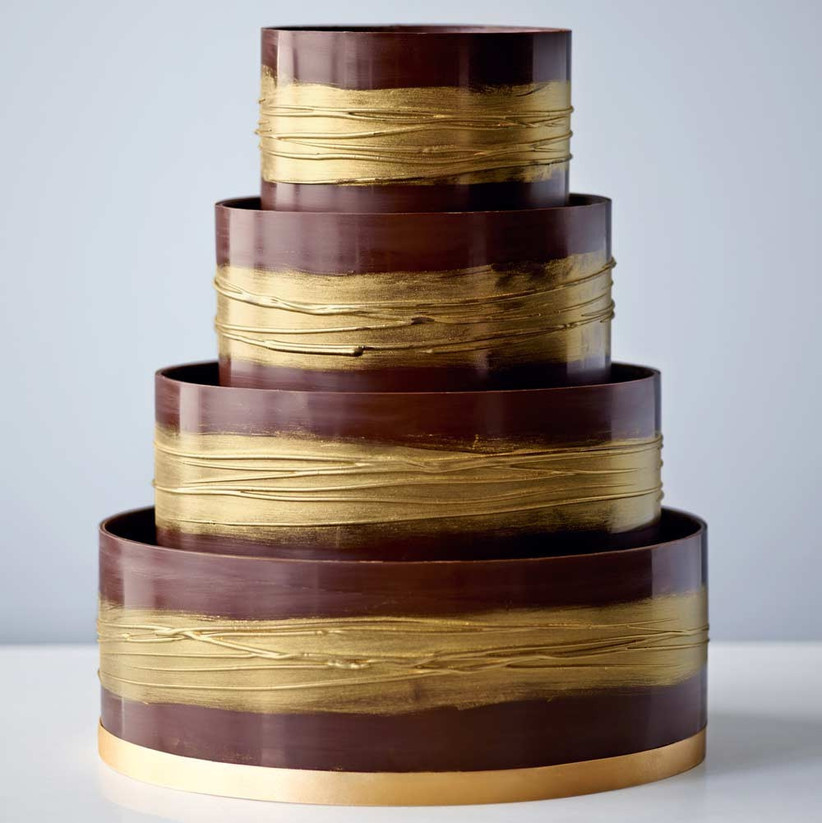 If the above wasn't chocolaty enough, this gold wedding cake definitely will be. With four tiers of chocolate cake topped with chocolate ganache and chocolate and gold hoops – what more could any chocoholic ask for? We guarantee your guests won't be able to resist a slice of this stunning supermarket wedding cake (that's if you can bring yourself to cut it!).
READ MORE: Chocolate Wedding Cakes
Marks & Spencer Colin and Connie Wedding Cakes – £50 (Each)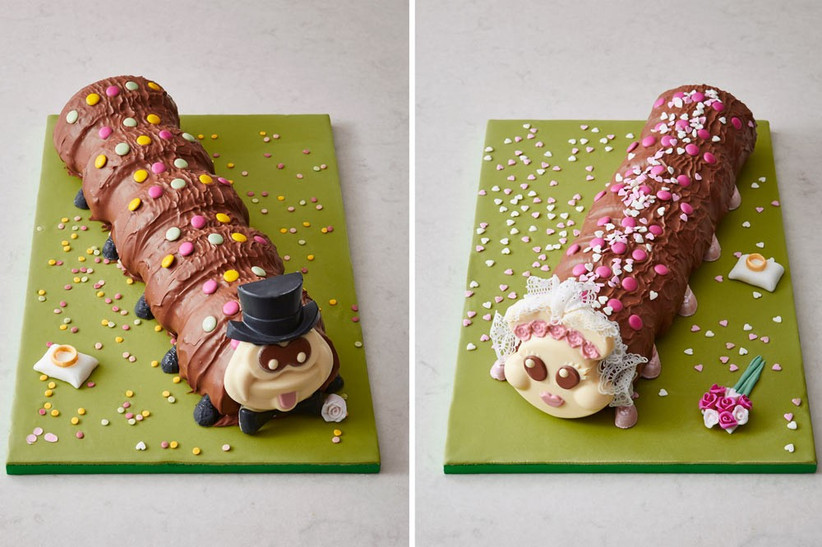 Marks & Spencer have given Colin and Connie the caterpillars the ultimate wedding make-over and we absolutely adore the results. This gorgeous pair serve 40 people each and cost £50 per cake. They are the perfect supermarket wedding cake for light-hearted couples who want to add an element of fun to their nuptials and they cost just £1.25 per slice – bargain!
READ MORE: Funny Wedding Cake Toppers
Marks & Spencer Cheese Wedding Cake – £160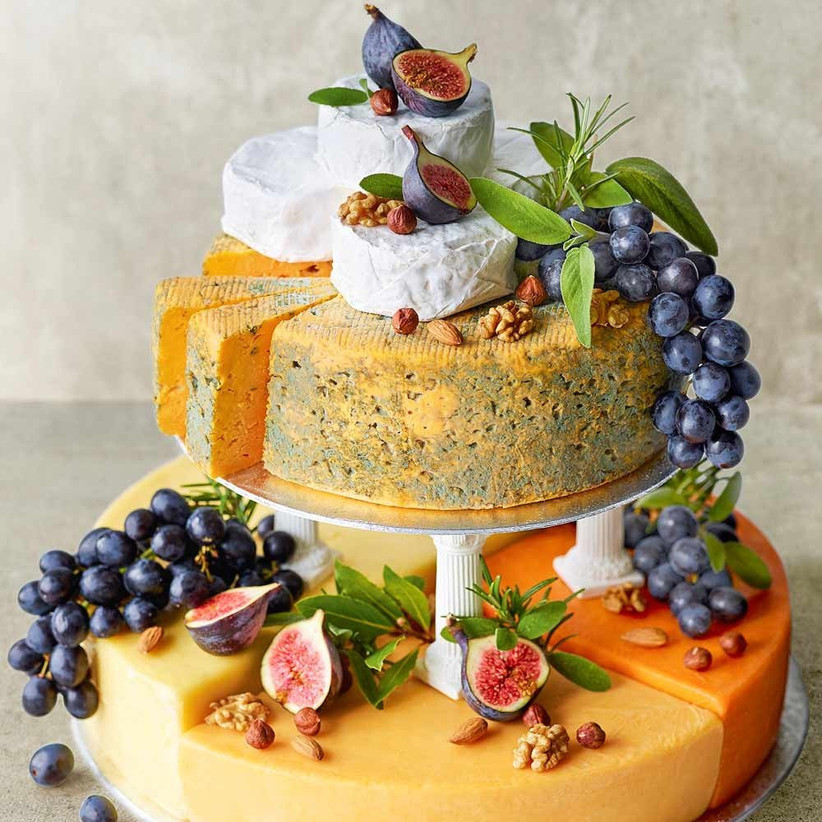 A cheese wedding cake is the perfect option for couples who either don't have a sweet tooth or just aren't huge fans of cake (hard to believe – we know) – or alternatively they're great as a savoury option to work alongside a wedding cake. This Marks & Spencer cheese wedding cake serves between 90-120 people and consists of Gould's Cheddar, Farmhouse Red Leicester, Farmhouse Double Gloucester, Blacksticks Blue and Ravel Oak Goat's Cheese – delicious!
READ MORE: Cheese Wedding Cakes
Marks & Spencer Pork Pie Wedding Cake – £99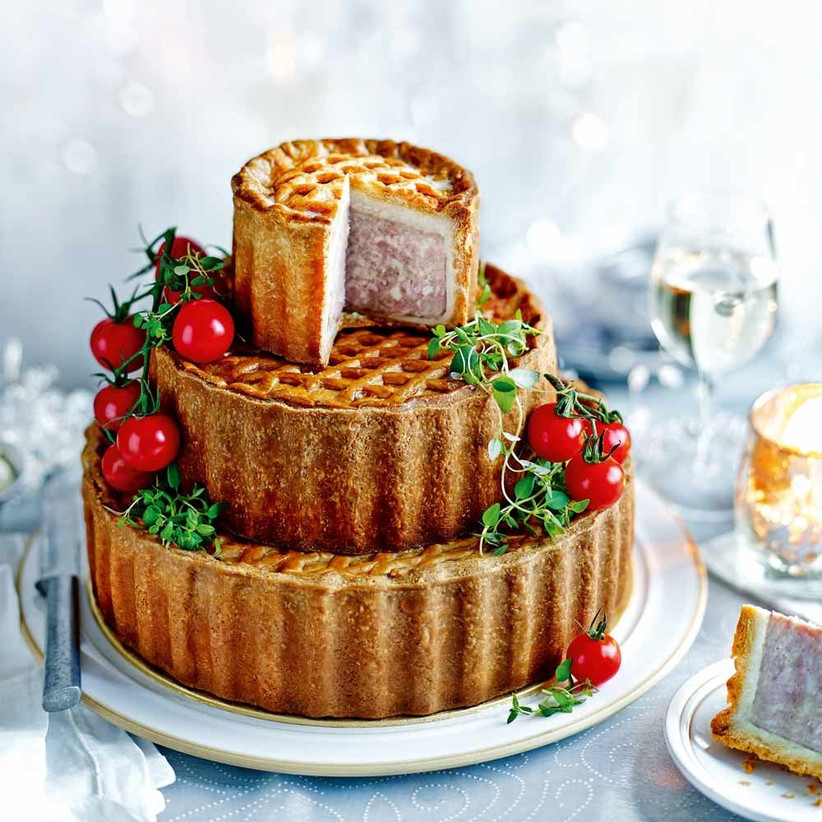 Sticking with the savoury theme, Marks & Spencer have also launched an incredibly unique pork pie wedding cake. This smaller 'cake' serves between 30-40 people and is made up of three luxury pork pies made with uncured pork and delicious hot water crust pastry. Want to surprise your wedding guests? A pork pie wedding cake could be just what you're looking for.
READ MORE: Wedding Cake Alternatives
Waitrose Wedding Cakes
Waitrose is a British favourite when it comes to luxury grocery shopping and their range of wedding cakes fits their brand perfectly. These cost-effective creations are simple, high quality and perfectly executed.
READ MORE: Hidden Wedding Costs No One Tells You About
Waitrose Classic Ribbon Wedding Cake – £229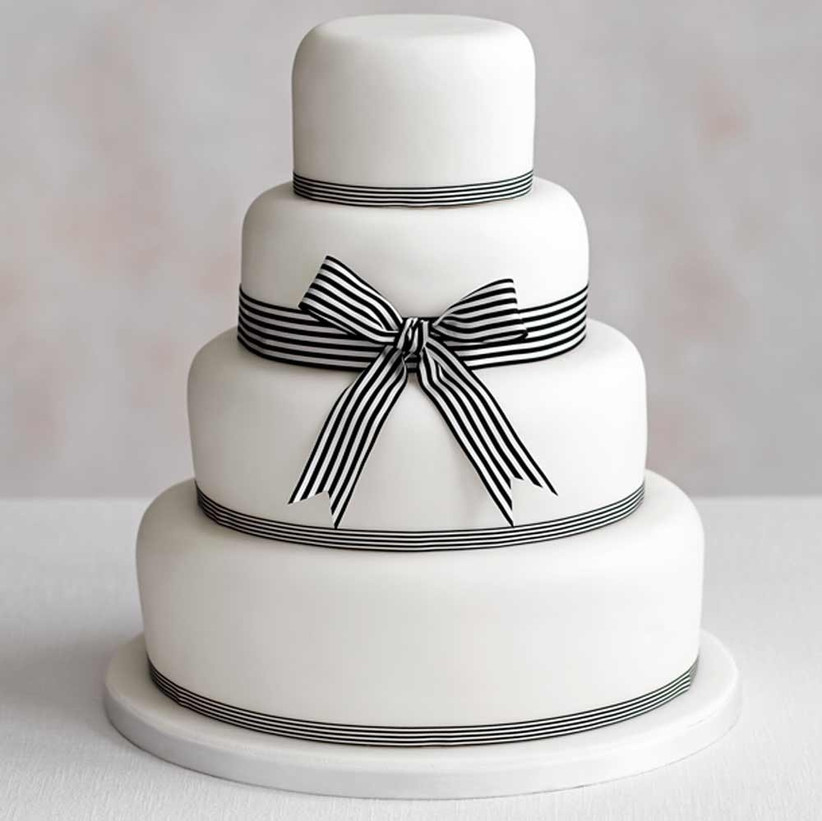 The classic ribbon supermarket wedding cake from Waitrose offers couples a traditional design which is full of flavour. Serving between 90-115 people, this elegant wedding cake is made up of a fruity base tier, golden sponge on the second tier and a chocolate sponge and chocolate buttercream on the top two tiers.
READ MORE: Pastel Wedding Cakes
Waitrose Five Tier Naked Vanilla Sponge Wedding Cake – £149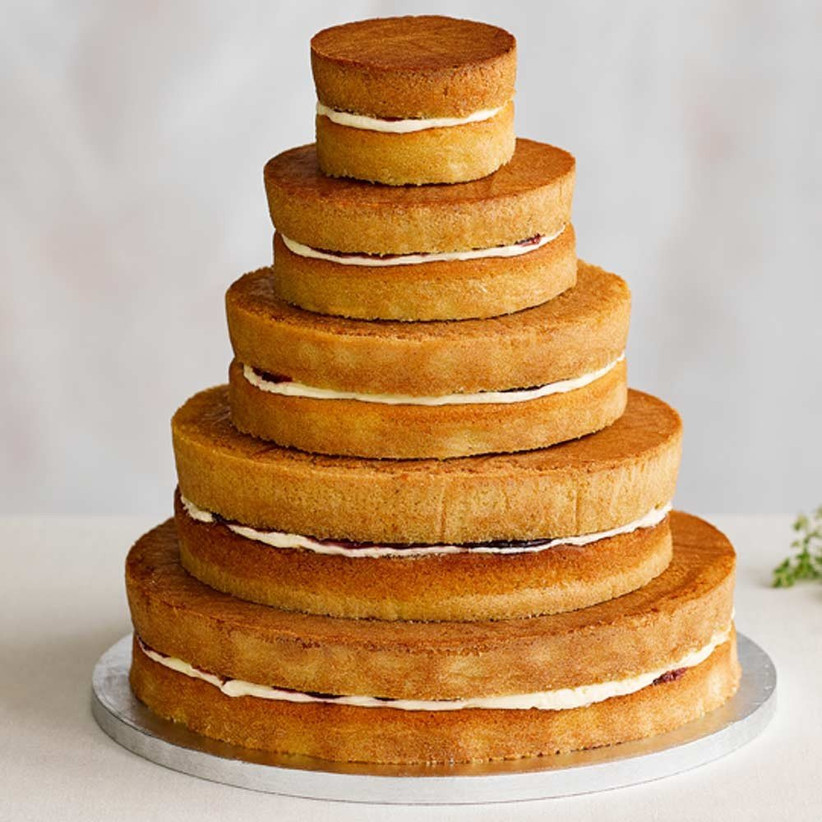 Couples looking for a supermarket wedding cake that they can put their own spin on will adore the Waitrose range of naked wedding cakes. This five tier design serves 90-100 people and costs just £149. The vanilla sponge flavour is classic and will be a popular choice among almost all of your wedding guests.
READ MORE: Semi-Naked Wedding Cakes
Waitrose Three Tier Naked Vanilla Sponge Wedding Cake – £89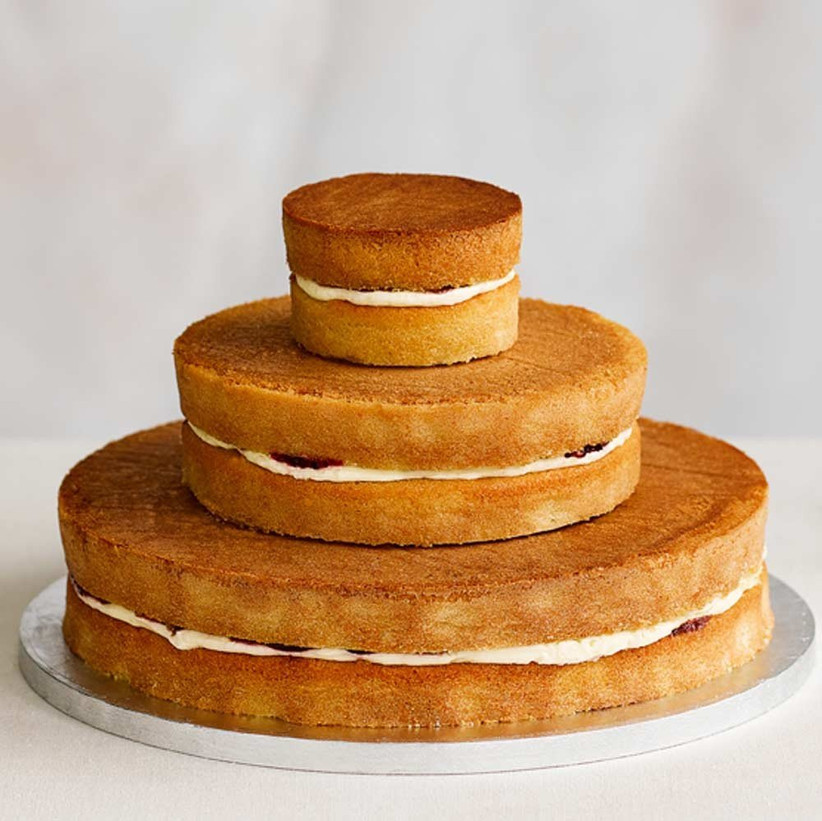 Want something a little smaller to feed your wedding guests? If so, the Waitrose three tier vanilla sponge wedding cake is a great choice. The golden colour is perfectly pretty and would look amazing with some fresh or edible flowers and a dusting of icing sugar. Serving between 55-65 people, it's a great purchase for slightly smaller wedding parties.
READ MORE: Mary Berry's Victoria Sponge Recipe
Waitrose Five Tier Naked Chocolate Sponge Wedding Cake – £149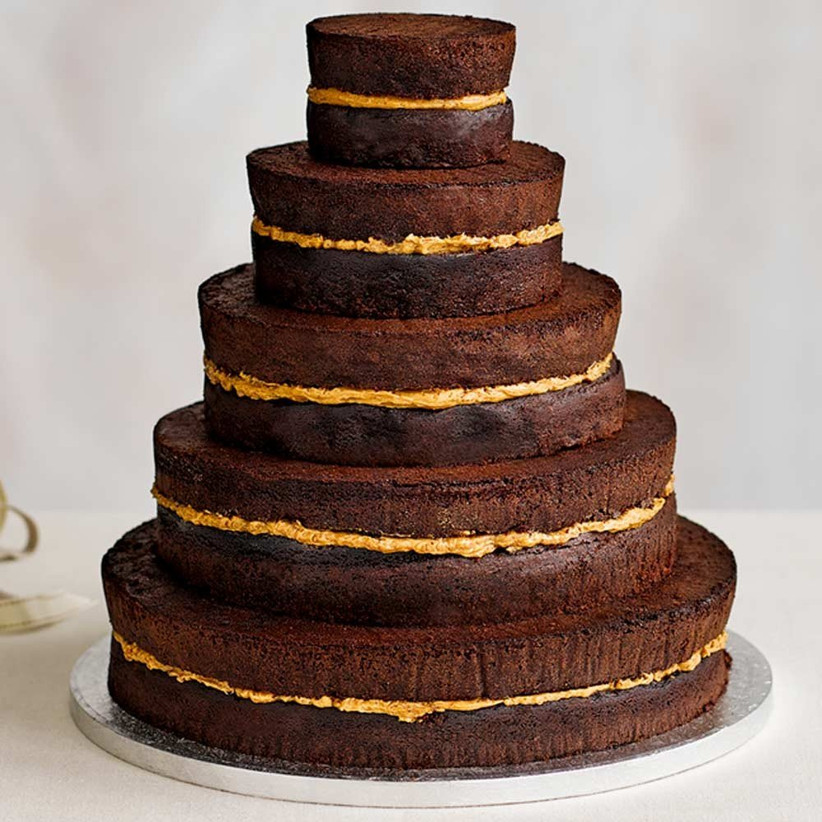 Another amazing five tier wedding cake from Waitrose is their chocolate sponge design which serves 90-100 guests. The chocolate sponge is sandwiched together with a delicious salted caramel buttercream and caramel sauce filling – perfect for couples with a totally sweet tooth.
READ MORE: Chocolate Wedding Ideas
Waitrose Three Tier Naked Chocolate Sponge Wedding Cake – £89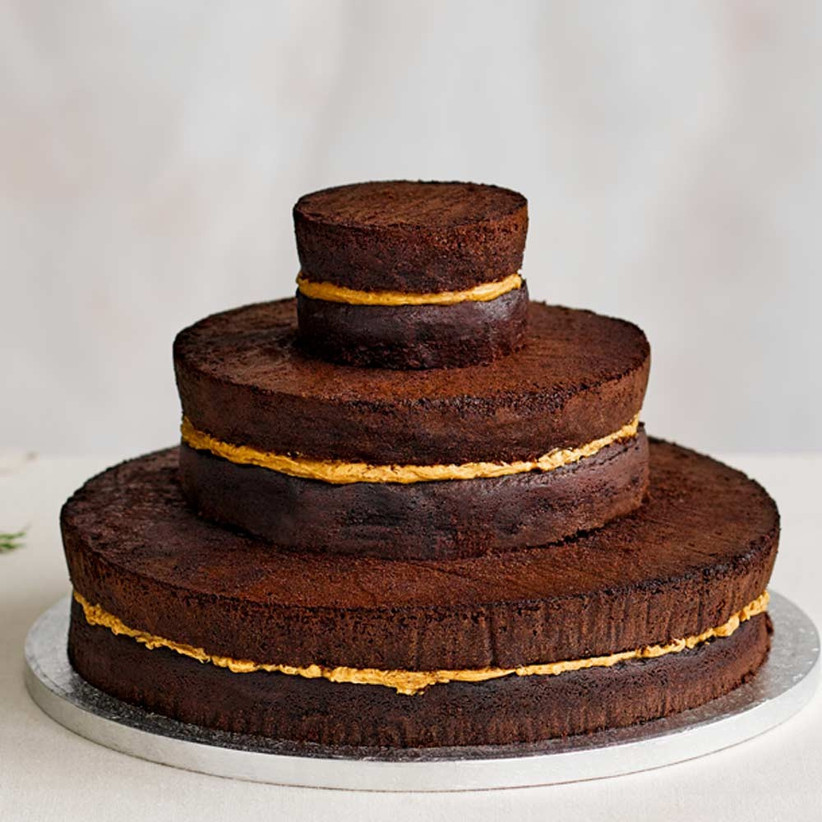 Smaller wedding parties will find the three tier chocolate sponge is a great fit. It has all the same gorgeous fillings as the five tier cake and serves 55-65 people. For extra flavour and décor, add fresh fruit and some chocolate drizzle to really make this a show-stopping wedding cake.
READ MORE: Fabulous Wedding Cake Flavours
Sainsbury's Wedding Cakes
Sainsbury's is one of the UK's favourite supermarket spots and whilst they don't offer tiered wedding cakes, they have a range of products that are perfect for creating a DIY wedding cake.
READ MORE: Budget Friendly Wedding Ideas
Sainsbury's Decorate Your Own Cake – £4.50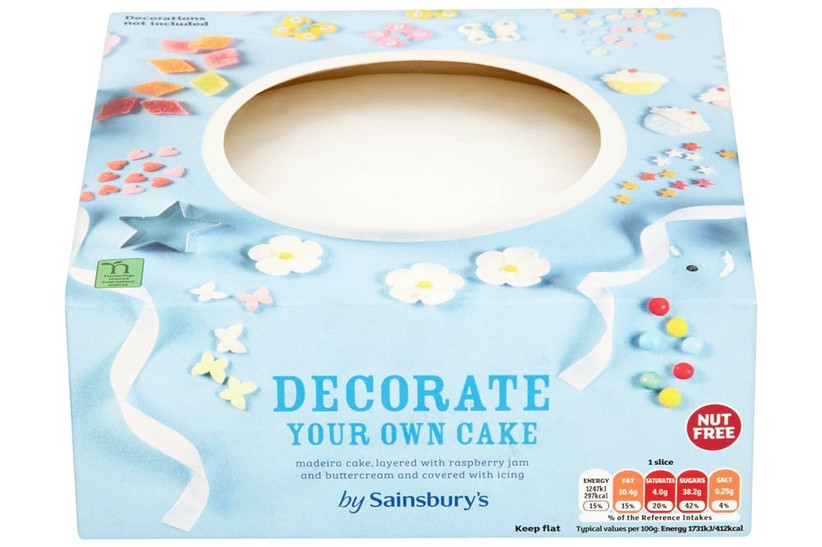 If you're a dab-hand at cake decorating and fancy creating your own wedding cake, Sainsbury's decorate your own cake is a great option for you. Serving eight people, it's perfect for very intimate weddings, or alternatively, you could decorate one of these cakes for each of your tables and serve your 'wedding cake' in a more untraditional way.
READ MORE: Single Tier Wedding Cakes
Sainsbury's Edible Flowers – £3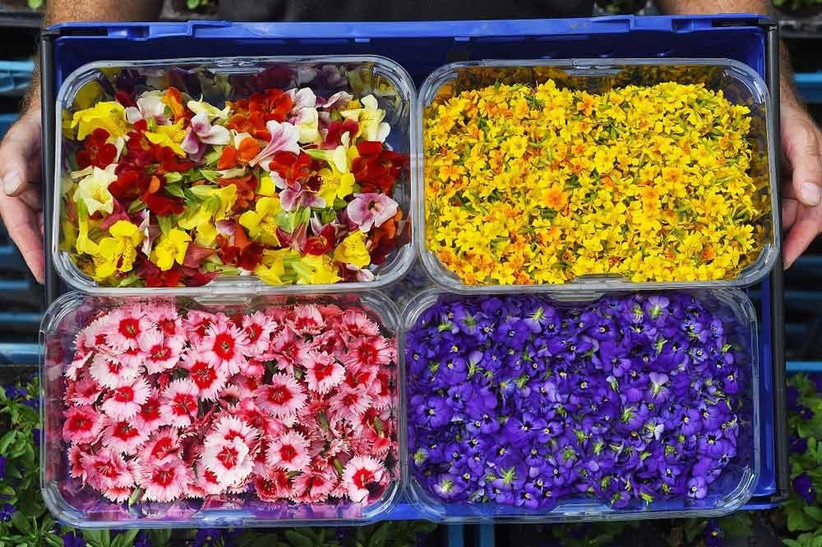 One great way to decorate plain wedding cakes is to add edible flowers. They look so beautiful and are available in a range of different petal colours so you can easily match the flowers to your colour scheme.
READ MORE: How to Make Your Own Wedding Cake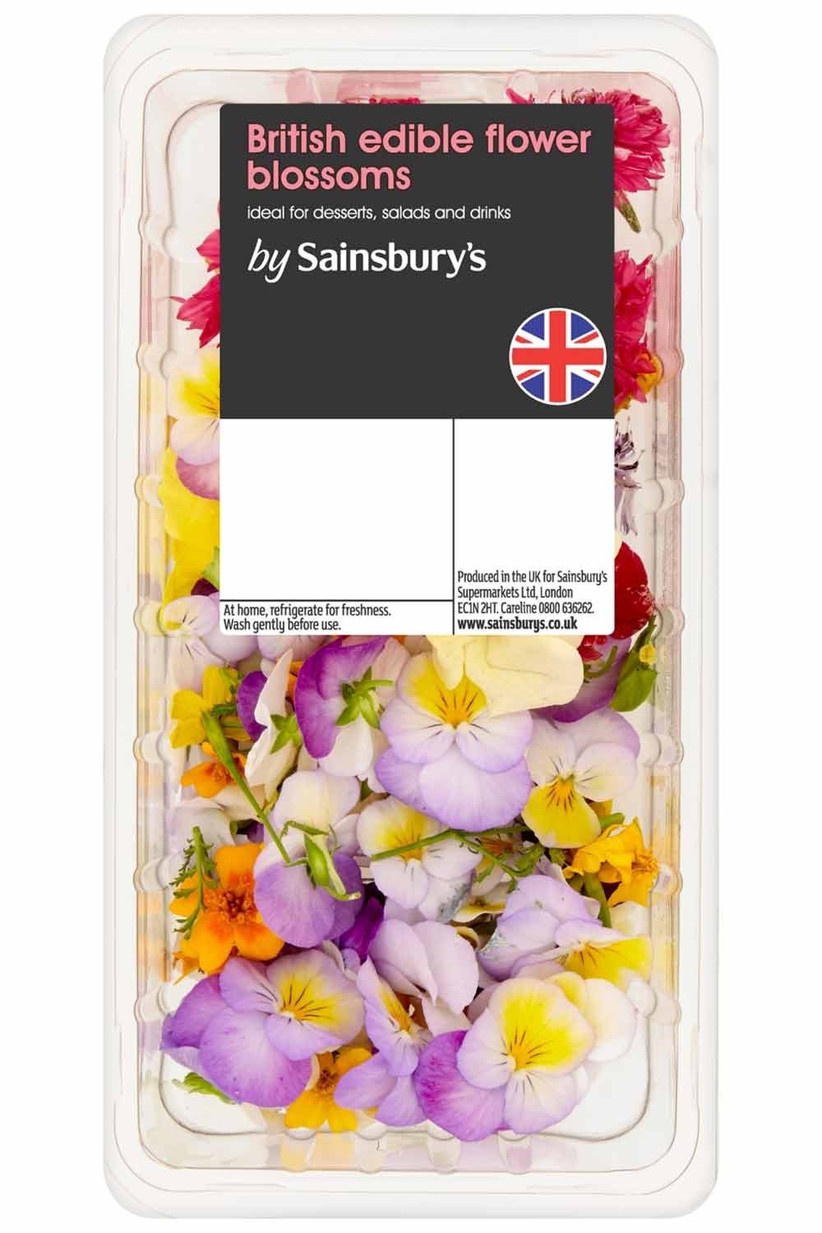 Sainsbury's edible flower blossoms are the perfect way to jazz up a plain supermarket wedding cake and can even be a great finishing touch to salads and other puddings if you're doing some of your wedding catering yourself.
For more budget wedding ideas, be sure to check out our range of wedding decor items for under £10 for bargain buys that look totally expensive!