71 Incredible Wedding Cakes You Need at Your Wedding
Whether you want a classic chocolate drip cake, a modern minimalist masterpiece or a rustic floral wedding cake, we've found 71 of the best wedding cakes to help inspire you. Grab some snacks, get scrolling and find your perfect wedding cake design!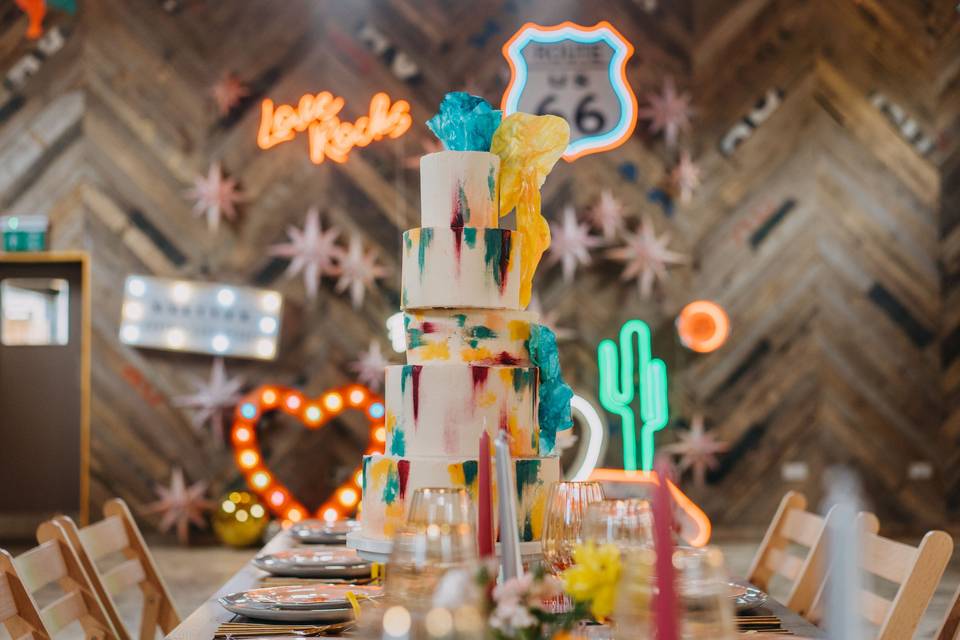 Choosing a wedding cake is such an exciting part of the wedding planning process. A beautiful wedding cake can be a real focal point of your wedding reception, adding to your wedding theme and making the most Instagram-worthy photos when it comes time to cut.
And it's not just appreciating (and eating) the finished product that'll bring you joy. Gathering inspiration for your wedding cake is so much fun, too. Whether you're dreaming of a rustic semi-naked wedding cake or you're after something simple and modern, hours can pass scouring the web for ideas.
If you're a bohemian couple, consider leafy vines entwined around your bake as well as earthy tones and a rustic cake stand. If your style is more contemporary, geometric shapes, marble-effects, geode wedding cakes or celestial-inspired designs would be among the most perfect of choices.
Understated couples or couples looking to save money on their wedding budget should consider single-tier wedding cakes, while those dreaming of a classic affair may wish to update the traditional ivory wedding cake with hand-painted florals and watercolours.
Whether you're baking your own wedding cake or you're enlisting a wedding cake maker, we've got 63 wedding cake ideas for you to take inspiration from. We've split them into sections below to help you find the perfect cake design for you, but we'd recommend you scroll through them all as you never know what might catch your eye.
Modern Wedding Cake Ideas
1. Experimental Boho Wedding Cake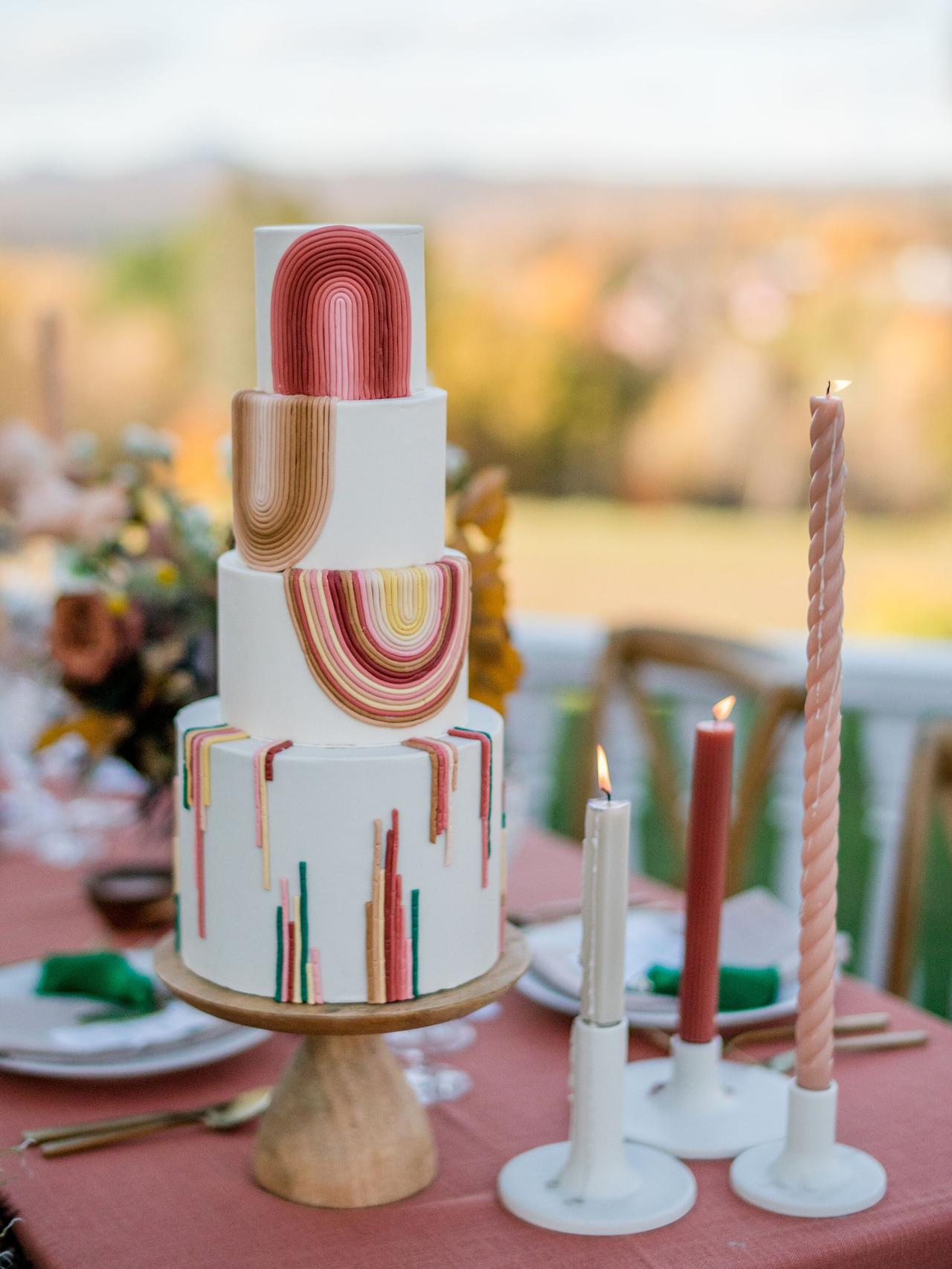 A macrame-inspired cake with earthy jewel tones is amazing for any boho couple. This one has architectural swopping curves and bold lines that look amazing against a stark white cake. A real must for anyone who loves creative, statement finishes.
READ MORE: How Much Does a Wedding Cake Cost?
2. Modern Dried Floral Wedding Cake
Dried palms and foliage are set to stay as popular wedding trends and we love their inclusion on this modern wedding cake. Ghost layers are all the rage.
3. Sequin Wedding Cake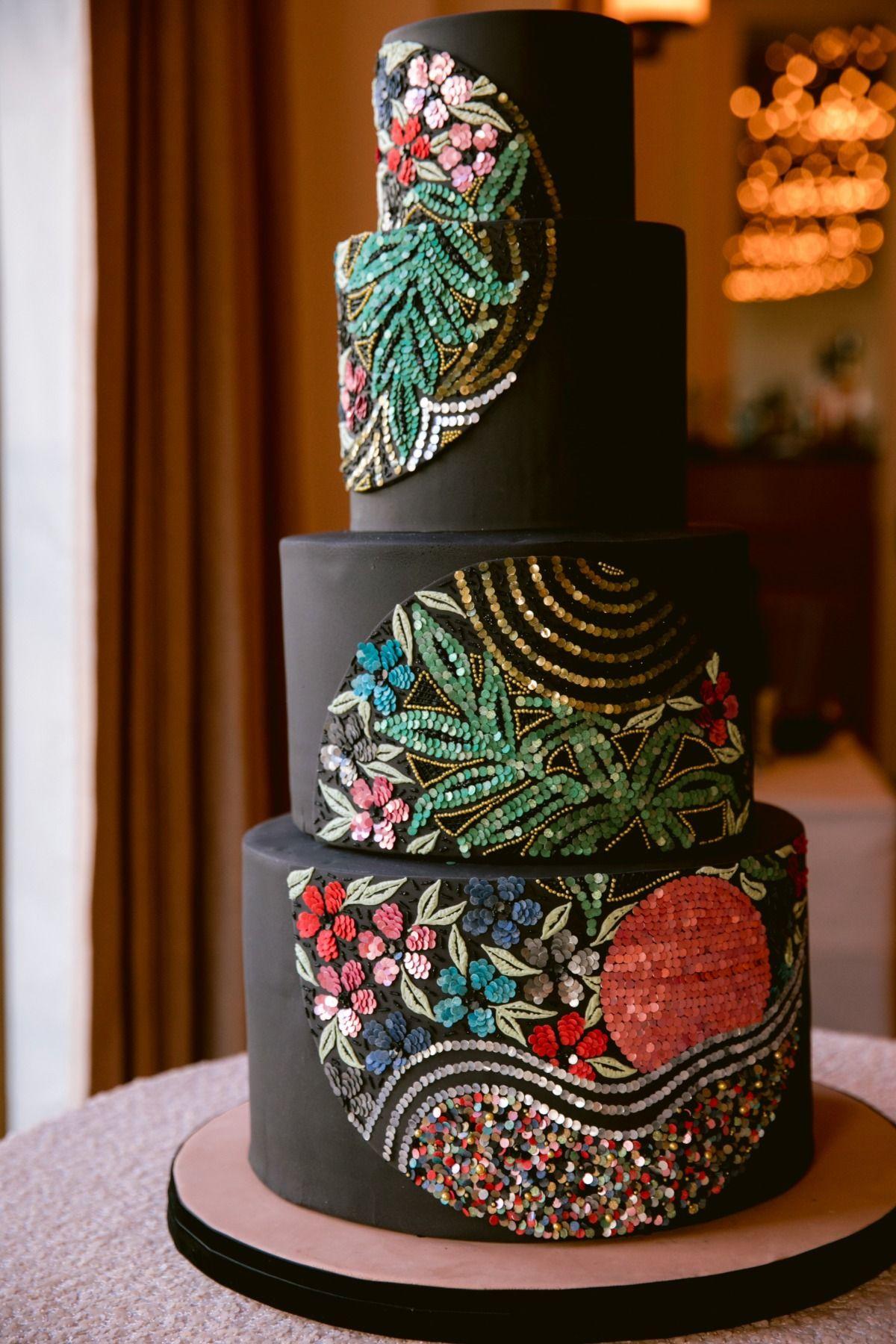 This black buttercream wedding cake is topped with thousands of hand-punched, edible sequins. If you're after a statement wedding cake that will look incredible in photos, a sequin wedding cake could be perfect for you.
4. Tiled Wedding Cake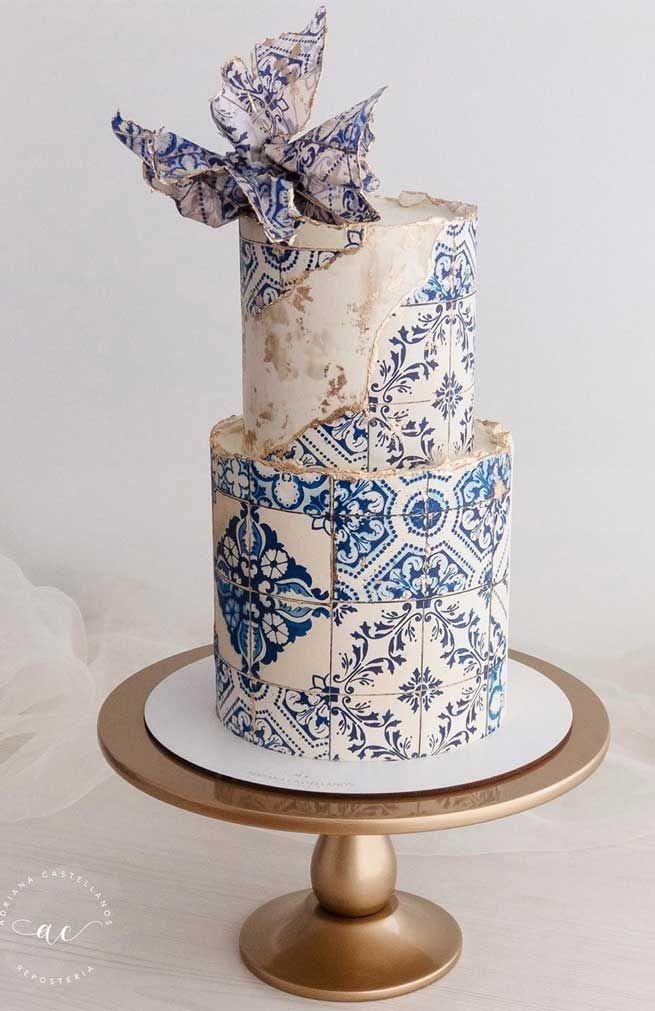 Feel like you're stepping into the Mediterranean with a blue and white tiled wedding cake. Display beside bowls filled with juicy lemons for an Amalfi coast feel or a dessert table with pastel de nata for a Lisbon vibe. These famous tiles have a vintage feel, but have been bought bang up to date by peeking out through gold leaf and soft buttercream.
5. Amethyst Marble-Effect Wedding Cake
Marble-effect wedding cakes might be our favourite wedding cake idea, like… ever. If you're a lover of all things soft pink and purple, this amethyst crystal-inspired cake could be the sweet treat for you.
READ MORE: 33 Questions to Ask Your Wedding Cake Maker
6. Modern Gothic Wedding Cake
If you're hosting a gothic wedding, this monochrome and marble wedding cake would be perfectly fitting.
7. Dried Citrus Wedding Cake
Dried citrus slices strategically placed down a textured white buttercream cake brings out their vibrant colour. It would work equally well for a summer wedding in the sunshine, or an autumn or winter wedding where the blood orange adds a warming tone.
8. Shag Carpet Wedding Cake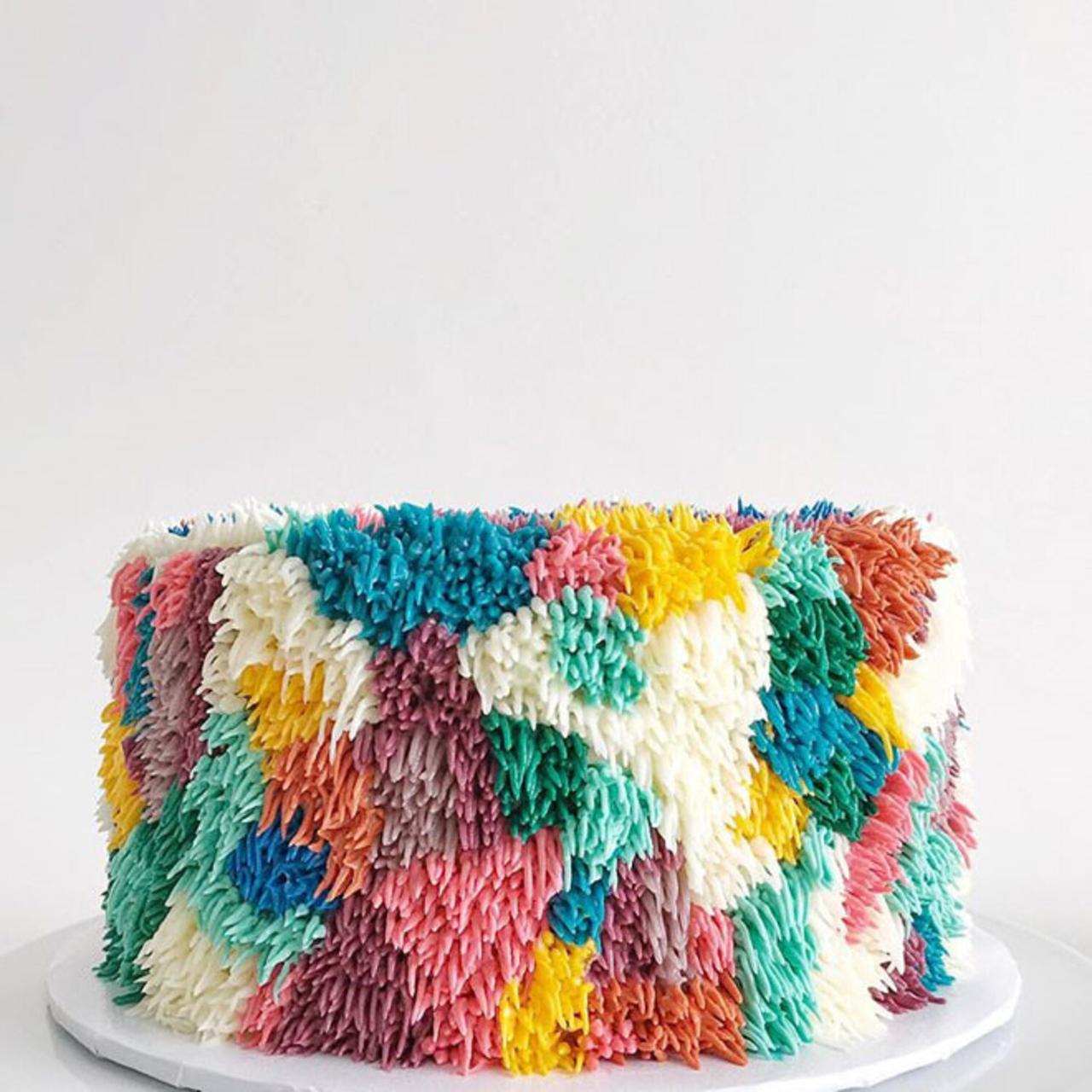 Oh yes, you can get shag carpet style icing all over your wedding cake! This one is very colourful but you can do it in any colour palette and it has the most insane textural look that modern boho couples will love.
9. Abstract Block Wedding Cake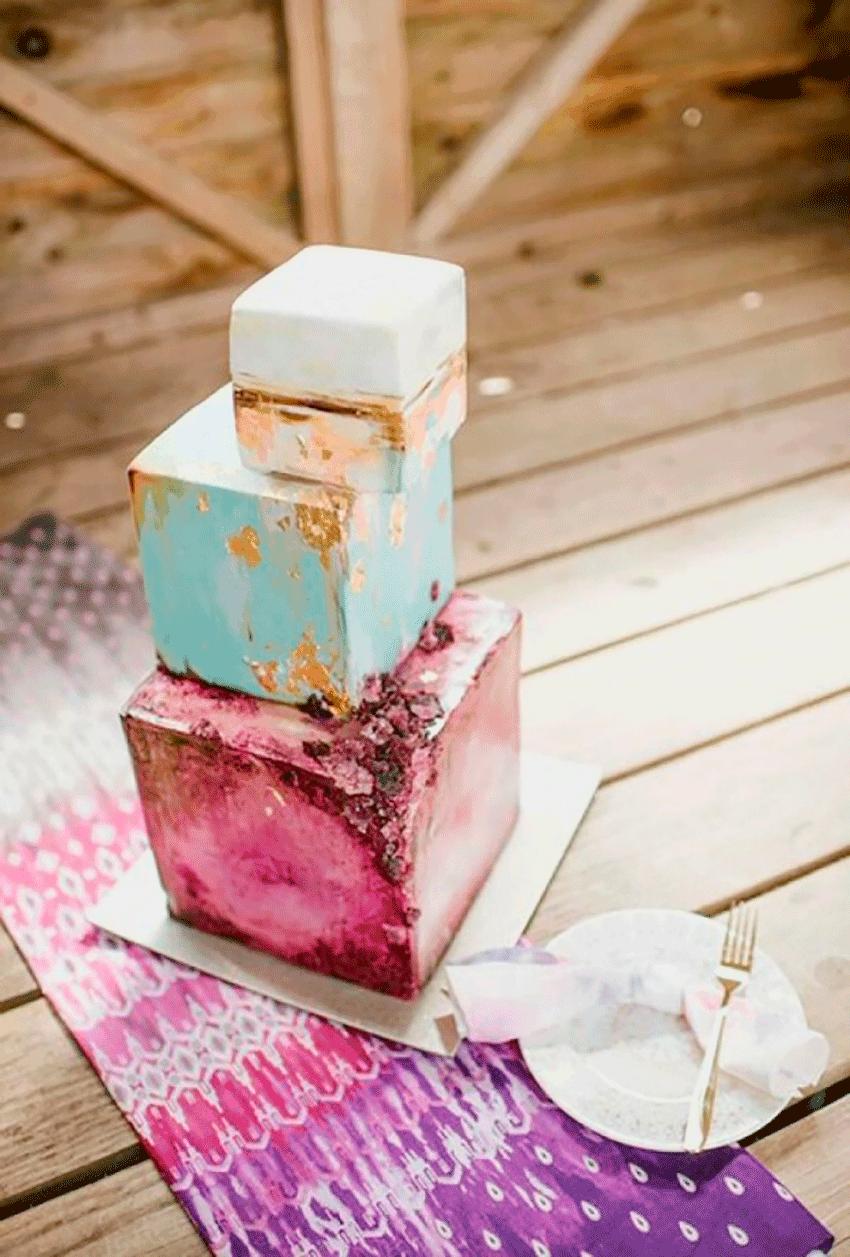 Why does your cake have to round? We love a square wedding cake and these abstract blocks make for a really statement, dramatic cake.
10. Bunny Tails Wedding Cake
All hail bunny tails! Palms and dried grasses have made an appearance again, this time on a seriously cool three-tiered cake where they match the earthy coral watercolour paint.
11. Minimalist Tropical Wedding Cake
This simple wedding cake pops thanks to the addition of palm leaves and flowers. If you're having a tropical-inspired wedding but bright colours aren't your thing, this minimalist design is a great alternative. Now all you need is an opulent gold cake stand!
READ MORE: The Best Wedding Cakes in London
12. Chocolate Collared Wedding Cake
We're so impressed by this pastel wedding cake which is adorned in collars made out of tempered chocolate. Make sure you get plenty of snaps before cutting into it!
13. Modern Monochrome Wedding Cake
Who knew a wedding cake decorated with black roses could look quite so chic? Your guests will be wowed if this modern monochrome look is the bake you choose.
14. Honeycomb Textured Wedding Cake
You can still make an impact with your wedding cake even if you go for a minimalist design. This couple have chosen texture for two of their tiers instead of colour and saved oversized flowers for the perfect accent to the middle layer. We're huge fans of the honeycomb piping.
READ MORE: The Best Country House Wedding Venues
15. Cube-Shaped Printed Wedding Cake
We're obsessed with this cube-shaped wedding cake. Not only does it throw the idea of traditional circular tiers out of the window, but it displays the couple's wedding date too! This has an edible transfer on the bottom layer so you get that printed fabric vibe. You can literally make your cake match your décor or dress!
16. Pressed Flower Wedding Cake
Scattered dried rose petals that match the flowers in the bouquets make this wedding cake look so pretty. It's a very simple design at heart but is elevated with this rustic-luxe flower sprinkle.
17. Zodiac Wedding Cake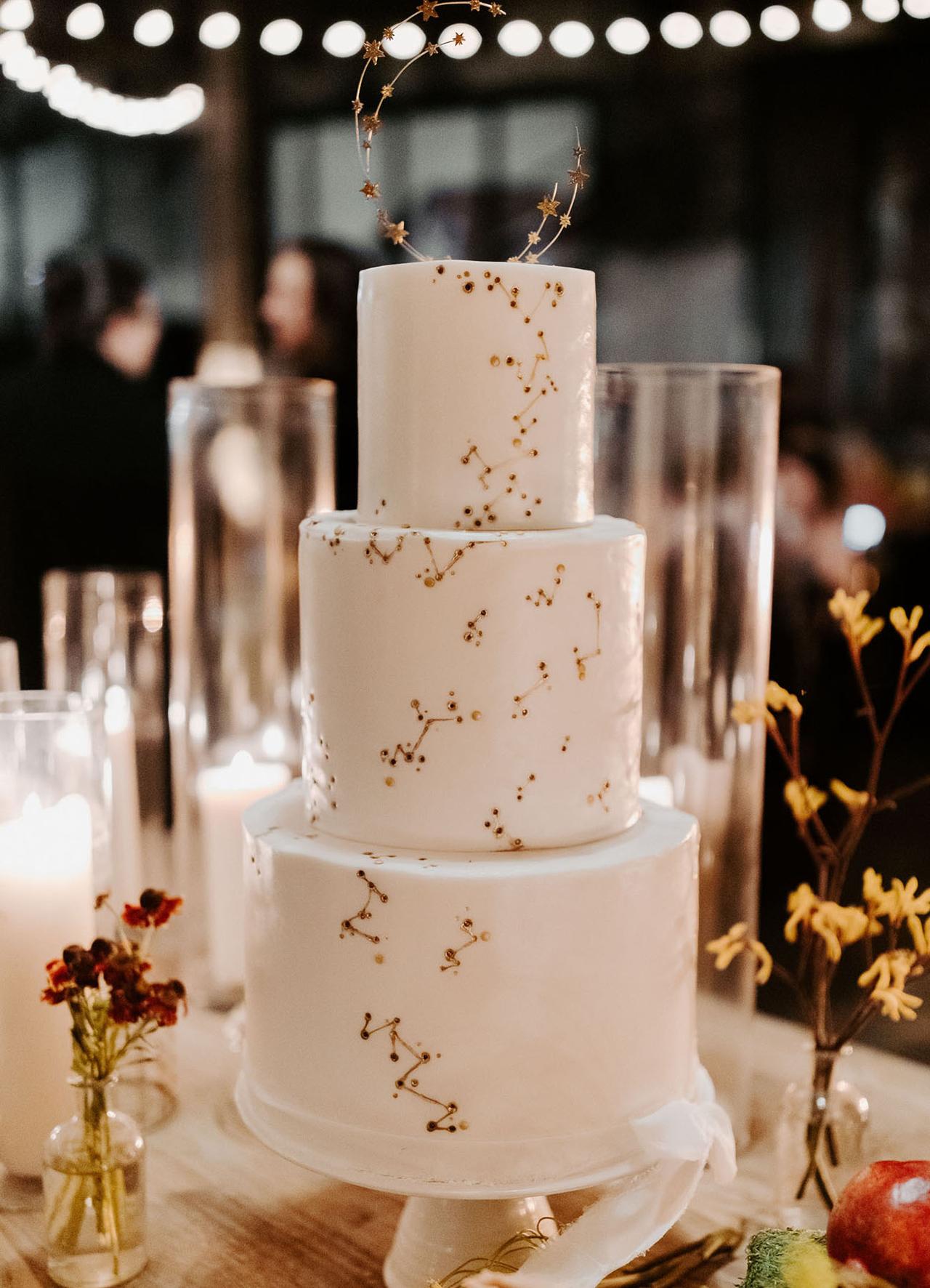 Are you both into star signs? You will love a cake that has the signs of the zodiac and their constellations on. This one mixes delicate edible gold paint and pearls with a stark white backdrop for a minimalist-lovers dream.
18. Hand-Drawn Abstract Wedding Cake
Artistic couples will love this abstract wedding cake. This could be adapted to match any colour scheme.
19. Stained Glass Wedding Cake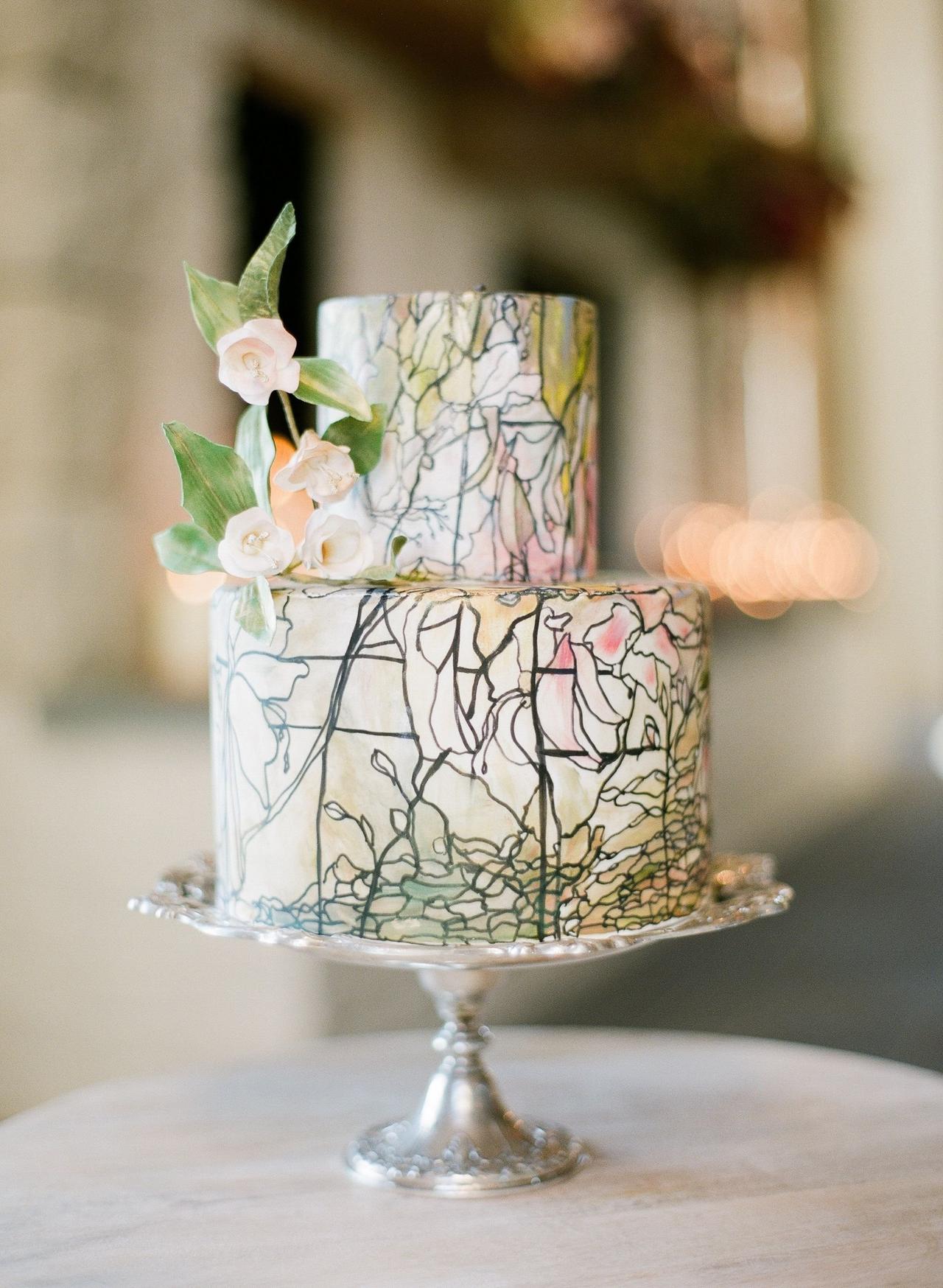 If you want to step up that artistic look, then stained glass wedding cakes are absolutely stunning. Your cake maker can either paint or ice the 'lead' that holds the glass together and paint in bright or muted colours. It's a modern look, but you can make it look vintage too - pick your favourite Tiffany glass design and have it replicated on your cake.
20. Coloured Buttercream Wedding Cake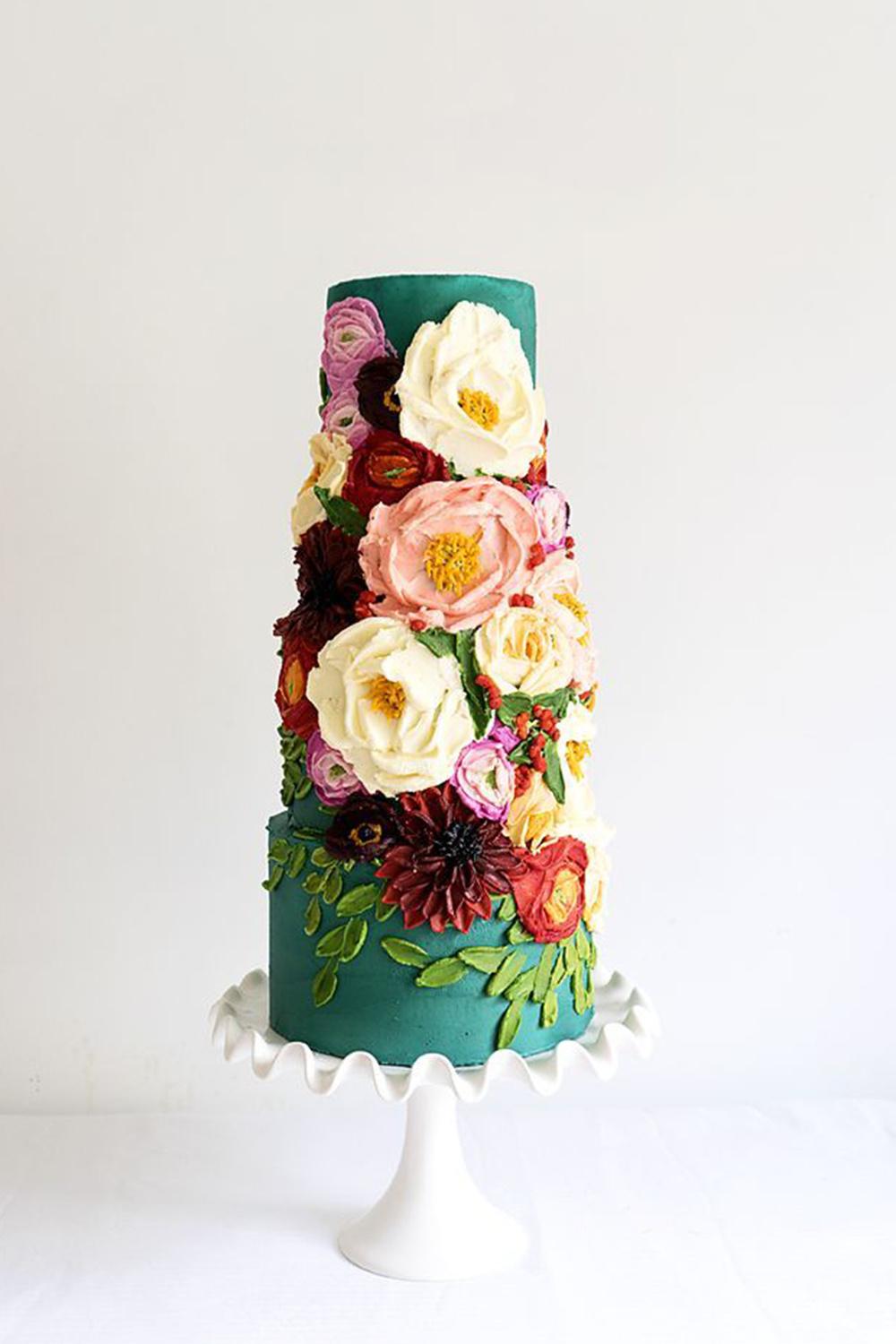 Take the painted cake trend a step further with a buttercream creation that features flowers crafted with a palette knife. This cake is like an oil painting brought to life and will like nothing your guests have seen before.
21. Abstract Paint Smudge Wedding Cake
Paint smudge wedding cakes are a popular modern look. This lovely colour palette would work perfectly at so many styles of wedding, but you can go with whatever your theme is!
22. Art Deco-Inspired Wedding Cake
If you're hosting a Great Gatsby-themed wedding day, this art deco-inspired wedding cake would quickly become the star of the show. Although it's harking back to the 1920s, the geometric shapes and gold-accented monochrome colour scheme feel very contemporary.
23. Tribal Geometric Spring Wedding Cake
Meet Missoni in cake form! Combining a geometric print with a succulent cake topper, this wedding cake idea showcases two of our favourite trends in one. Bold and fashion-forward, this was made for sartorially-savvy couples.
24. Black Marble Wedding Cake
The black cake we showed you earlier had gothic vibes, but couples who wouldn't put their style anywhere in that region shouldn't reject a black cake. Black is dramatic, theatrical and ey-catching. Throw in a metallic marble-effect and you have the complete opposite of a frothy white wedding cake and we are here for it.
25. Bird of Paradise Flower Wedding Cake
Clean, minimalist lines are going nowhere in modern cakes, but to make it feel tied into your theme, we love a single striking decoration at its heart. This bird of paradise wedding cake will look stunning in your wedding photographs.
26. Celestial Wedding Cake
Celestial-themed weddings are a very modern iteration, so pay homage to astrology and the stars with a celestial-inspired wedding cake like this one. Once you've checked what your wedding will be like according to your star sign, of course. What about also adding a galaxy mirror glaze?
27. Modern Orange Wedding Cake
Modern wedding cakes don't have to be decorated in muted colours. This vibrant orange shade works seriously well. At its heart is a traditional two-tier cake, but the orange icing and buttercream embellishments take it so far away from traditional.
28. Sugar Art Wedding Cake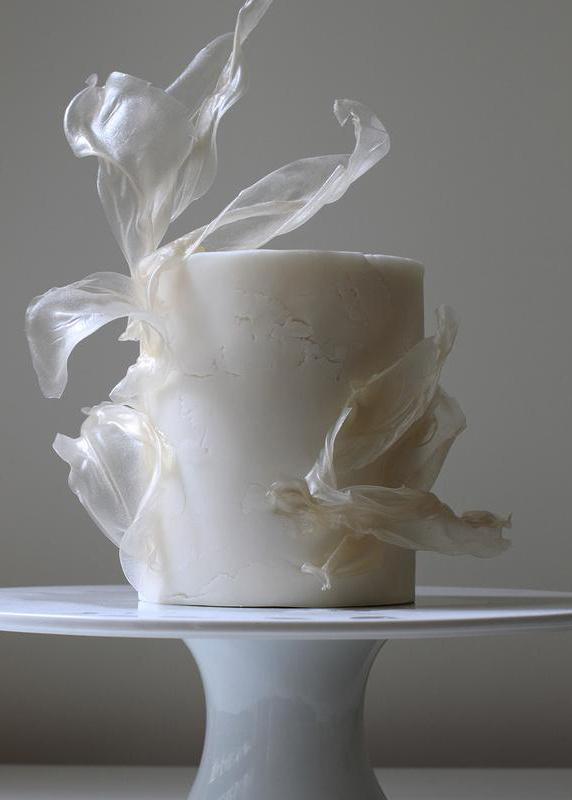 The complete opposite of colour is this pure white cake that will get modern minimalists hot under the colour. That incredible sugar art makes it look like the cake has frozen mid-movement and adds an incredible dynamism to a strikingly clean cake.
29. Hand Painted Wedding Cake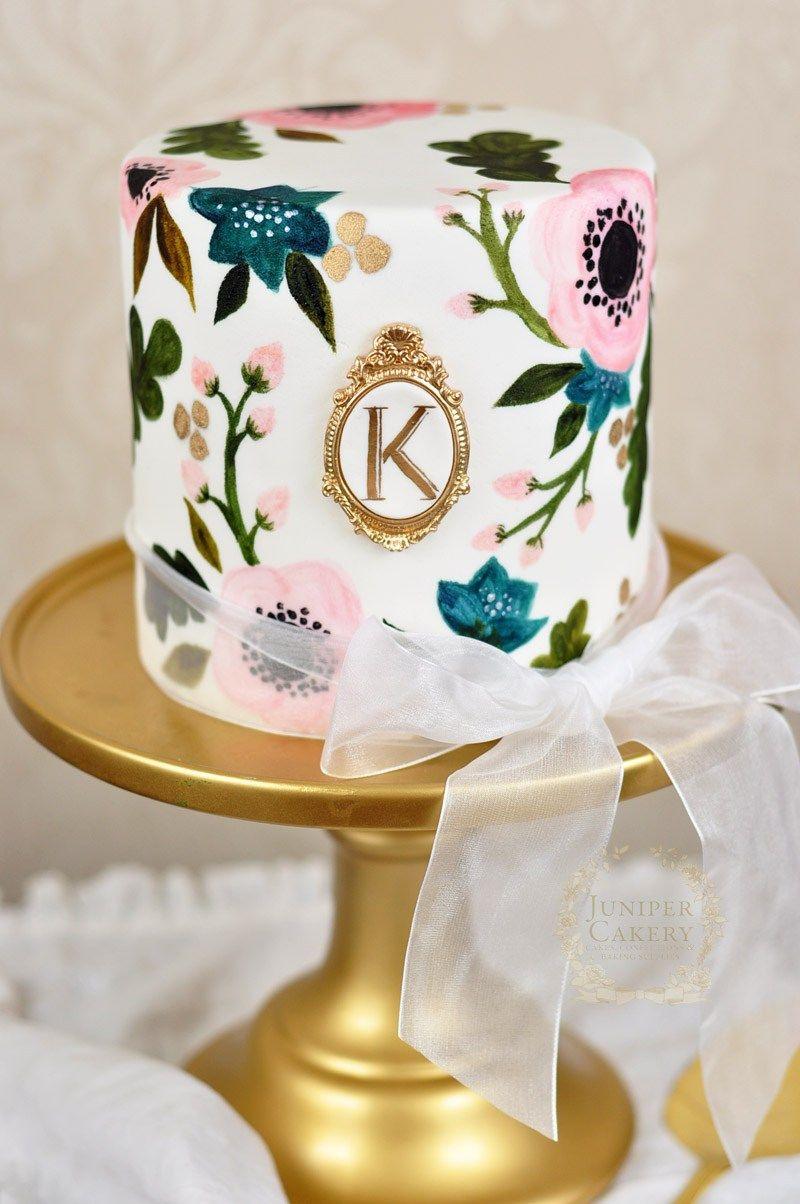 Excuse us while we fan-girl over how beautiful this cake is. Contemporary wedding cakes are all about reflecting the couple and their style, and nothing is more personal than a hand-painted wedding cake that features a design you love. This one has the addition of initials and it would be lovely to have your initials entwined on the front.
30. Abstract Textured Buttercream Wedding Cake
The touches of purple really make this abstract wedding cake pop. Mixed textures and tiny touches of metallics bring lots of on-trend cake finishes together in one awesome look.
READ MORE: 50 Simple Wedding Dresses for the Modern Bride
31. Burgundy & Gold Geode Wedding Cake
If you've been on the hunt for a cake stand for a while but can't find anything you love, consider using a mirror. You can write your favourite love quote or your names and wedding date around the edge.
This one is topped with a geode cake, which will appeal to every couple who love crystals. It's one of the most striking nature trends in cakes and we can't get enough.
Rustic Wedding Cake Ideas
32. Rustic Semi-Naked Wedding Cake
Visibly imperfect semi-naked icing gives an otherwise simple wedding cake a serious edge. Top it with the same flowers and berries in your wedding flowers or find an edible alternative - your wedding cake maker can advise you.
33. Rustic Orchid Wedding Cake
Rustic cakes can be naked, semi-naked, or have just a tiny hint of cake showing through the buttercream, like this one. A simple wedding cake can pop with elegantly placed flowers and a tiny bit of gold leaf. This wedding cake would be perfect in any season.
34. Pressed Flower Wedding Cake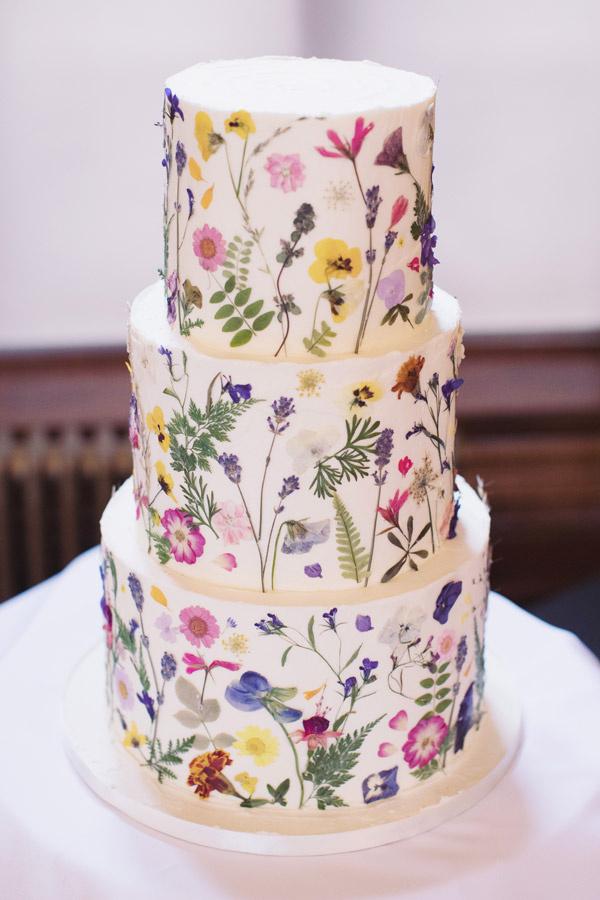 Pressed edible flowers are the most gorgeous decoration for a rustic cake. Anyone with a nature-inspired wedding should show this boho beauty to their cake maker now. You could even grow the flowers to use on the cake for an even more special touch.
35. Rustic Gypsophila Wedding Cake
Adding sprigs of gypsophila can transform an otherwise simple rustic wedding cake. Displaying your bake on a log slice cake stand is another fabulous idea.
READ MORE: 45 Breathtaking Rustic Wedding Ideas
36. Caramel Drip Wedding Cake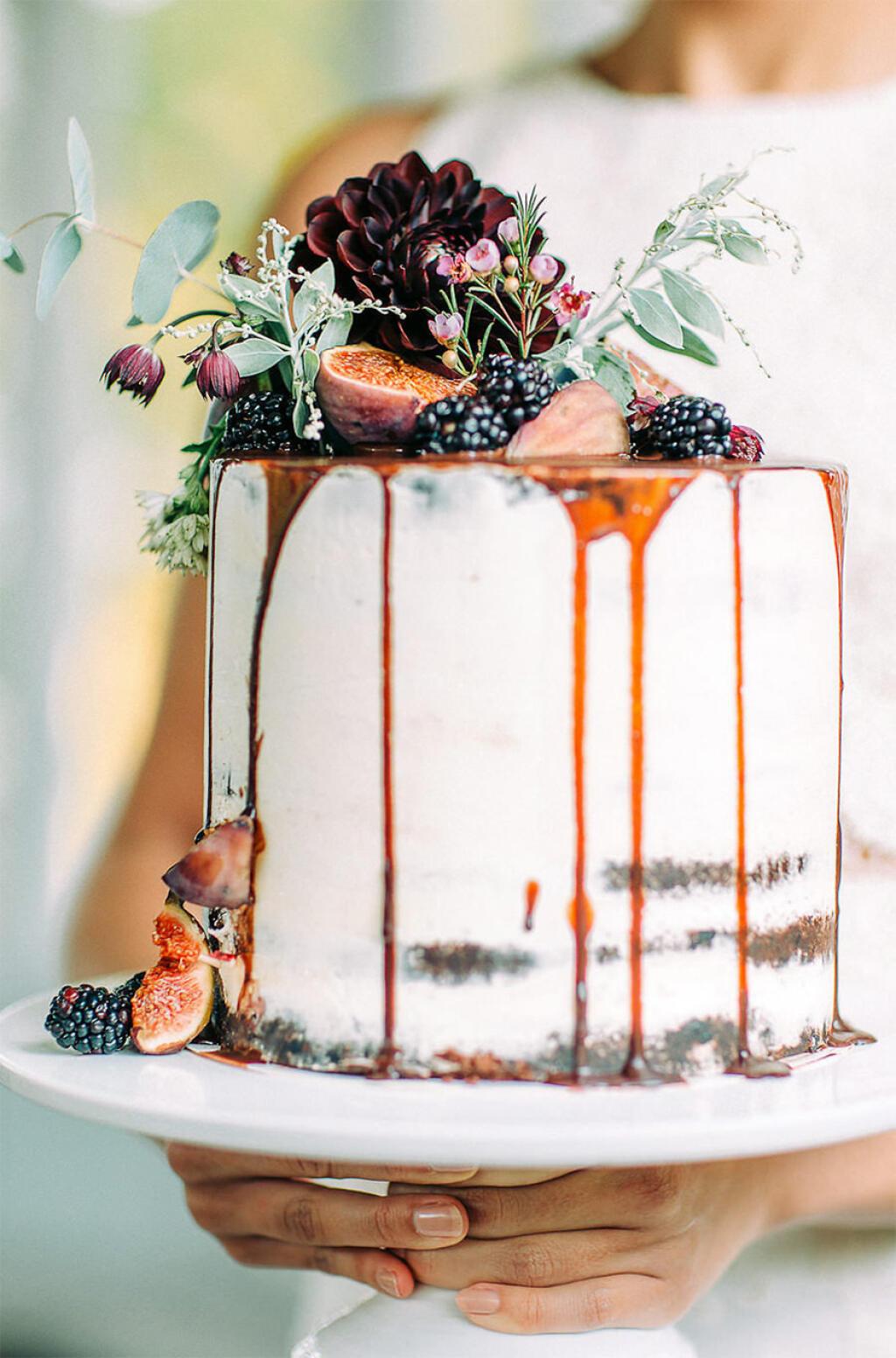 Drip wedding cakes lend themselves so well to rustic themes. This autumnal cake features caramel drips, blackberries, figs, dried apple slices and more. It's an architectural delight and those drips look totally moreish.
37. Colourful Naked Wedding Cake
Choosing different flavoured sponges for each tier is a great way to add a bit of interest to your naked wedding cake. All that's left to decide is whether you'll go for a slice of lemon or a slice of chocolate…
38. Lilac Country Garden Wedding Cake
There are just as many non-edible parts to this wedding cake as there are bits you can eat… but we kind of love that. A tall stacked layer of sponge can look cooler than tiers, and is balanced out here with a gorgeous large floral display.
39. Gold & Pink Fig Wedding Cake
If you love pink, order an entire cake iced in it! It doesn't have to be frosted in icing sugar or covered in ivory fondant icing to count as a wedding cake.
40. Rainbow Flower Wedding Cake
One way to make a simple, semi-naked wedding cake feel more unique is to add lots of colourful flowers to the stand and the top tier. The more colours, the merrier!
Classic Wedding Cake Ideas
41. Pink Pearl Wedding Cake
We can't get enough of this pearl-encrusted wedding cake. Pearls give off classic wedding vibes, but added to this on-trend blush pink, the whole look is very cute and contemporary.
42. Traditional Autumn Wedding Cake
Perfect for an autumnal wedding, this three-tier wedding cake features cascading flowers and berries. Flower-adorned white fondant is a timeless wedding cake look and can be adapted to whatever theme you have with varying colours and flowers.
43. Tropical White Wedding Cake
From the orchids to the laser-cut tropical flower garland cake topper, there is so much to love about this wedding cake. White buttercream is chic and elegant; your wedding cake maker will be a master in making cakes like this and happy to adapt with whatever toppings work for your wedding.
44. Chocolate Drip Wedding Cake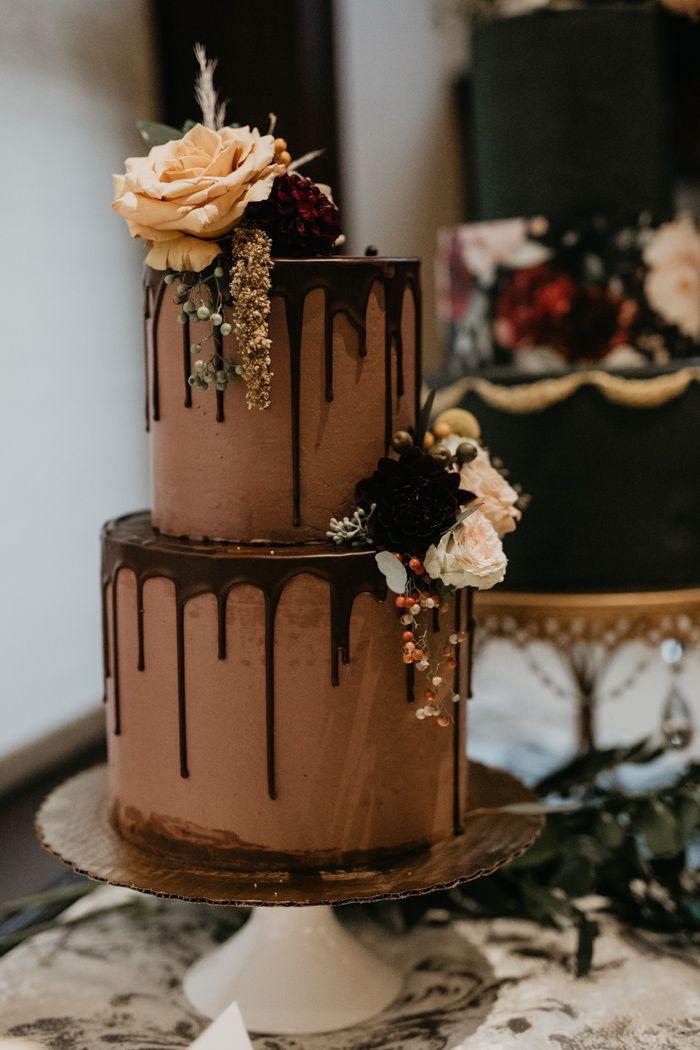 Chocolate cake is hugely popular for weddings and it looks amazing with melted chocolate drizzled across the top and dripping down the sides. Drip cakes come in just about everything you can imagine - metallic icing, strawberry coulis, caramel - but chocolate ganache is one of the ultimate flavours.
45. Winter Wedding Cake
We feel festive just at the sight of this winter wedding cake. Pine cones, orange and cinnamon sticks make it feel extra Christmas-y. If you're having a traditional fruit cake, you can elevate the decorations to make it even more special. Have you ever considered a whole peeled clementine?
READ MORE: The World's Best Beach Wedding Destinations
46. Simple Ombre Wedding Cake
Keep your wedding cake simple and let a cake topper do the talking. This pink to white ombre buttercream creation is effortlessly elegant and a classic look to embrace.
Colourful Wedding Cake Ideas
47. Embroidery Wedding Cake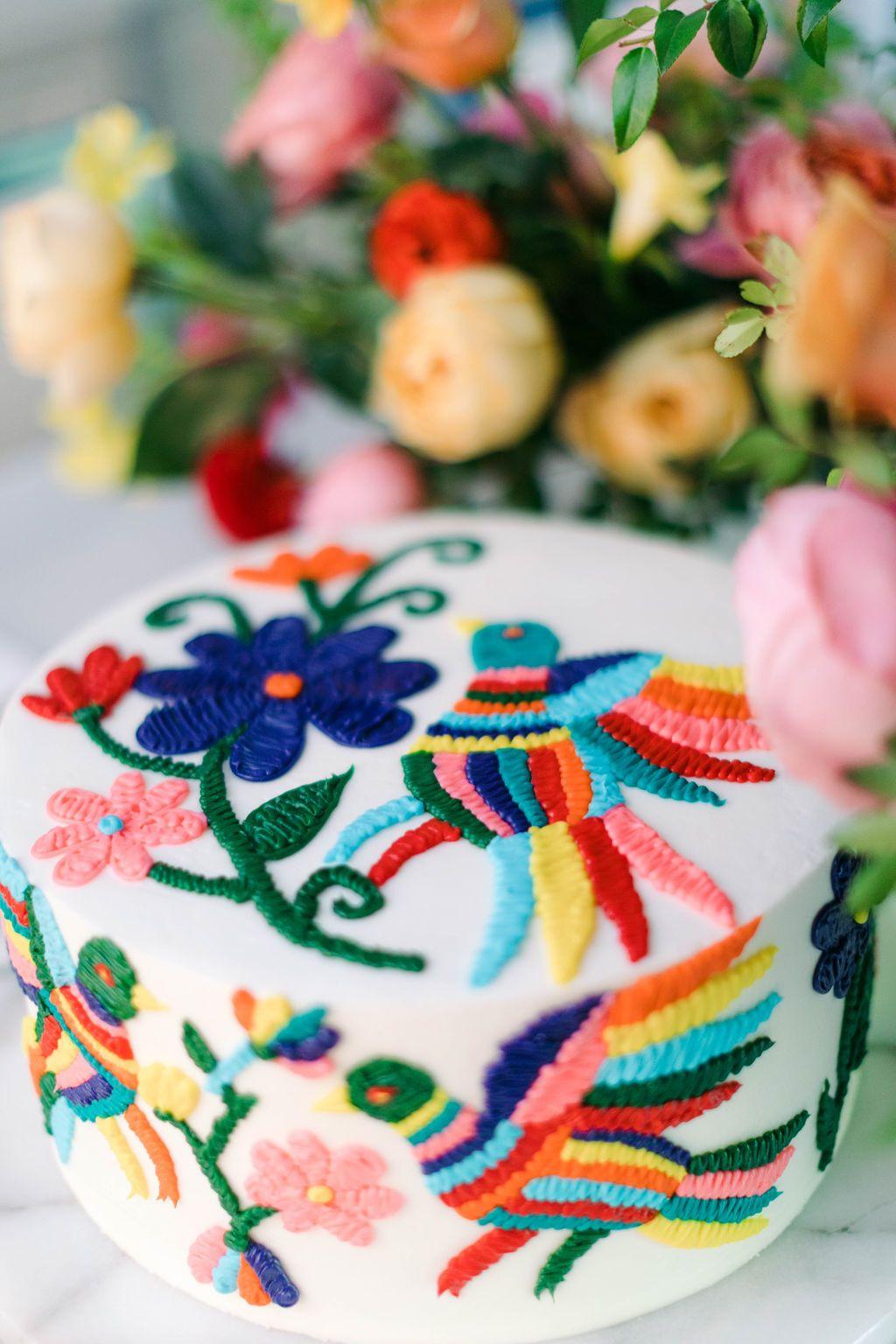 Embroidery buttercream cakes are absolutely stunning and lend themselves to bright, bold colours. Nothing says statement cake more than commissioning a wedding cake with embroidery of your favourite things, such as flowers, birds, plants, succulents and more.
48. Pastel Spatula Painted Wedding Cake
We fell in love with this pretty pastel design as soon as we laid our eyes on it. Three tiers of pure perfection, if you ask us… It's totally unique and completely different to what you'd expect to see on a wedding cake table. If you like splashes of colour, this is the type of cake to look for.
49. Blue Ombre Wedding Cake
This wedding cake idea combines two huge wedding trends: marble-effect and ombre icing. If you have multiple tiers, we love the idea of flavouring each one differently.
50. Ripple Wedding Cake with Statement Cake Topper
The visibly imperfect icing gives this three-tier wedding cake a serious edge. It features different tones of coral icing but this style would look brilliant with any pastel hue.
51. Painted Buttercream Wedding Cake
Italian meringue buttercream applied with a palette knife creates this 3D effect. If you want a colourful wedding cake that could be straight out an art gallery, this technique is ideal.
52. Colourful Drip Wedding Cake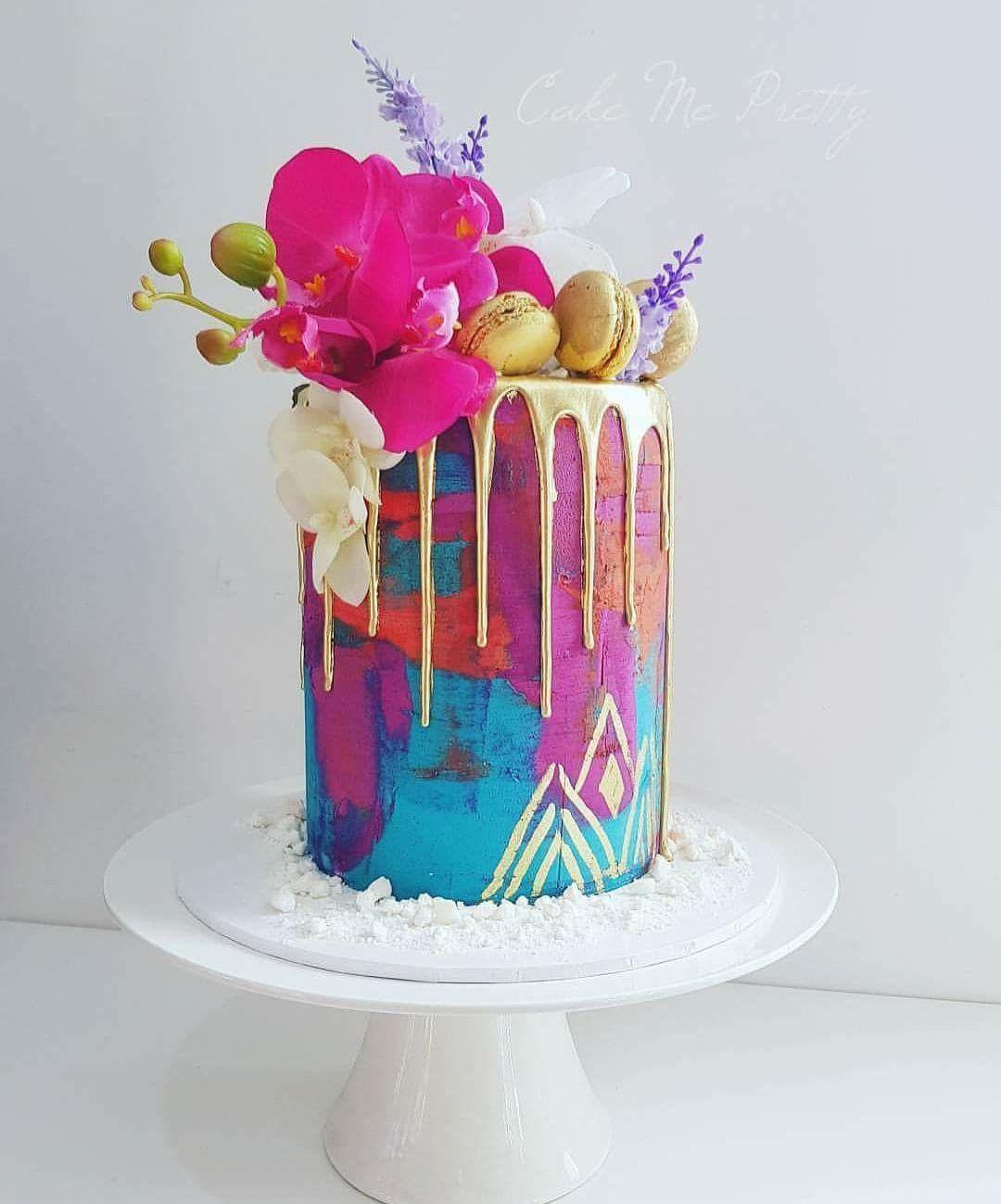 If you have a small guest list or don't think many of your guests will fancy a slice of cake after all that wedding breakfast food, stick to one tier. This colourful cake is brought to life with a metallic gold drip embellishment. We love the additions of macaroons on this cake too.
53. Rainbow Wedding Cake
Each tier of this wedding cake has been iced in a different way, but the contrasting layers have been tied together with metallic details. Rainbow colours as icing or as layers in a cake are such a fun and playful cake design idea that will make all your guests smile.
54. Navy Blue Wedding Cake
This dark blue wedding cake boasts jacquard-textured icing with silk flowers and metallic edging. Can you peek the purple icing underneath and on the corner curls? It looks so luxe!
55. Pretty Pastel Wedding Cake
Rainbow wedding cakes aren't just for kids birthday parties, you know. This design wouldn't look out of place at a unicorn-themed celebration but we love it all the same. It's a pastel fairytale and we have all the time in the world for it.
56. Asian Wedding Cake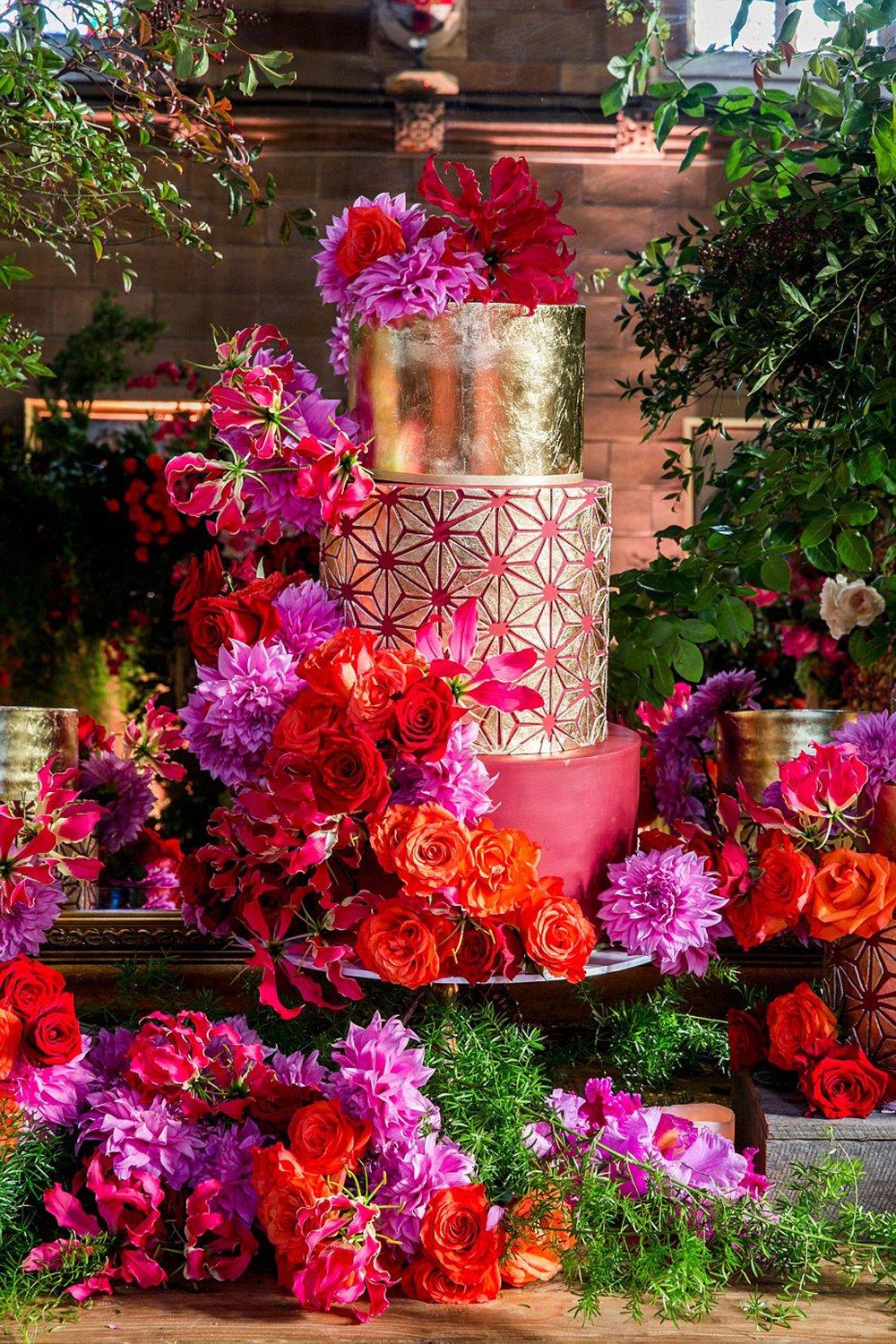 Asian wedding cakes are typically very colourful, embracing reds and pinks, with plenty of gold across the multiple tiers. Sugar flowers and delicate, intricate icing play a bit role in the cake decoration too and we'd recommend you go to an Asian wedding cake maker who'll have experience making a multi-tier cake.
57. Coral Single-Tier Wedding Cake
This bold and vibrant wedding cake takes inspiration from the Pantone colour 'Living Coral'. One tier is all you need if your cake is this beautiful.
58. Black and Bold Wedding Cake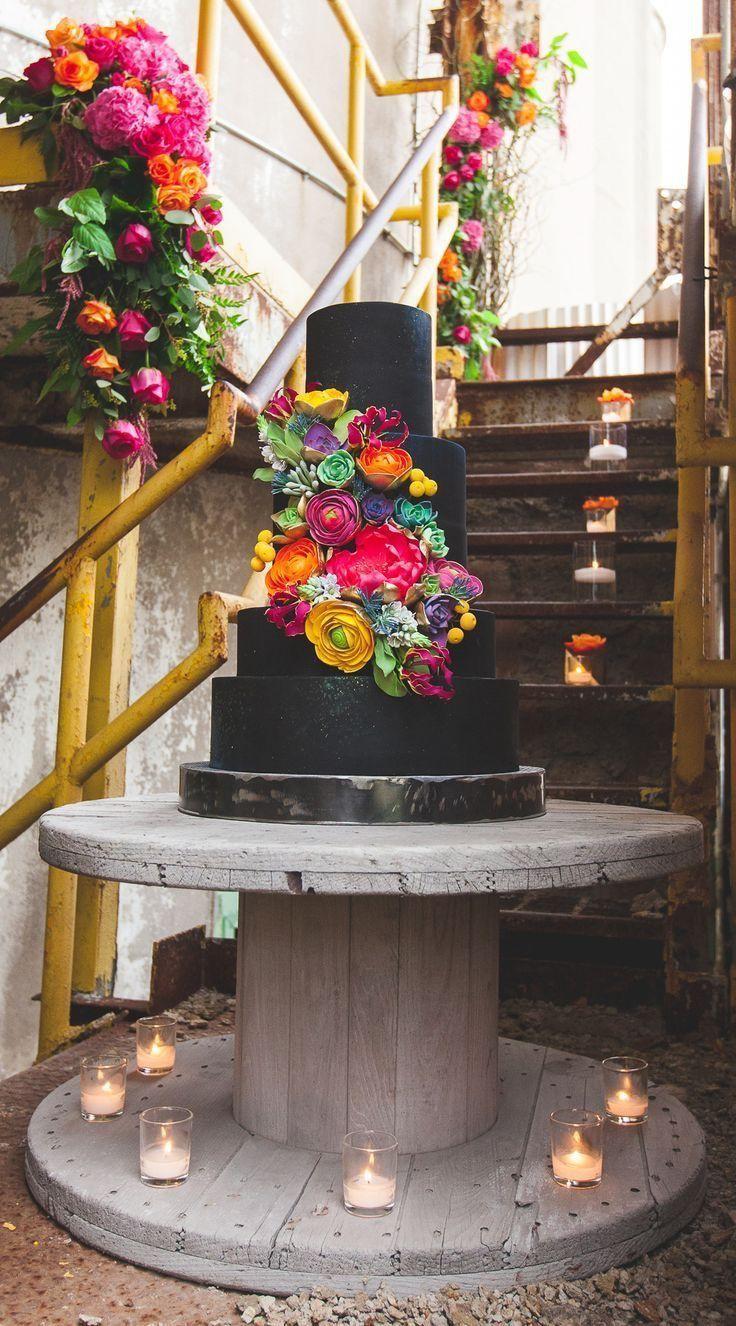 A black wedding cake can be the perfect backdrop for vibrant floral decorations. It allows their colour to pop and makes the flowers the focal feature of the cake. Do not be scared of a black cake, but if you do want to lighten it a little, make sure your cake inside is a light and fluffy colour, like lemon or vanilla.
59. Statement Tropical Wedding Cake
Just when we thought we couldn't love swiss cheese plant print more, we stumbled across this monstera-print wedding cake. Obsessed.
60. Classic Blue Watercolour Wedding Cake
This impressive five-tier wedding cake has everything from blue watercolour icing to cascading sugar roses and metallic accents. Neutral-coloured flowers and decorations instantly lift a darker coloured cake.
READ MORE: How to Create a Balloon Wall in 5 Easy Steps
61. Mint Green Geode Wedding Cake
Thanks to the vibrant combination of mint green and gold, this might be the prettiest geode wedding cake we've seen so far. Marbled cake icing elevates a geode cake and makes the whole look more cohesive.
62. Yellow Spring Wedding Cake
This wedding cake will have your guests feeling as though spring has sprung the moment they set their eyes on it. The bold colour choice has really paid off and it'll be eye-catching in photographs. Don't avoid a single colour wedding cake, even if it as bright as this - it really is a fun statement.
63. Black Layered Floral Wedding Cake
Black wedding cakes aren't just reserved for gothic weddings. The addition of brightly coloured flowers, one printed tier and one gold tier lift the design endlessly. Speak to your cake maker about ways to lift a dark cake if you're nervous.
64. Bold Floral Print Wedding Cake
This impressive wedding cake by Bee's Bakery uses contrasting floral prints and artificial silk flowers to add numerous different dimensions to the design.
65. Retro Wedding Cake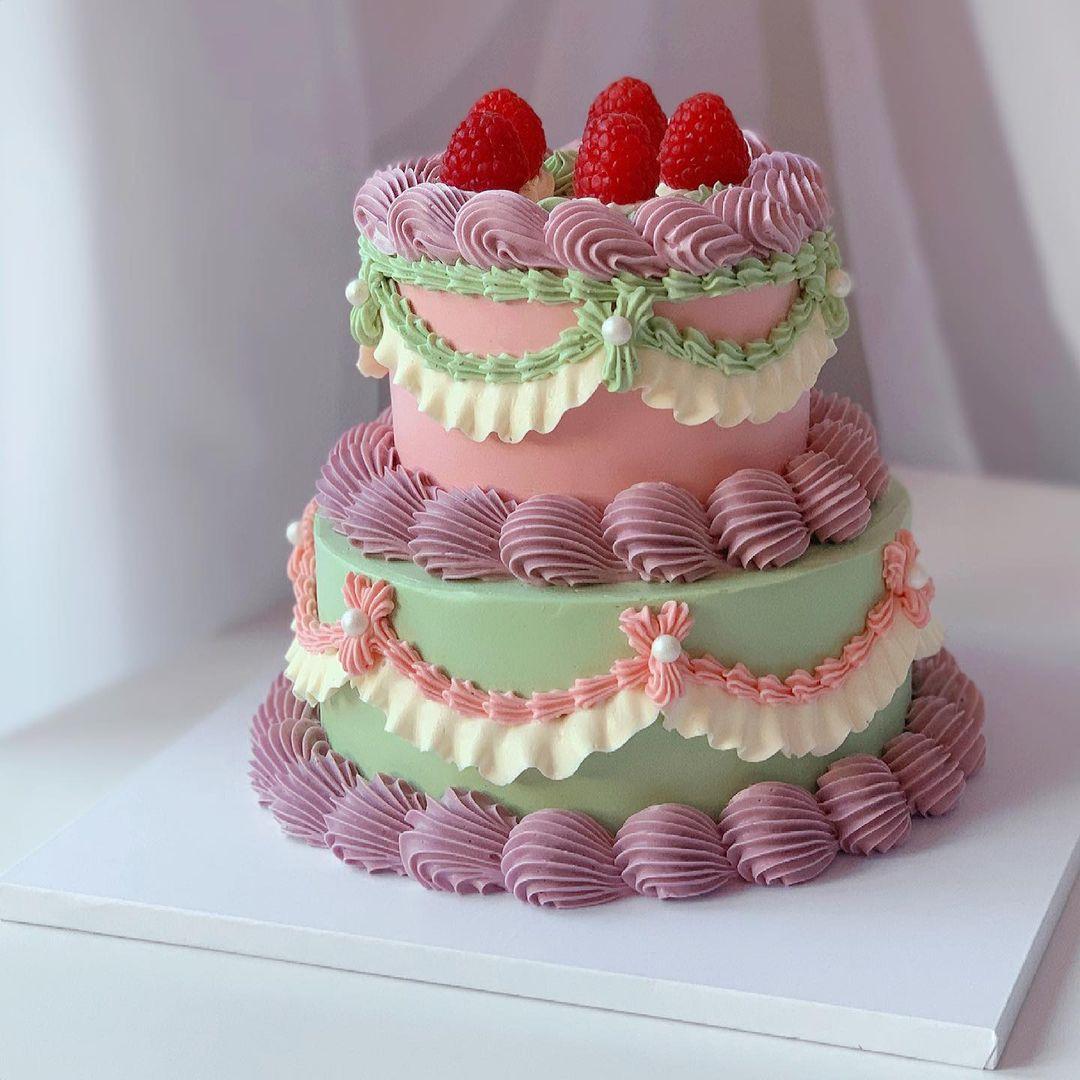 Kitsch wedding cakes with retro pastel icing have blown up in popularity and are one of our favourite ways of getting colour into your wedding cake. This one by April's Baker looks straight out of the Marie Antoinette era with a cool modern twist.
66. Ombre Initial Wedding Cake
The addition of the initials in the bottom corner of this wedding cake is such a cute touch. All you need to do is pick which colours you'd like your cake maker to paint on in an ombre design and then get cutting into it!
Alternative Wedding Cake Ideas
67. Doughnut Stack Wedding Cake
Who says you need to have a traditional wedding cake on your big day? Consider a doughnut stack if you want something which is much easier to share around.
This doughnut stack has a small cake on the top tier, so you'll still be able to cut the cake in front of all your guests!
68. Dessert Stack Wedding Cake
How about stacking all your favourite desserts onto one wooden cake stand? Think cupcakes, chocolate brownies and miniature doughnuts! Again, this one has a small top tier so there's something to cut.
READ MORE: Our Favourite Dessert Table Ideas
69. Mint Macaroon Wedding Cake
Couples with a sweet tooth will love this wedding cake which is finished with a tower of macaroons. We love the juxtaposition of flowers and geometric outlines.
70. Cheese Wedding Cake
How about ditching the traditional sweet wedding cake altogether and opting for a cheese wedding cake? This set-up is something we can totally get on board with…
READ MORE: 37 Awesome Wedding Cake Alternatives
71. Chocolate Brownie Wedding Cake
What about one tower of cheese and one of chocolate? We're pretty obsessed with this chocolate brownie wedding cake too. Remember to dust your brownie stack with icing sugar and top with seasnal fruits to make it look extra-rustic!
How to Choose a Wedding Cake
If you're wondering how to choose your wedding cake, we've got a few top tips. Take a look!
1. Consider the Size
The size of your wedding cake will depend on how many guests you have attending your wedding.
Remember, you might also wish to have enough wedding cake to enjoy afterwards and for the guests who couldn't make it. Some couples also freeze the top tier to eat on their first anniversary or to have at the christening of a first child (if they plan to have them).
2. Consider Your Theme
Your wedding cake needs to match your wedding theme, so before you settle on a design, think what style of cake might suit the other décor details you've gone for.
A semi-naked wedding cake with real flowers would look great if you're getting married at a barn wedding venue, while a traditional, ivory bake would look lovely in a stately home.
3. Think About the Flavour
While it is important that a wedding cake appeals to the visual senses, it's (arguably) even more important that it tastes good.
Whether you want a traditional flavour like vanilla, chocolate or fruit or something a little more exciting like passionfruit or lemon, you've got to make sure you'll enjoy eating it.
If you're tempted by lots of flavours and you can't make up your mind, why not flavour each tier differently?
4. Go for a Cake Tasting
You wouldn't order a wedding dress without trying it on, so why make any sort of final wedding cake decision without attending a tasting?
Once you have a rough idea about the size, design and flavour of cake you might be after, go out and meet a couple of cake makers. You'll be able to taste their work, chat to them and make sure they're just as excited about your wedding as you are!
5. Don't Forget the Weather
There would be nothing worse than choosing a beautiful wedding cake which ends up melting on your big day.
If you're hosting a summer wedding or getting married abroad, stay away from whipped cream or Italian meringue buttercream. They melt quickly.
Ask your cake maker about summer icing options, delivery and refrigeration. Summer brides might do well to choose a fondant-iced wedding cake.
READ MORE: The Best Wedding Instagram Accounts to Follow
Now that you've chosen your wedding cake, check out these alternative wedding food and drink ideas for more delicious inspiration!