Meet the Biggest Wedding Cake Trend for 2022
Couples planning a chic, contemporary wedding will adore the newest trend to take over the wedding cake world - cake top forward cakes!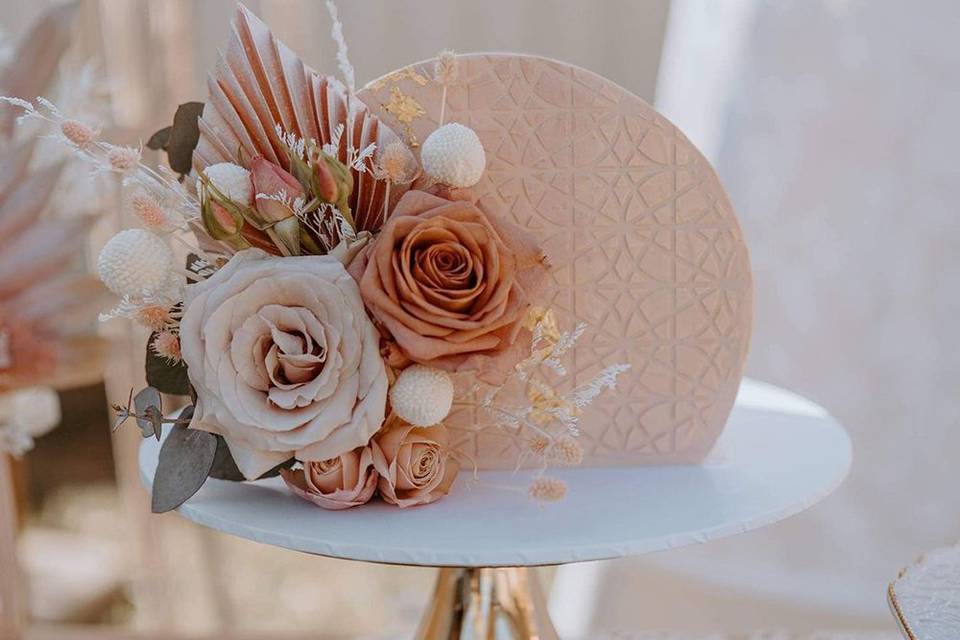 Couples with a modern vision for their wedding will adore the latest wedding cake trend: cake top forward. We agree, not the catchiest name, but it does what it says on the tin. The cake is on its side with the top facing forward, creating a contemporary and chic moon shape that looks incredible in photos.
The technique was created originally by Delaney's Desserts in California and has taken Pinterest and Instagram by storm. Your wedding cake maker will jump for joy at the idea of doing such a fun and unique design, while your guests probably won't have seen a cake like it before! Prepare for lots of ooohs and aaaahs when they spot it.
From drips to dried flowers, you can still incorporate all your favourite looks into a top forward wedding cake. We've pulled together some of the best cake top forward cakes around to inspire you.
READ MORE
1. Cake Top Forward with Dried Flowers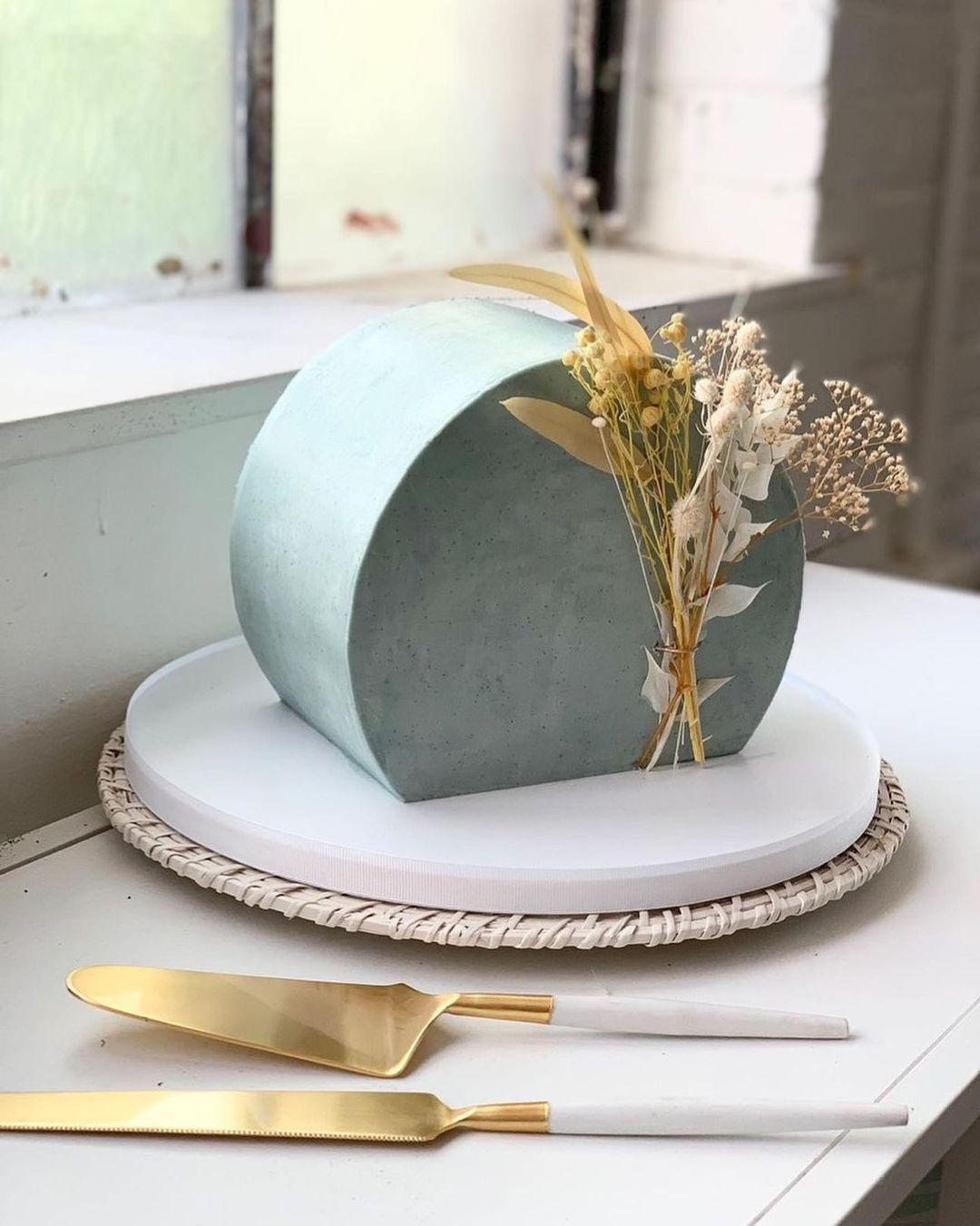 Here you can see exactly what we mean: a tier of your cake turned on its side. This beautiful blue cake has smooth buttercream icing and is decorated with on-trend dried floral. We love the colour palette of icy grey-blue, white and gold in this set-up which would look so good at a modern wedding.
2. Marble Cake Top Forward Cake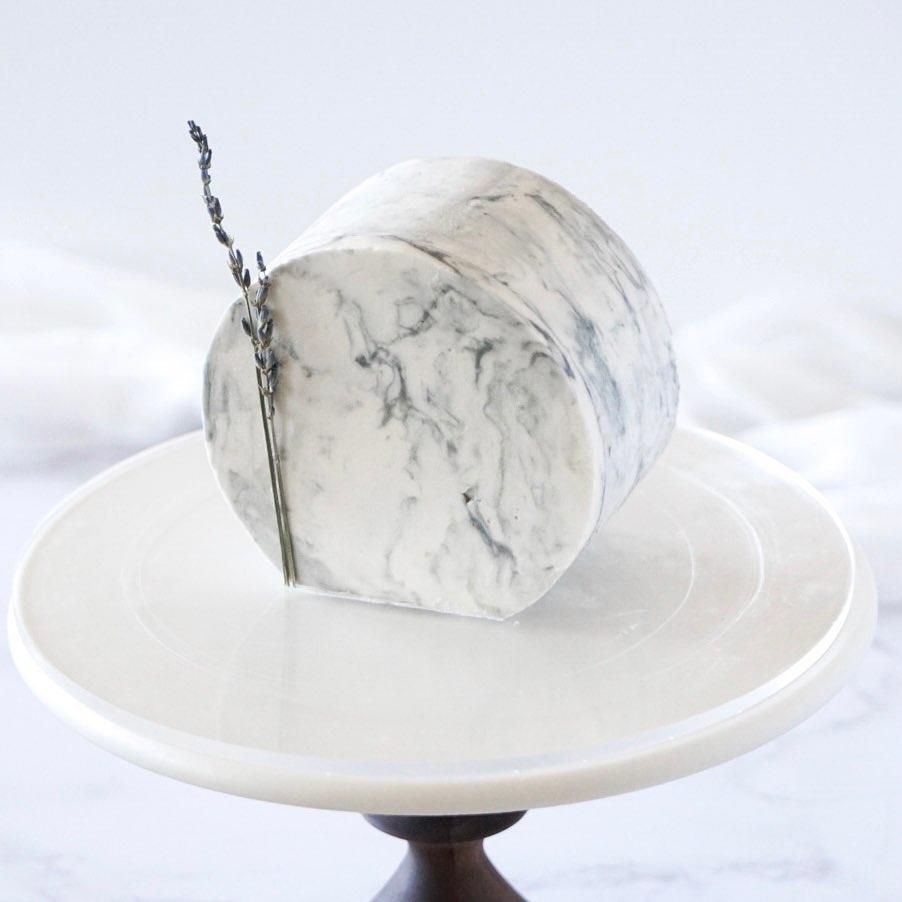 Made by the original creator of the technique, this marble cake shows just how elegant and dramatic the style can be. We love the smooth sweep of the design as the fondant icing arches down to the cake stand. This only has one sprig of lavender as the decoration but it's all it needs.
3. Fairytale Cake Top Forward Cake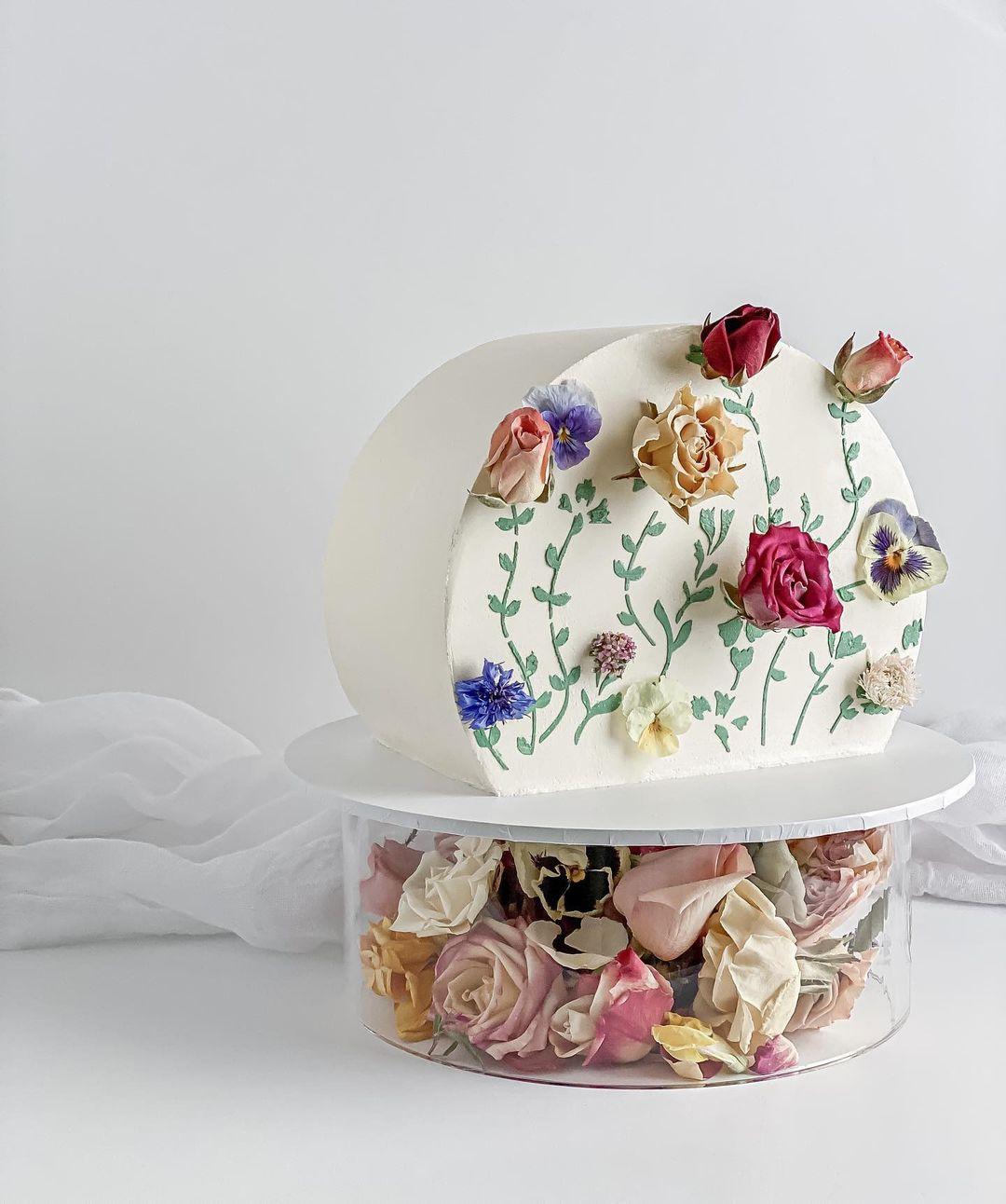 We love the Beauty and the Beast energy of this glorious rose cake. Featuring dried roses, pansies and chrysanthemum in soft buttercream icing, it would be perfect for a fairytale themed wedding. You could easily DIY a wedding cake stand like this from a cylindrical glass bowl, silk or dried flowers, and a large flat plate, and it would work with so many cake looks.
4. Triangle Cake Top Forward Cake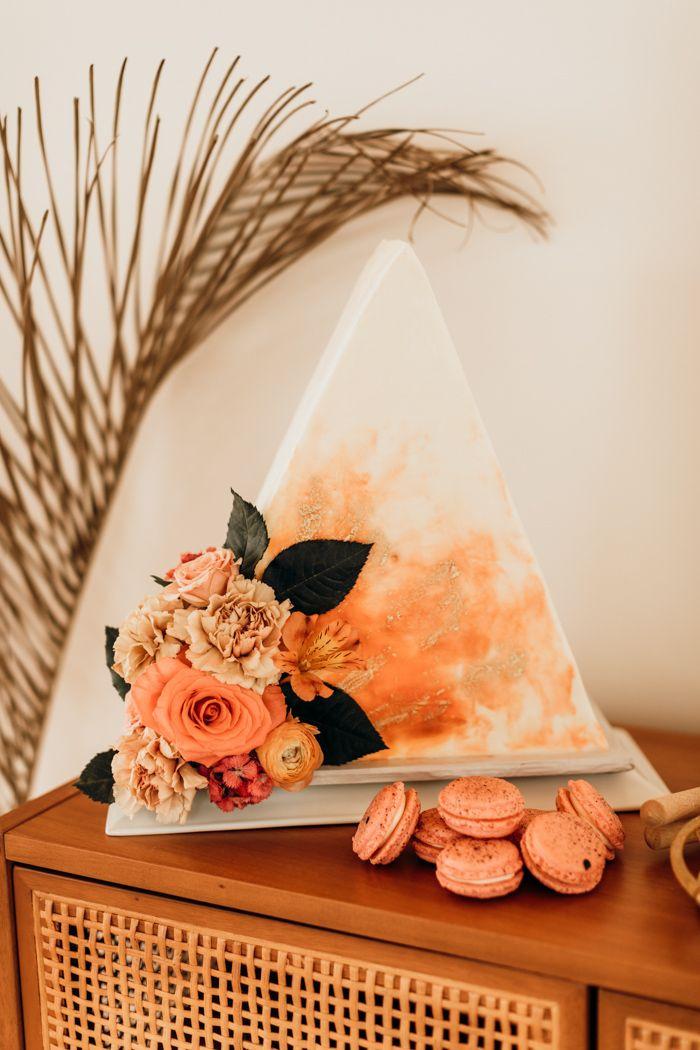 You absolutely don't need to go for a traditional round shape for a top forward cake. How stylish is this statement triangle cake which would look perfect at a wedding that features a lot of geometric shapes. We love the peachy toned flowers that go with the coral cake and the little display of macarons. How about having one of these macarons as a wedding favour on each place setting to tie the look together?
5. Metallic Accent Cake Top Forward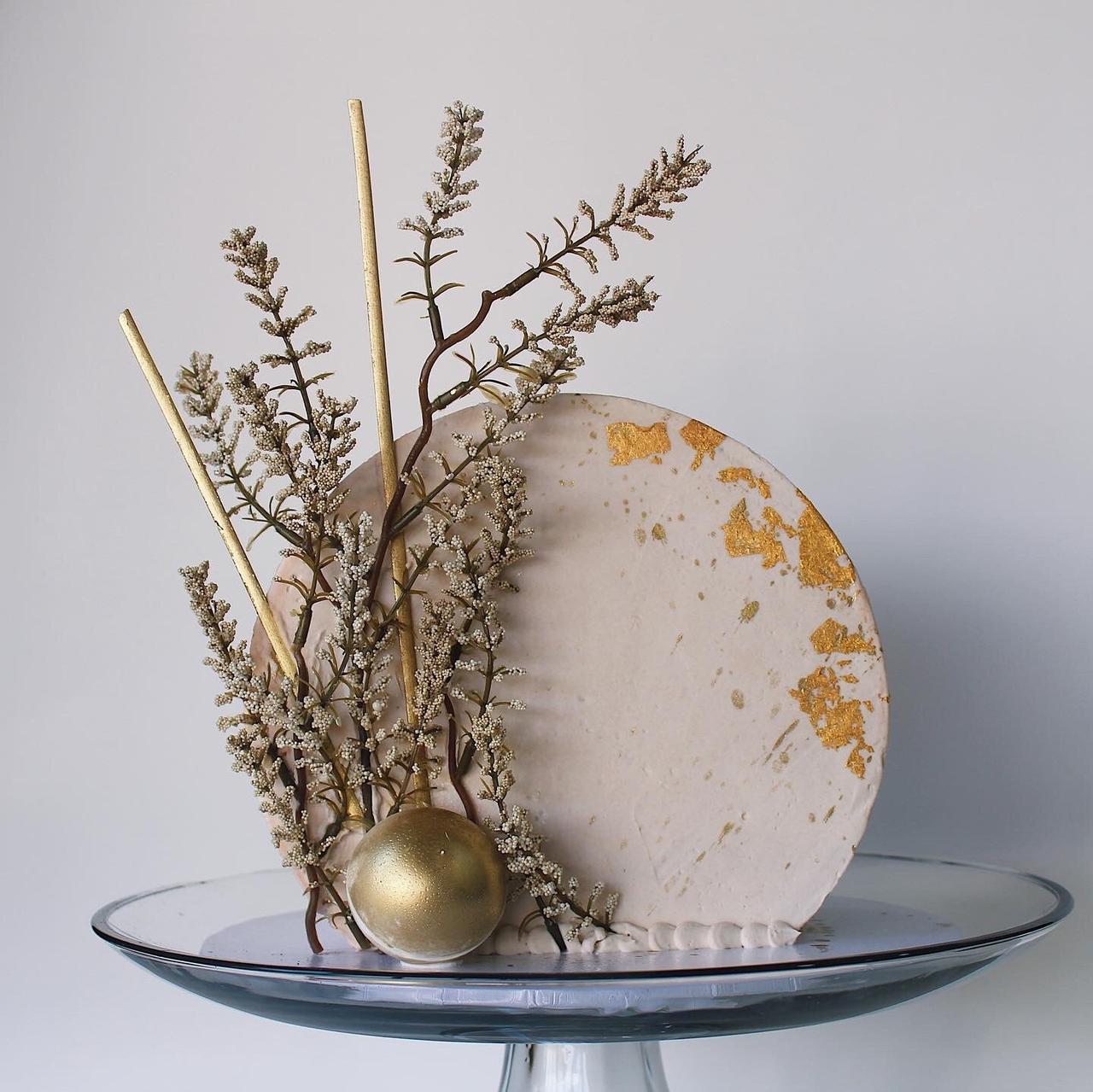 How stunning does this pillowy pink buttercream cake look with the frame of gold leaf around the edges. The metallic splashes bring the simple but statement decorations to life.
6. Minimalist Cake Top Forward Cake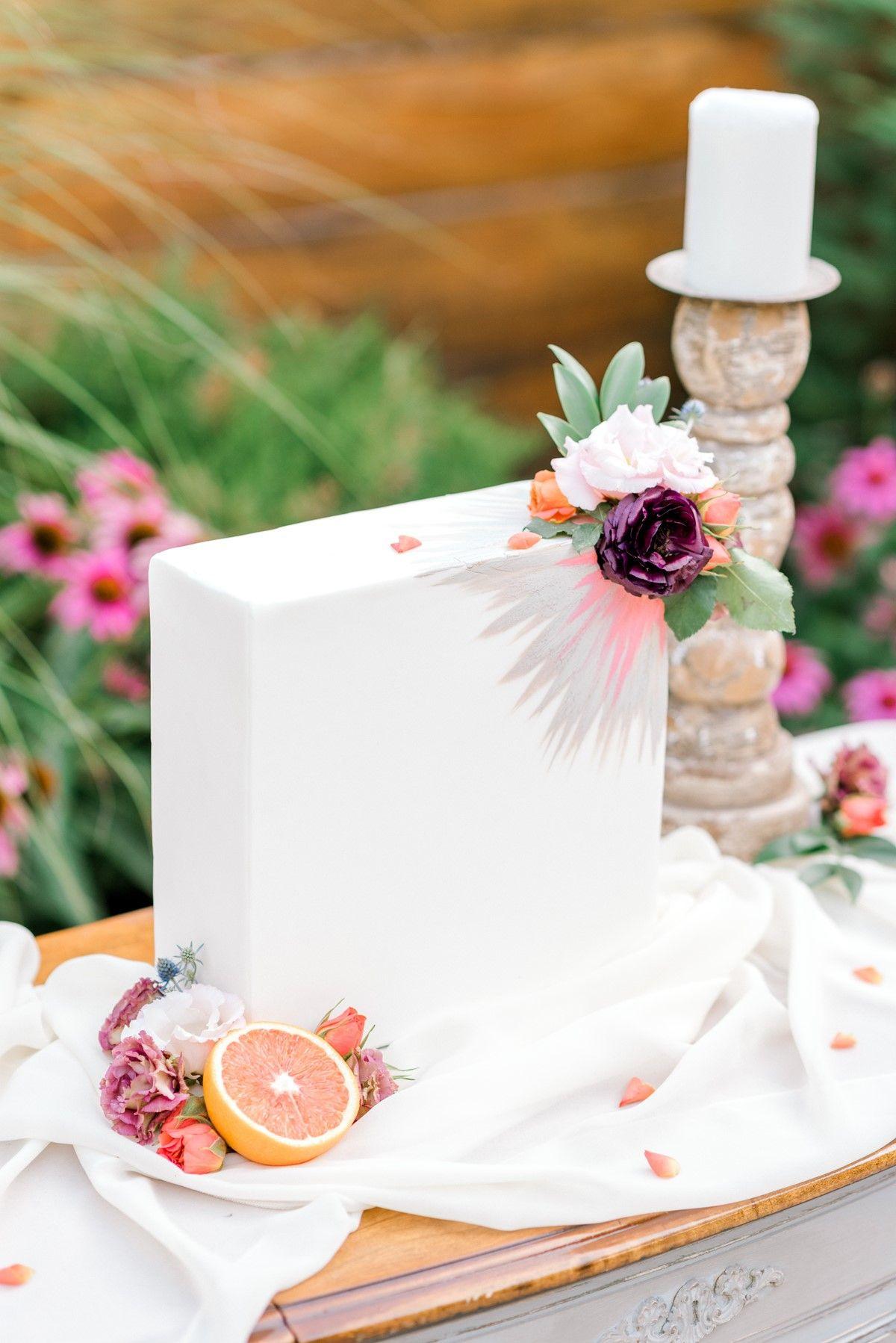 Simple, stark and modern, this contemporary rectangular shape is minimalism in action. The grey and pink sunburst in the top right corner looks beautiful against the pure white icing. It would be perfect at a minimalist wedding, although we can see it just as well at a colourful, tropical one with a few more vibrant floral decorations.
7. Ombre Cake Top Forward Cake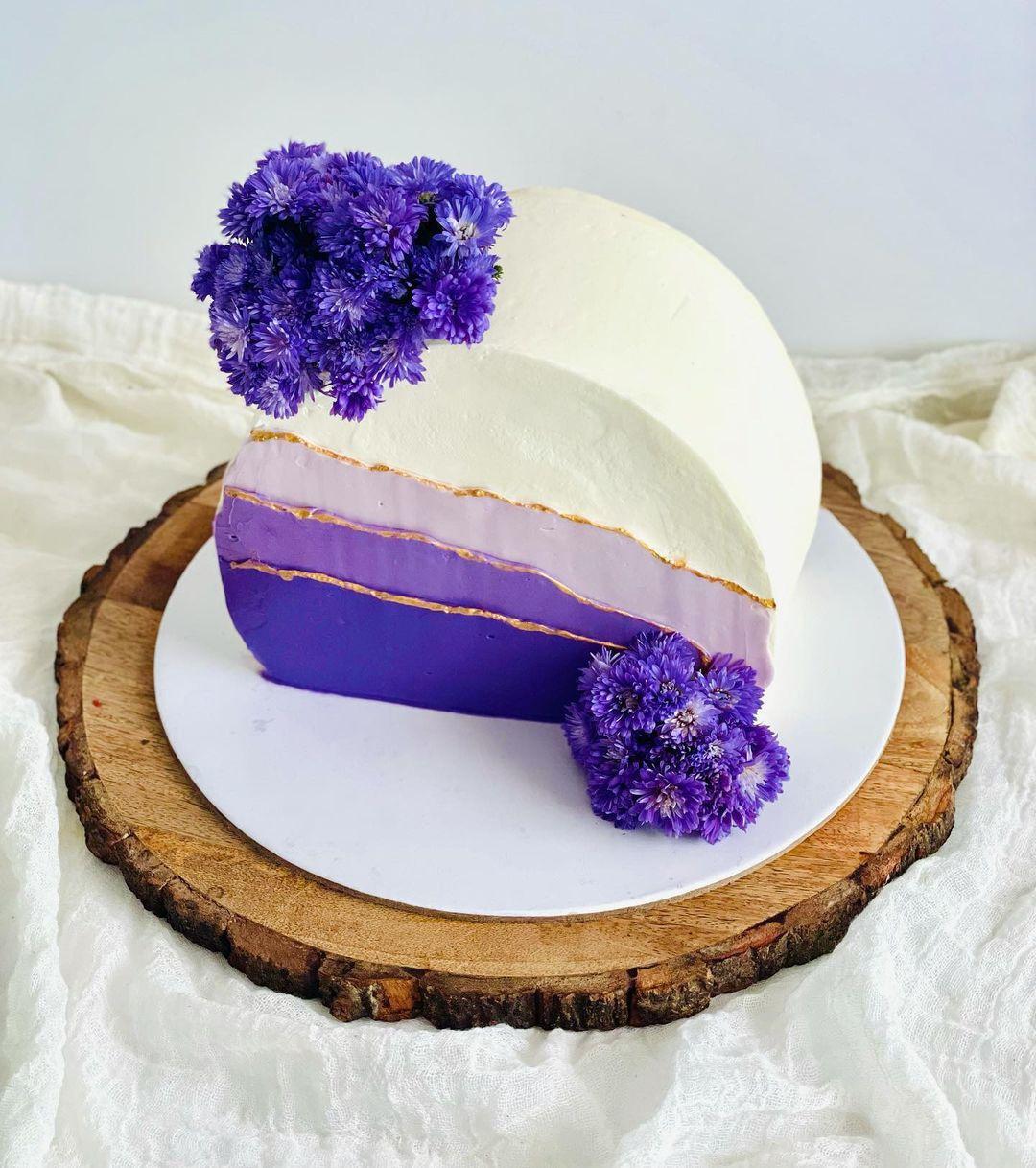 This ombre design is so elegant and stylish. Three purple tones have been edged with gold foil for a showstopping design that works really well with the complementary bursts of fresh flowers. This is another design that could be translated into any colour scheme - we're huge fans of a forest green with gold for a really modern look.
8. Square Cake Top Forward Cake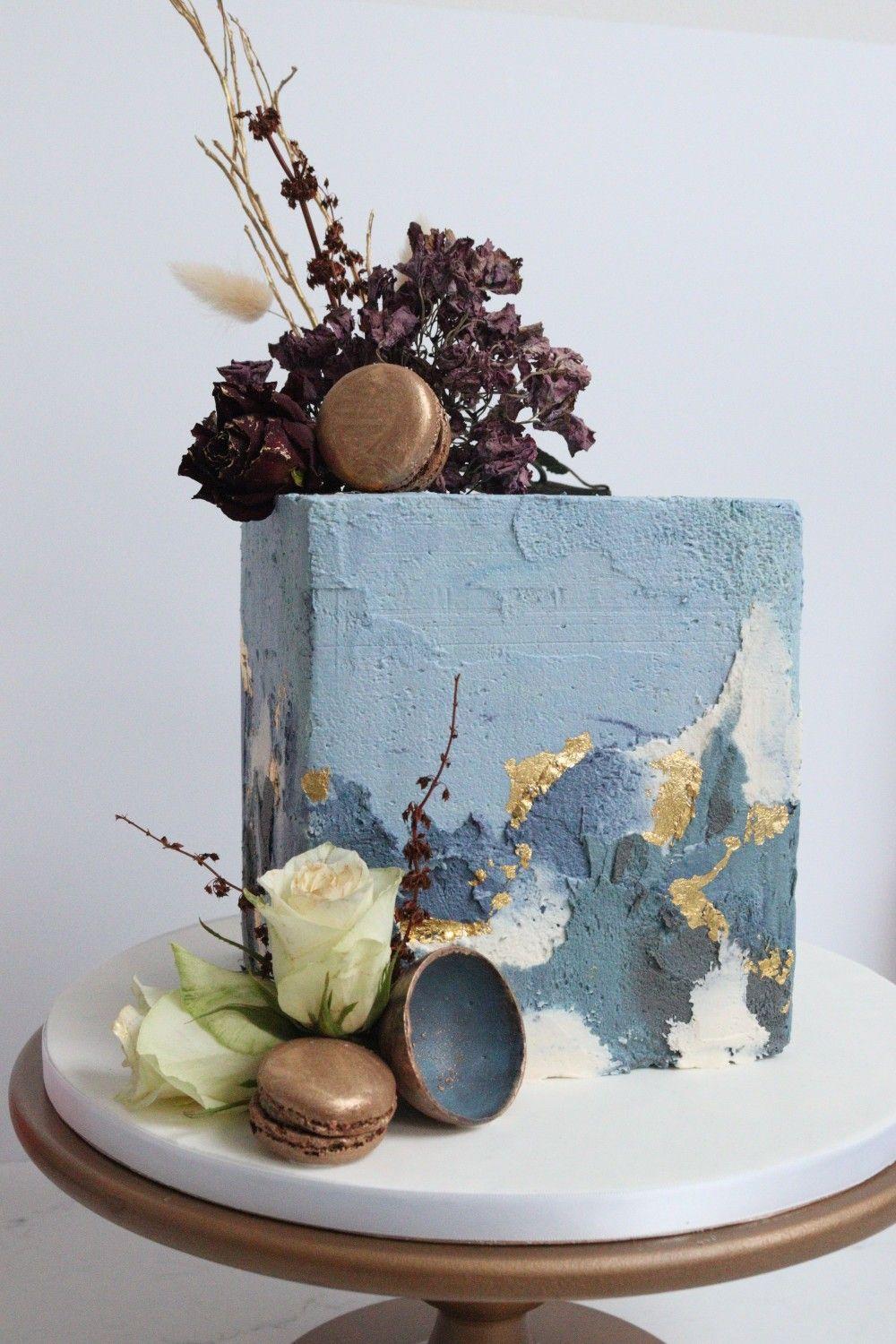 Square cakes have a very contemporary vibe and this one has on-trend textured buttercream and gold accents too. You could use almost any colour scheme in this pattern and it would look so good with different ombre shades of your primary wedding palette.
9. Earthy Cake Top Forward Cake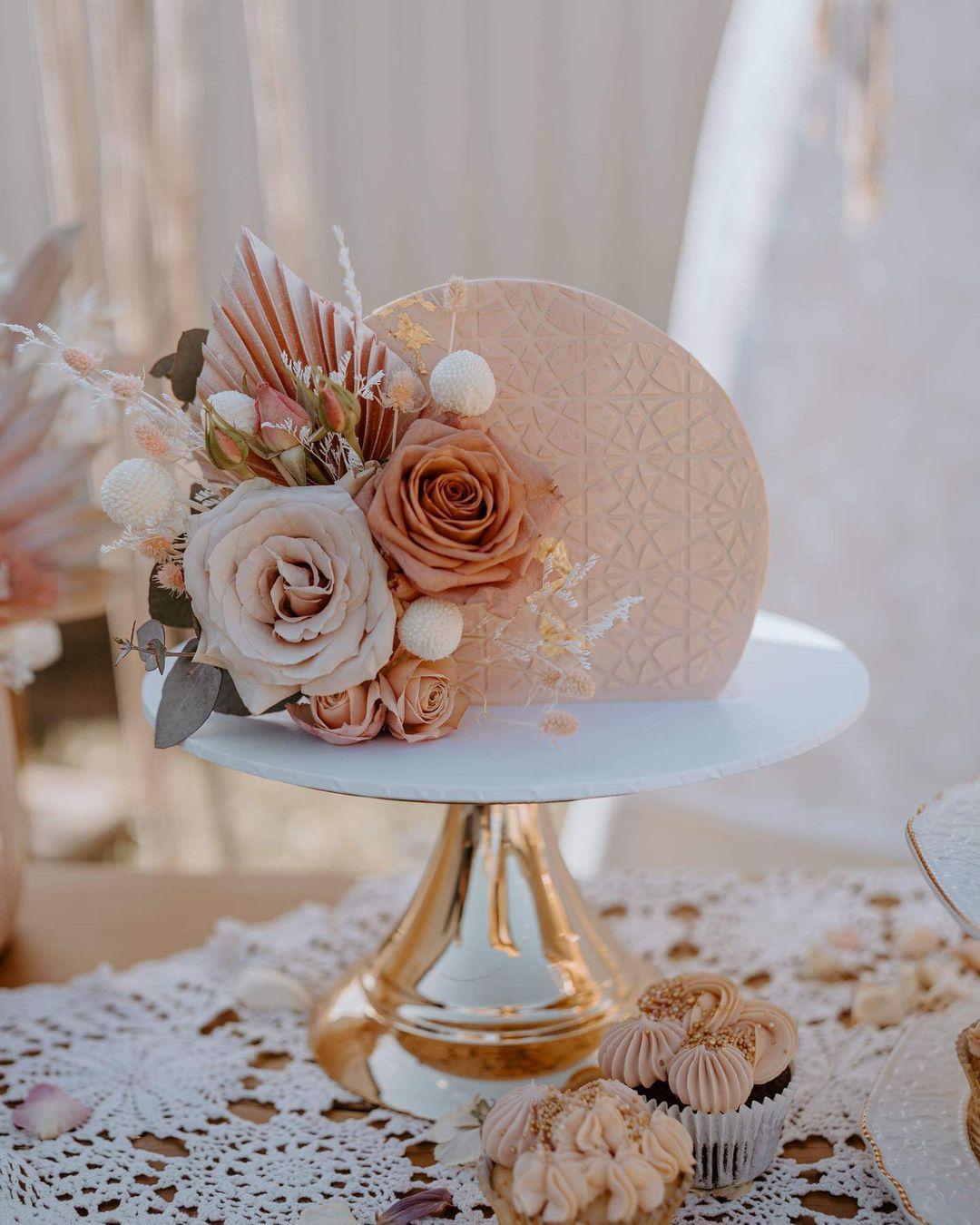 Earthy and neutral tones are one of the big wedding trends for 2022 and look fantastic translated into your cake's palette too. This one was made by a cake maker for her own wedding and was the second of two cakes. The cool cake top forward style can be great as an additional cake on a dessert table for bigger weddings when you need something much larger to serve everyone with first.
10. Drip Cake Top Forward Cake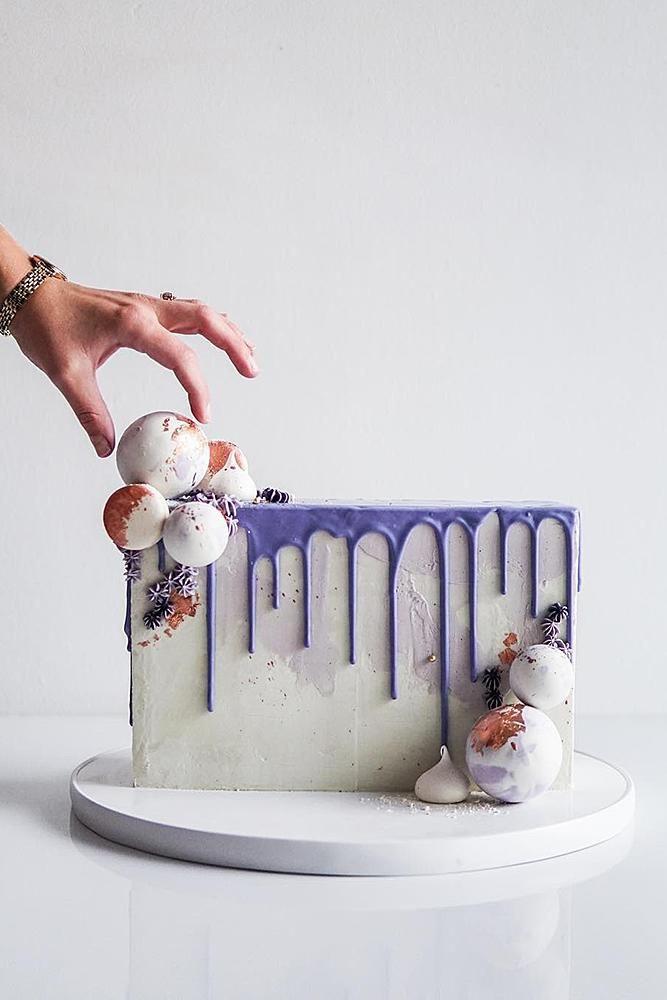 Drip cakes will never not look amazing and you can mix these two trends together for a really unique cake design. White chocolate spheres, meringue kisses and gold pearls accompany this purple and white drip cake for a really cool yet romantic look.
11. Pink Cake Top Forward Cake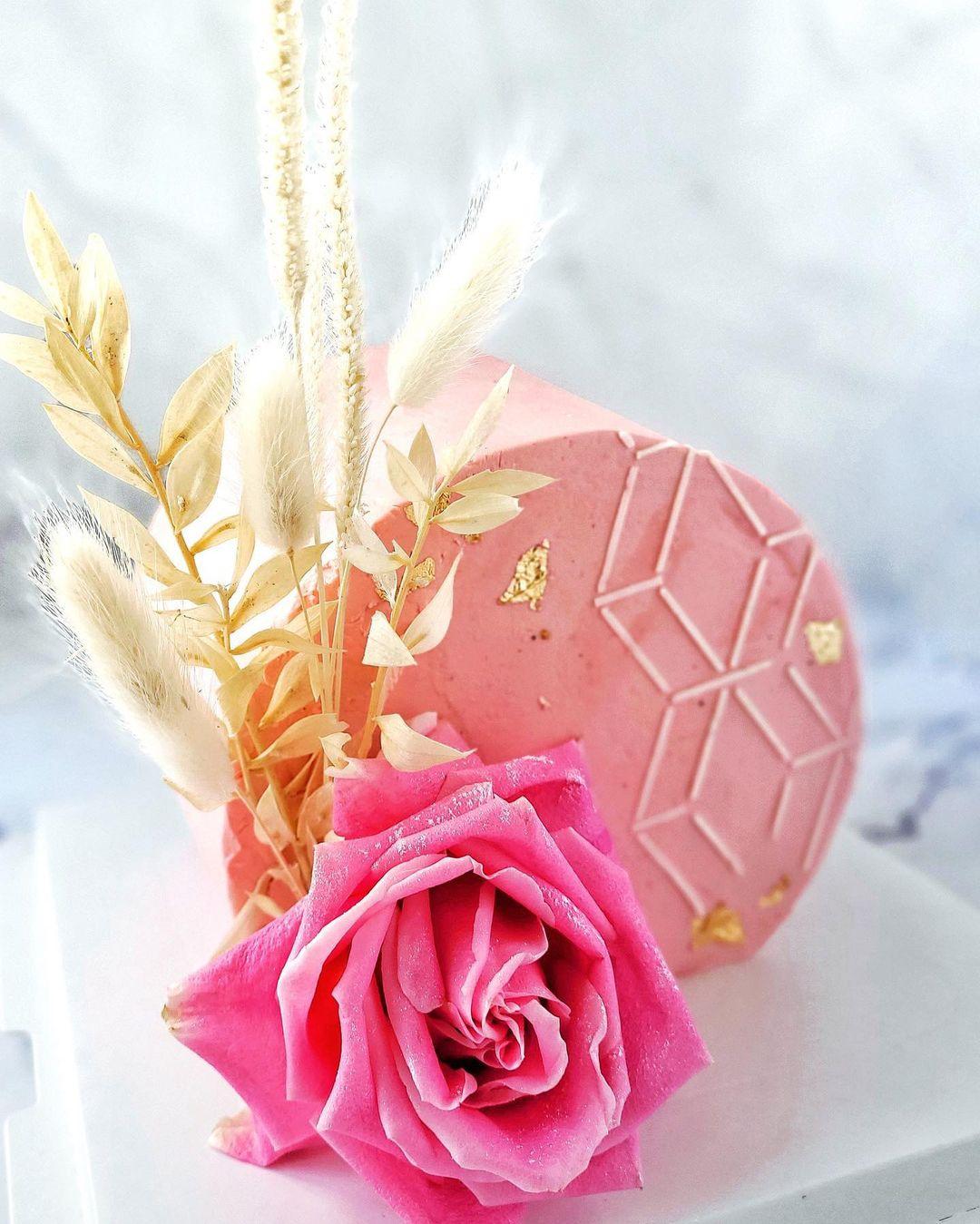 Of course, you can have a contrasting flavour to buttercream colour on a normal cake, but the contrast of what you expect to see when you cut into the cake versus what's there is heightened when you already have a twist on the cake design. This bright pink cake is hiding a rich Baileys and coffee-soaked chocolate cake with a dark chocolate ganache and coffee mascarpone under that innocent pink Swiss meringue frosting. Guests already aren't expecting to see a sideways cake so surprise them even more with a filling that stands-out against the buttercream.
12. Hexagonal Cake Top Forward Cake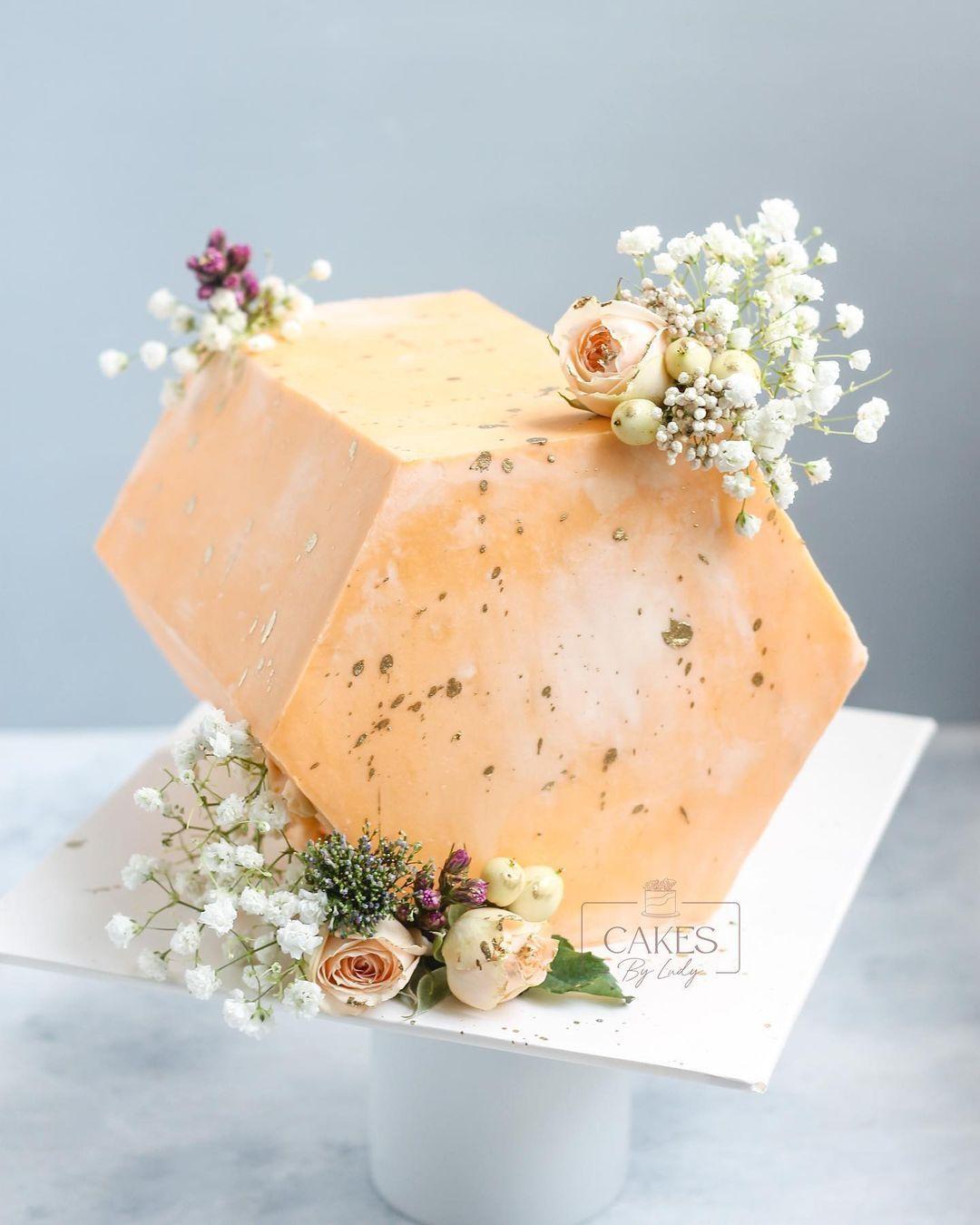 If you're having a larger wedding, then a longer hexagonal cake could be perfect as it can be cut into more pieces. Once again, it's an ideal choice for weddings with geometric decorations or even a cool take on a vintage Art Deco theme.
13. Textured Cake Top Forward Cake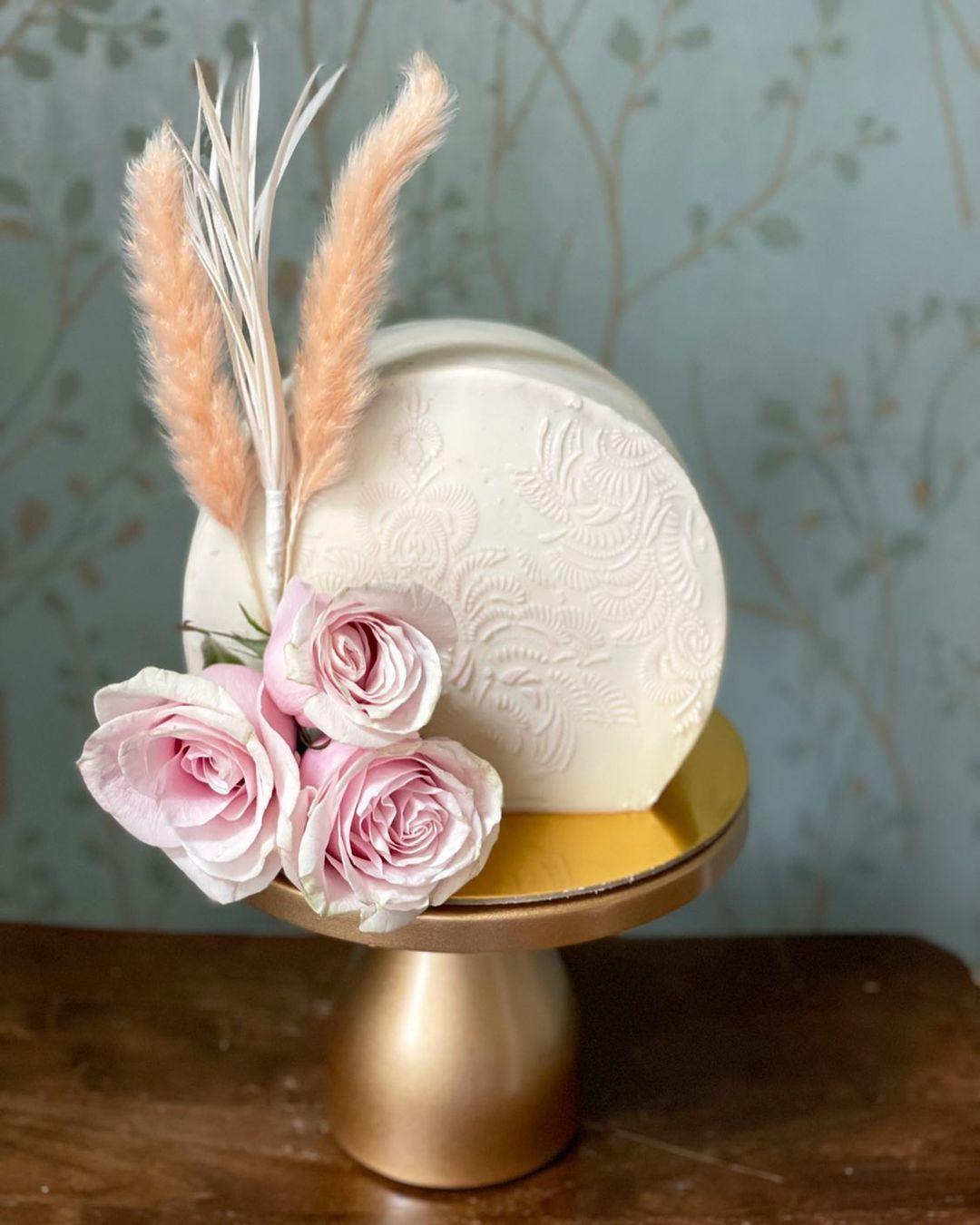 Top forward cakes are a great way to show off a textured pattern without it looking overwhelming. This lace effect buttercream is only on the front on the cake and looks so luxe and delicate. If you're having a minimalist and modern theme, you wouldn't even need to add the roses to this display - it would look statement enough without it.
14. Seasonal Cake Top Forward Cake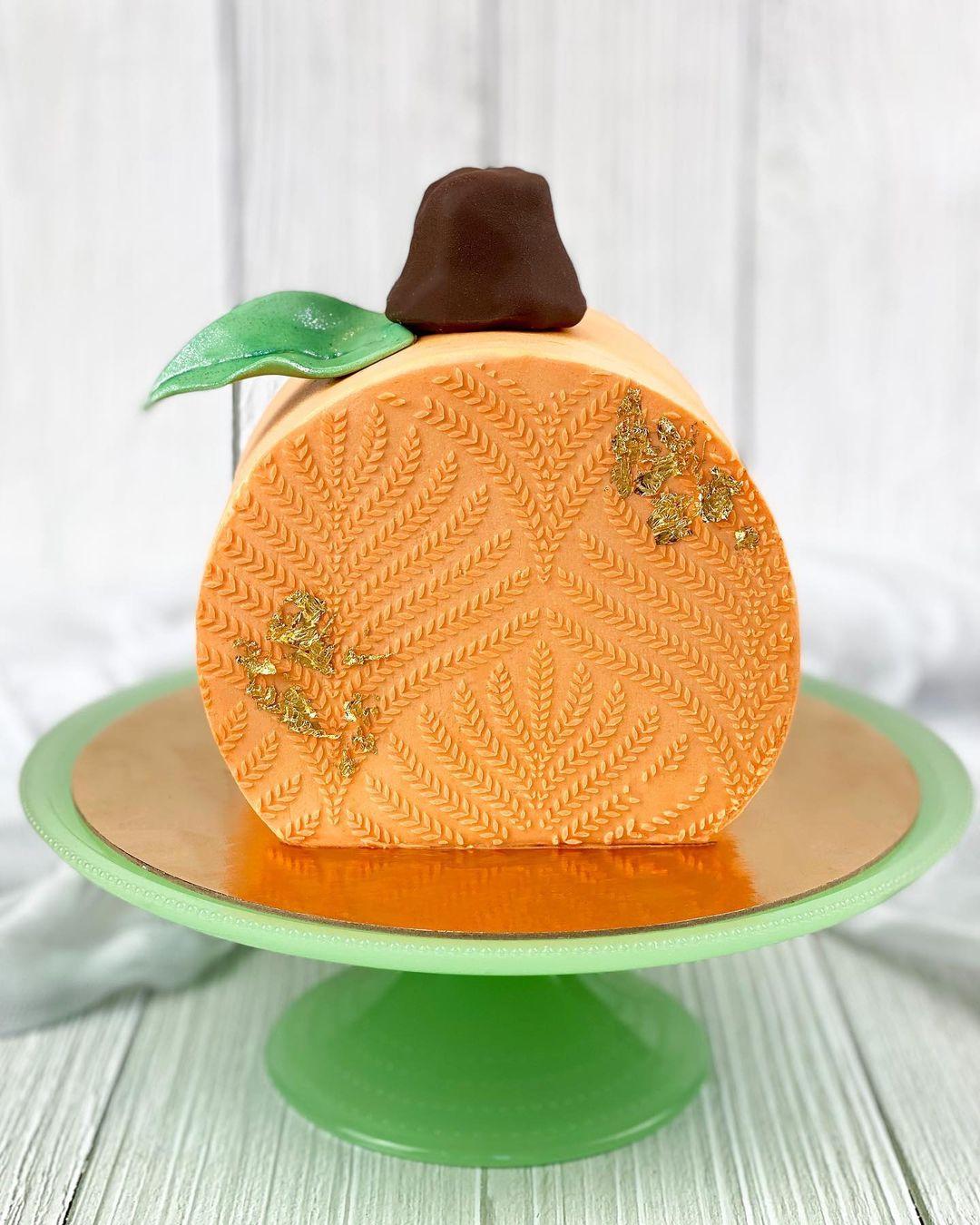 If you're going hard on a wedding theme, then this style could work so well for it. For example, how cute is this pumpkin cake which works for an autumn wedding. You could turn a top forward cake into a bauble for a Christmas wedding, a rainbow for a same-sex wedding, a moon for a celestial wedding. The possibilities are endless and your cake maker will be able to design something incredible.
15. Red and Gold Cake Top Forward Cake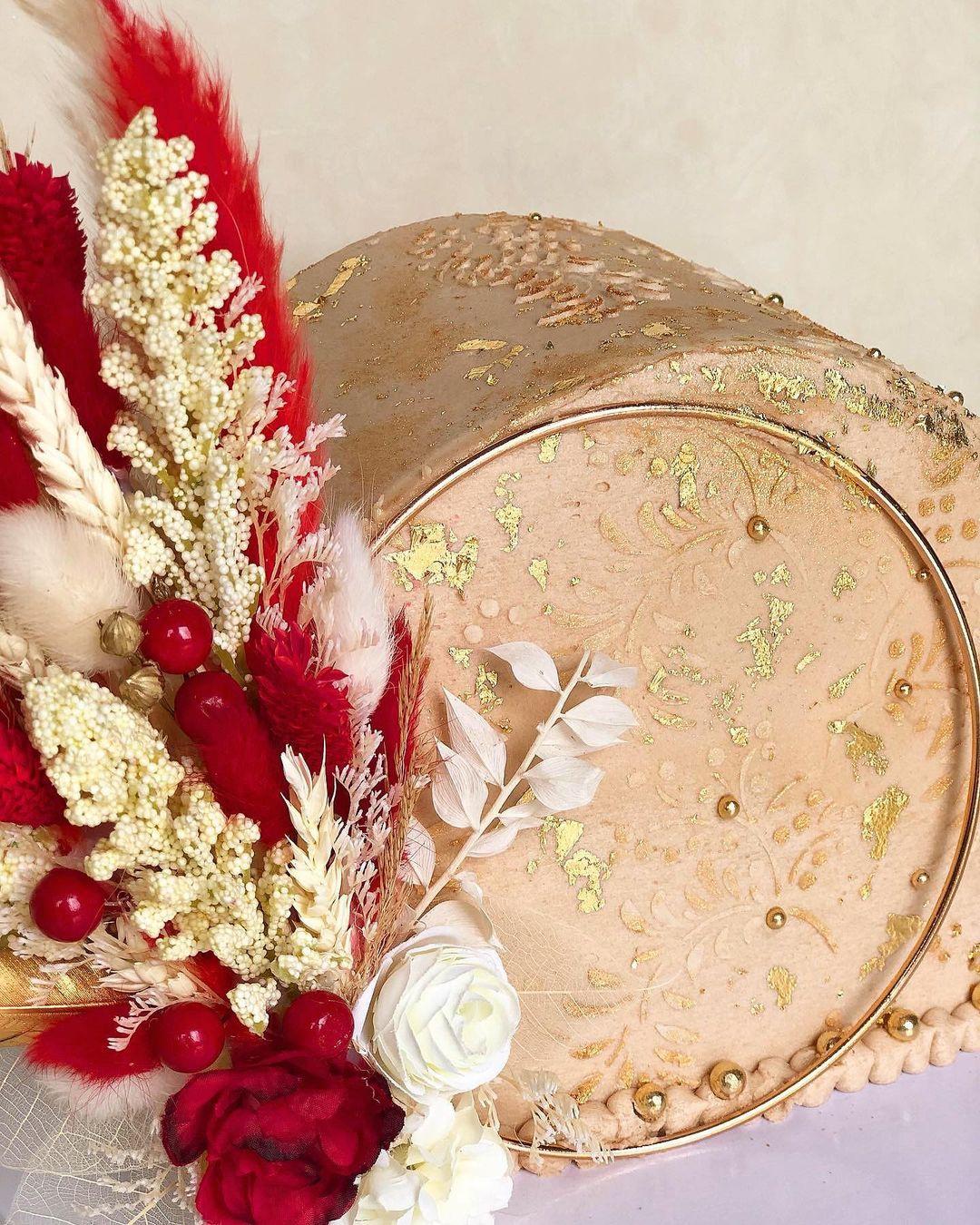 The floral hoop and the edible gold pearls are gorgeous additions to this cake. The red and gold colour scheme is really popular at Asian weddings and this could be a fab choice for a small couple's cake that they can save to cut and eat on the day or afterwards.
16. Anti-Gravity Cake Top Forward Cake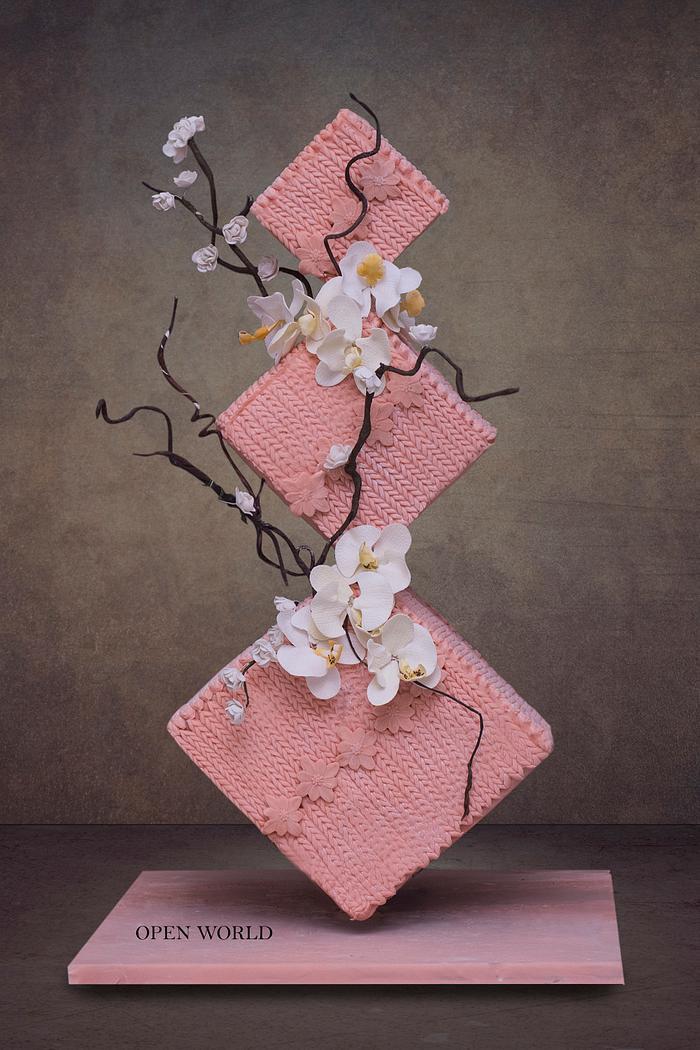 Anti-gravity cakes are spectacular showstoppers that will make all your guests gasp. You can even get them as top forward cakes, like this one above where square tiers have been balanced on top of each other. This one also has trendy 'knitted' buttercream and incredible fondant flowers. Don't try to DIY this anti-gravity style; it requires some quite technical structural engineering so leave it to the professionals!
17. Heart Cake Top Forward Cake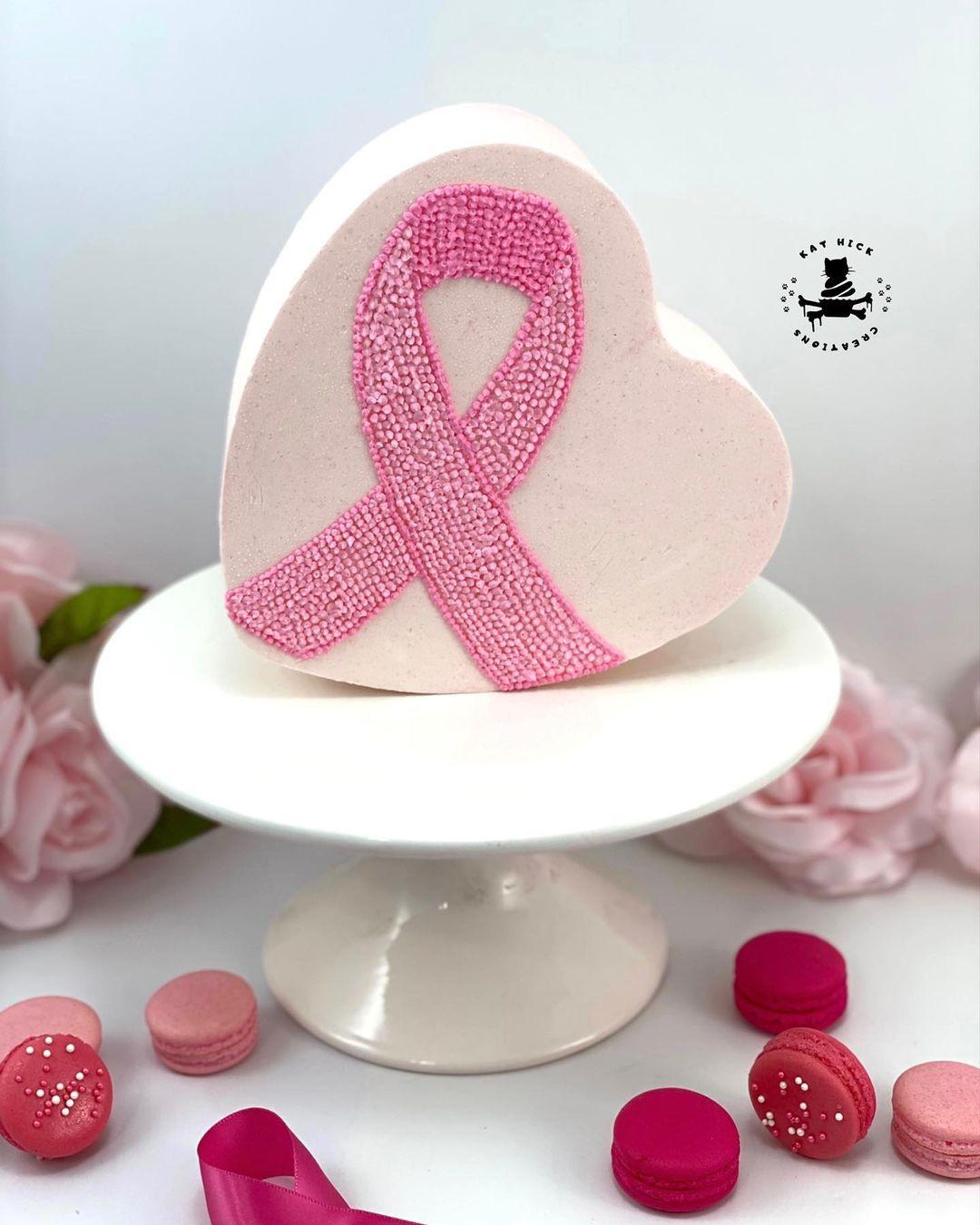 This cake was actually made for Breast Cancer Awareness Month, but the heart shape is perfect inspiration for a wedding cake. Channel your love directly into your design and ask your cake maker for a heart-shaped top forward cake.
Planning your budget? You'll need to know how much a wedding cake costs.