19 Unbelievable Museum Wedding Venues You Didn't Know You Could Get Married In
If you and your partner are culture vultures and love browsing museums, why not host your wedding at one? Our round up of the best will soon convince you...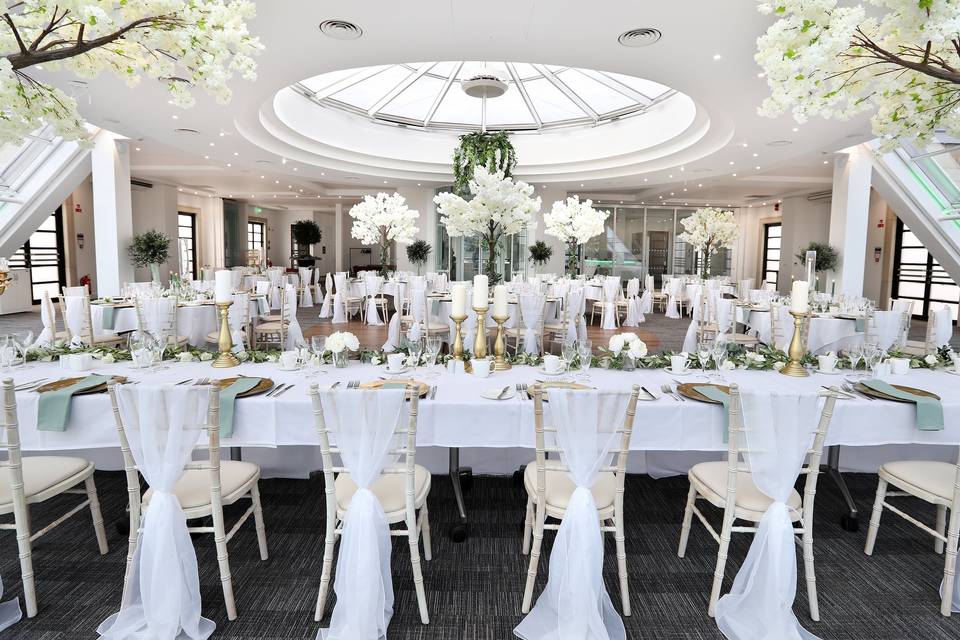 If you and your partner love nothing more than wandering around a museum, why not consider a museum wedding venue? They're interesting buildings with lots of space, making them the perfect place to host a wedding – you and your guests might even get a free tour of the exhibits included!
Most people assume they aren't allowed to get married in a museum, but you'd be surprised to learn just how many museums are licensed for weddings and even those that aren't could host a blessing and you could have the legal wedding afterwards.
19 Museum Wedding Venues That Are Full of Charm
There's nothing better than a historic wedding venue with character and charm and museum wedding venues have all of those things and more. As well as getting married in a museum, we've also rounded up the best library wedding venues if that's more your thing…
1. Bristol Museum & Art Gallery, Bristol
2. The Silk Mill Museum, Derbyshire
3. Jersey Museum, Jersey
This beautiful museum wedding venue features an art gallery within a converted Victorian townhouse, retaining its vintage charm and elevated homely atmosphere.
4. Woodhorn Museum, Northumberland
To add an extra special twist to your day, you can take a trip on the narrow gauge railway or arrange a visit to the museum for your guests!
5. London Museum of Water and Steam, West London
6. Ashmolean Museum, Oxford
The ornate artwork and beautiful sculptures provide an exclusive and impressive setting for the biggest day of your life. You and your guests can mingle as you take in the current exhibitions in the fascinating Italian Renaissance and European Art Galleries.
7. Museum of the Order of St John, North London
While the museum doesn't offer exclusive use of its entire premises for your wedding, you can book a private tour as part of your milestone celebration.
8. National Railway Museum, North Yorkshire
9. Beaulieu National Motor Museum, Hampshire
Host an exclusive ceremony and reception in the enchanting 13th-century Domus within Beaulieu Abbey or the National Motor Museum, which boasts a collection of cars from every era.
10. Ulster Museum, County Antrim
Nestled in Belfast's lush Botanic Gardens, you'll find this exclusive venue an idyllic escape while still at the heart of this captivating city.
11. St Albans Museum + Gallery, Hertfordshire
With regularly changing exhibitions and state-of-the-art installations, couples and guests alike can explore the intriguing history of St Albans. What's more, you and your loved ones can dine and dance with the utmost privacy in this exclusive-use venue.
12. Museum of the Home, East Central London
Situated within 300-year-old Georgian almshouses and surrounded by vibrant gardens, you and your loved ones can privately enjoy this stunning setting for the day.
13. The British Motor Museum, Warwickshire
Say 'I do' on the rooftop Sky Suite's private outdoor balcony with sweeping views of the Warwickshire countryside as your backdrop. While this venue doesn't offer exclusive use, your guests will receive free entry to the museum for the day.
14. Museum of London, Central London
The setting is perfect for amazing photos, too – not only do you have exclusivity of the cool exhibits, but St Paul's Cathedral is just a short walk away.
15. Wardown House, Museum & Gallery, Luton
Each room tells its own story and features interactive exhibitions you and your guests will adore. You can enjoy private use of the charming Drawing Room for an intimate ceremony before heading to the onsite restaurant for a delicious meal.
16. Museum of London Docklands, East London
The galleries at the venue tell the story of London's Docklands and the River Thames, encompassing everything from Roman times to the present day. Exclusive use means you can make the most of the exposed brickwork and original wooden features for your wedding.
17. Northampton Museums and Art Gallery, Northamptonshire
You can celebrate with a standing reception in the Link with up to 200 of your loved ones and enjoy exclusive gallery viewings!
18. Design Museum, Kensington
Dedicated to architecture and design, this eclectic museum lives up to its name with stunning interior and exterior ingenuities. Offering a selection of gorgeous indoor and outdoor settings with picturesque views of Holland Park, you can host an exclusive celebration away from the public.
19. Burgh House & Hampstead Museum, Westminster
he pride and joy of the local community, Burgh House is a cultural hub for art exhibitions, concerts, and workshops and features over 5,000 objects that tell the story of Hampstead Village. Offering exclusive use of the setting, you can enjoy a private and intimate celebration with 100 loved ones.
If you've really fallen for the idea of a wedding venue with a story to tell, make sure you browse through these striking historic wedding venues.