20 Incredible Illustrated Wedding Invitations
Make your wedding invitations even more personal to you with a stylish illustrated design - it's the perfect way to ensure your wedding stationery is completely unique to you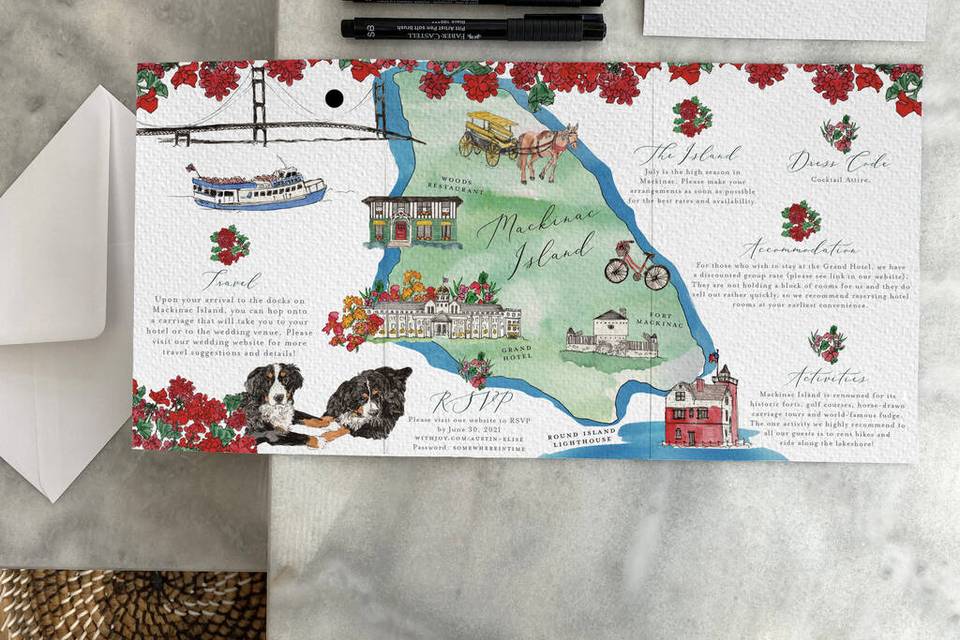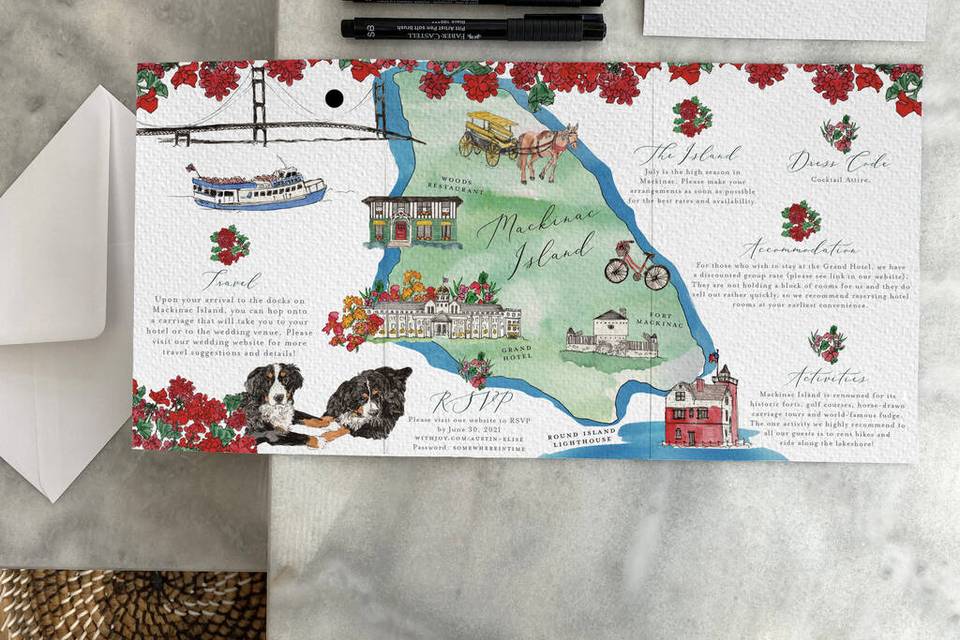 If you're after wedding stationery that's completely unique to you, why not opt for a gorgeous set of illustrated wedding invitations? From caricature sketches of you and your partner, to watercolour paintings of your wedding venue, to wedding invitations with a map of your hometown - personalised illustrations allow you to be completely creative with your wedding stationery designs.
These wedding stationery suppliers are beyond talented and can create designs that are completely personal to you - some are completely bespoke and tailored to your ideals. What could be more romantic than the story of your relationship laid out on a beautifully handmade wedding invite?
20 of the Most Unique Illustrated Wedding Invitations
Illustrated invitations are a growing wedding trend with Made in Chelsea royalty Jamie Laing and Sophie Habboo jumping on the bandwagon by asking Sophie's mum to sketch their stationery. Fancy following in the footsteps of celebrity wedding trend-setters? If so, these breathtakingly artistic illustrated wedding invites will leave you spoilt for choice.
1. Illustrated Countryside Wedding Invitation Design - £POA, Otto & Nibs
If you're planning on getting married in a countryside wedding venue, why not have your wedding stationery designer paint a watercolour to showcase the setting? It's the perfect way to give your guests a taster of what's to come and no one does it better than stationery supplier Otto & Nibs.
2. Wedding Venue Illustration Invitation - £POA, Say it With Print
If you'd rather a more subtle design, consider having the illustrated element as a smaller aspect of your wedding invitation design. This elegant wedding invitation by suppliers Say it With Print is so elevated and we just love the envelope insert - what a unique touch!
3. Bespoke Illustrated Wedding Stationery Design - Set From £200, Zoe Barker Design
If your wedding venue has vast grounds, or your planning a destination wedding with a number of important locations, why not choose this incredible wedding invitation designed? The map on the invitation gives a visual of the area you're getting married in and can pinpoint the wedding accommodation, ceremony location, reception venue and local attractions for your guests to visit after the nuptials.
4. Personalised Wedding Venue Illustrated Stationery - From £0.99, Feel Good Wedding Invitations
This illustrated wedding stationery set features so many gorgeous qualities. From the vellum casing and gold foiled lettering, to the embossed venue detail and the illustrated envelope insert - this is the wedding invitation that keeps on giving. A design like this allows you to showcase your wedding venue in so many different ways and the quality of the illustrations is undeniable.
READ MORE: Glamorous Foiled Wedding Stationery
5. Watercolour Beach Wedding Invitations - From £0.86, Hitched
If you're after an illustrated wedding invitation that isn't bespoke to your wedding venue, consider one that aligns with your theme. If you're getting married in a coastal wedding venue or on a beach, this watercolour coastal wedding invitation could be the perfect pick for you.
6. Illustrated Wedding Invitation Poster - From £5.50, Paper Willow
Bright and bold - why have a mere wedding invitation when you could have a wedding poster? Couples who want a more unique wedding invitation will adore this giant, unique design. The illustrations stretch from a map of the wedding venue grounds to a detailed wedding day itinerary that can be personalised to suit your plans. It's a wedding invitation that no one will want to throw away - and it's useful too!
7. Antique Bumble Bee Illustrated Wedding Invitations - £POA, Crimson Letters
Illustrated wedding invitations don't just have to be centred around your wedding venue or location. This elegant bee-themed design by Crimson Letters showcases such incredible skill and talent. Choosing a bee or any other animal or symbol that is significant to you can be just as personal as having an illustration of your wedding venue and this design is a great example of that.
8. Floral Hand Drawn Illustrated Wedding Invitation - £POA, Drawn by Rachael
Colourful and detailed, this illustrated wedding invitation by Drawn by Rachael incorporates the couple's wedding venue, floral, botanical details and an illustration of the couple themselves. The colours from the wedding outfits are highlighted in the floral drawings and can be tailored to your chosen wedding theme or colour scheme.
9. Gold Foiled Illustrated Wedding Invitation - £POA, 33 Pixels
What better way to add glamour to a wedding invitation than a dash of metallic? The copper detail catches your eye, but doesn't take anything away from the detailed and delicate sketch of this couple's wedding venue. Not only is there an incredible illustration of the venue itself, there's also additional illustrations in the form of foliage on the envelope insert. 33 Pixels have really impressed us with this one.
READ MORE: Glamorous Marble Wedding Invitations
10. Vineyard Countryside Illustrated Wedding Invitation - From £0.86, Hitched
Those saying 'I do' in a vineyard wedding venue or a countryside field can celebrate their theme with this picturesque illustrated wedding invitation. The botanical wedding stationery design is modern and simplistic, ideal for couples who prefer a more muted colour palette.
11. Illustrated Castle Wedding Invitation - From £2.95 Splendid Sway
We couldn't think of a better way to pay homage to your castle wedding venue than with an illustrated wedding invitation as grand as this. The combination of sketched illustrations and accents of gold is very elegant and the wax seal is a welcomed detail.
12. Coastal Themed Illustrated Wedding Stationery - £POA, A Little Bit of Loveliness
Bring your seaside wedding invitation to life with this charming coastal wedding invitation. The scenic illustrations on the front are beautifully done and will tie in perfectly with a beachy wedding theme.
13. Destination Wedding Illustrated Stationery Design - Set From £200, Zoe Barker Design
The watercolour effect on this illustrated wedding invitation sits so beautifully on this tri-fold textured paper. This invite has information about your ceremony location, venue and wedding RSVP all in one perfectly put together design.
14. Illustrated Wedding Stationery Collection - £POA, Otto & Nibs
Illustrated designs stretch far beyond just wedding invitations. This complete set of wedding stationery from Otto & Nibs includes save the dates, RSVP cards, the invitation, a map of the venue and a pre-wedding invitation for the wedding party.
The detailed illustrations add so much depth to the overall design and who wouldn't want a pair of cute pups on their envelope inserts? It's perfect if you're having your dogs at your wedding.
15. Mountain Themed Illustrated Wedding Invitation - From £0.77, Hitched
Wow your wedding guests with this enchanting wedding invitation. The mountain design is the perfect fit for anyone getting married with a mountainous view, or active couples who want to pay homage to a love of hiking or a holiday-scape from a memorable trip.
16. Colourful Illustrated Wedding Stationery - £POA, Fir & Gold
This illustrated wedding invitation from Fir & Gold really stands out from the crowd. Different to the sketches and watercolour paintings in the previous designs, this colourful illustration is unique, fun and vibrant.
READ MORE: Colourful Wedding Invitations for Bright and Bold Couples
17. Hand Painted Illustrated Wedding Invitation - £POA, Aimee Paints Illustration
How cute is this illustrated wedding invitation from Aimee Paints Illustration? The colourful caricature of you and your partner will tease your actual w-day looks and, like the example, you can include the whole family in the design - children, pets and some sneak-peek details about your wedding.
18. Italian Themed Illustrated Wedding Invitation - £POA, Otto & Nibs
Channelling romance and Italian vibes, this charming, floral wedding invitation from Otto & Nibs is a real gem. The neutral colour palette is super pretty, making the colourful blooms really stand out.
19. Illustrated Wedding Invitation With Mountains and Florals - £POA, IC Illustrations
IC Illustrations have a range of beautiful illustrated wedding invitations to choose from, but this one has got to be our favourite. Nature-loving couples can showcase their love of the outdoors with this mountainous design. The floral illustrations are a lovely finishing touch and the colour palette is neutral and chic.
READ MORE: Timeless Vintage Wedding Invitations
20. Couple Caricature Wedding Invitation - £POA, Standout Stationery
Add an element of fun to your wedding stationery with a caricature of you and your partner. Standout Stationery offer their brilliant caricature designs in the form of wedding invitations as well as table plans, wedding favours, place cards and even a giant cardboard cut out of you and your partner for your guests to take pictures with at the wedding!
Now you have your design sorted, it's time to start thinking about when to send your wedding invitations, and finalise that all-important wedding invitation wording.