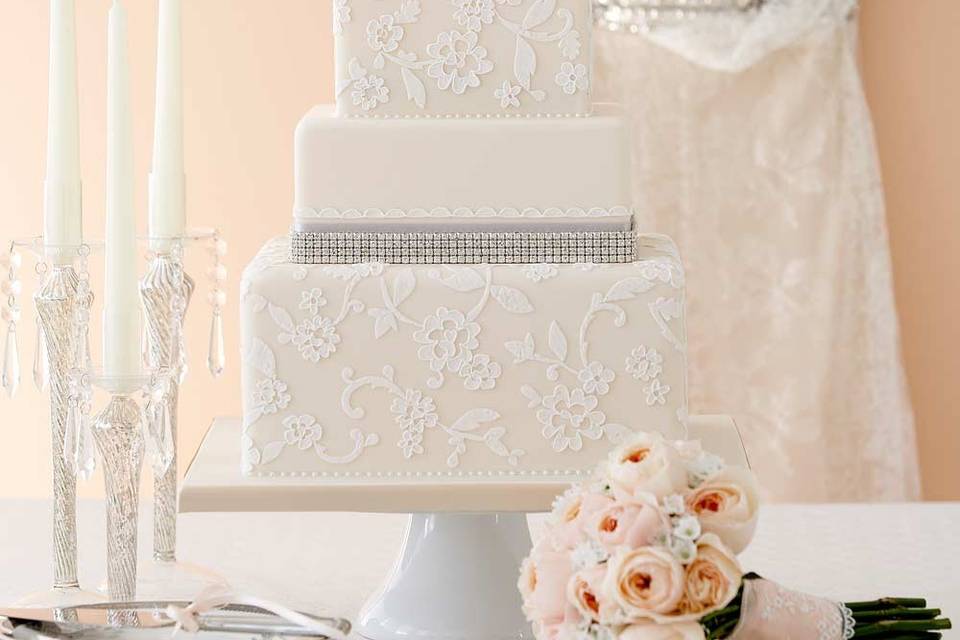 Lace is one of the biggest and most enduring wedding trends ever and is renowned for the timeless look that it creates, no matter how you use it. Lace doesn't just have to go on your dress though, many wedding cake designers now create elegant designs which celebrate this vintage fabric. To inspire you, we thought we'd share 25 of our favourite lace wedding cakes which are almost too amazing to eat.
If you want to match your cake to your gown, take a look at our bridalwear pages to browse a range of lace wedding dresses.
Fancie Buns Cakery
This pretty three tiered cake from Fancie Buns Cakery is vintage perfection. The rose decoration sits beautifully alongside delicate lace icing. Pink ribbon and an elegant wedding cake stand are the only extra details that this cake needs.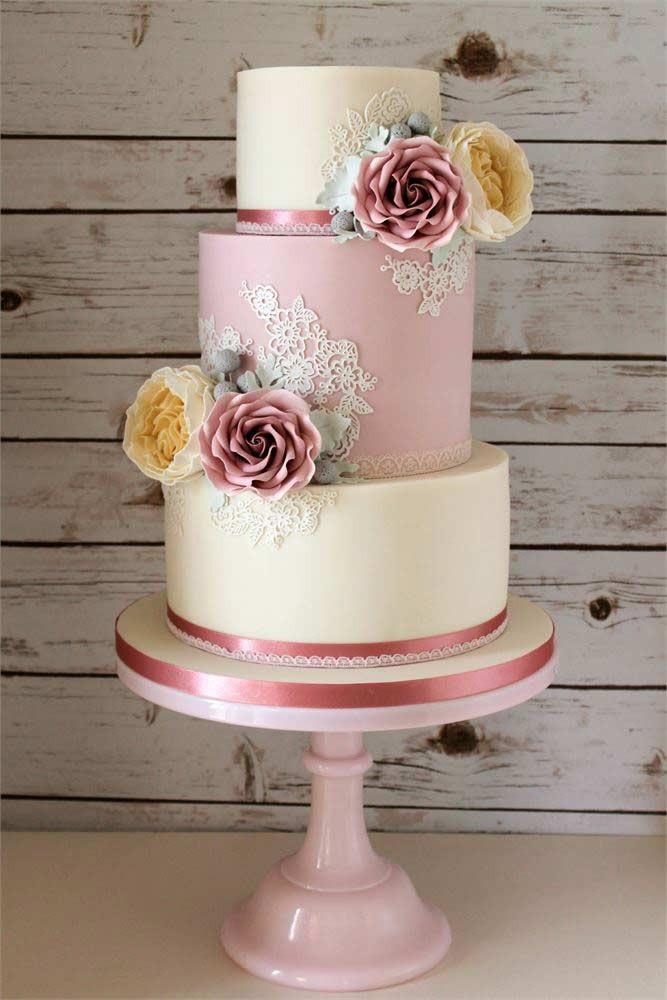 Floral wedding cakes are always guaranteed show stoppers – as proved by this Fancie Buns Cakery creation which has been made even more stunning with the addition of real lace around the tiers.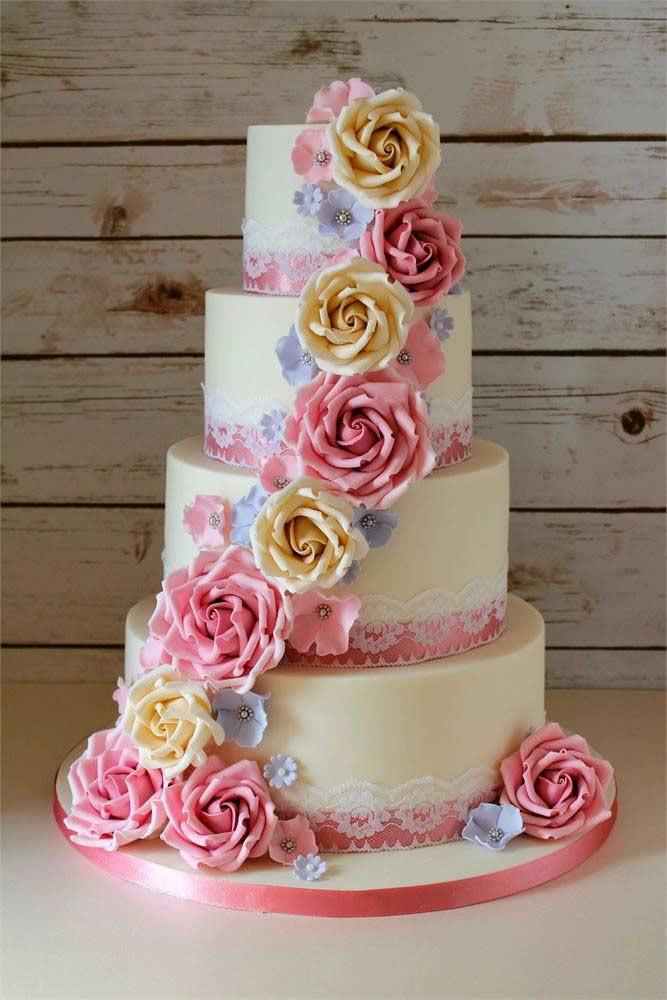 Rosalind Miller
The lace detailing on the Rosie cake may bring a timeless element, but the pink ombre roses tick off a current wedding trend which makes this Rosalind Miller cake feel perfect for the modern day couple.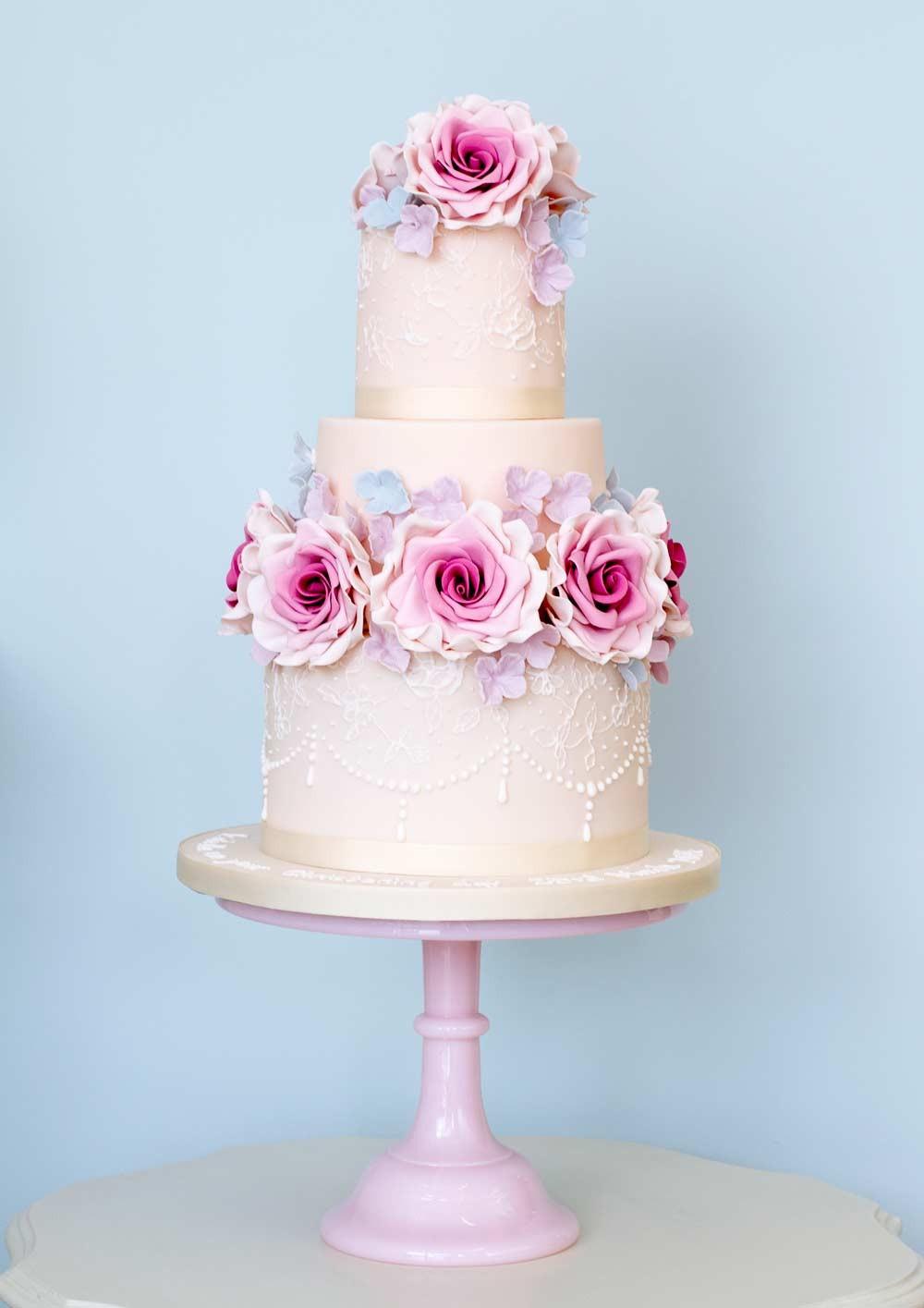 Speaking of wedding trends, how gorgeous is this towering ombre cake? Also available from Rosalind Miller, each tier of this unusual wedding cake has been separated for extra height. The lace embroidery style detailing on the middle tiers co-ordinates with those dramatic sugar roses. The cake is even monogrammed for a personal touch.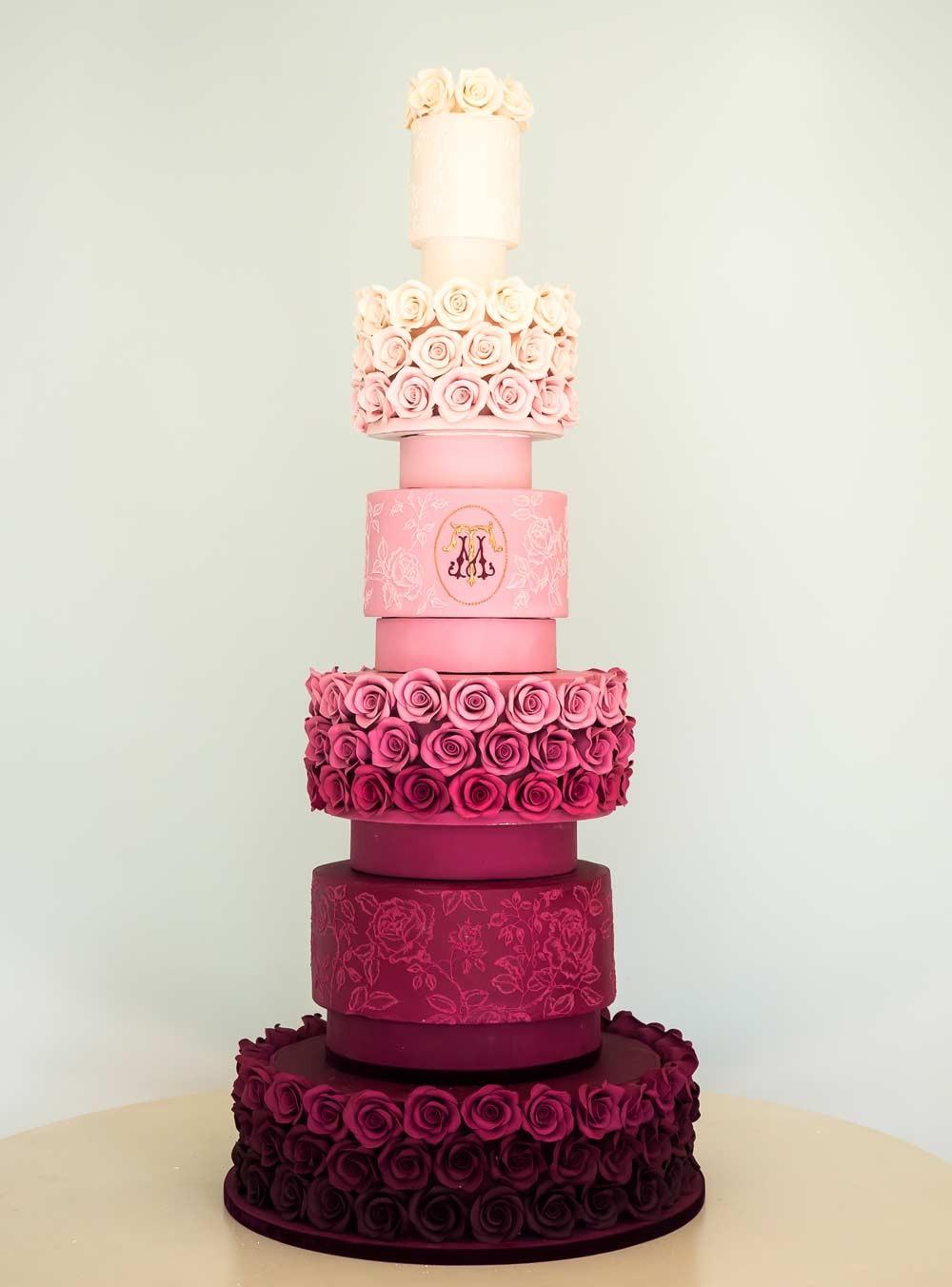 Understated yet elegant, this cake is ideal if you're looking for lace wedding cakes that aren't too OTT. The lace design and pearl-like detailing gives the cake a distinct 1920s vibe – perfect if you're going to be wearing a vintage wedding dress.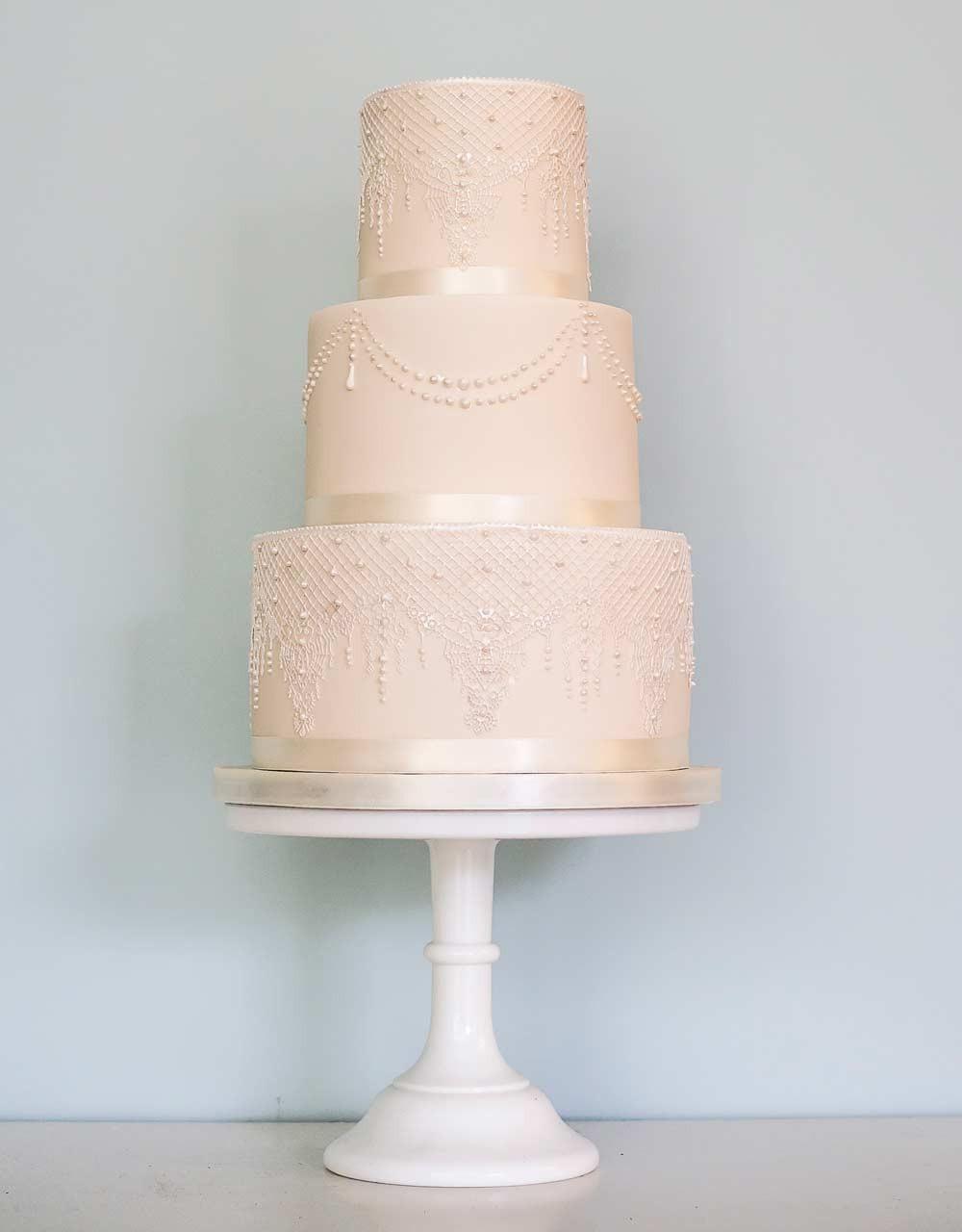 So many amazing trends are ticked off in this vintage inspired cake from Rosalind Miller, such as metallic accents, florals and of course, lace inspired icing that looks exquisitely crafted. This cake proves that gold and pink really do make the dreamiest colour palette for weddings.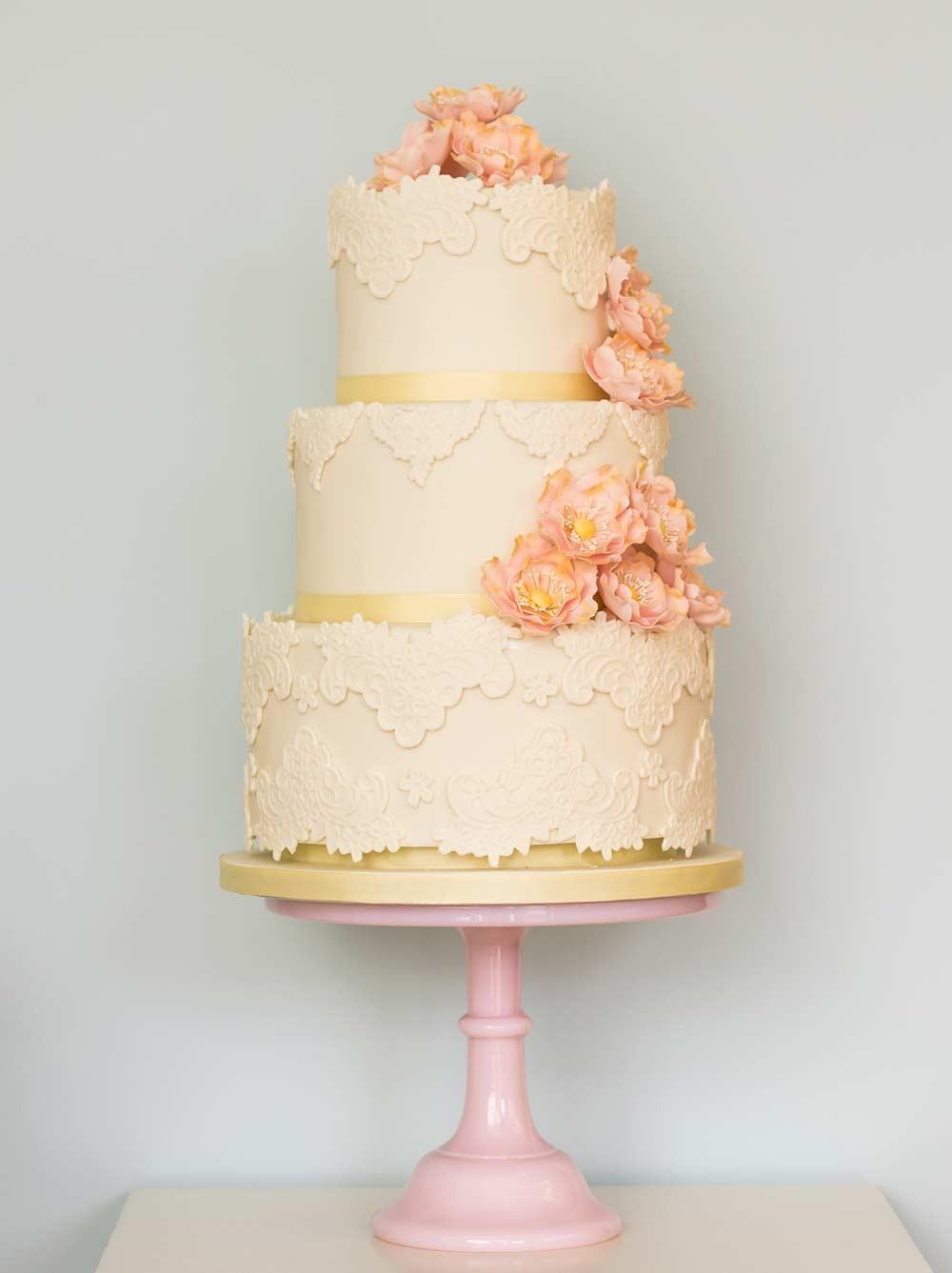 Who says ivory wedding cakes have to be boring? If you're going all out for your big day and want an amazing wedding cake that reaches dizzying heights, then check out this towering beauty. Look closer behind the cascade of sugar flowers and you'll see the beautifully delicate lace icing.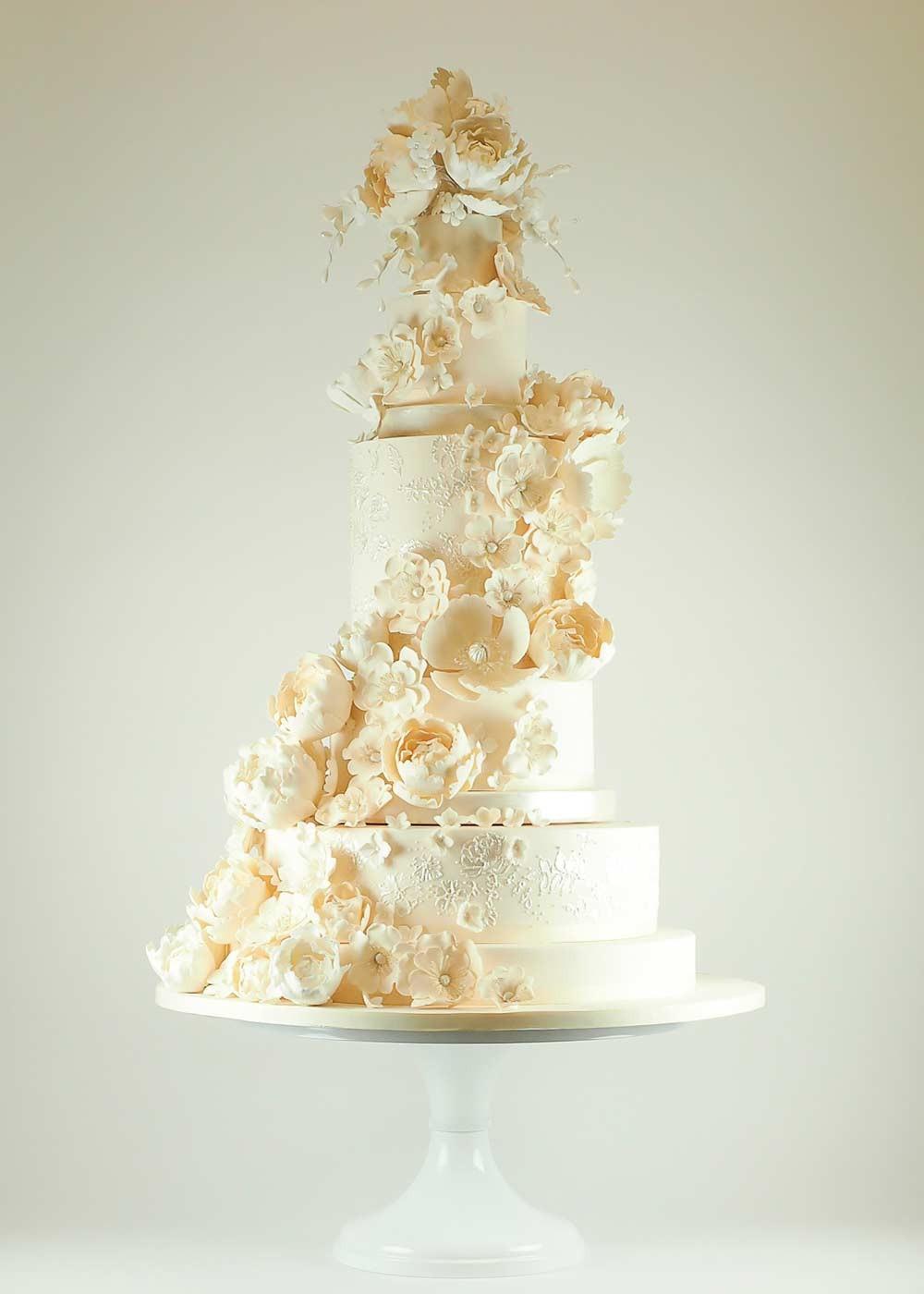 We adore the scattering of oversized roses on this three tiered lace wedding cake – they look so real but are in fact made of sugar! This is one romantic cake that will steal your heart and your guests' too. It certainly wouldn't look amiss sat on top of a summer wedding dessert table.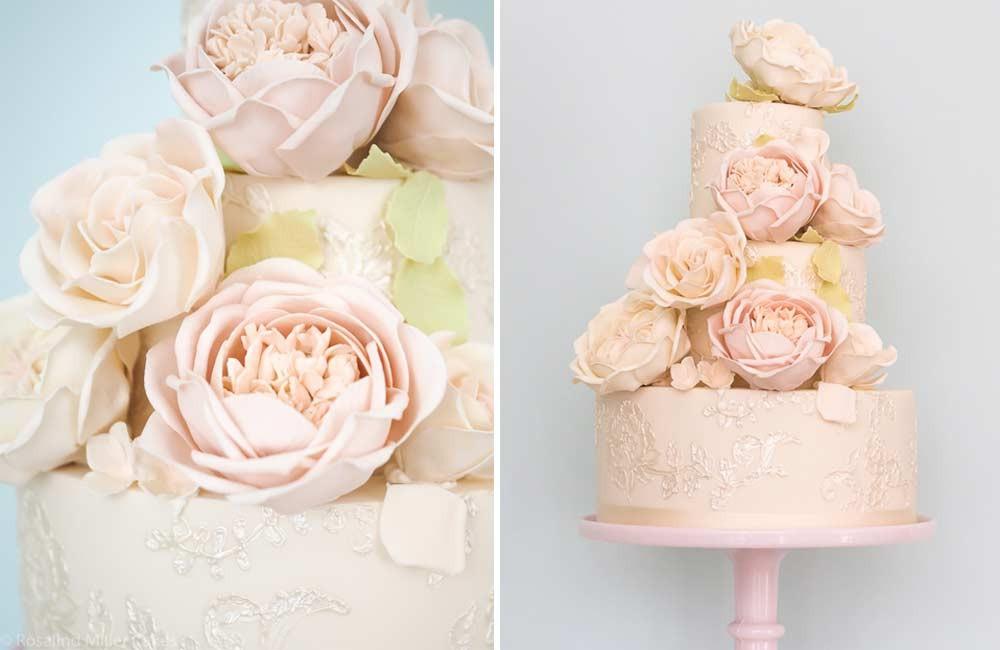 If you're filling your day with blue details (such as a stunning pair of blue wedding shoes) then make sure you don't leave your cake out! The pretty pastel blue icing on this Rosalind Miller cake makes the white lace icing and elegant ivory bow really stand out.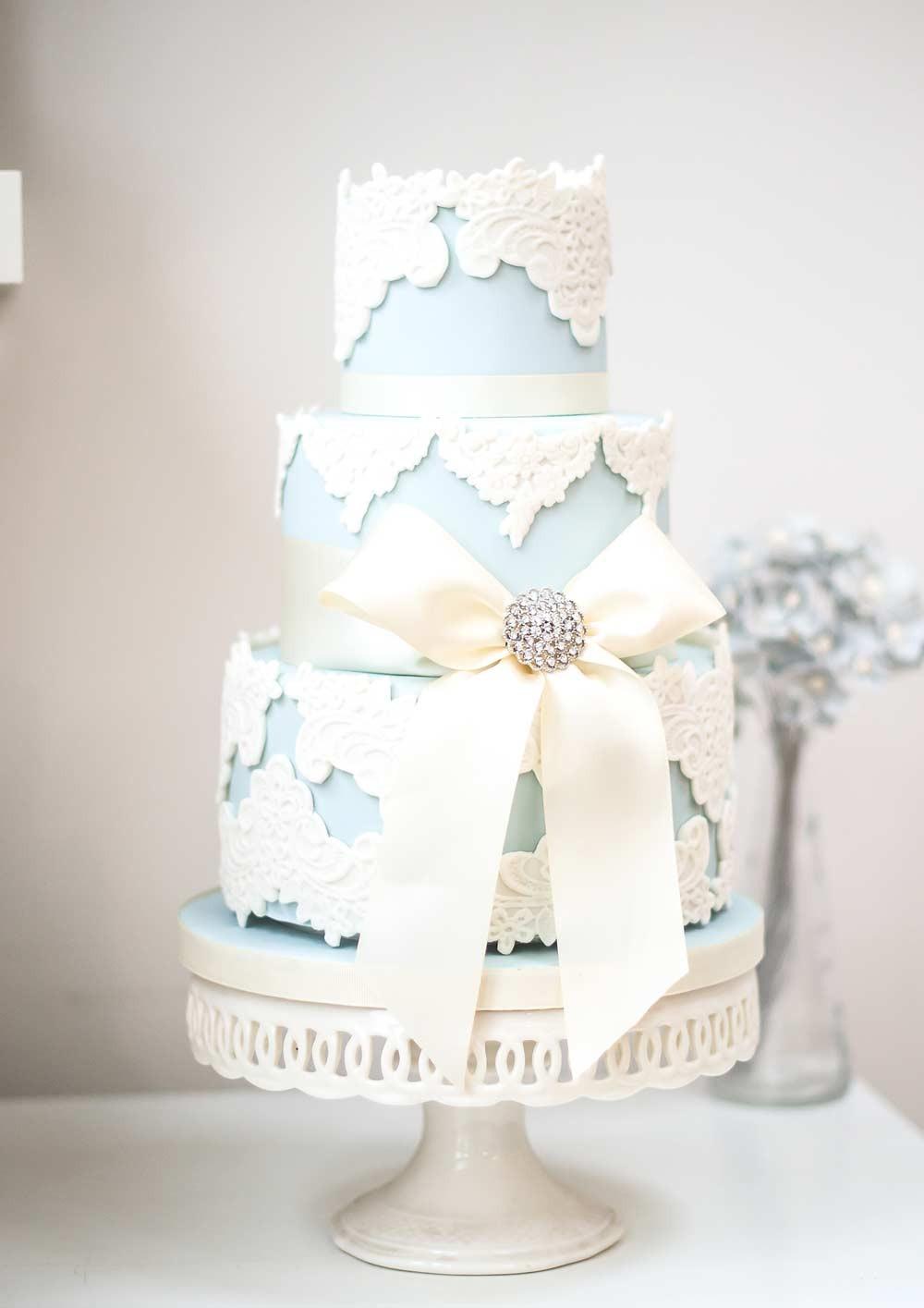 The Cake Parlour
The soft blue hue and delicate lace-style icing of this cake is making us want to reach out and touch it as if it were a wedding dress material! Created by The Cake Parlour, the structured tiers give a modern edge to the pretty design.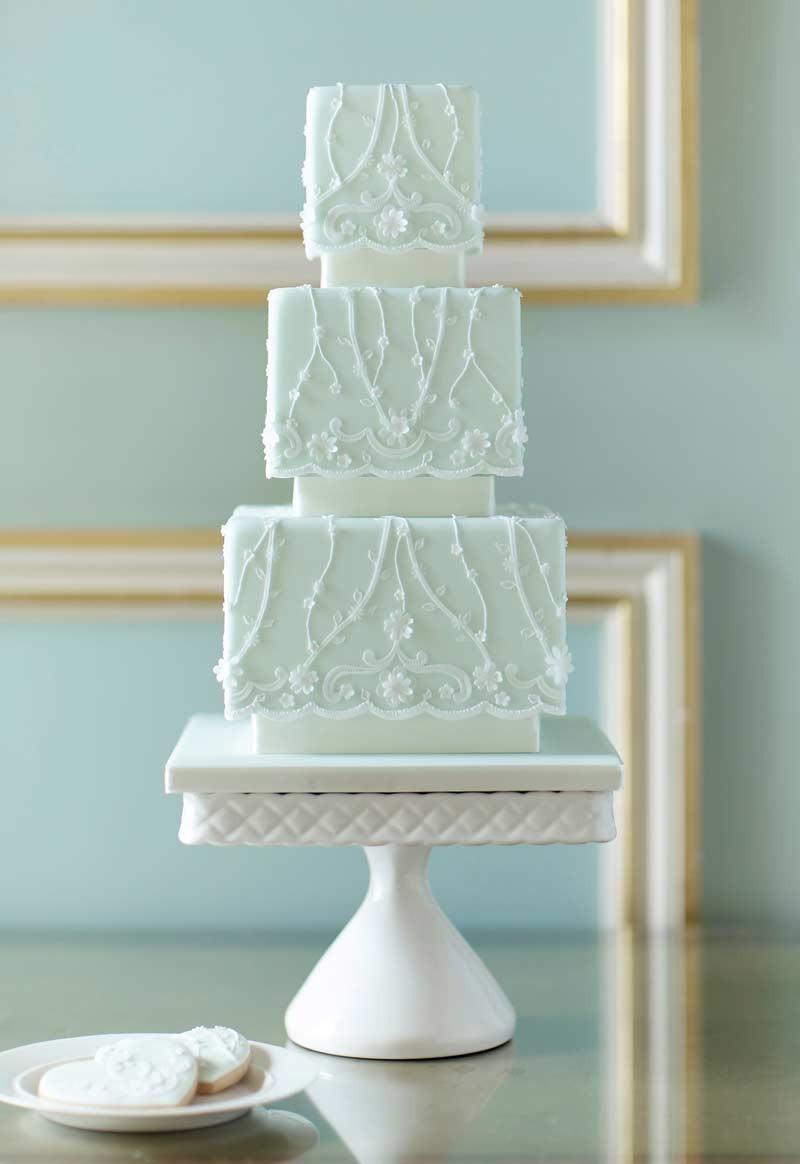 We fell head over heels for The Cake Parlour's dusky pink cake and we're sure that you will too. Embellished with an eye catching Dahlia made of sugar and a very subtle lace influence, this cake would look beautiful at any wedding celebration.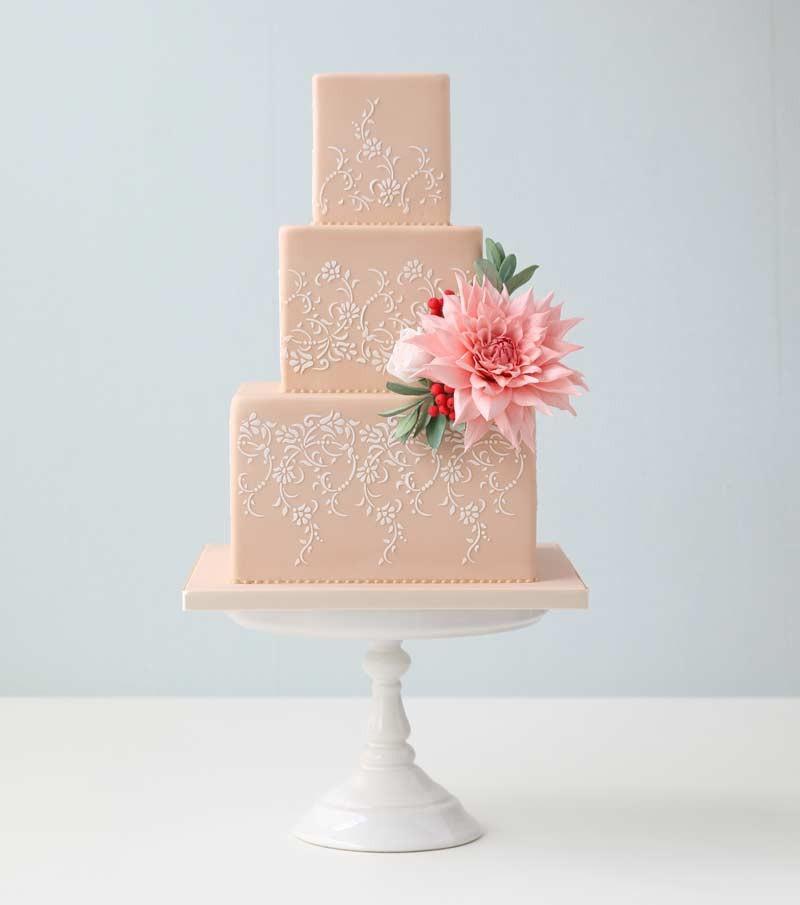 This cake looks just like a mini wedding dress with its ruffled lacy layers. At first glance, it looks as if the cake is decorated with actual dress material, but upon closer inspection (and taste!) you'll find that the ruffles are made of sugar, as is the decorative lace bow at the top.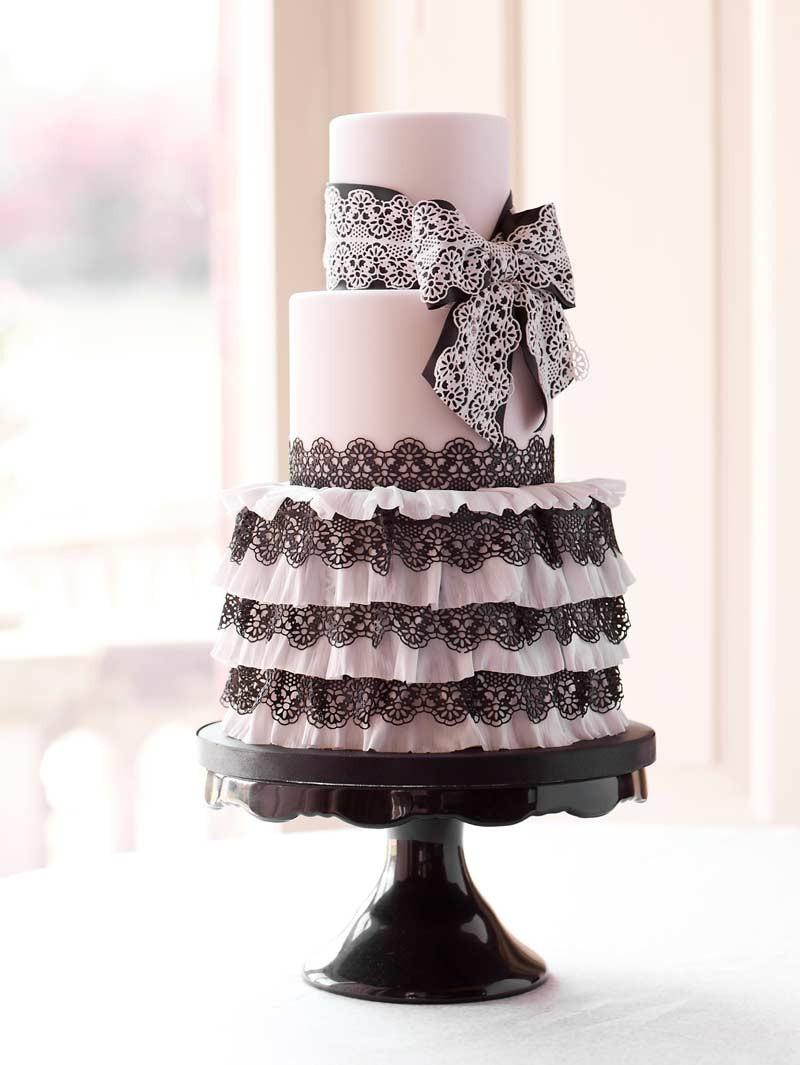 The design of this chic white wedding cake is designed to mimic the aesthetic of an actual lace wedding gown. The delicate pattern is complemented with a wafer paper flower that looks as if it could've been freshly picked from a garden.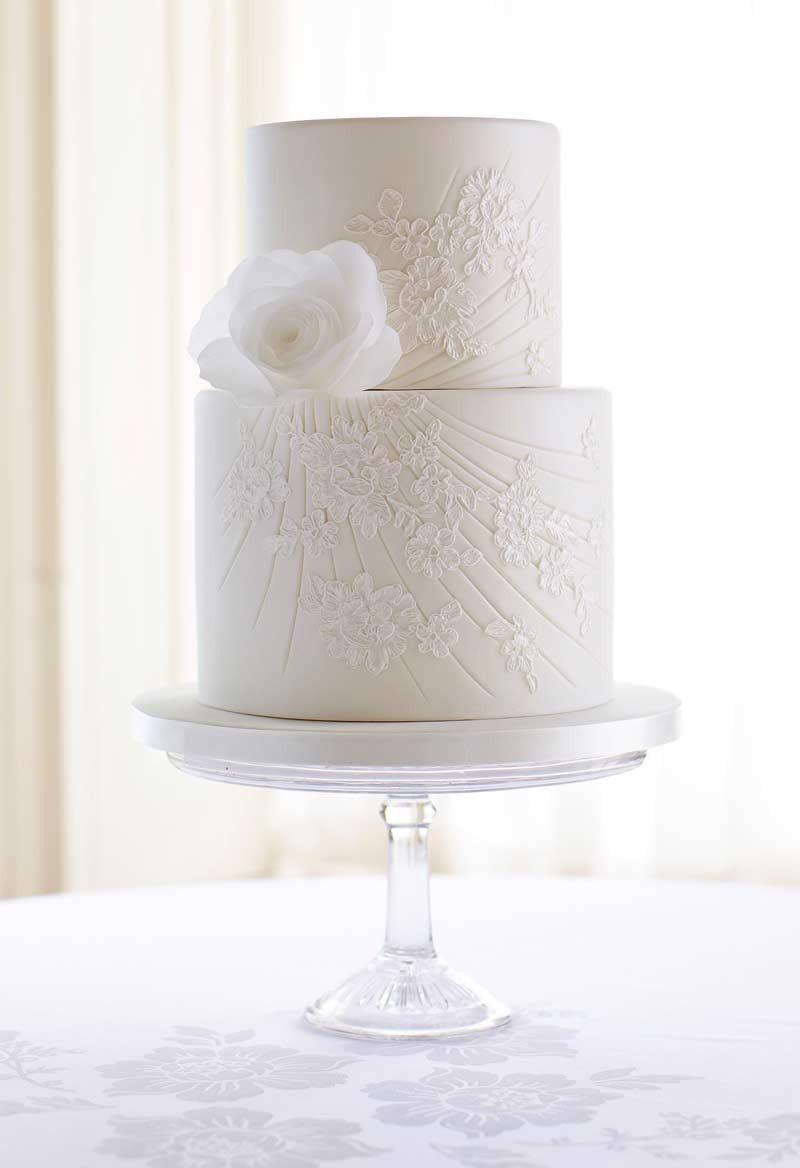 Designed to resemble 'guipure' lace, the appliqued icing gives this nude coloured cake the most stunning texture – it looks just as if it's been covered in a veil of floral lace. The satin bow is an elegant finishing touch for the cake.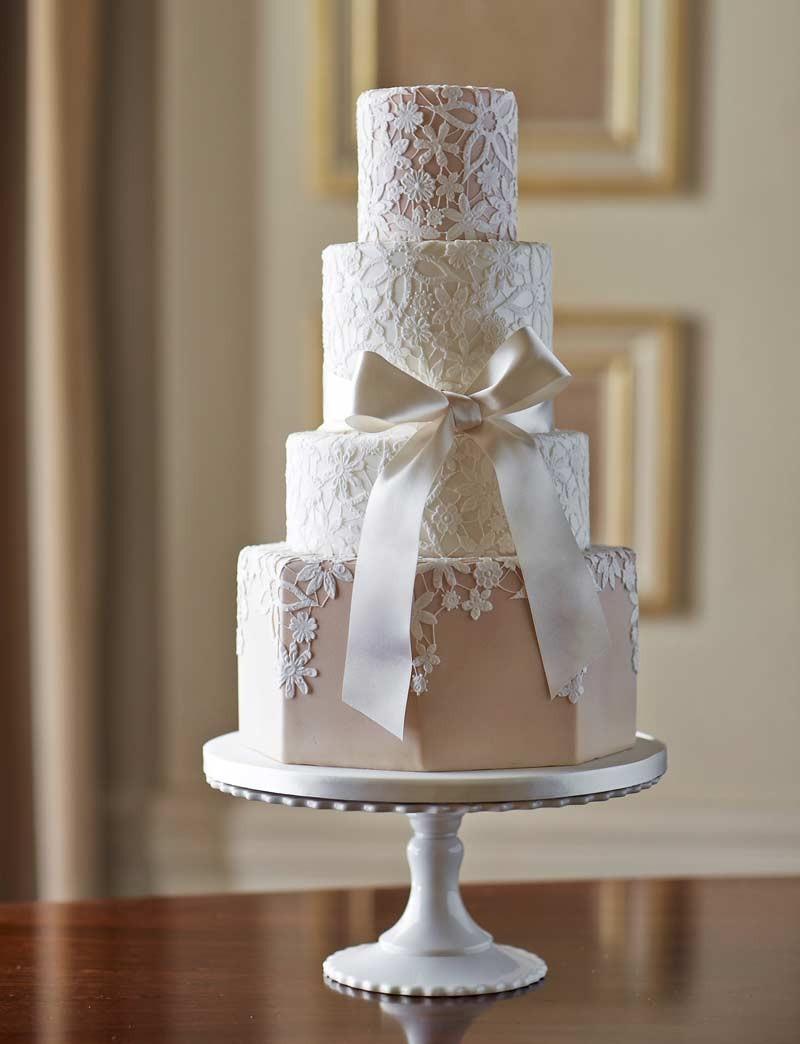 This four tiered cake is glamorous from top to bottom thanks to the non-edible diamante trim. Applique style icing has been expertly crafted to resemble cord lace and everything is finished off beautifully with a topping of romantic pink roses.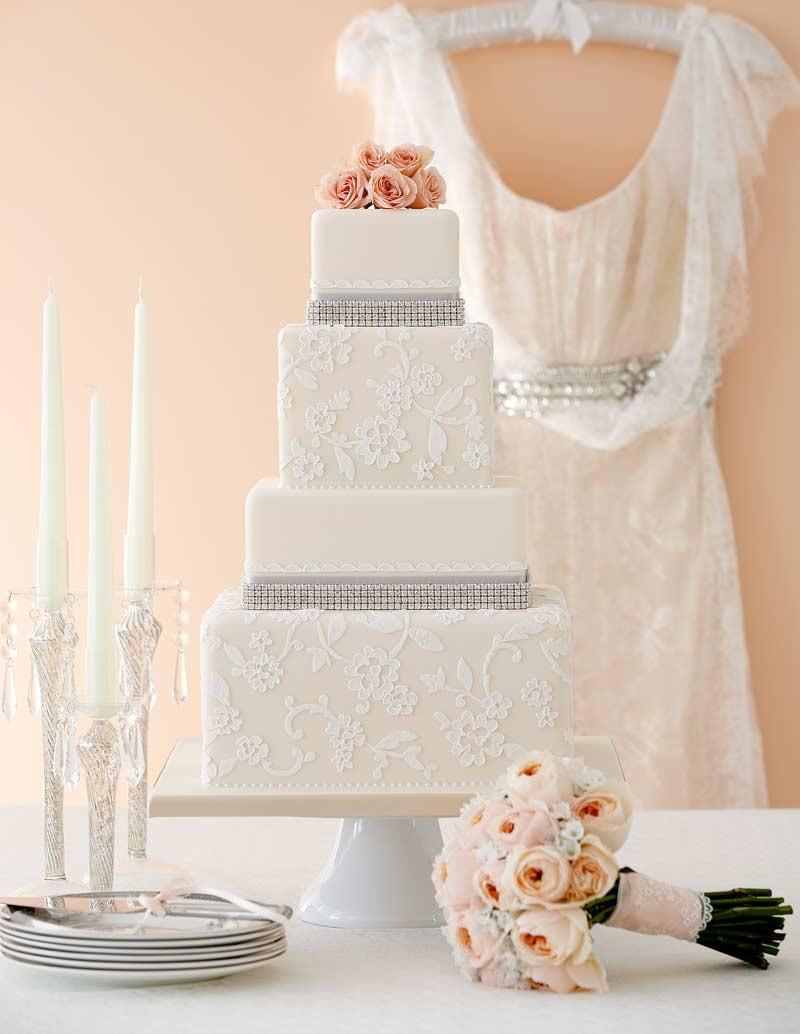 This gorgeous pink cake was actually inspired by the lace on a bride's wedding dress. The attention to detail is absolutely exquisite – it's the perfect ode to a lace wedding dress. The colour and detail is so stunning that a simple cake stand is the only extra flourish that this cake needs.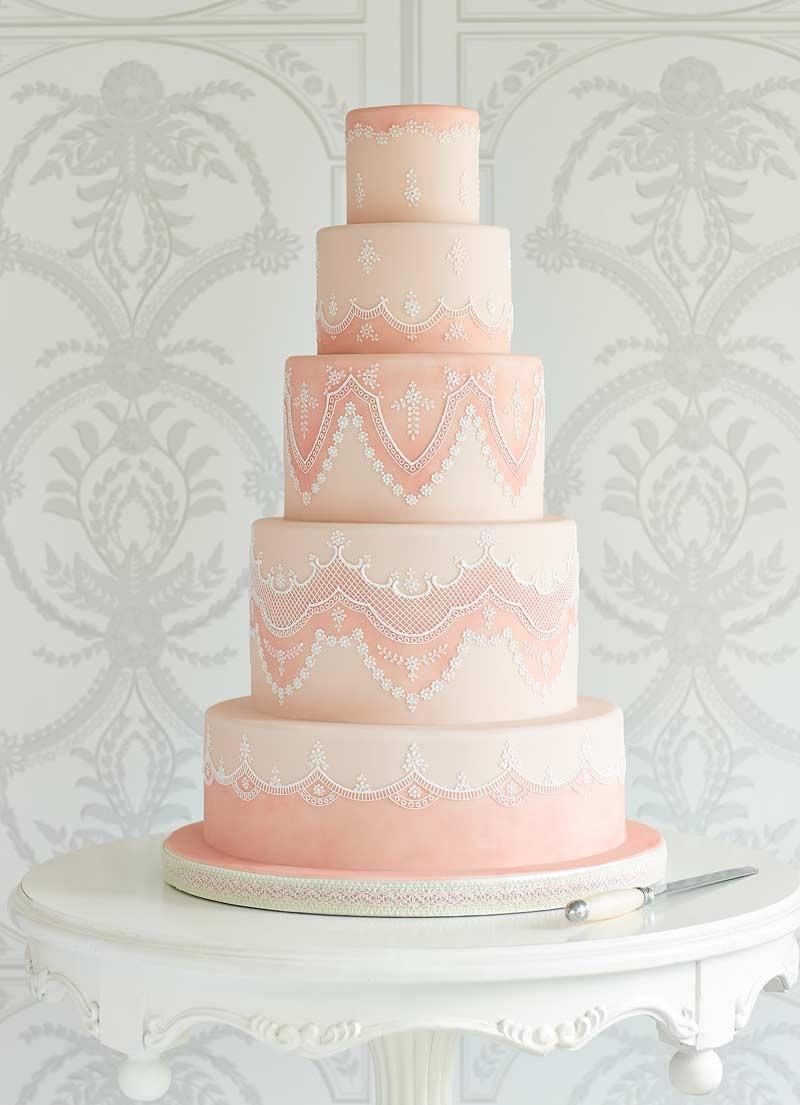 There's something so beautiful about the combination of lace with pastels. This three tiered cake puts a contemporary spin on classic lace with the lilac layer in the middle. If you're having accents of lilac throughout your colour scheme, like purple bridesmaid dresses for example, then this cake would fit right in.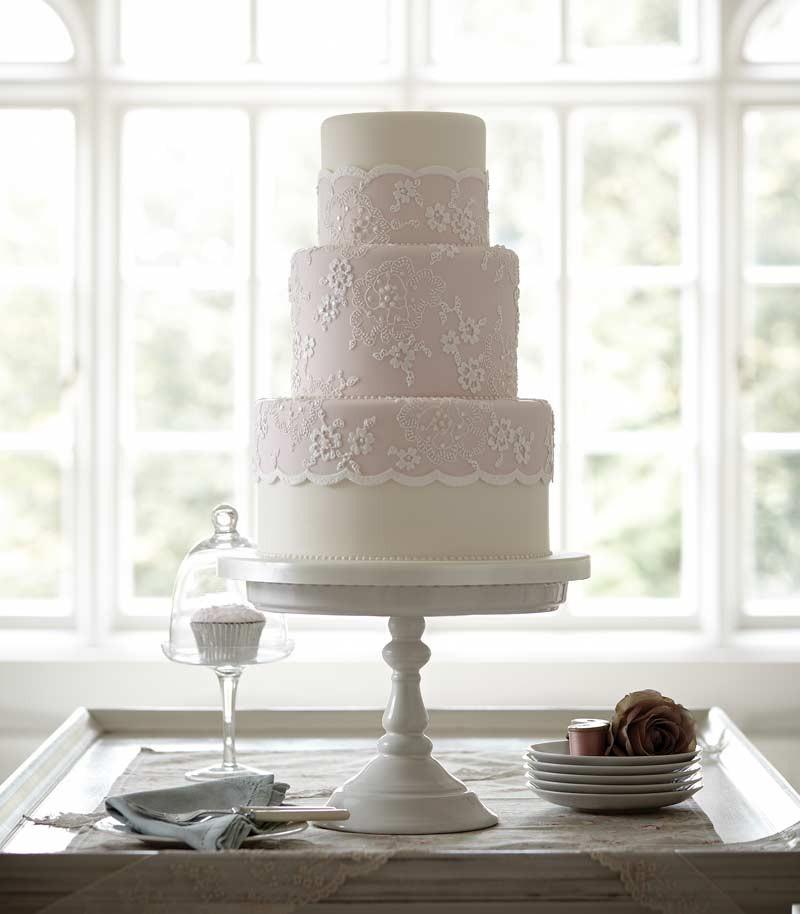 This show stopping cake would make an amazing centrepiece at your reception. With lace icing over nude coloured tiers and a crown of fresh looking flowers at the top, this is a cake you'll definitely need to photograph lots before you cut into it.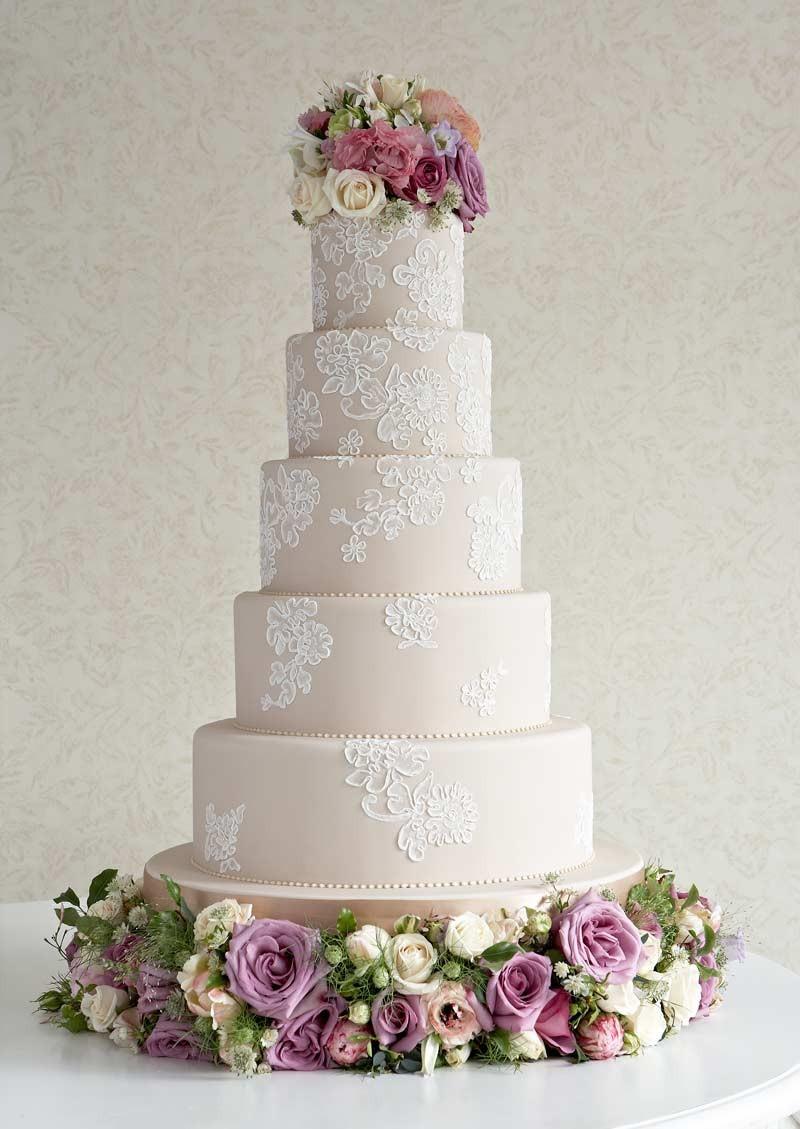 Bake Rattle N Roll
For a subtle take on lace wedding cakes, Surrey cake makers Bake Rattle N Roll have added small strips of lacy icing to this tiered wedding cake. Pink details give the cake a pretty pop of colour.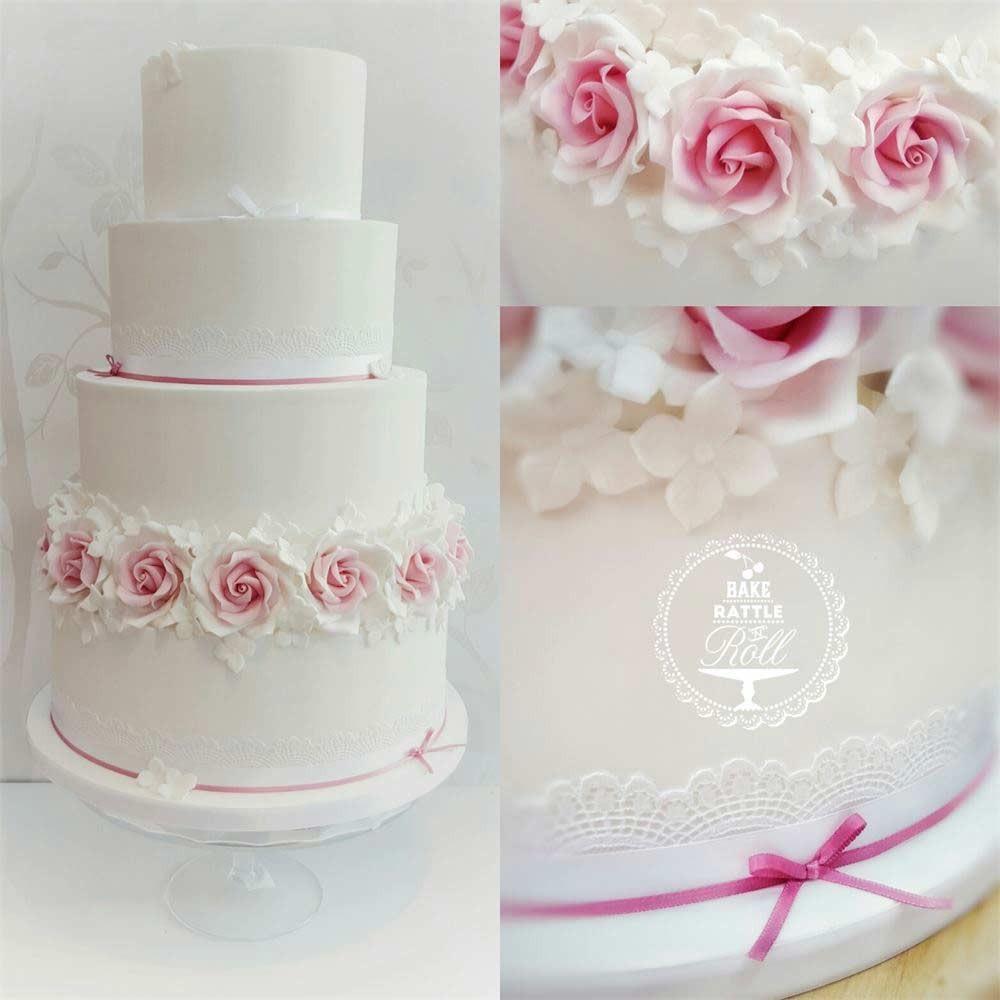 Little Bear Cakery
We're a little bit in love with this cake from The Little Bear Cakery – especially the subtle lace inspired details and the way the petals look like they're falling from the floral cake topper. The navy blue ribbon gives the cake a dramatic pop of colour.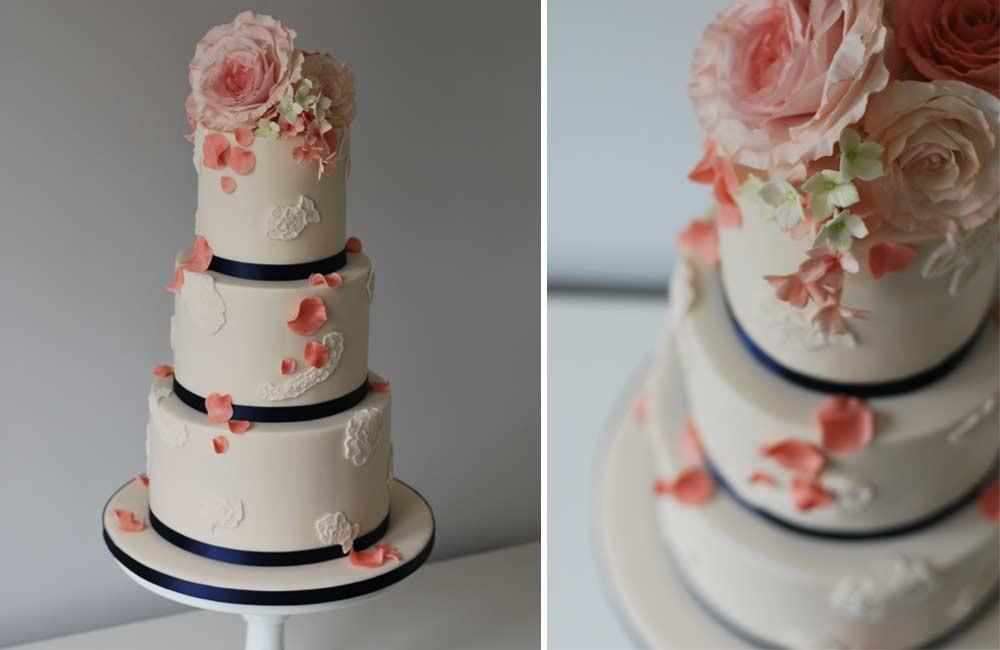 Becky's Cake Boutique
If you've got a small guest list, this two tier cake from Becky's Cake Boutique would be ideal as it is petite but still highly decorative. If you've chosen a smaller wedding cake to save money on your wedding budget, remember that lace detailing instantly gives the same wow factor as a larger design.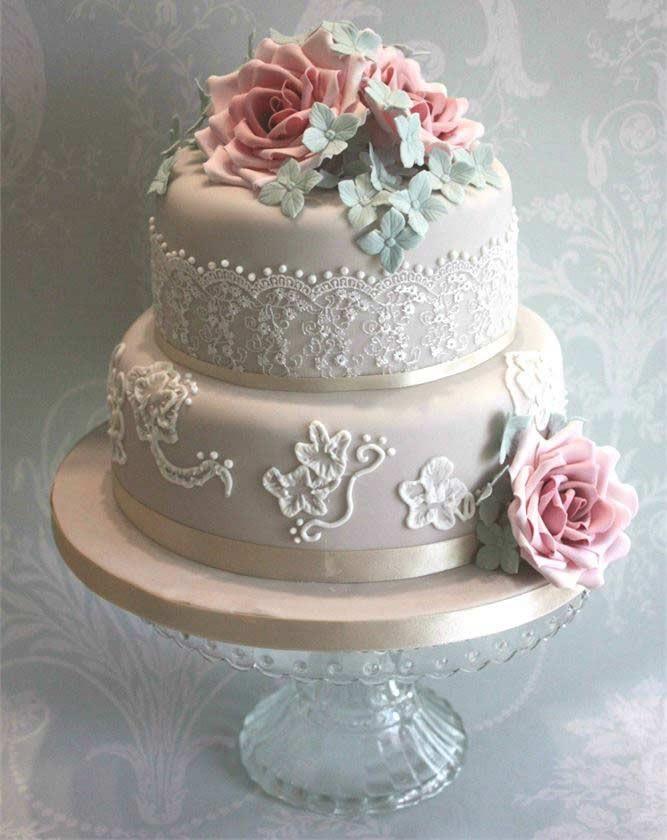 Blooming Lovely
This birdcage style wedding cake from Blooming Lovely Cakes would be perfect for a vintage themed wedding. It's a super sweet take on the retro trend with its lace layer and scattering of sugar flowers.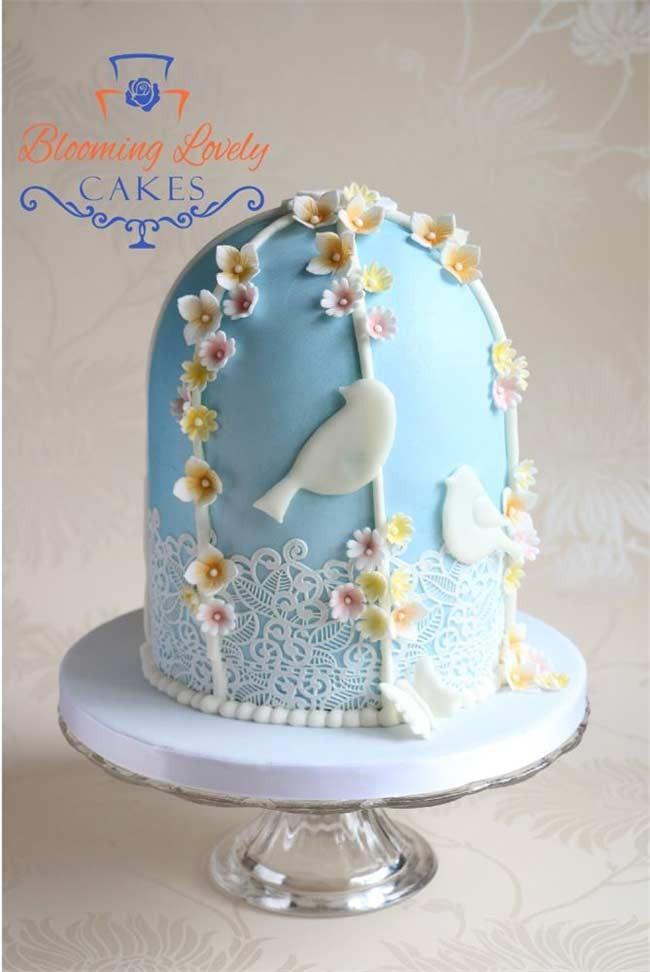 Designer Cakes by Elle
White lace is contrasted beautifully against pastel blue icing for this floral treat from Designer Cakes by Elle. We love the dotted piping around the tiers which is made to look like strings of pearls.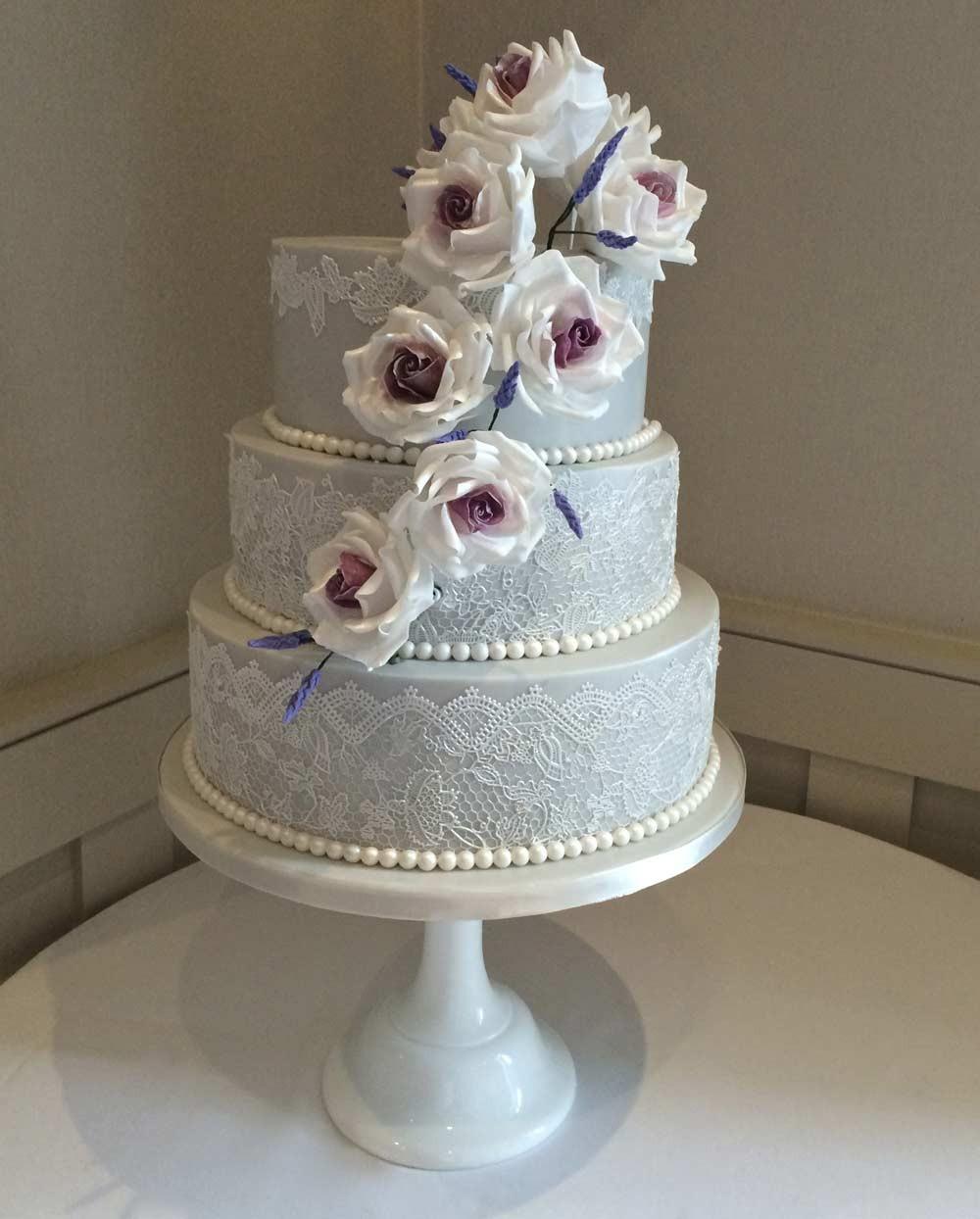 Fabulously Floral Cakes
This rather elegant design from Fabulously Floral Cakes stands tall with thick lace-style icing against ivory coloured tiers. The flower topping is the cake's crowning glory, giving it a country garden inspired vibe.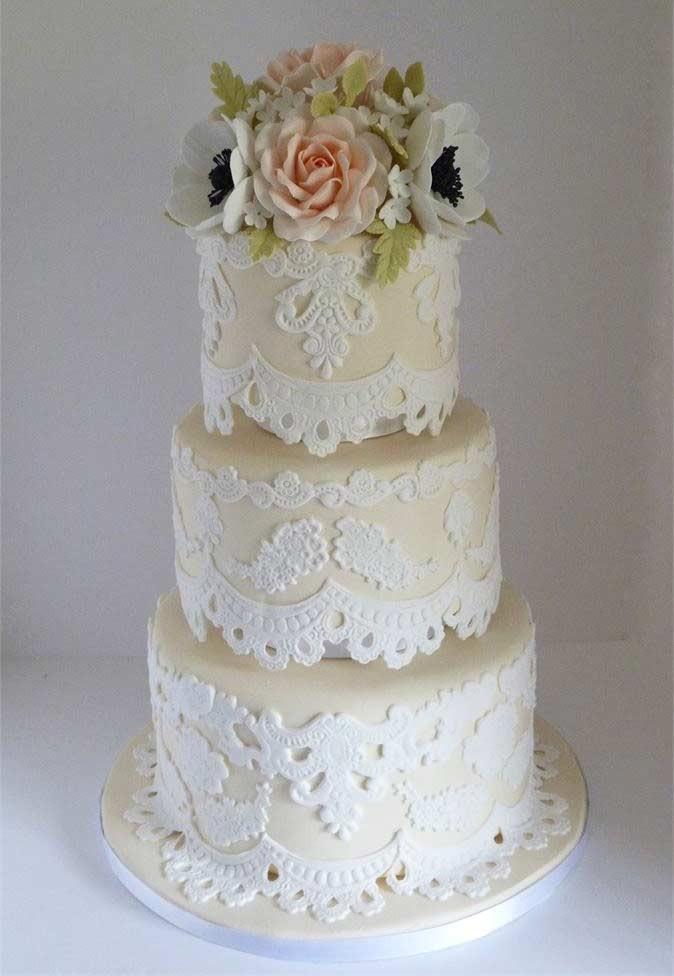 Pink Frosting Cake Company
If you're tying the knot at a glamorous wedding venue, you need a show stopping wedding cake for the occasion. The Pink Frosting Cake Company do a range of lovely lace wedding cakes, including this tiered design which has it all – exquisite lace detail, ruffles and a touch of sparkle.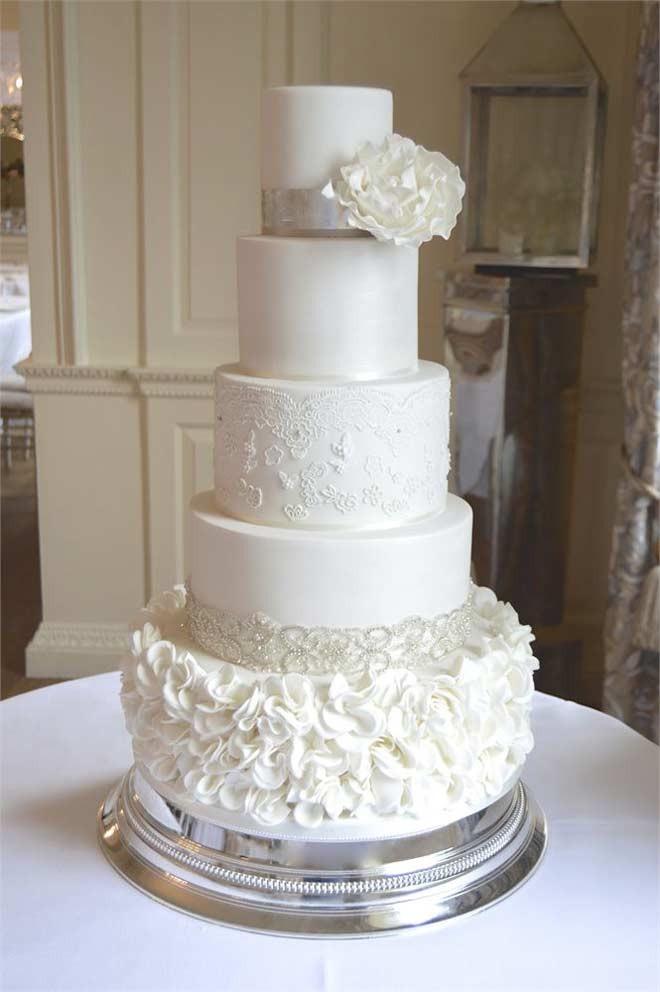 If you're giving your guests a piece of cake to take home, take a look at our edit of cake slice boxes which will ensure the cake is carried home in style.