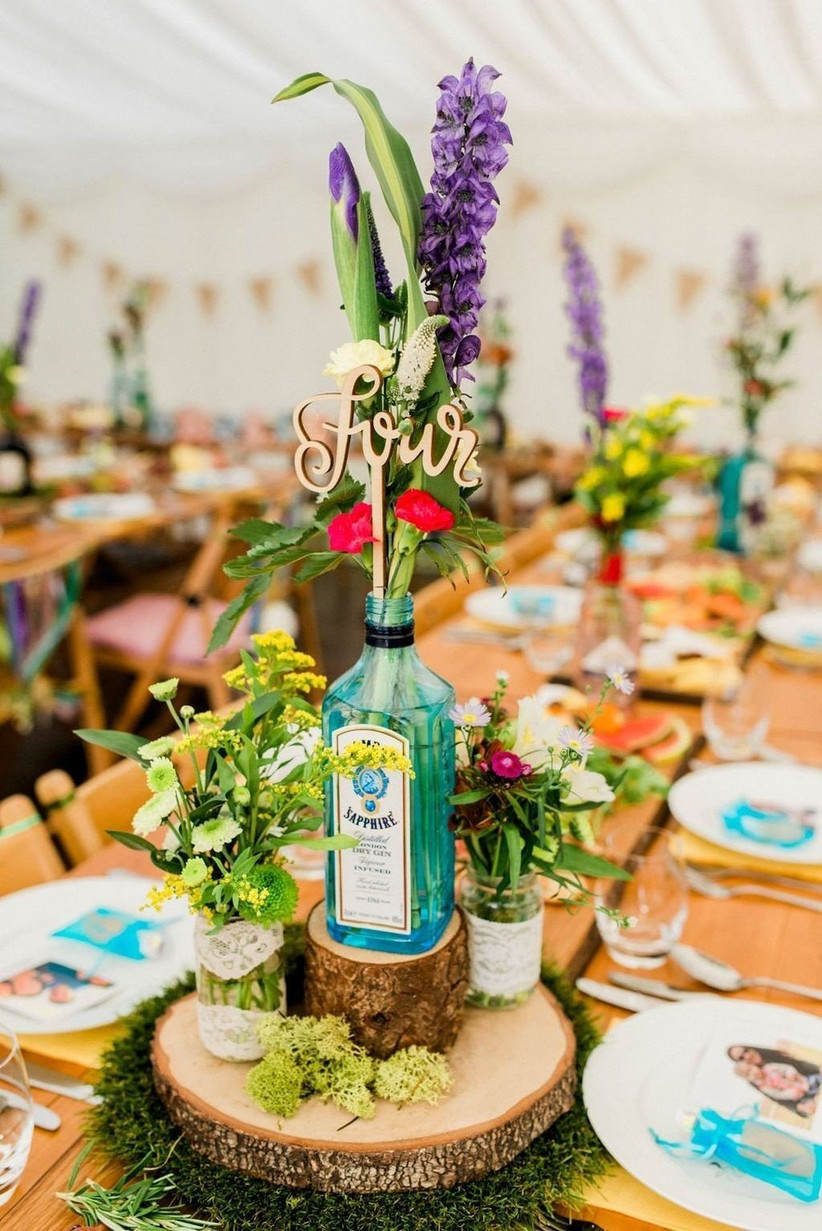 If you think of yourself as an eco-friendly couple, all the plastic, rubbish, car travel and more associated with a wedding can be tough to swallow.
To minimise the impact of your big day, we've rounded up the most eco-friendly wedding products you can buy.
Eco-friendly party supplies are one of the most important things you can do to reduce your environmental impact. Usually everything you need for a good party is single-use, wrapped in plastic or headed straight for the bin. Buy wedding decoration like cotton bunting and petal confetti to make a difference.
Combine these with our top tips for how to throw an eco-friendly wedding and you'll have a sustainable, guilt-free day!
The Best Eco-Friendly Wedding Decorations
Rice Paper Lanterns – £13.99, Amazon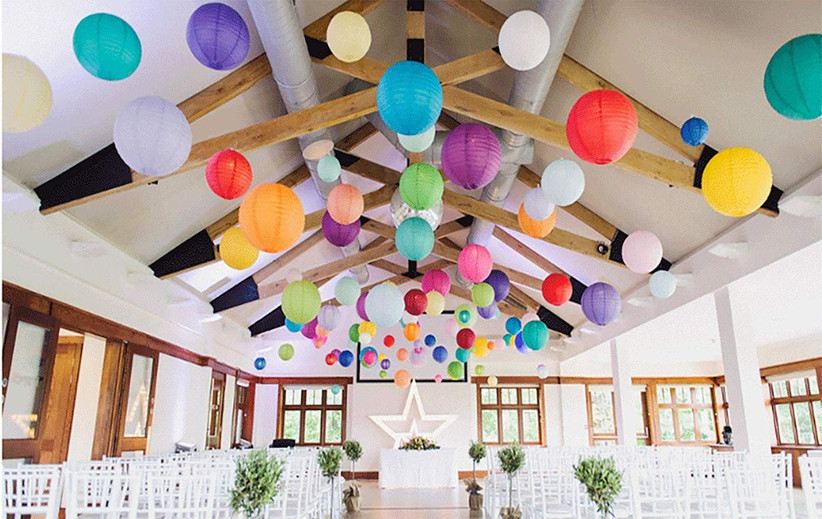 Instead of plastic balloons, choose reusable rice paper lanterns like these which you can make string up whenever you need a burst of colour. Once they're no longer of use, these will biodegrade so you don't need to worry about plastic hanging around for years.
READ MORE: Why Artificial Flower Might Be Right For Your Wedding
Cotton Fabric Bunting – £10.99, Amazon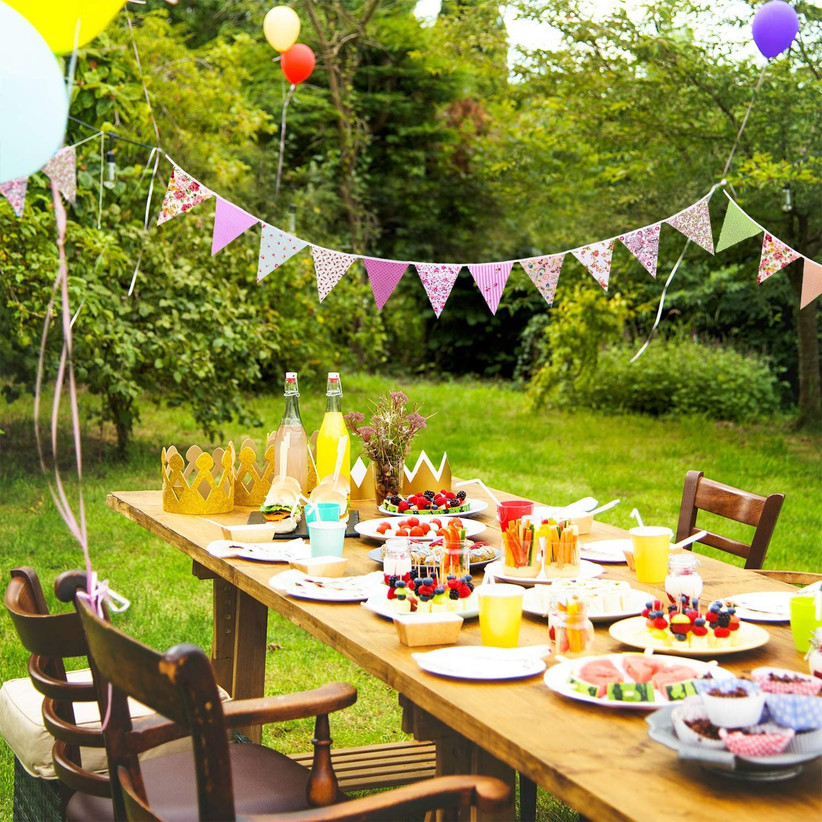 Bunting is a great rustic addition to your wedding decor that looks brilliant strung up outside or around a barn. The key to eco-friendly decorations are ones that won't be thrown away after one use and bunting is brilliant for this. You can DIY your own out of old pieces of fabric or buy cotton bunting to wash and reuse for you next celebration.
Biodegradeable Balloons – £1.99, Little Cherry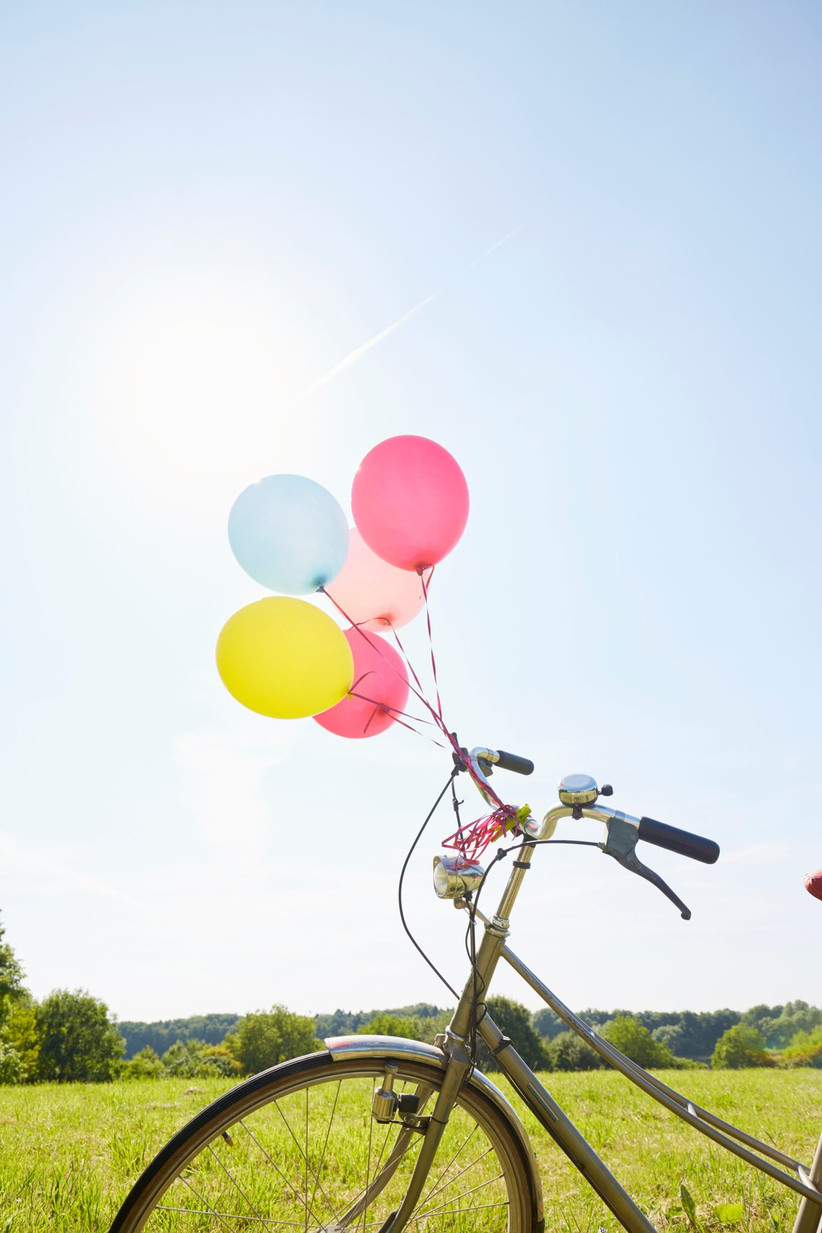 Can't do without balloons? Eco-friendly supplies company Little Cherry sell a pack of 10 balloons made from natural latex that biodegrade much quicker than traditional balloons. You're still advised against releasing them into the air; instead pop the balloons and place them in your garden compost.
Beeswax Candles – £14, Gold & Black Candles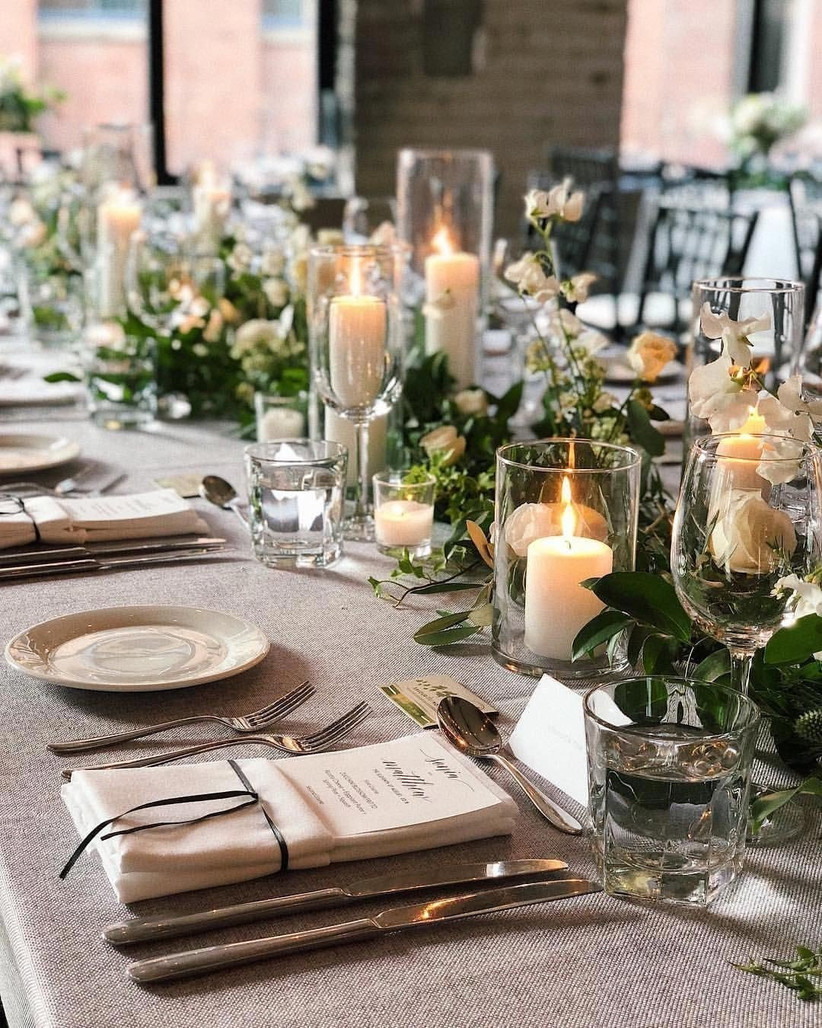 Image: Pinterest
Dorset-based Gold & Black make 100% pure beeswax candles with a subtle natural honey scent; everything is delivered in recyclable packaging. We love the ivory beeswax church candles that burn for 25 hours and are £14 each, or you can get 20 ivory tapered candles for £90 which are perfect for centrepieces or as aisle decoration in hurricane vases.
Gin Bottle Centrepieces – £11.50, Etsy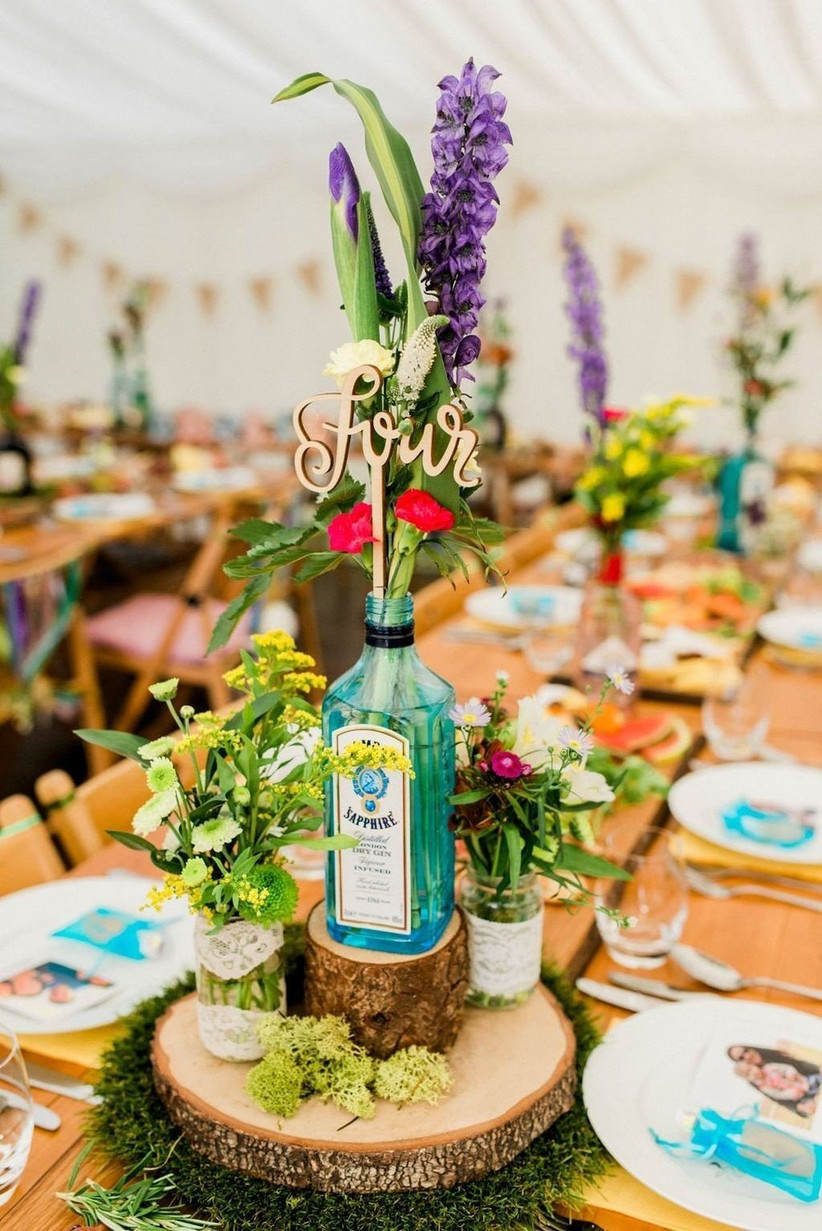 Image: Pinterest
You can DIY gin bottle centrepieces yourself (it just means drinking a lot of gin!). They look good, are an excellent way to reuse bottles and can be recycled afterwards. Try and choose a UK-made gin to reduce your drink's airmiles. You can also buy lots of really cute upcycled gin bottle lights, filled with fairy lights, from Etsy.
READ MORE: 7 Ways to Reuse Your Wedding Dress After the Big Day
Bamboo Plates – £39.99 for 100, Amazon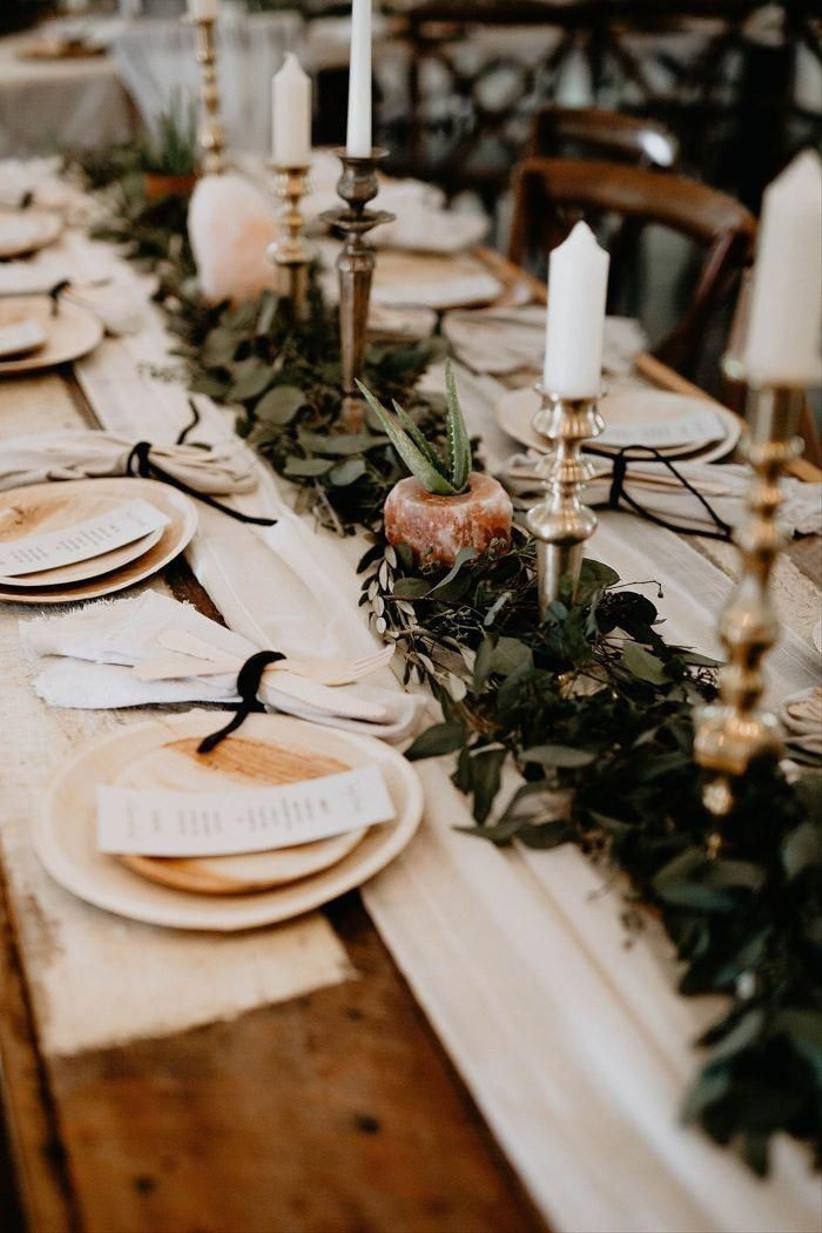 Image: Pinterest
You might not even spot the difference in the photo above. The couple have used bamboo plates here which are a great option instead of having acrylic or plastic wedding table settings. Layer up different sizes of them and pair with washable cloth napkins and bamboo cutlery. It's a great alternative to plastics if you're having an outdoor or garden wedding.
Eco-Friendly Photo Bunting – £12, Instajunction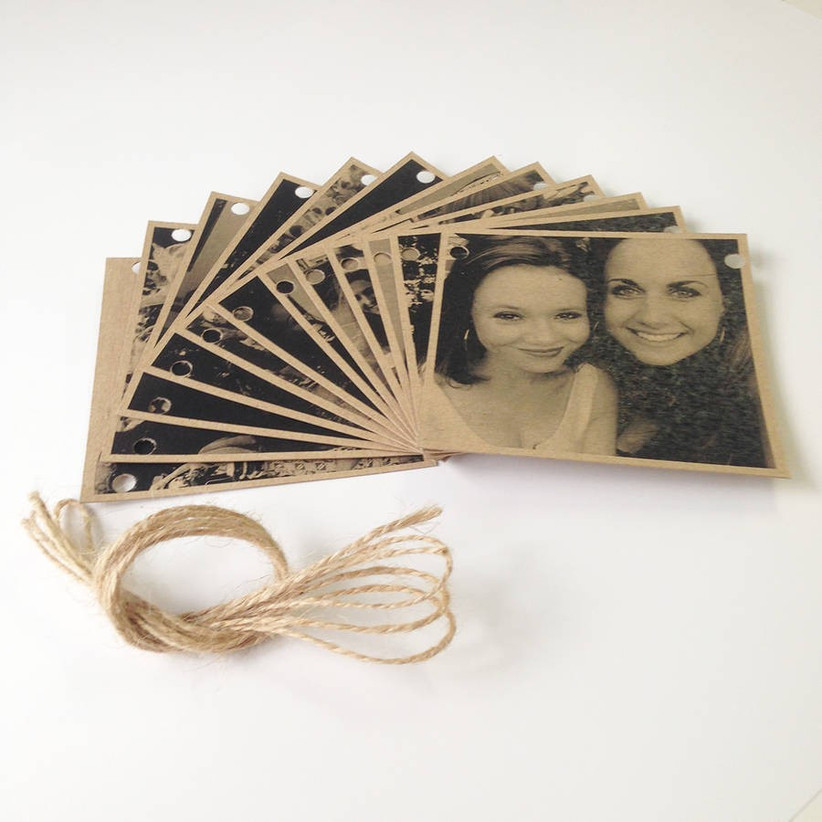 Photo bunting is such a fantastic way to personalise your wedding venue. This photo bunting is printed in black and white ink instead of colour and on 100% recycled brown fleck kraft card.
Pot Plant Centrepieces – From £7.50, Patch Plants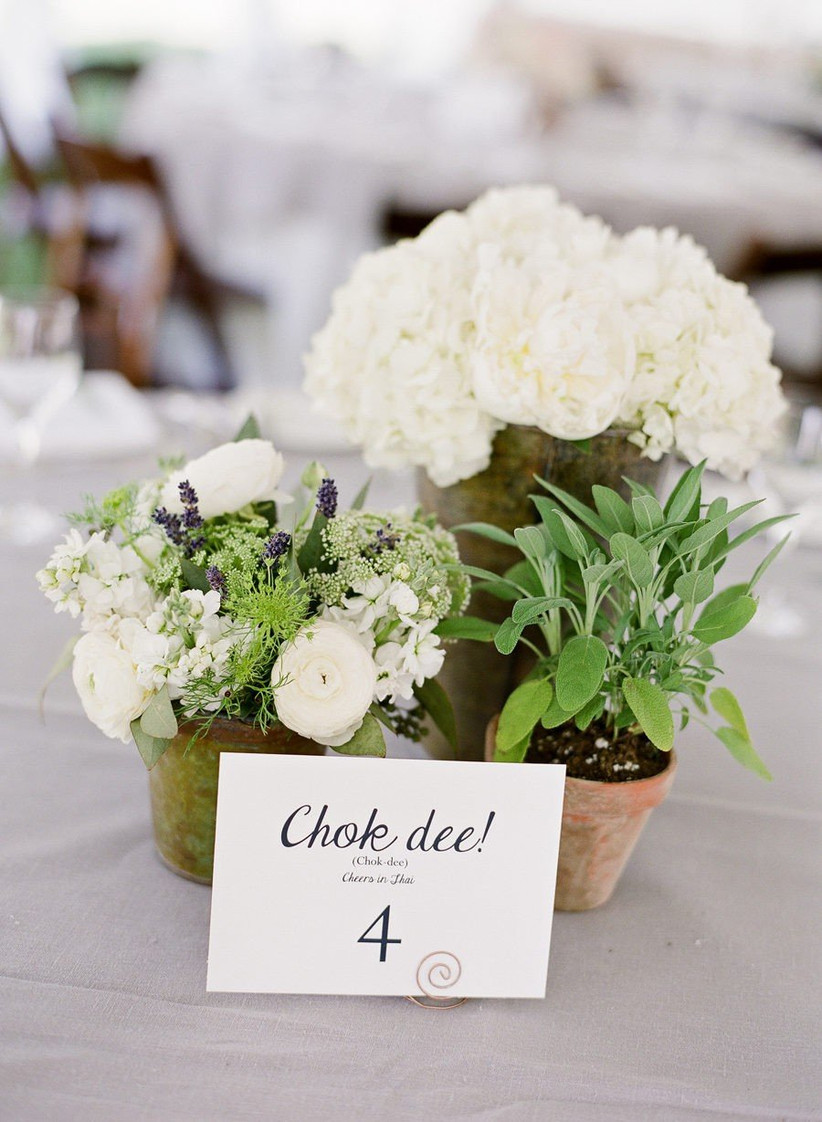 Image: Pinterest
Instead of cut flowers which will eventually be thrown away, use potted plants for your centrepiece. We love Patch Plants for lush, green, architectural foliage. Homebase or your local garden centre will have a great selection of more colourful plants – think lupins, dahlias, geraniums and miniature roses mixed up with herbs like mint and lavender. Give them away at the end of the night to guests too!
READ MORE: 45 Beautiful Wedding Table Decoration Ideas
Biodegradable Rice Straws – £9.99, Amazon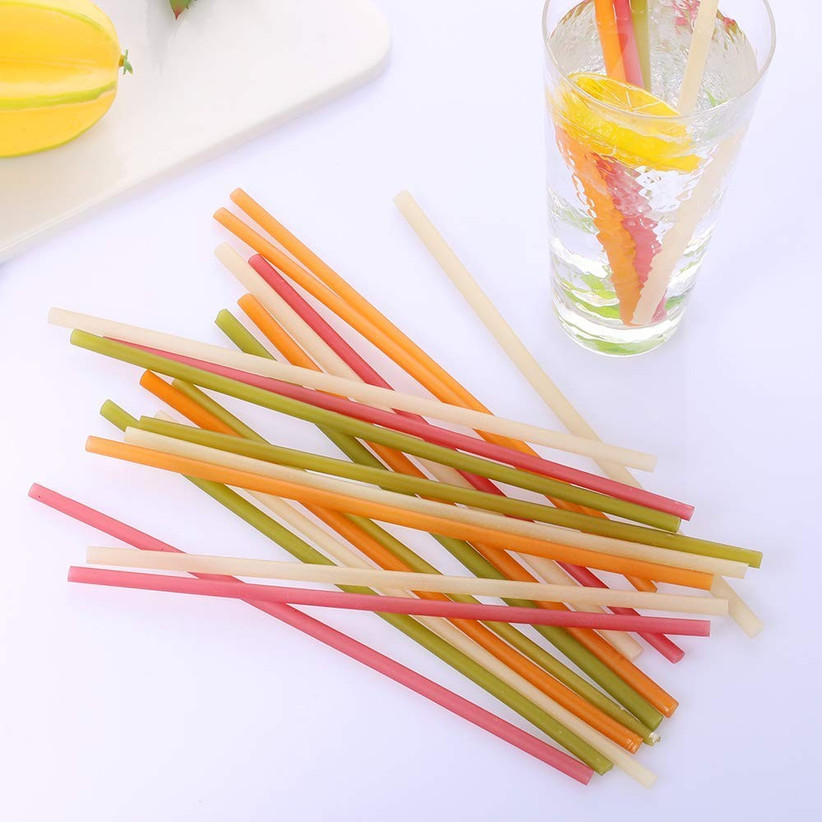 To encourage your guests to take a reusable straw, have mason jars full of these rice straws on the bar and on tables. They're sturdy and won't affect the taste or break-up in your drink like paper straws do. Made from rice flour, tapioca starch and vegetable juice, they're 100% environmentally friendly, compostable and safe. No harming marine life here.
Hessian Table Runner – £4.99, Amazon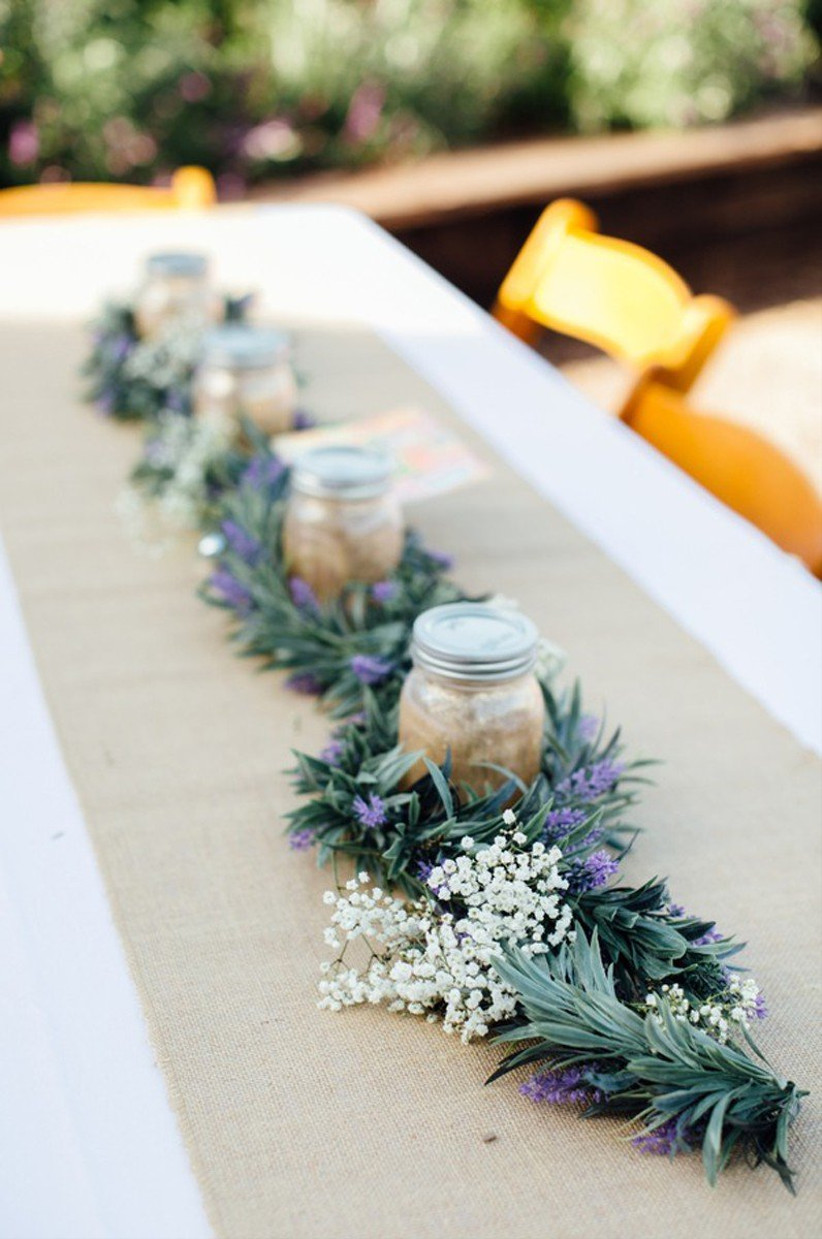 Image: Pinterest
Line your tables with hessian table runners for a shabby-chic look. It's an easy way to add rustic decor to a venue and these ones from Amazon can come with lace stitched into them too. Made from the fibres of the jute plant, hessian is 100% biodegradable and these can be washed in warm water and dried at a low heat so they last for years.
Prop Hire – Various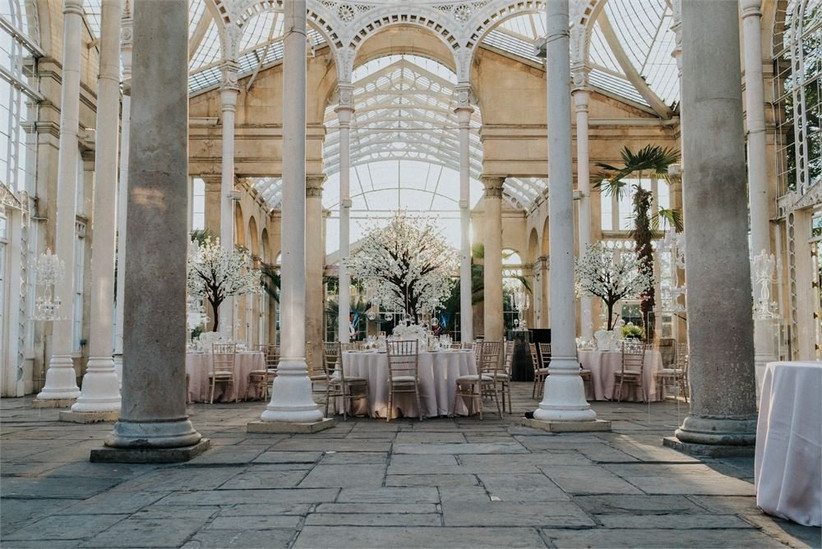 Image: The Blossom Company
One of the best things you can do is to hire a lot of your bigger props instead of buying them. You'll vastly cut down on the travel miles of all your deliveries and their packaging if you choose to hire from one company instead.
We love The Blossom Company for flower arches and centrepieces; Wedding Post Box Hire for post boxes; Bristol Vintage for afternoon tea crockery; the Event Flag Hire Company for cool decorations; Rose Metallics for the coolest cutlery hire; and Light Up Love for the cutest lights.
READ MORE: How to Sell Your Wedding Dress
The Best Eco-Friendly Wedding Favours
Wooden Name Tags – £15.90, Love Heartwood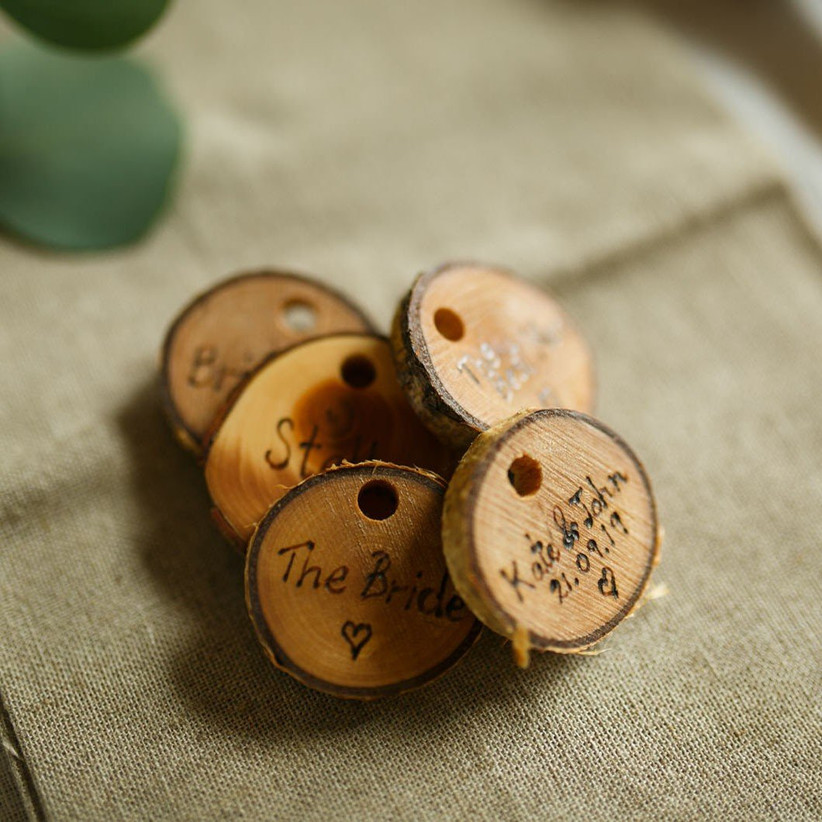 Use these wooden name tags as both a place card and a favour and your guests will have a cute keepsake to take home. You can also attach them to your guest's glass so they can reuse it during the night, cutting down on washing up. The wood is sustainably sourced, finished with hemp oil and tied with biodegradable jute twine.
Biodegradable Favour Bags – £5, Etsy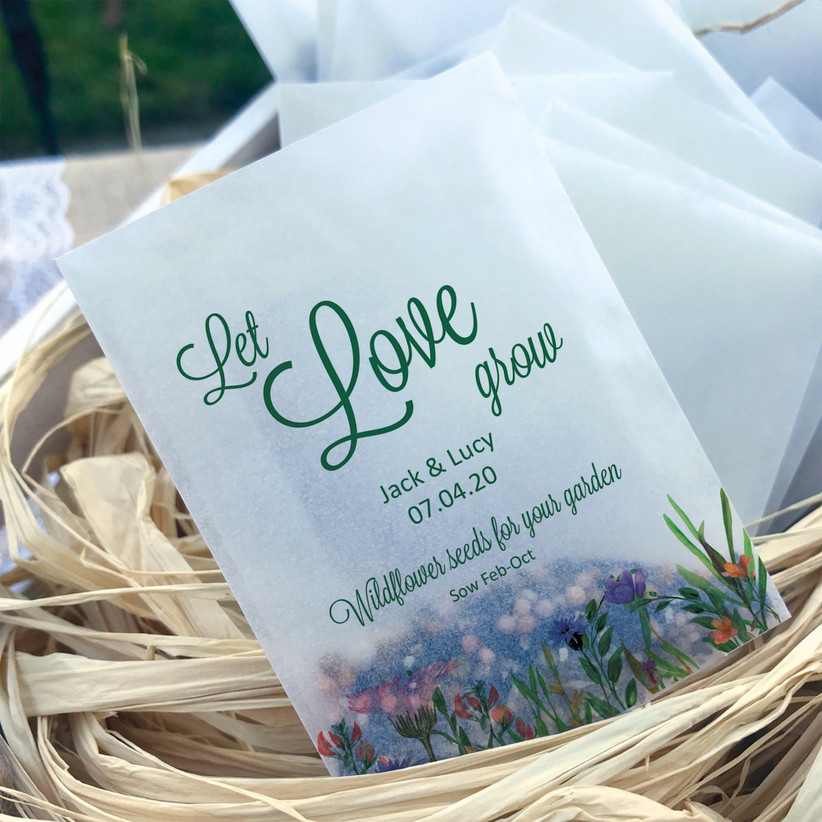 These bags are made from thick eco-friendly glassine paper, which is 100% recyclable and biodegradable, and made with wood from sustainable forests. They won't crumple so look great on your tables, and your guests can simply plant the whole pouch in their flower beds.
Wedding Favour Tea in a Glass Bottle – £2, Spice Kitchen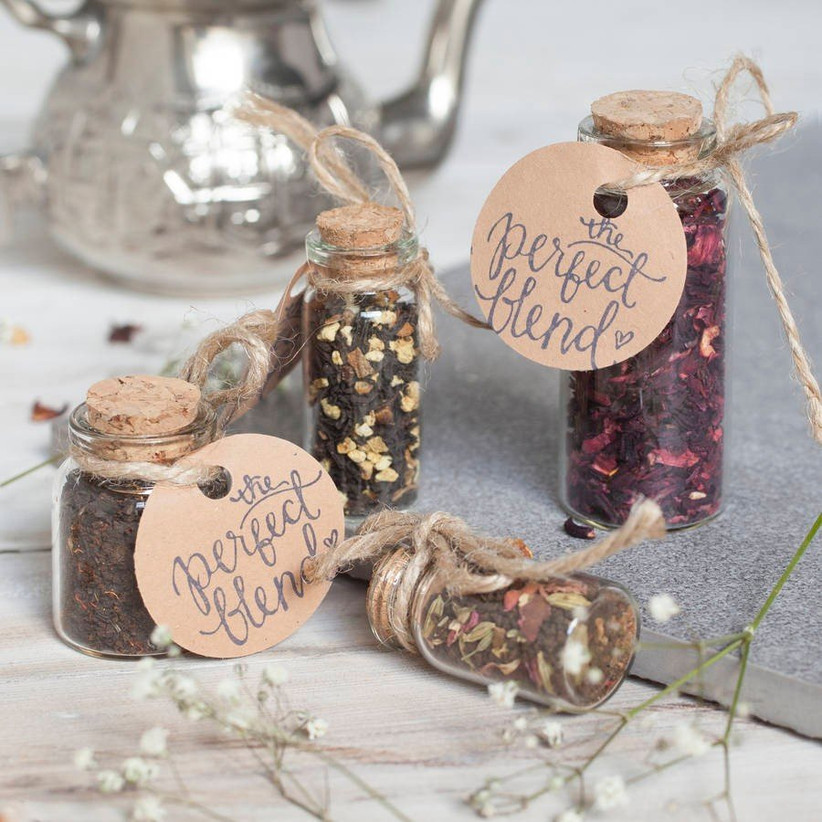 Your choice of tea blend comes in a cute glass bottle, which can be filled with something else once the tea is finished. There's no plastic and everything can be recycled too.
READ MORE: Winter Wedding Food Advice from River Cottage
Plantable Watercolour Place Cards – £1.25, Etsy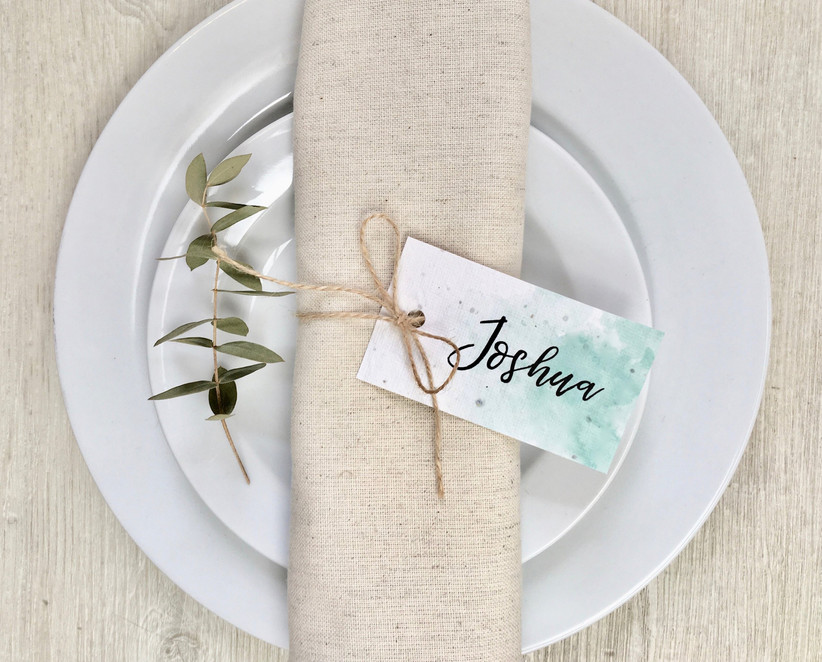 These beautiful watercolour place cards are made from seed paper which will bloom when planted. They're a zero-waste product which is both a name tag and a favour to blossom after the wedding.
Personalised Coffee Favours – £2.50, Etsy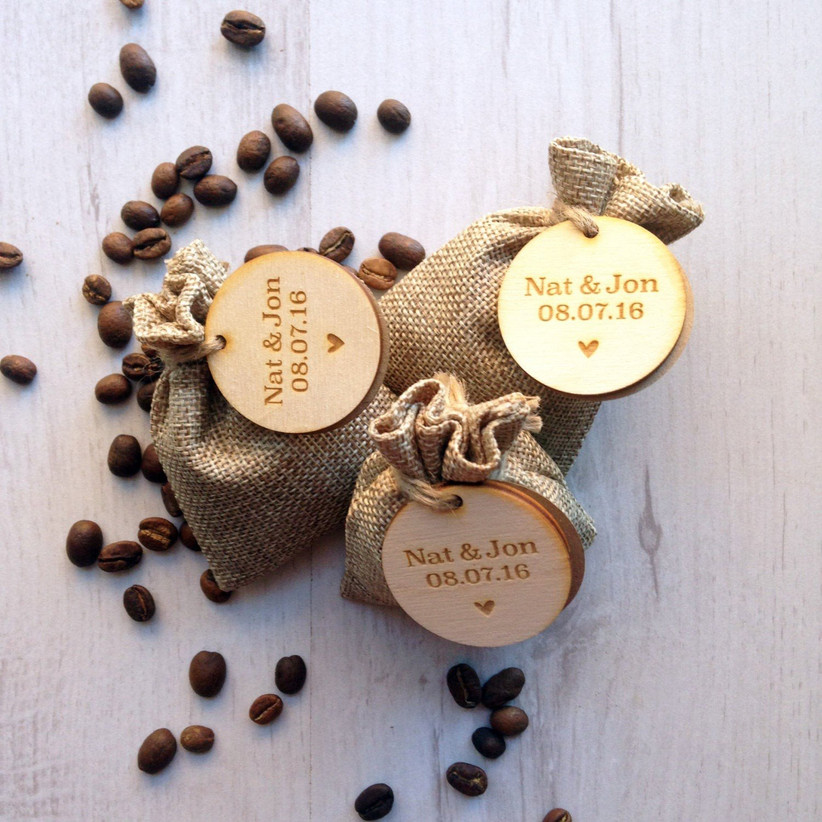 Natural hessian bags filled with a cup's worth of cafetiere coffee make brilliant wedding favours and there's no plastic involved. The beans come from trusted farms in Brazil and then are hand-roasted in Perkulatte's micro-roastery in the UK.
Fabric-Wrapped Handmade Soap – £69, Etsy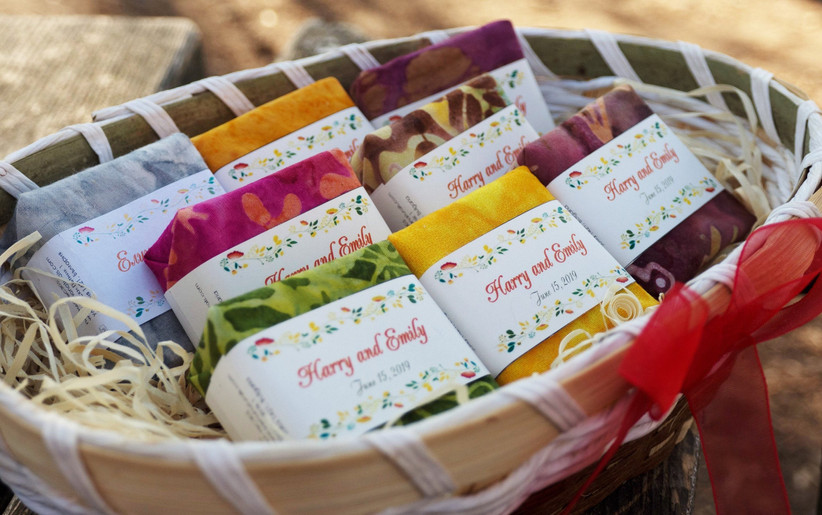 Each of these 50 handmade natural soaps contains no palm oil, sodium lauryl sulphate, preservatives, artificial colours or fragrances. Instead they're packed with essential oils and sustainable plant oils and butters. They come wrapped in hand-dyed cotton batik fabric to avoid plastic.
Cookie Favour Bags – £5, Etsy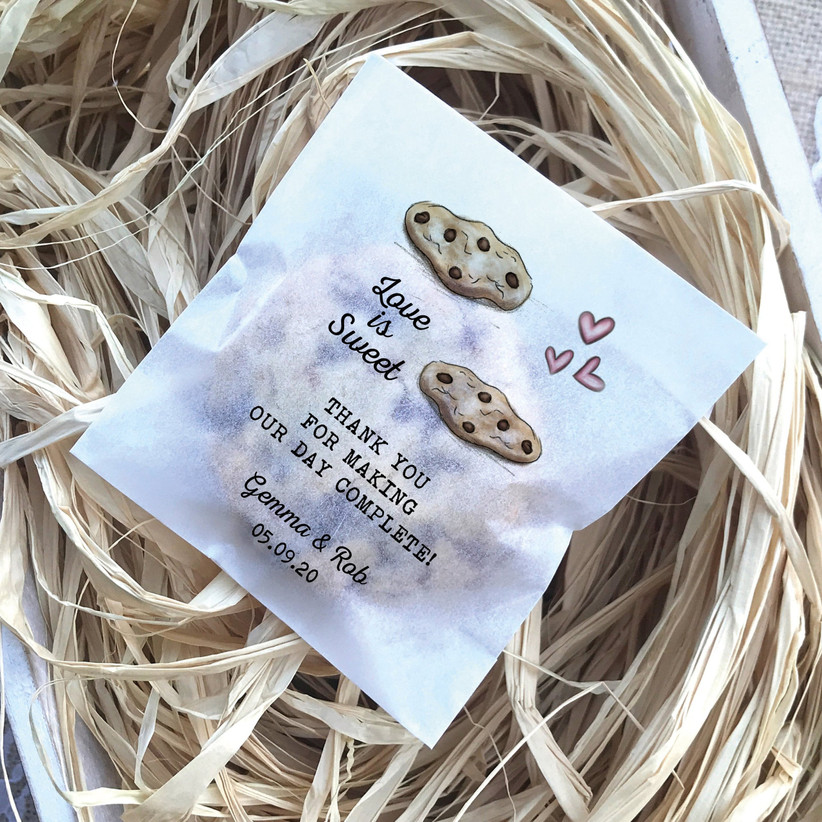 Bake your own cookies and put them in these biodegradable glassine bags. They're super cute and food favours rarely ever get wasted – just be aware of any allergies. Baking the favour yourself means you can make sure all the ingredients are up to your standards, for example, free range eggs and fair trade chocolate chips.
READ MORE: Gorgeous Flower Garlands to Decorate Your Venue
Personalised Paper Rose Name Place – £1.70, Paper Tree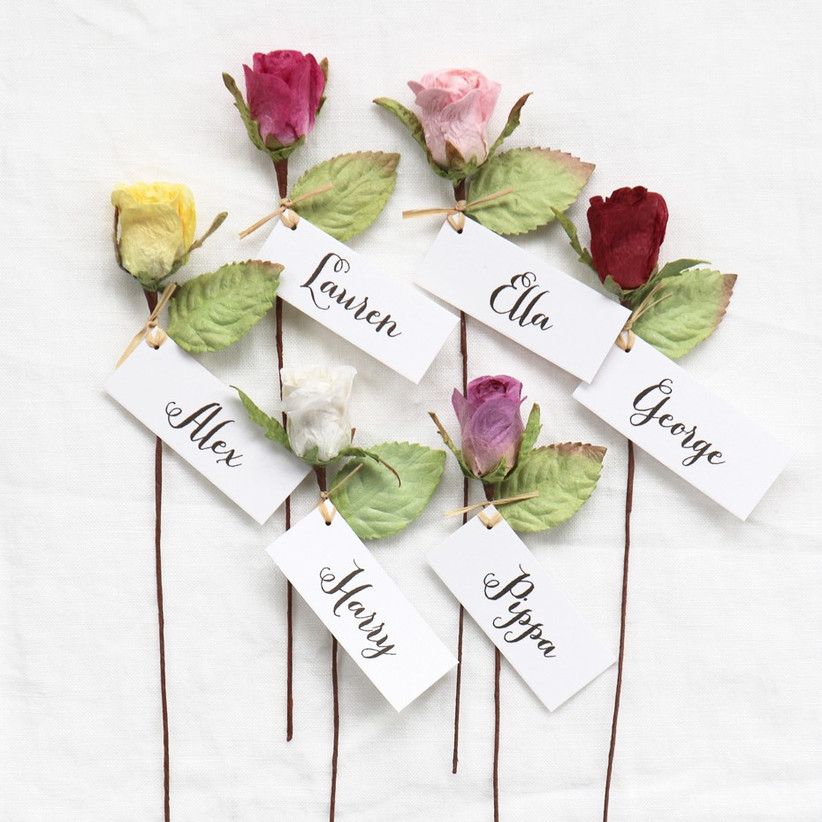 Coming in six different colours, you can place a sweet paper rose as a name setting and favour on each of your guests' plates. They're made from eco-friendly paper with natural raffia name tags. Alternatively use papers roses instead of real flowers – which may be flown in to the UK and will wilt – in your centrepieces.
Divine Milk Chocolate Bar – £29.70, Traidcraft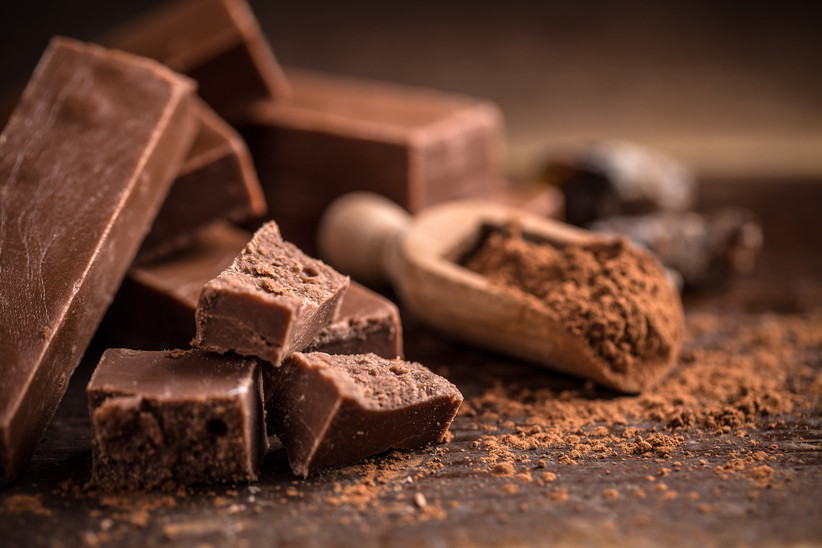 Who doesn't love chocolate? Instead of individually wrapped truffles, give your guests a bar of Divine fair trade chocolate. Cocoa beans are harvested from Kuapa Kokoo, a co-operative of vibrant smallholder farmers in Ghana, where farmers are given a better price for their beans. These 30 bars (so less than £1 a favour) come wrapped in paper and foil which can be easily recycled.
READ MORE: 3 DIY Edible Wedding Favour Ideas
The Best Eco-Friendly Wedding Confetti
Biodegradable Petal Confetti – £12.75, Shropshire Petals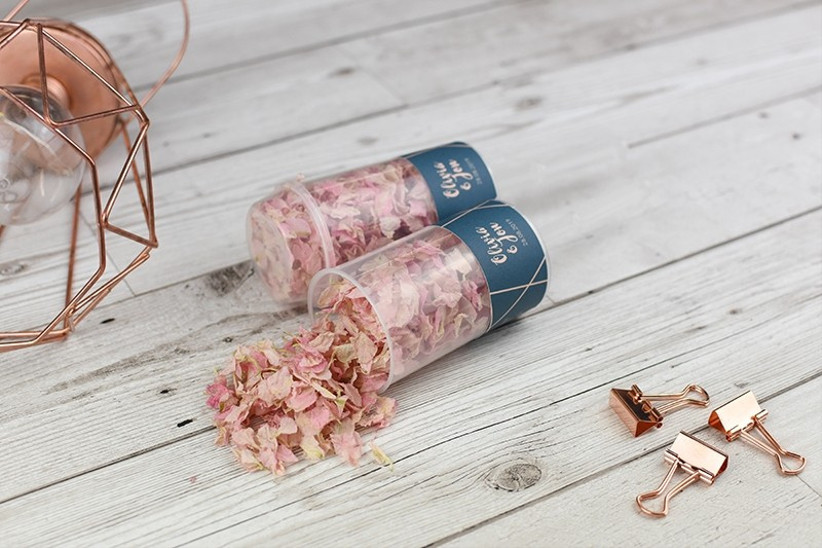 Shropshire Petals have mixes in a huge variety of shades to match your colour scheme. They grow wildflowers and blooms such as delphiniums, cornflowers and calendula and dry them naturally with no preservatives or artificial colours. Many venues will let you use petal confetti where you can't use paper. A litre of loose confetti (which is about 10-12 handfuls) works out at £12.75, but you can get it in paper cones, boxes, pails and wands too.
Rainbow Confetti Dots – £1.95, Etsy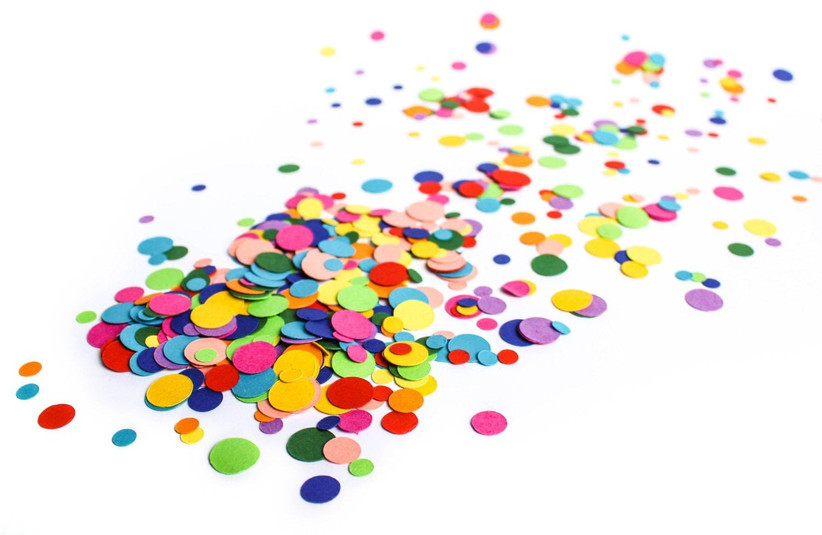 These rainbow dots are made from 100% biodegradable paper and ink, and also come in biodegradable glassine bags. They're fantastic for a colourful summer wedding to use as confetti or spread across reception tables.
READ MORE: How to Make Your Own Confetti Cones
Bamboo Confetti Pots – £0.55, Etsy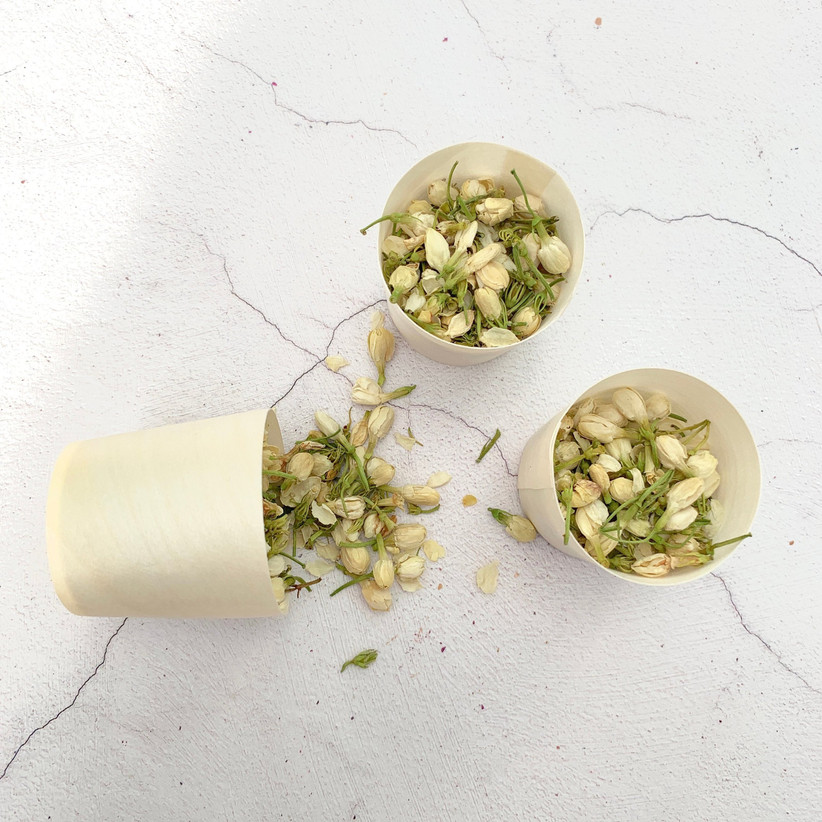 Fill bamboo biodegradable pots with your petal confetti. From the postal boxes to sellotape and stickers, this Etsy seller uses completely biodegradable packaging so every step along the way is eco-friendly.
Five Eco-Friendly Wedding Tips
We have a whole article on ways you can make your wedding more environmentally-sound, from choosing the right venue to buying a sustainable or second-hand dress. Here's a few of our favourite ideas:
Use virtual invitations instead of paper ones. You can still have a beautiful design but send it by email – websites like Paperless Post and GreenVelope are great.
Avoid plastic decorations in favour of paper or fabric decorations. Look on sites like Hitched's 'For Sale' forum or Gumtree for people selling their decorations cheaply or even giving them away for free.
Think local and seasonal for everything. Not only will flowers and food produce be cheaper and fresher, but it'll have travelled less far (cutting down on carbon emissions) and you'll be supporting local businesses.
Ban all disposable cups, plates and cutlery. Choose bamboo over plastic where you can. If you're serving drinks, use glasses you can wash, recyclable paper cups and biodegradable straws.
Ask guests to travel together if possible so less cars are driving to your venue. If you're close to a train station, you could hire a bus to take everyone in one go rather than in lots of different taxis.
If you're interested in using biodegradable confetti on your day, make sure you read our guide to everything you need to know about confetti.