38 Best Boho Wedding Dresses for Free-Spirited Brides
Looking for a beautiful boho wedding dress? We've rounded up 36 gorgeous bohemian wedding dresses for laid-back brides
We have included third party products to help you navigate and enjoy life's biggest moments. Purchases made through links on this page may earn us a commission.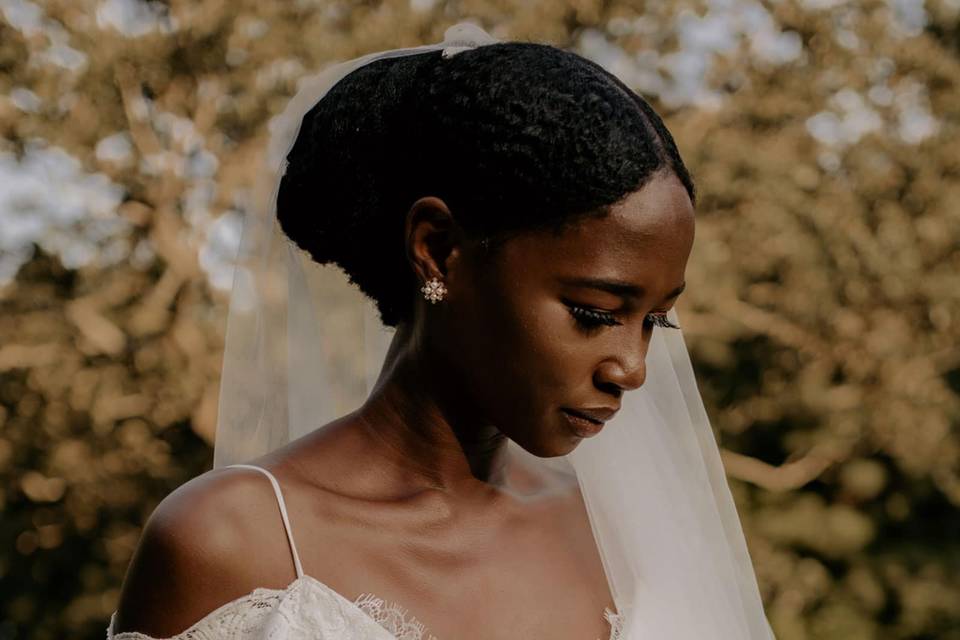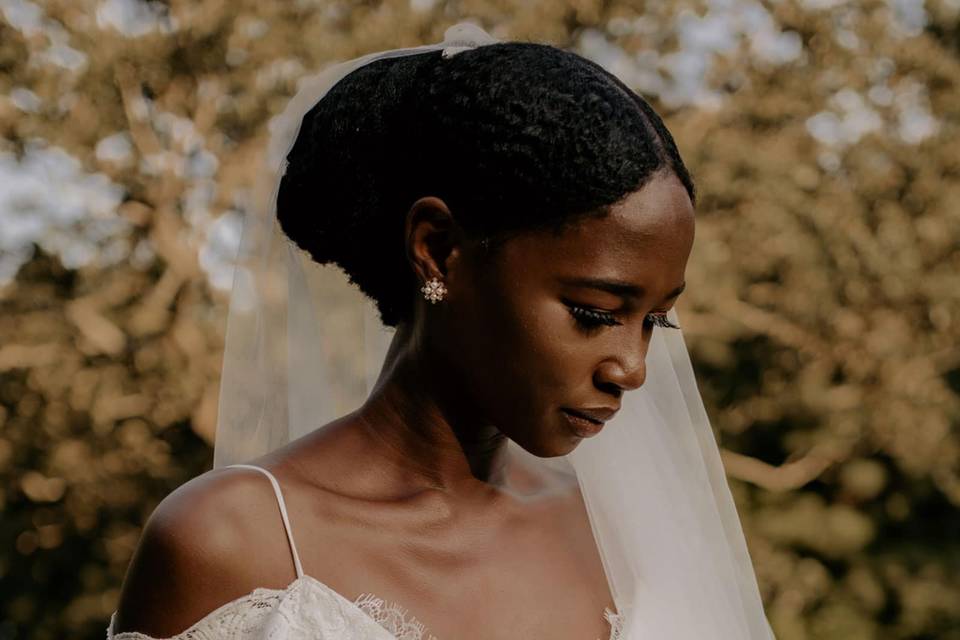 We're obsessed with carefree, romantic, boho wedding dresses here at Hitched.
Boho weddings are relaxed and often outdoors, with rich and earthy jewel tones and plenty of florals. If thoughts of drapery, pampas grass wedding décor and a magical indie vibe fill your heart with joy, then a boho wedding could be for you.
Boho style wedding dresses are the perfect option for carefree, casual brides who still want to invest in a gown, but want to make it feel a little more 'them'. They also look wonderful with more laid-back boho wedding hairstyles, such as loose waves, plaits, and floral accessories (or even real flowers!).
The good news is that boho wedding dresses come in a wide range of price points, whether you want to stick to the high street, opt for something more mid-range, or go all out with a high end designer. The options are endless!
Browse our selection of the best boho wedding dresses, choose your favourite and pair it with a flower crown and bare feet. Your inner hippy will be dancing with joy.
Hop straight to the section that appeals to you the most:
36 of Our Favourite Bohemian Wedding Dresses
Boho Lace Wedding Dresses
Lace lends itself so perfectly to boho wedding dresses - but banish all thoughts of stiff lace sleeves and flouncing skirts. Boho lace wedding dresses have knit or crochet style lace detailing, with fringing or romantic eyelash edging.
Rish Haleh Wedding Dress - BHLDN, Approx £1,100
The Rish Haleh dress from BHLDN is a bohemian bride's dream come true! The graphic knit lace and fluttering sleeves add a romantic, relaxed feel to the fit-and-flare shaped gown.
Noah - Grace Loves Lace, £2,080
The stunning Noah dress from Grace Loves Lace simply exudes bohemian charm - just look at that incredible scalloped detailing across the back and off the shoulder sleeves. Your guests will have never seen anything like it.
Sevilla - Net-a-Porter, £4,995
The Sevilla dress by Galvan is exclusive to Net-A-Porter. The lightweight lace wedding dress is named after the spirited city of Seville, and the subtly scalloped hem definitely gives off cool flamenco vibes.
Ryder - All Who Wander, £POA
This boho-chic wedding dress features a top-to-toe doily lace pattern. The Ryder wedding dress has a sexy, figure-hugging shape but the delicate straps and lace fabric add plenty of free spirit.
Mavin - Rue de Seine, £3,300
Wondering how you can channel your boho vibe but still look like a modern bride? Meet the Mavin dress from Rue de Seine. The strapless bodice keeps it contemporary, whilst the boho-style lace is pure romance.
Emanuela - Grace Loves Lace, £1,940
Have you ever seen a more perfect bohemian style gown than the Emanuela? This incredible dress features striking geometric lace and is simply the most wonderful choice if you're looking for a beach wedding dress, or want to channel that vibe!
Cyrene - Indie Bride London, £1,600
We love the loose sleeves and the bell shaped skirt on the Cyrene dress, but the amazing lace-trimmed open back is the real star of the show.
All About Eve - Love Spell, £POA
This daisy lace wedding dress is like nothing we've ever seen before! It's the perfect choice if Whitney Port is your celebrity bride icon - the sheer tulle skirt can be removed to reveal an all-over floral lace dress for your evening party. Browse more two piece wedding dresses here.
Bonita - Grace Loves Lace, £1,940
We can't get enough of eyelash lace - the Bonita gown by Grace Loves Lace uses it perfectly to trim that gorgeous V-neckline. And how beautiful is the rose-motif lace? If you want a boho wedding dress for under £2,000, this has to be the one!
Belle - Made With Love, £POA
The Belle dress from Made With Love is a dream come true if you want a modern take on boho bridal style - the 3D floral edge adds a contemporary twist we just can't get enough of. There's also a Belle headband or veil to match, if you love to accessorise.
Vintage Boho Wedding Dresses
Want a bohemian wedding dress with a vintage feel? We like your style! We've listed our favourite vintage boho wedding dresses here - you're going to be spoilt for choice.
66208 - Lillian West, £POA
It's not often we're speechless, to be honest, but the 66208 by Lillian West has us almost lost for words. This is goddess-worthy.
Nightingale Gown - Rolling in Roses, £POA
If you want a boho wedding dress that's also good for the environment, consider the Nightingale dress from Rolling in Roses. This retro-inspired bridal gown is made from recycled bottles and satin made from the fibres of organic rose petals - isn't that incredible?
Embellished Tulle Gown - Net-a-Porter, £10,350
Okay, so this is one seriously spenny wedding dress - but would you look at it? This glittering gown by Elie Saab exudes retro glamour, and is perfect for a boho bride who still loves a bit of glamour.
Browse even more romantic 1920s style wedding dresses if you love this one, but know your bank manager won't…
Bishop - Rue de Seine, £2,850
The beautiful Bishop wedding dress from Rue de Seine could have literally just stepped out of the 70s. It's got all the effortless romance and glamour of that decade, with a modern twist for 2022.
Caroline - Alter Eco by Rembo Styling, £POA
Another wonderfully romantic creation that would look totally at home in the boho 70s, the Caroline gown by Rembo Styling is a unique take on retro fashion.
Eros Jumpsuit - Rolling in Roses, £POA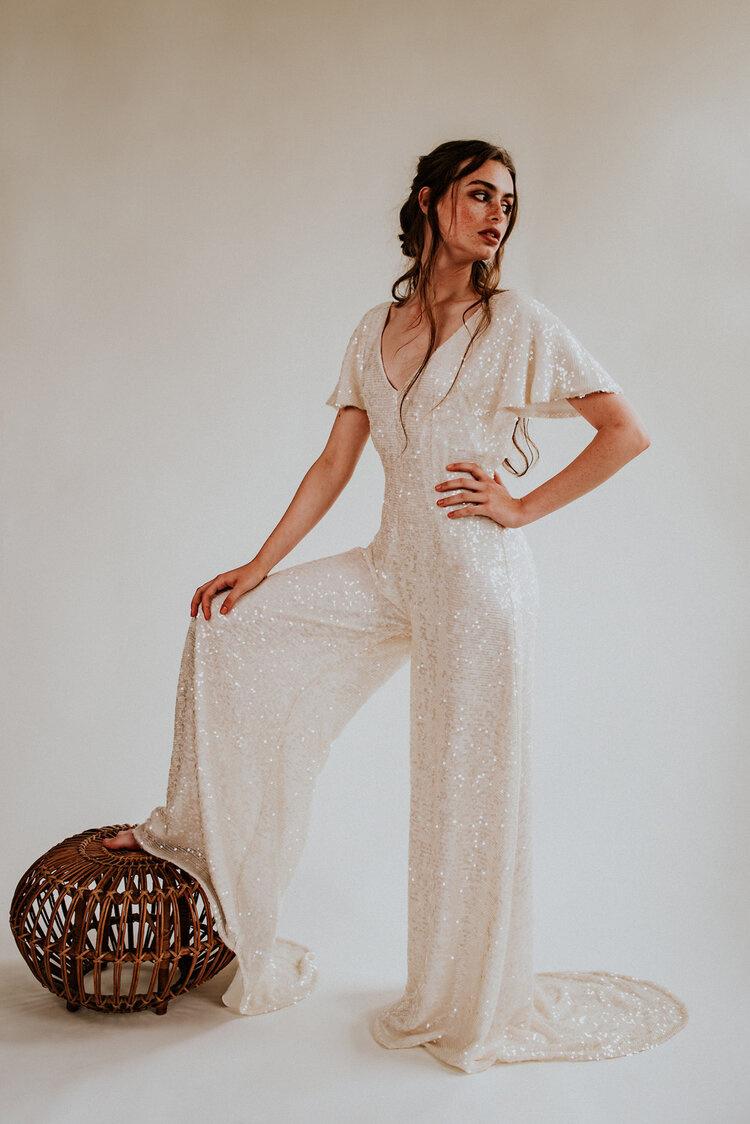 Consider yourself a free spirit? Why not opt for a bridal jumpsuit? The Eros jumpsuit from Rolling in Roses is made from eco-friendly fabrics, including a vegan alternative to silk and by-products from the citrus juice industry!
Boho Wedding Dresses with Long Sleeves
Wedding dresses with sleeves are always a popular choice - whether you want them for warmth, modesty or a bit more coverage. On a bohemian wedding dress, sleeves can add even more of a vibe, especially if you go for a balloon or bell sleeve.
Nathalia - Grace Loves Lace, £2,000
The unique lace pattern of the Nathalia dress makes it a dream choice for brides who want a laid-back wedding day look, but don't want to look too relaxed.
Rosari - Catherine Deane, £POA
If you want a wedding dress that will make a statement, meet the Rosari dress by Catherine Deane. We love the all-over 3D lace and the stylish grosgrain ribbon at the waist.
Olena Wedding Dress - Willowby by Watters, POA
This beautiful long sleeved Olena wedding dress is decorated with custom embroidery. The romantic bell sleeves add a whimsical feel. You can also choose from six different skin tones for the nude lining.
Temecula Dress - Free People, £248
This dreamy lace wedding dress by Free People is ideal for brides who want a boho wedding dress for under £1,000. We love the sheer fabric, which adds a sexy element to a romantic dress. Browse even more sexy wedding dresses here.
Appliqued Embroidered Tulle Gown - Net-A-Porter, £2,870
You might recognise this Christos Costarellos dress as the dress Prime Minister Boris Johnson's wife Carrie Symonds rented to wear to her boho wedding in summer 2021. Be inspired by her boho-bride style and pair it with a flower crown and flowing locks.
Presley - Rue de Seine, £2,850
We love the graphic chevron lace on the Presley gown - and especially how it contrasts with the plain crepe fabric. It's the perfect style for boho babes who still want to feel a bit wedding-y, if you know what we mean.
Think Twice - Alter Eco by Rembo Styling, £POA
Boho brides who care about the planet and want to make a sustainable wedding dress choice will love Think Twice, part of Rembo Styling's eco-friendly range. It's made from sustainable Belgian linen and features dreamy balloon sleeves.
Affinity Blouse - Rolling in Roses, £POA
If you want to add some extra coverage to your dress or love the two-piece bridal trend, consider the Affinity blouse. It would look great over a simple wedding dress in the day time!
Wylie - Indie Bride London, £1,600
This is the perfect choice for a bohemian bride - we love the bell sleeves, the subtle train and the crochet style fabric. Did we mention it's handmade in London too? The Wylie has it all!
Honey - Lucy Can't Dance, from £2,400
This luxuriously heavy crepe wedding dress includes any lace top from Lucy Can't Dance in the price - the model pictured is wearing the beautifully boho Strawberry Split top with the Honey dress.
Cheap Boho Wedding Dresses
Want that boho look but on a budget? We've rounded up the best cheap boho wedding dresses - all these gowns are a steal under £500!
Ciara Sequin Kimono Sleeve Wedding Dress - ASOS Edition, £195
This glam gown is the perfect example of luxe for less! Those kimono sleeves and the low-key luxury vibe of the Ciara dress make it ideal for a bride who wants to embrace her bohemian spirit on a budget.
Hand-Embellished Kimono Maxi Dress - Boohoo, £90
Although Boohoo technically describes this kimono sleeved dress as a bridesmaid dress, it totally works as a budget-friendly boho wedding dress too! At just £90, it's a total steal.
Petunia - Needle & Thread, £435
The Petunia gown by Needle & Thread is inspired by vintage Edwardian artwork - the pretty floral embroidery adds a gorgeous yet subtle pop of colour.
Fringe Wrap Midi Dress - Coast, £159
Nothing says boho like a cool bit of fringing, and this affordable boho wedding dress from Coast. It's so cool and understated, you could definitely wear it more than once, too.
Lucille Beaded Floral Embellished Dress - ASOS Edition, £250
The beautiful floral beading on the Lucille dress makes it the ideal boho wedding dress of you want a vintage vibe for under £300.
Hazel Off the Shoulder Dress - ASOS Edition, £140
Want to add a laidback feel to lace? The Hazel dress from ASOS is ideal - the off the shoulder neckline keeps it casual, and it's less than £150 too!
Poppy Scallop Floral Dress - ASOS Edition Curve, £195
Get bohemian luxe for less than £200 with the Poppy dress from ASOS's curve collection! The scallop pattern is ideal for brides who love the glamour of the 1920s. Browse more beautiful plus size wedding dresses here.
Embroidered Overdress - Coast, £259
How beautiful is this floaty, whimsical wedding dress from Coast? At only £259 too, it's perfect for boho babes who want a bridal look on a budget.
Blush Boho Wedding Dresses
Not everyone wants a white wedding dress, and we're here for that! If you love the idea of a pink wedding dress but want it to have a bohemian feel, read on. We've got beautiful blush boho wedding dresses to inspire you.
Midnight Gold Gown - Free People, £1,000
This beautiful, rose-gold hued gown is ideal for boho brides who want something a bit different for their wedding. The scattering of sequins will ensure you're sparkling on your big day.
Sloan - Allure Bridals, £POA
The Sloan wedding dress from Allure Bridals has a dreamy pink hue, as well as lush floral detailing and delicate off-the-shoulder sleeves.
Lola - E&W Couture, £POA
All about the romance? You'll adore this delicately-hued dress from E&W Couture. The Lola is hand-sewn with flowers and you have the option of tulle sleeves or lace straps if you prefer.
Audrey - Needle & Thread, £535
This delicate tulle dress from Needle & Thread is a dream choice for bohemian babes who want something not-so-traditional but still romantic for their wedding day.
Learn More About Boho Wedding Dresses
Want to find out more about bohemian wedding dresses? We asked boho bridal expert Megan Ziems, Founder and Creative Director of bohemian bridal brand Grace Loves Lace, everything you could need to know about a boho wedding dress...
What is a Boho Wedding Dress?
A boho wedding dress is a relaxed, laid-back style of wedding dress - often with a romantic 70s feel to it. Think crocheted lace, scalloped or wavy hems, draped or balloon sleeves and lots of casual, effortless detail. If you consider yourself a bit of a hippy at heart, a boho wedding dress is going to be the perfect pick for you.
"Boho gowns cater to the relaxed and carefree bride – designed for comfort and infused with soul and originality," says Founder and Creative Director of boho bridal brand Grace Loves Lace, Megan Ziems. "It's very much about the bride expressing her innate style and personality by wearing a gown as unique as her. In most instances, boho wedding gowns take a "non-traditional" approach, and often feature elements like visual and detailed lace, bell sleeves, a mix of fabrications and free-flowing silhouettes that allow for movement.
"From the beginning, the GRACE signature aesthetic has been luxury you can dance in. We are known for the way we layer and mix fabrics and trims in unique combinations and silhouettes that are comfortable and allow you to move.
"Our gowns cater to the relaxed, laid-back bride as they are handmade with lightweight fabrics with no restrictive elements like zips, boning or heavy materials – perfect for the boho bride!"
How Do I Style a Boho Wedding Dress?
If anyone knows how to style a boho wedding dress, it's Megan: "When it comes to styling a boho wedding gown, I tell my brides this: the gown is an extension of you, who you are and what you stand for.
"Your styling should be the same! So, whether you want your gown to speak for itself and opt for more understated styling – think barefoot, loose curls, a flower crown, or statement earrings – or if you're really keen to lean into the boho vibe with boots, a hat and or statement sunglasses; do what feels right for you!"
Can I Wear a Bohemian Wedding Dress to a Formal Wedding?
Your wedding, your rules! You can wear what you like to your wedding - but if you're conscious of picking a more modest dress, there are definitely lots of more traditional-leaning boho wedding dresses out there. You could also always invest in a bridal cover up or jacket for the ceremony, and unveil your bohemian beauty later on in the day!
"The thing I love about what we do here at GRACE is that we push the boundaries of tradition and encourage our brides to do the same. I like to remind our brides that there are no rules when it comes to planning the wedding of their dreams – it's all about doing what feels right for the couple and making decisions that make them feel like their most authentic selves when they say 'I do'," says Grace.
"So, to answer your question, I say heck yes to boho gowns at any kind of wedding! If you feel a boho style is 'the one' for you, go for it! You can always incorporate hints of the bohemian style into different areas of the wedding, through florals and foliage, live music and the colour scheme so that there's a sense of cohesiveness throughout the day. Elements like these can help to transform a more traditional venue or wedding style into something more effortless and carefree!"
What Should I Consider When Buying a Bohemian Wedding Dress?
Think about your venue first of all - if you're going boho with your bridal look, you want to make sure your wedding venue has some of the same charms, otherwise you could look a bit at-odds with your setting. Rustic wedding venues are a great choice if you want that free-spirited feel. You should also think of the time of year - if you're having a winter wedding you're going to want your boho bridal gown to have long sleeves or you'll likely freeze!
"My biggest recommendation when purchasing a boho gown is to make a decision on length based on the shoes you will/ will not be wearing! If you plan to be barefoot or in a sandal, ensure you consider this when locking in your measurements – you don't want to be tripping on your gown while trying to dance the night away barefoot!" Explains Megan.
"In addition, I think that a wedding dress should make you feel something – so consider this when locking in 'The One'. Your gown needs that substance to it – you want it to be something you want to keep and be proud to hand down, be proud of how it's designed, how it's made, who made it, the quality of the fabric and construction, the skill that went into making and designing it.
"If you can find a dress that also makes sure you feel comfortable and is stretchy so you can move, hug the ones you love and most importantly dance in, then you're onto a winner!"
Found the perfect wedding dress for your celebration? Now browse the best boho wedding hair styles to go with it.