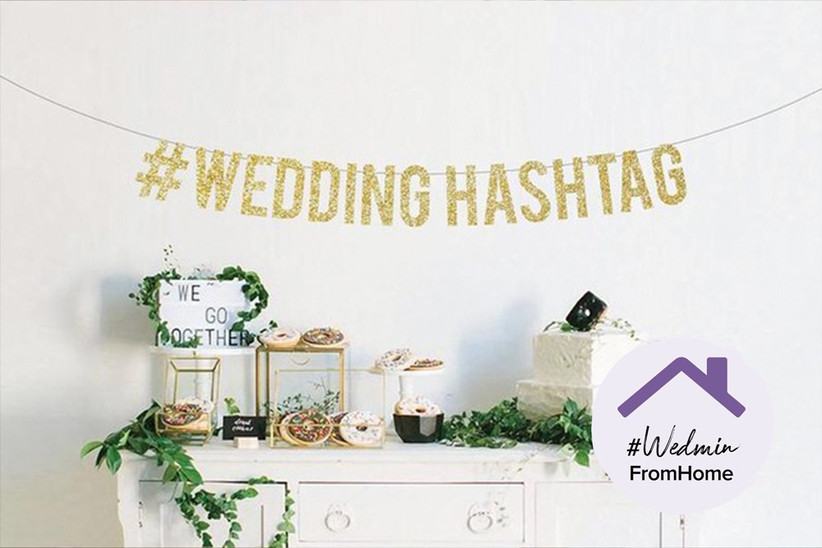 Unless you're hosting an unplugged wedding, you probably want to create a wedding hashtag to make your day even more memorable.
Not only do hashtags allow you to see your wedding photographs in real time, but they allow you to create a virtual wedding album which will (forever) be available for everyone to see. A wedding photographer can capture all of the most special moments, but it's the guests who fill in the gaps.
Creating a wedding hashtag has now become a core part of any wedding planning process, but with so many hashtags to choose from (and the added pressure of ensuring yours is unique), it can be difficult to know where to start.
Here, we've rounded up the best wedding hashtags that we've seen floating around the internet, plus a few top tips for creating your own. Oh, and check out the amazing wedding hashtag signs at the bottom of the page! They're so cute.
READ MORE: The Ultimate Wedding Planning Checklist
Wedding Hashtag Ideas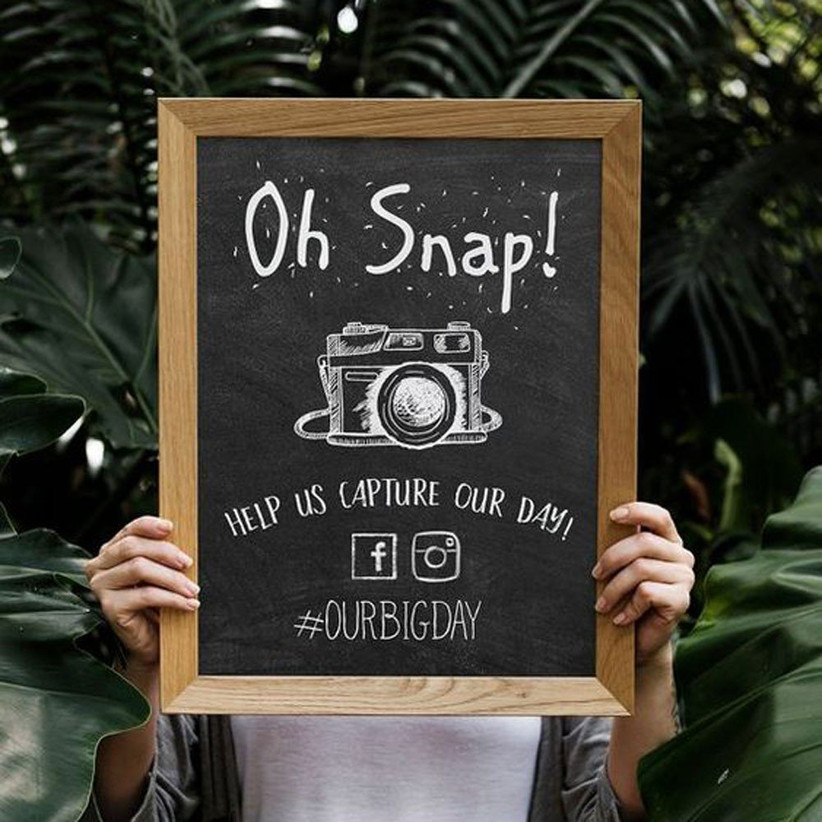 Image: Pinterest
Contrary to popular belief, your wedding hashtags don't have to be insanely witty. Switch your names into one of these simple and fuss-free wedding hashtag templates which do the job perfectly.
#WilliamsWedding2022
#WilliamsGetHitched
#MeetTheWilliams
#HappilyEverWilliams
#FinallyAWilliams
#WilliamsSayIDo
#WilliamsToTheChapel
#WilliamsTieTheKnot
#WilliamsInLove
#JonesWedsWilliams
#WilliamsVows
#CheersToTheWilliams
#Jones2Williams
#WilliamsGetWed
#WilliamsSquared
#MrAndMrsWilliams
Creative Wedding Hashtag Ideas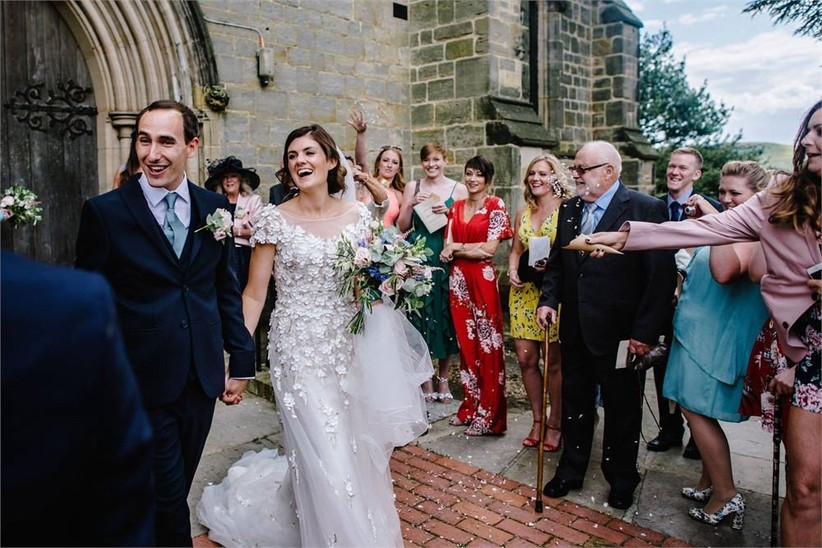 Image: Jacqui McSweeney
Wedding hashtags are totally personal, and the best ones are those which play on the names of the couple in question.
That said, it's useful to get some inspiration from existing hashtags, so we've made a list of 33 of the best ones we've stumbled across lately… Which is your favourite?
#ToGalvinToHold
#TwoPeasInADodd
#SamAndFranWedFest
#finALIsampson
#ILoveYouGerryMuch
#PartyWithThePerkins
#FinallyTheJacksons
#MorganHeBargainedFor
#KellysCupOfJoe
#LanesInLove2019
#MeetTheMooneys
#BillieisaShep
#OfficiallyAChapman
#TeamThomson
#WadeForEachOther
#WifeBeginsAt40
#JusteBeLove
#ANiceDayForAThwytteWedding
#MattMarriesErin
#HopelessRahmantics
#ForeverlyHills
#ManAndWhite
#SmithterAndMrs
#SealedTheDeal
#ToonBecomeOne
#ForeverYounge
#SheldonSquared
#ToHaveAndToHolton
#OneHaleOfAWedding
#SayYesToTheCress
#ShesTheManelly
#HallMyLove
#DreamsComeDrew
READ MORE: How to Write Your Own Wedding Personalised Wedding Vows
How to Make Your Own Wedding Hashtag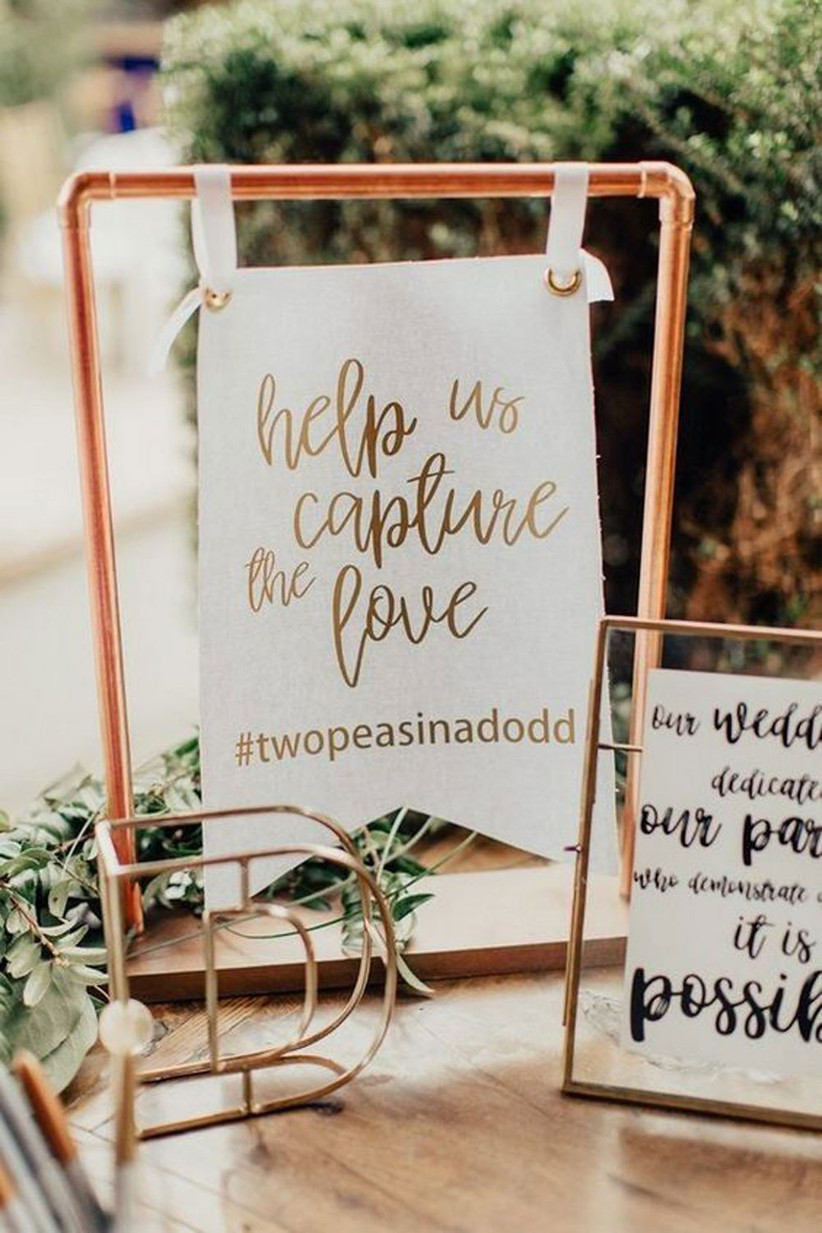 Image: Pinterest
Struggling to know where to start with your own wedding hashtag? Follow these top tips and you'll have created something you love in no time…
READ MORE: 51 Free Wedding Ideas That'll Transform Your Big Day
1. Start With the Basics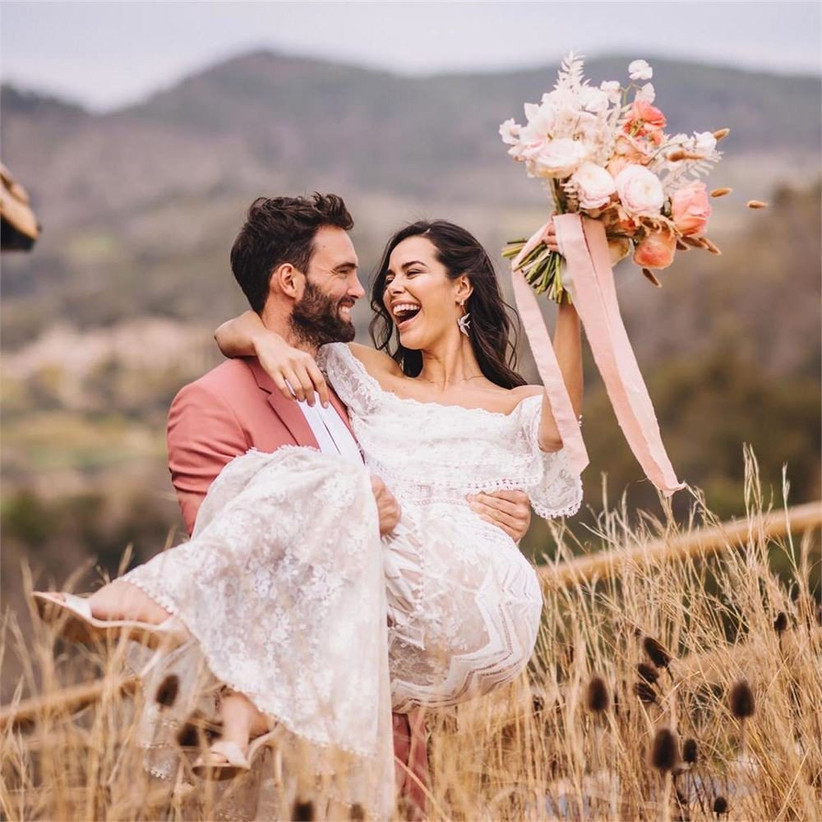 Image: Art & Story
This might be a bit obvious, but you've got to start with the basics. We'd recommend you make a list of everything that might be relevant to include in your hashtag, including the following:
Your first names
Your surnames
Your new, marital name (are you merging or double-barreling your names?)
The date of your wedding
The name of your venue
The location of your venue
The theme of your wedding
The date your first met
First and last names are the best starting point, because they're what will make your hashtag personal, but you should also think outside the box. Have you got any nicknames? Have your friends given you a couples' name? (RIP Brangelia, long live Posh and Becks). Now is the time to embrace any little quirks.
READ MORE: The Hitched Guide to Changing Your Name
2. Get Punny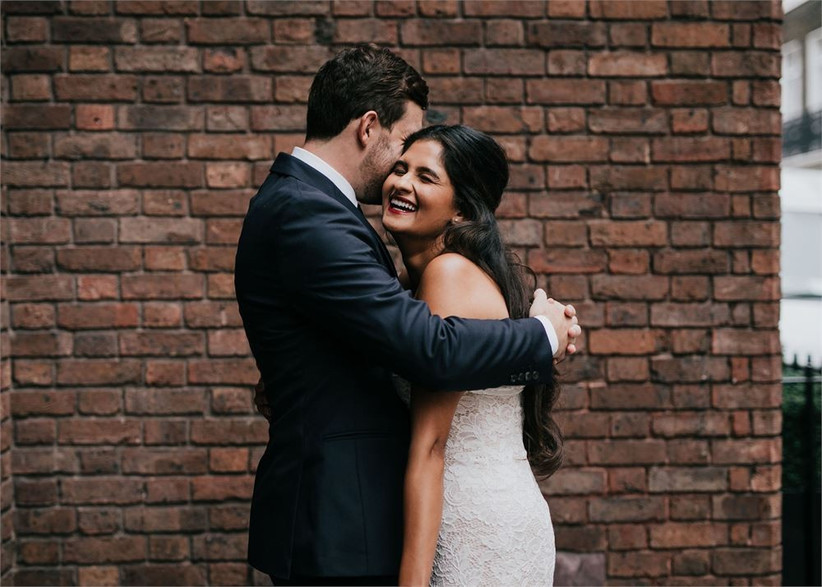 Image: Diana V Photography
Your wedding hashtag is the part of your wedding you can really have fun with, so if you and your other half are known as jokers, you should definitely look towards a play on words. Puns are the lifeblood of hashtag writing, after all.
Think about potential alliterations and rhymes which might work. It's a good idea to pick up a thesaurus and jot down words which sound like either person's first or last names (or even parts of them). Someone with the surname Hurst might use something like "#LoveAtHurstSight", for example.
You could even try putting your names into an online pun generator or consider the help of a professional hashtag writer (yep, they actually exist).
If you're still feeling stumped, enlist the help of a witty friend or family member. The best man, perhaps? Isn't it their job to be funny?
READ MORE: All of the Best Man Duties You Didn't Already Know About
3. Brainstorm Some More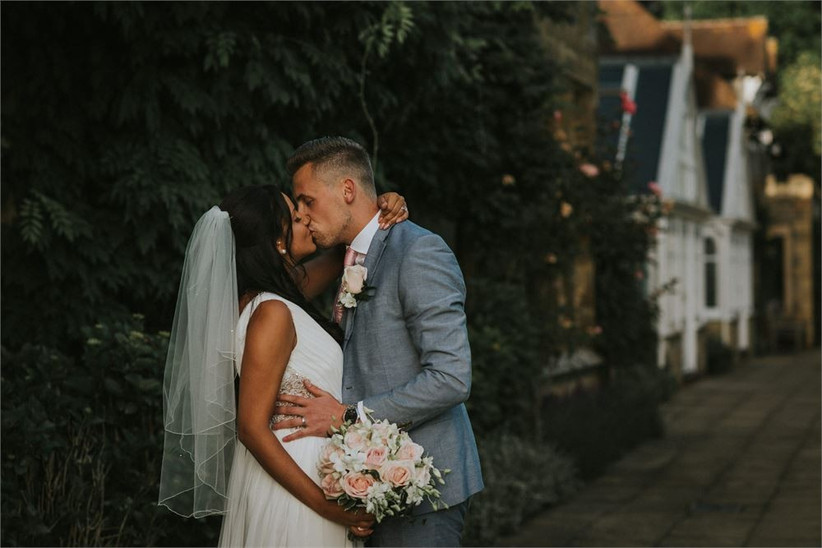 Image: Tom Aizenberg
Without really caring how good or witty your ideas are, jot down all the hashtags which have sprung to mind during steps one and two.
Getting your thoughts down on paper might encourage more ideas, as might asking your friends on Facebook and Instagram for suggestions. You can never have too long of a "possibilities" list, and it's useful to get as many people involved in the brainstorming process as possible.
4. Check Existing Hashtags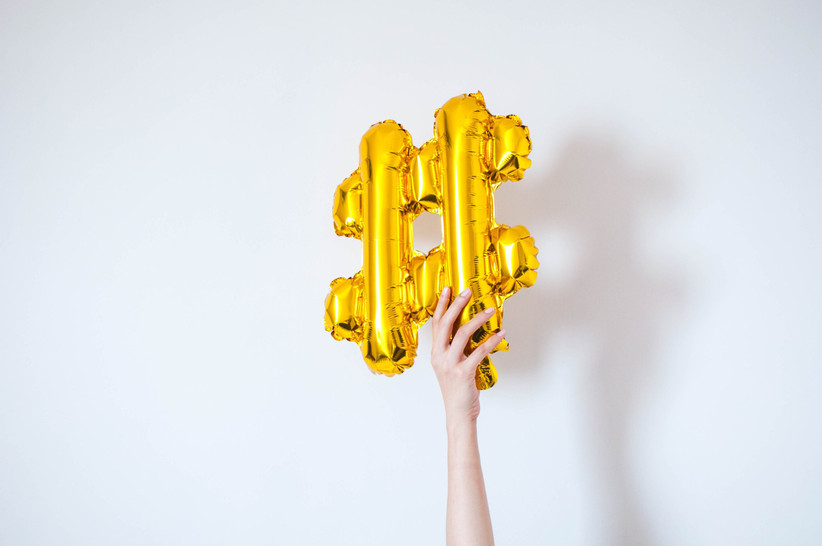 Image: Getty
By now, you've probably got quite an extensive list of potential hashtags, but you need to make sure they haven't been used before.
Take to Instagram and search all of your potentials. If they've already been used, slash them off the list! Who wants other people's weddings appearing on their social media feed?
READ MORE: 6 Things a Bride Should Never Post on Social Media
5. Review Your List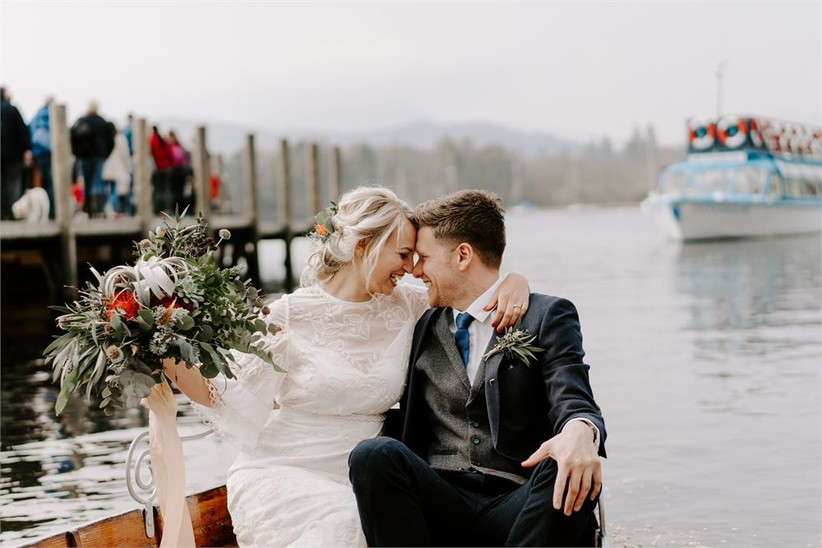 Image: Josie Hooper
Now that you've got a shortlist of hashtags, you should go through them all and ask yourself a few questions:
Is the hashtag memorable? Your guests are more likely to use unique hashtags than generic ones.
Is it easy to say? Make sure it rolls off the tongue!
Does it read clearly or do all the words merge into one? Capitalisation will help with this – more on that later.
Is the hashtag short enough? Remember, it needs to easily fit on weddings signs, and the longer your hashtag is, the more likely people are to make a typo.
Does it have any rude or unwanted connotations?
Is it unique enough that it won't get used again? Maybe not ever, but at least within the next few months.
Is every word easy to spell?
READ MORE: 46 Inspiring Quotes About Love & Marriage
6. Choose Your Favourite (& Don't Overthink)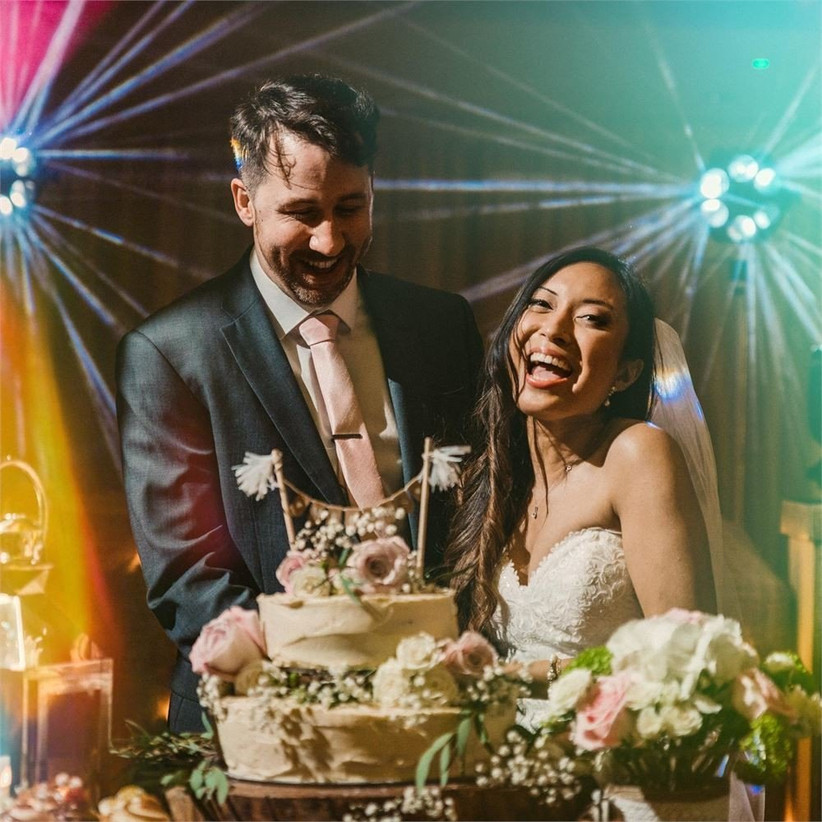 Image: Bedford Wedding Photography
Is one of your hashtags calling out to you more than the others? Yep, we thought so. It looks like you've got your final wedding hashtag!
Now you've made your decision, don't overthink things. Will you remember the wedding hashtag forever? Maybe. Will you love the photos everyone tagged forever? Most definitely. If it starts to give you the chills a couple of months after your wedding, it doesn't really matter. All you'll actually care about are the photos attached to it.
7. Capitalise the First Letter of Each Word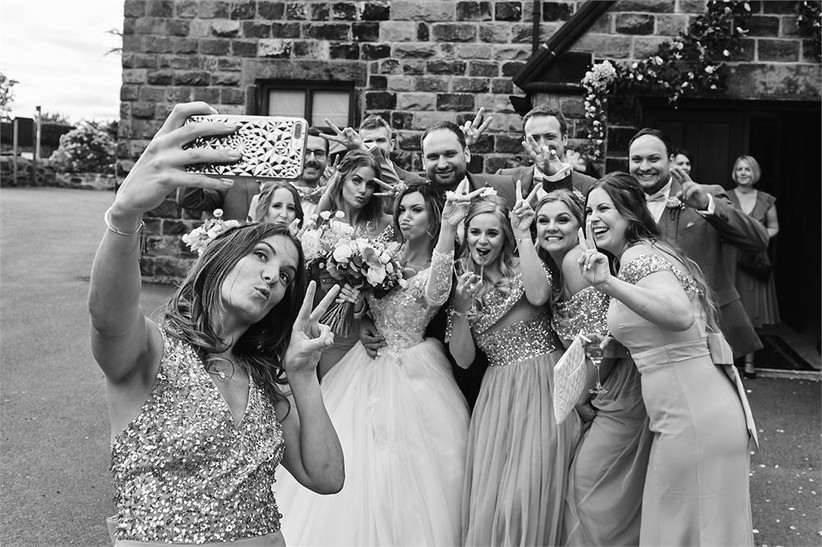 Image: Byasha
It might seem like a minute detail, but you should capitalise the first letter of every word in your wedding hashtag for clarity.
It will allow your guests to read the hashtag clearly and see where each word starts and ends. It'll also ensure your joke or pun is easier to notice!
READ MORE: 17 Things Guests Really Hate About Weddings
8. Share the Hell Out of It!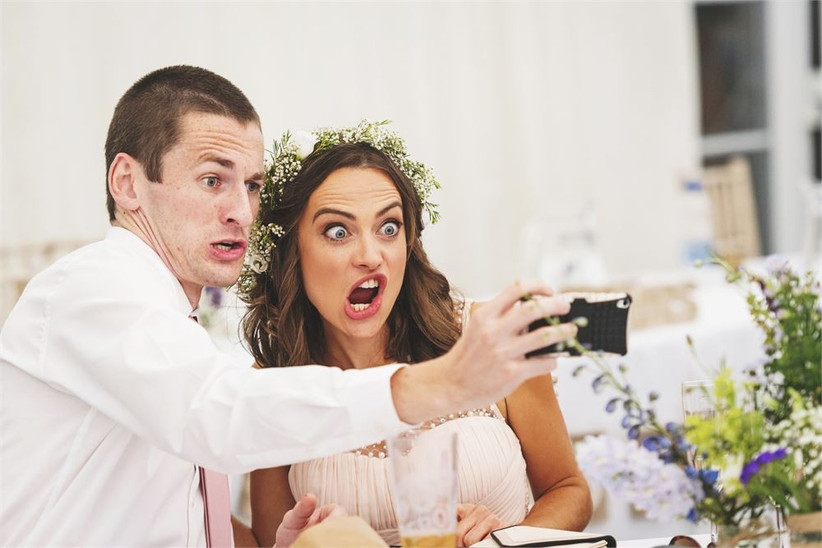 Image: Neil Atkinson
Hoorah! All that's left to do is to share the hell out of it. Seriously – you'll only be able to use it once, so you need to tell the world!
There are a number of places you can include your wedding hashtag: on a banner on your wedding transport, on menus, photo booth props, table number signs, napkins, guests books, wedding websites and save the dates.
Talk to your stationery designer about including it on your wedding invitations, encourage the members of your hen or stag parties to include it on all of their social media posts throughout the hen and stag dos and get yourself a wedding hashtag sign to display on the big day.
READ MORE: The Ultimate Month by Month Wedding Planning Checklist
The Best Wedding Hashtag Signs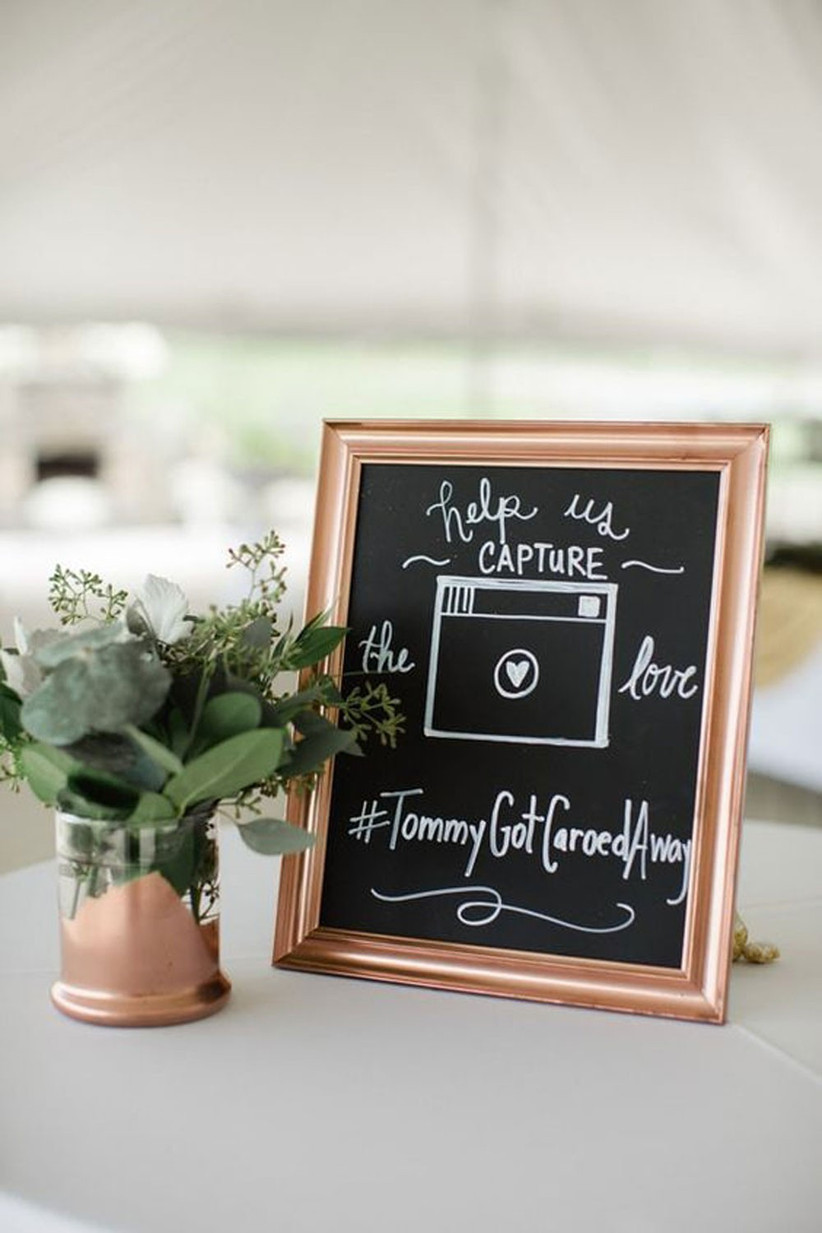 Image: Pinterest
There's no point in creating a wedding hashtag if no one is going to use it.
Make sure everyone knows what the deal is by purchasing one of these fab wedding signs and placing it as one of the first things your guests see when they arrive on your big day. Aren't they just gorgeous?
READ MORE: Must-Have Wedding Signs for Your Big Day
Oh Snap Wedding Hashtag Sign – £15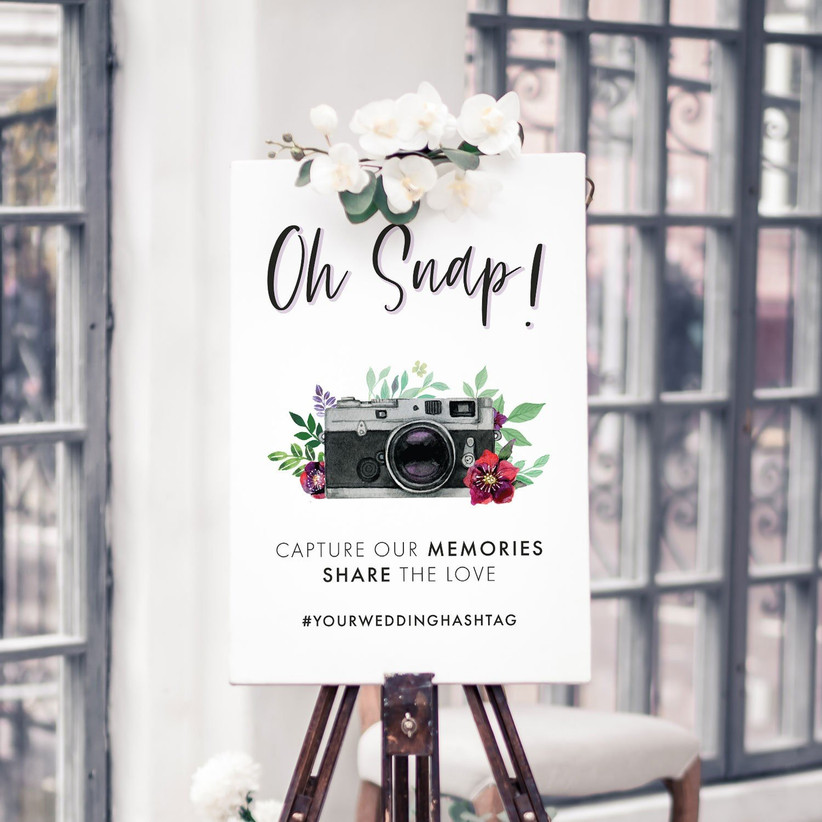 This lovely wedding hashtag sign is the perfect way to display your hashtag at the entrance to your wedding.
It's available in A5, 8×10 inches, A4 and A3 and features a beautiful camera illustration with an "Oh Snap!" motif in calligraphy-style font.
Personalised Floral Camera Hashtag Sign – £2.95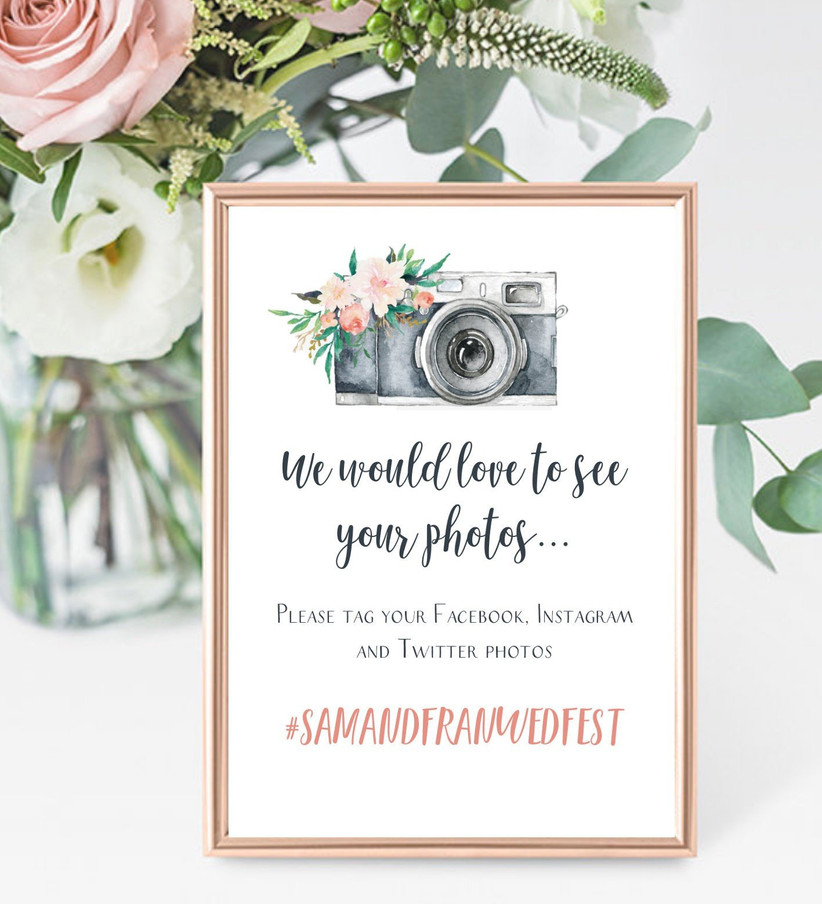 If you're after something a little smaller which can be displayed on each of your wedding reception tables, choose this lovely A4 floral hashtag sign.
With its floral illustration and calligraphy-style font, it is perfect for rustic and vintage weddings.
READ MORE: 45 Stunning Rustic Wedding Ideas
Watercolour Calligraphy Hashtag Sign – £6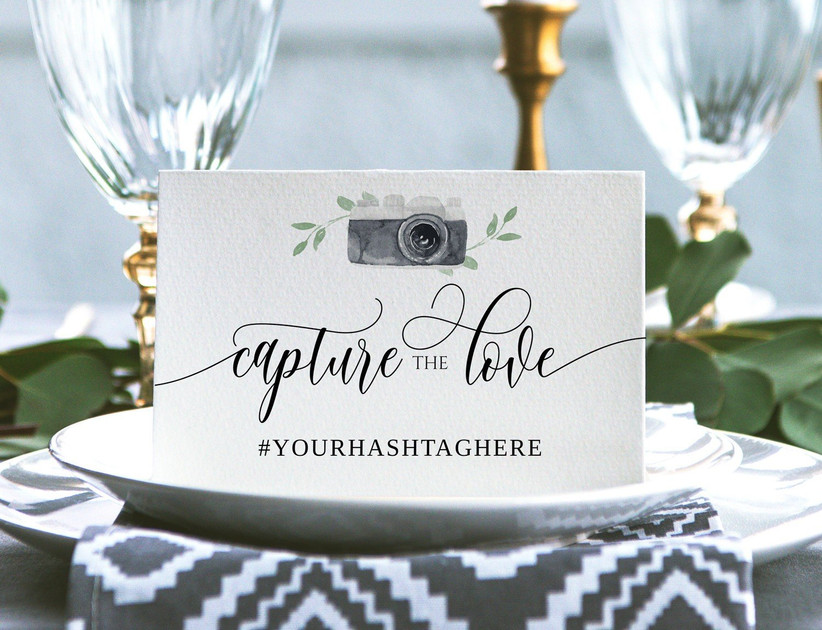 This simple and dainty wedding sign is perfect if you don't want your hashtag to be screamed about too loudly. It's also editable online and instantly downloadable.
If you're hosting a rustic wedding, print this sign onto card and display it in cute wooden photo frames. If you're hosting something more modern, keep things simple and leave it bare.
Elegant Black Wedding Hashtag Sign – £3.50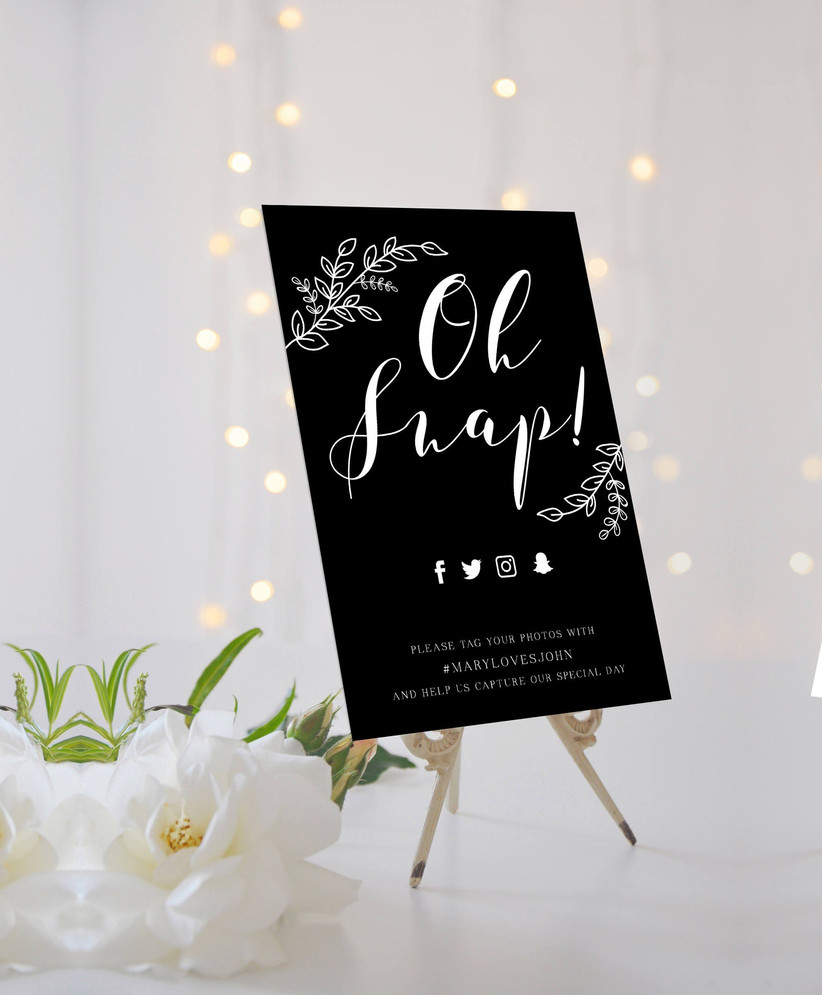 If you've gone for a monochrome or modern wedding theme, this elegant black and white hashtag sign could be just the ticket.
This sign is instantly downloadable, so once you place your order, your PDF sign will land in your inbox. What a total life saver for couples who've left their hashtag writing to the last minute!
READ MORE: The Ultimate Guide to Wedding Themes
Share the Love Printable Hashtag Sign – £6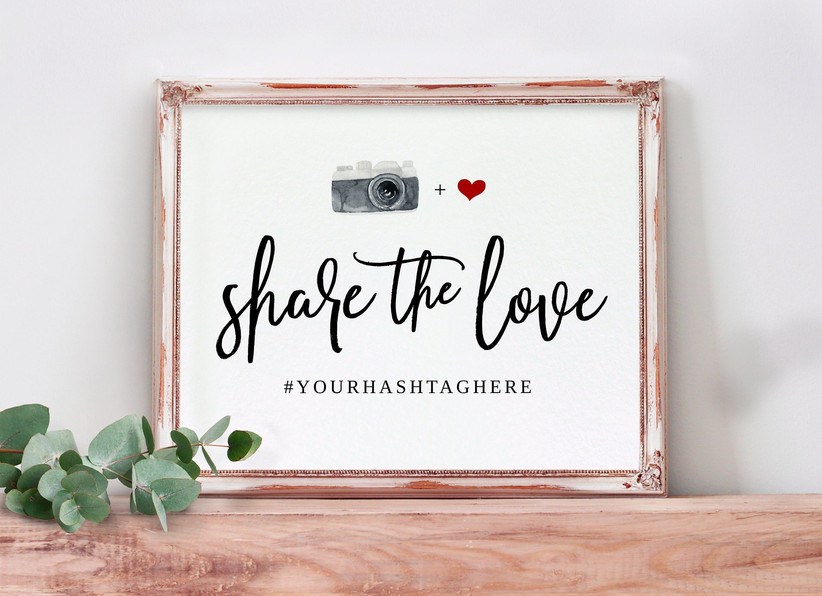 This adorable wedding hashtag sign keeps things simple with a white background, two dainty illustrations and lovely calligraphy-style writing.
Treat yourself to some vintage-inspired photo frames and pop this sign inside them. It'll be a fab addition to your modern wedding décor!
Personalised Transparent Wedding Sign – £7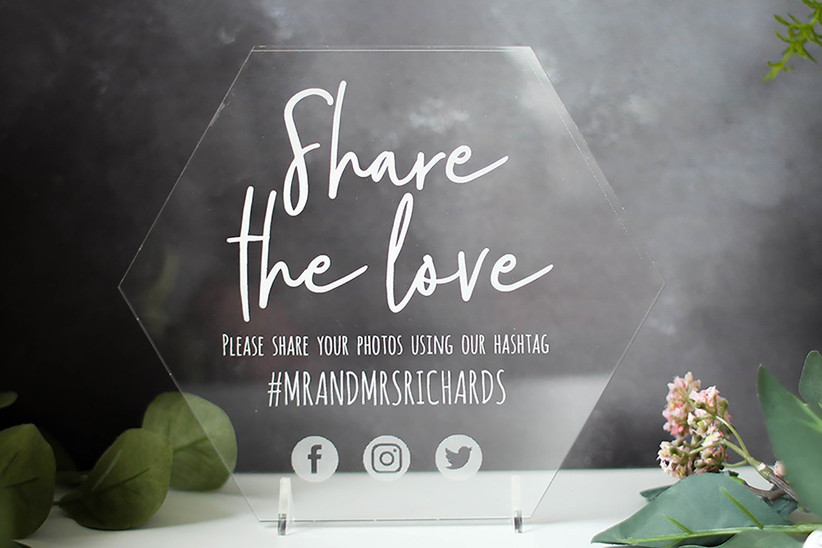 This transparent wedding sign is sleek, simple and contemporary.
We love the "Share the Love" wording and the addition of the social media logos at the bottom.
READ MORE: Your Guide to Traditional Wedding Etiquette
Wooden Wedding Hashtag Sign – £21.67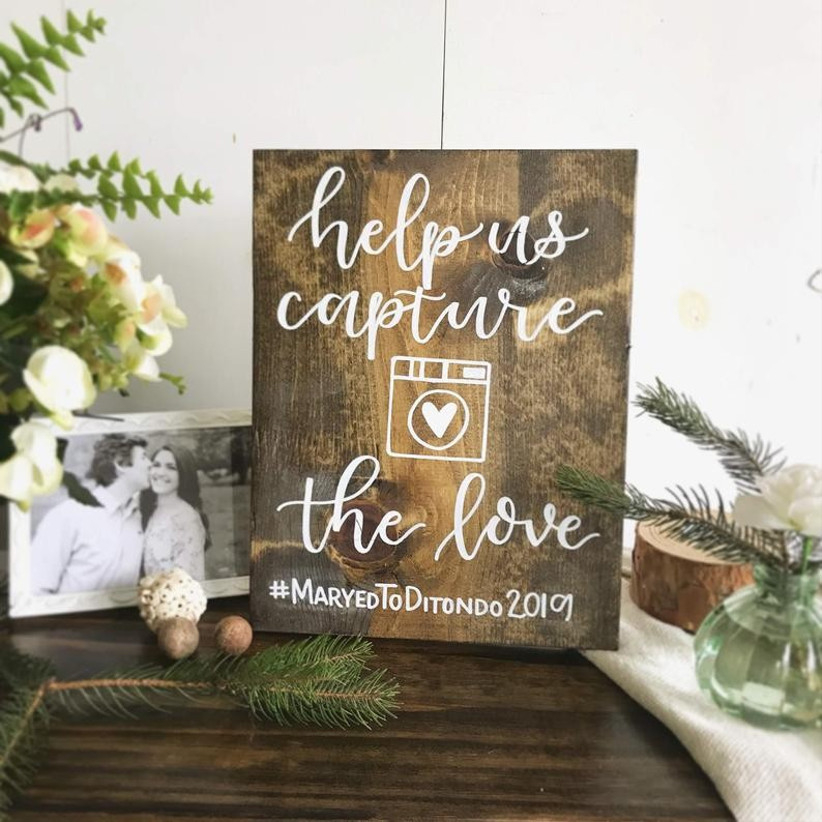 Couples adding the finishing touches to their farm wedding venue will love this wooden hashtag sign. It will really add to the relaxed and rustic vibe of your day!
Instagram Tag Photo Cards – £4.90 for 5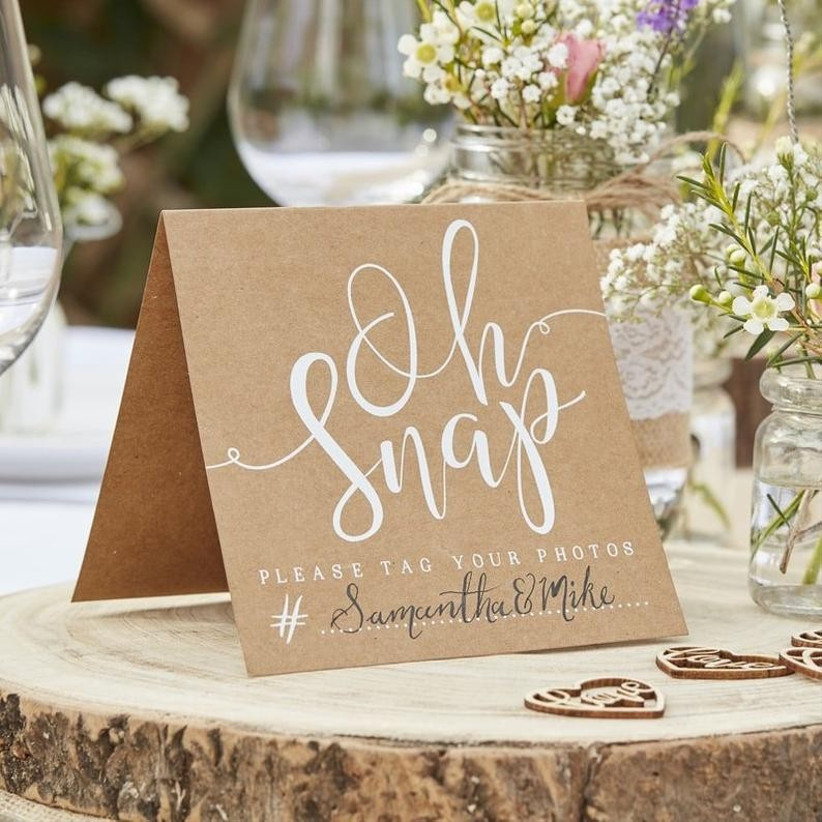 Make your wedding hashtag super visible by placing signs on every table as opposed to just one board at the entrance.
We love these gorgeous hashtag cards which would work perfectly at a rustic wedding. They're crafted from brown vintage card and feature pretty white calligraphy-style writing.
READ MORE: The Best Rustic Barn Wedding Venues in the UK
Printable Social Media Wedding Sign – £3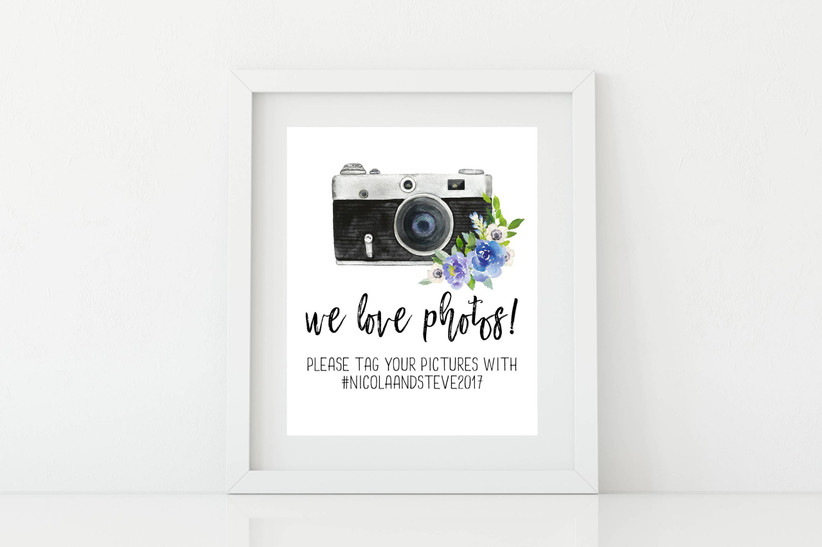 Encourage your guests to share their snaps with this lovely illustrated wedding hashtag sign.
You'll receive a PDF of the sign via email once its ordered, and then simply display it in a pretty, white frame like the one shown above.
Glitter Wedding Hashtag Banner – £0.83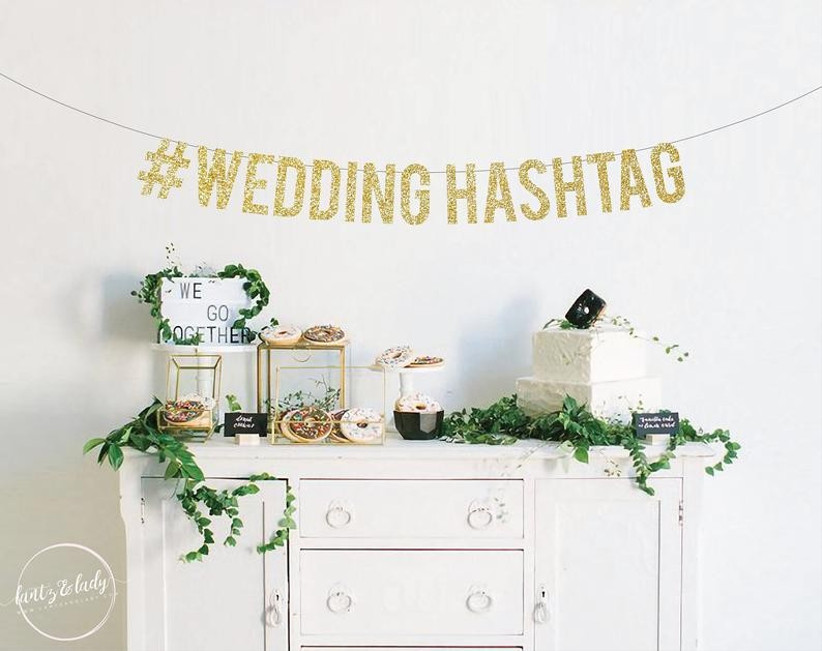 If a wedding hashtag sign doesn't fit in with your wedding theme, why not opt for a banner instead?
This customisable glitter banner is available in a whole array of colours and fonts, and has space for up to 19 characters. It'd look fabulous draped above your dessert table or at a festival-themed wedding.
Oh Snap Wedding Hashtag Sign – £6
This super pretty wedding hashtag sign has got to be one of our favourites.
Snap up a rose gold frame to display your sign and prop it up on the bar at your wedding reception. After a few drinks, your guests will be sure to make the most of the tag.
READ MORE: The Ultimate Rose Gold Wedding Guide
Simple Wedding Hashtag Sign – £6.50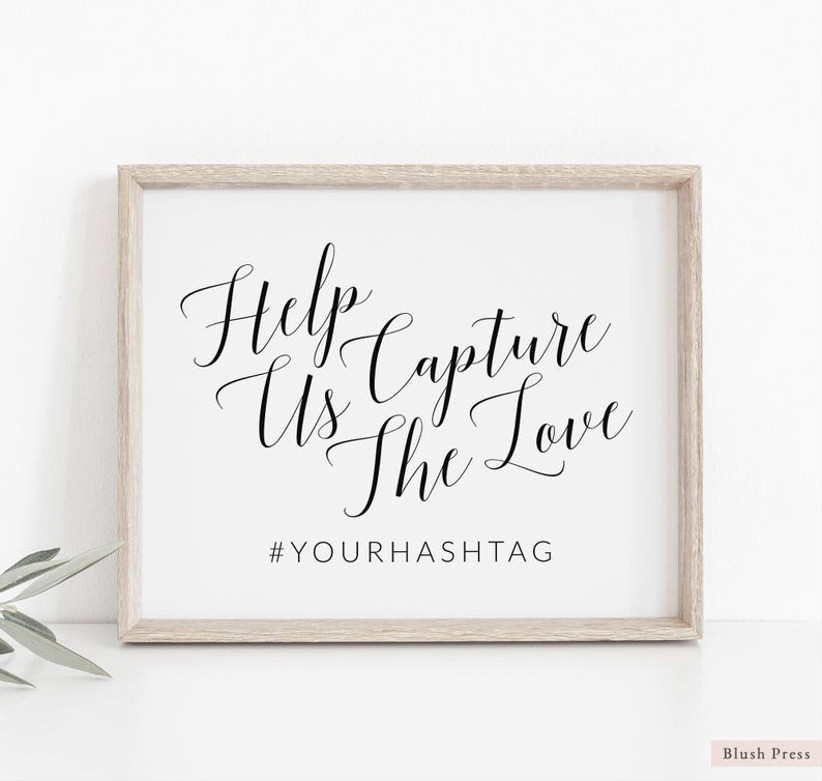 Keep things simple with this understated, fuss-free wedding hashtag sign.
It says "Help us Capture the Love" before displaying your chosen hashtag in a clear font underneath. We're huge fans!
READ MORE: 50 Simple Wedding Dresses for Modern Brides
With your wedding date fast approaching, there's a few last minute tasks you need to do! Check out our guide…