26 Mouth-Watering Chocolate Wedding Cakes
Do you love chocolate? Do you love cake? If so, it only feels right that you should include a chocolate wedding cake in your big day! Here's our edit of the 26 most decadent chocolate wedding cakes to inspire you...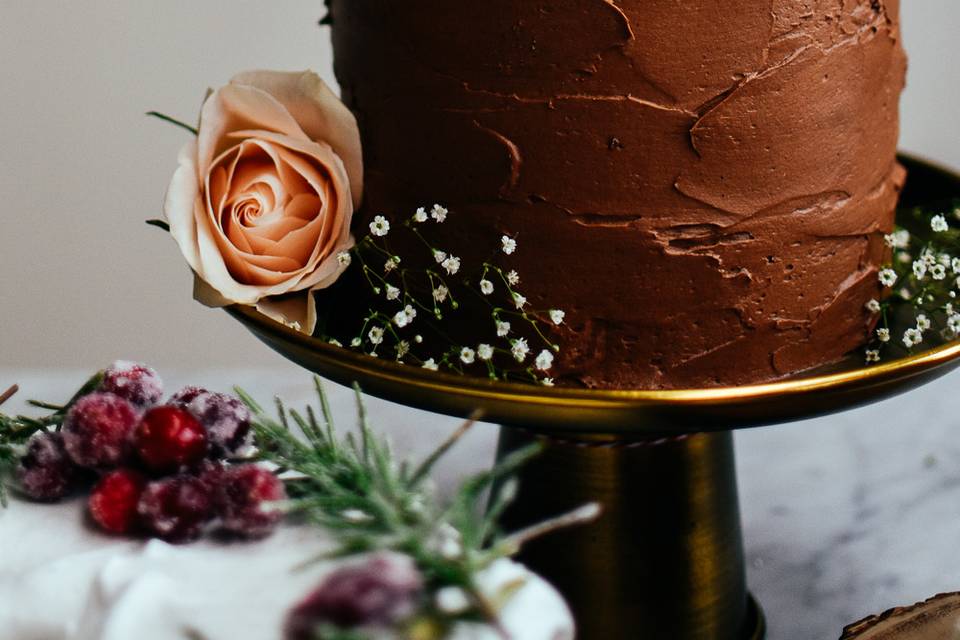 Although classic vanilla or fruit is often the traditional pick for a wedding cake, there's nothing wrong with switching it up and going with what you love! And if that happens to be a full-blown chocolate cake topped with lashings of cocoa buttercream then so be it. In fact, according to Hitched users, chocolate wedding cakes are the way forward with over 80% of you revealing that you'd rather have a cocoa flavoured cake than a fruitcake.
Bold, rich and seriously tempting, there are so many delicious options when it comes to choosing your chocolate wedding cake. From triple-tiered creations bursting with berries to sleek masterpieces topped with shards of chocolate, there's a bake out there to suit all kinds of chocaholic couples.
Satisfy your sweet tooth and get lots of inspiration on the perfect sponge for your big day by scrolling through our edit of 26 mouth-watering chocolate wedding cake ideas. It's a tough job, but somebody's gotta do it...
READ MORE
1. Single Tier Chocolate Wedding Cake with Roses
Opting for a chocolate wedding cake doesn't mean you have to go all out with your design. A simple, single tiered sponge adorned with pretty peach roses can make just as much of an impact and look delightfully dainty too.
2. Chocolate Wedding Cake with Blackberries & Figs
Rich and flavourful, this fruit-topped chocolate wedding cake is figgin' beautiful. Not only will blackberries and figs look decadent spilling down the tiers, they'll complement the chocolate flavour perfectly.
3. Vanilla Layered Chocolate Wedding Cake with Sprinkles
You can pick up a wedding-ready chocolate cake at your nearest supermarket! This sprinkle sponge from Marks & Spencer has a sweet vanilla layer ensuring all guests will be happy - even if they aren't big chocolate fans.
4. Chocolate Wedding Cake with Gold Wire & Strawberries
We love the look of this chocolate wedding cake with smooth buttercream finish, apple blossom sugar flowers, miniature strawberries and gorgeous gold wiring. It's a lovely unique take on a rustic design that we bet you won't have seen before.
5. Textured Buttercream Chocolate Wedding Cake with Greenery
If you love the look of textured buttercream and greenery, the same can work for a chocolate wedding cake. It'll add a fresh touch to the brown colour palette, especially if you're going for a wooden cake topper.
READ MORE: 71 Incredible Wedding Cakes You Need at Your Wedding
6. Single Tier Chocolate Wedding Cake with Sprinkles
How fun is this chocolate fudge celebration cake from Rinkoff Bakery? Decorated with rainbow sprinkles, it'll give your dessert table a vibrant pop of colour and look amazing in your cutting the cake photos.
7. Textured Chocolate Wedding Cake with Succulents
The textured chocolate buttercream on this creation is seriously satisfying, making us almost reluctant to cut into it! If you're having succulents as your wedding favours, this cake will be the perfect accompaniment.
8. Chocolate Wedding Cake with Piped Icing and Flowers
Kitsch wedding cakes are totally on trend so give a nod to this style by having a chocolate cake piped with icing. You won't be able to resist Instagramming this retro design and it'll be the ideal addition to a vintage-inspired wedding day.
9. Glazed Chocolate Wedding Cake
Does it get any better than a gooey, glazed chocolate wedding cake? We reckon they'll be a race to the dessert table when this masterpiece comes out. Just make sure you have napkins on hand if there are any white dresses around.
10. Chocolate Wedding Cake with Macaroons
If a chocolate wedding cake isn't quite enough to curb your sweet craving, why not top it off with a few pretty pastel macaroons? Nestle some sprigs of baby's-breathe here and there and you'll have yourself a showstopper.
READ MORE: 15 Macaroon Wedding Favour Ideas
11. Vegan Chocolate Wedding Cake with Swirls
GC Couture is a London-based, luxury cake maker who have vegan chocolate cakes mastered. This stunning creation consists of three layers of chocolate buttercream sponge, showered with sprinkles and dark chocolate buttons.
12. Naked Chocolate Wedding Cake with Roses
Planning a rustic barn wedding? A naked three-tiered chocolate sponge finished off with a dusting of icing sugar and pretty pink roses is the way to go if you want a cake that'll impress your guests.
13. Naked Chocolate Wedding Cake with Red Roses
A beautiful chocolate wedding cake is the perfect base for some romantic red roses. You can personalise it to whatever season your wedding will be in, adding holly for winter, golden leaves for autumn or lush greenery in summer.
14. Two-Tiered Chocolate Drip Wedding Cake
Drip cakes are a trend that's here to stay and we adore this chocolate version. The dark drizzle has us drooling and we reckon a dab of edible gold foil would be the ultimate finishing touch to this luxury design.
READ MORE: 23 Dreamy Drip Wedding Cakes
15. Ruffle Chocolate Wedding Cake
Keep it luxe and elegant with a chocolate ruffle cake from Betty's. Available in white or milk chocolate it's a style that won't be forgotten for how it looks or how it tastes.
16. Chocolate Brownie Wedding Cake
As much as we love a tiered chocolate wedding cake, a mountain of delicious brownies holds a special place in our heart. They'll be quick, easy and affordable to bake yourself and are a real crowd pleaser.
17. Chocolate Wedding Cake with Caramel Drizzle & Fruit
Embrace choosing something a little different by adding caramel drizzles and gorgeous fruits into the mix. This wedding cake screams autumn celebration to us!
18. Lindt Chocolate Wedding Cake
Any chocaholic has probably eaten their fair share of Lindt chocolates, so if you're guilty as charged take it one step further and have a drool-worthy Lindt chocolate wedding cake from the English Cake Co. on your special day.
19. Naked Chocolate Wedding Cake with White Flowers
Fresh white flowers will contrast beautifully against a chocolate wedding cake, especially if you decide to go for plenty of blooms like this creation - we love how the top of it is totally covered.
20. Mini Gingerbread Chocolate Wedding Cakes
Chocolate pairs well with so many flavours - gingerbread being one of our favourites! These individual chocolate cakes are giving us major festive feels and will work well if you're trying to cater for a large guest list.
READ MORE: 30 Winter Wedding Cakes
21. Vegan Chocolate Wedding Cake with Raspberries
Another flavour combination that we can't resist is chocolate and raspberries. Cutter and Squidge's glorious vegan and halal-friendly cake is adorned with sour freeze-dried fruit plus edible gold foil.
22. Chocolate Wedding Cake with White Buttercream
This chocolate wedding cake proves that buttercream doesn't have to be neat to look amazing. In fact, it adds a lovely rustic feel to the bake that wouldn't look out of place at a garden celebration.
23. Dark Chocolate Wedding Cake with Shards
Chocolate wedding cakes can unsurprisingly be rather sweet, so to avoid yours being too sickly consider going for a dark chocolate alternative. We love how this sponge is decorated with shards of chocolate to add texture.
24. Marbled Chocolate Wedding Cake
We don't like to have favourites but this magical marbled masterpiece has got to be up there. Giving the illusion of a sliced log, it's even surrounded by mini cupcakes making it ideal if you're having children at your wedding.
25. Two-Tiered Chocolate Wedding Cake with Pink Flowers
A chocolate flavoured wedding cake is far from boring so you can afford to go for a simple design. With two tiers, textured buttercream and beautiful pink flowers, this cake is fabulous.
26. Black Forest Chocolate Wedding Cake
Inspired by a black forest gateau, this wedding cake is decked out with juicy berries and a chocolate ganache. We can almost taste it through the screen it looks so good!
Be sure to search through our Hitched wedding cake suppliers to find the perfect cake maker for you.