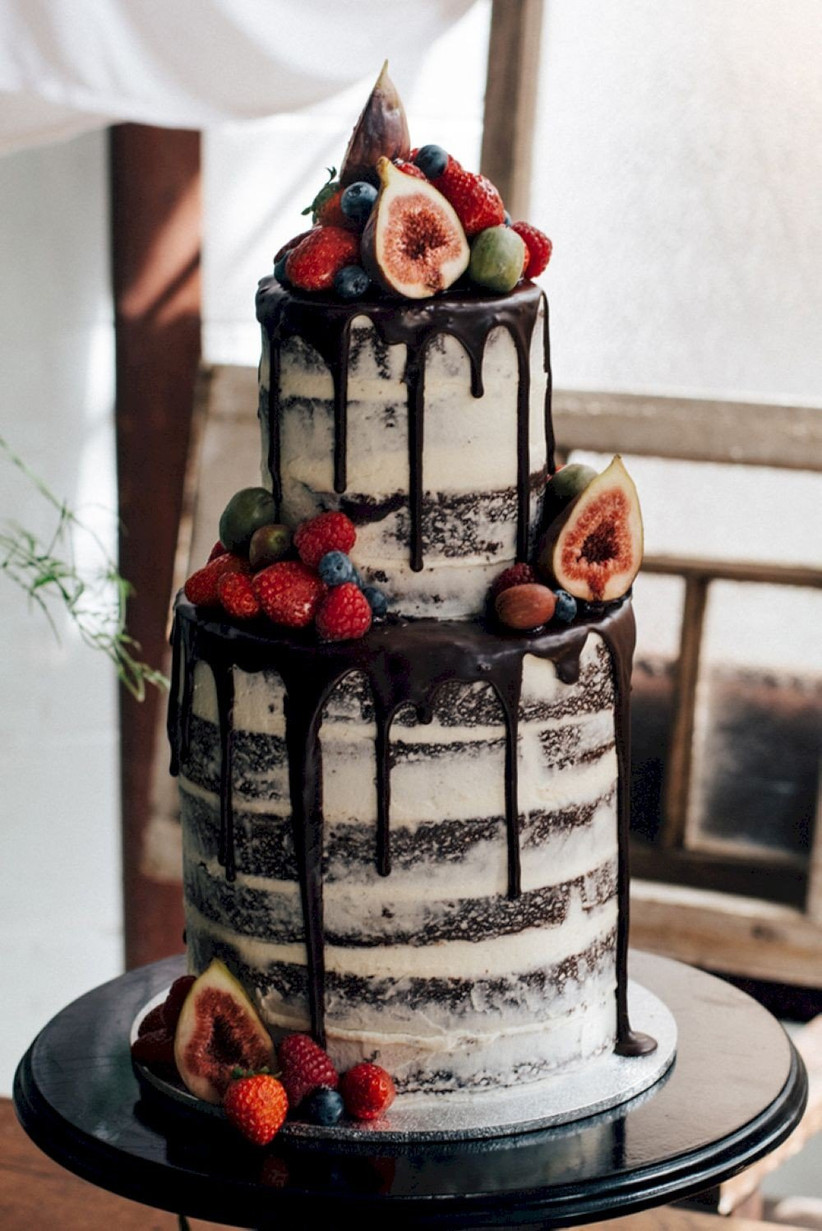 Here at Hitched we are so unreasonably obsessed with chocolate, and we're guessing you are too. That's why we just had to compile a selection of our favourite chocolate wedding cakes so that our brides can enjoy the massive sugar crush that we
Semi Naked Chocolate Wedding Cake
This stunning cake from Juniper Cakery not only embraces the delicious chocolate sponge that so many of us love… But it has also used hot pink coloured icing, delicious macarons and floral embellishment to make sure that this wedding cake is nothing less than perfection.
We love the bright bold colours and can picture this taking centre stage at a summer wedding.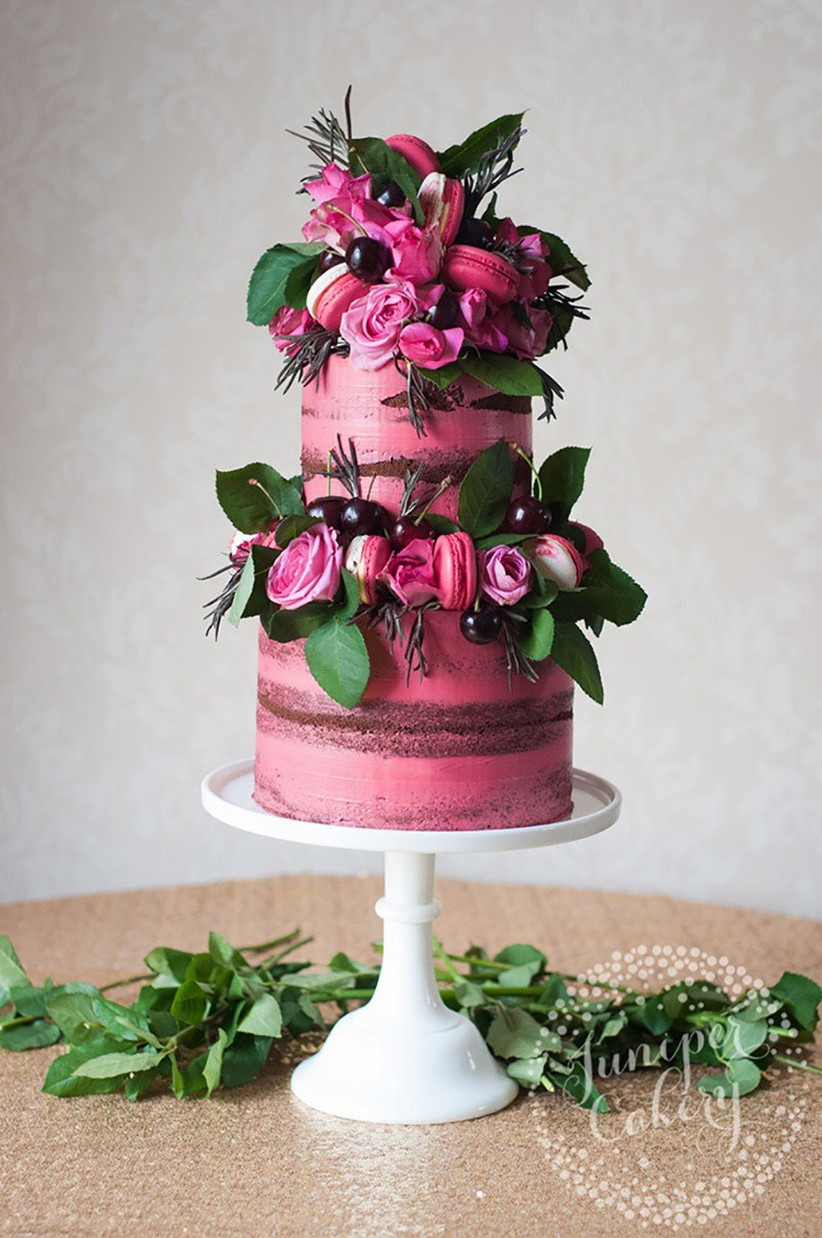 Chocolate Wedding Cake with Leaves and Fruit
We love the autumnal vibes coming from this Dollybird Bakes wedding cake – the mix of rich chocolate colouring and greeny, orangey tones is so cute and would really suit a rustic wedding.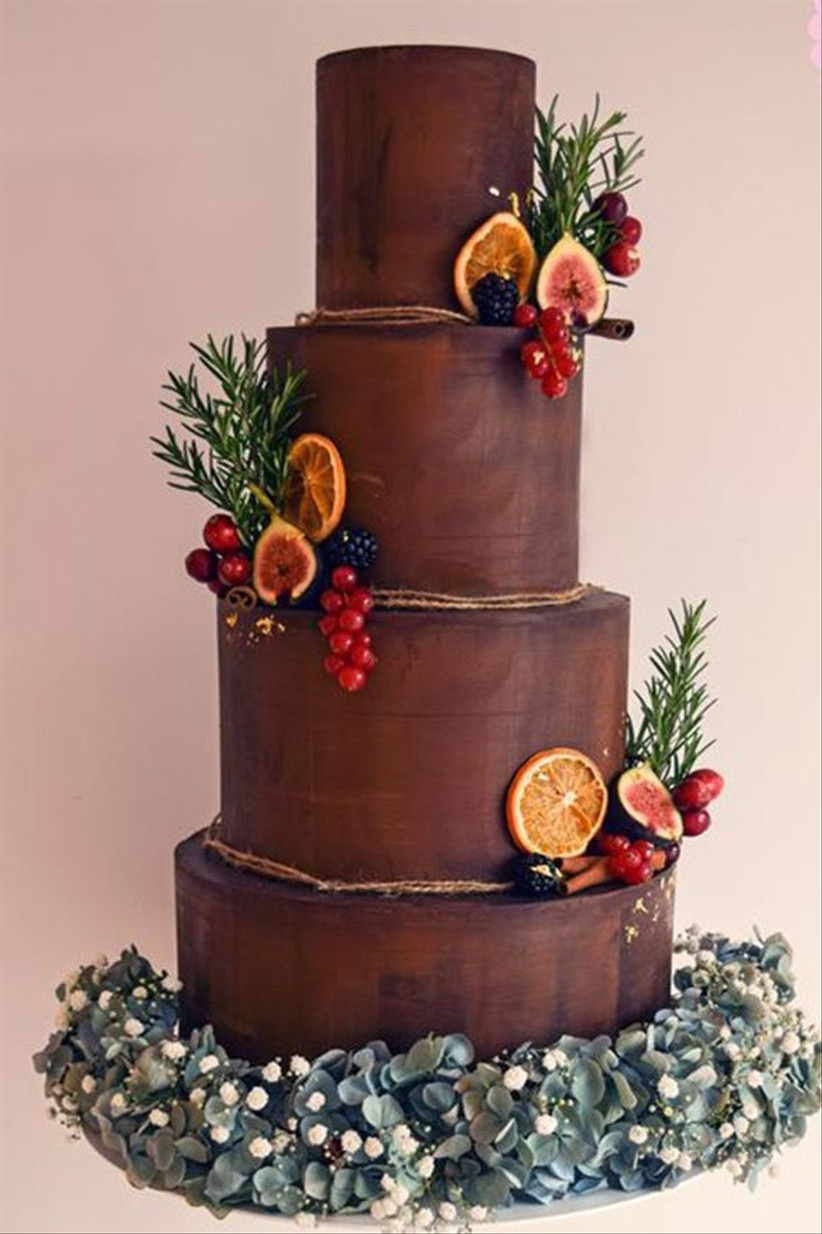 Single Tier Chocolate Wedding Cake
The embellishment and décor on the top of this chocolate wedding cake from The Natural Cake Company is beyond beautiful – we don't even want to cut it (that much…).
The layered chocolate texture and gorgeous floral décor prove that single tier wedding cakes can still totally rock it!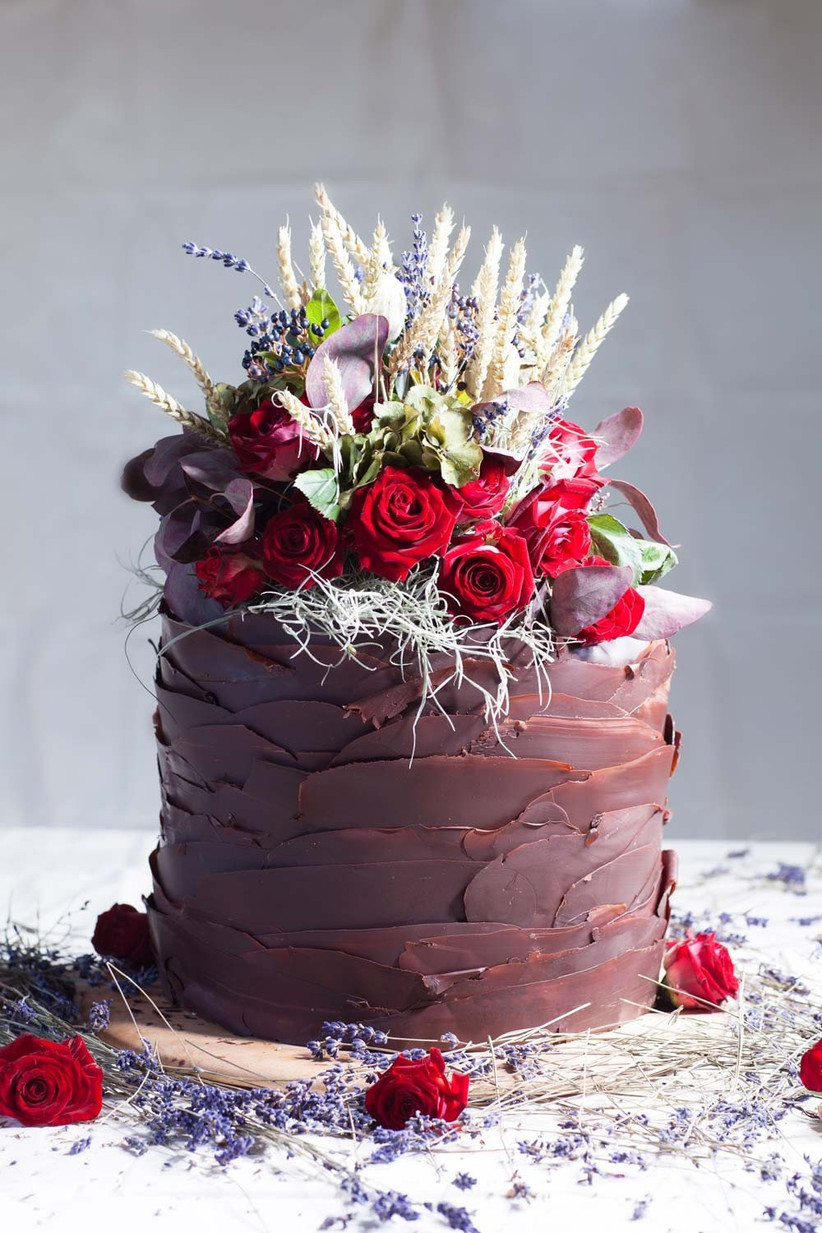 Semi Naked Chocolate Wedding Cake
Semi naked wedding cakes have become a huge trend recently and we love the way that this one from has been created.
Having a rich chocolate sponge held together with such a light cream icing is a bold move, and one that has worked perfectly. The additions of fruit used to decorate are the perfect finishing touch.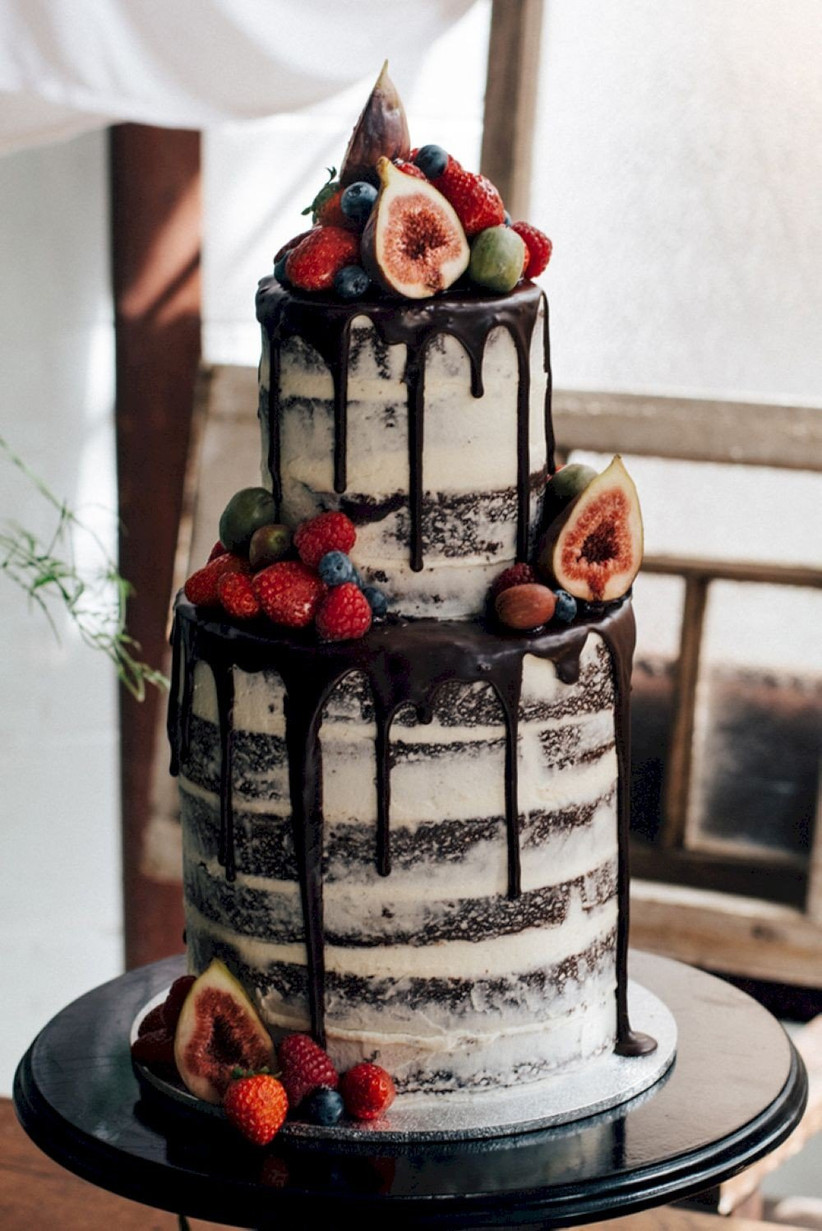 Image: Pinterest
Horn of the Unicorn Chocolate Wedding Cake
Anges De Sucre never fails to amaze with colourful cake creations and this 'Horn of the Unicorn' wedding cake is no exception.
It's one of those wedding cakes where you're not sure where to look first because there is so much temptation in every corner and inch of it from doughnuts to ice cream cones and even macarons. The chocolate drips are the ideal finishing to this calorie-heaven-cake.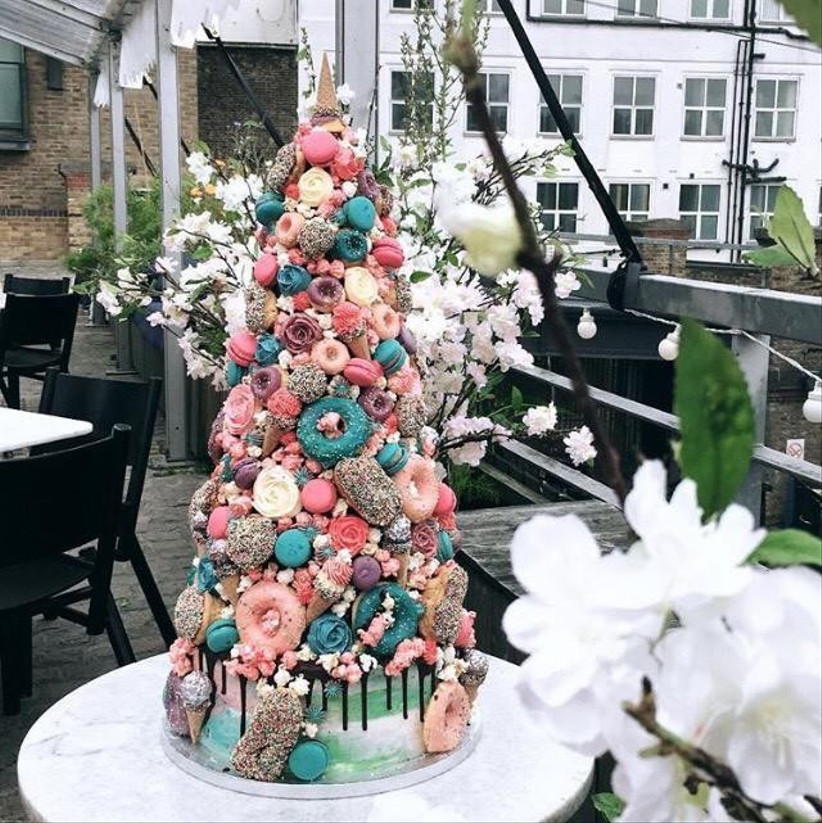 Love Heart Chocolate Wedding Cake
Sometimes less is more and that is most definitely the case with this Edible Art Cakes two-tier wedding cake.
The rigid texture makes the cake so tempting to eat and the cute red love heart is a super romantic touch that just makes our hearts melt.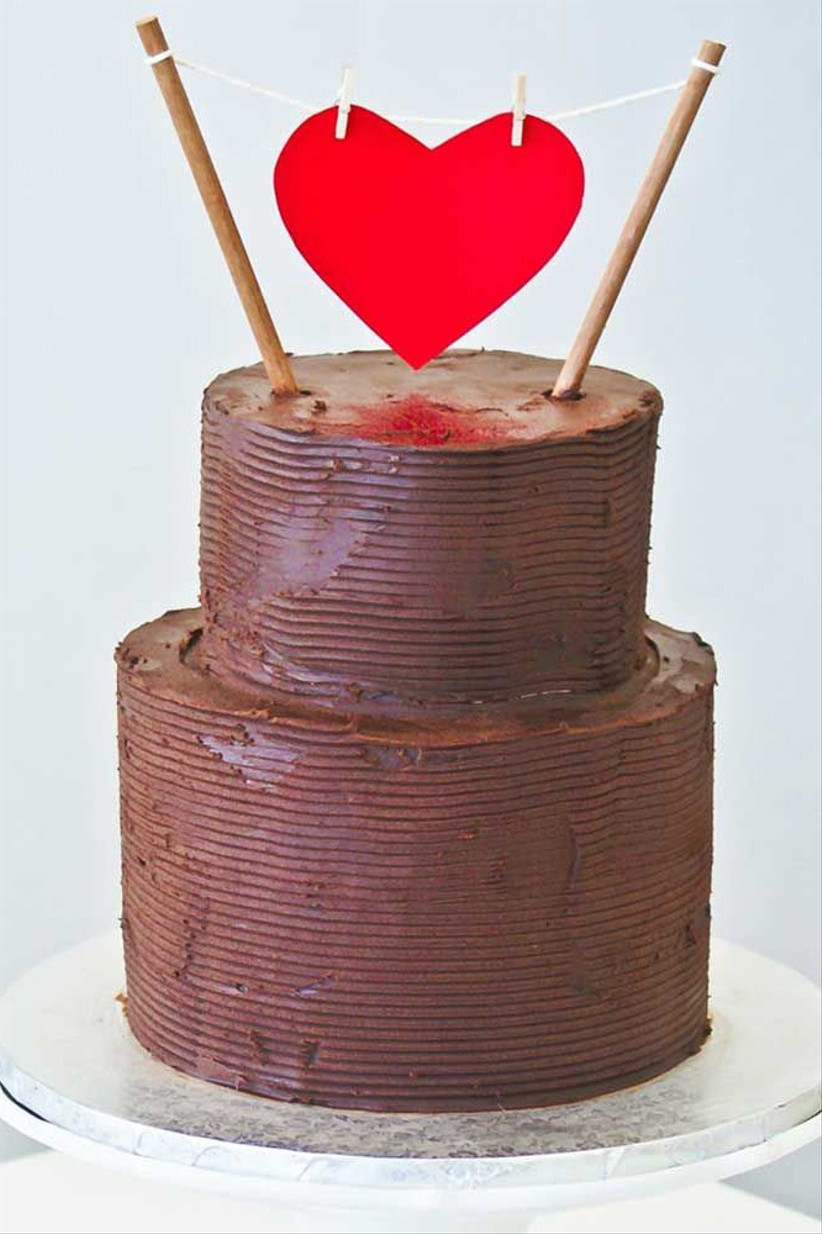 Chocolate Wedding Cake with Fruity Additions
This is one for all the chocolate-obsessed couples on Hitched. Le Papillion Patisserie's delicious four tier naked chocolate wedding cake has a lot going for it.
The sponge looks delightful and is sealed with a rich chocolate icing which is joined by ripe berries and some light frosting… Now that is a recipe we need in our lives!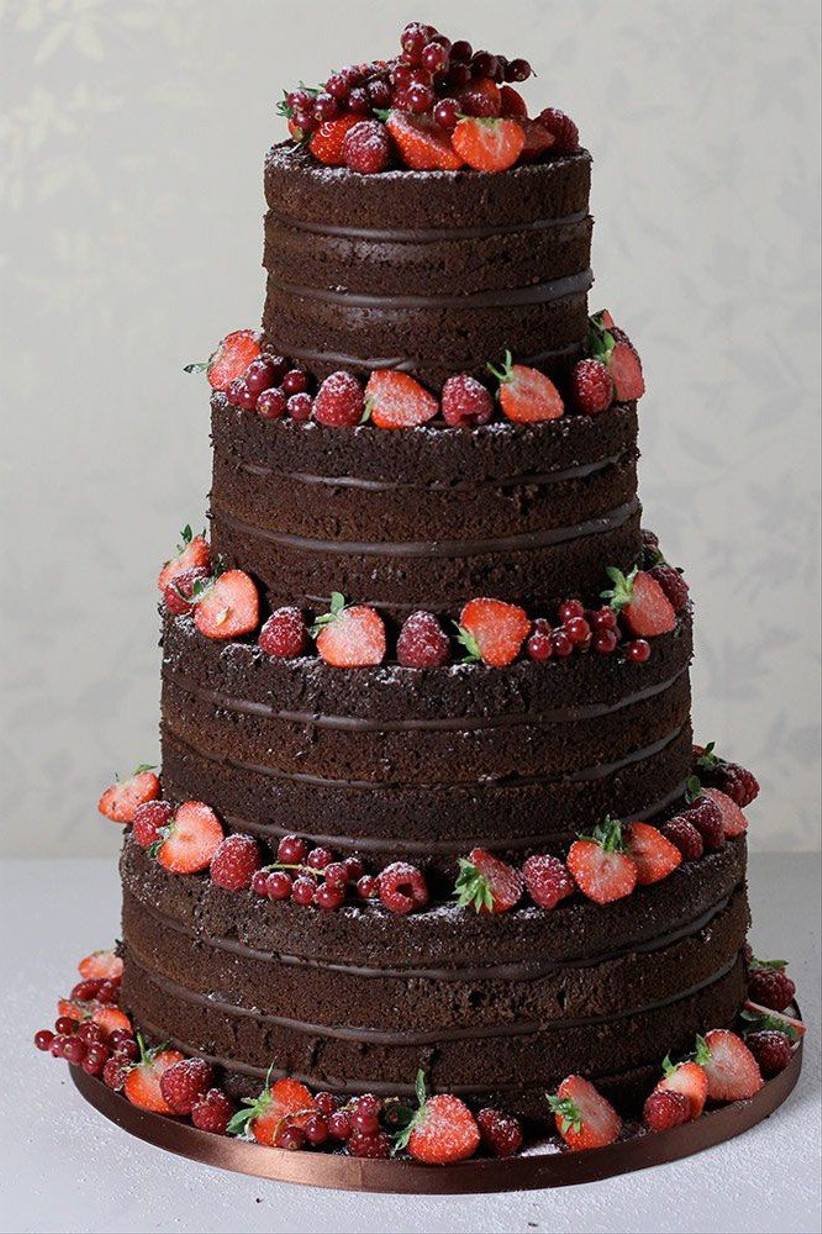 Square Chocolate Wedding Cake
Fancy something different? Why not opt for a square shaped wedding cake like this one from Willow & Bloom.
The three tiers all boast a different pattern and texture which adds to its beauty and the pale pink roses look amazing next to the light brown icing.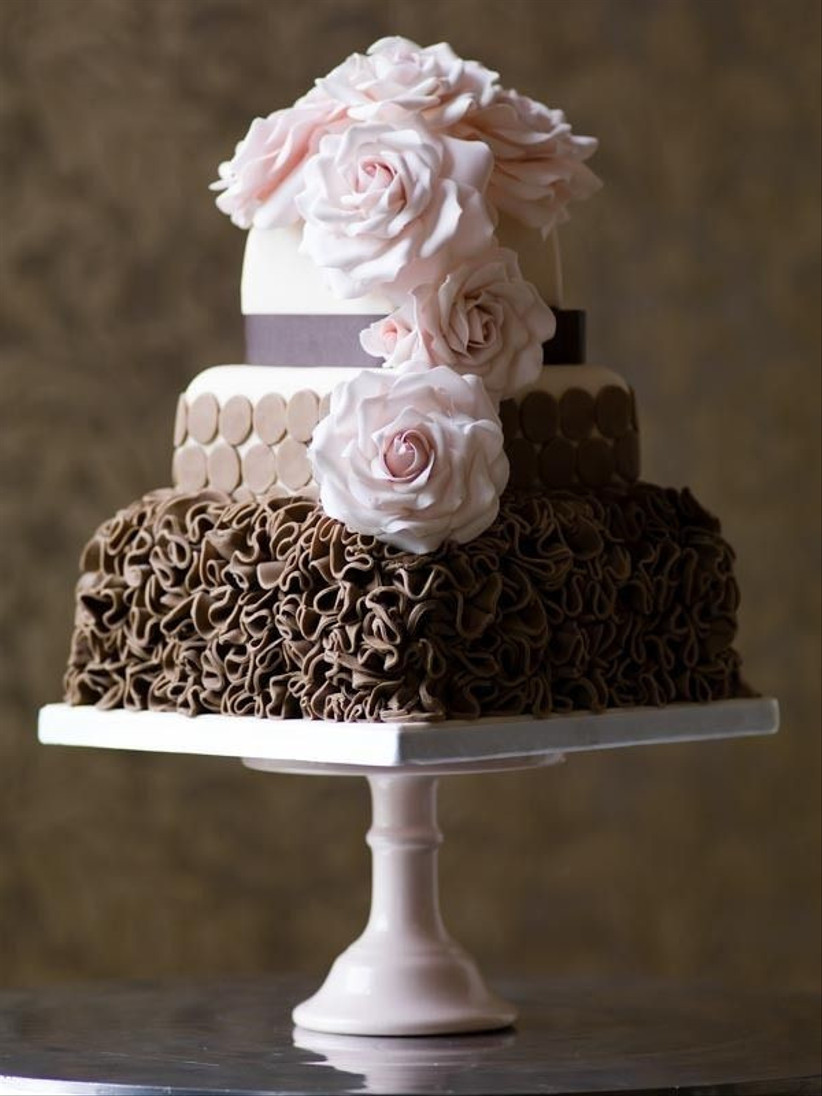 Chocolate Drip Wedding Cake
Drip wedding cakes were a huge 2017 wedding trend prediction and we can definitely see why.
They are the perfect choice for couples who want to add fun and interesting aspects to their wedding and can be done in such unique ways.
Unbirthday Bakery have created a really eye-catching design with this wedding cake and have used bright colours, floral vibes and chocolate drips to do so.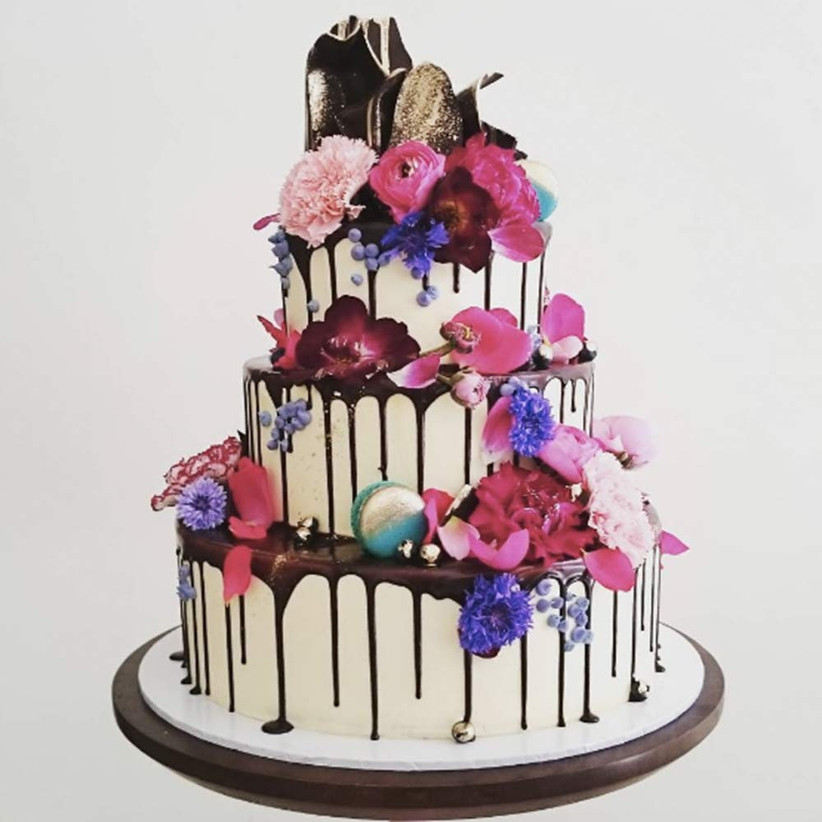 Extravagant Chocolate Wedding Cake
If you really want to make a statement at your wedding, cakes like this one by Choccywoccydoodah are the way to do so.
The marbled effect that has been created by white, milk and dark chocolate is such a skill that has an incredible finished look.
It's also another way to incorporate more unicorn wedding ideas into your big day, because who doesn't love mythical creatures with magical horns?
READ MORE: The Most Gorgeous Marble Wedding Cakes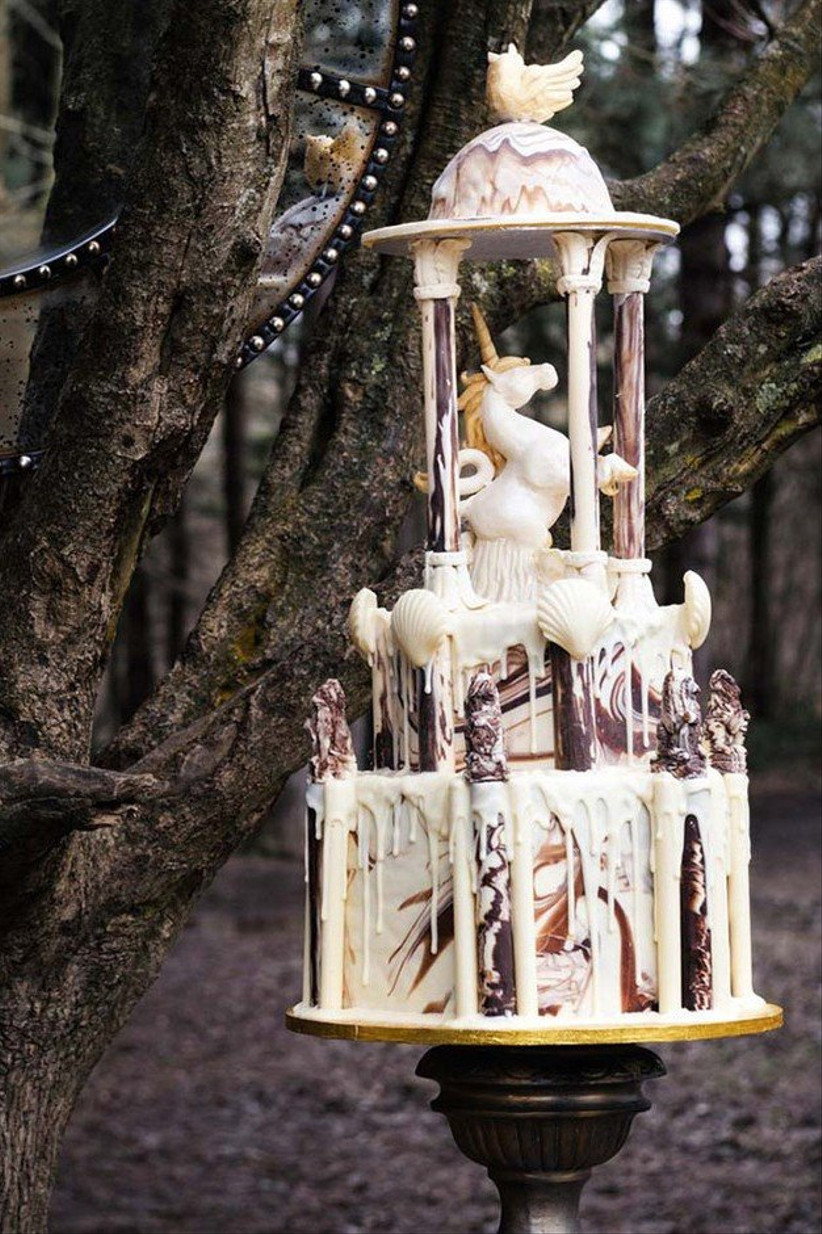 Pretty Chocolate Wedding Cake
Pairing a naked chocolate wedding cake with some ivory and pink roses sounds like a great idea to us.
We adore this style of cake and think it would suit a glamorous wedding, especially if it's sitting on such a glamorous cake stand.
Image Credit: Jessica Davies Photography
Chocolate and Popcorn Wedding Cake
Another single tier wedding cake has caught our eye and it's this Katherine Sabbath creation.
The pale yellow colour is a perfect choice for a wedding cake that is adorned with chunks of chocolate, toffee popcorn and fudge – our mouth is literally watering right now…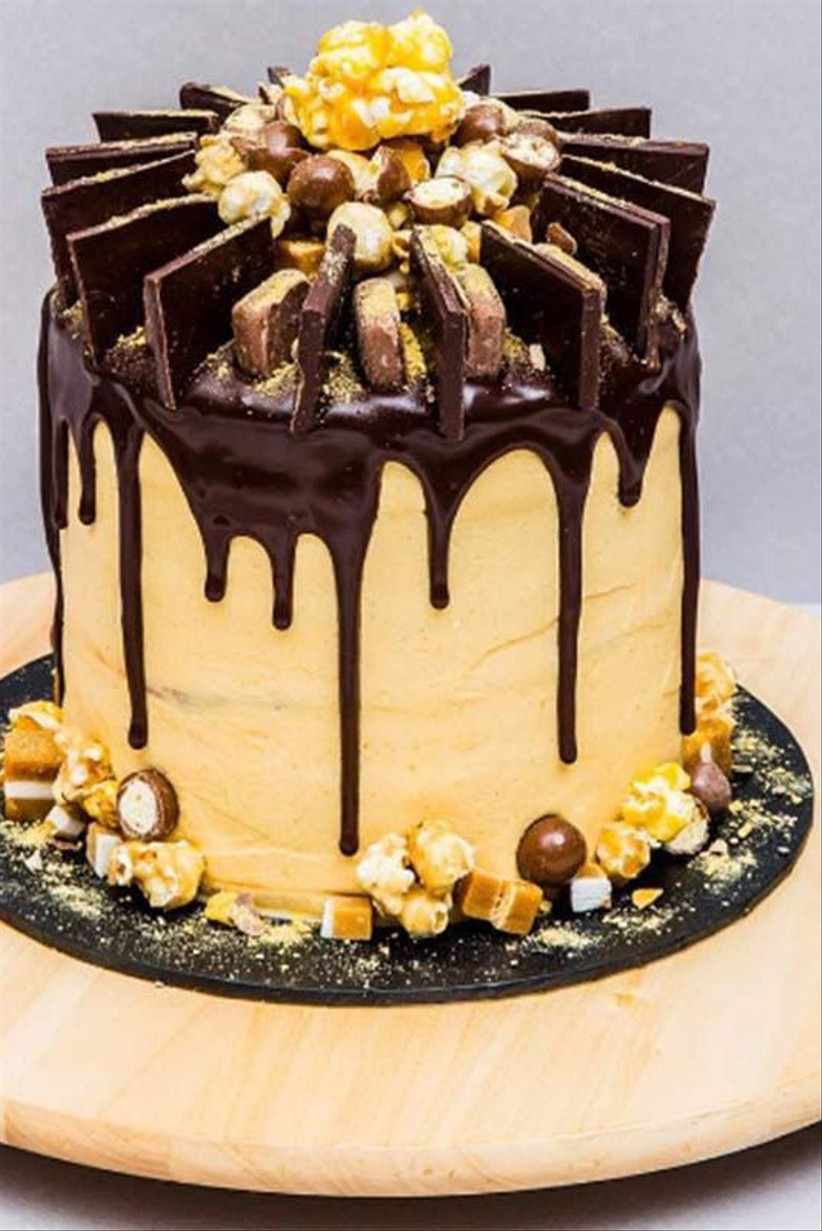 Rich Chocolate Wedding Cake
This chocolate wedding cake from Edible Art Cakes lacks nothing in the sweet department.
The lashings of chocolate icing that covers the cake will have each and every one of your guests counting down the minutes until desert time.
The trickle of fruity sauce that runs down the side is an ideal choice – we couldn't think of a better taste combination than chocolate and rich fruits.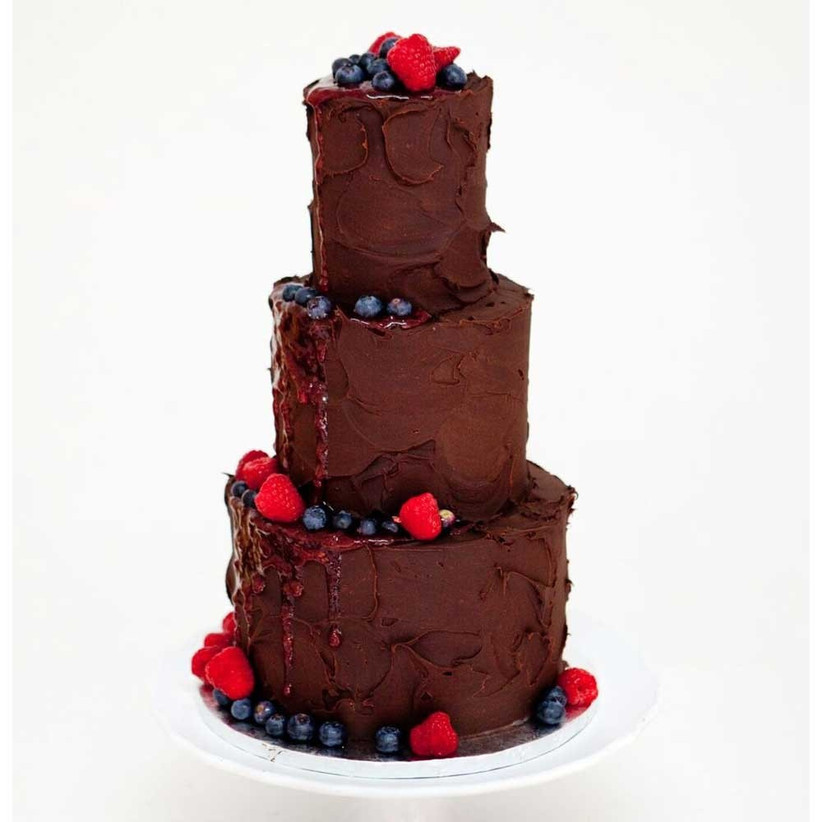 Purple Drip Chocolate Wedding Cake
Surprise your wedding guests with a funky purple ombré wedding cake just like this one made by Don't Tell Charles. The bright colour will keep your wedding vibe fun and is perfect for weddings in the summer sun.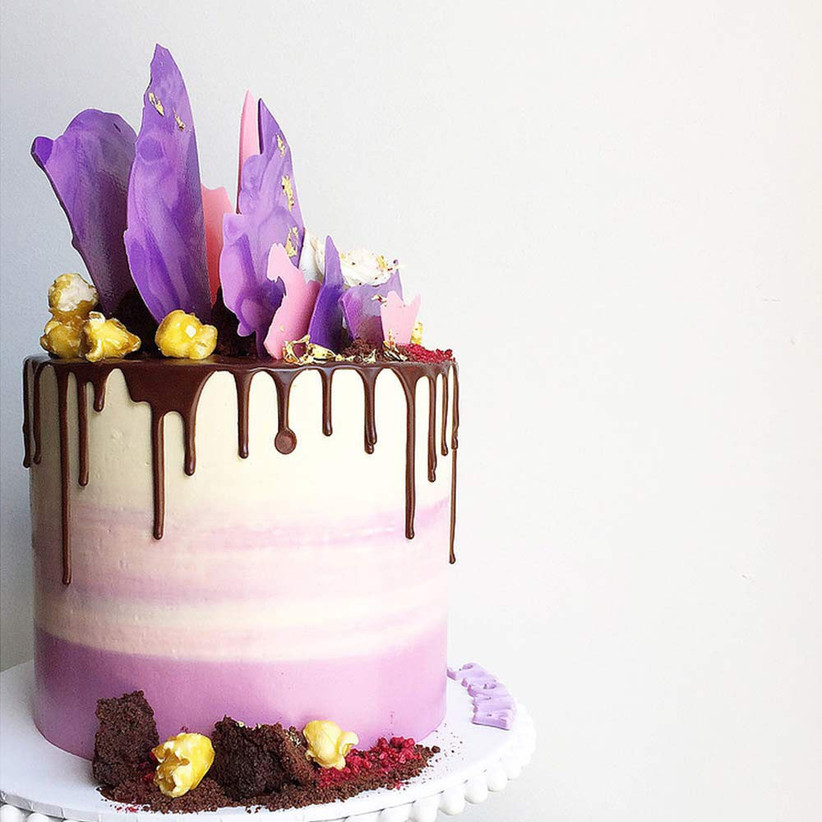 Chocolate Wedding Cupcakes
If you don't want to focus on chocolate flavours for your entire wedding cake, why not do what Couture Cakes have done and have assorted chocolate cupcakes alongside a semi-naked wedding cake made from a different flavour.
Chocolate is such an easy taste to combine with other flavours and we would definitely advise mixing it up and having as many tasty treats at your wedding as possible!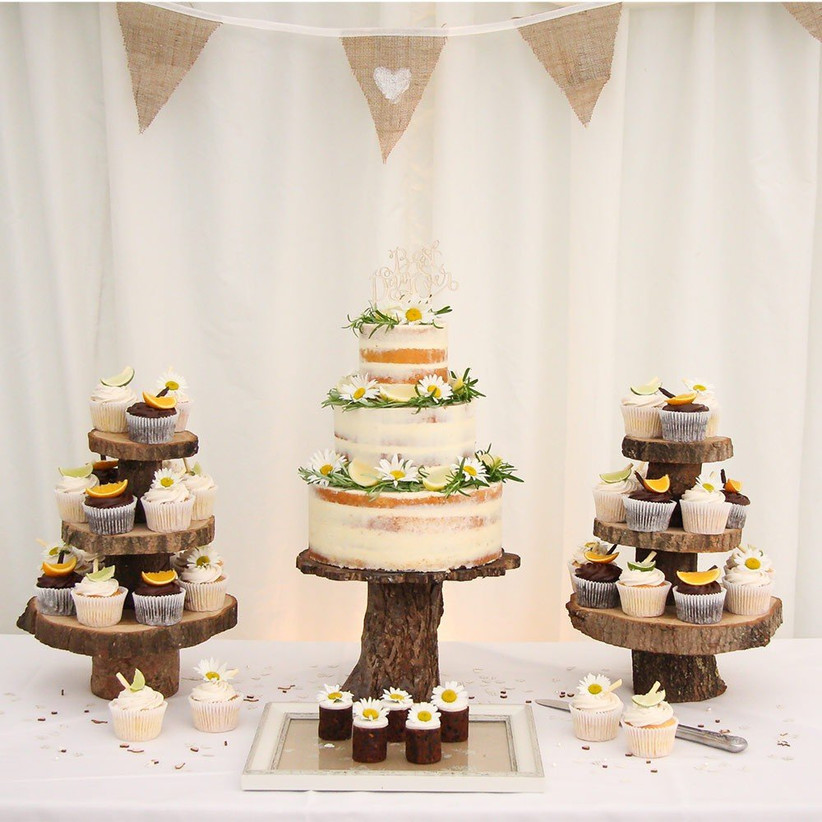 Chocolate Wedding Cake with Cookies and Cream
This is a great shout for those that don't want a traditional wedding cake but still want to satisfy their sweet tooth. We'd be first in the queue for a slice of this Oreo-adorned beauty!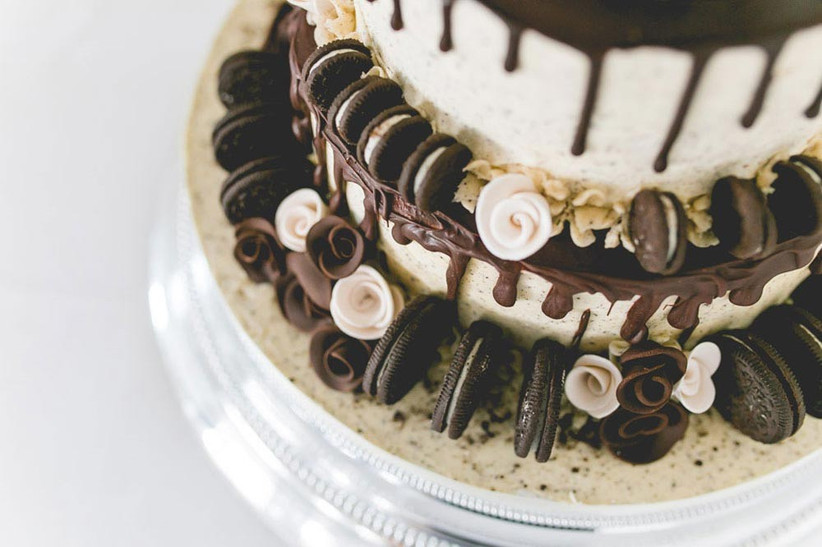 Image credit: ELS Photography – Creative Wedding Photography
Chocolate Wedding Cake with Layered Detail
A cake covered in crisp layers of chocolate will leave your guests' mouths watering, whether you opt for a milk or white chocolate coating.
Image credit: Northbrook Park
If you want a cake with a bit of glamour to it, why not check out our sensational edit of sparkly wedding cakes?
Be sure to search through our Hitched wedding cake suppliers to find the perfect cake maker for you!