36 Boho Wedding Hairstyles and Accessories for Every Bride
If you want beautifully natural, fuss-free and easy to recreate wedding locks, consider opting for a boho wedding hairstyle. From cascading curls to pretty plaits, we've got plenty of ideas that'll work with every hair type and wedding theme
We have included third party products to help you navigate and enjoy life's biggest moments. Purchases made through links on this page may earn us a commission.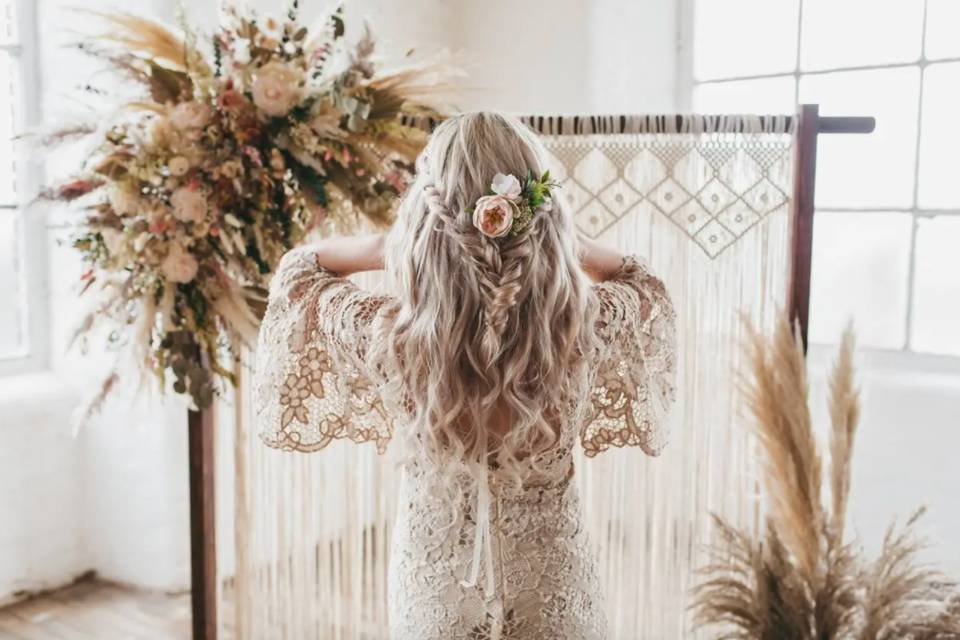 If locks adorned with wildflowers, plaits aplenty and jewel encrusted vines are your idea of wedding hair heaven, then you might want to consider rocking a boho wedding hairstyle on the big day.
From short dos with pretty details to long loose curls combined with florals and foliage, boho hairstyles are the perfect accompaniment to a whimsical woodland wedding or a rustic-themed celebration that's as laidback as you are.
The beauty of a boho wedding hairstyle is that they are typically undone and relaxed - which means less time worrying about stray strands and more time enjoying the moment. Many styles are also really easy to recreate yourself, so if you're planning on doing your own wedding hair, or you just want some inspiration to show your hair stylist, get scrolling our edit of beautiful boho wedding hairstyles for every bride and hair type.
Don't forget to check out our edit of the best boho wedding dresses to nail the free-spirited style.
The Best Boho Wedding Hairstyle Ideas for Every Hair Type
1. Tousled Waves with Beaded Hair Vine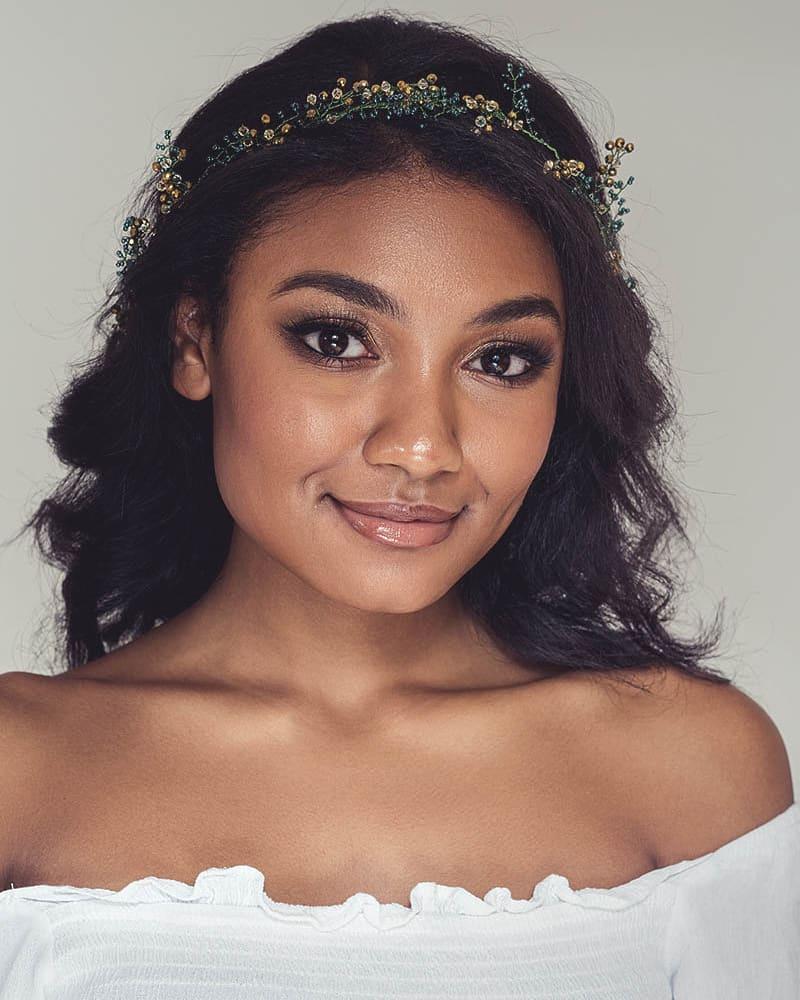 Your boho wedding hairstyle doesn't have to be complicated; we love this simple tousled wave look that's been given an extra special addition of a beaded hair vine.
2. Feather and Flower Crown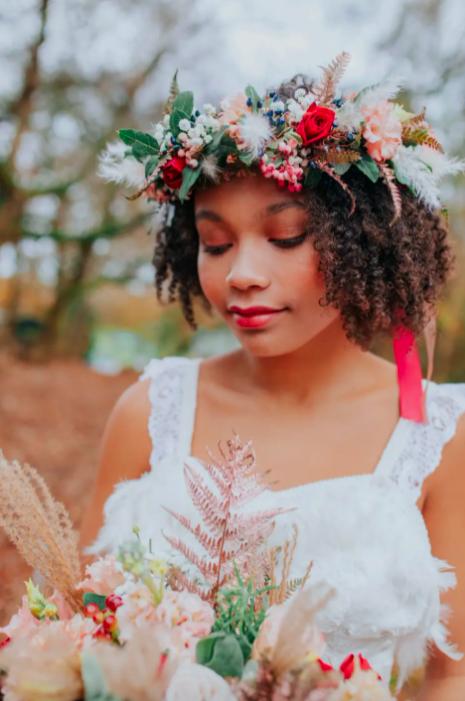 Flower crowns are classic boho bridal styling. Give the look a twist by incorporating feathers and a few sprigs of wild grass in among the blooms for an ethereal effect.
3. Relaxed Fishtail Braid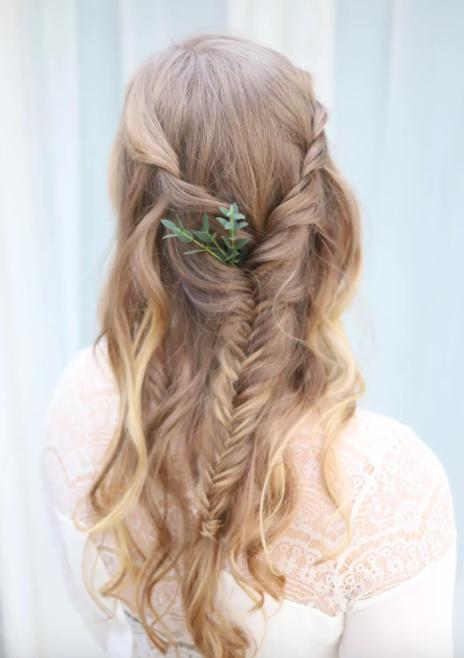 The wonderful thing about this boho wedding hairstyle is that it can be as messy as you like and it'll still look gorgeous. The key is to tease a few strands out of the braid to keep it looking relaxed and instead of tying it off with a hairband, spritz with hairspray and use pins or wrap your own hair around it to secure.
READ MORE: 55 Chic Wedding Hairstyles for Long Hair
4. Dried Gypsophila Flower Crown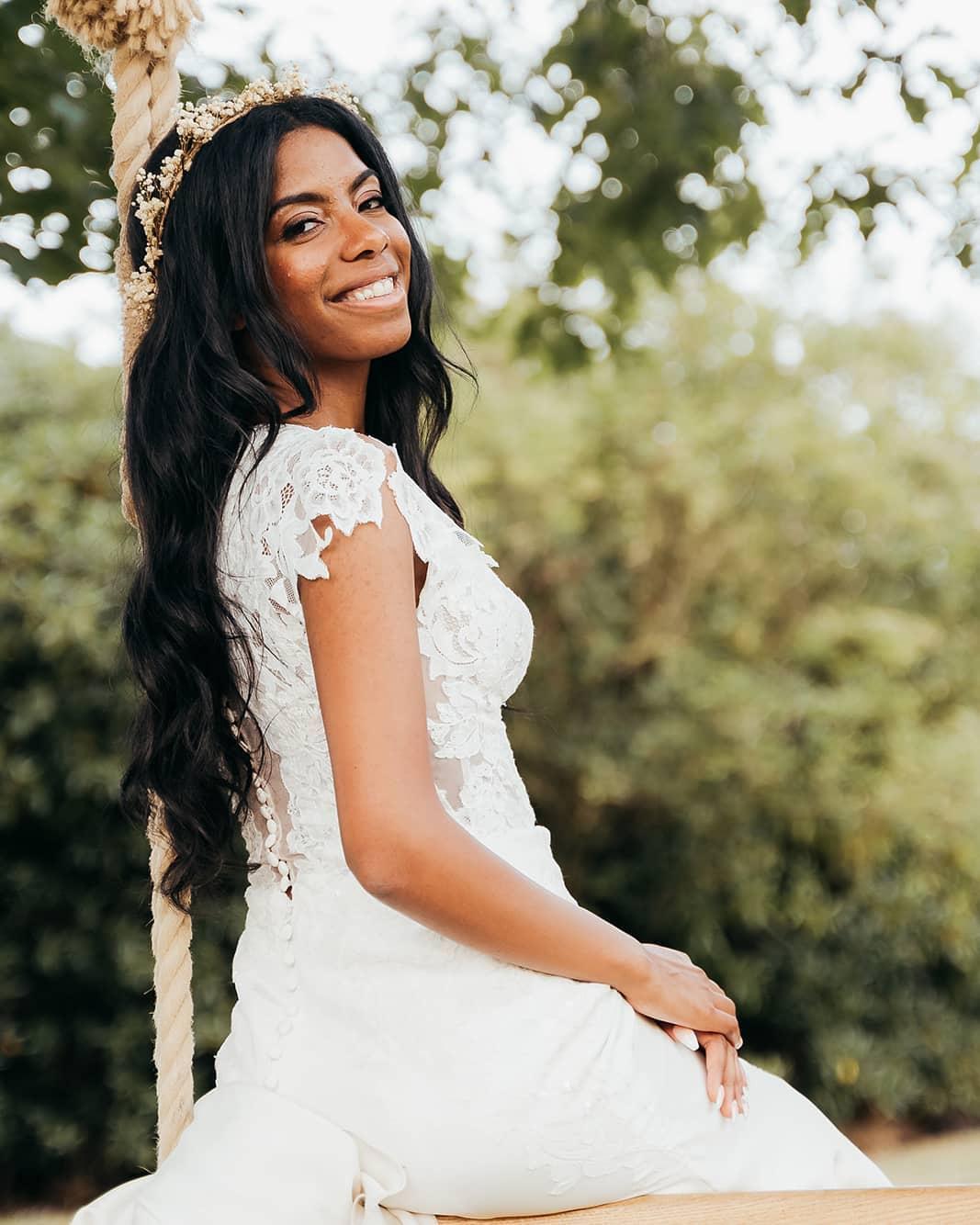 Gypsohila a big part of your wedding décor? Follow suite with your hairstyle by popping on a fresh or dried baby's breath crown. It's a great alternative to a full floral crown if you'd prefer an understated look.
5. Textured Low Bun with Floral Detail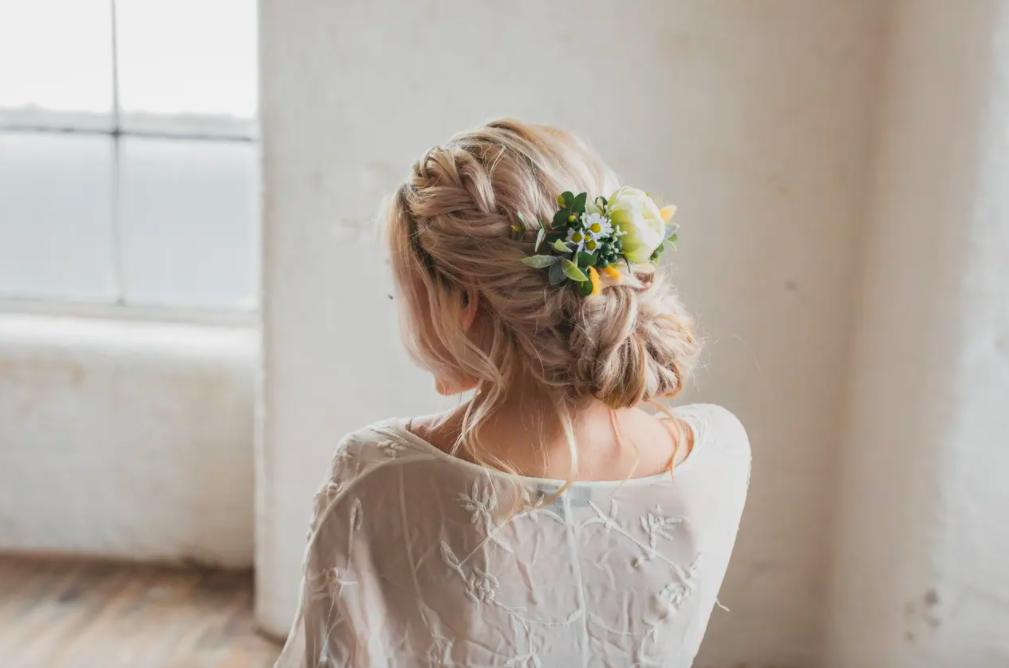 You might want to pop your hair up for a night of dancing after your ceremony and this textured low bun would be the ideal hairstyle for doing so. Simply tie up at the nape of your neck, clip any stray strands with pins and decorate with beautiful blooms.
7. Wavy Multi Plait Half-Up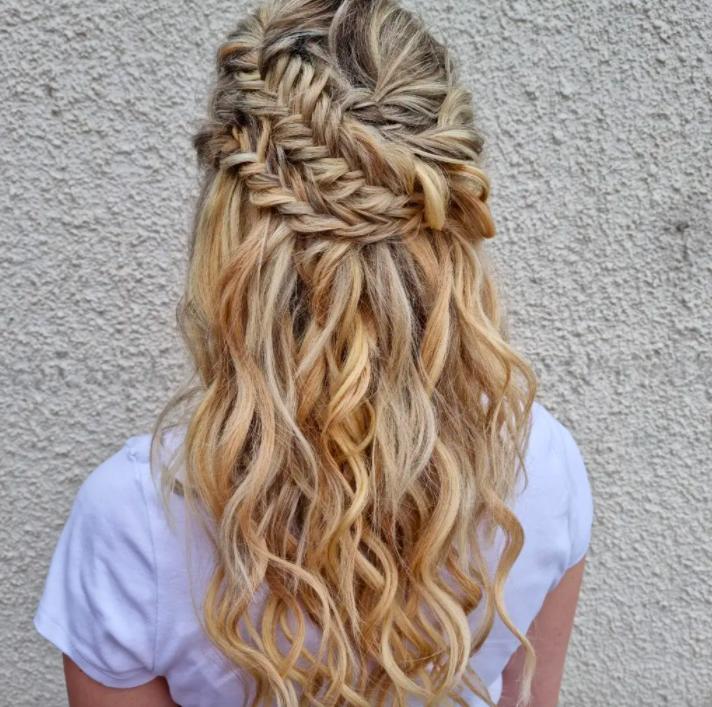 This wavy, multi plait hairstyle is quintessentially bohemian. It's giving us major Rapunzel vibes! Browse more plaited wedding hairstyles here.
8. Woven Up-Do with Gold Hair Vines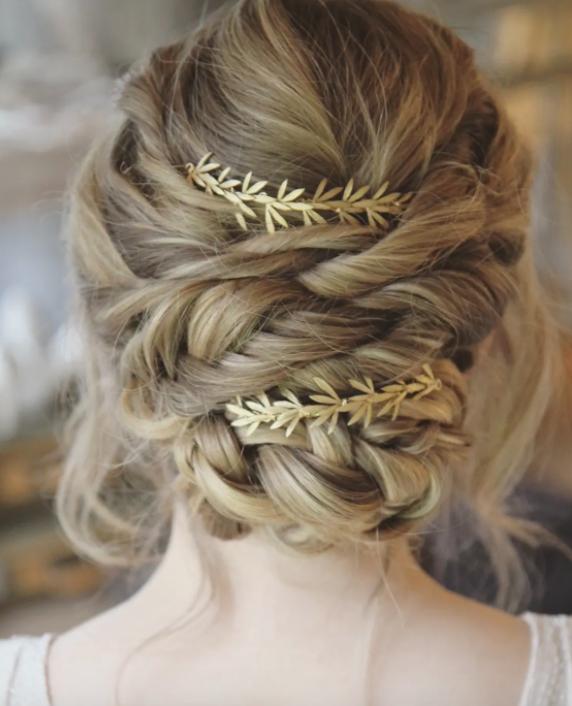 Add a touch of decadence to a messy up-do by incorporating some gold hair vines. Tease out a few loose tendrils to frame your face and you'll have the most perfect boho wedding hairstyle.
11. Bubble Braid with Pearl Clips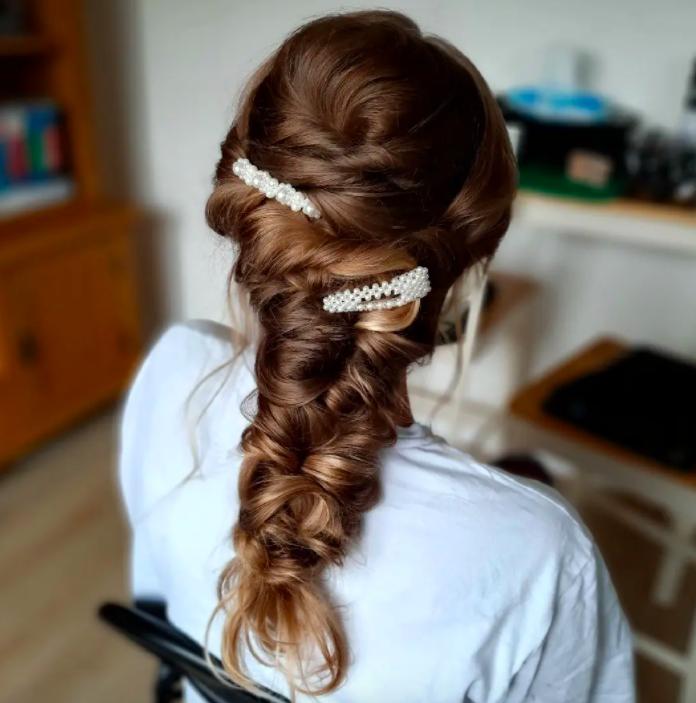 The bubble braid is an off-beat alternative to fishtail and traditional plaits. Accent yours with some casually placed hair clips to give an effortless yet glam finish.
READ MORE: The Ultimate Wedding Hair Accessories Guide: 53 Gorgeous Ideas
12. Undone Plait Half-Up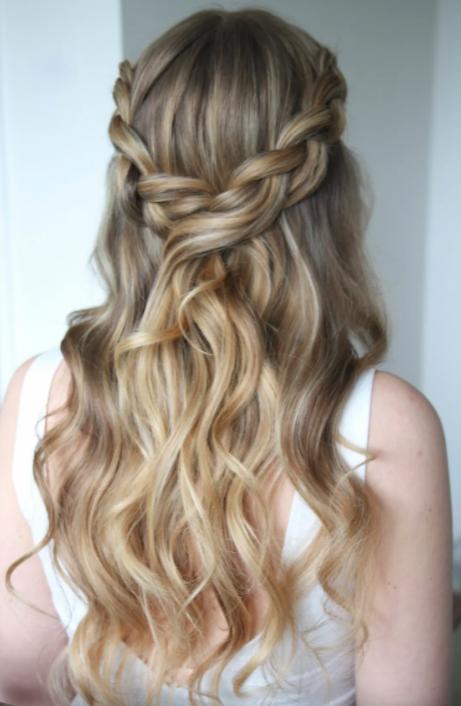 We love how the plaits above look like they're woven together naturally rather than with clips or bands. This is a gorgeously angelic bridal boho hairstyle.
13. Half Up with Bright Flowers & Ribbons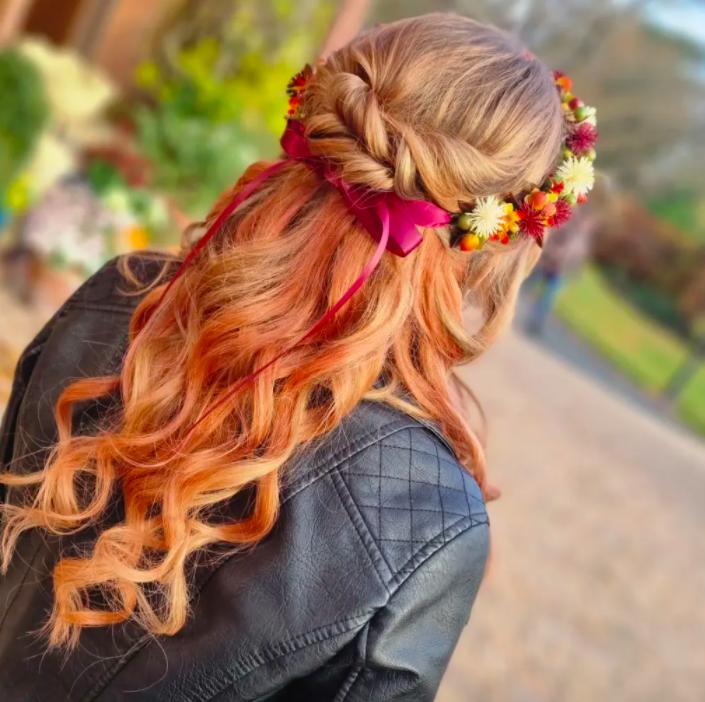 A festival-themed wedding day wouldn't be complete without an equally as fun boho hairstyle to match. This vibrant, flower and ribbon adorned 'do will finish off a whimsical bridal ensemble perfectly.
14. Flower and Foliage Entwined Half Up Half Down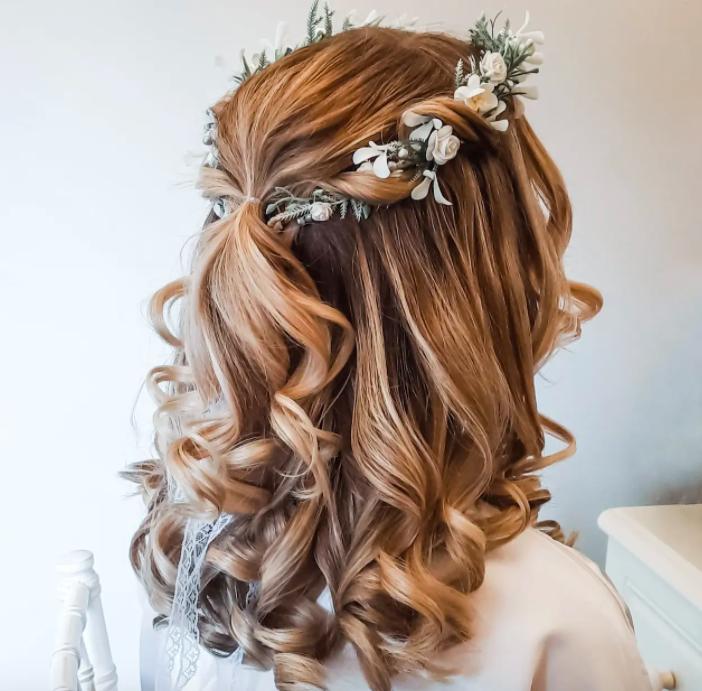 A half up half down hairstyle is a pretty yet practical look and one that you'll be so grateful you went for. It'll make sure your hair is out of your face throughout the day, but the addition of foliage will keep it wedding-ready.
15. Natural Waves & Side Floral Vine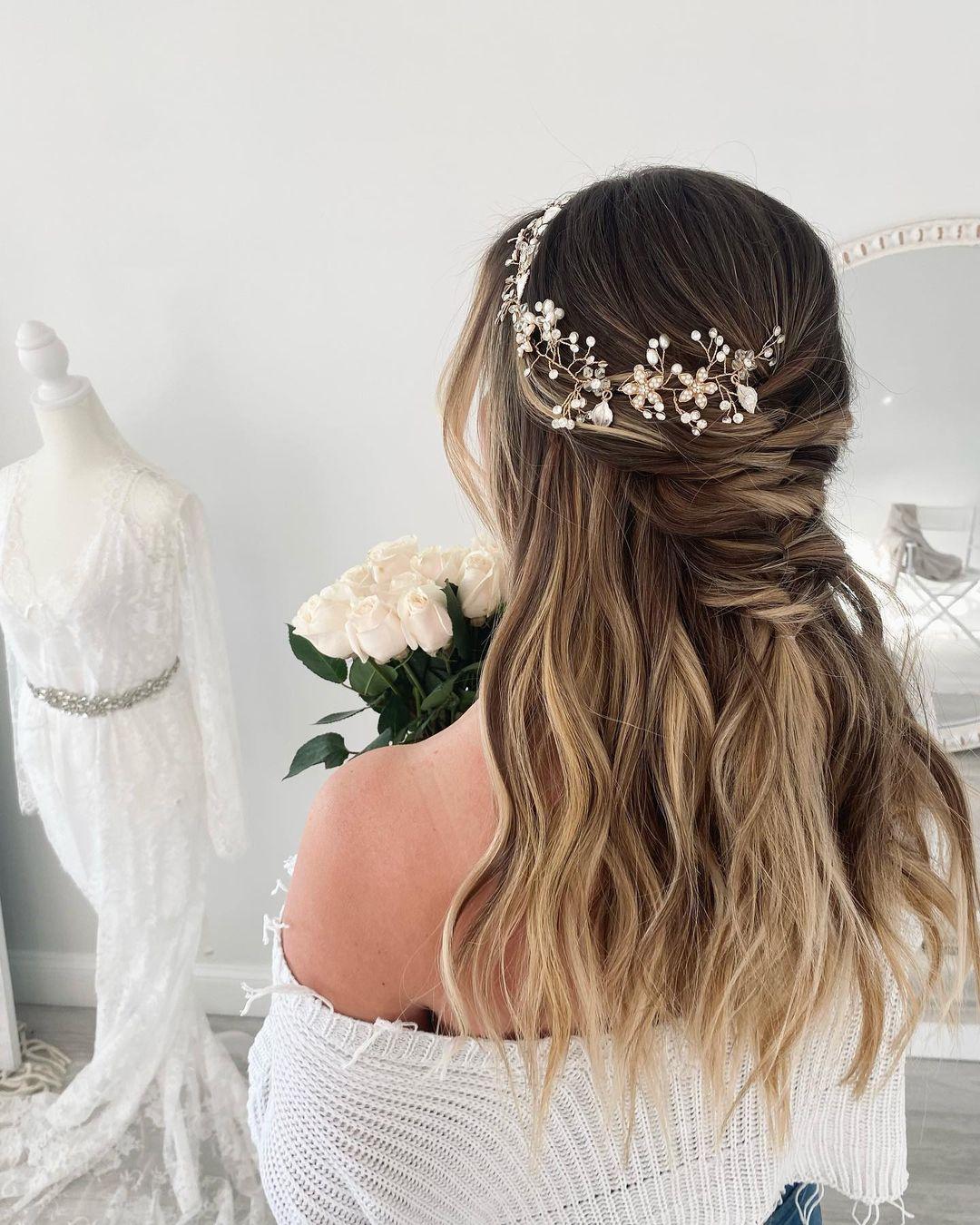 We love the sweet crystal florals and delicate pearls entwined on this side hair vine. We're also obsessed with the messy fishtail half up styling.
16. Statement Blooms & Braid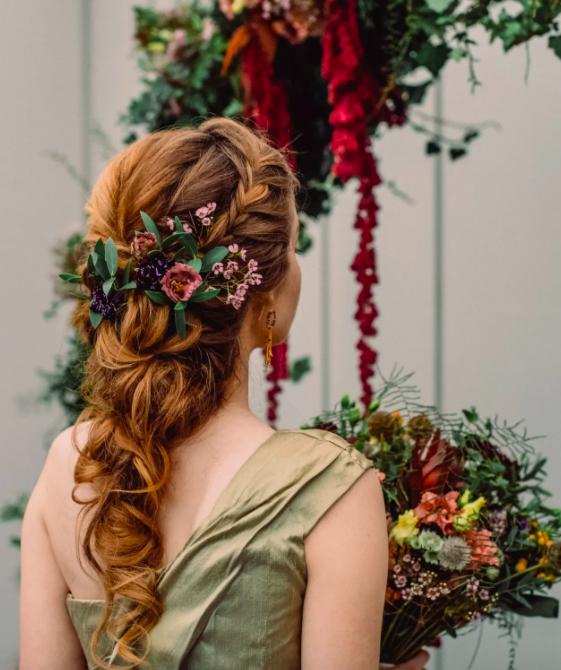 This boho wedding hairstyle is a real showstopper, keep your wedding outfit and accessories simple and let the hair do all the talking.
17. Loose Wavy Ponytail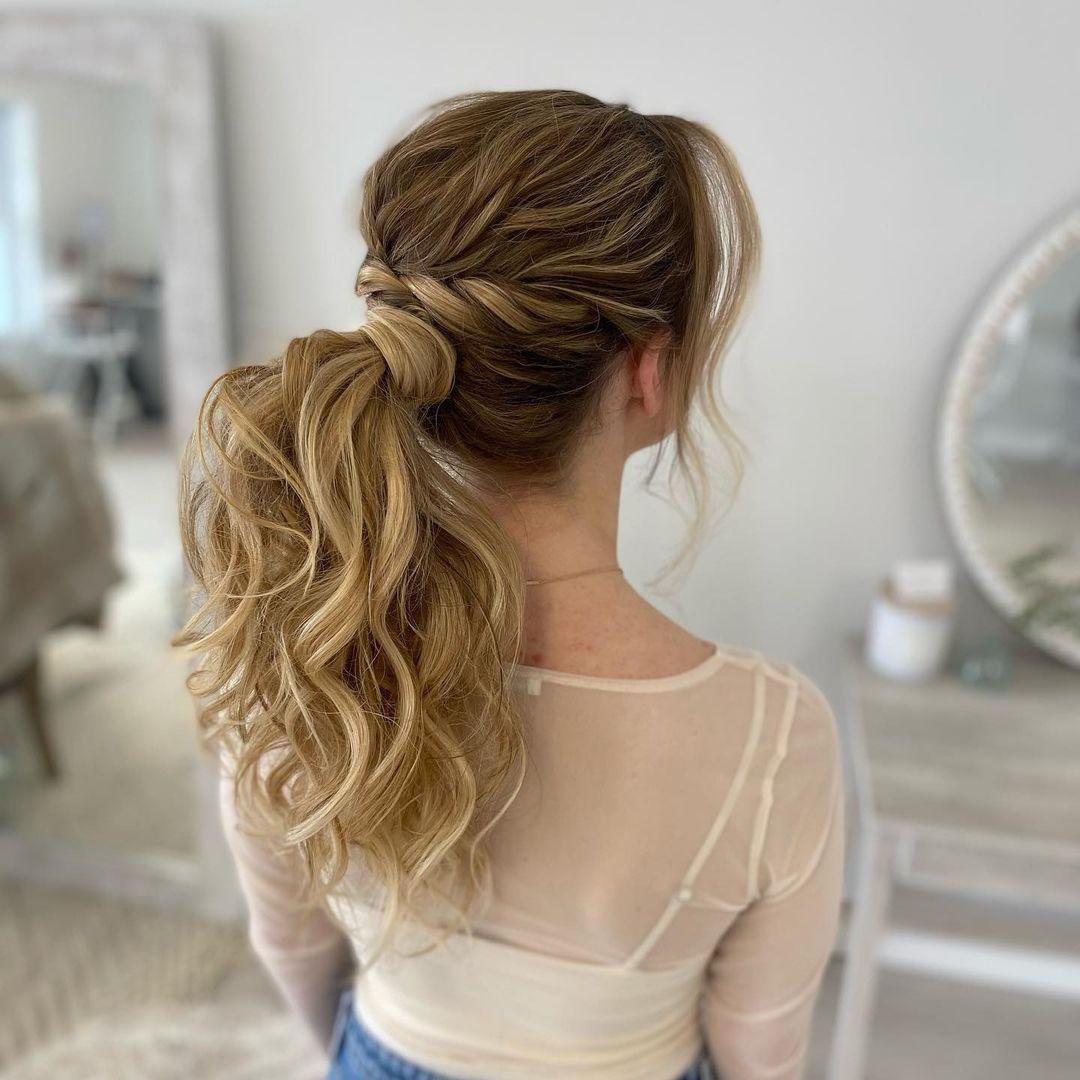 Give a sporty-style ponytail a boho upgrade by letting a few rough tendrils fall around your face. You can ensure your ponytail looks professional by wrapping a small strand of hair around the hairband once tied to disguise it and adding a twisted top section.
READ MORE: The Best Wedding Veils to Suit All Hairstyles
18. Delicate Details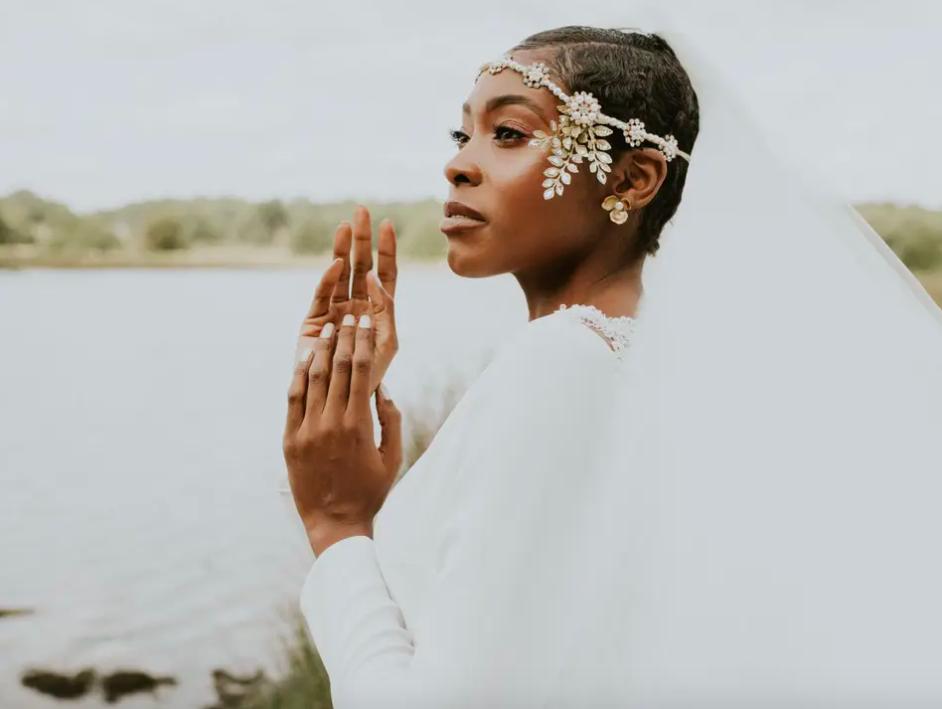 This bride's short wedding hairstyle is chic and entirely unfussy. The leafy gilded gold hairpiece is a delicate detail that gives a subtle nod to the bohemian bridal trend without being OTT.
19. Floral Garland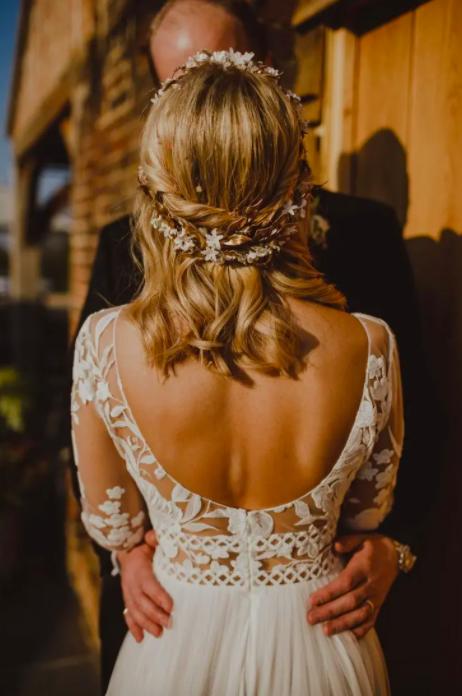 Florals? For a boho wedding hairstyle? Ground-breaking. This ethereal garland is made up of tiny, white flowers and woven into the bride's hair.
READ MORE: The 17 Best Wedding Perfumes for Every Bride
20. Micro Plaits & Low Bun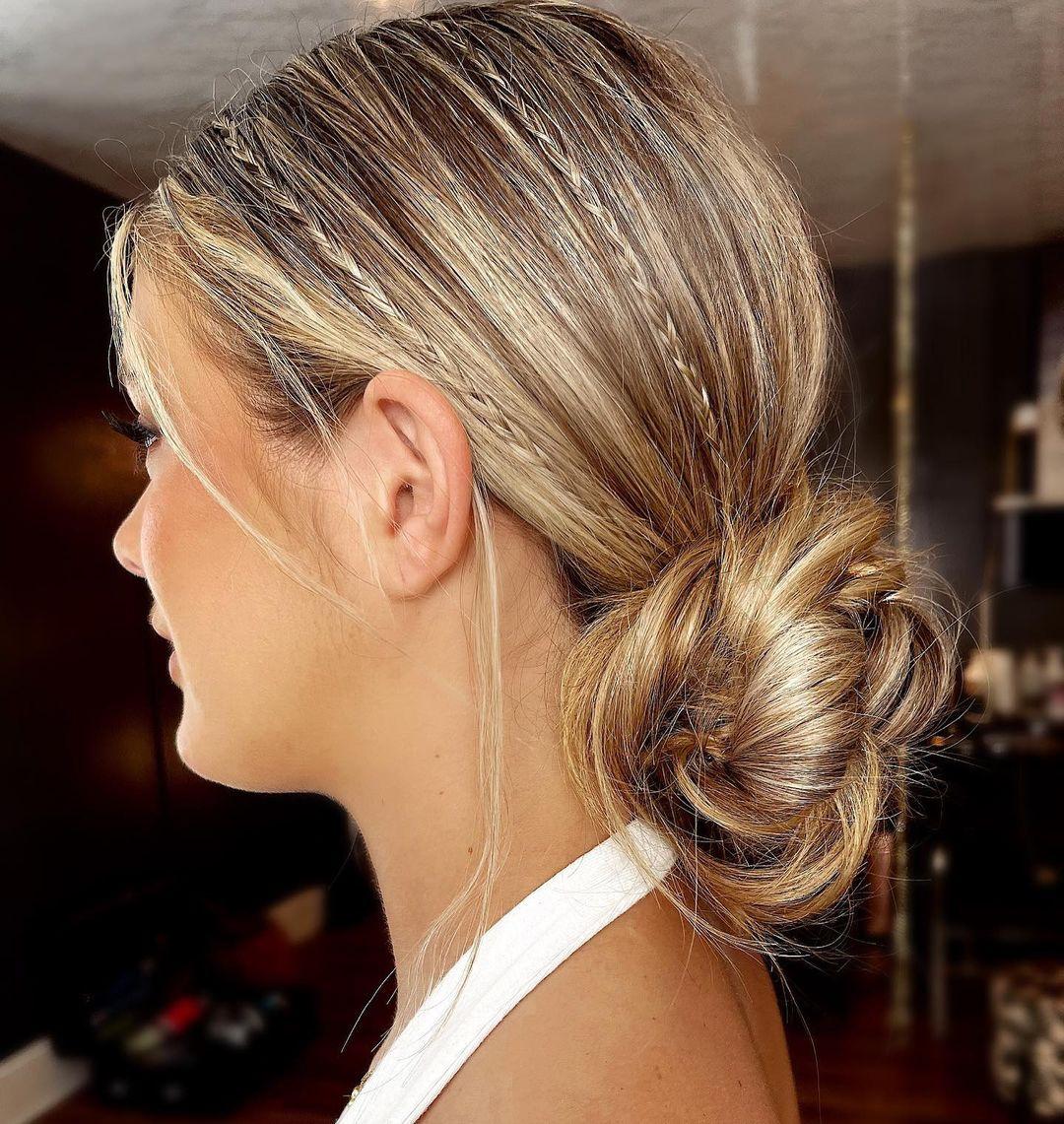 Add some subtle texture to a messy low bun by weaving tiny plaits into the style. Pull out some wisps for a delicately romantic look.
21. Natural Texture with Flower Adorned Plait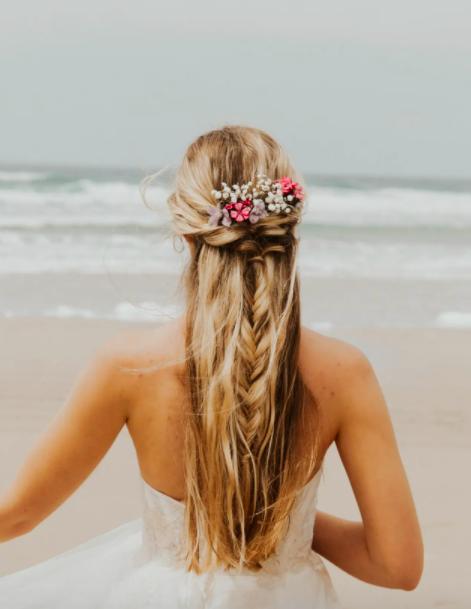 Whether you have naturally wavy hair or straight locks, this boho wedding hairstyle is all about working with what you have and adorning it with a fishtail braid and some blooms.
22. Wavy Up-Do with Loose Tendrils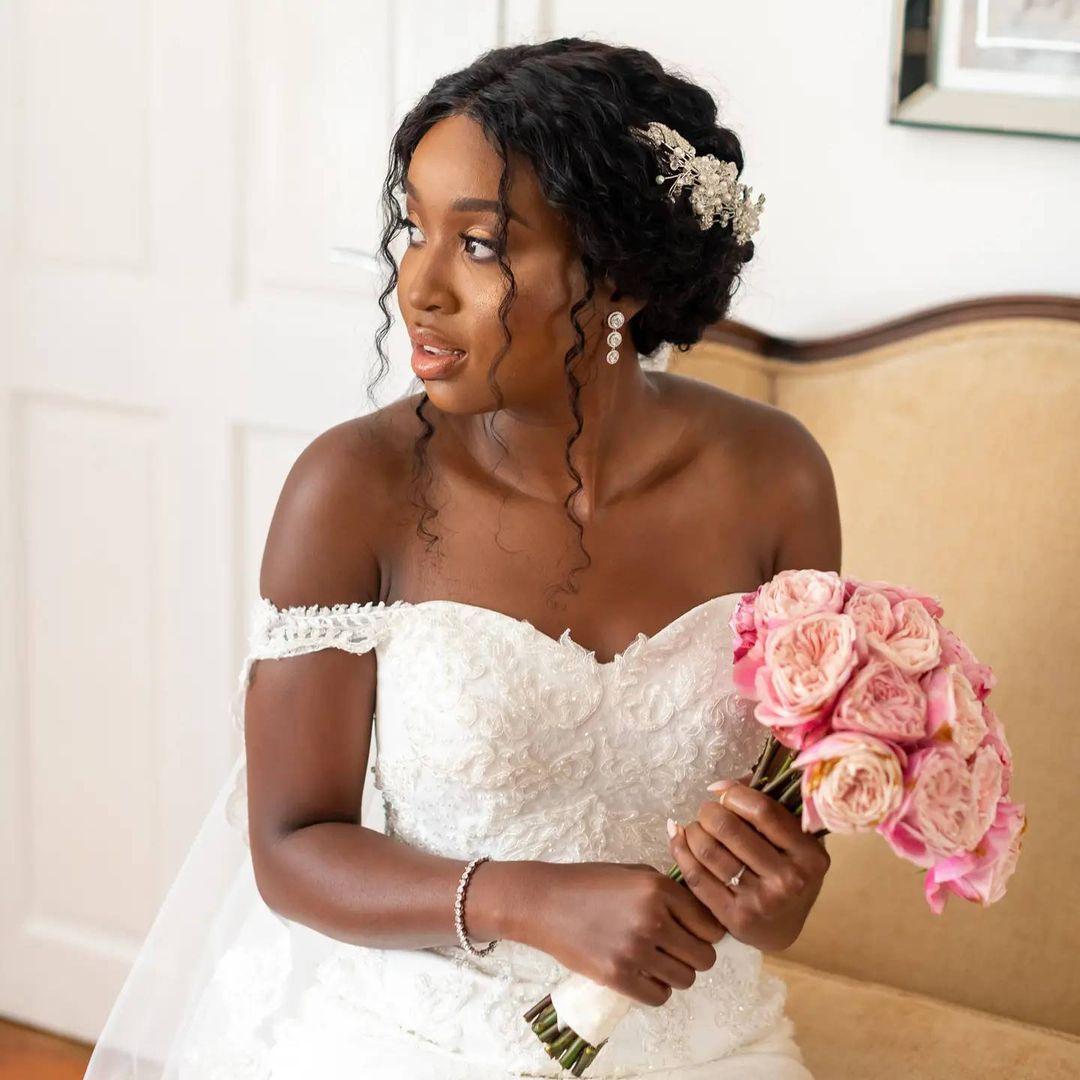 We love how the loose wavy tendrils perfectly frame the face of this bride. Work with the texture of your own hair for an effortless look and finish with real or sparkling florals.
READ MORE: 38 Wedding Hair Updo Ideas for Every Bride
23. Half Up Plaits & Feathers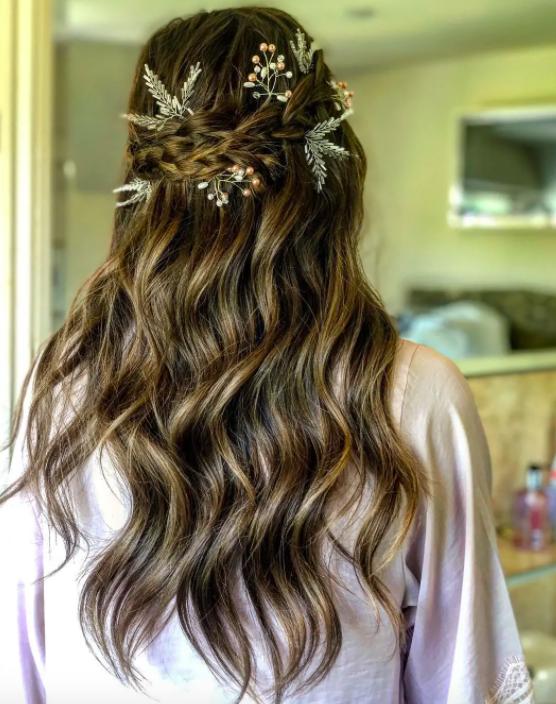 Looking for a boho alternative to florals? Allow us to introduce the feather. Whether real or crafted from beads like the above, they give a thoroughly festival feel.
24. Low Messy Bun & Plaited Headband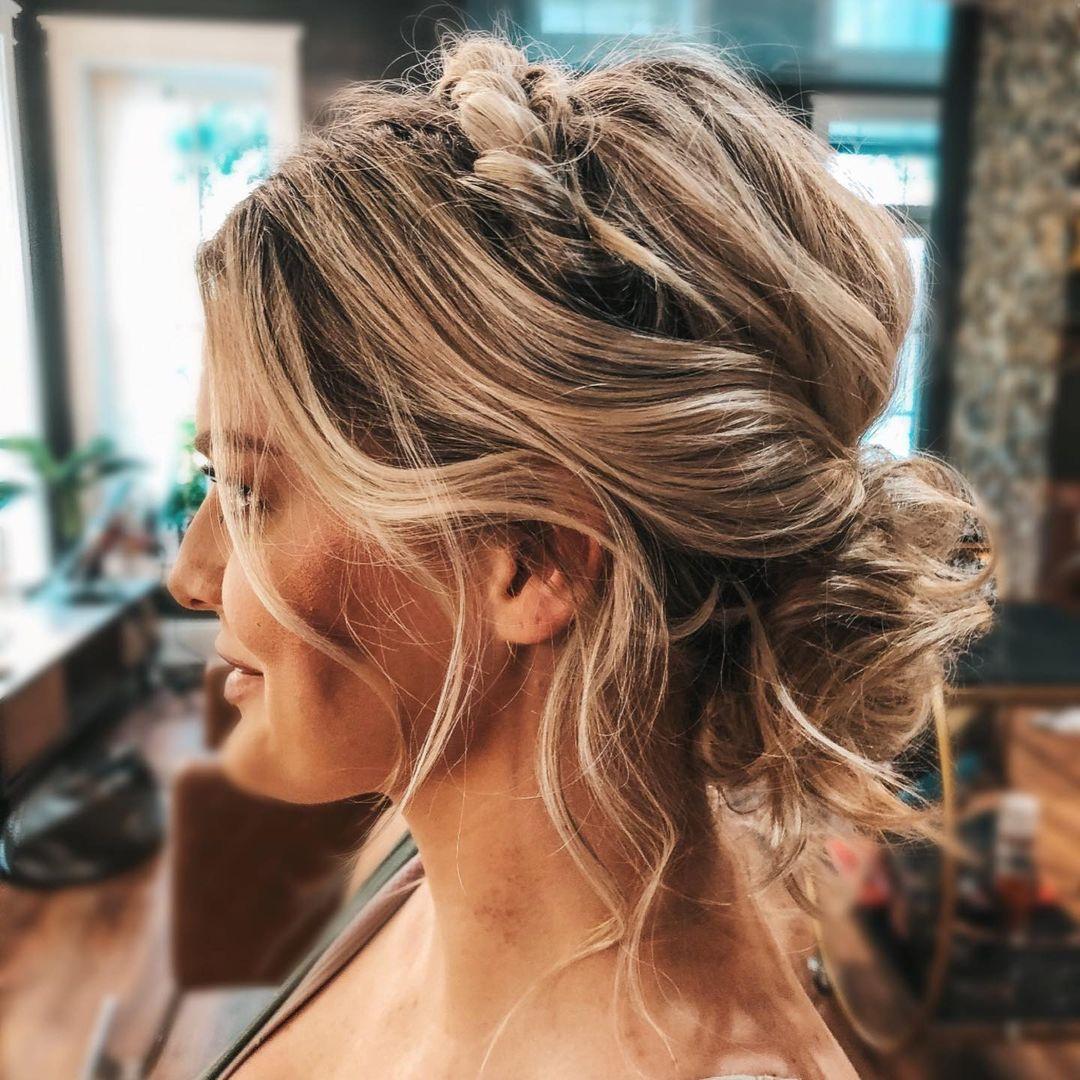 You don't need to buy a bridal headband (although we get that they're tempting!) when you can fashion one from your own hair. We love the braided headband effect paired with this undone bun.
25. Mega Volume Plait Crown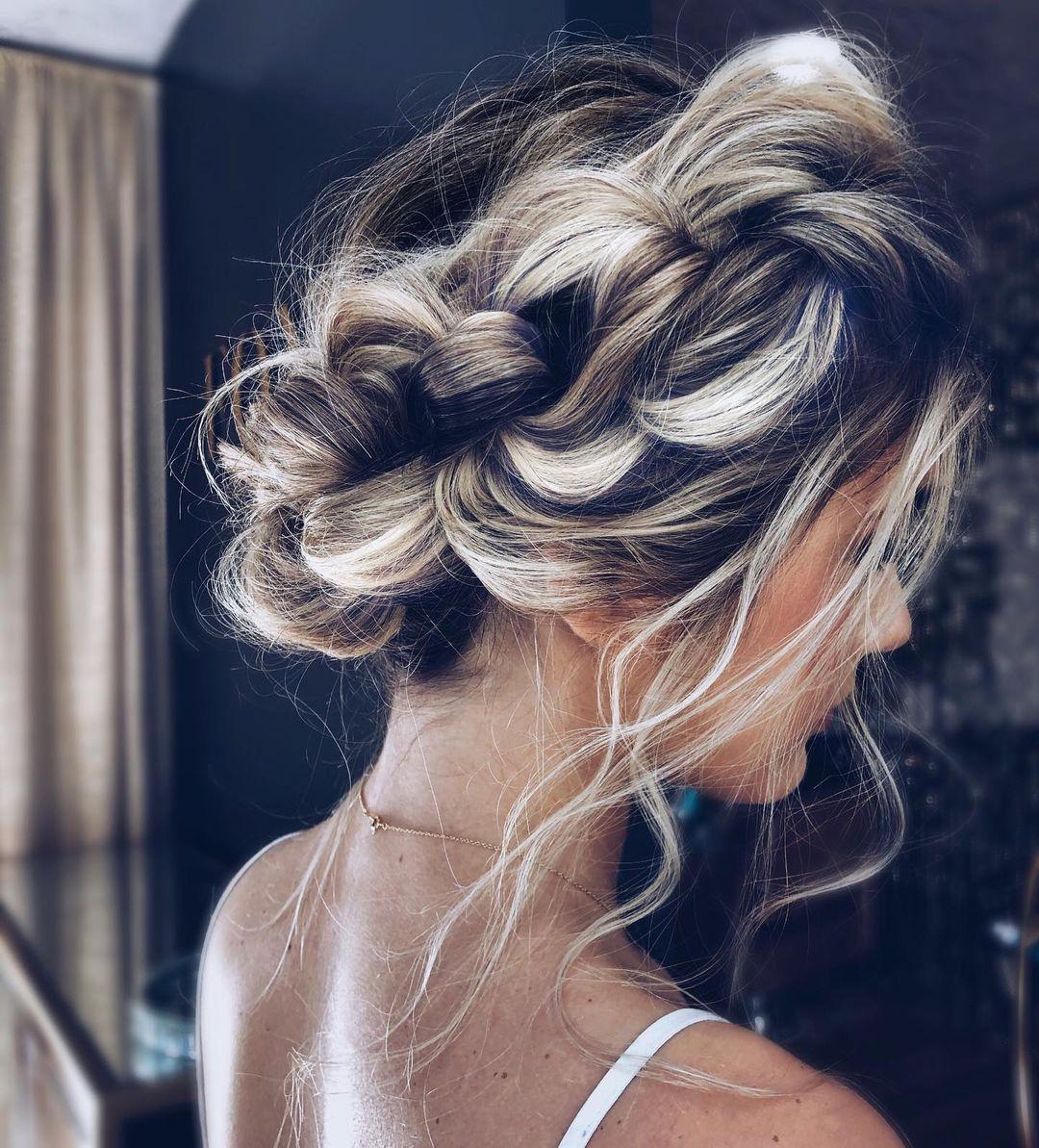 Statement yet understated, this mega volume plaited style is ideal for brides wanting a look that's a little less ordinary. Pull the plaits out slightly for an undone feel and don't forget to loosely wave the tendrils around your face.
26. Piled High Plait with Pearl Accents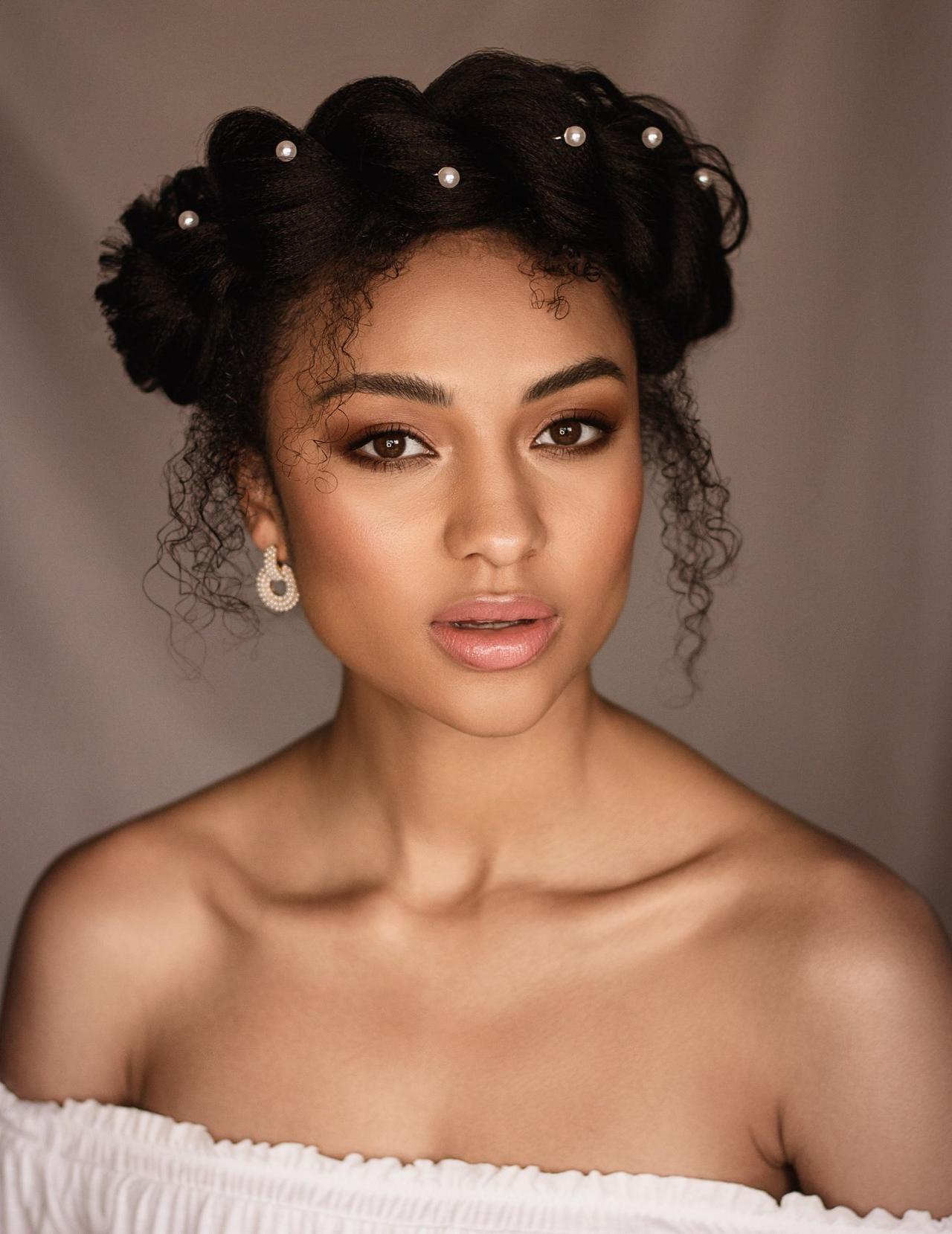 Make your hair your crowning glory - literally - by fashioning it into a crown-like plait high on the head. Accent with pearl clips and pull through some wisps to soften the look.
27. Fabric Woven Braid and Leafy Tiara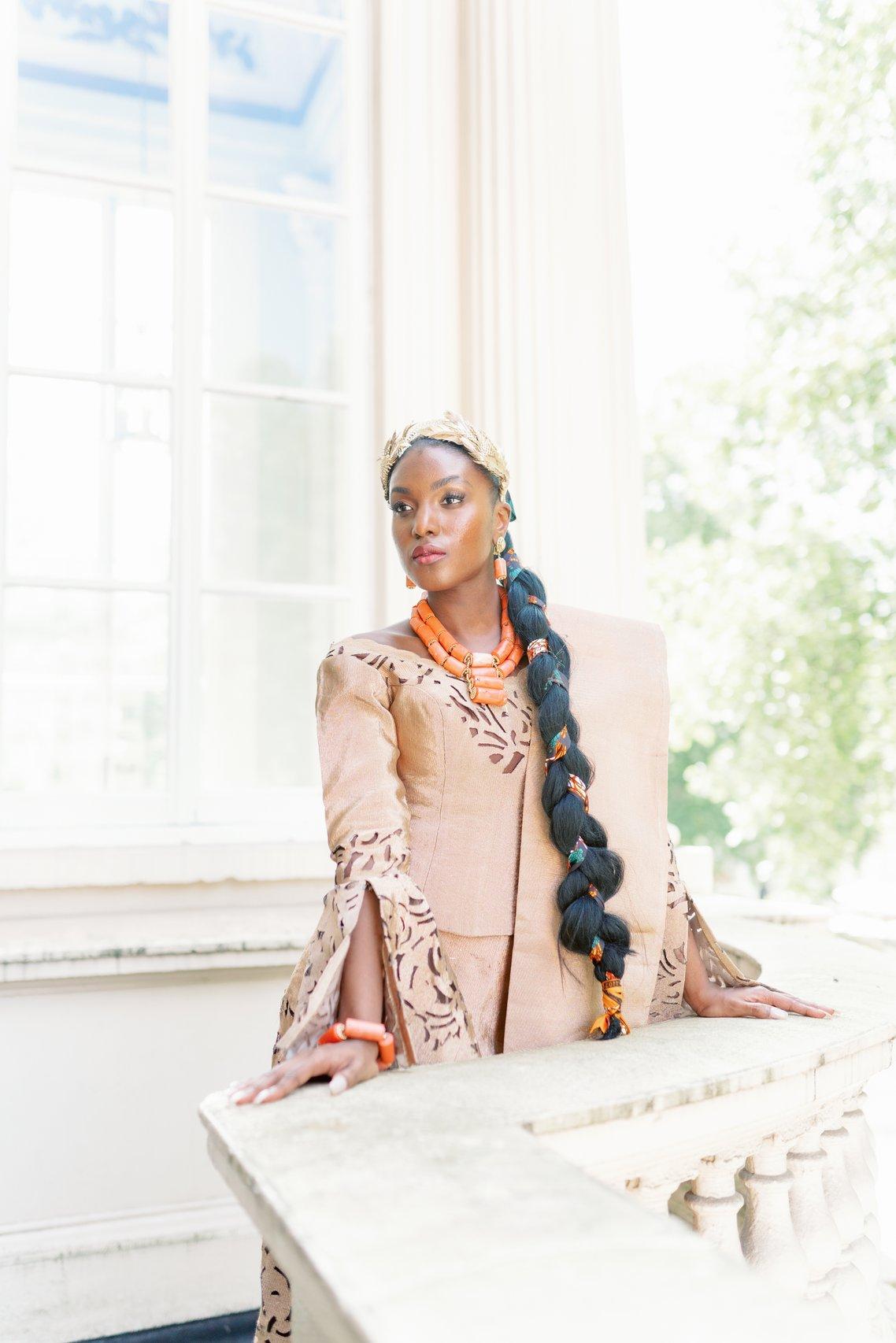 How stunning does this long braid look woven with colourful fabric? We think it's giving major boho vibes, especially when paired with the leafy golden crown.
Boho Wedding Hair Accessories
28. Double Flower Hair Pins – £29, Liberty in Love
For easy boho styling, invest in some flower hair pins that can be dotted through buns, plaits or bubble braids.
29. Bridal Feather Hair Pins – £70 for 3, LHG Design
Florals don't take your fancy? Adorn your 'do with some embellished feather hair pins like these instead.
30. Frances Silk Hair Flower – £28, Chez Bec
Oversized silk flowers like these beauties from Chez Bec can be added to braids or simply pinned to one side of the hair, adding instant whimsical vibes to your look.
31. Pearl Floral Wedding Hair Vine – £185, Debbie Carlisle
Floral hair vines are an ever-lasting alternative to real blooms. We love this sweet daisy inspired pearl vine from Debbie Carlisle.
32. Gold Boho Hair Vine – From £24.78, Vintage Stamp Jewels
We're getting Grecian vibes from this gold leaf hair vine and we're here for it. Entwine it with a messy plait for goddess-like styling.
33. Coco Dried Flower Bridal Fedora Hat – £99, Luna and Wild
A hat is a thoroughly modern and stylish alternative to tiaras and headbands that we think lend themselves perfectly to the relaxed, non-conforming vibe of the boho bride.
34. Maya Boho Bridal Dried Flower Crown
How beautiful is this dried flower crown? Featuring straw flowers, bunny tails and canary grass, it nails the free-spirited flower child vibe. Discover how to make your own flower crown here.
35. Cassiopaea Crystal And Pearl Leaf Boho Bridal Hair Clip – £99.95, Ivory & Co.
Inspired by nature and crafted from gold-plated brass, freshwater pearls and Austrian crystals, this piece will add glamour to any boho hairstyle.
36. Coralie Wedding Hair Vine – £195, Debbie Carlisle
This delicately sparkling crystal and flower hair vine from Debbie Carlisle can be worn at the front or back of the head but we're loving how it looks across the forehead – especially when teamed with softly teased curls.
Boho wedding hairstyles lend themselves perfectly to natural makeup. See for yourself with our beautiful natural wedding makeup ideas.