40+ of the Best Wedding Bouquet Ideas & Advice for Picking Your Blooms
One of the most exciting decisions to make for your special day is your bridal bouquet. Browse these options to discover your perfect floral arrangement
We have included third party products to help you navigate and enjoy life's biggest moments. Purchases made through links on this page may earn us a commission.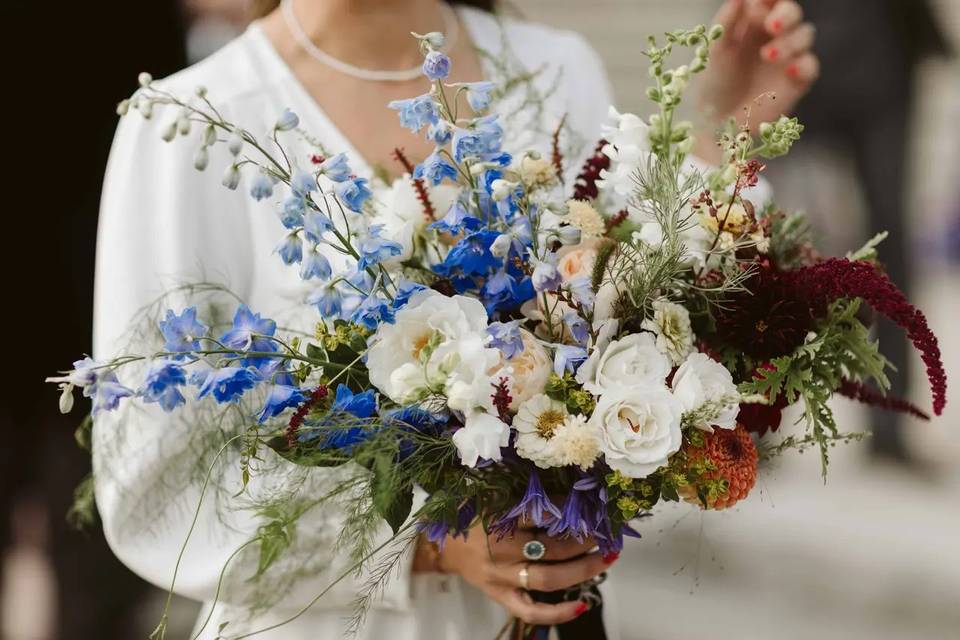 One of the most exciting decisions to make ahead of your wedding day is the type of wedding bouquet you'd like to carry. If you've picked your overall theme and colour scheme, this may narrow down your choices, but it's still easy to be overwhelmed by all the different wedding bouquet ideas out there.
From simple wedding bouquets to spring wedding bouquets, there are wedding flowers out there for everyone. You may also want to consider dried wedding bouquets or faux flowers, if you want a longer-lasting solution.
Stephanie Aitken from wedding florist Dotty and Bramble revealed this year's biggest wedding bouquet trends, saying: "A trend I have noticed getting bigger is the 'modern' bouquet. This style again can be versatile in shape, its main feature is the use of only one or very few flower types. More often than not a modern bouquet won't have any foliage at all and it is usually all one colour/tonal in colour, this tends to be white or cream in most cases. It's a beautiful style bouquet and creates a big impact even though the use of flowers can be minimal."
She also suggests that when it comes to choosing your wedding bouquet to opt for what is in season: "Not only will you get the most from your budget but you will also get the best quality of flower possible."
We've sourced even more top tips from experts about choosing your wedding bouquet, and picked out 43 of the best bridal bouquet ideas in all colours, textures, and sizes. These ideas will undoubtedly serve as a great source of inspiration for picking your blooms, and also make it easy to show your wedding florist exactly what you are hoping for.
Be sure to check out these wedding flower meanings too for even more information.
The 43 Best Bridal Bouquet Ideas
Simple Wedding Bouquets
1. Delicate & Ditsy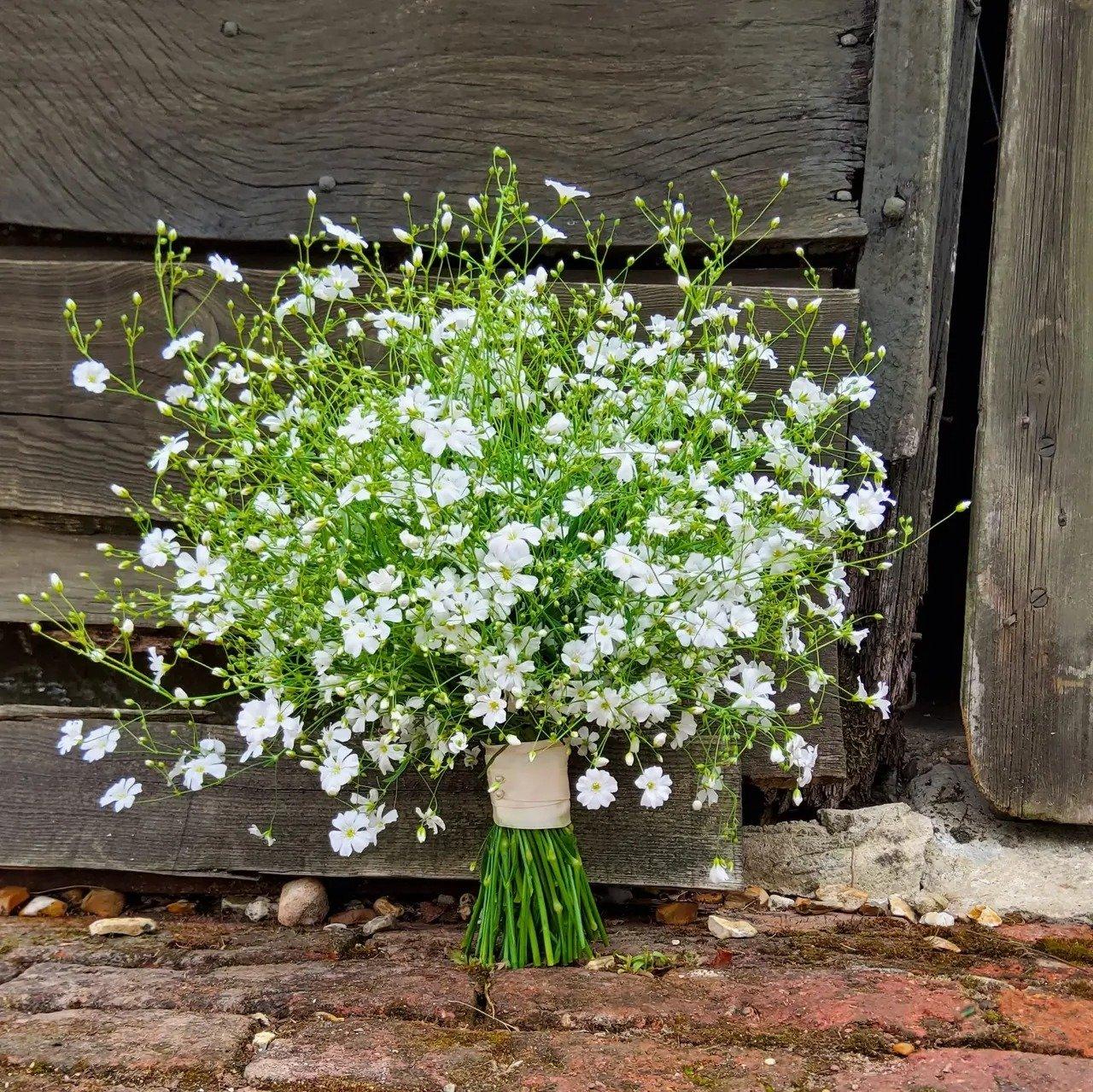 Simple wedding bouquets are often a lot more affordable than elaborate designs, especially if you choose just one variety of flower. We love how fresh, light and pretty this delicate arrangement looks.
2. Fresh Peonies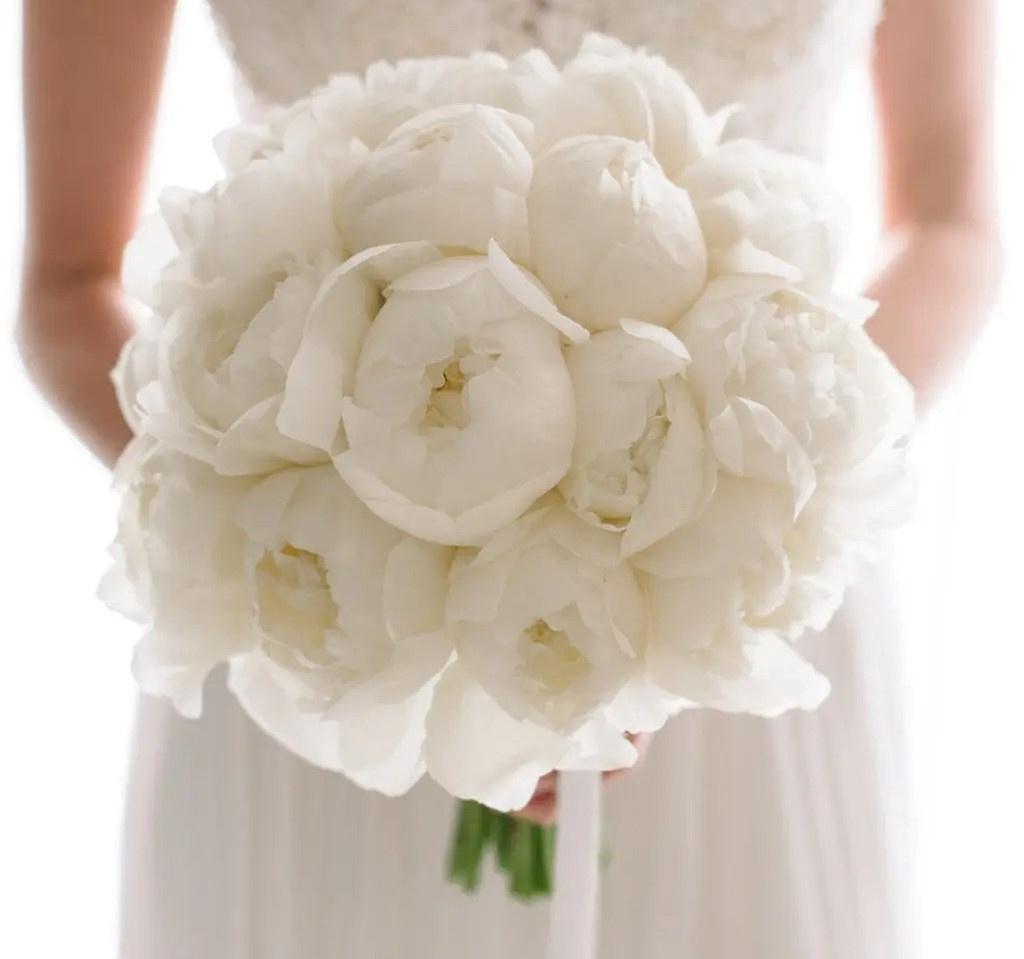 Peonies represent a happy marriage and good health so why not have a whole bunch of them for your wedding bouquet. They also happen to be one of the most Instagrammable blooms around...
3. Timeless Choice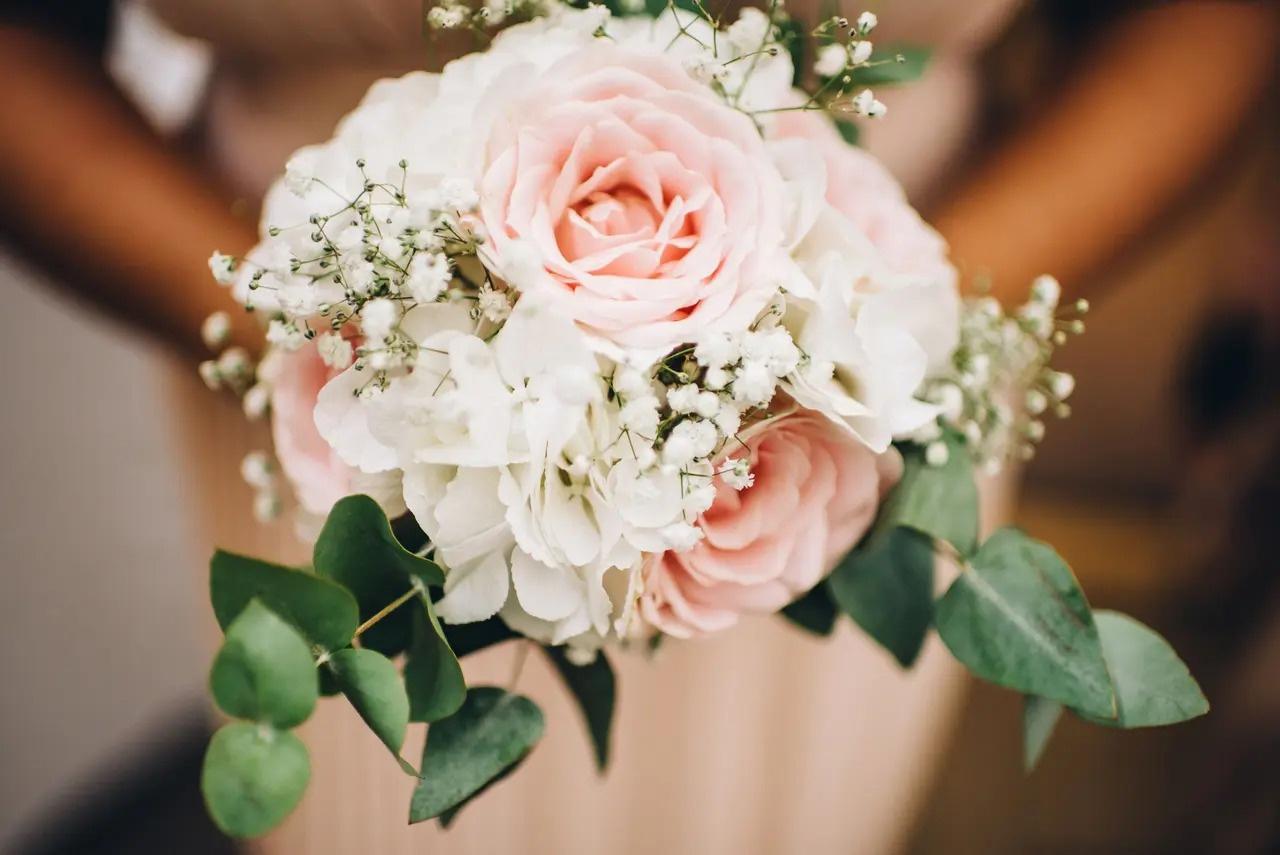 Pink and white wedding bouquets are timeless and will work with all kinds of themes. Sticking to just a few pretty flowers accompanied by some greenery is all you need for a gorgeous arrangement.
4. Pink Halo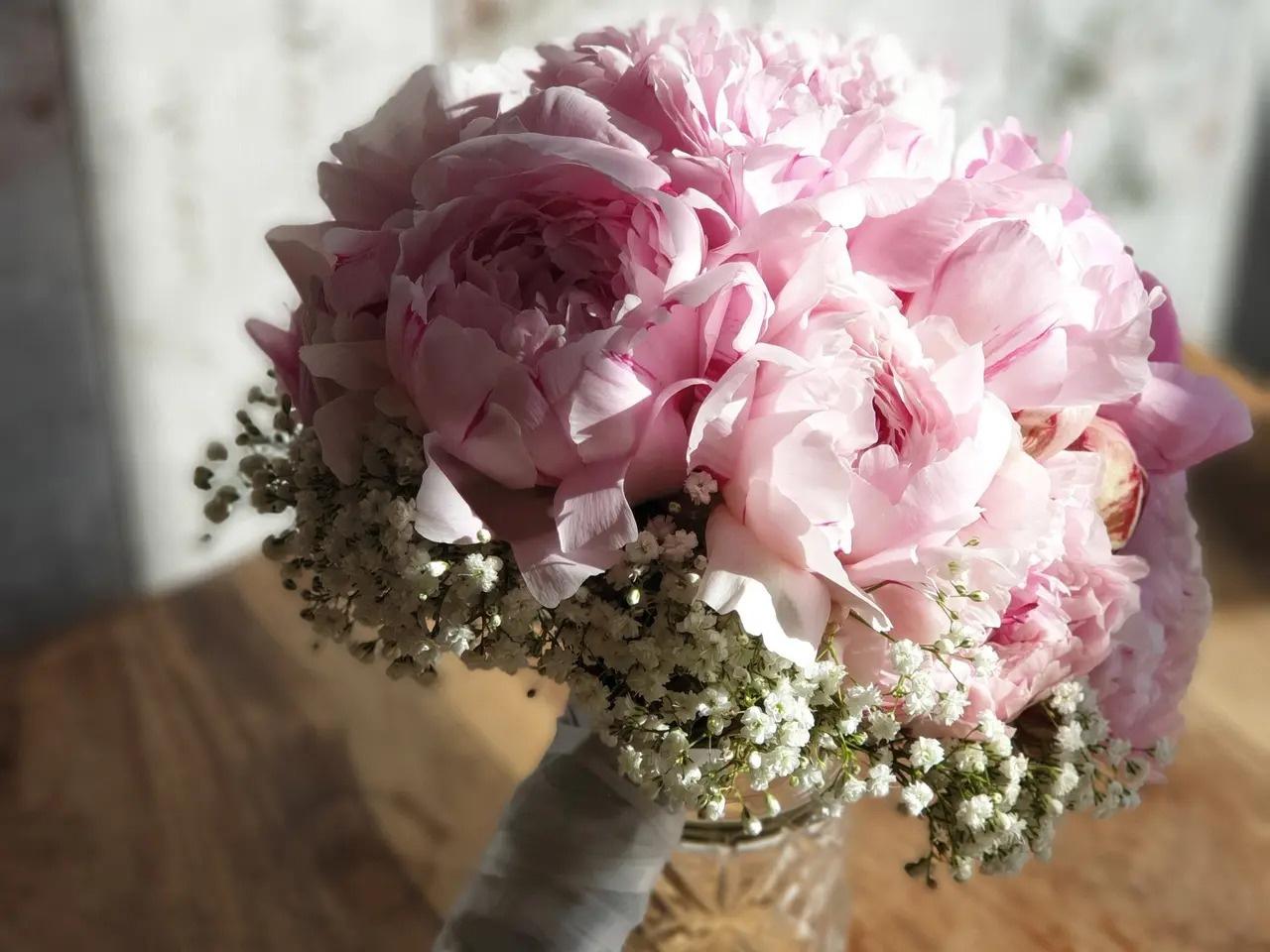 Peony wedding bouquets are a popular choice with couples as the blooms are so pretty on their own they hardly need any company. This posy has a beautiful halo of baby's breath that allows the star of the show to do all the talking.
5. Pretty Rustic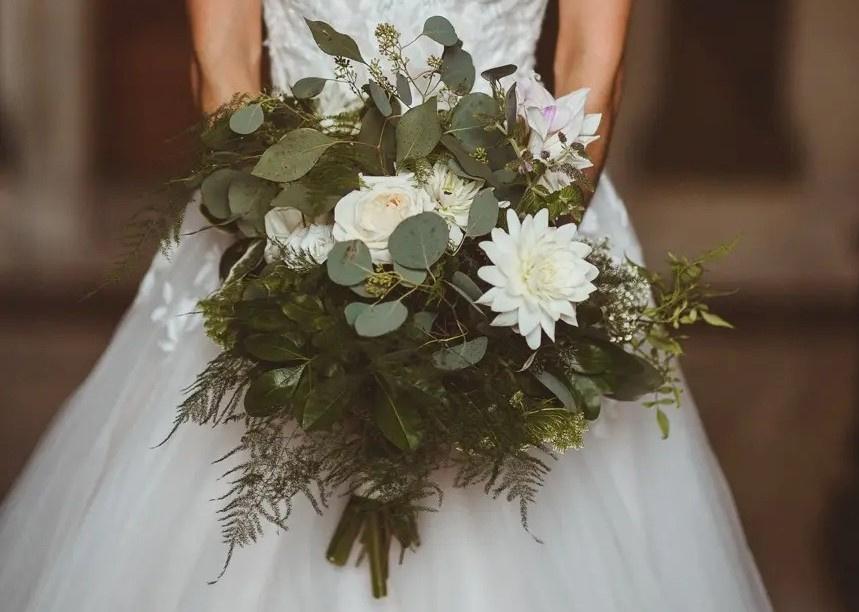 With a rustic layer of green leaves and ferns acting as the backdrop to a few statement white blooms, this simple wedding bouquet is relaxed yet has a glamorous and pretty touch.
READ MORE: 29 Wildflower Bouquet Ideas
6. Happy Blooms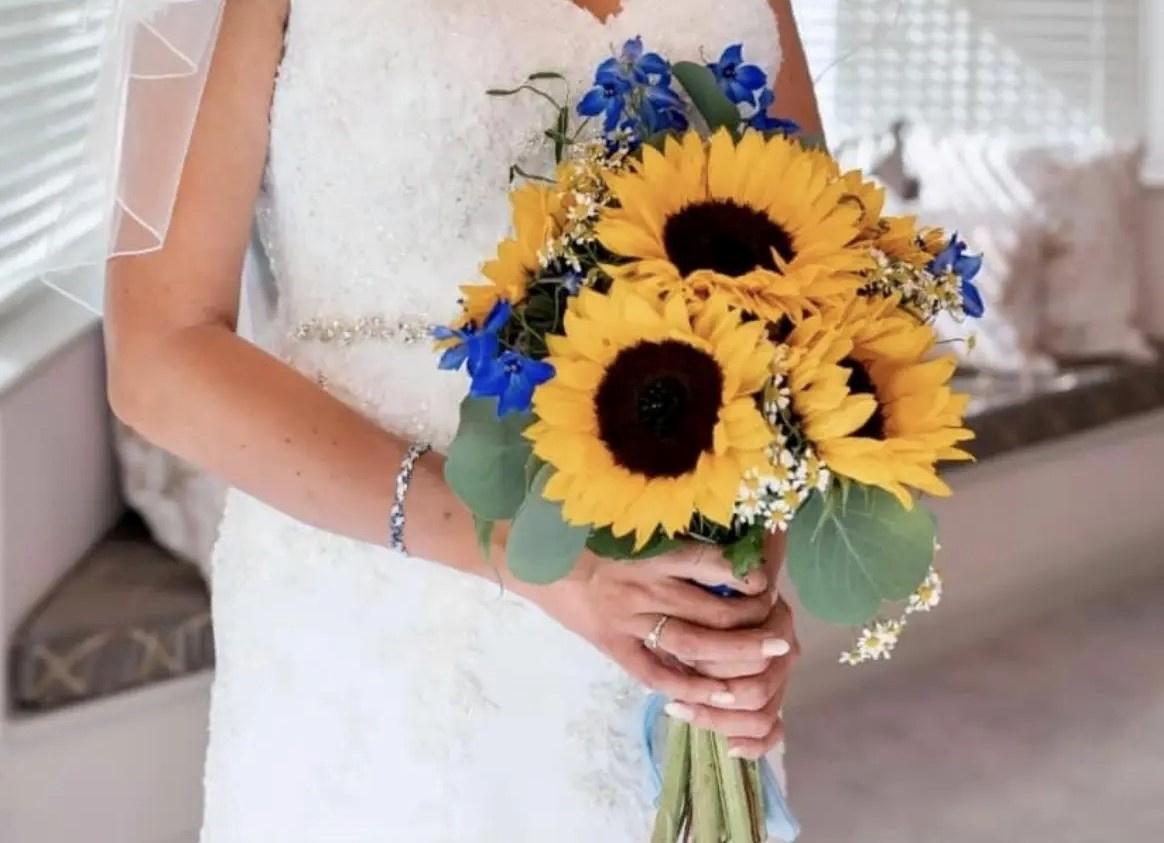 Sunflower wedding bouquets will instantly brighten your wedding day look with minimal effort required. This bride simply has six sunflower stems yet the big flower heads allow for a larger-looking bouquet.
7. Go Green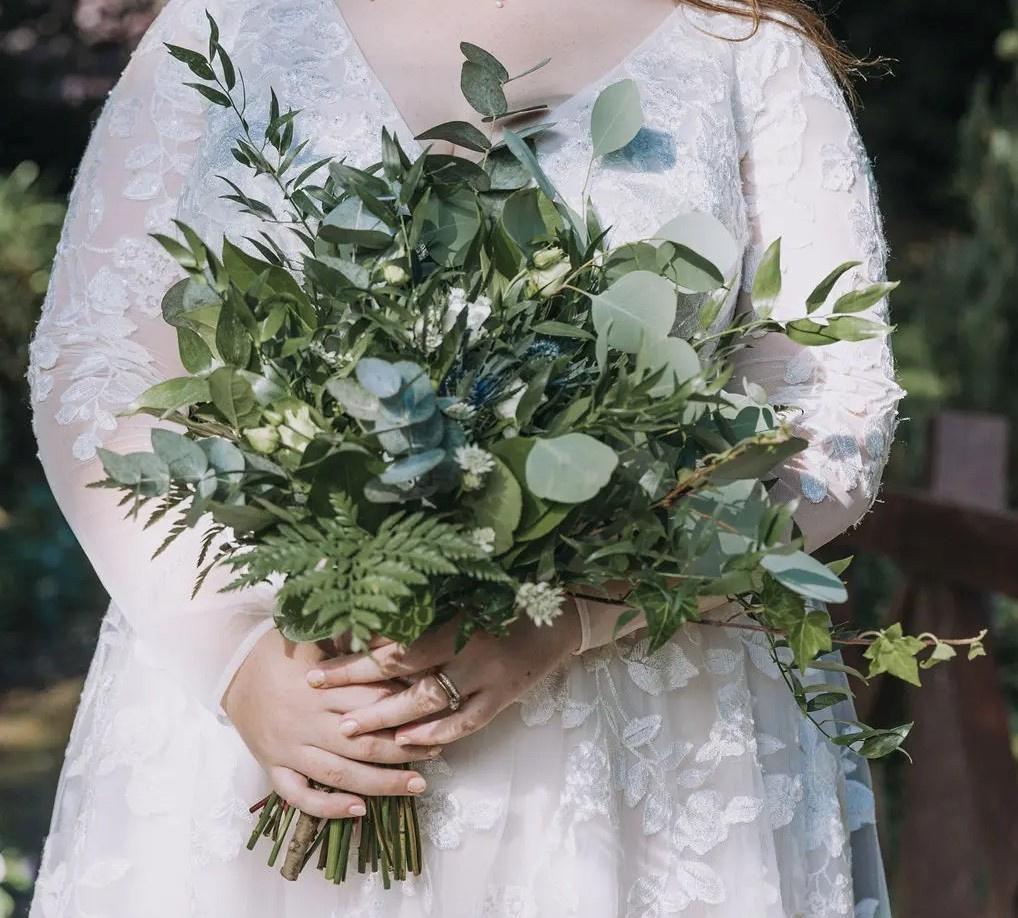 Who says your wedding bouquet has to include flowers? A fresh bunch of gorgeous greenery, including fern and ivy will look amazing if you are wearing white. We can picture this bridal bouquet idea at a woodland wedding venue.
Modern Wedding Bouquets
8. Clever Colours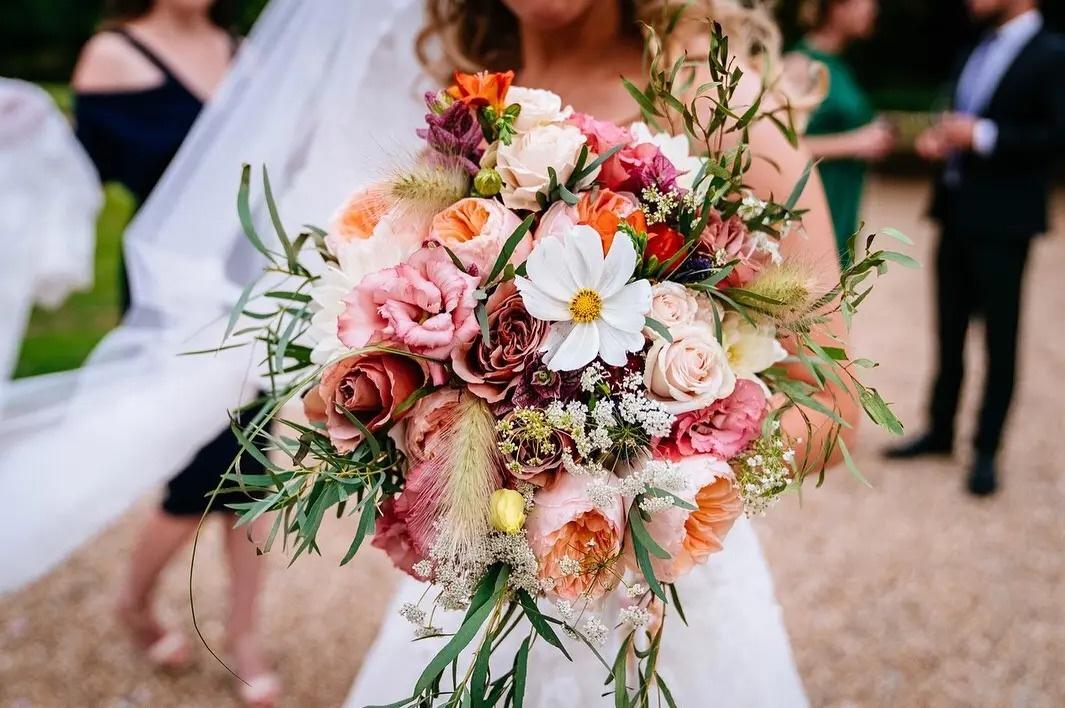 This modern wedding bouquet has a clever tonal colour palette that features varying shades of pinks, from soft peach shades to vibrant coral. It works wonderfully alongside the pops of white and green.
9. Mix & Match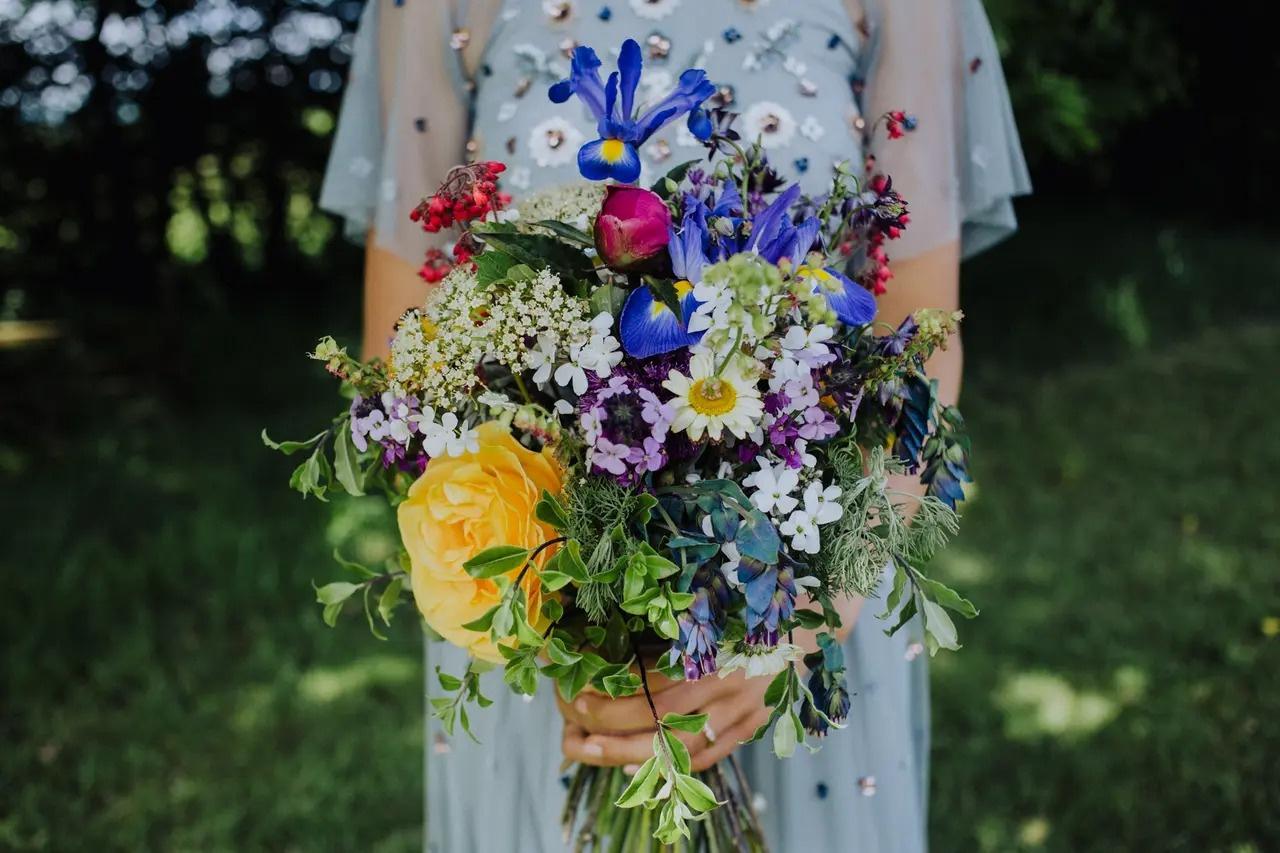 There are no rules when it comes to modern wedding bouquets and we love the idea of contrasting colours and textures. Vibrant blue irises paired with bright yellow roses and delicate lilacs? Dreamy!
10. Modern Romance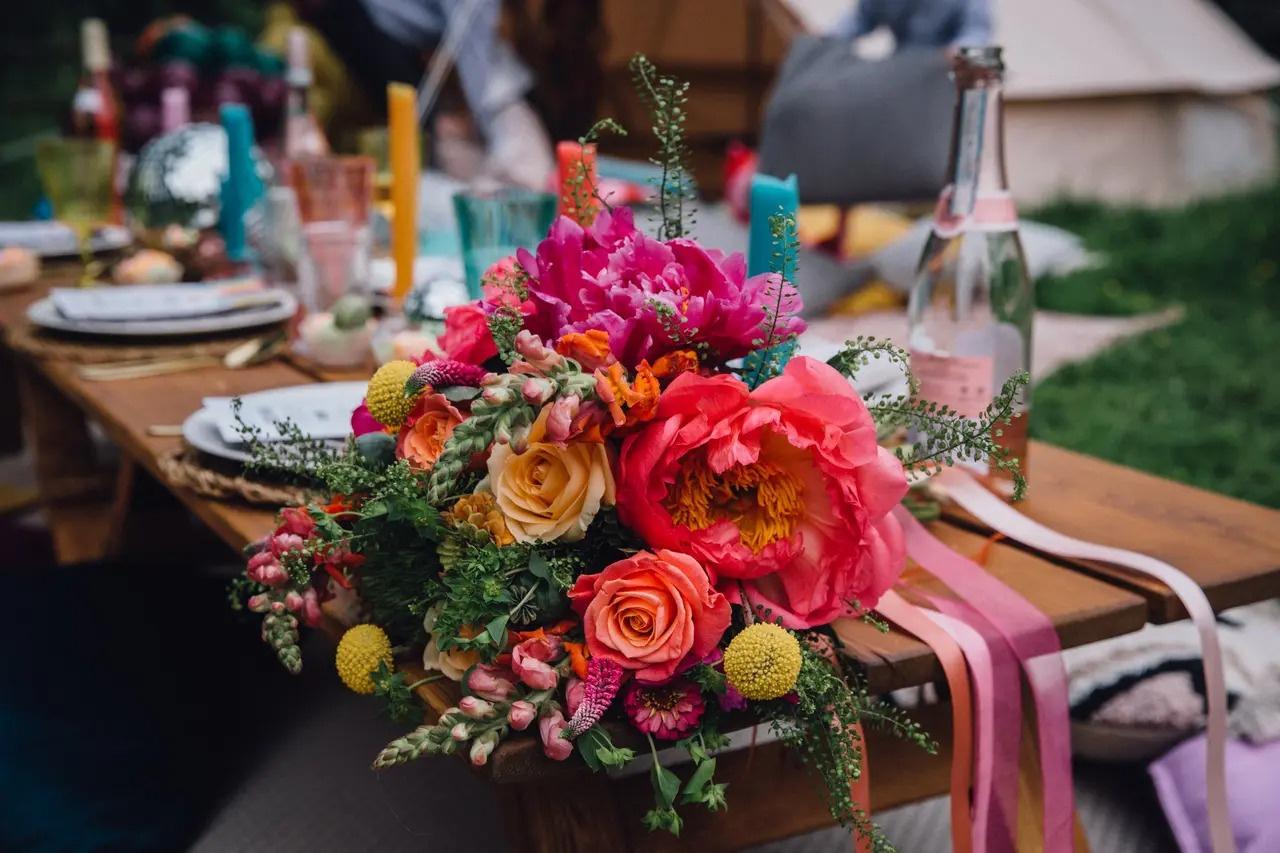 Pink is a really romantic colour to pick for your wedding bouquet - this arrangement has been given a modern makeover with the addition of ruffled peonies, contrasting yellow craspedia and rustic ribbons.
READ MORE: The 23 Must-Ask Questions for Your Wedding Florist
11. DIY Bouquet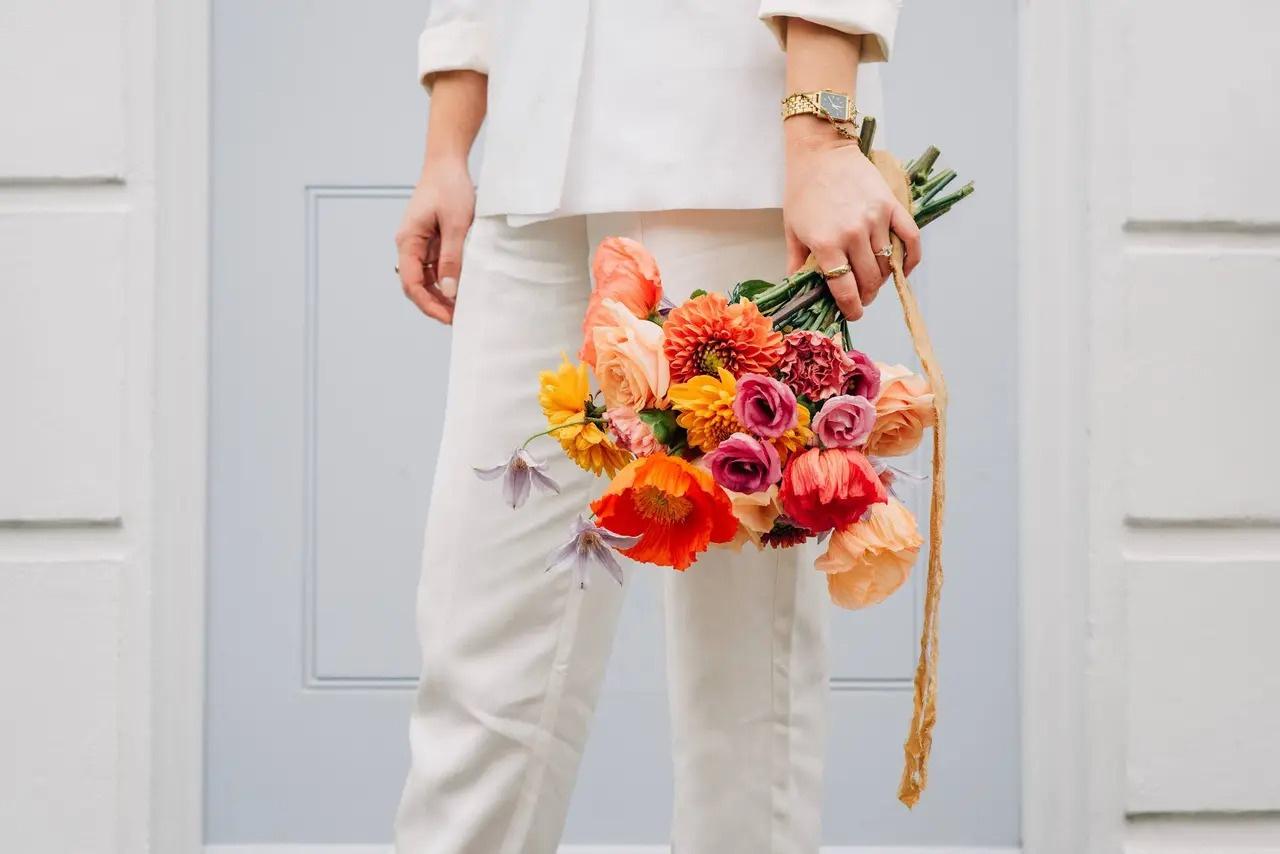 If you are looking to cut costs, consider making your own wedding bouquet. This bright idea features single stems in gorgeous shades of orange, pink and yellow and would be super easy to recreate yourself.
12. Statement Stem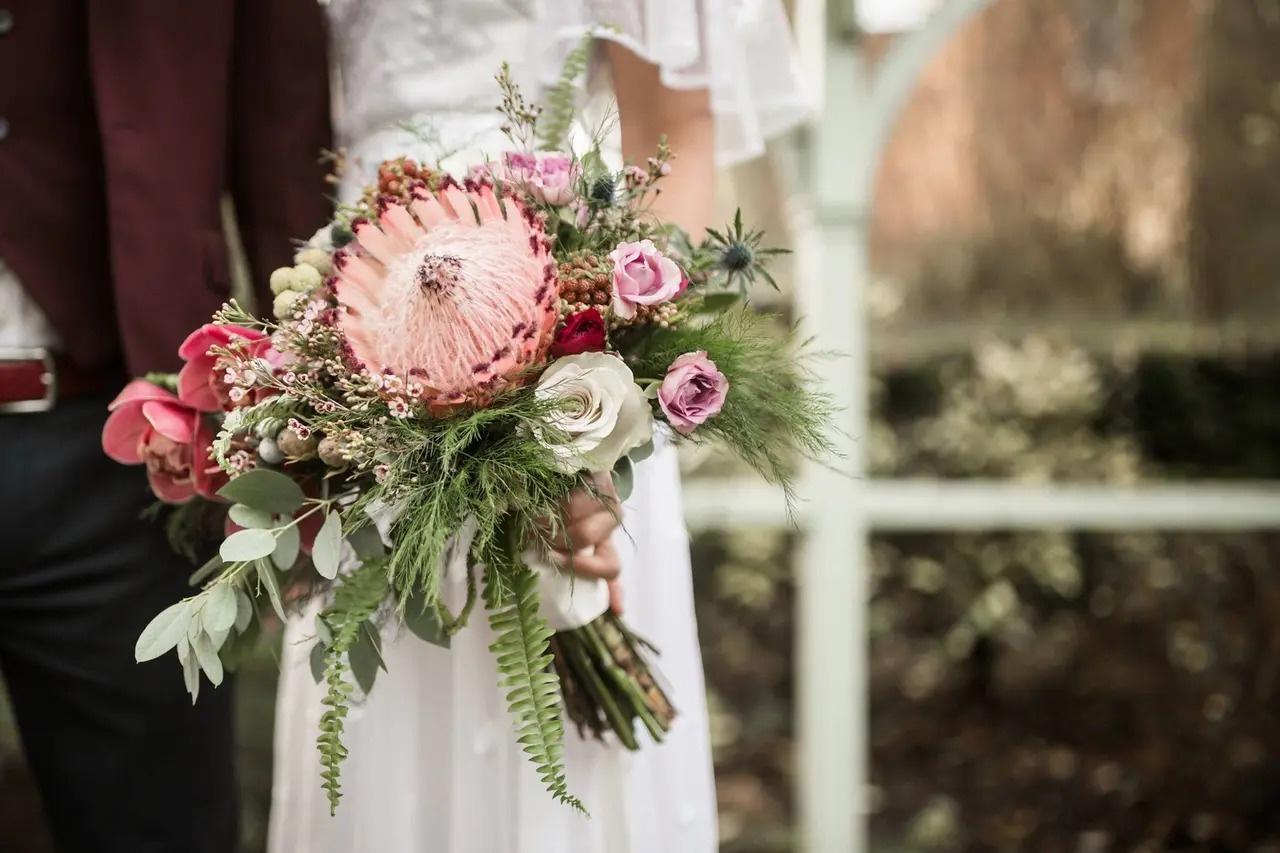 Choosing one large bloom to be the star of the show is a lovely idea - this modern wedding bouquet features a pink queen protea flower which is a beautiful and unique choice.
13. Something Blue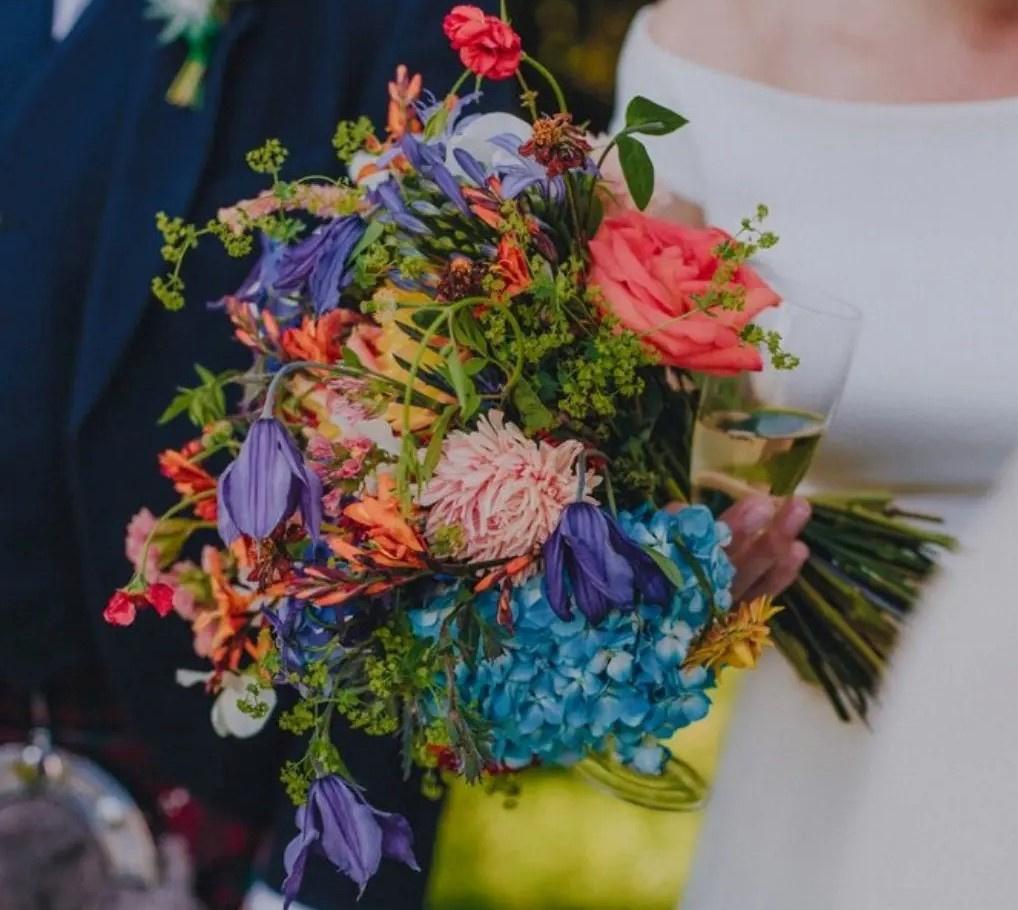 A brilliant idea for incorporating 'something blue' into your wedding day is by using blue flowers in your wedding bouquet. In this case, the bride has opted for sky blue hydrangeas.
14. Tropical Touch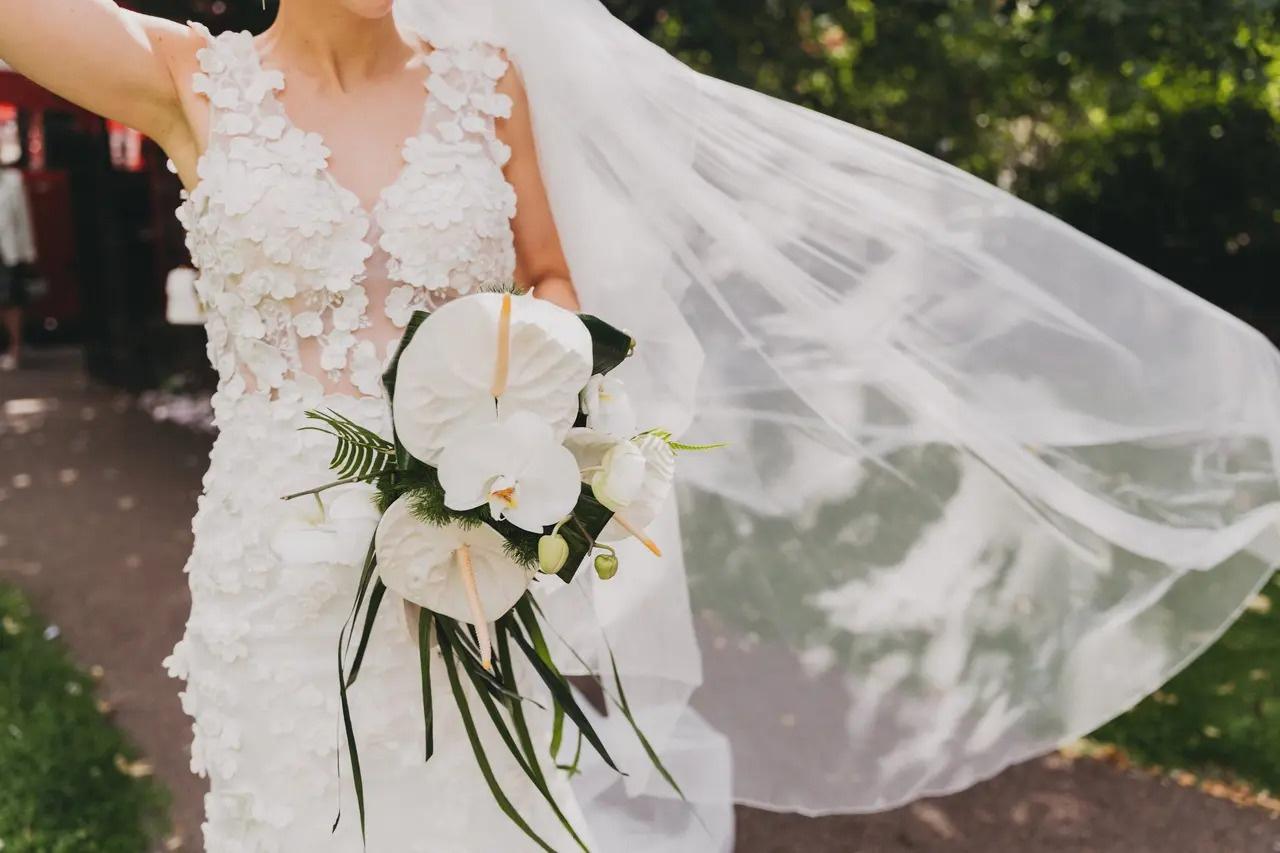 Whether you're getting married abroad or tying the knot closer to home, a modern idea for your wedding bouquet is to go for tropical blooms. Otherwise known as the flamingo flower, an arrangement featuring white anthuriums is sure to impress.
15. Dahlia Dream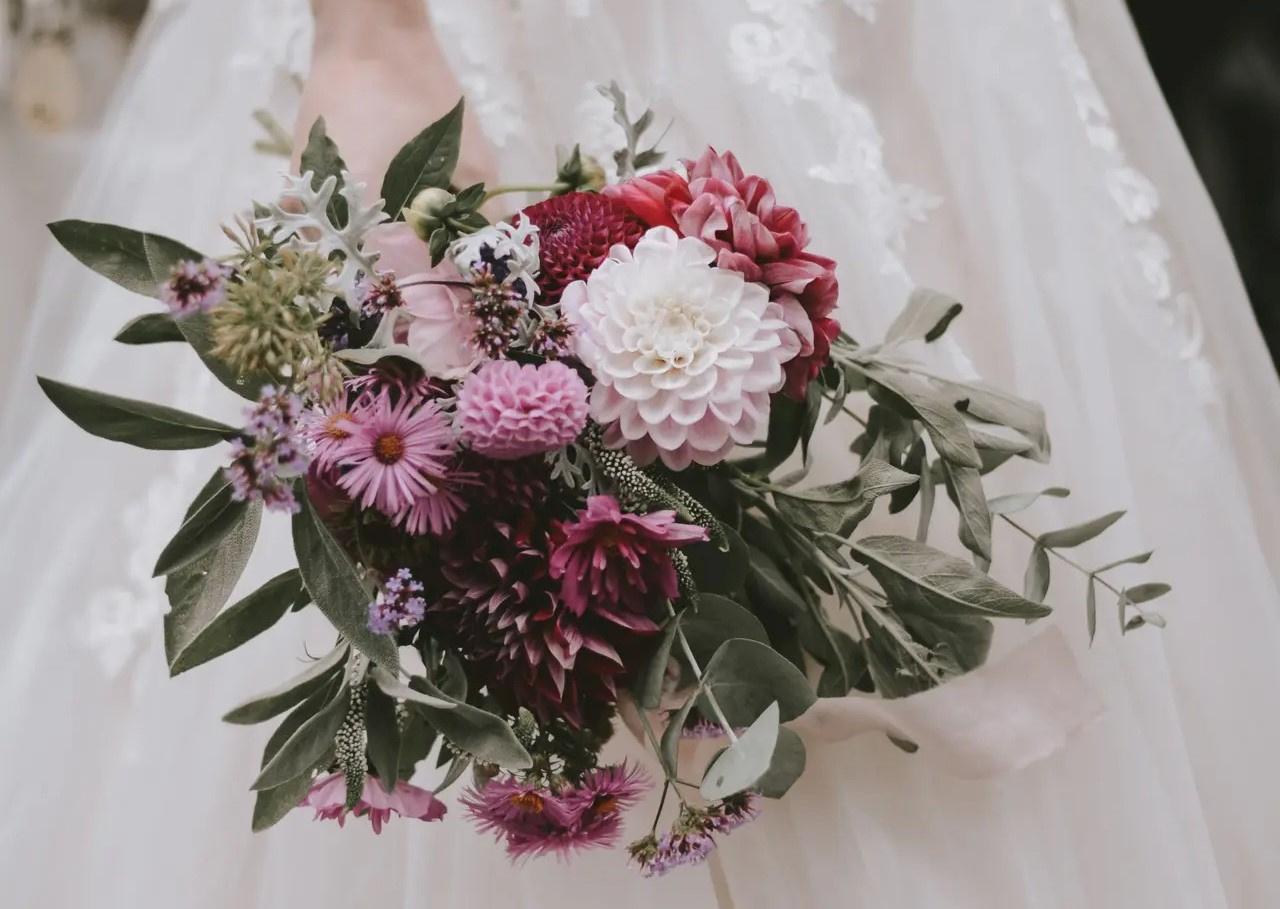 Dahlias are a beautiful wedding flower choice and they are available in almost every colour. We adore the soft hues of pink used here, alongside the sage greenery.
READ MORE: 20 Fabulous Hanging Wedding Flower Ideas
16. Trailing Treasure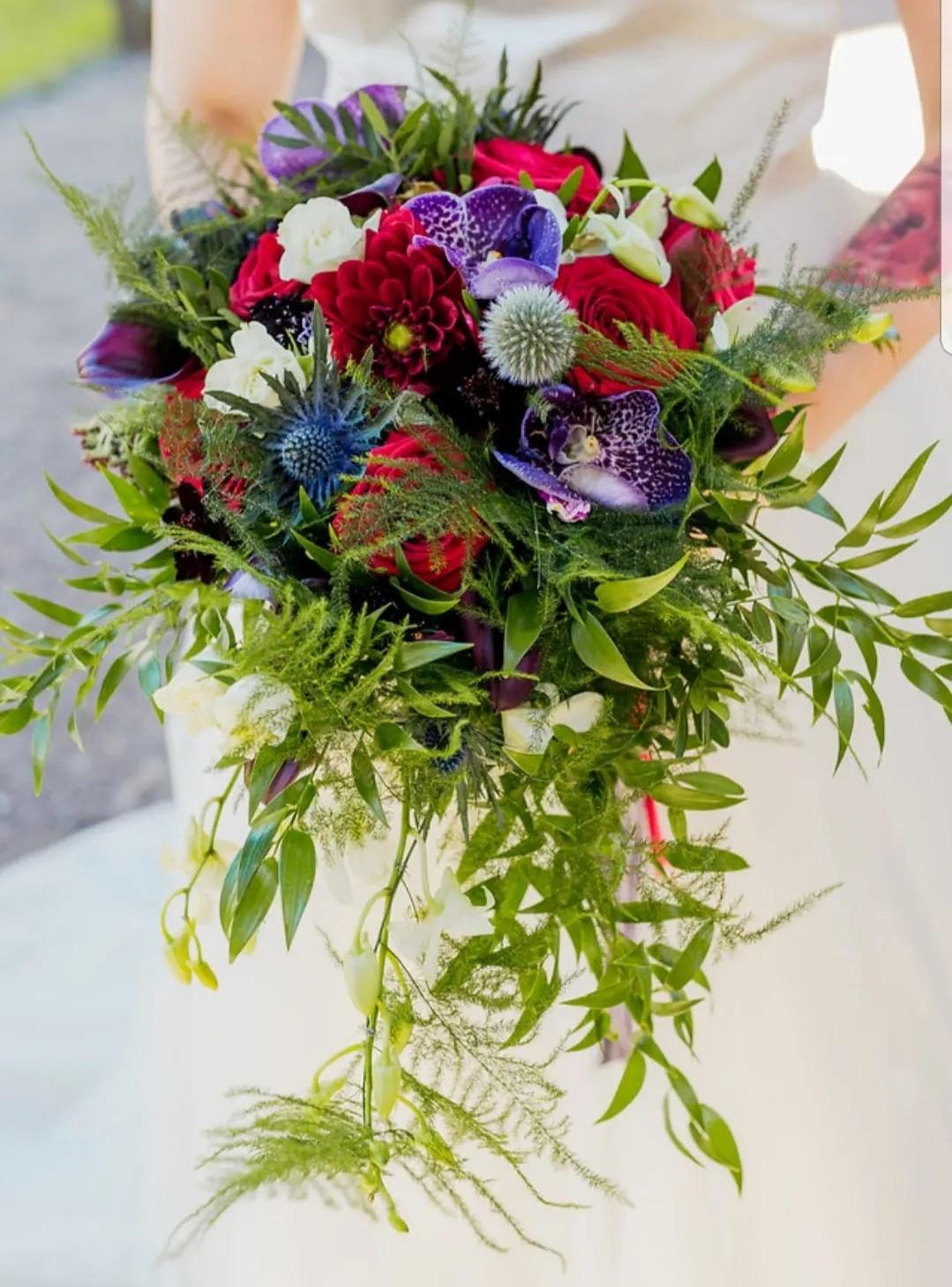 A cascading wedding bouquet is a modern alternative to a traditional arrangement - this bouquet features orchids, thistles and roses in regal colours. It's fit for royalty!
17. Rainbow Connection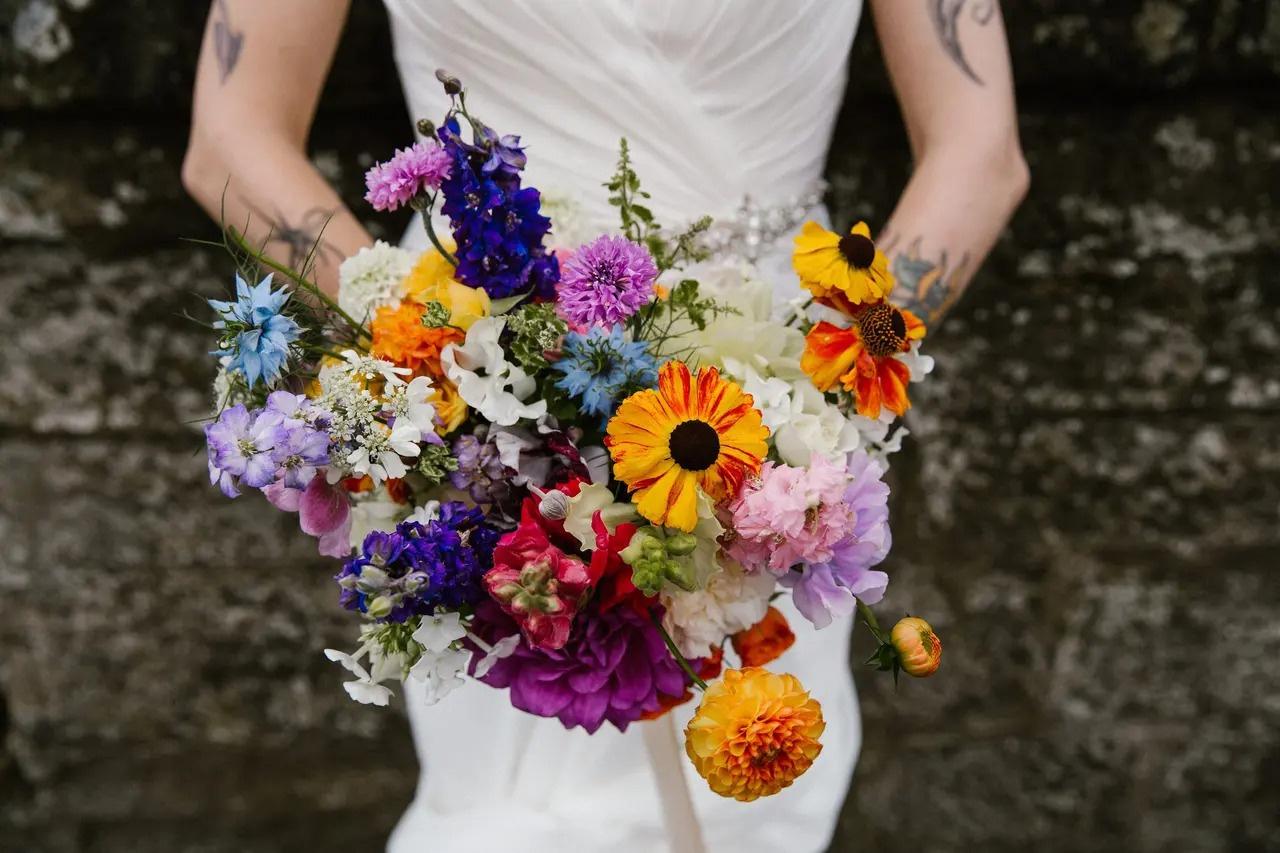 Contrasting bright flowers with pretty pastel petals make for a rainbow wedding bouquet that we can't get enough of! This modern wedding bouquet will look amazing in your photographs.
Silk Flower Wedding Bouquet Ideas
18. Blooming Blue
Not only do silk flower wedding bouquets look spectacular, they allow you to pick flower colours that you might find hard to source. Take this cascading blue bouquet - it's so vibrant.
19. Faux Real
We bet your wedding guests will have no idea that this wedding flower bouquet is crafted from beautiful silk. Available in different sizes, it is handmade and each arrangement is unique.
20. Peony Pick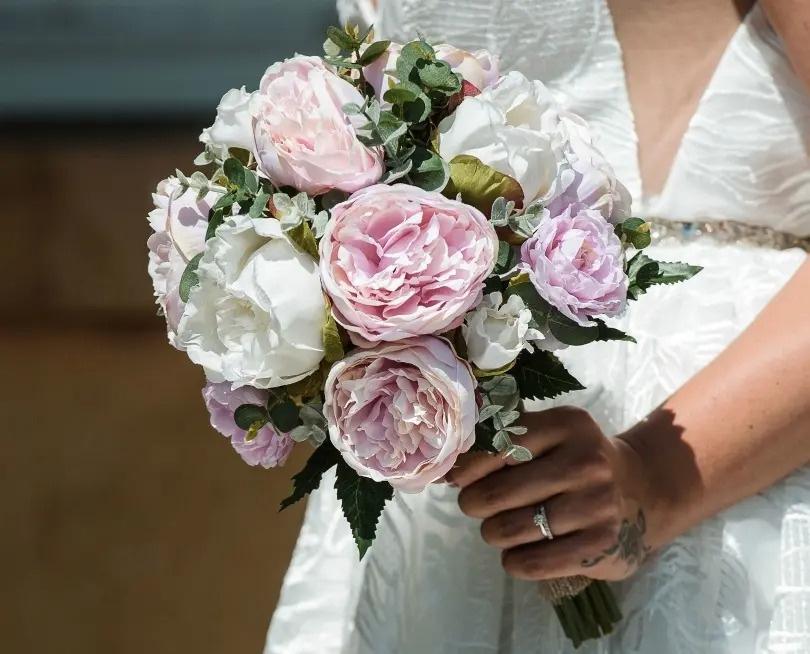 Thanks to their gorgeous ruffled petals, peonies make for a lovely silk flower wedding bouquet. Mix it up with white and pink for a soft and romantic feel.
READ MORE: How Much Do Wedding Flowers Cost?
21. Matching Makeup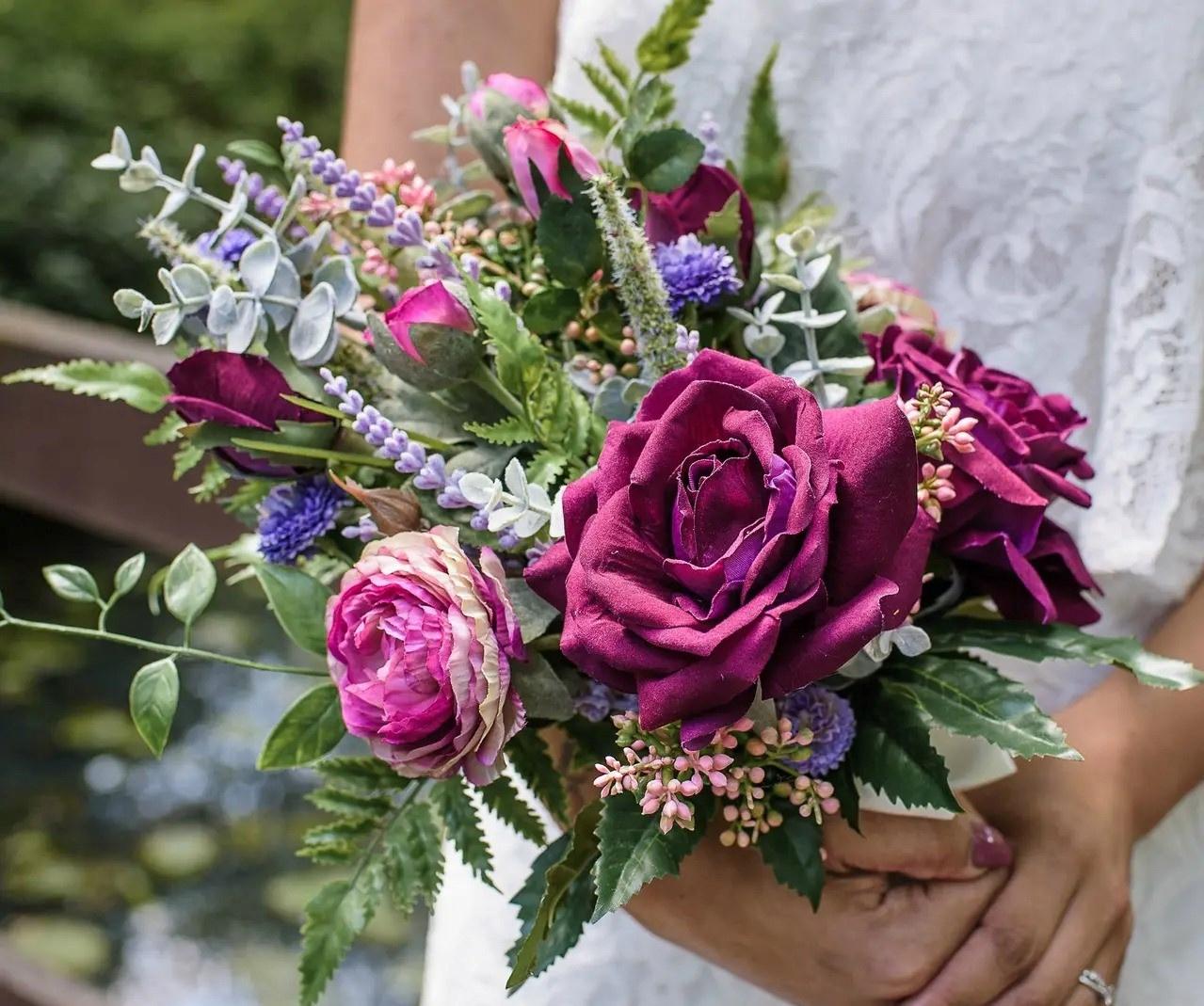 We love how this bride has matched her wedding nails to her blooms. When it comes to bridal bouquet ideas, this one is up there with the most stylish.
22. Lush Luxury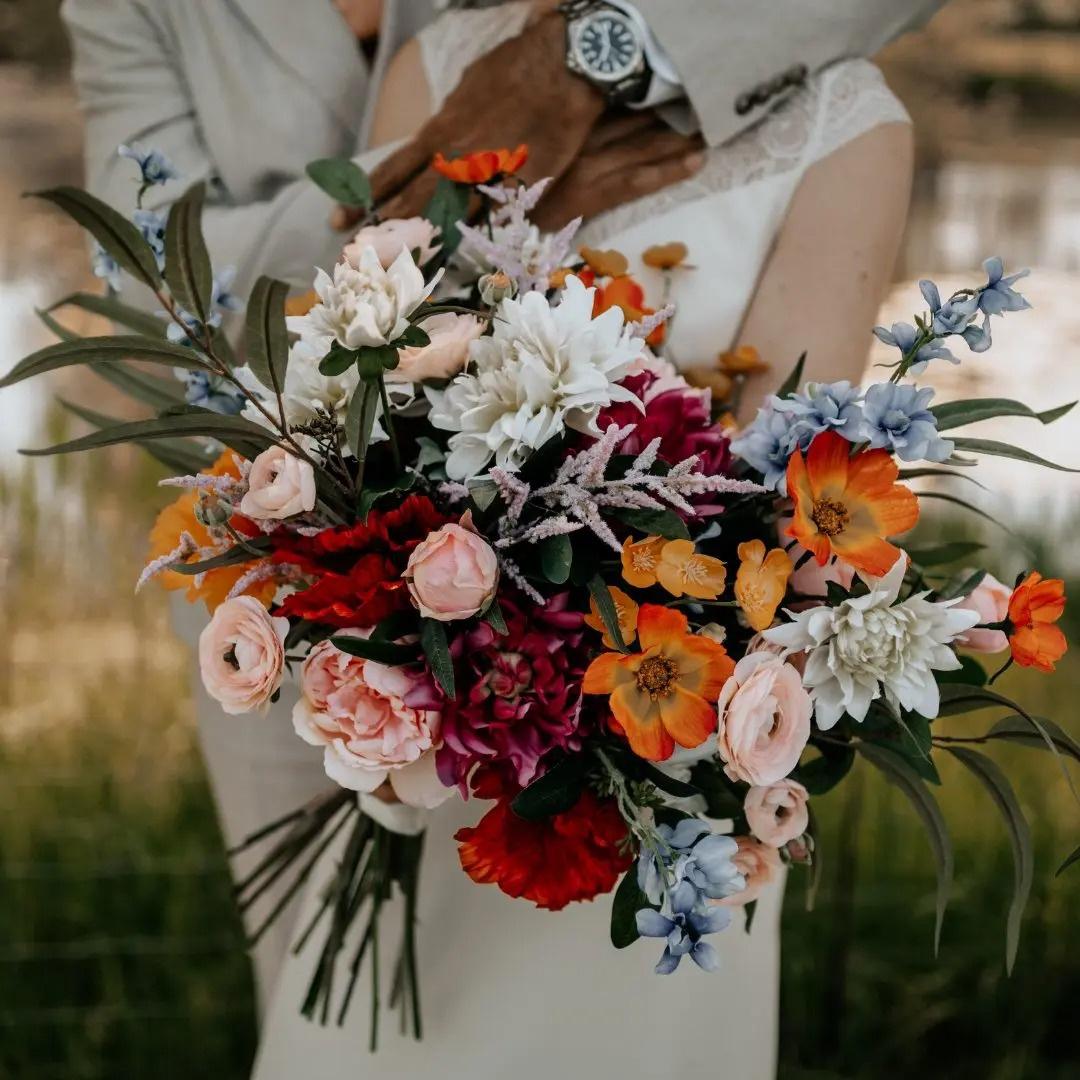 A silk flower wedding bouquet will look just as amazing at your ceremony as it will at your reception - with no need for a water spritz! A design like this one is seriously luxe for a lot less than fresh flowers.
Dried Wedding Bouquets
23. Country Chic
This handmade dried flower wedding bouquet is crafted from country flowers straight from the Shropshire Petals farm. It's the ideal choice for a rustic, barn wedding venue.
24. Vintage Vibe
A dried wedding bouquet posy is such a pretty choice. This vintage style arrangement includes bleached white wheat, oats, hydrangea and daisies, plus is finished off with pink linen wrap.
25. Trendy Neutrals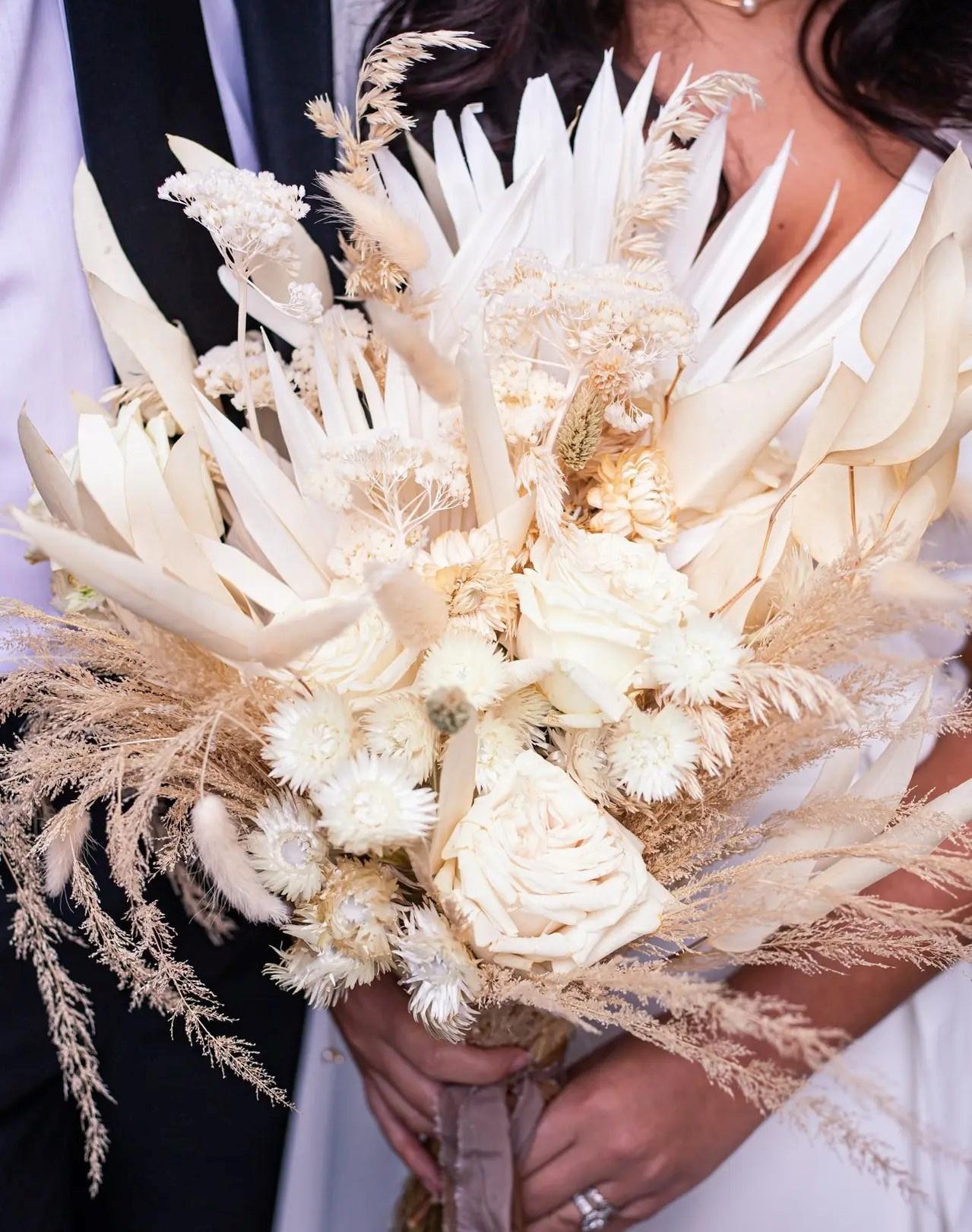 Make your dried wedding bouquet even trendier by opting for a neutral colour palette. This stunning arrangement will look amazing in your home long after the wedding day.
READ MORE: Why Dried Wedding Flowers Make the Coolest Wedding Décor
26. Cotton Top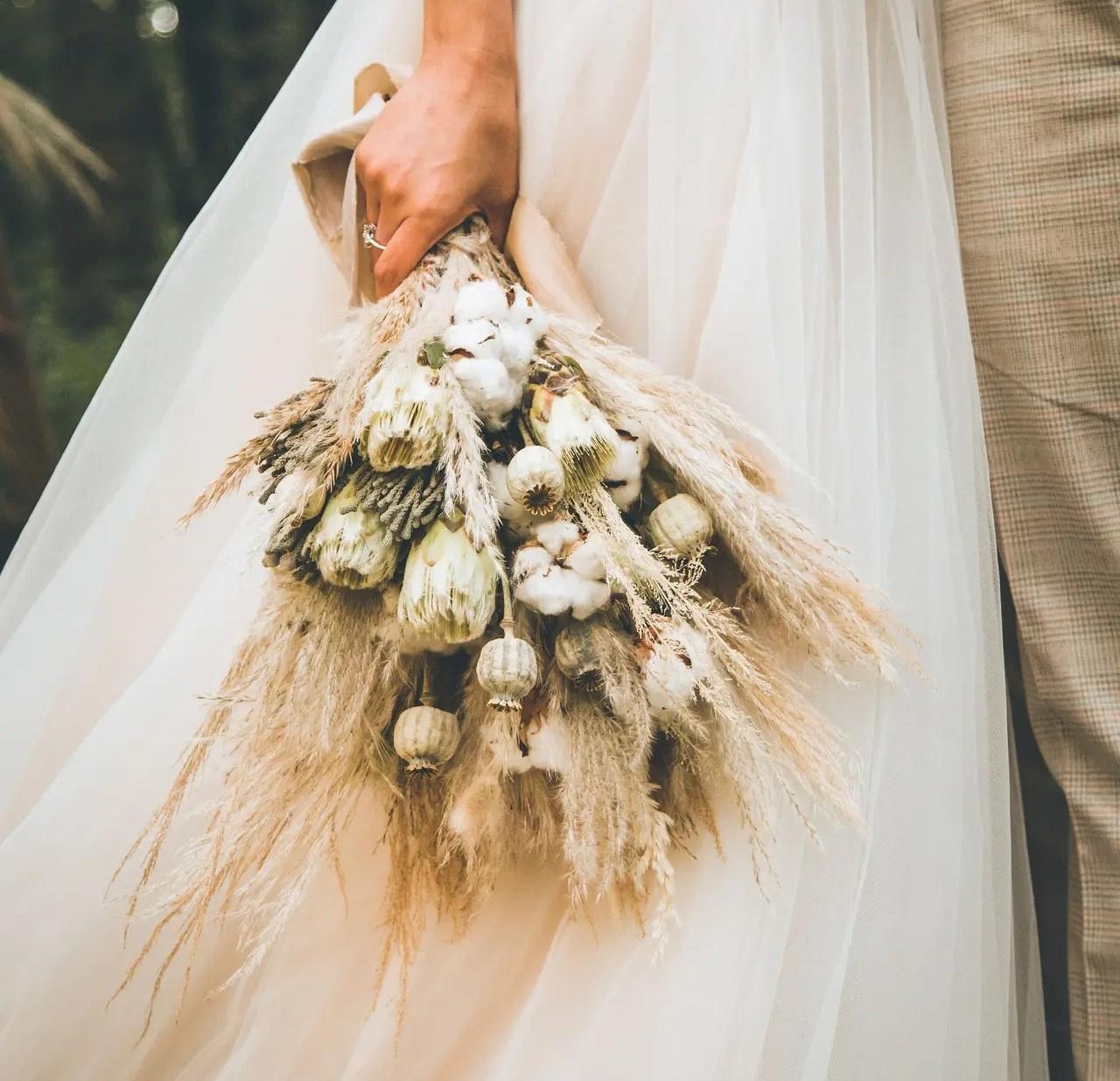 Bursting with dried grasses, poppy seed heads and cotton buds, this bridal bouquet idea is heavenly. If you're a fan of the pampas grass trend it'll be right up your street.
27. Festival Fun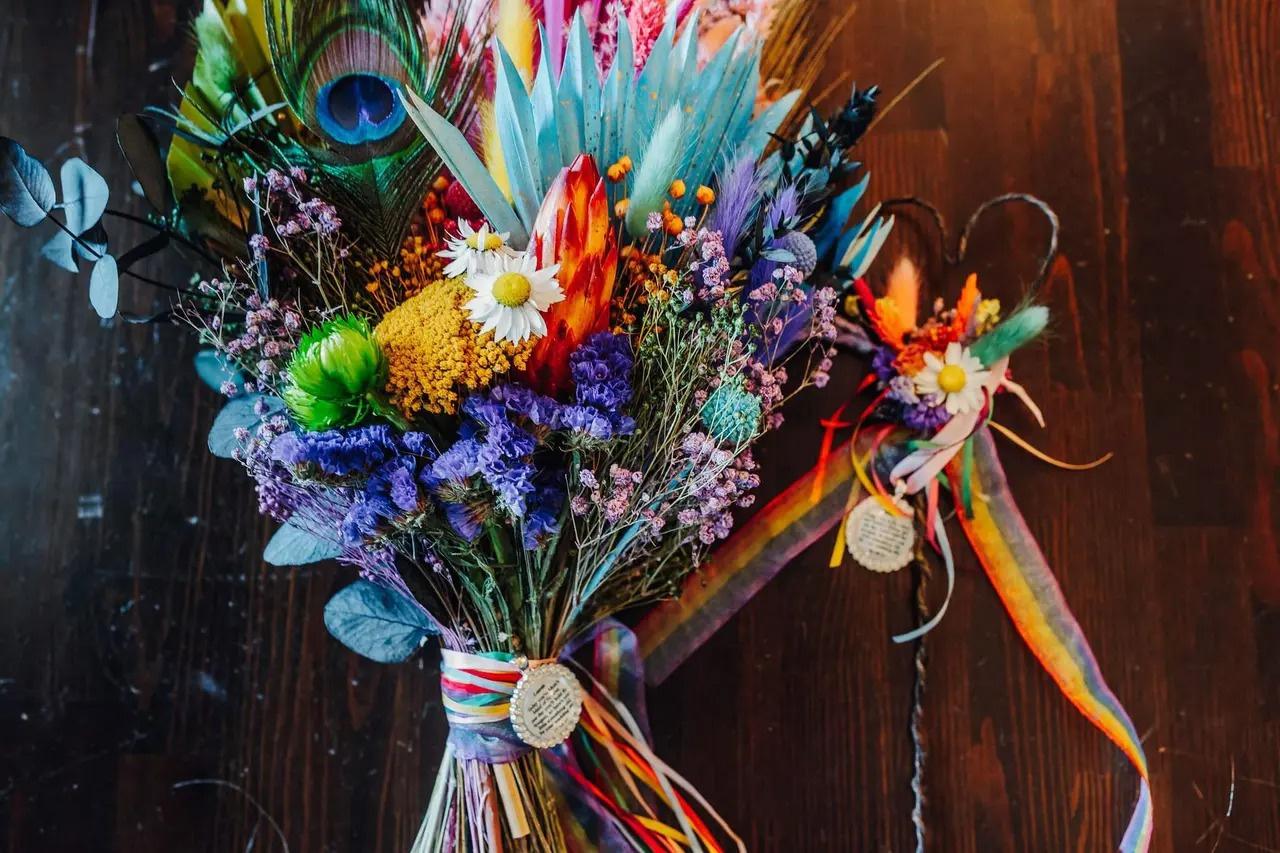 Getting hitched at a festival wedding venue? This explosion of colour is the finishing touch your wedding outfit needs. From the pretty peacock feather to the rainbow ribbon, it's sensational.
Autumn Wedding Bouquet Ideas
28. Burgundy Blush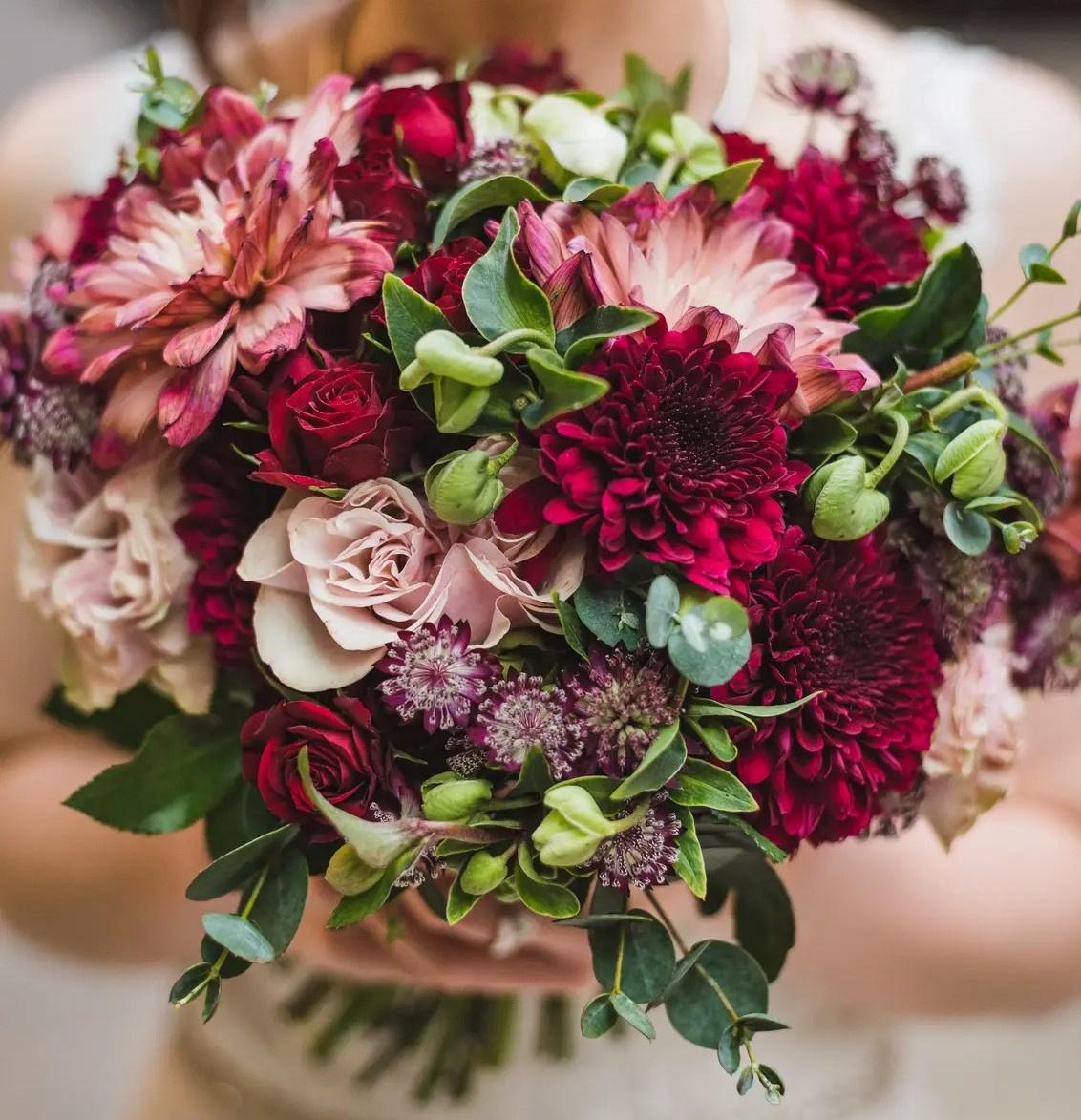 Don't be afraid to use deep shades in your arrangement - especially if you are looking for autumn wedding bouquet ideas. Lush hues of burgundy will really pop against dark greens.
29. Wild Thing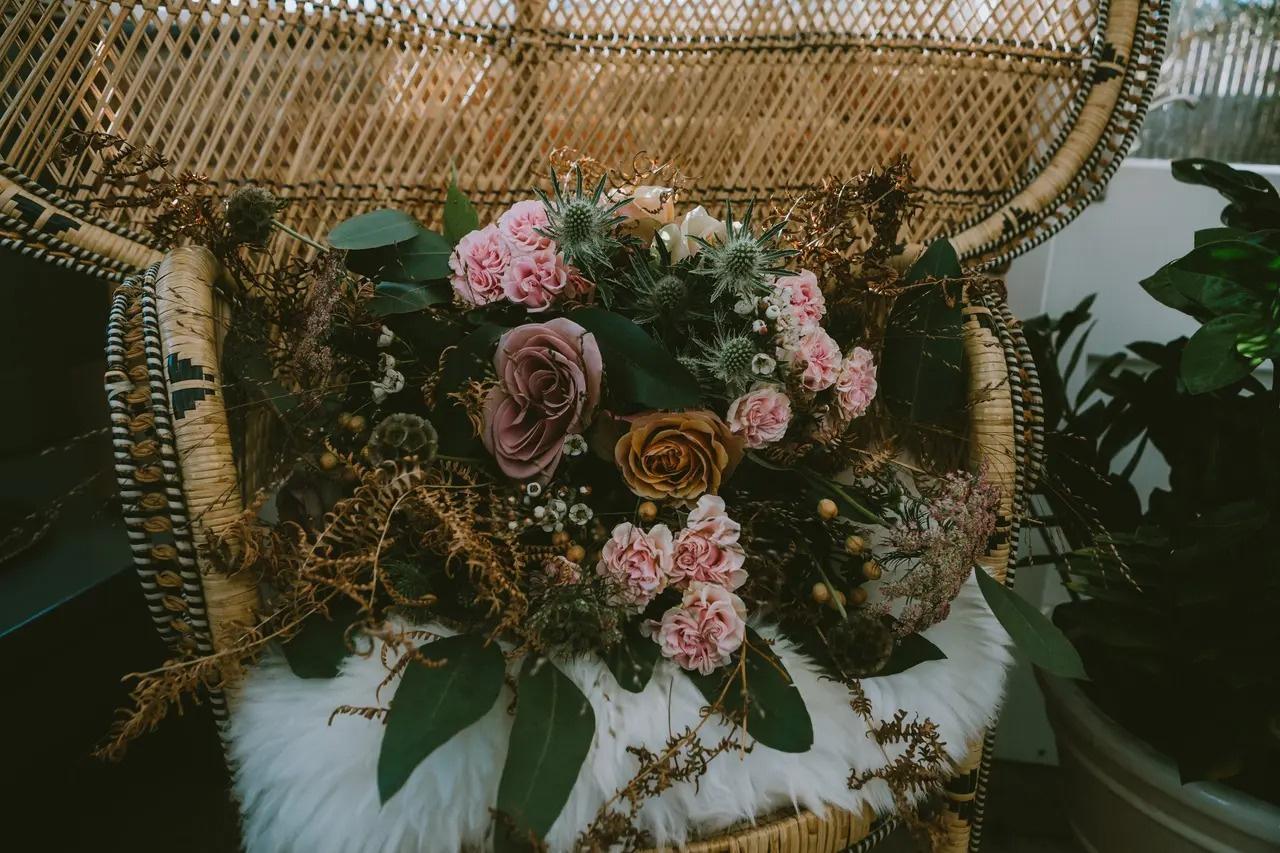 We adore the mixture of fresh pink blooms with dried fern leaves - it perfectly represents the transition between summer to autumn as the leaves begin to change colour.
30. Sweet Posy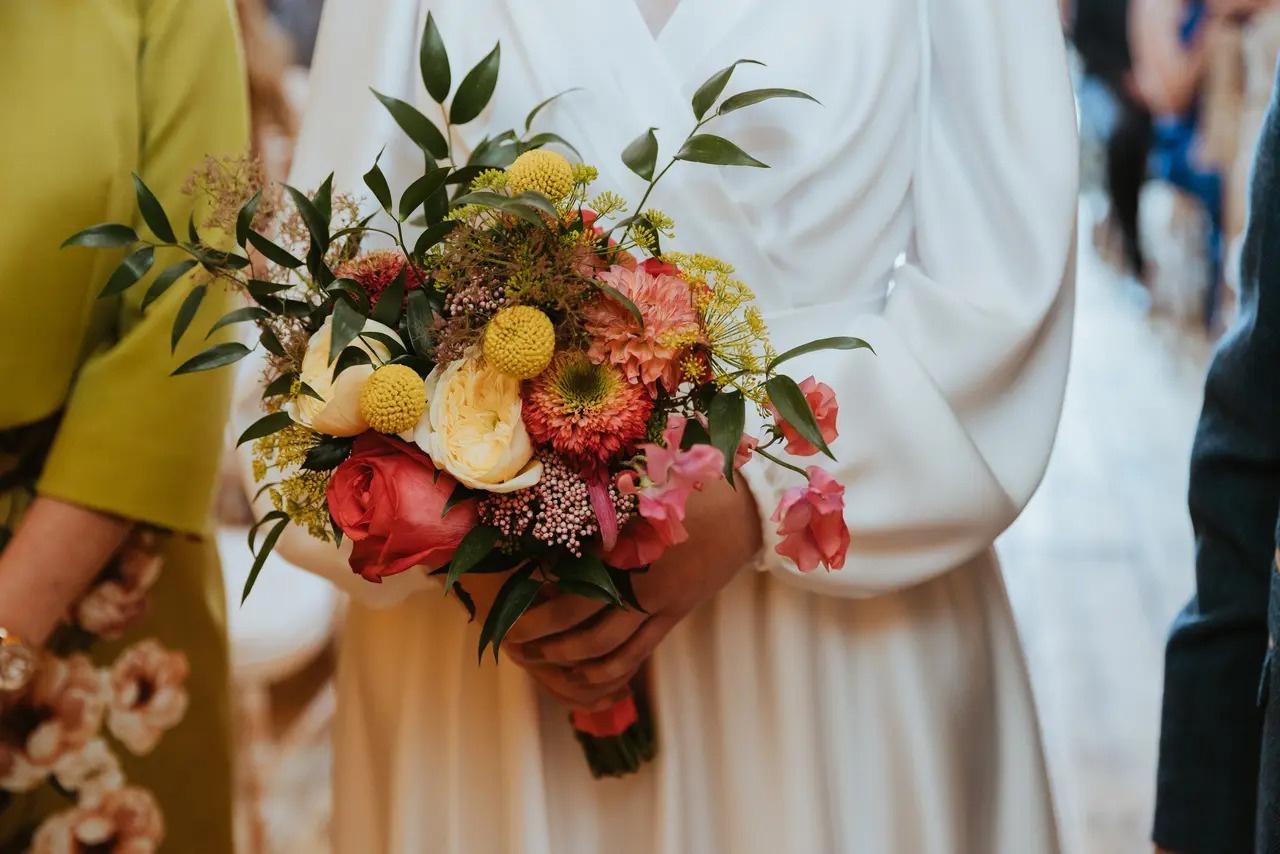 A posy of fabulous coral, salmon and yellow blooms looks so sweet. You don't have to go for a large arrangement when you opt for bright colours like this, just a few stems will still make a big impact.
READ MORE: 21 Beautiful Flower Crown Ideas
31. Orange Crush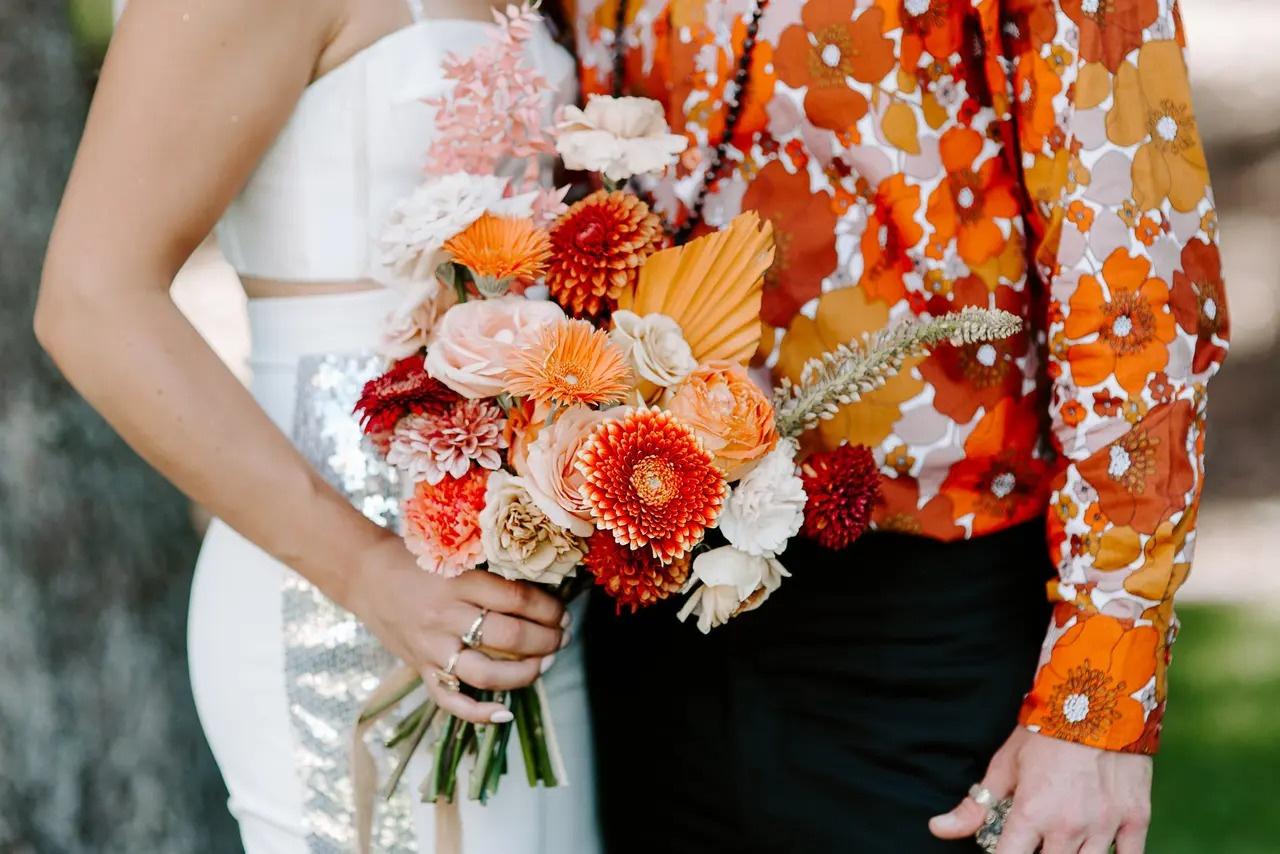 Nothing says autumn quite like fabulous orange hues and this beautiful bouquet certainly ticks that box. The bright gerberas match this groom's shirt perfectly and we love it.
32. Bigger is Better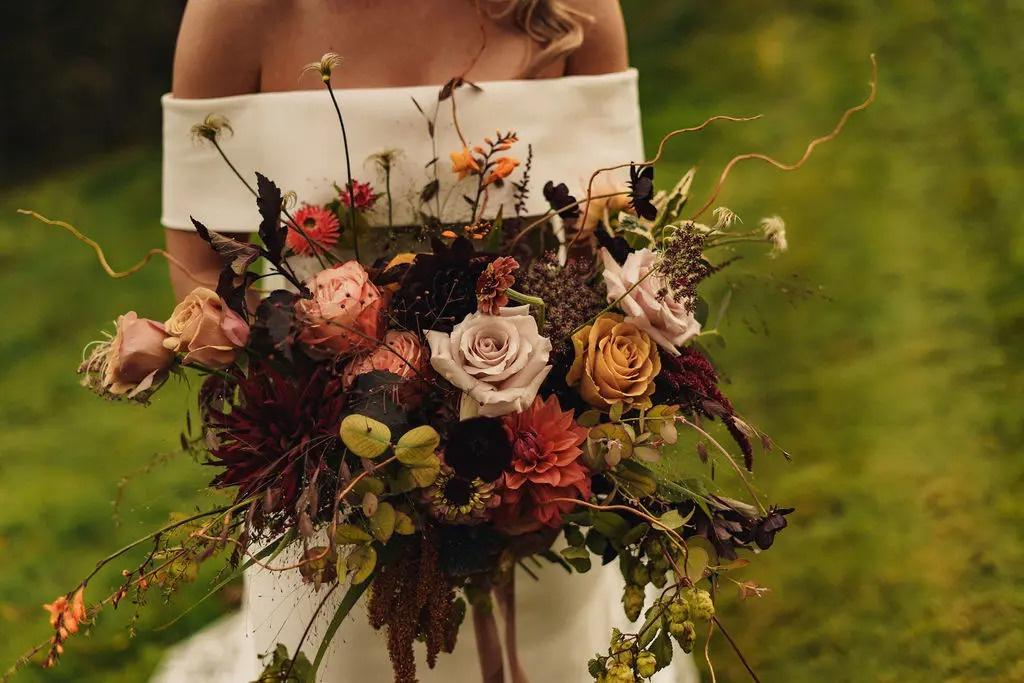 Make a statement with your wedding bouquet by thinking big. Adding layers of foliage and branches is an affordable way to expand your arrangement and as this bouquet shows, it looks amazing.
33. Perfect Pair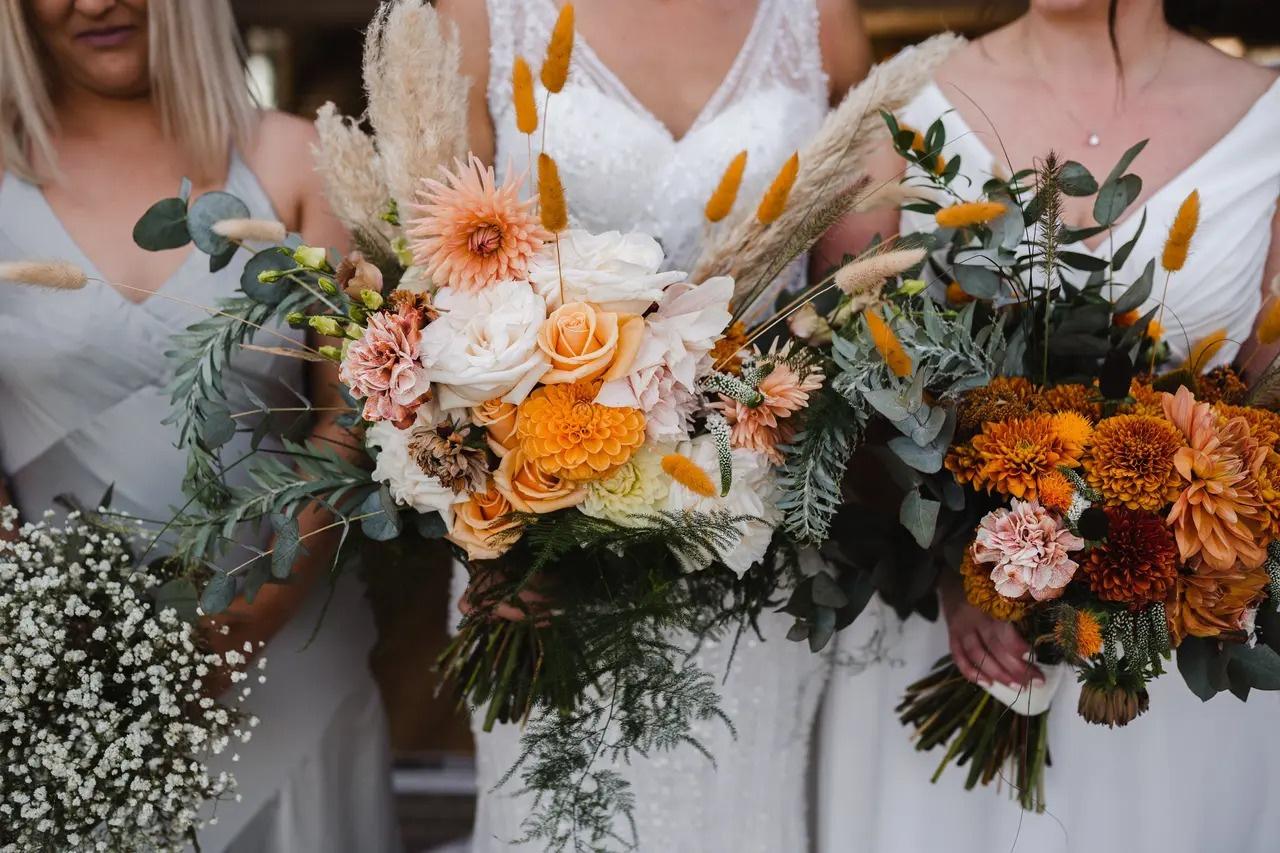 If you and your partner are both holding bouquets, why not go for matching arrangements. These blooms are undeniably autumnal thanks to the orange hues and we love the fresh splashes of white.
34. Leaf Love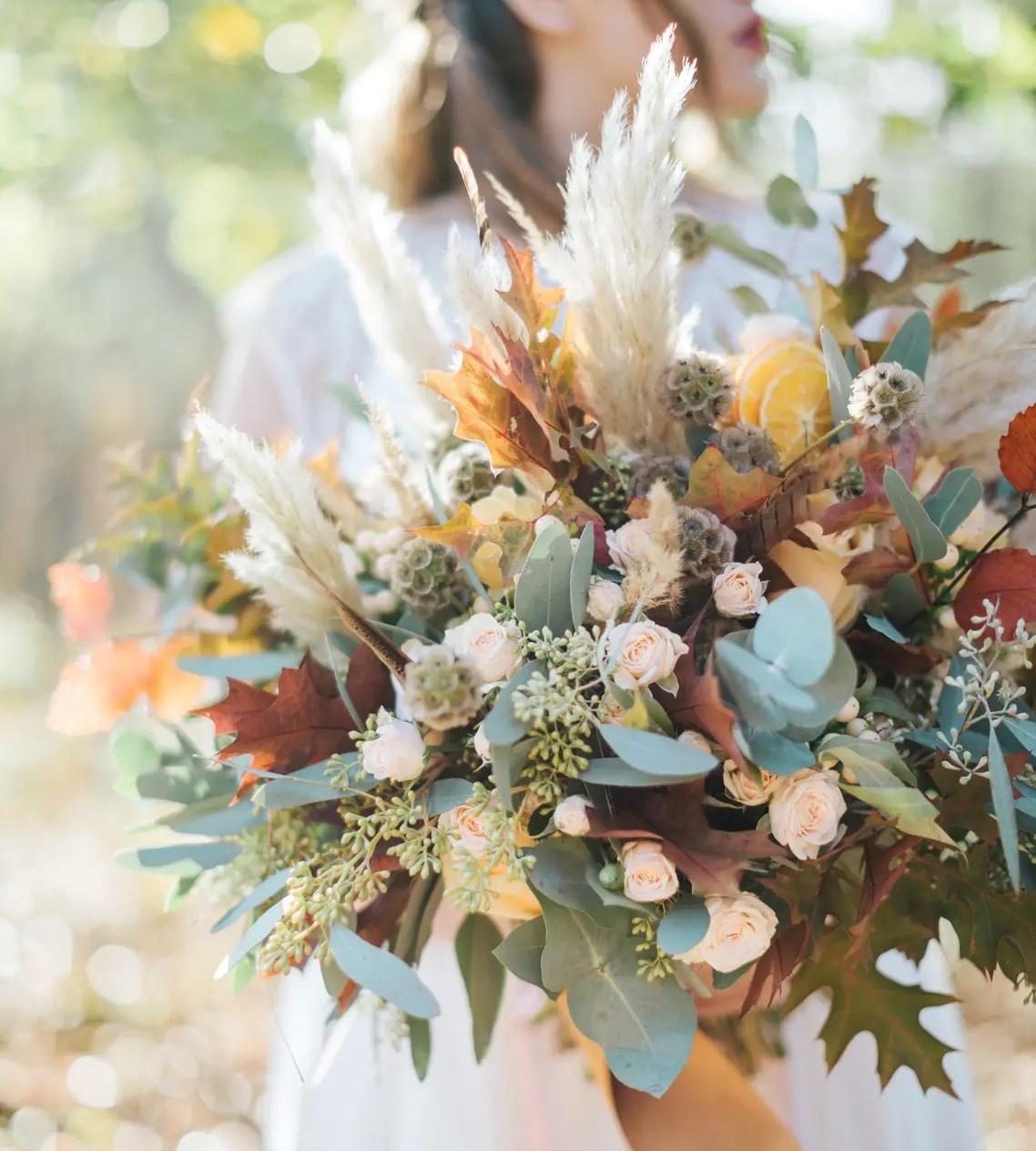 This autumnal wedding bouquet looks like it's fresh from the forest! If you look closely you'll notice fallen leaves, feathers and even dried citrus slices.
35. Berry Good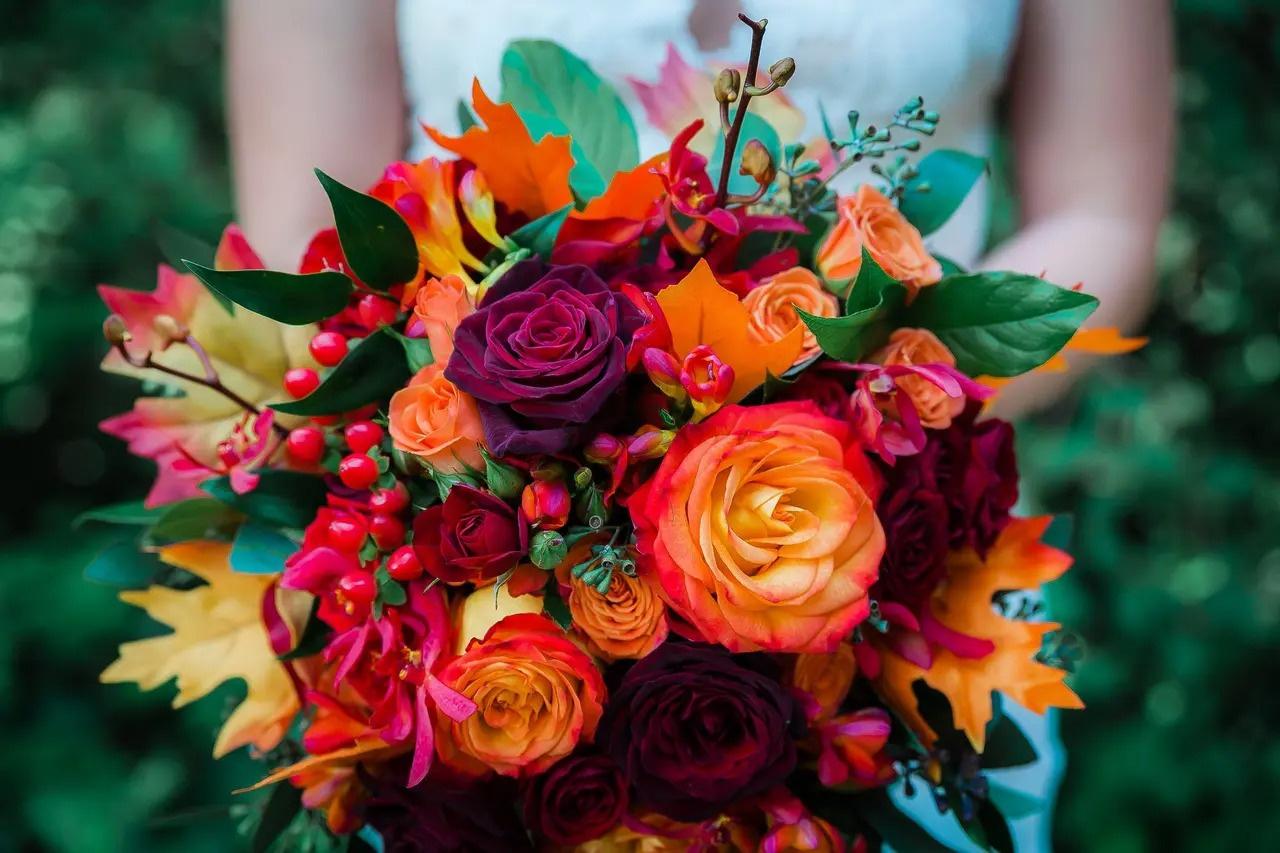 Ombre roses lend themselves perfectly to an autumnal sunset wedding bouquet. Hidden amongst the blooms are vibrant berry jewels that bring the whole bunch together.
READ MORE: 23 Beautiful Winter Wedding Bouquets
36. Soft Ruffles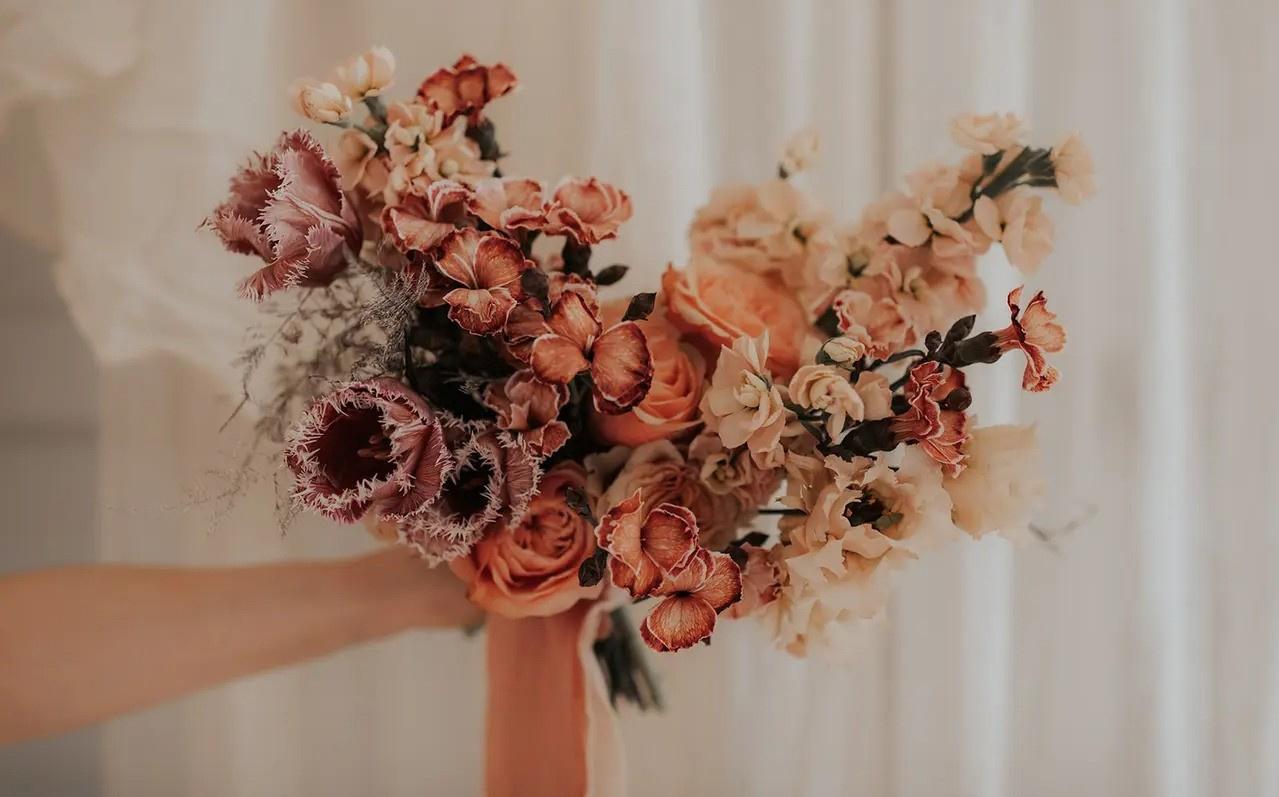 A stunning selection of ruffled poppies, roses and snap dragons, this wedding bouquet features a really unique blend of florals. We're obsessed with the soft colours for a celebration with a neutral colour theme.
Spring Wedding Bouquet Ideas
37. Pastel Pick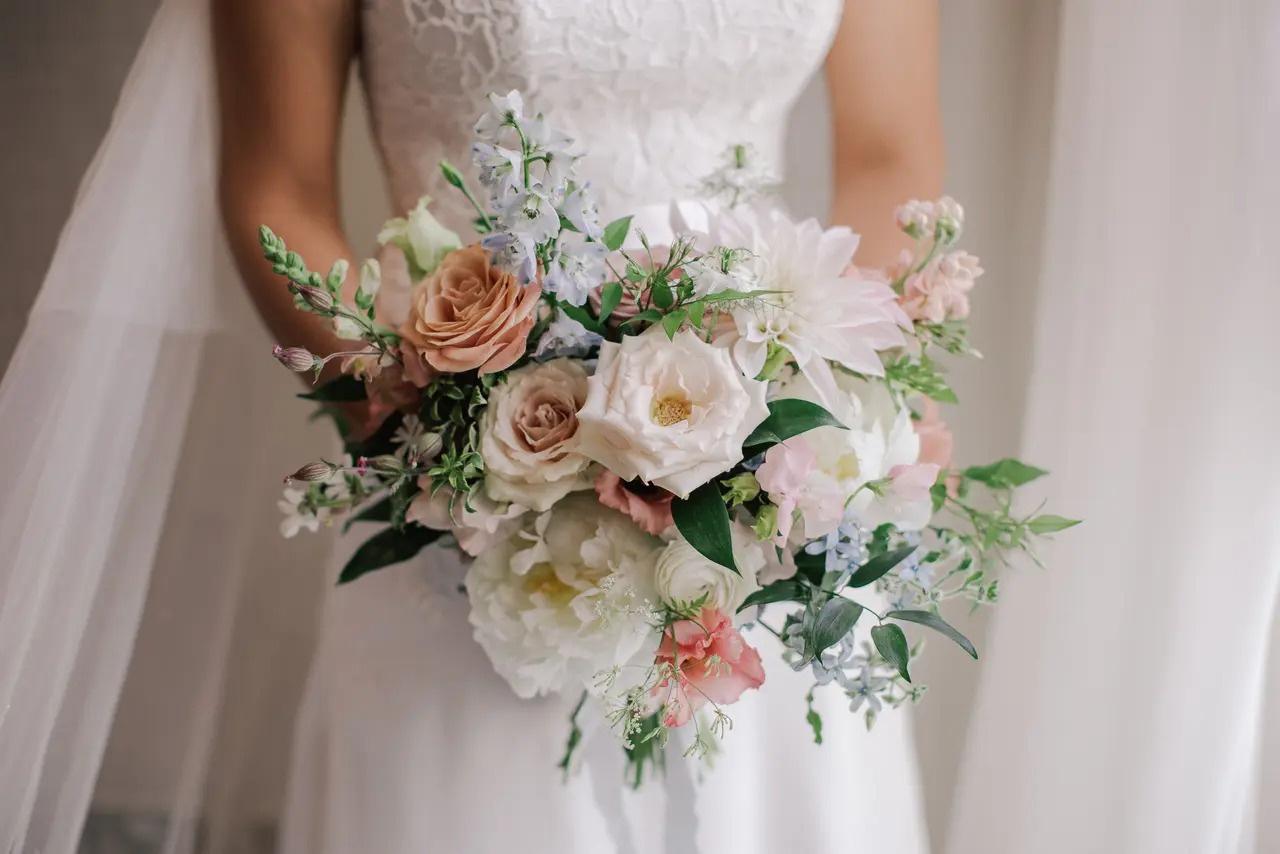 Pastels? For spring? Ground-breaking. No, really! Stick to this traditional seasonal colour palette for a wedding bouquet design that will never go out of style.
38. Popular Bloom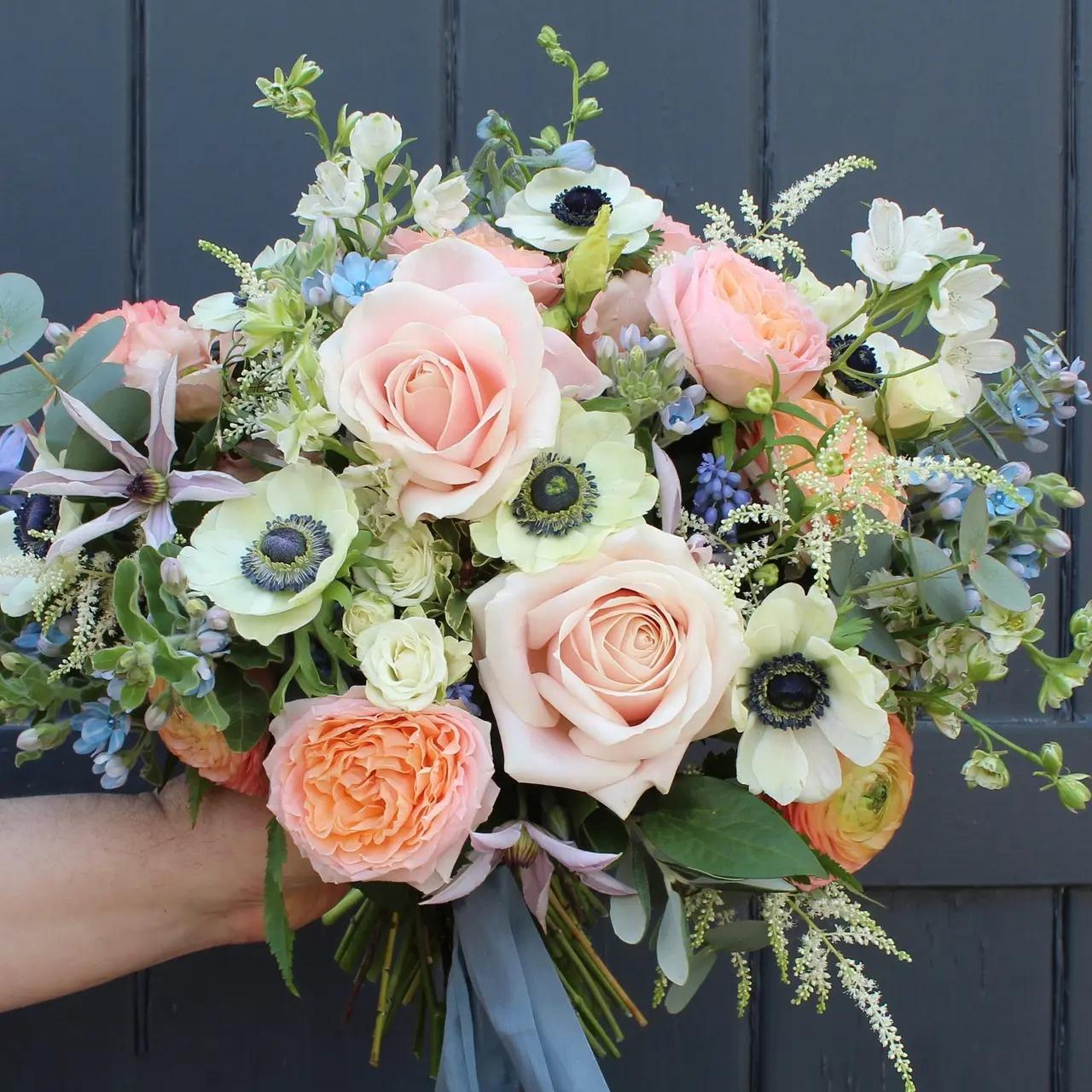 Icelandic poppies grab your attention in this spring wedding bouquet thanks to their ethereal look. Their dark centres contrast beautifully against the soft cream petals.
39. Seasonal Sun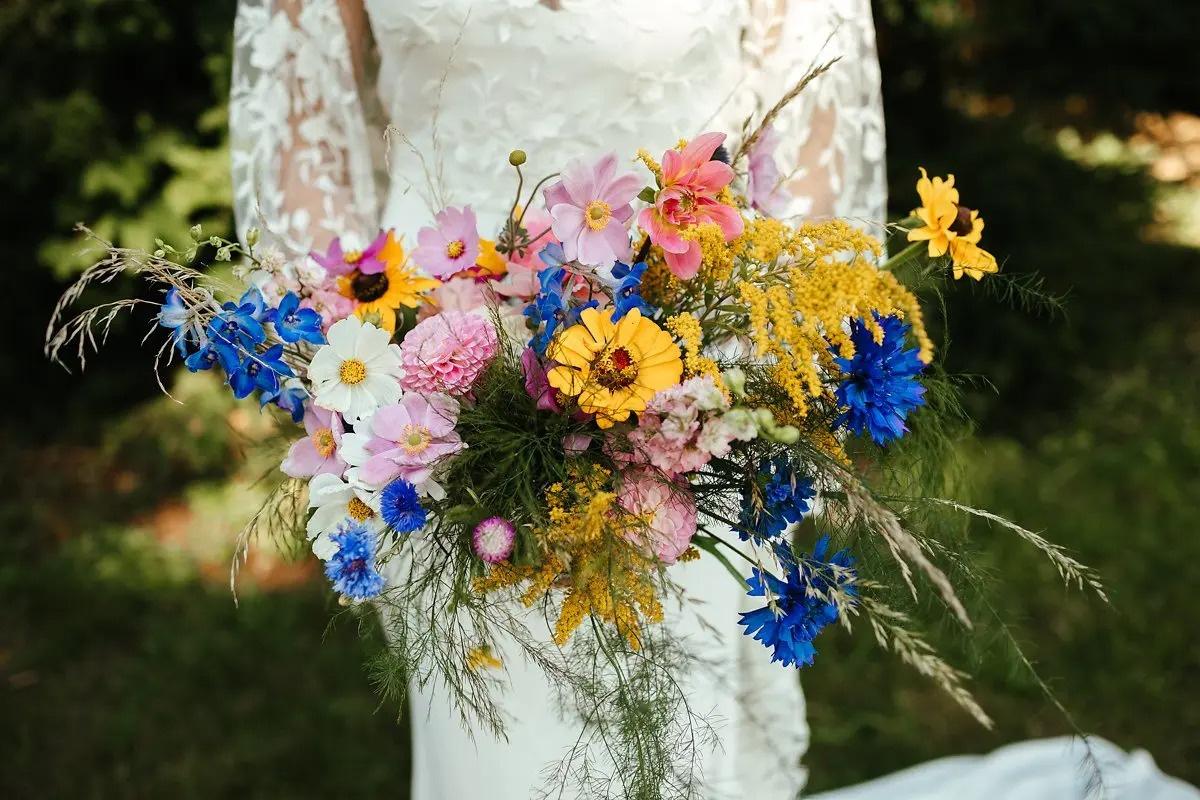 This cheerful floral arrangement reminds us of a sunny spring day - the combination of pink, blue and yellow is breath-taking and will ensure all eyes are on you.
40. Sweet Scent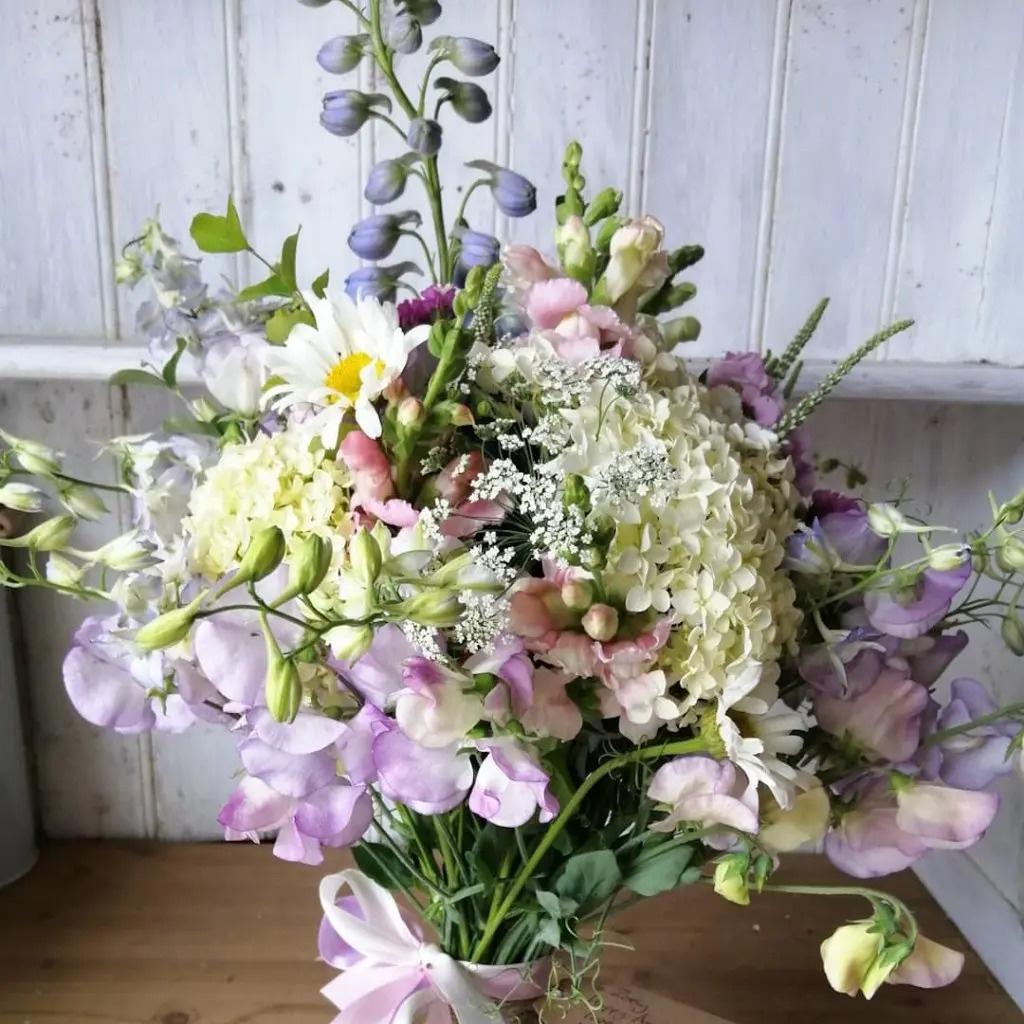 Sweet peas have the most amazing fragrance so are a lovely choice to include in your wedding bouquet. These fabulous lilac coloured sweet peas look so elegant.
READ MORE: Why Your Big Day Needs a Wedding Scent
41. Feather Florals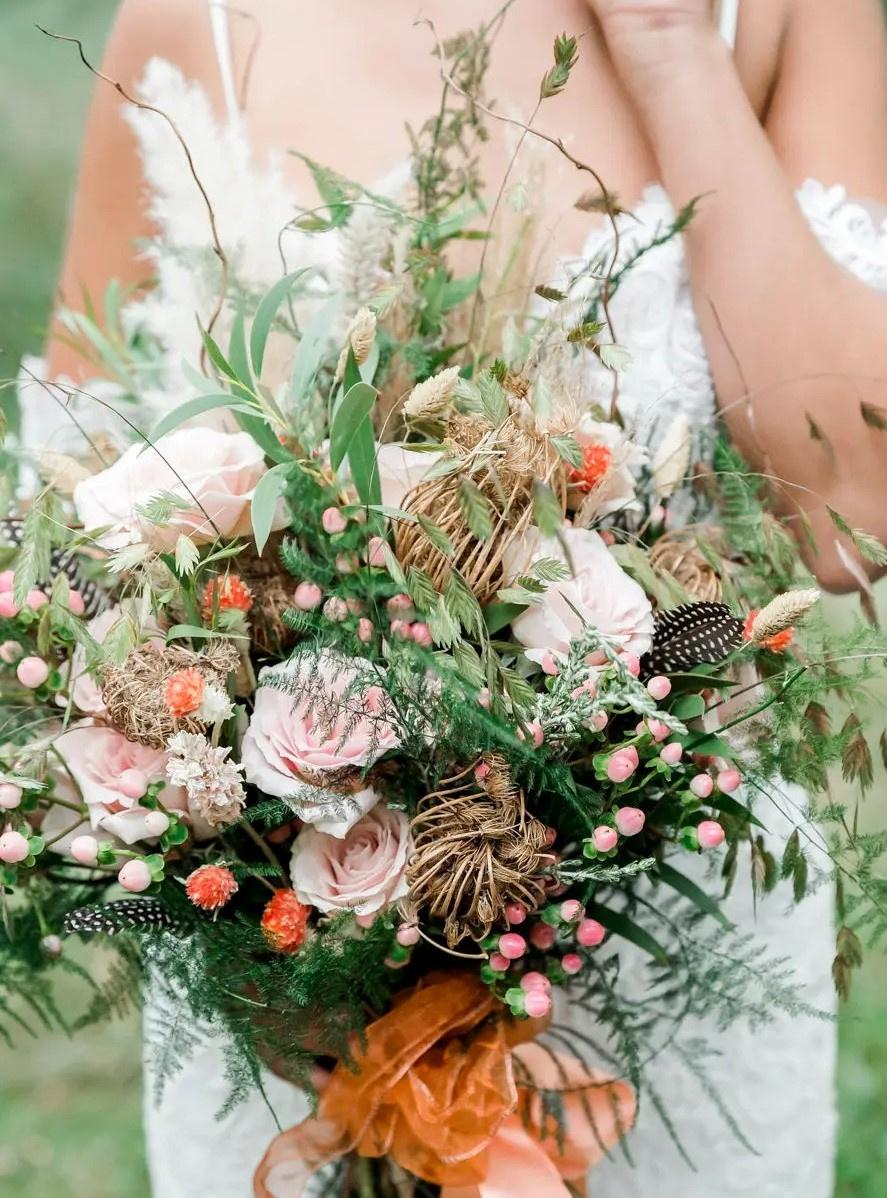 Feathers are a really unique way to embrace the spring season. We also love the addition of dried branches and grasses that are nestled within this wedding bouquet.
42. Cute Bunch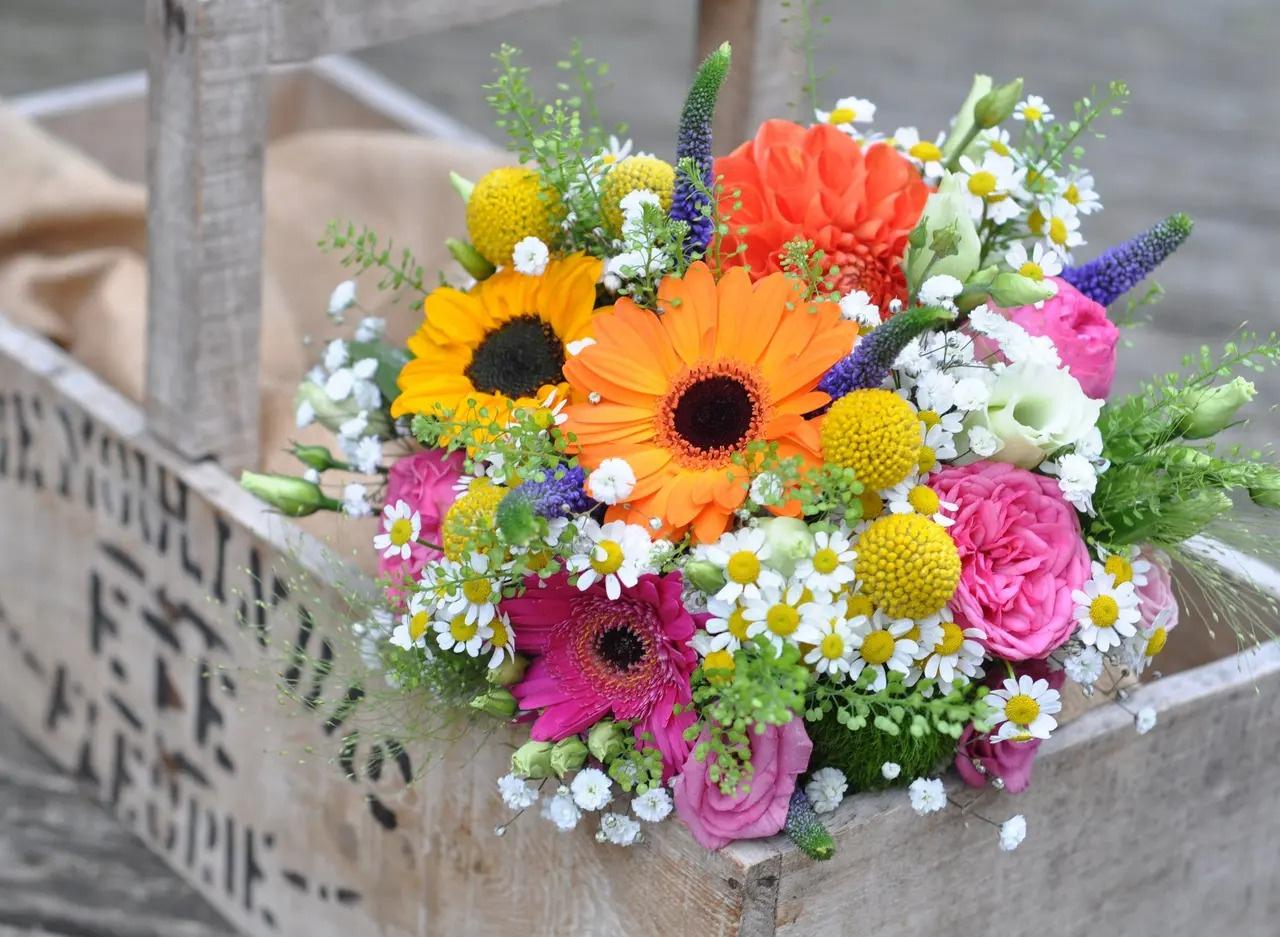 This lush bunch features some of our favourite spring blooms - daisies, gerberas, roses, veronica and dahlias. Pops of colour amongst the creamy base make a gorgeous statement.
43. Causal Cool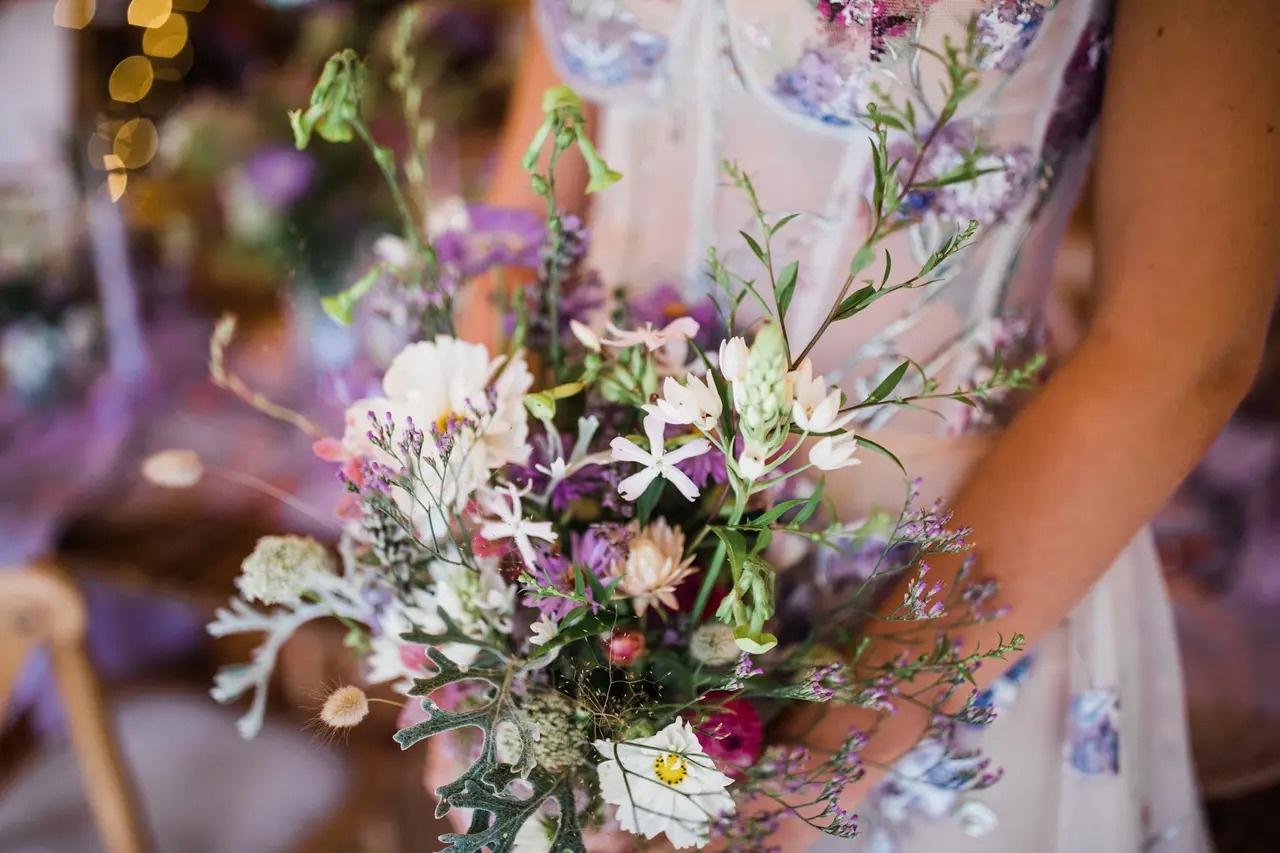 This gorgeous spring wedding bouquet has a relaxed handpicked feel to it - we're obsessed with how the bride has matched the lilac embroidery on her floral wedding dress to the bunch.
How Do I Choose a Bridal Bouquet? 13 Expert Tips
1. For cutting costs: "If you'd like to cut costs where possible, we'd say look at the size of your arrangement. You can have a beautiful posy-sized bouquet for a little less then a more standard shape, so don't be afraid to ask for different price points before settling on your final design."
2. Be willing to go a little outside the box: "We'd say begin with an open mind when it comes to choosing your bouquet; yes greens and whites are beautiful, but what about adding an accent dark colour to really make the flowers come to life? Or perhaps you could go for a pastel mix of rainbow colours for something really upbeat? You want your bridal bouquet to reflect your style, so go with whatever feels right, not with what you think other people would like."
3. Trust your florist: "We definitely do our best work with a slightly looser brief – something like 'nude tones with garden roses and plenty of trailing foliage' – rather than being asked to mimic something. Hopefully you've chosen your florist because you like their style, so trust them to produce something beautiful and we're sure you'll love the results."
4. Try opting for seasonal blooms: "While it isn't always the case that seasonal blooms are cheaper, you do get the most beautiful scents, shapes and colours from sticking with them. I also love that if you choose what's flowering the month you get married, each year you'll be reminded of that happy day when you see the roses in bloom or the daffodils start to show their heads."
Hazel Gardiner, owner of Hazel Gardiner Design:
5. Foliage bouquets don't have to be simple: "Foliage only arrangements are very popular but don't think this means a simple bunch of eucalyptus for your VIP arrangement. We love creating arrangements full of different textures and tones. We have mixed seasonal foliage with herbs, ornamental plant leaves and even succulents to create something really special."
6. Don't forget your bouquet: "Your bouquet can live on in many ways. We are always saddened to see discarded bouquets at the end of a wedding. Ask your florist for bouquet bag and gift them to friends the next day who have helped you on your wedding journey. Ask your florist if any of the elements are suitable for being dried or pressed. These preserved blooms will make an everlasting memory of your day."
7. Make sure you know your bouquet ingredients: "With each bouquet we add in a list of all the flowers we've used. This is a lovely record from the day and you have the option of surrounding yourself with the same varieties on your anniversary. Many couples have also added these flowers to their garden as a constant reminder."
8. Think about your bouquet fastening: "How your flowers are tied together can be a great additional design feature. Would you like lashings of satin ribbon in different colours, a long piece of naturally dyed, silk ribbon or an unseen band? This is another opportunity to inject your personality that shouldn't be missed."
9. Honouring a loved one: "There are often people that are sadly are no longer with us which you may want to remember on the day. This can go beyond incorporating a specific flower. We work with both colour symbolism and Floriography (the language of flowers) to express a thought or sentiment."
Michal Kowalski, Floral Engineer at Blooming Haus:
10. Match the bouquet to your look: "Balance is one of the most important principles of art and design. In simple terms, the prerequisite for a wedding bouquet choice is to make sure it is well fitted to your wedding dress, your height, your complexion and your hair colour. There's no one-size-fits-all approach, so make sure all the lines, shapes, colours, the form and texture fit with look."
11. Start with a mood board: "We recommend all couples collect at least three inspirational photos before we set up a consultation. We discuss the design features that are the most appealing to the bride and come up with a bespoke solution. Most brides and florists pay attention only to the obvious choices, such as the colour decisions or the shape of your bouquet and some florals. But we can talk for hours about the movement, unusual shapes, colour harmonies, contrasts and the feelings they evoke."
12. Be bold: "Wedding bouquets allow for expressive styles. This is not your everyday bouquet but a piece of art you will hold during your wedding, so celebrate this moment with bold styles. We are all connected with nature more than ever so the trend of natural, loose and very flowery bouquets will stay with us for a long time."
13. Make it a statement: "The number one piece of advice we give to all couples is to work with two elements of your wedding which will become statement pieces. The first one is your wedding bouquet. You will be holding it in almost all the most important photos. Make sure it's beautiful and has a few wonderful statement florals such as fragrant garden roses. This will be remembered for ever."
Wedding Bouquet Styles Explained
Picking your wedding bouquet can be a bit confusing – there are so many styles and types to choose from! Whether you want a themed wedding bouquet or a more traditional style, this is your ultimate guide to wedding bouquet styles.
Posy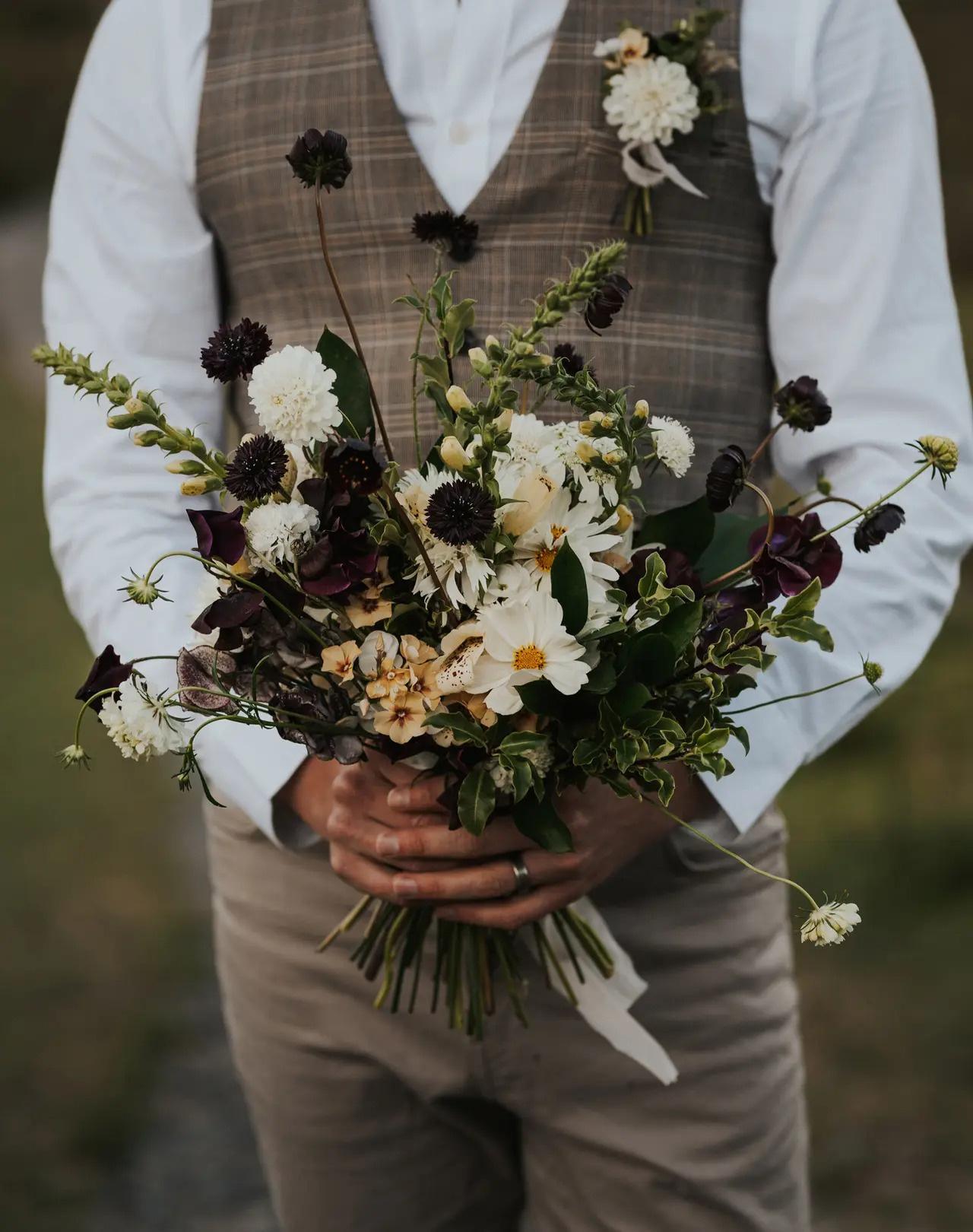 A hand tied posy is a fairly tightly formed bouquet, perfect for those who like simple clean lines with minimal fuss.
Hand tied posies can range from a refined bouquet using just one type of flower, to a full posy mixing a variety of flowers with large flower heads, such as roses, peonies and dahlias. Foliage is generally not incorporated in this style of bouquet, and if it is it is kept to a minimum and usually used to edge the bouquet.
Nosegay
This style of bouquet is very similar to a posy however slightly smaller and usually incorporates more foliage. This bouquet would be an ideal bridesmaid bouquet!
Crescent
This is a style of bouquet less commonly seen these days, and similarly to the teardrop style, incorporates wirework. This style of bouquet works well with spring flowers as well as orchids, to create that more structured shape.
Presentation
Traditionally this bouquet incorporated more streamline flowers such as calla lilies, orchids, delphiniums and long stemmed roses.
Nowadays though, with the contemporary movement of rustic and organic floral design, the presentation bouquet has become a style statement, creating a draped bouquet over the arm rather than a more structured bouquet which lies along the forearm. The presentation bouquet uses oversized blooms such as hydrangeas, dahlias, and garden roses, with trailing elements such as amaranthus and asparagus fern.
Cascading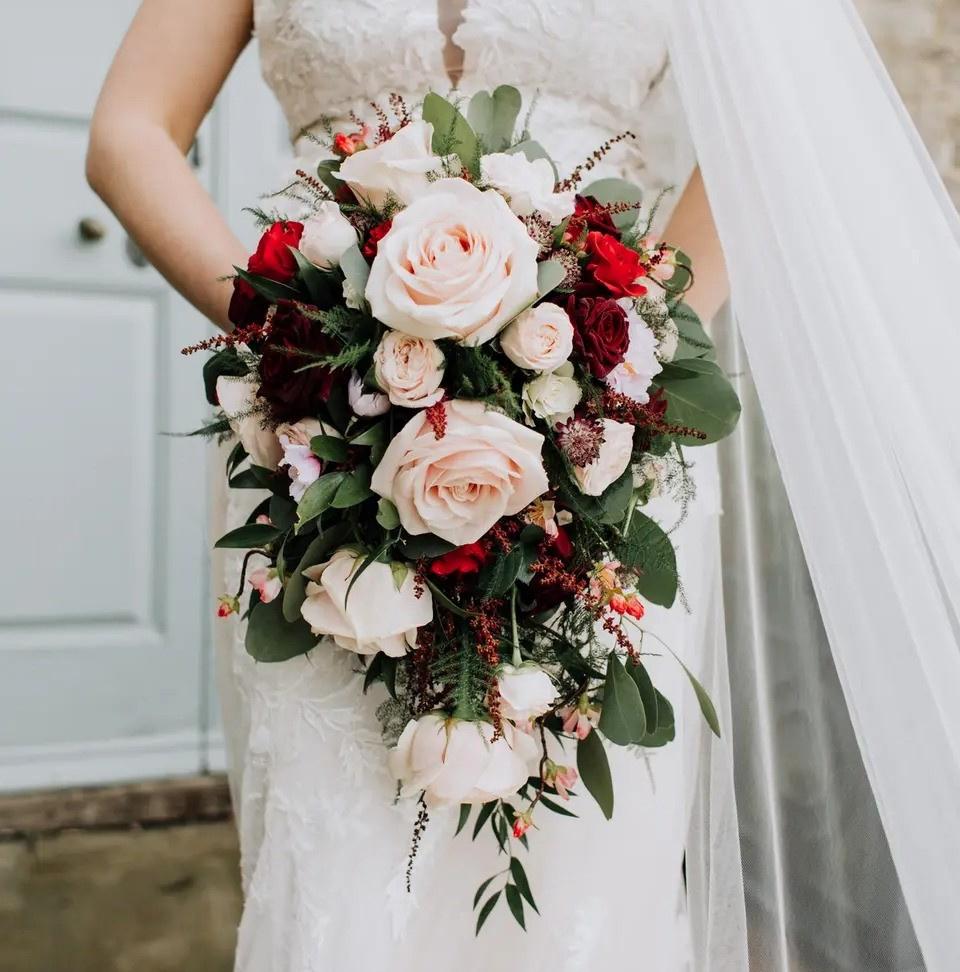 This style of bouquet was very fashionable in the 70s and 80s, and is currently undergoing a bit of a revival. This style of bouquet requires ample wire work, where individual flowers are wired to form a layered trailing teardrop shape.
The new movement of bouquets however, are embracing the teardrop shape but in a looser more relaxed form, using naturally trailing florals and foliage, such as trailing amaranthus to provide the shape but with natural movement rather than the rigidity of wired flowers. This style of bouquet can be as formal or as wild as you like, and would complement a simpler gown that can take a more statement bouquet.
Pomander and Basket
Both of these types of bouquet are most commonly carried by flower girls. The pomander is a ball of flowers, usually roses, suspended from ribbon which is looped over the arm. This is a favourite for little flower girls who want to hold something and perhaps aren't comfortable with wearing a flower crown.
The basket is just that; a small handheld wicker basket filled with flowers, again usually roses or hedgerow style flowers. If you want an unusual or statement bouquet like the ones above, why not consider making paper wedding flowers?
Rustic
Foliage and flowers with differing stem length are used to create a very relaxed bouquet which is far less formal and much more organic than the posy style.
There are no limits to the types of flowers and foliage used in this style of bouquet, which is why it is such a great choice for those who want to put their own stamp on their wedding flowers, whether that be a country hedgerow style bouquet or a luxe and loose bouquet incorporating statement blooms. This type of bouquet suits couples who wants to step away from tradition and convention and who want to make a tasteful statement without going too over the top! If you want a rustic bouquet, why not consider a rustic wedding venue too?
What Is the Average Cost of a Bridal Bouquet?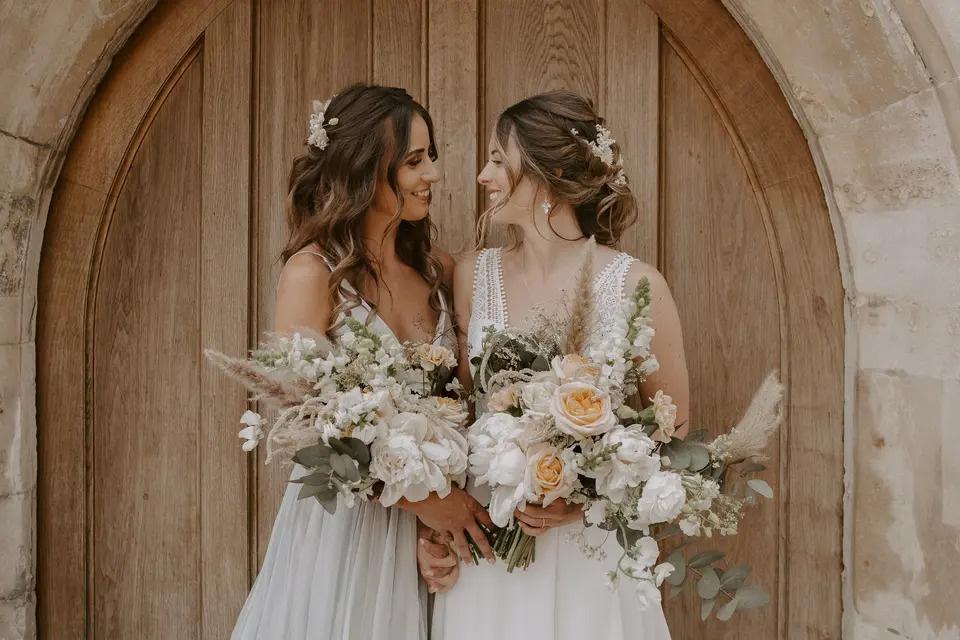 Despite it being one of the most common questions about bridal bouquets (and for good reason), this is a fairly difficult question to answer due to the sheer variety available in the flower industry. Wedding flower prices are dependent on anything from size to the type of flowers, and how quickly they need doing.
For basic bouquets, you can pay anywhere from £250, and prices will go past £1,000 for all your wedding flowers, including centrepieces and aisle décor. For £250, you should be able to get your bridal bouquet, two bridesmaid bouquets, five button holes and two corsages.
READ MORE: How to Choose Your Wedding Flowers
Why Should You Have a Silk Bridal Bouquet?
"Silk bridal bouquets are lightweight and allow you to have a wider variety of flowers as you are not bound by seasons," explains Adeela, founder of luxury faux flower company Fauxevermore. "For couples or their guests that suffer with allergies, silk flowers alleviates any concerns and gives that extra peace of mind. When it comes to the weather, faux florals are not effected by even the warmest days and will continue to look just as 'fresh' at the end of the day as they did at the beginning. This also makes them the perfect choice for destination weddings too!"
Better yet, you can keep silk flowers long after the wedding day which is perfect if you are planning an eco-friendly wedding as it reduces any floral waste. "By using realistic quality faux florals, couples can enjoy their flowers for many years to come. They are a wonderful memento from the day and couples often display the bouquet in a vase in their home," says Adeela.
Why Does the Bride Carry a Bouquet?
Carrying a bouquet of flowers is a long-standing tradition at weddings — and it dates back far further than you may think. For example, in the 15th century, flowers were carried in order to mask the body odour of a bride, when people would only bathe around once a year!
Then during Roman times, floral arrangements were seen as aphrodisiacs so were encouraged as symbols of fertility and new beginnings.
During the Middle Ages, bouquets were used to ward off evil spirits, and were therefore full of herbs such as garlic, which could create a rather potent aroma. The type of modern bouquet we are now used to seeing was popularised during the Victorian era, as this is when flowers began having romantic connotations.
What is the Most Popular Bridal Bouquet?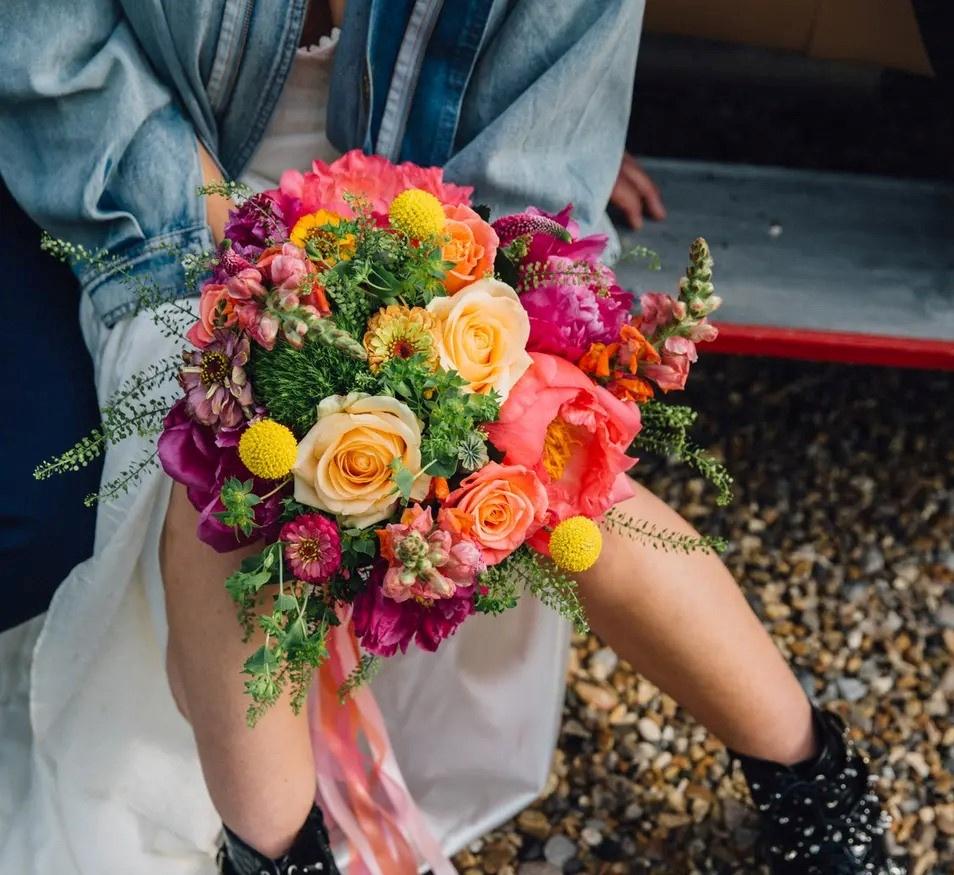 Stephanie Aitken, from wedding florist Dotty & Bramble, revealed to us their most popular bouquet is a loose and natural hand tied bouquet. "This style includes lots of foliage to create a bouquet that has movement and texture, it best suits meadow or garden style flowers and always creates a dreamy and romantic feeling."
"Another popular style is 'free form' or 'deconstructed' bouquet. The shape is less important when it comes to this bouquet, it's more about letting the flowers do what they naturally would. It's very organic. Random stems may stand taller than others, and you can mix different styles of flowers together. This style of bouquet really suits those that want a more artistic or wild look to their blooms," explains Stephanie.
While there are definite favourites modern bridal bouquets really can consist of whatever flowers you choose. That could be anything from wildflowers to dried flowers, and all types of colourful arrangements. Classic choices, however, include roses, tulips, hydrangeas, peonies, and ranunculus.
What are the Three Most Common Types of Bridal Bouquet?
A posy is a classic bouquet style - typically round in shape, the stems are cut to the same length and bound tightly together. It has a traditional feel to it and looks romantic. Another common type of bridal bouquet is a hand tied bouquet. Often tied together with a ribbon, it creates a rustic finish.
The elongated cascading bouquet is a modern take on a wedding bouquet that has become popular with couples. Taking the shape of a waterfall, the bouquet will use foliage tendrils loosely intertwined with blooms.
What Can a Bride Hold Instead of Flowers?
If you want to ditch the traditional fresh flower bouquet, consider alternatives such as holding a single stem, wearing a floral cuffs or opting for paper and silk wedding bouquets. Or if none of those appeal, how about a stylish bridal clutch bag?
Fell like giving it a go yourself? Or want to invest in your bridal bouquet and make your bridesmaid bouquets? Here's how to make a bouquet in seven easy steps.