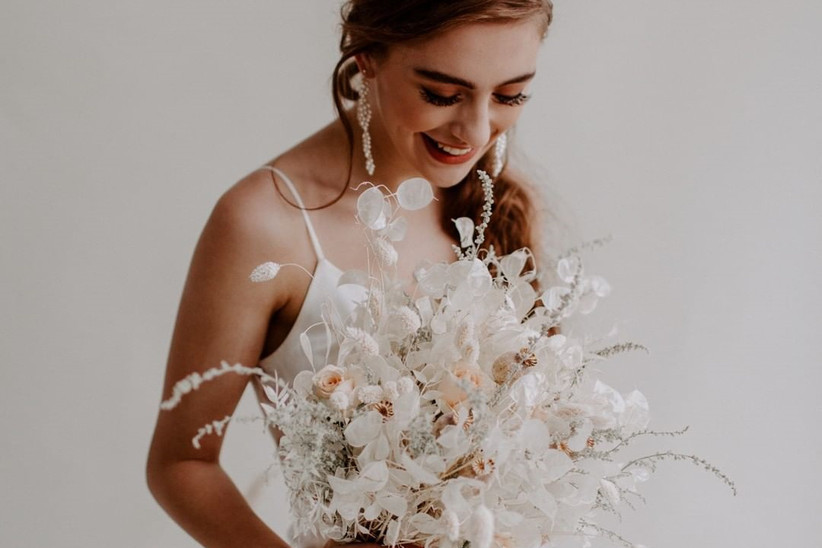 One of the most exciting decisions to make ahead of your wedding day is the type of flowers you'd like to carry. If you've picked your overall theme and colour scheme, this may narrow down your choices, but it's still easy to be overwhelmed by all the different options.
Social media is a great resource for finding your perfect bridal bouquet, and is full of ideas for all tastes and budgets. From large arrangements right down to tiny mini bouquets, there's wedding flowers out there for everyone. You may also want to consider dried flowers or faux flowers, if you want a longer-lasting solution.
Either way, we've sourced some of the best top tips from experts about picking your arrangement, and picked out 32 of the best bridal bouquet ideas for 2020 in all colours, textures, and sizes. These photos will undoubtedly serve as a great sources of inspiration for picking your actual flowers, and also make it easy to show your wedding florist or those in charge of your flowers exactly what you are hoping for.
What Is the Average Cost of a Bridal Bouquet?
Despite it being one of the most common questions about bridal bouquets (and for good reason), this is a fairly difficult question to answer due to the sheer variety available in the flower industry. Wedding flower prices are dependent on anything from size to the type of flowers, and how quickly they need doing.
For basic bouquets, you can pay anywhere from £250, and prices will go past £1,000 for all your wedding flowers, including centrepieces and aisle décor. For £250, you should be able to get your bridal bouquet, two bridesmaid bouquets, five button holes and two corsages.
READ MORE: How to Choose Your Wedding Flowers
How Much Is a Silk Bridal Bouquet?
Silk bridal bouquets are a great option for those who are limited by weather, issues such as hayfever, or for anyone who just wishes to have a memorable keepsake from their special day. You'd think that silk flowers would be less expensive than real ones, but these days the prices pretty much match (and sometimes exceed that of real flowers). So as mentioned above, you'd probably be looking at around the £150-£250 mark.
Why Does the Bride Carry a Bouquet?
Carrying a bouquet of flowers is a long-standing tradition at weddings — and it dates back far further than you may think. For example, in the 15th century, flowers were carried in order to mask the body odour of a bride, when people would only bathe around once a year!
Then during Roman times, floral arrangements were seen as aphrodisiacs so were encouraged as symbols of fertility and new beginnings.
During the Middle Ages, bouquets were used to ward off evil spirits, and were therefore full of herbs such as garlic, which could create a rather potent aroma. The type of modern bouquet we are now used to seeing was popularised during the Victorian era, as this is when flowers began having romantic connotations.
What Flowers Are in a Bridal Bouquet?
While there are definite favourites, which largely lie on tradition, modern bridal bouquets really can consist of whatever flowers you choose. That could be anything from wildflowers to dried flowers, and all types of colourful arrangements. Classic choices, however, include roses, tulips, hydrangeas, peonies, and ranunculus.
The 32 Best Bridal Bouquet Ideas
1. Pops of Red
Planning on wearing a red lipstick? This arrangement features bright pops that will complement your makeup perfectly.
2. Simple White
There's arguably nothing more elegant than a stripped back bouquet of understated white flowers.
3. Larger Than Life
Want to make an impact? Opt for a wide-set arrangement to really stand out on your wedding day.
4. Plant Based
If feminine flowers aren't your thing, opt for a greener bouquet made from plants as well as florals.
5. Modern Metal
Mix the natural with the handmade and add metals or other materials to your bunch of flowers.
6. Sunny Yellows
Yellow's a happy colour that will bring joy to you and your guests, so why not use it as your base colour for flowers?
7. Ravishing Ranunculus
Next to peonies, ranunculus are one of the most gorgeously intricate flowers around, and work perfectly for a bridal bouquet.
8. Pretty Pastels
These are spring in a bunch, and would work brilliantly for a wedding in the warmer weather, or based outside.
9. Purples and Pinks
These rich, decadent hues complement each other perfectly, and will add a touch of drama to your walk down the aisle.
10. Elegant and Dried
If dried flowers are more your thing, pick a rustic style such as this.
11. The Smaller, the Better
For brides who'd prefer to maintain simplicity and like an understated look, a cute smaller bouquet is all you need.
12. True Blues
If you've an aversion to all things pink, this brilliant blue arrangement will catch your eye.
13. Finished with Ribbons
Bouquets can be tied with a number of fabrics, but ribbon is often the most elegant, chic choice.
14. Wild Flowers
Another stunning dried arrangement, you can keep this bouquet for a lifetime after your big day.
15. Teensy Florals
Bigger isn't always better, and these gorgeous mini flowers prove just that.
16. Pale and Serene
A neutral tone can work with any dress, colour scheme, or theme, and these ones are versatile to a T.
17. Wild Willow
Add a touch of theatrics to your big moment with this stunning bouquet, topped off with willow.
18. Perfect Peonies
Who doesn't love a peony? The go-to wedding flower is a favourite for a reason.
19. Perfectly Pretty
Pretty, cute, and feminine: these are all words we'd use to describe this lovely bunch of flowers.
20. Classic Roses
They're the flower of love for a reason; if you're a rose fan, these are a safe, classic choice for your big day.
21. Wildflower Fields
Getting married outside or in rustic surroundings? We can't think of a more perfect bouquet than these.
22. Rich Reds
This absolutely gorgeous arrangement is rich, luxurious, and decadent. Pick it for an autumn or winter wedding and pair with dark lipstick.
READ MORE: The Best Winter Wedding Flower Bouquet Ideas
23. Perfect Pampas
Pampas grass sure is having a moment in 2020, so why not opt for the dramatic plant for your wedding day? This lovely dried arrangement is one of our favourites yet.
24. Fairytale Lilac
Keep it simple with a single flower arrangements, like these lilac orchids.
25. Extra Bright
Summertime wedding? Move away from the pastels and go bold with a fearless colour scheme such as this.
26. A Succulent Mix
Who'd have thought succulents could work in a bridal bouquet? This arrangement makes a case for including the hardy plant within your chosen flowers.
27. Pretty in Pink
Small, subtle, and yet incredibly pretty, these little pink Lily of the Valley's are simply lovely.
28. Keep It Neutral
These unique flowers are unusual enough to draw attention, yet subtle enough not to steal the show.
29. Decadent Dahlias
These stunning dahlias are the perfect wedding flower. Just imagine how pretty they'd look with a matching floral head crown.
30. Pure Romance
Sometimes you just want something that screams romance and love, and this exquisite bunch does just that.
31. Autumnal Hues
Getting married in colder months? Warm things up with rich, velvety tones and textures.
READ MORE: Here's What You Need to Know About Silk Wedding Flowers
32. Bigger is Better
What's that saying, 'go big or go home?' If you can't honour that on your wedding day, when can you?!
13 Expert Tips for Choosing Your Bridal Bouquet
1. For cutting costs: "If you'd like to cut costs where possible, we'd say look at the size of your arrangement. You can have a beautiful posy-sized bouquet for a little less then a more standard shape, so don't be afraid to ask for different price points before settling on your final design."
2. Be willing to go a little outside the box: "We'd say begin with an open mind when it comes to choosing your bouquet; yes greens and whites are beautiful, but what about adding an accent dark colour to really make the flowers come to life? Or perhaps you could go for a pastel mix of rainbow colours for something really upbeat? You want your bridal bouquet to reflect your style, so go with whatever feels right, not with what you think other people would like."
3. Trust your florist: "We definitely do our best work with a slightly looser brief – something like "nude tones with garden roses and plenty of trailing foliage" – rather than being asked to mimic something. Hopefully you've chosen your florist because you like their style, so trust them to produce something beautiful and we're sure you'll love the results."
4. Try opting for seasonal blooms: While it isn't always the case that seasonal blooms are cheaper, you do get the most beautiful scents, shapes and colours from sticking with them. I also love that if you choose what's flowering the month you get married, each year you'll be reminded of that happy day when you see the roses in bloom or the daffodils start to show their heads."
Hazel Gardiner, owner of Hazel Gardiner Design:
5. Foliage bouquets don't have to be simple: Foliage only arrangements are very popular but don't think this means a simple bunch of eucalyptus for your VIP arrangement. We love creating arrangements full of different textures and tones. We have mixed seasonal foliage with herbs, ornamental plant leaves and even succulents to create something really special.
6. Don't forget your bouquet: Your bouquet can live on in many ways. We are always saddened to see discarded bouquets at the end of a wedding. Ask your florist for bouquet bag and gift them to friends the next day who have helped you on your wedding journey. Ask your florist if any of the elements are suitable for being dried or pressed. These preserved blooms will make an everlasting memory of your day.
7. Make sure you know your bouquet ingredients: With each bouquet we add in a list of all the flowers we've used. This is a lovely record from the day and you have the option of surrounding yourself with the same varieties on your anniversary. Many couples have also added these flowers to their garden as a constant reminder.
8. Think about your bouquet fastening: How your flowers are tied together can be a great additional design feature. Would you like lashings of satin ribbon in different colours, a long piece of naturally dyed, silk ribbon or an unseen band? This is another opportunity to inject your personality that shouldn't be missed.
9. Honouring a loved one: There are often people that are sadly are no longer with us which you may want to remember on the day. This can go beyond incorporating a specific flower. We work with both colour symbolism and Floriography (the language of flowers) to express a thought or sentiment.
Michal Kowalski, Floral Engineer at Blooming Haus:
10. Match the bouquet to your look: "Balance is one of the most important principles of art and design. In simple terms, the prerequisite for a wedding bouquet choice is to make sure it is well fitted to your wedding dress, your height, your complexion and your hair colour. There's no one-size-fits-all approach, so make sure all the lines, shapes, colours, the form and texture fit with look."
11. Start with a mood board: "We recommend all couples collect at least three inspirational photos before we set up a consultation. We discuss the design features that are the most appealing to the bride and come up with a bespoke solution. Most brides and florists pay attention only to the obvious choices, such as the colour decisions or the shape of your bouquet and some florals. But we can talk for hours about the movement, unusual shapes, colour harmonies, contrasts and the feelings they evoke."
12. Be bold: "Wedding bouquets allow for expressive styles. This is not your everyday bouquet but a piece of art you will hold during your wedding, so celebrate this moment with bold styles. We are all connected with nature more than ever so the trend of natural, loose and very flowery bouquets will stay with us for a long time."
13. Make it a statement: "The number one piece of advice we give to all couples is to work with two elements of your wedding which will become statement pieces. The first one is your wedding bouquet. You will be holding it in almost all the most important photos. Make sure it's beautiful and has a few wonderful statement florals such as fragrant garden roses. This will be remembered for ever."
Fell like giving it a go yourself? Or want to invest in your bridal bouquet and make your bridesmaid bouquets? Here's how to make a bouquet in seven easy steps.