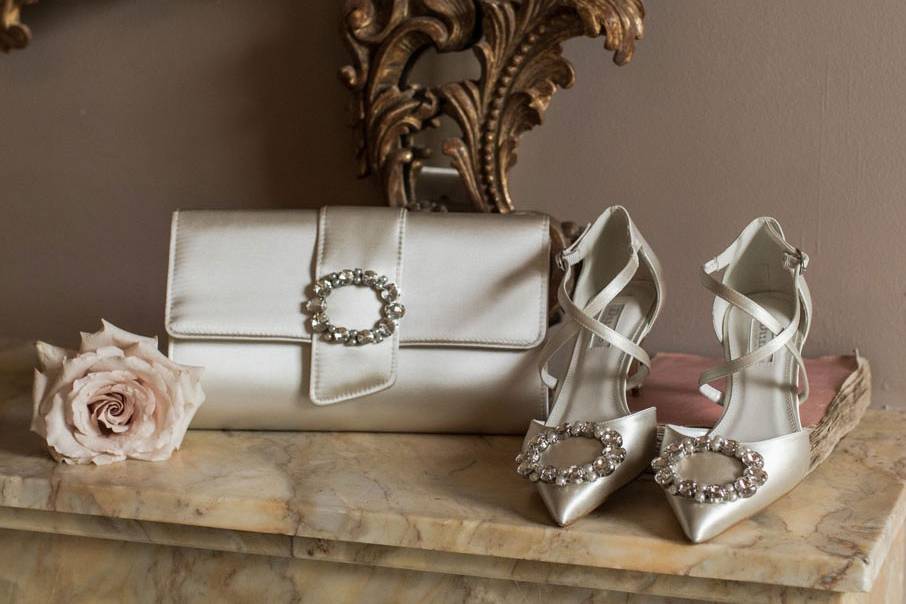 You've chosen the wedding dress of your dreams and selected a pair of beautiful wedding shoes to match, but you mustn't forget to find the perfect clutch bag to tie your look together.
It'll be the prettiest way to carry around your wedding day essentials – your bridesmaids can look after it during the ceremony, and you can even use it again when you jet off on your honeymoon!
Take a look at our round-up of the best bridal clutch bags of the moment – we apologise in advance if you fall in love with them all…
NB: We have included third party products to help you navigate and enjoy life's biggest moments. Purchases made through links on this page may earn us a commission.
READ MORE: Designer Wedding Shoes That Are Worth Blowing the Budget For
Dune London Badorne Clutch – £78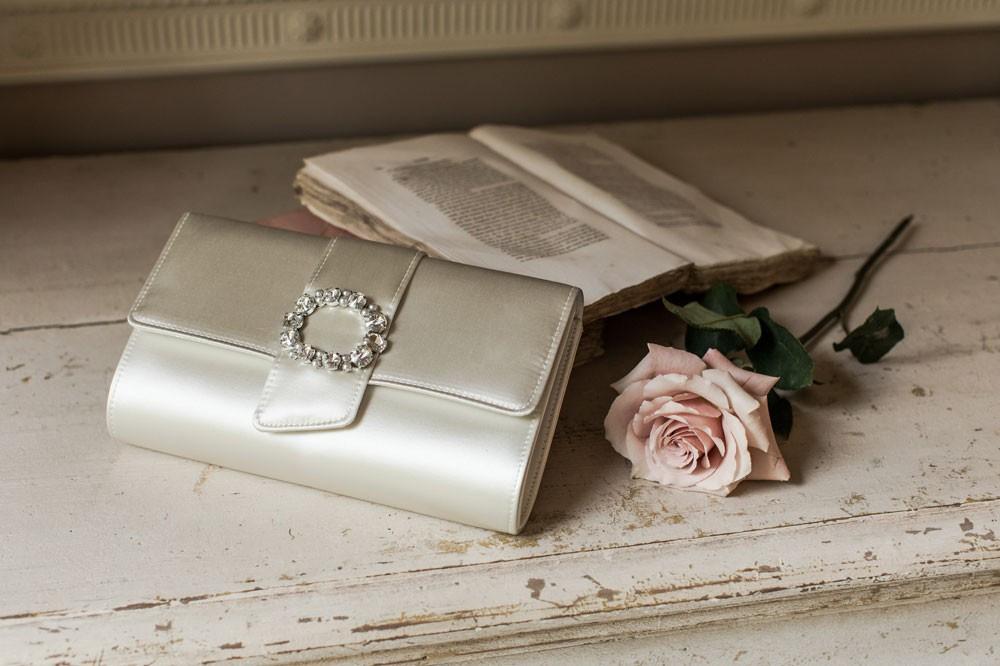 Loved for its on-trend yet distinctly British aesthetic, Dune strikes the perfect balance between luxury and affordability time and time again.
The Bardone clutch is no exception – it is a classic design which will have any bride feeling special and looking sensational.
We love the structured shape and fold-over panel, and the sparkling diamante oval detailing completes the design beautifully.
READ MORE: Elegant Wedding Dresses for Classic Brides
Dune London Celebration Clutch – £180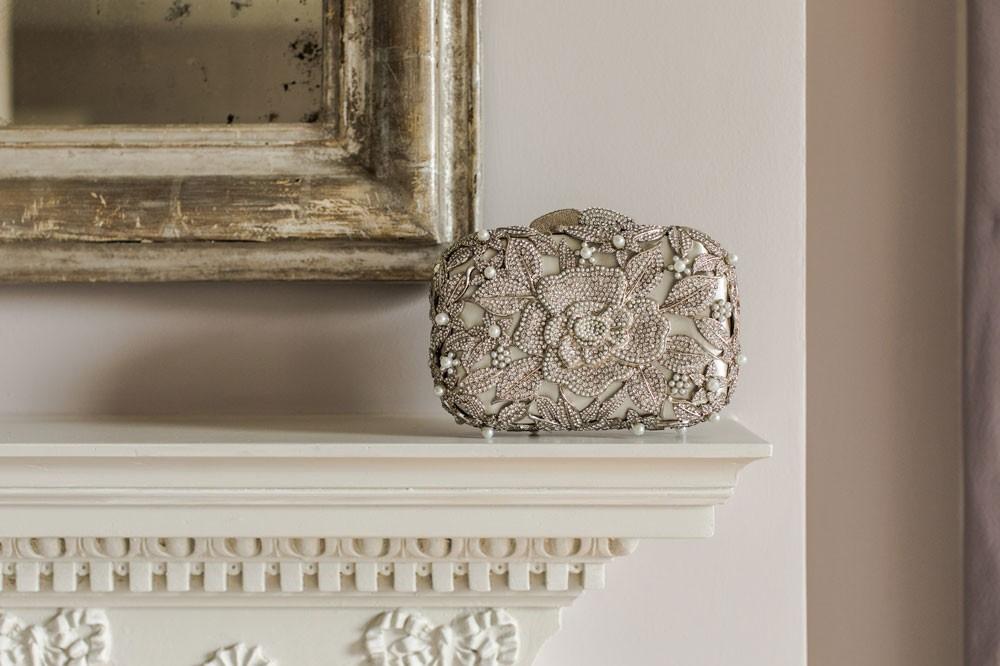 Dune's Celebration clutch is a once-in-a-lifetime design for a once-in-a-lifetime event. The pearl and diamante detailing exudes decadence and will have you sparkling as you twirl around your wedding venue.
This piece is finished with an ivory satin pocket and kissing lock closure. We're in love.
Valentino Rockstud Leather Envelope Clutch – £445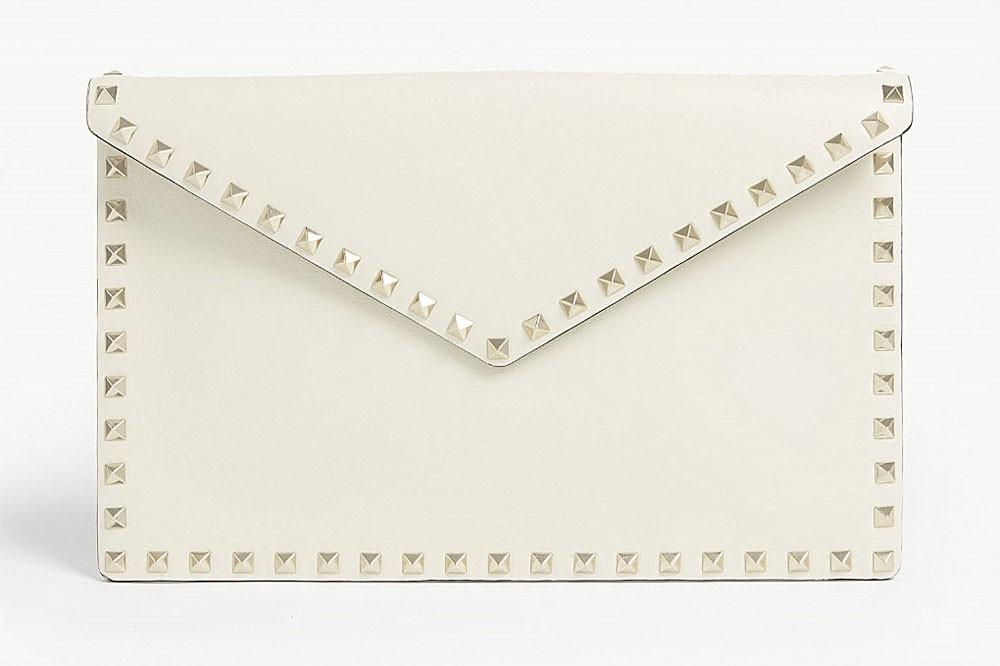 Few features are so pivotal to a brand's success than the Rockstud detailing is for Valentino. This clutch bag pays testament to the brand's aforementioned motif and will be loved by fashion-forward brides.
It is crafted from luxurious ivory leather and finished in an envelope style. It also has beautiful lining and three card slots – how handy!
This is not just a clutch bag for your wedding day – it is a clutch bag for every special occasion in your life.
READ MORE: The Hottest Wedding Dress Trends for 2019
Dune London Bchapel Envelope Bag – £88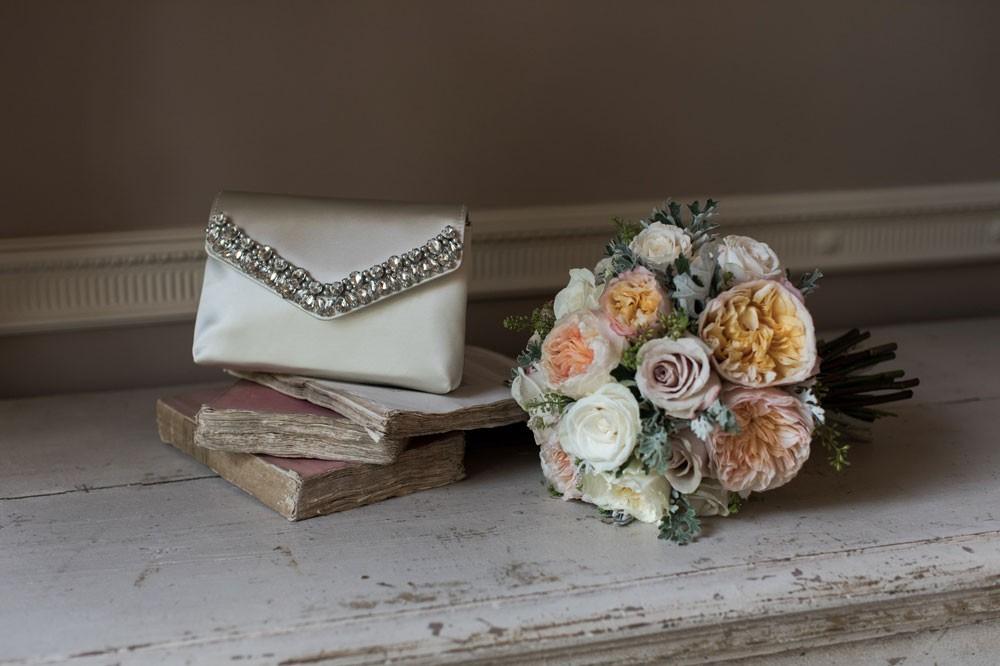 Once again proving that Dune are the masters of creating luxurious bridal accessories for eye-catching prices, the Bchapel envelope clutch bag is a beautiful choice for your glamorous wedding day.
It oozes elegance and is decorated with dazzling diamante and crystal embellishments. There is also a detachable chain strap, making it perfect for travelling from ceremony to reception.
Accessorize Olivia Hardcase Clutch – £32.50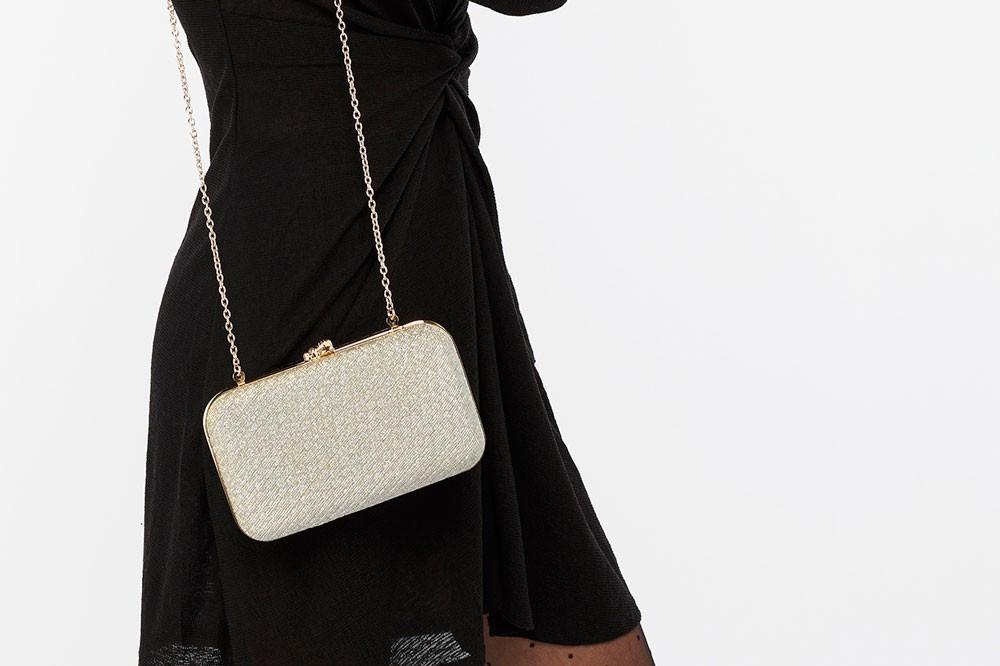 Defined by its intricate gold bee clasp, the fun and quirky Olivia clutch will add an element of playfulness to your classic bridal look.
Finished beautifully in a sparkling, weaved fabric, this piece is hard cased with a metal frame, luxurious satin lining and a practical chain strap.
If that wasn't enough, it is only £32.50! The wedding budget will thank you.
READ MORE: 50 Ingenious Free Wedding Ideas
Accessorize Mrs Hard Case Clutch Bag – £45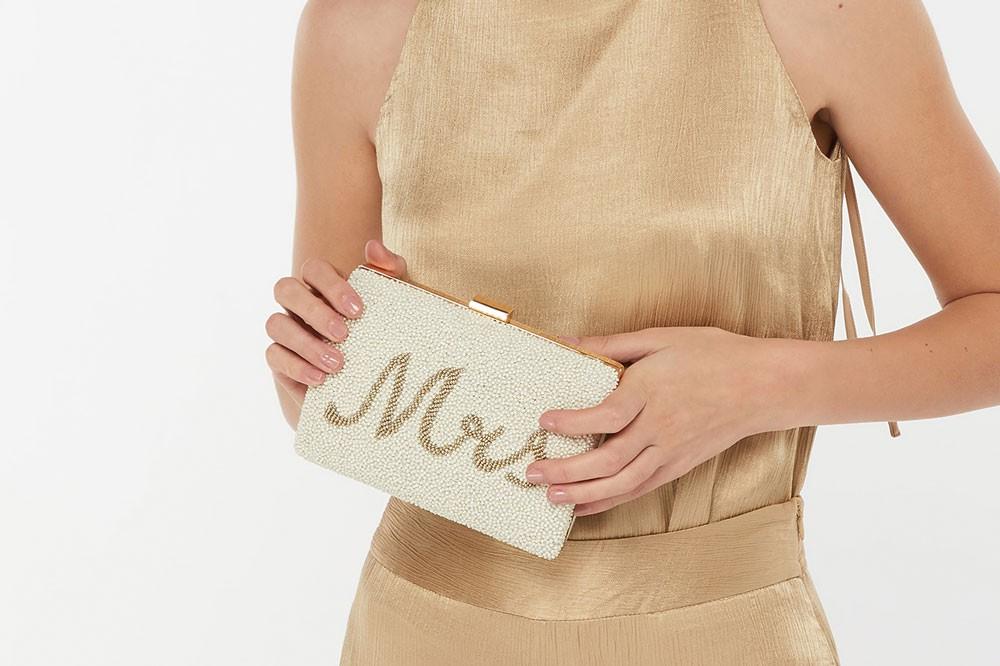 Hosting a totally glamorous wedding? Nod to your wedding theme and treat yourself to this pearl-adorned clutch bag.
Beaded by hand, the gorgeous design has a hard case and a sleek metal frame. It also features calligraphy style "Mrs" embellishment in contrasting beading, so if you're looking for a design which will add a sprinkling of fun to your ensemble, this could be just the ticket.
Hurleyburley Personalised Luxury Metallic Leather Clutch – £39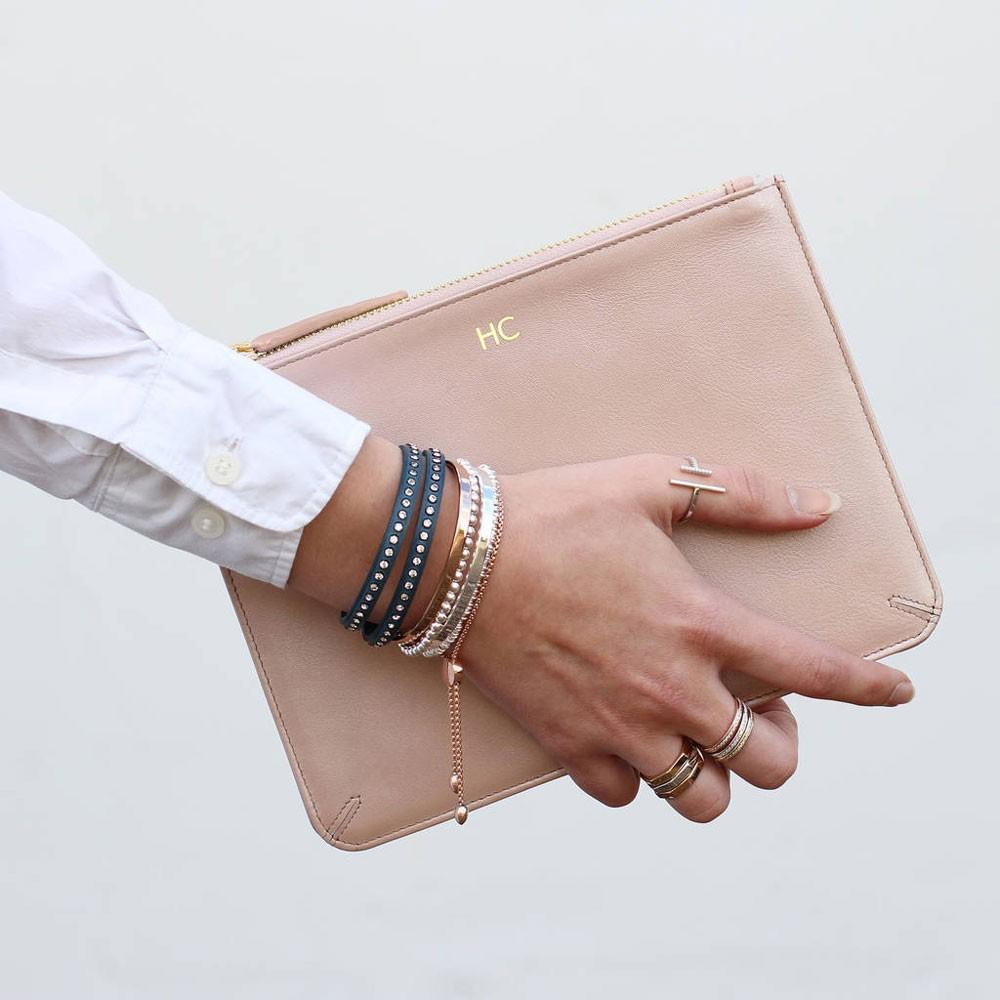 This luxury Italian leather clutch bag by Hurleyburley is the perfect choice for style-savvy brides, thanks to its metallic sheen and the choice of four neutral colours.
Classic brides will love the champagne and blush shades, whilst those wishing to make more of a statement will enjoy donning the striking bronze and silver colourways.
As a beautiful finishing touch, we love the option of having your initials embossed on the clutch bag in foil lettering. Why not go all-out and treat your whole bridal squad to matching personalised clutches?
READ MORE: The Prettiest Bridal Squad Dressing Gowns & Pyjamas
Team Hen Bride Clutch Bag – £18.99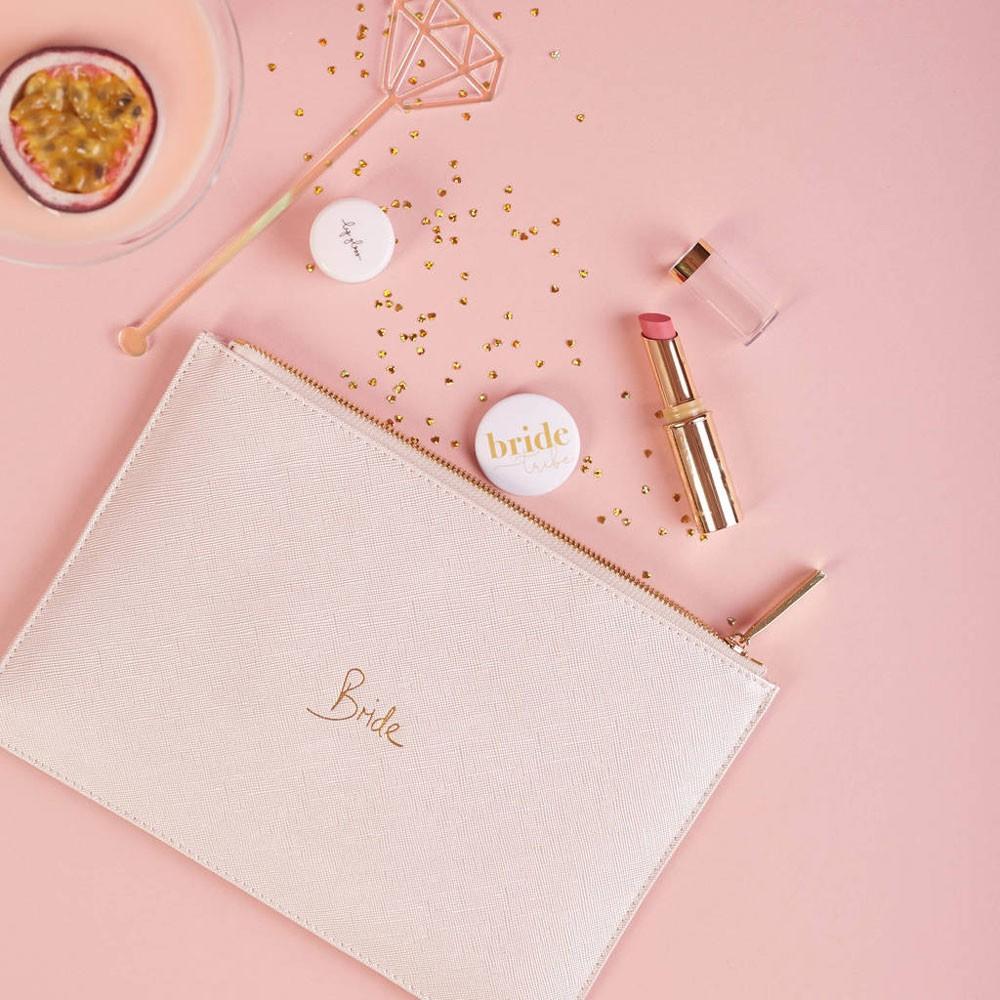 From lipstick to hair grips, you never know what you might need to be carrying on the big day!
This gorgeous personalised clutch bag by Team Hen is the perfect pouch to hold all of your essentials in. It comes in a stunning metallic ivory shade with a gold zip fastening.
What's more, you can personalise the front with 'Bride' or 'Mrs' in a hand-written, gold font. You could even pick up 'Flower Girl', 'Mother of the Bride', 'Mother of the Groom' and 'Team Bride' pouches whilst you're at it!
READ MORE: 29 Bridesmaid Gifts to Suit Every Budget
L.K. Bennett Beatrice Ivory Satin Clutch Bag – £225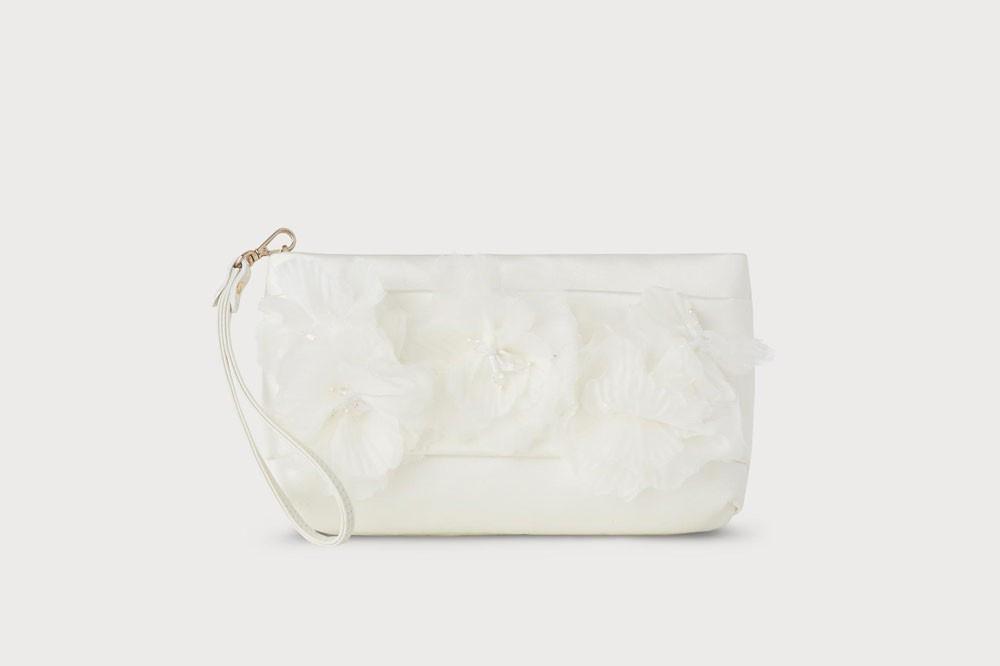 Treat yourself to something extra special by opting for one of the clutch bags in L.K. Bennett's first collection with renowned British designer, Jenny Packham.
We're in love with the Beatrice design. It is handcrafted in luxurious Italian leather and finished with delicate organza flowers.
If you're getting married in the summer, such a detail will be a beautiful nod to your wedding season.
READ MORE: Which Season Should You Marry In? – Take The Quiz!
L.K. Bennett Brigitte Ivory Satin Clutch Bag – £195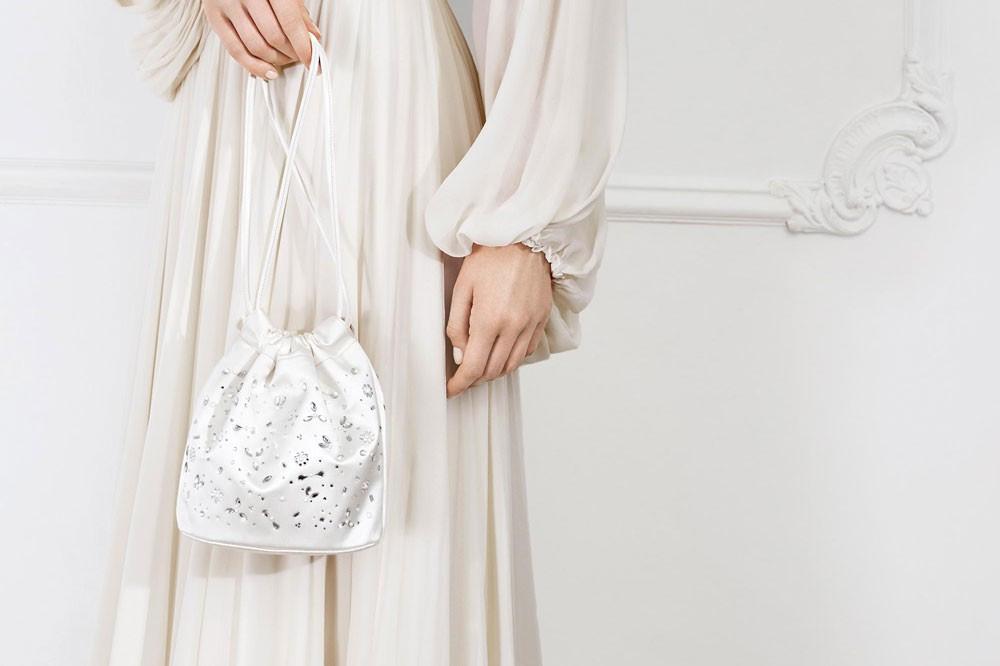 Paying homage to the playful drawstring bag trend (which, FYI, has been everywhere we've looked for a good while now), the Brigitte satin clutch bag by Jenny Packham and L.K. Bennett is a contemporary choice.
Be a bride who's one step ahead of the curve and carry all of your wedding day essentials in this gorgeous piece.
Light-catching crystals and elegant pearls will add a hint of shimmer to your extra-special day, while the luxe gold branded details complete the design.
READ MORE: The Hottest Wedding Dress Trends of 2019
River Island Silver Diamante Clutch – £20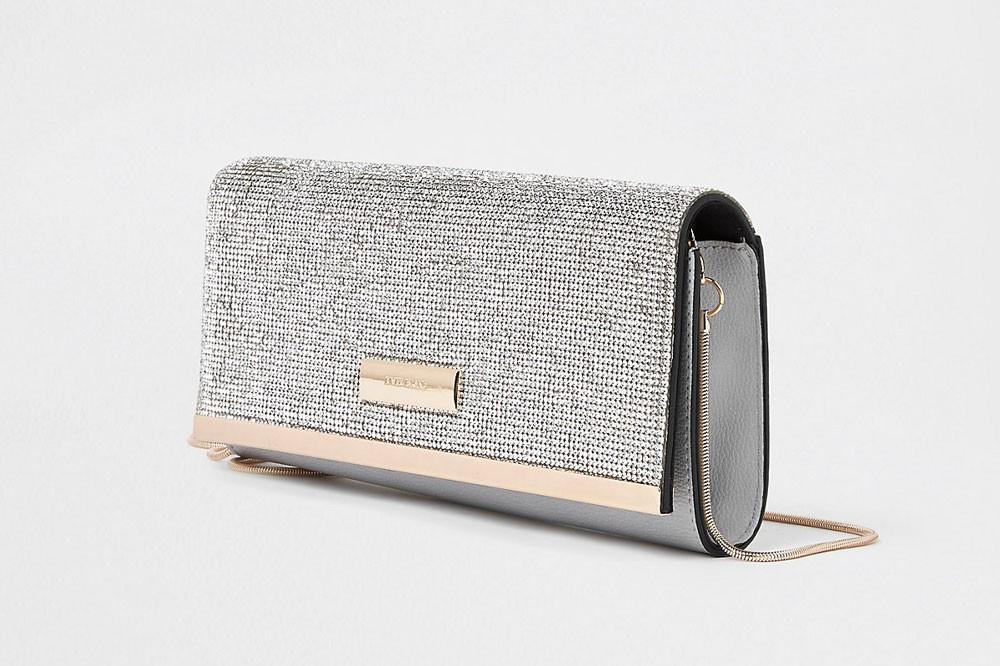 Brides looking to bag a bargain will love River Island's latest clutch bag drop.
Super sparkly and ultra-glam, the silver diamante clutch might not have been designed with brides in mind, but will work perfectly on your wedding day nonetheless.
It features a chain strap, gold edging and a handy fold-over panel. At £20, you can't go far wrong!
READ MORE: The Best Wedding Dresses for Under £500
Phase Eight Alice Satin Bow Clutch Bag – £59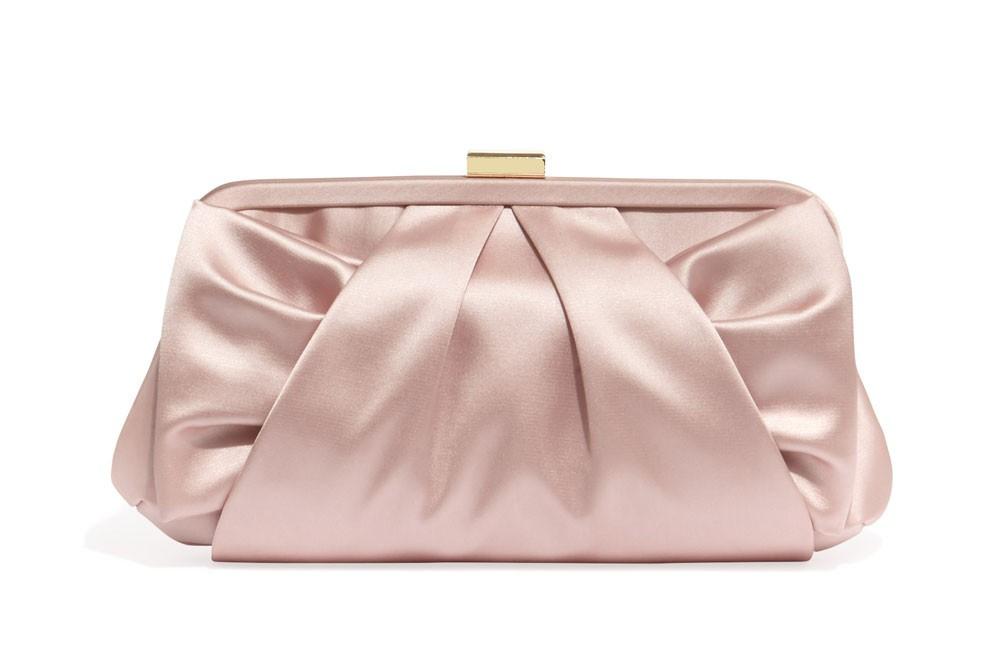 Phase Eight forever remain front-runners in beautiful yet totally affordable bridalwear.
After their release of wedding dresses for under £500, we thought we couldn't become more obsessed… then we stumbled across the Alice satin bow clutch.
Available in both duck-egg blue and a beautiful petal-pink shade, this satin clutch bag is totally timeless and classic.
It will add both sophistication and a subtle pop of colour to your bridal look, and thanks to its chain strap and metallic clasp fastening, can be worn time and time again. We can't get enough.
L.K. Bennett Sissi Ivory Satin Clutch Bag – £175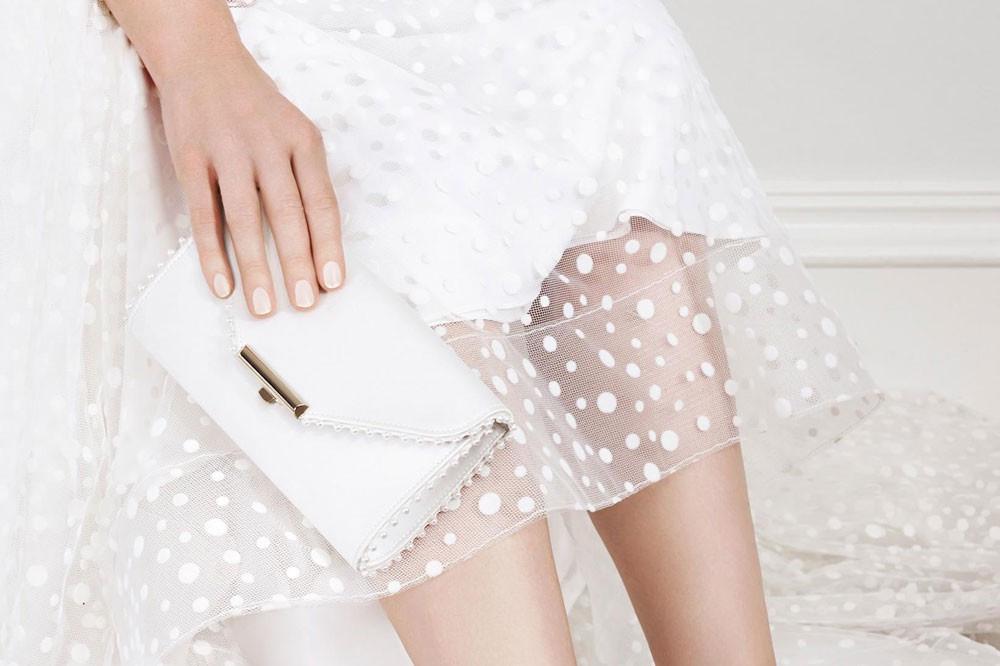 How beautiful is the Sissi ivory clutch bag by L.K. Bennett and Jenny Packham!
Handcrafted in luxurious Italian nappa leather, this vintage-inspired design showcases stunning gold detailing on a timeless box silhouette.
It is a stylish addition to any bridal look and perfectly strikes the balance between simple and statement.
Phase Eight Joelle Suede Clutch Bag – £69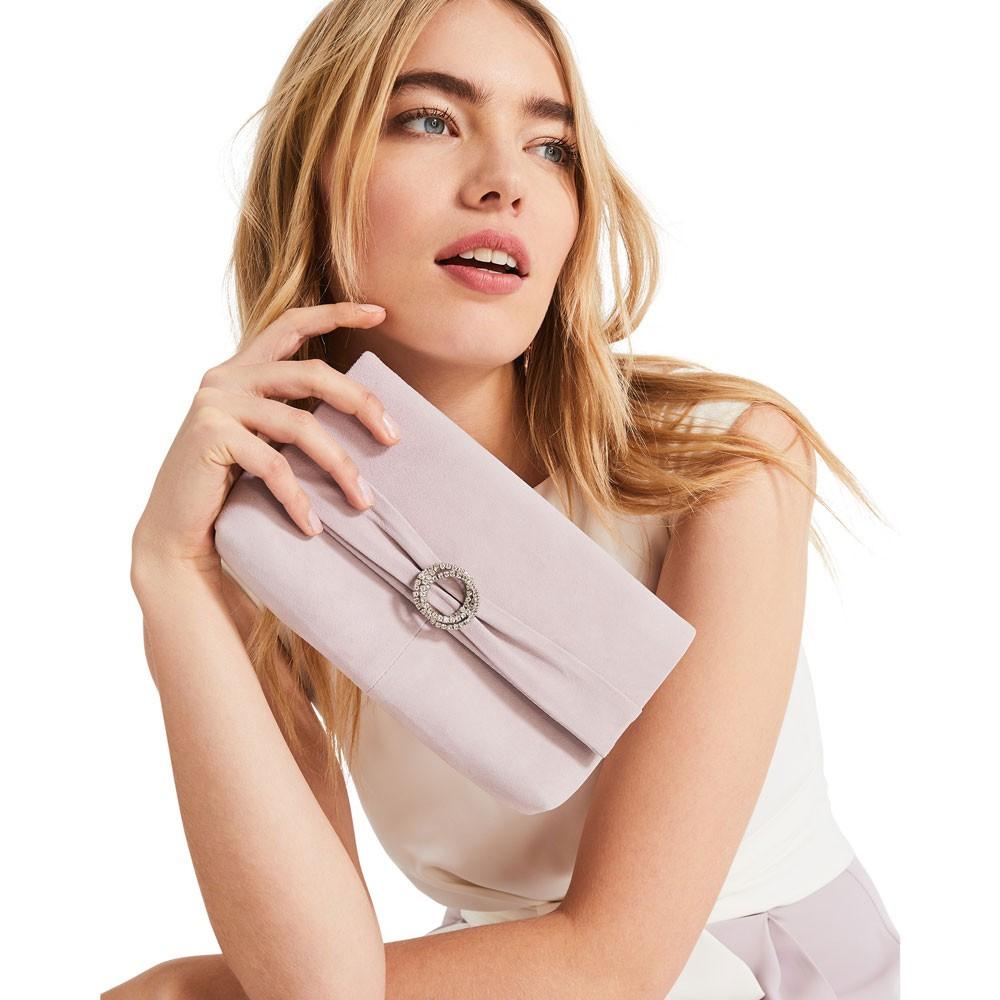 This design is romantic and elegant and, thanks to its misty mauve shade, will add a welcome yet subtle injection of colour to your bridal get-up.
The suede finish makes this design look endlessly more expensive than it actually is, whilst the jewel embellishment adds a pretty, vintage touch.
If you've chosen blush dresses for your bridesmaids, this clutch bag would be a lovely way to tie your outfit in with theirs.
READ MORE: Our Favourite Blush Bridesmaid Dresses
Phase Eight Gemma Satin Clutch Bag – £65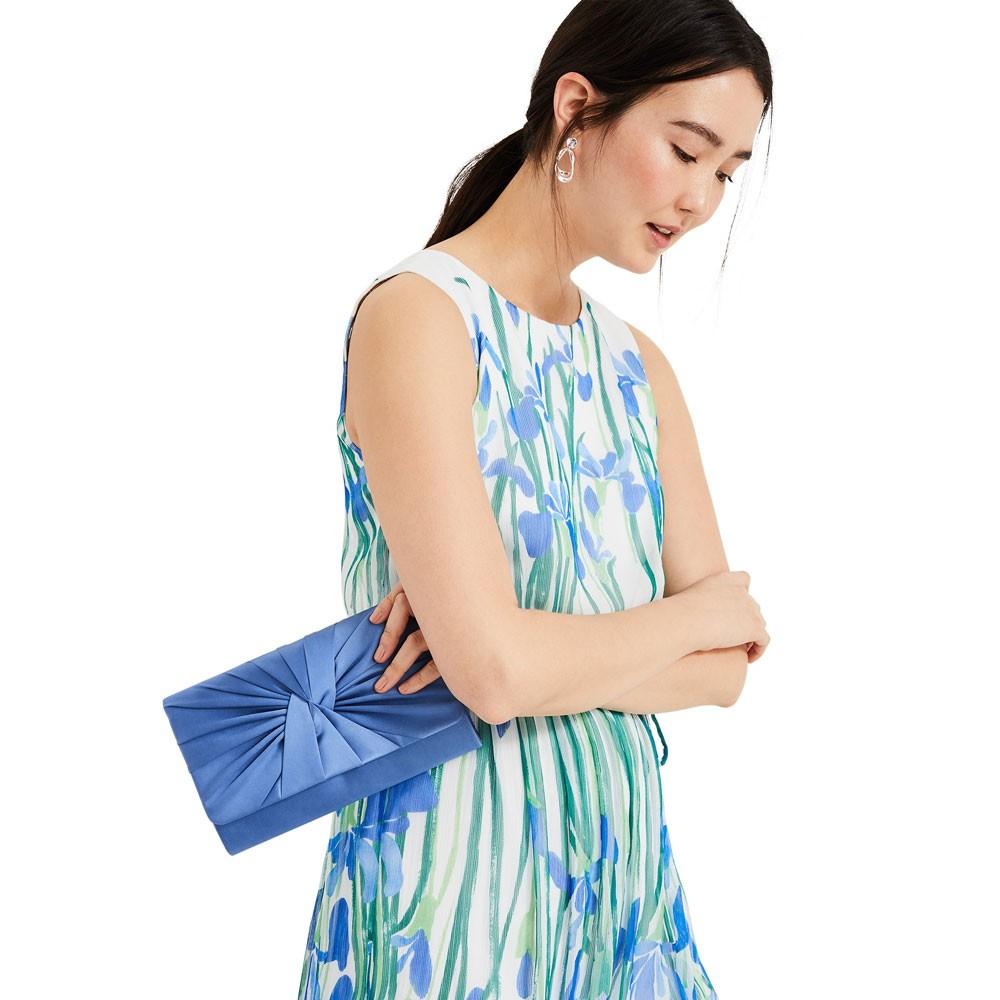 Are you on the hunt for something blue? Here we have your answer.
The eye-catching cornflower blue Gemma satin clutch bag by Phase Eight gently nods to wedding tradition while guaranteeing you some serious bridal style points.
This design features twist detailing, concealed button closer and a thin metallic strap for effortless all-day wear. It is so pretty!
Lulu Guinness Freya Heart Clutch – £155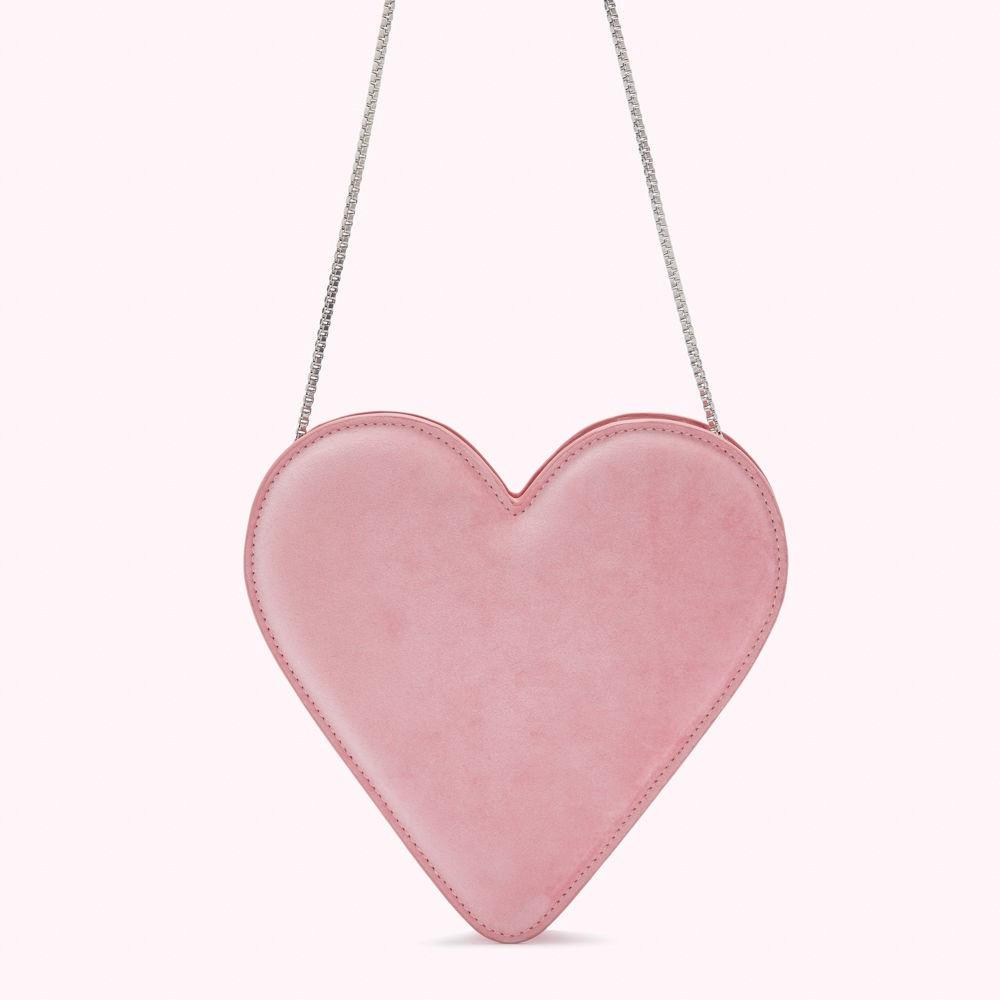 Kitsch and quirky designs are a label signature for Lulu Guinness, and we love the brand's latest Freya Heart Clutch.
Made in a beautiful dusky-pink velvet which complements the popular and iconic shape, this design is finished with a gold chain.
It has ample space for everything you'll need to carry, and you could wear as a cross-body bag once your big day is over!
Forget about your wedding dress, this clutch bag is the star of the show.
Vegas Vintage Inspired Embellished Clutch – £29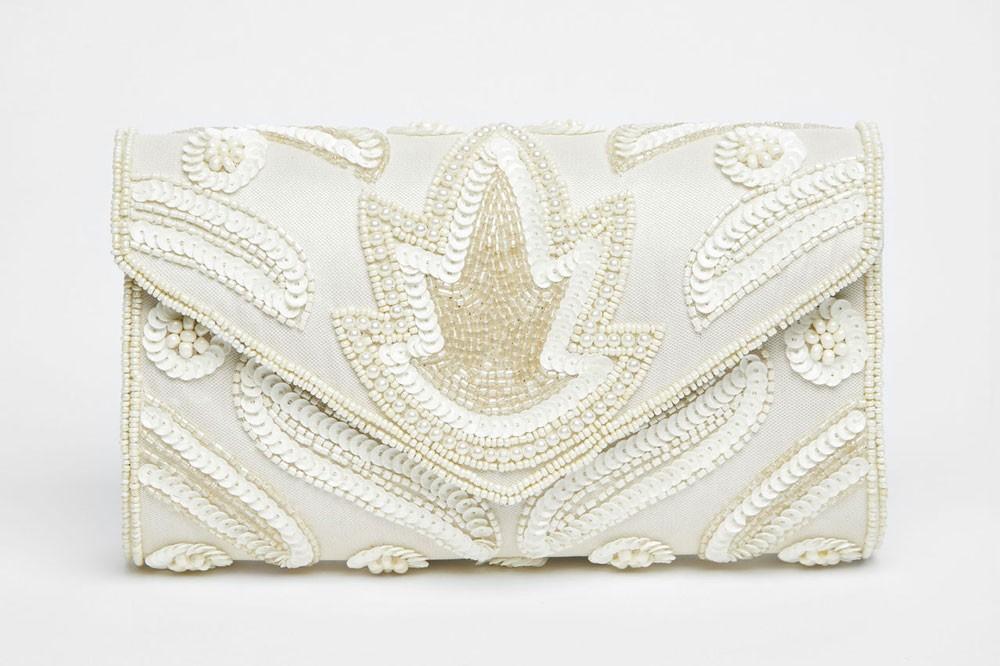 This heavily embellished 1920s inspired art-deco clutch bag has been created with your wedding day in mind.
Every inch of the piece is covered in glistening sequins, beads and crystals making it the perfect finishing touch to a vintage bridal look. What a design.
READ MORE: Vintage Wedding Dresses for Your Best Girls
Monsoon Freya Fringed Drawstring Bag – £40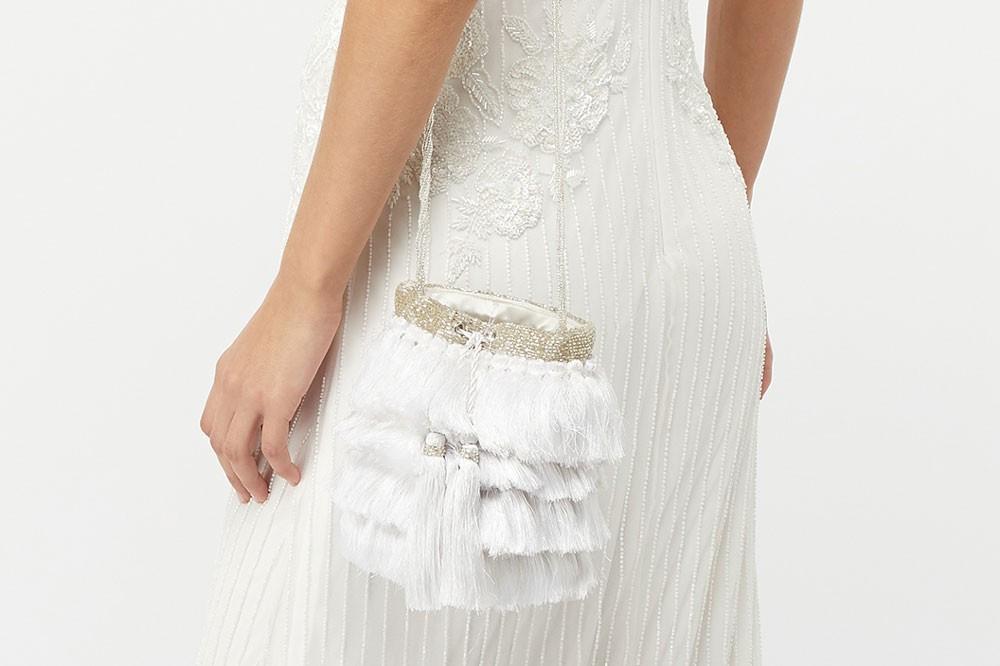 Okay, this one isn't technically a clutch bag, but it's perfect for your wedding day essentials all the same.
Channel flapper-girl glamour at your vintage themed wedding with this beautiful pouch-style piece.
It features lustrous fringing, vintage beaded shoulder straps and elegant tassels. You'll want to use it over and over again!
READ MORE: The Best Wedding Dresses Under £500
Now that you've chosen your clutch bag, you'll want to choose your wedding day essentials to fill it with. Why not check out our pick of the best bridal lipsticks to carry for mid-photo top-ups?