The 30 Cutest Flower Girl Gift Ideas She'll Adore
We've handpicked our favourite flower girl gift ideas for every stage of wedding planning, from 'Will you be my flower girl?' presents to perfect thank you gifts, including beautiful bracelets, super-cute teddies, the best books and much more!
We have included third party products to help you navigate and enjoy life's biggest moments. Purchases made through links on this page may earn us a commission.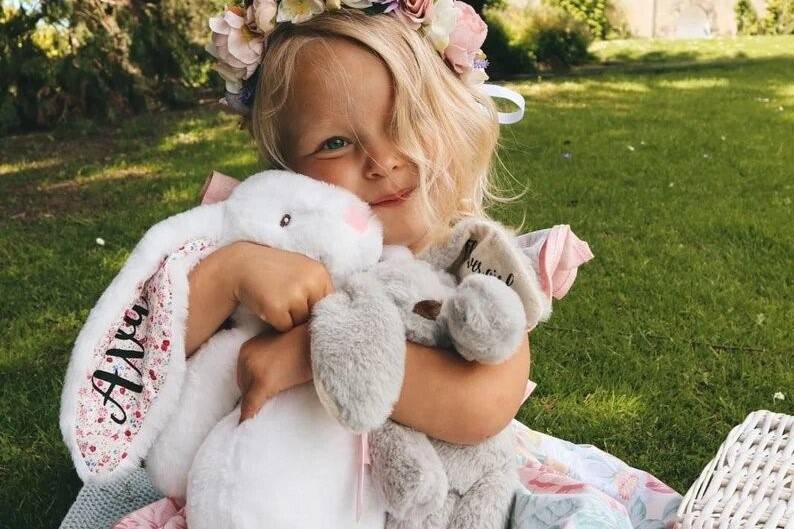 Having flower girls is an easy way to include younger members of your family or friends' children in your wedding party and you'll also get some totally adorable wedding pictures! While it's not compulsory to buy a flower girl gift, it's a lovely gesture that they - and their parents - will remember.
You can get them a special keepsake to mark the moment you ask, 'Will you be my flower girl?', something special to wear on the day like a necklace or bracelet, or you can give them a flower girl thank you gift on the wedding day that they can keep as a memento - for example, a lovely edition of a book, or a cute teddy. If you're feeling super-generous, of course, you can do all three!
To get you inspired, we have a selection of the best flower girl gifts from practical presents to pretty personalised flower girl gifts. What's more, there are tons of cheap flower girl gifts in there too so you won't have to spend a fortune! Warning: prepare for cuteness overload.
'Will You Be My Flower Girl?' Gifts and Ideas
'Will You Be My Flower Girl?' Gifts and Ideas
Your flower girl will love it if you 'pop the question' in an extra special way. Take a look at some of our adorable ideas.
1. Personalised Flower Girl Press - £35, Bombus at Not On The High Street
For a unique way to ask your flower girl to be part of your big day, we adore the idea of this flower press. It'll make a really fun activity for them to do after the wedding with your flower and petal left-overs.
2. Flower Girl Heart Proposal - £9, Design by Eleven at Not On the High Street
This wooden heart is just so pretty, and it can be customised with your choice of wording on the reverse and ribbon colour. They're also available for all other wedding party roles, such as bridesmaid and maid of honour.
3. Personalised Will You Be My Flower Girl Balloon - £22.99, The Party Company
Can you imagine the look on your flower girl's faces when she opens a box to have a personalised feather-filed balloon float out? If you don't live near them, you can have it sent to their homes and ask their parents to video the big moment!
4. Will You Be My Flower Girl Personalised Pink Star - £9.99, Personalised Wedding Gifts
This handmade wooden star would make a pretty keepsake for your flower girl, and can be personalised with her name.
5. Will You Be My Flower Girl Jigsaw - from £6.03, Boutique Eclipse at Etsy
What an adorable idea: send your flower girl this personalised puzzle, so she can put it together to reveal your message. The seller offers puzzles in a range of designs, but we particularly like the floral.
READ MORE: Everything You Need to Know About Children at Weddings
6. Will You Be My Flower Girl Confetti Pop - £2.75, Shropshire Petals
If you're having more than one flower girl, keep costs down by choosing a cheap flower girl gift, like this enchanting confetti pop. This is definitely one to run past the parents, as they may not relish the prospect of hoovering up confetti and finding petals down the sofa for weeks!
7. Flower Girl Wish Bracelet - £3, Elizas Flowers at Etsy
Make your flower girl's day with a wish bracelet. You can choose from different colours for the cord, which features a twinkling star charm.
8. Secret Reveal Wheel - £10, Design By Eleven at Not On the High Street
This reveal wheel really does have the aww-factor. The wheel turns to reveal four personal messages from you - including, of course, the all-important 'Will you be my flower girl?' It works for any wedding party role, but we think the whole secret-message thing will particularly delight your mini attendants.
9. Will You Be My Flower Girl Cookie Gift Box - £12.60, Silvias Gingerbread at Etsy
Sweet treats generally go down a storm with little ones, and these personalised cookies are utterly charming. Just make sure you or the parents get some pics of the flower girl's reaction before she takes a bite!
On-the-Day Flower Girl Gifts
You may want to give your flower girl something special she can use on the big day - take a look at some of our favourite gifts you can present to her on the wedding morning.
10. Personalised Star Necklace - £22, Mini Bloom at Not On the High Street
This sterling silver star charm necklace can be personalised with your flower girl's initial, and is also available in rose gold. It's a piece of jewellery your flower girl can wear on your wedding day and treasure for years to come.
READ MORE: Bridesmaid Jewellery: Affordable Gifts Your Best Girls Will Love
11. Personalised Flower Girl Bag - £9.85, The Gift Artisans at Etsy
This cute flower girl bag features a beautiful floral design and is the perfect place for your flower girl to store all her bits and bobs for the big day. For an extra treat, why not fill the bag with things your flower girl will love, like hair clips and nail polish?
12. Personalised Baby Bodysuit - £23, Hitched Shop
If your flower girl is a baby, we bet you won't be able to resist this adorable bodysuit from the Hitched Shop. It will make for one seriously cute wedding snap!
13. Floral Headpiece Flower Crown - £6.50, Postbox Party at Not On the High Street
Your flower girl will look so sweet wearing a flower crown on your wedding day - this one from Postbox Party is available in lots of lovely colours so you're bound to find a shade to match your wedding theme.
14. Sparkle Butterfly Clips - £6.50, Monsoon
These pretty butterfly clips would be the perfect finishing touch for your flower girl's outfit, and she could easily wear them again after the wedding.
15. Personalised Flower Girl Basket – £22.95, Seahorse at Not On the High Street
This beautiful woven flower girl basket comes with an engraved wooden flower that features your wedding date and your flower girl's name. If your flower girl is playing the traditional role of spreading petals along the aisle, this basket will make the task even more special. Afterwards, she can use it to store trinkets.
READ MORE: Wedding Confetti: Everything You Need to Know
16. Personalised Engraved Flower Girl Hanger – £15, Clouds and Currents at Not On the High Street
Gift your flower girl with a personalised hanger - it'll make getting ready on the wedding morning feel even more special.
17. Personalised Flower Girl Mirror - £22, Hitched Shop
Let your flower girl feel like part of the gang by gifting her a personalised compact mirror. Ideal for slightly older flower girls, she will love having a grown-up present.
18. Wedding Activity Pack with Crayons - from £4.20, Paper Ballards at Etsy
This wedding activity pack will come in handy if your flower girl starts getting bored during the wedding breakfast. We love the fact that it's personalised to your wedding.
READ MORE: Wedding Readings From Children's Books: 7 Cute Choices
19. VTech Kidizoom 5MP Camera - £55, Argos
As your flower girl won't have her own smartphone, she'll have no way of taking any pictures at the wedding - unless, of course, you gift her this child-friendly camera that takes both photos and videos! We're not saying the results will rival those of your wedding photographer, but she'll have a fun time snapping away during the reception.
20. Flower Girl Robe - £45, Hitched Shop
This pretty robe is just the thing for the wedding morning, and we're confident your flower girl will want to wear it again and again.
READ MORE: The Best Bride and Bridesmaid Dressing Gowns and Pyjamas for the Wedding Morning
Flower Girl Thank You Gifts
Are you looking for a lovely way to say thank you to your flower girl for doing such a great job? Take a look at some of our favourite flower girl thank you gifts.
21. Flower Girl Heart Keepsake Thank You Card - £12.95, Martha Brook at Not On The High Street
This thank you card by Martha Brook is ideal if you want to pen your flower girl a beautiful message she can look back on when she is older. You could even pop a gift card in the envelope if you want to spoil her!
22. LED Neon Rainbow Light - £9.95, The Glow House at Etsy
23. Personalised Bunny - from £14.99, The Customise Company at Etsy
If your flower girl is of an age where she loves cuddly toys, this plush bunny is a gorgeous option. We love the floral lining, which you can have personalised with her name and wedding role.
24. Personalised Flower Girl Jewellery Box - £35, Hitched Shop
Your flower girl is going to need somewhere to store the accessories she wore on your big day and this gorgeous gold glittery jewellery box is perfect.
25. Doggy Bottle - £8.50, Tigerlily Prints
A water bottle is a gift that's both pretty and practical. Tigerlily Prints have lots of different designs, but as massive dog-lovers here at Hitched, we had to choose the canine-themed style. You can have it personalised with your flower girl's name.
READ MORE: Flowers for Your Flower Girls: Ideas They'll Love
26. Harry Potter & the Philosopher's Stone Illustrated Edition - £20.24, Amazon
Is your mini maid a Harry Potter fan? Get her an illustrated edition of her favourite. They really are beautifully done, and if handled with care, will be a lovely keepsake for years to come.
27. DIY Slimelicious Station - £19.84, So Slime at Crafty Arts
While it would be nice to think your flower girl would adore a meaningful, wedding-related keepsake, sometimes girls just want to have fun. If you want to thank her with something that's purely about having a good time, we suggest a slime station. She can create 16 scented slimes, and add decorations - superb.
28. Gatsby Delphine Dormouse - £125, Thicket & Thimble
Thicket & Thimble create the most glorious dolls to be treasured for years to come. We struggled to pick just one, but in the end, the glamour of the Gatsby Delphine Dormouse won out. Their Heirloom dolls are decorative rather than for play - if you want something your flower girl can have imaginary tea parties with, check out their Keepsake Collection.
READ MORE: Kids' Wedding Favours: 27 Fun Ideas They'll Love
29. Flower Girl Silver Star Earrings – £18.50, Yatris at Not On the High Street
Was your flower girl a little star on the big day? Show her your appreciation with these gorgeous star earrings that come with their very own thank you card.
30. Thank you For Being Our Flower Girl Sweets – from £6.99, Baking Friends at Etsy
If you have more than one flower girl to thank, you can get six of these sweet cones from Baking Friends for just £15.99.
What Do I Put in a Flower Girl Gift Bag?
If you can't decide on one present, a flower girl gift bag is a lovely idea! Not only will your flower girl love having lots of little things to enjoy, it can be a great way to ensure they are prepared for your wedding day and feel special. Fill with items they'll need on the day such as accessories and flower petals, along with personalised presents you know they'll love! For example, if they are a big Disney fan, Etsy and Not On The High Street have some lovely options.
You could also consider popping in a few sweets as they're bound to be a winner!
Want to treat your grown-up bridesmaids, too? Check out our round-up of the best bridesmaid gifts.