21 Beautiful Flower Crowns Ideas (& How to Make Your Own)
Flower crowns aren't just for festival weddings, as the following inspiration proves. Learn how to make a flower crown, ask your florist to recreate one of the following or buy a flower crown online – there are more options than you'd think…
We have included third party products to help you navigate and enjoy life's biggest moments. Purchases made through links on this page may earn us a commission.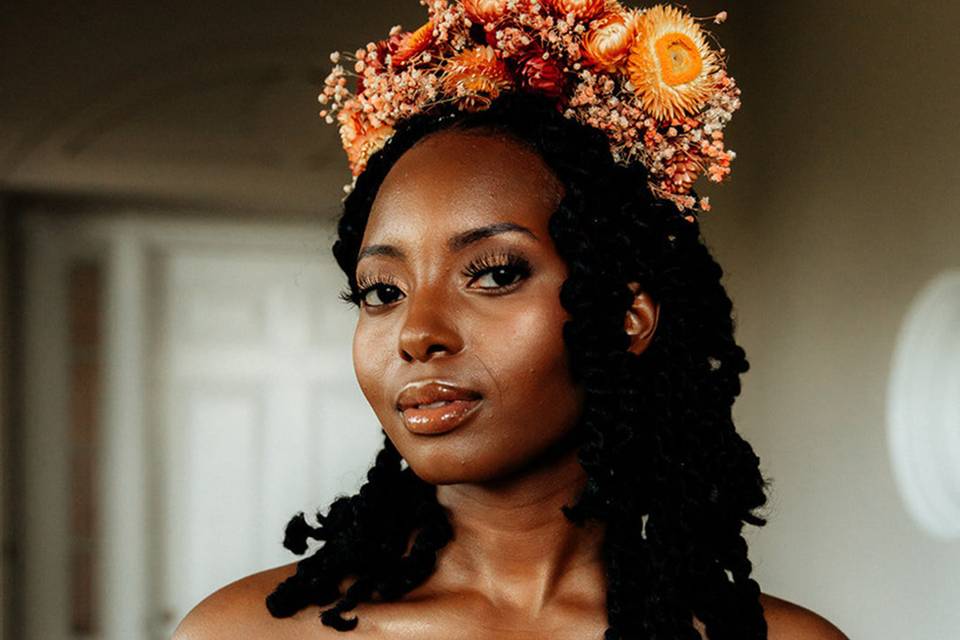 A flower crown needn't simply have Glasto connotations – while a floral garland worn on your head may conjure up images of sunny fields, drinking cider on hay bales and swaying to music at summer festivals, a flower crown can be just as apt for an intimate winter wedding as it is for an outdoor wedding in the warmer months.
Sure, a flower crown is the default headgear for a rustic, boho-themed wedding, but unusual blooms, asymmetric shapes and minimalistic flower crowns look equally awesome for every wedding style and budget. Scroll through the following floral creations and you'll see exactly what we mean…
NB: We have included third party products to help you navigate and enjoy life's biggest moments. Purchases made through links on this page may earn us a commission.
READ MORE:
1. Pink and Coral Flower Crown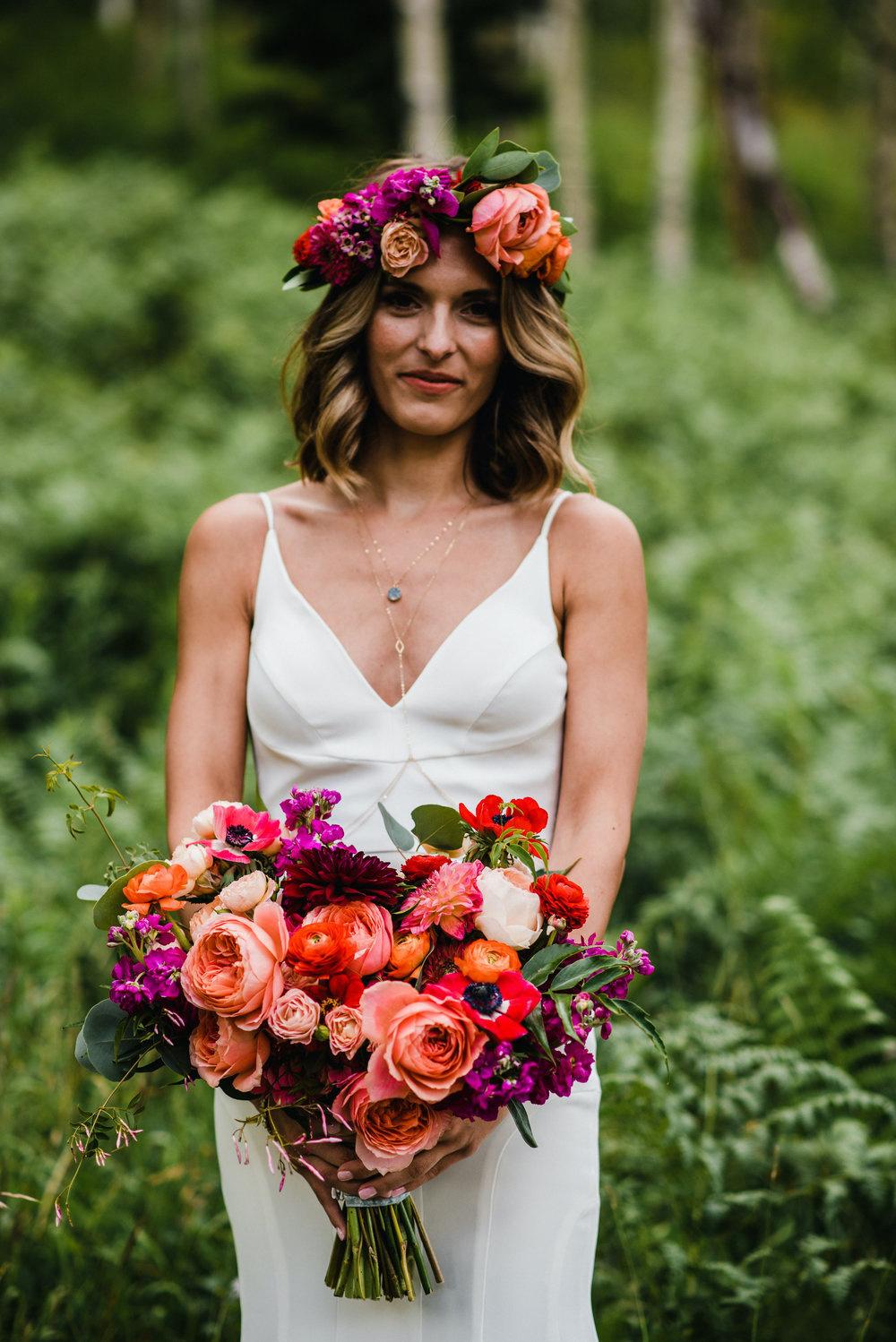 If your wedding colour scheme goes big on bright pinks and oranges then this rose-centred flower crown is the perfect fit. Focus large flowerheads at the front of the band for impact and weave delicate greenery throughout the rest of the band to both make the flowers 'pop' and to disguise the wiring.
2. Pale Pink Baby's Breath Flower Crown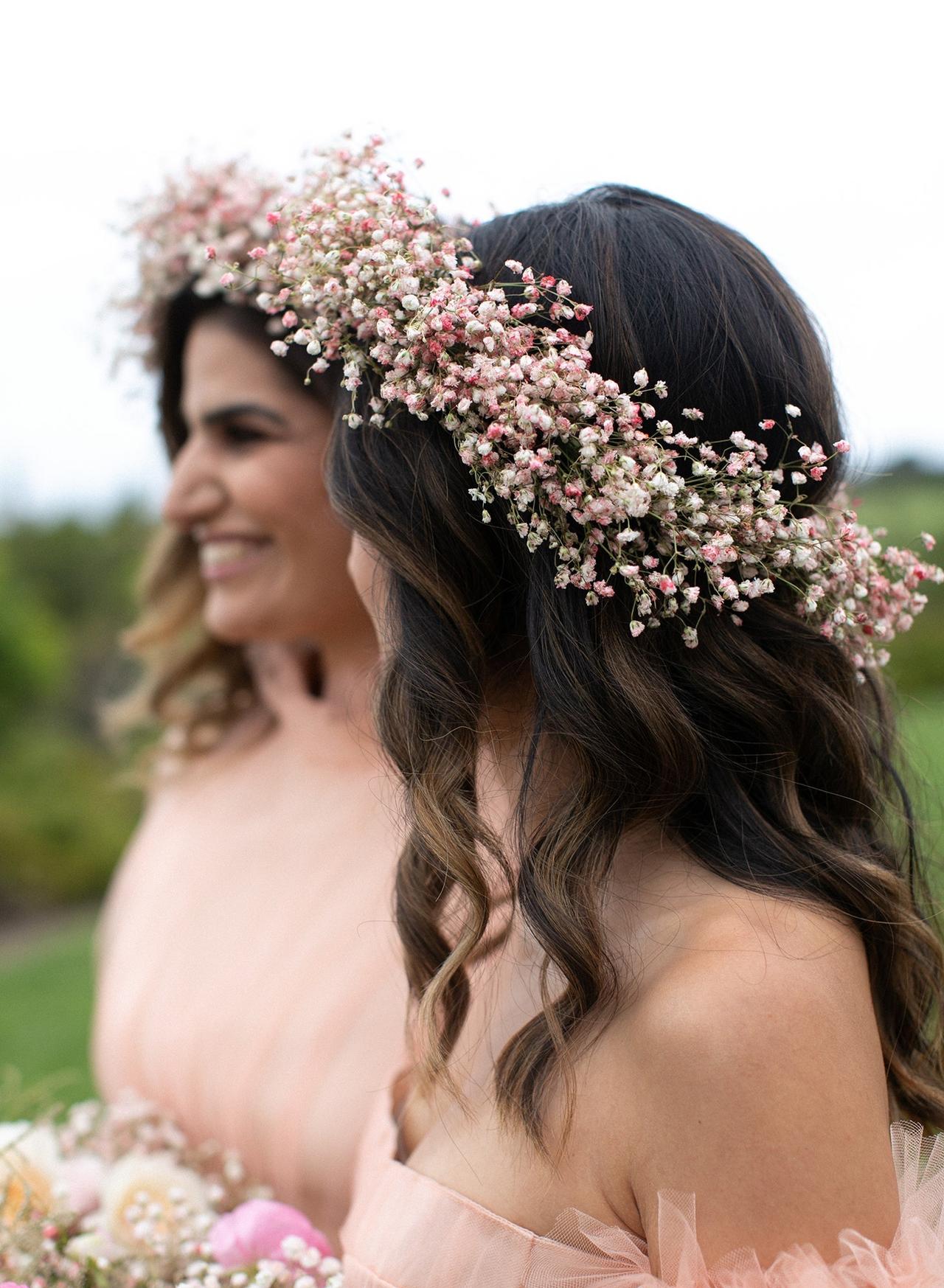 This blush-hued flower crown is a departure from the traditional white baby's breath wreaths – and we love it. It's an affordable way to create a flower crown with impact too as you won't need to factor in pricier flower heads and the choice of a single bloom means that it'll take less time to assemble. A win-win, we're sure you'd agree.
3. 'Something Blue' Flower Crown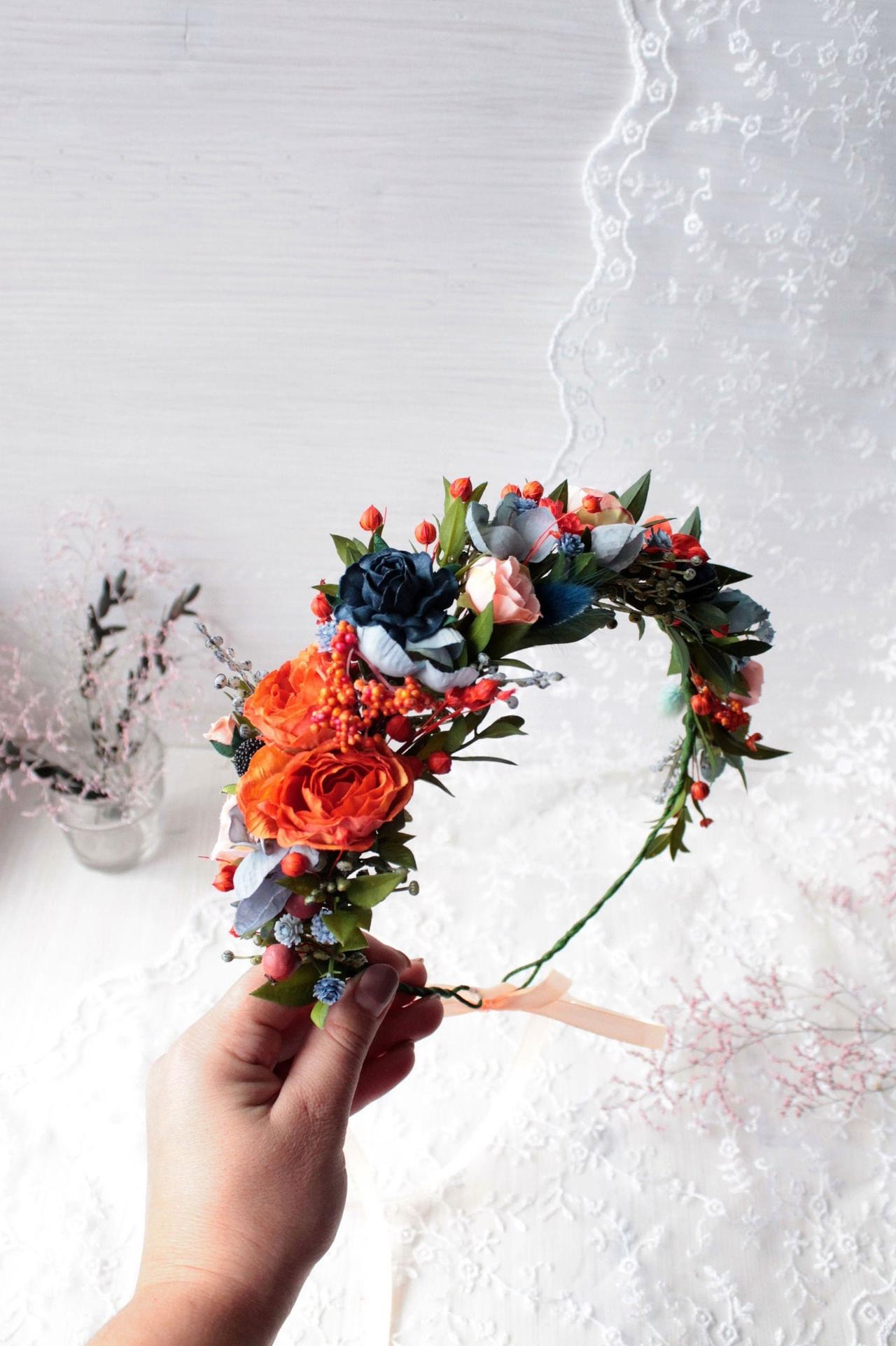 Wear your 'something blue' front and centre by opting for blue toned blooms in your flower crown, whether they're real or synthetic. Mix up tones depending on the colour palette of your wedding – blue florals would look fresh when mixed with green foliage for a beach or forest wedding while dusty pink roses reflect a springtime vibe.
READ MORE: Something Blue: 33 of the Best Blue Wedding Shoes
4. Thistle Flower Crown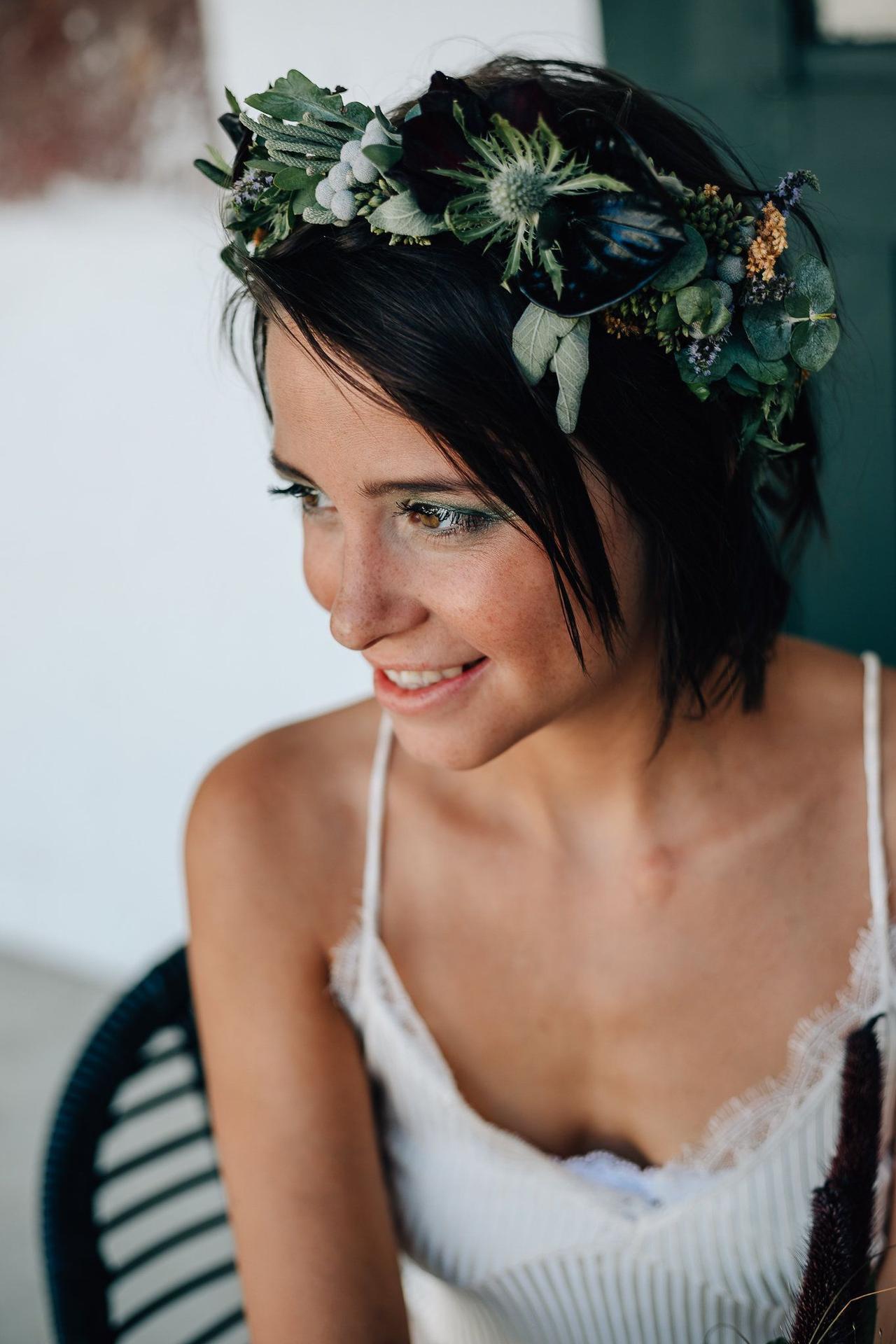 This green and blue hued thistle crown is ideal for winter weddings or if you've got a Scottish fling in mind. Just ensure that you fix those thistles firmly facing outwards to avoid uninvited prickles on the day.
5. Demi-Crown with Yellow Flowers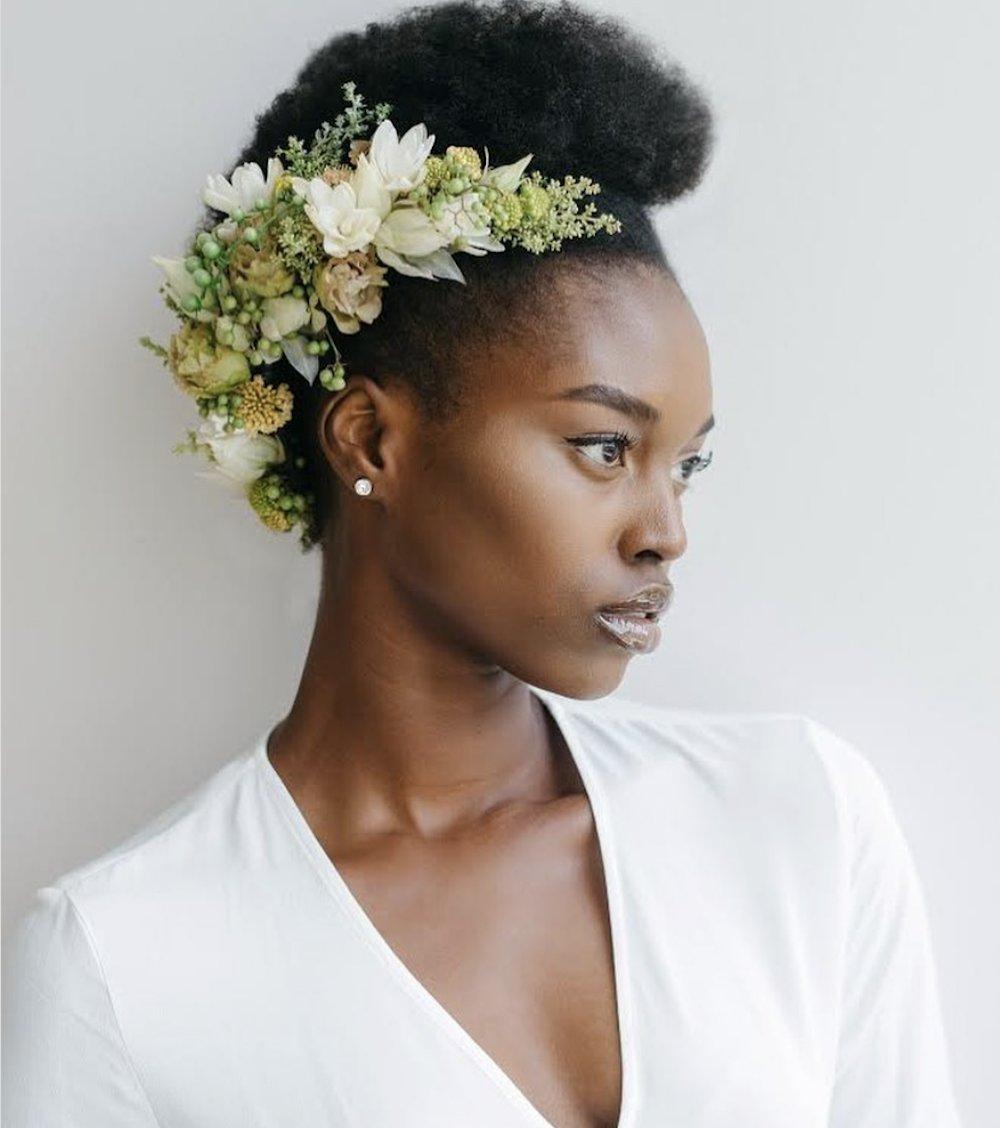 A tilted crown is the cool alternative to a traditional garland – stick to one colourway, adding texture with different sized flowers, foliage or even mini succulents.
6. White Rose Flower Crown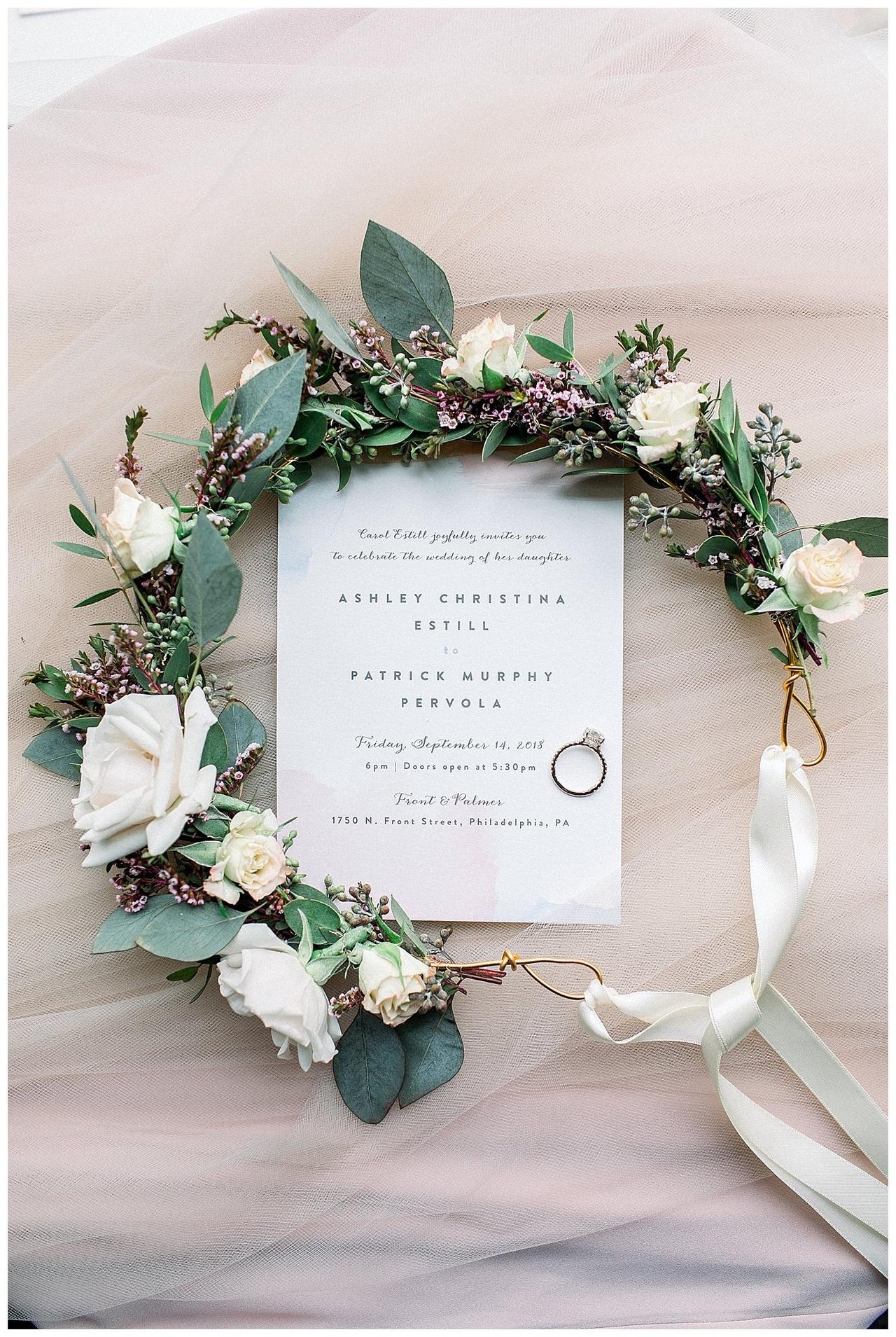 Make white roses look wilder by combining them with sprigs of delicate purple flowers, entwined with foliage.
7. Matching Flower Crown and Bouquet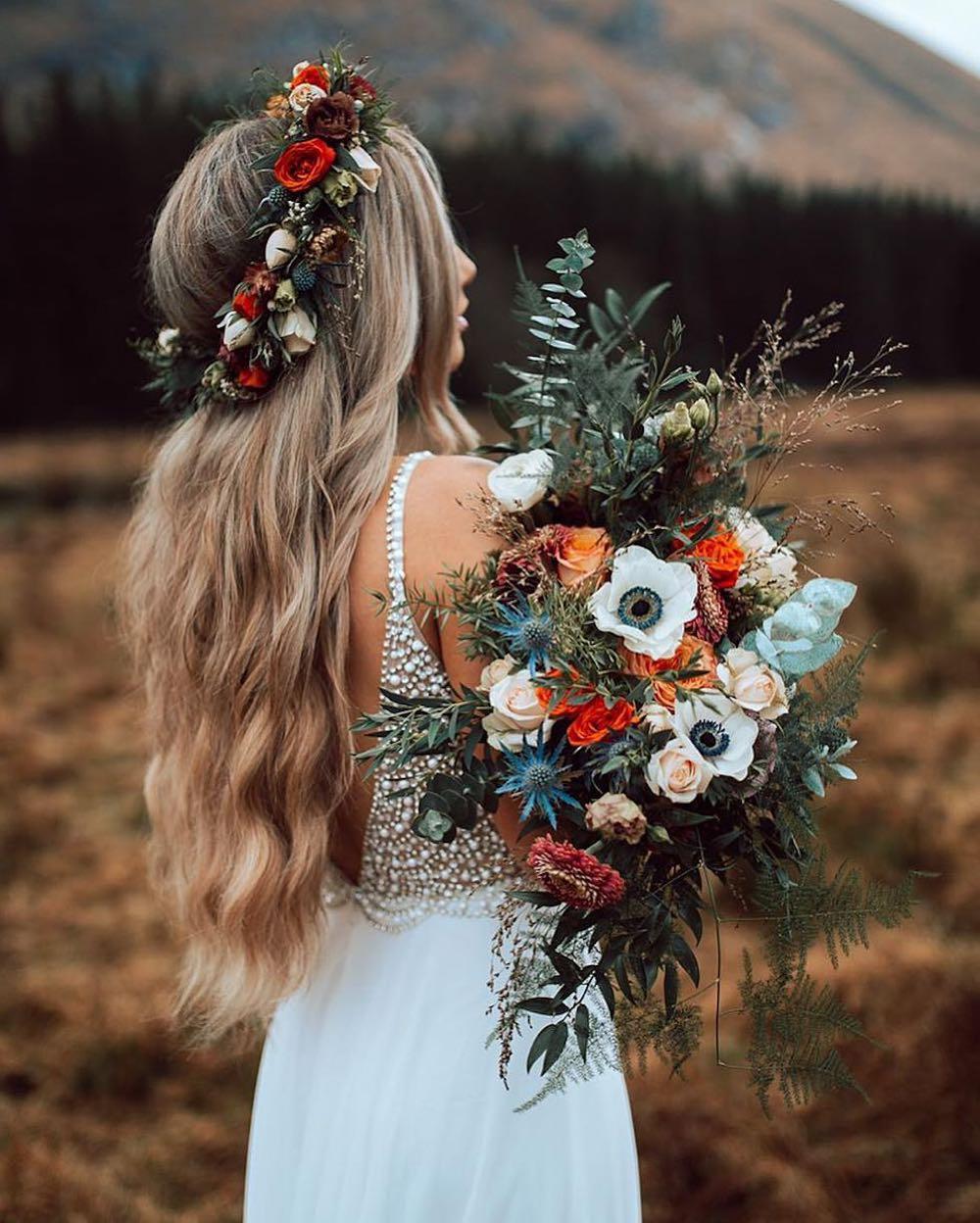 Ask your florist to use the same flowers, colours and structure for your flower crown as are being used in your wedding day bouquet. It'll create a memorable look and don't worry about it coming off too 'matchy matchy' – no two flowerheads are exactly the same.
READ MORE: 30+ of the Best Bridal Bouquet Ideas for 2020
8. Colourburst Flower Crown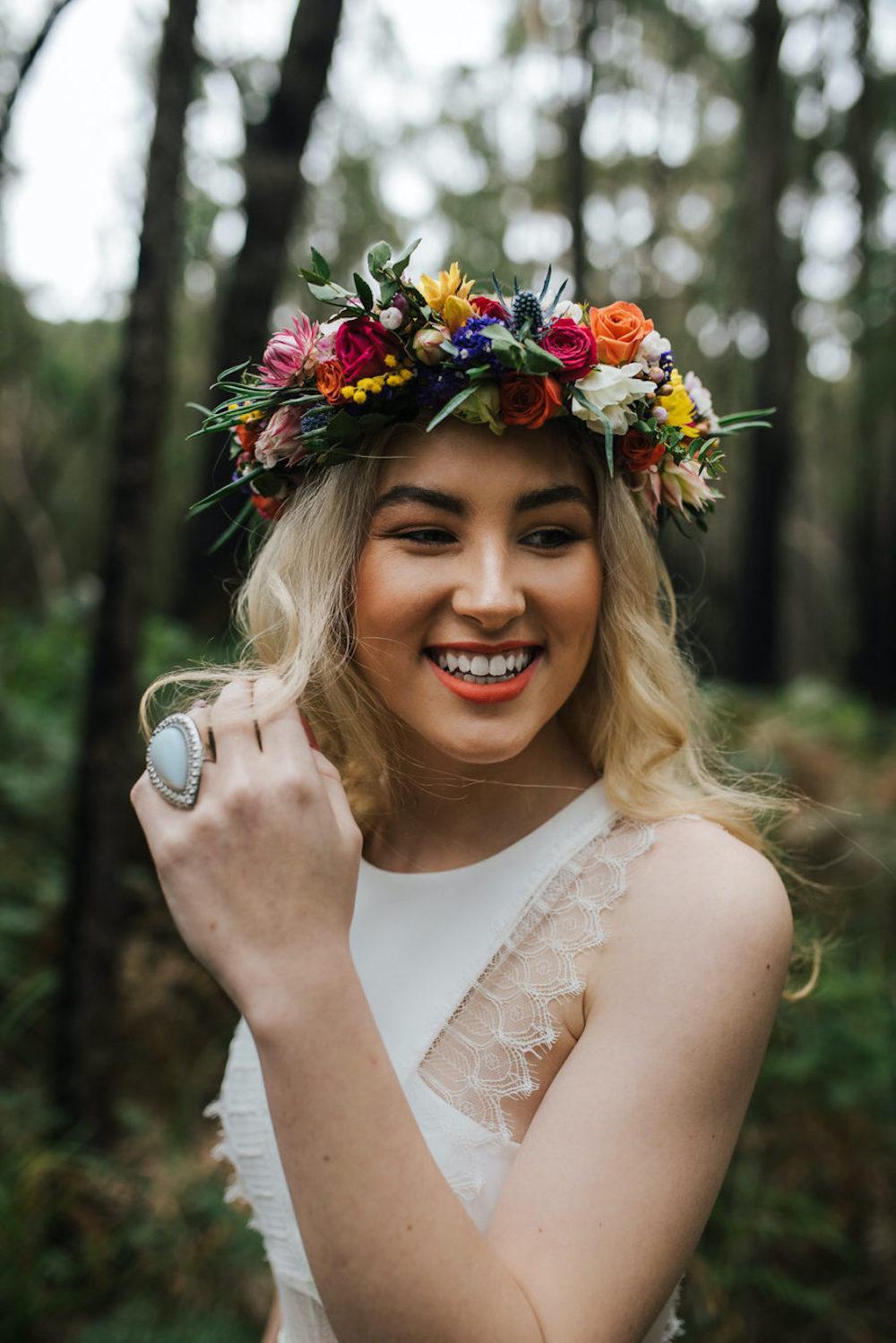 This multicoloured flower crown is a bright idea – it'll bring the joy as soon as you put it on. Mix up different shades of seasonal blooms or use synthetic flowers to vivid effect.
9. 'Orange You Glad to See Me' Flower Crown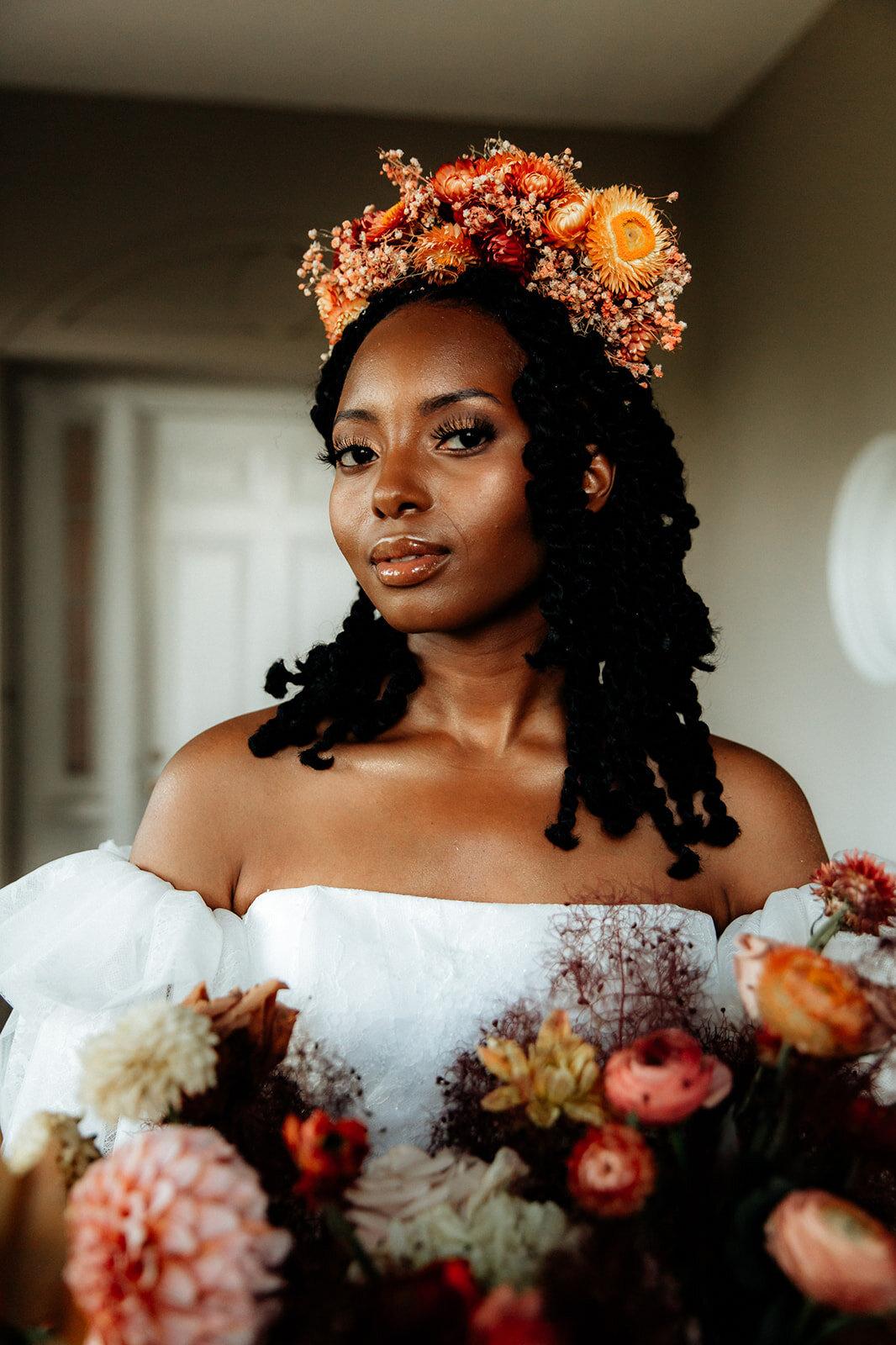 Pardon the pun but that's exactly how your partner will feel when you meet them at the aisle wearing this cheerful creation. Tie in orange details elsewhere in your wedding too – consider orange ribbons for bridesmaids hair or orange buttonholes for groomsmen to reflect wedding day warmth across the board.
10. Mini Sunflower Flower Crown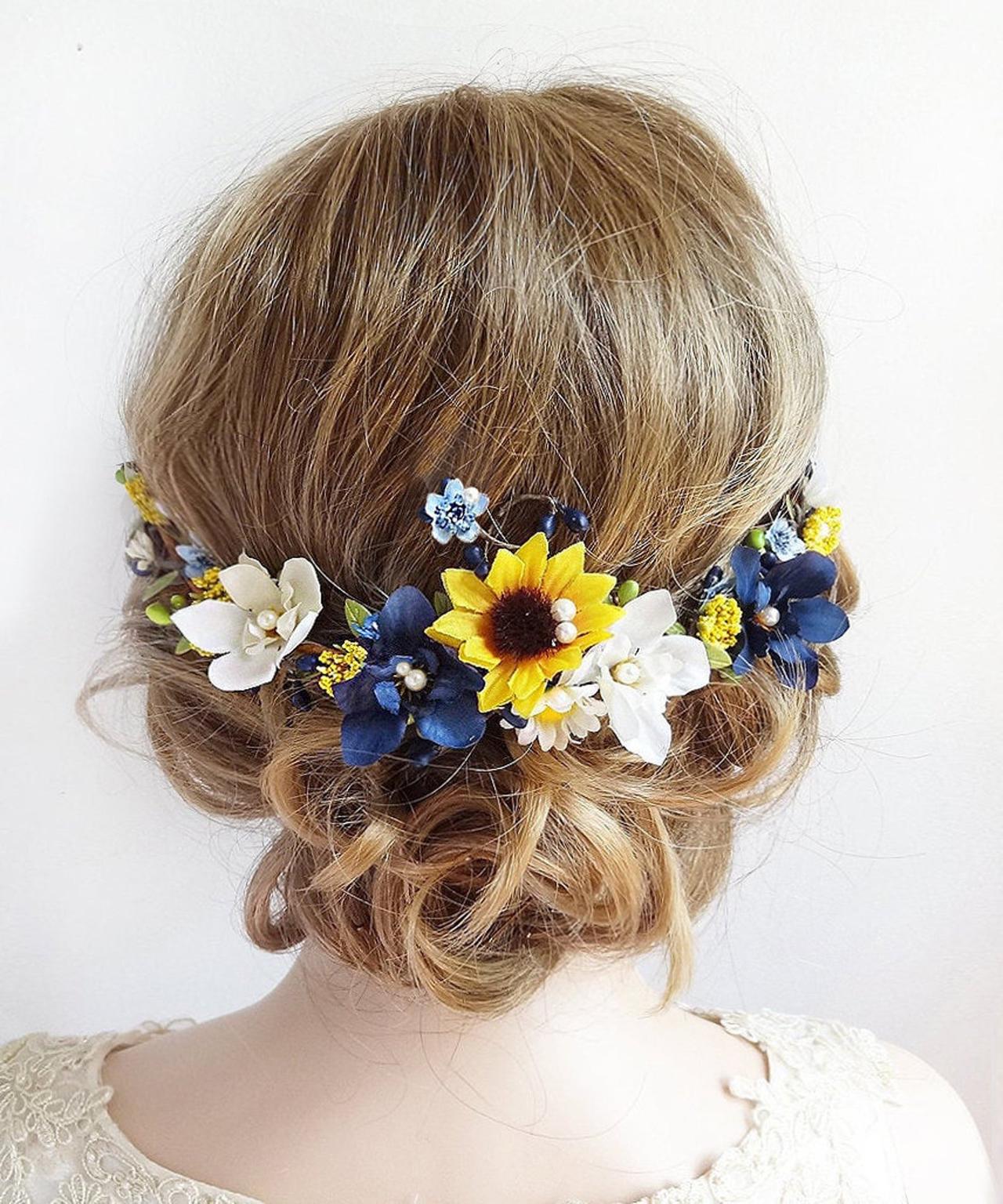 Equally sunny, just downsized a little. Mini sunflowers stand out even more against a base of blue and white.
11. Leaf Crown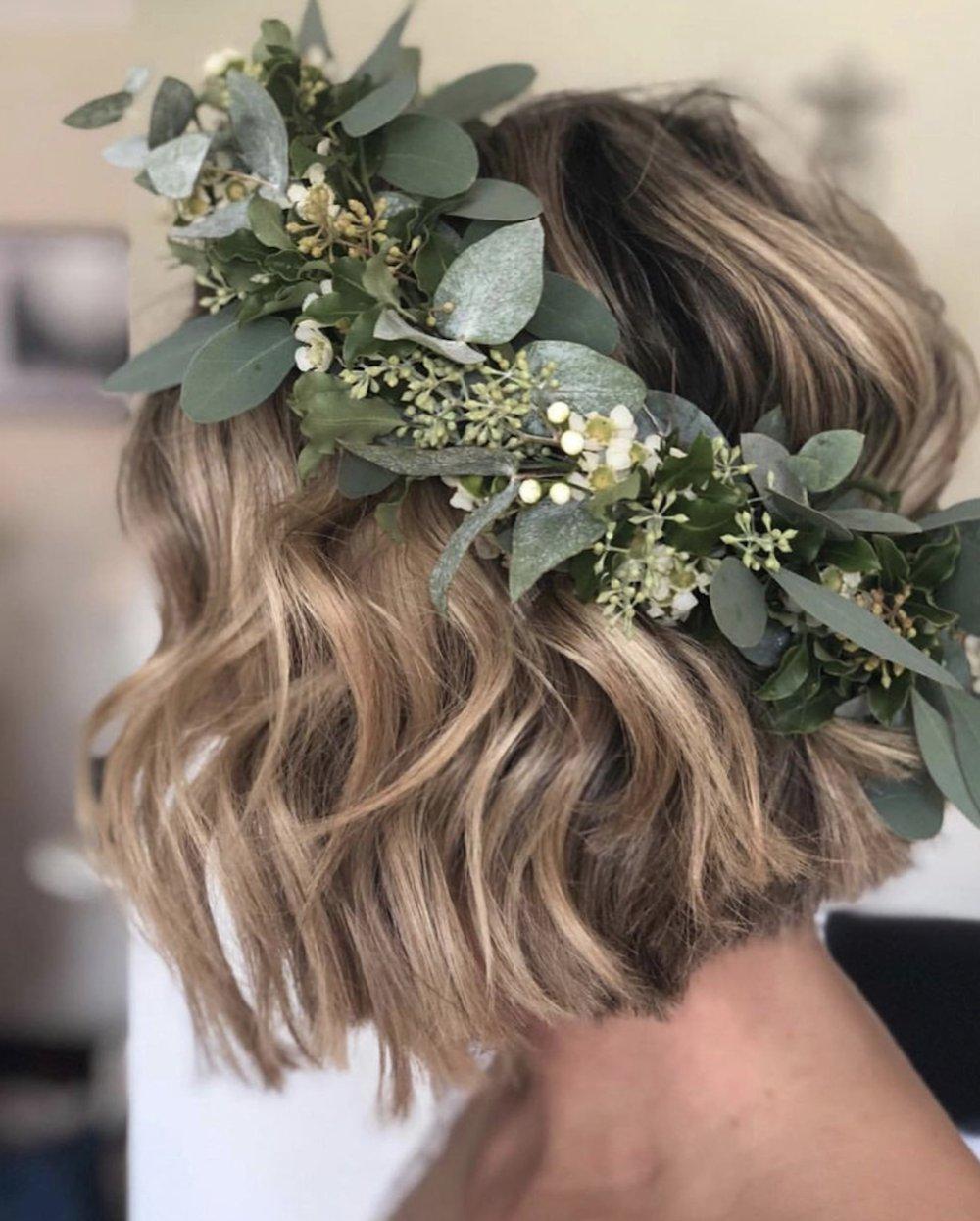 More of a fan of foliage than dramatic blooms? This foliage crown will suit you down to the ground. Dainty white flowers interspersed throughout the flower crown keep things fresh.
12. Rustic Rose Backwards Crown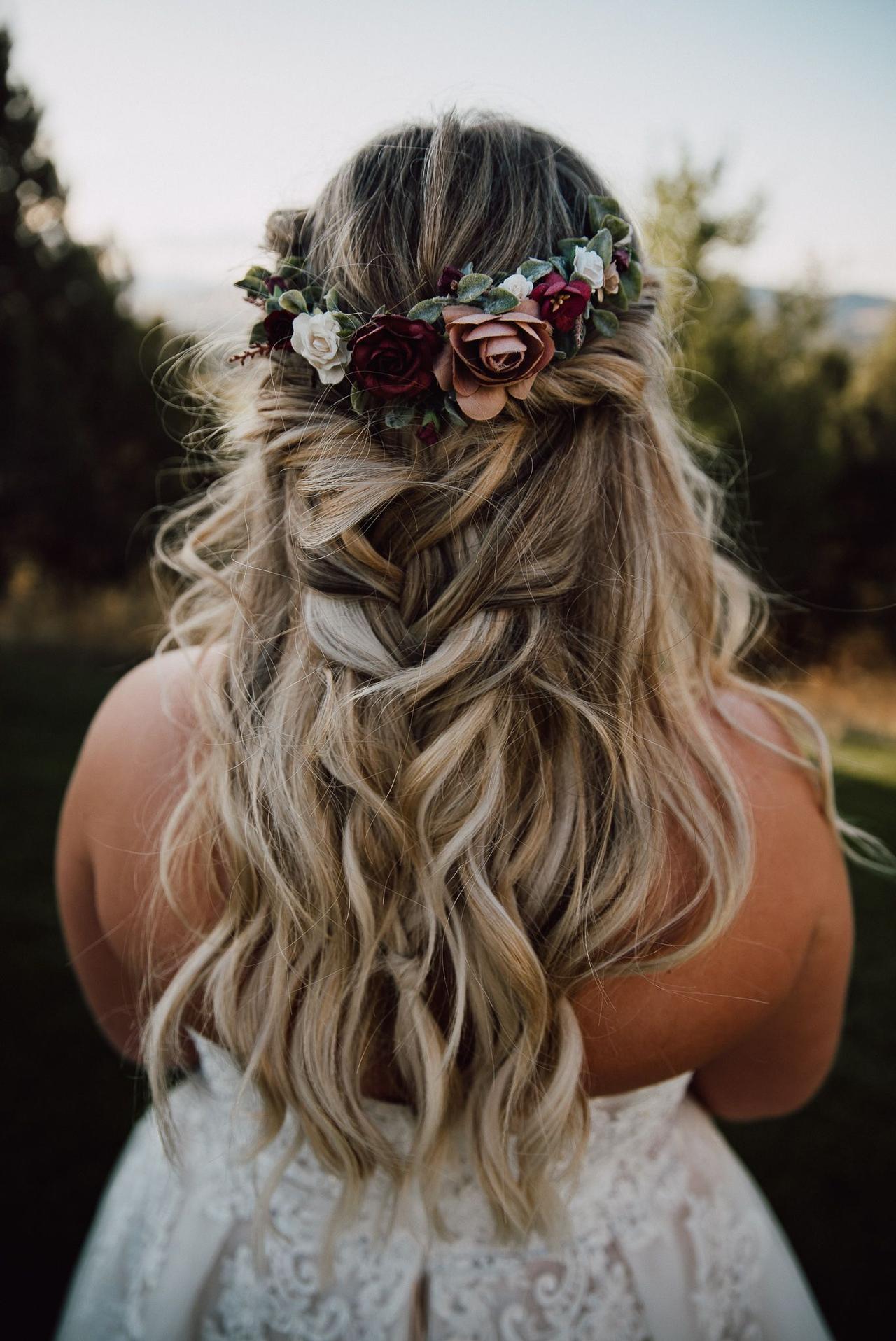 Burgundy and dusty pink florals combine to create a beautifully understated boho flower crown.
READ MORE: 37 of the Most Beautiful Boho Wedding Dresses
13. Side Crown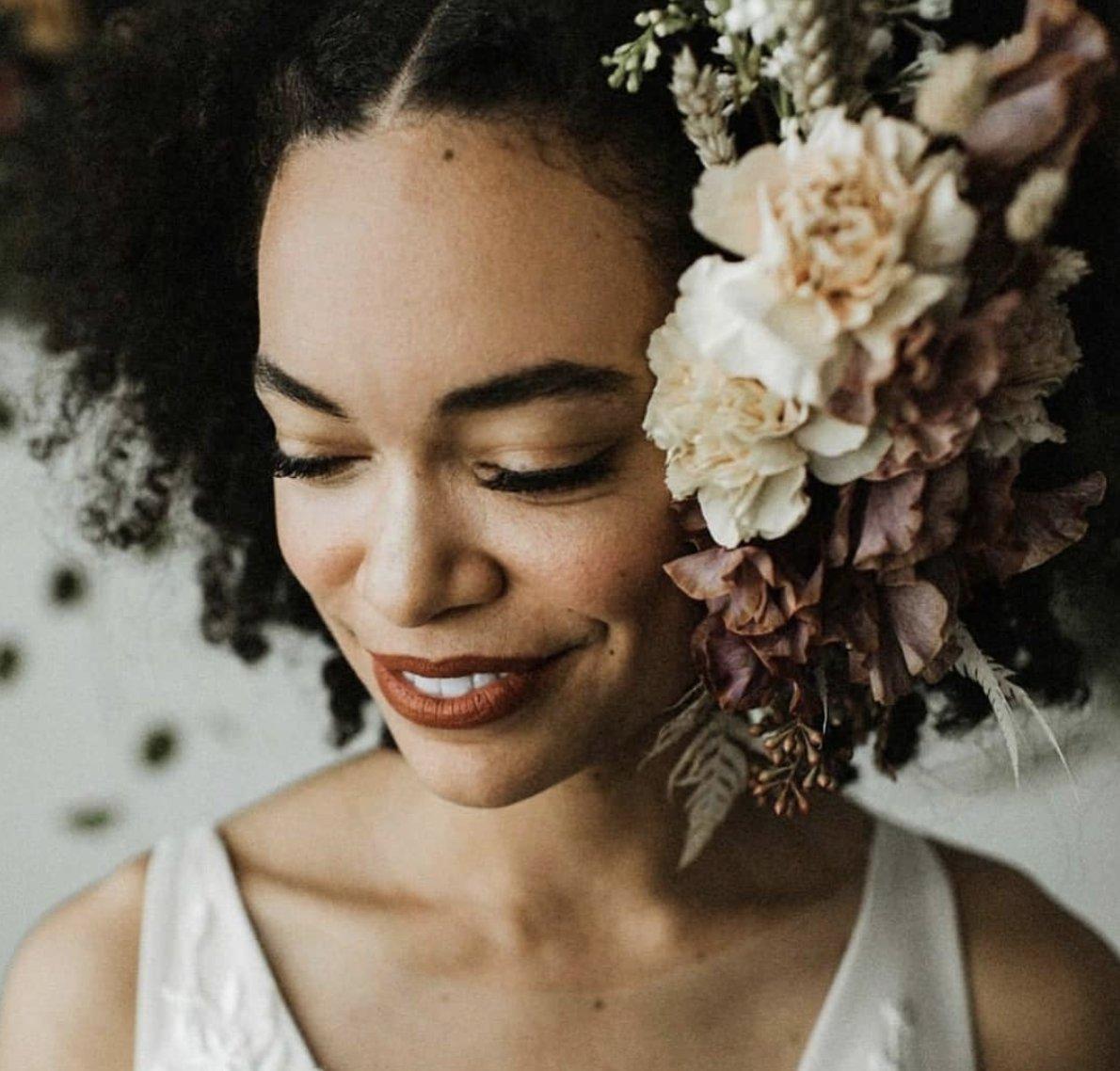 A similarly rustic colour palette but with more volume and worn to the side. The addition of fern sprigs gives it an even more organic feel.
14. Asymmetric Flower Crown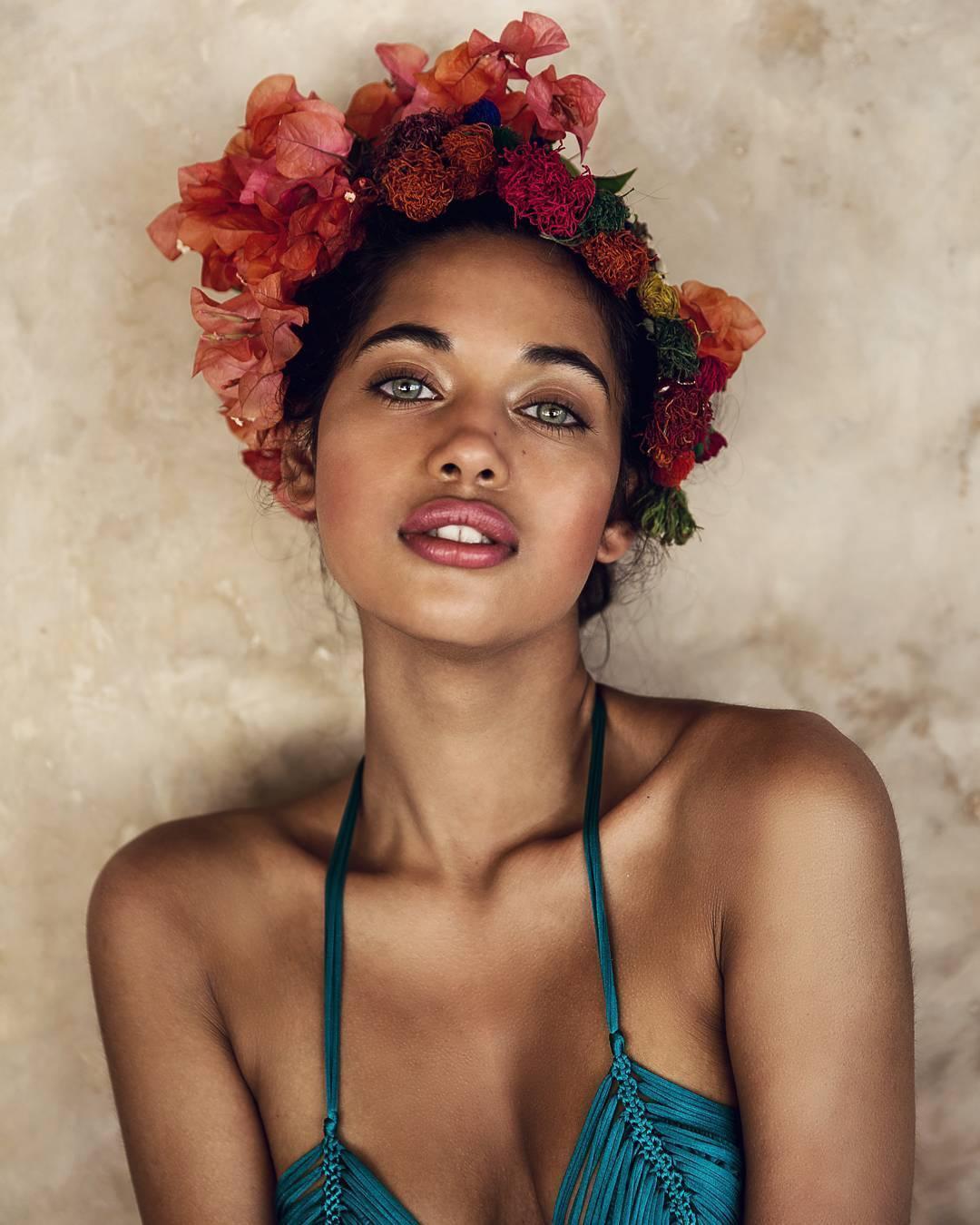 Add large leaves or flowerheads sporadically to a uniform band for an arty, imperfect finish.
15. Kahlo Flower Crown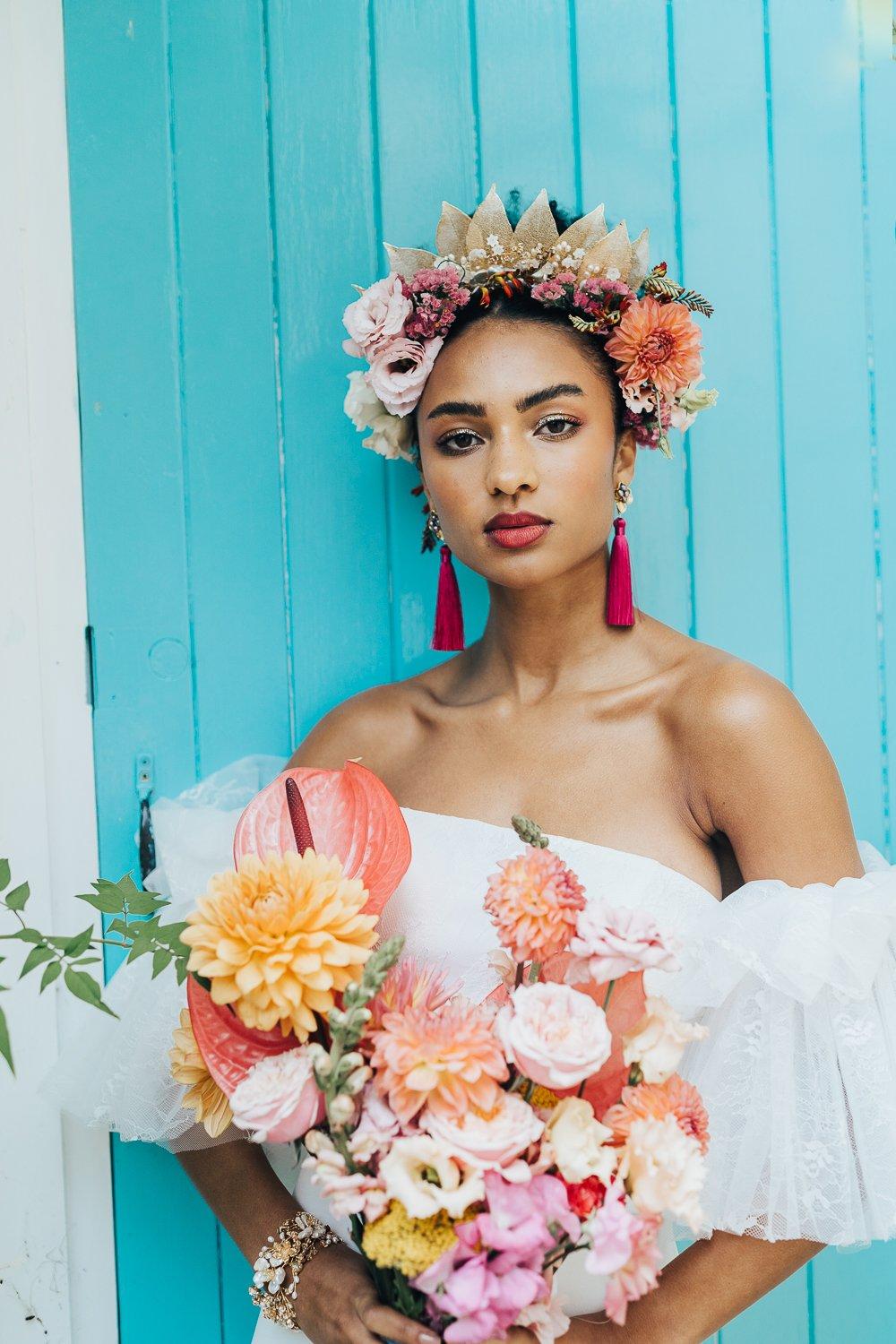 Speaking of arty, this Frida Kahlo inspired flower crown is elegant and edgy all at once. Attach flowers to a headband or 'crown' on your choice, keeping the floral focus at the front.
16. Flower Crown 'Hat'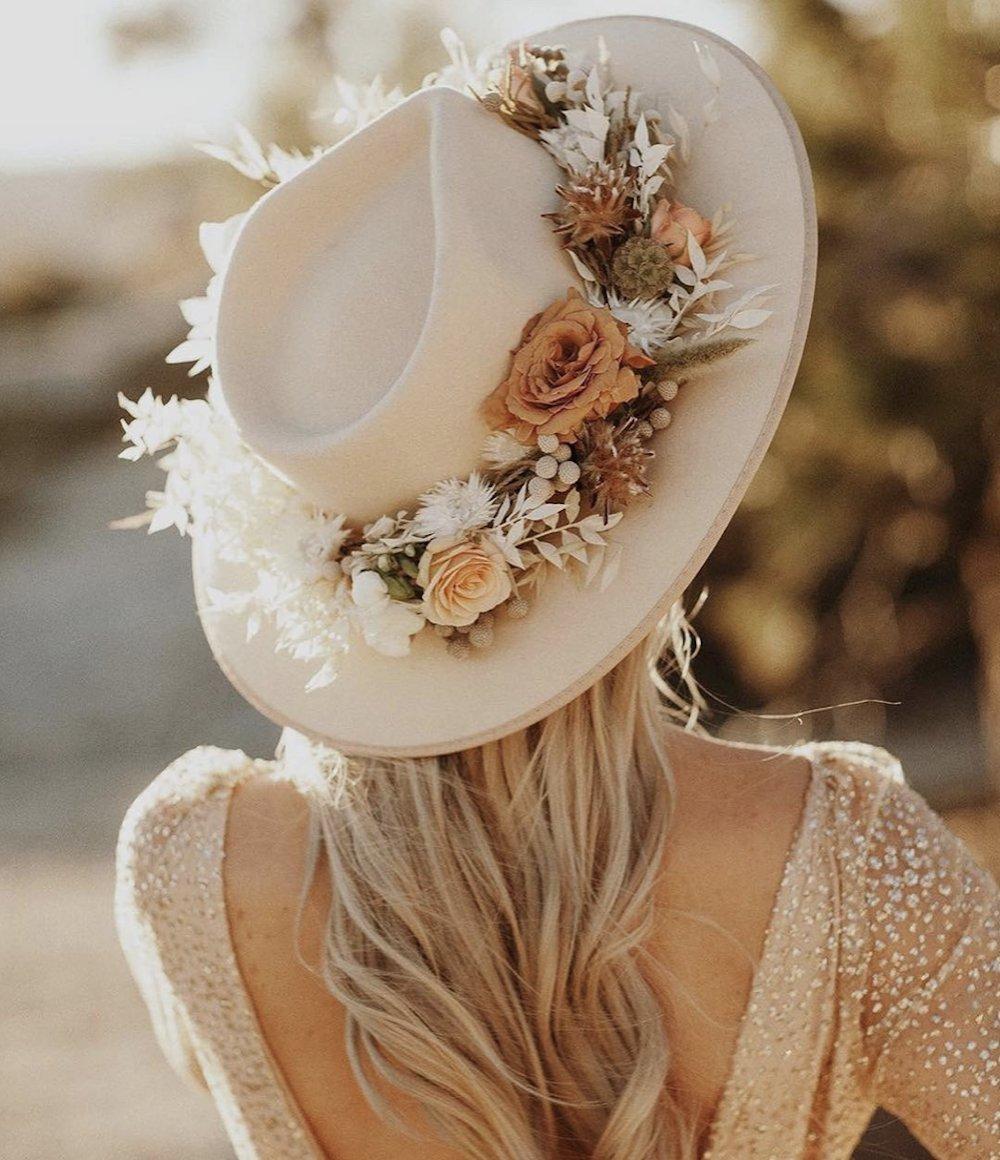 Further incorporate your flower crown into your accessory game by bordering a trilby with flowers. If you're planning an alternative outdoor wedding, this one's a winner.
17. Blueberry Flower Crown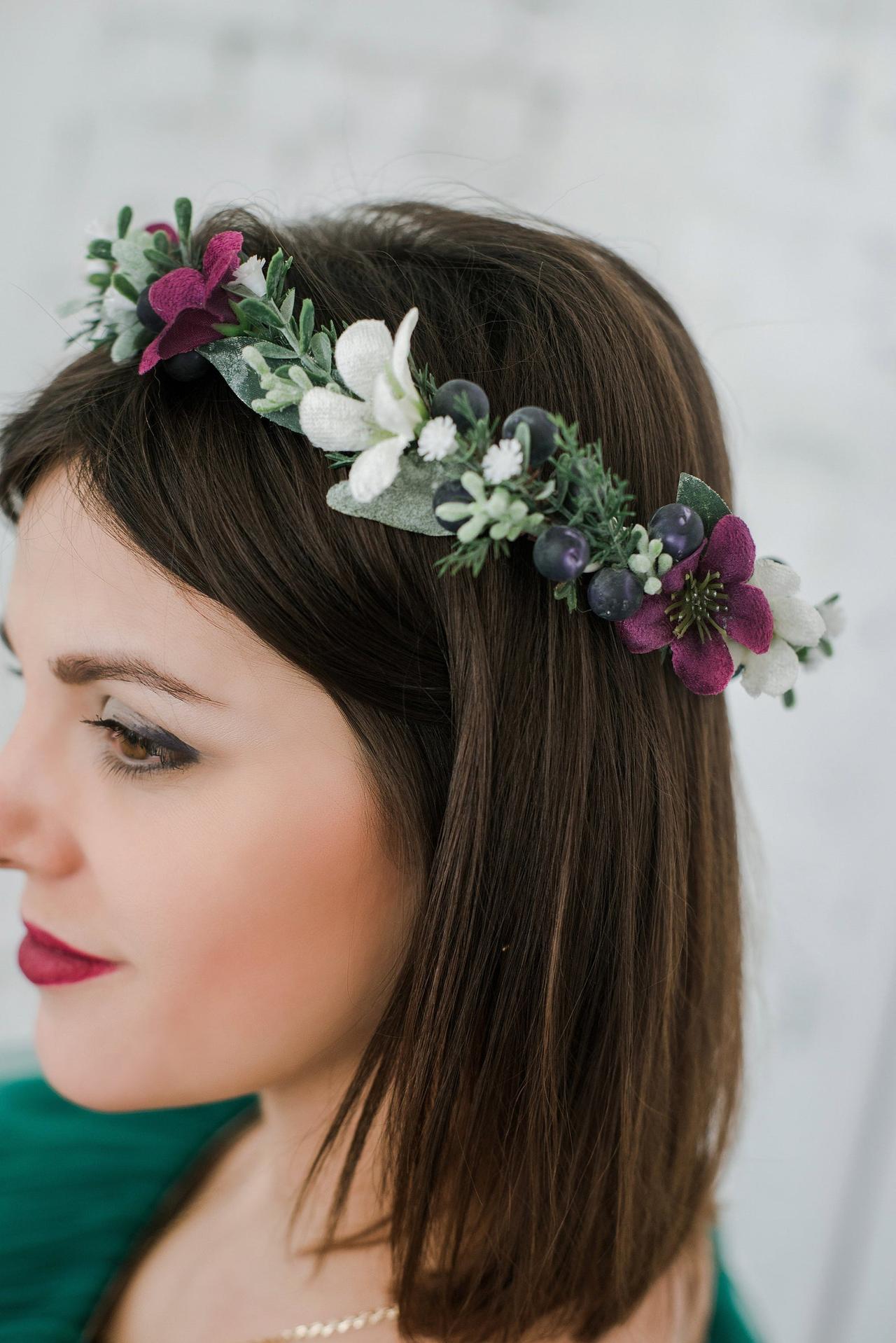 Who said that flower crowns had to be exclusively bloom-based? This purple-hued flower crown mixes berries with wintery florals for a simple yet unusual band. Dry berries out before your wedding day (or buy them ready dried) to avoid 'berry stains on white dress' drama' on your wedding morning. Absolutely no one needs that.
18. Dried White Flower Crown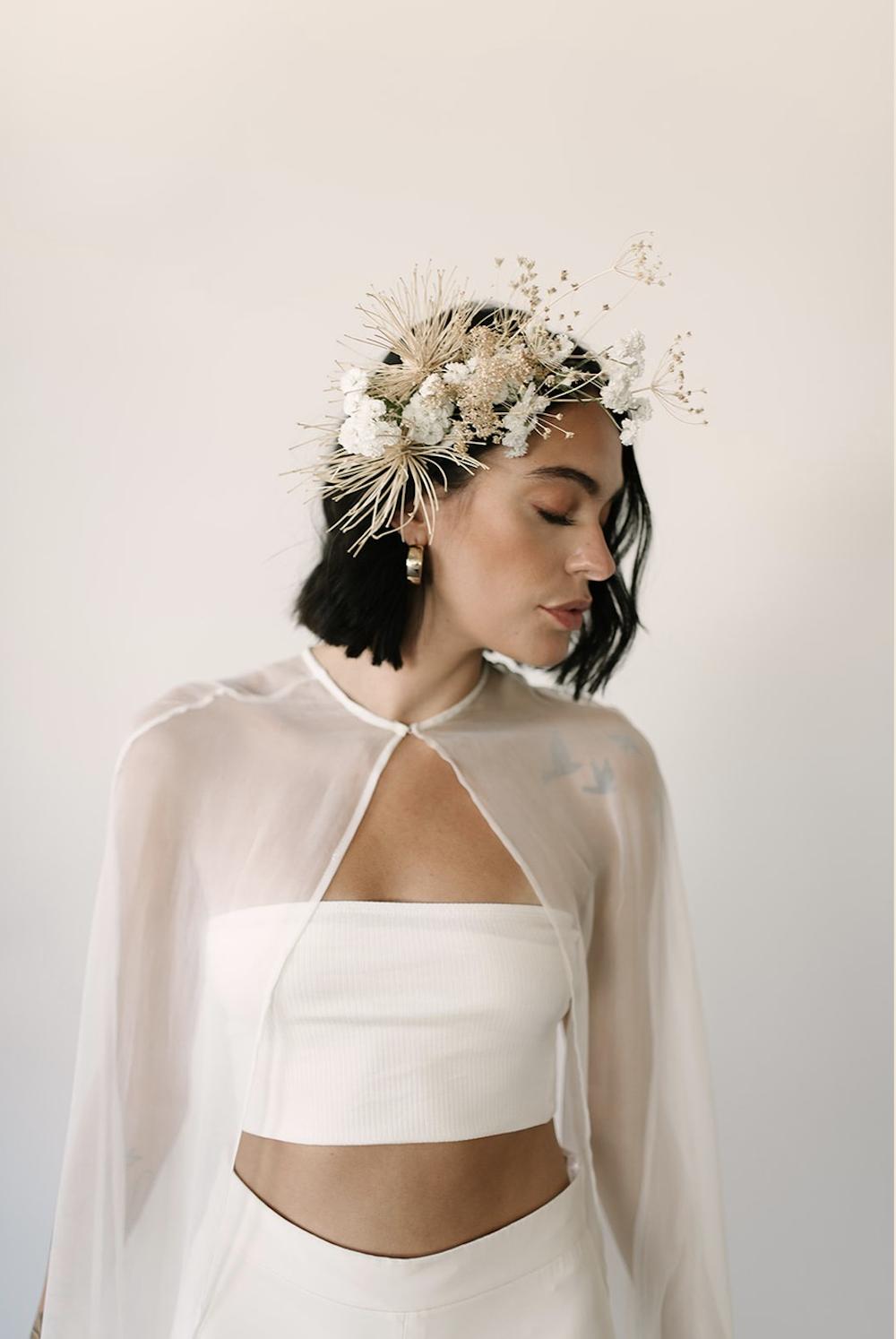 Using dried flowers and plants gives your flower crown longevity – this sculptural idea can be crafted well in advance and worn to many post-wedding parties for extra accessory mileage.
READ MORE: 17 Dreamy Ways to Use Pampas Grass in Your Wedding
19. Deep Purple Flower Crown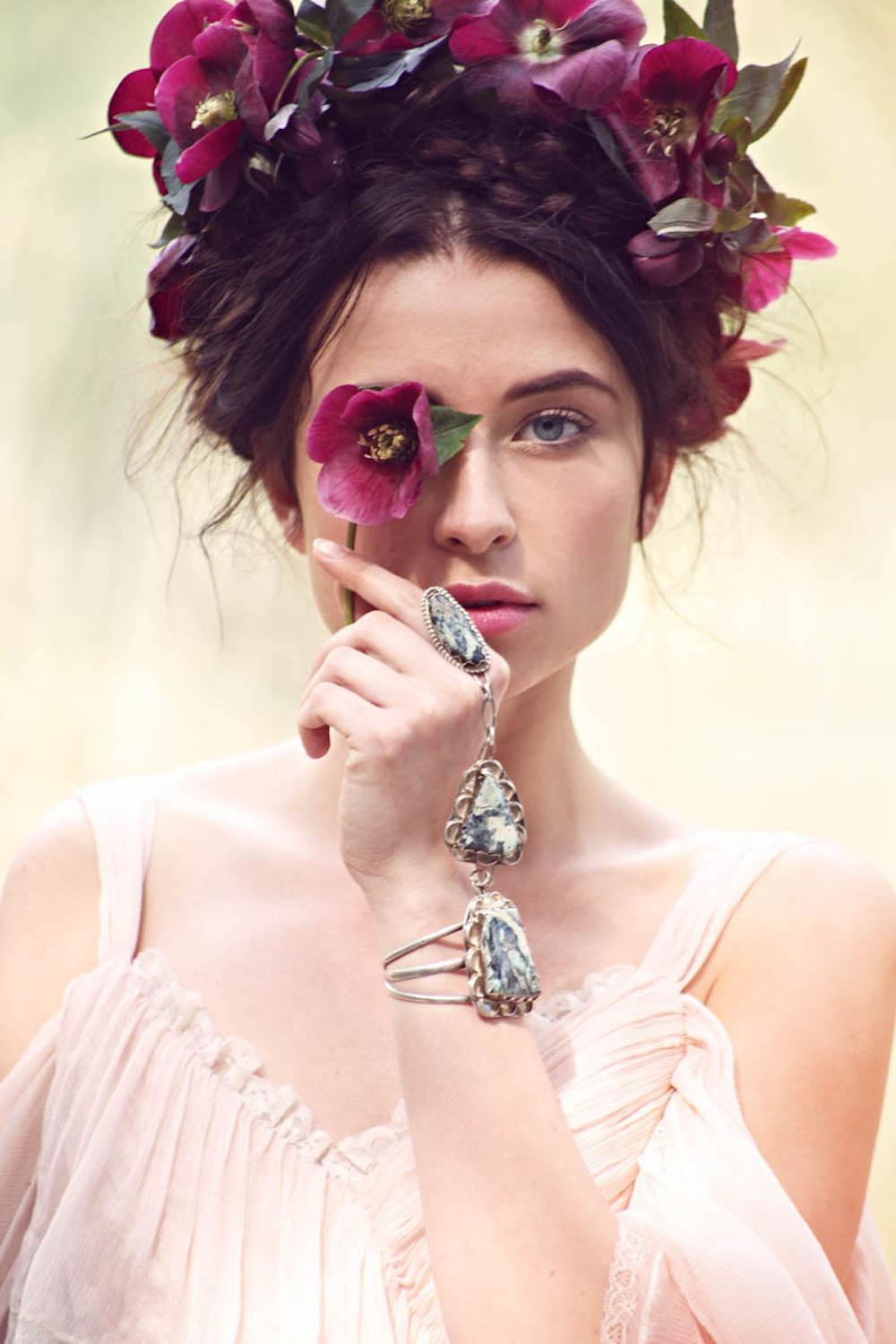 Exotic purple flowers make a statement when piled high. The colour and placement means that one flower variety really is all you need.
20. 'Perfect Pair' Flower Crown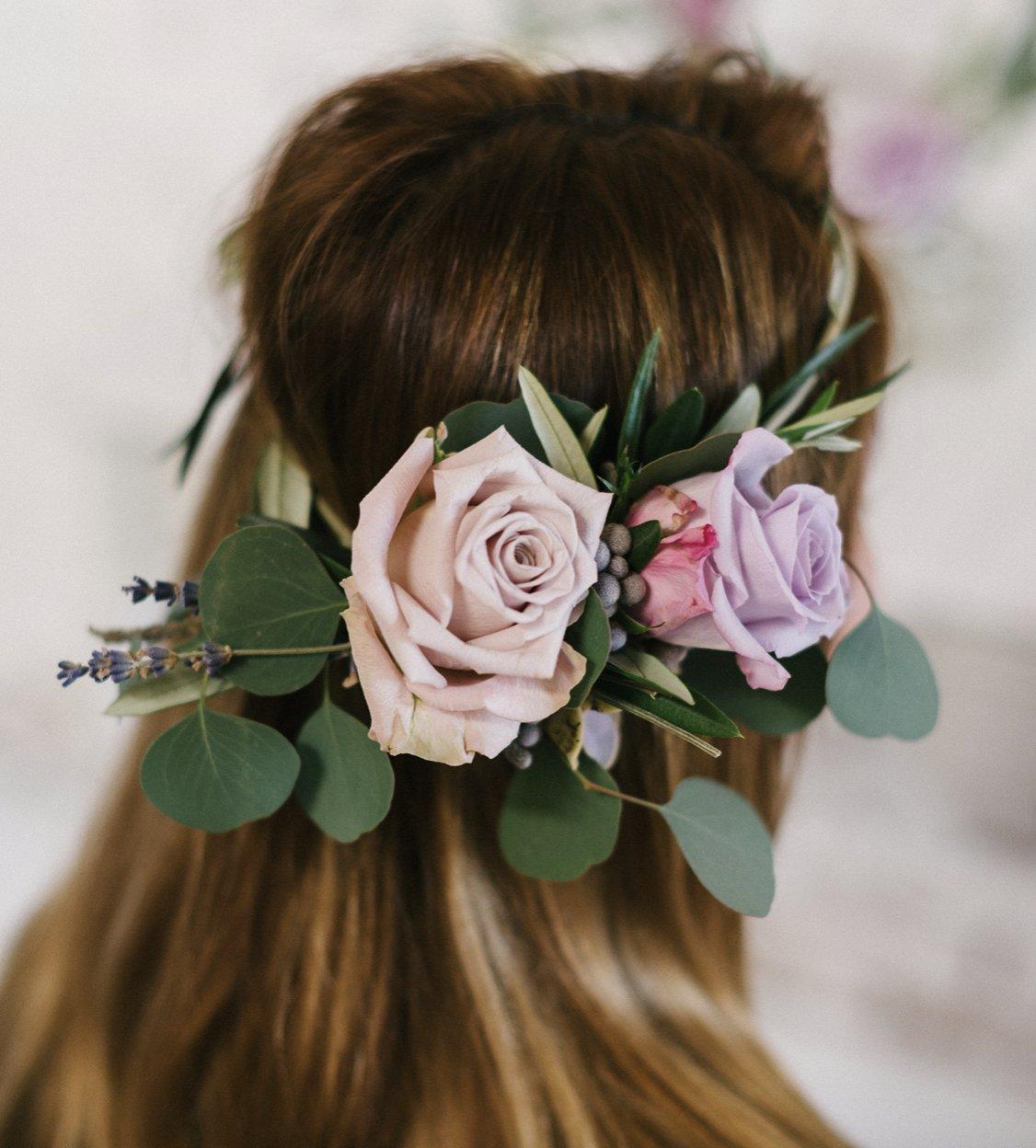 The perfect DIY option, this rose-based flower crown is simple to make and the duo of flowerheads is all you need for impact. Scatter in a few strands of foliage and choose a statement coloured ribbon to tie in with your floral theme.
21. Autumnal Flower Crown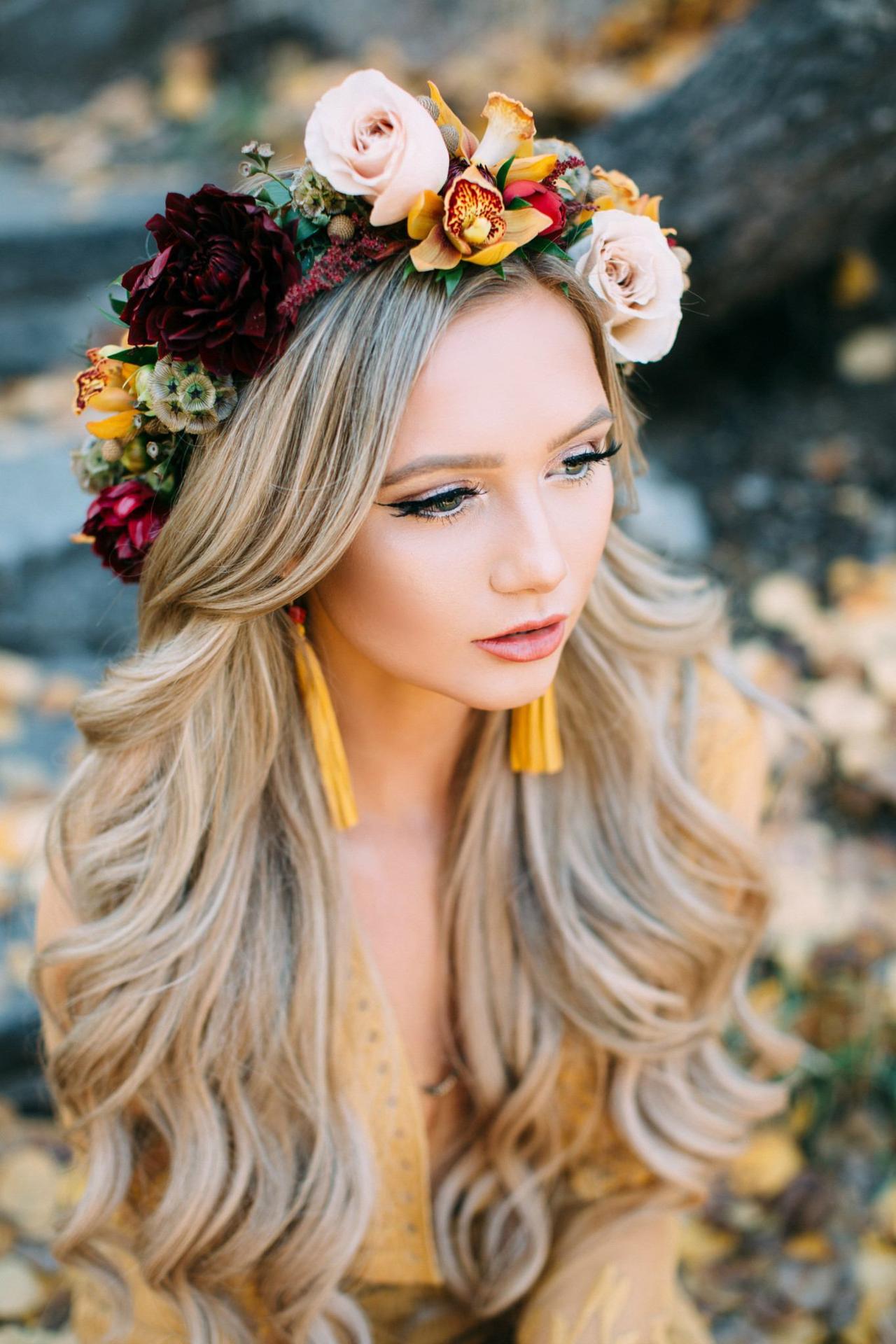 Capture the shades of autumn leaves in your design for a 'turn of the seasons' flower crown.
Feeling inspired by these fun flower crown ideas? Here's how to have a crack at making your own.
How to Make Your Own Flower Crown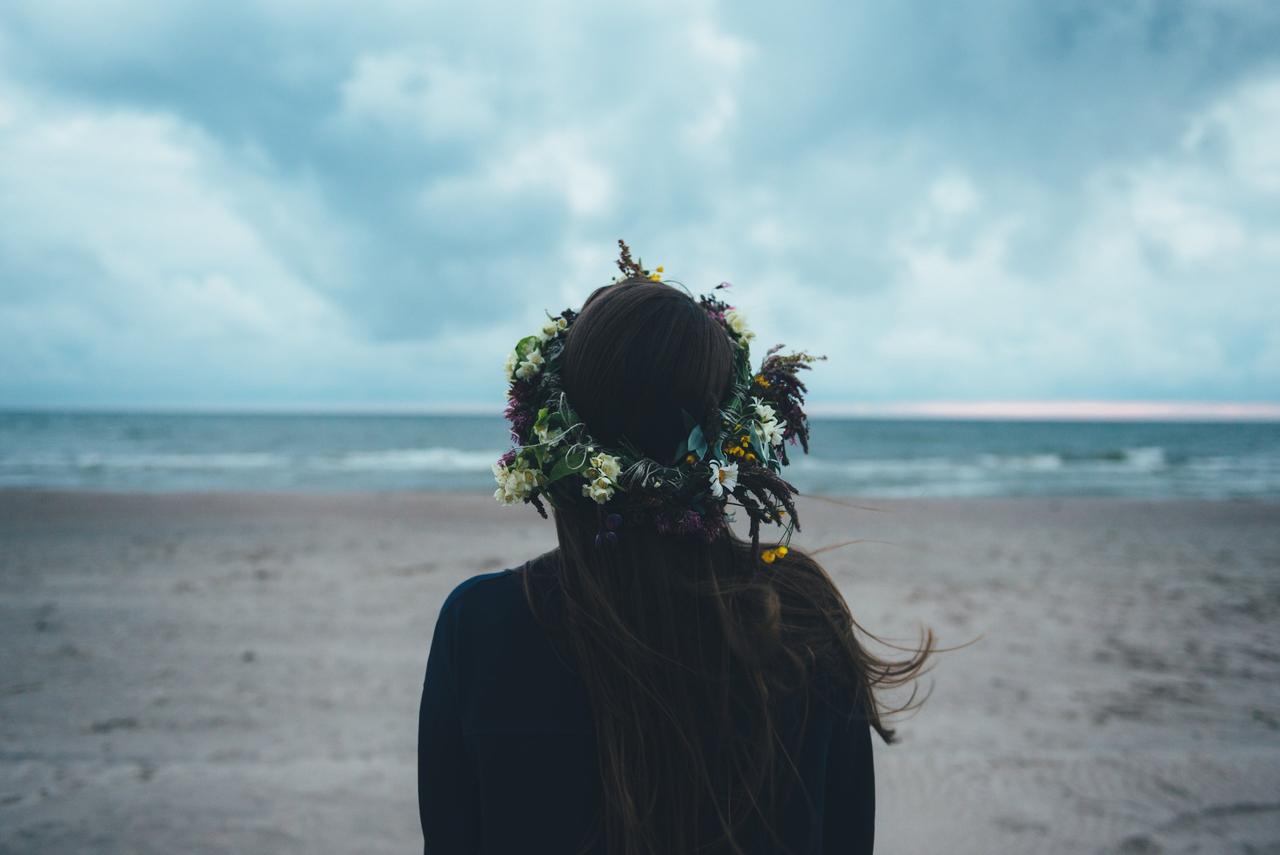 Florist Philippa Kay created a beautifully British flower crown arrangement from anemone, thistle, roses and guinea fowl feathers for the wedding of a Cornish friend marrying her Scottish fiancé and she shared her step-by-step with us below. The flower crown works all year round but would be especially enchanting for an autumn or winter wedding. Scissors at the ready and feel free to swap in blooms of your choice to customise your flower crown.
You Will Need
A couple of bunches of anemones
Two rose stems
A few sprigs of eucalyptus
A few thistle heads
Guinea fowl feathers
Florist's tape
Floristry wire
Scissors
Allow 1 ½ hours assembly time – these flower crowns are surprisingly labour intensive.
Step One
Measure a length of thick floristry wire around your head. Leave a good inch either end for adjustments and to bend into a clasp.
Step Two
Wrap florist's tape around the length of the wire band – this will disguise the wire and also add some stickiness which helps hold everything in place when your crown is under construction.
Step Three
Strip your conditioned stems, removing leaves and any damaged petals. You don't need much stem as this will add bulk to your band and be awkward to work with.
Step Four
I wire each stem individually as the tape helps to retain moisture and will give the flower crown a little extra lifespan. It's worth taking your time at this stage, as no bride wants a wilting headpiece for her walk up the aisle.
Step Five
I've used sprigs of eucalyptus as a base for the crown; you don't want to go overboard with foliage.
Step Six
Wire the stems to the crown, taking care to place them so they flow naturally. It is an idea to keep trying on the crown as you construct it.
Step Seven
I like an asymmetrical crown but you can see how the mood takes you. Remember that flowers on your head appear a lot larger than when in a vase!
Step Eight
Go in with your big 'feature' flowers. I taped a feather together with the wired thistle and an anemone flower before adding them into the crown; this gave them more stability and added a focal point to the crown.
Step Nine
Take care when fasting the crown to your head; double twist your loops as an extra safety measure.
The Best Flower Crowns to Buy Now
If you're not feeling crafty or are short of time there are plenty of flower crowns to add to your online basket – here's our edit of the best.
Burgundy Half Wreath Rose Flower Crown – £59.93, Etsy
A little bit rustic, a lot gothic, and a marvel to behold, this dried rose flower crown incorporates vines, burgundy flowerheads, berries and leaves to create the ultimate headpiece for winter brides.
Dried Daisy Flower Crown – £45, Etsy
A spring wedding in a field demands this wheat and daisy flower crown. Keep things even more sustainable by styling it out for future occasions and festivals too.
Orchid Flower Crown – £33.05, Etsy
Silk orchids create a precious and unusual-looking flower crown that boasts a natural elegant feel.
Boho Headband in Pale Peach and Ivory – £31, 95, Etsy
Want a more low-key flower crown option? These simple peach flower buds will do nicely.
Lavender Flower Crown – From £23.40, Etsy
If your wedding aligns with this elegant purple' colour palette, this flower crown is for you. It would look gorgeous worn by bridesmaids, flower girls or the bride alike.
Grey Flower Crown – £42.03, Etsy
This artificial grey flower crown is most definitely the one for non-traditional brides.
Preserved Gypsophila & Hydrangea Boho Crown – £27, Etsy
A ready-made baby's breath halo makes deciding on your wedding look easy and the headband can be neatly shaped to fit so that there's no risk of it flinging off during the first dance.
Premium Full Flower Crown – £55, Sophie & Luna
Each Sophie & Luna Flower Crown is unique - once this one is snapped up, it's gone, but there are plenty more to shop online and simple DIY kits that provide everything you need to make your own professional looking flower crown.
Pax Boho Dried Flower Crown – £42, Etsy
If you're mulling over a Midsummer Night's Dream wedding theme, don't forget to add this pampas grass bohemian flower crown as a finish touch.
Minimalist Green Leaf Flower Crown – £13.99, Etsy
A one-strand band that'll tie in nicely with a minimalist wedding. It's affordable enough to deck out your entire bridal party too.
Luna Bridal Dried Flower Crown – £72, Luna and Wild
Designed for edgy boho brides with an untameable spirit, this spell-binding rustic crown embraces ivory tones in every hue imaginable complete with bunny tails, bleached Ruscus, canary grass, star flowers, and preserved Japanese hydrangeas.
Preserved Greek Olive Leaves Crown – £30.60, Etsy
Dried rose buds and deep green leaves are the jewels in the crown. Pin a veil to the back or wear with your hair loose and free for rustic appeal.
Vintage Golden Leaf Crown – £70.35, Etsy
If you really wish to embrace the flower crown in all its glory, this stunning gold leaf headpiece is exactly how to do it. Not only will it stand out against a white dress, but its exquisite metallic flowers are destined to last a lifetime.
If you're planning a boho-themed wedding, you're going to need a dress to match! Don't miss our pick of the best boho wedding dresses to shop now.