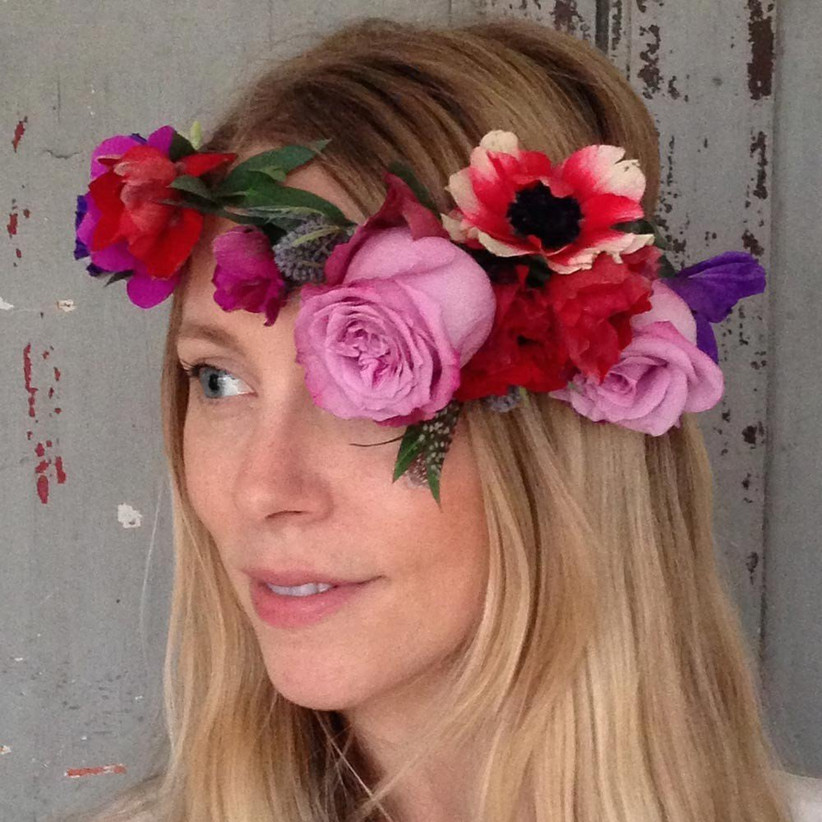 Boho brides who are planning a romantic, rustic wedding need a flower crown to complete their look. If you are looking for the perfect flower crown for your wedding day, why not make your own? Once you've found your dream rustic wedding dress you can craft a flower crown to match.
We asked Philippa Kay from A Recipe for Flowers for her perfect flower crown 'recipe'. She created a beautifully British arrangement from anemone, thistle, roses and guinea fowl feathers, inspired by her Cornish friend marrying her Scottish fiancé. This beautiful flower crown will work all year round but would be especially enchanting at an autumn or winter wedding. So what are you waiting for?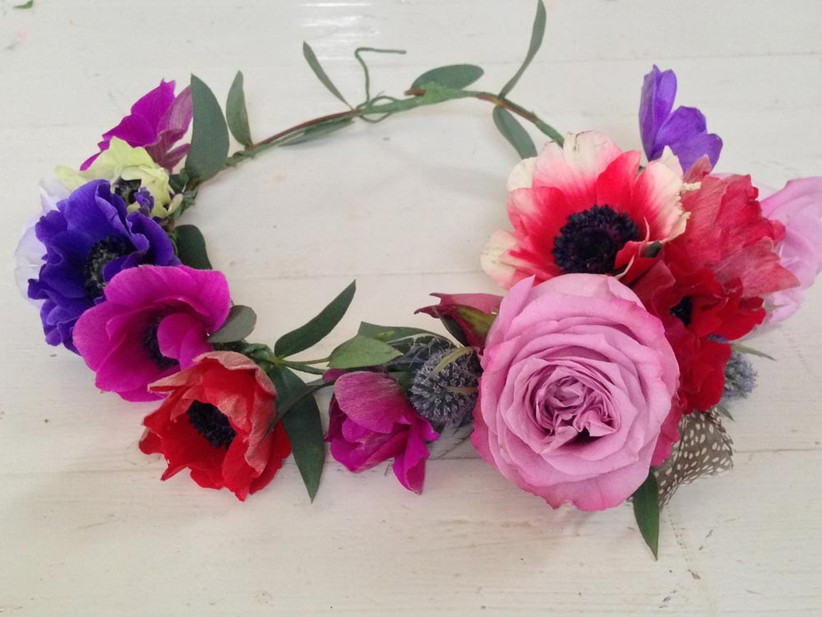 You Will Need
A couple of bunches of anemones
Two rose stems
A few sprigs of eucalyptus
A few thistle heads
Guinea fowl feathers
Florist's tape
Floristry wire
Scissors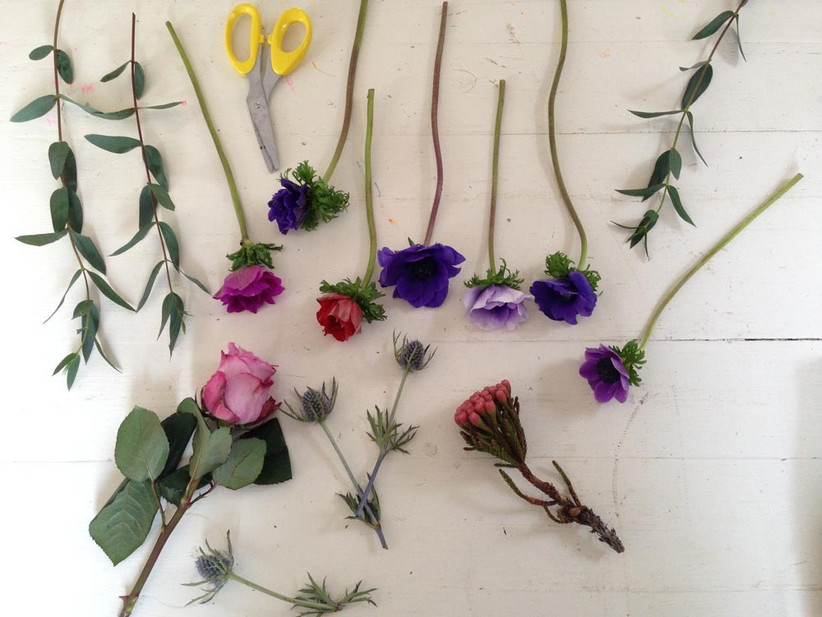 Allow 1 ½ hours 'cooking' time – these flower crowns are surprisingly labour intensive.
Philippa says: "Anemones are my favourites; bursts of colour and boisterous, hardly little flowers – they can arrive at the end of an Indian summer and continue to brighten grey days into the chilly New Year if the frost stays away. Autumn and winter brides wanting a dramatic and decadent splash of colour to their big day need look no further than these glorious British blooms – and at around 20p a stem, anemones are a brilliant budget friendly option. 
"I added a dash of guinea fowl feathers as a bit of seasonal seasoning (plus I love their black and white speckles)."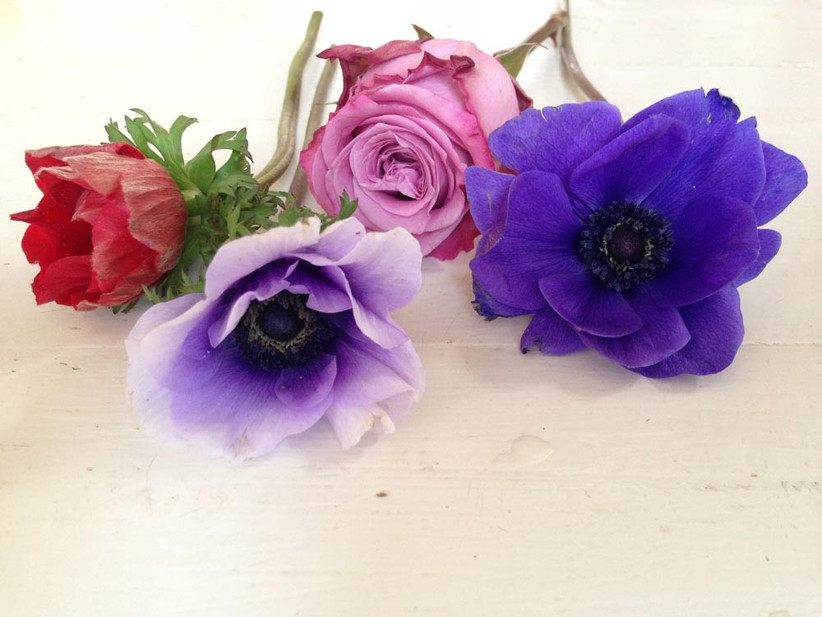 Step One
Measure a length of thick floristry wire around your head (or the bride if she happens to be handy).  Leave a good inch either end for adjustments and to bend into a clasp.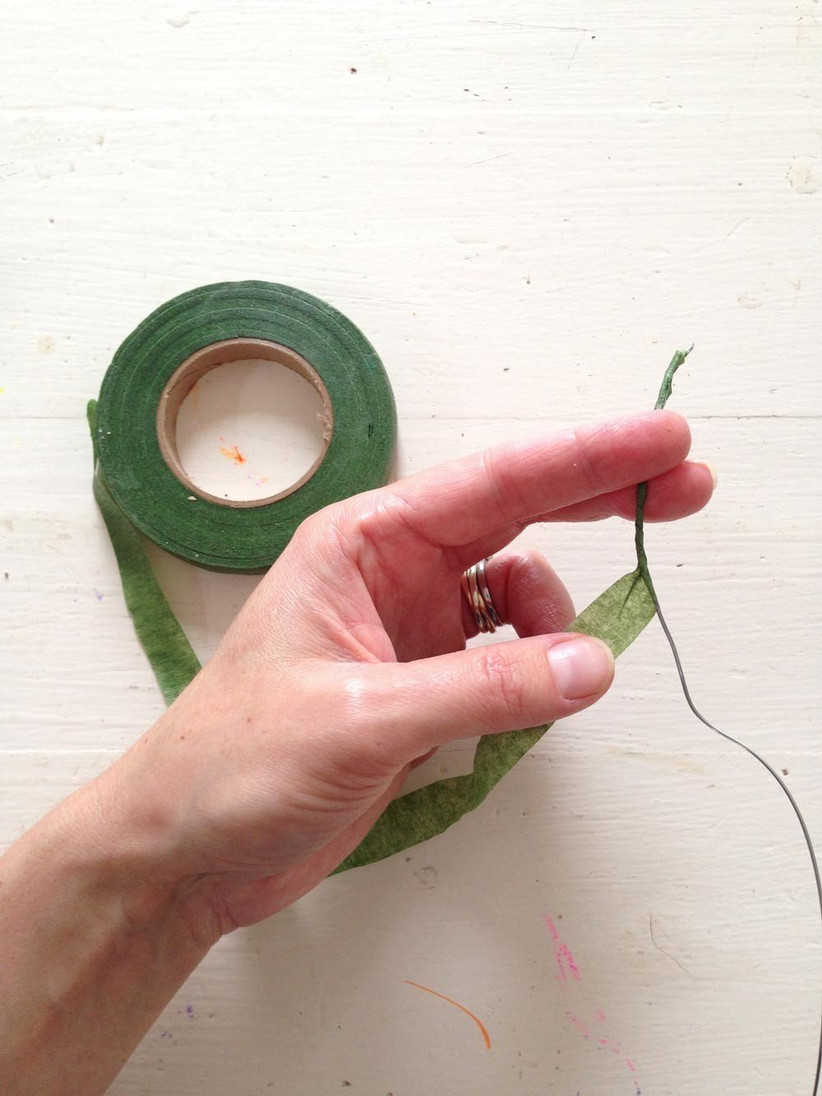 Step Two
Wrap florist's tape around the length of the wire band – this will disguise the wire and also add some stickiness which helps hold everything in place when your crown is under construction.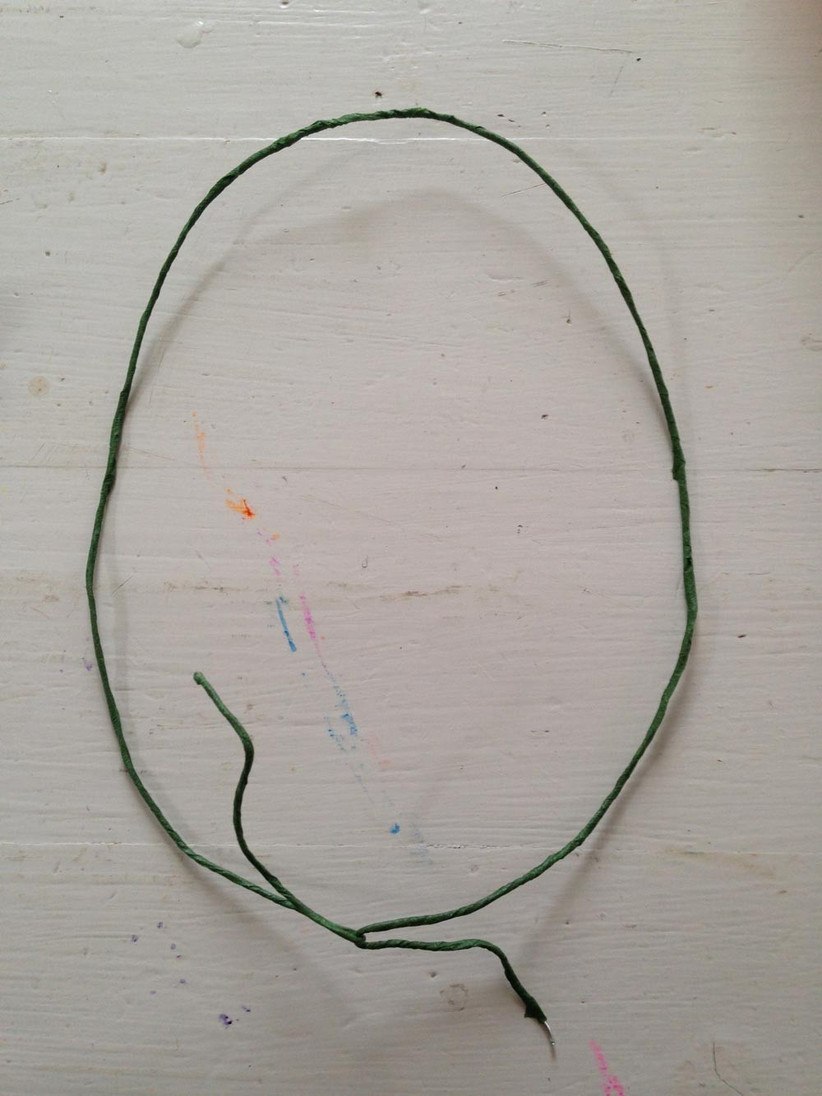 Step Three
Strip your conditioned stems, removing leaves and any damaged petals. You don't need much stem as this will add bulk to your band and be awkward to work with. 
Step Four
I wire each stem individually as the tape helps to retain moisture and will give the flower crown a little extra lifespan. It's worth taking your time at this stage, as no bride wants a wilting headpiece for her walk up the aisle.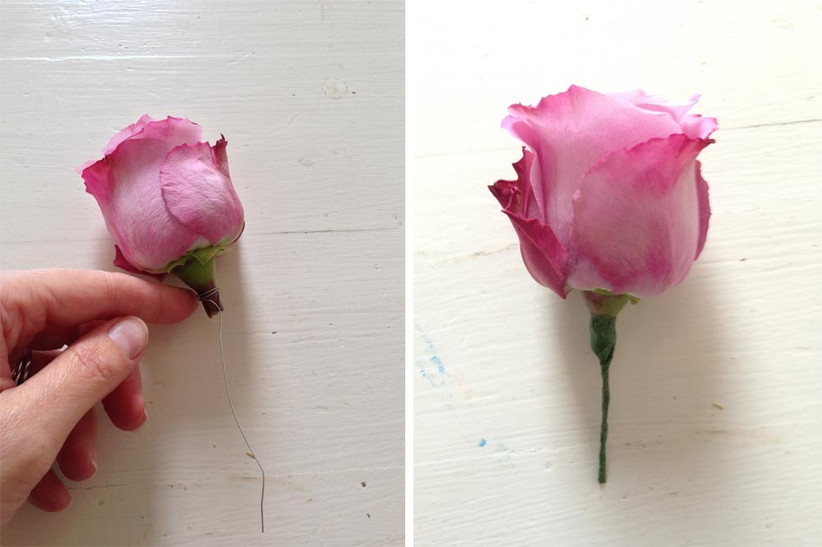 Step Five
I've used sprigs of eucalyptus as a base for the crown; you don't want to go overboard with foliage.
Step Six
Wire the stems to the crown, taking care to place them so they flow naturally. It is an idea to keep trying on the crown as you construct it.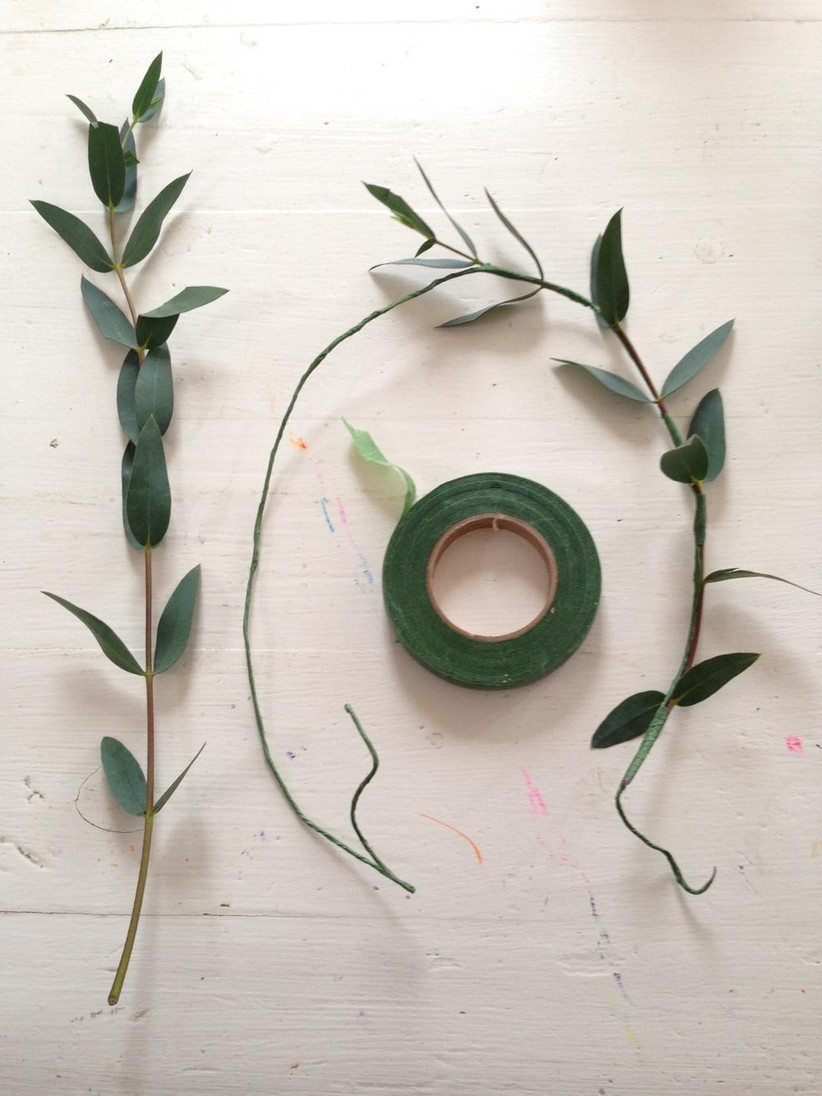 Step Seven
I've gone for an asymmetrical crown but you can see how the mood takes you. Remember that flowers on your head appear a lot larger than a vase!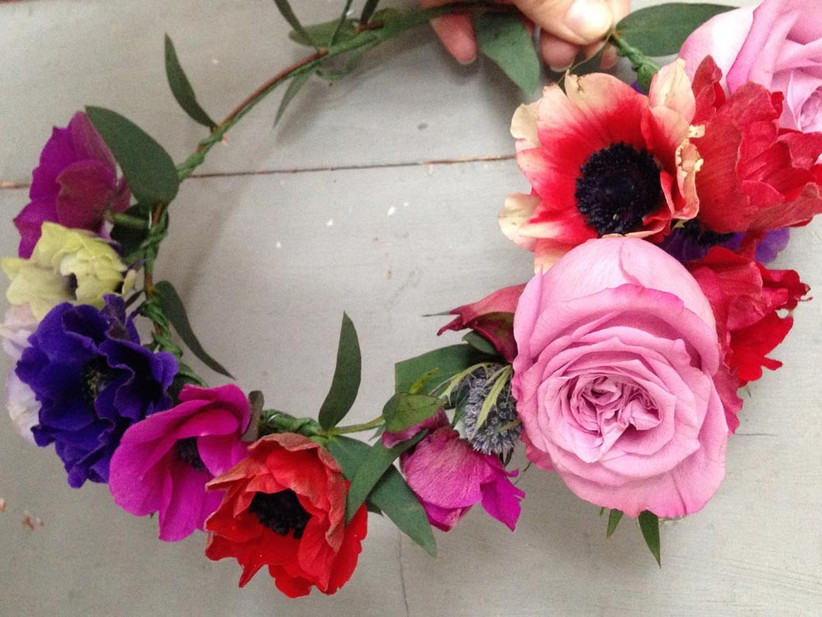 Step Eight
I taped a feather together with the wired thistle and an anemone flower before adding them into the crown; this gave them more stability and added a feature point to the crown.
Step Nine
Take care when fasting the crown to your head; double twist your loops as an extra safety measure.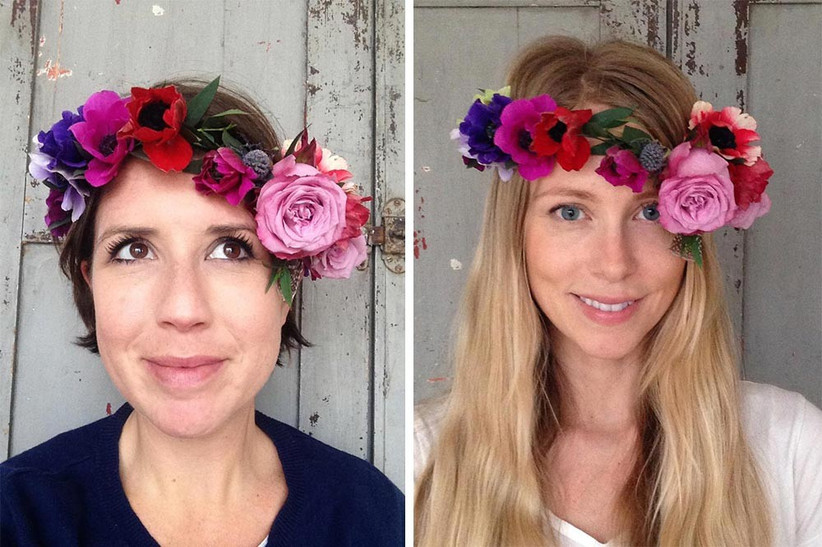 And now you have your very own flower crown! To find out more about Philippa and what she does, check out A Recipe for Flowers.
If you're feeling extra crafty, why not browse our guide to making a floral hair comb or get super creative and find out how to make your own wedding hat?