Wedding Flower Meanings & Names: The Ultimate Guide to Picking Your Big Day Blooms
To help you choose the perfect bunch for your special day, we explain all your favourite wedding flower meanings - from romantic symbols to plants you might want to avoid...
We have included third party products to help you navigate and enjoy life's biggest moments. Purchases made through links on this page may earn us a commission.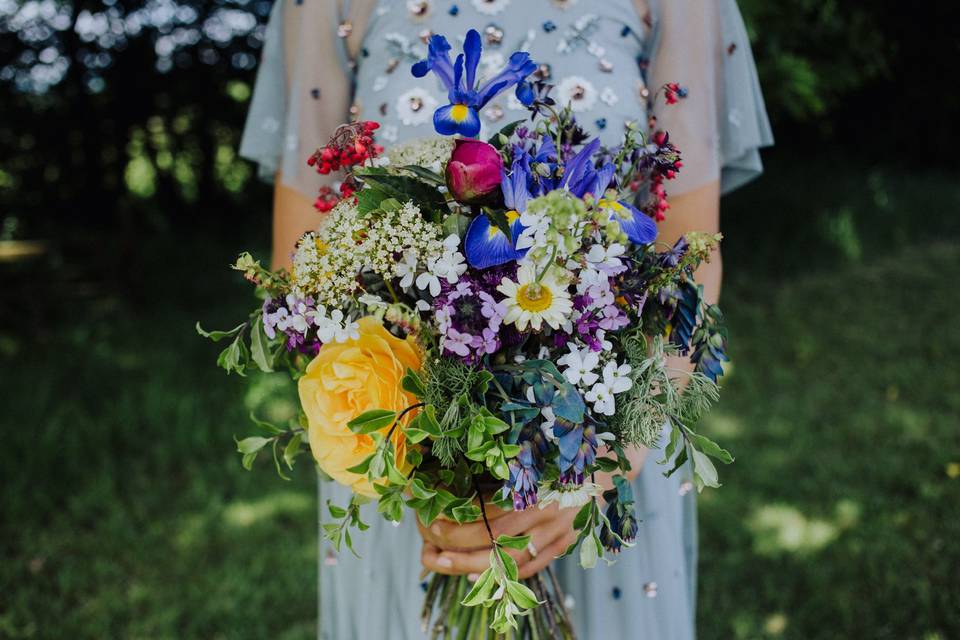 If you are having trouble deciding on which blooms to include in your
wedding flowers
then you might want to think about the meaning behind each variety, what they represent and their symbolism. While style is a factor to consider, there are many ways to include flowers into your wedding day to signify something special.
"Lots of people have their own, personal connection with a flower, for example, their grandparents used to grow them, or it was their mum's favourite. What flowers mean to a bride or groom is always very personal and unique," says Jen Stuart-Smith, co-founder of
Blooming Green
.
Colour also plays a big role in the meaning of a flower with red often symbolising passion and love, and white purity and peace. Florist Elaine Graham of Pesh Flowers explains how the trend in wedding flower colours has changed over the last few years with "people choosing bright colourful and fun meadow flowers to give their wedding a festival feel. The other popular trend is a palette of toffee, caramel and nude."
But, floriography (or, the language of flowers) isn't a new concept - in fact, it's been around for centuries. "There is a book from the Victorian Era, called The Language of Flowers, which covers them all - and not all are suitable for wedding!" says Jen.
From sentimental blooms and meaningful buds to flowers superstitious couples might want to steer clear of, discover the meaning behind 37 of the most popular flowers used in weddings.
READ MORE
37 Popular Wedding Flowers and Their Meanings
1. Amaryllis
Amaryllis serve as a symbol of beauty and the name comes from the Greek meaning 'to sparkle'. This flower blooms in a range of bold hues, such as pink, red, purple, white, orange and yellow and is best between November and April. Ideal if you're planning a winter wedding!
2. Anemone
The anemone flower comes in a range of shades, including vibrant purple, pink, red and ivory. The anemone flower represents anticipation so is perfect to mirror the excitement and anticipation you will have before you walk down the aisle.
3. Anthurium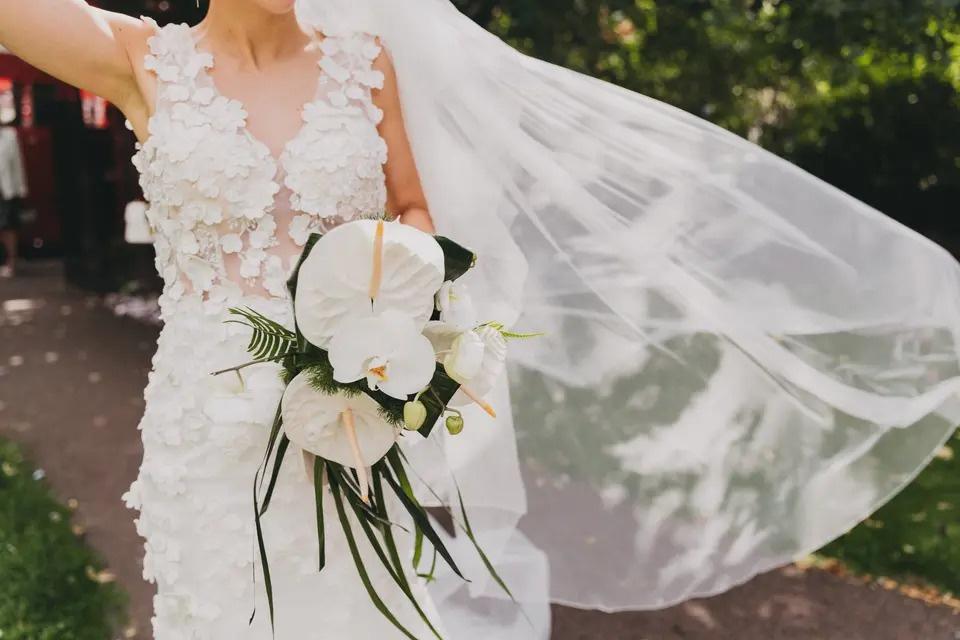 The anthurium flower can come in a range of vibrant shades including red and pink as well as more subtle green and white shades. The anthurium flower is a symbol of hospitality, abundance and happiness – a perfect symbol for your wedding day! Also known as the 'flamingo flower' it'll suit a destination wedding perfectly.
4. Baby's Breath
Baby's breath is often used as a bouquet, centrepiece or flower crown filler, but we think it's gorgeous on its own. The symbol of everlasting love, we can't think of a more appropriate flower to incorporate into your special day.
5. Calla Lily
Calla lilies are an ever popular choice with couples due to their beauty and how sturdy they are within a bouquet. If you choose white calla lilies for your bouquet then this will symbolise purity and innocence.
READ MORE: Why Dried Wedding Flowers Make the Coolest Wedding Décor
6. Carnation
Carnations are really making a comeback in recent years and can be a beautiful addition to your bouquet. The carnation symbolises love and pride so is a perfect pick for your wedding flowers.
7. Cherry Blossom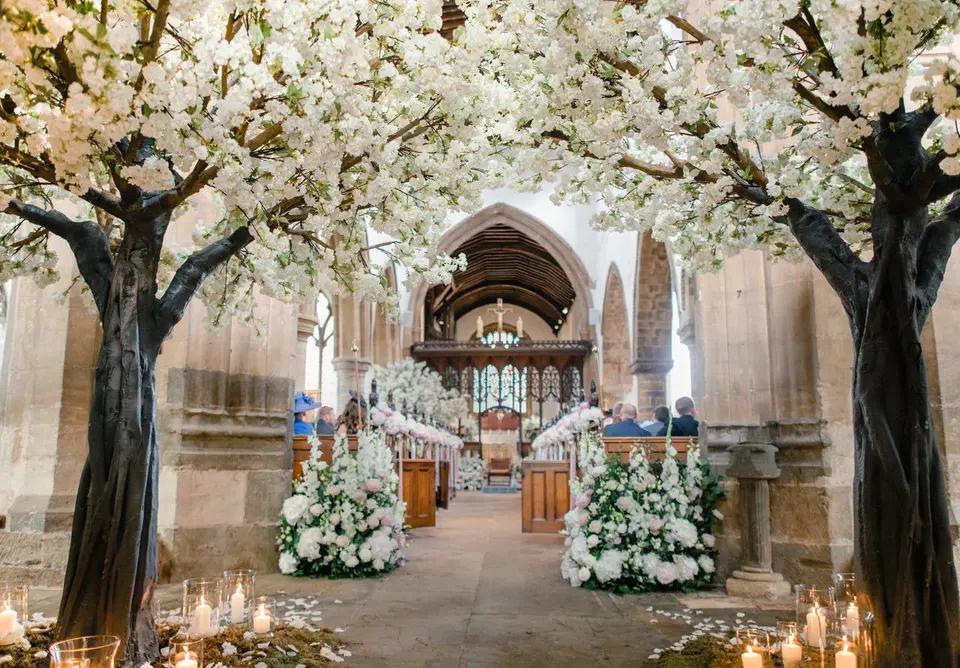 Cherry blossoms are symbolic of spring - the time of renewal. The national flower of Japan, if you are heading there on your honeymoon we think it is a lovely nod to this.
8. Chrysanthemum
Chrysanthemums come in lots of gorgeous colours such as pink, orange, red and yellow so really complement a bright bouquet. Chrysanthemums represent fidelity, optimism, joy and a long life – exactly what you are hoping for when you enter into a marriage!
9. Cornflower
You don't often find flowers with a blue hue so we love the unique cornflower. They symbolise prosperity and friendship and often grow in fields or gardens making them a lovely addition to a wildflower bouquet.
10. Daffodil
The daffodil is a fun and vibrant flower that symbolises regard and chivalry so it could be the perfect buttonhole for a wedding suit. It also represents new beginnings and eternal life.
READ MORE: How to Make a Wedding Bouquet
11. Dahlia
If you are having a garden wedding venue, the Dahlia is a big, bold bloom that will make a lovely statement. Representing a commitment and an ever-lasting bond, it's a beautiful choice.
12. Daisy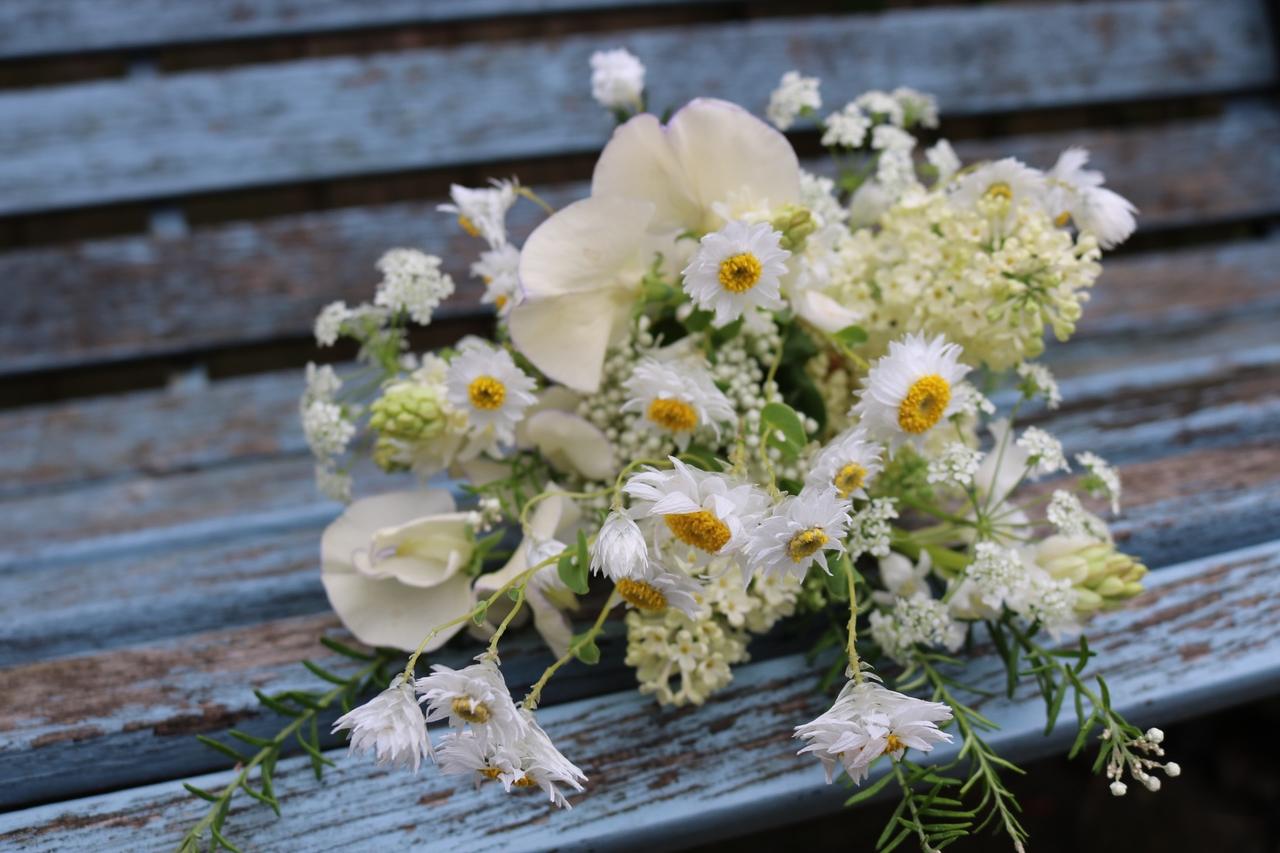 Daises often remind people of their younger days, making daisy chains and playing outside. If you love this fun flower then bring it into your wedding bouquet. "The daisy symbolises innocence and purity," says Elaine, so it is the perfect pick to represent the beginning of your new lives together.
13. Delphiniums
Delphiniums symbolise cheerfulness and fun! They are also the official birth flower for July if you are getting wed or were born in that month. With long stems and a striking blue flower, we love the idea of lining your wedding aisle with them.
14. Forget Me Nots
"Forget me nots symbolise true love, respect, fidelity and faithfulness," explains Elaine. Beautiful and dainty, they'll add a romantic and vintage vibe to your wedding day décor.
15. Freesia
Freesias can add a welcome splash of colour to your bouquet – available in yellow, pink, ivory, purple and a gorgeous burnt orange. Much like the daisy, freesias represent innocence but they also represent thoughtfulness.
READ MORE: 19 IKEA Wedding Décor Hacks
16. Gardenia
Gardenias are often used for wedding ceremonies as they symbolise joy. The white blooms look gorgeous next to greenery and have a fabulous fragrance.
17. Gerbera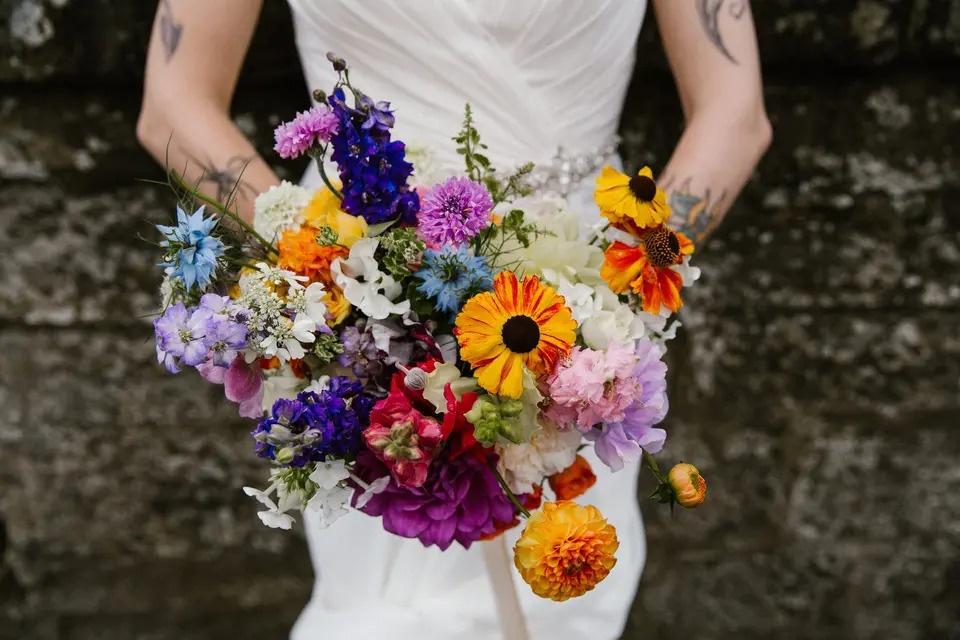 The gerbera is part of the daisy family and is a bold flower that can really brighten up your bouquet. Gerberas represent cheerfulness which is easy to see when you see all the vibrant shades they grow in!
18. Heather
This hardy bloom can add a gorgeous look to your bouquet as well as a beautiful scent. Heather has many meanings, it symbolises admiration, solitude and beauty. If you opt for white heather then this also represents protection and indicates that your wishes will come true.
19. Hyacinth
Getting married at a sporting wedding venue? The hyacinth is the flower to choose - it represents sport and play so will symbolise your setting perfectly.
20. Hydrangea
The hydrangea is another popular wedding bloom as the delicate petals cluster together adding bulk to your bouquet. The hydrangea represents heartfelt emotions and can be used to express gratitude, so it could be ideal for your bridesmaid bouquets.
READ MORE: 30+ of the Best Bridal Bouquet Ideas
21. Iris
"The iris symbolises faith, trust, wisdom and hope," says Jen. Best known for its deep purple and yellow colouring, it is a decadent flower that will stand out from the crowd.
22. Lavender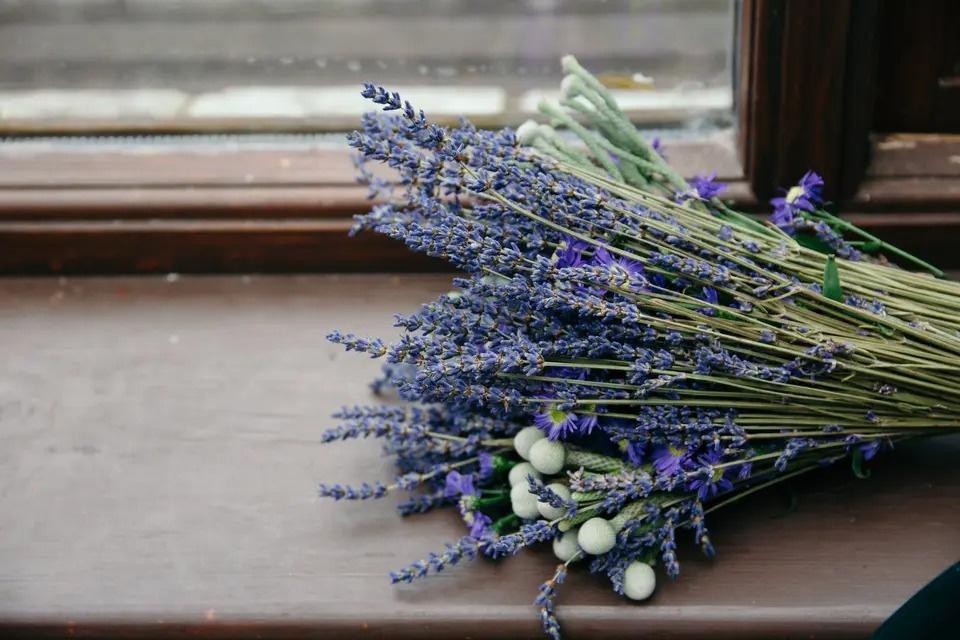 Typically known for its stunning scent, a few sprigs of lavender in your wedding bouquet will represent devotion and virtue. Better yet, you can dry the blooms post-wedding and pop them around your home.
23. Lilac
Lilac is typically found in shades of, you guessed it, lilac! They symbolise first love so if you're marrying the first person you fell for, we reckon they are the perfect match.
24. Lily
The most common lily flower meaning is love, devotion and fertility but this varies on colour and variety. Tiger lilies are a symbol of wealth and calla lilies typically mean innocence. A timeless bloom, this flower is a wedding staple.
25. Lily of the Valley
"Lily of the valley represents rebirth, humility and purity," explains Elaine of Pesh Flowers. The dainty bud is also thought to symbolise a return to happiness.
READ MORE: 35 Wedding Decoration Ideas
26. Lotus Flower
The lotus flower meaning of spiritual enlightenment is the perfect analogy for unconditional love - even when its roots are in the dirtiest waters, the lotus still produces the most beautiful flower.
27. Magnolia
Magnolia flowers are said to have existed since the beginning of time, symbolising endurance, longevity and perseverance. The large, impressive flower have a distinct fragrance.
28. Marjoram
Many couples choose to include marjoram in their wedding flowers as they represent happiness and love. The tiny purple buds look like little knots and the herb is also commonly used in Mediterranean food.
29. Orchid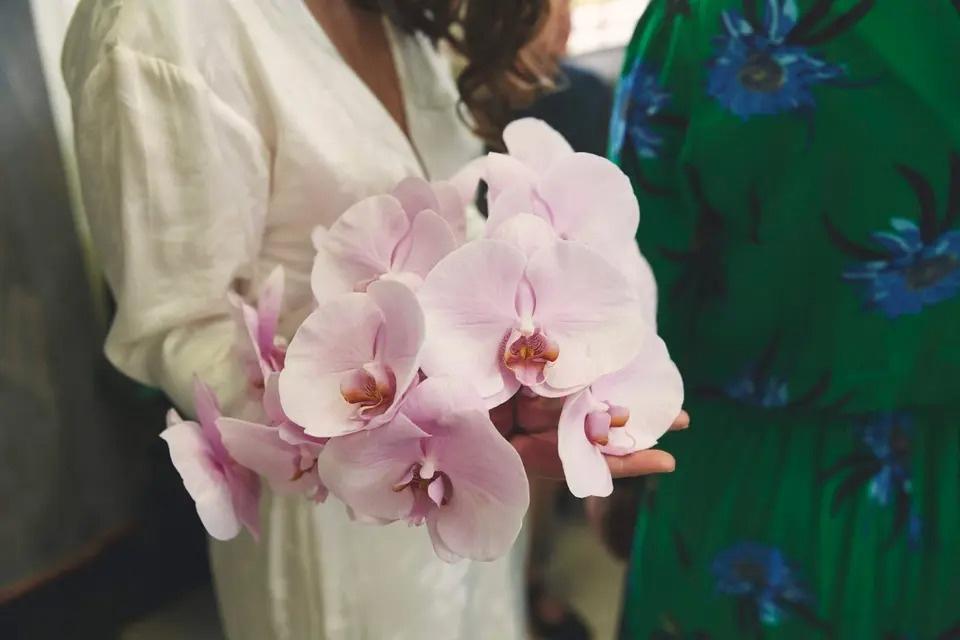 Orchids are consistently a popular flower with couples although make sure you are picking the right season for your flower or it could get expensive! The orchid represents exotic beauty, refinement, thoughtfulness and charm.
30. Peony
"The most popular wedding flowers changes with the seasons, but we are always asked for peonies," says Elaine. "They only have a short season, May - June, and represent romance, prosperity and good fortune."
READ MORE: 35 of the Prettiest Peony Bouquets
31. Poppy
According to research by Flowercard, poppies were the most popular flower in 2021 for wedding bouquets, with nearly 3 million searches. A red poppy represents peace, while yellow is linked to wealth and success.
32. Ranunculus
If you love the look of peonies but they aren't in bloom during your wedding date Elaine suggests using ranunculus as a peony alternative: "In spring we use gorgeous ranunculus which have a similar ruffled petal look. We are finding that couples want British grown flowers which is fantastic as we specialise in these and home grown flowers for our weddings." Choosing home grown flowers is a great way to ensure your wedding is more sustainable.
33. Rose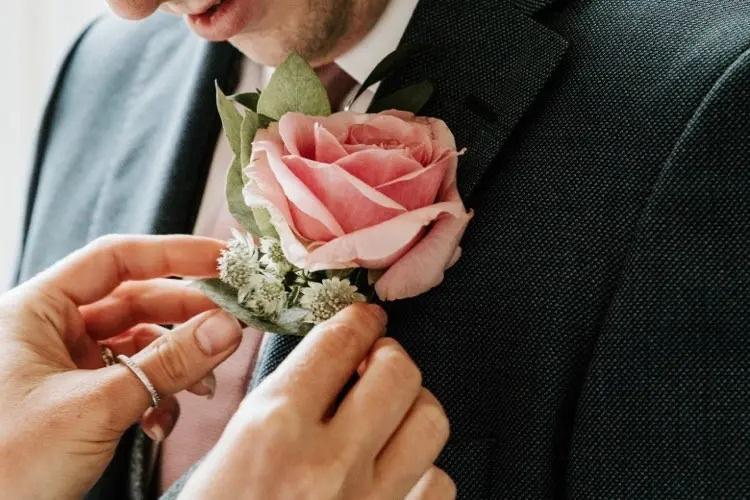 We couldn't talk wedding flowers without mentioning roses! This hardy flower is used in bouquets more often than we can count. "We all know red roses mean love and passion, but the white rose means peace and friendship which is a good combination in marriage," explains Elaine.
It's no wonder roses are so popular as they symbolise love. However there are other meanings depending on the colour:
Red rose: A red rose represents longing, desire and love.
White rose: A white rose shows peace and friendship.
Yellow rose: A yellow rose symbolises friendship and caring.
Pink rose: Pink roses represent emotions, joy and gratitude.
Orange rose: An orange rose symbolises passion and energy.
34. Stocks
A symbol of a happy life and contentment, stocks are sweet-heady scented blooms that are typically found in white, pink, lilac or red. Their flowers are very long-lasting meaning they won't droop during the day.
35. Sunflower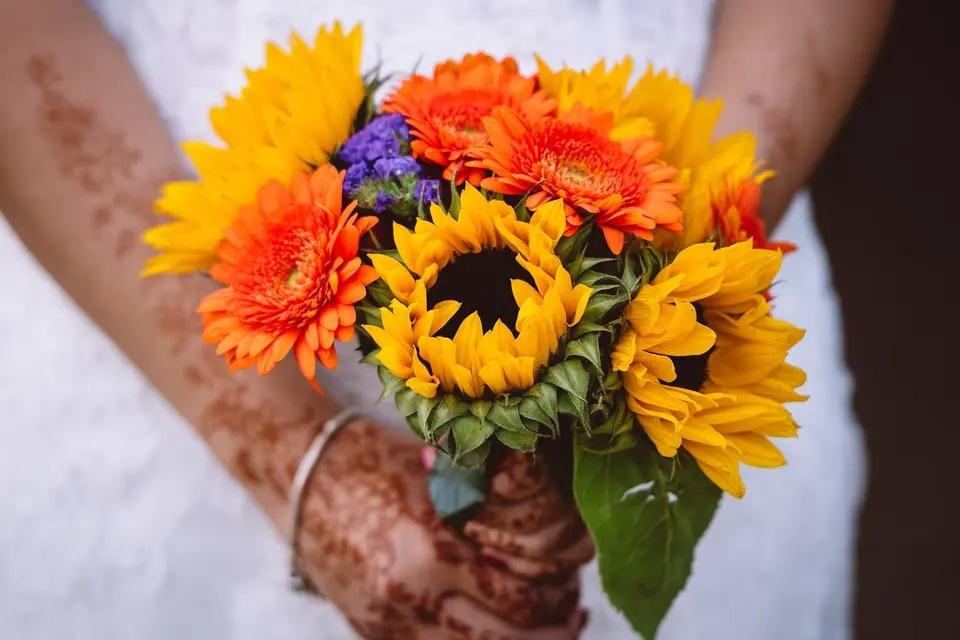 The sunflower is a happy and vibrant flower and is usually used as the focal bloom in a bouquet. The sunflower is said to represent pure thoughts, adoration and dedicated love so it is a romantic choice for your bouquet or décor.
READ MORE: 22 Stunning Sunflower Wedding Bouquet Ideas
36. Sweet Peas
The sweet pea is a romantic flower, traditionally blooming on the 21st June - the longest day of the year. It symbolises kind-heartedness and thanks to its enchanting fragrance you'll likely fall in love with its scent.
37. Tulip
Tulips are a pretty and delicate choice for your bouquet and you can choose vibrant shapes like red or yellow or instead go for more subtle tones like light pink and ivory. Tulips signify the declaration of love and according to Flowercard where the most popular wedding flower on Instagram in 2021 with over 7 million posts of this beautiful bloom.
What Do Yellow Flowers Mean?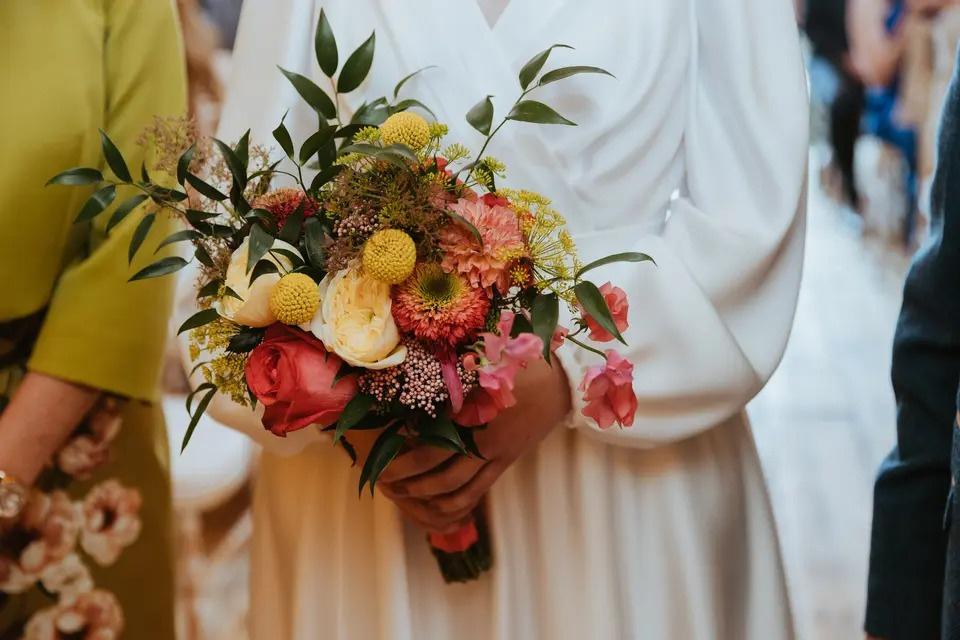 The colour yellow is primarily associated with happiness and joy. Injecting yellow blooms into your wedding décor can instantly give it a mood-boosting lift - whether you opt for a soft sorbet shade or a vibrant sunny hue.
Which Flowers Symbolise Change?
Some of the most popular flowers that symbolise change and growth are tulips and daffodils. Typically used at spring weddings, they are a beautiful representation of new beginnings that will help you celebrate a new chapter in your life.
What Flowers are Lucky for a Wedding?
If you want to bring some good fortune to your wedding day, there are several varieties that are considered good luck.
According to folklore, the ancient Greeks and Romans would carry garlands of fragrant herbs at wedding because the strong scent was believed to scare off evil spirits. "The Royals always include a sprig of myrtle as it is a lucky charm for fertility," says Elaine of Pesh Flowers. "We often include rosemary foliage for remembrance if the bride or groom has lost a parent as it is a nice touch for them to have with them."
"The herb marjoram is also lucky as it represents joy and happiness and salvia means 'forever mine'. Any flower that made the couple's day memorable and beautiful are lucky in our eyes," says Jen Stuart-Smith, co-founder of Blooming Green.
What's the Most Popular Wedding Flower?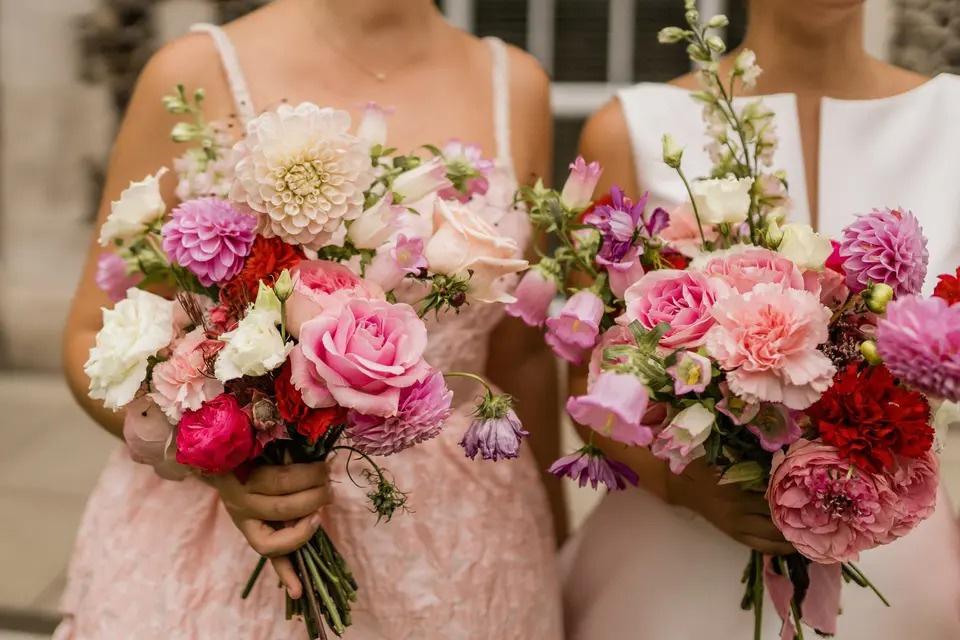 Research by Flowercard reveals that some of the most popular wedding flowers for 2021 were poppies, peonies, white roses, tulips, lavender and orchids.
"As all our flowers are seasonal, there tends to be a different 'most popular' flower each month," explains Jen. "In May/June it would have to be peonies, in June cornflowers, delphiniums and sweet peas. As we go into August, things start hotting up with sunflowers, zinnias and echinacea, before we go into dahlia season. Gyp is popular throughout the season, year after year!"
What Flowers Should You Avoid at Weddings?
While most flowers have good vibes, there are a few that have a negative association. Although carnations represent love and pride, perhaps avoid striped carnations if you are superstitious as they symbolise refusal. Definitely one to steer clear of when standing at the altar!
If you plan on using daffodils make sure to use more than one as a single stem is said to represent unrequited love and white poppies can be seen to signify consolation.
So now you know all your flower meanings, what about bouquet styles? Take a look at our wedding bouquet style guide to discover how to tell your posy from your pomander