Winter Wedding Flowers: 23 Beautiful Winter Wedding Bouquets
If you want to give your winter wedding a seasonal touch, we've got lots of beautiful winter wedding flower ideas to inspire you…
We have included third party products to help you navigate and enjoy life's biggest moments. Purchases made through links on this page may earn us a commission.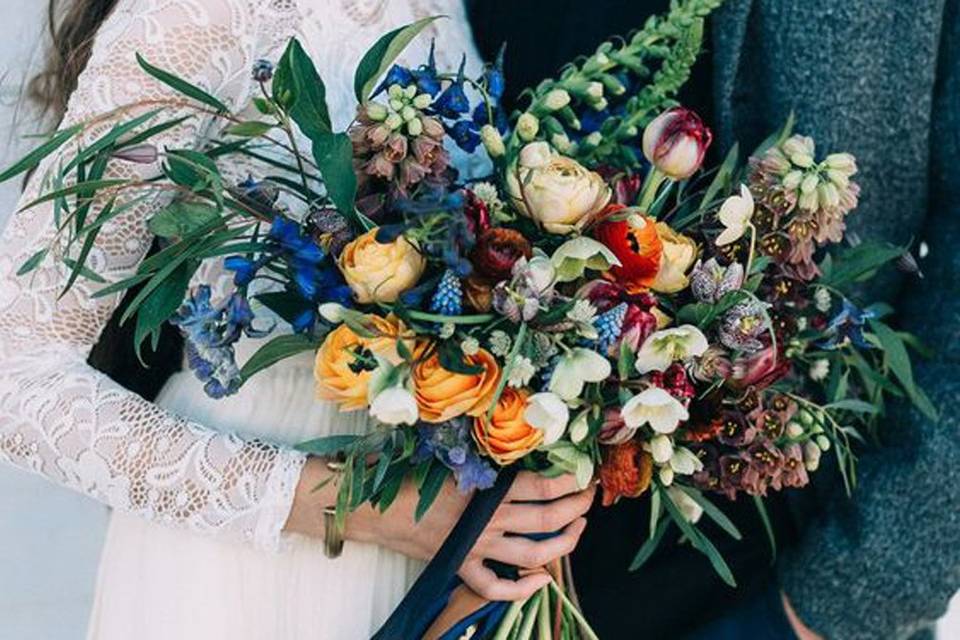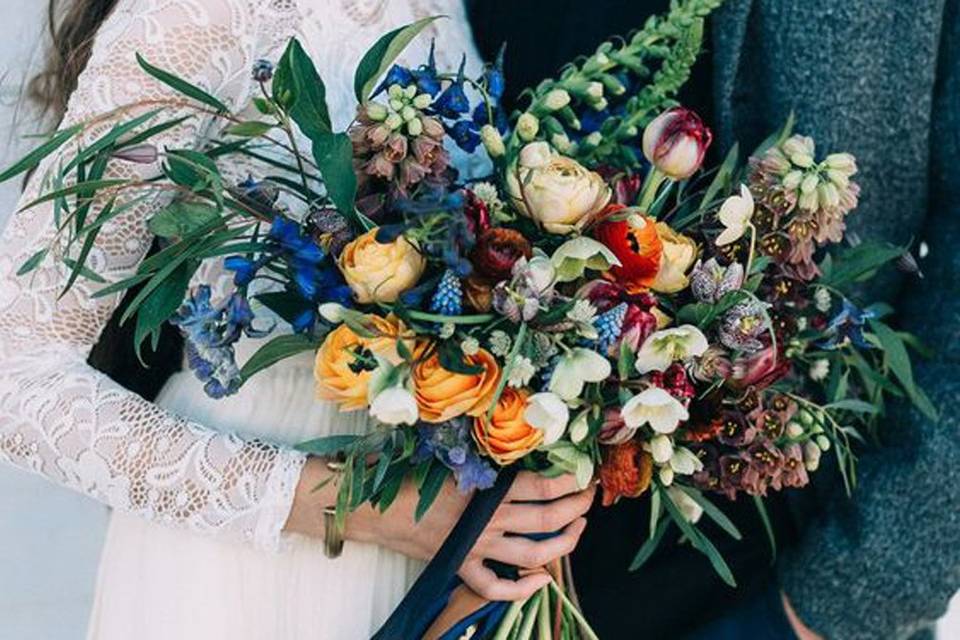 Winter is such an enchanting time of year to tie the knot. Not only will your day benefit from snow-dusted lawns, roaring log fires and rich fabrics, but the possibilities are endless when it comes to your wedding flowers.
Once you've chosen your winter wedding venue and winter wedding dress, highlight the natural beauty of the season by filling your day with an array of winter wedding flowers.
From which flowers are in season to the colours that'll match your beautiful winter wedding theme, here are plenty of winter wedding bouquets (and buttonholes, and floral centrepieces) to inspire you.
Oh, and keep scrolling to the bottom where we share everything you'll need if you want to save some money and create your own winter wedding bouquet!
Which Winter Wedding Flowers Are in Season?
Image: Pinterest
Fewer flowers may be in bloom in the winter, but that doesn't mean you need to compromise on your arrangements.
Today, seasons don't really affect what's available on the flower market, as a lot of stock is imported from abroad. Of course, choosing flowers that are in season is a great wedding budget hack (and a good way to be eco-friendly), but if you've got an eye on a particular flower which is in season in the summer, you can probably still get it.
Flowers such as roses, lisianthus, veronica, alstroemeria and gypsophila have a year-round presence, which makes them a budget-friendly option in the winter. Fortunately, they also lend themselves to the jewel tones which are super popular in wedding colour schemes.
Other flowers that are in season in the winter include delphimium, liatris, hypericum berries and amaryllis… but if peonies are your favourites, it's worth noting they may be difficult to source in the winter. Ranunculi and peony-looking roses will still be available, though, so look out for peony alternatives like those.
Winter Wedding Bouquet Ideas
1. Jewel-Toned Winter Wedding Bouquet
Image: Pinterest
When it comes to winter wedding bouquets, you could play up to the season's colours with an icy colour scheme or warm things up with a combination of rich, jewel-toned hues.
It's the latter theme which has been chosen for this beautiful bouquet. Filled with an opulent mix of brightly coloured blooms, you can't help but stare at it. Whoever said pink doesn't work in winter?
2. Festive Winter Wedding Bouquet
Image: Pinterest
If you're getting married close to Christmas, you could use festive hues as inspiration for your winter wedding bouquet.
Berries, red roses and rustic manzanitas are great if you want your bouquet to have a Christmas vibe, and they look beautiful when paired with white flowers and pale green foliage. How lovely do these bridesmaid bouquets look?
3. Soft Pink Winter Wedding Bouquet
Image: Pinterest
Rich and opulent colours such as purples and reds are perfect for a dramatic winter bouquet… but what if you're after something a little softer?
This winter wedding bouquet is beautiful. Flowers in shades of peach, light pink, white and cream work really well at giving the bouquet a more delicate finish. They also pair fabulously with seasonal touches like pine cones and berries.
4. Pine Cone Winter Wedding Bouquet
Image: Pinterest
Speaking of pine cones, we can't get enough of this winter wedding bouquet which is full of them. They're a great seasonal filler for your bouquet!
Not only will they look lovely in your wedding photographs, but they're a motif which can be repeated throughout your wedding day – from your place settings to your table décor.
5. Metallic Winter Wedding Bouquet
Image: Pinterest
Luxe details such as metallics work perfectly with winter wedding flowers and are so on-trend right now.
If you have chosen metallics for your colour scheme such as silver, gold or rose gold, add matching accents to your flowers by gently spray painting parts of the bouquet. Or how about hand-tying your winter wedding bouquet with metallic ribbon, as seen here, to give the arrangement instant opulence?
6. Rose Winter Wedding Bouquet
Image: Pinterest
A rose bouquet will forever be a romantic choice for weddings, but particularly those which are held in the winter.
Choose a bold bouquet of red roses for something totally classic and elegant. To put a festive spin on your winter wedding bouquet, pair the roses with berries and foliage. Or how about choosing a couple of peach-toned roses as this bride has done to soften the look slightly?
7. Traditional Winter Wedding Bouquet
Image: Pinterest
If you're planning a traditional wedding day, then unleash your inner ice princess and go for a white, ivory or pale pink bouquet.
We love how the ivory shades contrast with the pale green foliage in this bouquet for an endlessly elegant and beautifully understated look.
8. Rustic Winter Wedding Bouquet
Image: Pinterest
If you're getting married at a rustic wedding venue, it's a good idea to experiment with the shape and style of your arrangement. A teardrop or presentation-style would be particularly fitting.
Teardrop bouquets with trails of astilbe, gypsophila and light green foliage would look amazing against a simple wedding dress, while rustic bouquets with differing stem lengths and a mix of flowers and foliage suit relaxed winter weddings.
This couple have chosen to play around with foliage and different stem lengths to add texture and volume to their winter florals. And can we talk about those pops of blue? That's their "something blue" ticked off the list!
READ MORE: 45 Rustic Wedding Ideas to Transform Your Big Day
9. Orange and Blue Winter Wedding Bouquet
Image: Pinterest
This bride has chosen a similarly unique colour scheme for her winter wedding flowers which we absolutely love.
The orange and blue shades clash in the most perfect of ways, and the blue ribbon is the perfect finishing touch!
10. Foliage Winter Wedding Bouquet
Image: Pinterest
How about considering a winter wedding bouquet made entirely of foliage? It screams winter, and we love the inclusion of just a few white flowers.
11. Succulent Winter Wedding Bouquet
Image: Pinterest
A succulent wedding bouquet is likely to last longer after your big day than flowers will… and they look ever so seasonal!
If you don't want your wedding bouquet to be made entirely from succulents, there are plenty of flowers which they'll look lovely against. Euphorbia, lavender and the African daisy are just a few examples.
READ MORE: How Would Consider Artificial Wedding Flowers?
Winter Wedding Buttonholes
12. Berry Winter Wedding Buttonholes
Image: Pinterest
Alternative buttonholes are all the rage right now.
Go bold with your winter buttonholes by adding seasonal details such as berries, holly and sprigs of foliage.
13. Single Rose Winter Wedding Buttonhole
Image: Pinterest
A singular rose, lisianthus or succulent would make a great buttonhole for a winter wedding.
14. Miniature Wreath Buttonhole
Image: Pinterest
How gorgeous is this miniature wreath button hole? It might be our favourite winter wedding idea yet.
This groom's buttonhole also goes perfectly with his rustic groomswear!
15. Red Winter Wedding Buttonholes
Image: Pinterest
What's a winter wedding without a touch of red? The red cotton used to tie these winter wedding button holes together is beautiful – as is this dainty pearl pin! It's all in the details, you know…
Winter Wedding Flower Crowns
16. Rustic Winter Wedding Flower Crown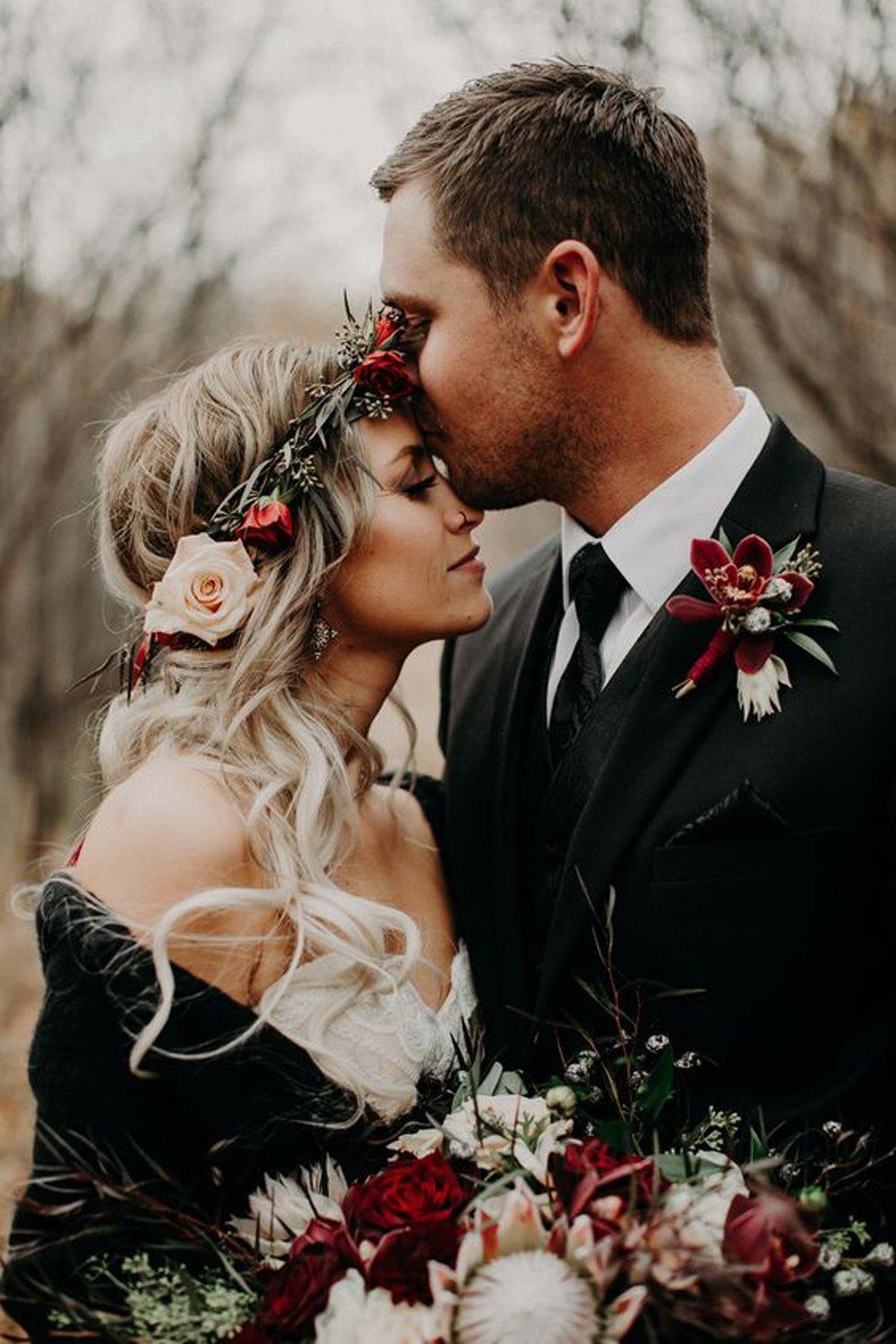 Image: Pinterest
Flower crowns aren't just for summer weddings – they can look dazzling at winter weddings, too! In fact, flower crowns have the power to make your wedding feel even more seasonal if you match them with your winter wedding bouquet.
Crowns with reds and yellows will really stand out and add warmth to your wedding day get-up.
We can't get enough of this dainty flower crown which has been paired with the bride's winter wedding bouquet and her groom's buttonhole. Winter wedding goals.
17. Pink Winter Wedding Flower Crown
Image: Pinterest
This flower crown boasts pops of pink and purple to add a feminine touch to an otherwise rich colour scheme.
That said, our favourite feature of this winter flower crown has got to be the metallic leaves. They look so luxurious!
18. Boho Winter Wedding Flower Crown
Image: Pinterest
Crowns with foliage, dried flowers, pine cones and muted colour schemes have an ethereal look about them.
This winter flower crown would be perfect for a bohemian bride.
READ MORE: 37 of the Most Beautiful Boho Wedding Dresses
Winter Wedding Flower Centrepieces
19. Succulent Winter Wedding Centrepiece
Image: Pinterest
Succulents, amaryllis, ranunculus, orchids and roses are all beautiful elements if you're arranging your winter wedding flowers into centrepieces.
20. Red Rose Winter Wedding Centrepiece
Image: Pinterest
If your centrepiece consists of blooms that have bold, jewel-toned colours such as deep reds, blues or purples, place them into a clear vase tied with ribbon so that the flowers take centre stage.
Surround your floral centrepieces with tealights, lanterns and cinnamon sticks if you want to decorate the tables further.
21. Manzanita Tree Winter Wedding Centrepiece
Image: Pinterest
If you want to make a seriously impressive statement with your winter centrepieces, manzanita trees are a must – their stripped-bare look leaves room to accessorise further with trails of flowers and foliage.
READ MORE: 17 of the Best Woodland Wedding Venues in the UK
How to Make Your Own Winter Wedding Bouquet
Image: Pinterest
If you're sticking to a tight wedding budget and want to cut a few costs, why not consider making your own wedding bouquet?
Wedding flowers are a huge part of your winter wedding décor (and bridal look!), so going DIY can allow you to create something even more personal to you.
READ MORE: Does DIY Actually Save You Money?
You Will Need:
Tissue paper to work on
Scissors or secateurs. This pair from Amazon cost less than £10 and they've been made especially with flower arranging in mind!
String, raffia or flower arranging wire. This wire is green, so it'll blend in with the stems of your flowers perfectly!
An old spray top bottle filled with water
Decorative ribbon, lace or scraps of fabrics for the handle
A mirror to work in front of – not a necessity but extremely helpful!
A clean tea cloth
12-14 flower and foliage stems of your choice
1. Choose Your Flowers
Preparation is crucial when it comes to making your own winter wedding bouquet. You'll need to consider what flowers are in season, which you can afford and which suit your wedding theme.
Use our winter wedding flower inspiration above to get those creative juices flowing!
2. Prepare Your Flowers
Once you've sourced your flowers, lay them out in front of you, on top of tissue paper. It's often best to arrange them in groups, so you know how many of each flower you've got.
Strip the stems of all leaves, buds and foliage which will go beneath the point you'll be holding the bouquet at. This will make it tidier and more comfortable to hold.
3. Pick a Focal Flower and Work Around It
Begin by choosing the main flower which you want to use at the centre of your bouquet. Hold it in your left hand and tie string to the stem at the point which will become the base of the bouquet.
You can then begin to add more flowers and foliage to build your bouquet. It might be a good idea to have a picture in front of you which you can use for inspiration.
Every time you add a new stem, you should lay it at a diagonal angle and bind as you go to secure. You should always add the stems in the same diagonal direction to ensure you create a hand-held, spiral effect. Twist your hand slightly every time you add a flower to make things easier.
4. Tie the Bouquet
Once you've got all the flowers in place, you can tie the bouquet with string or raffia. Once it's tight and secure, decorate the handle with the ribbon or fabric cut-offs which you have chosen.
5. Cut the Stems of the Flowers to Finish
You're almost there! Choose the length of your handle and cut the stems accordingly to reveal as much or as little of the natural stems as you wish. Showing more stem will give the bouquet a more rustic feel.
6. Store It
If you're making your winter wedding bouquet ahead of your wedding day, you need to store it correctly.
Place the stems in deep water over night so that they drink well. They need to be in a cool, dry place like a garage, and never in direct sunlight. That'll cause them to wilt!
On the morning of your wedding, give the bouquet a light spritz of fresh water, then lightly place a sheet of damp tissue over them to protect your flowers and keep them safe.
READ MORE: The Best Places to Order Flowers Online For Your Other Half
Now that you've decided on your winter wedding bouquet, you need to consider the finishes touches. We've got 13 ways to keep your guests warm at a winter wedding – like hot chocolate stations and baskets of blankets!