Vintage Wedding Flowers: 16 Inspiring Ideas
Give an ode to eras gone by with classic vintage wedding flowers - read on for inspiration and to find out what to look for when choosing your blooms
We have included third party products to help you navigate and enjoy life's biggest moments. Purchases made through links on this page may earn us a commission.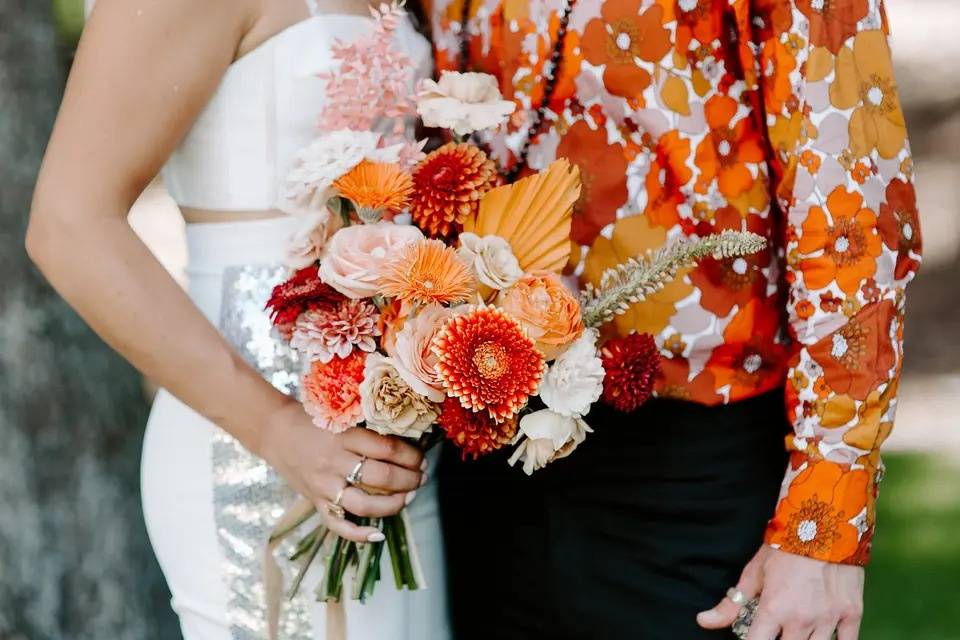 There are lots of different ways to nail the retro theme with vintage wedding flowers - from vintage wedding bouquets bursting with roses to muted vintage wedding aisle décor blooms and artifical vintage wedding flowers, it's a great trend for laidback couples as the look doesn't have to be immaculate.
"Vintage isn't a perfect look," says Sarah Williams, the owner of The Flower Bird. "Whatever flowers you choose, they should be put together quite loosely to give a more natural look."
Vintage wedding flowers will suit all kinds of couples as they are really versatile - even those who aren't going for a full vintage themed wedding. "Vintage can mean different things to different couples - maybe an eclectic mix of beautiful crockery and tableware to tie in with luxurious flowers, or a more simplistic colour palette but still with elegant undertones," explains Jill Alexander, from The Little Flower Hut.
However you choose to incorporate vintage wedding flowers into your big day, they are a classic choice that will never go out of style. For more inspiration and tips on what to choose, read on for our guide.
16 Timeless Vintage Wedding Flower Ideas
1. Romantic Roses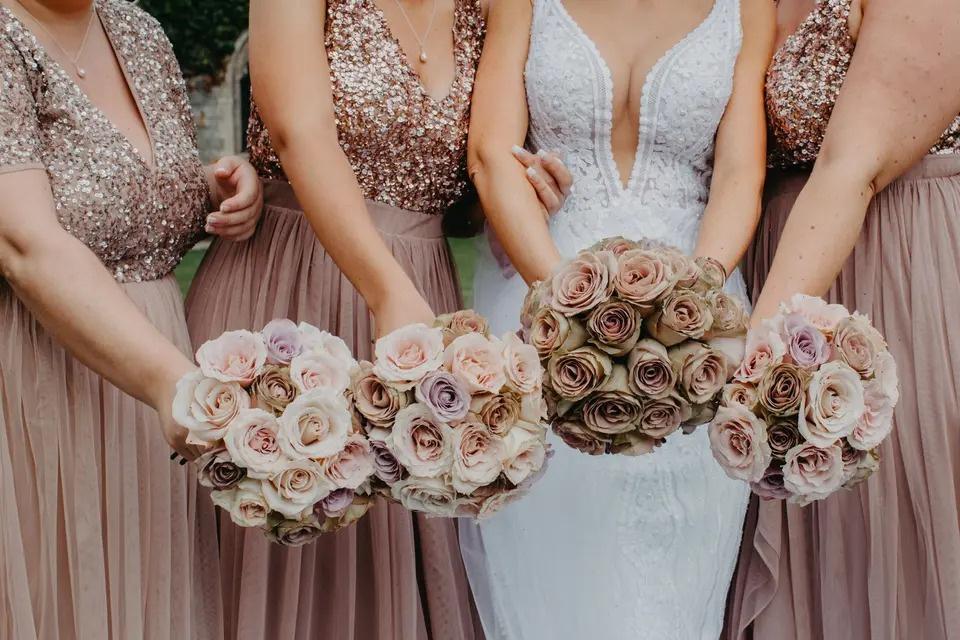 If you want to keep your vintage wedding bouquet relatively fuss free and minimalistic, then opt for a simple yet pretty rose arrangement like this one by Emily&Me.
"Vintage inspired flowers have got to be roses, whether that's a traditional large headed rose, a garden rose filled with beautiful ruffles or an exquisite spray rose each hold their own place in a bouquet to create something truly beautiful and unique. Being a sustainable florist, I work with the seasons and there are always wonderful indigenous varieties to complement the overall design," explains Jill.
2. Pop of Colour
This vintage wedding bouquet by The Little Flower Hut shows just how beautiful a pop of colour can look. We love how the rustic trailing ribbon matches perfectly to the orange blooms and complements the muted green foliage.
"The way vintage bridal bouquets are bound or tied will add to the trend," suggests Sarah. "Tie with lace, velvet or old ribbon from an antique market to personalise your bouquet. You could even add an old family brooch or mother of pearl buttons to the binding. These little touches will instantly add that vintage feel."
3. Pretty Rustic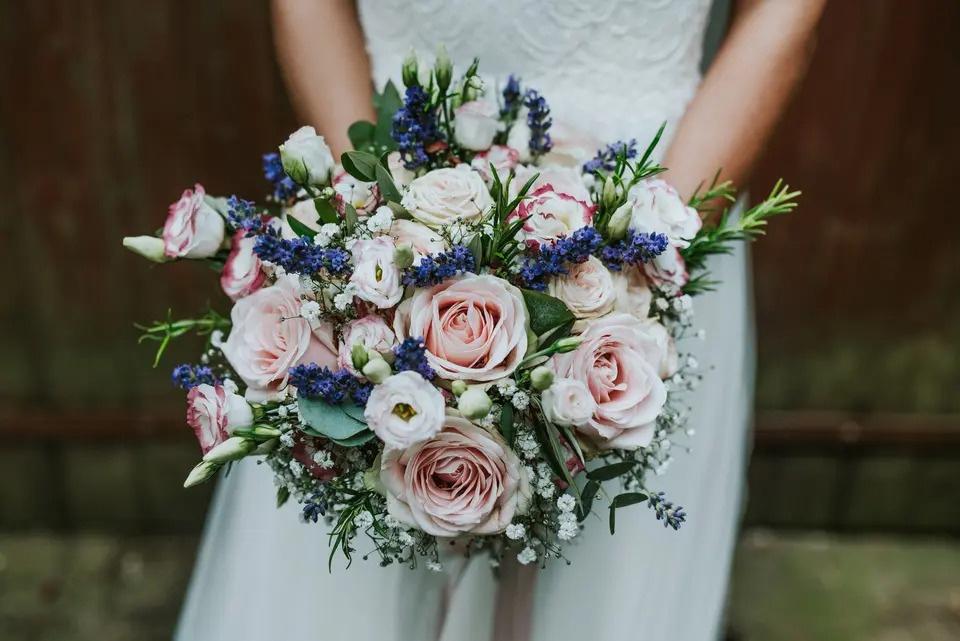 This organic style of bouquet from Wedding Flower Company is perfect if you're tying the knot at a rustic wedding venue. The relaxed arrangement of rosemary, white and purple flowers and pink roses combines to create a timeless look.
"Types of roses such as garden, David Austin, amnesia, menthe and faith roses will all give that beautiful, gentle feel of bygone days. Some of these types will give off a lovely scent too. Your florist should time the roses so that they are perfectly open for your wedding day, which is an important look for the vintage trend," says Sarah.
4. Dark and Dramatic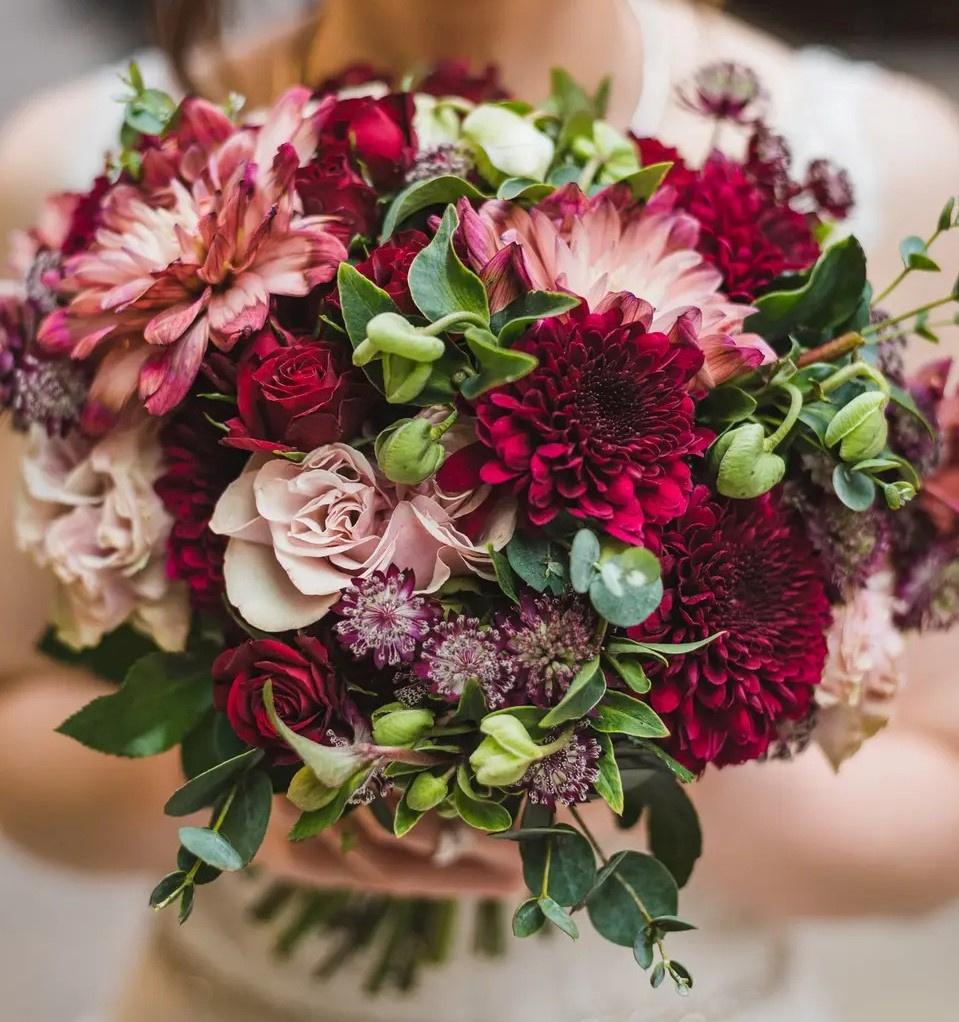 To make a statement with your vintage wedding bouquet, add an injection of drama and glamour by opting for darker blooms. These flowers work best when paired with natural foliage to stop the dark colours overpowering your look. Lacy gowns and gothic wedding dresses go really well with bouquets like this one from Blend & Bloom.
5. Trailing Treasure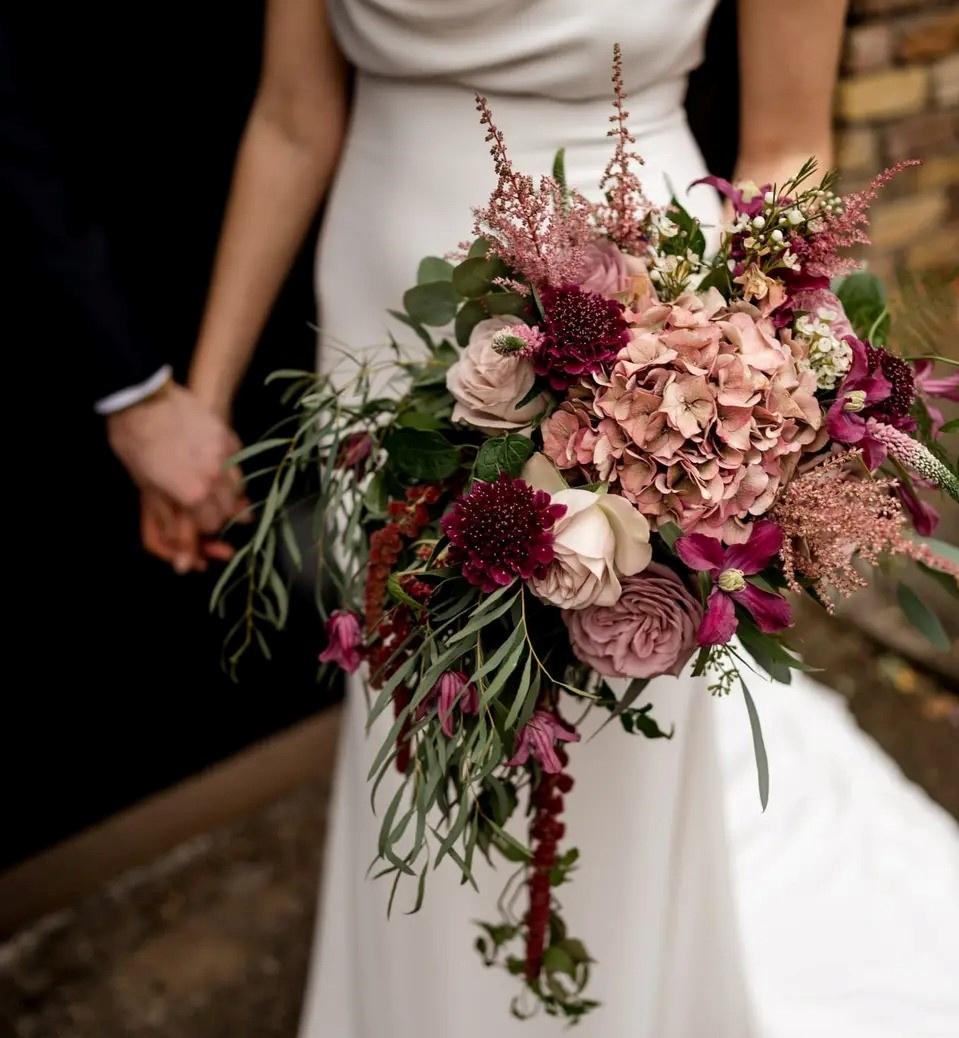 Or how about this impressive bouquet by Wedding Flower Company for a gothic influenced vintage look? The subtle addition of deep plum flowers adds a touch of drama and the muted hydrangea is a lovely statement.
READ MORE: 33 Romantic Rose Bouquets for Weddings
6. Buttons and Brooches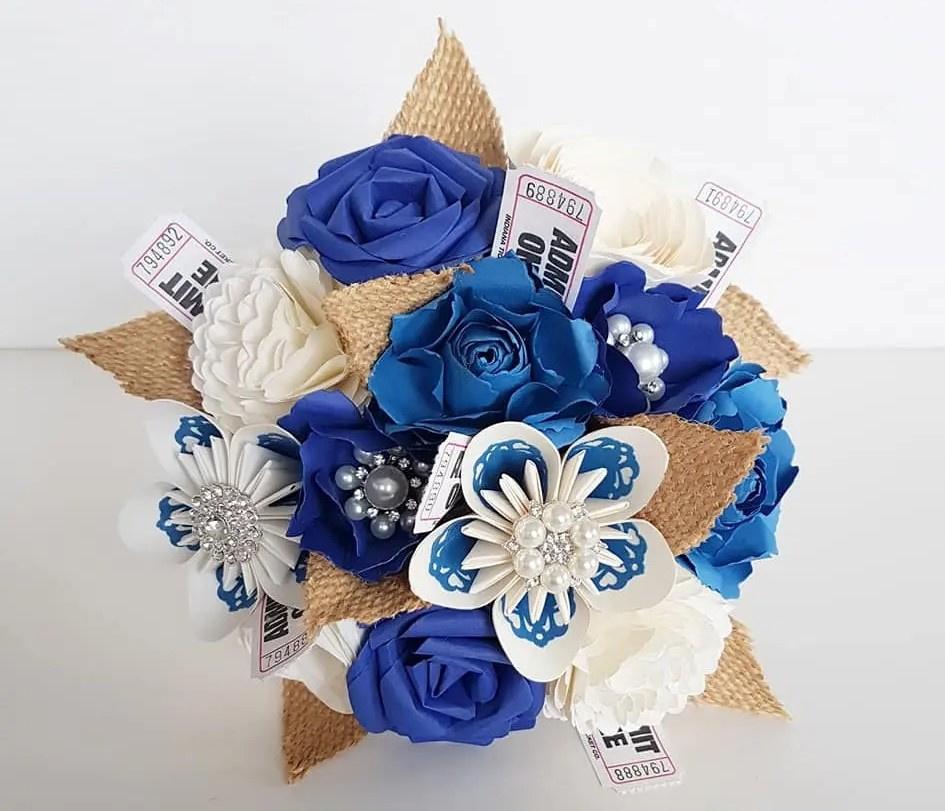 Forget any preconceptions you have about faux flowers - artificial vintage wedding flowers allow for some really fun ideas. If you're looking for alternative bouquets that you can treasure long after your wedding day, then how about opting for this cute cinema ticket arrangement from Paper Bouquets.
7. 70s Style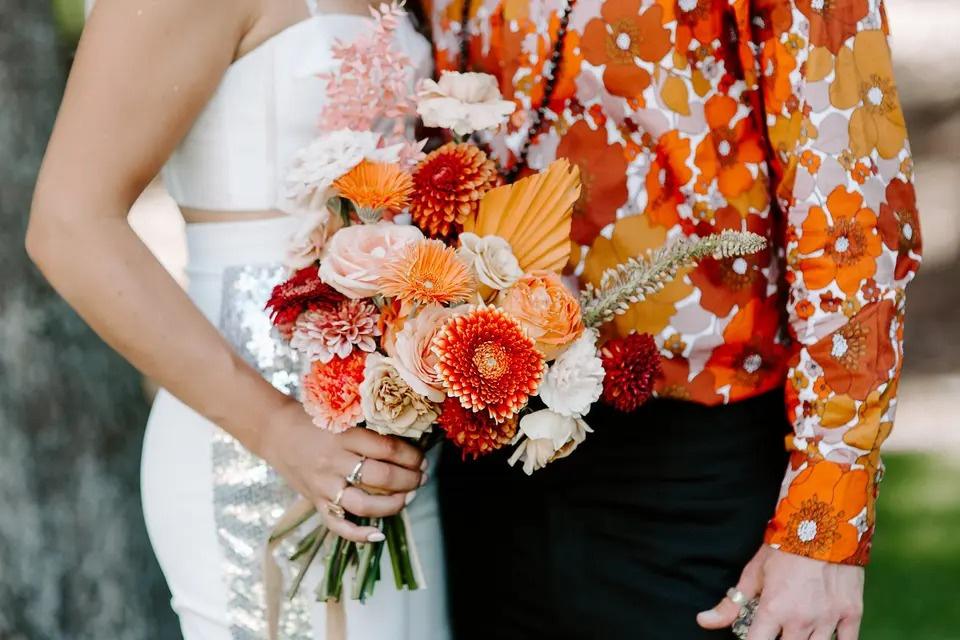 "You can choose a more antique palette with hues of pinks and creams or something much bolder," suggests Jill. This couple have done just that with this vibrant bunch of blooms from Femme Petale. We adore how they've matched their outfits to fit the vintage 70s theme.
8. Bold & Beautiful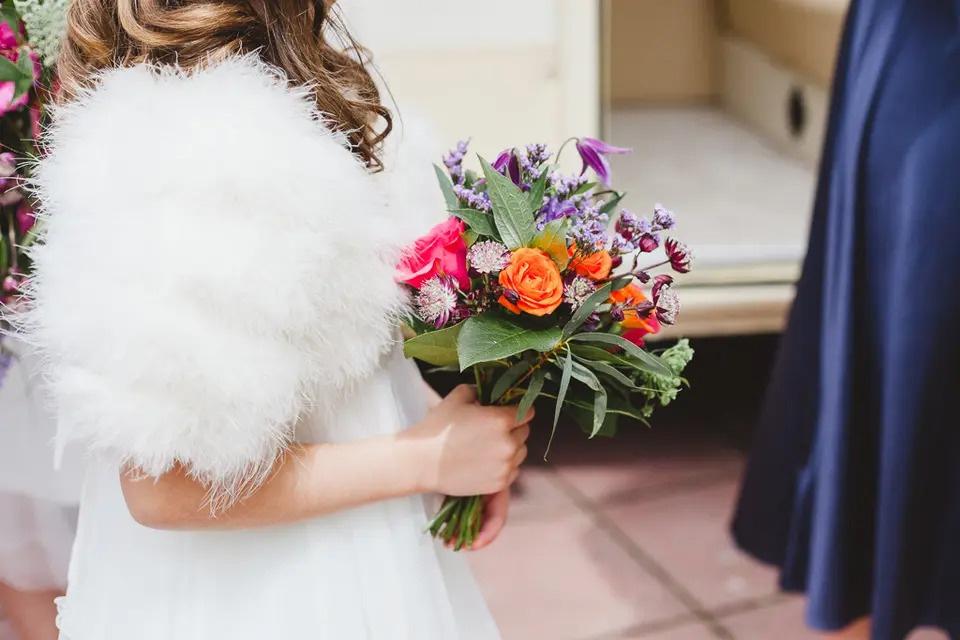 Sarah agrees that "another way to do vintage flowers is to go for a colourful, freshly picked look." This arrangement from In Bloom Brighton is so pretty to look at with its rainbow coloured assortment of flowers.
"Think daisies, delphinium, larkspur, sweet peas, foxgloves, mint, scented geranium leaves and brighter coloured garden roses. This look is more suited to the summer and your florist should be able to source British grown flowers, which lend themselves perfectly to this look."
9. Elegant Embellishment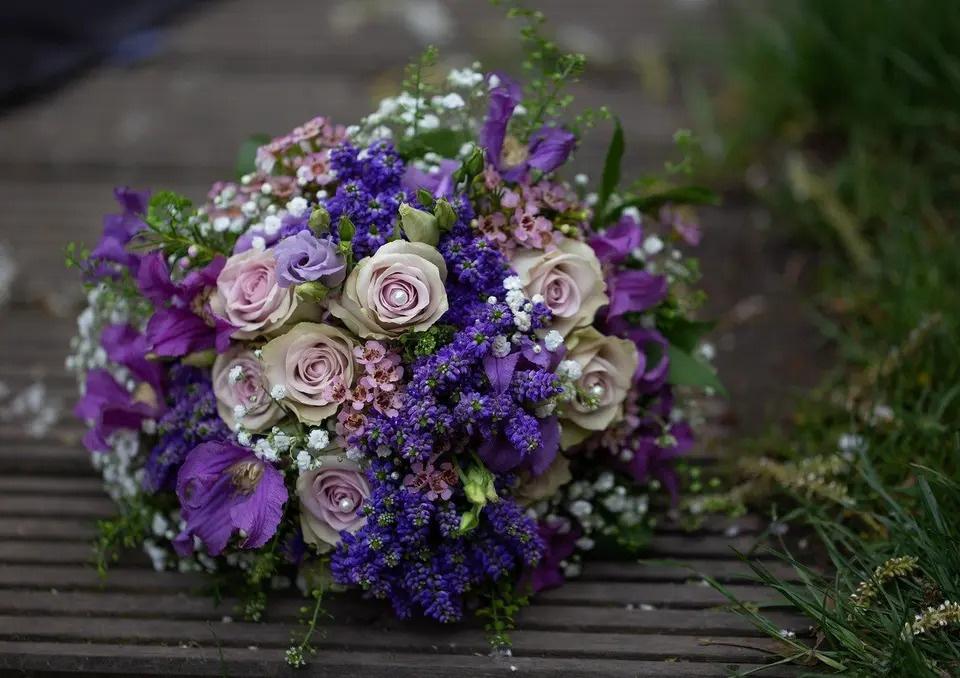 This vintage wedding bouquet from Lily Maud Wedding Flowers has been finished off with pearl pins to complete the classic look. Adding some sparkle to a bouquet gives instant vintage appeal that glamorous couples will adore.
10. Outdoor Aisle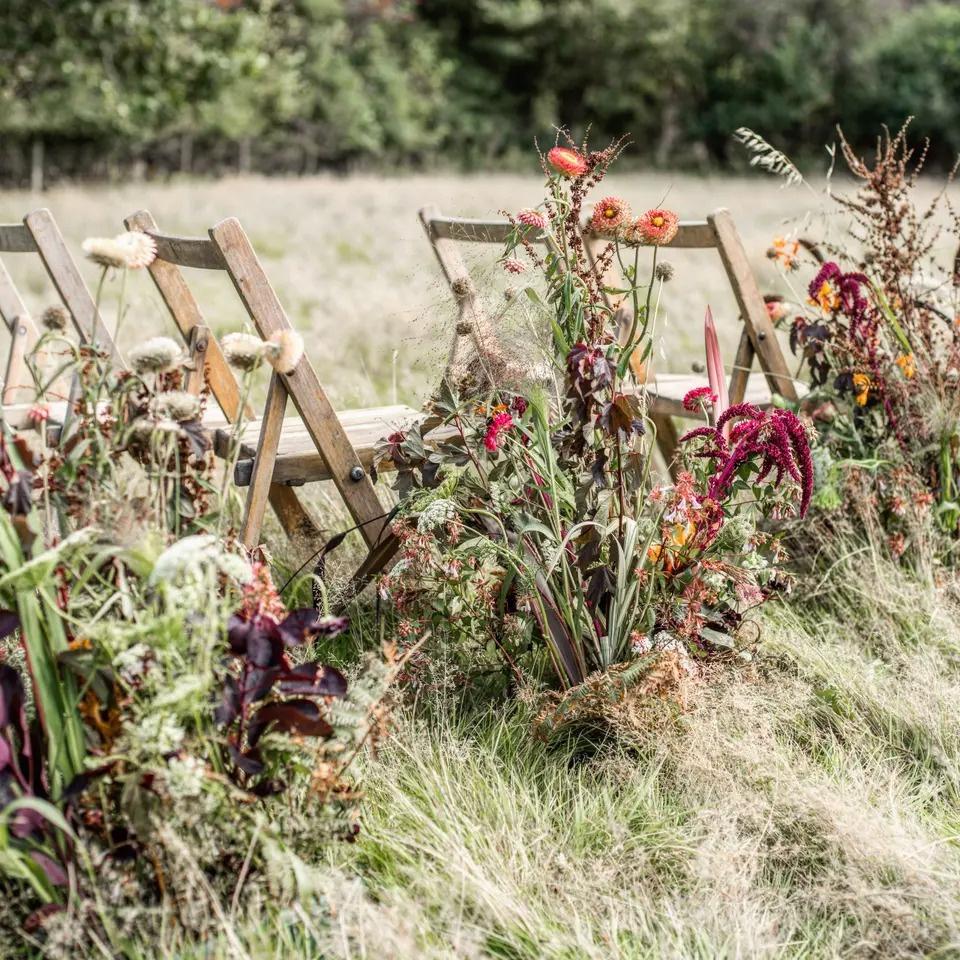 Vintage wedding flower ideas don't stop at bouquets - decorate your wedding aisle with retro blooms too. The Little Flower Hut have matched these flowers to the wooden chairs and outdoor wedding venue setting wonderfully.
READ MORE: 51 Beautiful Wedding Aisle Décor Ideas
11. Plush Peonies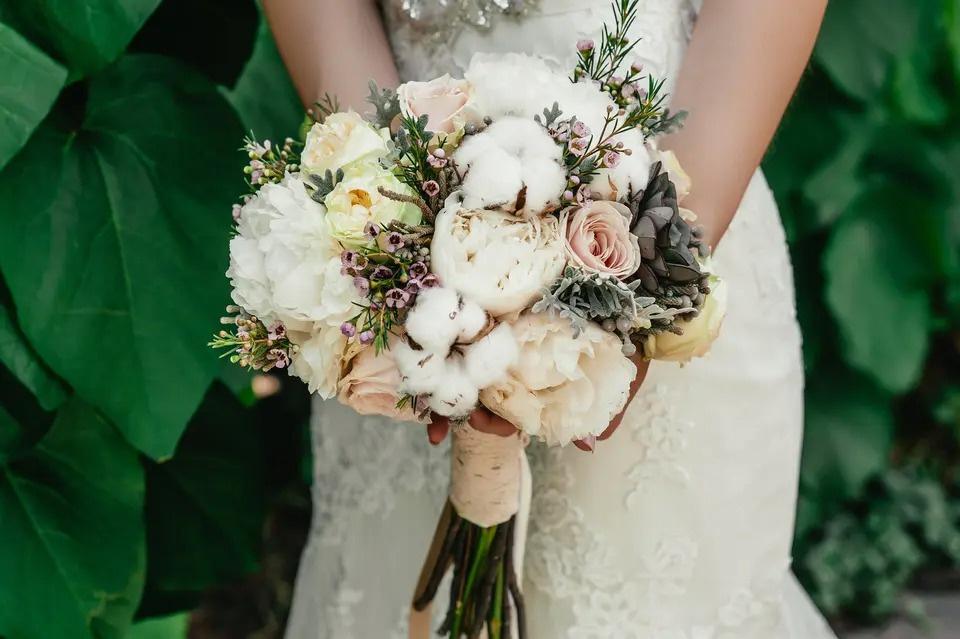 Vintage bouquets don't just have to be filled with roses – peonies will also create a timeless look. As with roses, make sure that your florist times putting together a peony wedding bouquet so that the blooms are nicely open for your wedding day.
We love this gorgeous peony and cotton vintage wedding bouquet that was put together by Oak & Ivy - the long, slightly unkempt stems add to the vintage vibe.
12. Purple Dream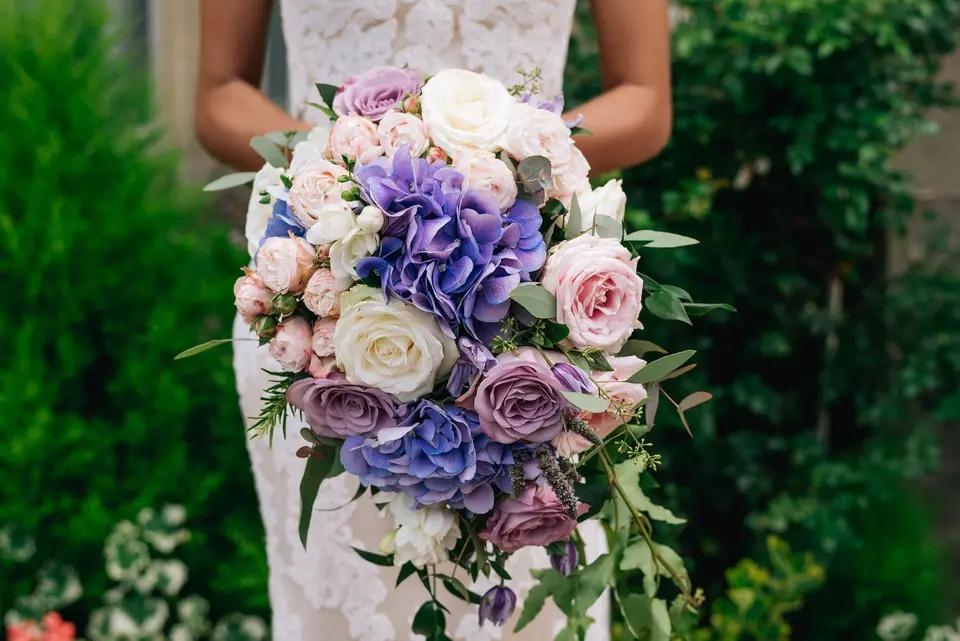 This vintage bouquet from Wedding Flower Company makes quite the style statement. Highlight the pink and purple tones of the roses and hydrangea with by choosing pink bridesmaid dresses in similar hues for your besties.
13. Neutral Chic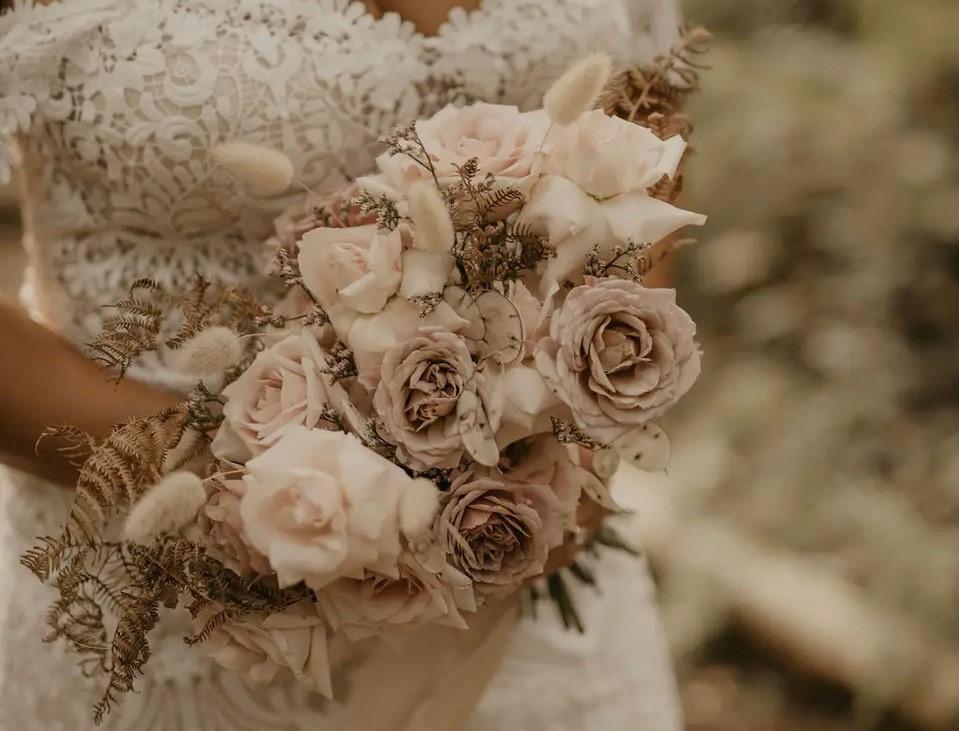 This dried wedding flower bouquet from Lilac and Lace would be a stunning option for a vintage themed wedding in a rustic location. The faded colour of the roses gives the bouquet a beautifully timeless look.
"I think there are two types of vintage: colourful is one and then there's soft, subtle and muted colours which give a very feminine, almost luxurious look," explains Sarah.
14. Double Duty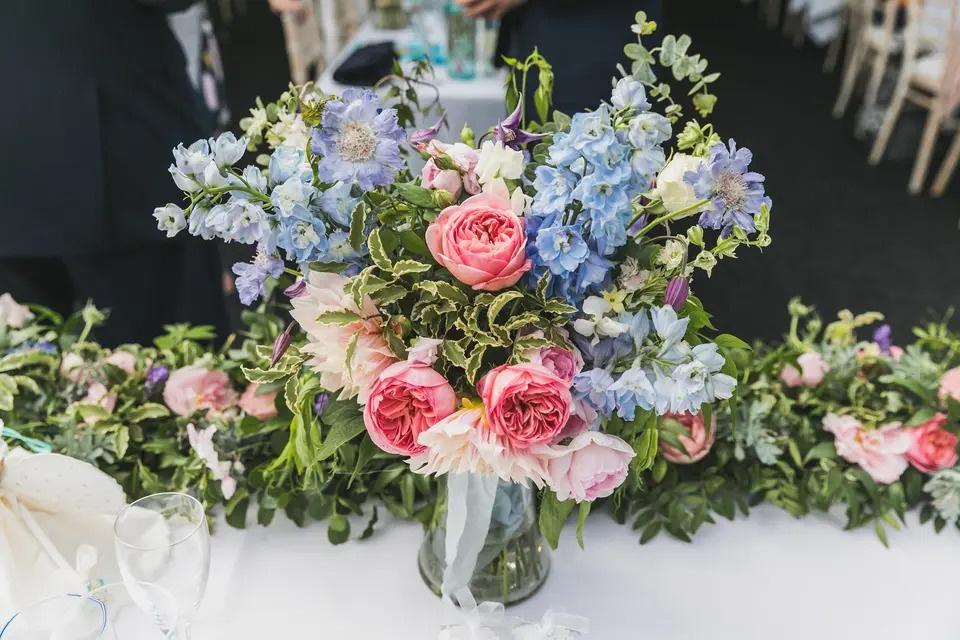 Make the most out of your money by popping your vintage wedding bouquet into a vase at your reception and using it as part of your wedding table decorations.
Hampshire based florist Totally Floral have added blue blooms and pink peonies to this bouquet which gives it a summery touch. Pair your bouquet with a rose flower crown to give the look even more vintage appeal - check out our guide to making your own wedding flower crown.
15. Looking Peachy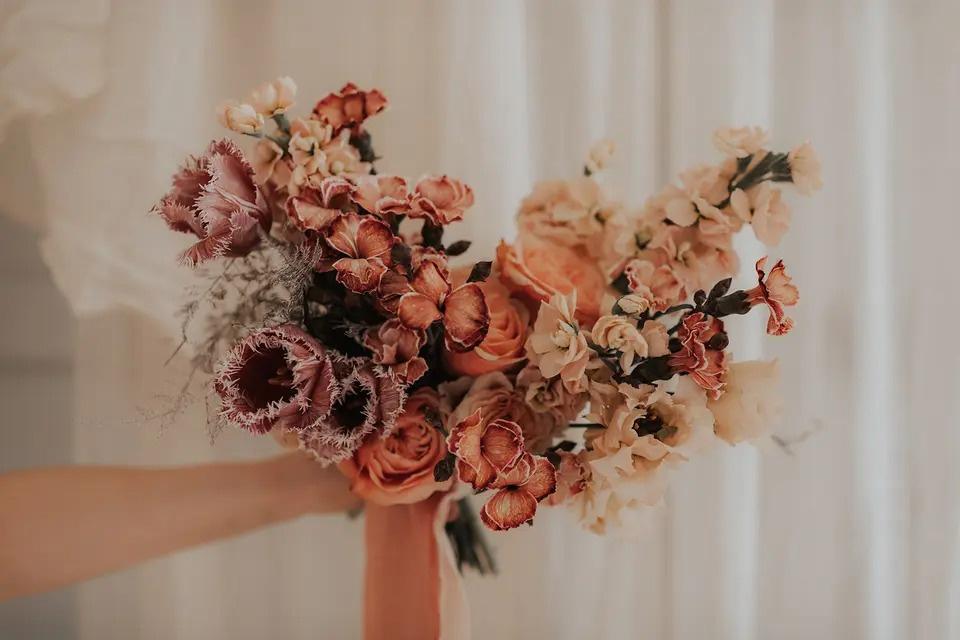 Peach and pink toned flowers are a gorgeous look, especially when paired with lightly coloured foliage like this bouquet from Bloominati Florals. The ribbon at the handle complements the blooms and the vintage theme.
16. Timeless Trend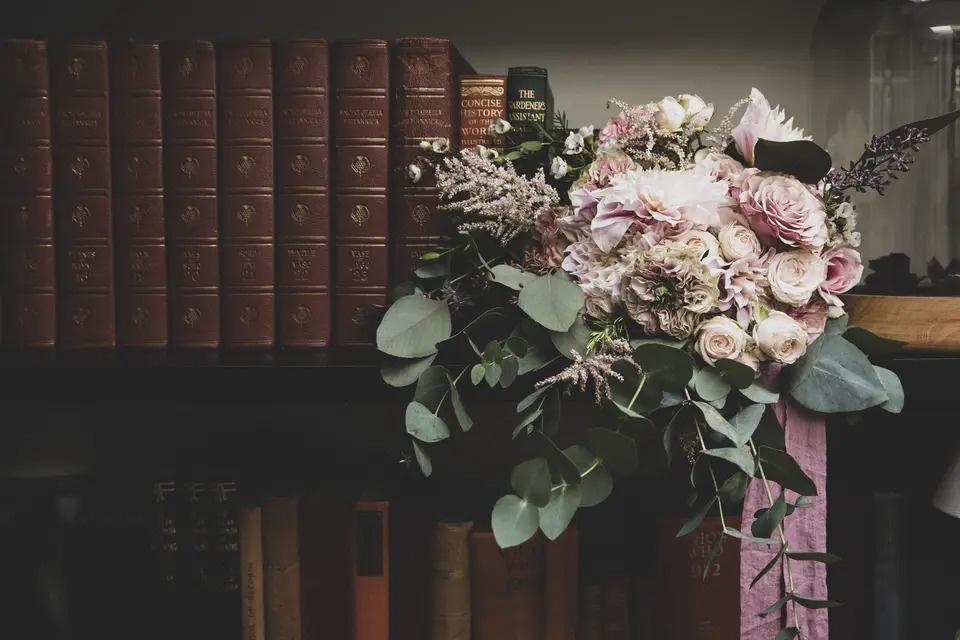 We're seriously impressed by these dusky pink vintage wedding flowers from the Hanako Flower Shop. This large arrangement is full of natural foliage intertwined with romantic ivory roses.
Match your vintage wedding flowers to your outfit with these stunning 1920s wedding dresses that are ideal for vintage loving couples.