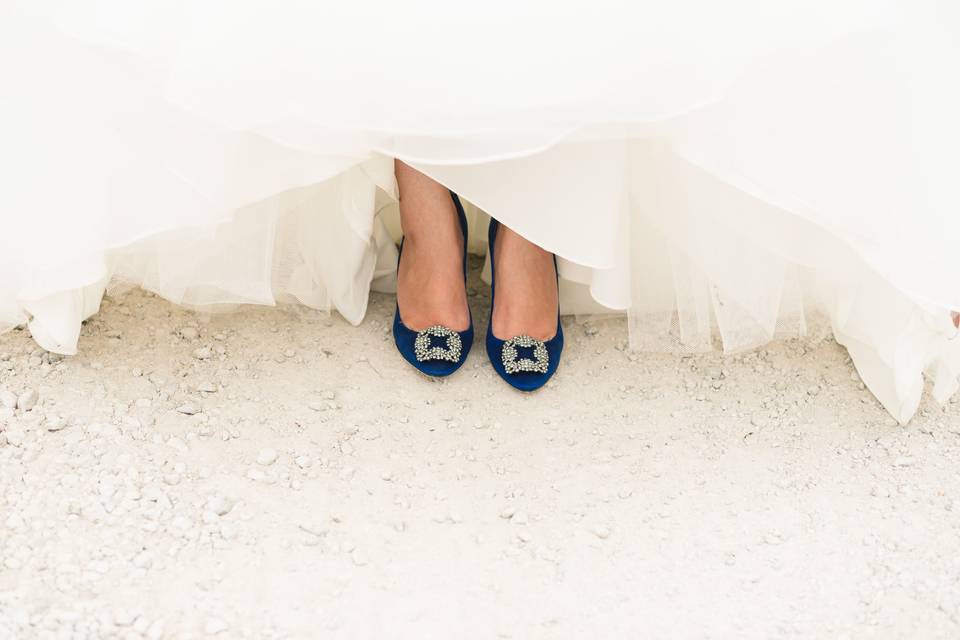 It's only when you begin planning a wedding that you realise how many traditions, customs and superstitions are linked to getting married. From who walks the bride down the aisle to wearing white and whether or not you see your partner before the ceremony, it can seem that almost every element of a wedding day has a traditional blueprint.
The good news is that you can take or leave most wedding traditions (legalities aside) or put a fresh twist on an old custom to make it your own. Before you decide on this particular wedding tradition, here's everything you need to know about the origins and meaning of 'something blue', with modern ways to weave it into your wedding day if you so desire.
Where Does 'Something Blue' Come From?
'Something blue' originates from a rhyme that's said to bring brides good luck – 'something old, something new, something borrowed and something blue'. The idea dates back to ancient folklore, but it was popularised by the Victorians, who also added an extra 'and a sixpence in her shoe' line to attract prosperity. Each line of the rhyme is said to bestow blessings on different elements of the upcoming marriage.
The bride wears 'something old' (often a family heirloom) to give the marriage strength and continuity and 'something new' for a happy future. 'Something borrowed' was originally intended to be something loaned from a content married couple – in the 1800s, this meant undergarments from a female friend or family member with children to impart fertility on the newlyweds. This element of the custom has been replaced with borrowing something imbued with meaning or that the bride can treasure on the day – we've got plenty of 'something borrowed' ideas to consider that don't involve loaning a pair of pants.
As for 'something blue', blue is a colour associated with purity and fidelity and traditionally worn by the bride in the form of a garter. Blue is also thought to ward off the 'evil eye'. Whether you believe in malevolent spirits or not, there's plenty of ways to weave the shade into your big day (as the below edit proves).
Can Something Be Borrowed and Blue?
We say why not? We love efficiency! In fact, you could choose something that is new and blue, old and blue or borrowed and blue for a four-in-one nod to the tradition. In need of some inspo? These 'something blue' ideas cater to every need, whether you'd prefer a subtle take on the tradition or favour something bold and blue.
35 Unique Something Blue Ideas for Every Kind of Bride
1. Wear Blue Wedding Shoes
If you're a Sex and The City fan, you'll recognise these Royal Blue Manolo Blahnik Satin Mules instantly. Carrie wore them to her City Hall wedding to Mr Big, and while the ceremony itself wasn't exactly fairytale material, these iconic crystal embellished blue mules are still beloved by brides the world over. The mid heel height and buttery leather interior ensure that they're comfy to wear all day and night too, which is essential wedding day shoe criteria.
READ MORE: 35 of the Best Blue Wedding Shoes
2. Go Trad with a Blue Garter
If you're doing the blue garter thing, they don't come prettier than this sky blue tulle wedding garter. Buy it early and wear it to your hen do to really give it legs (apologies)
3. Splash Out on Luxe Blue Socks
You'll adore these light blue cashmere bed socks if you've got a winter wedding planned. There will be zero chances of getting cold feet before you say 'I do'.
4. Send Blue Wedding Invitations
Get your 'something blue' in from the very start with blue-themed wedding invitations. These watercolour blue floral invitations are especially beautiful, or go graphic for a contemporary feel.
5. Ask for Blue in Your Bouquet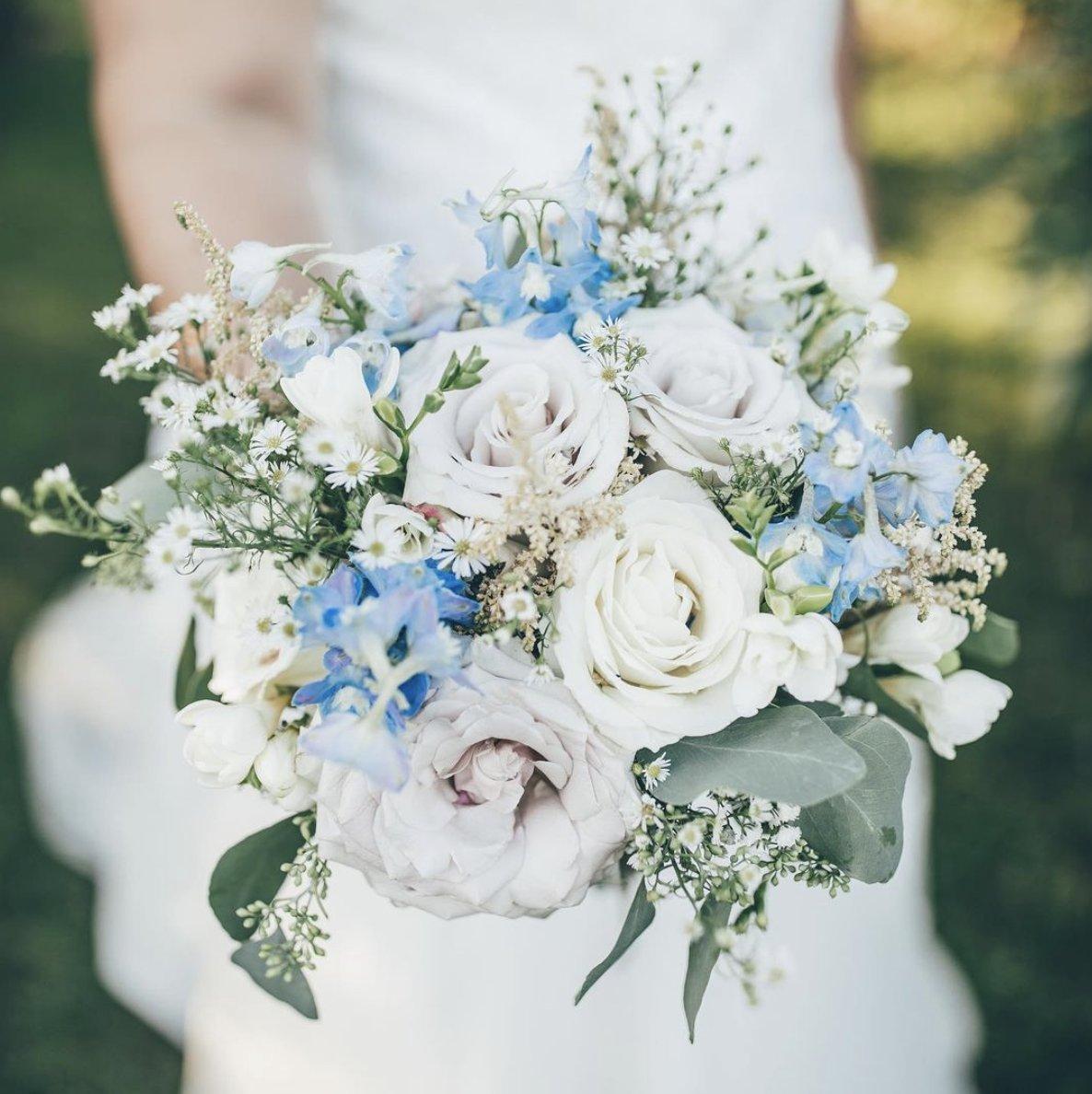 Ask your florist to include blue flowers in your wedding bouquet. This garden style bouquet by Michelle Buabin Flowers is a gorgeous example of how to make blue stems pop.
6. Choose Blue Décor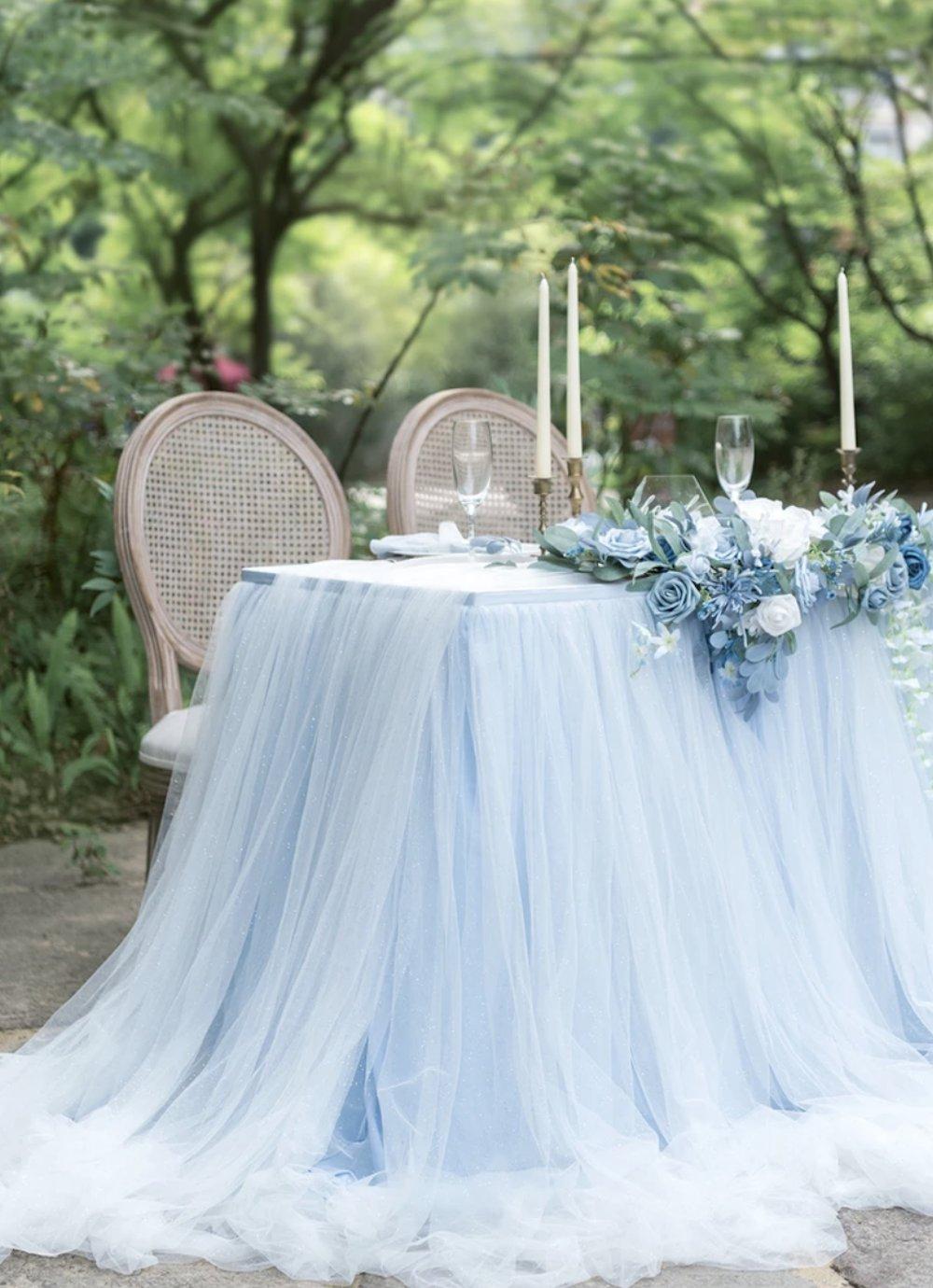 Bring blue into your wedding day colour palette with blue centrepieces, plates, glassware or other design touches. This ethereal blue tablecloth will make your wedding tables look dreamy.
7. Plan your Wedding in a Blue Notebook
This light blue leather textured Smythson notebook ticks off all four elements of the wedding rhyme in one – the front cover is embossed with 'Something Old, Something New, Something Borrowed, Something Blue' in gold lettering.
READ MORE: 22 Something Old, Something New Ideas to Include in Your Wedding Day
8. Throw on a 'Something Blue' Sweatshirt
Ideal for weekend wedding planning or wear it to keep warm on your wedding morning – this 'something blue' embroidered sweatshirt is a subtle keeper. Just be sure to remove it before getting your hair done to avoid ruffled hair catastrophes.
9. Personalise a Blue Ring Box
Keep your wedding ring in this personalised blue velvet ring box. Make sure that your photographer includes it in their shotlist, slip it to the Best Man before the ceremony then use it to keep your rings safe forever.
10. Give your Ring Bearer a Blue Ring Pillow
If you'd prefer to present your wedding rings on a ring pillow, this light blue embroidered ring pillow can be tailored to the two of you for a personal spin on tradition. The pillow is lightweight and the hoops will keep both of your rings safe until the big moment.
11. Consider a Blue Wedding Band
Whether you favour a deep blue sapphire, sparkling aquamarine, blue topaz, blue opal, tanzanite or even a blue pearl, including a blue gemstone in your wedding band will give you 'something blue' to wear forever. Fenton specialises in bespoke and ready-to-wear rings and bands made with vibrant gemstones – you could add to your blue hued ring collection with a blue eternity band in the future too.
12. Get a Blue Manicure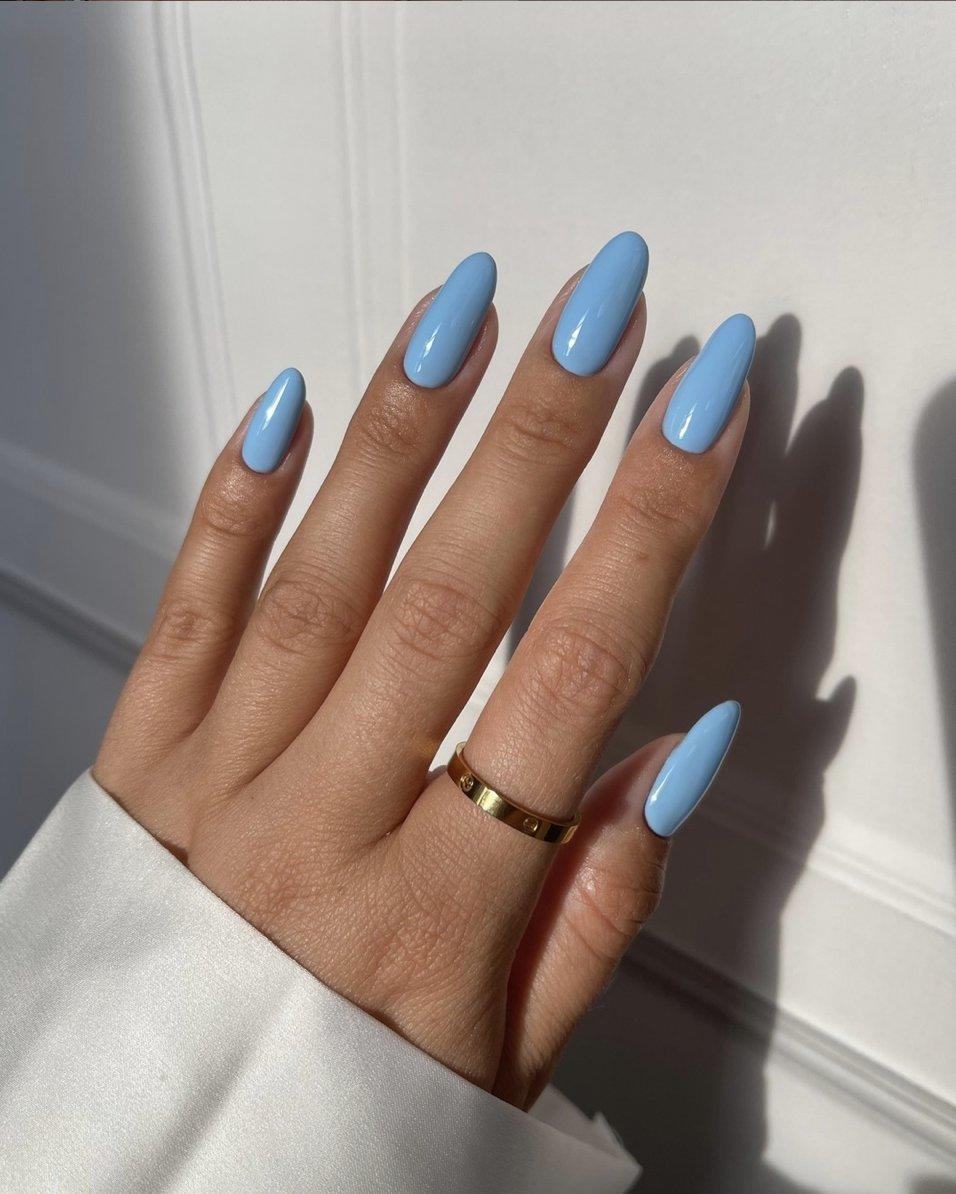 Wear your 'something blue' on your fingertips for a chic take on tradition. Pick a shade, opt for an accent nail or make a full blue nail art moodboard – you can go as 'extra' as you wish. Consider choosing gel polish (such as The Gel Bottle here) for mirror-like shine and a mani that'll last into your honeymoon and beyond.
13. Invest in Blue Lingerie
Who says that bridal lingerie needs to be white or ivory? Light blue lace or silk is luxurious and provides an 'undercover' way to include something blue – only your partner (and likely your bridal party) will know. This Blue Petal Bloom Embroidered Tulle Underwired Balconette Bra is especially elegant.
14. Choose Blue Bridesmaids Dresses
Another supportive 'something blue' idea – this time for your best women. From navy to turquoise, there's a blue bridesmaids outfit to suit every season and style of wedding. This Pale Blue Tie Back Maxi Dress by Whistles is effortlessly stylish – the minimalist style would look particularly cool for a city wedding.
15. Make a Statement with a Blue Wedding Dress
Break one wedding convention while honouring another – steer away from white and try a blue wedding dress on for size. Amora in Blue from Suzanne Neville's Modern Love 2021 collection is one such blue beauty. Top the strapless gown with a matching jacket for extra magic.
READ MORE: 23 Wedding Traditions You Can Skip
16. ...Or Blue Bridal Separates
A dramatic skirt teamed with a sleek, simple top is an ever more popular bridal look. Opt for a short or long sleeved top depending on the season and team with this flowing, painterly Dubois Skirt by Leanne Marshall.
17. Sew Something Blue Into Your Dress
A customised blue label worn inside your dress is a touching way to honour a loved one who can't be with you on your big day. Send a picture of a card or note written by someone special and their message and handwriting can be meticulously replicated and sewn onto the label. Then ask your seamstress to sew the label into the inside of your dress, or do it yourself if you're handy with a needle and thread. This makes something blue seriously sentimental.
18. Wear a Blue Suit
Whether you need an outfit for your registry office wedding or just prefer tailoring to tulle, a blue suit would suit an alternative bride down to the ground. This slick blue ASOS Design trouser suit is both eye-catching and affordable, plus the jersey material won't crease.
19. Pick a Blue Veil
A sheer sky blue wedding veil is a whimsical way to wear 'something blue'. It's barely there yet bold all at once. Embroider both of your initials, the date of your wedding or a heartfelt message (or in-joke, it's your call) into the train.
20. Shimmy Down the Aisle in a Blue Jacket
Not feeling a veil? This embellished Celia Jacket by Needle & Thread is a spangly alternative that's sure to get the party started. It's got it all going on – ruched blue tulle, iridescent sequins and intricate floral gold artwork.
21. Stay Toasty in Blue Faux Fur
Winter weddings and elopements demand a cover-up and this blue faux fur slim stole will keep you cosy while doubling up as your 'something blue'. The faux fur is oh-so-soft and the interior is satin lined – this is a wedding accessory you'll wear again and again.
22. Customise a Denim Jacket
This 'something blue' idea is made for boho brides. Find a denim jacket in a vintage shop and go DIY with fabric paint or commission your very own hand painted blue denim jacket from a pro, complete with messages, monograms, florals and motifs of your choosing. Tie your jacket in with your wedding colours or go for blue on blue – it's totally up to you.
23. Keep a Blue Hanky Handy
Whether tucked into the pocket of your denim jacket or wedding dress (the best ones have pockets), you'll likely appreciate having a hanky to hand on your wedding day. Make it your 'something blue' – this monogrammed blue linen handkerchief will mop up happy tears in style.
READ MORE: 22 Something Borrowed Ideas: Inspiration from Real Brides
24. Slip on Some Blue Sunglasses
Whether to recover from those happy tears or to shield your eyes in style during a spring or summer wedding, a pair of flashy blue sunglasses adds Hollywood glamour to the 'something blue' idea. These Bottega Veneta Cat's Eye Acetate Sunglasses will up the ante as soon as you put them on.
25. Try a Blue Smokey Eye
Bear with us – this look may sound bold but remixing a grey or black smokey eye with tonal blue shadows gives a classic make-up look an edge. Blue shades also make the whites of your eyes look brighter, making them a very tempting option if you anticipate a few sleepless nights in the run-up to your wedding. Dip your brush in Victoria Beckham Beauty Smoky Eye Brick in Royal for a high fashion make-up statement.
26. Spritz on Something Blue
Fresh, crisp and full of fizz, Jo Loves Cobalt Patchouli & Cedar Fragrance is a celebratory scent in every way. Jo Malone created this peppy fragrance out of admiration for the resilience and energy shown by communities and the NHS during the pandemic, with zesty grapefruit top notes for 'get up and go' and grounding cedarwood for depth. It's "blue sky thinking" in a bottle according to Jo, which is an excellent frame of mind in which to enter marriage too we say.
27. Cut a Blue Cake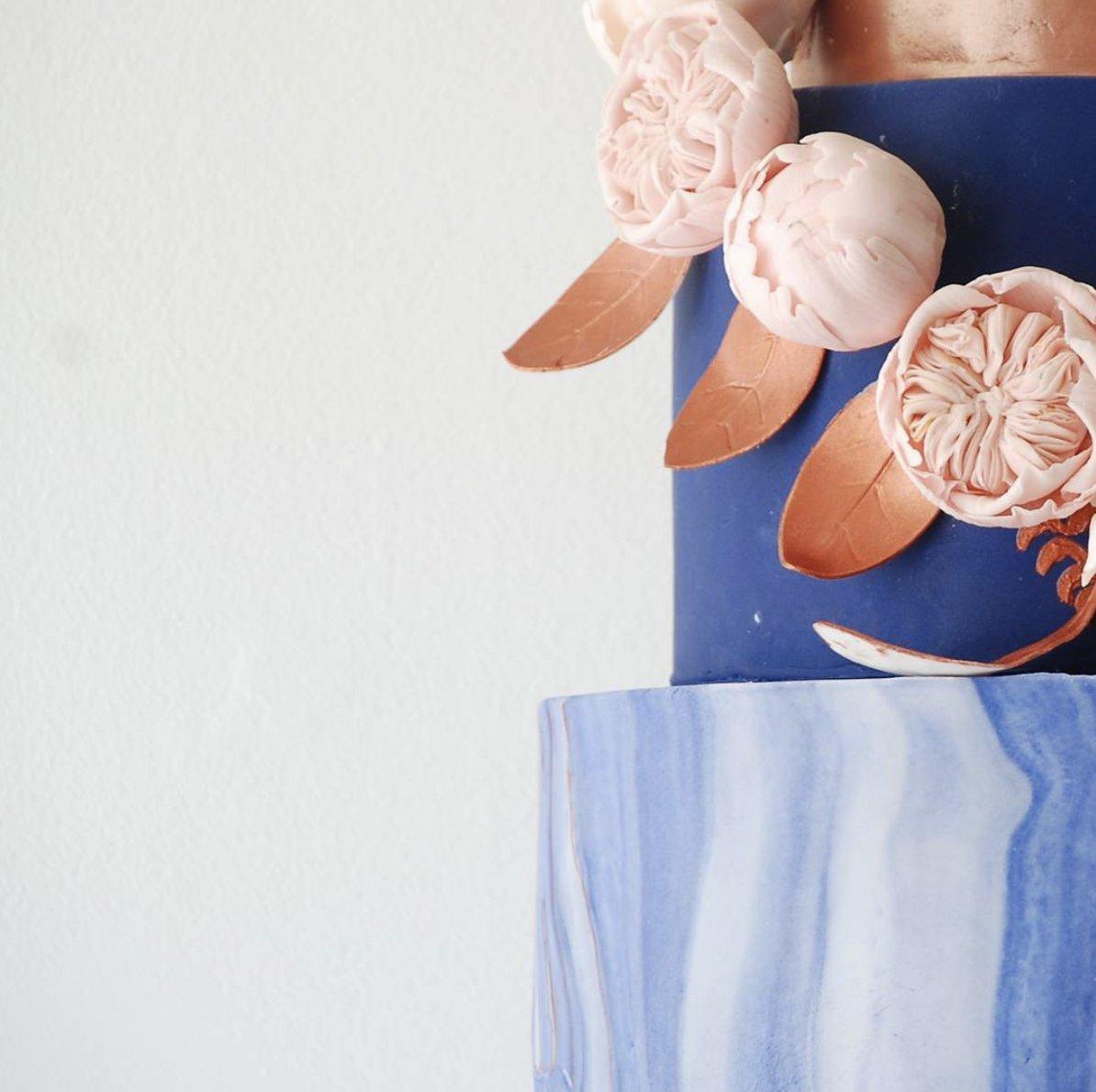 A blue wedding cake will delight your senses too, just in a slightly different way. Choose a single blue tier, gothic midnight blue icing or a blue tonal tiered wedding cake. This copper embellished blue marble cake by Little Cake Garden is a real beauty – the sugar peonies will complement a peony based bouquet in particular.
28. Wear a Blue Necklace (in an Iconic Blue Box)
Tiffany & Co isn't just the most popular jewellery in the world when it comes to buying an engagement ring – this delicate aquamarine pendant presents the brand's signature shade of blue in an understated new way. Wear it on your wedding day and hold onto that legendary blue box as a keepsake.
29. Embrace Big Blue Earrings
An opulent drop earring looks especially striking with a modern bridal updo. These sapphire earrings by Soru have a regal feel.
READ MORE: 38 Wedding Hair Updo Ideas for Every Bride
30. ...Or a Delicate Blue Bracelet
The translucent natural aquamarine stone in the centre of this dainty recycled gold Monica Vinader chain bracelet is especially apt for your wedding day – as well as counting as your 'something blue', aquamarine stones have long been associated with trust.
31. Rent a Blue Bag
Shrimps founder and designer Hannah Weiland designed the Antonia bag to carry on her own wedding day. Rent your very own 'something blue' arm candy at Hurr.
32. Tie Your Hair in a Blue Bow
An oversized blue hair bow would look polished with a minimalist wedding dress or jumpsuit. This blue silk hair bow was made in France and will look magnifique at post-wedding parties too.
33. Wear a Blue Headband
This ruched satin headband is equally chic as a sartorial something blue idea – it's made by craftswomen in Italy and handy as a wedding guest accessory later down the line too.
34. Eat by Blue Candlelight
The quirky candle trend is showing no signs of burning out and with cute options like these baby blue Bon Appetit candles on offer, why would it? Keep this 'something blue' for the top table or incorporate the candles into your wedding centrepieces for a kitsch effect. This blue glass candle holder will complement them perfectly.
35. Hit the Hay in Blue PJs
End the dream-like day in silky blue tie dye – this lightweight pajama set is ideal for lounging around in the next morning and comes in a wide range of sizes.
Want to include blue in your wedding colour scheme? Here's how to create a wedding colour palette.