Wedding Bouquet Preservation: How to Make Your Wedding Flowers Last Forever
If you don't want your flowers to end up in the bin, you can choose to preserve them - here's eight simple wedding bouquet preservation ideas
We have included third party products to help you navigate and enjoy life's biggest moments. Purchases made through links on this page may earn us a commission.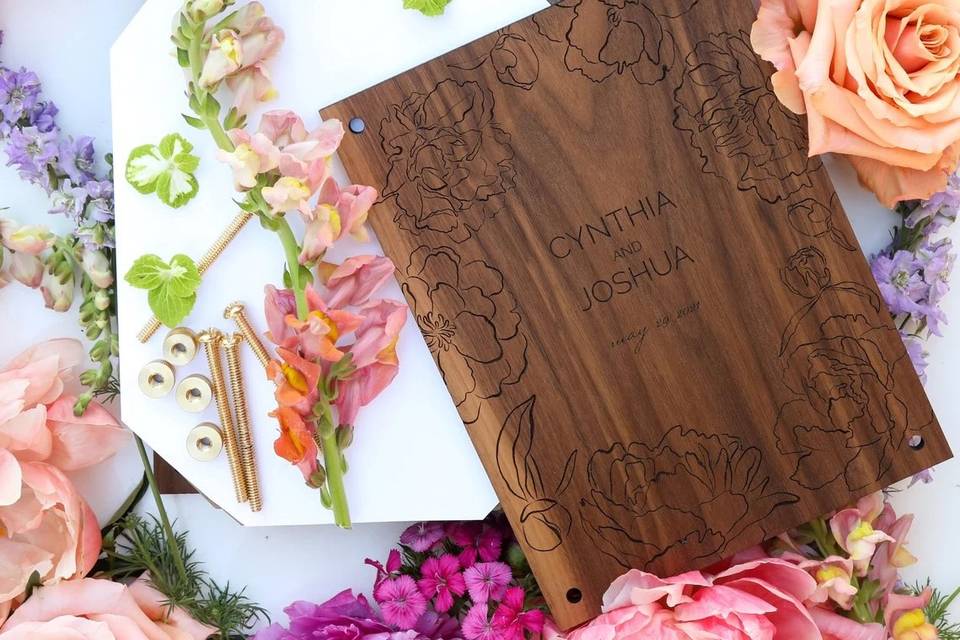 It's a truly sad moment the day your wedding flowers die. Those beautiful reminders of your big day will be destined for the compost heap and all that's left are your photos. Unless, that is, you choose to preserve your wedding flowers.
Laura McGrath, from wedding flower preservation service Nogard Creations explains that, "Preserving your wedding flowers is a fabulous way to keep the memories of your special day. After spending so much time and thought choosing your bouquet as well as the financial cost, it seems such a shame to just throw them away after a week!"
There are lots of options for how to preserve your wedding flowers, some of which will keep them looking as fresh as the day you first saw them! "By preserving your bouquet into an ornament, jewellery or keepsake you can continue to enjoy the beauty of your wedding flowers for years to come," says Laura. The key thing to remember with all these options is the sooner the better. If you wait more than a couple of days, you risk your flowers wilting or bruising.
Any couples who are immediately heading off on honeymoon should plan ahead of time what they're doing – can you entrust a member of your family or a friend with either sending off the blooms to be dried or doing one of these methods below? If not, consider asking your florist to make you up an identical bouquet when you return so you can preserve that.
Read on for the best wedding flower preservation methods, from preserving your wedding flowers in resin to drying and framing them.
How to Prep For Your Wedding Bouquet Preservation
For high quality results, we recommend thinking ahead when it comes to preserving your wedding flowers. Here are some steps to consider before and during your wedding day to keep your wedding flowers looking their best prior to preservation.
Request that your wedding florist uses no spray preservatives on your bouquet as they can cause browning when pressed
Keep your wedding flowers out of direct sunlight and change the water frequently until you can fully preserve them
Skip the wedding tradition of a bouquet toss or swap it for a 'dummy' bouquet instead to prevent your blooms getting damaged and broken
Do your research before you choose your supplier. "As with any craft there are some artists using cheaper and lower quality materials, it is always worth asking the artist what brand of resin the artist uses to check the quality of the brand. Check the reviews for your chosen preservation artist carefully on multiple platforms," recommends Laura
Planning to preserve your flowers yourself? Laura suggests you practice a lot beforehand: "Some of the first pieces we made were terrible and the last thing you would want is to lose irreplaceable flowers."
8 Ways to Preserve Your Wedding Flowers
1. Turn Them into a Paperweight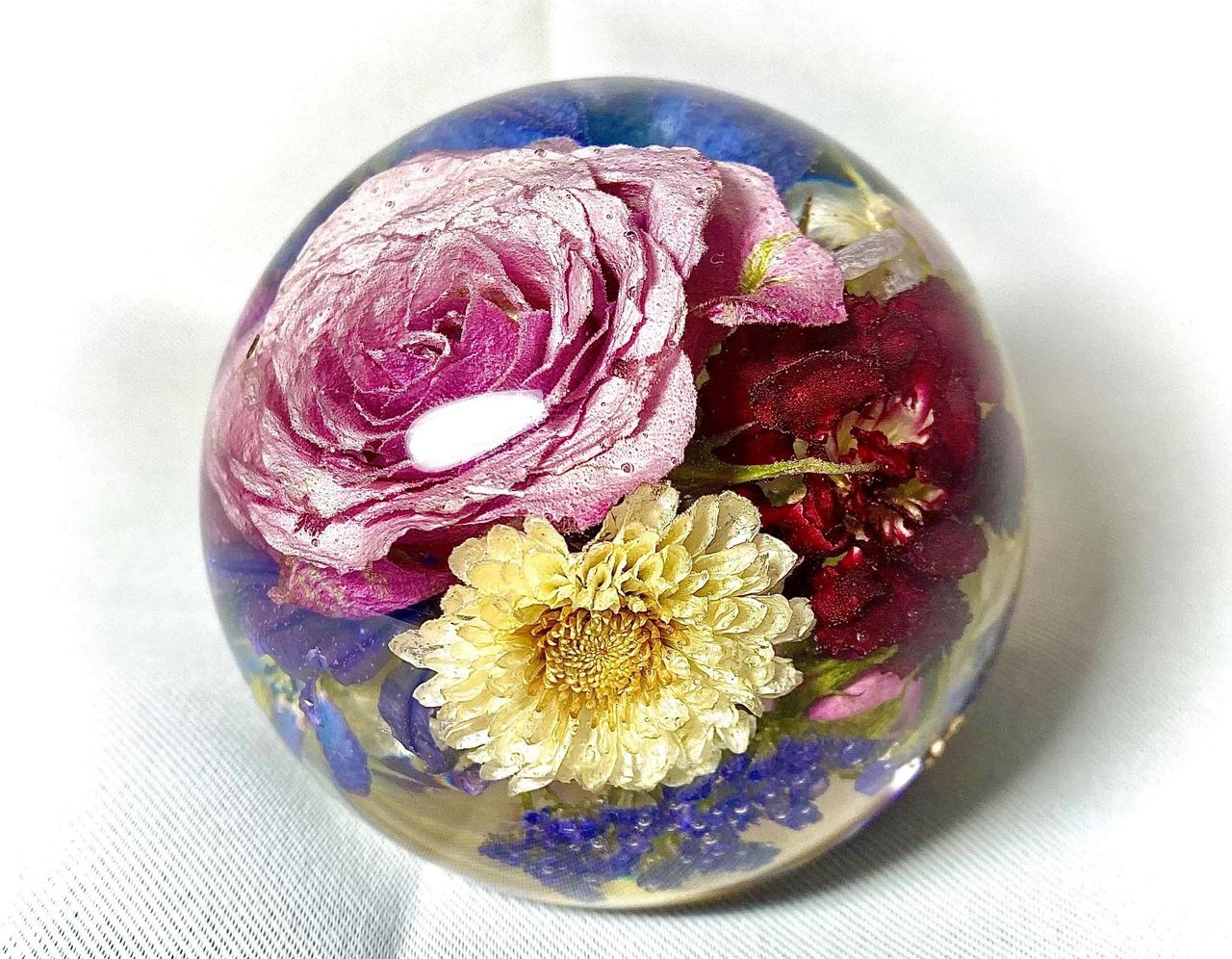 Nogard Creations turn your bouquet and flowers into amazing floral paperweights. Specialising in 3D flower preservation, your blooms are dried to keep their colour and shape, before being turned into a paperweight by their team. As 100% of the moisture is removed, your flowers will stay looking perfect forever.
They can accept bouquets as long as your flowers haven't started to mould, but the fresher the better. Your flowers will then join their waiting list and be stored safely until they are ready to preserve them.
Turning your flowers into a paperweight normally takes 16-20 weeks from start to finish and then you're left with a stunning, unique keepsake that is shipped back to you.
As paper is the traditional first wedding anniversary present it would make an amazing gift idea if you kept it under wraps until you were celebrating.
2. Dry and Frame Your Flowers At Home With Silica Gel
It's possible to dry out your flowers in a similar way at home with silica gel if you can't afford to get it done professionally. Silica gel (like those little sachets you get in a new handbag) remove moisture from your flowers, preserving their shape and colour. You won't get as good colour retention as if they were done professionally and it isn't advisable on light coloured-flowers but it does work and it's very easy!
You can pick up silica gel in most craft stores or online, and using it on your bouquet is really simple. Fully cover your flowers with the gel, making sure you get it among the petals too without compromising the shape, then leave in an airtight container in a cool, dry place for 1-7 days.
Hitched have an easy to follow guide – including a tutorial video – on exactly how to preserve your wedding flowers at home with silica gel. We chose to display them in a shadow box frame, but we've got lots of ideas on how to show off your dried flowers to the best of their beauty!
READ MORE: 19 DIY Wedding Decor Hacks
3. Frame Them With A Flower Preservation Specialist
Professional companies like Precious Petals will collect your bouquet from anywhere in the UK, preserve them using special drying techniques and frame them in a beautiful 3D representation of your bouquet. It's a wonderful way to display them that keeps the colour and shape so you can look at them every day and be reminded of your wedding.
Precious Petals, who have preserved wedding flowers for the likes of Sophie, Countess of Wessex and Harry and Izzy Judd, use bespoke frames with conservation glass so they'll always look as good as the day you receive them. They can also dry them flat and frame them if you'd prefer that!
The process takes around 18-20 weeks and can be used on everything from buttonholes to bridesmaid corsages too. They can incorporate a photo into the frame and more to make the perfect wedding keepsake of your day.
4. Hang Them Upside Down to Air Dry
This is the traditional way to dry your wedding flowers. It's incredibly simple: just tie the stems tightly together and hang them upside down for a few weeks in a dry, warm place like in an airing cupboard or over a radiator.
A great option if you want to keep the flower's original shape and dry the whole bouquet instead of a few flowers, drying them in the dark will preserve their colour and scent as much as possible, but the downside to this method is that your blooms are likely to become muted or darker in colour.
Once your bouquet is fully dry, they'll look gorgeous in a vase or hanging on a wall in your home.
5. Press Your Wedding Flowers
Pressing your flowers is an easy process to preserve your flowers. If you want to keep them in their original 3D shape, this isn't the process for you – but if you're happy to have them flat and create a framed display from them, it's ideal.
Place your flowers between two sheets of parchment paper and place them inside a heavy book. Weight the book down further with vases or more books and leave for 7-10 days. Remember to place parchment on top of the flowers as well as underneath or you'll end up with ink all over your bouquet. You can also buy gorgeous wedding flower press kits from Etsy and Not On The High Street.
After they're dried, there's plenty of things you can do with the flowers. Framing them is one option, as is gluing them into your wedding guestbook, showing off your pressed flowers into the back of a clear phone case, or even turning them into petal paper. If you aren't a fan of displaying them, mix the petals with epsom salts and a dash of essential oil to create a luxurious bath salts mix.
The gorgeous solid hardwood wedding flower press pictured above is engraved with a beautiful floral design as well as your name and wedding date. It would make for a lovely wedding gift idea and make the process of pressing your wedding flowers so quick and easy.
6. Dip Your Wedding Flowers in Wax
This process won't keep your flowers preserved forever like the other methods, but it will extend their life by up to six months. The process is tricky so it's worth practising a few times before you go wild with any sentimental flowers.
Melt down paraffin wax in a saucepan and leave it to cool slightly. Dip your flower heads in one-by-one until they're completely covered, immediately pull out of the wax and leave to dry hanging down.
READ MORE: Your Post-Wedding To Do List
7. Spell Out Your Initials in Resin
Nogard Creations can also turn your wedding flowers into gorgeous resin letters that spell out your initials. Your flowers are dried and then set in letter or heart moulds in clear resin. The drying process can slightly change the colour of the flowers but the benefit of the resin letters are that your flowers will be shown off to full effect and you'll get a cool piece of décor for your home.
"After time some of the natural colours of the flowers may fade but they will never rot or go brown. The resin may eventually get an amber tint however we use a very high quality resin that has high anti-yellow resistance to slow this process.
"Any discolouration to the resin will also depend on how the finished pieces are cared for which is why we supply each piece with a specific instruction card to advise on how to keep it in the best possible condition. Our method of preservation will last a lifetime and even become a precious heirloom for future generations to treasure," explains Laura.
8. Custom Wedding Flower Painting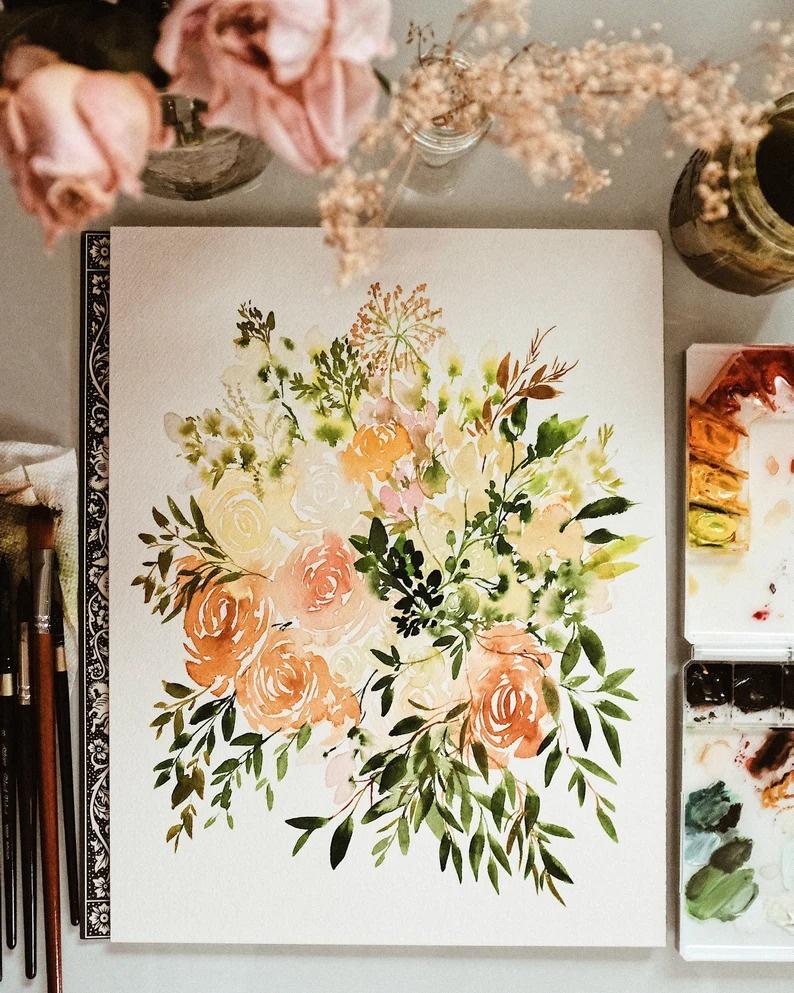 Whether you and your partner grab a paintbrush and get in touch with your artistic side, or you outsource the job to a professional wedding bouquet artist, having a permanent reminder of your gorgeous blooms in the form of art may not be preserving the actual flowers but it is still a lovely idea.
From acrylic to watercolour and line drawings, find an option that will suit your style and hang it in your home as a constant reminder.
Simply send 3 photos of your wedding bouquet to Salt Stains and they will hand paint an elegant watercolour painting of it, like the one pictured above. You will receive a photo of the piece before shipping and your initials and wedding date can be scripted in pencil at the bottom.
How Do You Preserve Fresh Flowers Permanently?
The best tip for preserving fresh flowers permanently is by keeping them away from direct sunlight as that can fade their colour quickly. Decide on a preservation method that will be the most practical for you as a couple and the one you will get the most out of. A piece of art or an object in your home, whether that be in the form of resin or a painting, can be displayed forever and will allow you to hold onto them as a floral keepsake.
How Do You Preserve an Already Dried Wedding Bouquet?
If you opted for a dried wedding bouquet, there are tonnes of ideas on how to preserve them.
Try displaying the flowers in a flat glass frame and hanging in your bedroom or living room, or pop small, delicate flowers into the heart of a locket. You could also consider gluing your flowers in a shadow box frame around your wedding invitation or photo, or incorporating your dried petals into bath salts so you remember your big day every time you go for a soak.
How Do I Keep My Flowers Fresh for the Wedding?
To keep your flowers fresh for the wedding day store them in a cool, dark place and cut their stems diagonally before submerging them into water. This will stop them from wilting!
You might be a DIY boss, but does a DIY wedding actually save you money? Hitched investigates…