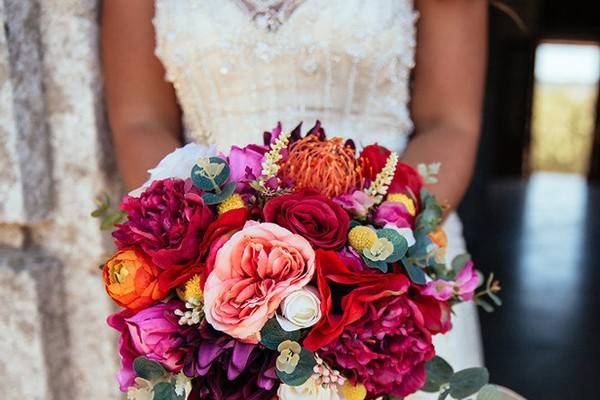 Artificial flowers are becoming increasingly popular as a beautiful, long-lasting, and often cheaper, alternative to fresh wedding flowers.
If the tacky fake blooms you see in a pound shop spring to mind, think again! The artificial wedding flowers on the market today are high quality, great value and totally realistic in both look and feel.
Image: PumpkinandPye
Read on to discover the different types of artificial flowers on offer – from silk flowers to latex – and why they might be the right choice for your big day (raise your hand if you have allergies!)
It's not just the bridal bouquet either; we've got lots of inspiration for how you can incorporate artificial flowers into your wedding that'll look stunning in your wedding photos.
Why Choose Artificial Wedding Flowers?
Image: Pinterest
Most brides go for fresh flowers on their wedding day as the scent and natural beauty is hard to beat, but there are downsides. Firstly, they're more expensive than artificial flowers; they'll eventually wilt and die; and your chosen blooms may not be at their peak or even available at the time of your wedding.
In contrast, there's so many advantages to choosing artificial flowers and, with the huge leap in quality and realism, you may not notice much difference with the real thing. You can even replicate the scent with a floral perfume!
READ MORE: How To Choose Your Wedding Flowers?
Here's why artifical flowers might be right for your wedding:
You can precisely colour-match artificial flowers to any shade so they can work with your colour palette
Artificial flowers are allergy-friendly so there's no chance of a red nose and streaming eyes down the aisle
They don't attract wasps or bugs so you don't need to worry if you're having an outdoor wedding
You can get the flower varieties that you want, even if they're out of season, and they'll always be in peak bloom
Artificial wedding flowers won't wilt or die so they'll look perfect on the day
There's a risk that real flowers could stain your dress, whereas artificial flowers won't
Artificial flowers travel well, so they are ideal for destination weddings
You can keep your artificial flowers forever
They can be cheaper than fresh flowers
If you get good quality flowers, then your guests may not even notice you're not using fresh flowers!
David McDaid, director of artificial flower company Silk Blooms, says more and more couples are opting for artificial over fresh flowers.
"As a designer of artificial wedding flowers, I can see why they are taking centre stage," he says. "Especially over the winter months when some popular fresh flowers are not widely available. Although they do not have the same scent and delicate feel as real flowers, artificial flowers will last forever so the bride can have a lasting memento of her day."
What Kinds of Artificial Wedding Flowers are There?
Image: The Flower Studio
When we say artificial wedding flowers, most people immediately think "silk wedding flowers", but there are lots of varieities of artificial flower.
Silk Wedding Flowers
Most 'silk flowers' are no longer made of real silk but instead are made of nylon or polyester fabrics. The main advantage of silk flowers is the options are practically limitless in terms of colour, size and shape and you'll be able to find most flower varieties in silk, especially popular wedding flowers like roses, peonies and lilies. Silk flowers are visually very lifelike too as each head looks slightly different, so in a bouquet they'll be very convincing.
The downside is that the petals have a tendency to fray so they may not last as long, and they feel fake to the touch. According to Janey Dillon, founder of Amaranthine Blooms, brides' most popular choice of artificial wedding flower is still the peony – would you be able to tell the below flowers are silk?
Image: Hannah Halfpennie
Foam Wedding Flowers
The cheapest form of artificial flower is the foam flower: they're lightweight, durable and the dye won't run if you choose colourfast flowers.
Unfortunately, they're also quite unrealistic looking if a lot of them are used, so it's best for foam flowers to be fillers in a much bigger bouquet. A professional florist like Silk Blooms will know exactly how to mix them in for the desired look.
READ MORE: Essential Questions To Ask Your Florist
Paper Wedding Flowers
If you're looking for eco-friendly artificial flowers for your wedding then paper might be the right choice for you. Posy & Pot make beautiful handcrafted paper flowers that are incredibly realistic looking and use sustainable materials and traditional hand-dying techniques.
Naturally paper flowers are delicate and you wouldn't want to risk them getting wet at an outdoor wedding if the weather turns, but they are fantastic for bouquets or centrepiece arrangements for environmentally-minded couples. You'd struggle to tell the bouquet below were paper from a distance.
Image: Posy & Pot
Latex Wedding Flowers
You can easily be fooled by latex flowers! These are classed as 'real touch' flowers so they feel like the fresh thing when you touch them and come in different thickness so you can really accurately replicate the look and feel of the plant. Think delicate pliable rose petals and thicker leaves for plants like orchids.
They'll continue looking as high-quality forever, if treated right, but you'll find a much more limited selection of flowers and colours available in latex as opposed to fabric flowers.
Wax-Coated Wedding Flowers
These are silk flowers which have undergone a process to coat them in a layer of wax which gives them a 'real touch' finish. As they're made from already high-quality silk flowers – which usually have detailed veins etc. printed on them so they look real – wax-coated flowers are some of the most realistic looking artificial flowers on the market.
However, they can cost up to three times what you'd pay for their silk counterpart and like silk flowers, they can still fray. Due to their prohibitive cost, many florist won't go for these.
Image: Pinterest
'Fresh Touch' Wedding Flowers
Made with a blend of foam and latex, fresh touch flowers are the best quality you can buy on the market and have a feel that is almost identical to fresh flowers. This does make them the most expensive artificial flower on the market, but, while they won't necessarily work out cheaper than fresh flowers, they will last a lot longer.
As the heads all look a little different, just as you'd find in nature, fresh touch flowers look the most lifelike too. As with silk, most popular types of flowers can be found as fresh touch and many florists will offer a colour matching service.
READ MORE:  How Much Do Wedding Flowers Cost?
It takes a skilled hand to make artificial flowers look realistic so we recommend using a florist to arrange your flowers and trying to incorporate as many 'fresh touch' flowers as your budget allows.
Artificial Wedding Flower Bouquets
Your bridal bouquet will be the heart of your flower arrangements. It will be with you in most of your wedding photos and is one of the memorable finishing touches to your wedding outfit. You may be hesitant to go for artificial flowers for your bridal bouquet, but if you choose the right colours and finish then you will find one that rivals a fresh bouquet.
We've picked out some of our favourite bouquets to inspire you and show how good artificial flowers can look.
Image: Deluxe Blooms
This boho-inspired bouquet has faux silk roses, peonies, eucalyptus and pussy willow stems. We adore the contrast of dark purple and cream that's perfect for an autumn wedding. No one would ever be able to guess they were fake flowers!
Image: Posy & Pot
How stunning is this paper flower bouquet from Posy & Pot, featuring this gorgeous palette of purples. This arrangement features hydrangeas, roses and ranunculus for a truly elegant bouquet.
Image: HollysFlowerShoppe
Cascading bouquets are one of our favourite wedding flower arrangements, and here champagne and blush silk roses mix with Italian ruscus for a dramatic, statement shape. This is a classic bouquet modernised, and we love the how graceful it is despite the size.
Image: Posy & Pot
More paper flowers from Posy & Pot and this selection of delicate pinks is just exquisite. If you're planning a destination wedding, then artificial flowers are perfect because you can easily take them with you and they'll stay looking perfect if packed correctly. As paper flowers hate moisture, these are great if you've got a hot destination for your wedding day.
READ MORE: Everything You Need To Know About Peony Bouquets
Image: PumpkinandPye
Made using real touch flowers, this vibrant bouquet is perfect for a destination wedding too as it echoes the beautiful colours of sunset. You'll be able to spot the deep orange of the mango calla lily; here it's accentuated with red too – being able to dye flowers to your specification is one of the huge benefits of artificial flowers.
Image: The Flower Studio
For an autumn or winter wedding, the faux blackberry stems add real texture and interest to this claret-coloured bouquet of chrysanthemum and roses. Tied with a ribbon, it would make a lovely small bridal bouquet or fabulous bridesmaid bouquets. It comes in the glass jar so you could even use them as centrepieces after your bridesmaids have walked down the aisle with them.
Image: Amaranthine Blooms
Choose these real touch calla lilies for a simple, elegant bouquet. They're incredibly realistic in both appearance and feel, with delicate hand-painting by Aramanthine Blooms giving a natural, individual look to each stem. As these artificial flowers will last forever, they will also make a gorgeous bouquet to display in your home after the wedding as a treasured memento.
Image: Deluxe Blooms
If flowers aren't your thing, then you might enjoy holding a handful of these soft plastic lavender stems, or incorporating them into a bouquet of lush foliage. Herbs look beautiful and striking in a simple bouquet set against a white column dress. If you want to replicate the scent of real lavender, then a few drops of essential oil will do the trick.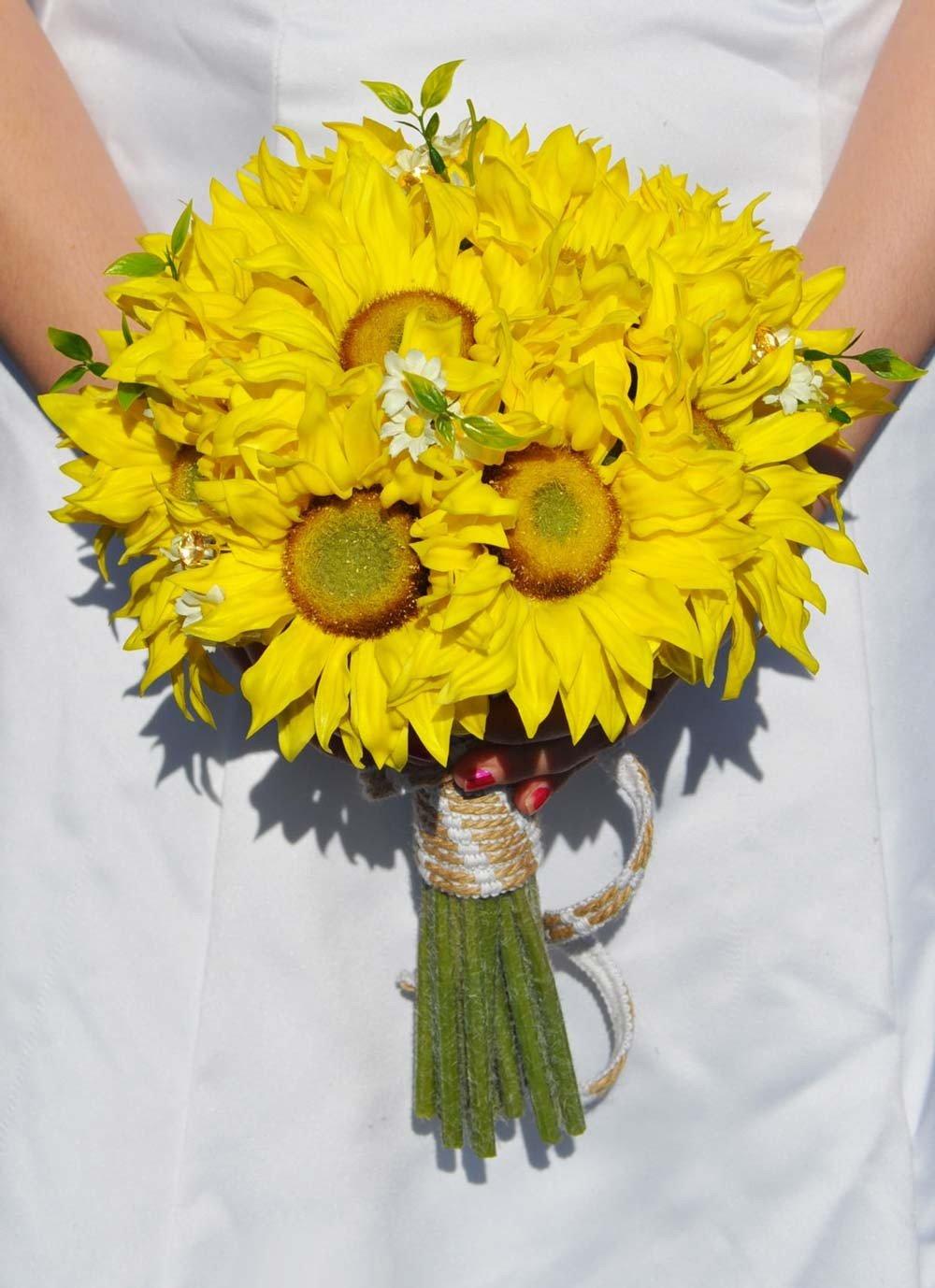 Image: Silk Blooms
Sunflower bouquets are perfect for summer weddings because of their fun, vibrant colour – but what if you want one in the winter? Thanks to this bouquet from Silk Blooms, you can have sunflowers at your wedding no matter what time of year it is.
Image: The Flower Studio
The exact opposite to the in-your-face brightness of sunflowers is this white arrangement. Featuring wild poppy stems, garden roses, stocks and cottage garden veronica, this bouquet is equally as dramatic, but can work with almost any wedding theme. This brings the beauty and wildness of an English country garden to your floral decorations at any time of the year.
READ MORE: Rustic Bouquet Inspiration and Ideas
Image: Floral Creative
Perfect for a subtle bridal bouquet or bridesmaids bouquets are these arrangements of gysophilia – better known as baby's breath. Because these flowers are so delicate, these look utterly realisitc both close-up and from a distance.
Image: FacaldoFlowers
Bridesmaids will love these bright wildflower bouquets, which you can order with matching flower crowns. These have a gorgeous boho feel and the ranunculus add a fabulous texture to the bouquet. Again, your guests would be hard-pressed to guess these were silk!
Other Ways to Incorporate Artificial Flowers Into Your Wedding
Centrepieces
Image: Amaranthine Blooms
Silk wedding flowers make great wedding table decorations, like these pretty posies of flowers above. The flowers make a sweet statement by themselves, or you could add details such as ribbon, stones or confetti to the jar to decorate them further.
Image: Abigail Bryans Designs
This bouquet from Abigail Bryans Designs has an even bigger secret than the fact the gorgeous flowers are fake. They're set in resin which looks just like water, but means there'll be no spillages at your wedding reception. Ideal if you're going to have lots of little ones running around.
Flower Arch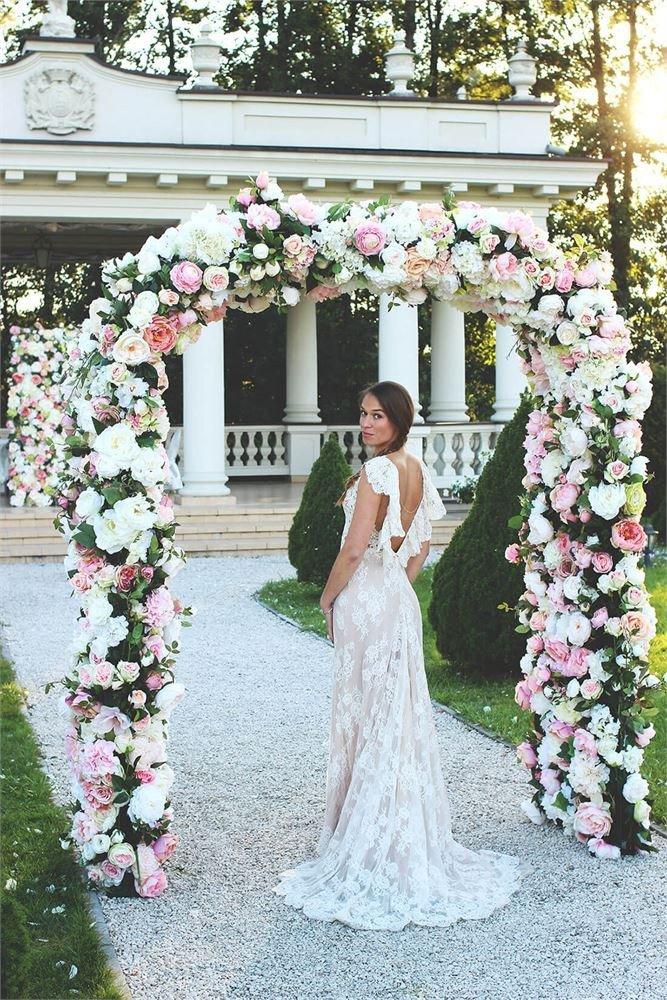 Image: The Blossom Company
Give your wedding an A-list twist with a fabulous flower arch or flower wall (Kim and Kanye spent a reported £100,000 on their wedding flowers, including two huge flower walls!)  The Blossom Company specialise in beautiful floral wedding decor using both silk and fresh flowers for a much better price than Kimye's. This flower arch is a gorgeous addition to an outdoor ceremony and you can see their flower wall peeking out in the background. Just think how stunning this arch would look in your wedding photos.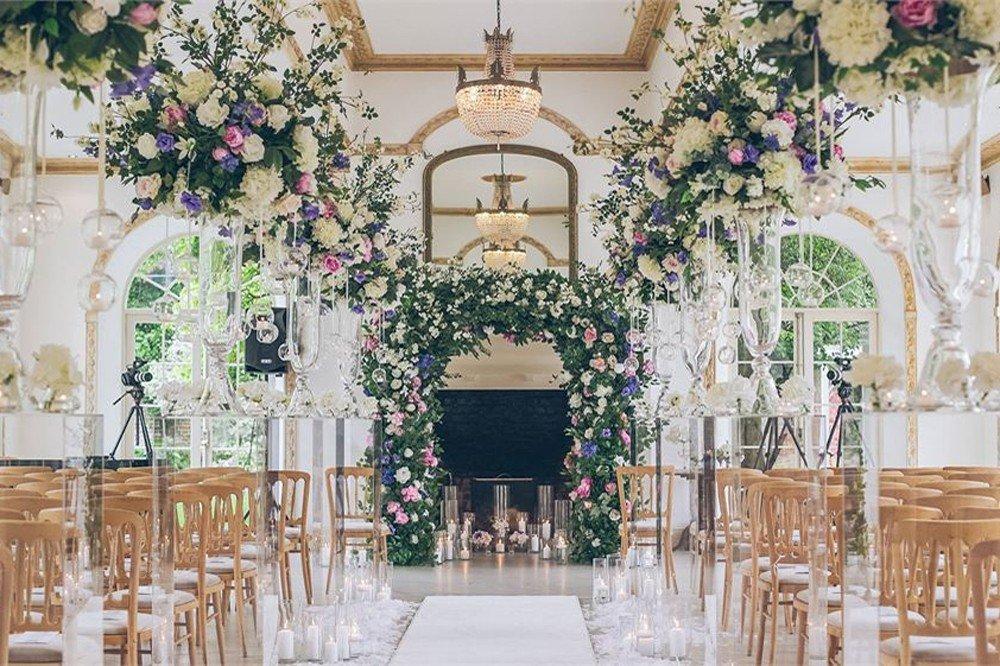 Image: The Blossom Company
Flower arches also add a touch of glamour indoors – and here they're matched by The Blossom Company's stunning artificial aisle decor. With these faux flowers, there's no need to worry about any stray petals falling on you as you walk down the aisle and possibly staining your dress.
READ MORE: 23 Beautiful Ways To Include Flowers In Your Wedding
Hair
Image: Gypsy Rose Vintage
If you're worried that having flowers in your wedding hair will trigger any unwelcome allergies, then pop a silk bloom in your tresses to banish these worries. This stunning hair comb from Gypsy Rose Vintage is perfect for any boho bride.
Image: Gypsy Rose Vintage
If you want to wear your hair down, there are so many wedding hair accessories to choose from, but we adore these silk hydrangea pins. They come in blue or pale pink and are the perfect accompaniment to a hydrangea bouquet or flowers of the same shade.
Buttonholes
Image: Sarah's Flower
Grooms with allergies might choose to have a faux flower buttonhole that ties in with their bride's bouquet. This one by Sarah's Flowers is made from fake lavender and rosemary and includes a Scrabble letter with your initial. If you're a Scottish groom, you might choose to have a thistle in your buttonhole.
Image: IndieKnotNY
A boho or vintage wedding theme is just screaming out for these sweet peachy buttonholes, which can be matched with bridesmaids' corsages. Featuring silk ranunculus buds and white berries all wrapped in twine, these buttonholes are ideal for a spring or summer wedding.
Wedding Favours
Image: Pinterest
These faux succulents make a great wedding favour for guests to take away – and they won't have to worry about killing them! They are also great to display place cards, as shown above, and add a pop of greenery to your tables.
This is a fantastic thing to DIY: you can buy inexpensive artificial succulents on Etsy or Amazon, and then choose pots that reflect your theme. Maybe that's little jam jars with ribbon or mini metallic buckets.
Wreaths
Image: Abigail Bryans Designs
Wreaths aren't just for Christmas! White tulips make this perfect for spring and summer too (although you could definitely have it at a glamorous winter wedding!). It would look gorgeous hung around your venue or on the door to a church, if you're marrying there.
Image: Gypsy Rose Vintage
This beautiful handmade foxglove wreath would make a fitting addition if you're planning to have vintage wedding décor. The foxgloves and ferns look completely realistic and you could even hang it up in your garden or house after the wedding.
Flower Girl Accessories
Image: The Flower Studio
Accessories that feature silk flowers are great for your flower girls as they can keep them as a gift after the wedding. This little basket from Silk Blooms is adorable and can be filled with real or dried roses petals to scatter down the aisle.
Image: Silk Blooms
This plum coloured wand is an ideal choice of flowers for your flower girls as it will make them feel like a true princess. The wand is decorated with ribbon and topped off nicely with realistic anemones.
How To Care For Your Artificial Wedding Flowers
Image: Amaranthine Blooms
You can buy your artificial wedding flowers at any time, as opposed to the short window of delivery and arranging for fresh flowers. This means you might get them far in adavnce and need to store them.
David of Silk Blooms says with the right storage your artificial flowers – whatever their material – can last forever.
"We recommend using a plastic box with a lid to keep them totally spotless and dust free. Keep it out of direct sunlight so the flowers don't fade or bleach," he says.
READ MORE: Wedding Bouquet Styles Explained
If you plan to display them after the wedding, you'll need to dust them regularly. Try for once a week or at least a few times a month with a soft cloth or soft-bristled paintbrush – you can even use a hairdryer on the lowest, coldest setting.
If your blooms have a mark on them, try cleaning with a wet cloth but avoid commercial cleaning products as it can make colours run.
If you're looking for more alternative to real wedding flowers then check out these unusual bouquet ideas and read up on our forums how real brides have made their own artificial flower bouquets.