The 23 Must-Ask Questions for Your Wedding Florist
Before you sign on the dotted line, check out our list of essential questions. From flower types and vases to deposits and logistics, this list will ensure you don't miss a thing.
We have included third party products to help you navigate and enjoy life's biggest moments. Purchases made through links on this page may earn us a commission.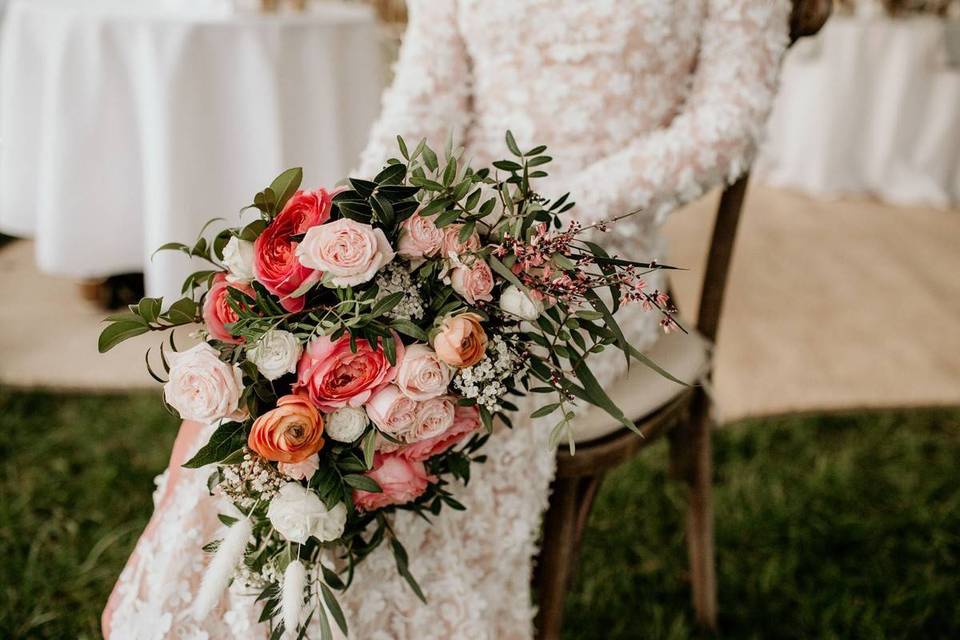 Brides often say they don't feel quite like a bride until they're holding their bouquet, and a buttonhole is often the final flourish that differentiates a groom's attire from any other formal look.
It's no wonder then that choosing a
wedding florist
is one of the most important decisions couples will make during the
wedding planning
process. Not only will their work contribute to your wedding ensemble, it'll also inform the look of your ceremony and receptions venues.
A well-placed floral installation or a thought-out table centrepiece configuration can transform a blank canvas venue into a magical space that guests are unlikely to forget in a hurry.
To ensure you nail your wedding flowers and get the look you've always dreamed of, we've put together a list of must-ask questions for your florist. Bookmark this page and take it along to your first consultation for a successful first foray into the world of wedding flowers.
READ MORE:
1. Can I See Examples of Your Work?
Chances are, you've probably booked a consultation with a florist because you've been admiring their work online but it never hurts to ask to see more. Ask to see photos of weddings they have worked on - there may be additional weddings not featured on their social media channels - or if you are meeting in their studio then you might be able to see some fresh examples. If you still want to see more, find out what wedding shows and fairs they will be exhibiting at in the near future and you will be able to check out even more of their designs up close.
2. How Would You Describe Your Style?
Just like any other wedding supplier, florists have their own unique style and you'll want to make sure it aligns with yours. Some florists specialise in wildflower bouquets with natural texture, some create more formal and uniformed styles and some focus on minimalist, single stem creations - make sure your florist creates the arrangements you like.
3. Are You Available on My Wedding Date?
You'll want to ask this question early on to avoid becoming too attached to a florist who isn't available on your date. If the answer is no, ask them if they can recommend any other florists with a similar style to them who may be available on the day.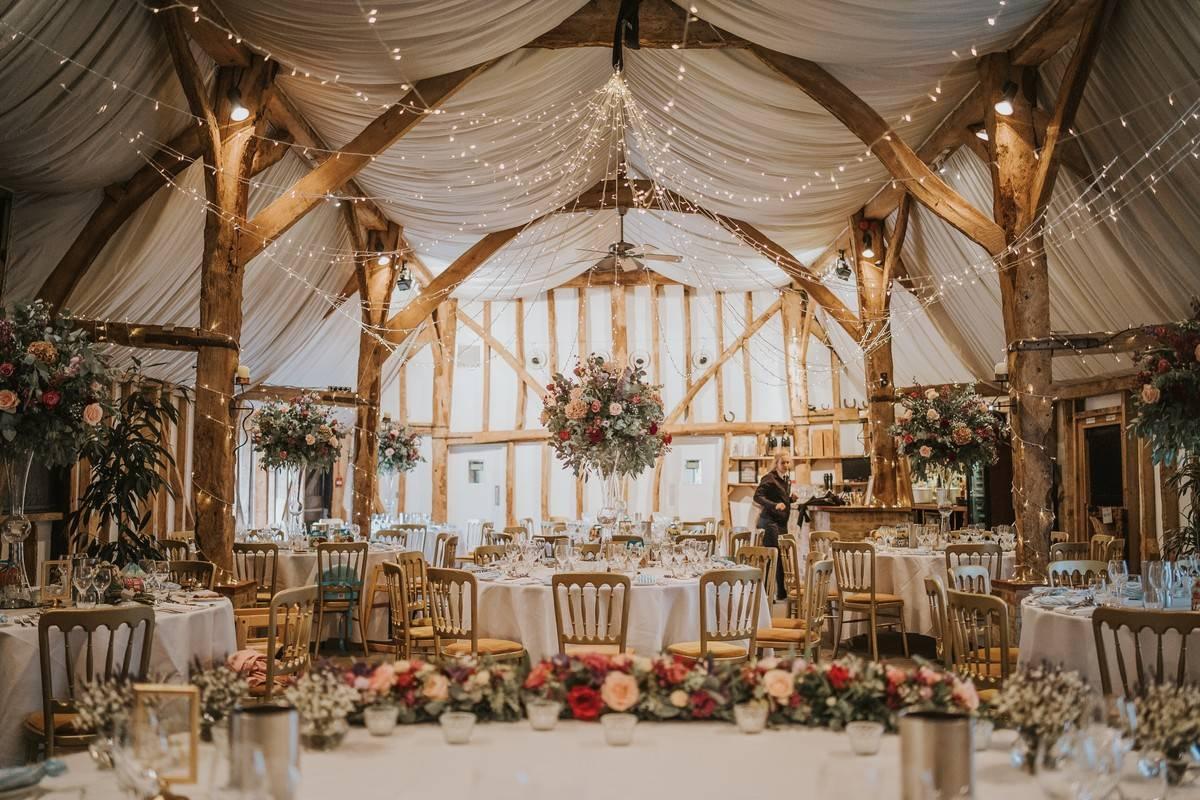 4. How Many Weddings Do You Work on in One Day?
Ideally you'd like your florist to be working on your wedding and your wedding only on the day to avoid rushing and to ensure you're getting the best possible service. If your florist is able to set up your flowers in the morning and then move on to a wedding later in the day, this could still work but always discuss their plans in detail to get an idea of exactly how much of their time you'll be getting on the day and any back-up plans they may have in place should they overrun at any point.
5. Do You Have a Minimum Spend?
Many florists do set a minimum spend and, for more in-demand florists, this is often around the £1,000 mark. While this may initially sound like a lot of money, couples spend around £1,200 - £1,500 on flowers on average and for this you can expect to get a full design package including bridal party flowers, centrepieces, ceremony flowers and perhaps an installation such as a floral arch.
READ MORE: How Much Do Wedding Flowers Cost? Our Complete Guide
6. Have You Worked At My Wedding Venue Before?
It's not essential that your florist has worked at your wedding venue before but it's always helpful to know. If they have worked at your wedding venue before then ask to see photos of their work there. If they haven't worked at your venue before ask your venue if you can book an appointment so that you and your florist can walk around together and generate some ideas - just don't forget to ask your florist if they charge extra for this service first!
7. I Haven't Chosen My Colour Scheme, Can You Help?
If you haven't chosen your wedding style or colour scheme then that doesn't mean you can't book your florist, in fact they may be able to help you. Look through some of your florist's previous work and point out ideas you like and you may see a theme start to emerge. Remember, florists create floral schemes for weddings day in day out and will know exactly which shades look best together and the colours that work for the each season.
8. Which Flowers Will Be in Season When I Marry?
It will be much more economical to choose wedding flowers that are in season on your chosen date, otherwise you will incur extra costs for shipping in your favourite blooms from overseas. Your florist will have a wealth of information when it comes to flowers, costs and seasons so take advantage of that.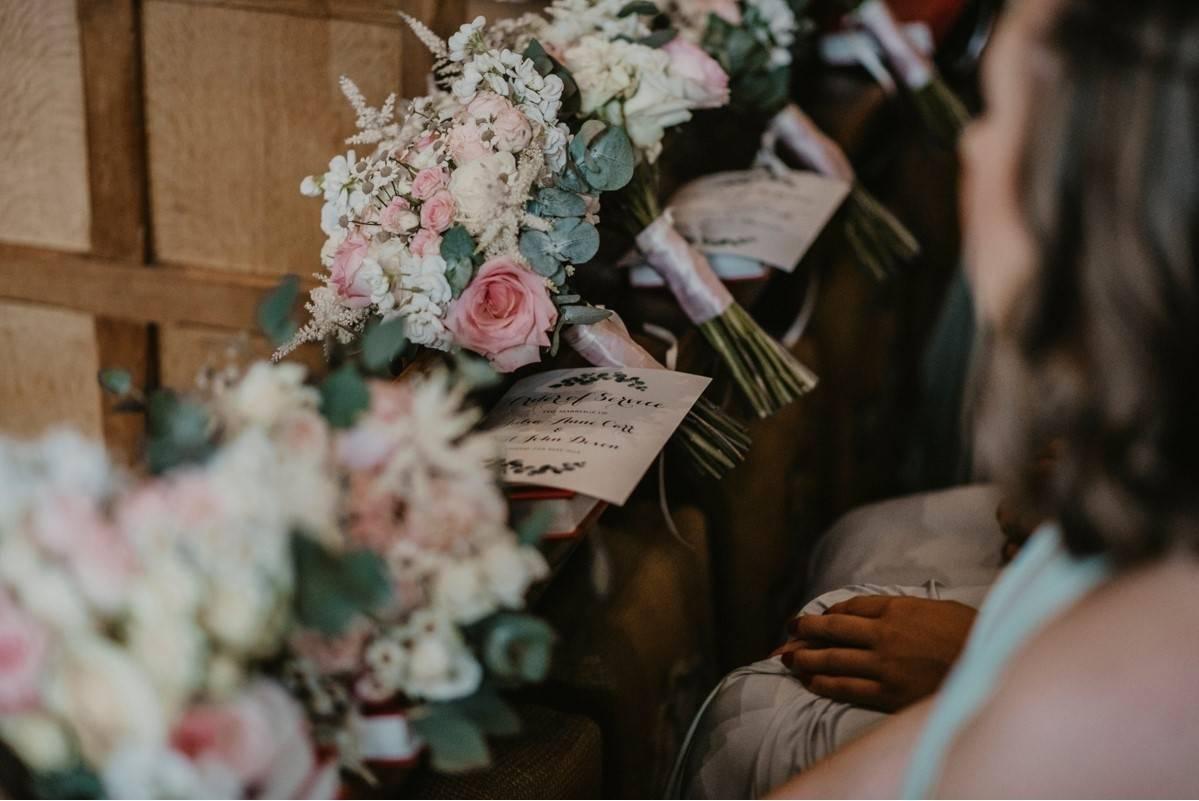 9. Which Flowers Will Suit the Style of Our Wedding?
Even if you have a clear idea of the particular flowers you want for your wedding day, it's still worth talking to your florist about which blooms they recommend. You may find they can suggest similar alternatives that are cheaper or hardier or they can suggest additional flowers to complement your chosen style.
READ MORE: Wedding Bouquet Preservation: How to Preserve Your Wedding Flowers
10. Which Flowers Can I Choose with My Budget?
Be prepared for a dose of reality when you ask your florist this question. You may have spent hours poring over pictures of peonies only for your florist to total up their estimate and find they're way out of your budget. To avoid disappointment, be as upfront as possible about your budget from the beginning, this will give the florist chance to find the best possible blooms for you. You may not be able to fill your venue with peonies but your florist will certainly be able to find a cheaper alternative that will give a similar effect. Honestly, you'll be amazed at just how many varieties of flowers there are out there that you never knew existed. When it comes to maximising your budget, your florist's flower knowledge is one of your most powerful resources.
11. How Far in Advance Do I Need to Order My Flowers?
This will depend on whether you're ordering seasonal blooms growing in the UK or flowers from abroad. It's important to know exactly when you need to put in the order so you can finalise all of your ideas before then and make sure you're totally happy with them before giving the florist the OK to go ahead and get them in.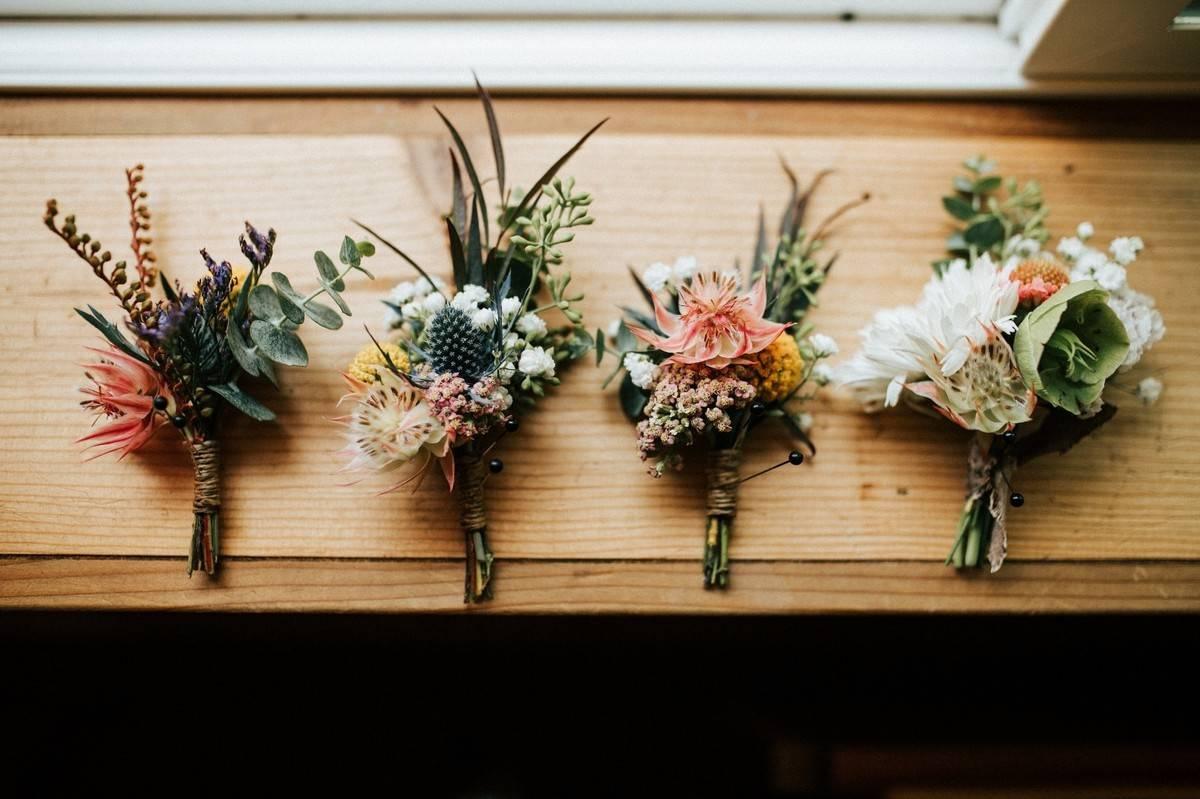 12. Can I See a Mock-Up of My Bridal Bouquet?
It may not always be possible to see a mock-up of your design but it's always worth asking. If your florist isn't able to do this then ask to see photos of designs that are similar to yours as well as for the dimensions of the bouquet so you can gauge just how much you'll be carrying down the aisle.
13. Who Will Be Delivering My Flowers on The Day and is This Included in The Price?
If your florist has a large company then the person you deal with at your appointment may not be the person who delivers your flowers on the day. Ask who will deliver and set out the flowers on the day and see if you can meet with them beforehand so they have a clear idea of what you expect on the day.
14. Do You Charge More For Long Distances?
If you've found a florist you love but they're located a little far away from your venue, it's still worth enquiring. Some florists will simply charge extra per mile to cover petrol costs and while this needn't be a deal beaker if you love their work, you will need to know about it in advance so that you can factor it into your budget.
15. How Long Will it Take For You to Set Up?
You don't want to be walking down an unfinished aisle or sitting down to your wedding breakfast with only half the centrepieces in place, so make sure you know exactly how long it will take your florist to set up on the day. It's worth giving them a printed copy of your schedule for the day, including the time you will arrive at the venue and your ceremony and wedding breakfast start times so that they can plan to arrive with plenty of time to spare.
If you'd like to see the flowers before the wedding starts, mention this to your florist at your consultation: many florists use the ceremony time to dress the wedding breakfast space and so you'll need to let them know it needs to be done earlier if you're set on seeing everything before you walk down the aisle.
READ MORE: 23 Creative and Beautiful Wedding Arch Ideas (and How to Make Your Own)
16. When Will You Deliver Personal Flowers?
You'll need someone to deliver your bouquets, posies and buttonholes to wherever you're getting ready on the morning of the wedding so that you're good to go as soon as you're ready. If your order includes hair accessories such as flower crowns and fresh flower hair slides, you'll need to liaise with your hair stylist and find out when she'll need these by.
17. Can You Move Ceremony Flowers to the Reception?
It's not uncommon for couples to use arrangements from the church or ceremony room as part of their reception décor later on, in fact, this can be a great way of saving money and enjoying your blooms for a little while longer. What you don't necessarily want to do is carry them between venues yourself on the day and so it's worth asking your florist if they can stick around until after the ceremony to put the blooms in place at your reception venue.
18. Will You Work with My Cake Maker and Add Flowers to My Wedding Cake?
Top tip: placing fresh flowers on your wedding cake will cost significantly less than having flowers crafted out of sugar by your cake maker. If you're set on having a cake draped in flowers, ask your florist if they'd be willing to speak with your cake maker and discuss adding blooms to your bake on the day.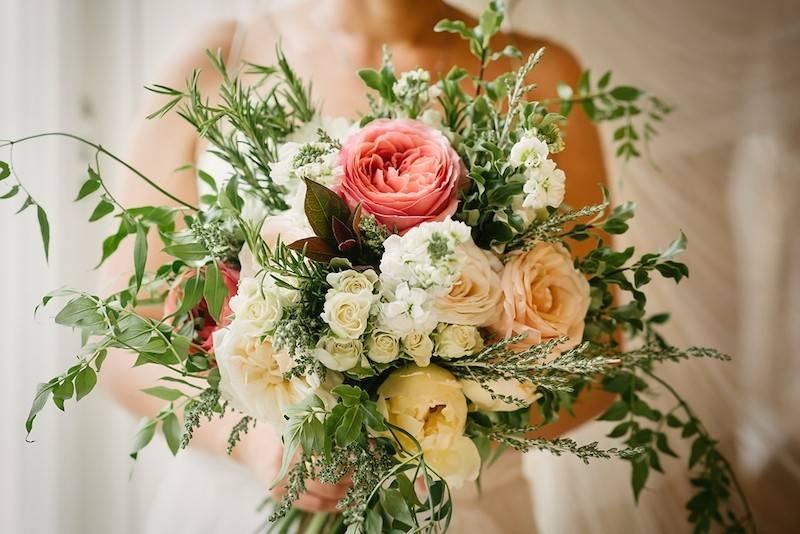 19. Do You Provide Other Décor and Accessories?
Your wedding décor is no longer limited to just flowers and many florists will also hire out wedding signs, table cloths, props, candles, votives and bases for your beautiful wedding centrepieces to stand on. See what options are available and if they will work for your style of wedding, it's likely to be cheaper if you can hire everything you need from one place as you won't be paying for extra delivery costs or forking out for props you'll never use again.
20. How Will I Get Any Rented Equipment Back to You?
Make sure you have clearly agreed on how any rented items such as vases, candle holders or fairy lights will be returned to your florist. You may need to take care of this or your florist may send someone to collect everything. It's important to know either way, especially if you're planning on jetting off on your honeymoon straight after the wedding.
21. Can I Change My Mind?
It's probably not a good idea to have a complete change of heart about your flowers a week before your wedding! However, if you are booking your florist very far in advance then it's perfectly reasonable to agree a cut-off date for final decisions.
22. When Will I Need to Pay the Final Balance?
Most wedding florists will ask for a deposit to secure your booking, but make sure you are clear about when you need to pay the final balance - you don't want any pricey surprises before payday!
23. Do You Charge for Breakages?
Chances are there may be the odd smashed votive or cracked vase, make sure you are aware of your florist's breakage and insurance policy and what charges you could incur.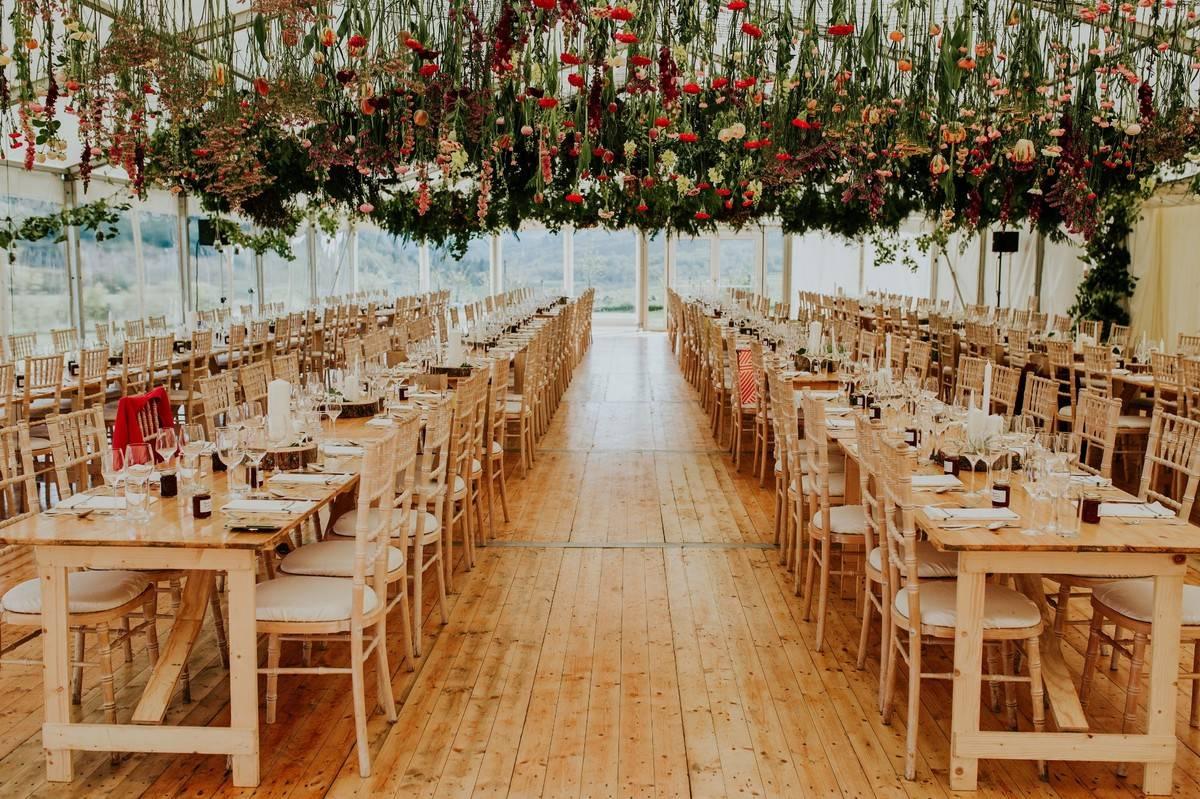 Looking for more wedding décor inspiration? Check out the 21 biggest trends for 2021.