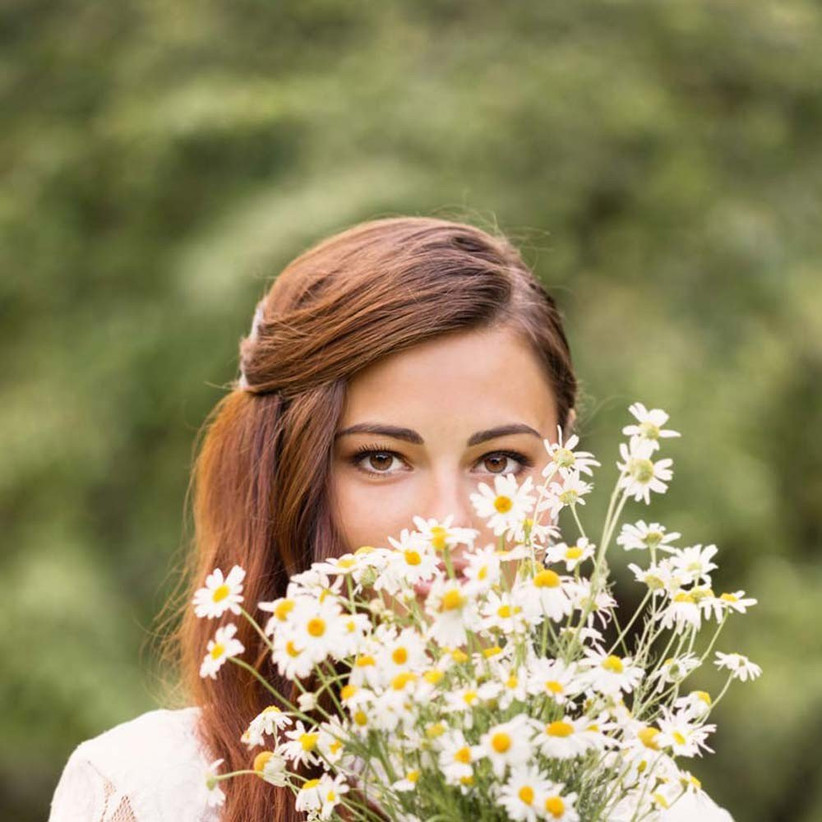 Spring, summer, autumn or winter – whatever time of year you're planning your wedding, choosing seasonal wedding flowers is the best way to capture the beauty, fragrance and atmosphere of the time of year.
From the delicate pastel toned blooms of spring to the rich colour palette of a winter bridal bouquet, our guide will show you the most popular seasonal wedding flowers and the ways which you can incorporate them into your day.
Fresh Spring Flowers
Spring is a fantastic time for flowers as they start growing in abundance after the dreariness of winter is over. During this cheery season you can source plenty of blooms including tulips, hyacinths, daffodils, narcissus, anemones and grape hyacinths to name but a few.
Don't forget to ask your wedding florist which flowers they are able to source and which blooms would work best with your dress and colour scheme.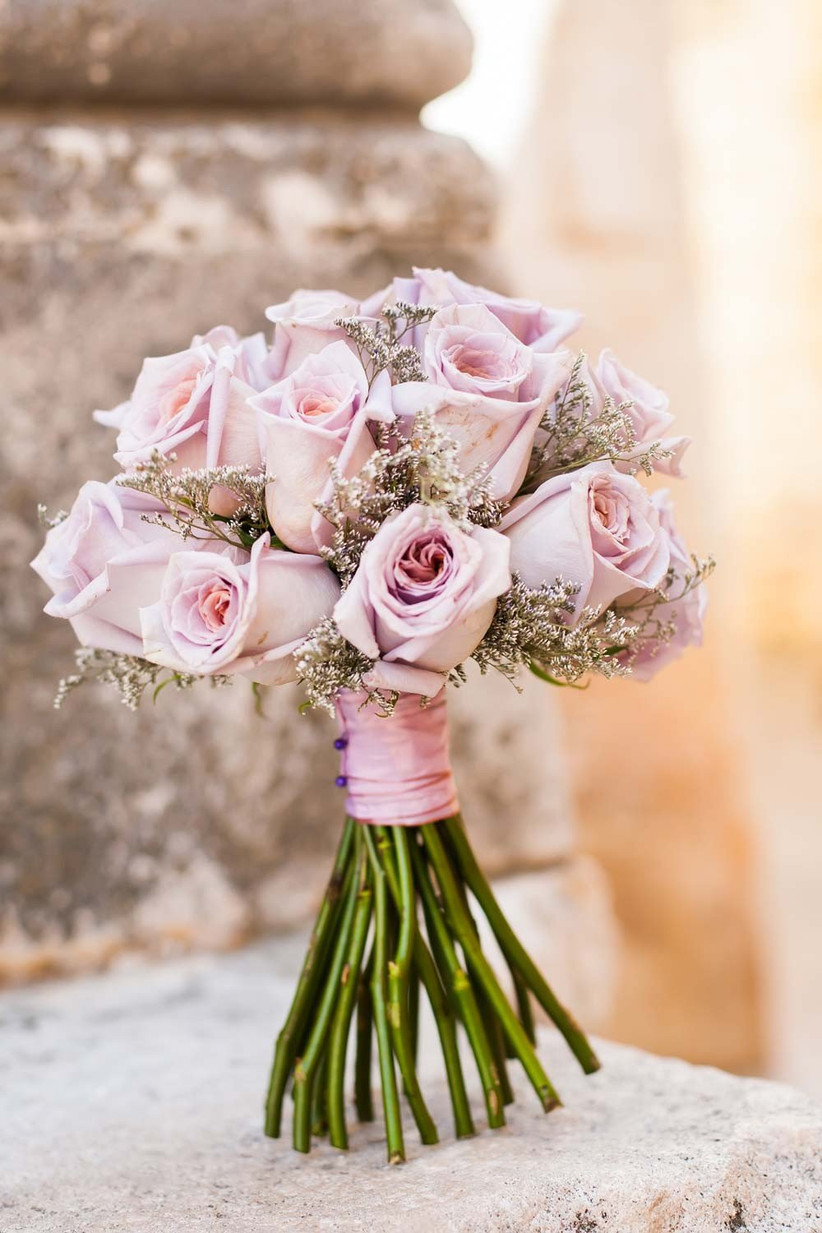 'Spring flowers come in bold, bright colours, as well as soft lilacs, creams and pastels, and are often highly scented,' says Nicola Eve from Flowers by Eve. 'Because the flowers are so stand-out, even simple ideas still look sensational.'
A great example is this rustic vase from Not on the High Street and its arrangement of beautiful white flowers – this would make a simple yet stunning centrepiece for a rustic wedding.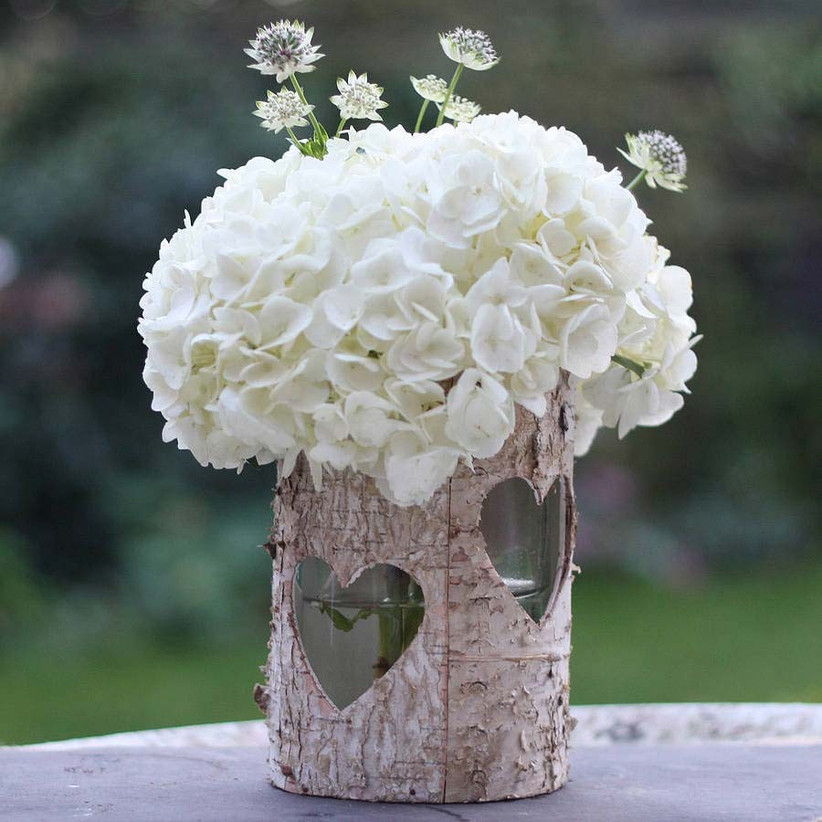 Image Credit: The Wedding of My Dreams at Not on the High Street
We also love this sumptuous bouquet by Rhubarb and Bramley which is full of romantic roses, including gorgeous amnesia ones which have a slightly weathered, purple hue. This bouquet would be ideal if you're filling your day with vintage wedding décor and are wearing a retro inspired dress.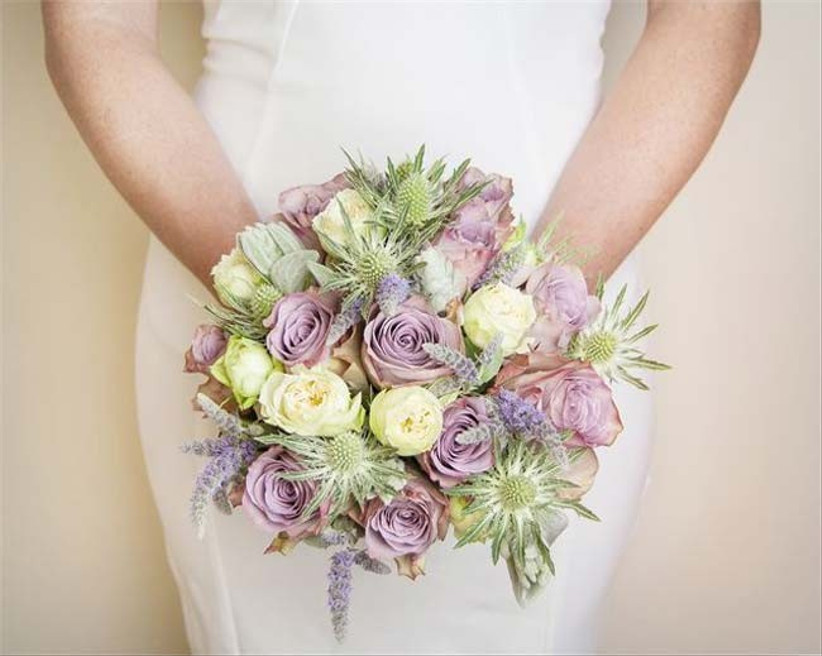 Fishbowls filled with seasonal spring flowers are also a simple and budget friendly option for your centrepieces according to Nicola.
'Fishbowls full of spring flowers would look and smell lovely as your centrepieces,' she explains. 'Daffodils and tulips are seasonal for spring and they are an affordable option for decorating your venue.'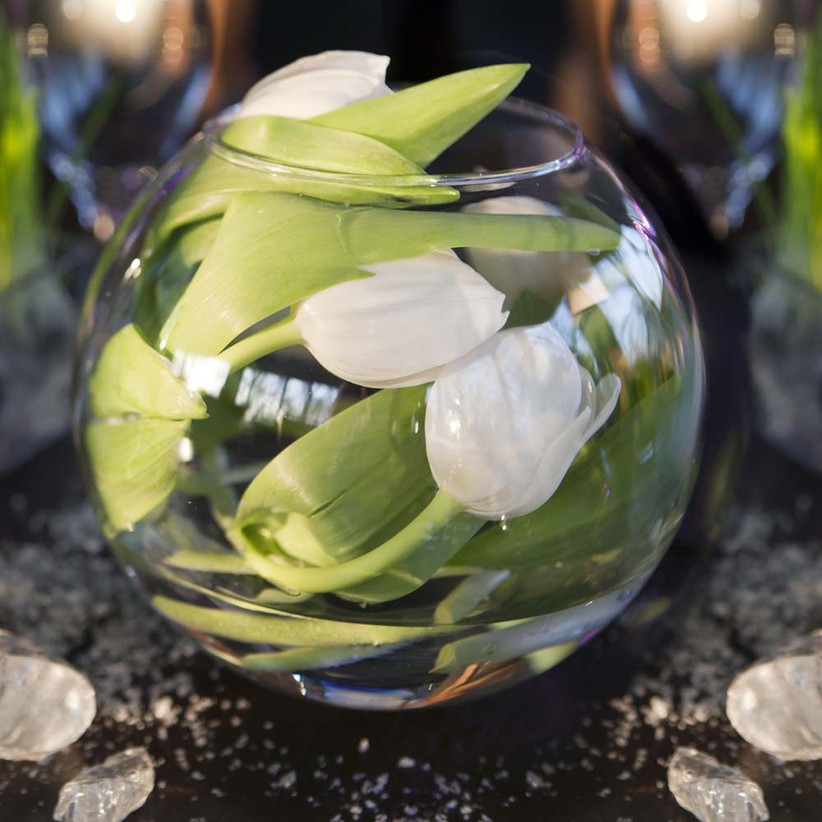 Another popular trend for authentic vintage style weddings (or any type of wedding for that matter!) is to fill an old birdcage with lots of beautiful flowers.
Pastel and neutral toned spring blooms such as roses, heather and gypsophila would certainly complement a vintage theme. Leave vines or foliage trailing over the edge for even more wow factor.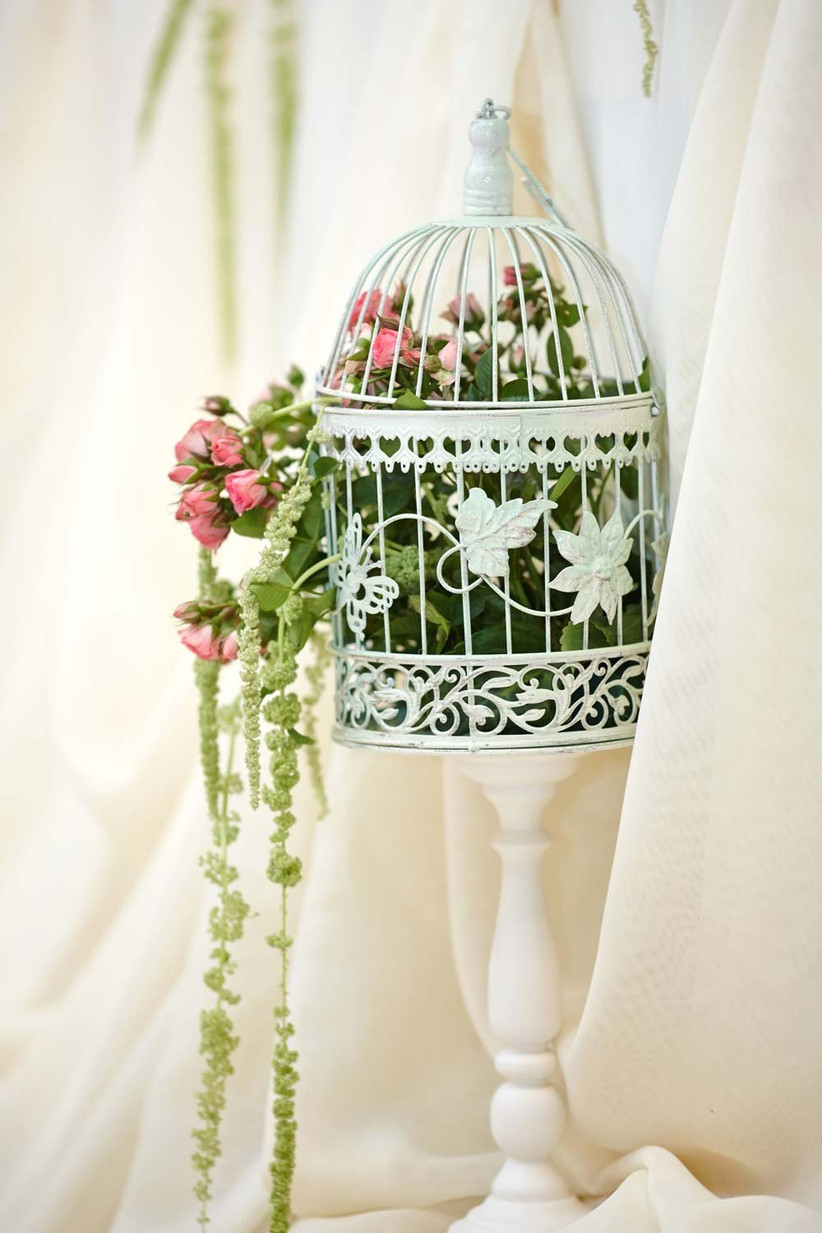 For a bold centrepiece idea, we love this tree-style arrangement that's filled with seasonal wedding flowers for spring. The large roses act as the focal point to the centrepiece whilst the yellow gives a joyful splash of colour.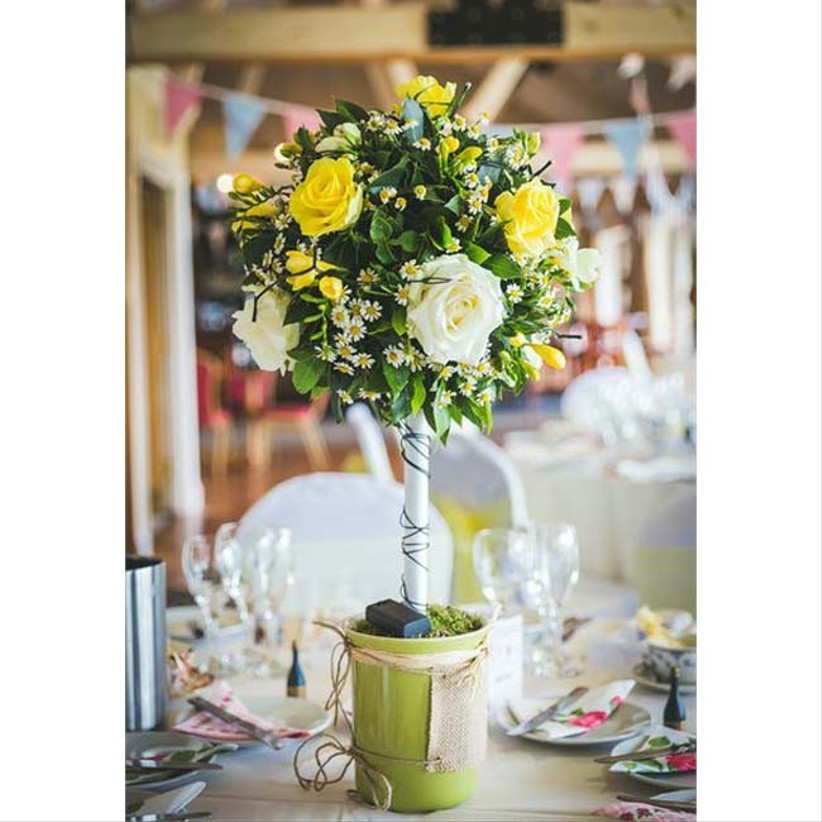 If you're after a more subtle centrepiece for an imitate gathering of reception guests, then you could fill clear jars with small bouquets of spring flowers and finish with ribbon for an easy peasy wedding table decoration.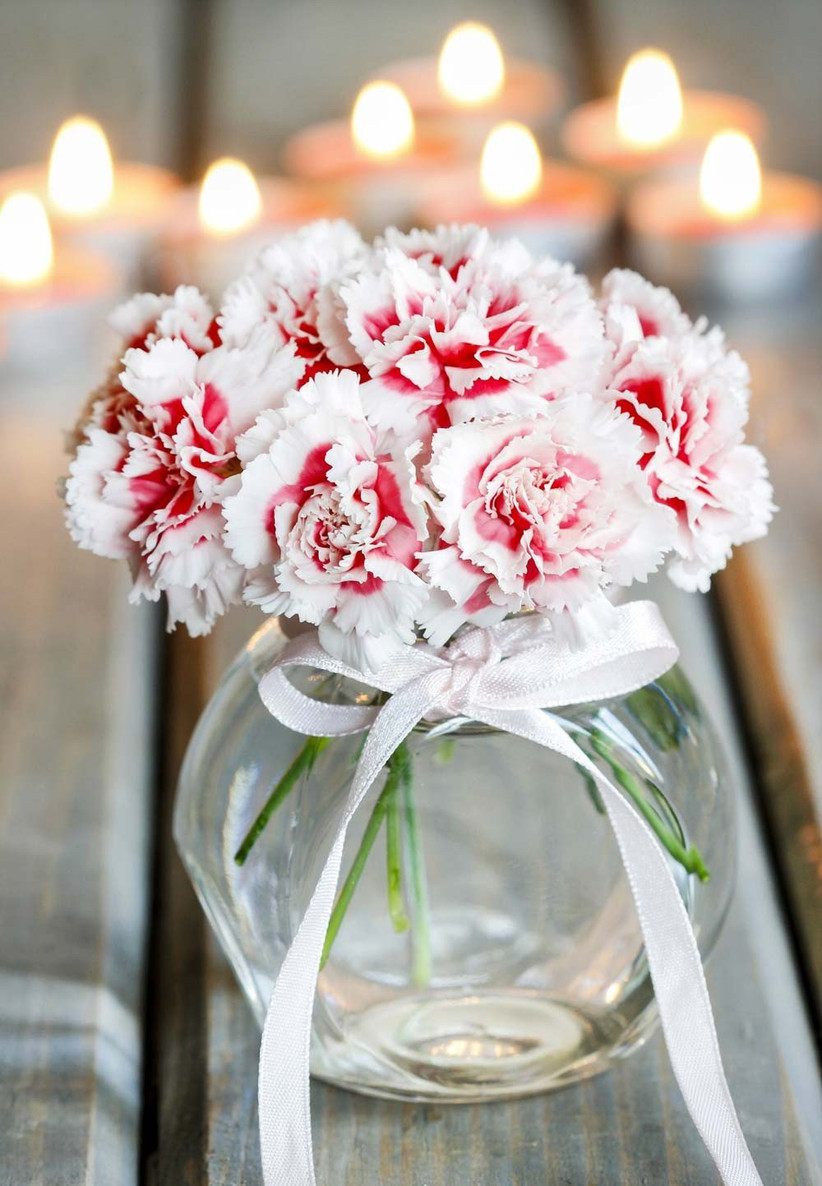 Soft Summer Blooms
'Soft, gentle and romantic flowers are perfect for summer,' says Mandy Alberry from Sonning Flowers. 'Peonies and stocks are in bloom and they have a strong, sweet scent. You can also choose from sweet peas, roses, delphiniums and hydrangeas.
In mid-summer you could try the more unusual love-in-a-mist (Nigella) and look for light colours such as pinks, whites, blues and lilacs, or pale purple. Vintage colours are also on trend for summer weddings, so you could consider peach or dusty pink roses in your arrangements.'
This gorgeous bouquet from Louise Avery Flowers includes a variety of pink roses that symbolise emotion, joy and gratitude. The fully open look of the roses adds to the vintage look.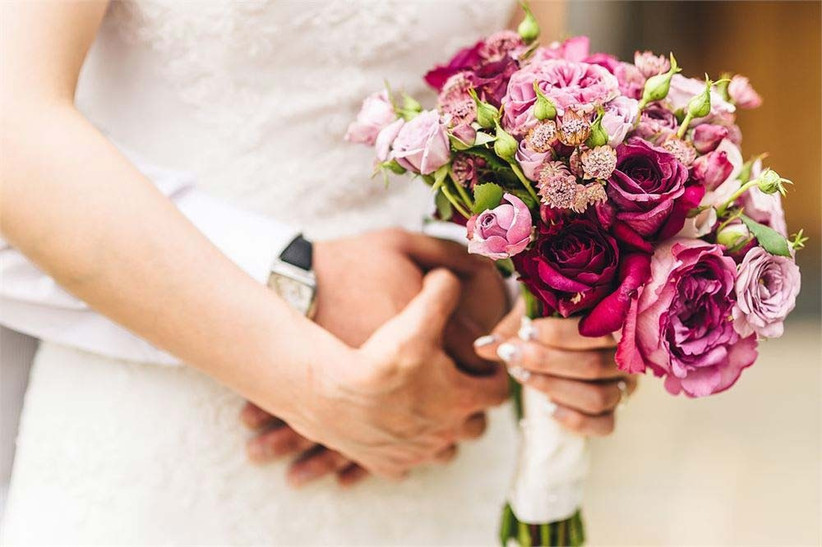 Image Credit: Graham Nixon Photography
'You could add seasonal herbs to your bouquet or table decorations, such as dill, mint and lavender which would give a lovely scent,' suggests Mandy. 'Green foliage also looks beautiful in summer.'
Foliage is a great way to break up an arrangement of flowers and it can provide the base colour for your wedding bouquet. Take a look at this swirled green leaf bouquet that is set off wonderfully with lemon orchids.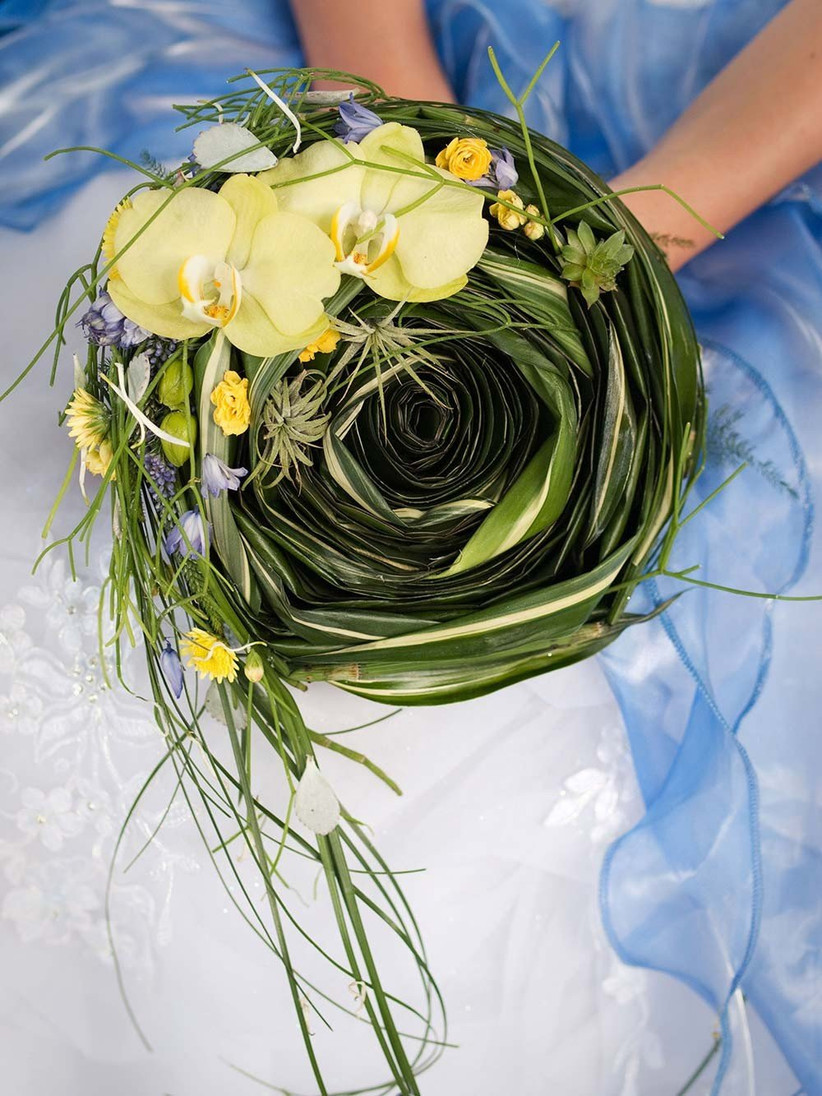 Mandy advises that it's okay for brides to be a bit more 'out there' with their summer wedding flowers as creative ideas work brilliantly in summer.
'At a garden party, glass globes look beautiful hanging from the trees, and you can fill them with seasonal flowers or candles,' she says. 'I decorated a wedding where the four poles in the centre of the marquee were made to look like trees using branches and fresh flowers.'
Put a spin on a traditional centrepiece by giving it a floral twist, like this elegant candelabra which is jazzed up with a topping of white, pink and peach toned blooms.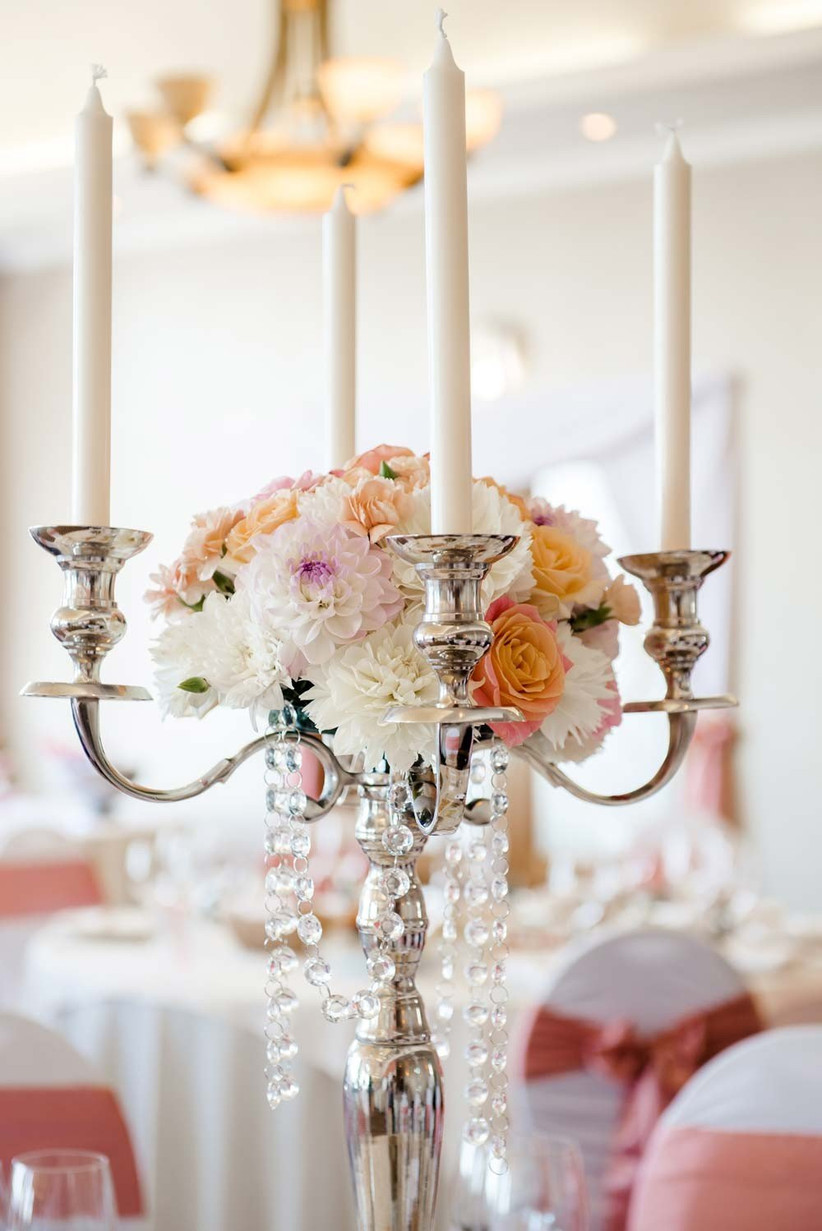 Ah the sunflower – a striking summer flower that will never go out of style for weddings! We've seen this yellow bloom included in countless weddings in many different ways, but a simple sunflower wedding bouquet will always be a surefire way to nail this look.
If you want to fill your whole wedding with sunflowers then go crazy! These blooms make enough of a statement on their own and don't even need to be paired with other flower heads – which is useful if you're on a tight budget. Use them in vases as table centrepieces or you could even wear them in your hair as a stylish wedding flower crown.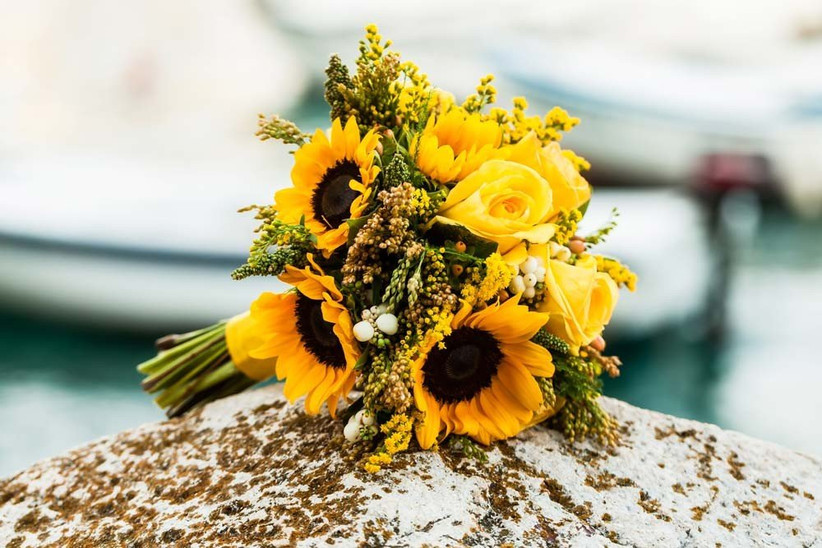 Capture the essence of summer with a youthful daisy bouquet. If your days as a kid were spent skipping through fields and making daisy chains then this delicate flower would be a brilliant choice for your wedding flowers! Adding daisies to your décor would also make your guests reminiscent of their childhood memories.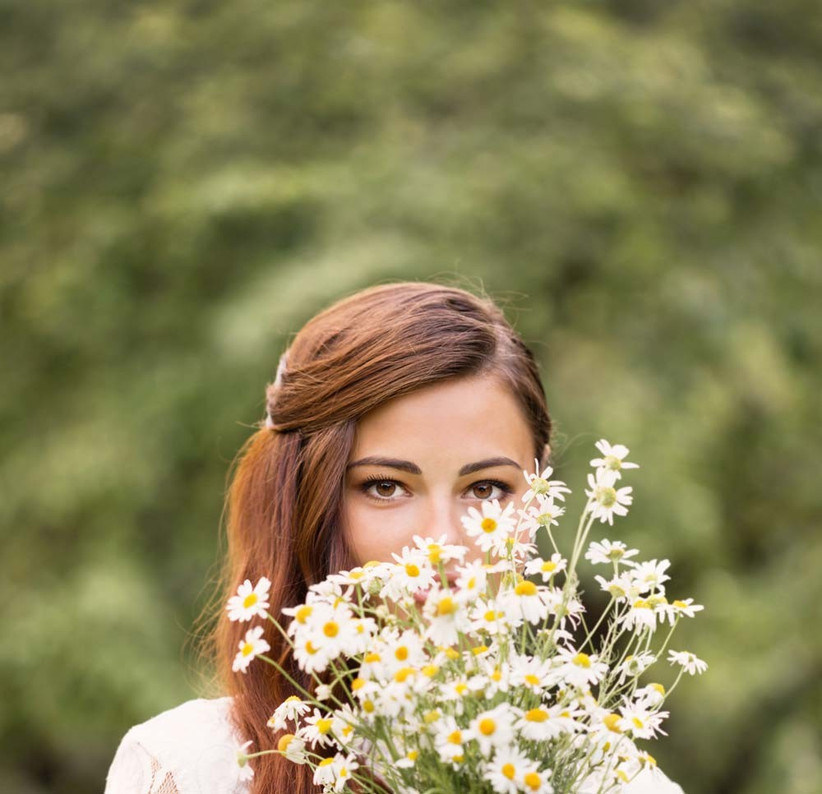 Summer blooms don't just have to be soft and gentle, they can also be vibrant and eye catching like this hot pink bouquet of hibiscus flowers. Ideal for beach weddings, these exotic looking flowers would make a lovely contrast against a floaty white wedding dress.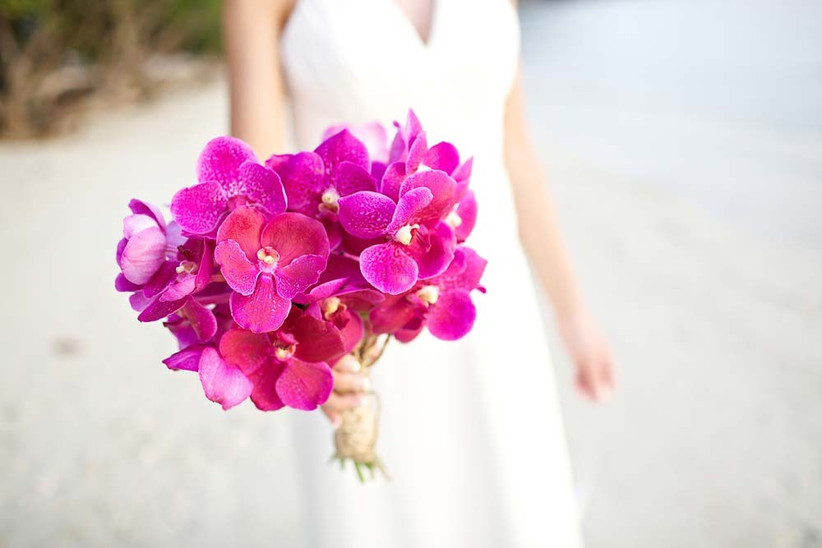 Rich Autumnal Ideas
'In autumn the colours change, becoming more vibrant and much warmer,' explains Mandy. 'Don't shy away from colours as an autumn wedding is all about making the most of these fantastic blooms – create a firework display of colour with your autumn wedding flowers!'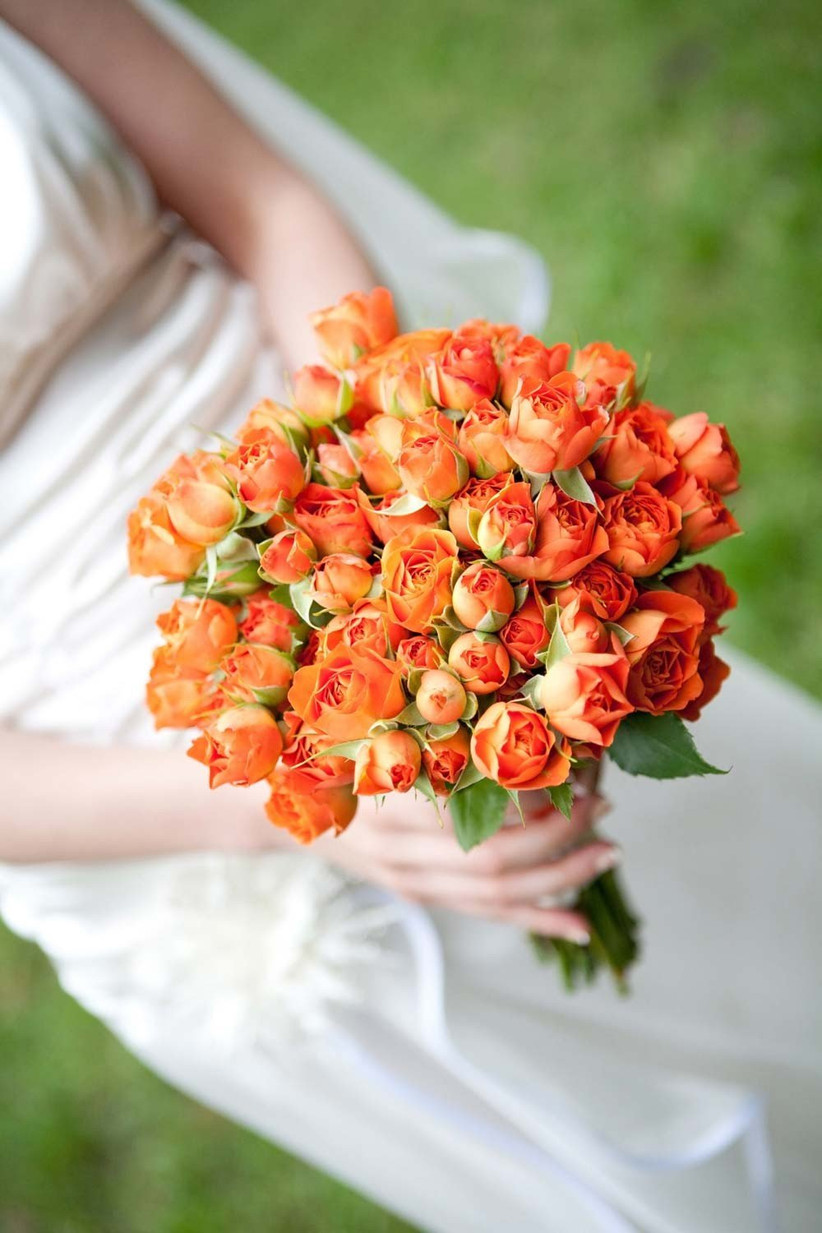 'Choose from orange, burgundy, red, magenta and deep purple as an accent colour for seasonal wedding flowers for autumn,' continues Mandy. 'Add seed heads and berries for texture and for seasonal foliage, you could use fiery dogwood, rosehips and skimmia'
Calla lilies are easiest to source in September and vary in colour, making them an ideal bloom for both summer and autumn weddings. This burnt orange calla lily bouquet is wonderfully presented and the colours are perfectly suited to an autumn wedding.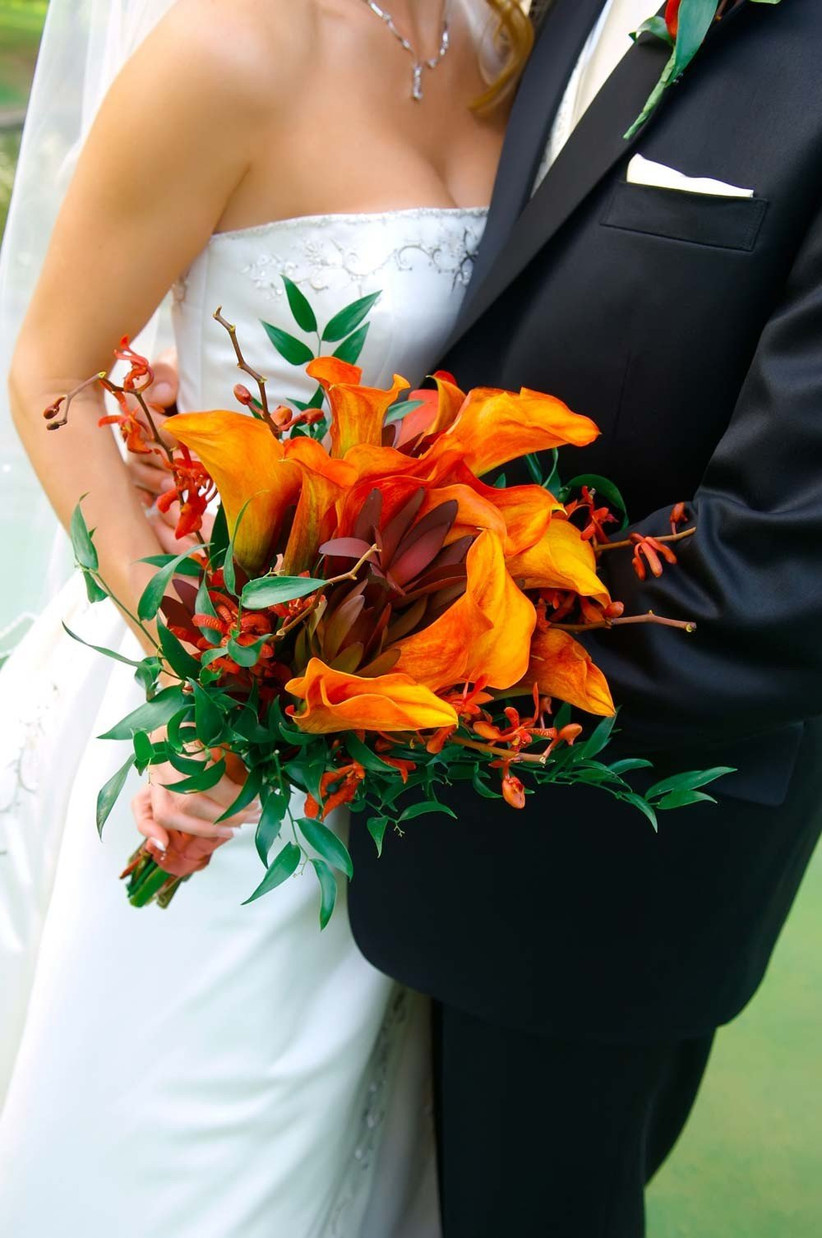 This nosegay style of wedding bouquet proves just how striking the colour purple is when it comes to autumn wedding flowers. The lavender adds lots of texture to the bouquet and would leave a lovely, calming scent wherever you go.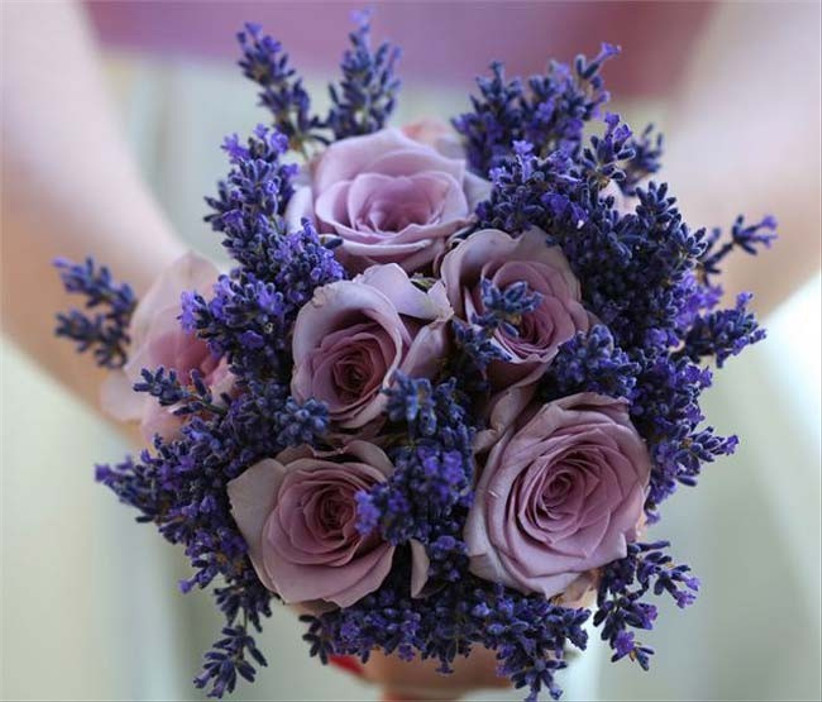 Seasonal wedding flowers in earthy or neutral tones would also work well in an autumn bridal bouquet, especially if you plan on wearing smoky eyes or a darker lip.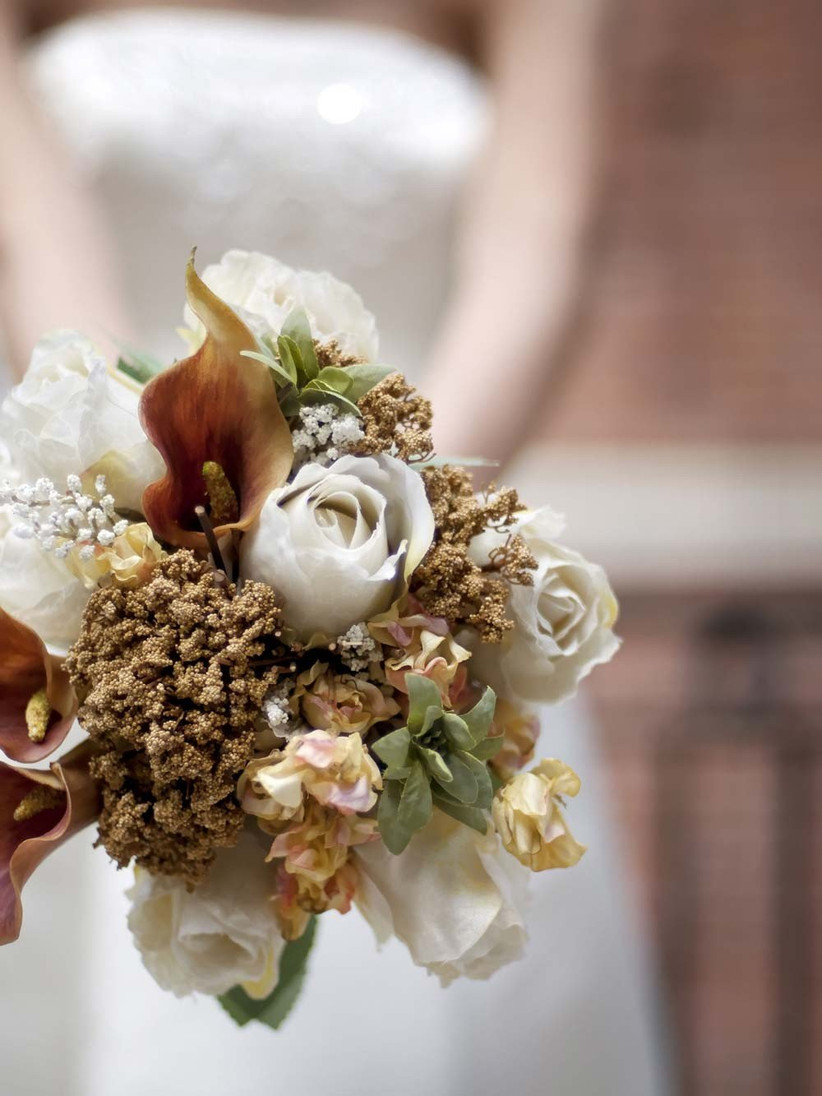 Mix it up by incorporating plums, blackberries and gourd pumpkins with autumn flowers throughout your reception décor – you could also use the fruit as a wedding favour idea for your guests too.
'Pumpkins can work wonderfully as a table centrepiece,' suggests Mandy. 'Simply hollow them out and fill them with orange and hot pink flowers – lovely!' 
Wonderful Winter Colours
Create an enchanting atmosphere at your winter wedding venue by using lots of candles and tea lights in your décor, then pick seasonal wedding flowers that look stunning in this low light.
'White, red and purple are the most popular colours for this time of year,' says Nicola. 'The flowers available tend to be richer and jewel-like, such as red and purple anemones, deep red roses, dark green holly and berried ivy.'
White or ivory toned flowers are perfect for a winter wedding and a posy of white flowers would complement a fairytale wedding dress, especially if romantic roses are used. We're obsessing over this winter bouquet which is tied with piercing blue ribbon to finish – add a fake fur wrap for a fabulous snow queen look!
This ravishing red bouquet of roses is set off with flashes of green foliage and red berries for a truly festive touch.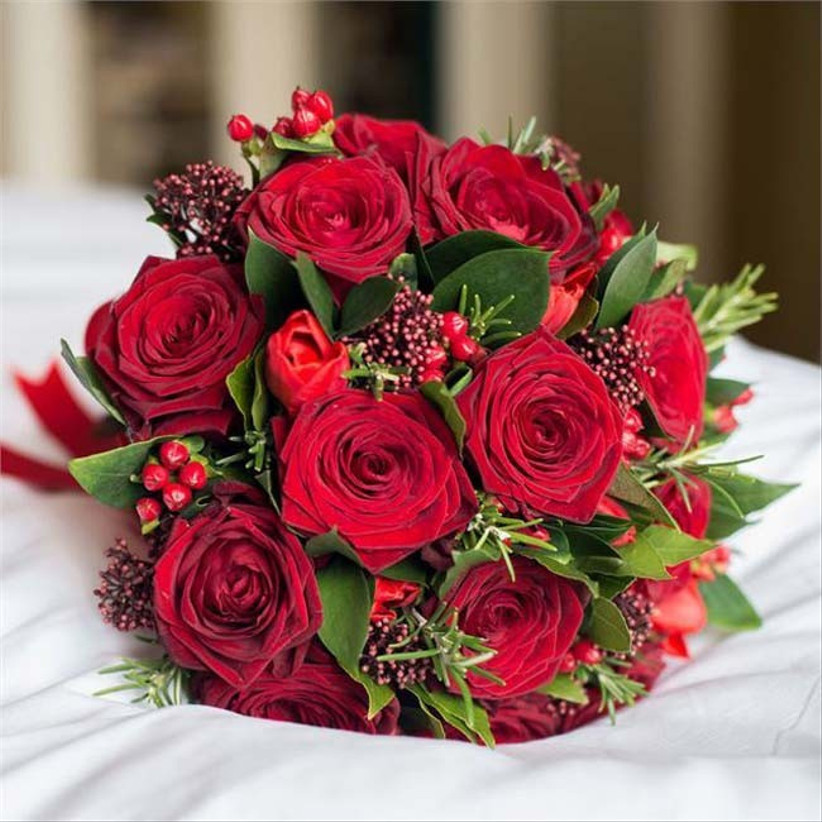 Image Credit: Photography by Hartley Weddings; Bouquet by Corbins Florist
'One of the main winter flowers is amaryllis which come in various shades of red like pillar box and burgundy,' says Nicola. 'It's a great statement flower and looks lovely with wintery foliage such as berried ivy. A simple, winter bouquet of red amaryllis looks sensational against a crisp white wedding dress, particularly if it's snowing.
Also available in winter and early spring are ranunculus, which are perfect winter wedding flowers with their delicate pearls. The Christmas rose (also known as hellebore) is another winter flower that looks lovely and delicate on its own, or can be mixed with ranunculus and roses.'
Give your winter wedding bouquet a theatrical touch by adding white feathers, beads, jewels and crystals to complement darker flowers. If the style of your wedding dress is fairly simple then a statement bouquet like this one from Louise Avery Flowers would be an ideal addition.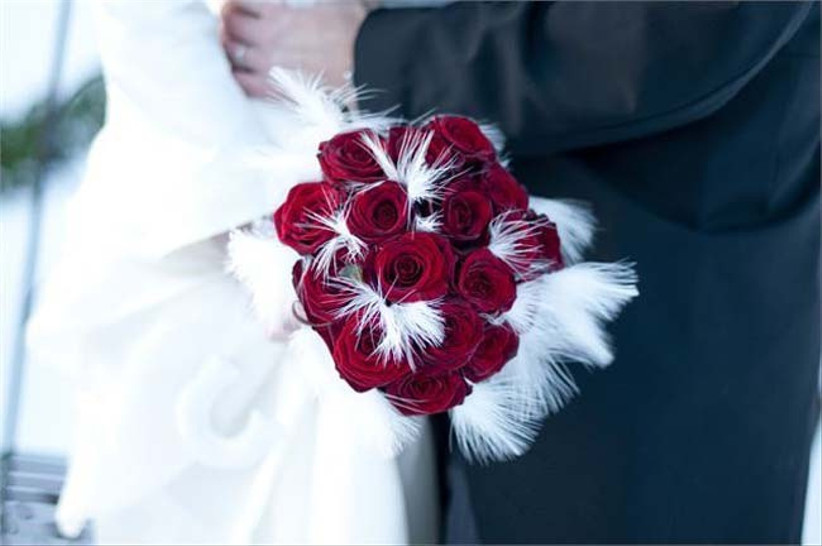 Image Credit: Louise Adby Photography
If you're a bride on a tight budget then we've got you covered when it comes to your wedding flowers, as you can browse bridal bouquets for every budget here on Hitched.