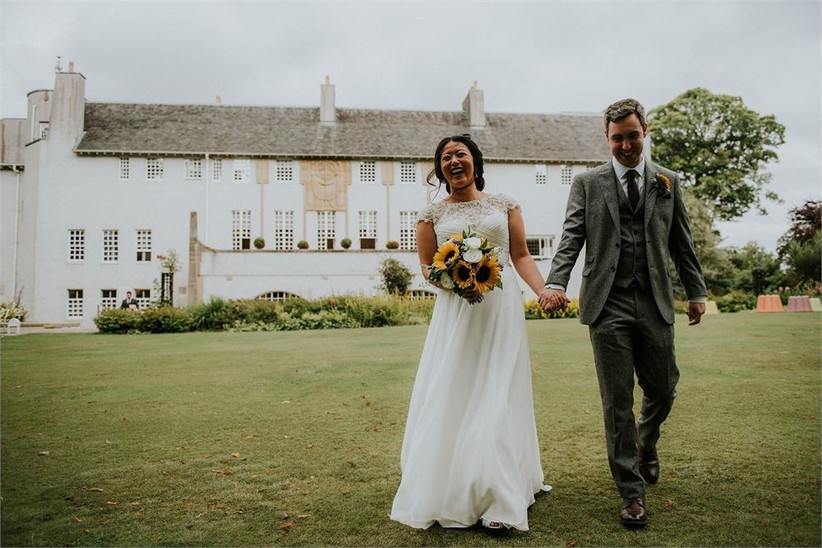 Whether you're on the hunt for wedding budget hacks or you've simply always dreamed of an intimate celebration, choosing a small wedding venue has many benefits.
Small weddings lend themselves to a fantastic atmosphere, and fewer people equals a lower spend. That said, if you're only having a select few guests at your wedding, you need a wedding venue which specifically caters to smaller guest lists. You don't want to feel like you haven't filled the venue!
Scotland is a beautiful region to get married in thanks to its vibrant cities and dramatic landscapes. It also boasts some of the most enchanting wedding venues around.
From country house wedding venues to industrial wedding venues, we've hunted high and low for the best small wedding venues in Scotland. There's bound to be something you adore in this lot.
1. Cherrytrees – Kelso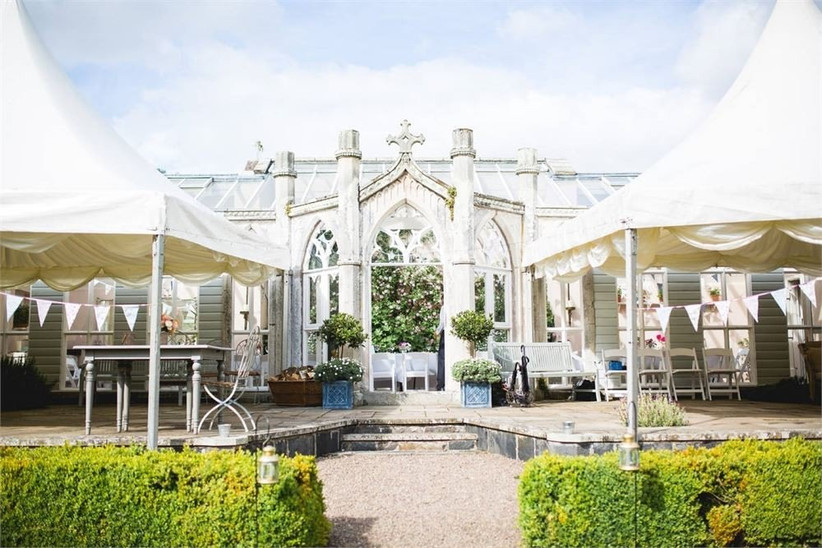 Perfect For: Up to 50 Guests
If you're looking for an intimate wedding venue in Scotland to host your outdoor wedding ceremony, Cherrytrees is perfect. It can host up to 50 guests and is located just a stone's throw away from the Scottish-English border.
Your wedding ceremony can take place in the garden, on the terrace or in the light-filled conservatory.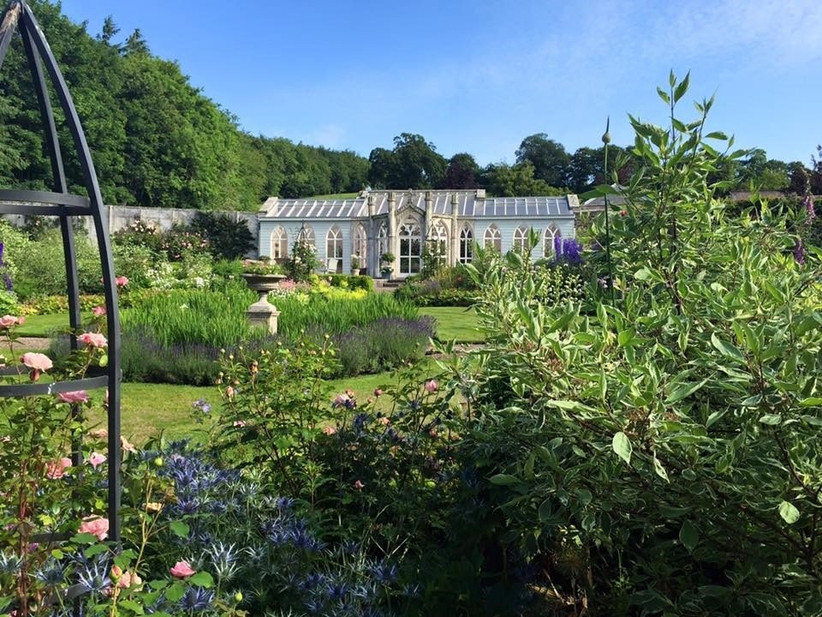 In addition to the stunning walled garden where weddings take place, the owners have recently opened a cutting garden which produces seasonal flowers. They can be used in your bridal bouquets, posies and table centrepieces, if you wish. What a lovely addition to your special day!
After your formal ceremony, you can enjoy a delicious three or four course dinner. Or how about afternoon tea or a picnic on the lawn? The catering possibilities at Cherrytrees are endless.
2. The Lodge on Loch Goil – Argyll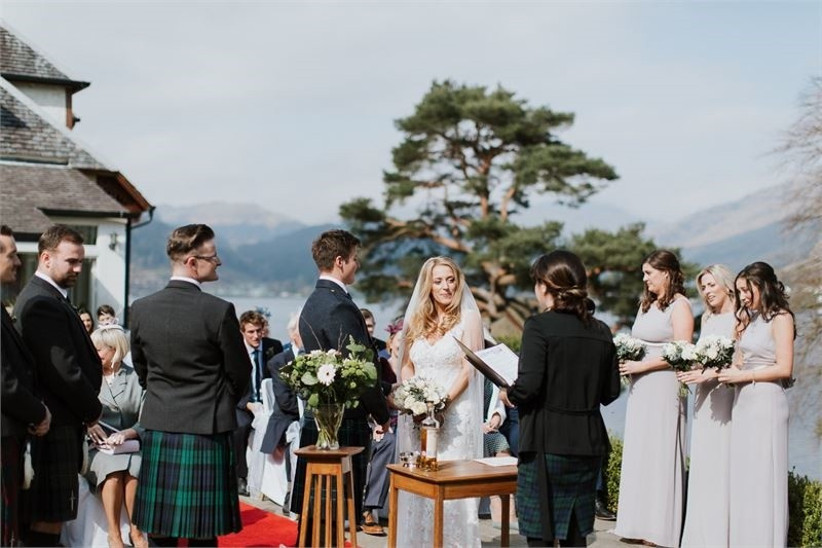 Perfect For: Up to 75 Guests
The Lodge on Loch Goil is a totally unique wedding venue set among the Scottish mountains and overlooking a picturesque loch.
This venue is an an impressive Victorian country house with a capacity of 50 guests and an outdoor wedding license.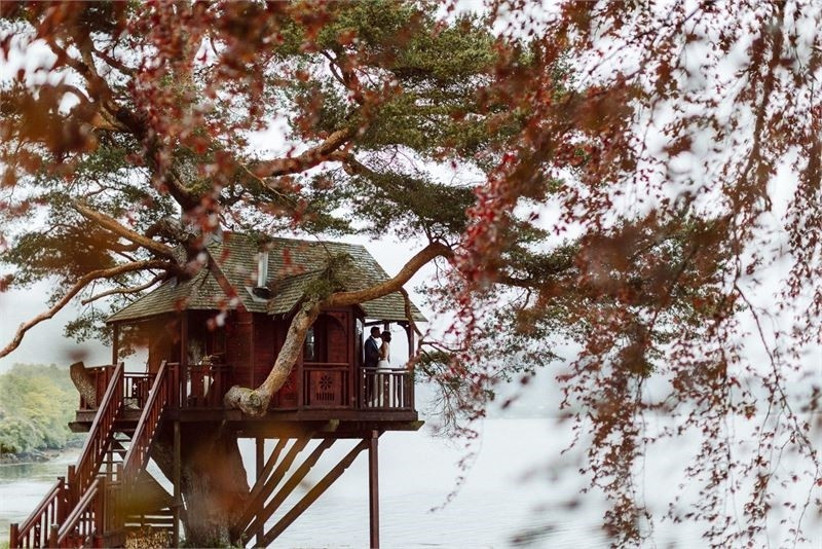 The most impressive of this venue's features is the enchanting tree house. It's licensed for intimate ceremonies, or, if you have a larger group of guests, you can marry in the lodge and sign your certificate in the tree house.
The Lodge also has seven luxurious en-suite bedrooms for you and your guests to stay in. Each and every room provides all the comfort and opulence you would expect of a five-star hotel.
3. House For An Art Lover – Glasgow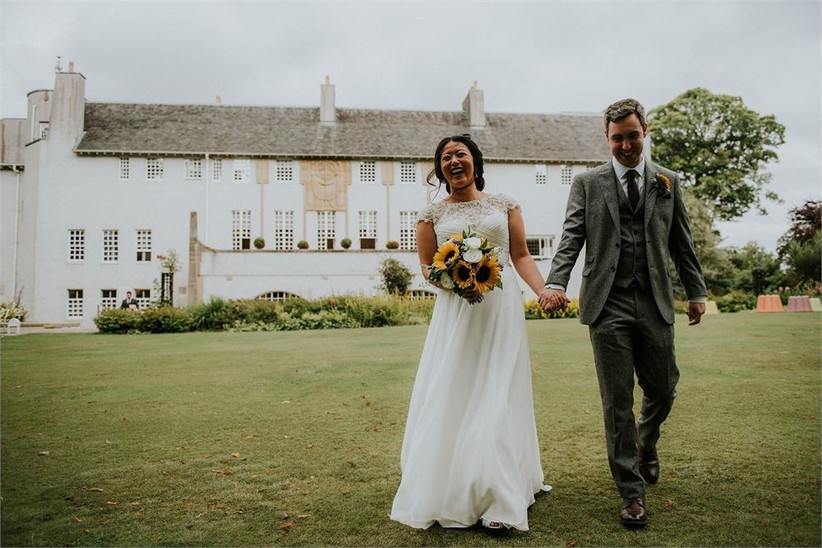 Perfect For: Up to 80 Guests
We're obsessed with House For An Art Lover – a contemporary and stylish wedding venue in Glasgow. It's set within the beautiful surroundings of Bellahouston Park which offers endless backdrops for your wedding photography.
We love the Music Room for a ceremony in front of your loved ones and The Mackintosh Suite for your wedding breakfast. There is space for up to 80 guests. If neither of those suit, there are plenty of other beautiful rooms to choose from!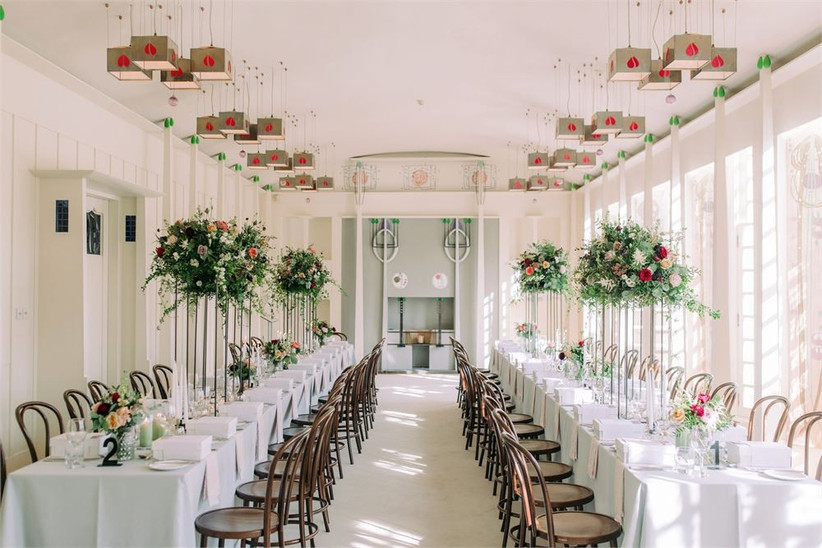 When booking your wedding at House For An Art Lover, you'll be enlisted a dedicated wedding coordinator who will ensure every step of planning and organisation runs smoothly.
You'll also receive a range of extras, including a cake stand and knife, fresh flower table centrepieces and indoor fairy lights.
READ MORE: 19 of the Coolest Museum Wedding Venues for Cultural Couples
4. The Byre at Inchyra – Perth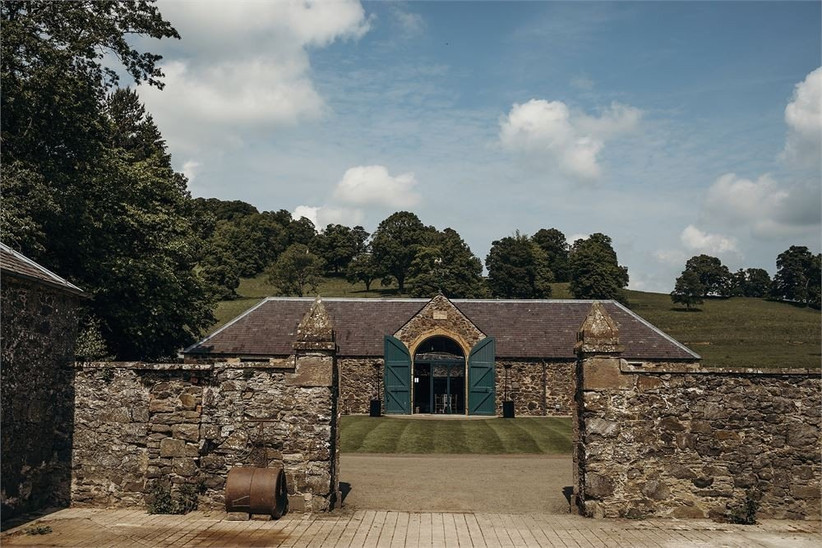 Perfect For: 50 People
Have you got your heart set on a rustic barn wedding venue? You're in luck! The Byre sits within the stunning Inchyra Estate and perfectly combines rustic charm with contemporary touches.
The dedicated team at The Byre know that no two couples are the same, so they offer a totally personal service. On your wedding day, nothing else will be happening at the venue, so your celebrations will be the centre of attention.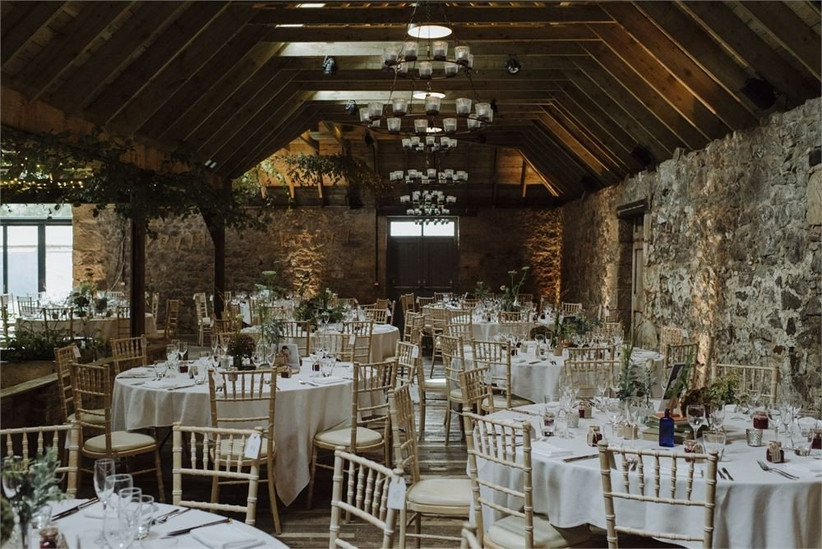 Although this venue can accommodate up to 180 guests, it's perfect for small and intimate weddings with around 50 people. There's an intimate and chapel-like stable room for your vows or the option of getting married outside in front of your nearest and dearest.
For your wedding reception, the converted cattle barn is perfect. Despite being a big square space, it has different areas and levels making it exceptionally flexible. And once all the fun comes to an end, you can retire to the pretty and cosy Stable Yard Bridal Suite while your guests have fun glamping!
5. Kippilaw House – Melrose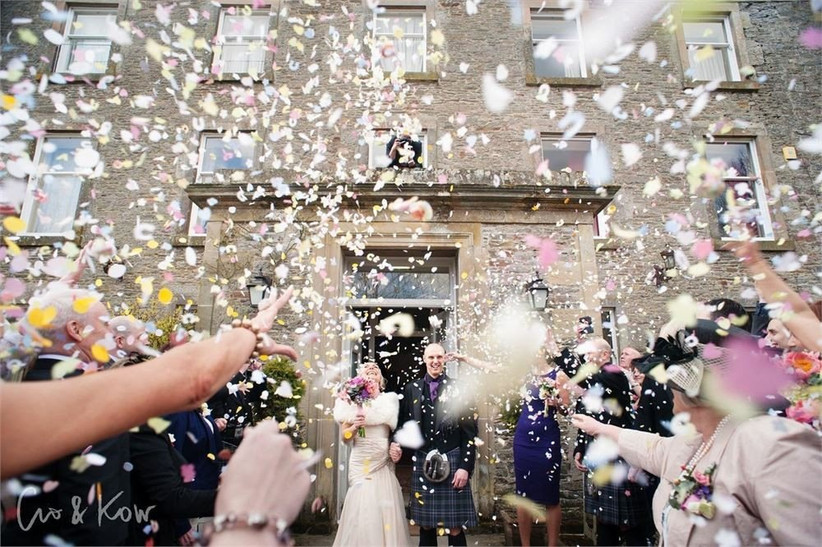 Perfect For: 40 Guests, So Everyone Can Stay Overnight!
Couples dreaming of a magical woodland wedding day should add Kippilaw House to their shortlist. It's a Georgian mansion set in its own private forest – they even offer outdoor wedding ceremonies in one of the clearings!
There are three well-appointed reception rooms available if you don't want to get married outside, each beautifully decorated. After your ceremony, you can have reception drinks on the lawn and take photographs on the grand staircase before tucking into a delicious wedding breakfast.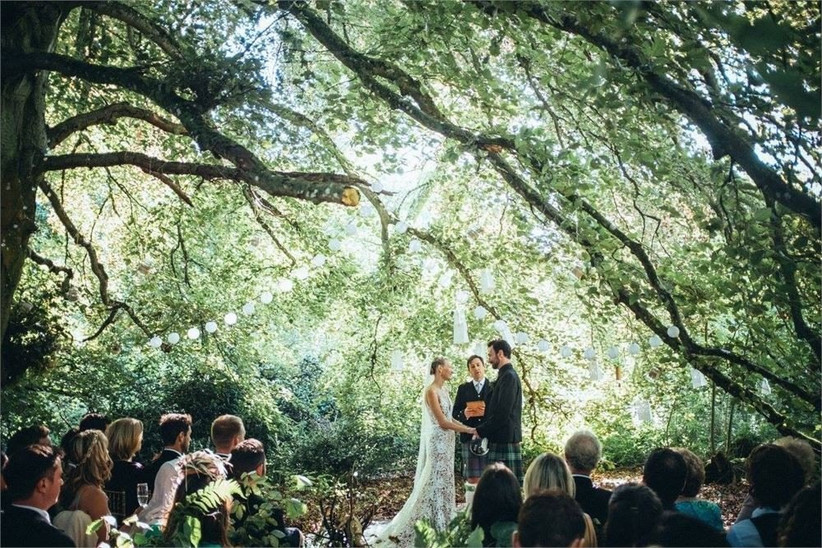 Although this wedding venue can cater for larger weddings, the packages they offer to small wedding parties are second-to-none. What's more, if you invite up to 40 guests, every one of them will have a beautiful place to stay on your wedding night across 15 bedrooms.
6. BAad – Glasgow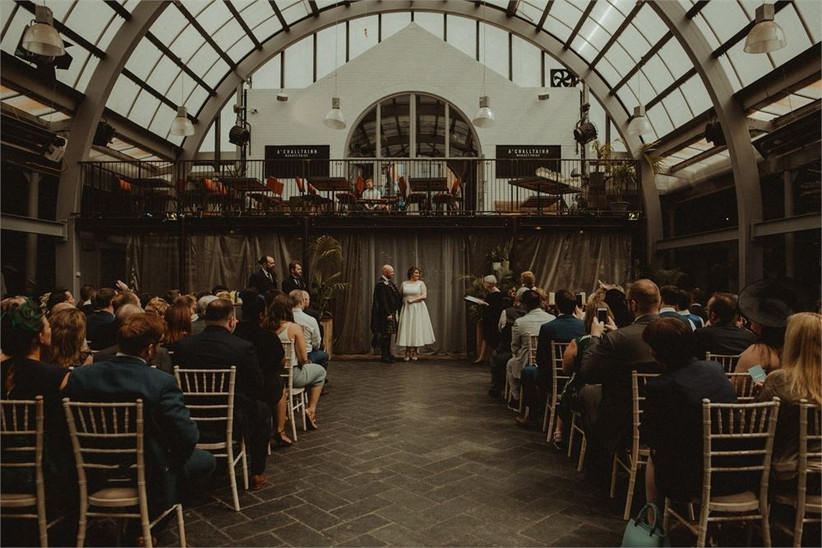 Perfect For: Between 25 and 250 Guests
Nestled away in the heart of Glasgow's iconic Barras Market is BAad, an award-winning and light-filled space with chic interiors. Here at Hitched, we think it's perfect for smaller weddings.
BAad offers a complete blank canvas for your wedding day and boasts a heated courtyard, a reclaimed parquet mezzanine level and a restaurant.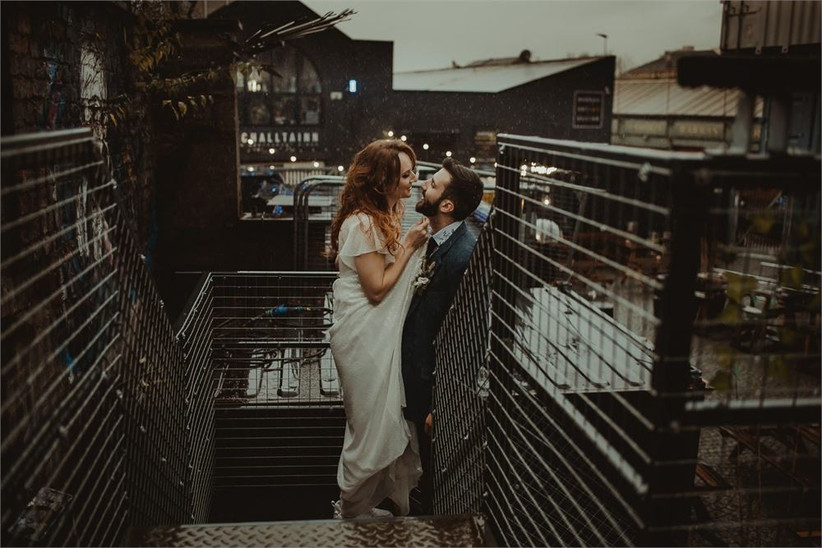 It has a license to hold your ceremony, so you can host your entire day under one roof, and amazing catering options.
Your menus will be taken care of by the award-winning A'Challtainn Fish Restaurant & Bar team. Providing seasonal menus packed with only the freshest of Scottish produce, you can rest assured that your guests will never forget the food you serve them.
READ MORE: 19 of the Best Warehouse Wedding Venues That Look Totally Industrial
7. Riddle's Court – Edinburgh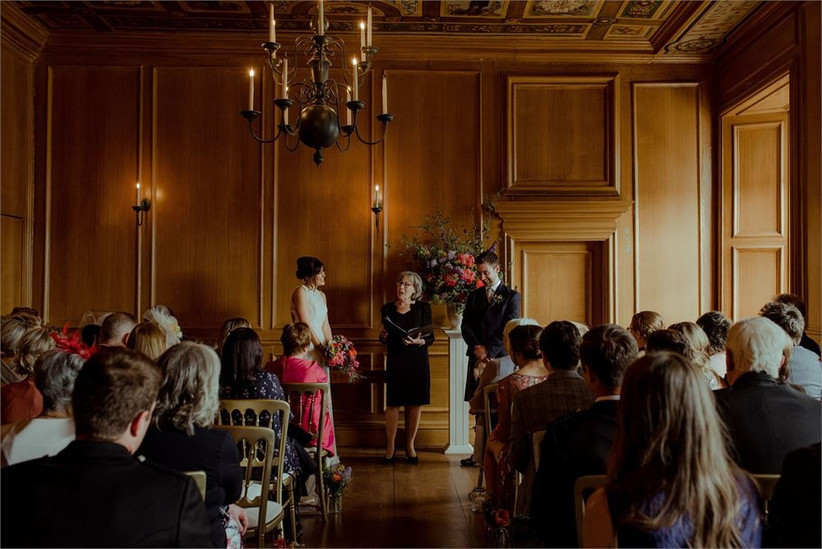 Perfect For: 12 to 100 Guests
Situated in the vibrant city of Edinburgh, Riddle's Court is a hidden gem which has been recently and extensively renovated. It accommodates wedding parties of between 12 and 100 guests.
When you enter the venue from the famous Royal Mile you'll be greeted by an abundance of character and charm. This venue has a relaxed atmosphere which carries through all of its function rooms.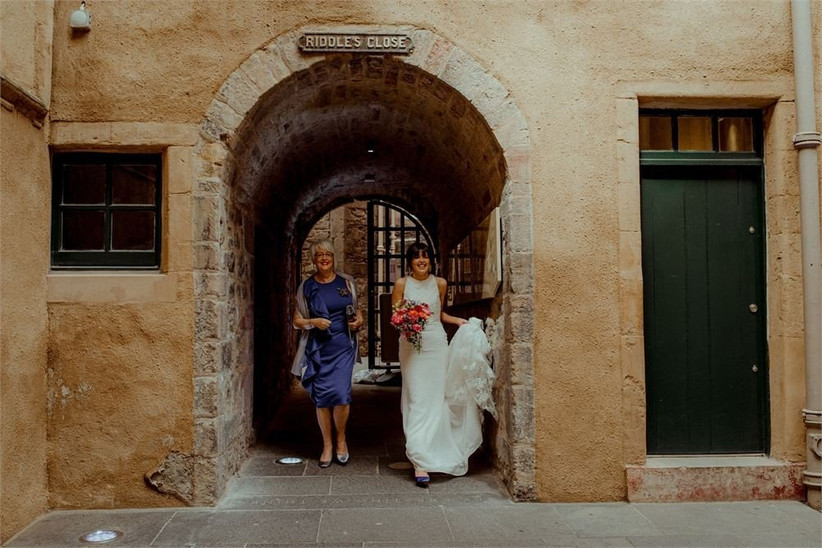 Every suite and chamber is spacious and perfect for wedding feasts and dances. There are balconies for wedding photos and there's a civil ceremony license, so your entire day can be hosted under one roof.
The venue has a range of outstanding caterers, florists and entertainers on their books, so whatever theme you've been dreaming of will be totally easy to achieve.
8. Ness Walk – Inverness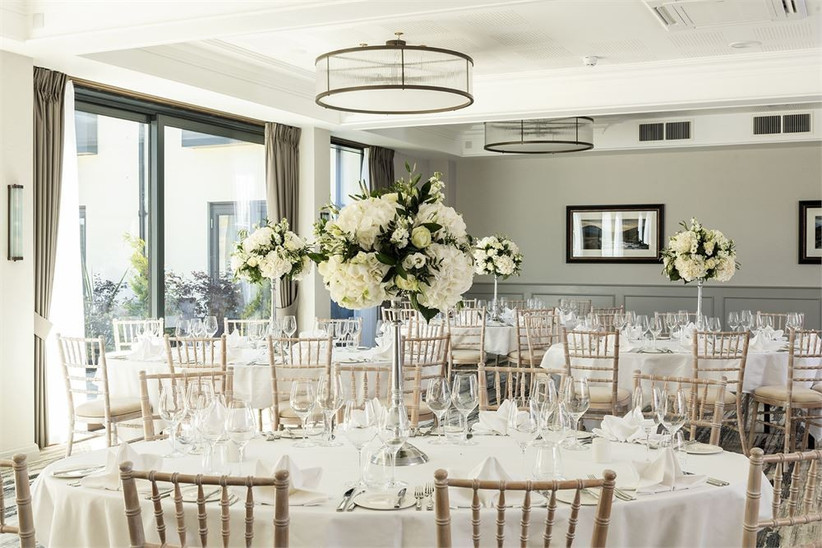 Perfect For: Up to 80 Guests
With a maximum capacity of 80 guests, Ness Walk in Inverness is the perfect small and intimate wedding venue.
They specialise in hosting weddings where the couple are surrounded only by their nearest and dearest.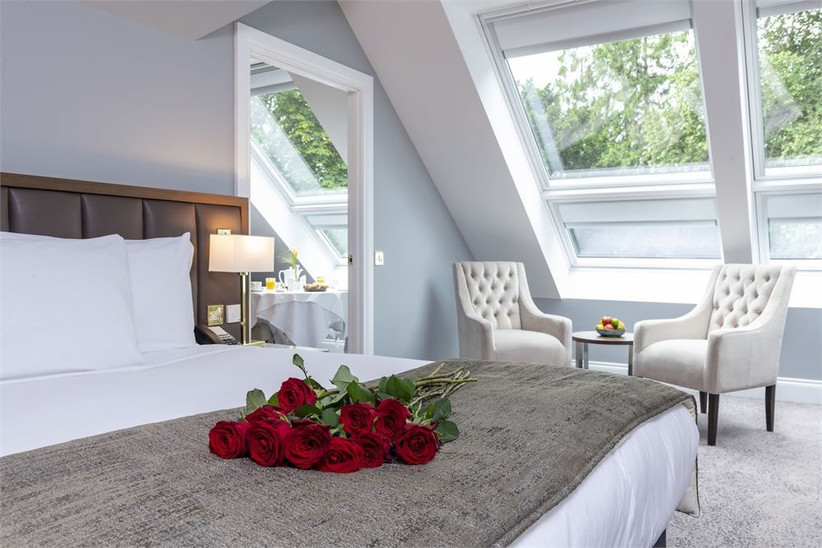 The Riverbank Room at this five-star luxury hotel is the star of the show, with a south-facing glass wall offering beautiful views across the River Ness.
There are a range of packages on offer at Ness Walk. Their cheapest package is inclusive of linen, a three-course meal, canapés, Champagne, access to the Bridal Suite and so much more.
READ MORE: The Best Affordable Wedding Venues in the UK
9. Carrick Castle Estate – Argyll
Perfect For: Up to 120 Guests
Welcome to Carrick Castle Estate, a luxury and exclusive-use lodge and barn complex in the grounds of Carrick Castle. From rustic weddings to those that are modern and elegant, it's the perfect blank canvas to host whatever kind of celebration you've been dreaming of.
Thanks to its range of rooms and function spaces, Carrick Castle Estate can host weddings for less than 30 guests beautifully.
You can say 'I do' outside against a backdrop of the dramatic Scottish landscape and castle before taking the party inside for cocktails, food and dancing.
There's also accommodation on-site for 36 people across a luxury lodge and three beautiful cottages.
READ MORE: The Ultimate Guide to Wedding Themes
10. Ballogie Estate – Aberdeenshire
Perfect For: 50 People
How adorable is Ballogie House? This gorgeous pink country house wedding venue is set among gardens and parkland. It would be a lovely spot for your small and intimate wedding.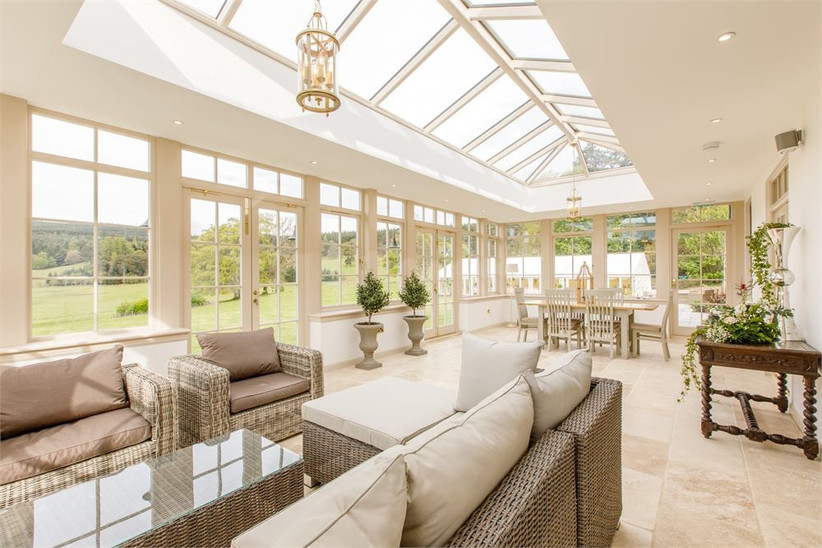 The beautiful Orangery can cater for up to 50 guests, and with its floor-to-ceiling windows which flood the space in natural light, it'd be perfect for your vows.
If you get married at Ballogie, the entire house will be yours for the weekend. That means you and a select number of family and friends will have access to the lounge, dining room, orangery, kitchen, games room, six en-suite bedrooms, bridal suite and landscaped gardens. It's the perfect countryside escape!
11. Harvest Moon – East Lothian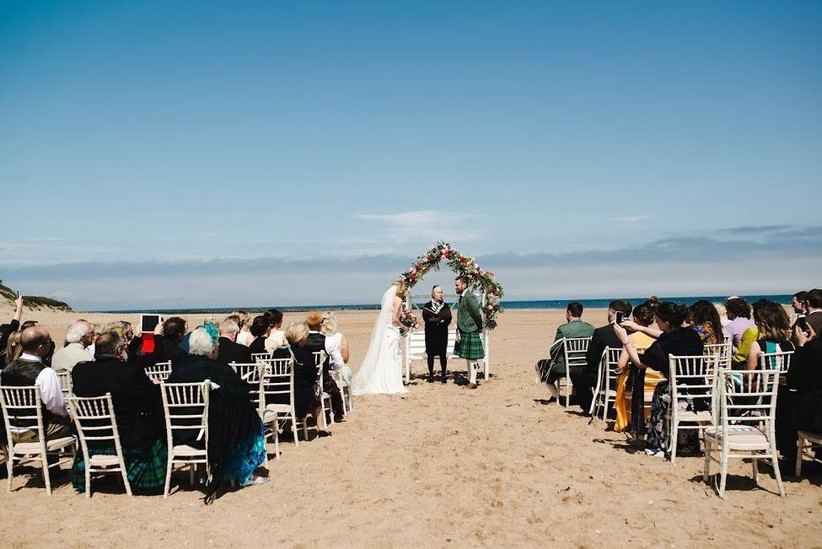 Perfect For: Up to 50 Guests
Couples dreaming of getting married with sand beneath their feet on a stunning Scottish beach should look no further than Harvest Moon. This beautiful wedding venue caters for weddings of between 30 and 50 guests.
The team specialise in weekend-long celebrations, where the couple's friends and family can come together in one of the most breathtaking locations in Scotland.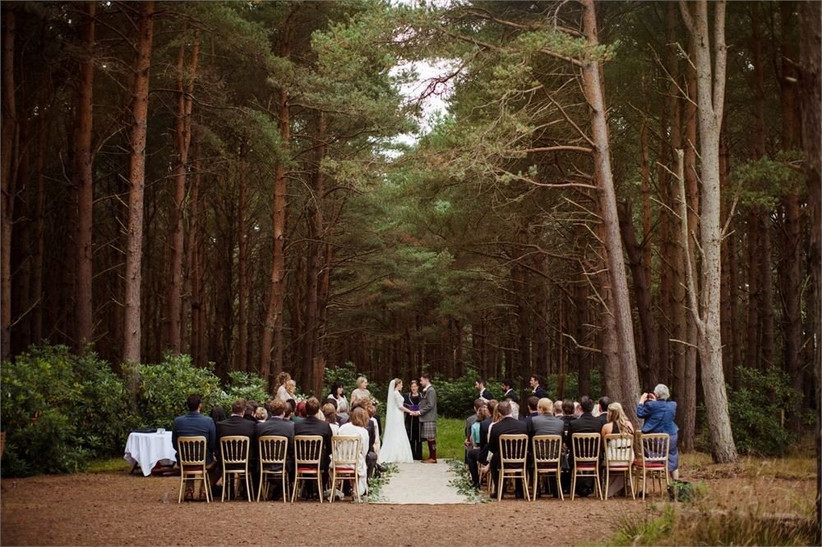 You can host your ceremony outside on the beach before retiring to a romantic honeymoon tent at the end of the night. Alternatively, you can say your vows at the venue's woodland site before spending the night in an amazing honeymoon tree house.
Oh, and don't worry about your guests – they can stay in luxurious on-site accommodation, too!
READ MORE: 17 of the Most Picture-Perfect Seaside Wedding Venues
12. Carfraemill – Lauder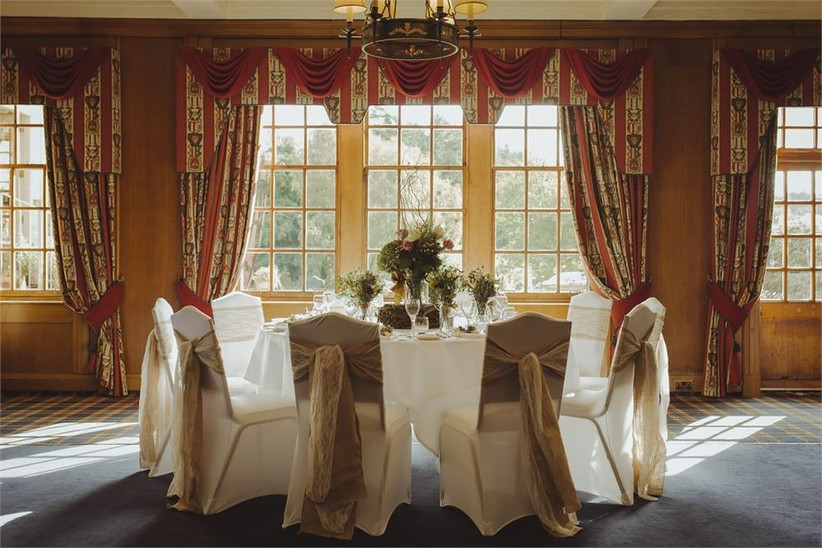 Perfect For: Less Than 30 Guests
If you're looking to get married at a rural wedding venue, Carfraemill could be perfect. It's located on the edge of the glorious Lammermuir Hills, so the stunning views are the pièce de résistance of the property.
Fabulous food is at the heart of every wedding they create, so if you're a foodie couple, listen up! The chefs create stunning menus, working with local farms, dairies, kitchens and fishermen. Whatever dishes you choose to serve to your guests are guaranteed to be of amazing quality!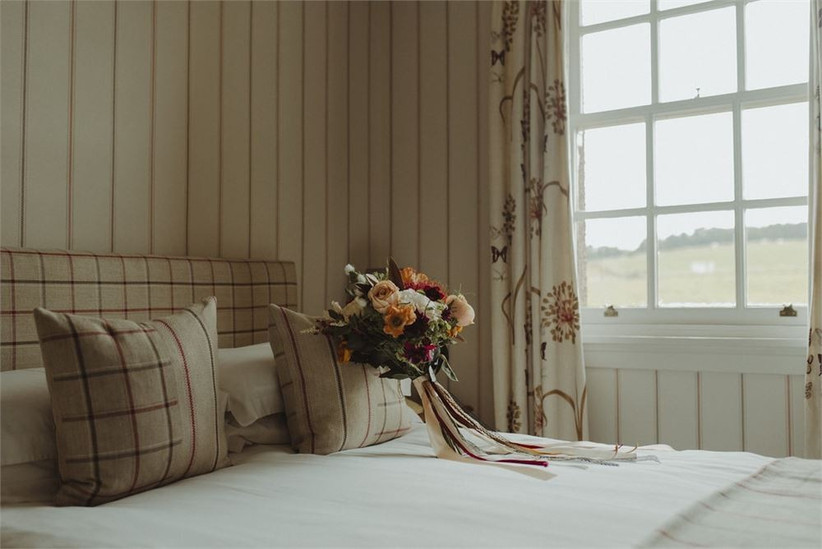 If you fancy hosting a festival-themed wedding, head a mile up the hill from Carfraemill to their farm. The views are even more magnificent there than they are from the main lodge below, and you can celebrate from tipis, tents and marquees (with herd of sheep picking through the grass nearby).
Your wedding party can stay in 10 beautifully-styled country lodge rooms and two hillside cottages over your wedding weekend. They're sure to feel at home!
READ MORE: The Best Wedding Venues for Food-Loving Couples
13. The Wine House 1821 – Edinburgh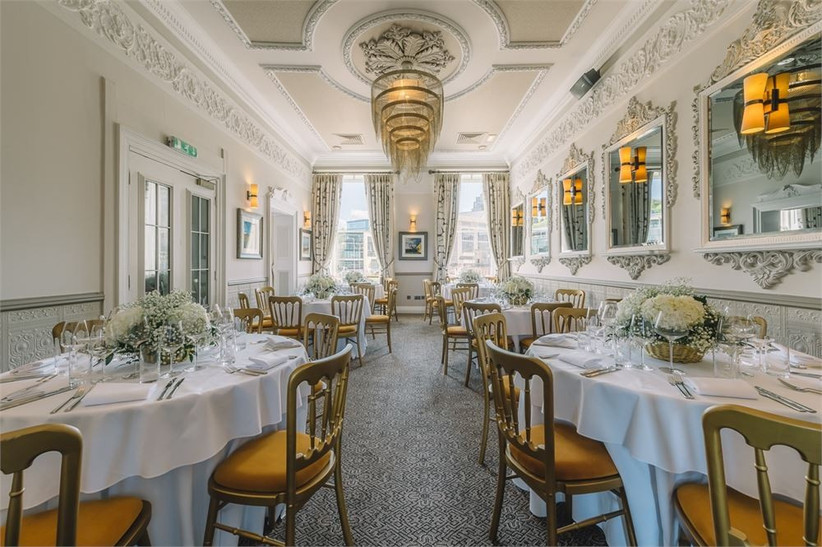 Perfect For: Up to 100 People
The Wine House 1821 is a beautiful Georgian townhouse situated in the heart of bustling Edinburgh. It's an elegant and sophisticated wedding venue with Italian-inspired interior design and stylish features.
It accommodates 75 seated guests, making it perfect for your small and intimate wedding day. The function suite has wonderful views of Carlton Hill and is flooded with natural light. What better place to say your vows?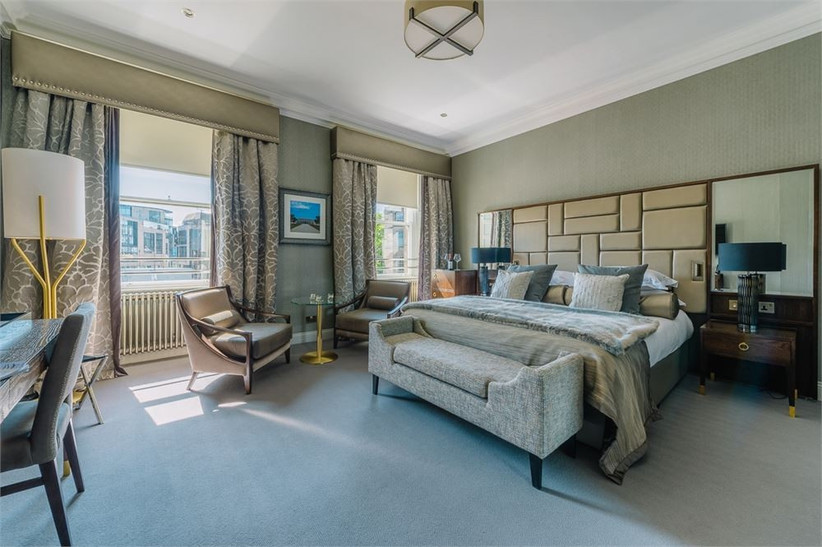 The lovely views are complemented by the four luxurious boutique guest rooms which all boast huge ensuite bathrooms and huge windows.
There's also the stylish (yet totally warm and inviting) Italian wine bar and cocktail lounge which would be a lovely space to gather with your guests the night before your wedding.
READ MORE: 25 of the Best Hotel Wedding Venues for Every Budget
If you just can't cut your guest list down but still have your heart set on Scotland, take a look at our round-up of the best castle wedding venues in Scotland. They can host endless numbers of guests.