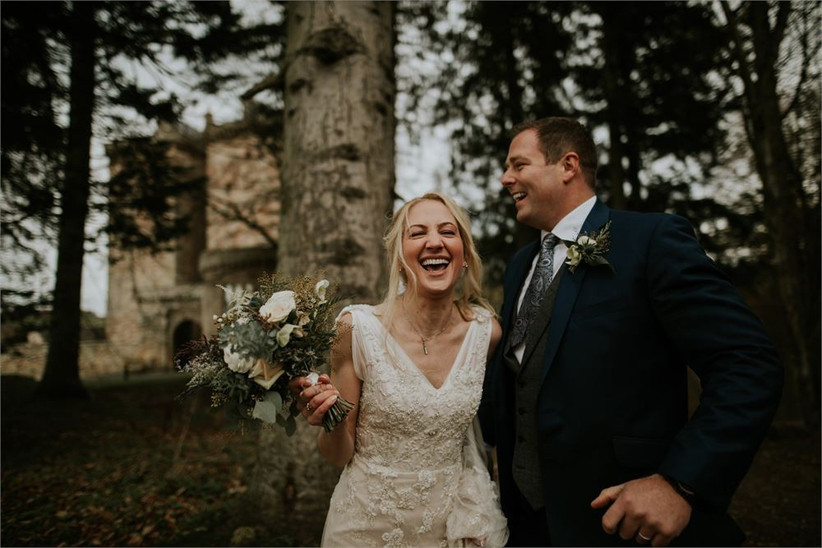 If thoughts of a rustic barn wedding or a celebration in a pub wedding venue don't tickle your fancy, something regal in a castle wedding venue could be for you.
Scotland has some of the best castle wedding venues around, so if you've got your heart set on saying 'I do' here, you're in luck you're in luck.
What's more, Scotland boasts both a vibrant cultural scene and spectacular landscapes aplenty, so there's lots to explore either side of your big day.
From Edinburgh to Galloway, Aberdeen and beyond, here are the best castle wedding venues in Scotland. Which is your favourite?
1. Dundas Castle – Edinburgh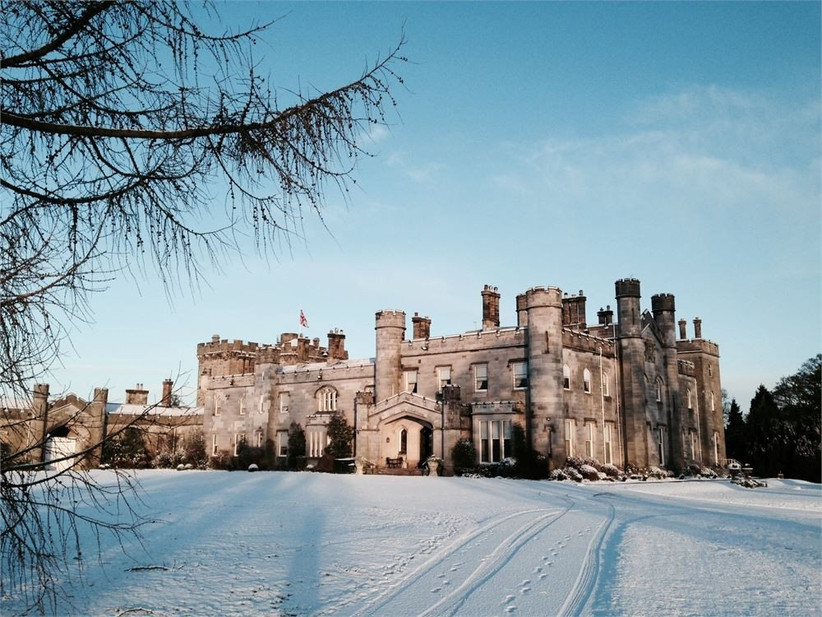 We're utterly obsessed with Dundas Castle, a romantic and elegant medieval property located close to Edinburgh.
Whether you're after a religious, civil or humanist wedding ceremony, there are a range of spaces to consider. We love The Great Hall, the property's most popular room for wedding ceremonies. You approach it via a spiral staircase and will be wowed by its vaulted ceiling and ancient stonework.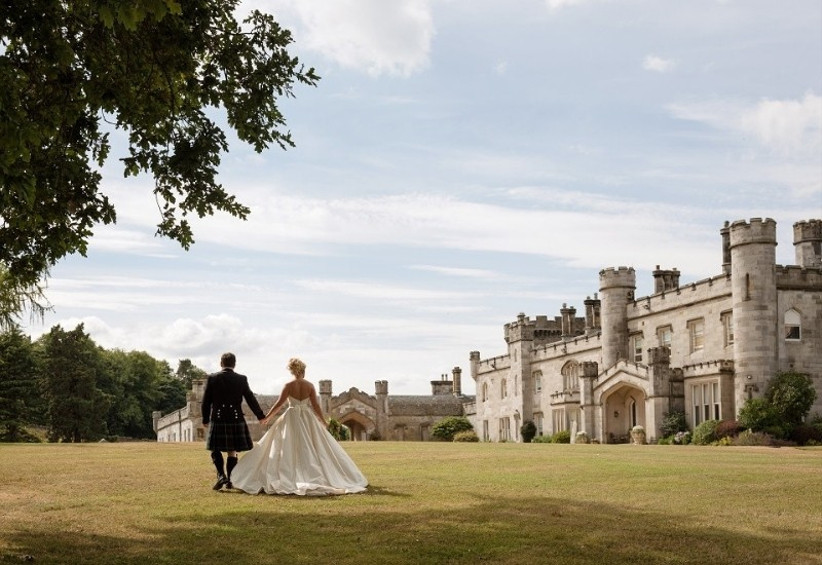 Once your wedding ceremony is over, you can celebrate your marriage in a number of different ways. You could choose an intimate candlelit feast for close friends and family or a more formal wedding breakfast in the elegant Croquet Room. Or how about cocktails and dancing with up to 200 guests in the Pavilion?
End your wedding day with a grand finale of fireworks and a marching Scottish pipe band in the castle grounds before retiring to one of 17 bedrooms.
READ MORE: The Best Banqueting Halls for Hire in the UK
2. Drumtochty Castle – Aberdeenshire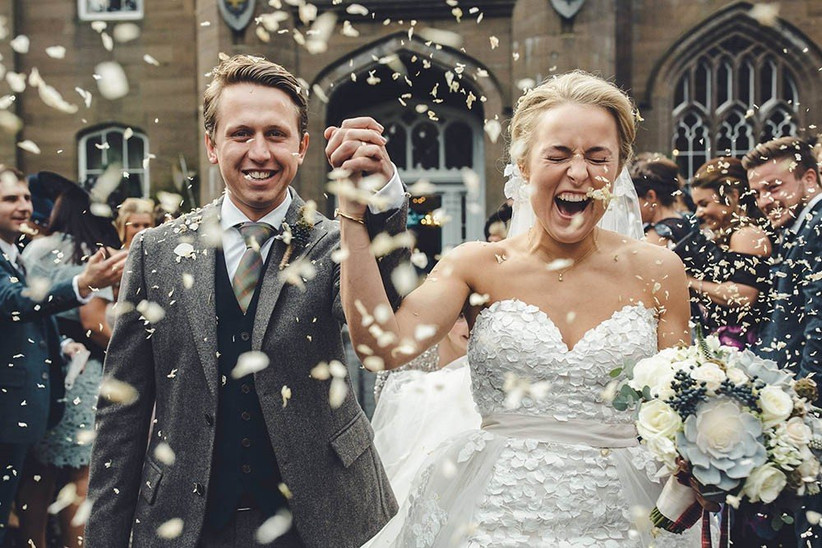 Welcome to Drumtochty Castle in Aberdeenshire, a 19th century property hidden away in a wild woodland glen.
From the moment you arrive at Drumtochty you'll be transported to an era of opulence and romance. From balmy summer outdoor ceremonies to drinks in front of the open fire, this castle wedding venue is perfect in every season.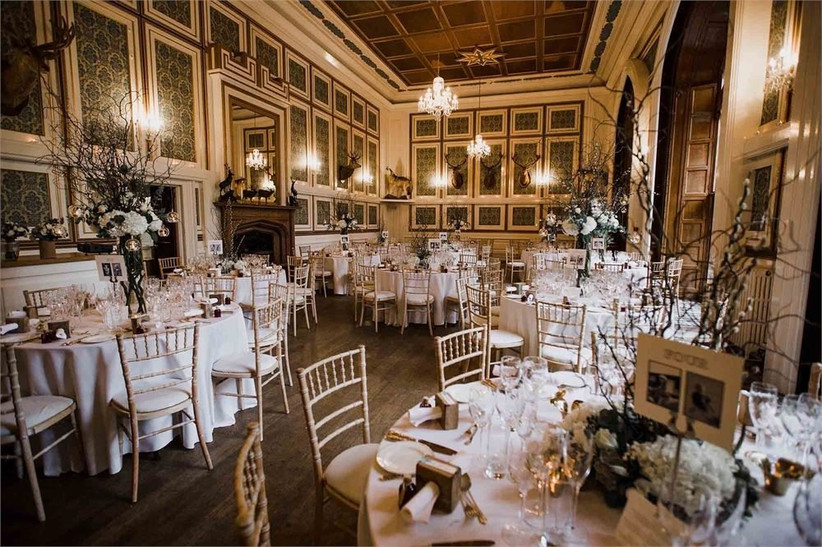 There's a church just a short carriage ride away from the castle gates if you're dreaming of a religious ceremony, but if not, your vows can be held in one of the reception rooms, in the grounds or by the loch. Afterwards, enjoy a Champagne reception and a banquet feast accompanied by exceptional service
There's also accommodation on offer at Drumtochty Castle, allowing you to extend your celebrations to an entire weekend.
3. Cluny Castle – Sauchen Inverurie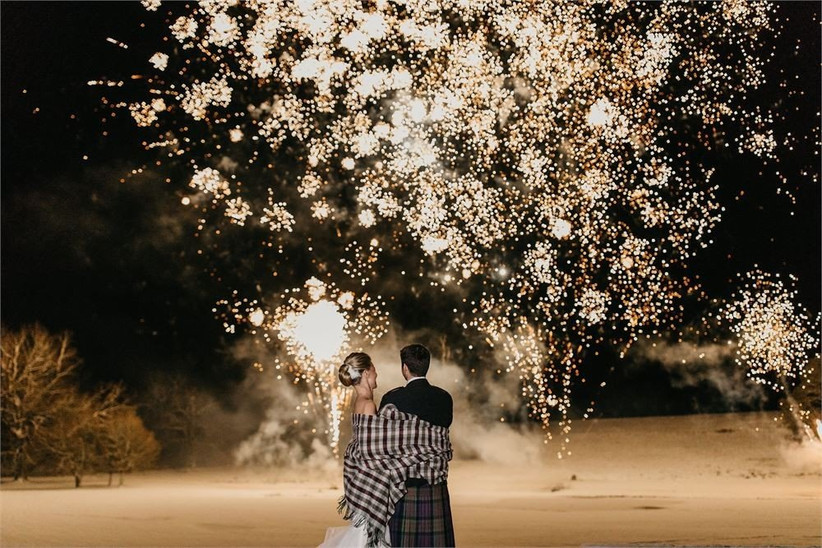 Secluded, majestic and enchanting, Cluny Castle dates back to the 14th century and would be the perfect spot for your Scottish wedding.
It boasts perfectly manicured grounds, its very own chapel (complete with stained glass windows, no less) and plenty of space for a reception marquee.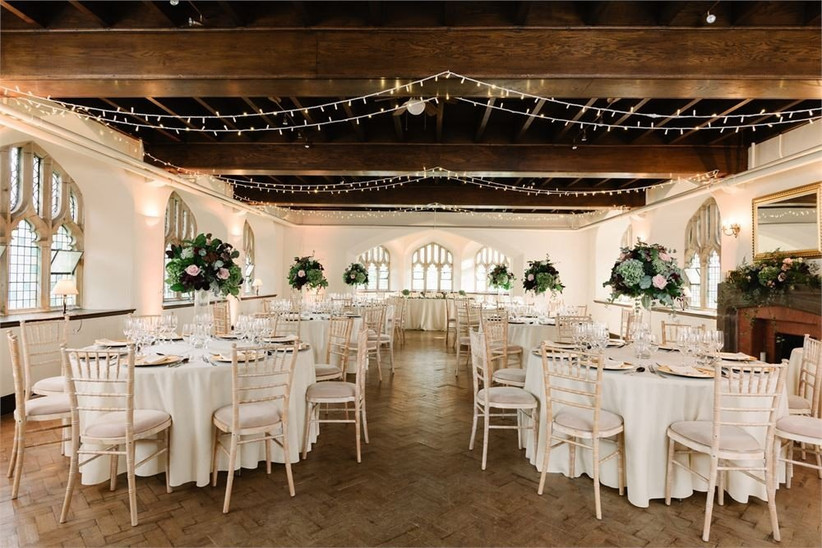 We love the idea of hosting drinks on the sweeping lawn against a backdrop of the stunning castle. It'd look especially gorgeous at sunset!
The service at Cluny Castle is second-to-none, and you'll benefit from a dedicated wedding planner who will guide you through every aspect of your planning. Your special day is bound to be absolutely perfect in every way.
READ MORE: Our Favourite Outdoor Wedding Venues to Say 'I Do'
4. Borthwick Castle – Gorebridge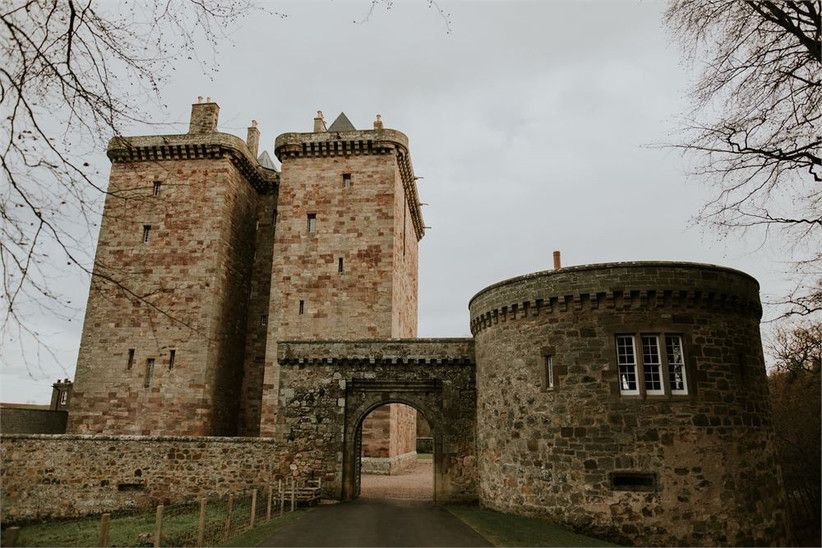 Any wedding at Borthwick Castle is guaranteed to be elegant and romantic. This castle wedding venue is steeped in 600 years of Scottish history which is just waiting to be explored.
When you get married here, you'll have exclusive use of the entire venue – from the majestic principal rooms to the elegant bedrooms and spiralling staircases.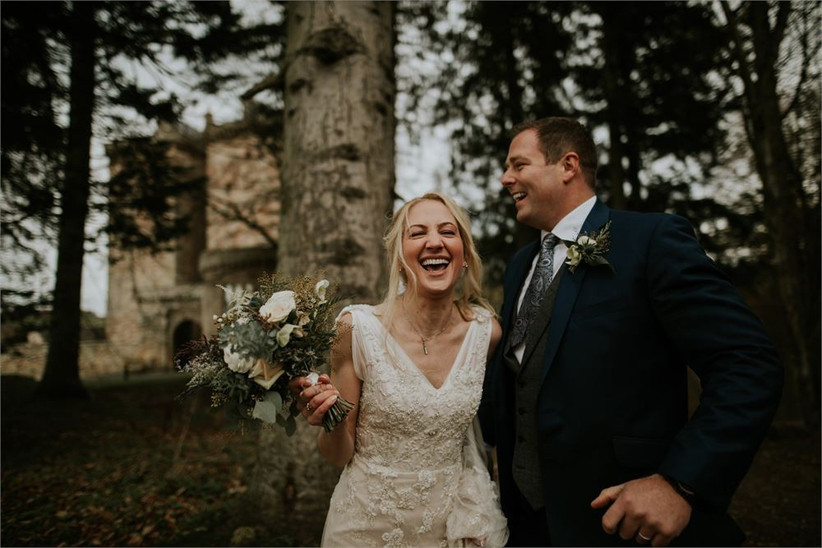 The surrounding castle grounds set an ideal scene for summer drinks, barbecues and garden games as well as providing numerous photo opportunities. Whether you want to erect a marquee in the grounds or host something more traditional inside the castle itself, the team will be able to accommodate.
The private Gatehouse is the perfect retreat for you and your new husband or wife to relax at the end of your unforgettable day.
5. Lews Castle – Stornoway
Combine dreams of a castle wedding with wishes of getting married near the coast by choosing to say 'I do' at Lews Castle in Stornoway.
Overlooking Stornoway harbour on the Isle of Lewis, this impressive property dates back to the mid-1800s and is just a stone's throw from many beautiful beaches.
There are 23 bedrooms available for wedding guests plus a ballroom, a library and far-reaching, luscious grounds.
The team will help you to create a stunning celebration that is totally tailored to you. They offer a range of catering options to suit all budgets and tastes as well as dedicated wedding planners.
6. Carrick Castle Estate – Argyll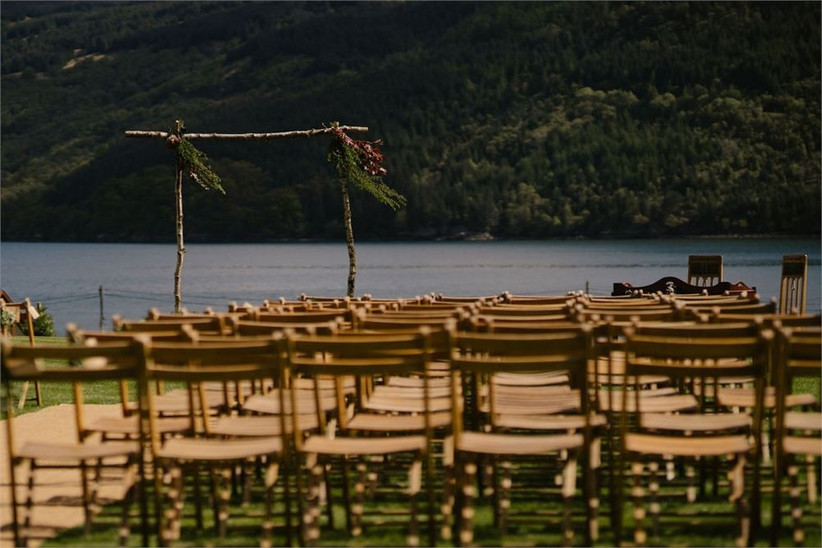 Okay, this isn't technically a castle wedding venue, but it does sit within castle grounds, so it kind of counts – right?
Set on the west shore of Loch Goil and in the grounds of Carrick Castle is a beautiful lodge and barn complex, available for exclusive use on your wedding day.
READ MORE: 45 Rustic Wedding Ideas to Bring Your Big Day to Life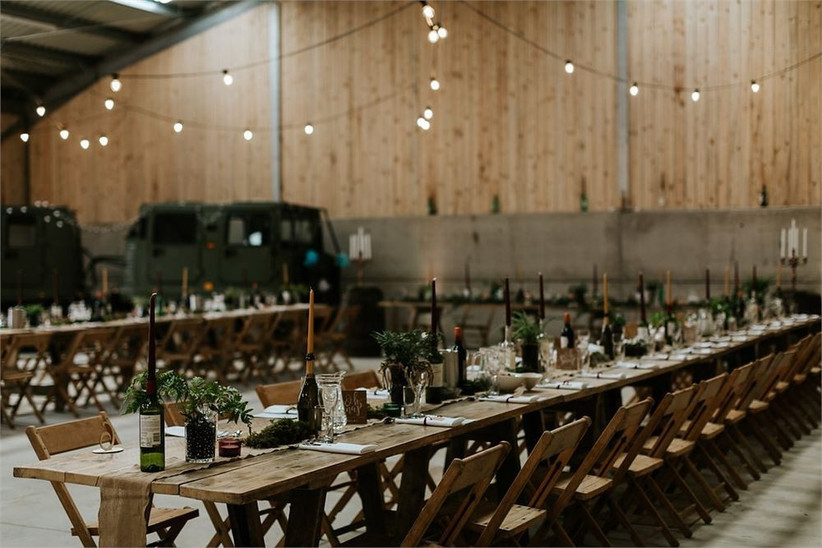 Carrick Castle Estate is licensed to host your ceremony in a variety of indoor and outdoor locations – we love the idea of saying your vows loch-side. With the sweeping terrain, bountiful wildlife and Scottish mountains, your photographer will be spoilt for choice when it comes to photo opportunities.
The luxury lodge has spa facilities and a large viewing balcony while the rustic barn has seating for up to 120 for your wedding breakfast. You can host reception drinks outside, spill out to the courtyard when the dance floor gets a little hot and even stay in beautiful on-site accommodation. What's not to love?
READ MORE: 87 Wedding Photo Ideas You Definitely Need to Capture
7. Thirlestane Castle – Berwickshire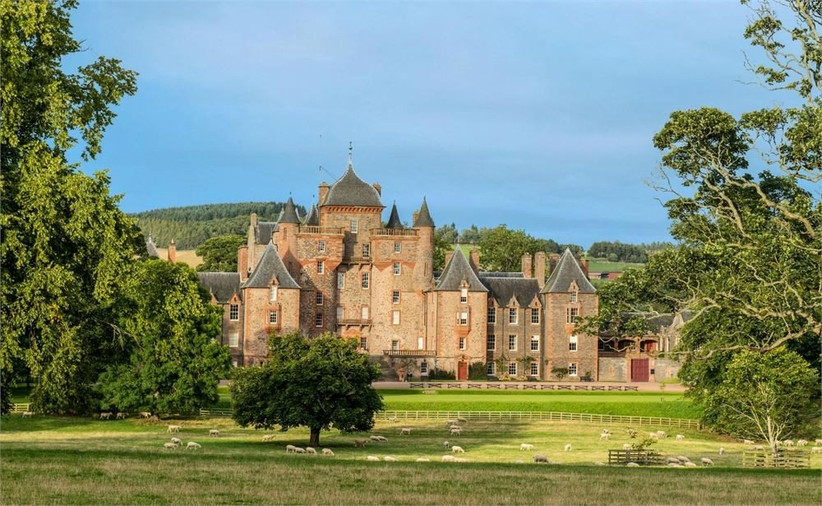 Surrounded by the parkland of the tranquil Scottish borders, Thirlestane Castle is a fairy tale setting for weddings. It has majestic turrets aplenty and is one of the oldest inhabited castles in Scotland.
There are a range of romantic state rooms for your ceremony, but our favourite has got to be the State Dining Room. It's decorated in rich colours and boasts portrait-lined walls.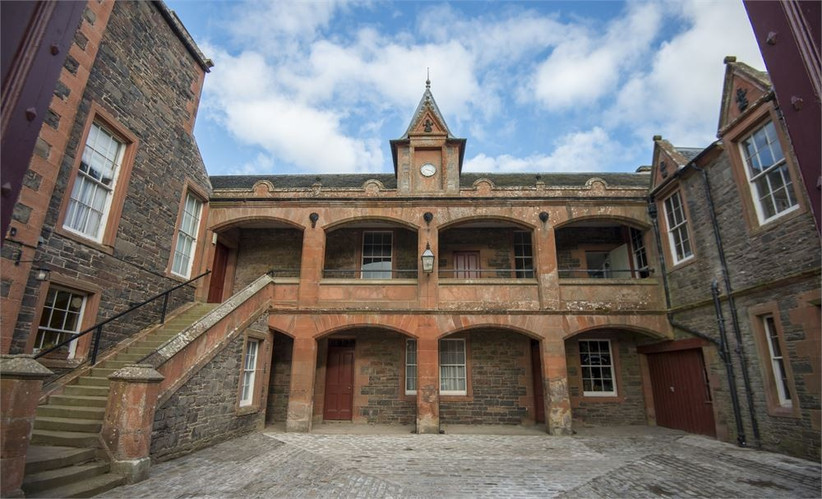 For smaller weddings, the Panelled Room in the oldest part of the castle would be lovely. It gives you a private space to exchange vows in front of just a few close friends and family.
If you're after something a little different, celebrate your marriage in the beautiful cobbled courtyard or the atmospheric Vaulted Cellar. Or how about taking to the garden for a marquee reception under the stars? The possibilities are endless!
8. Neidpath Castle – Peebles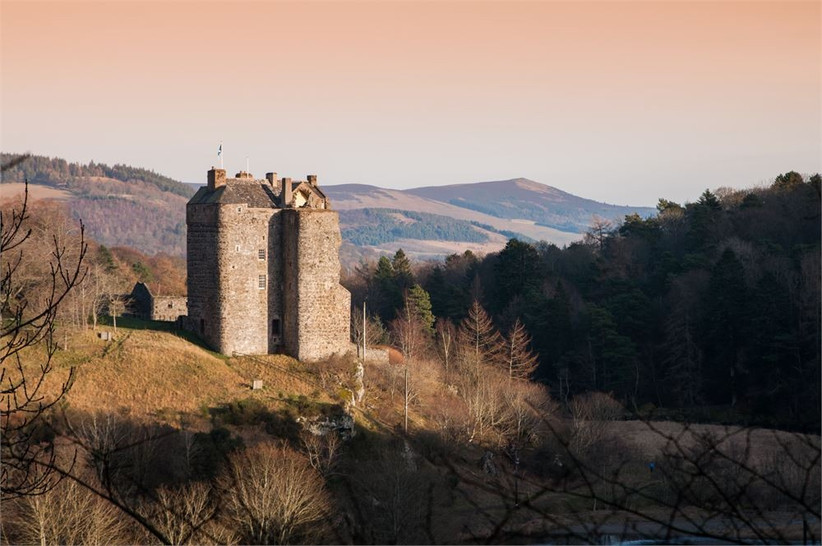 If you're after a castle wedding venue which is exceptionally secluded and private, then choose Neidpath Castle. Located in Peebles, it can only be accessed by the public via appointment.
In the past, it has welcomed Mary Queen of Scots and Sir Walter Scot. Wordsworth wrote a poem about it, and it's been used as a film set and hosted numerous medieval fairs. If you get married here, you'll be in good company.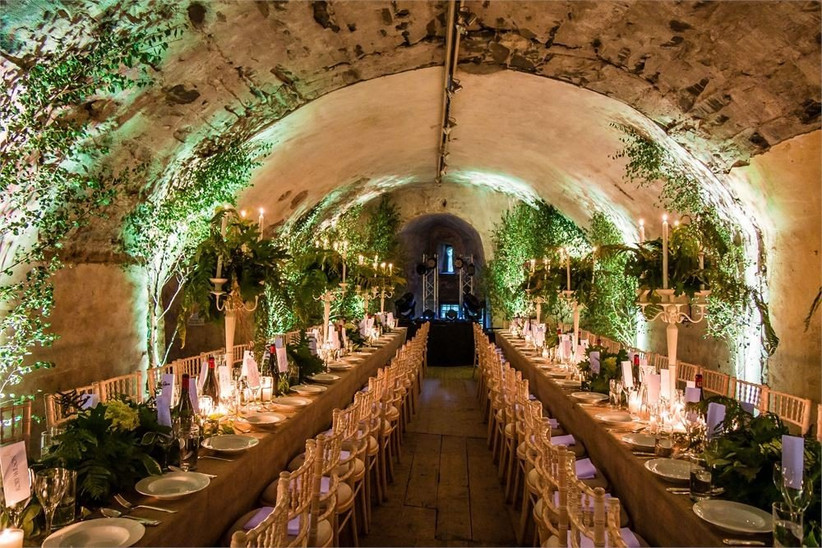 From Neidpath you can expect rough stone walls, roaring log fires, sumptuous tapestries and candles aplenty. There are a range of function rooms as well as beautiful grounds and space for 250 guests.
Once your big day draws to a close, there's a range of overnight accommodation options for the wedding couple and their guests. What better excuse to extend your stay?
9. Fingask Castle – Perthshire
Nestled in a beautiful wooden valley, this historic Scottish estate is a wonderful place to hold your special day.
Fingask Castle is conveniently located just an hour from both Edinburgh and Glasgow, making it easily accessible for your guests travelling from afar.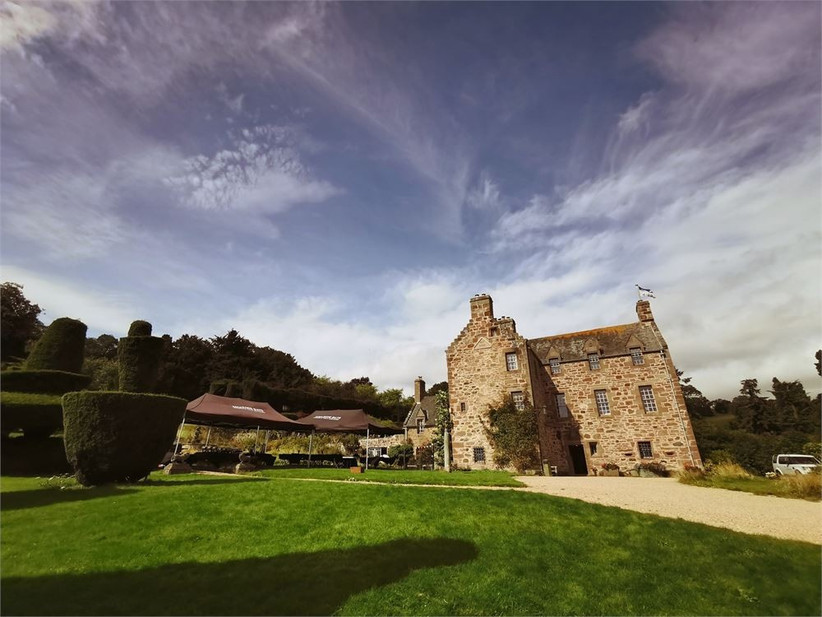 There's fully-equipped, self-catered accommodation for up to 70 people (yes, really!) in charming cottages as well as a games room, tennis court and heated pool. You won't have any reason to leave!
For the wedding itself, there is space for large or small ceremonies both religious and non-religious. There's also beautiful grounds for your wedding photographs, and the chance to get married outside.
READ MORE: The Ultimate Guide to Wedding Themes
10. Dalhousie Castle – Edinburgh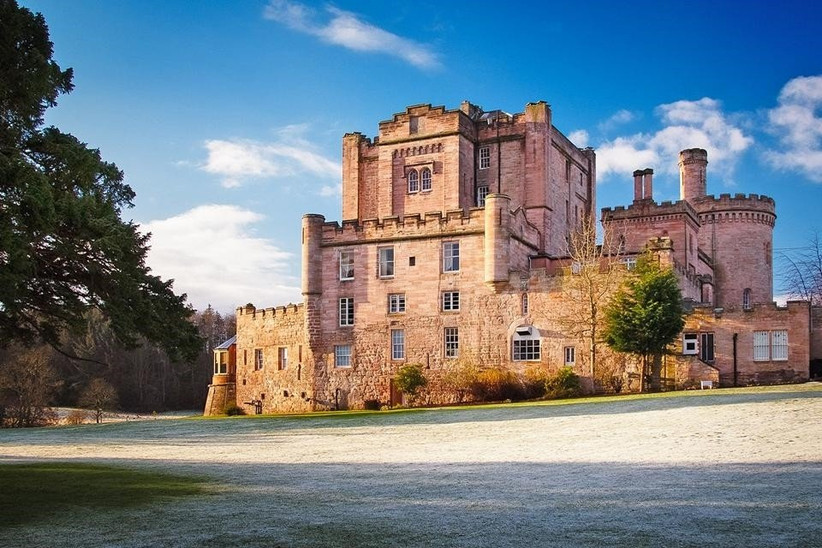 Set on the outskirts of Edinburgh is Dalhousie Castle, an enchanting 13th century castle surrounded by beautiful forest and parkland.
It has recently undergone an extensive restoration which has transformed the interior of this property into something truly special. The bedrooms are individually (and beautifully) styled, the restaurants are award-winning, and the Aqueous Spa is the perfect place to unwind before or after your wedding.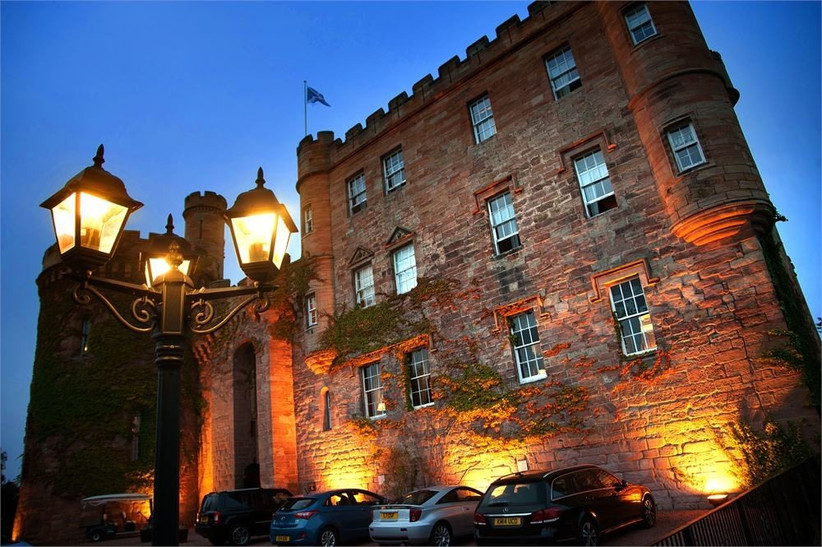 When you get married at Dalhousie, you can hire the venue out exclusively. Say your vows in a variety of different locations before enjoying reception drinks on the lawn.
As you have your photographs taken, your guests will be able to wander to the South Esk River or enjoy one of many garden walks. And if that wasn't enough, there's an award-winning catering team on-site who will be on hand to provide delicious food for the entirety of your celebrations.
11. Machermore Castle – Galloway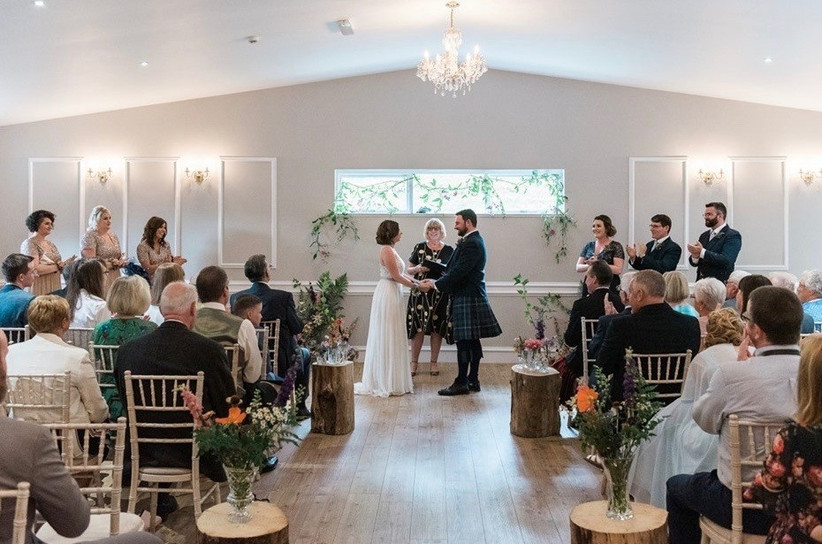 Rich with history and steeped in Scottish tradition, Machermore Castle offers a breathtaking setting for your wedding day. Set amidst some of the world's most beautiful landscapes, the private estate enjoys an unrivalled location on the banks of the River Cree.
The castle is licensed to hold both civil and Humanist wedding ceremonies, so you can spend your entire day at the property.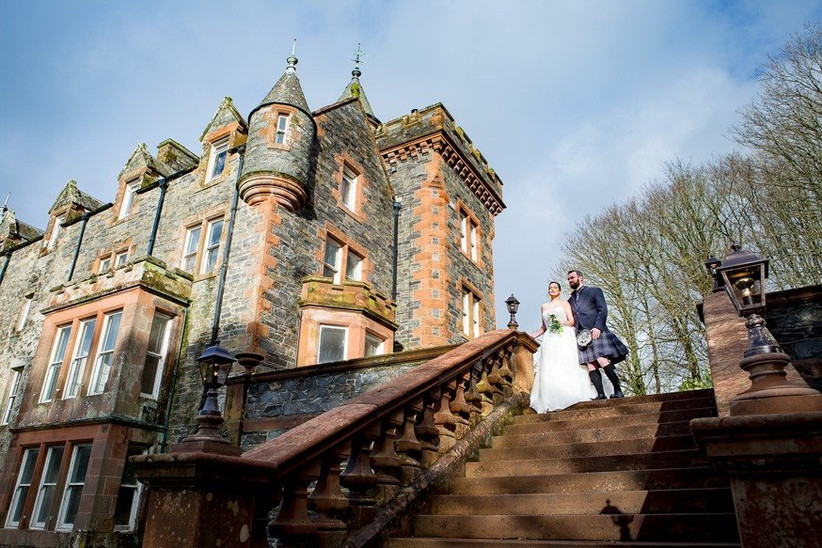 It can accommodate up to 100 guests in the large ballroom or 300 in a lawn marquee. There's also accommodation for up to 14 guests in the castle, and a further 26 guests can spend the night in the estate's private lodges.
From the offering of a dedicated wedding planner to the spectacular catering and attentive staff, there's so much to love about Machermore Castle.
READ MORE: 13 of the Dreamiest French Chateau Wedding Venues
12. Floors Castle and Garden Weddings – Kelso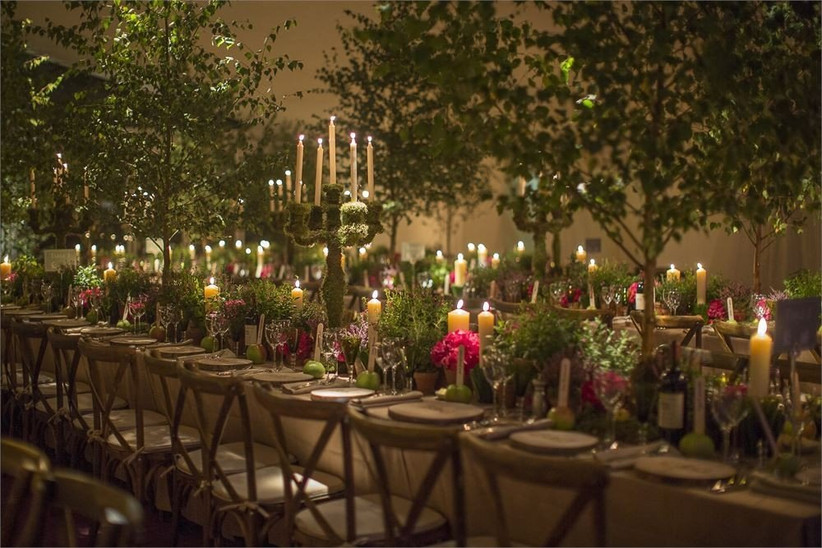 Located in the grounds of Floor's Castle is the Millennium Garden, a romantic and enchanting venue for couples looking to realise their dream wedding.
Whether you're having thoughts of a garden party wedding or something more traditional, this stunning castle wedding venue would be perfect – particularly in the summer!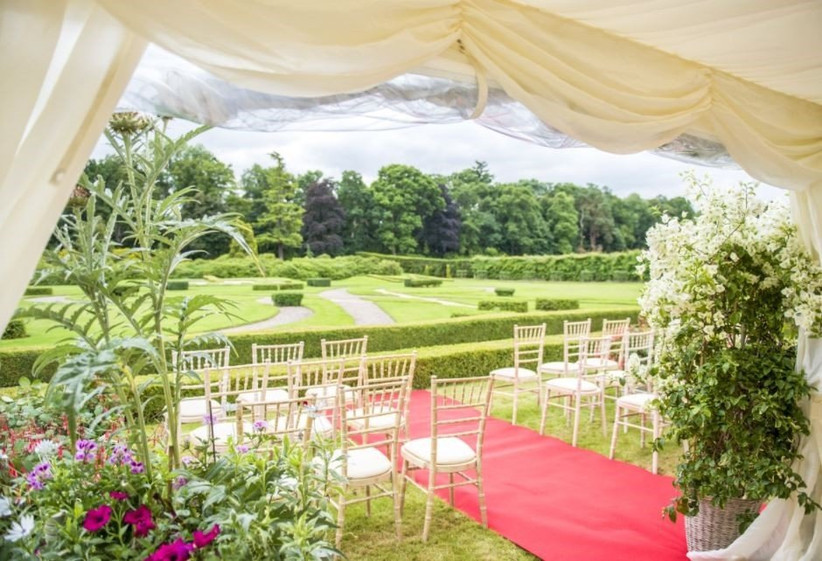 After your intimate wedding ceremony in the charming Queen's House (which is included in your hire of the garden), you can host reception drinks outside before taking to a marquee with up to 250 guests. Alternatively, you can host an outdoor wedding ceremony in the gardens.
Beautiful photo opportunities in the castle and gardens are plentiful, and when the fun is all over, retire to the Head Gardener's Cottage for your first night as a married couple. It's totally luxurious!
13. Melville Castle – Edinburgh
Here at Hitched, we're huge fans of Melville Castle. It's located close to Edinburgh making it easily accessible for your guests travelling from afar, and it has such a romantic feel.
The property is licensed to hold civil ceremonies and partnerships with up to 90 guests. Ceremonies can take place in either the delightful garden or spectacular ballroom, depending on the season and your preferences.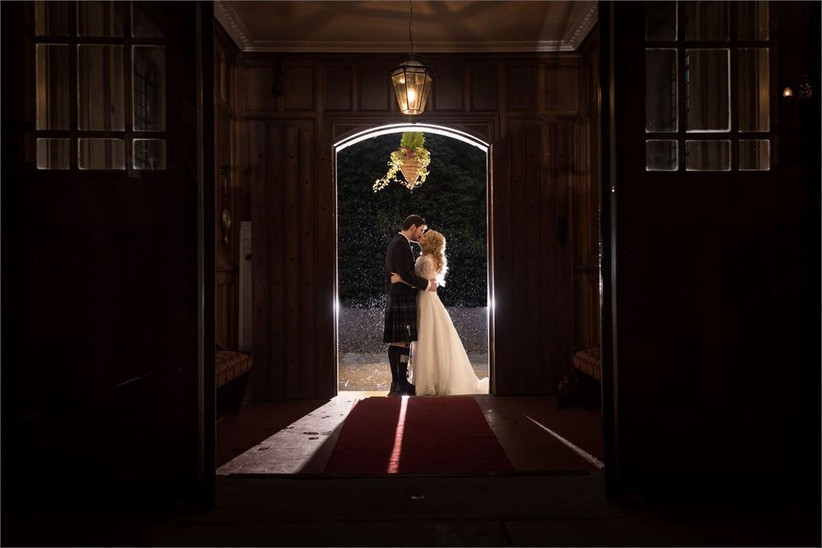 After your ceremony, you can host reception drinks on the lawn before tucking into your wedding breakfast. Oh, and your entire day will be set to background music thanks to a state-of-the-art sound system in every room of the castle
When your day comes to an end, their beautiful bridal suite offers the perfect place to spend your first night of married life. Your guests can also find accommodation in one of 32 bedrooms, and the following morning, you can all meet again for a delicious Scottish breakfast.
READ MORE: 35 Magical Winter Wedding Venues
If a castle wedding venue isn't quite your cup of tea but you can't cut down your guest list, take a look at our roundup of 21 of the best wedding venues with large capacity.