Succulent Bouquets: Your Need-to-Know Guide
If you're thinking of choosing a stunning and unique succulent bouquet, read on for everything you need to know about this unusual flower
We have included third party products to help you navigate and enjoy life's biggest moments. Purchases made through links on this page may earn us a commission.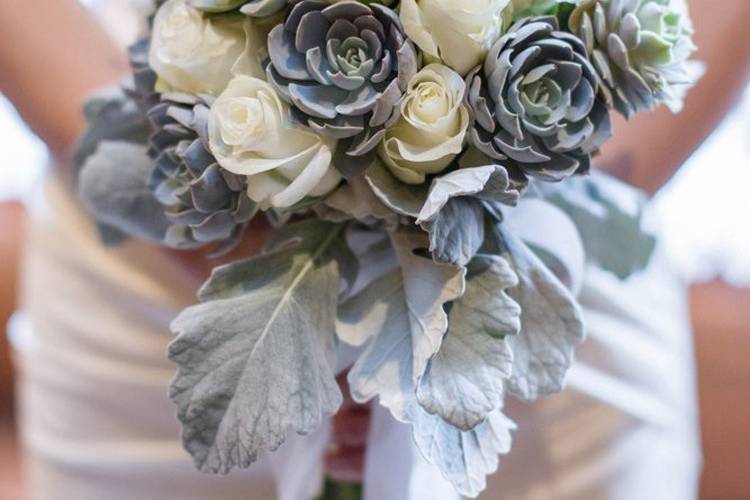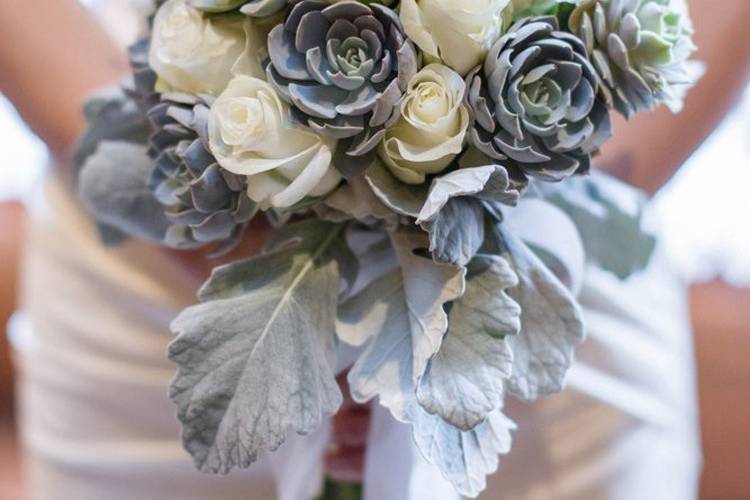 Succulents have proved very popular for bridal bouquets in recent years and it's easy to see why – their unique shape, their year round availability and their longevity to name just a few reasons. If you're thinking of choosing this unique bloom for your bouquet then you've come to the right place. From expert advice to stunning bridal bouquet ideas, we've compiled a helpful guide for choosing succulent bouquets.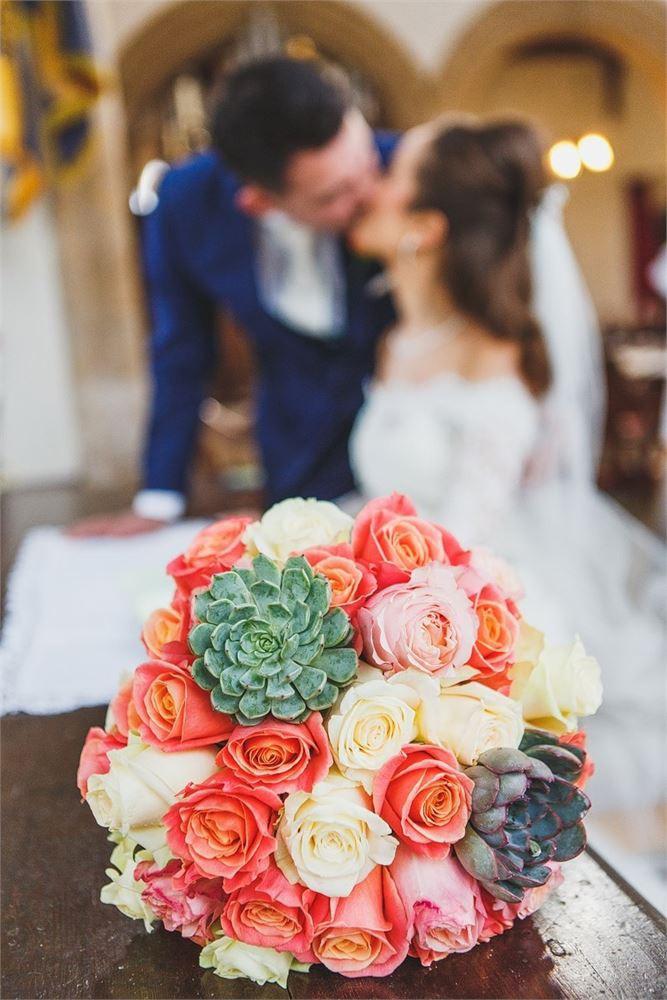 Image credit: House of Blooms
What Does a Succulent Look Like?
Succulents are pretty easy to recognise because of their unusual and eye catching shape, hence why they're so ideal for bridal bouquets. They're already very popular in America, but now succulents are popping up more and more at UK weddings.
We spoke to top florist Liz Inigo Jones from Blue Sky Flowers who explains more: "Succulents are grey-green coloured plants that have a 'fleshy' look due to their nature of retaining water. Succulents have tightly packed leaves and basically no stems."
They can be large or small in appearance and could be used in many different ways for your wedding, such as for centrepieces or unusual wedding favours as well as bridal bouquets.  
Larger succulents make the perfect focal points if you pop them into a statement bouquet with a variety of other flowers, whereas packing lots of smaller succulents into your bouquet creates a really unique and textured look that is very 'outdoorsy'.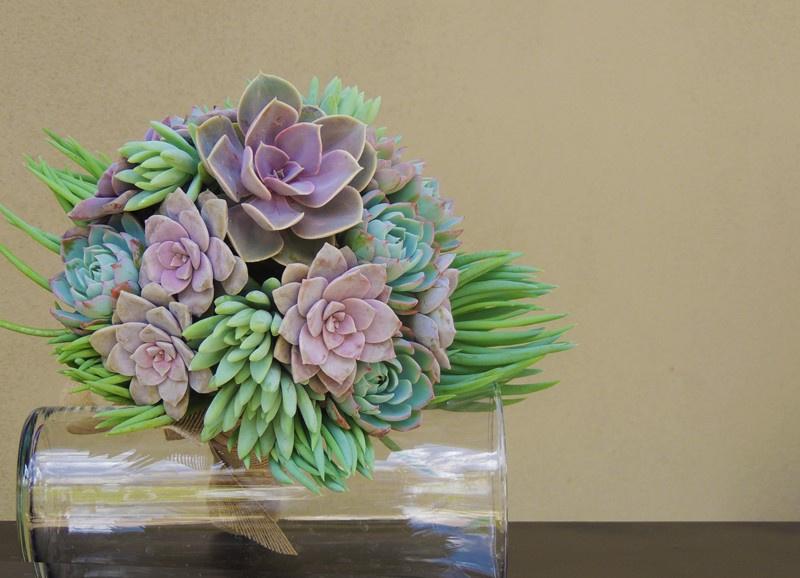 Image credit: Urban-Succulents
Why Choose a Succulent Wedding Bouquet?
"They are like no other kind of flower and can add so much to a bouquet," explains Liz. "The unusual look of them makes your bouquet look interesting, textural and unique."
If you're looking for bridal bouquets that are longer lasting, then a succulent bouquet is a great choice as it will last well past your wedding date. This hardy flower can last for ages without water, hence why many people choose them as low maintenance house plants. 
Unlike a lot of the flowers you typically find in bridal bouquets, succulents can even be used again as Liz points out: "One of the many pros of a succulent is that they can be disassembled and planted again to keep as a memento of your wedding bouquet."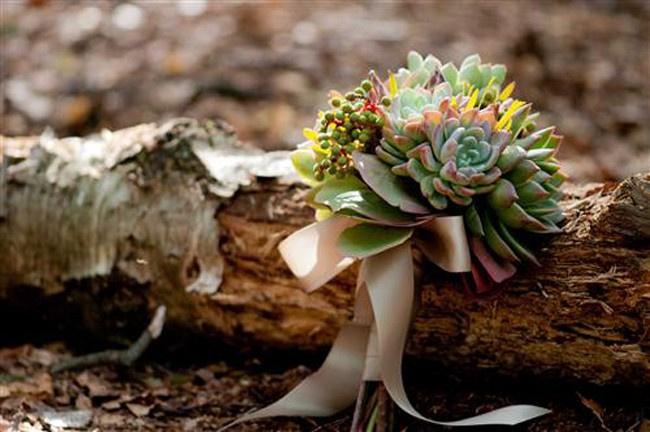 Image credits: Blue Sky Flowers; Fiona Kelly Photography
We also spoke to Marialuisa Kaprielian, a California-based florist from Urban Succulents who specialises in this particular bloom, to get her opinion on why succulents are perfect for wedding bouquets: "Succulents are perfect for bouquets because not only are they beautiful and available in an array of pretty colours, their longevity also means that many of them can stand in a vase unattended for weeks without water."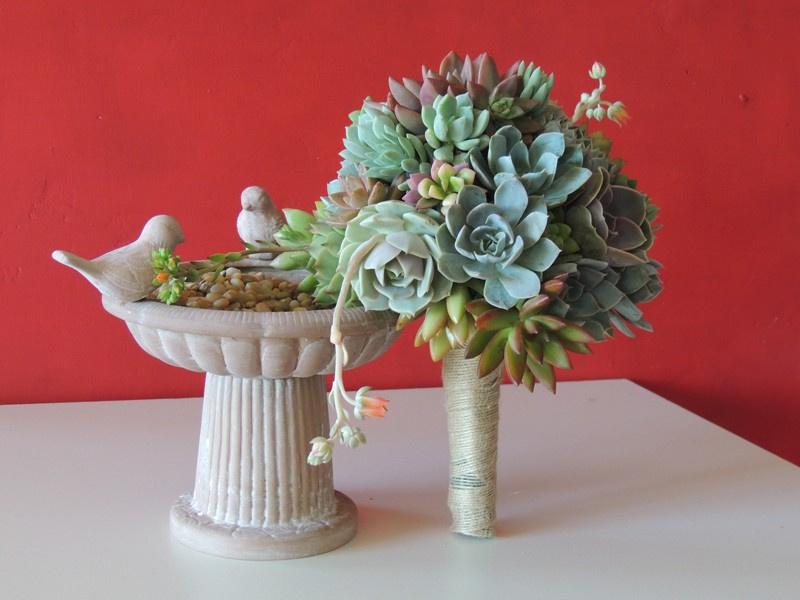 Image credit: Urban Succulents
When are They Available?
Succulents are available to buy all year round, making them an incredibly versatile choice for your wedding bouquet. To tailor your succulent bouquet to the month that you're getting married in, mix the succulents with seasonal wedding flowers – such as sunflowers for summer or roses and berries for winter.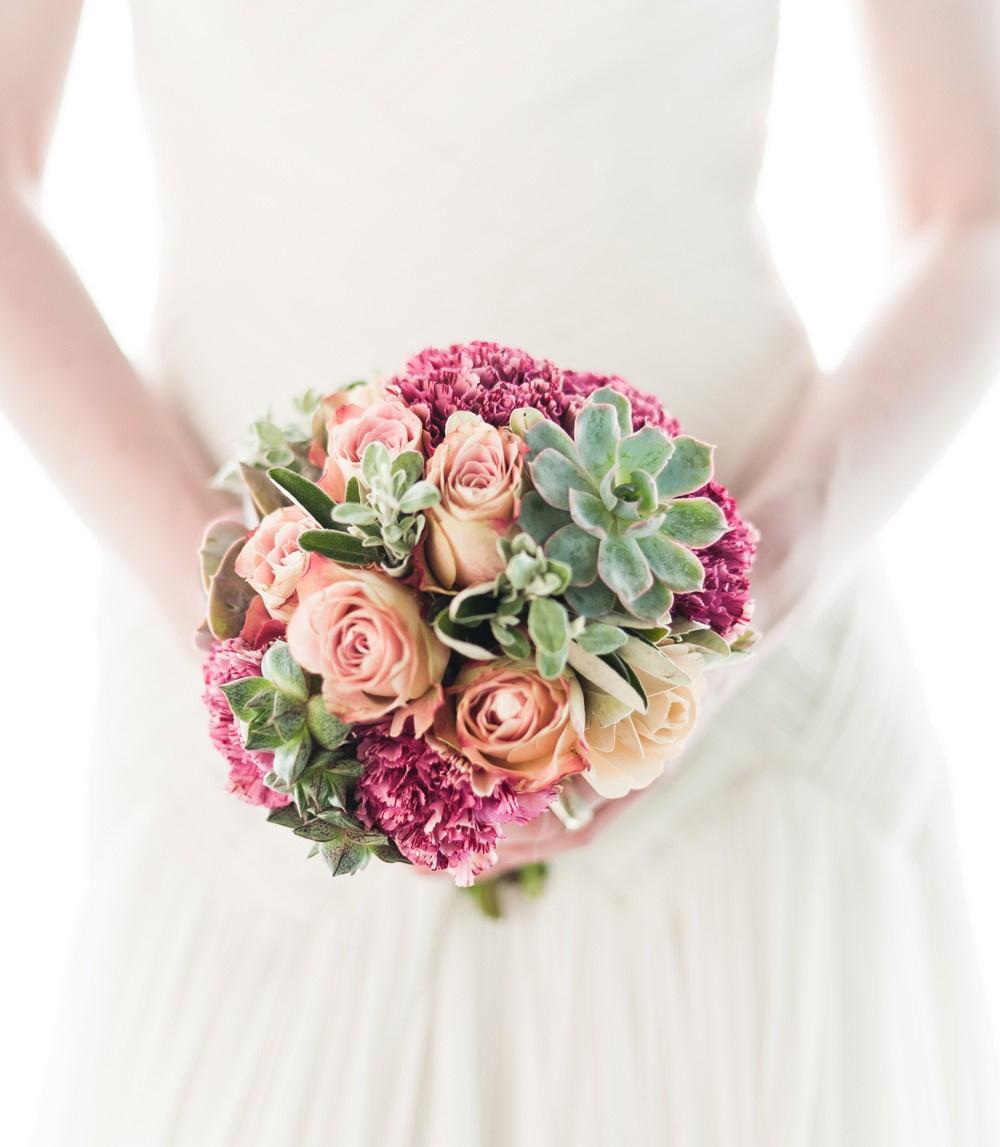 Image credit: Blue Sky Flowers; Anushe Low Photography
Which Flowers Work Well with Succulents?
Although they are an unusual looking flower, succulents still pair quite well with many different types of blooms.
"Most flowers work well with them," explains Liz. "My favourite pairings are roses, anemones, sunflowers and a variety of foliage."
If you're not too fussed about keeping your bouquet for as long as possible after the wedding, then you have a much wider range of options when it comes to mixing your succulents with other flowers.
However, if you want flowers that have a longer life span like the succulents, then it's a good idea to ask your wedding florist what they'd recommend. 
"I like to pair succulents with longer lasting flowers like chrysanthemum, pink dianthus and purple limonium or lavender," says Marialuisa. "Kalonchoe, calandivas and blossfeldianas are also a fantastic way to add colour to succulent bouquets."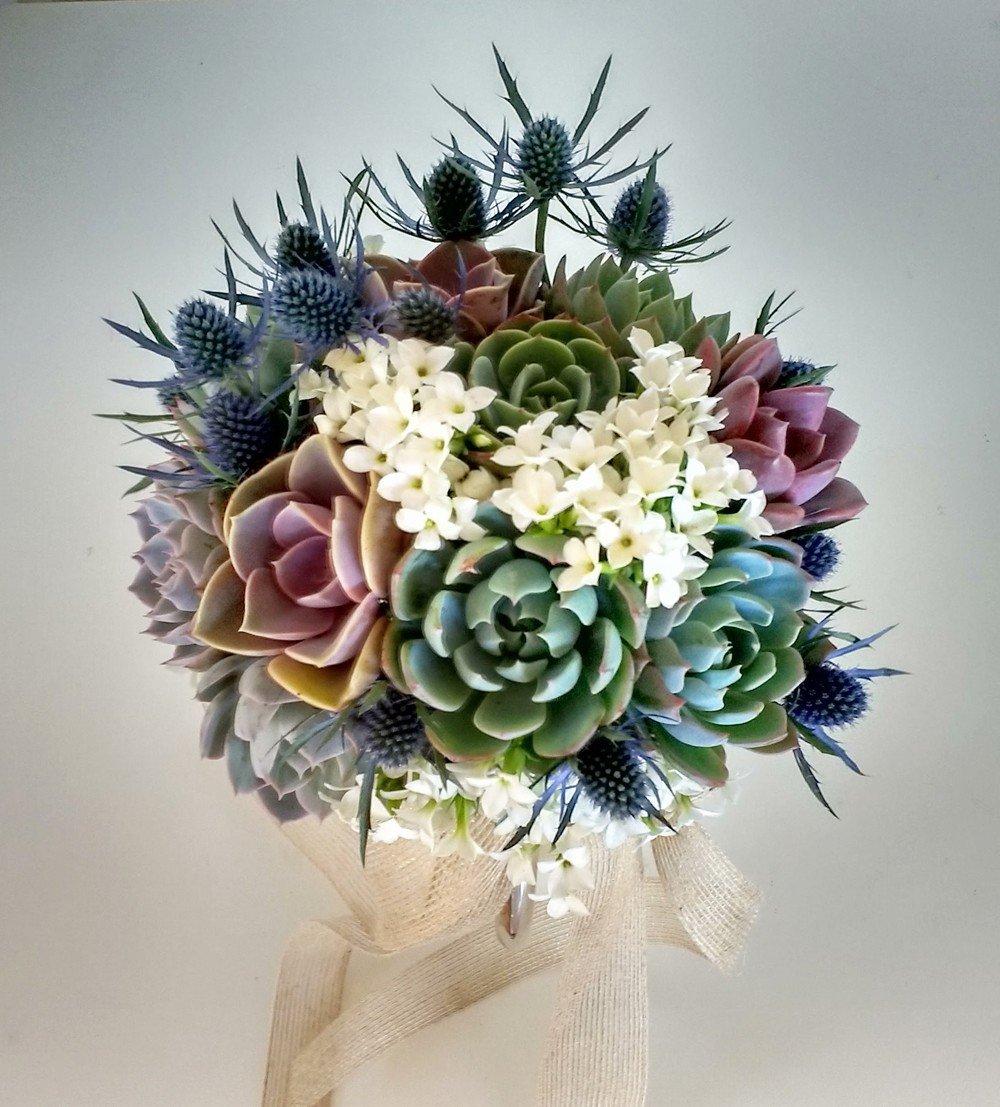 Image credit: Urban-Succulents
What Kind of Weddings Do They Suit?
As mentioned before, succulents are a versatile flower choice for wedding bouquets all year round.
The structured shape and earthy toned colour of a succulent means that they'd be ideal for celebrations at a rustic wedding venue – especially when paired with bits of foliage or flowers with a similar hue.
For spring and summer weddings, a posy of succulents could be given a lighter feel with pink or purple flowers mixed in for a pop of colour. The 'fluffy' appearance of gypsophila, also known as baby's breath, would also be perfect for softening the look of a succulent bouquet in the warmer months.
As for a wedding nearer the festive season, Liz recommends adding a luxe touch to your succulents: "For a winter wedding, succulents are perfect for spraying with a little gold or glitter to add interest to your bouquet."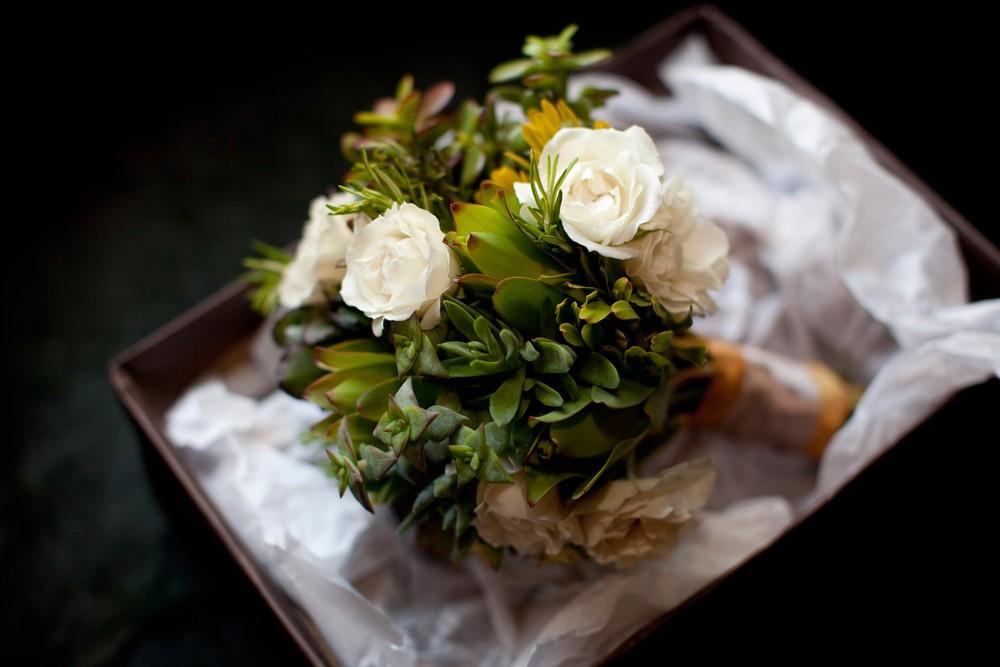 Image credit: Blue Sky Flowers
Succulent Bouquet Inspiration
This stunning succulent bouquet by Interflora would look amazing at a wedding in the autumn or winter months – we're obsessed with the mix of textures and shapes here. For weddings with a rustic or outdoorsy vibe, think texture when it comes to your succulent bouquet – lavender, sprigs of wheat, berries and other bits of foliage are ideal for this look. Filling your day with winter wedding flowers? Choose richly coloured berries to break up the succulents in your bouquet.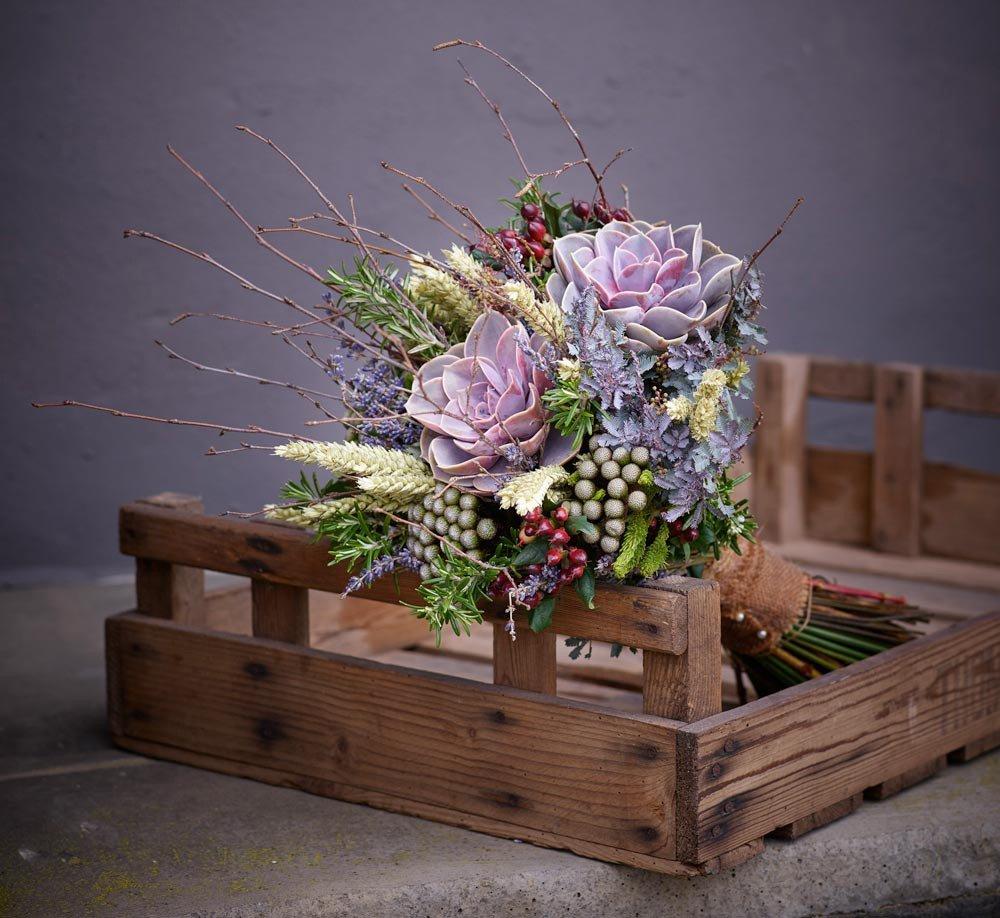 Give your succulent bouquet a whimsical twist by adding layers of multi-coloured ribbon to the handle. This gorgeous posy, photographed by Jennifer Sinclair Photography, has a wonderful mix of textures and colours that would look beautiful at any wedding. Even if your bouquet has pops of colour like this one, a larger succulent would still remain the focal point because of its size and unique look.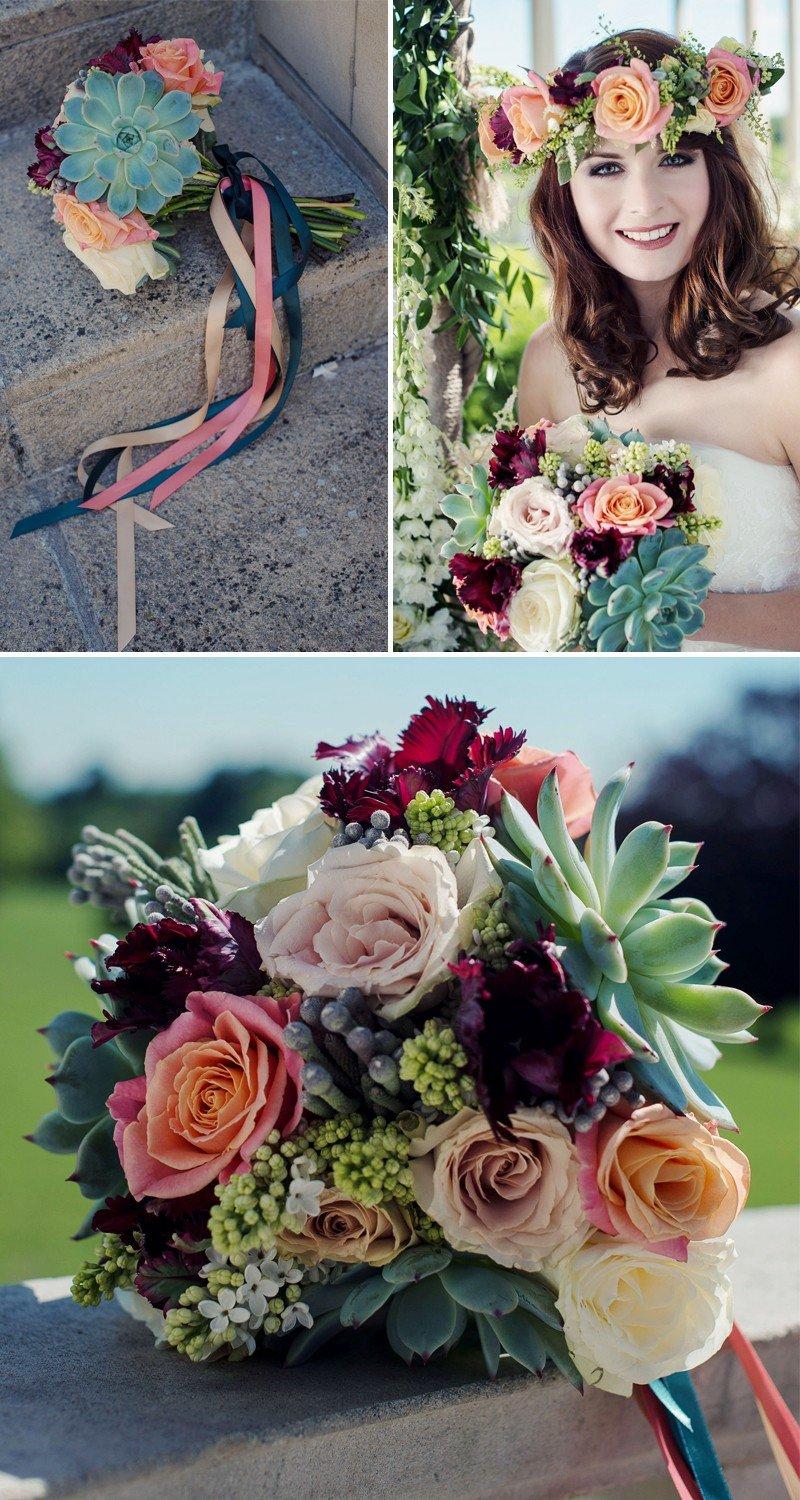 Image credits: Bouquet by Judith Searles Florist; headpiece by Ayana Designs; Gemma Needham Hair and Makeup
If you're looking for a dramatic wedding bouquet style, consider an eye catching presentation or fine art bouquet with a statement succulent. This beautiful arrangement by The Vintage Floral Design Company has a wonderful mix of flowers and textures, but it's the large succulent perched on top that brings the whole bouquet together.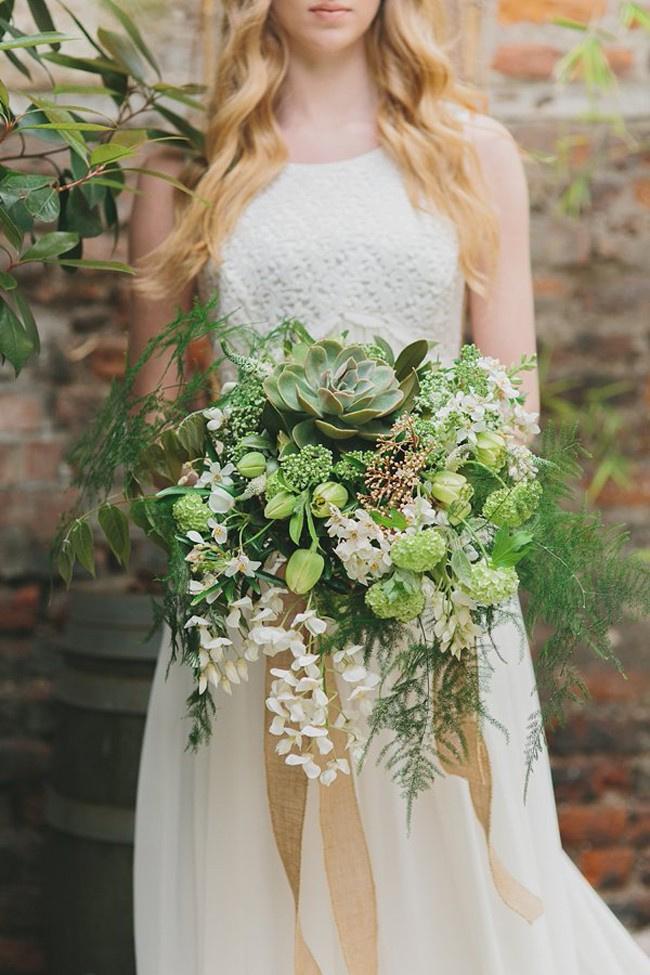 Image credit: Shell de Mar Photography
We adore this pretty purple, blue and green bouquet, also by The Vintage Floral Design Company. If you love bridal bouquets that have a vintage look, ask your florist to pair the succulents with pastel coloured flowers such as hydrangea, peonies, or ranunculi.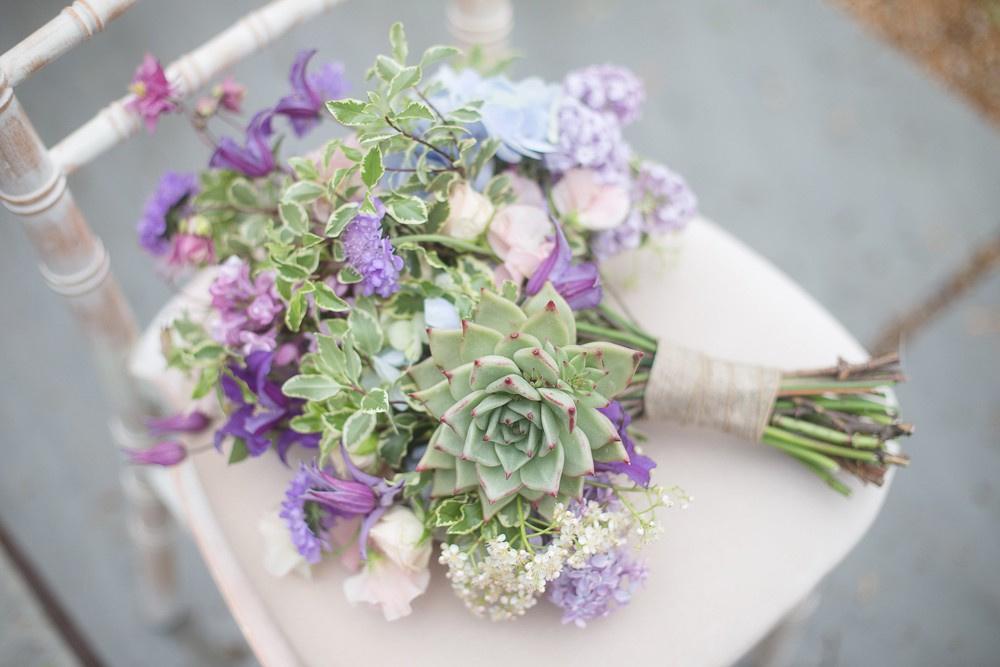 Image credit: Ilaria Petrucci Photography
This icy toned succulent bouquet would fit in perfectly if you're tying the knot at a winter wedding venue. Arranged by Urban Succulents, it features a fuss-free yet stunning combination of succulents and roses – proving that mint green and white are a match made in heaven for a wintery colour palette.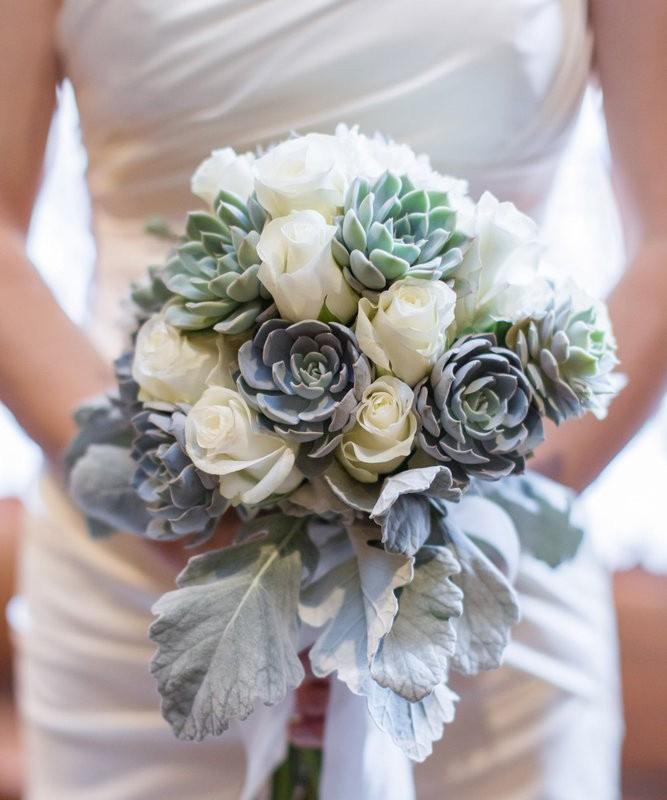 Image credit: Urban-Succulents
Now that you're an expert on succulent bouquets, brush up on your flower knowledge even further with the Hitched guide to flower names.