Saying your vows in a church is a traditional part of planning a wedding, and our recent wedding survey revealed that a quarter of couples plan on getting married in a religious ceremony. We've put together the ultimate beginner's guide to church wedding ceremonies, so you know exactly what you need to do.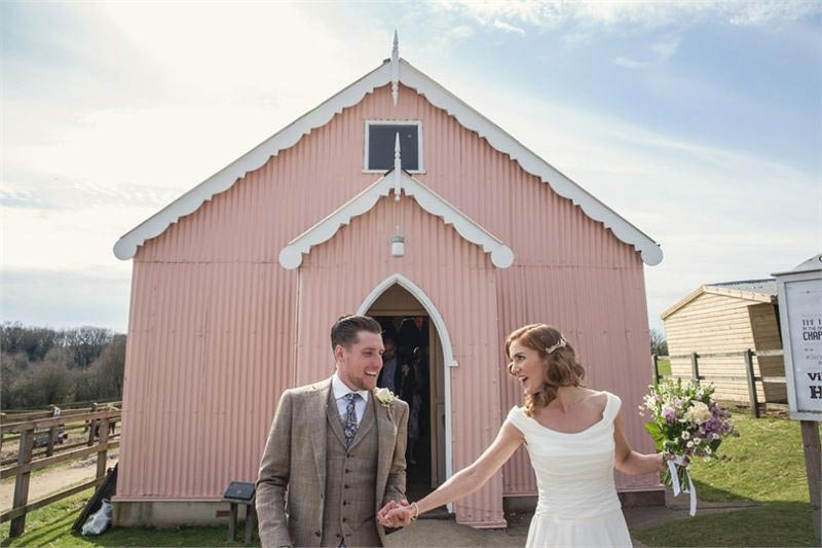 Image credit: Kent Life
What are the legal requirements for a church wedding?
You can marry in a church wedding ceremony from the age of 18 onwards in a church wedding ceremony in England, Wales and Northern Ireland. If you're aged 16 or 17, you will need your parents' approval in England and Wales, but not in Scotland where it's legal without consent providing there are two witnesses.
Church wedding ceremonies must take place between 8am and 6pm and be witnessed by at least two people. You've probably heard about 'having your banns read' in connection to a church wedding – this is required before the marriage takes place as it signifies your intention to marry. Your banns will be read out in the parish where each of you lives as well as in the church where you're planning on marrying for three Sundays during the three months leading up to the wedding.
If you're marrying in a hurry it is possible to skip having your banns read, but you will need to apply for a common licence for this. They cost from £200. You may also need a licence if one of you isn't a British citizen or currently lives outside of the UK. In Scotland you're required to give 15 days' notice with the local registrar.
Do the rules differ depending on where in the UK the church is?
Depending on where you are in the UK and what kind of church you want to marry in will impact what you need to do.
Scotland has different rules relating to church weddings that England and Wales, as explained above, and there are stricter residency requirements for those planning a church wedding in Northern Ireland.
A Catholic church ceremony is different to book compared to a Church of England wedding too – for example, you will need a dispensation to marry in a Catholic ceremony if one of you is not Catholic, but you don't have to have the banns read out beforehand.
Do I have to attend the church to get married there?
The Church of England gives all British citizens with no former partner still living the right to get married in the parish church of the town where they live, or where either of the couple are on the church's electoral roll.
You can also get married in church to which you have a connection, such as:
– Either of you lived in that church's parish for six months or more
– One of you regularly attended worship in that parish for six months or more
– Either of you were baptised or prepared for confirmation in the parish
– One of your parents lived in the parish/regularly attended worship there for six months or more in their child's lifetime
– Your parents or grandparents were married in the parish
If you attend services at your chosen church for six months – even if you only attend a single service a month – that can help your case.
Do I have to be religious to have a church wedding?
You don't have to be religious to have a Church of England wedding, however for a Catholic wedding at least one of you must follow the faith and you're required to get a dispensation to marry there for the one that isn't Catholic.
Anyone is welcome to have a Church of England wedding, regardless of their beliefs as the vicars understand that 'spiritual beliefs are complex and varied'.
How far in advance should I book my church wedding ceremony?
It works the same way as booking a civil wedding ceremony in that places will get booked up months in advance. Talk to your vicar or the church office as soon as possible, particularly if you're hoping to marry in peak wedding season. Bear in mind most Church of England churches won't host ceremonies during Lent, although this isn't usually the case for Catholic ceremonies.
How much does a church wedding ceremony cost?
It costs around £500 to get married in a church in England and Wales, so make sure you factor this into your wedding budget. This cost covers the expense of reading of the banns, the certificate, the vicar and the use of the church itself.
Extra details such as flowers, having the bells rung or making use of the organist or choir will incur additional costs. It's worth noting in Scotland and Northern Ireland there is no fixed cost for a church wedding.
Can we use our own vows in a church wedding ceremony?
If you're planning on writing your own wedding vows, a church ceremony might not be for you. In England and Wales you cannot change any part of the wedding vows, however in Scotland you can vary the traditional vows or write your own as long as the minister approves them.
You can include poems, readings or songs in your vows as long as your vicar is okay with it.
Can I decorate the church with my own flowers?
Most churches will be able to recommend someone from the parish who can decorate the church for you, but it shouldn't be a problem to bring in your own floral displays. Just check with your vicar where you can have the flowers as you wouldn't want a large arrangement to get in the way during the ceremony.
What is a wedding rehearsal?
Lots of churches offer the chance to have a wedding rehearsal – this allows you, your partner and your bridal party to run through the service ahead of the big day so you know what to expect and when.
Can we have confetti at our church wedding?
This varies from church to church so check with your vicar and let your guests know in advance. If wedding confetti is not allowed, find out if they'll allow you to use a natural or bio-degradable type of confetti instead.
Can we have the reception in the church hall?
Usually you can – check with the church office to find out. You can also have your reception at a different wedding venue if you wish.
If you're still undecided, check out our edit of the best wedding venues with chapels on site.