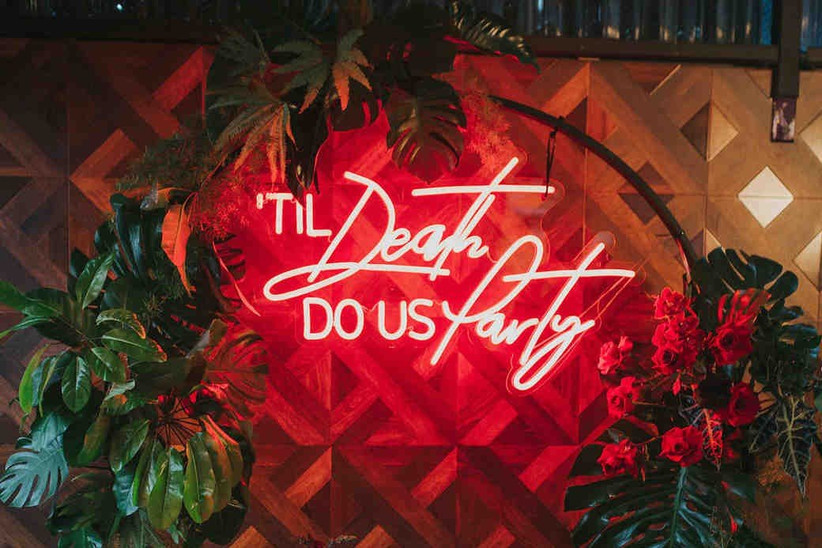 If you're looking for ways to entertain your wedding guests, consider a wedding photo booth. Your guests will love posing for fun snaps, and they can take the pictures away with them as a cute alternative to wedding favours.
If you're looking for something a little different, take a look at these unusual photo booth ideas. From magic mirror photo booths to photo booths in vintage camper vans, there really is something for everyone.
Unusual Photo Booth Ideas
Thinking of creating your own wedding photo booth? Once you've decided on one of these fabulous styles, check out our guide to creating your own DIY photo booth in six simple steps.
1. Tropical Wedding Photo Booth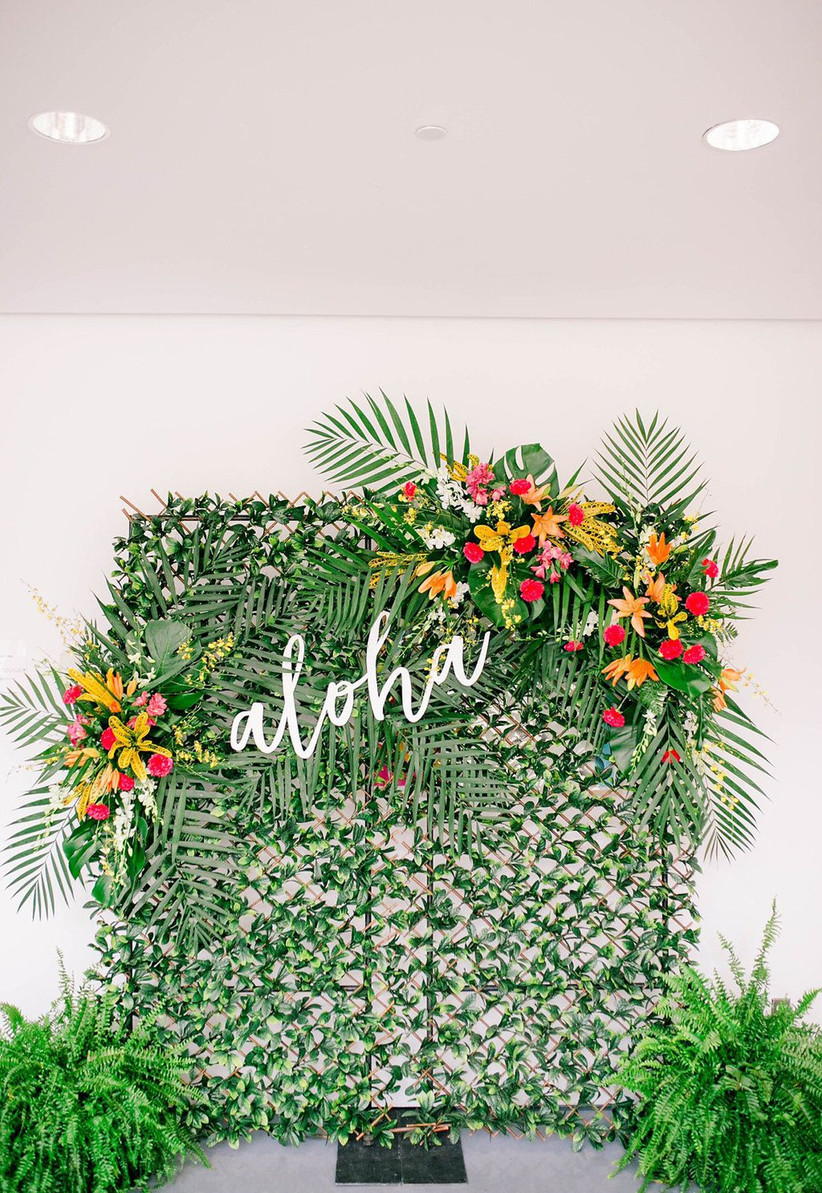 Image: Pinterest
Perfect for any tropical-themed wedding day, this bright and colourful photo booth idea will be loved by your guests.
We're huge fans of the asymmetric palm and flower embellishments – and the laser-cut "aloha" wording!
2. Winter Wedding Photo Booth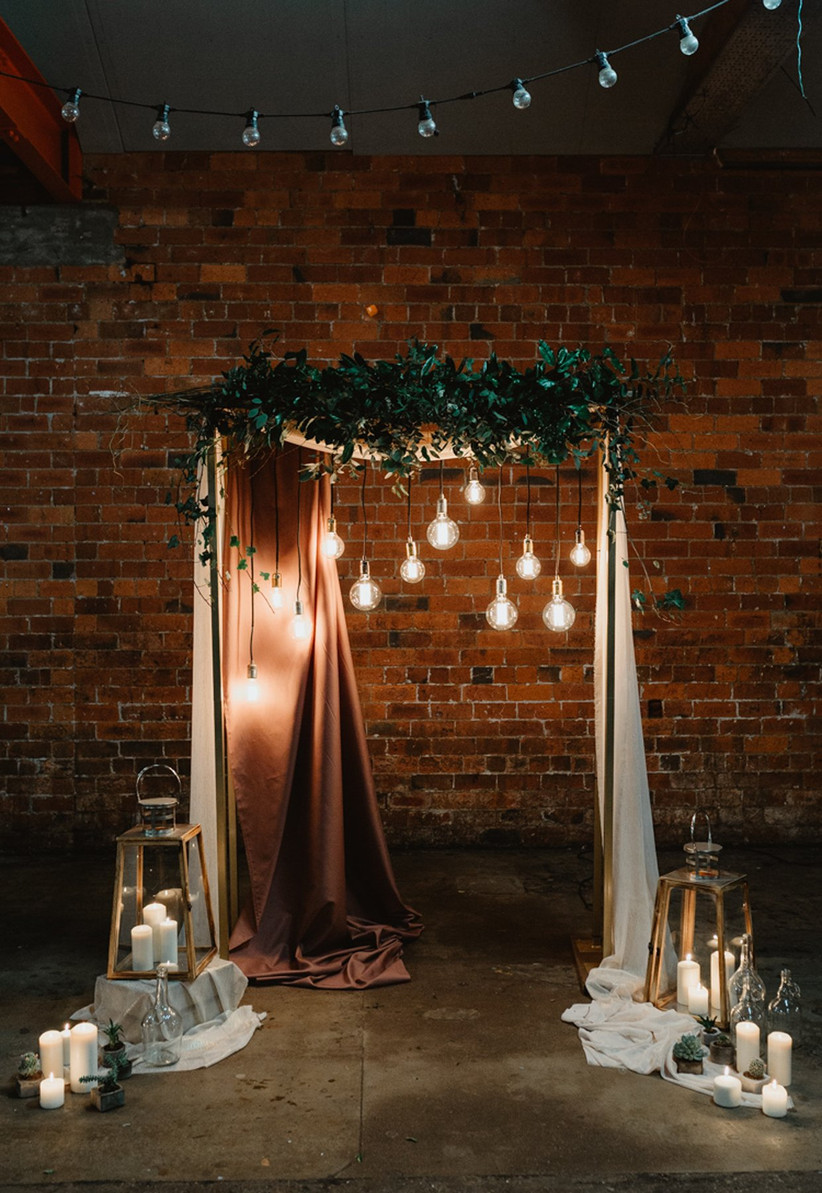 Image: Pinterest
If you're hosting a winter wedding, you need your photo booth to follow in style. This rustic photo booth idea is totally fitting for any celebration in the colder months.
If you're thinking of recreating this yourself, pick up some artificial ivy from Amazon as well as ivory pillar candles to frame the installation.
3. Outdoor Wedding Photo Booth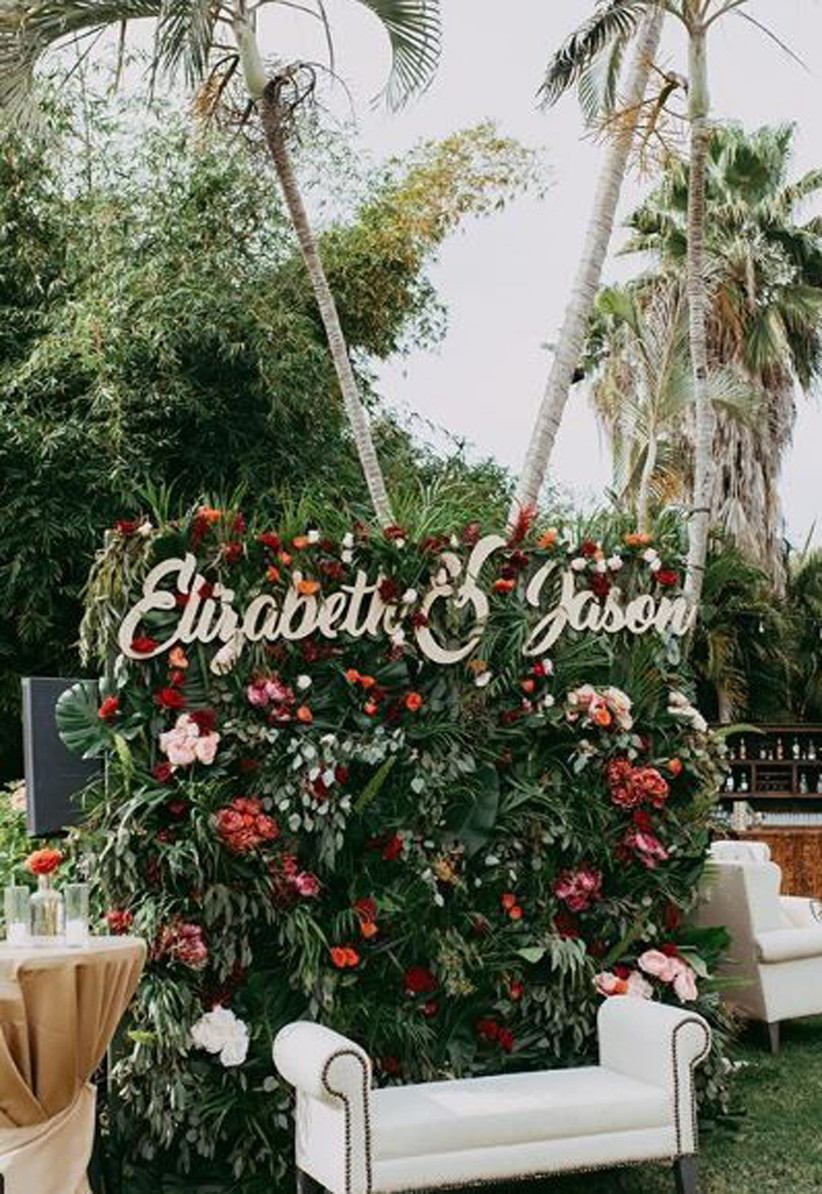 Image: Pinterest
Hosting an outdoor wedding? If the weather allows, it's a lovely idea to pop your photo booth outside, too.
We love this tropical photo booth. The couple have built a sofa into their photo booth backdrop to encourage more relaxed images. We love it!
READ MORE: 15 of the Best Wedding Themes for Every Style
4. Vintage Wedding Photo Booth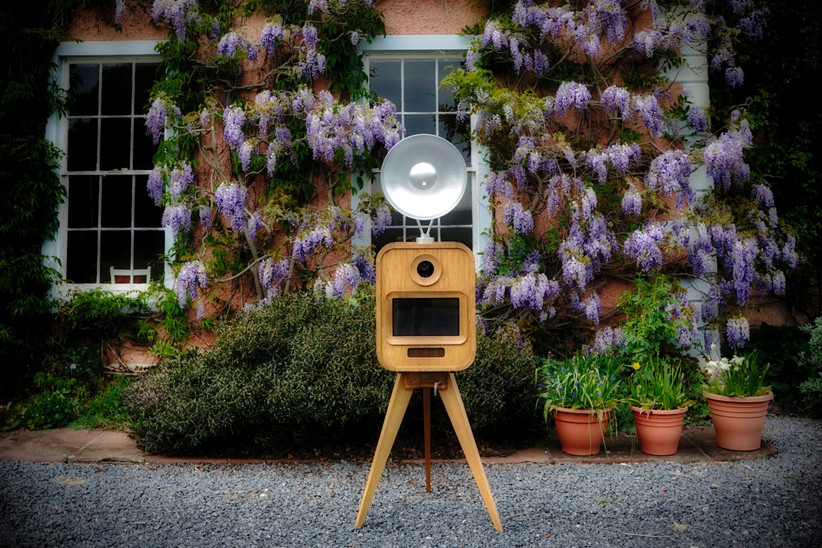 Image: David Rucker Photography
How cool is this wedding photo booth from David Rucker Photography? Perfect for a retro-themed wedding, this wooden tripod camera will have guests feeling as though they've stepped back in time!
5. Carnation Wedding Photo Booth
Image: Pinterest
Do you have carnations in your wedding bouquet? Pink and orange carnations have added a really welcome pop of colour to this otherwise simple photo booth.
You can pick up a pack of 100 artificial pink carnations for less than £30 from Amazon!
6. Christmas Wedding Photo Booth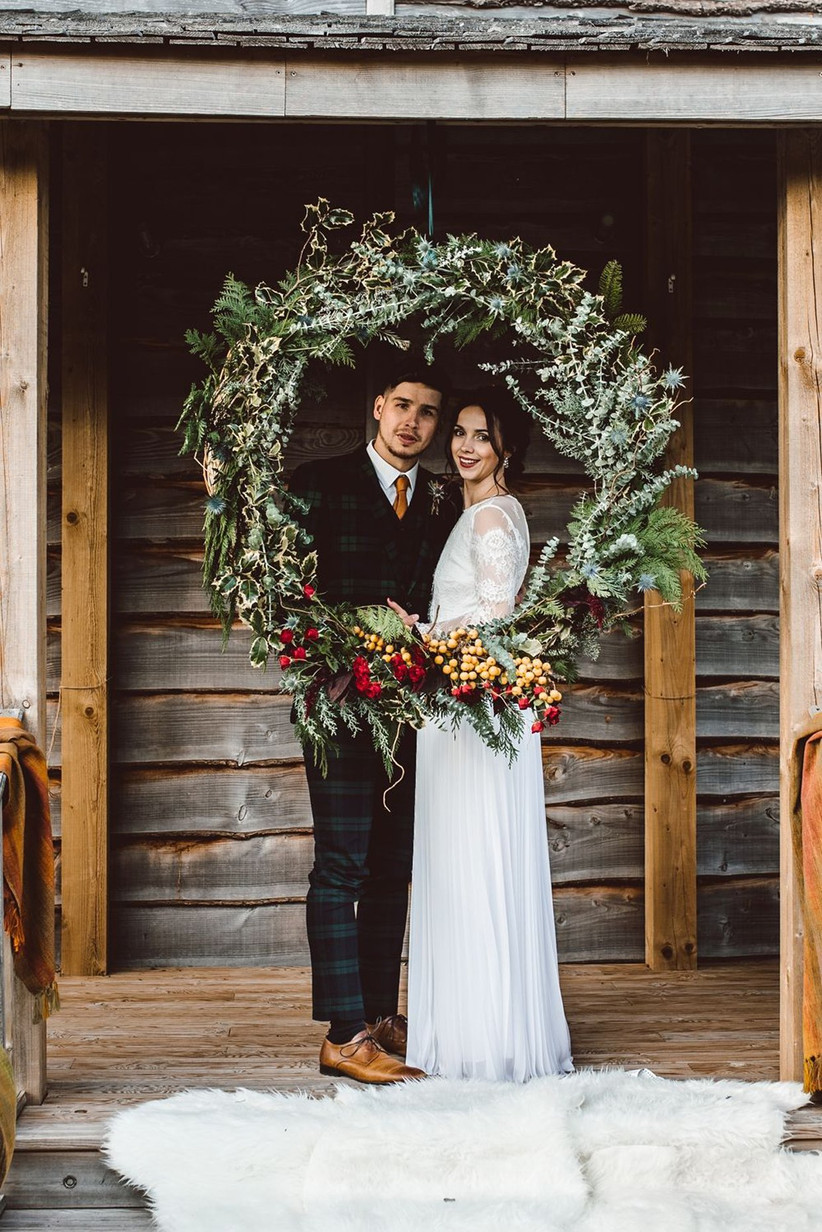 Image: Pinterest
Here at Hitched we love a festive wedding. And what's more festive than a photograph taken through a wreath? Nope, we couldn't think of anything either…
READ MORE: 51 Christmas Wedding Ideas to Transform Your Big Day
7. Garden Wedding Photo Booth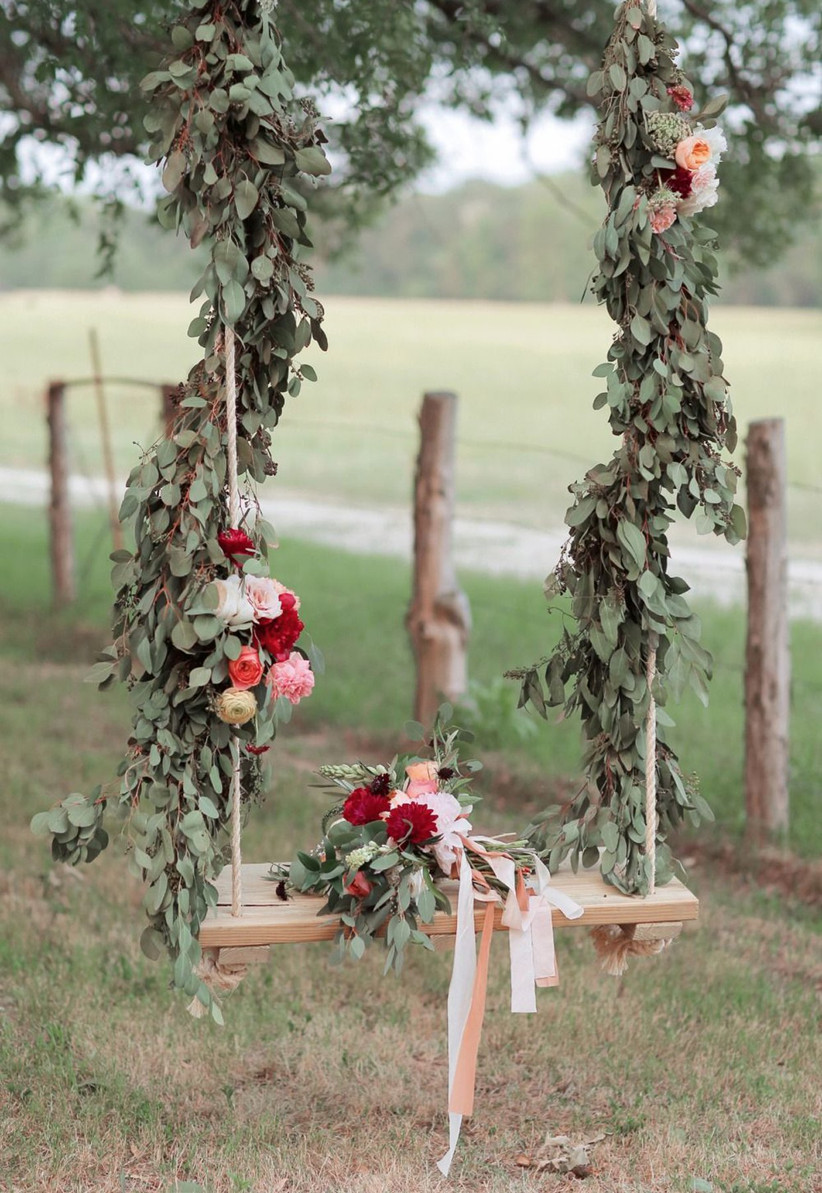 Image: Pinterest
If you've got your heart set on a country garden wedding, consider hanging a wooden swing like this from one of the trees in the grounds of your wedding venue.
It would make such a lovely photo backdrop, particularly if you provide guests with some garden party photo booth props.
8. Floral Wedding Photo Booth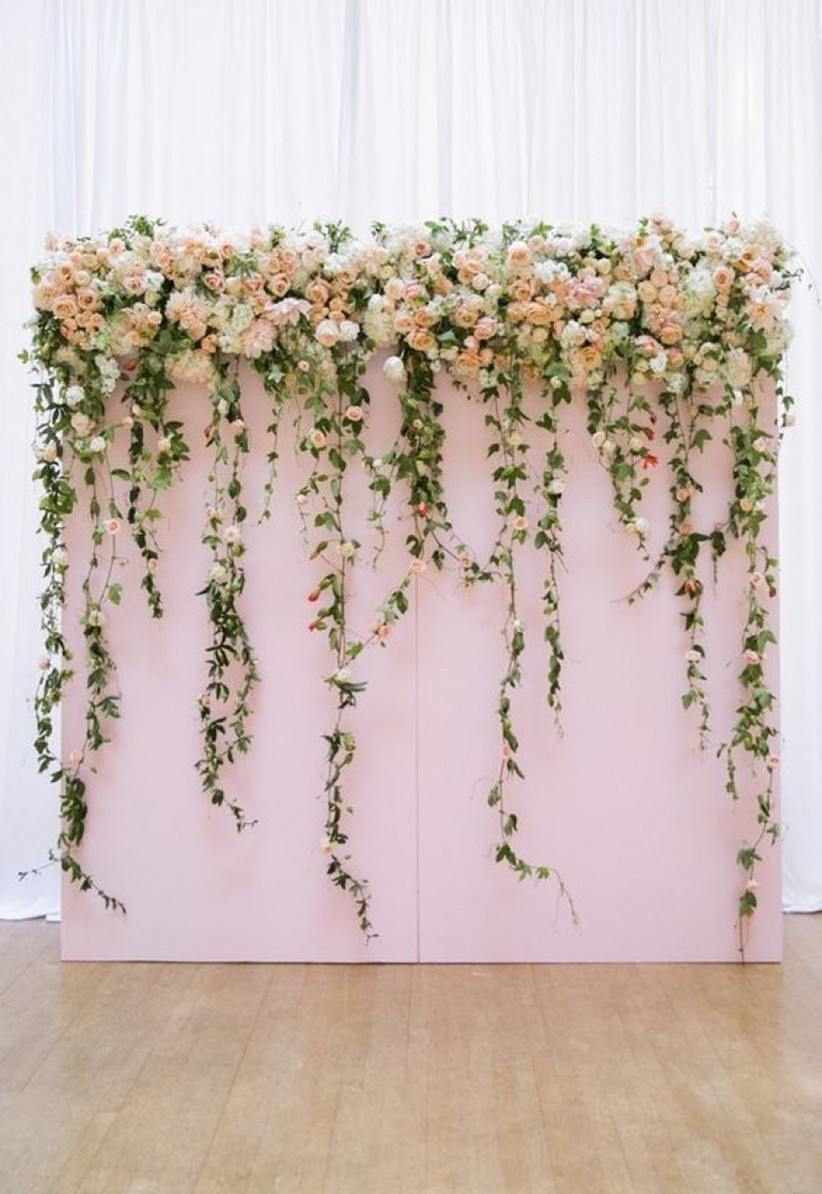 Image: Pinterest
This wedding photo booth backdrop would be so easy to recreate yourself at home.
All you need are some wooden panels that can be painted any colour to fit your colour theme (we love this pink version!) and plenty of artificial flower garlands!
9. Modern Wedding Photo Booth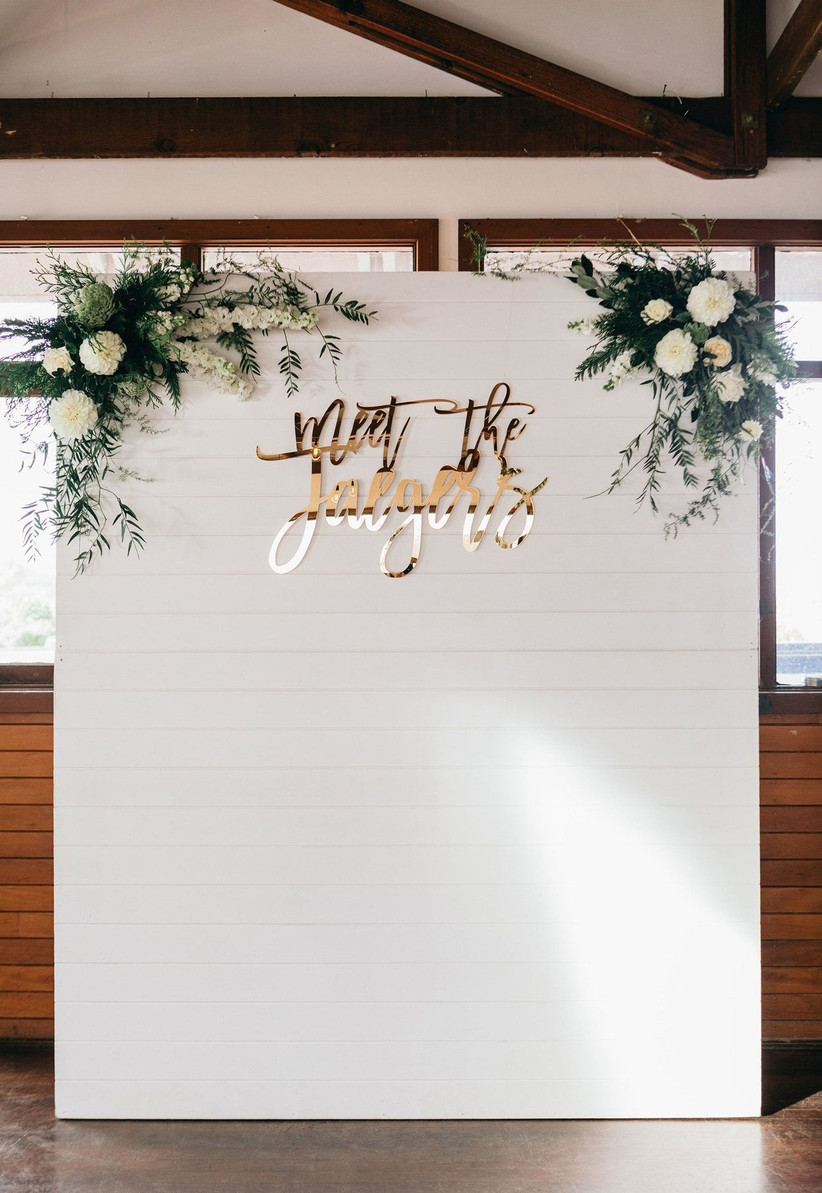 Image: Pinterest
This modern wedding photo booth would be fitting to a whole array of wedding themes.
We love the laser-cut lettering and the white rose flower arrangements.
10. Neon Wedding Photo Booth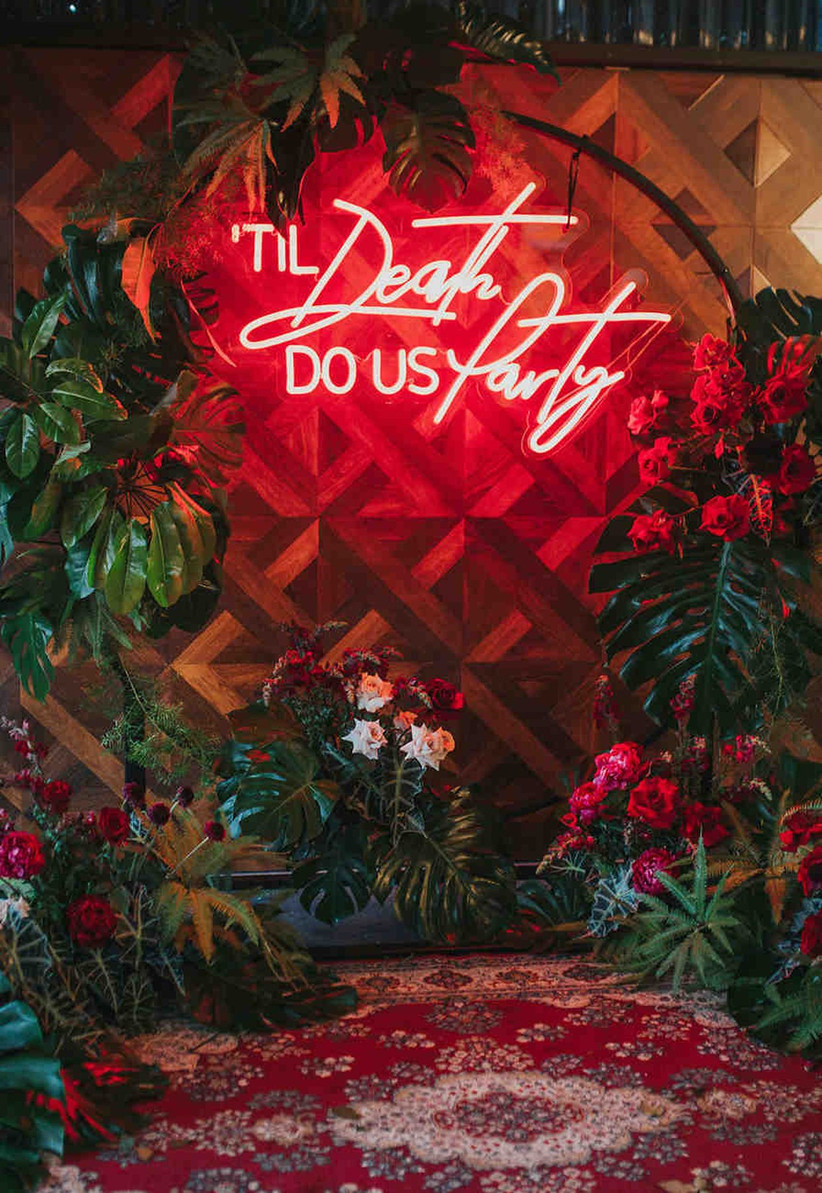 Image: Pinterest
Quirky couples will love the idea of incorporating a neon sign into their wedding décor. This one says: "'til death do us party" and is framed with a ring of palm leaves and red roses.
What a cool set-up!
11. Photo Guest Book Photo Booth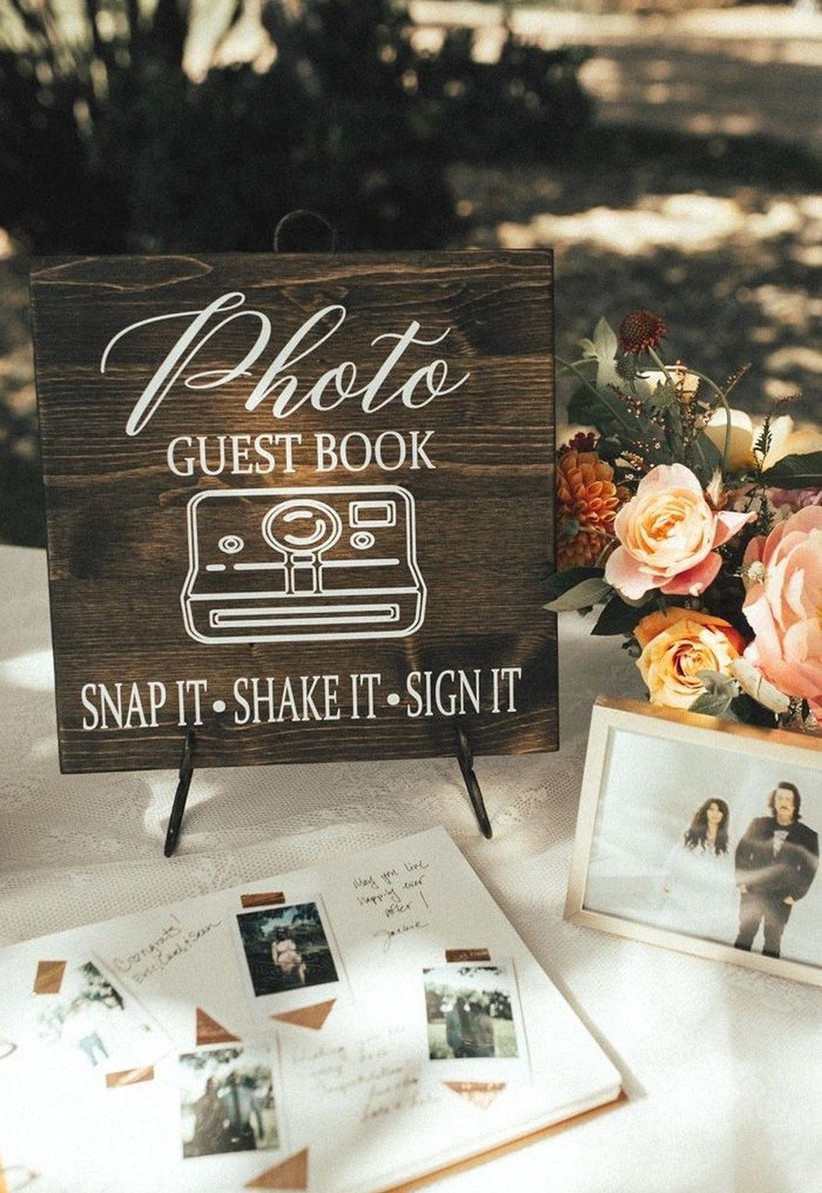 Image: Pinterest
Don't fancy a full-blown photo booth? Why not leave a Polaroid camera on display instead, so that guests can take photos and stick them into a guest book?
This is such a great alternative guest book idea… and your loved ones can always take two snaps if they want to keep one for themselves! Just make sure you provide plenty of film…
READ MORE: 17 Things Guests Hate Most About Weddings
12. Rustic Wedding Photo Booth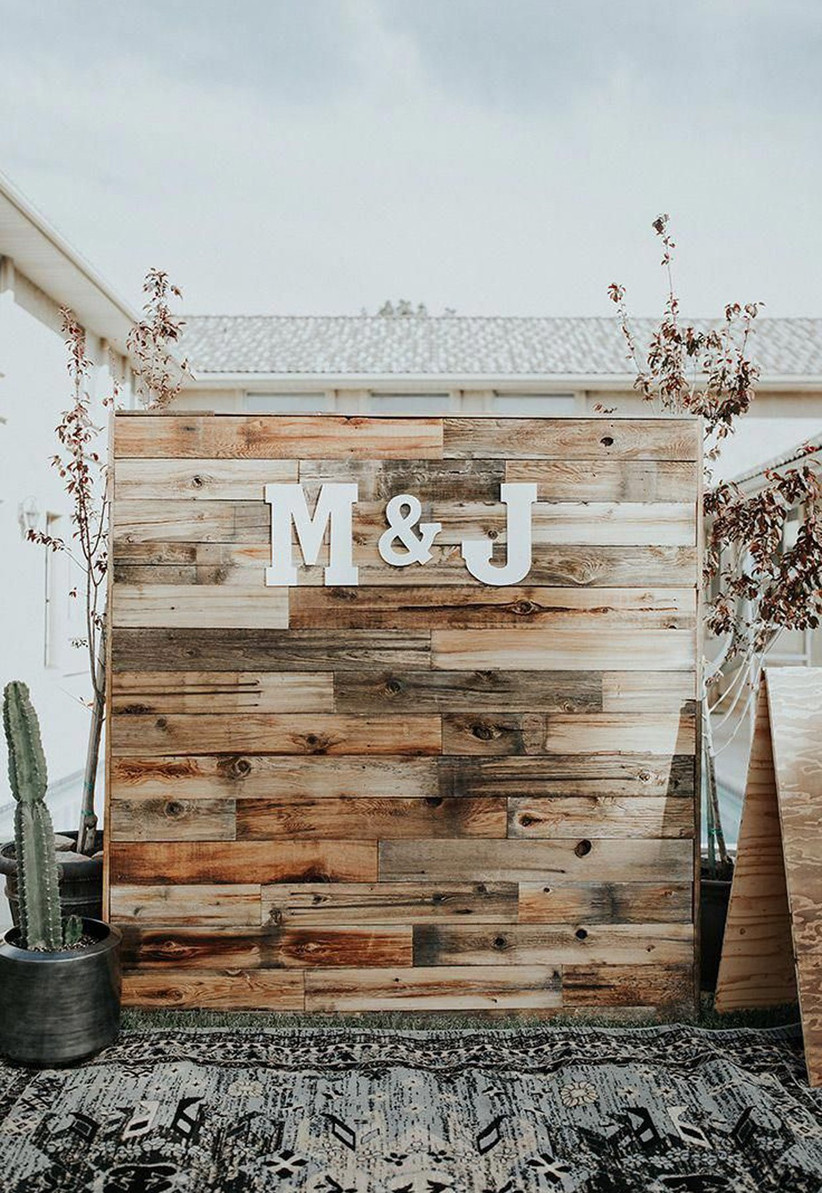 Image: Pinterest
Couples getting married at a barn wedding venue will adore this unique photo booth idea.
Recruit the father of the bride or groom to build a backdrop with scraps of wood. The white lettering is a perfect finishing touch.
13. Classic Wedding Photo Booth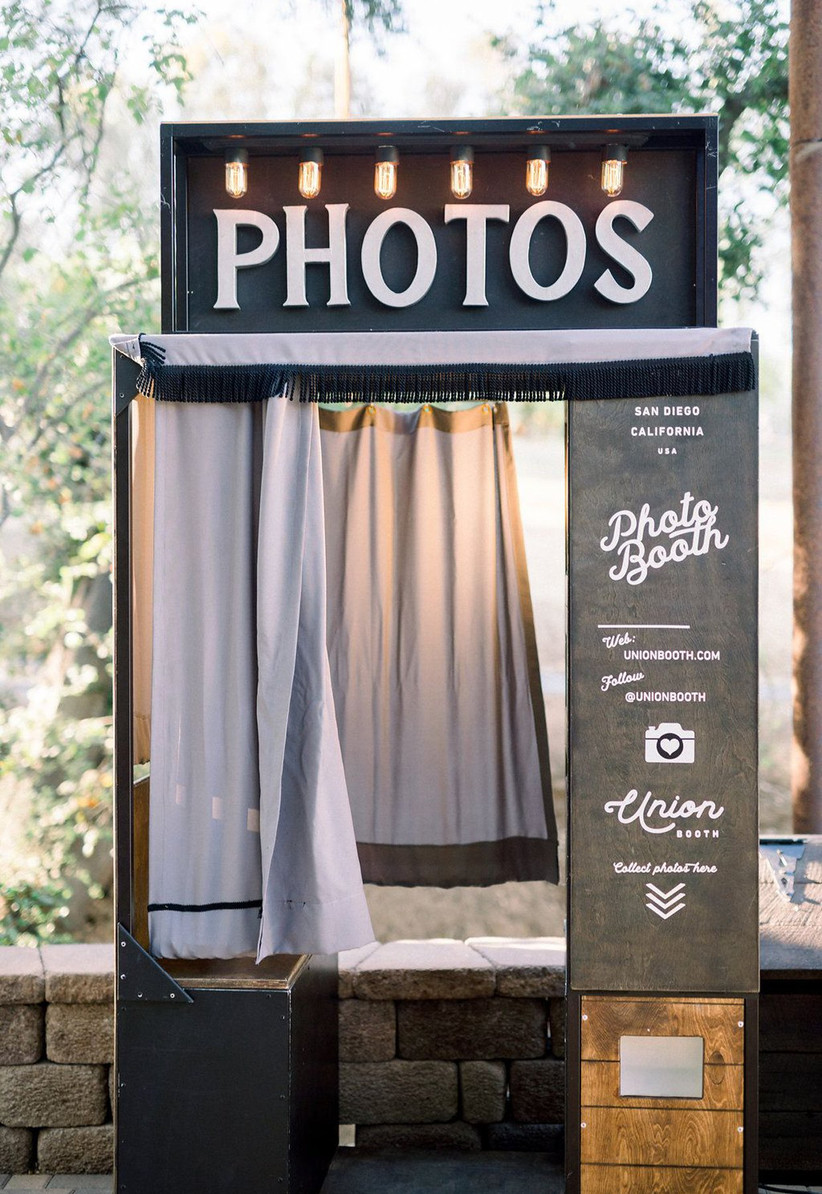 Image: Pinterest
Choose a traditional-meets-retro photo booth for your wedding reception. Your guests will love to hop inside and take some funny snaps!
14. Cosy Wedding Photo Booth
Image: Pinterest
Doesn't this photo booth idea just make you want to get settled and stay put all day?
It looks so cosy and would work well at making a warehouse wedding venue feel more intimate.
15. Easy Wedding Photo Booth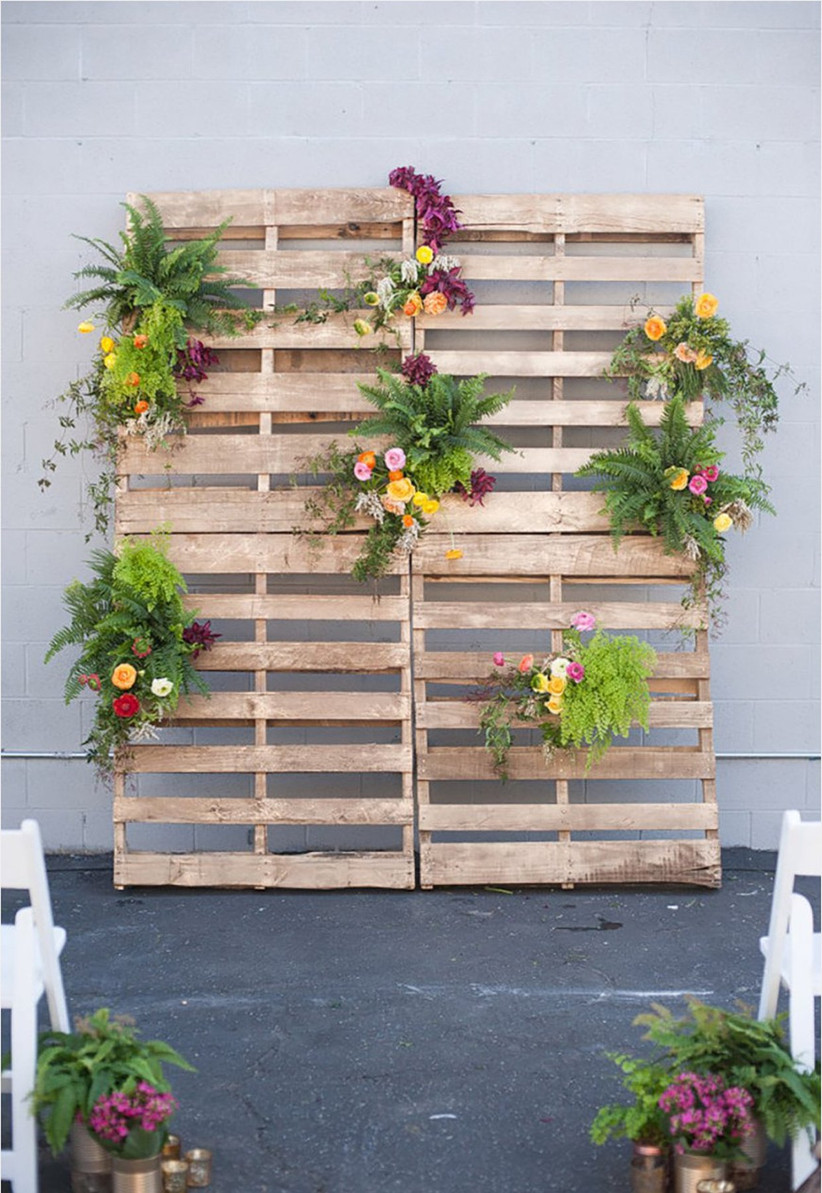 Image: Pinterest
This photo booth idea couldn't be any easier to recreate at home. All you need is four old wooden pallets and some faux flowers, and Bob's your uncle…
READ MORE: Does DIY Really Save You Money?
16. Pink Wedding Photo Booth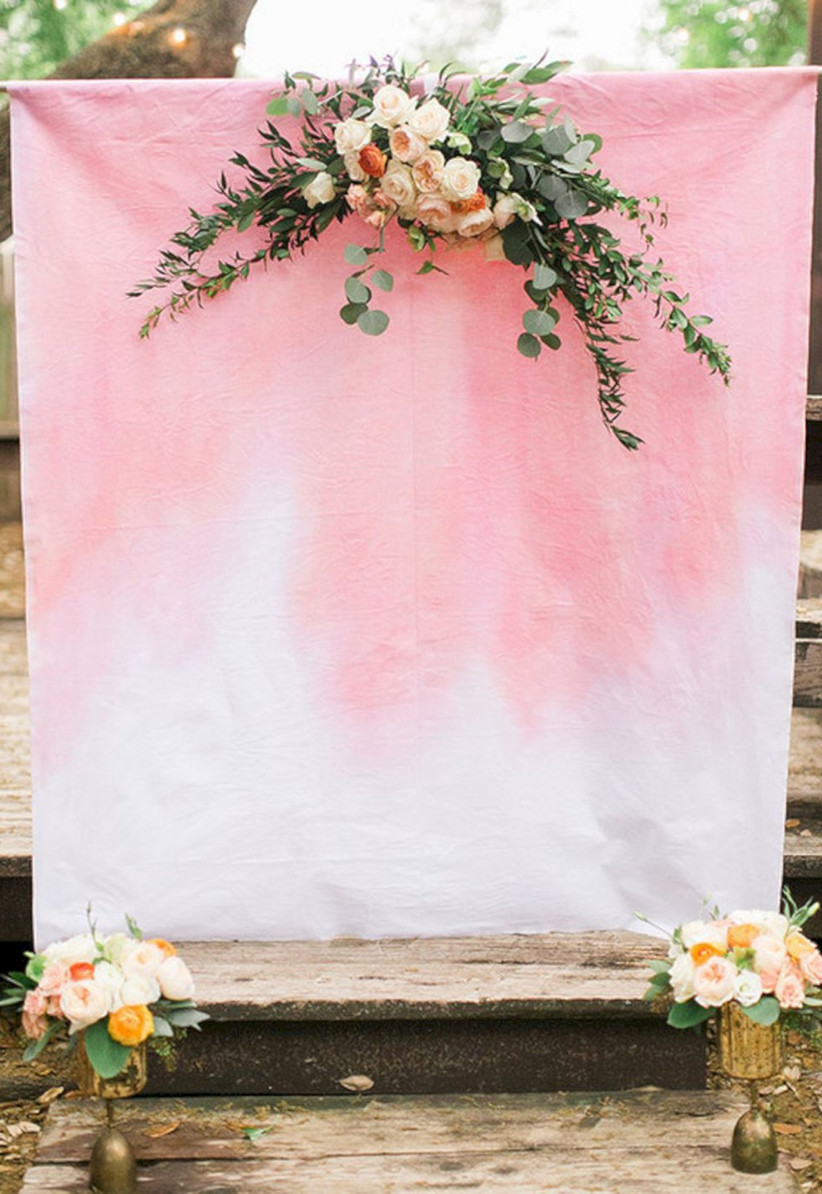 Image: Pinterest
Have you got a pink colour scheme? Recreate this photo booth using this peony pink fabric dye (which is also available in a whole load of other colours).
17. Partition Wedding Photo Booth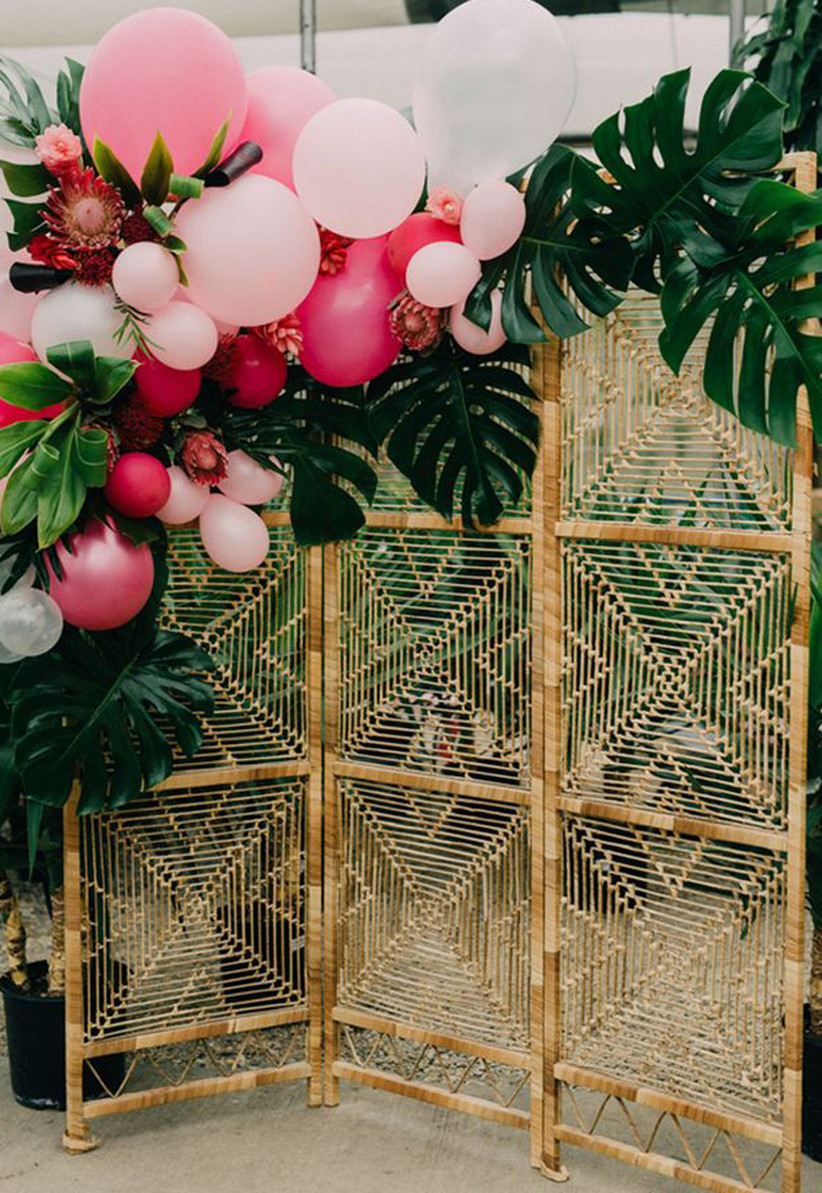 Image: Pinterest
We love this wedding photo booth idea! If you have an old partition lying around your house, give it some TLC and jazz it up with flowers and balloons in your chosen colour scheme.
It'll provide the perfect back drop for selfies and photo booth snaps alike!
18. Giant Wedding Ring Photo Booth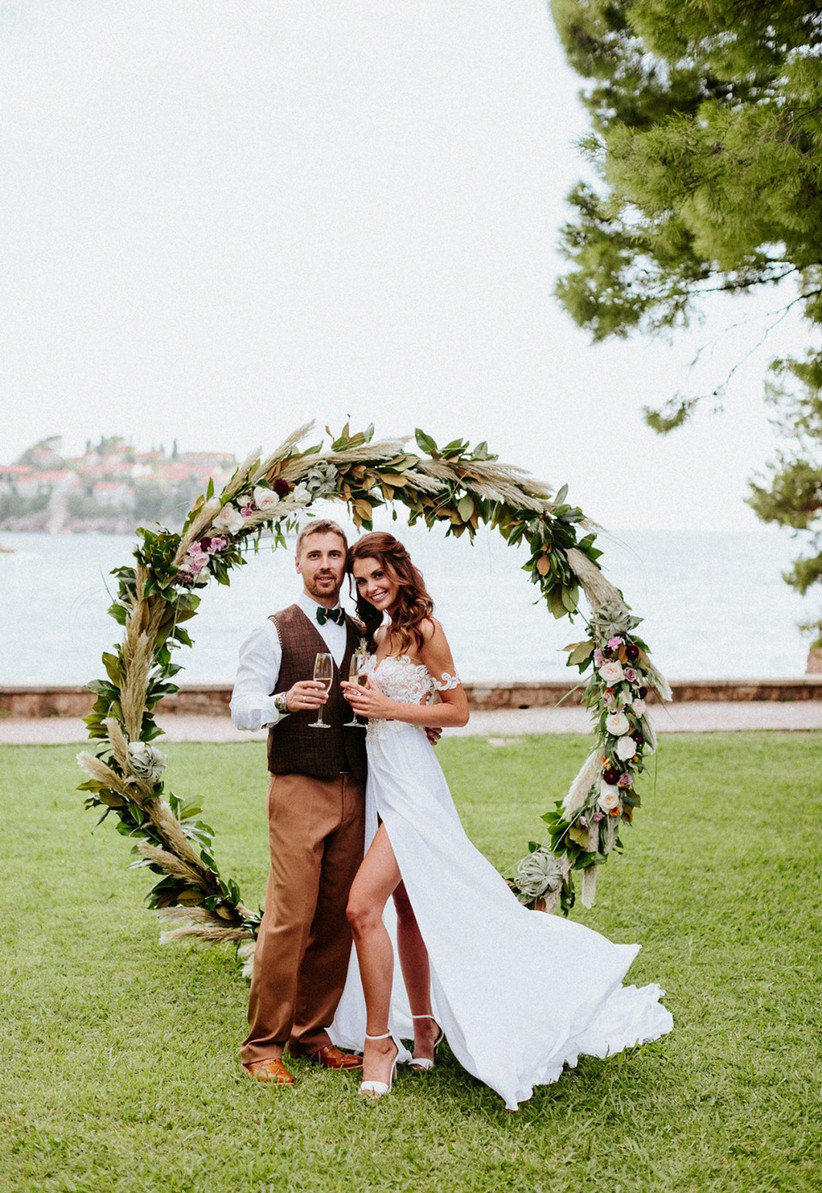 Image: Pinterest
Keep things simple and get your guests to pose in front of a ring installation like this one.
We love how this couple have included one of our favourite 2020 wedding trends, pampas grass. Check out our round up of 17 stunning ways to include pampas grass in your wedding day!
19. Hanging Frames Wedding Photo Booth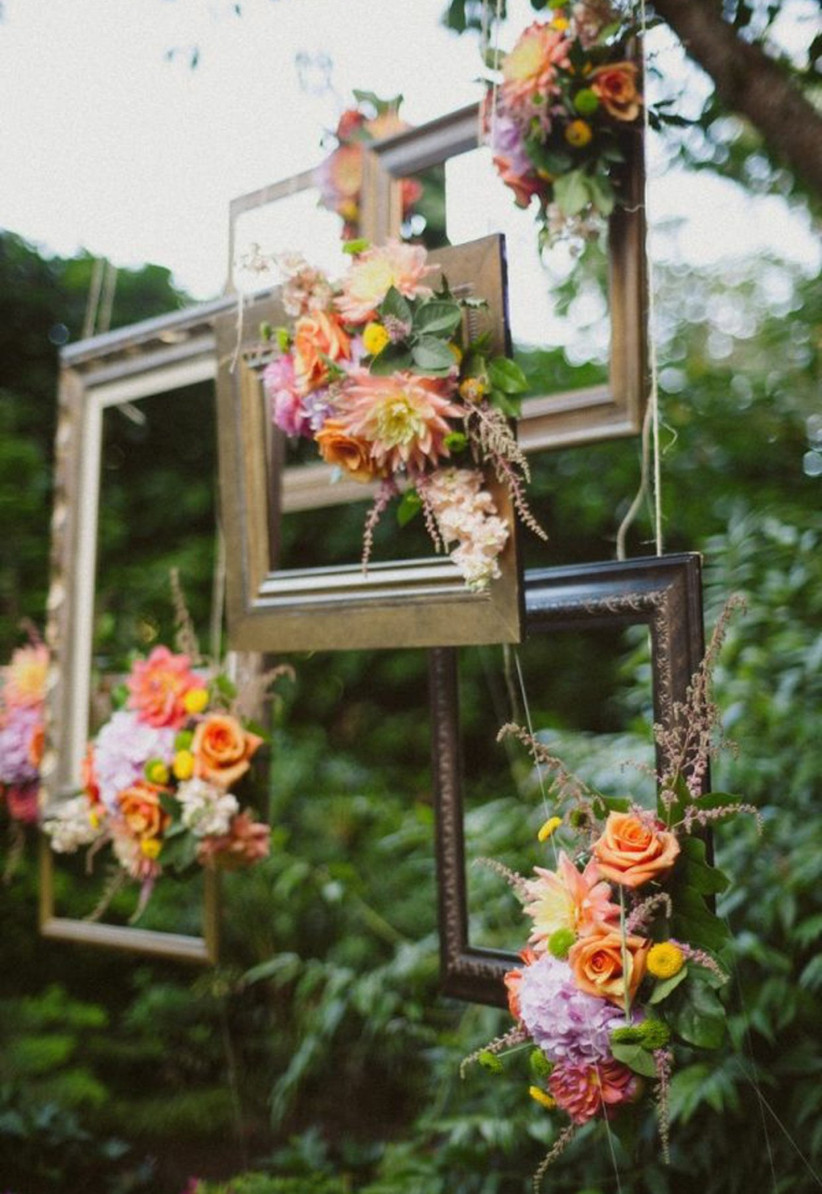 Image: Pinterest
A vintage-themed wedding is screaming out for a photo frame photo booth. It'd work just as well at a woodland wedding, too!
All you need is a selection of old photo frames in different sizes and some artificial flowers to decorate.
READ MORE: 17 Beautiful Vintage-Inspired Wedding Dresses
20. Woodland Wedding Photo Booth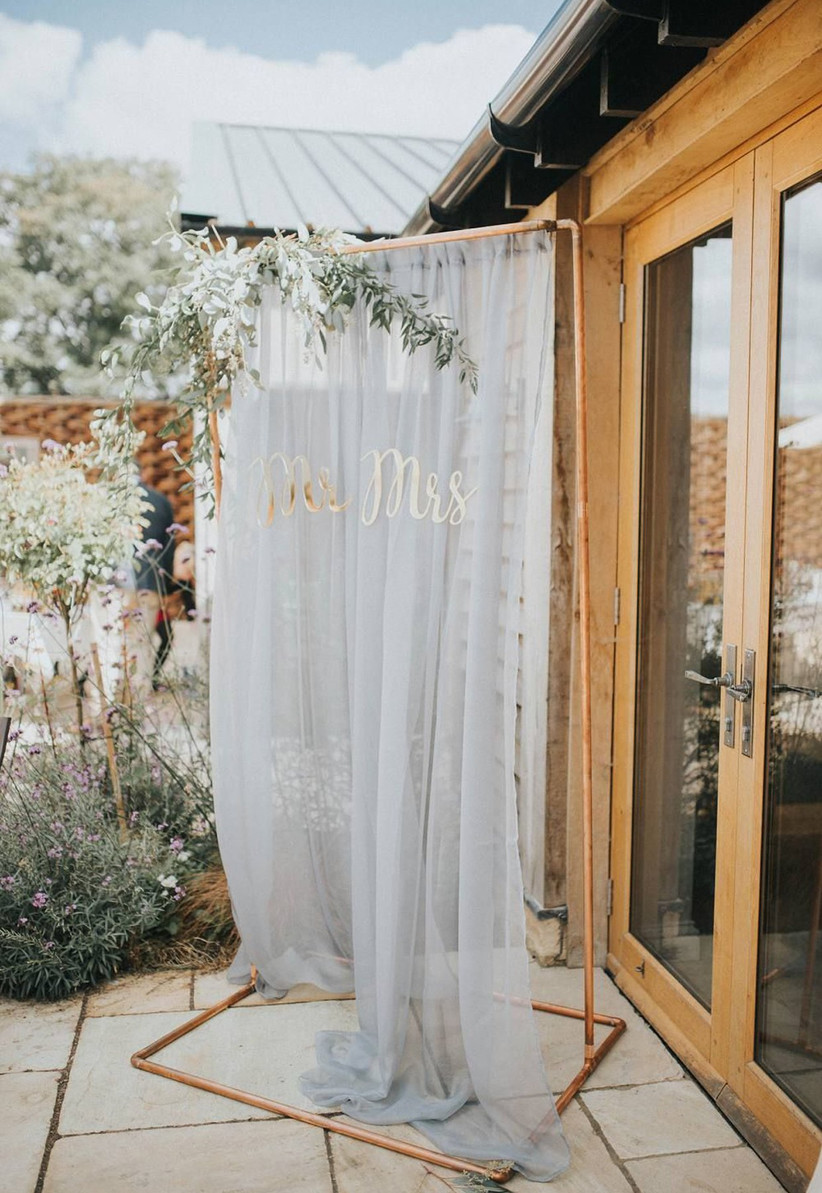 Image: Pinterest
Have you ever seen anything prettier than this sheer fabric photo booth?
Created with just an off-cut of sheer fabric and a rose gold clothes rail, it is simple yet oh-so effective.
The Best Unusual Wedding Photo Booths to Hire
If you don't want to make your own wedding photo booth, you can always consider hiring one.
Here at Hitched, we've got a whole load of photo booth suppliers ready and raring to provide lots of laughs on your wedding day. Here are some of our favourites…
1. Airstream Studio – London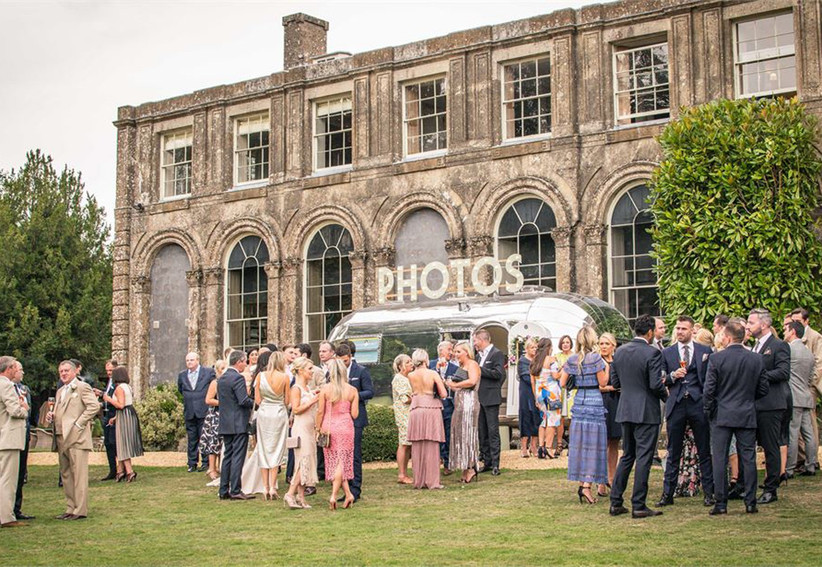 Who says you need to set up your wedding photo booth inside? This award-winning photo booth is set up inside a vintage 1949 airstream (hence the Airstream Studio name). It's filled with props, flower crowns, headdresses and a multitude of stylish hats.
Your guests can sit on a gorgeous cocktail sofa where the team use studio-quality lighting and photo filters to create stunning snaps.
2. The Memory Booth – London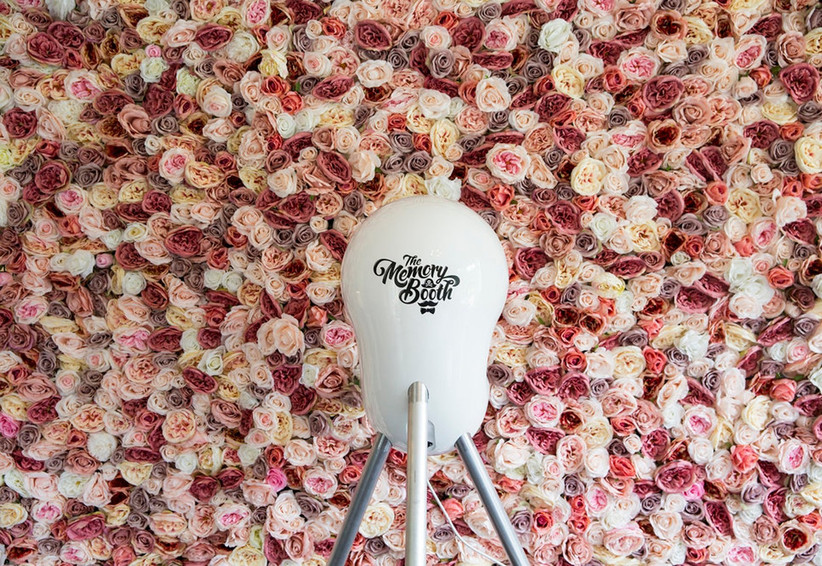 When it comes to planning a wedding, we're all for things being made easy… and with The Memory Booth, your photo booth experience will be exactly that.
This unique photo booth is self-run and open-air. There's no need for an assistant and it costs just £300 to hire for the entire weekend! This price includes delivery and collection at a location of your choice, props, all of your edited images and an online gallery.
3. Mobile Moments – Essex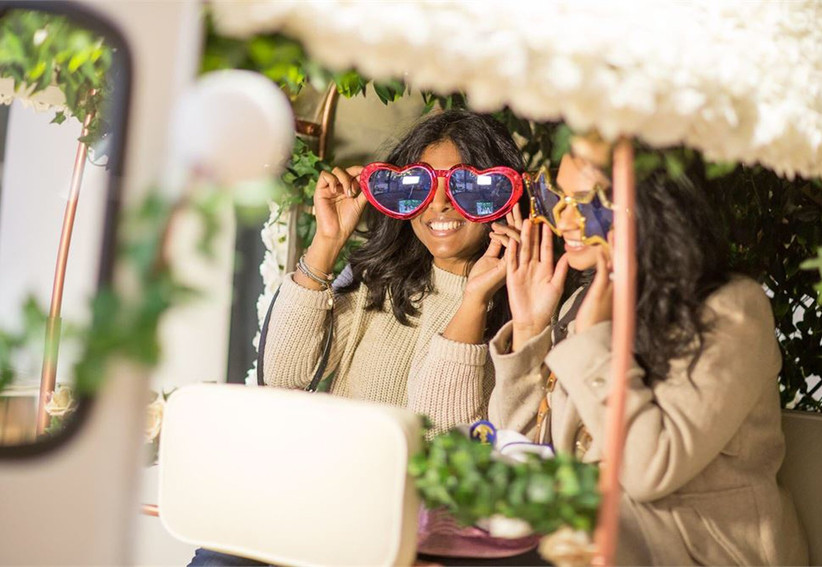 We guarantee that your guests will love it if a rickshaw photo booth rocks up at your wedding. Mobile Moments are the pioneers of the three-wheeled photo booth.
Each of their rickshaws has been lovingly designed to suit all themes and capture flawless images. For your hire price you'll get a friendly attendant on board, unlimited photos, a selection of props, an online photo gallery and more. What a fabulous idea!
READ MORE: How to Negotiate Wedding Costs with Venues and Suppliers
4. Hashtag Printing – Surrey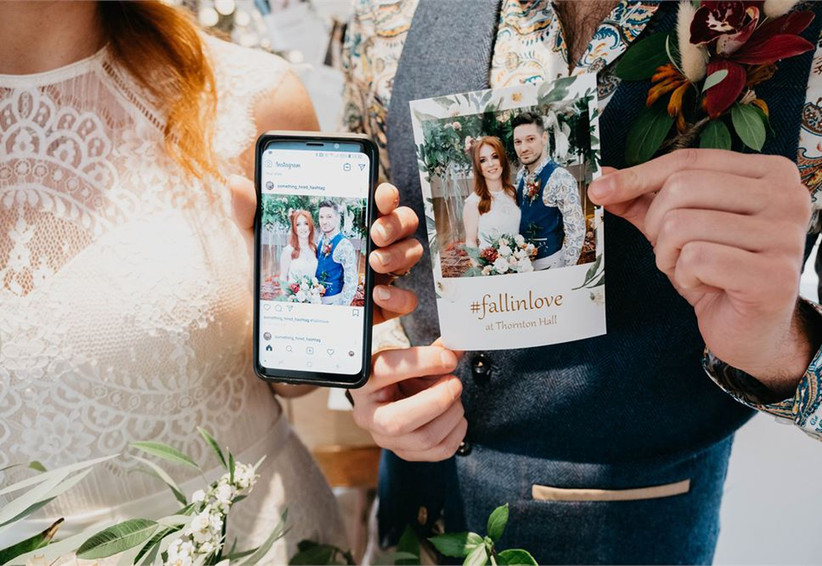 Hashtag Printing are far from a traditional photo booth, and for that, we love them. Look around at any wedding and you'll see guests taking mountains of photos on their phones and uploading them to social media. With Hashtag Printing, after uploading these images, they can be printed in seconds for your loved ones to take home (with a personalised background and your wedding hashtag on display)!
This is a stylish and compact idea, with no equipment taking up precious space, and the service is fully attended.
5. Feather & Fox – Worcestershire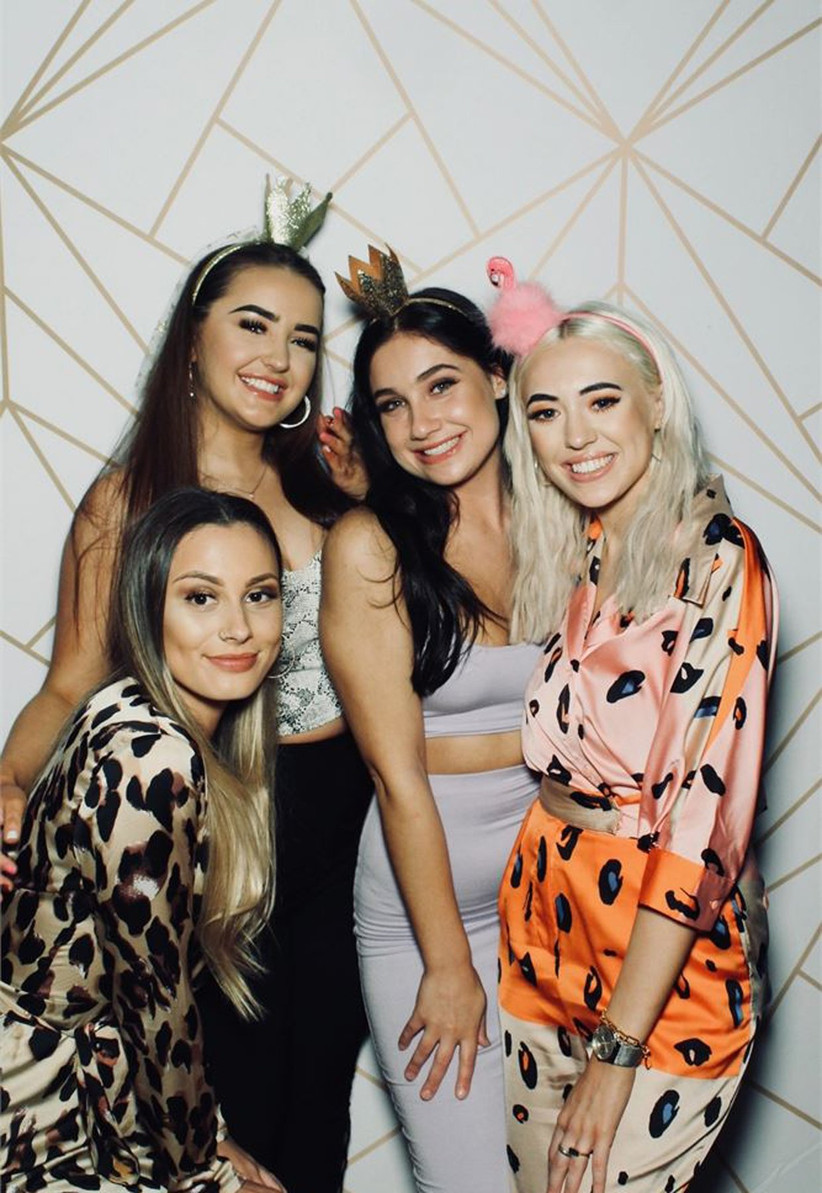 We're obsessed with Feather & Fox's photo booth offering, thanks to their amazing beauty mirror photo booth. This magical interactive touchscreen mirror is packed full of fabulous features as well as a choice of 13 backdrops.
There are plenty of filters and there's also the chance for guests to record a video message or GIF with other 250 animations and voiceovers. If that wasn't enough, guests can get copies of their photos either physically or digitally, so no one misses out!
READ MORE: 87 Wedding Photo Ideas You Definitely Need to Capture
Now you've decided on your wedding photo booth, it's time to focus on the finishing touches. Check out our round up of 39 cheap wedding favours for £1 or less.